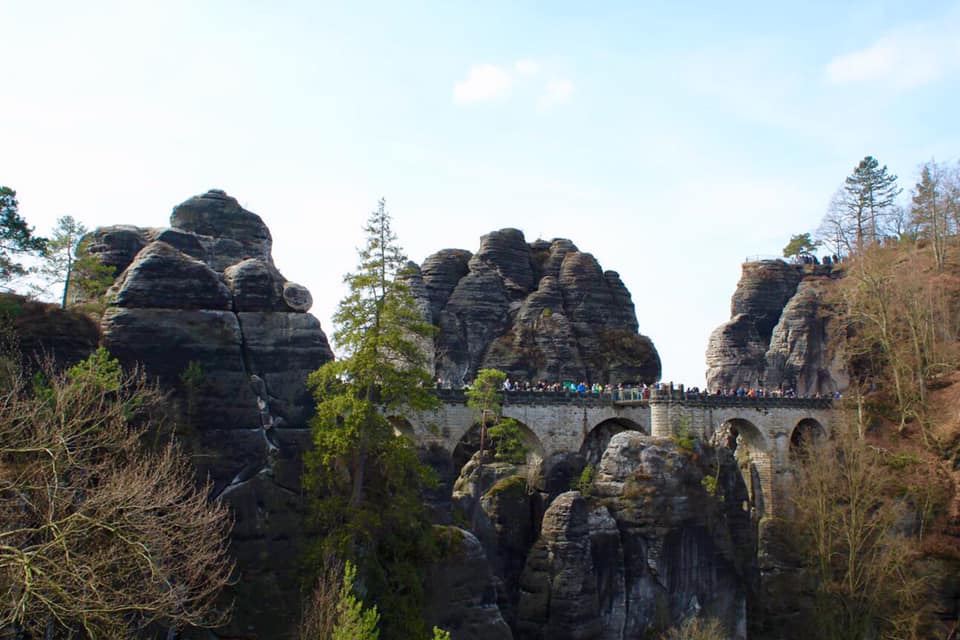 In former Eastern Germany there are several cities to explore but Berlin. Follow on this journey to the German federal state of Saxony. The keywords for this trip are Florence of the North, a fairytale castle, historic towns and breathtaking landscapes. In addition to our base in Dresden, we will also take you to Moritzburg Castle, historic Meissen and to Saxony Switzerland.
Dresden is such a beautiful and underrated city located on both sides of the Elbe river. The old town on one side and the new town on the other side. Not only it is a great city to visit. It is also an excellent starting point to explore this part of Saxony. We have already visited Dresden before, on a day trip from Berlin. Now we were curious to see more, and also the areas around the city.
In this post we will show you three places around Dresden. We will also show you important sights in the city itself.
Meissen – a historic town in Saxony
The historic town of Meissen (Meißen) is mostly famous for its porcelain, the Meissen Porcelain. Many visitors are there for that reason, to visit the porcelain manufacturing.
The most interesting part of Meissen is the old town (Altstadt) where there's also a stop for the train. If you choose to leave the train one station earlier you can take the short walk towards the Elbe river. From here you will get stunning views to the castle hill and Albrechtsburg Castle. After enjoying the views from one side of the river it is only a short walk to the other side.
Albrechtsburg Castle
Albrechtsburg Castle, constructed in the 15th century, as the first German castle ever built as a royal residence. It is a beautiful castle, and it's open for visitors. It is different from many castles which we have seen previously. Albrechtsburg is old and not as grand as many later built palaces, but yet very impressive. Next to the castle is the Catherderal (Dom), a high-Gothic masterpiece with a 57m high tower. The beautiful stain-glass windows in the cathederal shows scenes from the New and the Old testament. From up here you will also get great view over the Elbe Valley.
The old town
After a visit to the castle and the cathederal you can visit the cozy old town below the castle hill. The Altstadt is not very large. Still it has lots of charm, and it also offers dramatic views up to the castle hill and the cathederal. In the old town there are several restaurants and cafes. We found delicious traditional German food in one of the places. We did not visit the porcelain manufactur. It is located in the near the old town for those who want to pay a visit.
The local train (S-Bahn) leaves Dresden to Meissen every half hour.
Moritzburg Castle – Saxony at its best
Next morning we headed out to another highlight on this trip, Moritzburg Castle. This castle is well kown to many as the castle in the Czech fairytale movie "Tři oříšky pro Popelku" (Three Wishes for Cinderella/ Drei Haselnüsse für Aschenbrödel). For someone who has seen this movie maybe 25-30 times it was like a dream to finally visit the castle. For those who wonder; both Germany and Norway show the movie on television every year in Christmas time many times. Meaning both of us have seen it several times.
Moritzburg Catsle, originally built in 1542-1546, was the hunting lodge for Duke Moritz of Saxony. The baroque style castle is surrounded by a lake. The trail around the lake is perfect for a walk and to take photos of the castle. We do recommend to do a tour inside the castle. We found the dining room, filled with lots of antlers of stags, most impressive. There is also a huge porcelain exhibition inside, of course with porcelain from nearby Meissen.
The shoe of a future princess
Maybe you also are a fan of the Cinderalla movie? Then you should not forget to go have a look at Cinderellas "shoe" in one of the stairs outside. A metal shoe is placed on the same spot where she loses her shoe in the movie as she stormes out from the ball. That is one of the classic scenes from the movie. Maybe your foot will fit in and you might turn into a princess… 🙂
Saxony Switzerland
The next trip out of Dresden took us to the area called Saxony Switzerland (Sächsische Schweiz), aka Elbsandsteingebirge or Elbe Sandstone Mountains. It is a mountain range straddling the border of Saxony (Germany) and North Bohemia (Czech Republic). The Czech's calls the area on their side of the border Bohemian Switzerland. Confusing, right?
The area has a very uniqe and evocatice landscape with deep valleys, beautiful forests and porous rocks in bizarre columns and forms. It is a great area for rock climbing, biking or just hiking. A main attraction here is The Bastei; a stunning rock formation nearly 200m above the Elbe and the village of Rathen. This is also where we started our hike.
The Basteibrücke
After a short hike uphill you will arrive the Basteibrücke, a sandstone bridge built between the rocks leading to the remnants of a medieval castle. En route to the bridge you will be offered magnificent views to Elbe river and to the Elbe valley. The area is enormously popular and can get very crowded. Especially on weekends and in the summer it's popular. We recommend to visit on a weekday if possible.
There are numerous hiking routes to choose from depending on the time you got. You can have a superb day on a day trip from Dresden, while others prefer to stay overnight to get more time for some longer hikes. We had only planned a day trip, and from the Basteibrücke as we did an hour-long hike through the beautiful landscape to the nearby village Stadt Wehlen where we had lunch before catching the local train back to Dresden.
Dresden – Florence of the North
Thanks to the Elector of Saxony, Dresden has a long and rich history. August the Strong and his sons, lead or were involved in the constuction of buildings such as Frauenkirche, Dresden Palace, Zwinger and also Moritzburg Castle. The city got its nick name Florence of the North because of the city's striking silhouette along the river Elbe.
Dresden was heavily bombed in February 1945, leaving the old town in ruins. Most of its treasures were destroyed. Today most parts have been reconstructed and rebuild.
Dresden have so much to offer. It is a lovely city to stroll around, and after two visits in the city we haven't seen it all yet. One could probably see Dresden's main sights in a day or two, but for us, on a city trip, we also spend quite some time just walking around the streets, often without a plan, just to take in the atmosphere and the architecture. Of course we also spend some time in the cafes and restaurants to check out the local cuisine.
Frauenkirche
Located in the centre of the old town, Frauenkirche (Church of Our Lady) is one of Dresden's most beloved symbols. The bombings left Frauenkirche in ruins. The ruins served as a war memorial for years. In 1994-2005 Frauenkirche was finally rebuilt again. You can buy tickets to climb up the dome, and you can rent an audioguide for your visit, otherwise it is free entry.
Dresden Zwinger
The Zwinger is another highlight in Dresden. This baroque style palace was built between 1710-1728 for August the Strong. He wanted to have something like Versaille for himself. The palace was mostly only used for royal parties. There's a free entry to the area, and to the central court yard. Today the palace houses three museums; The Gemäldegalerie Alte Meister (Old Masters Picture Gallery), Dresdner Porzellansammlung (Dresden Porcelain Collection) and Mathemathisch-Physikalischer Salon (Royal Cabinet of Mathematical and Physical Instruments). We visited the Old Masters Picture Gallery, which has lots of European masterpieces from Titan, Dürer, Vermeer and Rembrandt. Don't miss Raphael's famous Sistine Madonna if you visit the Gallery.
A world class opera house in Saxony
Semperoper is the opera house of the Saxon State Opera. It's one of the most famous opera houses in Germany. It's also well-known in Germany as a TV-commercial-spot for Radeberger Pilsner (Radeberger beer). The opera house is beautiful at night time when it is illuminated. It is possible to do a 45-minute guided tour of the opera.
Dresden's new town
Neustadt (New Town) is located on the other side of Elbe river. Compared to the old town, Neustadt was less damaged during the bomb rain in 1945. Large parts of Neustadt is therefor older than the mostly reconstructed old town.
We love Dresden Neustadt with its streets full of grafitti and street art. It is much more urban and modern than the old town. Here you'll find streets filled with shops, hip cafes, restaurants and bars. A highlight for us in Neustadt is the Kunsthofpassage, a court yard and an art center with paintings, art and istallations on the walls of several buildings.
So much more to explore in Saxony
Above we have listed the places we have visited in Dresden. Even we have been to Dresden twice, we could go back again any time, since it is still so much to visit and explore, both in the city and in the surrounding state of Saxony.
Getting there and around
Dresden is located approximately 165 km from Berlin. Depending on how you choose to travel you need 2,5-3 hours to get there from Berlin. We went with bus. Both Flixbus (flixbus.de) and RegioJet (regiojet.com) stop in Dresden. You can also go by train. Several trains will take you to Dresden from Berlin or other cities in Germany. Dresden also has an airport, and so does nearby Leipzig.
Dresden is a very walkable city, and to most places you can walk within not too long time. However if you prefer to use public transport, Dresden is well connected with trams, buses and local train (S-Bahn) making traveling in the city and in the surroundings easy.
Meissen is located 25 km from Dresden, and trains leaves every half hour from Dresden. Mortitzburg is 16 km north of Dresden, and buses 326 and 657 make regular trips from Dresden Neustadt.
You reach Rathen (Saxony Switzerland) easily on local train (S-Bahn line S1), half hour journey. The trains departs every half hour from Dresden.
More inspiration
From this part of Germany you are also close to interesting Poland. Here you can read about the beautiful cities of Poznan and Wroclaw.
Interested in visiting more castles and palaces in Germany? Here you can read about our visit to Schwerin Castle – Neuschwanstein of the North. Rather going south? Here you can read about the very impressive Schleissheim Palace just outside Munich. Or just leaving Berlin on a day trip to discover Brandenburg? Here we have some tips! Cottbus has a nice old town and a palace, too!