It's near, but feel at times far away. Influenced by ruling empires around them, the Balkans is a great mix of lifestyles and culture. Everything, from the history to the food and architecture reflects this. Follow us as we travel the Balkans, from Sofia, Bulgaria, to one of the youngest countries in Europe before ending up at a beautiful lake in North Macedonia.
With Sofia, Bulgaria as start -and ending point this itinerary for the Balkans will allow you to visit the three neighboring contriues Bulgaria, Kosovo and North Macedonia. From Sofia you can visit Rila Monastery (and also spend the night) in the Bulgarian mountains, before heading to Kosovo, North Macedonia and ending up back in Sofia et the end of the trip.
Bulgaria – Rila Monastery
The Monastery of Saint Ivan of Rila, better known as the Rila Monastery is located approximately 120 kilometres south of Sofia in the western Rila mountians. Rila monastery was founded in 927 AD by monk Ivan Rilski. It is the largest and most famous Eastern Orthodox monastery in Bulgaria. A fire destroyed the monastery in 1833. In 1834-1862 the monastery was rebuilt. The place became a UNESCO World Heritage Site in 1983, and today the monastery houses around 60 monks
Getting there – a personal experience
Getting from Sofia to Rila should be quite straight forward. At least so we read. This was also the information we got at our hostel in Sofia. All should be very easy; just get up in the morning, grab a taxi to the bus station and voilá – Rila here we come.
Bus stations in Sofia…
Well! For us it didn't turn out that easy. We did as we were supposed to; got up in time, grabbed a taxi, and headed to the bus station for buses to Rila. After a long taxi ride we finally arrived at the bus station. BUT it turned out to be the wrong one! Our taxi took us to the wrong station!! AT least some helpful locals could inform us that the bus to Rila leaves from Ovcha Kupel bus station. Not from the West bus station where we were. A quick check confirmed there was no time to reach the correct bus station.
What now? Change the whole itinerary? With help from the locals we got the infos and directions to get to Rila even though it will take longer (with a bus ride that included two changes). As we didn't have many options we boarded the first bus to Samokov. There we would need to spend some few hours before catching the next bus. Well….,that gave us some time to explore a new town in the Balkans that we never heard of before.
Samokov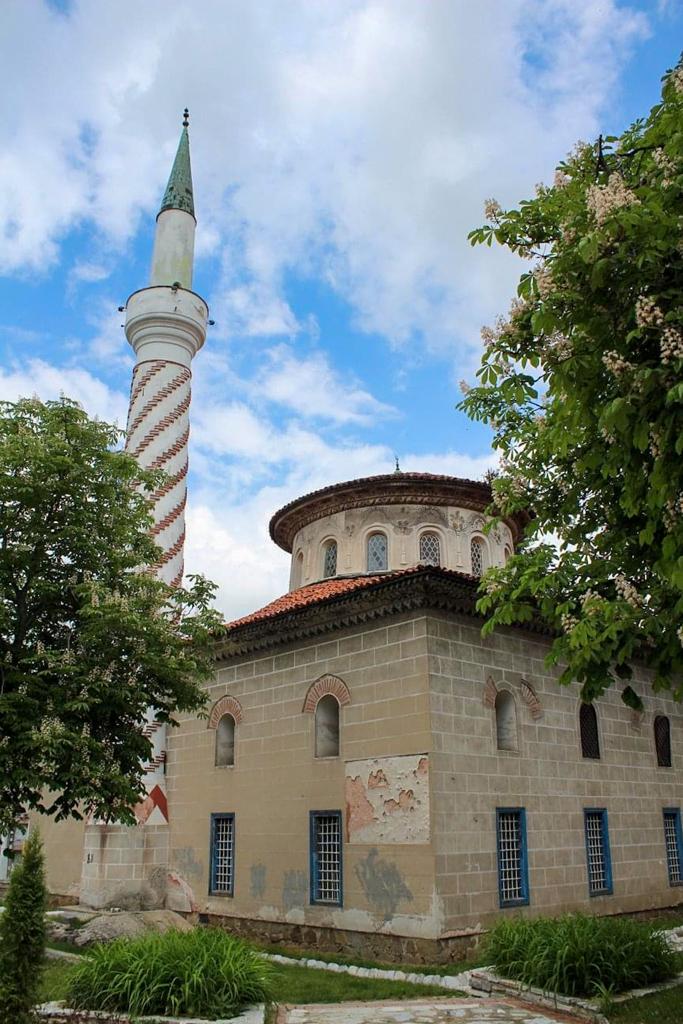 It's maybe not the most interesting town in Bulgaria or at the Balkans, but we still had some nice hours wandering around. As Bulgaria has it Ottoman inheritence there are several mosques in the country, and also this town has a nice one as well.
From here we took the bus to Dubniza, another small Bulgarian town. Arriving there we started to look for the final bus, taking us to Rila, only to find out that there was no bus at all. That one left hours ago. The only option would now be to grab a taxi. We didn't have many options so a taxi it was.
Rila Monastery – a true masterpiece in the Balkans
Rila Monastery is popular with day trippers from Sofia, so it can get quite busy and packed. In the afternoon when the day trippers have left you will have the place almost to yourself. Call in advance to make a reservation should you wish to spend the night.
Rila Monastery is beautiful! So picture perfect. Surrounded by high mountains and deep forests it has an almost unreal location. It consists of a main building surrounding an inner court. In the court you'll find the true highlight, the beautifully decorated church of Rila. The frescoes are breathtaking, full of colors and very well preserved.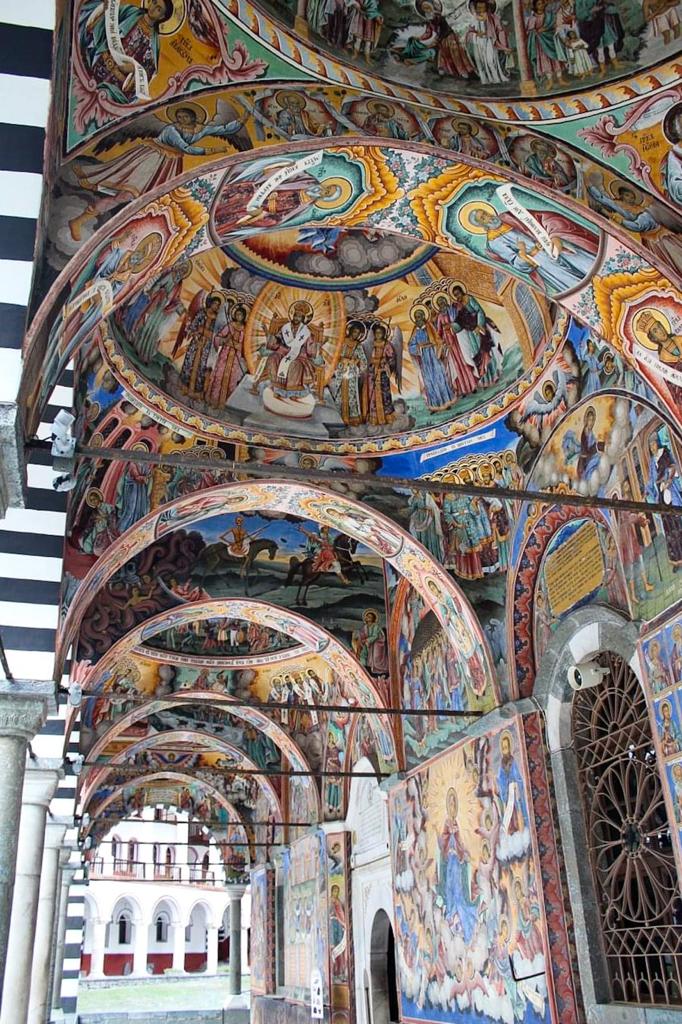 We had read that overnight guests at Rila had better access to the buildings and the court than day trippers. As we set out to explore the upper floors to get a better view of the builing, the church and the mountains, it turned out that we were exploring areas that we were not supposed to. Politely we got told we were in restricted area, and asked to go down to ground level again. We are actually not sure, due to languguage difficulities, if there are any areas on the upper levels allowed for visitors.
Sleeping in the monastery
The accomodation at Rila is simple in very basic monk cells, but with a private bathroom. If you are used to more luxurious sleeps, this might not be the place for you. If you are more like us and can sleep almost everywhere, you are in for a truly memorable stay if you choose to spend the night in the monastery.
When the hunger sets in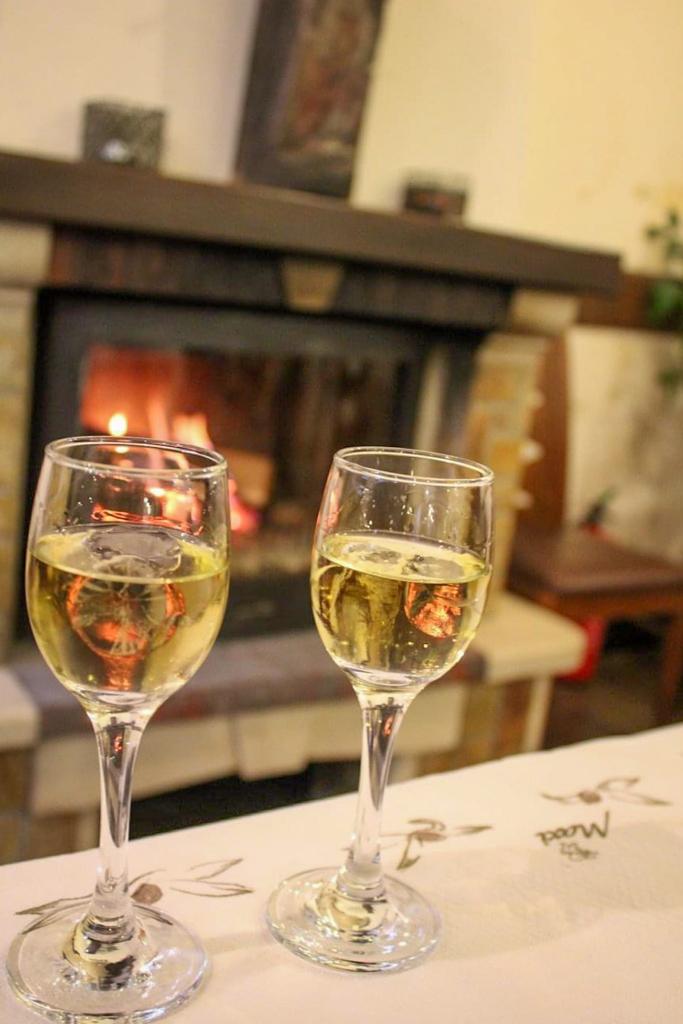 There are no restaurants or cafes in the monastery complex itself. Just outside one of the gates you'll find some few places serving traditional Bulgarian food. This is also where you will buy your breakfast the next day, and also probably the lunch if you plan to take the (only) bus back to Sofia in the afternoon. When you go for dinner you need to make sure that you are back inside the monastery grounds before 09.00pm. That's when the cerfew sets in and gates will close for the night.
In the near of the monastery
Close to the monastery you will find the cave, or tomb, of St.Ivan. It is a good 30 minute walk to get there. We met a friendly monk along the route. He was originally from Jordan, but had been living in the Balkans for years. Arriving at the tomb, he showed us around and also let us be there while he said his prayers inside the cave. Meetings like this are always so memorable and adds something special to the trip.
One night in Sofia – before 3 countries in one day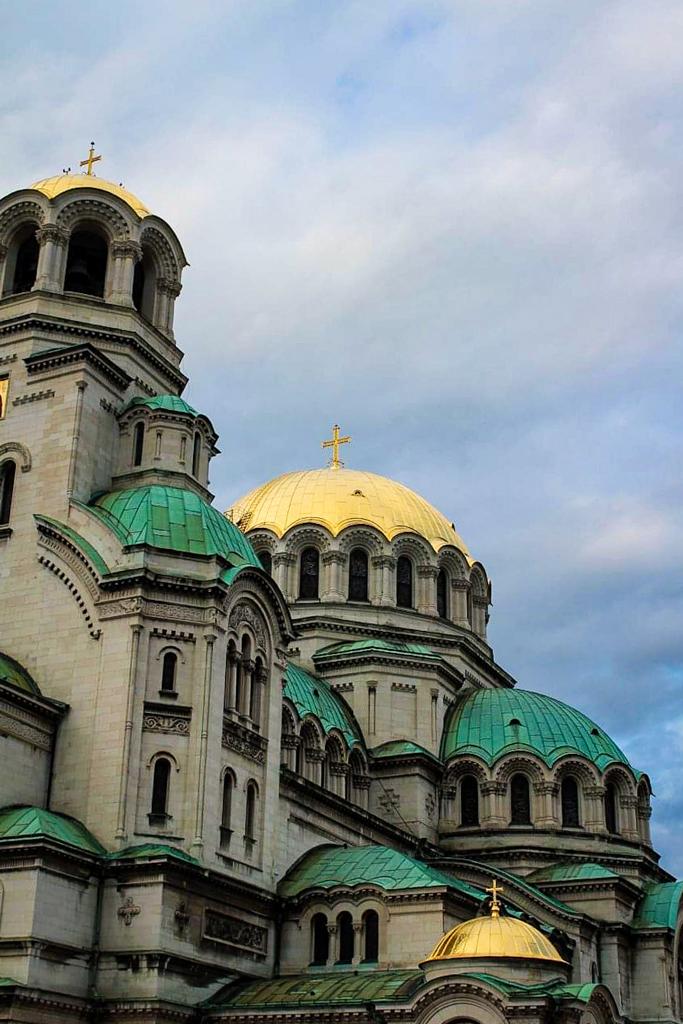 After getting back from Rila, we had time for some quick sightseeing in Sofia. Our main goal was to see the Alexander Nevsky Cathederal. The cathederal is so grand and beautiful. For us this is one of the highlights at the Balkans. It is truly a masterpiece with all its green and golden domes. The cathederal is easy to reach by foot from most parts of Sofia.
The first impression of Sofia was so-so. We found it a bit grey, worn out and not taken very good care of. It was a city that we were not taken by. Yet We knew we would have to return to Sofia at the end of the journey to catch our return flight. And luckily we did. Later you can find out what changed our mind about Sofia.
Kosovo – off the beaten track in the Balkans
Buses runs from Sofia to Skopje, from where you can connect with buses to e.g. Prizren and Pristina in Kosovo. We recommend to purchase your ticket a day or two in advance – and to get the time confirmed as well. The times we found online turned out not to be correct, so better to check directly at the bus station when your bus will leave.
Prizren – our top pick in Kosovo
Prizren is the second largest city in Kosovo. As many cities at the Balkans it is a very multicultural city. It has a mixed population of Albanians, Serbians, Bosniaks, Turks and Romanis. We actually hadn't even heard of Prizren some few years ago. We only got aware of it as a friend passed through the Balkans a year before. To find these hidden gems and visit more unknown places is just so interesting, and it widens ones horizon even more.
Prizren is not a big town, so there is not too much to see or do. But still there are some interesting sights making the trip worth it.The old stone bridge is one of the land marks in Prizren. Another is Sinan Pasha Mosque, an ottoman mosque in the old town built in 1615. The view of the river, the bridge and the mosque is a sought-after photo motif when in Prizren. We can understand why! Just to see this is worth the trip itself.
The old fortress
Above the city you find Prizren Fortress. A steep walk leads up to the fortress. It is totally worth the uphill walk as the fortress offers amazing views over the old town, and the surrounding areas. On the way down again we even found a bar. There we could have a well deserved beer – with a view. Except from these sights the old town itself is also very nice. It's filled with churches and mosques, and cute traditional houses. Among all the traditional, one can also find some surprisingly hip restaurants and cafes, with trendy food and good coffees.
Pristina – a new capital city in a new country
Kosovo is a small country so the distances are short. In about 1,5-2 hours by bus from Prizren you arrive in Pristina. There are several buses a day between the two cities.
Pristina is a small city with a compact centre. Most sights can easily be reached by foot. In fact we managed to see all the main sight in some few hours one late afternoon.
The top sights of Pristina
Even Pristina is a capital city, there are no world class attractions there. Some of the most impostant sights in Pristina is the Newborn monument, a library, a statue of Bill Clinton and some mosques.
The Newborn monument was unveiled on 17th of February 2008. The day Kosovo declared independence from Serbia.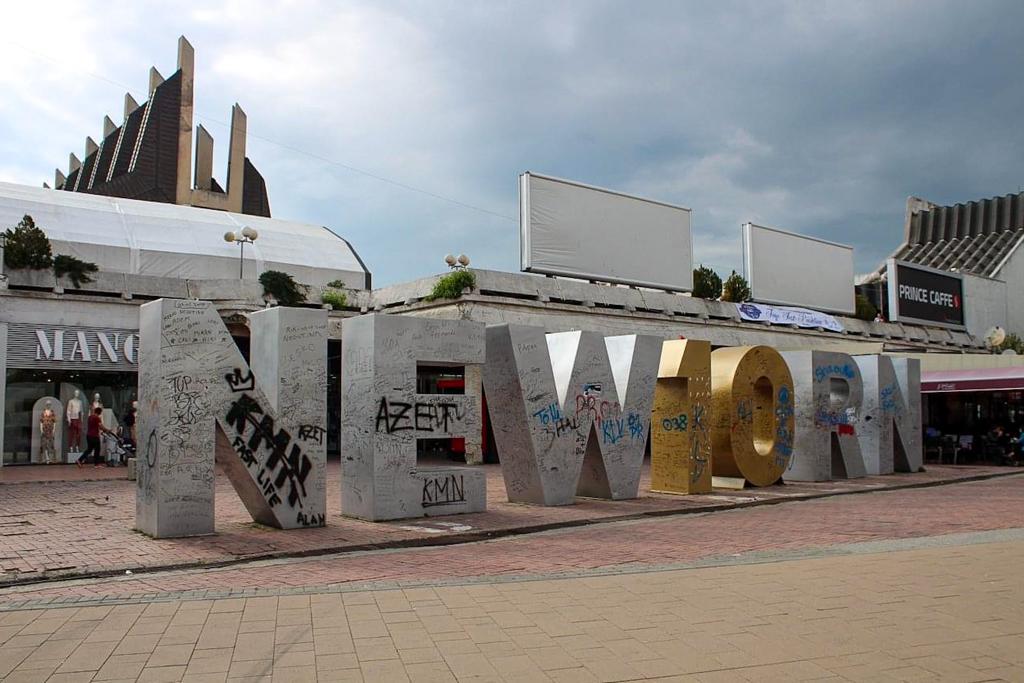 The National library has been named the worlds most ugly building due to it's very interesting architecture. We leave it to yourself to decide wether this building is cool or ugly.
The Bill Clinton statue was unveild on November 1, 2009, as a thanks to the former president for his help during the struggle with the government of Yugoslavia. The statue is 3.0m (10-foot) and is located on the Bill Clinton Boulevard, next to a shop named "Hillary". Spread around in the city you will also find some nice mosques and some nice churches that are worth a visit.
International food scene
When we travel somewhere, we think it's always nice to stick to the local cuisine, local drinks and local products in general. We always enjoy trying out the food in a country or a region with new tastes, new dishes or new combinations of food. But some few times while travelling one can get a bit tired of the local cuisine. And this was the case while travelling the Balkans. Because of this we really enjoyed what we found in Pristina.
Surprisingly, thanks to a big expat community, Pristina has a quite international food scene. Severeal restaurants, cafes and bars have an international atmosphere, with inernational food and guests. The price level is very affordable, so one can eat and drink good even if you travel on budget.
Half day trip to UNESCO World Heritage
A short bus ride from Pristina will take you to Gracanica Monastery. It's a Serbian orthodox monastery, built by the Serbian king Stefan Milutin in 1321. The monstery has amazing frescos inside, and is now a UNESCO world heritage site.
North Macedonia
A bus from Pristina takes you to Skopje in about 2-3 hours. Spend some few days here or do as we did; contiune to Lake Ohrid, and save Skopje for later. As the bus for Ohrid left in the afternoon we had some time to explore Skopje. We visited the memorial house of Mother Theresa, the Plostad Makadonija (Macedonia Square) – a square full at statues and even a triump arch. We also made it to Carsija – the old Turkish bazaar. If you are into craft beer we recommend a stop at the Old Town Brewery, where you also can have your lunch.
Ohrid – our favorite in the Balkans
You will arrive Ohrid after an approximately 3 hour bus ride from Skopje. We highly recommend to book your accomodation in the old town of Ohrid. Compared to the charm of the old town, the new part isn't very interesting. The old town is filled with traditional houses, churches, cafes and small shops, and the narrow streets invites you to wondering around and get lost in the lanes.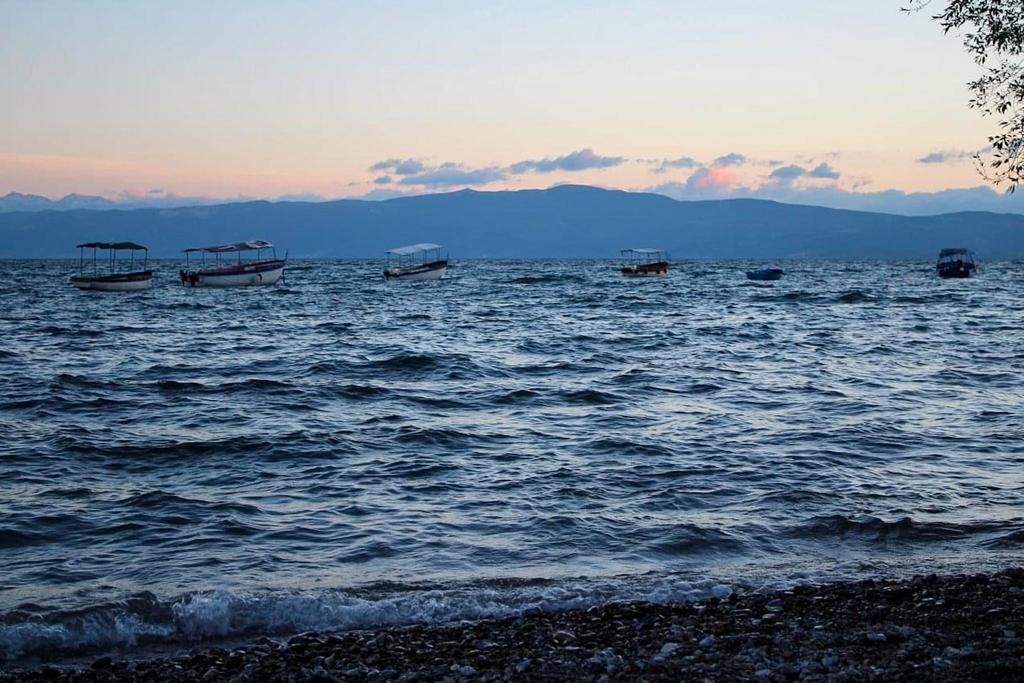 We arrived our apartment in the afternoon, and just time to enjoy the lake view (and a beer) from our balcony before the sun started to set. And at sunset we had other plans. The main sight in Ohrid is the Church of Sveti Jovan at Kaneo. You will soon understood why this is not only the most popular sight in Ohrid, but in fact also being one one the most photographed sights in the whole of North Macedonia.
What a location for a church! Or for any building. From the cliffs above the church the view is breathtaking. We sat there until it was dark, just enoying every minute. We were totally in love. Why had no one told us about Ohrid before? The first few hours in Ohrid had left us more than satisfied – and we couldn't wait for the rest.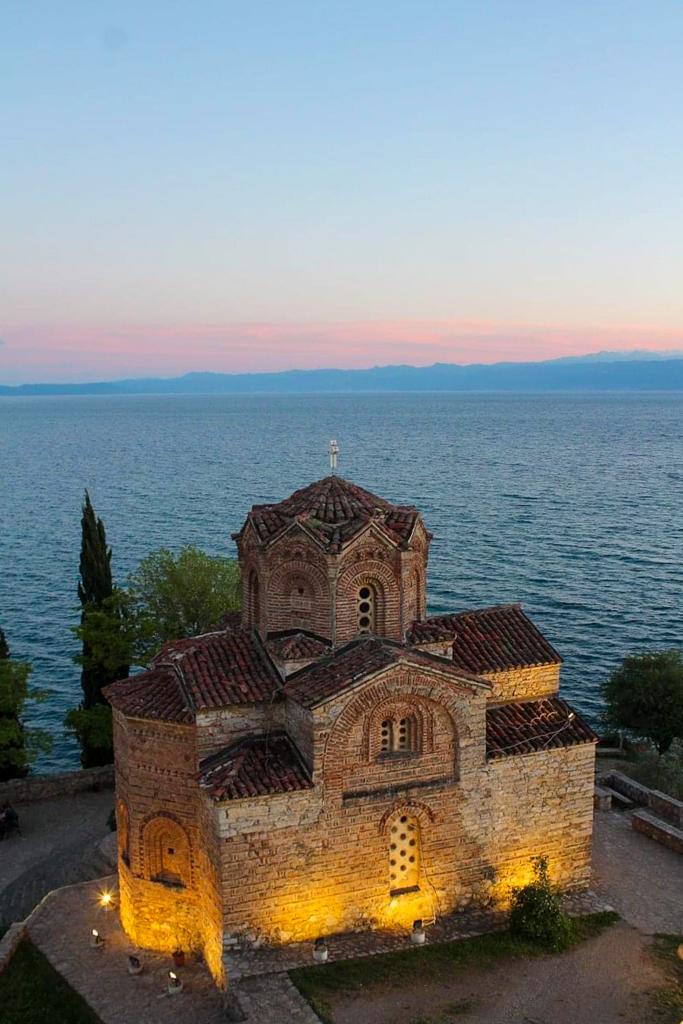 Exploring Ohrid
Spend a full day exploring Ohrid. We love to visit the orthodox churches which you can find all over the Balkans. They are just so beautiful, and the ones in Ohrid are no exeption. Located in the old town, Sveta Sofija Cathederal is the grandest church in Ohrid. After a visit there we were again drawn to the church of Sveti Jovan at Kaneo. We wanted to see it in day light as well, and once again, we fell in love with the beauty of this church, and its location.
It is located a 10-15 minute walk to through the old town, followed by a nice board walk along the shore of the lake. In this area along the water you will also find some of Ohrids best and most interesting restaurants. The Ohrid trout is especially recommended.
Another great fortress
From the Church of Sveti Jovan at Kaneo, you can walk uphill for a while, visiting a medival church, Plaosnik, before ending up at Samuel's Fortress. The walls of the fortress is the walls of Ohrids 10-th century castle. The views from up there are wonderful, both over the lake, the city and the nearby hills and mountains. From the fortress there's a short, very nice walk back to the old town.
If you still have more energy, you can continue with an afternoon walk along the beach promanede all the way through the newer part of town, which also has quite much to offer, though mostly for shopping, cafes, bars or restaurants.
Of course we couldn't resist going back one more time to that church you know. Yes. You read correct. One more time we went back to the Church of Sveti Jovan at Kaneo, for one last beautiful sunset. A visit there also gave us an excuse to visit one of the nice resturants along the shore again.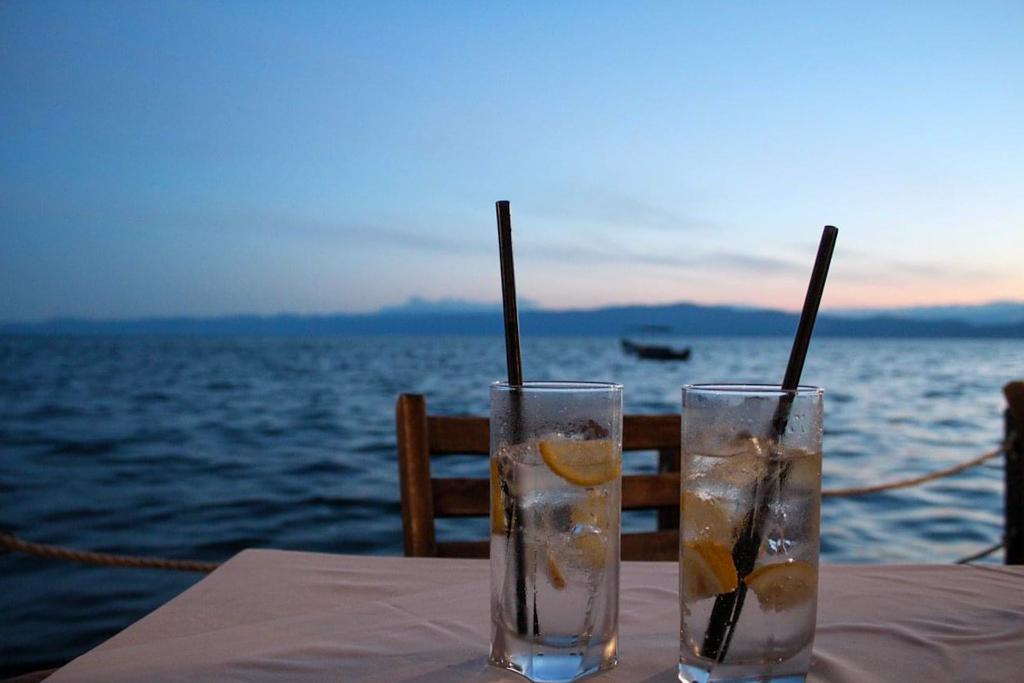 Skopje again – third time in one of Balkans main cities
Skopje is a well connected transport hub in this part of the Balkans. We had to connect there once again – and we didn't mind at all as we still had more Skopje to explore.
The Turkish bazaar got a re-visit again, and the fortress above the old town is also worth checking out. There is a Museum of Modern art, with some interesting pieces in their collection. We did not visit the museum as it was closed due to renovation. All these classic sights are interesting enough, but that's not the most fascinating part about Skopje.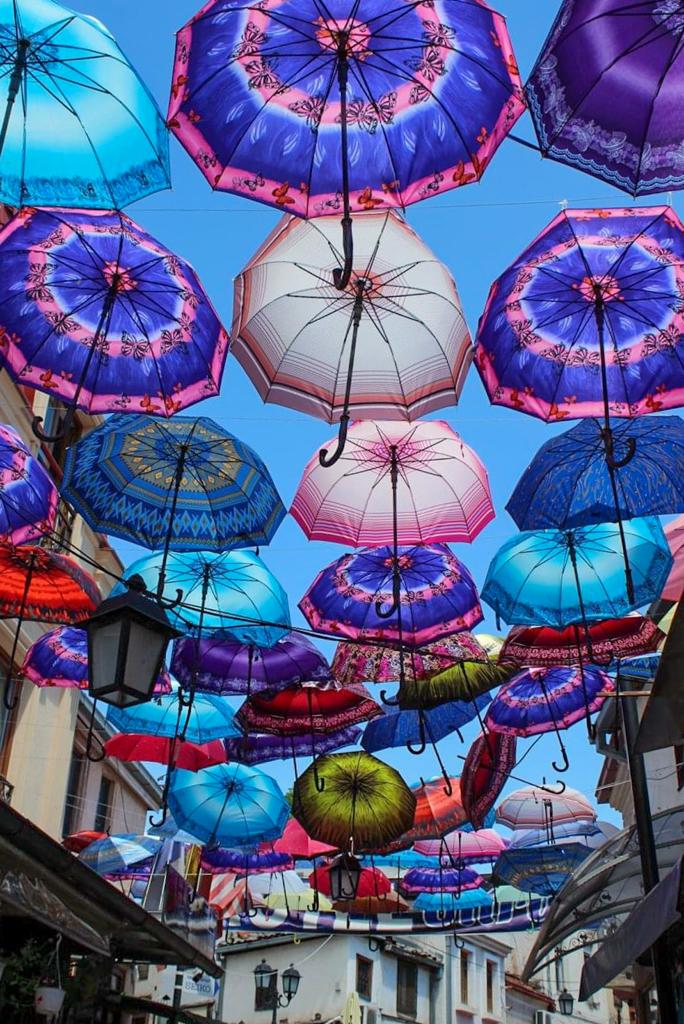 Skopje has some very interesting architecture. Buildings are so monumetal, so grand and many of them look very ancient as most of them are in classic style. There's even a copy of the triump arch in Paris.
The sculptures of Skopje
There are monumental bridges, and we must not forget the sculptures. There's litteraly a sculpture everywhere. And by that we mean everywhere. On squares, on bridges, in front of houses, on top of houses,on the side of houses, along the river, at logical places, and at unlogical places. We have never seen so many scultures before in one place. This weird and, a bit crazy, mix of everything; the buildings, the bridges, the monuments, the statues and the red double decker buses makes Skopje a very interesting place to visit if you travel the Balkans.
Back to Sofia (do we really have to?)
As we had our return flight back from Sofia we had no choice but returning to the city we didn't like tens days earlier. As we had booked the two last nights in Sofia we had plenty of time to see everything that could be of interest, and maybe we even would get bored in this city?
The first thing we noticed when we arrived was that Sofia looks totally different in sun. We went back to the cathederal to get some better pictures. On the way there we had to admit that the city wasn't only gray and worn. It also had nice buildings. Stylish and grand ones, classic ones and communistic style ones. We saw theatres, parks and business areas. We saw the mix of the different styles and we really liked what we saw.
For the coffee lover – Balkans best coffee?
If you are a coffee addict like us and always hunting the perfect brew, we found the place for you. Supposedly one of the best places to get good coffee in Sofia is at Chucky's Coffee House. And wow, do they serve good coffee! (UNPAID ADVERTISEMENT)
We had dinner at a newly opend restaurant, Crazy Diamond. We left totally satisfied and very happy after our visit there. When walking back to the hotel in the evening we knew it. Something had changed. We had started to like Sofia, and couldn't wait for the next day to see more.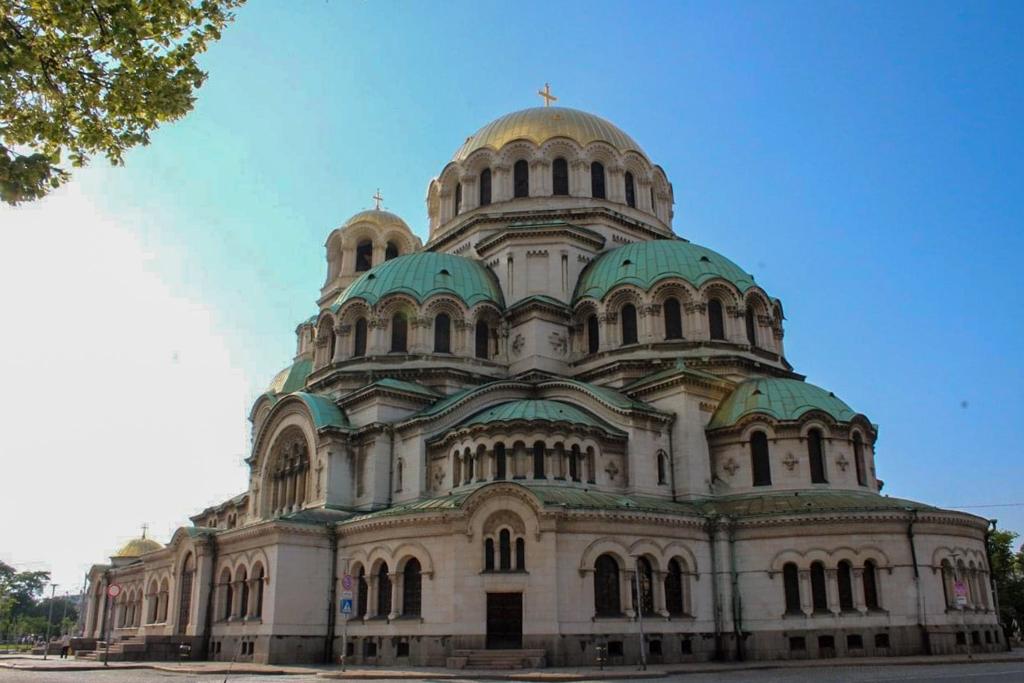 Sredets; the place to be in Sofia
When visiting a city it's easy always ending up at the main shopping street, and in Sofia that street is Uitosha Boulevard. Main shopping streets are normally the same, have the same stores everywhere, and are often pretty boring. The Balkans is no exeption. Therefore, if you find yourself on this street in Sofia; leave it. Just off the main street is where everything happends.
The area of Sredets is such a cool neighborhood. It's just in the middle of the city, and just off the main street. Here you find small streets and alleys with indepentent or alternative shops, cafes, galleries, bars, restaurants and street art. We visited several neigborhhods during our journey in the Balkans. But this was our very favourite.
Our favorites in the area
Of the hidden gems we found, we would like to highlight the Elephant Book store, an amazing book store, and restaurant Made in Blue for delicious food in a very urban and interesting building. If you need a drink while in the area we also liked the place called One More Bar. Chuckys Coffee House is also in this same same area. (ALL UNPAID ADVERTISEMENT)
All these hiddend gems, the street life, architecture, street art, the food, the coffee and the drinks, really made the return to Sofia into something very special. From the first visit in the beginning of this journey, and until the end of the journey we went from disliking it, and then ending up enjoying Sofia a lot. We actually liked Sofia so much, that from now we have it on our list over possible cities to go back for a weekend break.
Getting in and around
In all the countries in the Balkans you find airports. Some better connected than others. The countries are not too large, so one can easliy fly in to one country and out from another.
The Balkans also has a desent rail network, with connections to e.g. Istanbul, Vienna, Germany, Italy and other countries to the bigger cities.
For local tranport in the Balkans you have several options. There are domestic buses, and buses between the countries. Just remember to double check the deparure times and from which bus station you should leave.
Rental car is also an option, at least if you travel only one country. If you wish to do a bigger journey at the Balkans in rental car, you would need to find a company that allows you to take the car over the borders.
In the bigger cities at the Balkans there are buses, trams and metro. We found most of the citites we visited to be very walkable and didn't need public transport too often.
More inspiration
If you are interested in traveling in the eastern parts of Europe, read the post from our journey in Russia, or more specificly about Moscow, Saint Petersburg or Russia's Golden Ring.
Rather wanna go to former Eastern Germany? Then read our post from beautiful Saxony.