This post may contain affiliate links, where we may receive a small commission if you purchase something through following the links at no extra cost to you.
Most people in Germany or Bavaria have not heard about the region of Samerberg actually. Also for us, it was a very unknown place, but so surprising. Samerberg is truly a hidden gem in the German pre-alp region. You can easily get there by car or public transport from Munich to explore great hiking tracks, enjoy delicious food and visit beautiful traditional villages far away from traffic noise and surrounded by impressive natural scenery.
If you are in need to leave the big city and enjoy the countryside in Bavaria, the region of Samerberg is simply perfect. Lush green fields, massive mountains and traditional farmhouses are located in the picture-perfect alp region. In this blog post, we will explain more about the region of Samerberg and give you tips for this secret hiking paradise in Bavaria. Read on for where to stay, where to eat, what to do and how to get there.
Travelling to Germany? Join Our Facebook Group Germany Travel Forum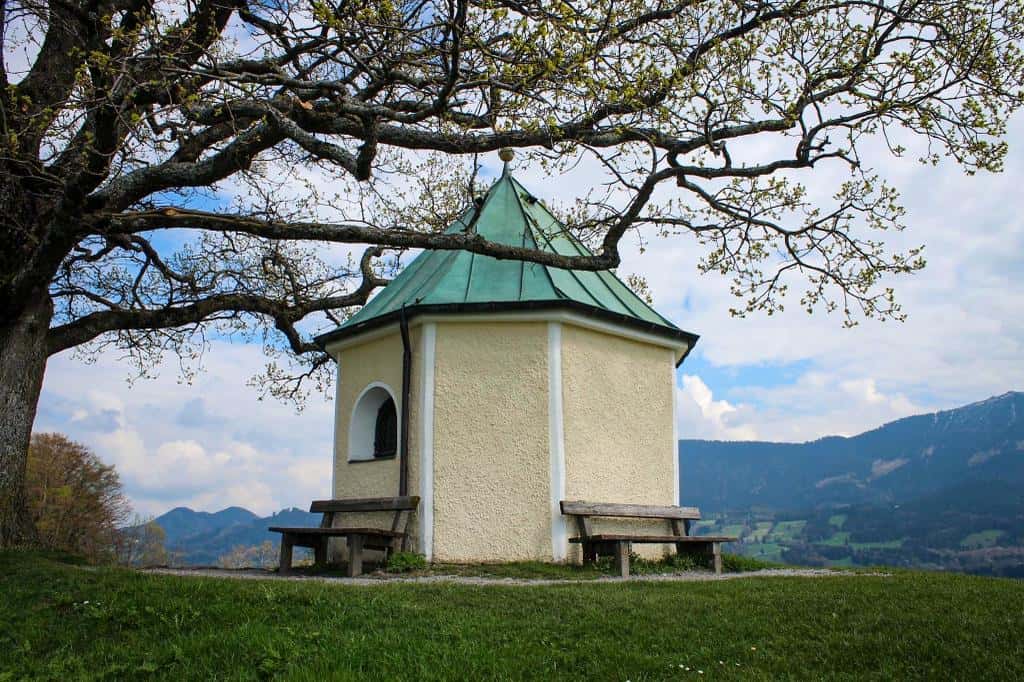 What is Samerberg?
Samerberg is actually only the name of the region but not of a single town or village. There is no part of the municipality called Samerberg. It consists of 78 hamlets and localities, with the seat in Törwang.
20,000 years ago, the Inn glacier ploughed through these fields and mountains. Gigantic masses of ice formed this very special Alpine high valley. After the ice had melted, boulders remained on which the first settlers settled and on which our villages are still located today. There was also a remaining hollow in the middle of the Samerberg, which housed the meltwater for thousands of years. Over time, a swamp area developed there, which you still can see and visit: the Samerberger Filze.
The region is still very traditional and culture and life in the community are very important. Numerous clubs for the most diverse interests can be found on the Samerberg which organizes festivals and gatherings throughout the year. It was told that people from Samerberg like to celebrate, not only for visitors but mostly for themselves and to keep traditions and the community alive.
Church holidays and traditional events throughout the year are kept alive by traditional associations and organizations. Most of these festivals have live music, traditional dances, lots of food and beer, of course. Local people usually wear their traditional costumes (Dirndl and Lederhose) on religious holidays and festivals. Maybe you are lucky to experience a traditional festival and this mountain region while you visit the Samerberg region.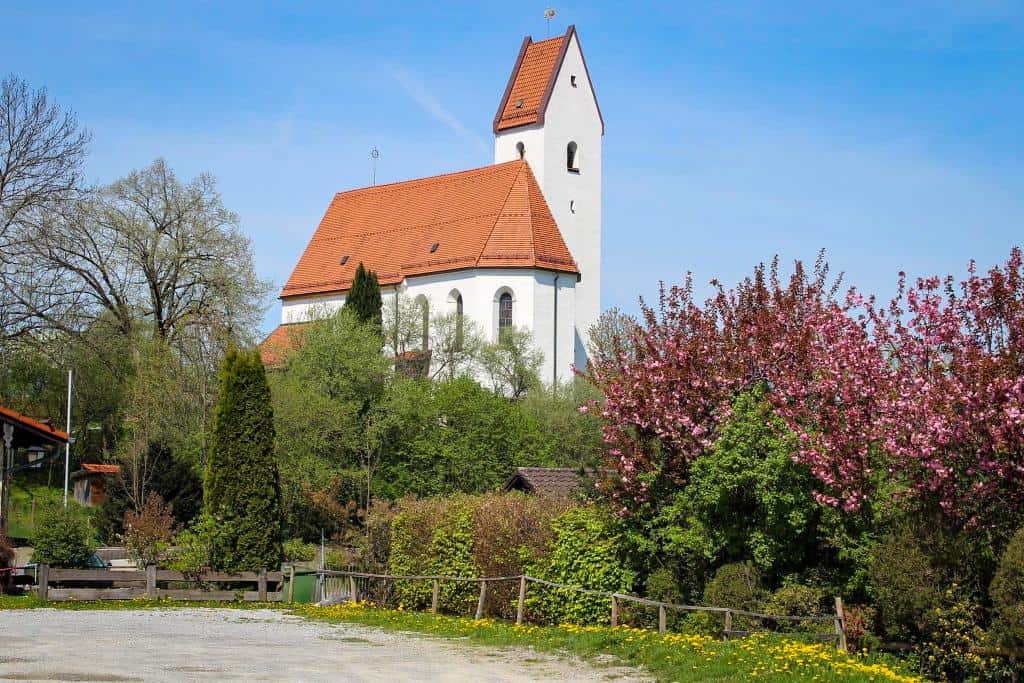 Where is Samerberg?
Samerberg is located between Munich, Salzburg and Innsbruck on the German Alpine foothills. The Samerberg is a high alpine valley at around 750 m between the Chiemgau and the Inn Valley in south-eastern Bavaria, Germany.
The area is very hilly and surrounded by beautiful mountains and forests. There are four bigger villages where you find most accommodations, inns, tourist information and restaurants: Grainbach, Törwang, Steinkirchen and Roßholzen.
TIP: Visiting Munich as well? Our post on Schleissheim Palace tells you what you need before visiting one of Bavaria's most impressive palaces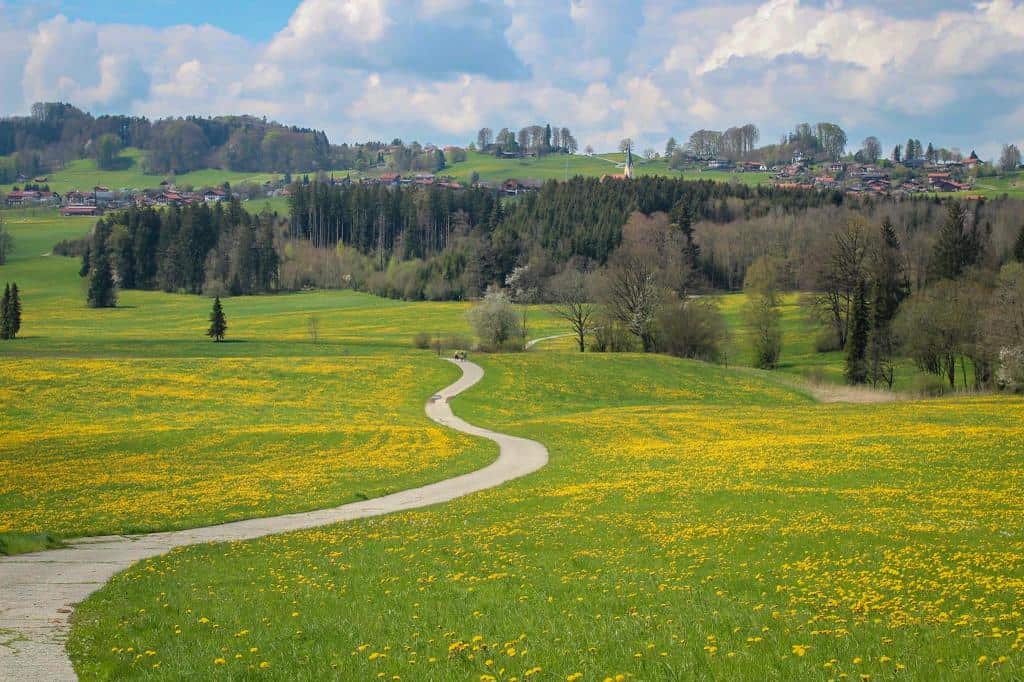 Hiking in Samerberg
Hiking is definitely the top activity in the region of Samerberg and offers something for everyone, whether leisurely, athletically challenging, in untouched nature or on a marked hiking trail, in the shady forest or with a breathtaking panoramic route.
You can choose lots of different tracks or ways to get around. There are easy, short hikes and tracks which lead up to mountain summits or even to neighbouring Austria. There are hikes for everyone.
As mentioned before, the Samerberg region is hilly, but everyone can use easy tracks. Especially the swamp area Samerberger Filze is great for short walks with kids or strollers.
On special and marked theme trails (e.g. farming, beer,…) you will discover scenic charms, immerse yourself in history and learn a lot about the unique flora and fauna of the Samerberg region.
Another highlight of hiking is Hochries Mountain. There are several marked trails up and/or down. The shortest way down takes for example around 1,5 hours but if you want more scenic routes with great panorama views it can take 2-4 hours from the summit at Hochries down to Grainbach. The same is, of course, to take the way up, but it could take a bit longer.
TIP: Our post on Steigerwald will tell you about a beautiful hike between the wine fields in Franconia, in northern Bavaria.
A great alternative is to take Hochriesbahn, so you don't have to hike all the way up or down. There is a chairlift between Grainbach and the middle station and a cable car between the middle station and the summit of Hochries.
If you need more information, you usually will get maps, brochures, help, tips, and inspiration at your accommodation, online or at the tourist information in Törwang.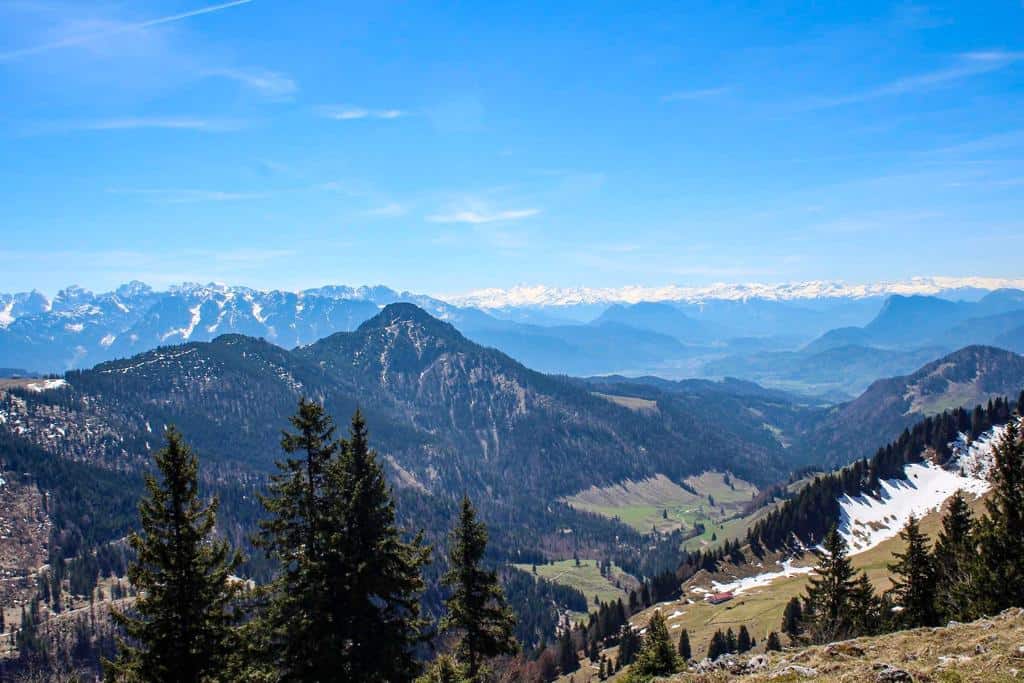 Other things to do in Samerberg
Samerberg is perfect for outdoor activities. Besides hiking there are several options to do or even combine with hiking.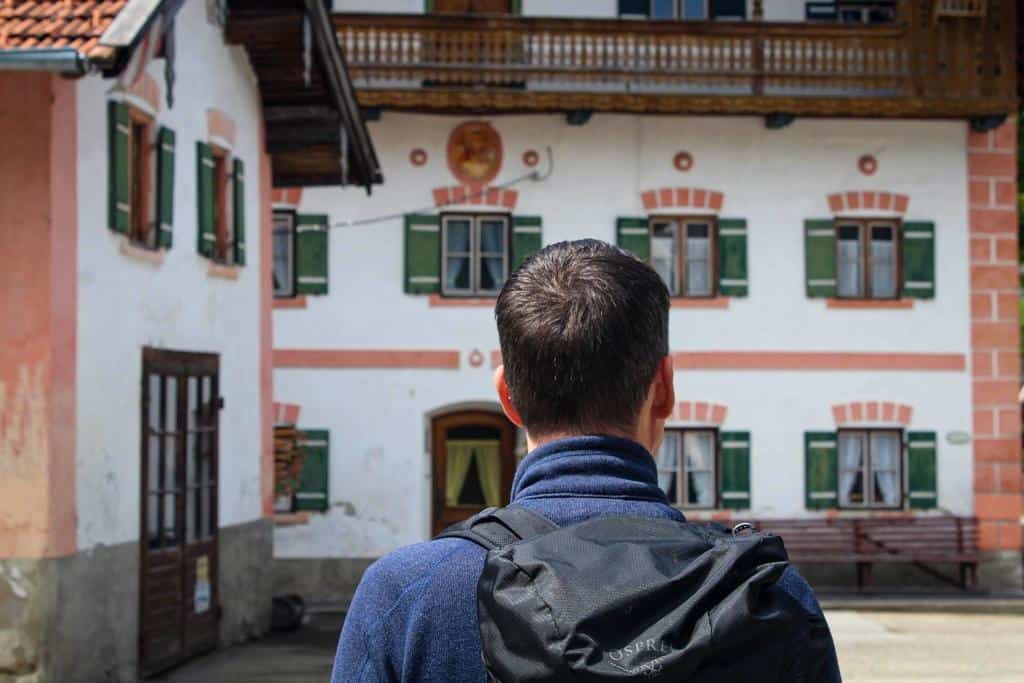 Hochriesbahn
The Hochriesbahn in Samerberg is a nice way to get to the summit of Hochries. It is actually divided into two parts. First, you take a chairlift from Grainbach to the middle station and from there a cable car to the top of Hochries Mountain.
There are several Alpine inns where you can get food and drinks with amazing views of the mountains.
| | | | |
| --- | --- | --- | --- |
| | Adults | Children (from 6 years) | Reduced |
| Chairlift | | | |
| ride up to the middle station | 7€ | 4€ | |
| ride down from the middle station | 6€ | 4€ | |
| ride up and down | 10€ | 5€ | |
| Cable Car | | | |
| ride one way | 16€ | 9€ | 14€ |
| return ride | 25€ | 11€ | 23€ |
| Chairlift and Cable Car | | | |
| ride one way | 18€ | 11€ | 16€ |
| return ride | 27€ | 13€ | 25€ |
Hochriesbahn Samerberg
Hochriesstr. 80, 83122 Grainbach/Samerberg
Opening times: 9:30 (first ride with the chairlift) – 17:00 (last ride down)
Attention! There is no operation in the winter season (beginning of November to the end of March).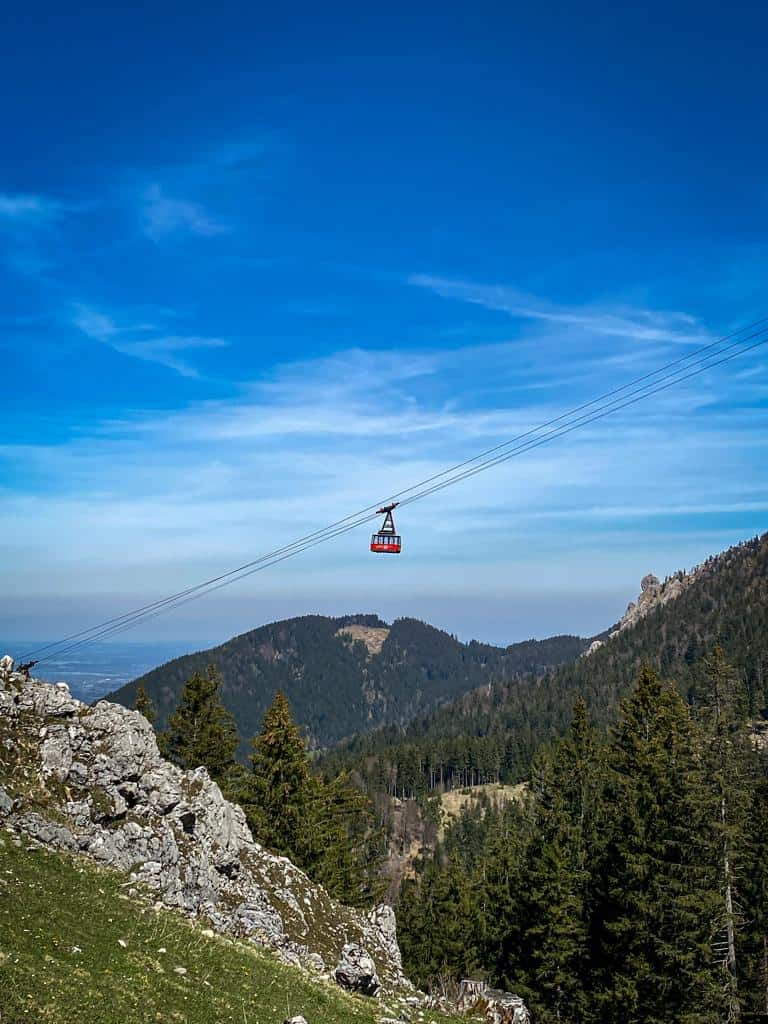 Natural swimming pool
Surrounded by green hills and meadows between Grainbach and Törwang, you find a natural swimming pool. There are no artificial chemicals used in this pool. The naturally designed facility impresses with its impeccable water quality because the used water is constantly cleaned biologically using plant and sand filters. You can visit this swimming pool between April and October and it is free of charge to use. There is a pool for swimmers and non-swimmers.
On hot summer days, it is a great place to cool down, meet friends and just go for a quick swim. Close by, there is a kiosk and an inn for drinks, small dishes and snacks. There are also dressing rooms, toilets and parking.
Naturbad Samerberger Filze
Schwimmbadstraße, 83122 Samerberg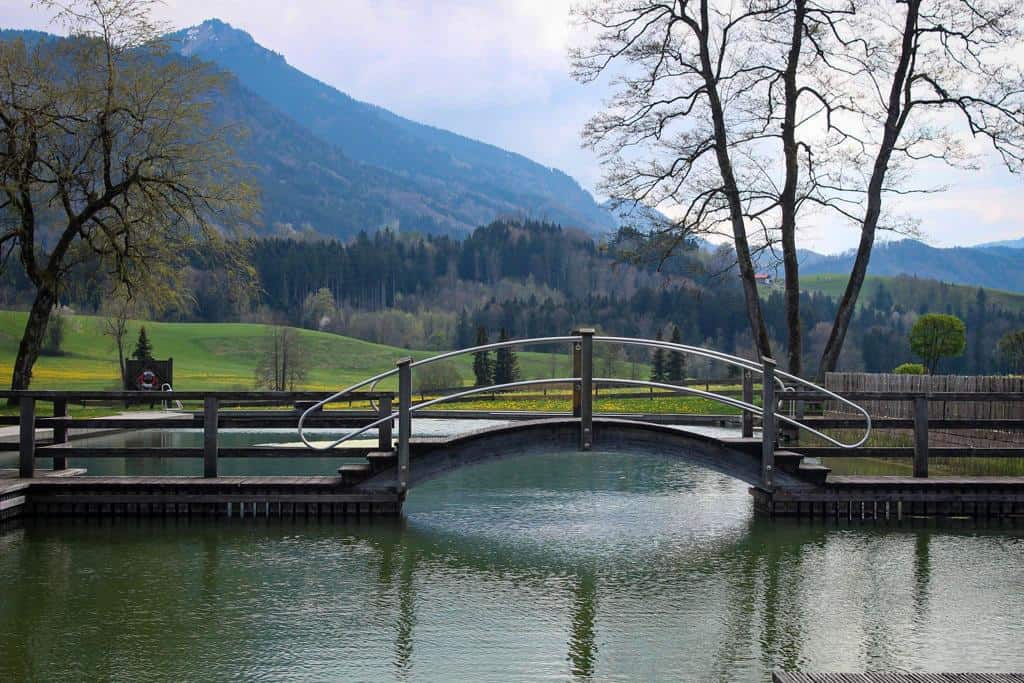 Traditional architecture
Rustic inns, lovingly preserved farms, churches and an all-around enchanting mountain village atmosphere, that is all you will get when you visit the beautiful Samerberg region. If you walk through one of the villages and hamlets you will see many artfully painted house facades and lush floral decorations on the wooden balconies. In the summertime, the balconies are in full bloom with flowers. In the background, you can hear the soft ringing of cowbells.
The centre of Törwang is especially beautiful. You find several nice buildings with painted facades there, as well as the church, the town hall, the local Maypole and a small supermarket.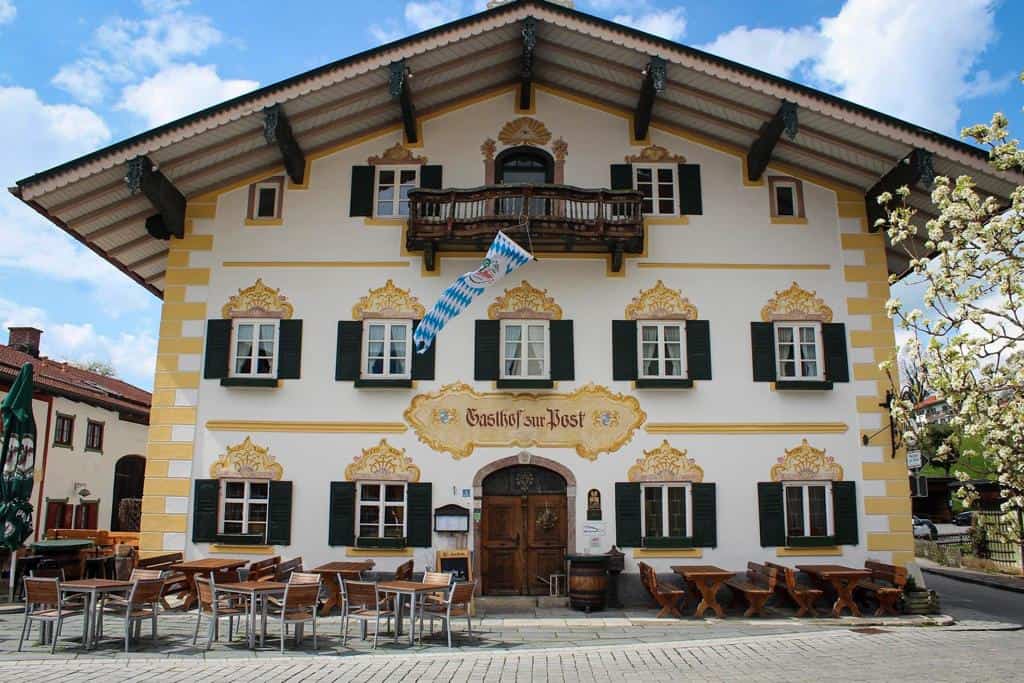 BikePark Samerberg
The Bikepark Samerberg is a new and cool attraction, offering unlimited fun for free riders and cross-country riders and making the region even more attractive for persons who look for some action. The Hochriesbahn brings you up to the start of the route with a short chairlift ride and a great view of the Samerberg region. It is already well known, not only in the Samerberg region and popular with people of all ages.
TIP: Our post on biking in Saxony-Alhalt give you lots of inspiration if you want to go by bicycle in the middle of Germany
There, you will find well-maintained routes with various single trails, curves, waves and wall rides down to the valley. The main route is easy to ride and also suitable for beginners and children and offers a lot of fun for experts as well, especially since the more demanding obstacles can also be controlled in a targeted manner.
At BikePark Samerberg you can rent everything you need for an adventurous day at the bike park: Bikes, protection, helmets and even e-mountain bikes. You don't have to bring your bike, you can just rent one there. And there is also a workshop, in case you need to get something repaired on your bike.
Be aware that you need to buy tickets for the bike park and the chairlift (in case you plan not to get up to the middle station by yourself).
Check out their webpage or Instagram for training or special events.
Bikepark Samerberg GmbH
Hochriesstraße 80b, 83122 Samerberg
Ticket price for a day: Adults 22€, Children 15€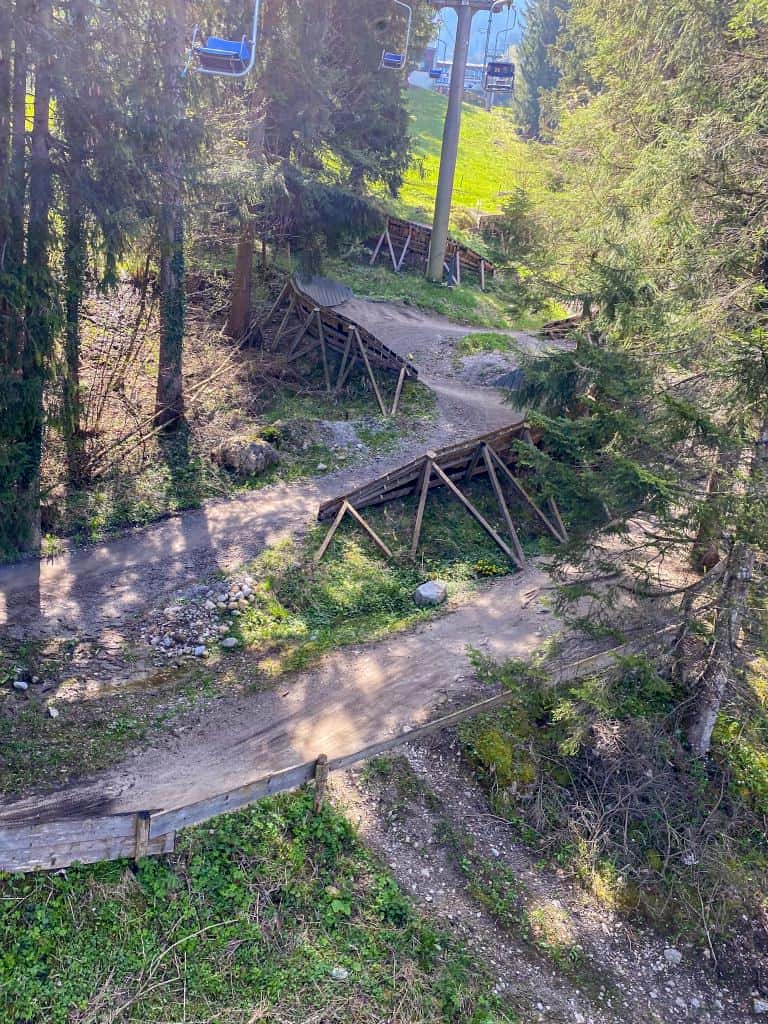 Where to stay in Samerberg
During our time in the beautiful region of Samerberg, we stayed at the charming holiday apartment "Zur Wache".
This building was a former local police station and is now the home of the family which is renting out this beautiful holiday apartment on the top floor.
This holiday apartment is perfect for couples who want to explore the region of Samerberg. It has everything you need for a weekend getaway or long holiday:
comfortable bed
clean, spacious and modern bathroom
fully equipped kitchen
a couch to relax
a balcony with an amazing view
From there, you can easily start your hiking tours or other activities. And during sunset, you can enjoy a cold beer with a view from the balcony.
We really enjoyed our time at this lovingly and privately run holiday apartment.
Ferienwohnung "Zur Wache"
Hochriesstraße 12, 83122 Samerberg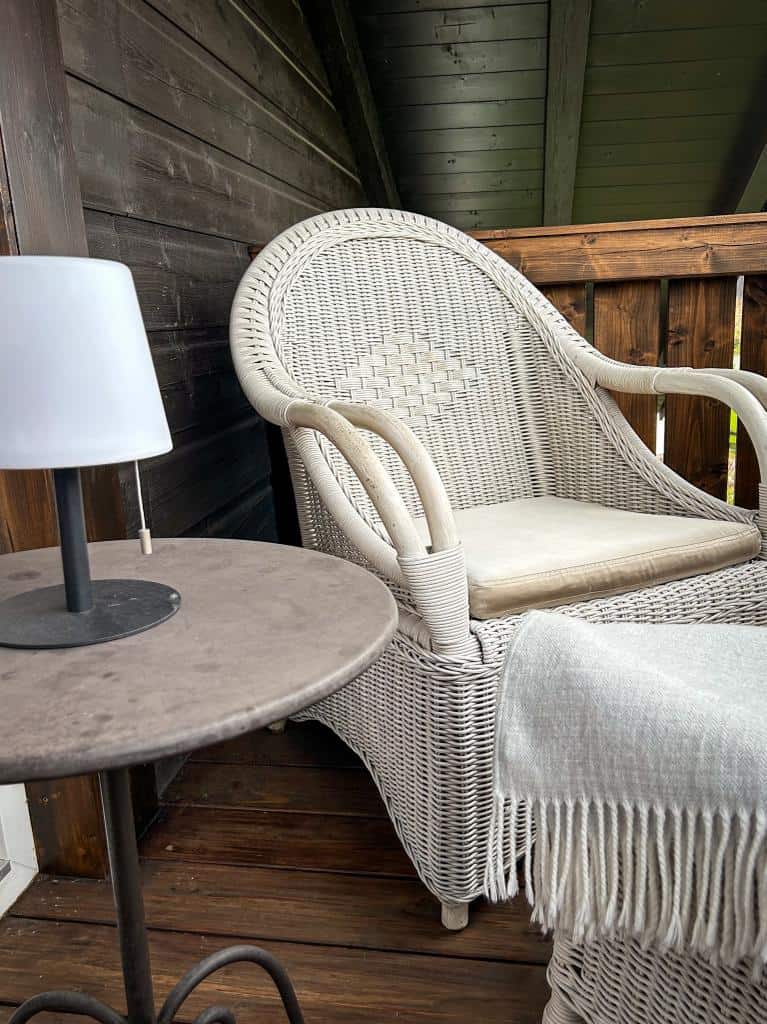 Restaurants and coffee in Samerberg
There are several restaurants in the region of Samerberg. Most of them serve Bavarian cuisine, which means the dishes are mostly meat-based. But during our time there, we could try some very nice restaurants which serve traditional Bavaria food with a modern twist and even alternatives for vegetarian or vegan people. Check opening times before you are heading to one of the restaurants because some might be closed on certain days.
Alpenrose
The Gasthof Alpenrose is a historic restaurant in the Samerberg region that has been serving traditional gourmet food and is located next to the church in Grainbach. There is a cute beer garden and a terrace to enjoy cold drinks and delicious food on warm summer days and evenings. But also inside it s very cosy and traditional.
It has been owned by the Wörndl/Lerche family since 1868, who are now the fifth generation to run it. Florian Lerche and his team prepare the Bavarian-Styrian dishes with lots of love. They focus on cooking with seasonal and regional products. And you definitely have to try the pork roast. The crust is heavenly!
Gasthof Alpenrose, which is also recommended by Fallstaff and Michelin Guide, also offers double rooms and holiday apartments. Check out their webpage for special events, e.g. wine tasting or beer menus.
Gasthof Alpenrose
Kirchplatz 2, 83122 Samerberg
Opening Times: Wednesday to Sunday Kitchen from 11:30 am to 2 pm and 5.30 pm to 9 pm (Sunday until 8 pm)
Closed on Mondays and Tuesdays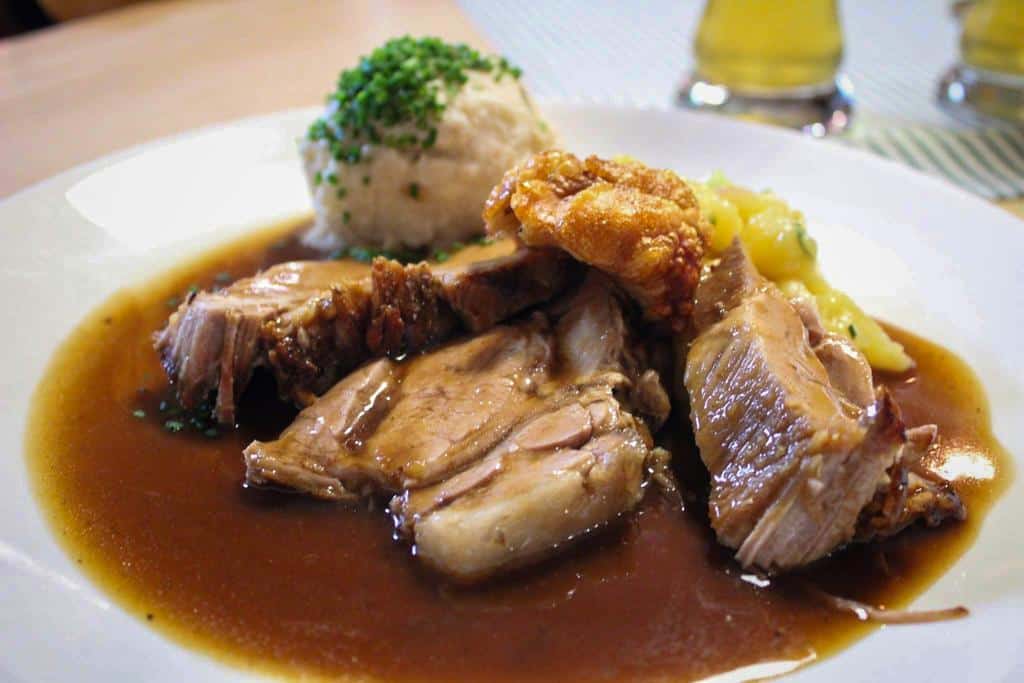 Schinkensepp
The family business became known as "SchinkenSepp" because of the home-smoked ham specialities in 1952 (ham means Schinken in German). The name stuck and exceptional bacon and ham are still a highlight on the menu.
You can choose to sit in the traditional guest room, the vault room or outside in the beer garden with an amazing view of the Chiemgau region.
Kerstin Sämmer opened during the pandemic the restaurant and made the menu traditional with a modern twist. The menu is not only meat-based. It also offers lots of vegetarian and vegan options with seasonal products from the region.
Check out their Instagram for updates and special evenings, e.g. BBQ night.
Schinkensepp
Obereck 13, 83122 Samerberg
Opening Times: Wednesday to Friday from 12 am to 11 pm, weekends and public holidays open from 10 am to 11 pm
Closed on Mondays and Tuesdays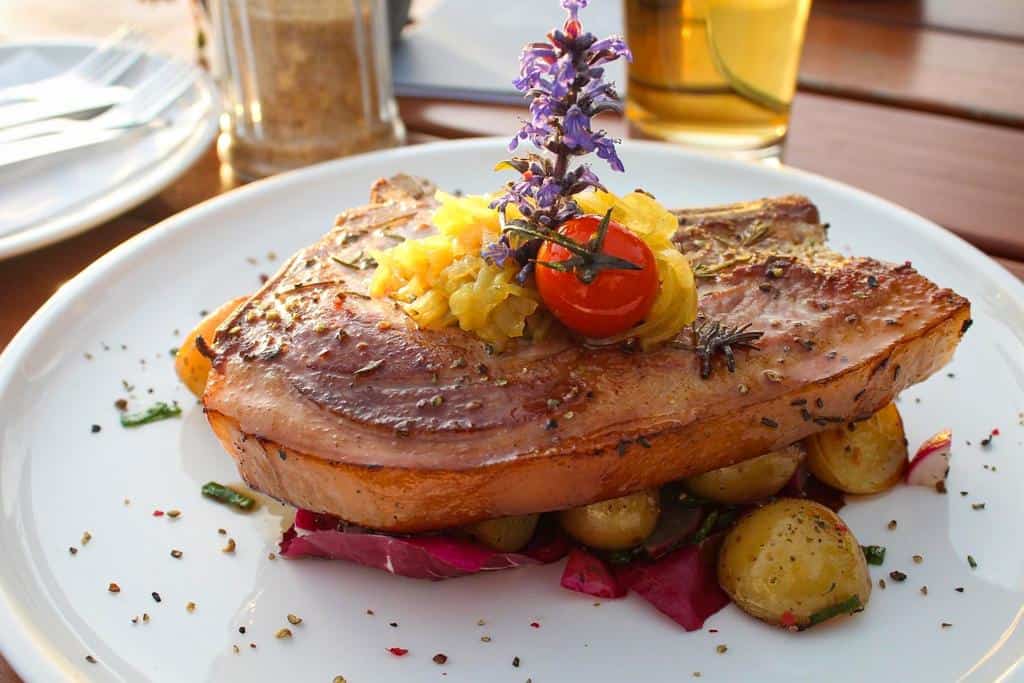 Consenz Coffee
You usually don't expect a modern coffee roaster in a traditional Bavarian village, but Consenz Coffee is roasting its coffee beans on the foot of the Hochries Mountain with lots of love, passion and knowledge.
Consenz Coffee was founded in 2021 and stands for simple and delicious speciality coffee, which is roasted in the Bavarian Alps.
Their goal is to source the best coffee directly and fairly, taking into account the environmental and social impact on the coffee farmers.
TIP: If you are a coffee lover like us, you might like all our coffee posts. They might give you inspiration for your next trip.
It is great to see two young men establishing this coffee roastery in a traditional region to produce delicious coffee. We hope to see them growing and that more restaurants will serve their beans soon in the region.
Consenz Coffee
Hochriesstraße 41, 83122 Samerberg
Open only on Saturdays from 10 am to 5 pm
You can get coffee with their beans at the BikePark and in sorted supermarkets in the region and online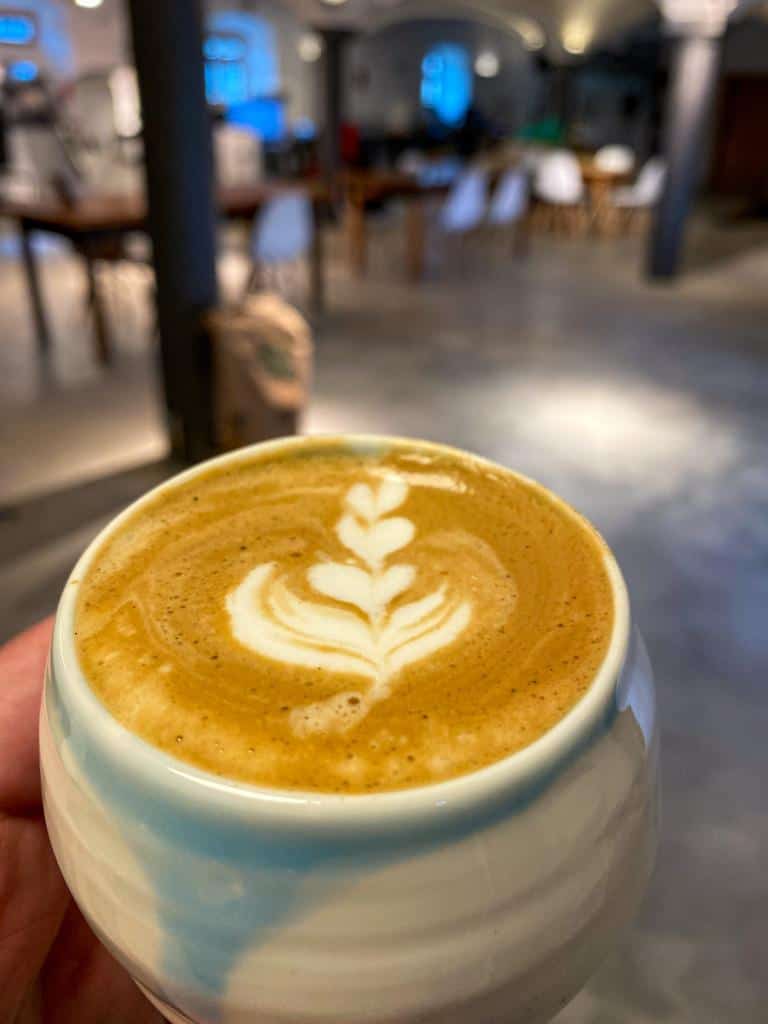 How to get to Samerberg and around
There are several ways to get to the Samerberg region. The easiest way is probably by car to Grainbach which is located at the foot of the Hochries mountain. It takes just a few minutes from Rosenheim and approx. 50 minutes from Munich or 1 hour from Salzburg or Innsbruck.
The closest airports are Munich, Salzburg and Innsbruck.
Another way to get there is by train. Take the regional train from Munich train station to Rosenheim train station. It only takes around half an hour. From Rosenheim to Grainbach are only a few busses a day. Check the bus schedule to be sure you take the correct one.
Since there are no taxis around, another option is to use the app Rosi. It is a shuttle to an individual destination without a fixed route or timetable. Five electric vehicles are used for this purpose in the municipalities of Aschau im Chiemgau, Bad Endorf, Bernau, Breitbrunn, Prien and Gstadt am Chiemsee, Eggstädt, Frasdorf, Höslwang, Rimsting and Samerberg. You can book your shuttle and pay online or in cash when you arrived at your destination. It is a great way to get around in the region but it has potential improvements for better timing and punctuality.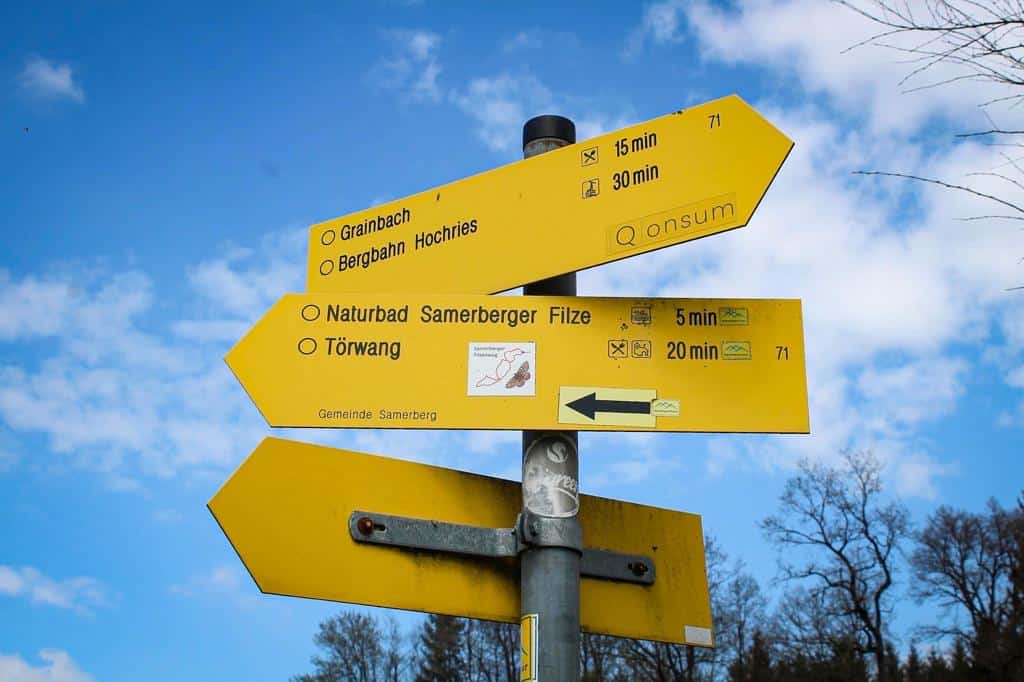 Best time to visit Samerberg
You can visit the region of Samerberg throughout the year, but of course, summertime is the peak season and the busiest time of the year. The best time for hiking and visiting Samerberg is from May to October when it is usually sunny with clear skies and green fields. Most festivities are held in summer, too.
If you plan to go hiking during the winter season, make sure to bring the correct equipment and check the weather conditions. Samerberg is not a ski area but in case of snow, there are certain routes for cross-country skiing and snow sledging. Sometimes, there are even guided winter tours.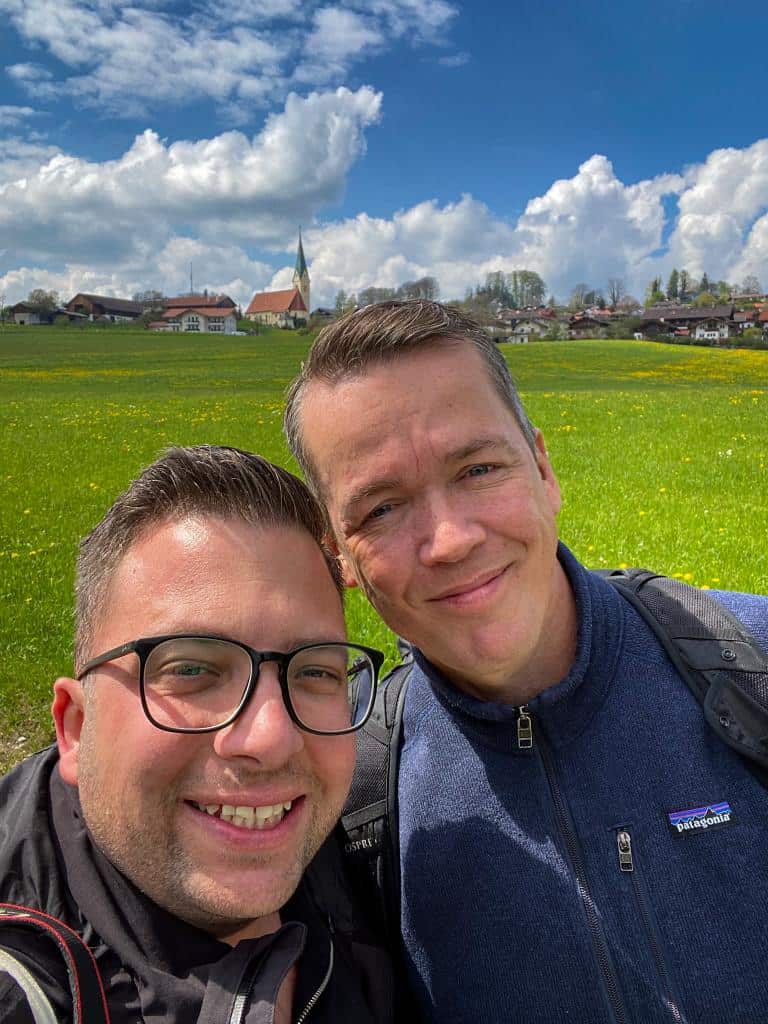 Please note: This trip was a collaboration after an invitation from the Ferienwohnung "Zur Wache", Samerberg Tourism the restaurants "Alpenrose" and "Schinkensepp" and the coffee roasters "Consenz Coffee Kaffeerösterei". We have been sponsored via the collaboration for accommodation, the Hochriesbahn, the restaurants and the cafe. As always, there are no guidelines or requirements for what we should write. All opinions in this post are our own and are not affected by the sponsorship.