This post may contain affiliate links, where we may receive a small commission if you purchase something through following the links at no extra cost to you.
Luang Prabang is one of our favourite places in the whole of Asia. Settled on the shores of the mighty Mekong River, this architectural wonder of a town offers more cuteness overload than any other place. Add on beautiful temples, monks, stunning sunsets, vibrant restaurants and closeness to nature. What to do in Luang Prabang you might ask? Walking the streets of Luang Prabang and taking in the colonial heritage is just one of the many things to do in Luang Prabang, and there's so much more to do. Read on to find out more.
It is difficult to describe Luang Prabang in a few words. It is just such a lovely city to spend some days in while you visit Laos. Located on the confluence where two rivers, the Mekong and the Nam Khan Rivers meet, Luang Prabang carries itself as one of the true jewels of Asia.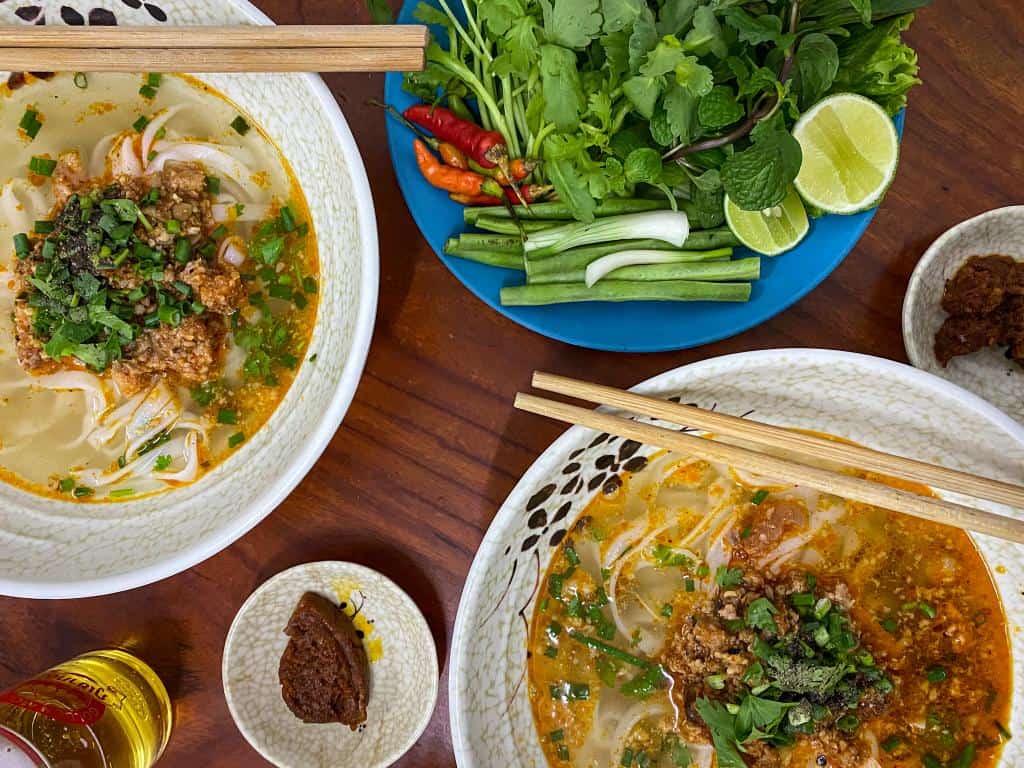 With a population of roughly 56,000 inhabitants, Luang Prabang has just the right size for spending a few days. It is big enough to keep you busy for some time and small enough that you don't have to stress around in endless noise. It is in reality a very relaxing and laidback town, but with great qualities you only can find in much larger cities.
Laos is a landlocked country and that's one of the reasons it sees fewer visitors than its more busy neighbours, like Thailand and Vietnam. That said, you won't be alone in Laos or Luang Prabang. There are tourists of course, and Luang Prabang is probably the most visited place in Laos. Since our first visit years ago, we could clearly see an increase in the number of visitors, but still, compared to many other places in Southeast Asia, Luang Prabang has a very relaxed atmosphere.
Many visit Luang Prabang as part of a round trip in Laos, where one often visits places such as Vientiane, Vang Vieng or maybe the Plain of Jars in Phonsavan. Laos is also a popular place to stop if you are on a bigger journey through the region. No matter how you travel, Luang Prabang might end up being one of your favourite places along the route. Read on to find out what to do in Luang Prabang.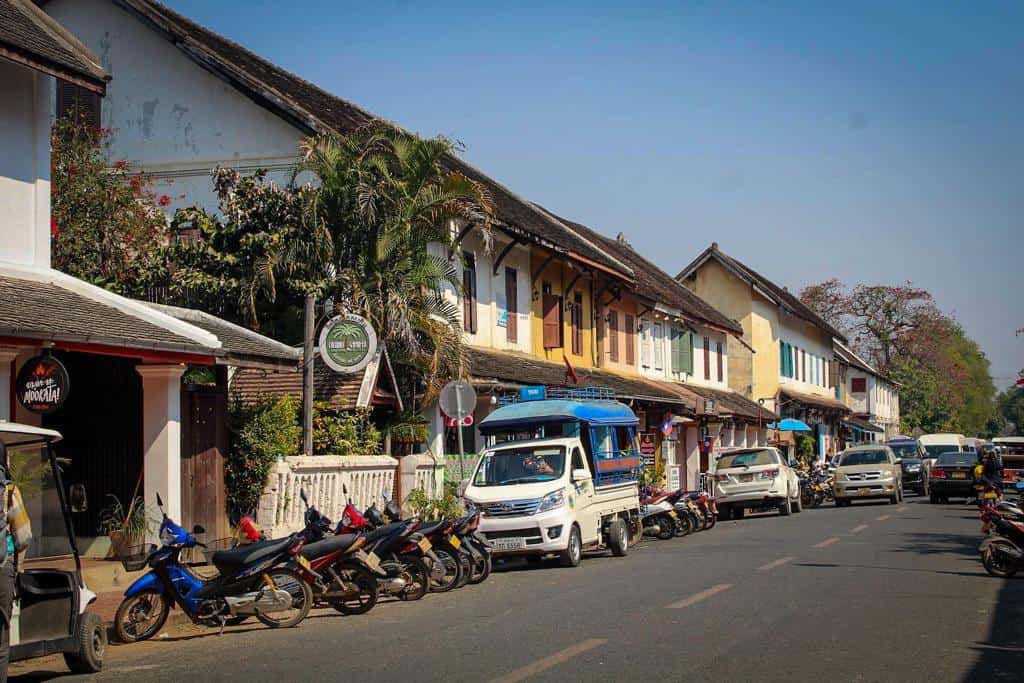 How to get to Luang Prabang?
Luang Prabang is fairly well connected with its neighbouring countries, and depending on where you travel from, you can choose to arrive in Luang Prabang by boat, train, bus or plane.
Boat to Luang Prabang
Arriving in Luang Prabang by boat is, without a doubt, our favourite way to arrive in Luang Prabang. Taking the slow boat on the Mekong River is such a cool adventure, that normally takes two days. This is something one typically does after having explored some parts of northern Thailand first, where the temples in Ayutthaya, the Sukhothai Historical Park and the temples in Chiang Mai are all places worth visiting before you take the boat to Laos.
TIP: Before taking the slow boat you most likely will pass both Chian Mai and Chian Rai. Our posts on the best coffee in Chiang Mai and our Chiang Rai Coffee guide will give you all the best places for great coffee in these two cities.
The slow boat to Laos departs from the small border town of Huay Xai on day 1 and arrives in Luang Prabang in the afternoon on day 2. The night in between you spend in the small village of Pak Peng, located directly on the shores of the River Mekong. Our post on Slow Boat to Laos will give you all the necessary information to make this trip happen.
Travelling by boat in Asia is often very easy. Together with a journey from Battambang to Siem Reap in Cambodia, and a journey from the Mekong Delta in Vietnam to Phnom Penh in Cambodia, the slow boat on the Mekong River is our favourite boat trip in Asia. When you start thinking of what to do in Luang Prabang, arriving in the town on a slow boat should maybe be on top of your list.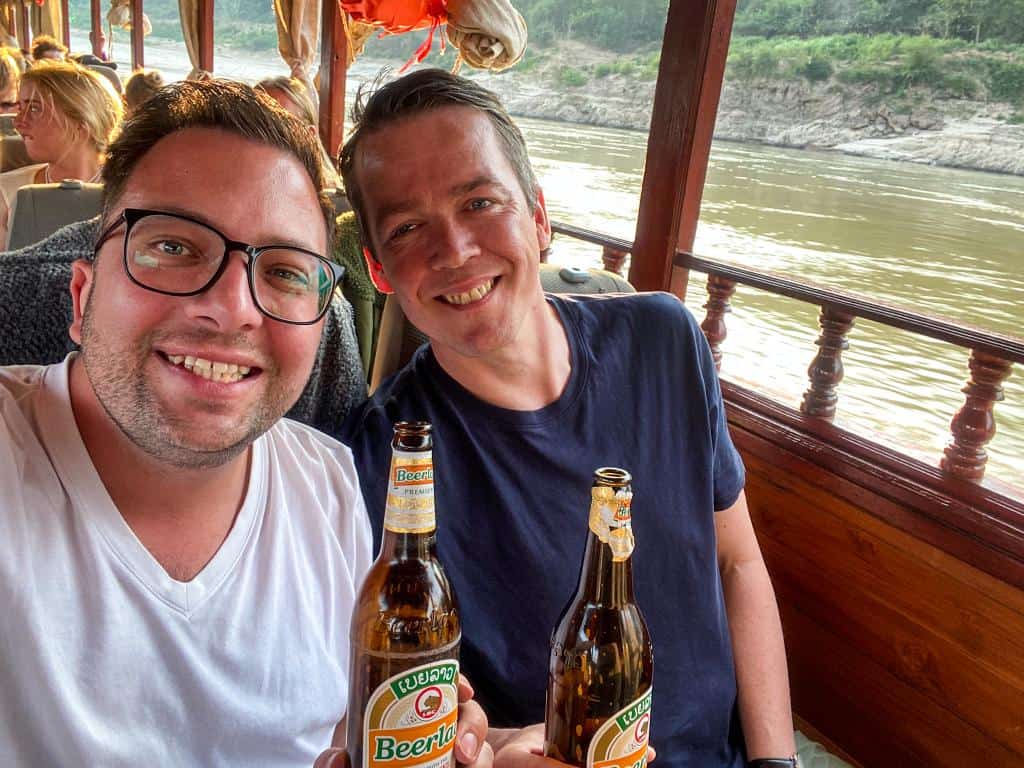 Bus to Luang Prabang
There are buses and minivans or minibuses to Luang Prabang from many places in Laos. You can eg take the minivan from Vang Vieng or Phonsavan, and also other places such as eg Pakse. Luang Prabang is also connected by long-distance buses, where many travellers are taking an overnight bus from Luang Prabang to Hanoi in Vietnam.
Buses and minivans in Laos can take time, like lots of time. The roads are often in bad condition, and full of curves (something to keep in mind if you suffer from motion sickness), so always count more time than the actual schedule says. Check eg 12go for buses and minivans in Laos.
TIP: Going to Hanoi as well? Our post on the best coffee in Hanoi will tell you where to get the best brew
Train to Luang Prabang
Laos has a new and very modern Railway system with high-speed trains going from Vientiane to the Chinese border and onwards to China. It's an excellent way of travelling, and where you previously had to spend 6-8 hours on a bus, you now only need less than an hour on the train.
TIP: Fan of train travel? So are we. For us, train travel is the best way of travelling. Our posts on train travel will give you some of our favourite train journeys so far
If you plan to start your trip to Southeast Asia in Bangkok, you can still reach Luang Prabang (almost entirely) by train. After some days exploring the sights like the Grand Palace in Bangkok, you can take the train to the Thai city Nong Khai, cross the border by foot and tuk-tuk, and then continue by train from Vientiane to Luang Prabang. Within some years, a direct train from Bangkok to Luang Prabang will be possible as well.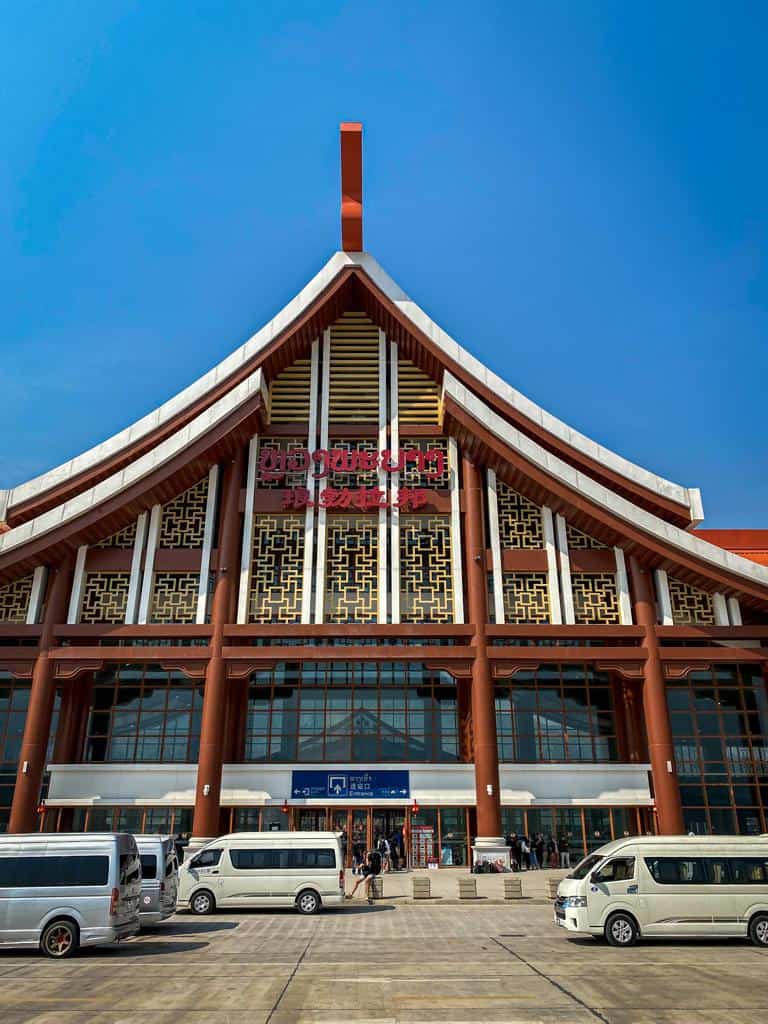 Plane to Luang Prabang
Even though we don't really recommend flying that much, there is a small international airport in Luang Prabang. For the short distances between the neighbouring countries, we would always recommend travelling overland if you have the time.
Should you not have the time, flying is an option, and the airport in Luang Prabang serves a few international destinations in China, Vietnam and Cambodia in addition to a few domestic destinations in Laos.
What to do in Luang Prabang – 11 things to do in Luang Prabang
When we think of what to do in Luang Prabang, the things on this list are what first come to mind, but of course, these are not the only things to do in Luang Prabang. There's much more, although after visiting the town twice with some years in between, we do think that this random list will give you a good overview of the most important places to see in Luang Prabang in addition to a few nice things to do as well.
What to do in Luang Prabang – Map of Things to do in Luang Prabang
1. Explore the architecture in Luang Prabang Old Town
What to do in Luang Prabang you might ask? Well, one of the best things to do in Luang Prabang is simply to walk the streets of the old town. You can spend hours on end just walking the streets up and down and crossing all over the town.
The architecture is a remnant from the French Indochina period, and over the last 25 years, big investments have been made, where many old French houses and villas have been turned into upmarket boutique hotels, small shops and fancy bars. Wherever you walk in Luang Prabang Old Town you will see the heritage of colonial-style architecture, and some of the old heritage houses are open to visitors.
The old town can get busy, and also a bit touristy, but due to its size, we never experienced it as too busy or too crowded. The atmosphere is still very relaxed, and Luang Prbang is one of our favourite towns in all of Asia.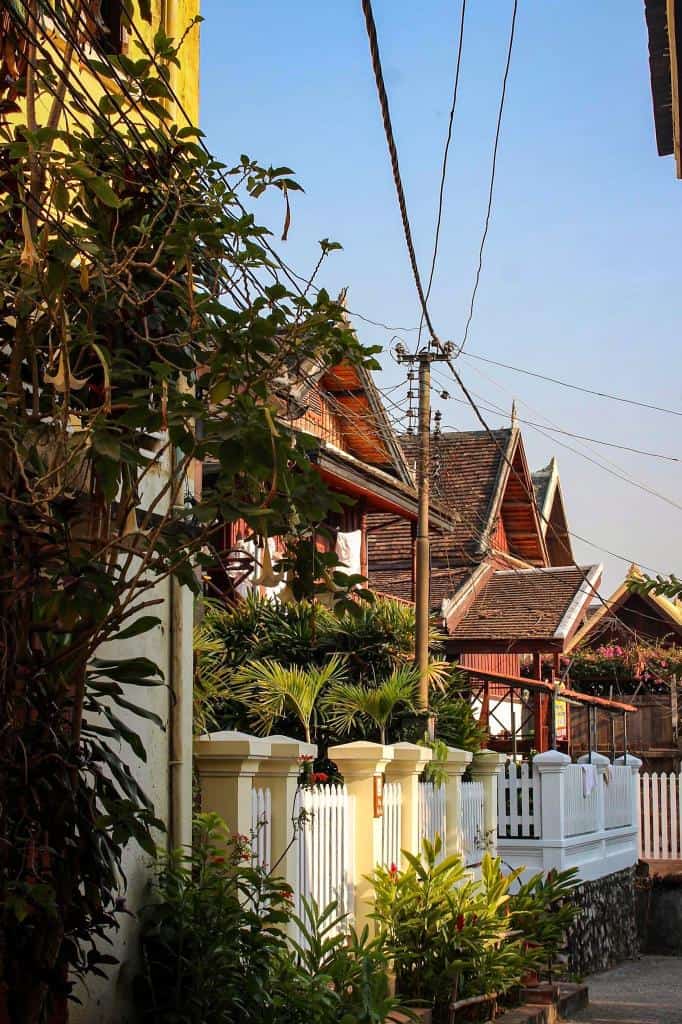 2. Luang Prabang night market
What to do In Luang Prabang when you are hungry for street food? The night market in Luang Prabang is a fun place to visit. You can spend some time hunting for local products, souvenirs, and handcrafted goods, but the main reason for coming here as a tourist is for the food. The street food scene in Luang Prabang is different compared to made places in eg Thailand, and there are not so many stalls in the streets of the town.
If you head to the Luang Prabang Night Market you will find the largest selection of street food in town, and there are lots of tables and chairs, so it's fairly easy to find a place to sit. The best is to buy small portions of food from several of the stalls – so that you get to try a selection of all the different food offered at the Luang Prabang Night Market.
The area around Luang Prabang Night Market is one of the busiest areas in town in the evenings. It seems like everyone is here and it can get really crowded. As always, keep an eye on your belongings in crowded places.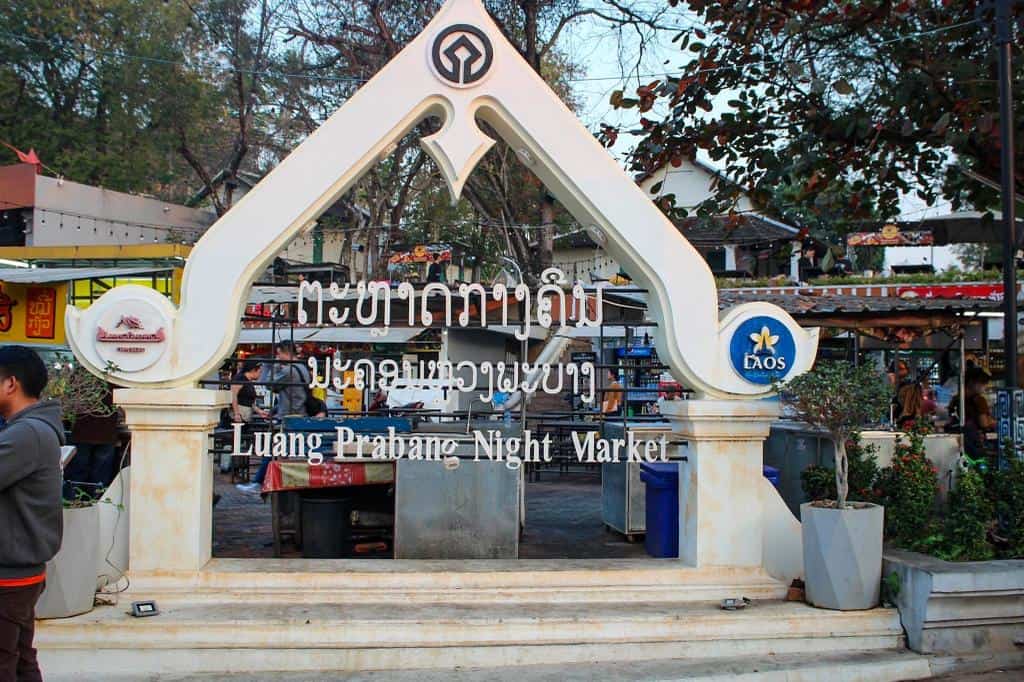 3. Watch the sunset from Phousi Hill
Phouis Hill is a hilltop located almost in the middle of the town. What to do in Luang Prabang when you want to watch the sunset over the Mekong River? Climb the 328 steps to the top of Phousi Hill – the best place to watch the sunset in Luang Prabang.
At the foot of the hill, you pay a small entrance fee and start climbing the stairs. At the top, you will reach a small temple, and around the temple, you will try to find your best spot for a view of the sunset.
Remember that Phousi Hill is no secret spot, and you won't be alone here. In fact, normally it gets really crowded on the top. Our best recommendation is to go early. Check when sunset is at the time of your visit, and start walking up at least 1,5 hours in advance. Then you might have a chance for a place to sit while you wait.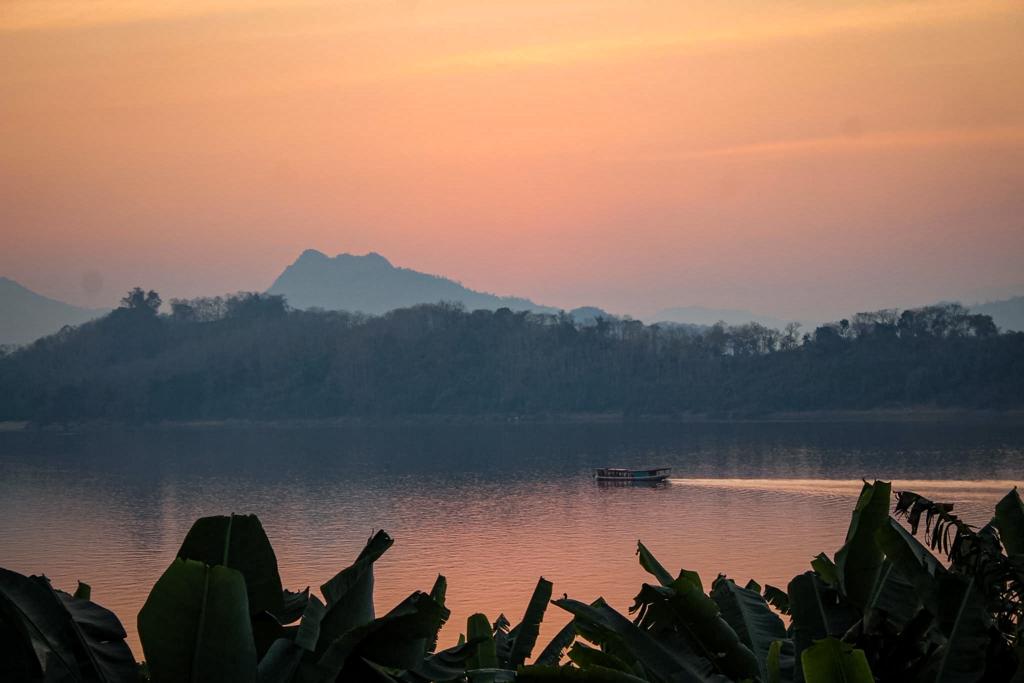 4. Try the famous Lao Baguette
What to do in Luang Prabang when you are hungry for breakfast? The answer to that is simple, try the famous Lao Baguette. As one of the best remnants of the colonial culture in French Indochina, this French Baguette is in Vietnam known as Bánh mì and in Cambodia as Nompang. However, in Laos, this delicious baguette is called Khao Jee Pâté.
The Khao Jee Pâté baguette is one of the most popular street foods in Laos and is sold on the streets all over Luang Prabang. The baguette is typically filled with a thick layer of pork liver pâté, and stuffed with everything from pork meat, Lao sausage, fried eggs, tofu, papaya, onions, cucumber, cilantro, and mostly with one or two sauces such as mayo and chilli sauce.
The Khao Jee Pâté is cheap, filling and can be the perfect start of the day, but also works perfectly as lunch if you prefer. You get the baguette wrapped, so you can easily bring it with you.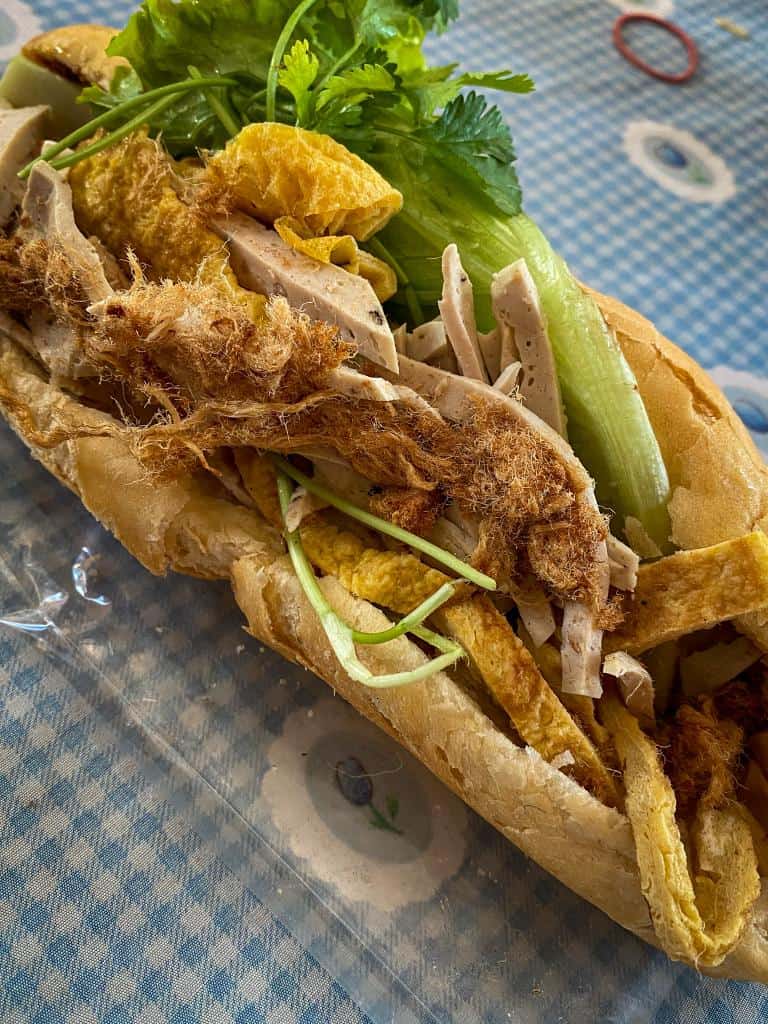 5. Wai Mai Monastery
The Wat Mai Suwannaphumaham, or Wat Mai as it's mostly called, is a Buddhist temple in Luang Prabang. This stunning temple is the largest temple in the city and is not to be missed if you like visiting temples while travelling.
It's located in front of the night market, next to the Royal Palace so it's easy to find. With its location next to the palace, this temple was used by the royal family of Laos, and it is one of the few temples that survived the destruction by the Chinese invaders in 1887.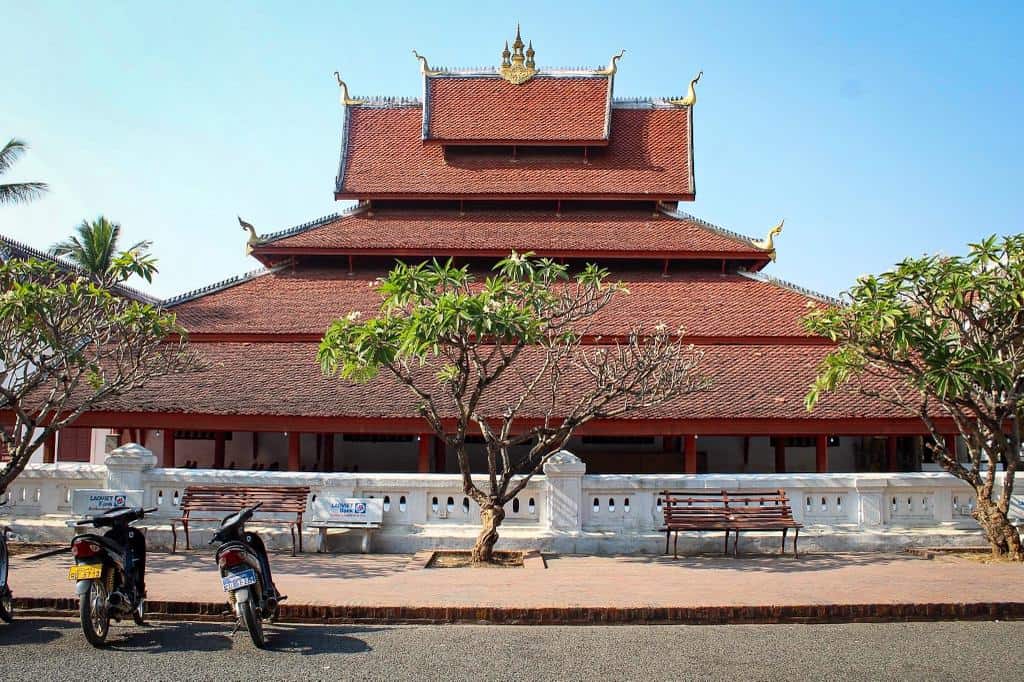 6. Visit the Royal Palace
What to do in Luang Prabang if you are a fan of castles and palaces? Not as grand as the royal palaces in the neighbouring countries, but still a nice and interesting place to visit in Luang Prabang. The Royal Palace in Luang Prabang was built in 1904 and was the home of the royal family until 1975. A few rooms in the palace are preserved as they were when the royal family still lived in the palace.
The tour takes you through the residential quarters of the palace, and many of the rooms showcase artefacts, furniture and other objects from the time of the royals. In a separate building on the palace grounds, you can also visit the Royal Palace Car Collection. If you are interested in cars it's a nice exhibition, otherwise, skip it.
The royal palace in Luang Prabang is open daily from 8 am -11.30 am and from 1.30 pm – 4 pm, meaning it's closed for two hours around lunchtime.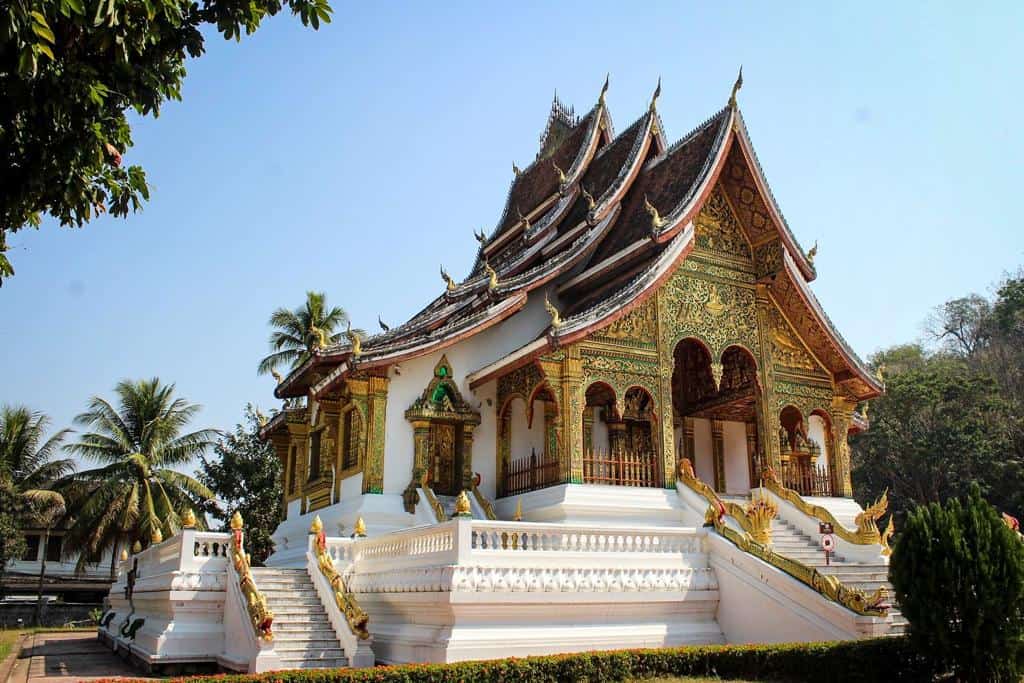 7. Walk the Bamboo Bridge Luang Prabang
Over the years it seems like the bamboo bridges of Luang Prabang have become more popular to see. There's actually more than one bamboo bridge in Luang Prabang, and they all cross the Nam Khan River. The most popular Luang Prabang bamboo bridge is just off Kingkitsarath Road just below Saynamkhan River View Hotel.
The Bamboo Bridge Luang Prabang can only be crossed 6 months of the year, during the dry season. The bridge is collapsed by the water during monsoon season, and rebuilt afterwards again.
You pay a small fee to cross the bridge, and on the other side you will first reach a handicraft workshop, and there are also a few restaurants on this side of the river. Dyen Sabai Restaurant offers good food and an excellent view of the river and the bridge from many of the tables.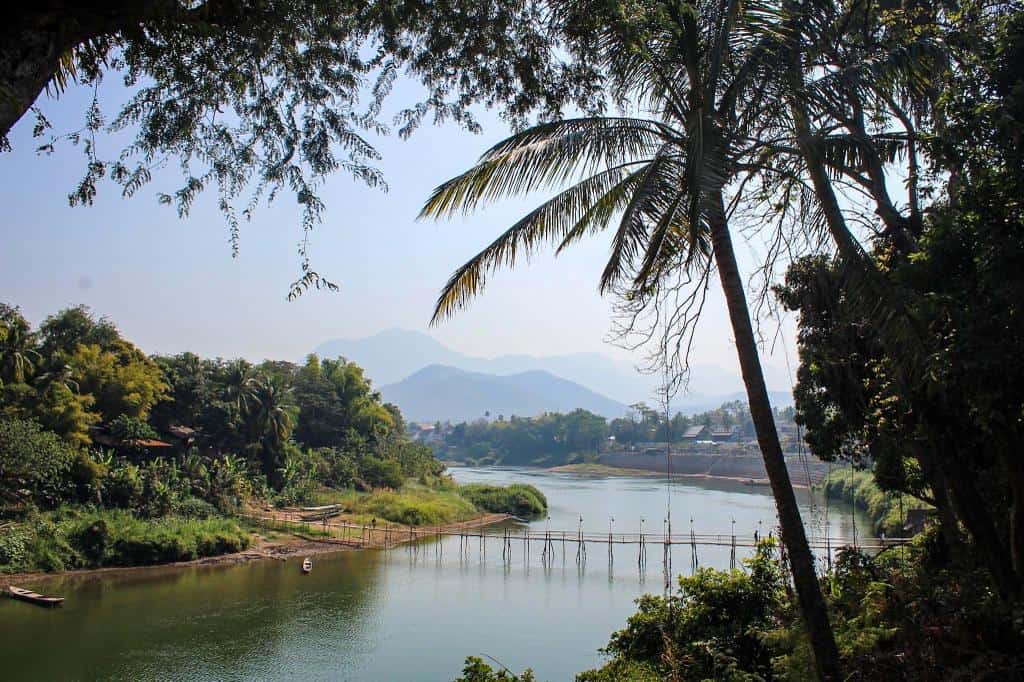 8. Wat Xiengthong
What to do in Luang Prabang if you like visiting beautiful temples? Well, luckily there's more than one temple in Luang Prabang, and Wat Xienthong is the most stunning of them all. This temple is so beautiful and is kind of iconic for Luang Prabang.
It was built between 1559 and 1560 and is one of the most important of the Lao monasteries and is a significant monument to the spirit of religion, royalty and traditional art. Close by you can also see several stupas and three small chapels.
If you have limited time in Luang Prabang and only have the time to visit one of the temples, then make sure it's this one. It is one of the highlights of the tourist attractions in Luang Prabang.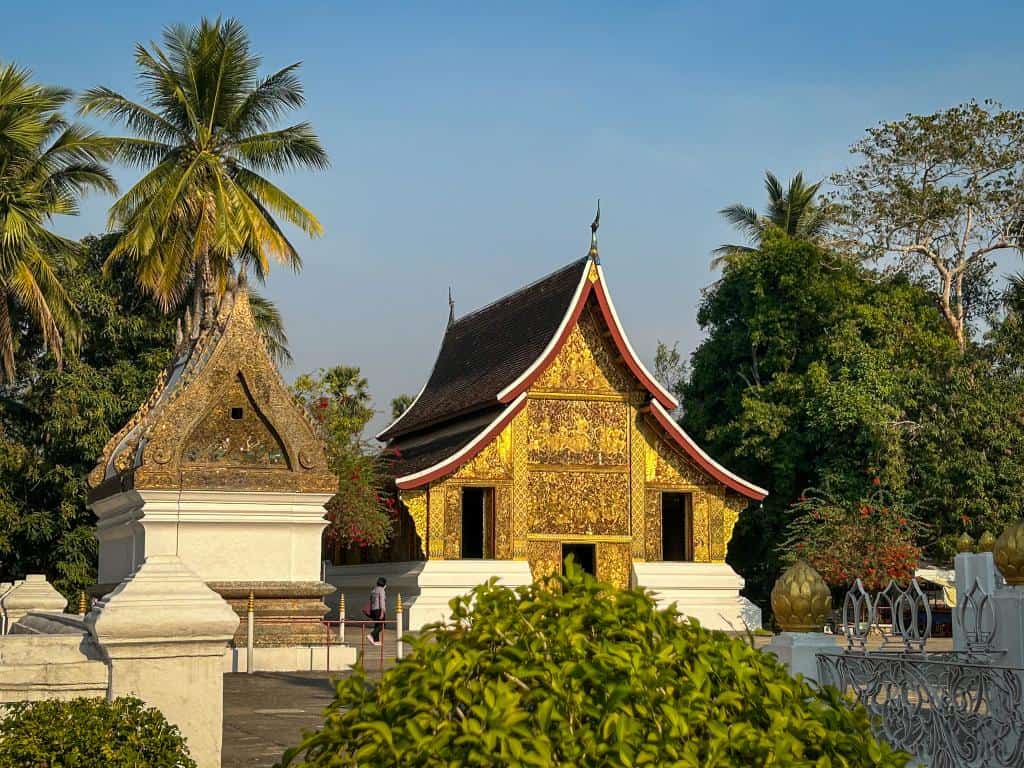 9. Alms giving Luang Prabang
The almsgiving ceremony, Tak Bat, is a ceremony where saffron-coloured monks walk barefooted through the streets of the town while townsfolk place tiny balls of rice in their begging bowls. This longstanding tradition in Laoist Buddhist culture takes place daily as the sun rises, and here the monks demonstrate their vows to poverty and humility.
Watching the ceremony can be a very nice and spiritual start to your day, but it can also be like taking part in a circus, only with real live humans. Somehow, over the years it has gotten very popular to watch the alms-giving ceremony in Luang Prabang, as it attracts a lot of people. Before you attend, please consider a few things first;
The alms-giving ceremony is the real life of the monks and the giving townsfolk. It is not made up for tourists
You are not a paparazzi on duty. If you watch the ceremony – do so at a distance and don't push your camera in the face of the monks
Never use flash when taking photos of the monks
keep it quiet and always keep a respectful distance – preferably from the other side of the street
The almsgiving takes place along the main road in Luang Prabang, Sakkaline Road.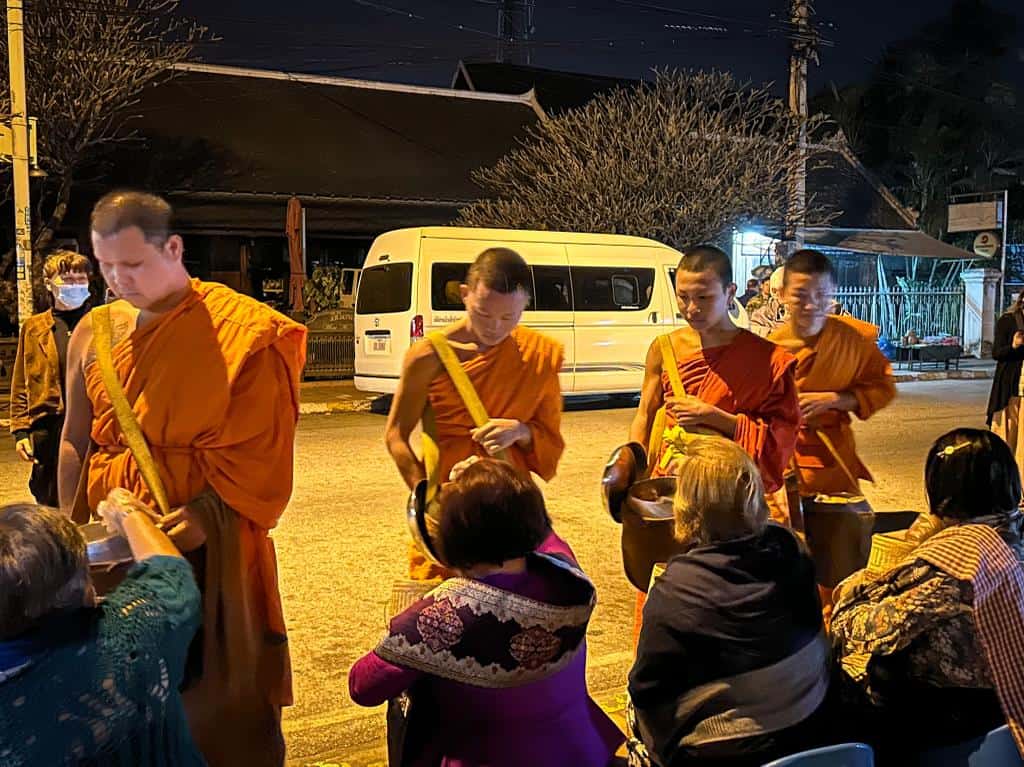 10. Cooking Class
Doing a cooking class is one of the special things of what to do In Luang Prabang. There are several options to do a cooking class in Luang Prabang, and it comes in different price ranges as well.
Some places operate as cooking schools only, while other places, such as nice restaurants offer cooking classes as well, in addition to being a restaurant.
We did our cooking class with Tamarind Restaurant and Cooking School. You typically make 3-4 dishes, where you cook and dine with other travellers, and many places offer classes both daytime and in the evening. If you are looking for a fun thing to do in Luang Prabang we can really recommend a cooking class.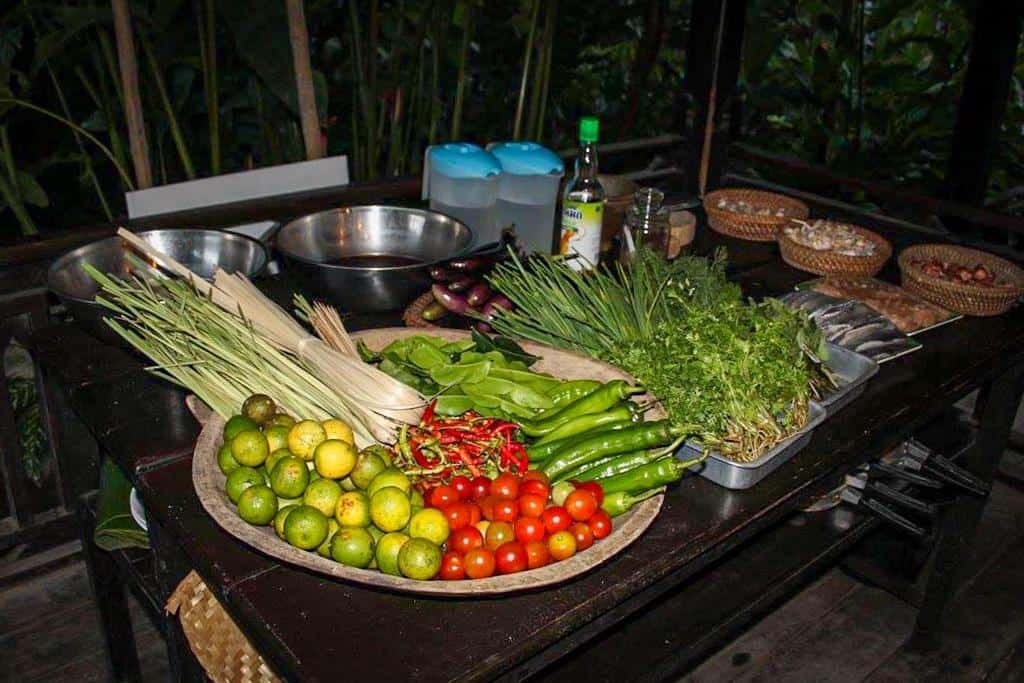 11. Pak Ou Caves
What to do in Luang Prabang if you want to leave the city for a while? Along with the next point on the list, the Pak Ou Caves are not really in the city of Luang Prabang. Even so, it is one of the most popular Luang Prabang tourist attractions and definitely worth a visit. The Pak Ou Caves are two caves located 25 km north of Luang Prabang. The caves, one lower and one upper cave, are found on the western side of where they are overlooking the Mekong River.
You don't visit here for the caves themselves but for the hundreds of miniature Buddha sculptures. You will soon spot the Buddha figures when you arrive at the caves, and even though some of them are quite damaged, it still gives a mystic and spiritual feeling to be there.
There are two ways of visiting the caves. Most common is to go by boat from Luang Prabang. This is also the most scenic way of travelling. The boat trip takes around two hours one way. You can find a shared boat at "Luang Prabang Ferry Terminal", but be prepared to be ripped off here. We found the easiest option to purchase this trip from one travel agent found around town. Then you don't have to go through the hassle of bargaining the price with the boat driver beforehand. The price for the trip should not be more than 100.000 KIP, approx €5,20 / $5,70.
The other way to get to the Pak Ou Caves is to go by car, tuk-tuk or motorbike to the village called Pak Ou. This village is located on the other side of the river from the caves, and from here you can cross the river on one of the smaller boats. By car it's around 45 minutes from Luang Prabang to Pak Ou, and a bit longer with a tuk-tuk or motorbike.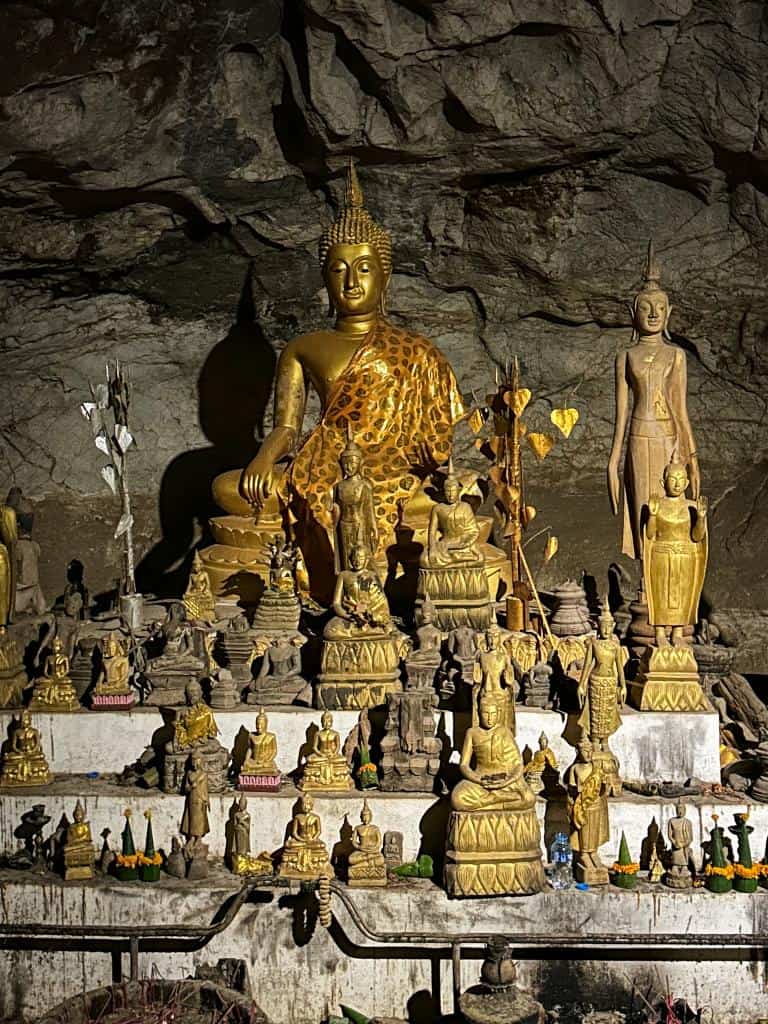 12. Kuang Si Waterfalls
The Kuang Si Waterfalls are one of the most popular places to visit in Luang Prabang. The be precise, the waterfalls are not found directly in the town but are located some 30km away from the centre, so you should count around 45min-1h to get there.
The many-tired waterfalls running over limestone formations into several cool, swimmable pools are stunningly beautiful with crystal-clear water in all shades of turquoise. There are trails on both sides of the waterfalls, and you can also follow some trails upwards above the waterfalls if you don't mind the steep hike up and down.
Kang Si Waterfalls is one of the most popular sights in Luang Prabang, and for sure you won't be alone here. If you visit during the most busy period it gets really crowded, and due to the large number of people, it can lose some of its charm. Our tip is to go first thing in the morning or late afternoon to avoid the largest crowds.
You can get there by hiring a driver privately or joining one of the many smaller groups that sell individual places onboard their car or tuk-tuk.