This post may contain affiliate links, where we may receive a small commission if you purchase something through following the links at no extra cost to you.
Is Naples worth visiting you might ask? Naples, Italy is maybe not what first comes to mind when thinking about where to spend your next big city break in Europe. As one of the main cities for the famous Italian mafia, Naples has a somewhat bad reputation. It is rumoured to be big, bustling, crowded, gritty and rough. By all means – Naples is all of that – and more too. But Naples is also genuinely fascinating, full of historical sights, interesting neighbourhoods, and the best pizza in the world. Is Naples worth visiting? Most definitely. Naples is 100% worth visiting. Read on for 18 reasons to visit Naples.
Planning a trip to Italy can be a challenge. Few countries in the entire world have as much to offer as Italy. Choosing where to go in Italy is hard, especially when one has limited time. Naples is sometimes overlooked compared to cities like Rome, Venice and Florence. Many go for a Milan city break or travel around Tuscany. Of course, that's understandable – they are all amazing places to visit. But Italy has many more incredible places to visit, and Naples is one of them.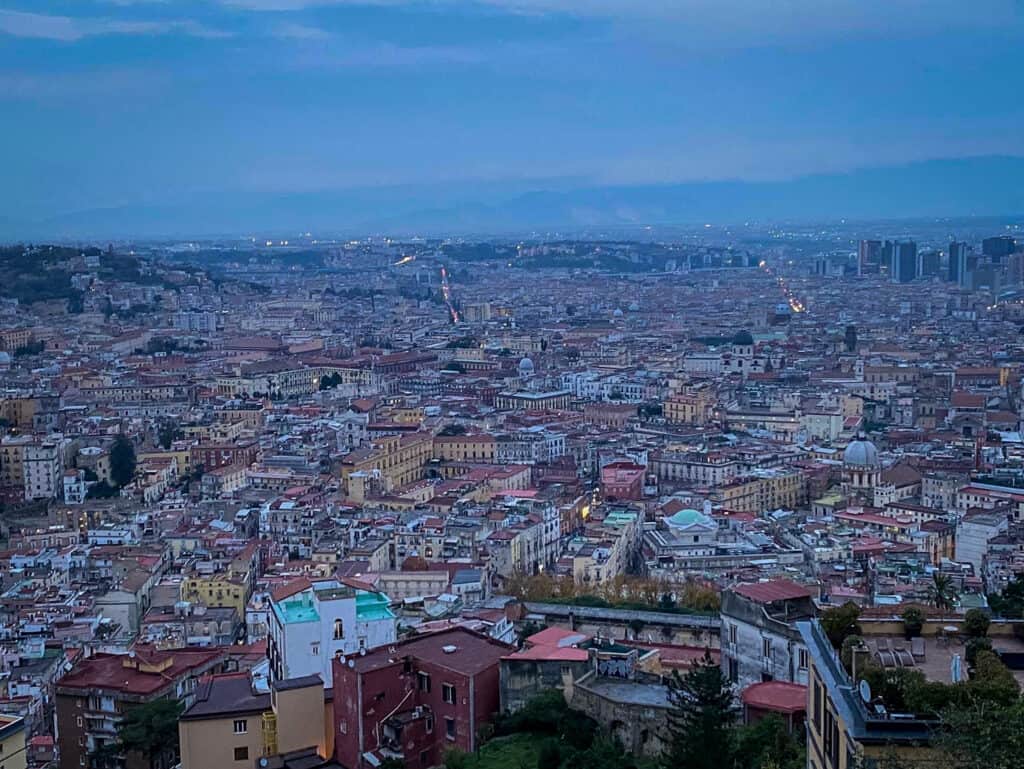 Is Naples worth visiting?
Is Naples worth visiting? Well, most definitely! Naples is 100% worth a visit. Few cities in Europe have given us the same first impression as Naples did. On one hand, Naples is loud and chaotic with crazy traffic even in the city centre. On the other hand, Naples has beautiful piazzas, a Unesco-listed historic centre and stunning surroundings.
TIP: Read our post Things to do in Piran if you'd like to visit nearby Slovenia
Located in the Bay of Naples, the city gives you access to an active volcano, charming islands, and maybe one of the most stunning stretches of coast in the entire world, the Amalfi Coast.
Many people use Naples as a transfer point during their summer in Europe, to get to some of the islands or to the Amalfi Coast. But why don't stop in Naples for a couple of days, to explore one of Italy's most fascinating cities? So to answer the question above, if Naples is worth visiting, continue reading for 19 reasons to visit Naples. But hurry up – Naples is about to become the new tourist hot spot in Italy.
18 reasons to visit Naples
There are in fact many reasons to visit Naples, and probably many more than listed here. These are some of our top suggestions, in random order, of things to do in Naples. There are enough sights in Naples to keep you busy for days on end. With 2 days in Naples, you should be able to see most things on this list and with 3-4 days in Naples, you should also have time for a day trip. If you still are asking yourself; is Naples worth visiting? – the read on and you'll see.
TIP: Naples is hectic and chaotic, especially in the historical centre. Don't plan too much for one day. The impressions are many. Luckily, so are the cafes and bars. Have a rest for refreshment whenever you need – before you continue exploring all the fun things to do in Naples
Is Naples worth visiting? Map of only a few things to do and see in Naples
1. Naples is safe to visit
Due to the somewhat rugged reputation Naples has, many will maybe ask themselves is Naples safe to visit? And the answer is yes, Naples is safe to visit. It's not more dangerous in Naples than in any other big city. As always in places with lots of people and tourists, there will always be someone who wants to benefit from this.
The biggest worry in Naples, according to us, is pickpocketing, so keep your valuables safe and out of sight. Keep an eye over your shoulder if or when you withdraw money from an ATM, and if you pay with cash, don't flash your money if you have to count up before paying. Also, as in any bigger city, avoid dark, empty backstreets at night time, especially if you travel alone.
2. Centro Storico – The Historic Centre of Naples
Centro Storico is the beating heart of Naples. This loud chaotic part of the city is busy and bustling with life all day and all night. Here you'll find thousands of years of history, monuments, cafés, bars, traffic jams, noise and endless charm.
Everything you might have heard about Naples is found here in these streets. When walking around the narrow streets and lanes, you might end up wondering if you still are in Europe or if you transferred to another more exotic destination.
The historic centre of Naples is not only for tourists if you thought so. First and foremost, this is an active part of the city, where locals live, work and hang out. Much of daily life can be seen on the streets and pavements here. Locals do their shopping here, for groceries, clothes and other necessities. Others have a coffee, get a haircut or simply observe their city.
It might feel overwhelming in this part of the city, and some find it different from what one has in mind when it comes to Italy. But that's the thing. This is the real Naples, the real Italy, and one can't explore Naples without walking the streets of Centro Storico in Naples. For us, exploring the streets of Centro Storico is one of the best Naples attractions, and it is definitely one of the most fun things to do in Naples.
The historic centre of Naples has status as UNESCO World Heritage. In addition to the neighbourhood itself, some of the city's great attractions can be found here, of which some will be found on this list.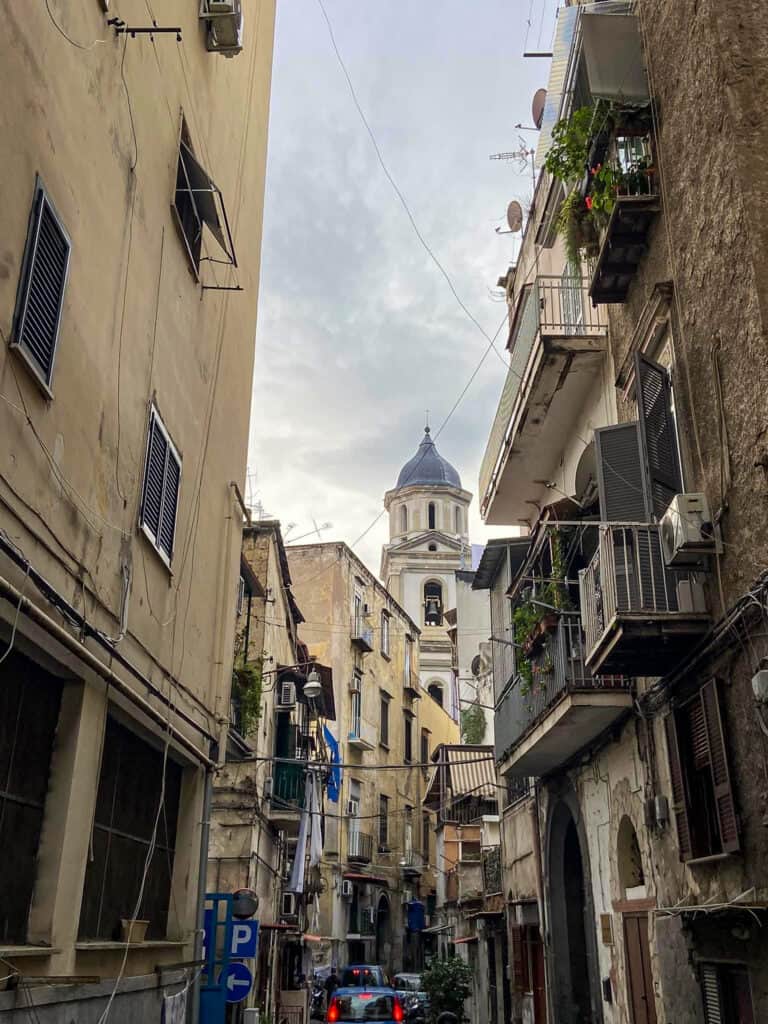 3. Street art in Naples
From small hidden pieces of art to huge murals covering whole walls, Naples is a paradise for lovers of street art. In many places, you will find different portraits of one of Naples' big heroes, Diego Maradona. This great legend is honoured with many great artworks all over the city.
Ever wanted to see an original Banksy? Well, in Naples you can. Originally there were two artworks of Banksy in Naples, but one was destroyed back in 2010. Nowadays, there is one original Banksy in Naples, the stencil Madonna with a pistol. Today, this artwork is placed under protection behind a glass cover. You can find it just off the street Via dei Tribunali, on Piazza Gerolomini in Centro Storico. It's not an obvious place to look, but you'll find it on the wall next to the side entrance of the Dal Presidente Pizzeria.
Another favourite artist seen in Naples is Jorit Agoch. One of his most famous works, the San Gennaro mural can be found in Via Vicaria Vecchia, also in Centro Storico.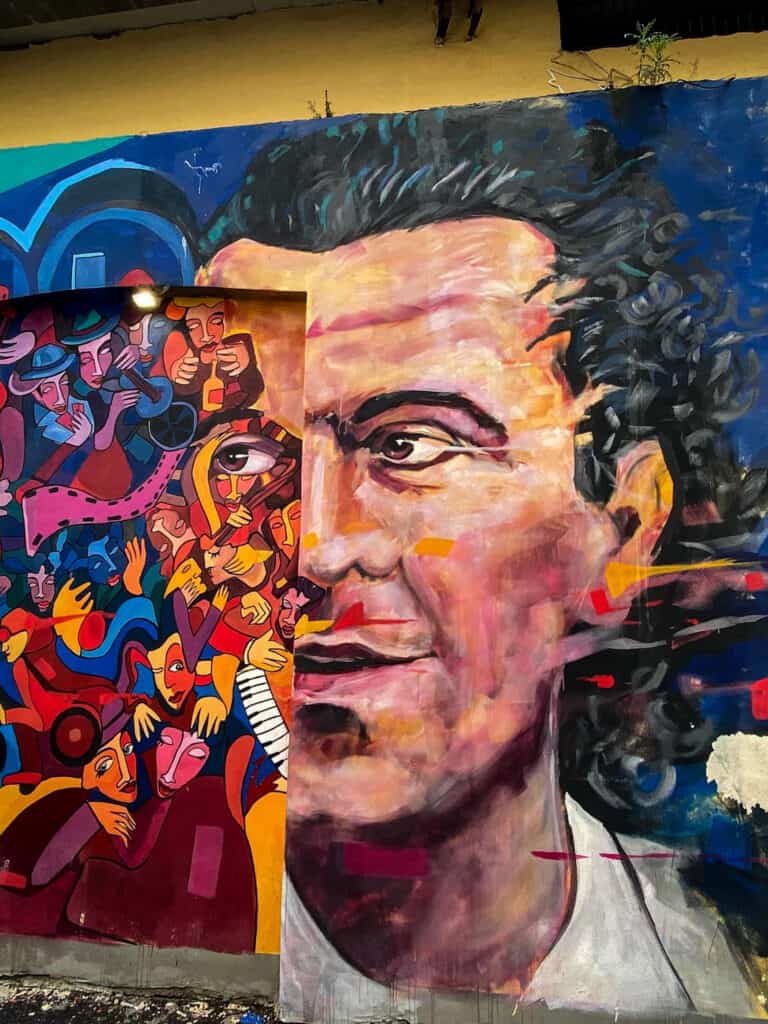 4. The Royal Palace of Naples
If you are a fan of castles and palaces, then Naples won't disappoint you for sure. The Royal Palace of Naples, or Palazzo Reale di Napoli, was one of four royal residences used by the House of Bourbon during their rule of the Kingdom of Naples.
Construction of the current palace began in the 17th century and by 1616 the facade was finished. The interiors have been redesigned, redecorated and changed several times over the decades, and parts of the palace suffered from bombing during WWII.
Today, the Palazzo Reale is a museum and serves as an important tourist attraction in Naples. The many rooms and halls in the palace are so pretty, so don't miss Palazzo Reale di Napoli.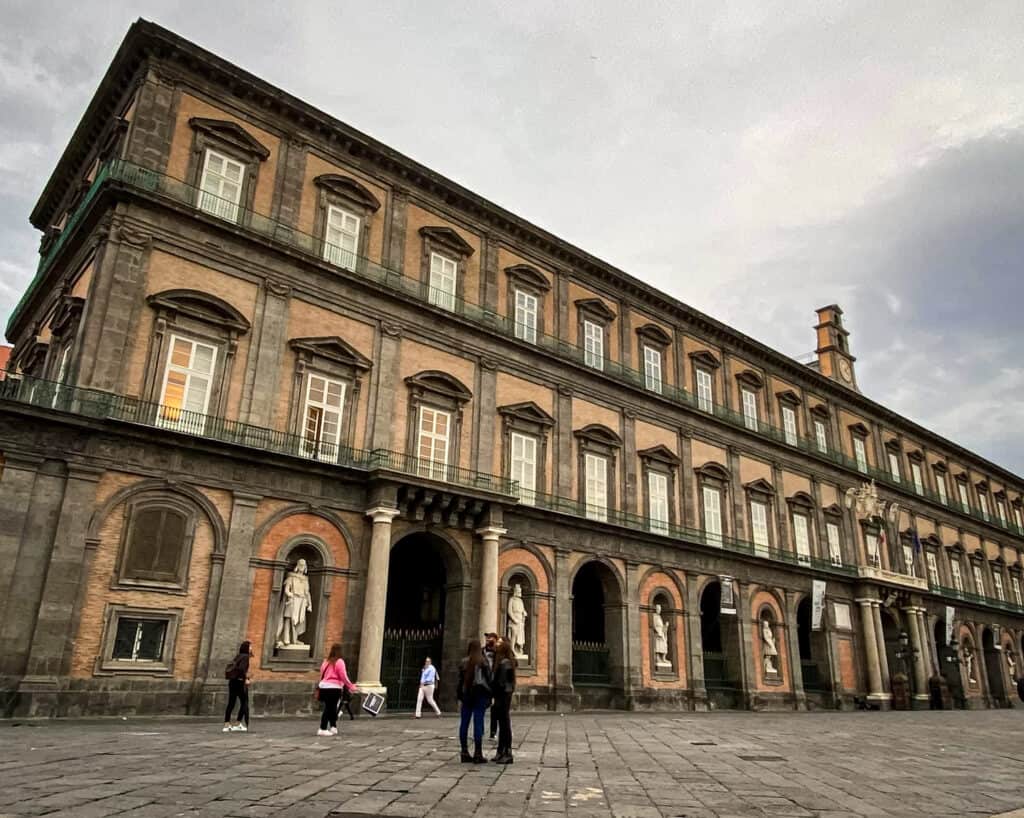 The Royal Palace in Naples is located directly on one of the most impressive squares in the whole city, the Piazza del Plebiscito. Straight opposite the palace is the very impressive Basilica of San Francesco di Paola, also worth a visit when you are here.
TIP: Visit Germany if you are a castle lover. Germany is said to have over 25.000 (!) castles and palaces. There are in total thirteen castles in Berlin, so that can be a good place to start.
Before you go – How to visit the Royal Palace of Naples
Opening hours Royal Palace of Naples: 09.00 – 20-00 Thursday – Tuesday

The ticket office closes one hour before closing time

Closed Wednesdays
Purchase tickets online or at the door
General admission: €10 /reduced: €2
Address: Piazza Plebiscito 1, Napoli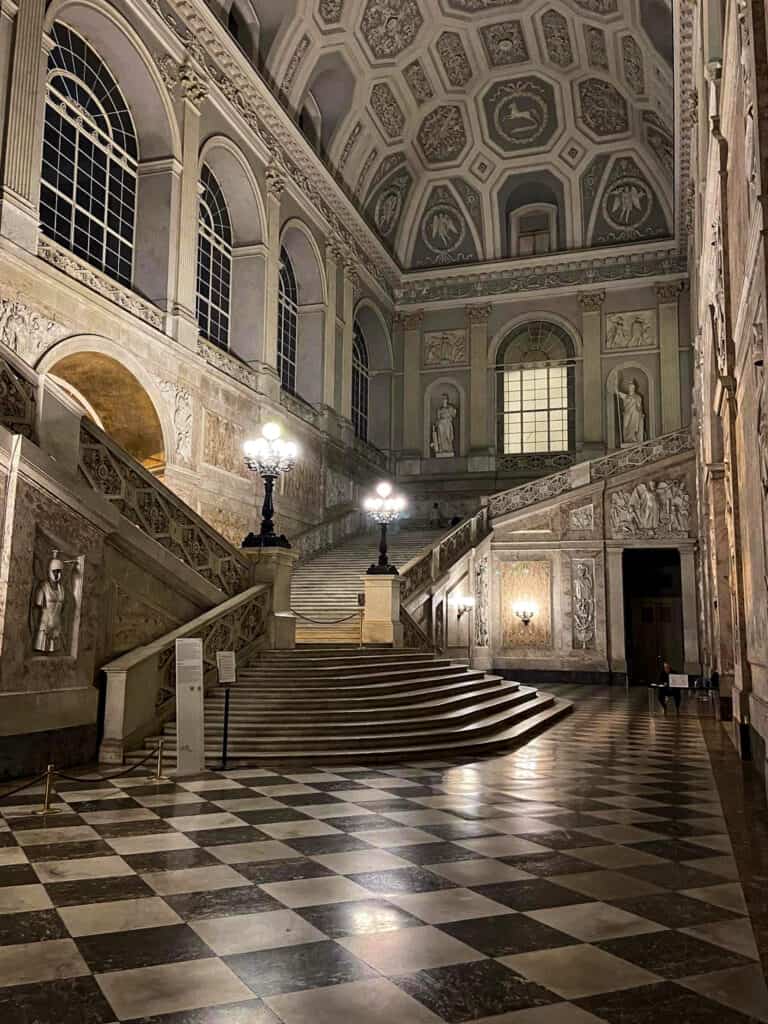 5. Visit Caffè Gambrinius
After a visit to the palace, head to nearby Gran Caffè Gambrinus (Via Chiala 1-2). This is the oldest and most venerable cafe in Naples, with a sparkling interior as a reminder of days gone by.
In the early days, intellectuals such as Oscar Wilde, Hemingway and Sartre frequented the cafe. In more modern days, names such as Angela Merkel, Bill Clinton, Pavarotti and even Pope Francis were among the guests.
A visit here doesn't come cheap, but it's a fun thing to do in Naples.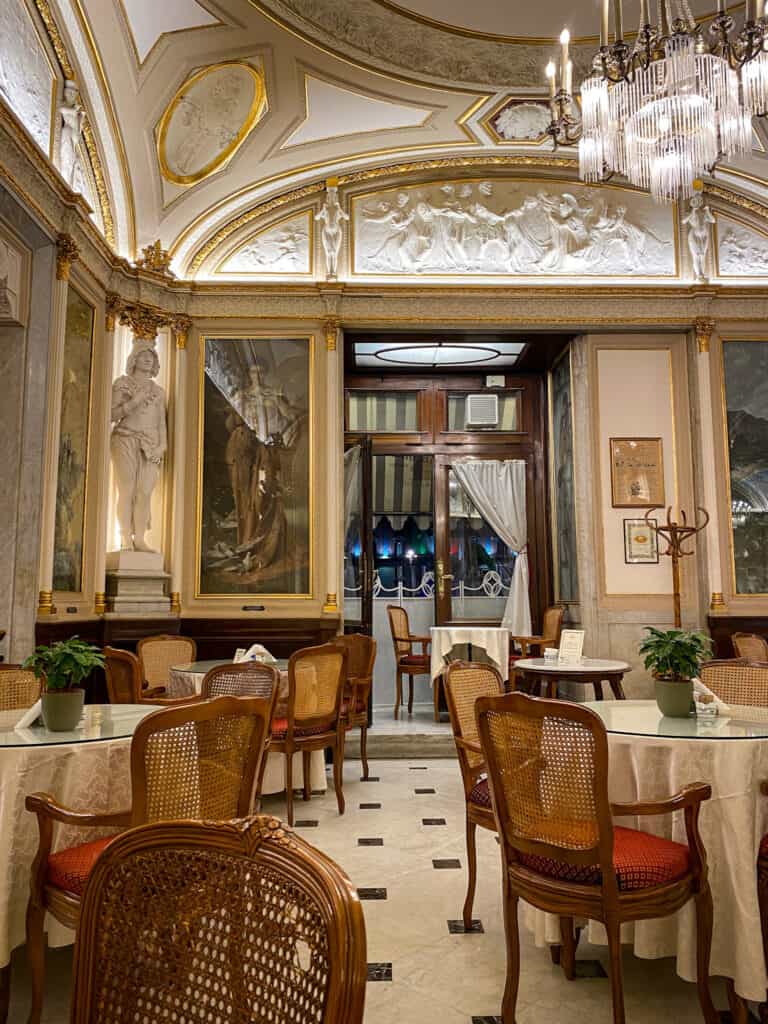 6. The Spanish Quarter in Naples
The Spanish Quarter or Quartieri Spagnoli is one of the most well-known areas in Naples. Previous, it was rumoured to be unsafe, but today it feels totally safe and is worth your attention. Naples' Spanish Quarter is easily accessible to the busy Via Toledo shopping street. From here narrow streets lead up to the heart of Quartieri Spagnoli. These side streets are full of small shops, cafes, bars, eateries and restaurants.
Even though the area is busy at all times, it feels a bit calmer and more organised compared to the Centro Storico. Walk around for a while, then find a nice place for a refreshment or a quick bite.
7. Churches in Naples
As in most cities in Italy, also Naples has some beautiful churches worth visiting. Most notable are the Duomo di Napoli (Naples Cathedral) and the famous Capella Sanservo.
Naples Cathedral is the main church in Naples and the seat of the Archbishop of Naples. It's an impressive church where you with find both stunning frescoes and 4th-century mosaics.
Capella Sanservo or the Sanservo Chapel Museum is located in the historic heart of Naples. This small chapel contains Rococo artworks of some of the leading artists in 18th-century Italy. Among all the artworks here, the Veiled Christ is the most famous piece of art in Capella Sanservo. Daily admission to the chapel museum is limited. We strongly recommend purchasing your ticket online in advance.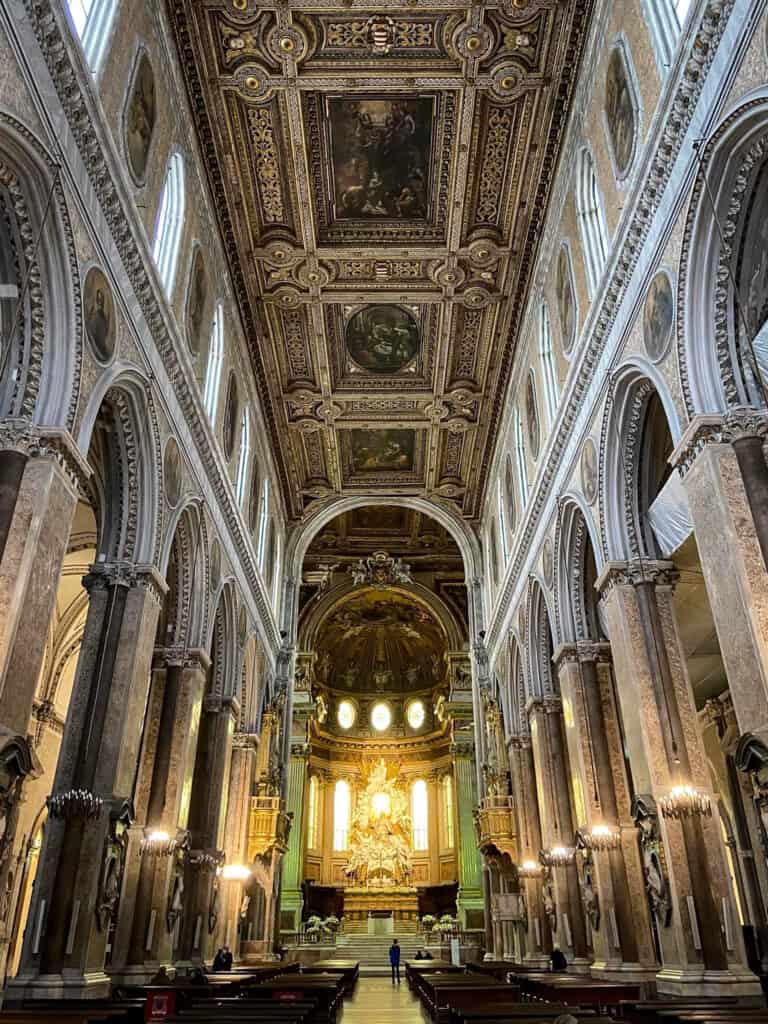 8. Castel Nuovo
Castel Nuovo, or the New Castle, isn't really as new as the name makes us think. This medieval castle was first erected in 1279, and until 1815 it was the seat of the kings of Naples, Aragon and Spain.
With its imposing towers and scenic location, this cool castle is straight out of the history books. Especially the main gate with a triumphal arch integrated into the gatehouse is an impressive sight. The castle is open to visitors, but if you are short on time, seeing it from the outside is more than enough.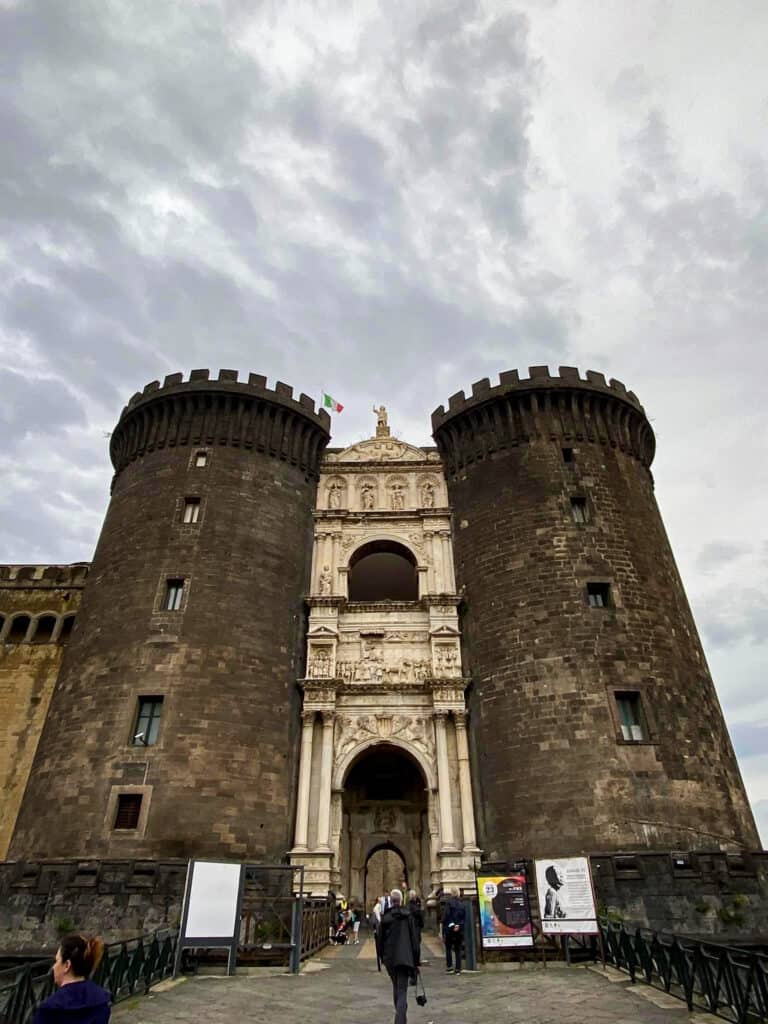 9. Waterfront walks
Naples is a busy harbour city, but it also has a beautiful waterfront promenade, the Lungomare di Napoli. This promenade runs approximately 3 kilometres along the sea, and it's said to be one of the most beautiful streets in the world. From here you will have spectacular views over the Gulf of Naples and the majestic Mount Vesuvius.
Along the Lungomare di Napoli, you will find some of the most upscale hotels and restaurants in Naples. If you don't want to splurge, you will also find a few seaside bar shacks selling drinks and snacks. Be aware that if you sit down with your drink the price can easily double. Many people just buy their drink here and find a place nearby to enjoy it.
TIP: Have a quick stop at the small castle Castel dell'Ovo (Egg Castle) during your waterfront promenade walk. This imposing little fortress has served to defend the city, as a prison and as a royal residence.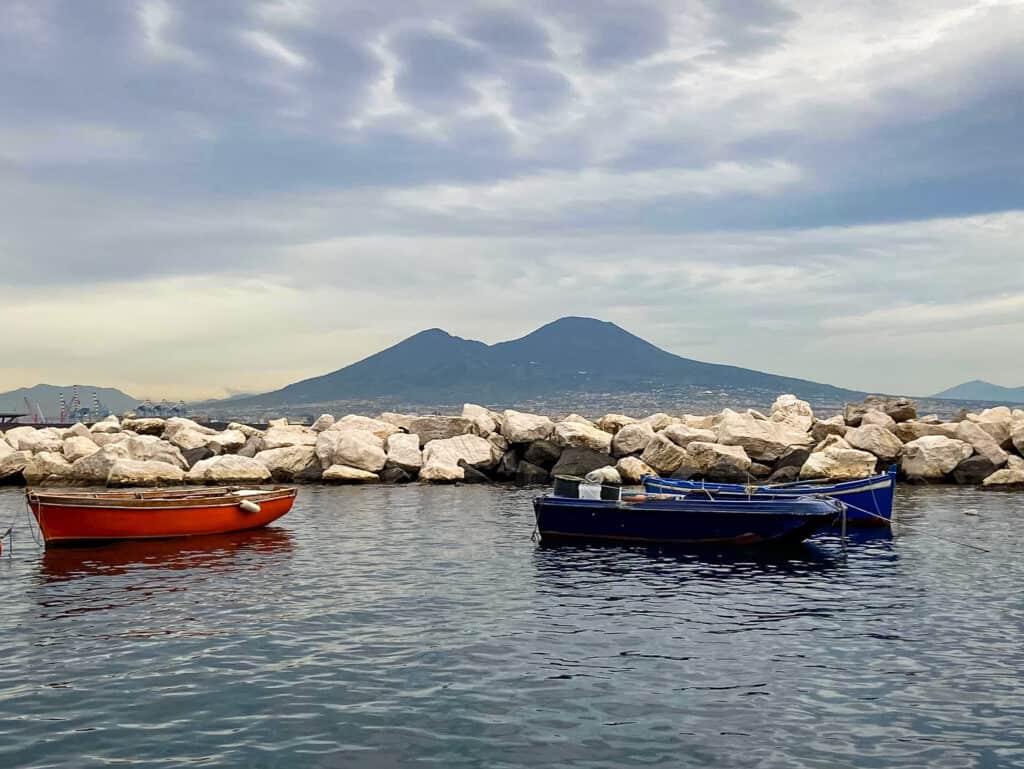 10. The best pizza in Naples
Does Naples really have the best pizza in the world, you might wonder? Isn't Italian pizza the same all over the country? The answer to this is simple. No! Never ever have we had so delicious pizza as exactly here. It's no doubt about it; Naples has the best pizza in the world.
Is Naples worth visiting for the pizza? Most definitely. For us, the pizza could be one of the main reasons for going back to Naples.
TIP: Pizza in Naples is simple, with few ingredients, and even the best pizzerias in Naples are mostly famous for their Pizza Margherita.
So, how is it then? Where is the best pizza in Naples? To be honest, mostly everywhere you go in Naples, you will get served amazing pizza, and mostly better than anywhere else.
The title of the best pizza in Naples is a battle between the two most famous pizzerias in Naples, Gino e Toto Sorbillo and L'Antica Pizzeria da Michele.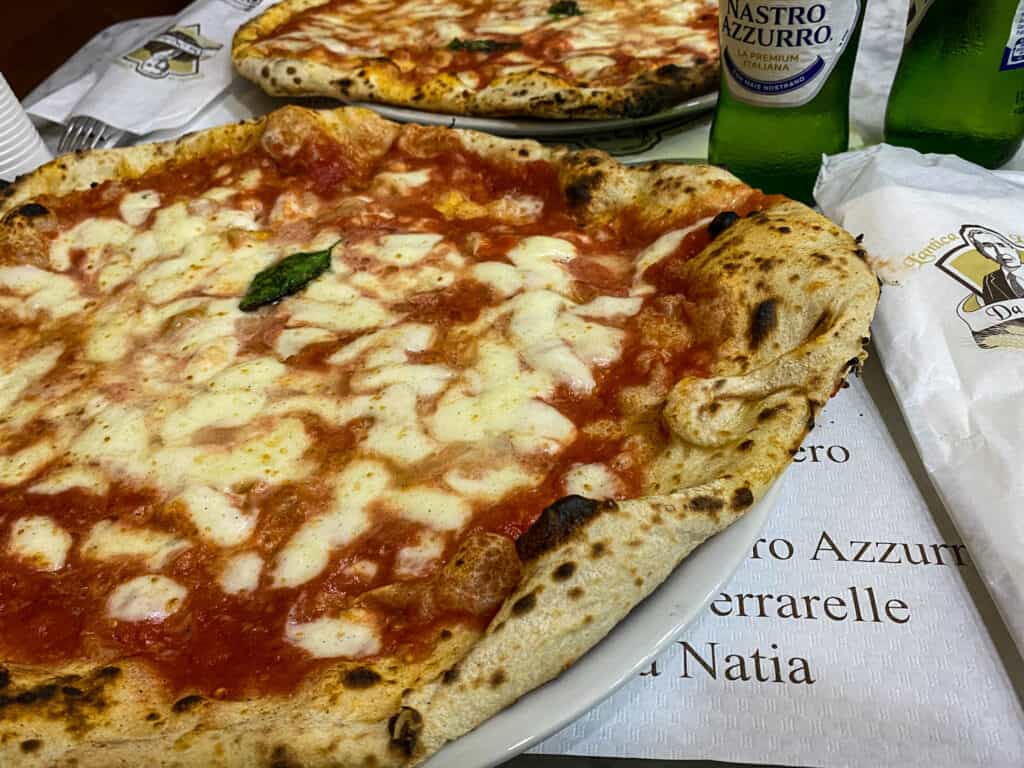 Sobrillo (Via dei Tribunali 32 – Centro Storico), is one of the best pizzas in Naples. The line to get in at Sobrillo pizza can take up to 1,5 hours. Buy a cold drink or a snack in the kiosk next door to ease the waiting time. We promise the wait is totally worth it. Open Mon-Sat 12-3.30 pm and 7 pm-12 pm.
People start lining up over an hour before opening time, so go early. The staff give out queue patches when they open and later they call out your number when a table is free. Don't expect to spend your evening here. You are expected to order, eat, pay and leave. After all, there's a long line of others waiting to get in.
Da Michele (Via Cesare Sersale 1) is also known for making the best pizza in Naples. Its full name is L'Antica Pizzeria Da Michele Napoli, and they serve only two different pizzas, Margherita or Marinara, which is what Napoliteans mostly eat, so there's no better place to try it than here.
Also here there's a line to get in and, as in Sobrillo, you will have the feeling here that you need to hurry up eating and leave. Even so, the experience is totally worth it, and the pizza is truly delicious. Open 11 am-11 pm daily.
The pizza in Naples is mouthwatering. If you have the time, line up and try one of these two places. If not, almost any pizzeria in Naples serves great pizza. So, where is the best pizza in Naples? We leave that for you to decide.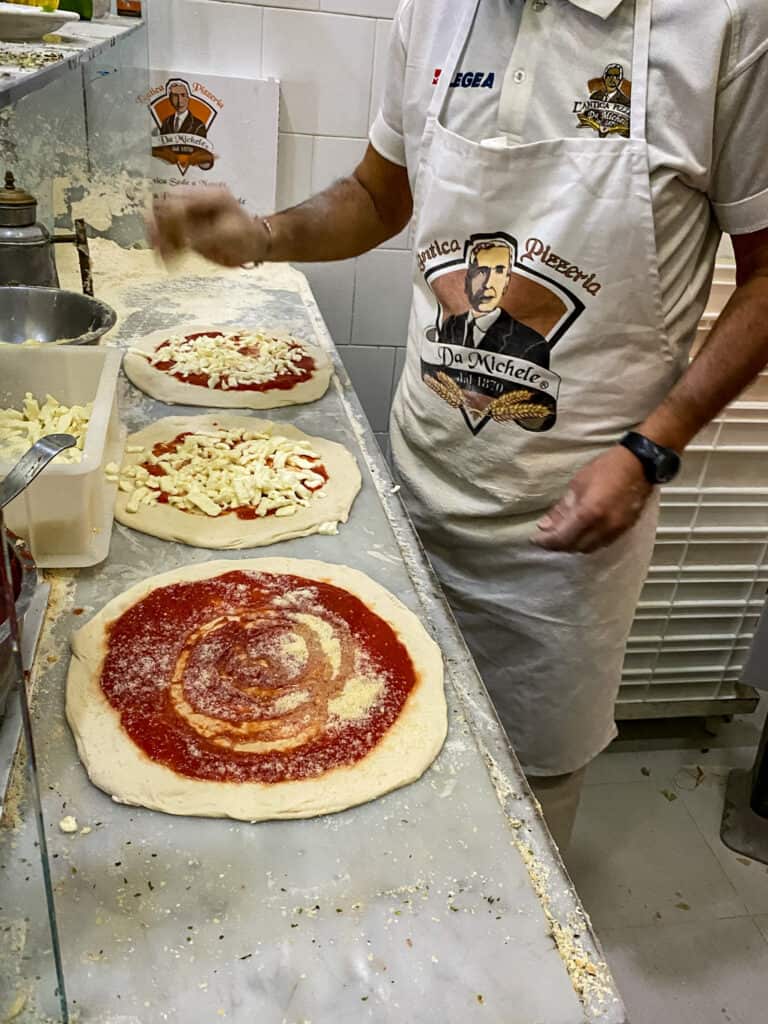 11. The art underground stations in Naples
Naples got some pretty cool underground stations. Numerous stations are designed by top artists, and many of the most beautiful stations are found on metro line number 1, and you will find a mix of paintings, installations, architecture and photographs.
Some of the most stunning stations are Università and Municipio. If you don't have the time to see them all, we really recommend that you visit the breathtaking Toledo metro station in Naples. In 2014, this station was topping CNN's list of the most impressive metro stations in Europe.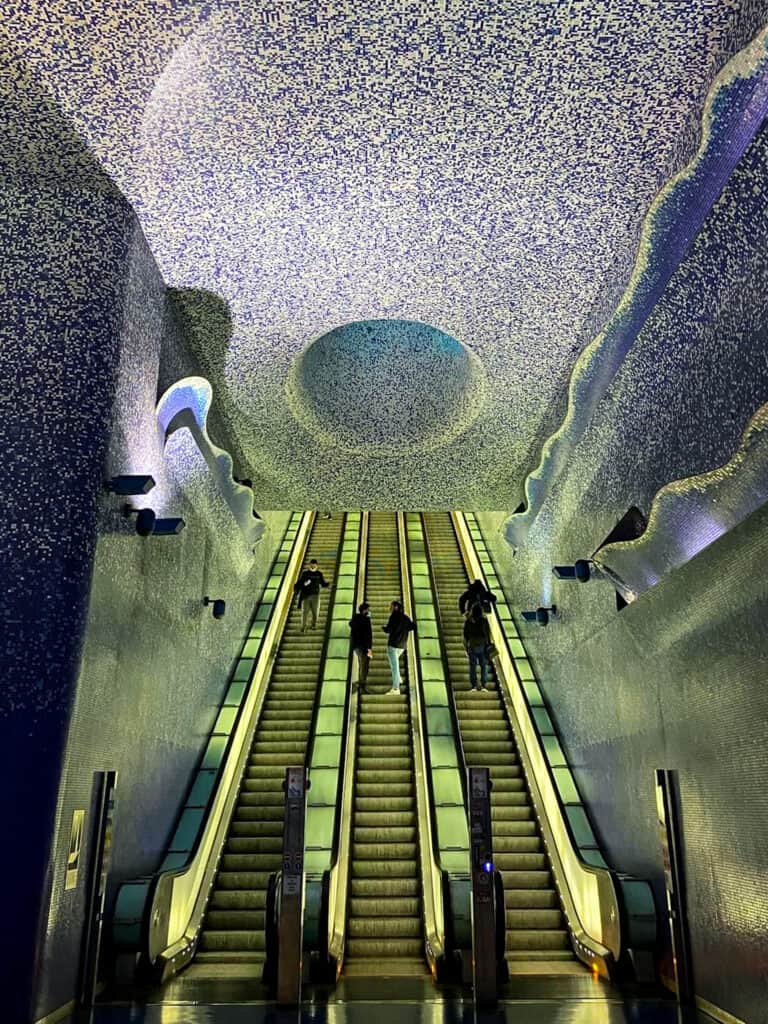 12. Get the best view of Naples and the surroundings
For some of the best views in Naples, head to Castel Sant' Elmo on Vomero Hill. The history of this medieval star-shaped fortress goes back many centuries. Originally it was built as a church, then turned into a castle, before it was fortified to what we can see today. Until the 1970s, Castel Sant' Elma was used as a military prison.
Today the fortress serves as a museum open to visitors. But the main reason to visit here is the view. And what a view we might add. Overlooking Naples, Mount Vesuvius and the Bay of Naples, the view from San't Elmo is nothing but jaw-dropping.
Before you go – How to visit Castel Sant' Elmo
Opening hours Castel Sant' Elmo: 08.30 am-06.30 pm (Daily)
General admission: €5 /reduced €2,50
Purchase your ticket at the entrance
located on Vomero Hill above the city
with public transport:

Metro line 1 to Vanvitelli
Funicular from Montesanto Metro station to Morghen
TIP: Visit the Vomero neighbourhood while up here. Vomero is a different kind of Naples than downtown. This part is more upmarket, more organised and quiet, but not boring. You will find numerous cafes, bars and restaurants in Vomero. It is only a short walk from Castel Sant' Elmo.
13. See the old palace backyards
Looking for something truly unique while visiting Naples? We got you! Naples has a few old, smaller palaces – with some totally amazing staircases in their backyard. Can that be worth seeing, you might ask? And the answer to that is; Yes, absolutely.
The Palazzo dello Spagnola is the most impressive of them. This Rococo or late-Baroque-style palace was erected in 1738. To be honest, the palace itself has seen its better days, but you go here for the imposing staircase in the backyard. Seldom have we seen a more grandiose entrance to a building.
You can visit the backyard of Palazzo dello Spagnola for free. It's located in Via dei Vergini 19.
The nearby Palazzo San Felice (Via Sanità 167) is designed by the same architect, Ferdinando Sanfelice, and is also worth a visit for the same reason. Also there you can see a spectacular staircase in the backyard of a rather warn down former palace.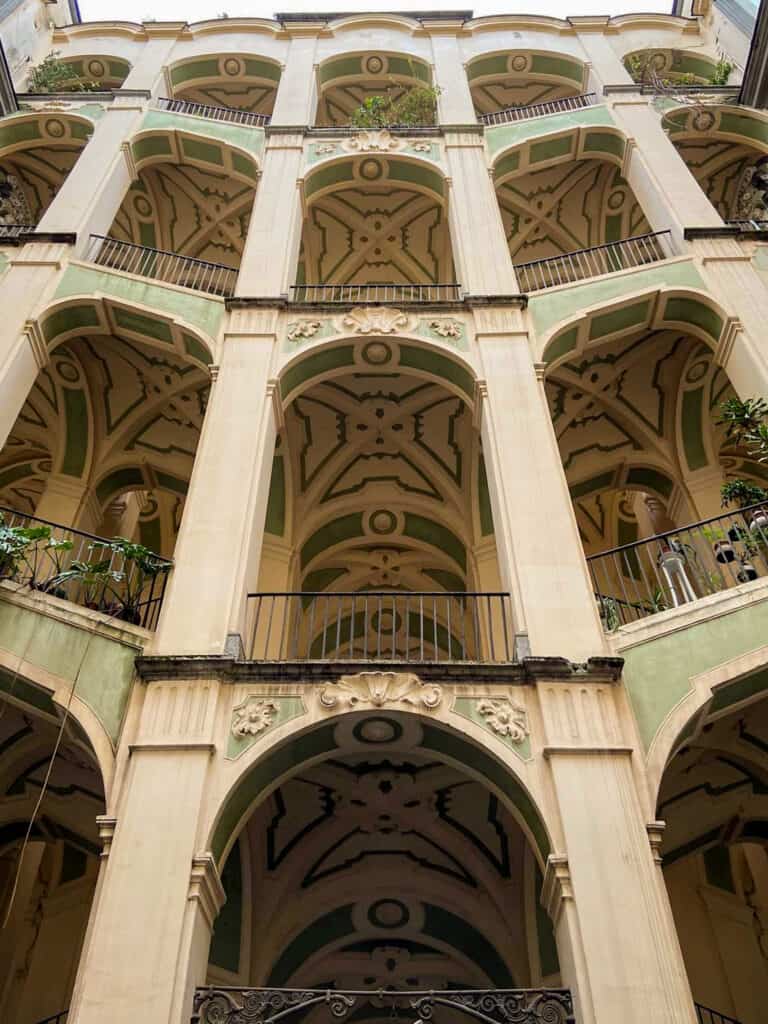 14. Coffee in Naples
The coffee culture in Naples is truly unique. All over the city, you find cafés and best of all, espresso bars. The coffee in Naples is strong, black and hot. Locals claim the quality of the water is what makes the coffee in Naples so good.
If you want to drink coffee like the locals, you can drink milk-based, milder coffees up until noon, and after that, you drink only black coffee, mostly espresso. The espresso is ordered at the bar, and you drink it standing there. Almost all places serve a small glass of water for your coffee. This you are supposed to drink before your coffee, to clean your palette. You rarely pay more than a euro for an espresso, and often only ninety cents. If you are charged much over a euro, then you know you are in a touristy place.
From early mornings to late evenings, the inhabitants of Naples go to their favourite local coffee bar, and mostly all of them are good. Look for a place where the locals go, and you won't be disappointed.
Should you be a fan of modern third-wave coffees, then Naples isn't the best place. Due to its strong coffee culture for traditional Neapolitan coffee, there aren't many other options. However, if you need a change from all the espressos, and are looking for a good brew, head to the modern Vomero district. Here you'll find Ventimetriquadri – Specialty Coffee, and they serve excellent hand-brewed third-wave coffee.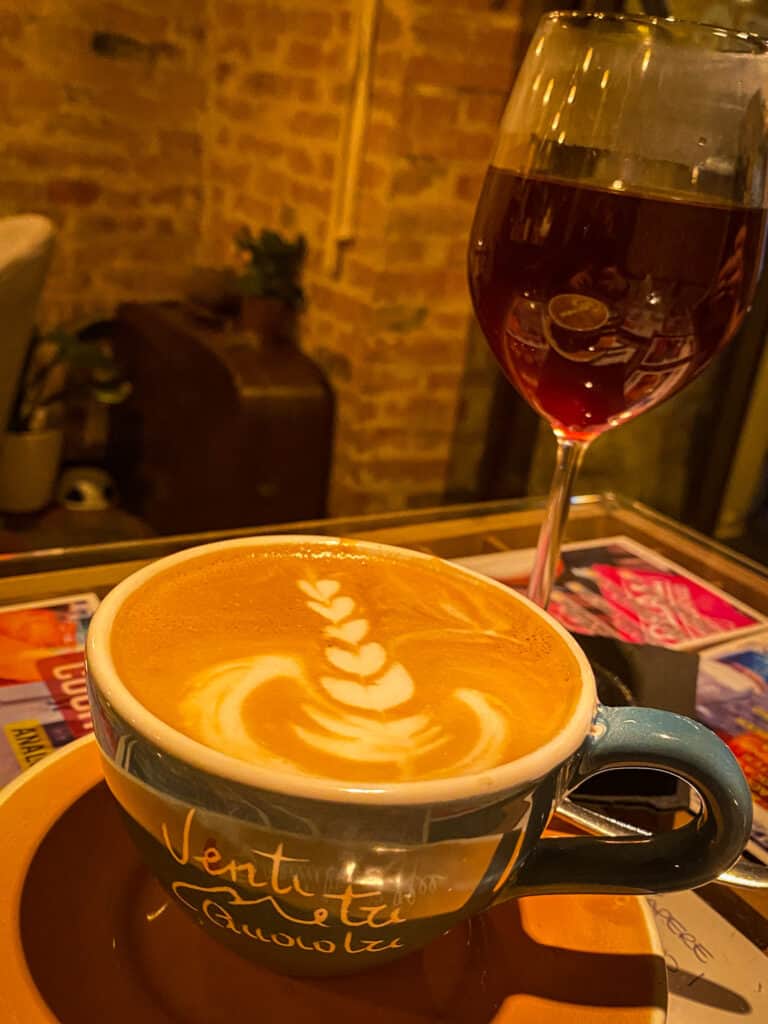 15. Galleria Umberto I
Located directly opposite the San Carlo opera house, this public shopping gallery is definitely worth a short stop. Maybe not so much for the shopping, that ain't too good actually, but for the architecture.
By the first glimpse of this glass-domed arcade, one could think one has been redirected straight to Milan, and their Galleria Vittorio Emanuele II. Both galleries are designed by different architects, but one can clearly see the similarities and almost identical architectural elements used in both places.
Gallerie Umberto I is free to enter, and you don't need much time to visit it. For us, only the building and the architecture itself were interesting. The shops and the cafes are nothing special.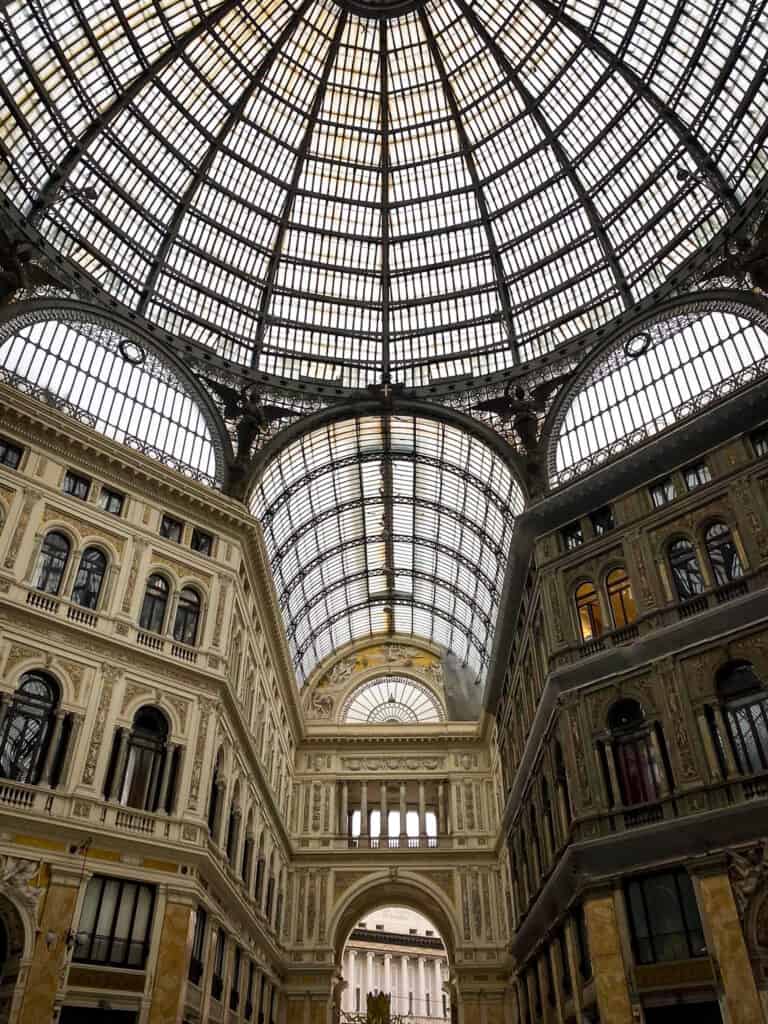 16. Explore the street life in Naples
We always find time to observe the local street life wherever we travel, and Naples was no exception. In this bustling city, so much is going on everywhere. As said before, Naples is a busy city, especially in the narrow streets of the Centro Storico.
So much of daily life happens on the streets. This is where locals do their daily business and get their necessities, meet friends, fix things, have lunch, dry laundry and so on. Not everything happens on the street level, so remember to look up.
Find a nice spot, buy a drink, and just observe what's happening. This could keep you busy for hours!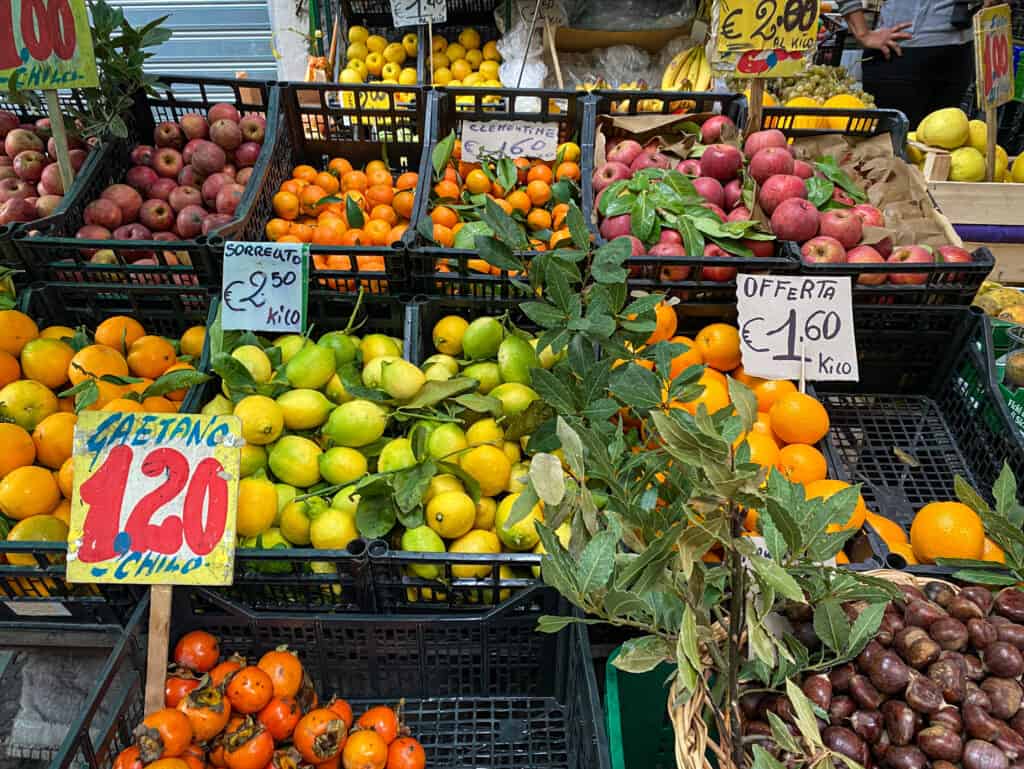 17. Great possibilities for day trips
Is Naples worth visiting as a base for doing day trips? Oh, most definitely. There are endless possibilities to choose from. From Naples, you have easy access to nearby islands such as Capri, Procida or Ischia. You can visit the largest royal palace in the world in Caserta just outside Naples, or what about a trip to the active volcano Vesuv followed by a visit to Pompeii?
Furthermore, if you are looking for a glimpse into the famous Italian "La Dolce Vita" – then a trip to Sorrento or the Amalfi Coast might be just what you are looking for. A day trip from Naples can add an extra dimension to your trip. Our post on day trips from Naples will give you lots of inspiration and help you in the planning.
18. Archeological Museum
One of the top attractions in Naples is the National Archeological Museum (Museo Archeologica Nazionale di Napoli).
Unfortunately, we couldn't sneak it into our packed schedule during our visit, something we bitterly regret, especially since we visited the ruins at Pompeii, and totally loved it.
The Archeological Museum in Naples houses one of the most important collections of ancient treasures in the world. Here you'll have the chance to see the finest, original frescoes and mosaics from Pompeii and Herculaneum. After a visit to Pompeii, you will want to see more of these masterpieces, and this museum is the best place in the world to see them. Please don't do like us and miss it!
Before you go – How to visit the Archeological Museum in Naples
Opening hours Archeological Museum Naples:

Wednesday – Monday: 9.00 am – 7.30 pm
Closed Tuesdays

General admission: €15

Under 18 years: free
Youth EU citizen 18-24 years: €2

Purchase a ticket online in advance to get the time you want, or at the door
Located in the city centre, reachable by foot

By public transport: Metro line 1 to Museo/ line 2 to Cavour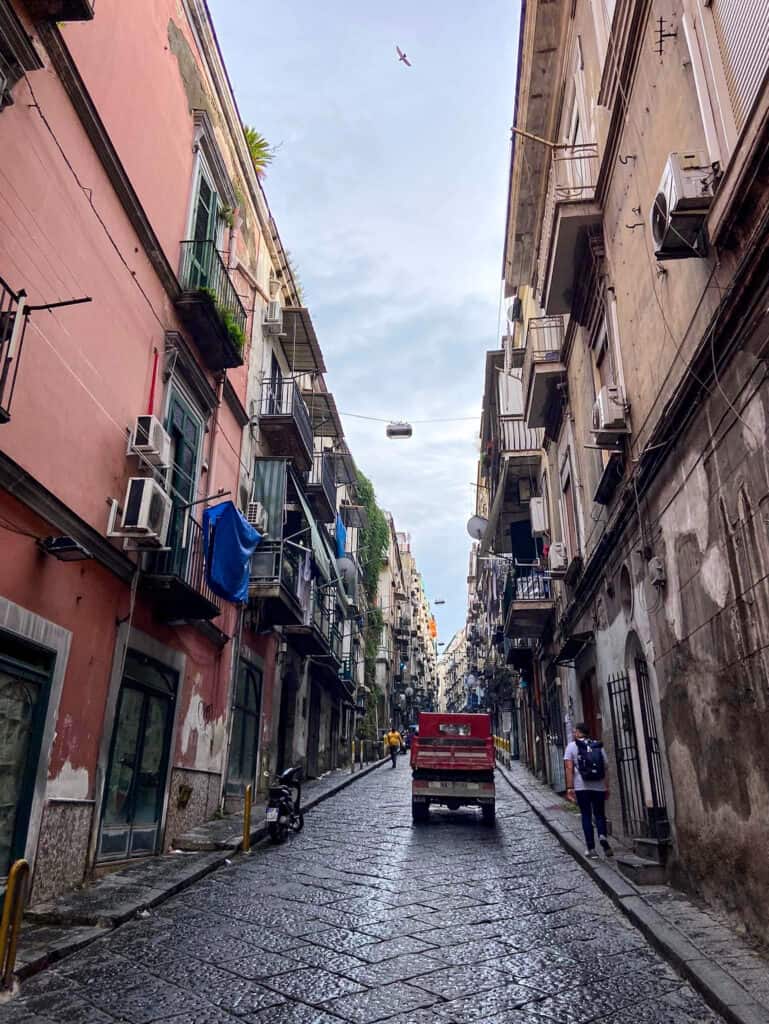 Best time to visit Naples
When is the best time to visit Naples? Well, that depends a bit on what you prefer. In general, this part of Italy is enormously popular, and the tourist season for nearby Sorrento and the Amalfi Coast lasts almost the whole year, so one can always expect crowds also in Naples. If you don't want to mingle with the largest tourist hoards, then at least avoid the main holiday season in Europe from June through August.
Of course, there is also the weather. In high summer, the temperatures this far south in Europe can get extremely high. It can get really hot in the summer, and exploring a big city in burning heat is not much fun. Below you can see an average of the temperatures in Naples, just to give you an idea to help your planning. Please note that these are only the mean temperatures and that it can be much warmer and colder than those listed below. The summer lasts longer here than in northern Europe, and the fall is mostly warm and mild. Both October and November normally have very comfortable temperatures.
Visiting Naples in the winter: December-March mean temperature is 10-12 °C (49-54F)
Visiting Naples in the summer: Mean temperature 19-26 °C (58-65F)
Visiting Naples in spring or autumn: Mean temperature is 14-19 °C (73-79F)
Most rain: November, December and April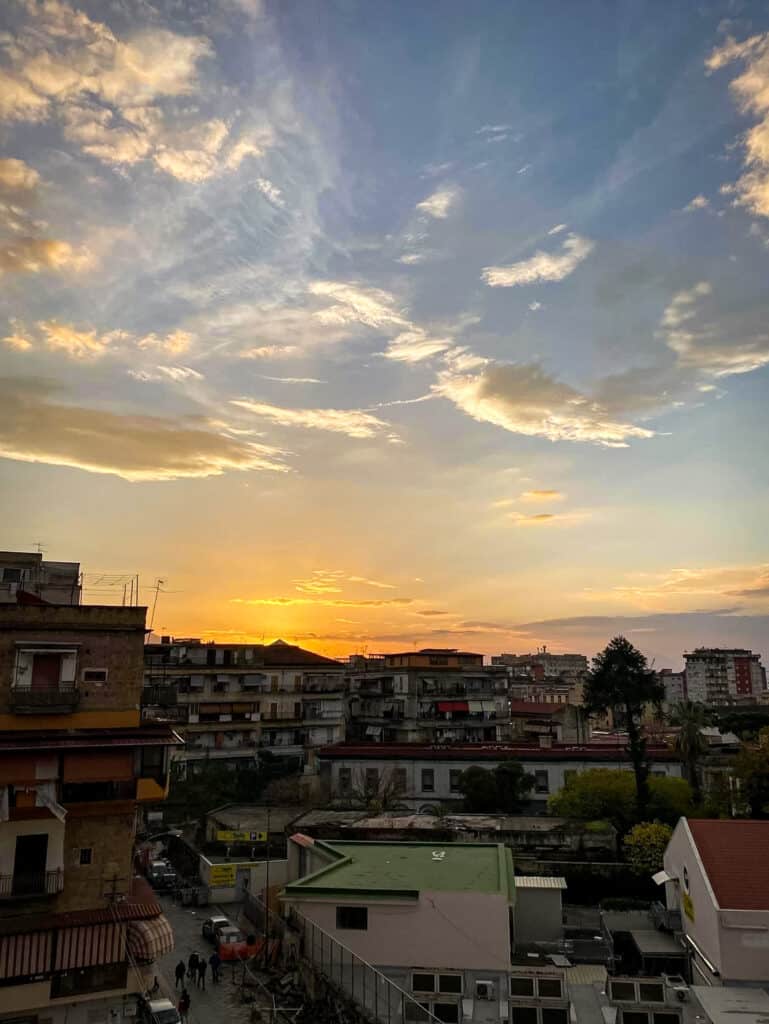 Plan your trip – How to get to Naples and around
Naples is easy to reach from all over Europe, and you can arrive by rail, bus, car, boat or plane.
Travel to Naples by train
If possible, we always recommend travelling by train. There is something old-school romantic about train travel, and Naples is easy to reach by train. In fact, if you have the time, you can travel to Naples by train from all over Europe. We travelled all the way from Berlin to Naples by train. We first took the train from Berlin via Munich to Venice, and from Venice, we went by night train to Rome and onwards to Naples.
Of course, we can understand that this isn't for everyone, also time-wise. But if you visit other cities in Italy as well, such as Milan or Rome, we would strongly recommend you take the train between the cities. Napoli Centrale (Naples Central Station) is located within walking distance of Centro Storico. Check Trenitalia for departures and tickets.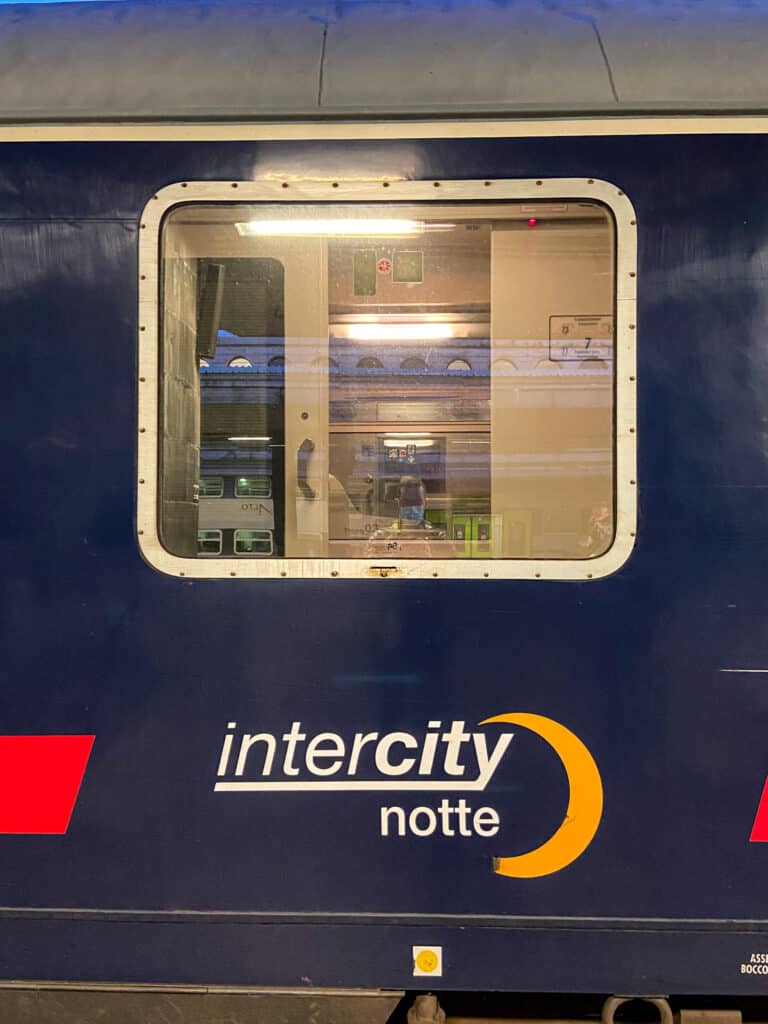 Travel to Naples by plane
Naples International Airport is located approximately 6km (3,7 mi) outside Naples. The airport is fairly well connected to most of Europe, and with one connection you can reach Naples from all over Europe. There are not many intercontinental flights to Naples, but with connections in e.g Milan or Rome (or elsewhere in Europe), Naples is easy to reach by plane.
You can get from Naples airport to the city centre by taxi or shuttle bus. The bus leaves outside Terminal 1 and stops at Piazza Garibaldi close to the Central Station. From here you can walk to Centro Storico or take public transport to your destination.
How to get around in Naples
Large parts of Naples are very walkable. You can explore the whole Centro Storico on foot, but be aware of heavy (and quick) traffic in some of the narrow streets.
Naples is served by metro, funiculars, city buses, and suburban and regional trains. It's quick, clean and safe, and much better than taking a taxi that might get stuck in traffic. All of the places mentioned in this blog post can be reached either by foot or by public transport.