This post may contain affiliate links, where we may receive a small commission if you purchase something through following the links at no extra cost to you.
An Italian powerhouse and the capital of style and fashion. Home to one of the world's most famous paintings, a world-class opera house and a gothic masterpiece. Here you find great, classic architecture, modernity and everything in between. Follow us on a Milan city break.
Milan has a population of approximately 1,4 million. It's the home of the Italian stock exchange and several big banking companies. At first sight, it seems like the whole city is about money, fashion and a hectic lifestyle. But when you start exploring the city, its different areas and small streets – then you can feel it; that Italian feeling sneaking up on you. Milan is nothing like Rome, Naples, Venice or the Italian coastal towns. Even so, there are areas, streets and buildings that could make you believe you were in a totally different city.
We spent a short weekend in Milan, from Friday evening to Sunday afternoon. With this short time, it's limited how much one can see and do in such a big city, but still, you will have enough time to see the main sights. All places in this post can be visited within only 2 days in Milan.
1. Duomo di Milano – a Gothic masterpiece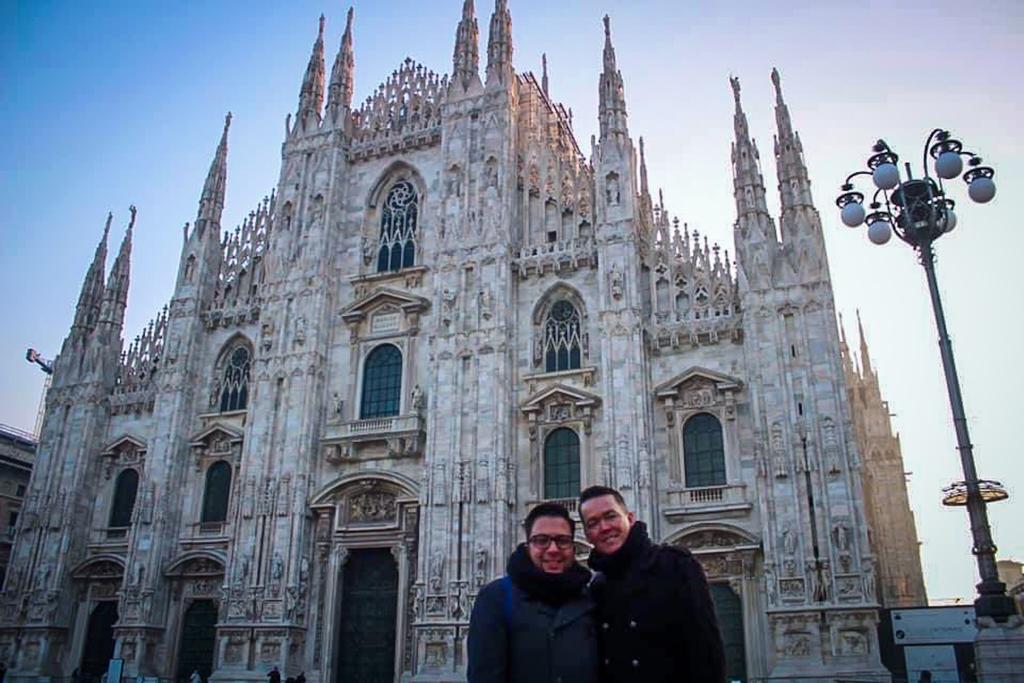 A weekend in Milan is not complete without visiting its number one attraction, the Duomo di Milano (Milan Cathedral). Words can't describe this building. No wonder it is considered one of the most famous landmarks in Europe. It's so impressive, so massive, so beautiful. It's the largest church in Italy (Saint Peter Basilica is bigger than Duomo but that is in the Vatican), the third-largest in Europe and the fourth-largest in the world. It took generations to build and complete the Duomo. Construction started in 1386, and nearly 600 years later, in 1965 it was considered completed. Especially the front facade made of Candoglia marble is so impressive and so is the roof with its 135 spires.
TIP: Read our post from Sevilla where we visit the world's largest Gothic cathedral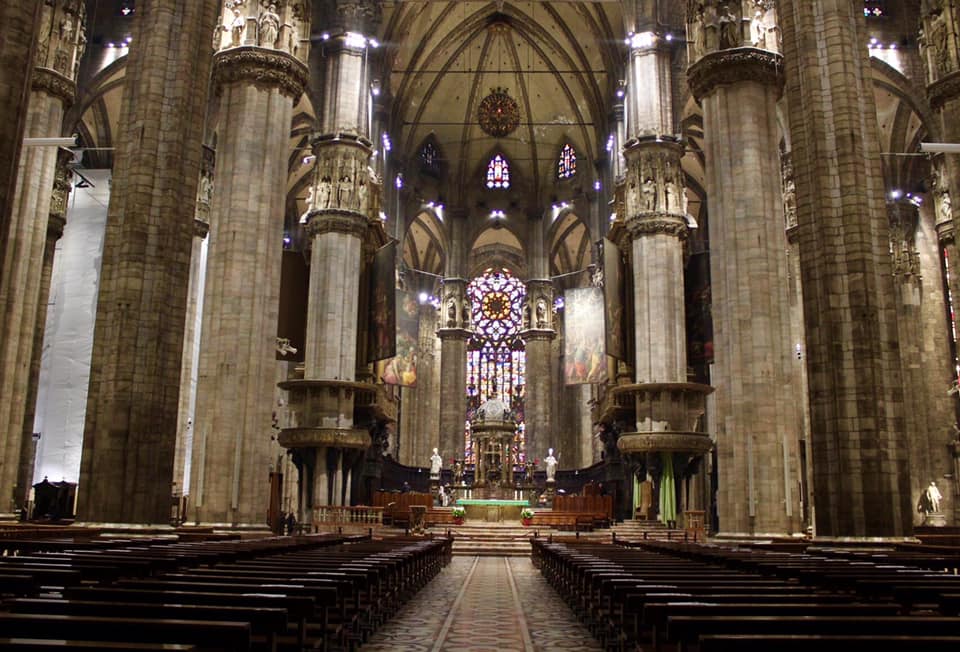 A visit to the Duomo can be a practice in patience. You will not be the only one wanting to visit this masterpiece. Expect crowds – huge crowds. Purchase your ticket in advance. We highly recommend a visit to the roof, where you will be rewarded with the most amazing views over Milan.
Before you go:
Opening hours: 09.00-19.00 (last entry 18.10)
Single entry to the Cathedral is €5
A combination ticket including the roof is €15 (stairs)/ €20 (lift)
Recommended to purchase your ticket online in advance
The ticket office is opposite the cathedral
TIP: Visit the Duomo as early as possible in the morning. It is very busy, but in the early morning you can still enjoy your Milan city break without the largest crowds
2. Visit Galleria Vittorio Emanuele II
The Piazza del Duomo has another architectural masterpiece. Located next to the Duomo is the Galleria Vittorio Emanuele II. This stunning shopping arcade is one of Milan's landmarks. Once you see it, you will understand why. The glass and iron roof is so impressive. The Galleria got its name after the first king of the Kingdom of Italy: Victor Emmanuel II. Today, the arcade hosts luxury retailers, shops, restaurants and a hotel. Some of Milan's oldest shops and restaurants are found in the Galeria too.
Galleria Vittorio Emanuele II is open 24h. Go there early in the morning or late in the evening for the best light, and to escape the biggest crowds.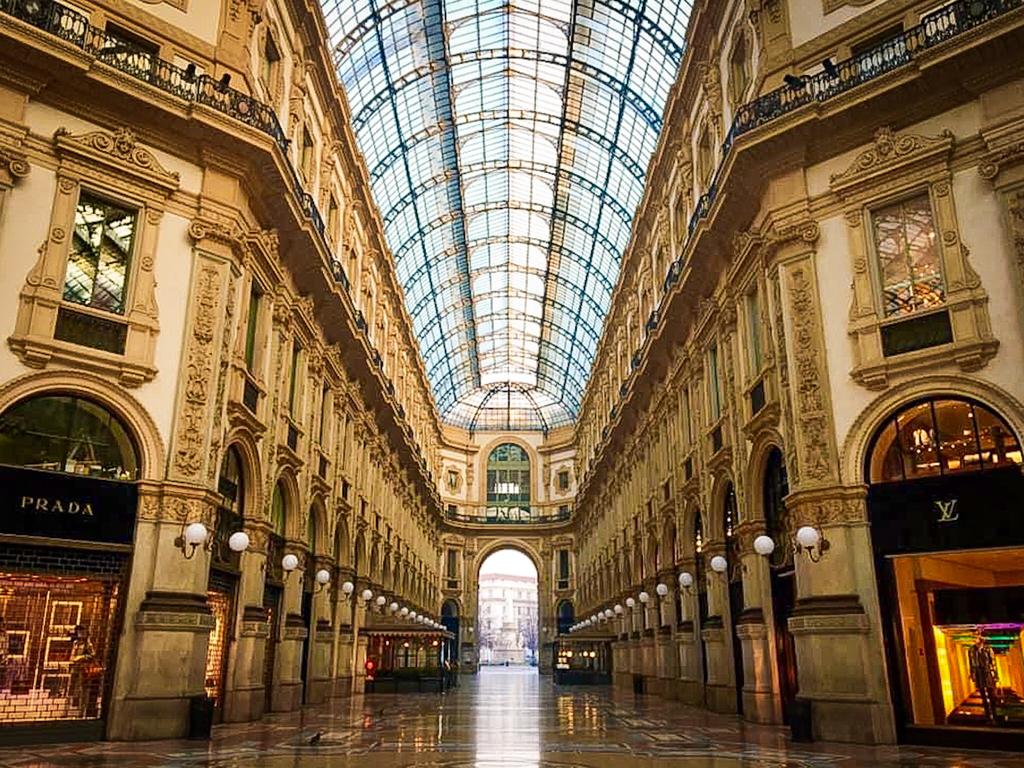 3. World-class art in Milan
Milan has world-class art to offer, and any Milan city break should include at least one art museum. The most famous is Leonardo da Vinci's The Last Supper, located in the Basilica di Santa Marie delle Grazie. Unfortunately, we were too late to book the tickets for it. Even we tried to book over two weeks in advance. Be early in case you want to see it!
Pinacoteca di Brera is another place for world-class art. The museum has an impressive collection of Old Masters with names such as Rubens, Goya and Titan
Galleria d'Arte Moderna (GAM), located in Napoleon's temporary Milanese house, Villa Reale, houses Milan's collection of modern art. The collection consists mostly of works from the 18th to the 20th centuries, by names such as Van Gogh, Manet, Gaugin and Picasso. For this museum, we purchased the tickets in the ticket counter on-site, and there was no waiting line. Online purchase is also an option.
Before you go:
Opening hours the Last Supper: 09.00-19.00/ Sundays 09.00-13.45 (closed Mondays)
Entrance is €15
Purchase your ticket online way in advance. It sells out quickly!
Opening hours Pinacoteca di Brera: 09.30-18.30 (closed Mondays)
Purchase tickets at the door, or better online
Opening hours GAM: 09.00-17.30 (closed Mondays)
Purchase tickets at the door
TIP: Read our post about the best places to visit in Saint Petersburg where we visit the amazing Hermitage museum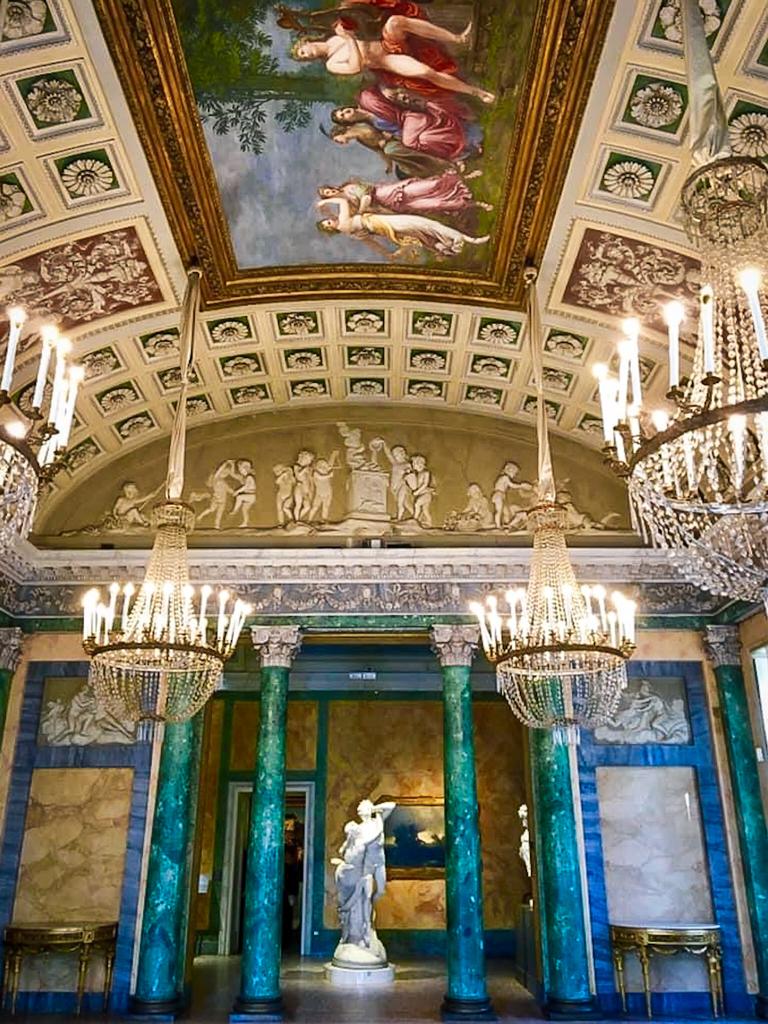 4. La Scala – Milan's famous opera house
Milan is home to one of the most famous opera houses in the world: Teatro alla Scala. After checking ticket prices for an opera, we quickly decided only to visit the building and its museum.
You can visit the museum, Museo Teatrale alla Scala, a theatrical museum and library attached to the opera house. It focuses on the history of opera and the opera house. For us, the highlight was the view into the magnificent theatre from the balconies which you can enter from the museum.
Before you go:
Check the program and buy tickets for shows in advance at their website
Opening hours museum: 09.00-17.30 (closed Sundays)
Buy tickets at the door or at the website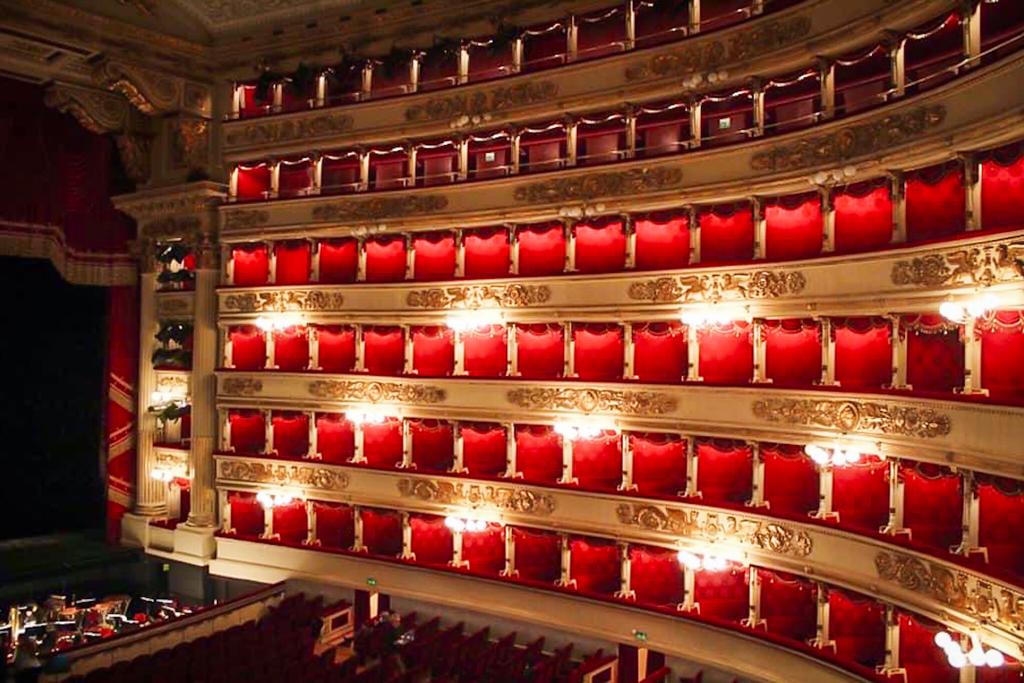 5. Visit Sforzesco castle
As self-declared castle lovers, we couldn't resist a visit to Castello Sforzesco, a red-brick castle in the middle of the city. It reminds maybe more of a fortress, and it was also originally built like that. Today the castle houses several museums. Behind the castle is a large park that is also nice to visit if you have the time.
For us, this was not our most impressive castle, at least from what we saw outside. We did not enter inside, as we arrived late – just before closing time.
TIP: The largest royal palace in Europe is located just outside Naples more south in Italy. Our post on day trips from Naples shows you how to visit that magnificent palace
Before you go:
Free admission to the castle grounds 07.00-19.30
Opening hours museums: 09.00-17.30 (museums are closed Mondays)
Entrance to the museums: €5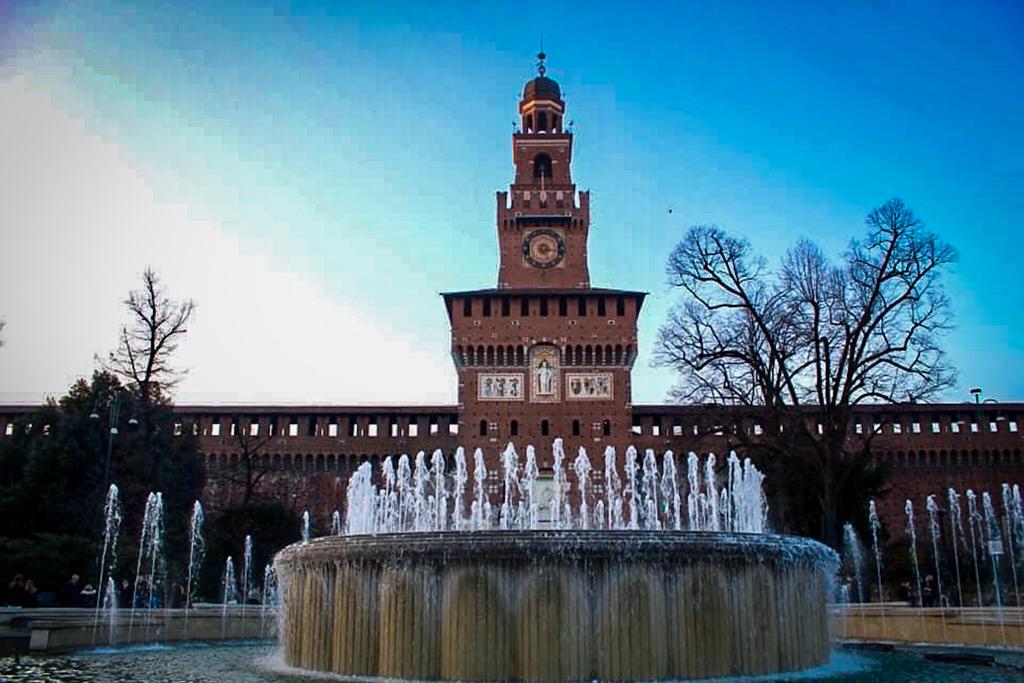 6. Two great neighbourhoods to explore in Milan
Milan has several neighbourhoods, and we especially liked two of them; Navigli and Brera, which both can be visited on a short Milan city break.
Navigli is named after its canals, previously used for transport. Today the area is filled with boutiques, restaurants, cafes and bars. Most of the places have outdoor seating areas, but during our time there, in full sun – during lunch hour, it was impossible to find a place in the sun.
Navigli is one of the main nightlife areas in Milan. If you are up for a night in the town, this area can be a great option. From central Milan, it's a bit of walking to get there, but you can also use public transport. Along the way, if you choose to walk, you will find several cosy shops and cafes, especially along Corso di Porta Ticinese.
Centrally located Brera is another neighbourhood to really enjoy. This area is more central than Navigli, and also home to the Pinacoteca di Brera. In addition to numerous bars, cafes and restaurants, the area also has several antique and art shops and street markets. Here it is lovely strolling around in the streets, just taking in the daily life, watching people and the beautiful buildings of the area. For night owls, Brera is also a place to find the nightlife in the city.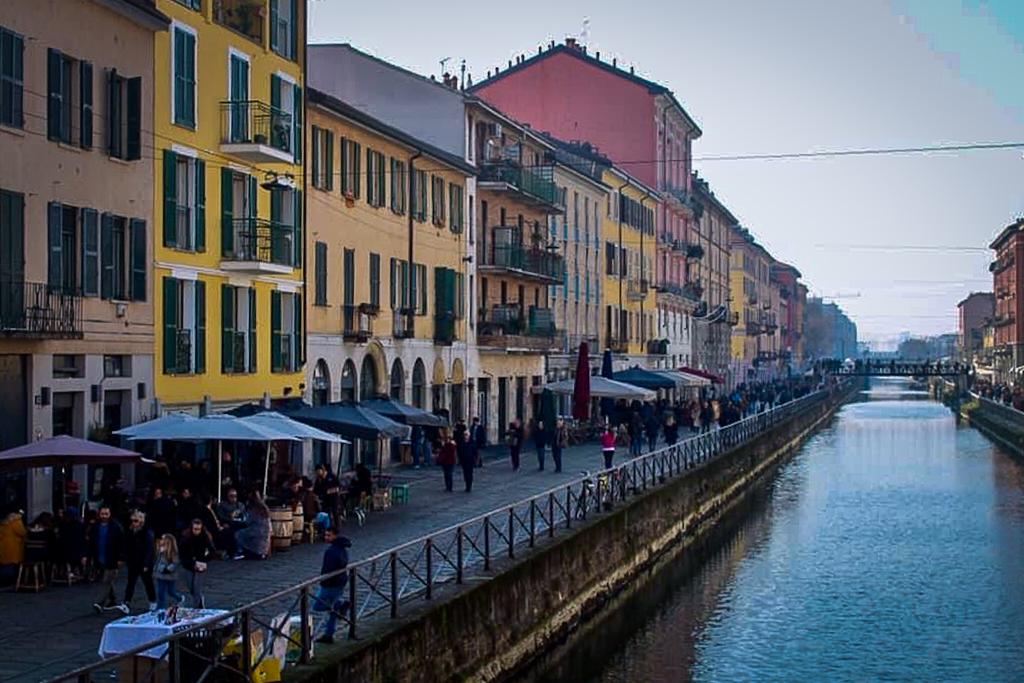 7. For the fashionistas: Shopping in Milan
Into fashion? Milan is the city, and Quadrilatero d'Oro is the place. In this area, you find some of the highest real estate prices in the world. Also, you can find stores of 500 world-leading fashion brands. The whole area is elegant and, it's oozing luxury, style and money. We had a walk through some of the streets here, but as we usually travel on a budget, we chose not to enter into the glitzy world in front of us.
8. Aperitivo – the best tradition of them all
Who doesn't love the Italian tradition of Aperitivo? In the late afternoon or early evening, go anywhere they sell drinks and food, order a drink, and voila: a drink comes accompanied by some tasty snacks. Some places ask if you want the aperitivo (and charge more for that), while others bring it with no extra charge.
An aperitivo is the perfect way of ending a long day before dinner or a way to start a long evening out. Walk around and take a seat at one of the many beautiful squares and piazzas that is so typical for Italy. Nothing says Italy more than an aperitivo.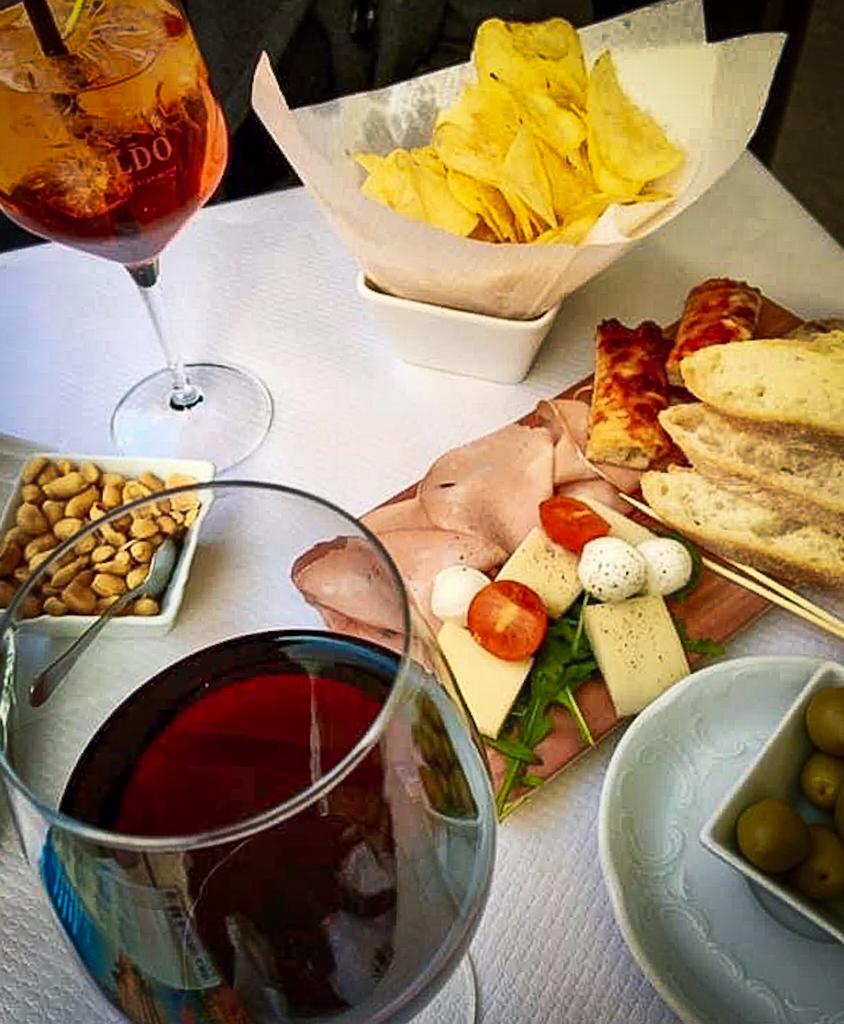 Plan your trip: How to get to Milan and around
Milan has two airports, Malpensa and Linate. One can also fly to nearby Bergamo if that's a better option. From Malpensa, you can take the Malpensa Express train to the city centre (13€ one way, 50 minutes). There is also an airport express bus that takes you to the central train station (Stazione Centrale). The bus takes more time, but on the other hand, it costs a bit less than the train. Of course, there is also the alternative with a taxi to the city as well. Expect to pay quite much!
TIP: Visit Milan in winter if you want to escape both the big crowds and the high temperatures in the summer. Milan in winter is much calmer, and the weather can still be good.
The city of Milan is well connected with trams, buses and underground. Most of Milan is walkable, but public transport works very well if you wish to use it. Milan doesn't strike us as an, especially bike-friendly city, although there are several people using bikes.
Milan has good connections all over Italy, making it easy to explore other parts of the country as well. Maybe after a busy Milan city break, you are in need of some relaxation and self-care? Then maybe some days with a spa and hot springs in Tuscany could be something for you? If you would like to seek spectacular nature instead, then camping in the Dolomites can be the perfect place to recharge after a hectic city trip to Milan.