This post may contain affiliate links, where we may receive a small commission if you purchase something through following the links at no extra cost to you.
Is there anything better than spending the summer in Europe? Some people want beaches and historical towns, while others prefer hiking or biking in spectacular nature. Many are looking for the best food and wine, and some want a party or shopping. No matter what you want – Europe has it all. Together with 11 other travel bloggers, we now reveal our favourite summer destinations in Europe. Read on to get the best insider tips for your next summer holiday in Europe.
Europe is a compact continent, and you can see a lot, even in a short time. The good thing about such a compact continent is that you often can get everything you want for your summer holidays in Europe. Many countries may have everything you want for the summer in Europe, and if not, the distances between the different countries are often short. Combining more destinations for your holiday is easy in Europe.
Where is the best place to spend the summer in Europe?
Picking the best European destination in summer can be a challenge. It all depends on what you want and like, and maybe also on your budget.
Summers in Italy and the South of France are legendary for the good (and sometimes very expensive) life, while Switzerland and Norway offer endless hiking opportunities. If you travel on a budget, a holiday in Eastern Europe might be a good choice for you. If you like a more active holiday, the possibilities for hiking, cycling and other outdoor activities are always present.
Spend your Europe summer holidays in the south of Europe if you love the sun, and travel to Northern Europe or Scandinavia if you want to avoid the heat. Any capital city will offer you a great city break in Europe, while the countryside is perfect for more relaxing days.
In this post, 12 travel bloggers share their best recommendations with you. You can read about some traditional places to visit in Europe in summer, and also some not-so-common places that we hope will inspire you to explore new destinations in Europe. The travel bloggers we have talked with have given us a great list of their best places to visit in Europe, and hopefully, you will find your favourite European destination as well.
Summer in Europe – map of our 12 Unique Destination in Europe
1. Summer holidays in Germany: Münsterland – Germany
We got to admit, maybe not completely objectively, that Germany got it all. Well, everything except the Mediterranean climate. You can spend your summer holidays in Germany exploring historical towns, visiting beautiful castles and palaces, hiking or biking. You can visit the islands on the Baltic coast, take a nostalgic train journey or explore the big cities like Hamburg or Berlin. You can visit Germany year-round, but summer is especially nice. Then the weather is better, the beer gardens are open, and much of life takes place outside. If you choose to be based in one city, the possibilities for day trips and weekend trips are endless. As we said; Germany got it all.
Christine from chriscrossinggermany loves summer in Germany and here she shares her best tips: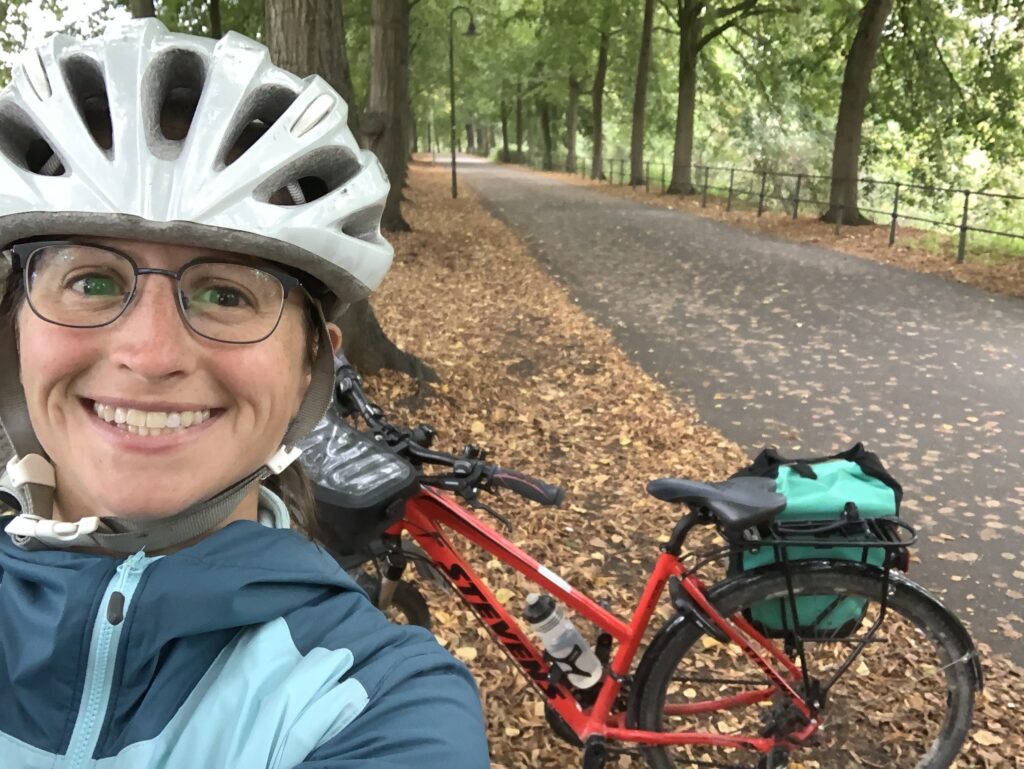 Summer is not synonymous with a beach for everyone. For me, summer means bike trips. That's why Münsterland, Germany is my favourite European summer destination, a must for any castle-lover.
One summer, I spent 3 weeks there cycling the 100 Schlösser Route, a 1000 km long bike trail that passes by a ton of amazing castles. Many of them are surrounded by romantic water-filled moats and expansive flowering gardens. Long ago the moats were not constructed for their beauty, but for protection since there were no mountains around (say hello to easy biking!).
Travelling to Germany? Join Our Facebook Group Germany Travel Forum
Some of my favourite castles include Schloss Nordkirchen, Burg Vischering, Burg Ludigstein, Wasserschloss Burgsteinfurt, Haus Bisping, Haus Steinfurt, and Burg Hülshoff. It is possible to visit several castles along the way, though many are privately owned. The trail consists of 4 loops with the city of Münster at the centre, itself the heart of Münsterland with a plethora of sites: the charming Altstadt, the famous Friedensaal in the Rathaus, a multitude of impressive churches, several art museums, a twice-weekly market, the great Aasee lake, and more!
Other regional highlights include the many horse farms, picturesque towns, and old monasteries. If you're looking for an active European summer destination, you can't go wrong with Münsterland!
Find out more about Christine on chriscrossinggermany or follow her on Instagram
2. South of France holidays
Few places say summer like the South of France. The French Riviera is world-famous and is synonymous with the good life, beaches, sun and party. Here you can have a morning swim in the crystal clear water and hike in the hills of Provence before lunch. France has everything you would wish for during your summer holiday in Europe.
Marguerite from berlinandaround has South of France as her favourite for summer in Europe and here she shares why: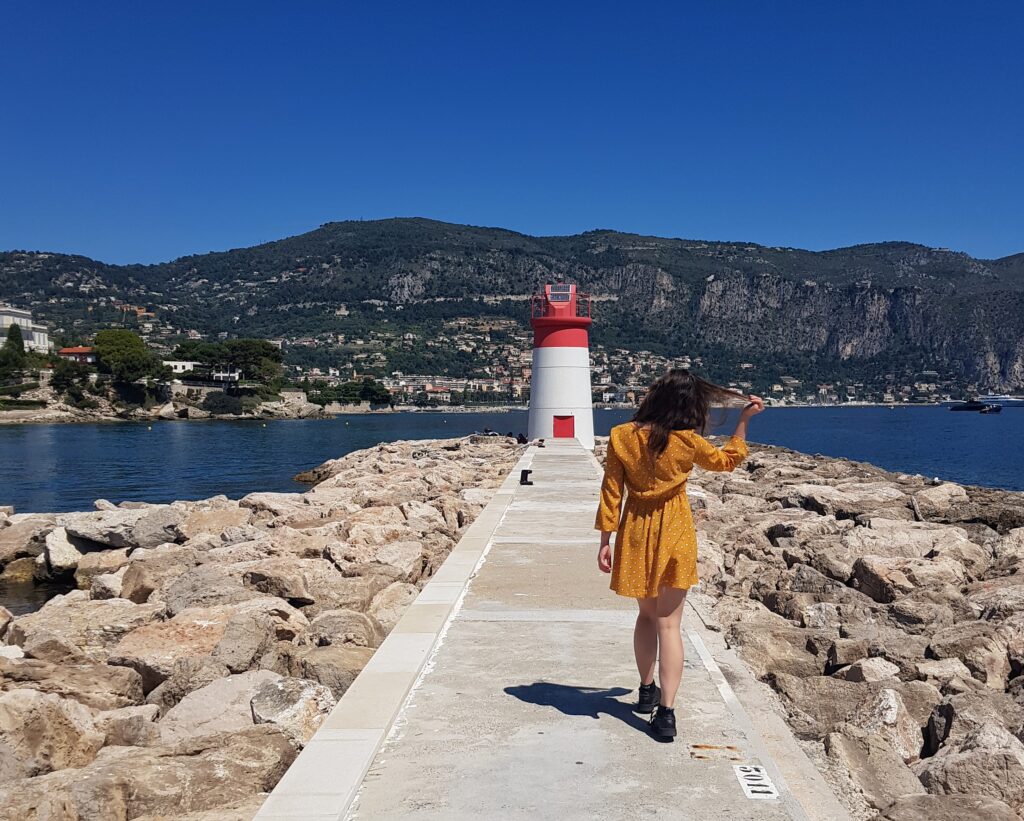 My favourite summer destination in Europe is by far the South of France. From the glistening shores of the Mediterranean to the lavender fields of Provence, you won't fall short of things to see and do.
I was fortunate enough to spend part of my childhood in the village of Saint-Jean-Cap-Ferrat, a tiny peninsula jetting out into the sea between Nice and Monaco. As many of my relatives still live in Provence, I've also visited this region many times. In fact, I jump at any occasion to return to the French Riviera or Provence, especially in the summer!
While the South of France is gorgeous no matter the season, everything truly comes alive from June through August, when locals and tourists mingle to soak up the sun or party late into the night.
If you're a fan of seaside escapes, make sure to choose a lovely harbour town like Villefranche-sur-Mer or St-Jean-Cap-Ferrat as your base. For city vibes where tradition meets modern luxury, opt for a stay close to Nice's famous Promenade des Anglais. Or perhaps farmers' markets, Roman ruins and rosé are more your things? In this case, head straight to Nimes or Avignon.
The beauty of the South of France is that there truly is something for every taste.
Find out more about Marguerite on berlinandaround or follow her on Instagram
3. Summer holiday in Switzerland
Tucked between high mountains, Switzerland got a nature out of this world. Here you could spend weeks on end doing one amazing hike after another, or you can explore the lakes, cities and towns dotted all over the country. It's definitely more costly than a holiday in Eastern Europe, but you will never regret a visit to Switzerland. With its central location in Europe, a summer holiday in Switzerland is possible to combine with almost any other country in Europe.
Mike from wanderlustmike shares why he loves summer holidays in Switzerland: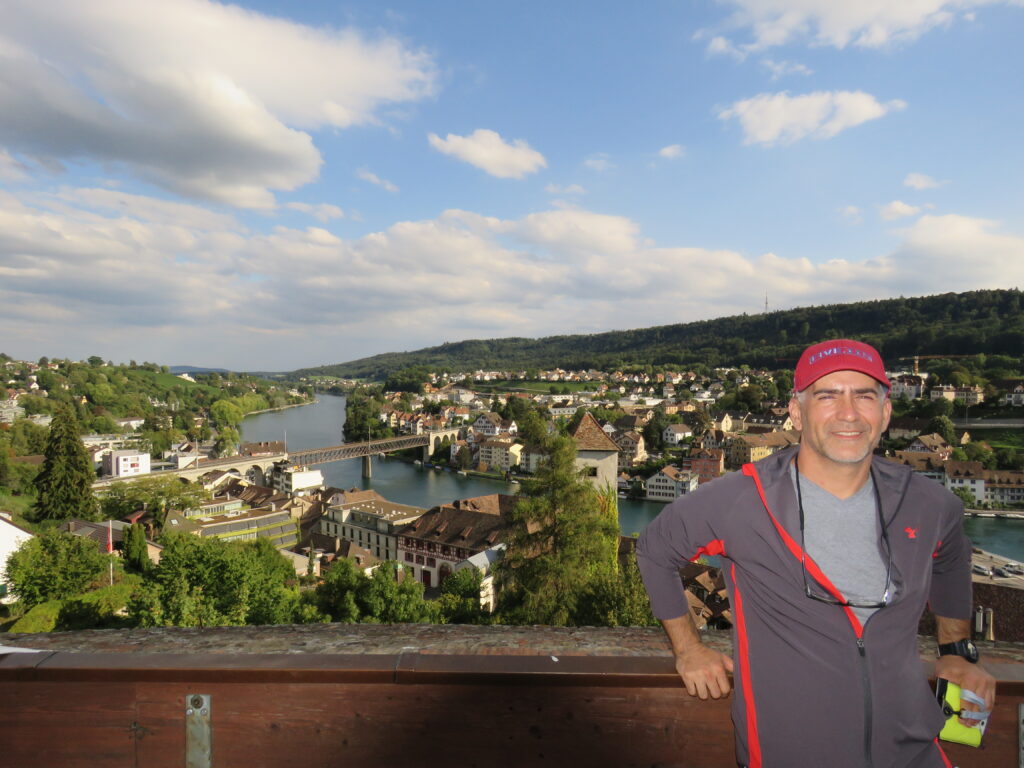 Switzerland is our favourite place in Europe! We have friends who live near Zurich and enjoy staying with them. Switzerland is so clean and the alpine villages are breathtaking!
We enjoy punting down the Rhine, brunching at Schloss Laufen castle adjacent to Rhine Falls, strolling through historic Stein am Rhein, the old village of Marthalen, beautiful views of the Rhine from Munot Fortress, a cogwheel train ride up Mount Pilatus, scenic ferry ride through lush Lake Luzern with a visit to the historic Kapellbrücke bridge, Zytglogge clock tower in Bern, and the iconic Matterhorn in Zermatt.
Unless you ski, summer is the warmest and driest season, with wildflowers dotting the Alps.
Find out more about Mike on wanderlustmike or follow him on Instagram
4. Summer in Europe – Holiday in Mallorca
For over 70 years Mallorca has been a favourite for summer holidays in Europe. Package holidays to this beautiful island started in the 1950s and ever since has its popularity grown. Mallorca is the perfect summer destination in Europe, where you can find everything from sandy beaches, historical towns, golf courses and superb cuisine. No wonder Mallorca is still going strong.
Tatiana from thehappyjetlagger is an expert on Mallorca and here she's sharing some of her best tips: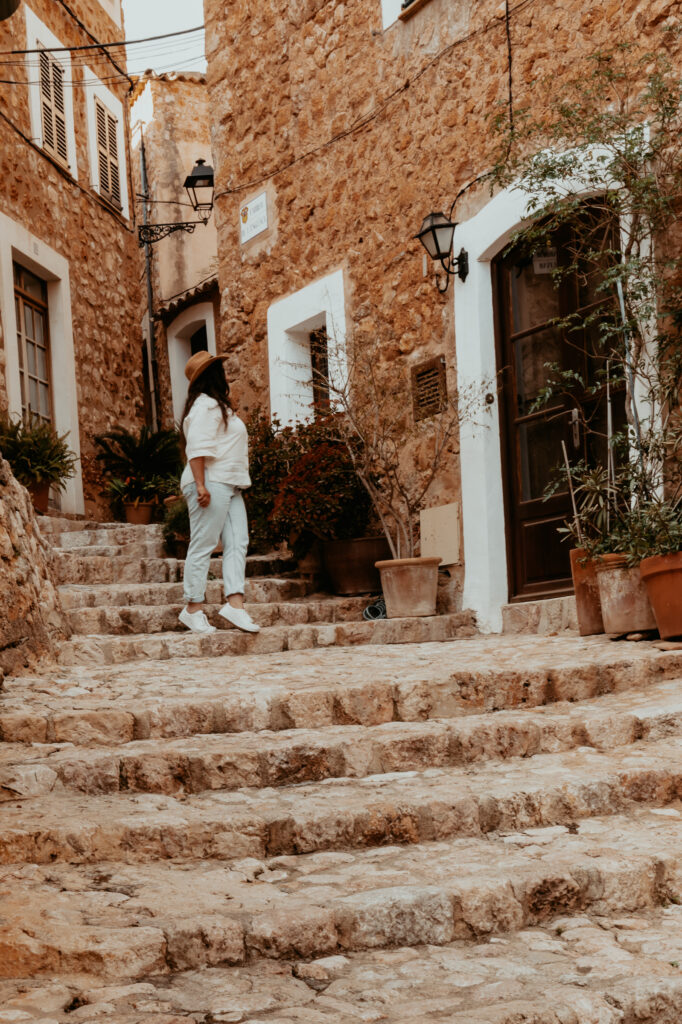 To me, you can't go wrong with a trip to Mallorca. Whether you're up for a beach holiday, some relaxing time in the mountains, hiking on the many trails across the island or enjoying a city trip in the capital Palma de Mallorca – the diversity of Mallorca is impressive.
Fornalutx, for example, is a tiny village in the Serra Tramuntana. In 2010, the Tramuntana Mountains have been declared a world heritage site by UNESCO and Fornalutx is officially a member of "Los pueblos más bonitos de Espana" (The most beautiful villages of Spain"). On a road trip through the mountains, this is one of my favourite places! You can stroll in the tiny alleys for hours and enjoy the spectacular landscape around you. I bet you haven't imagined such a place in Mallorca! 
On the other hand, if you are more into beach life and swimming in the sea, Mallorca won't disappoint you either! This island has so many fantastic beaches and secluded bays, it's hard to get to know them all during one visit. One of my favourite ones is the Cala Mondragó in the southeast of Mallorca. It's located in a natural reserve, the Parc Natural de Mondragó, and is known for its pristine waters and powdery sands! If you want to know more about Mallorca, visit Tatiana's blog The Happy Jetlagger: https://thehappyjetlagger.com/en/mallorca-travel/
Find out more about Tatiana at thehappyjetlagger or follow her on Instagram
TIP: Read our post from Huelva Spain if you want more of the rural and secret Spain
5. Visit Ireland in the summer
This lush green island, in the very west of Europe, has so much to offer. This is maybe not your best pick if you want a guarantee of good weather, but if the weather is less important, Ireland I definitely worth your attention. Cute towns and villages are found all over the country, and so are the castles. Add lots of beautiful and dramatic landscapes, and there you have it – the beauty of Ireland.
Sonja from jointhesunnyside recommends visiting Ireland in the summer, and here she shares why: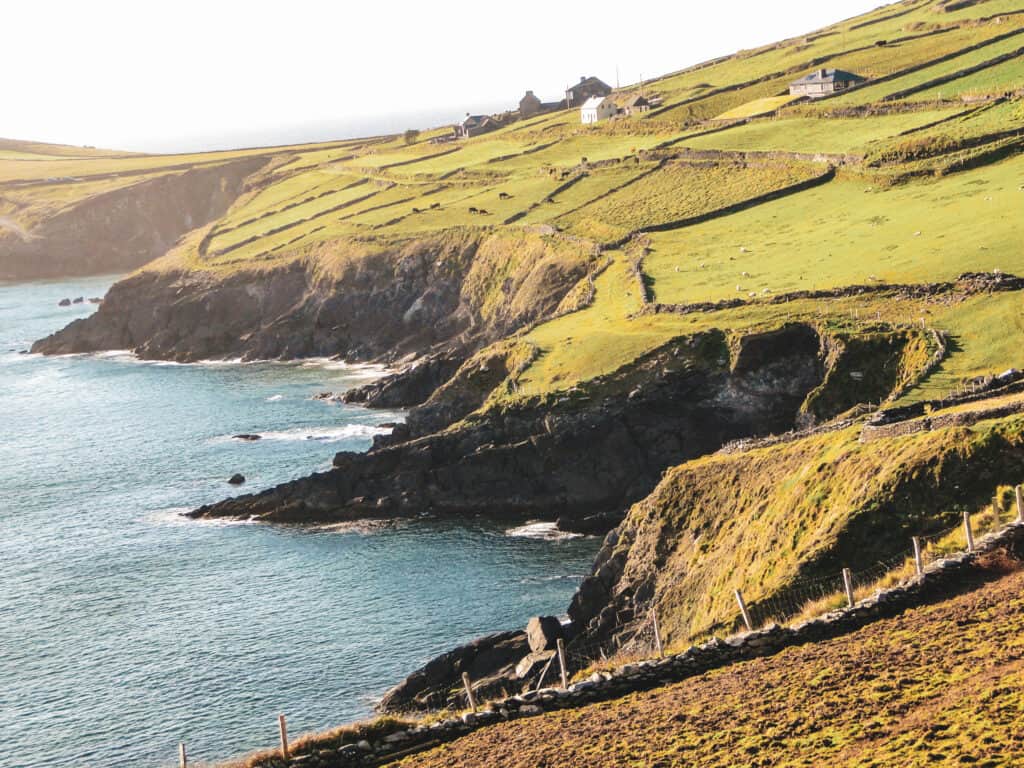 Ireland may not be the most typical destination you would choose for your European summer travels. But travelling to Ireland during the summer is magnificent. It's warm, but not too hot and the chance of rain is lower than during other months of the year.
As soon as I arrived in Ireland, I felt an instant relaxation kicking in. In fact, I could hardly believe that I didn't make it to this beautiful island sooner.
Ireland has a lot to offer: From beautiful castles and their wonderful green scenery to stunning beaches and even more beautiful coastlines. Even though I have only been there once so far, I've already got a lot of places on my bucket list that I would like to see the next time.
One of my favourite places in Ireland is situated in the western part of the country: Dingle Peninsula. Although the peninsula is quite small, it's incredibly scenic. Here, you should drive up to the viewpoint Srón Bhroin (Brandon Point), which is close to a small town called Cloghane. The view from up there is just breathtaking and for that alone, the trip to Ireland was worth the visit.
Another highlight you shouldn't miss is the scenic Slea Head Drive at the western tip of the peninsula with wonderful views of the coastline – always paired with Ireland's unparalleled green landscape.
Find out more about Sonja at jointhesunnyside or follow her on Instagram
6. Summer in Europe – Holiday in Albania
Albania and the Balkans might not be the most obvious choice as a holiday destinations, but that might change once you read this. Albania has a long coastline with beautiful beaches, historic towns and villages, beautiful mountains and UNESCO-listed ruins. On top of that, Albania is one of the cheapest countries in Europe. Here the money will last longer, and you can see a lot during a short period of time. With its Mediterranean climate, Albania should definitely go under your radar for your next summer in Europe.
Desirée from desireetravels has Albania as her best European destination in summer and here she shares why: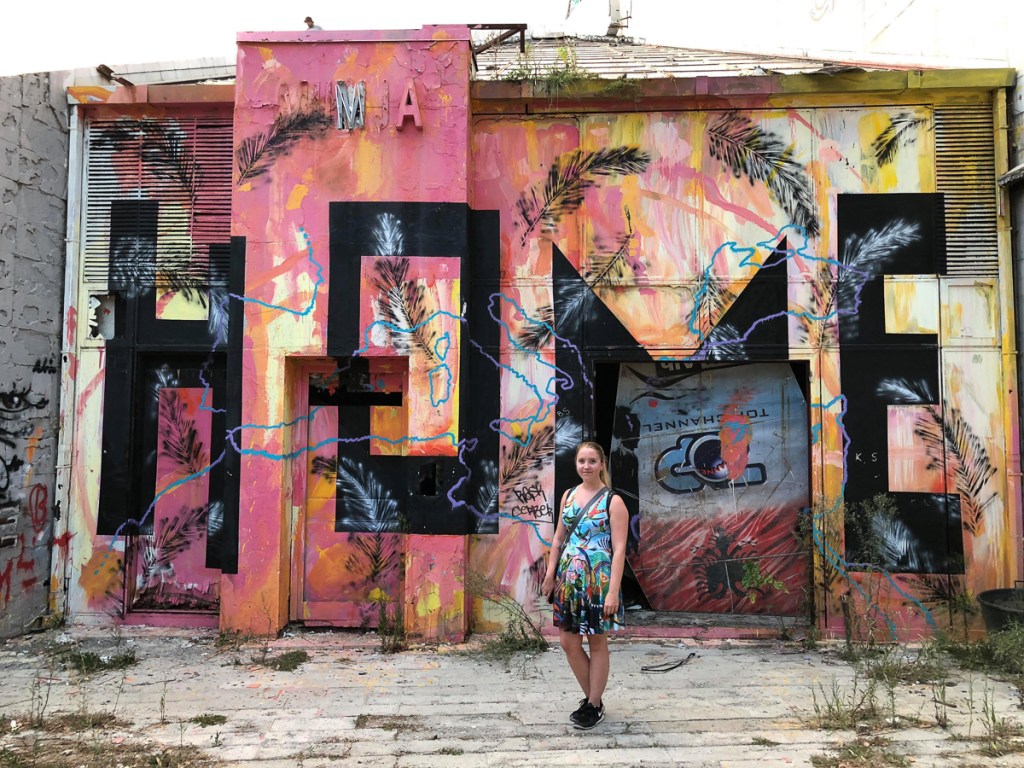 My favourite European summer destination (and ouch, this is a tough one – Europe is magical during summer) would have to be Albania. This is still sort of a hidden gem of a country – although tourism is increasing.
Albania basically has it all! Here you can experience the very interesting history of the former communist country (which was basically sealed off from the rest of the world until 1992), you have the UNESCO World Heritage Site of Berat, smaller beach towns down south, the tall mountains of the North and so much more in between.
I've only had the pleasure of visiting Albania once so far, during the summer of 2018. However, I instantly knew this was a country I would have to revisit.
The capital city Tirana is brimming with life and is well worth your time. Make sure you visit some of the many solid bunkers still remaining from the communist era (hot tip: the museums BunkArt 1 and BunkArt 2 are built inside old bunkers) and check out the Pyramid.
Albania is a very cheap country to travel around in. Down south you can catch a ferry over to Korfu, a ride that takes no more than 30 minutes. Albania's proximity to Greece made my expectations of their food high – and boy was those fulfilled! Loads of delicious food, for a small amount of money. It's also very worth mentioning that Albanians are extremely hospitable and helpful. All in all – you can't go wrong with visiting Albania!
Find out more about Desirée on desireetravels or follow her on Instagram
7. Summer in the Faroe Islands
Ever heard of the Faroe Islands? If not, pay attention now. Far out in the Atlantic Ocean, surrounded by nothing but wild sea, there you will find the Faroe Islands. It is not the most visited of places, and that's maybe good. This is really a hidden treasure where nature experiences are the focus. Few other places can offer such wild and spectacular nature as the Faroe Islands.
Anne Marie and Rasmus from twodanesontour recommend the Faroe Islands in summer, and here they share why: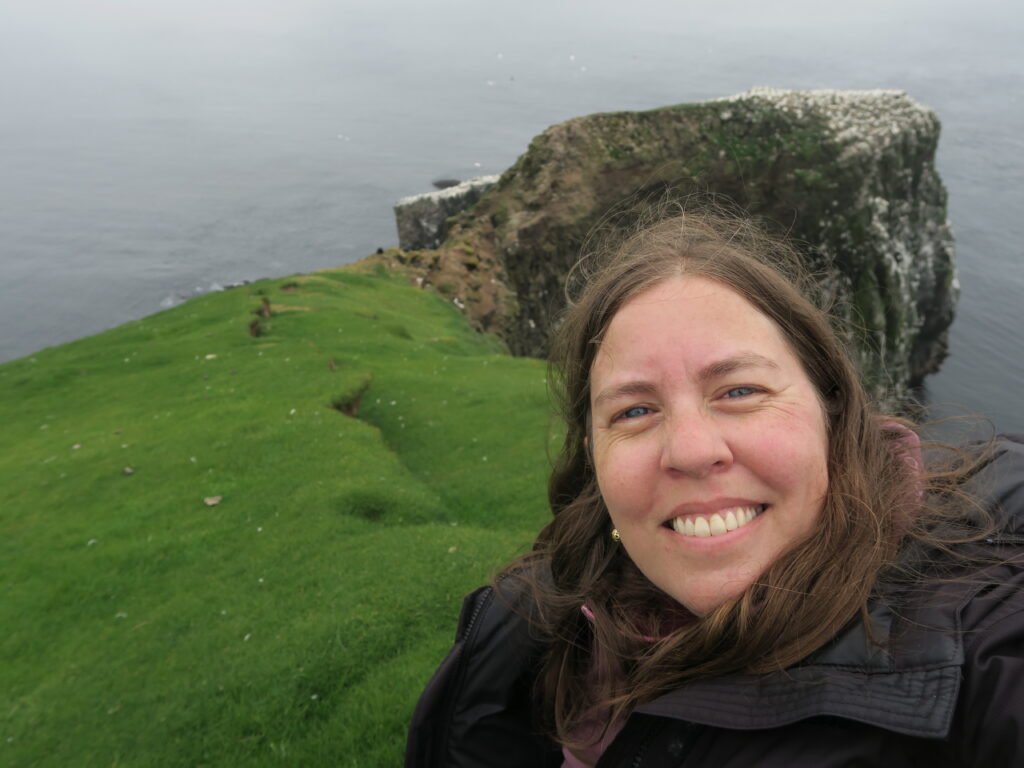 Tórshavn, the capital of the Faroe Islands, is very charming. The city centre is cosy with beautiful old
wooden houses with grass roofs, shops with local designs, gourmet restaurants, and a lovely harbour. Everything is within walking distance.
Consisting of 18 green and hilly islands all worth exploring, the Faroe Islands is so much more than just the capital.
Summer is without a doubt the best time to visit as calmer weather makes sailing between the islands possible. Be aware that the weather can be very unpredictable. Always check with locals before you set out on a hike. The fog can be thick and dangerous and tourists sometimes get lost.
If you, like us, adore remoteness and wildlife, the island of Mykines is the place to go. You can walk to the puffin colony to see these magnificent birds. There is a tiny village on the island, where you can stay overnight in a local house or in a tent. Visiting the island on a day trip is also an option if the weather permits.
TIP: Read our post on Puffins in Norway if you would like to see those beautiful birds really close
Another reason for visiting the Faroe Islands in the summer is the Ólavsøka. A cultural festival where everyone wears their national costumes and party for days.
A trip to The Faroe Islands is a cosy and very beautiful experience. We highly recommend these magnificent islands in the Atlantic Ocean for a unique summer vacation in Europe.
Get to know Anne Marie and Rasmus at twodanesontour or follow them on Instagram or Facebook
8. Northern Italy in Summer
Few countries can compare to Italy. It just got absolutely everything. Northern Italy is no exception. Here you can hike in stunning landscapes, drink world-class wines, swim in the many lakes, explore cute villages and make a city break in one of the larger cities like Milan, or Turin. North Italy will for sure not disappoint. The challenge might be figuring out where to go. There's a lot to choose from, and no matter what kind of traveller you are; there's something for everyone in Northern Italy.
Mette Gry from urbantoglandlig recommends experiencing adorable Mergozzo in Northern Italy, and here she shares why: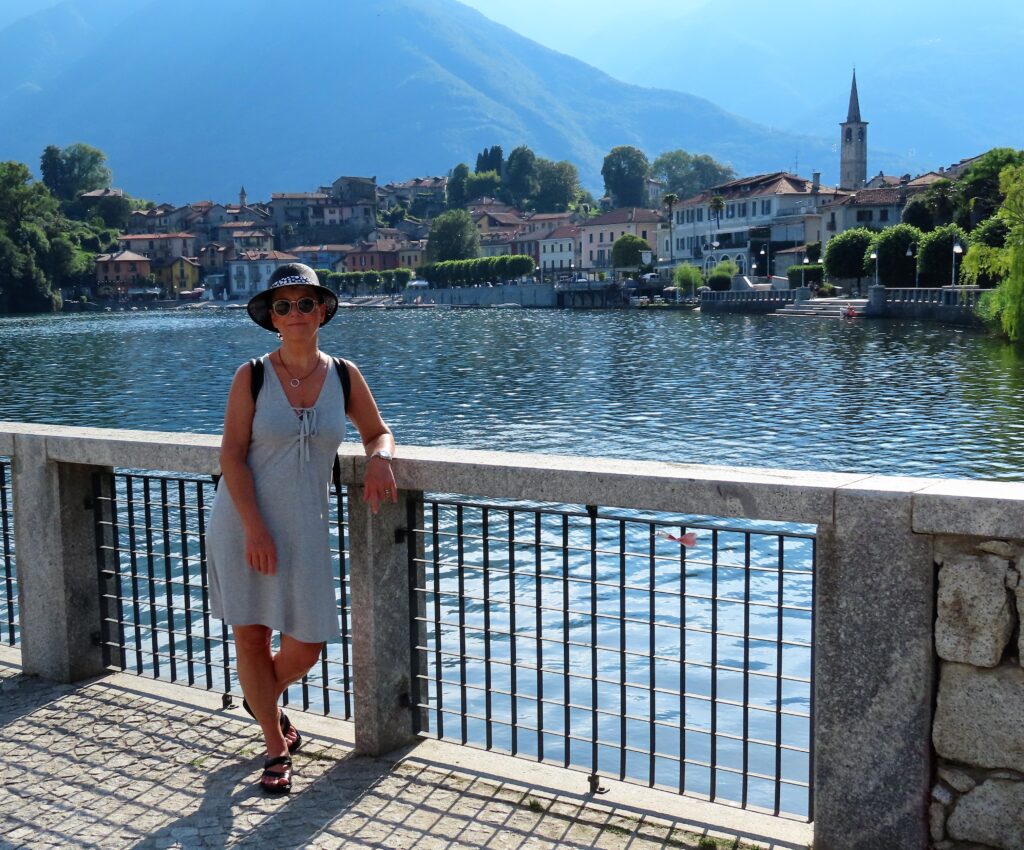 We had spent a lot of hours driving our motorhome on our first holiday trip to northern Italy and arrived in Mergozzo late at night. When we woke up the next day and looked out of the camper, we could hardly believe our eyes. What a picturesque beautiful place! We parked close beside the clean lake Lago di Mergozzo. Here we could take the holidays' first-morning bath and at the same time look towards Mergozzo, surrounded by the Alps. Only a 5-10 minute stroll and you are in the centre. There are beaches along the entire promenade from the campsite to the village centre. Here you will find several charming outdoor restaurants.
TIP: Considering a trip to Naples but wondering if Naples is worth visiting? Our post on it will give you all the answers, while our post on Day Trips from Naples will give you some great ideas for what to do around Naples as well.
One of the things that impress me is that large families with children enjoy the late summer evenings together in the centre.
The campsite – Campeggio Delle Fate Mergozzo – is highly recommended, with clean external toilets and shower facilities. La Quertina – a restaurant suggested by the Michelin guide is located next door to the campsite. Lago di Mergozzo is located in the province of Verbano Cusio Ossola, Piedmont and the lake is 2 km long.
From the campsite on the southwestern shore of the lake, Monte Orfano is a backdrop for Mergozzo.
Lago di Mergozzo is a sub-alpine lake, just west of the more famous lake, Lago Maggiore. It is referred to as Italy's cleanest lake and is located approx. a 1-hour drive from Milan. It's a beautiful place to relax.
Find out more about Mette at urbantoglandlig.no Instagram and Youtube
9. Svalbard in Summer
If you are looking for something truly exotic, Svalbard might be your pick. Located between the north of Norway and the North Pole (yes, you read correctly), few places in the world are more north than this. Svalbard is wild and beautiful, and Arctic nature is different from anything else. The chance to see the local wildlife is ever-present. If you wish to see a polar bear in its right habitat, then Svalbard is the place for you.
Sandra from rundtekvator has Svalbard as her favourite European summer destination, and here she shares why: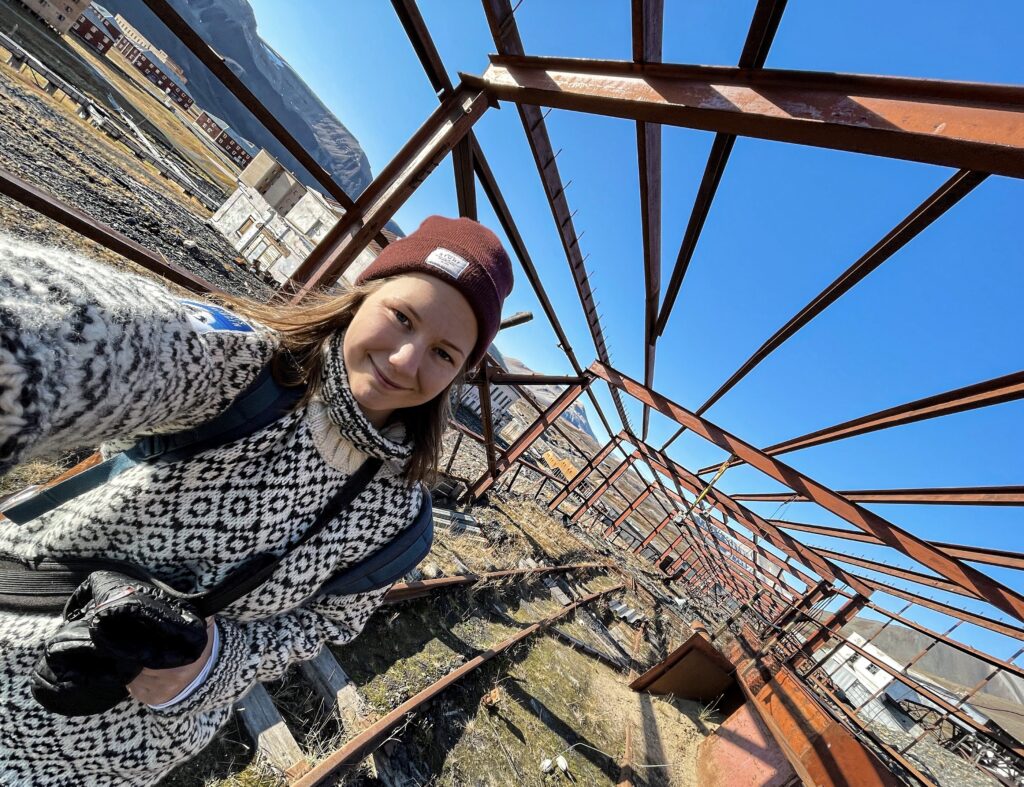 It is no easy task to choose a favourite travel destination among all the beautiful places in Europe. That being said, I must admit that the first place that comes to mind is Svalbard. This is a destination I have visited several times, however, I never seem to get enough of this abnormal place. The group of islands is peculiar in so many ways and destinations like this are exactly why I love travelling!
If you travel north from mainland Norway, you will reach Svalbard when you are about halfway to the North Pole. This mysterious place is located in the Arctic Ocean and the nature and wilderness are therefore quite different from Europe in general. 
So far, all my travels to Svalbard have been during the bright polar summer. These months of midnight sun after a long winter affects nature, and therefore summer is the best time to explore the arctic animal life. During the summer you can also attend many different excursions, either by foot, boat or ATV.
TIP: Read our post on Flamsbana Railway in the west of Norway if you would like to take one of the most spectacular train journeys in the world
My favourite activity so far must be the boat trip to Pyramiden, a ghost city frozen in time! Other things I have been experiencing on my travels to Svalbard are dog sledging, visiting old mines and ATV safari, just to mention some. I have also been lucky enough to experience some of the arctic wildlife, and the polar bear among others. I can't wait to go back and experience even more!
Get to know more about Sandra at rundtekvator or follow them on Instagram or Facebook.
10. Holiday in Barcelona
Barcelona. What a city! Together with Seville and Granada, Barcelona is a Spanish favourite city for us. It got absolutely everything you need for a great summer in Europe. Here you can find world-class art, beaches, great shopping, amazing food and narrow streets to explore.
Carley from Home to Havana loves to spend the summer holiday in Barcelona, and here you can read why: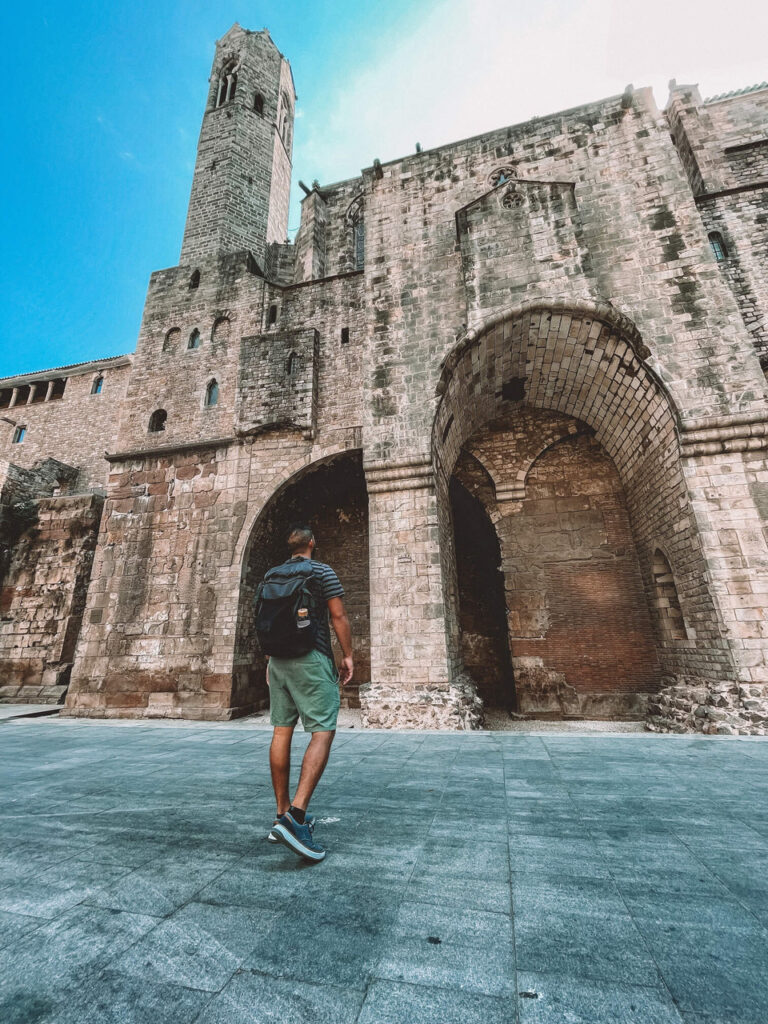 While Barcelona is a bustling European city, its location on the sea also gives it a Mediterranean beach town feel, making this Spanish city a perfect destination for a European summer vacation. Barcelona is even becoming more popular for longer stays (during the summer or year-round!) with remote workers – digital nomads in Barcelona can enjoy all the benefits of a Barcelona summer vacation as well as the networking and business-building advantages of this major European city.
If you're craving the beach, head down to the relaxed Barceloneta neighbourhood along the water. This is the perfect destination for an extended Sunday lunch of paella along with the port or next to the beach – try La Mar Salada for paella for two! While the beach can get crowded on the weekend, it's a beautiful place for a visit on a sunny day during the week and even a great spot for swimming. Take advantage of the nearby surf shops in Barceloneta to rent paddleboards or kayaks, or take lessons.
In the evening head over to the El Born neighbourhood to try some of Spain's best tapas. Don't miss out on the Barcelona favourites like pan con tomato, bombas, jamón ibérico, and seafood dishes. Outdoor seating in the summer makes for a perfect meal.
Get to know more about Carley at Home to Havana, or check them out on Instagram or Facebook
11. Visit Tromsø (Tromso) in summer
Tromsø (or Tromso) is located in the north of Norway. The region is perfect for everyone who wants an active holiday in the middle of spectacular Norwegian nature. Combine this with modern city life and great cuisine, and then you have Tromsø, a great but untraditional destination for your summer in Europe.
Torill from ReiseKick recommends visiting Tromsø in the summer, and here is why: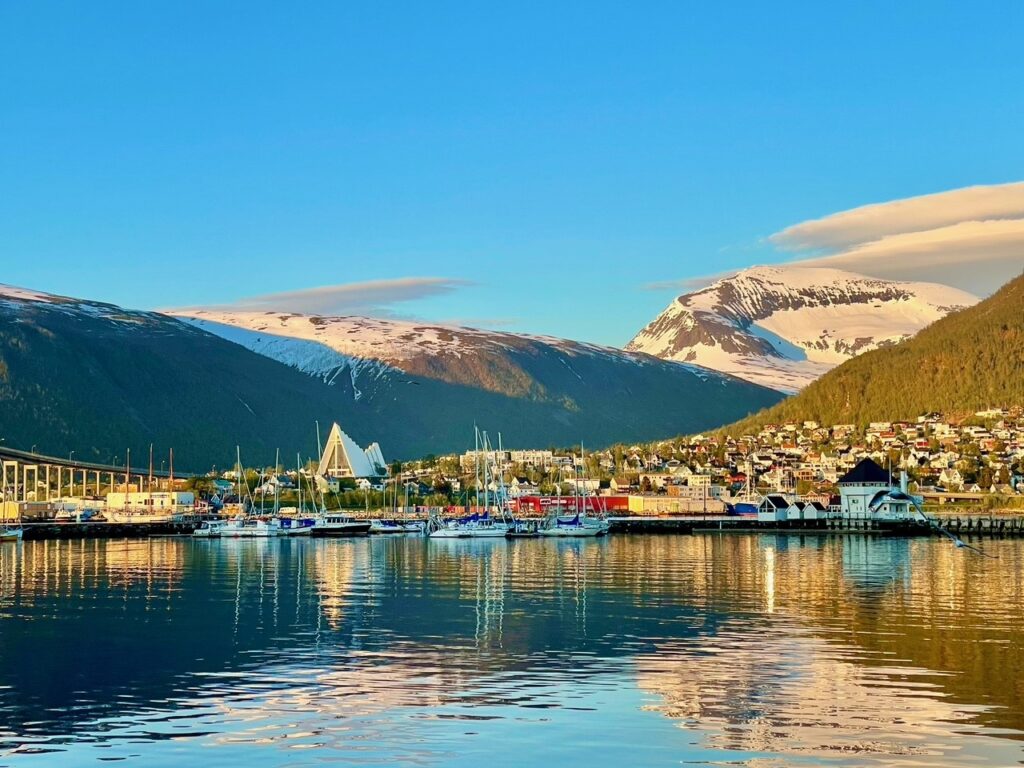 Tromsø is the Paris of the North! This magical city is an adventure with a double x-factor: the Northern Lights in winter and the midnight sun in summer. The Arctic nature with majestic mountains and blue sea surrounds the city, and from the café tables on the main street, you have a view of both mountains and fjords.
The city – with 70,000 inhabitants – is located at 69 degrees north, is the world's northernmost student city and is also known for all its culinary gems. There are plenty of cafes and restaurants, several of them located on the idyllic quayside in the city centre.
The Arctic Cathedral is the city's vignette, centrally located with a profile you will never forget once you see it. From here you can walk to the mountain lift, and take it up to beautiful Fløya, then you also see Tromsø in a panorama. Afterwards, you walk the 1200 Sherpa steps down to the city again. 
TIP: We visit Norway regularly. Read our posts about things to do in Bergen, puffins at Runde Island or two of the best train journeys in the world, the Bergensbanen and the Flamsbana railway.
Join the Arctic Botanical Garden, buy the world's best shrimps and strawberries and take a fresh bath in Telegrafbukta, or book a fishing trip with a guaranteed catch out on the ocean. At Polaria with all its aquariums, seals glide over your head, and you can also experience Sami culture in Tromsø.
Conclusion: Travel to Tromsø – a magical summer adventure of the very rare.
Get to know Toril at ReiseKick, or follow them on Instagram or Facebook
12. Summer at Lake Ohrid – North Macedonia
North Macedonia might not be your first choice when it comes to summer in Europe, but we would say it's definitely worth considering as your next European destination. With a great capital, nature, lakes, cute villages and towns, North Macedonia has so much to offer.
We, Matthias and Kent, founders of destinationtheworld share why we love Lake Ohrid in North Macedonia: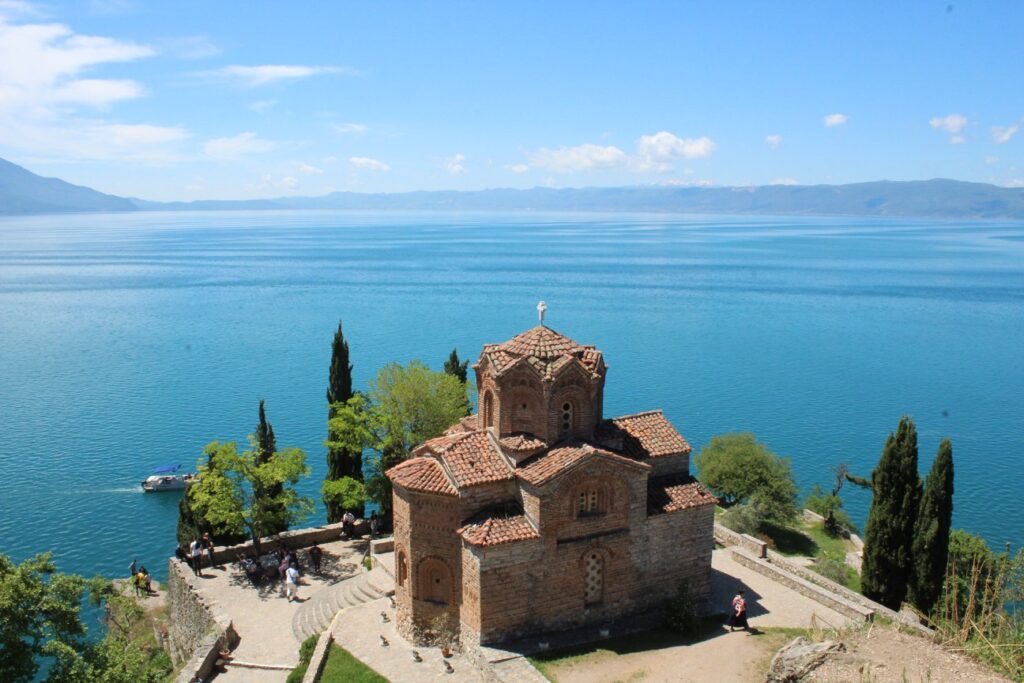 One of our favourite destinations to spend the summer in Europe is Ohrid in North Macedonia. It's maybe not the most typical destination, but for us, it is the perfect getaway in European Summer. They just have it all: you can go for a swim in Lake Ohrid and enjoy the sun, but there are historical sights, too.
North Macedonia is a mix of the Balkans and the Mediterranean. And this you can see and feel when you are there. Ohrid has a beautiful old town with cobblestone streets, traditional restaurants, and historical, orthodox churches. On top of the town, you can find a medieval castle. The views from up there are wonderful, both over the lake, the city and the nearby hills and mountains. On the way downhill from the fortress to the charming old town, you will pass an ancient amphitheatre and get some nice views of the town and the fortress.
The ultimate highlight of Ohrid is the Church of Seveti Jovan at Kaneo. This 13th-century church is located on a cliff over Lake Ohrid, and you can get there in about a 15min walk from the centre of the old town. You will see the most beautiful sunsets there.
On a warm summer evening, it is genuinely nice to sit in one of the lakefront restaurants and try the local cuisine. They have trout from the lake which is one of the local specialities.
If you have the time, you can travel by boat and visit Albania for a day trip. This way you can combine two great destinations for summer in Europe.
If you are looking for a European summer destination off the beaten path, we can really recommend a holiday at Lake Ohrid in North Macedonia.
Find out more about us at destinationtheworld, or follow us on Instagram, Facebook and Pinterest
Summer in Europe – the choice is yours
Wherever you choose to spend your summer in Europe, you will always find something great to do. Hopefully, some of the European summer destinations in this blog post have given you the inspiration to try out a new destination.
Thank you
A big THANK YOU to all our expert travel bloggers who have participated in this post. We really enjoyed working on it, and also we got some new ideas for a future summer in Europe!