This post may contain affiliate links, where we may receive a small commission if you purchase something through following the links at no extra cost to you.
Planning on travelling from Thailand and onwards to Laos? The best way of getting from Thailand to Laos is by far with a slow boat, travelling downstream on the mighty Mekong River. Taking a slow boat to Laos is one of the greatest experiences in Southeast Asia, and it will give you memories for life. This post will give you everything you need to know before you embark on this great adventure.
Wanna hear a secret? Well, it's hardly a secret anymore, sadly, but the kind-off secret is called Laos. It is truly our favourite country in Southeast Asia, and compared to its neighbours, it is still relatively peaceful. But times are changing, and Laos won't stay this way for much longer, so hurry up and go before everyone else.
It is not like there are no tourists in Laos. Far from that. Thousands of tourists find their way to Laos every year, so you won't be completely alone. Popular destinations in Laos such as Luang Prabang and Vang Vieng will always seem somewhat busy, but it's still much more peaceful here than in many places in Thailand and Vietnam. One of the main reasons for people not visiting Laos is that it's a landlocked country, meaning you won't find long white beaches here as you might expect, and want when you are travelling in Southeast Asia. To Laos, you come for nature, peace, calmness, friendly people, temples, culture and colonial-style small towns.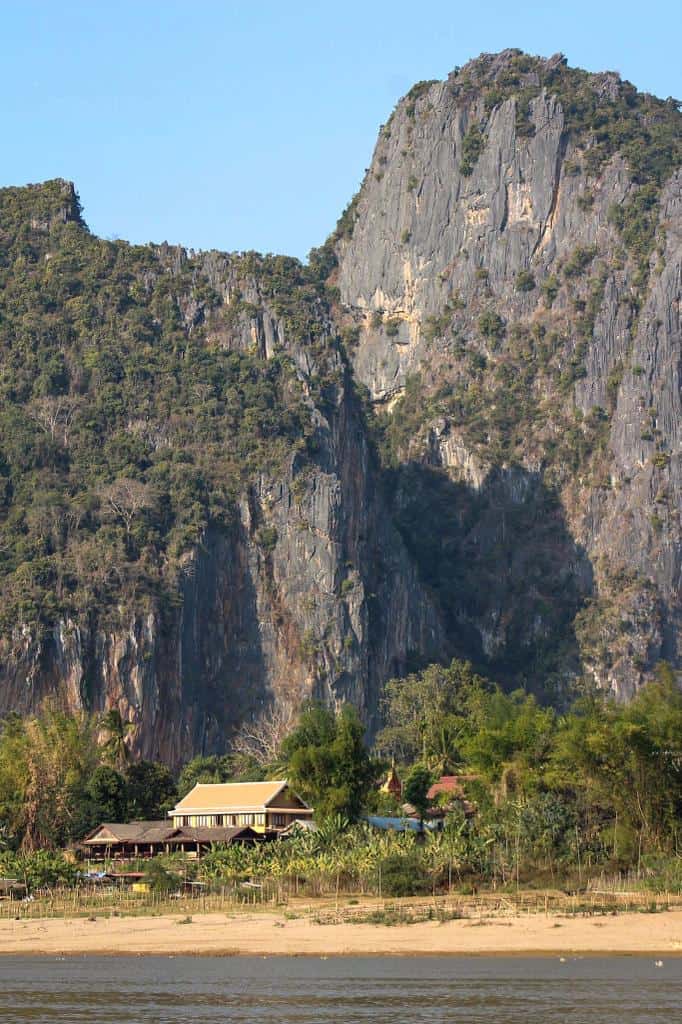 Taking a slow boat to Laos from Thailand is a popular way of travelling, and it is really a great experience to have. If you are travelling overland in Southeast Asia, you typically start with exploring some of the many things to do in Bangkok, like visiting the Thai Royal Palace (Grand Palace), before heading north, with maybe a stop in between to explore the temples in Ayutthaya and Sukhothai Historical Park on the way. From here many find their way to beautiful and vibrant Chiang Mai. Many want to explore some of the temples in Chiang Mai before heading to Chiang Rai and next to the Thai-Laos border for the slow boat adventure to begin.
TIP: Visiting Chiang Mai and Chiang Rai? Our posts of the best coffee in Chiang Mai and our Chiang Rai coffee guide will give you all the best places to find a great cup of coffee whenever you feel the need.
After travelling in Laos many will find their way to Vietnam to visit places such as beautiful Hanoi, Hue, Hoi An, and bustling Ho Chi Minh City or seek the tranquillity of the Mekong Delta. In Vietnam, you can experience one of the greatest train journeys there is, with the Reunification Express going between Hanoi and Saigon (HCMC). Alternatively, many choose to visit Cambodia, with a stop in places such as Phnom Penh, Battambang and of course at the temples in Angkor Wat.
TIP: Visiting Hanoi? Our post on the best coffee in Hanoi will show you our favourite coffee bars in Hanoi
But anyway, no matter where you go before or after, travelling the Mekong River on a slow boat to Laos really has the potential to be one of the most incredible memories from your Southeast Asia trip.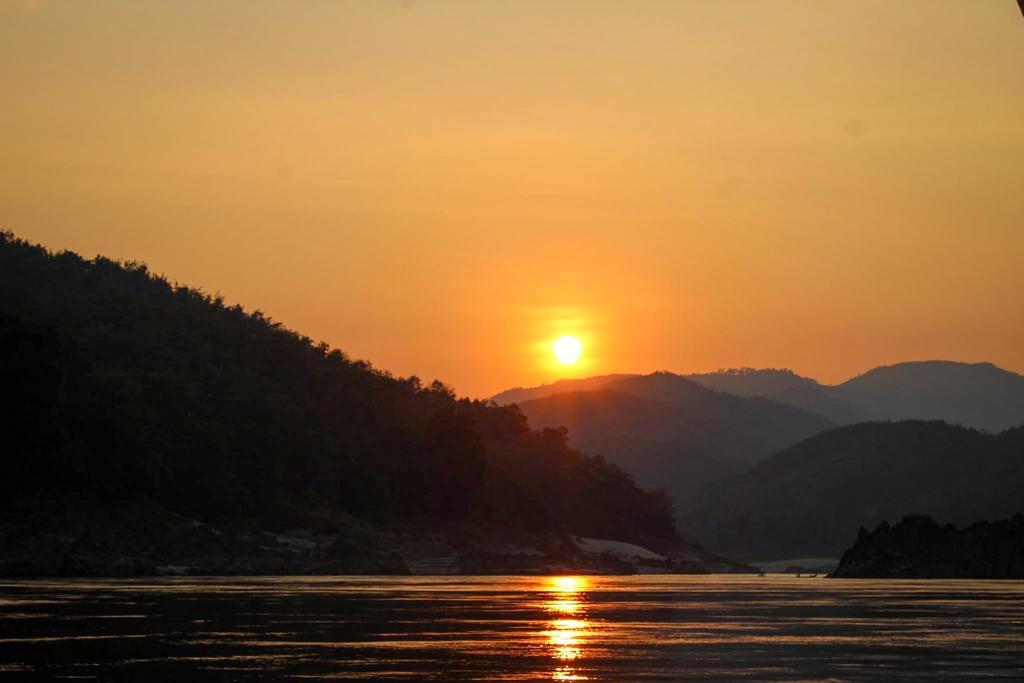 1. How to take the slow boat to Laos
Many travellers have the idea of taking the slow boat to Laos from Thailand, but actually, what you do, is that you take this boat in Laos only. You will travel overland to the Thailand-Laos border, cross the border, and from there take the slow boat on the Mekong River.
It might seem overwhelming, and too much stress to do this, but relax. It's all quite easy and straightforward. Continue reading, and we will guide you step-by-step through the whole process of taking the slow boat to Laos. Or to clarify, how to take the slow boat from Huay Xai to Luang Prabang.
Below we will give you all the information you need to make this journey. We will show you how to get to the Thai-Laos border and how to cross the border into Laos. Furthermore, we will in detail give you all the information you need on the slow boat from Huay Xai to Luang Prabang, like how and where to purchase your ticket, seating, food on board, accommodation along the route and the arrival in Luang Prabang. Keep on reading, and you will soon know how to take a slow boat to Laos.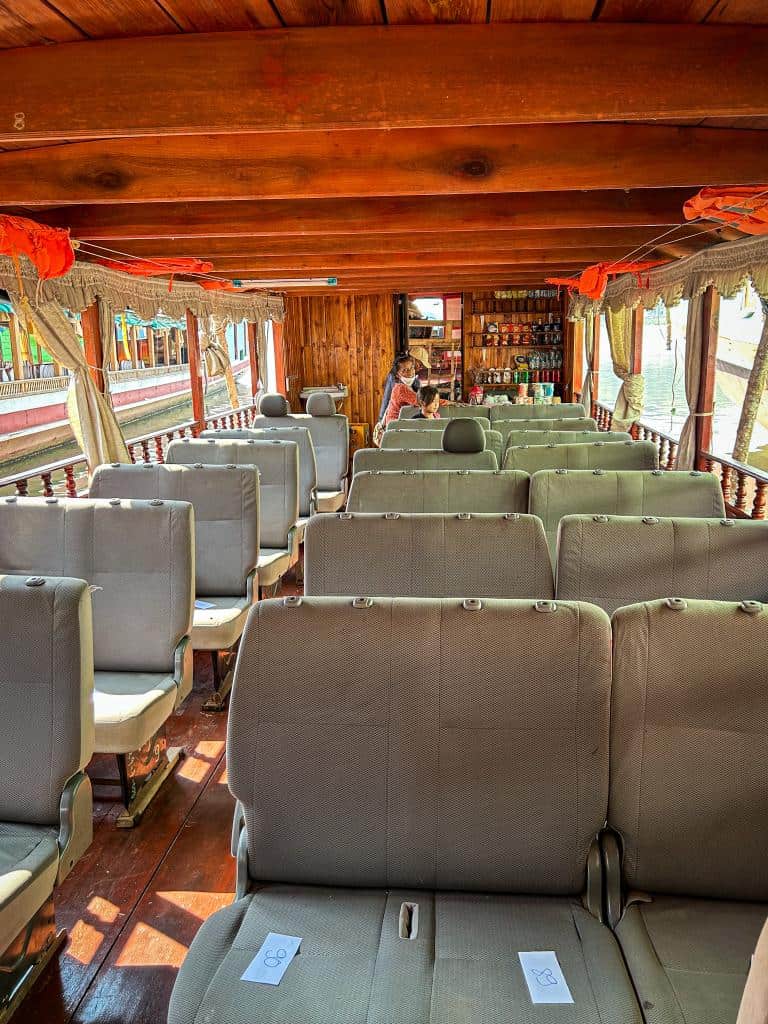 2. What is the slow boat to Laos?
The slow boat to Laos is a daily boat running from Huay Xai to Luang Prabang. Both of these places are in Laos actually, so it's basically a slow boat in Laos only actually. It is called a slow boat because it compared to the much quicker speed boats, is much slower. The whole journey on the Mekong River takes two days, where you travel 6,5-7h on day one, and 8-9h on day two. The boat itself is a long, almost flat-bottomed boat with around 70 seats in two rows onboard.
It is also possible to take the slow boat to Laos for one day only. That means you will take the boat from either Huay Xai or Luang Prabang to Pak Beng, and from there travel onwards overland. Alternatively, you travel by bus to Pak Beng, and from there you can do a one-day journey on the Mekong slow boat to Huay Xai or Luang Prabang.
The Laos slow boat will make a stop in the village of Pak Beng at the end of day one, and this is where you will spend the night before you start on day two of the journey. The normal slow boat to Laos is a public boat, so you will see that not only tourists use this as a mode of transportation, although most of your fellow passengers will most likely be other travellers.
TIP: Don't get tempted to save time by taking quick speed boats. They are very loud, and can due to their speed be quite dangerous. Over the years, several accidents have been reported, especially during the dry season. Also, the real experience, the slow boat to Laos is what you are looking for.
In addition to the public boat, there are also other boats travelling the same route, some of them sold as first-class or VIP boats. From what we could see, the VIP boats are exactly the same boats, only with fewer passengers onboard, with chairs and tables instead of only the seats offered in the regular slow boat.
You can take the slow boat in both directions, meaning you can also start your journey in Luang Prabang and travel upstream to Huay Xai and from there cross the border to Thailand, if you are travelling in the opposite direction of what we did.
Along the route, you will see a lot. Although not the entire journey is spectacular and super interesting, you will see beautiful landscapes and maybe more interesting, you can also see much of the local life along the Mekong River. It's a great way to get an understanding of how important this mighty river is for millions of people living along it, from its start to its end.
The slow boat to Laos is best suited for adults. The boat trip on the Mekong River is long, and there's not much for small children to do onboard. In general, we would say that this journey fits best for those who enjoy holidays without kids around. Teenagers could do it – as long as they have enough entertainment, but for smaller children, we would not recommend this trip.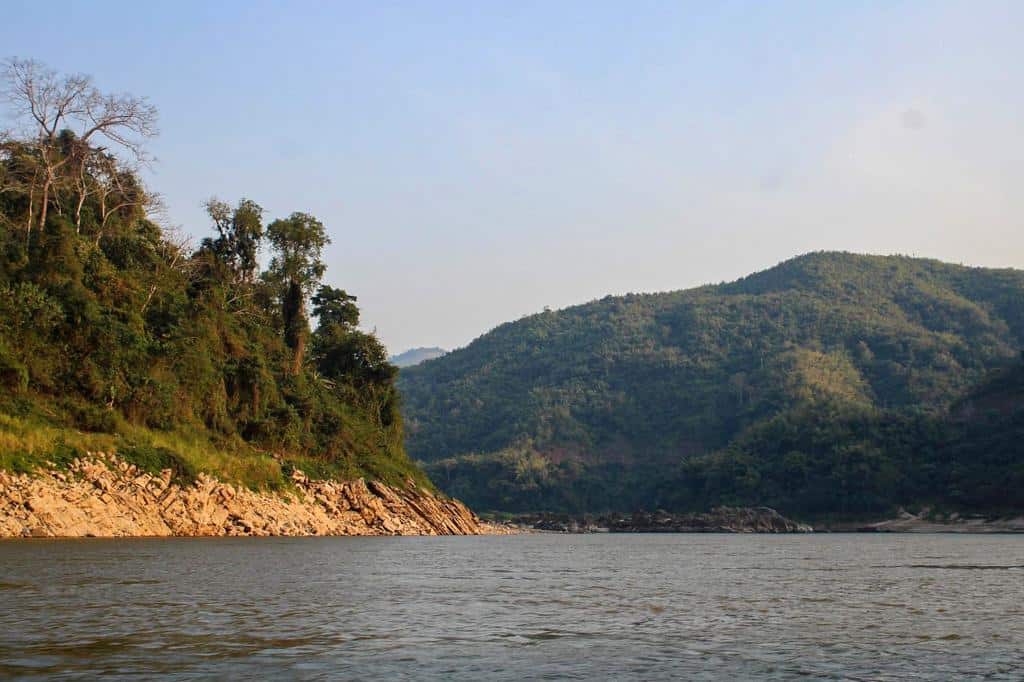 3. Where does the slow boat to Laos start?
For this route, the slow boat to Luang Prabang starts in the small Laotian town of Huay Xai. Huay Xai is located just over the Thailand-Laos border and is the first place you will reach when you cross the border at this point.
Alternatively, you can start the journey in Luang Prabang, travel to Huay Xai and cross the border from there.
The pier in Huay Xai is located within walking distance just outside the centre of the town but in most cases, your ticket will include a pick-up at your accommodation, taking you directly to the pier.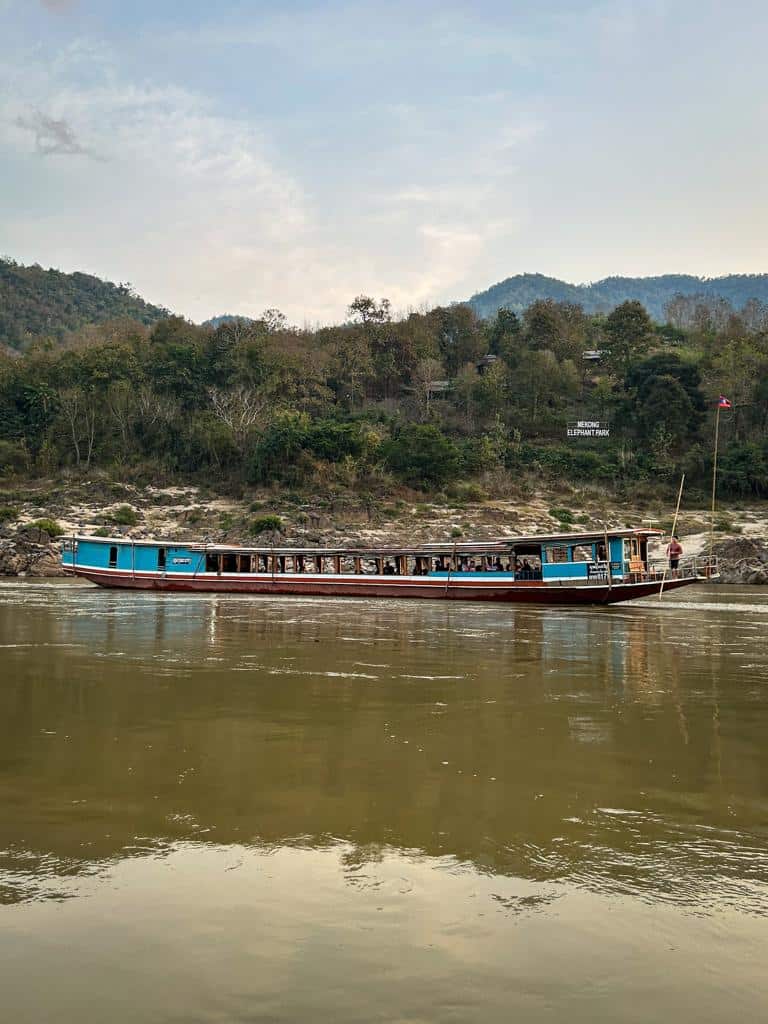 4. Border crossing
In order to take the slow boat from Huay Xai to Luang Prabang, you first need to cross the Thai-Laos border at the xxx border crossing point. The border town in Thailand is Chiang Khong. In Laos, the border town is Huay Xai. The departure and arrival procedures are carried out at the border crossing stations in each country, so not in the centres of the towns.
There are three steps you will have to go through before you can take the slow boat to Luang Prabang. Here's a short overview of these steps, and below we will explain them in detail.
1. You need to get to the Thai-Laos border station in Chiang Khong
2. Go through departure and arrival procedures in respectively Thailand and Laos
3. You need to get from the Laos border station to the pier (or the centre if you spend the night)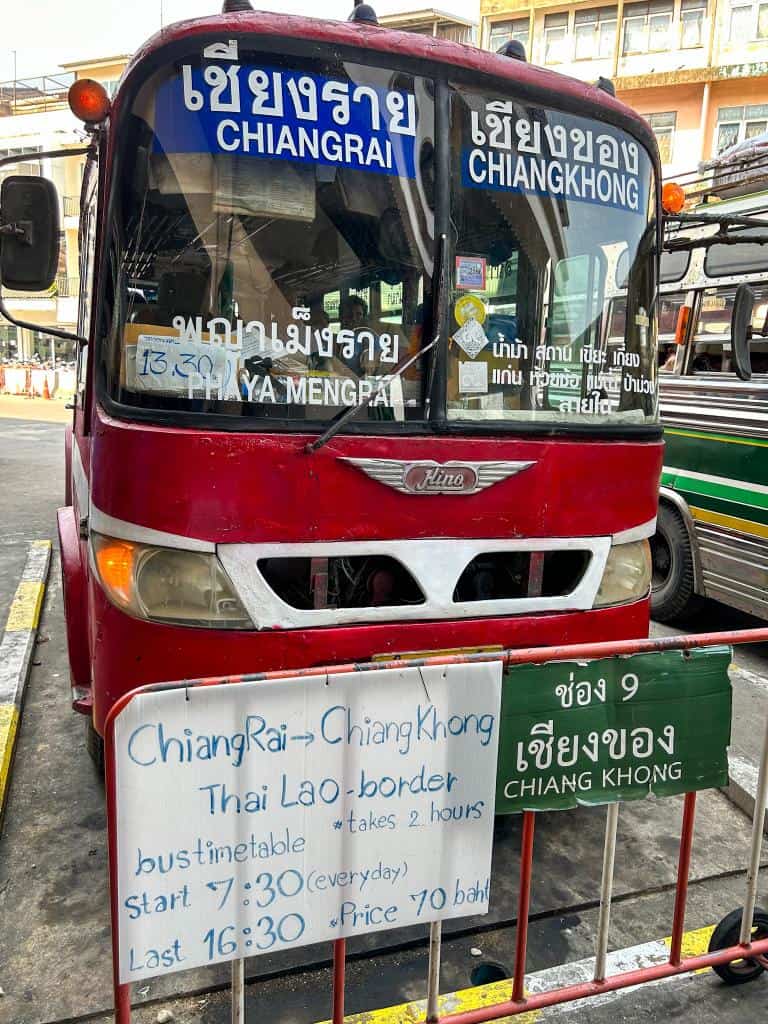 There are buses or minivans going from nearby places in Thailand such as Chiang Mai or Chiang Rai. We travelled to the Thai-Laos border by bus from Chiang Rai. If you travel from Chiang Mai or other places, please asked at your guesthouse how to get to the border crossing in Chiang Kong.
TIP: Please note that the slow boat leaves Huay Xai at 11.30 am. If you cannot reach the border some hours prior to that, you will have to spend the night in Huay Xai and catch the boat the next day. By taking the first bus in the morning from Chiang Rai, you should be able to catch the boat the same day, but in case it takes longer at the border or get to the pier you might miss it. Because of that, we recommend taking a later bus and spending a night on either side of the border, and then catching the boat the next day. The easiest is to spend the night in Huay Xai.
Below you can see how to get to and cross the border into Laos step by step:
Take the bus from Chiang Rai to Chiang Khong. The bus fare is THB 70 (to Chiang Khong) + THB 50 for the bus to take you directly to the Thai border station. The bus leaves Chiang Rai every hour from 7.30 am. The last bus leaves at 4.30 pm
Go through the Thai border formalities. This is easily done, as you only need a stamp in your passport to get out
Buy a bus ticket for the bus to the Lao side of the border – on the other side of the bridge. The bus ticket is THB 30. The bus over the Friendship Bridge leaves every 10-15 minutes.
At the Laos border control, you can get a 30-day visa on arrival. Fill in the immigration card, and at the first counter, you pay THB 40 and give in your immigration card. At the next counter, you pay THB 1500 and collect your visa.
Get a tuk-tuk from the border station to the centre of Huay Xai (or the pier if you plan to take the boat directly). The cost for the tuk-tuk should be THB 100, but if you are alone you'll have to pay more. If you have the time, wait for more travellers to arrive over the border and share a tuk-tuk with them. If you stay the night in Huay Xai, tell the driver where you stay, and you will be dropped off there.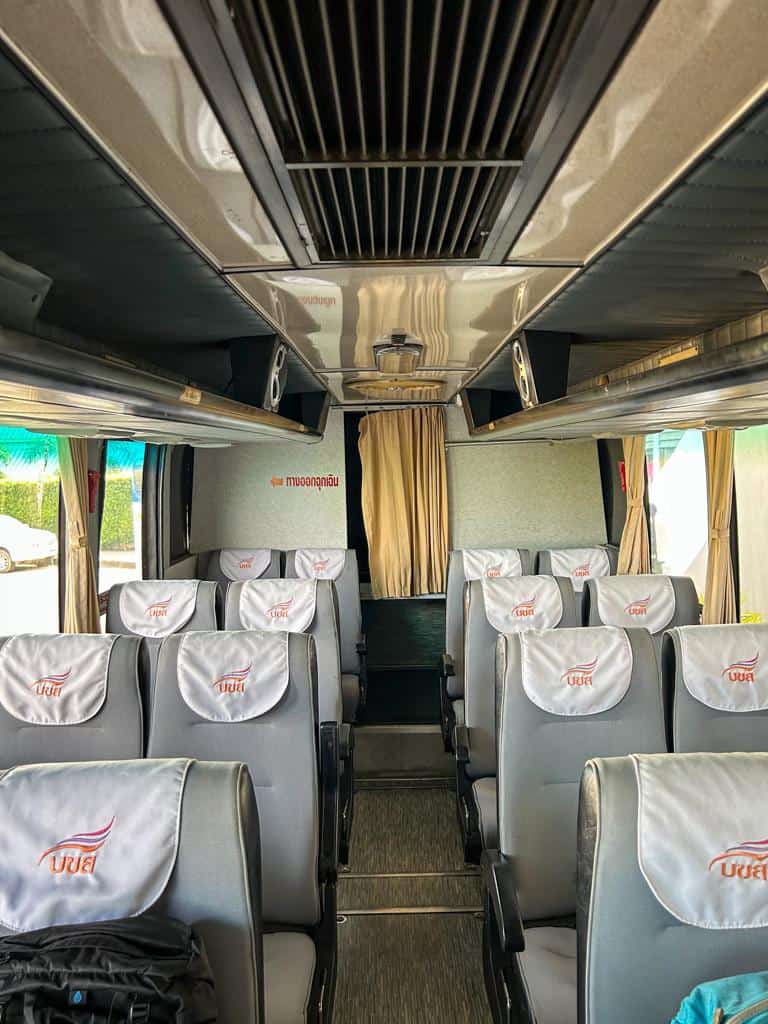 5. How to buy the ticket for the slow boat to Laos
There are different ways to buy a ticket for the slow boat to Luang Prabang. The most common ways are one of the following three:
Book it via a travel agent in Thailand. Many travel agents in eg Chiang Mai or Chiang Rai offer this
Buy it from your guest house in Chiang Khong or Huay Xai
Go to the pier in Huay Xai and buy it directly from the ticket office there
As said above, it is fully possible to purchase your ticket for the Mekong slow boat in Thailand but be aware that it will come at a much higher price compared to buying it in Huay Xai in Laos. Also, many of the travel agents in Thailand will only sell you a slow boat ticket as part of a tour package for 2-3 days, including some activities and accommodation.
If are on a strict budget you should buy your ticket directly at the pier, but if you want to make it easier for yourself, the best way to buy your ticket for the slow boat to Laos is to purchase it via your guesthouse. All guesthouses in Huay Xai sell tickets for the boats. Buying your ticket at the guesthouse will cost a tiny bit more than directly at the pier, but the difference isn't very big.
To be sure you get a seat on the boat, we do recommend buying your ticket the day before you want to travel. If you don't buy your ticket the day before, you should head to the pier as early as 7 am to line up for when the ticket office opens at 8 am. There can often be a long line, so do get there early. Make sure that you purchase a ticket valid for both days.
Also, ask for a seat as much towards the front of the boat as possible when you book your ticket. The front is much better as the loud engine is in the back of the boat.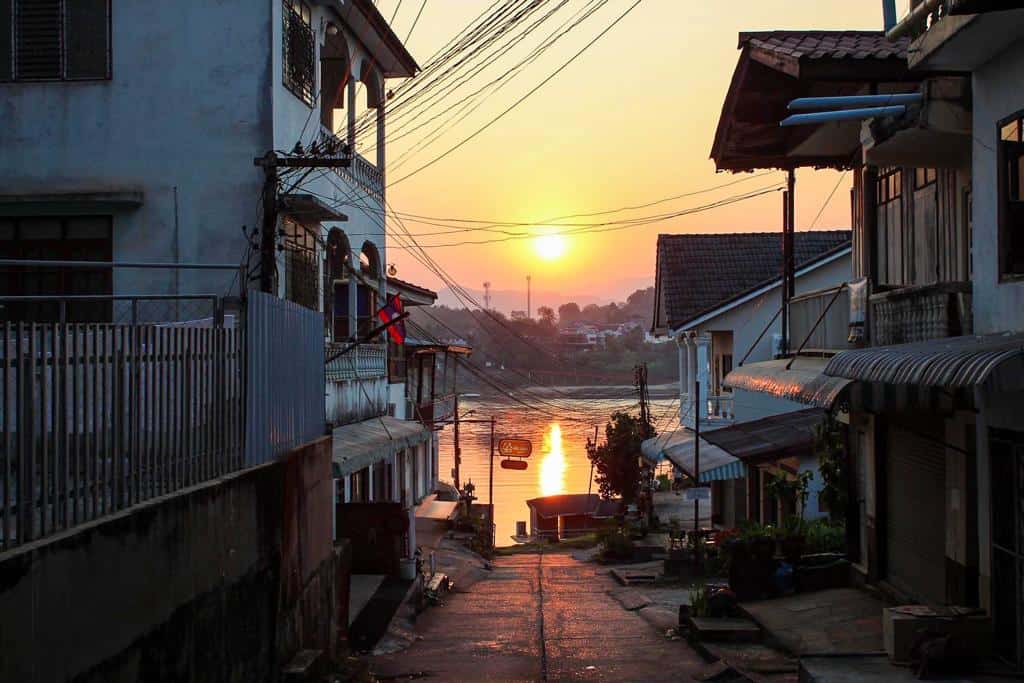 6. How much does the slow boat to Luang Prabang cost?
If you purchase a tour package in Thailand, you can expect to pay everything from €50-100/ $55-110 If you do this, make sure it includes all accommodation and transfers.
As of January 2023, we paid €18/ $20 per person with the slow boat from Huay Xai to Luang Prabang. This includes the boat ticket only, for the public boat, but for both days of travel. We bought our tickets at our guesthouse, and as the price was already really good, we didn't bother to go to the pier to buy the ticket directly there. We might have saved a euro or two, but for us that wasn't worth the extra hassle.
The cost for the VIP boats is much higher, often around USD 80-100, and as we could see, not really worth it.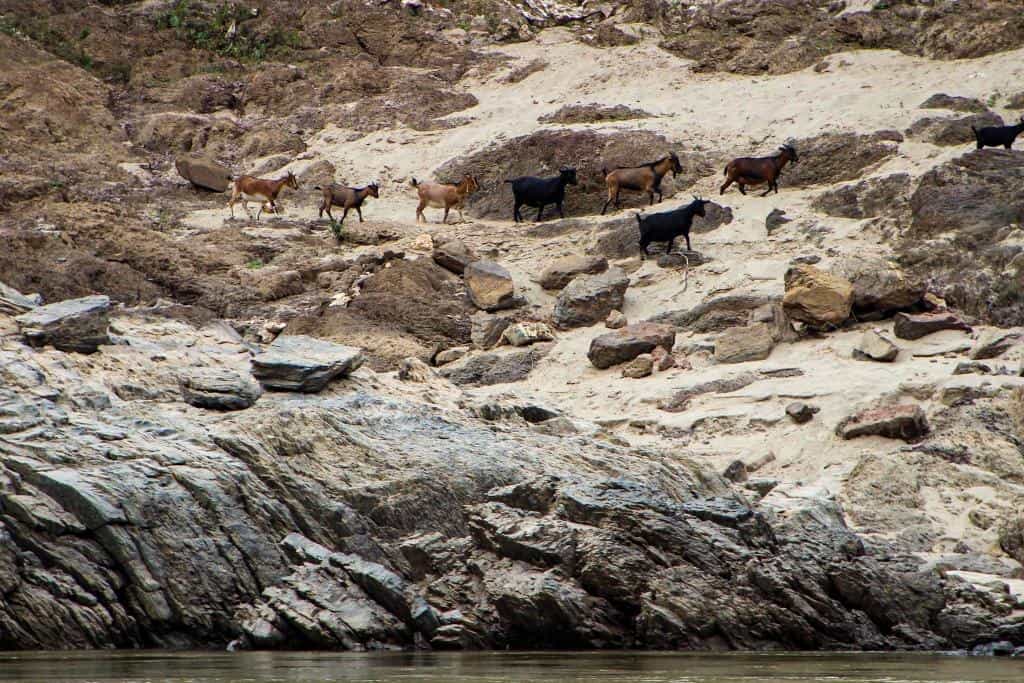 7. Where to sleep when taking a slow boat on the Mekong River
Even though this whole journey takes two days, you don't sleep on the boat. At the end of day one, around halfway through the journey, you will arrive in the village of Pak Beng. This is where you will spend the night before continuing the next day to Luang Prabang.
Pak Beng (Pakbeng) is a small village but has a good selection of guesthouses and a few hotels. There's also a decent selection of places to have dinner in the evening or breakfast before you leave. As the boat leaves early, it can be smart to book a guesthouse that serves breakfast so you don't have to spend time in the early morning looking for breakfast options. Some of the guesthouses in Pak Beng also offer pick-up from the pier when the boat arrives in the afternoon. Check eg booking.com for guesthouses in Pak Beng.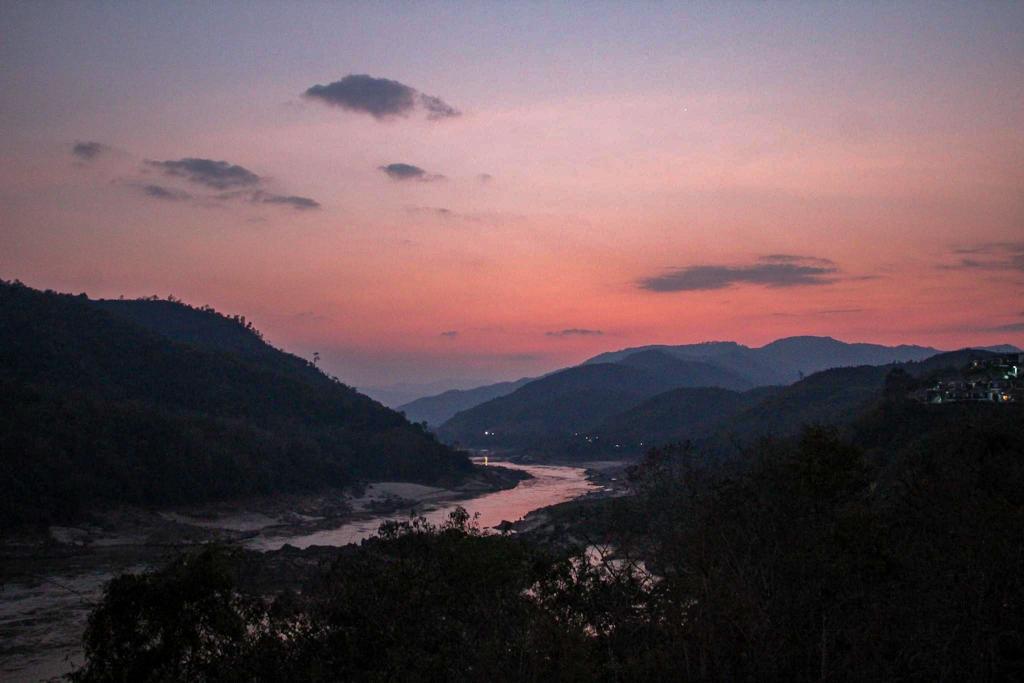 8. Life onboard the slow boat to Laos
The whole journey from Huay Xai to Luang Prabang is long. You will spend hour after hour on the boat without many options to move around. Prepare yourself before you go, so the many hours onboard won't turn out too boring and exhausting.
The seats on the Mekong slow boat are comfortable enough, but after enough hours even the softest seat will start feeling uncomfortable. There's a toilet on board, and although not very modern or comfortable, it works.
Your baggage will normally be stored at the back end of the boat. It can be difficult to access your bigger bag once stored in the back, so keep everything you might need onboard in your handbag and bring it to your seat.
A food stall sells snacks, instant noodles and drinks. The selection isn't very big, so we do recommend bringing some extra food and snack with you on board. On day two you can stock up from one of the stalls in Pak Beng before departure.
There's a roof on the boat, but no walls, so bring sunscreen in your handbag.
Along the route, you can see some of the local life along the Mekong River, but there will also be hours when not much exciting is happening. Prepare yourself for this and download music, movies or podcasts beforehand, or bring a book or placards to kill some time.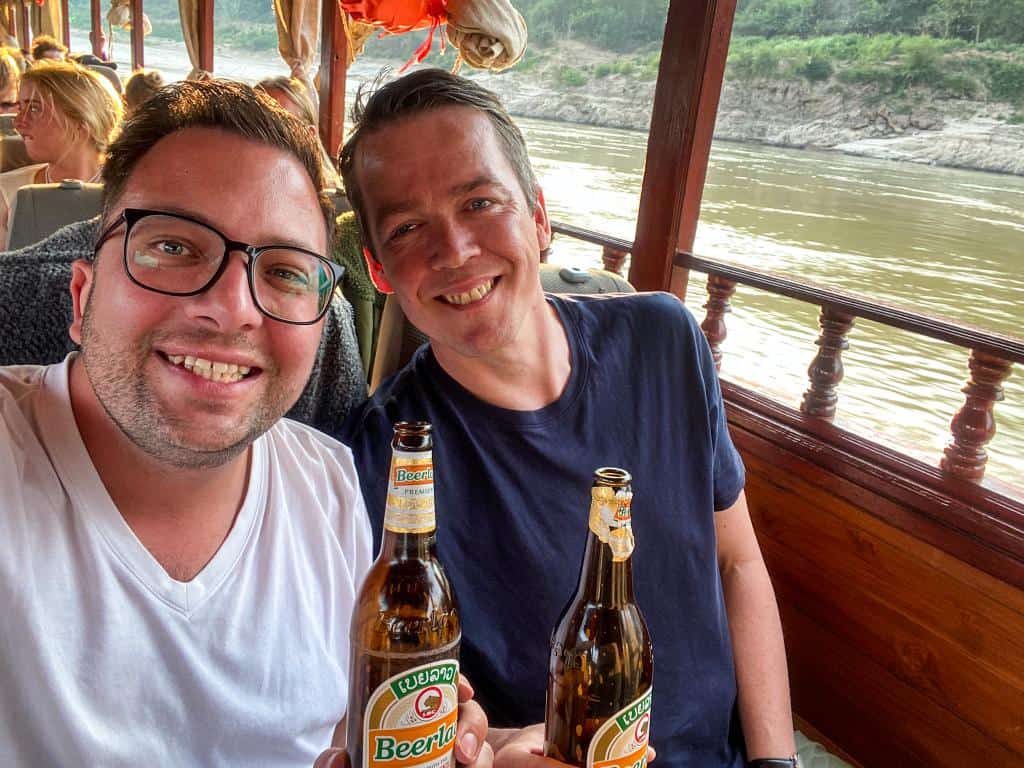 8. Slow boat to Laos – Arrival in Luang Prabang
The slow boat to Luang Prabang arrives 8km outside the city centre. After you have gotten your baggage, walk up the stairs and you will arrive at a small ticket office. Here you pay for your ticket for a tuk-tuk to the city centre. The drive to Luang Prabang city centre takes around 15-20 minutes.
Please note that this tuk-tuk will not take you to your guesthouse, it will stop next to the night market in Luang Prabang. From here you will either walk or have to take another tuk-tuk to your accommodation.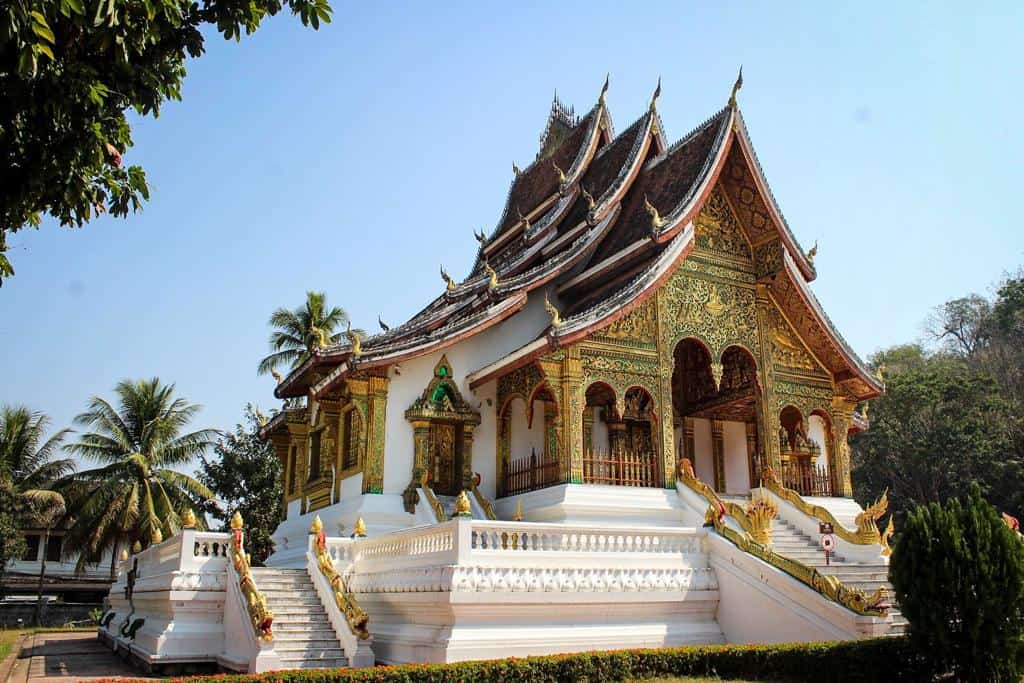 9. Slow boat to Laos – summary of practical information
There can be many questions regarding the slow boat to Luang Prabang, and the list below will give you answers to some of the frequently asked questions:
The slow boat from Huay Xai to Luang Prabang takes two days
Recommended to purchase a ticket the day before departure
Day 1: Departure from Huay Xai at 11:30 am. Travel time on day one is 6,5-7h. Night in Pak Beng.
Day 2: Departure from Pak Beng at 9 am. Travel time on day two is 8-9h. Arrival in Luang Prabang
Assigned seat number only on day one. On day two people sit where they want. Be early at the pier, latest 8 am.
Book your guesthouse in Pak Beng and in Huay Xai if you spend a night there before the boat
Bring food, snacks, sunscreen and entertainment onboard
The best seats are towards the front of the boat. The engine is in the back – and is very loud
Make sure that your boat have life vests onboard