This post may contain affiliate links, where we may receive a small commission if you purchase something through following the links at no extra cost to you.
Few places have such an oriental flair as the Arabic Peninsula. But how about a visit there? For many, Jeddah is a relatively unknown city to visit, and no wonder why. After all, the country only recently opened up for tourism in a larger scale. Is Jeddah worth visiting, you might ask? Or maybe you are wondering what to do in Jeddah? We have been there, and here we give you 7 great places to visit in Jeddah, Saudi Arabia.
The city of Jeddah is the second-largest city in Saudi Arabia, with a population of around 4,7 million people. Jeddah is located on the Arabian peninsula on the shores of the Read Sea. It is a vast city, and it is the commercial centre of Saudi Arabia.
TIP: Our post on how to visit Saudi Arabia will give you everything you need to know before you go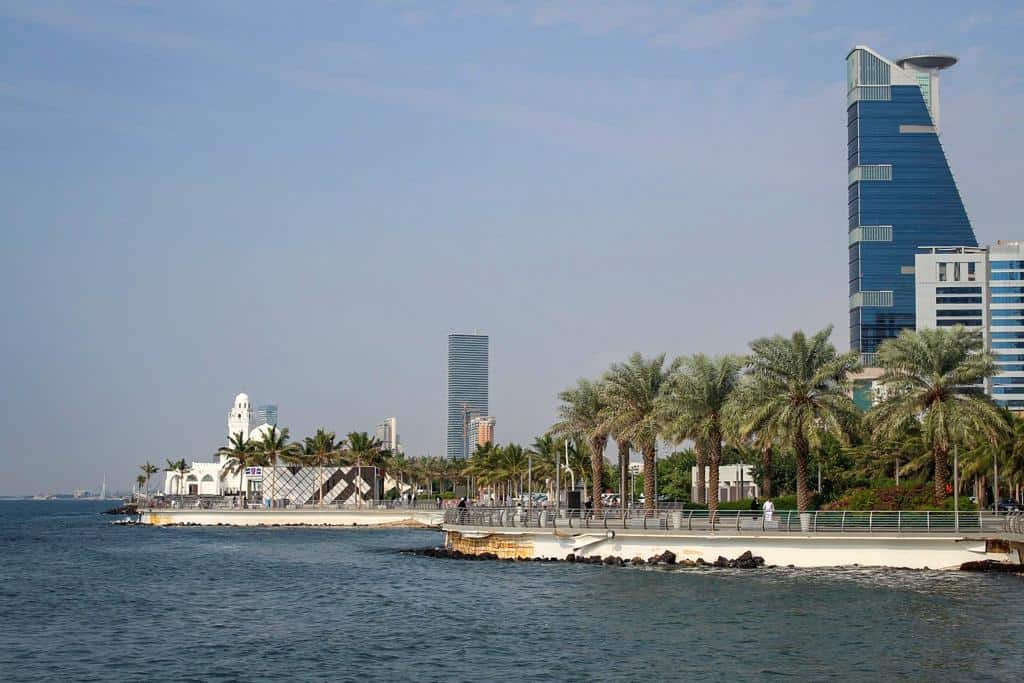 Saudi Arabia only recently opened for tourism, as late as in the autumn of 2019. The country strives to get the number of International tourists up, and a part of this is that the visa process has been made easier for many countries.
We spent 10 days in Saudi Arabia, visiting three very different places. We started our trip in with exploring the best places to visit in Jeddah before we headed north to the desert area of Al Ula. We ended our trip in Medina (Madinah), the second-holiest city in Islam.
What we learned on this trip, is that Saudi Arabia has so much to offer its visitors, from big cities, history, culture, breathtaking nature and loads of friendly people. Furthermore, we also learned that it is surprisingly easy to travel in Saudi Arabia, between the different places to visit.
As Saudi Arabia is still a young tourist country, the infrastructure might not be the same as in other more developed destinations, but after all, Saudi Arabia is a very modern country, and even travelling by public transport as we did is possible. Read on for 7 great places to visit in Jeddah. Furthermore, this post will also give you some practical tips on how to visit Jeddah and how to get around.
TIP: Many combine Saudi Arabia with some days in Dubai as well, and this post answers some of the frequently asked questions about Dubai.
Is Jeddah safe to visit?
Let's start with one of the basic questions, and one that we also asked ourselves before we made this trip. How safe is it to visit Saudi Arabia and is it safe to visit Jeddah?
To answer both questions in one; yes, Saudi Arabia is safe to visit, and it's also safe to visit Jeddah. We never faced any challenges or unsafe situations of any kind. On the contrary, wherever we went, we were met with smiles, happy faces, and people asking where we are from and welcoming us to their country.
Walking in the streets felt safe at all times, although we do recommend using common sense as always when travelling, such as avoiding deserted back streets after dark. Also, public transport with buses and trains between the different places to visit in Saudi Arabia felt very safe. Of course, be aware of pickpockets at all times, especially in more crowded places.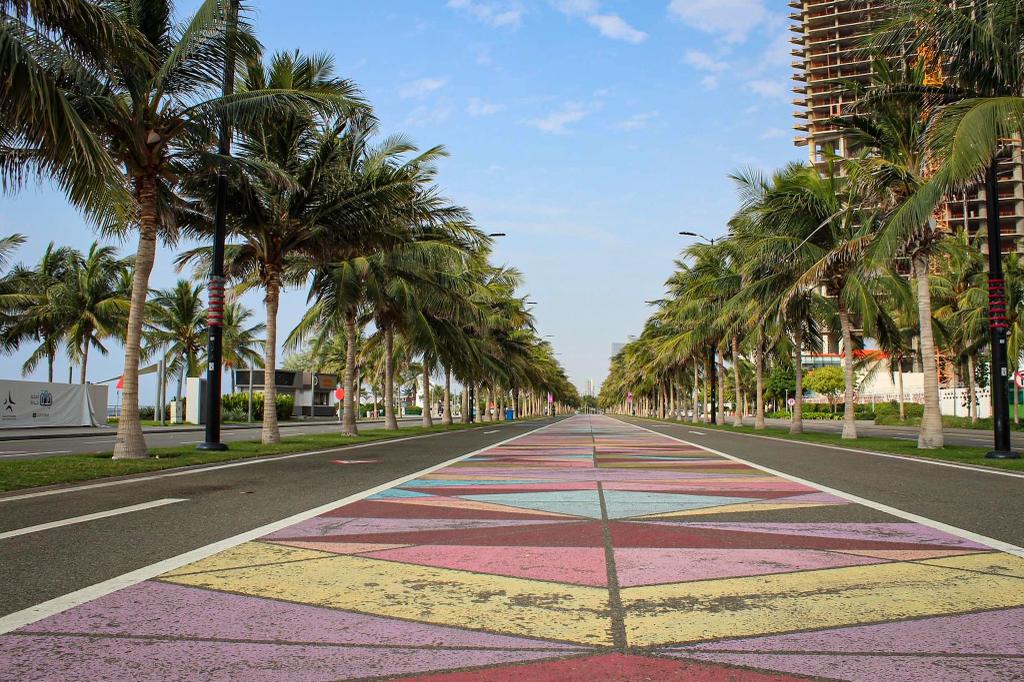 A huge city like Jeddah also felt surprisingly safe. We walked over big distances of the city, in the narrow lanes of the old town, and never faced any problems.
For travellers, the biggest danger, if any, must be the always busy traffic. Saudi Arabia is a car country, and Jeddah is no exception. There are cars everywhere, and sometimes they come really fast, even in the city centre. That said, the roads are in excellent condition, and everywhere people are following the traffic rules. The traffic in Saudi Arabia is nothing like the one you might have experienced in countries such as India or maybe Egypt.
On a side note; as a tourist, you are required to follow customs and rules in the country you are visiting, and that goes for Saudi Arabia as well. Already when filling out the visa application, you will have to agree to follow customs, dress modestly and refrain from visiting places only open to Muslims, like the city of Mecca or the Prophet's Mosque in Medina. Be aware that breaking these rules can in the worst case get you deported from the country.
How to get a visa to Saudi Arabia
Do I need a visa to visit Saudi Arabia you might wonder? Yes, you do. All visitors to Saudi Arabia, including pilgrims, need a visa to enter the country. As a part of the plan to attract more tourists to the country, Saudi Arabia has introduced eVisa to 49 countries, making the visa application process very easy and smooth.
This eVisa is a one-year multi-entry visa allowing you to spend up to 90 days in the country. Check out the website for Visit Saudi to check if your country is eligible for the eVisa application. All countries are listed there. Should you not be eligible to apply online for this visa, please contact your nearest Saudi Arabia Embassy.
The cost of the Saudi Arabia eVisa is SAR 535 (approx €130/ $140) including mandatory health insurance. The application process is very easy and straightforward. Simply fill in the application form online, pay the visa fee and you'll have your visa by email within minutes.
Places to visit in Jeddah
So, what to do in Jeddah you might ask? While Jeddah isn't a city full of world-class sights, there are enough Jeddah places to visit for a couple of days. If everything was located close by you really wouldn't need that much time, but since the attractions in Jeddah are spread all over the city, you should count some extra time commuting between the different places in this list.
For these places to visit in Jeddah we spent two days. We did a combination of walking, sometimes long distances, and taxi. Of all the places on this list, we recommend you to allow the most time in Al Balad, the beautiful old town of Jeddah.
Map of places to visit in Jeddah, Saudi Arabia
1. Al Balad – Jeddah Old Town
If you only have time to visit one place in the city of Jeddah, make sure it is Al Balad. This is truly a highlight and in our opinion, one of the best places to visit in Jeddah.
Al Balad is the historic area of Jeddah, and Balad literally translates to The Town. It was founded in the 7th century and historically served as the centre of Jeddah. It was the beating heart of Jeddah and a centre for trade in the region. Also, Al Balad and Jeddah were, and are today, the gateway to Mecca.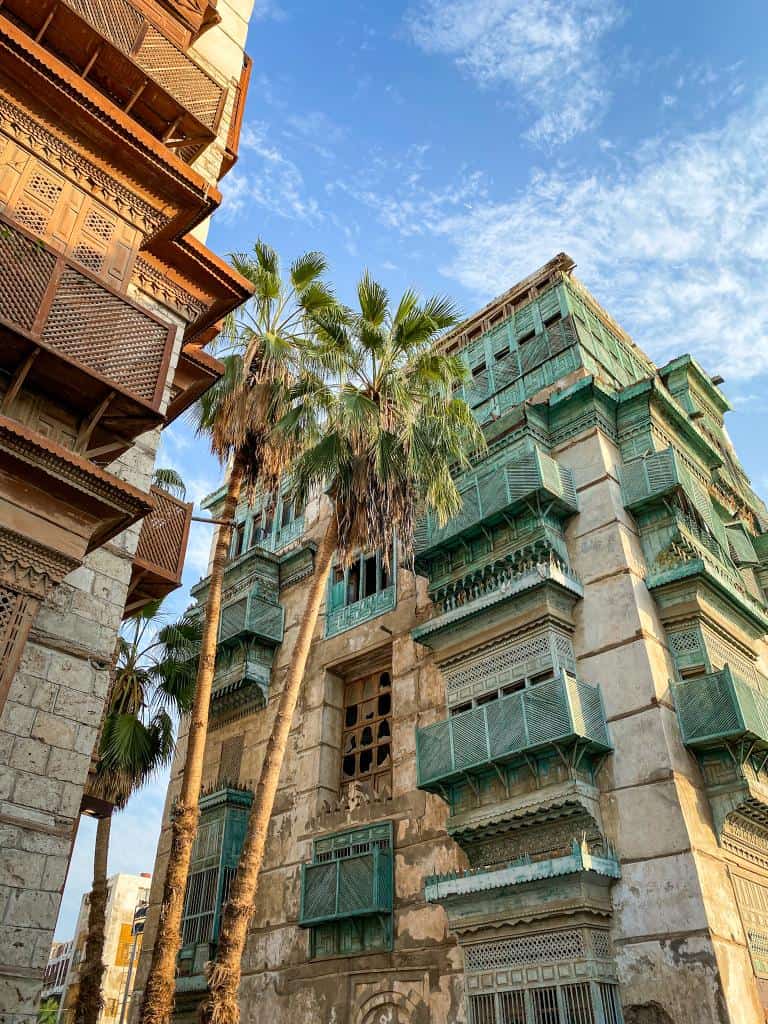 Today, much of its old glory is gone, and the once impressive town has seen its better days. In the narrow, dusty streets you will find numerous colourful but crumbling houses with still amazing woodwork, especially seen on the many traditional balconies and latticed windows of the houses.
The main reason to visit Al Balad is the architecture. This part of Jeddah isn't very big, but one can easily spend hours on end exploring the small streets, narrow lanes and squares. Many of the buildings here are up to 500 years old, and one wishes the walls could tell some of the stories they have witnessed over the past centuries. For years a preservation program has been in place, and today you will find a great mix of restored and crumbling buildings side by side.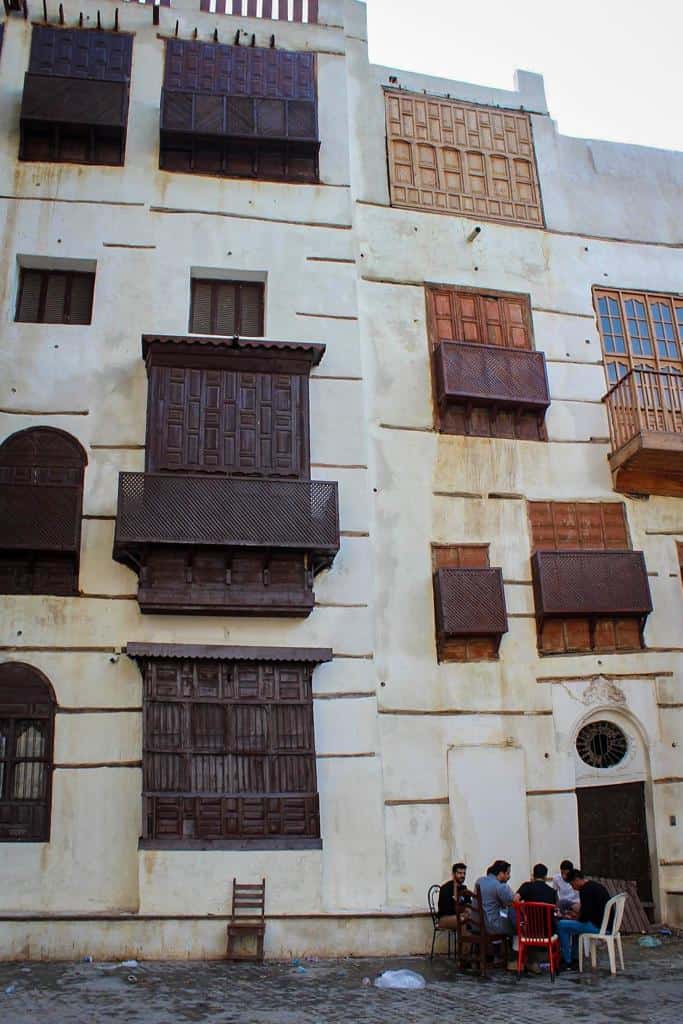 The best way to explore AL Balad is by foot, and the best time to visit Jeddah's old town is either in the early mornings or in the afternoon: During the middle of the day the area is very quiet and most places are closed. If you visit in the late afternoon, you will find the area at its best. The souq, the shops and the cafes are open, and the streets are full of life. Do visit one of the cute cafes or coffee shops located in the historic houses when you are in need of a break.
Al Balad was given UNESCO World Heritage status in 2014.
2. Island Mosque
Many of the best places to visit in Jeddah include one of the many mosques in the city. The mosques in Jeddah might not be the most impressive ones, like in Iran, Istanbul or Abu Dhabi, but they still have some pretty nice ones also in the city of Jeddah.
The Island Mosque is not the largest of mosques, nor the most impressive one. Still, for us, it quickly became one of the best places to visit in Jeddah. It is something with the location and the simplicity of the building that is just very appealing.
The mosque was designed by the Egyptian architect Abdel Wahed El-Wakil and was conceived as a sculptural element accentuating the Jeddah landscape.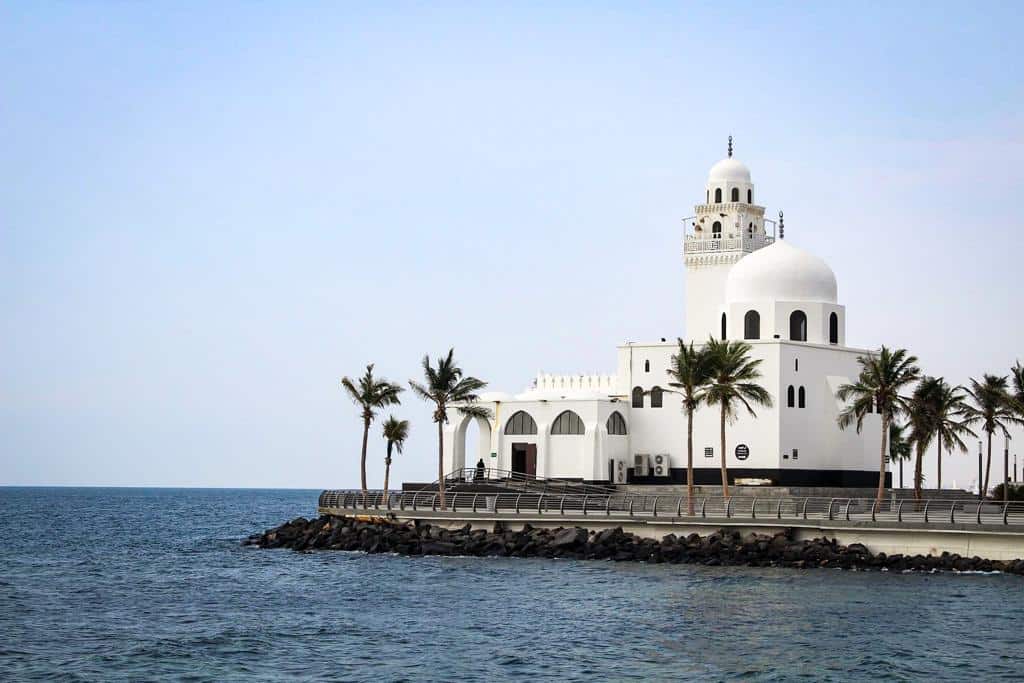 3. Jeddah sign
Ok, so this might not be the most impressive of all the places to visit in Jeddah, but it's still one of the most popular Jeddah tourist places for a shortstop. It is simply a large sign, or large letters, saying Jeddah, and it can be a fun place for a short stop to make a few nice photos.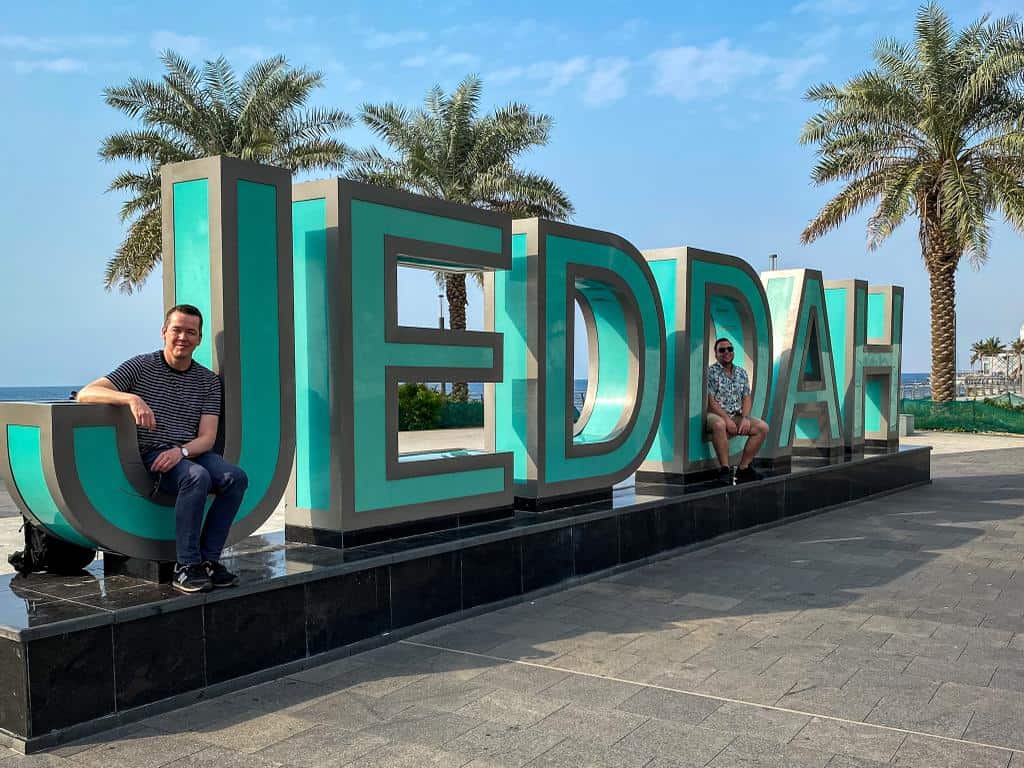 The Jeddah sign is located along the Jeddah corniche. You can reach it by taxi, and we would say that the best time to visit is in the late afternoon. That way you might be able to catch the sunset over the Red Sea at the same time.
Combine the Jeddah sign with the Island Mosque. It's less than 10 minutes by foot between these two sights, and in fact, this is one of the few Jeddah tourist places you can walk between due to the short distance.
4. Jeddah Corniche
The Jeddah Corniche is simply the promenade going along the shore of the Red Sea, also known as the Jeddah Waterfront. In total the corniche is 30km (18.6 mi) long, so don't plan to walk the whole of it. Along the corniche you will find several Jeddah places to visit and, in fact, many of the places on this list can also be found along the corniche.
TIP: Want to see more of the Read Sea? Egypt is not far away, and could easily be combined with Saudi Arabia. Dahab is a popular place to visit on the Sinai Peninsula, and some of the best things to do in Dahab are diving and snorkelling.
It is a popular place for families, friends or couples to come and hang out, have some food and drinks, do sports or arrange a picnic. Especially at the time around sunset, the Jeddah promenade is popular, and this is when you will find it most lively.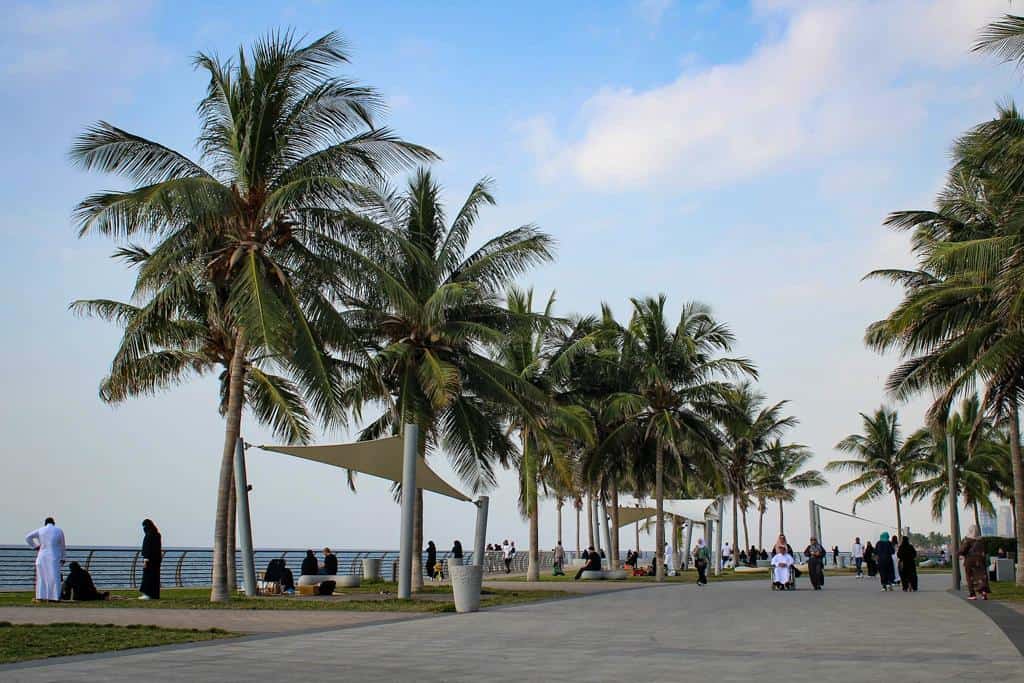 All along the Jeddah Corniche you can find small stalls or kiosks selling food and drinks. There are even a few places offering speciality coffee – if you are like us – addicted to good coffee.
Fun fact: Parts of the Jeddah Corniche are now also part of the Jeddah Corniche Circuit, a Formula One motor racing circuit built for the Saudi Arabian Grand Prix.
5. Floating mosque
The Al-Rahmah mosque is a must-see mosque not to be missed. It is located north of the city centre, along the northern end of the Jeddah Corniche. This mosque is relatively new, constructed in 1985 on a water surface, hence the nickname – the Floating Mosque. This is one of the nicest places to visit in Jeddah, and also, it's one of the most visited mosques in the city of Jeddah.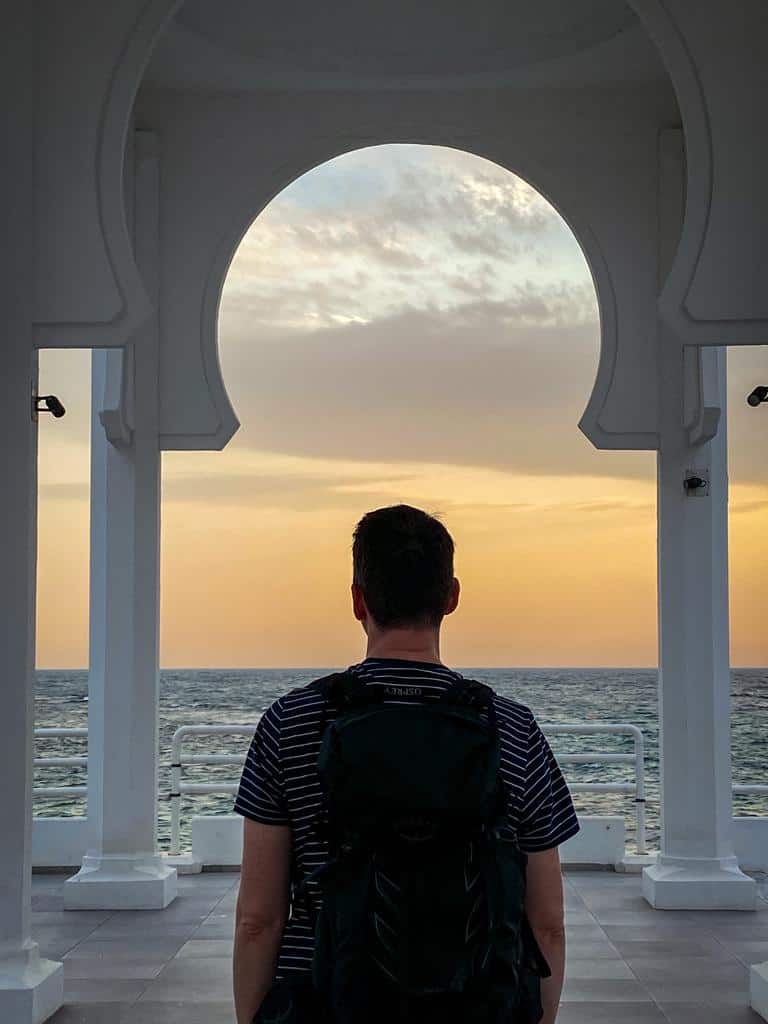 It got its nickname, the Floating mosque because at high tide the mosque appears to hover over the waves of the Red Sea below. The architecture of this mosque is a combination of ancient and modern Islamic architecture.
You can visit the grounds and the open courtyard of the mosque at all times of the day, but it is especially beautiful to visit as the sun sets over the Read Sea.
TIP: This mosque is closed between prayer times. The caretaker opened the door for us at showed us around inside. Look around if it's closed during your visit – maybe someone can open the door and let you in.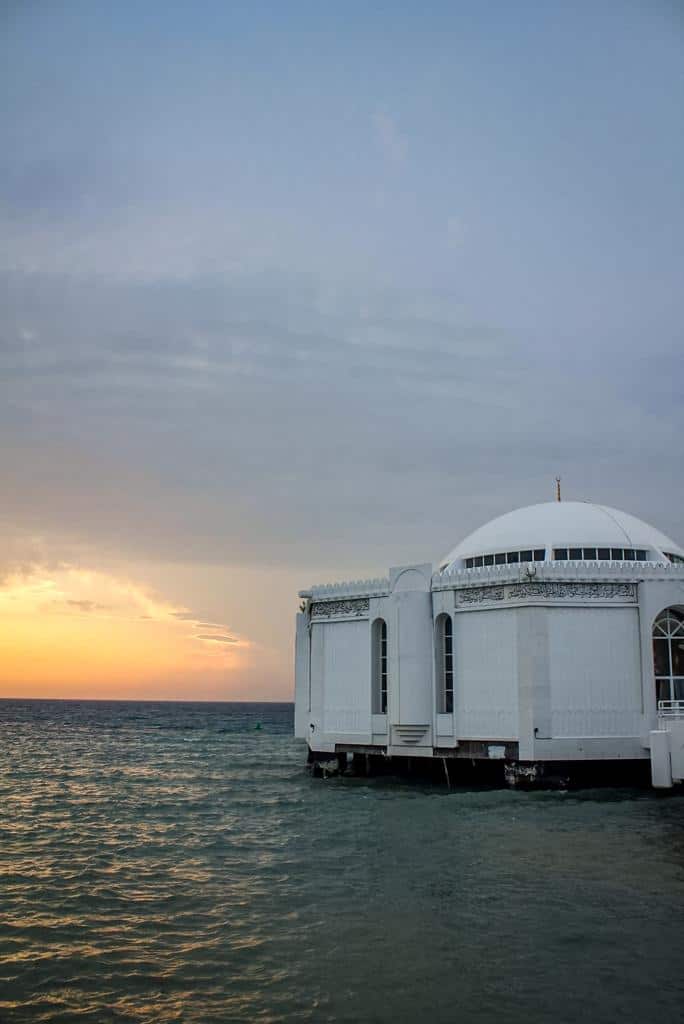 6. Jeddah Art Promenade
Not far from the Floating mosque is the Jeddah Art Promenade. This new area used to be a quiet residential area now turned into a modern part of the city with a marina, a beach-front avenue and the Jeddah Art Promenade.
Jeddah Art Promenade features carnivals, live performances as well as several art installations. The area also has lots of restaurants, cafes and a small retail selection.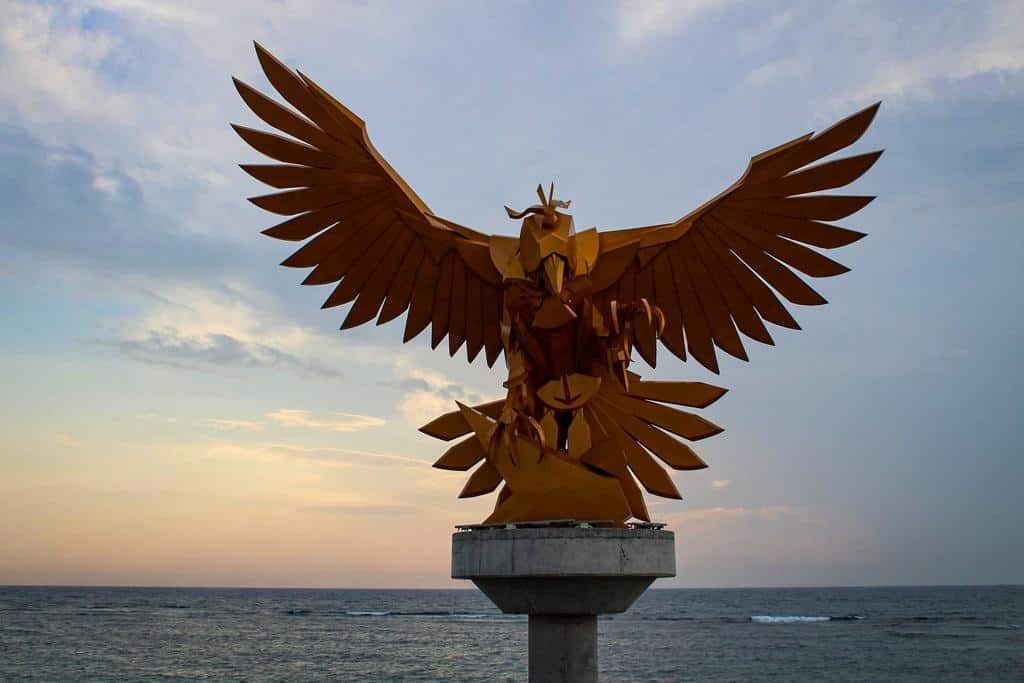 You can perfectly combine a visit to the Floating mosque and the Jeddah Art Promenade as it is within walking distance in between. Both places are located quite far outside the city centre, so our recommendation is to visit both places at the same time so that you don't have to go that far twice.
7. Hassan Enany Mosque
The Hassan Enany Mosque is one of the most beautiful mosques in Jeddah, and it's one of the best places in Jeddah to visit. It was built in 1984 and this relatively small mosque is a great example of the grandeur of Islamic architecture and interior design.
With its whitewashed walls, golden domes and twin minarets, it is truly a beautiful mosque. Of course, the location directly on the Red Sea waterfront helps with the impression as well.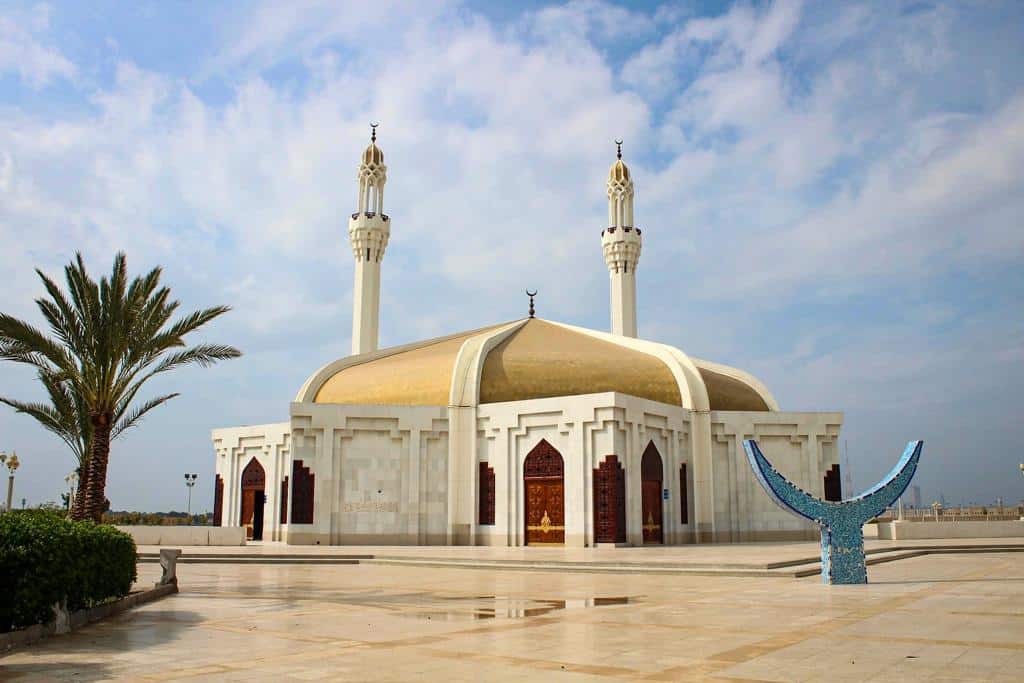 It is located along the Jeddah Corniche, and although more centrally located, it's still quite far from some of the other Jeddah tourist places on this list, so a visit here is not that easy to combine with the other attractions in Jeddah, but it's a convenient place to start if you want to explore the Middle Corniche Park.
Best time to visit Jeddah
When is the best time to visit Jeddah? The best time to visit Saudi Arabia is between November and March. In this period the climate is mild and the temperature is comfortable. Avoid visiting during the summer. The temperatures on the Arabian Peninsula are too high in this period and you won't be able to do much else than seek shelter from the heat indoors.
Visiting Jeddah in the winter: November-March mean temperature is 24-28 °C (78-82F)
Visiting Jeddah in the summer: Mean temperature 31-22 °C (87-92F)
Visiting Jeddah in spring or autumn: Mean temperature is 26-31 °C (78-87F)
Most rain: November, but it doesn't really rain that much even then.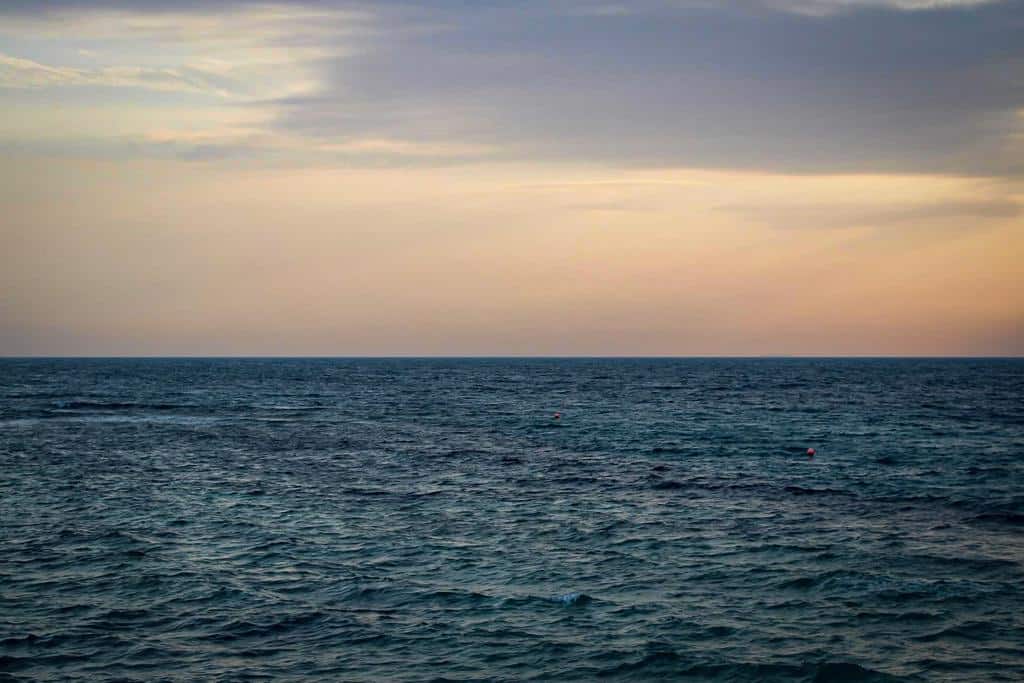 How to get to Jeddah
You can fly into Jeddah, both domestically and internationally. Jeddah airport is the third-largest and the busiest airport in Saudi Arabia, serving the highest number of International travellers to the country. The airport is the main hub for Saudia, the national carrier of Saudi Arabia. Saudia serves a large number of International destinations in Europe, Asia and America. Also, many other International airlines serve Jeddah airport.
You can also reach Jeddah by air from many domestic destinations. Apart from Saudia, check out low-cost airline Flynas for domestic flights.
If you are already in Saudi Arabia and want to visit Jeddah, you can reach the city by a large bus network, or from a few destinations, also by train. Saudi Arabia is currently building out their railway network, but at the time of writing only a few lines are operated by one of the two railway companies in the country. For travelling by train check out either Saudi Arabia Railways or Haramain High-Speed Railway. For buses, check out Saptco. They have an extensive bus network to choose from.
Is it expensive to visit Jeddah or Saudi Arabia?
To be honest, Jeddah and Saudi Arabia aren't the cheapest places to visit. While you can score a good flight deal, especially if you stop in Saudi Arabia en route somewhere else, the prices for food and accommodations can often easily compare to those of western Europe.
It seems like the tourism authorities are aiming more towards an up-market group of travellers, hence the availability of luxurious hotels and resorts. If you are a luxury traveller and want to visit Saudi Arabia, the sky is your limit. The same goes for Jeddah. You can find loads of expensive and exclusive hotels all over the city, and also the prices for accommodation in the budget range are much higher than in other places, eg South East Asia. Be prepared to pay €50/ $55 per night for budget accommodation.
Prices for food and drinks (Saudi Arabia is a dry country meaning no alcohol allowed) are also much higher than in many other destinations. There are lots of exclusive restaurants specialised in e.d seafood, but expect the bill to be high. If you are visiting Jeddah on a budget, then look for the many Indian, Pakistani or Bangladeshi restaurants around the city. The food is excellent and prices are low.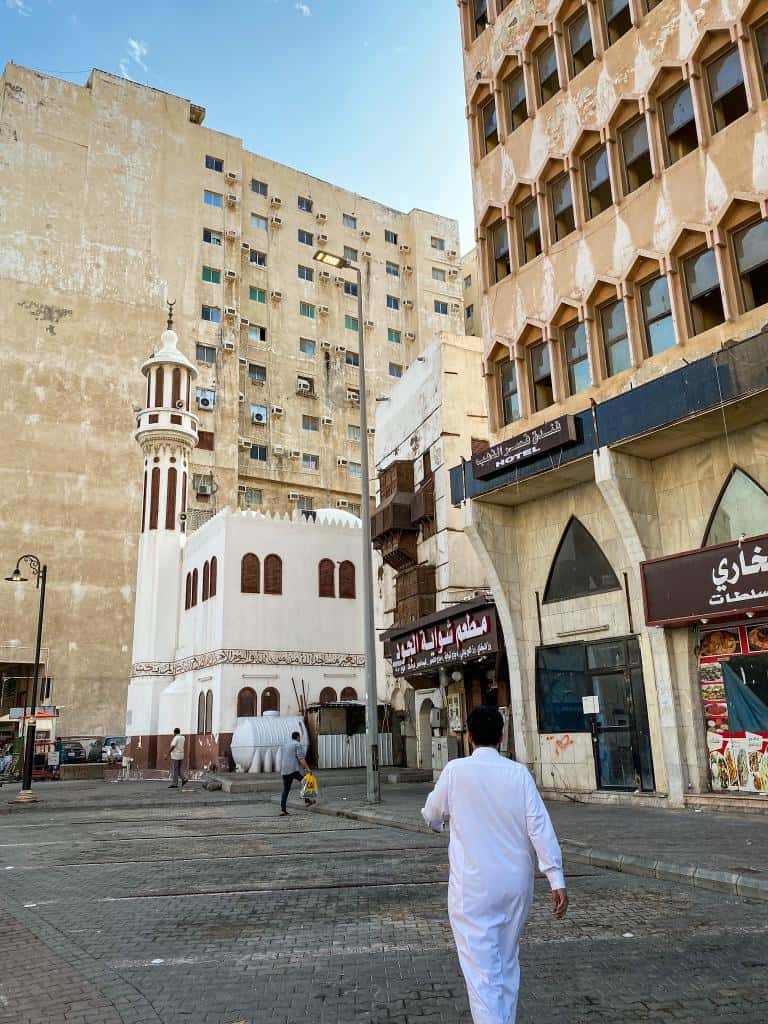 How to get around in Jeddah
The city of Jeddah is huge. Both in the number of inhabitants, but also in size. The city stretches mile after mile along the coast, and the distances from one place to another are often very long. Due to this, it's a big question why the authorities didn't develop a system for public transport. With no metro system, no trams and almost no buses, no wonder the car traffic is as busy as it is.
Short distances can easily be walked, such as around the old town or along the corniche. But for moving from one place in Jeddah to another you need a car or at least transport by car. The Jeddah tourist places are spread over the large city, so there's no chance you can walk between them all.
There are lots of taxis, and in more busy areas it's easy to get one. The best is to take one of the green taxis. They are said to be the most reliable and also the cheaper taxis. Always ask the driver to go by meter. Otherwise, you will have to pay much more than you should.
We tried Über in Jeddah, but in our experience, it didn't work very well. Mostly no driver was available for Über, and the main reason for that is that most people use another app for transport, the Careem app.
Careem is the preferred transport app in Saudi Arabia and in many of the surrounding countries. It works the same way as Über, and you can pay with cash, credit card or via Apple Pay. Especially, if you visit more remote places in Jeddah with less traffic, the Careem app can be a lifesaver to get you back afterwards. Also, we quickly figured out that Careem is mostly cheaper than regular green taxis, so it's really a win-win situation. You can download the app from App Store or Android.
If you arrive in Jeddah by air, train or bus, you will be met at the airport, train -or bus station by a large number of people offering official or unofficial taxi services. They tend to be much more pricey. Stick to the green taxis you will find on the outside, or order a car via Careem.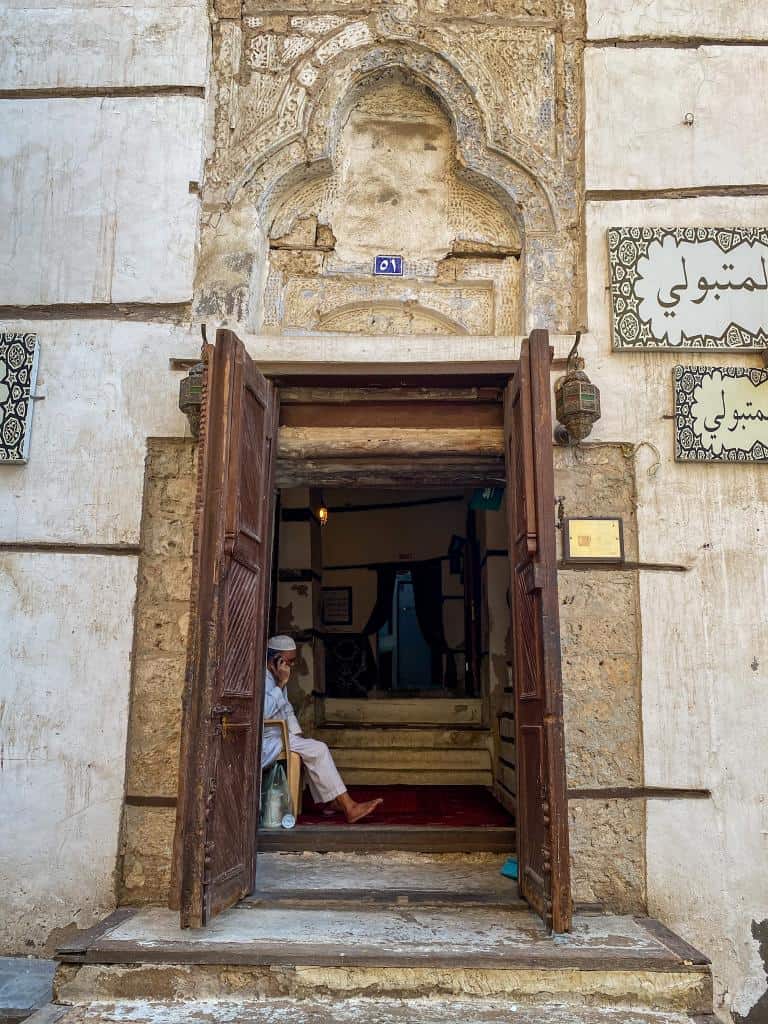 Is Jeddah worth visiting?
After reading this post, you might ask yourself is Jeddah worth visiting? To sum it up and conclude; yes it is. It might not be the city in Saudi Arabia where you want to spend most of your holiday, but we definitely would recommend visiting while you are in the region. Two nights should be an ok time, although three nights might be better if you have the time. If you have limited time in Jeddah we absolutely recommend you not miss the old town, AL Balad. In our opinion, this is one of the best places to visit in Jeddah.