This post may contain affiliate links, where we may receive a small commission if you purchase something through following the links at no extra cost to you.
Travelling in Saudi Arabia is easy, and getting from Jeddah to Al Ula is fairly uncomplicated. There are different ways to do it, and this post will give you the best ways how to get from Jeddah to AlUla.
After Saudi Arabia opened its borders for more tourism just a few years ago, the country is increasing in popularity and especially Al Ula is getting under the radar of many travellers.
Combining some days in Jeddah with some days in Al Ula is easy, and can be done independently without booking things from a travel agent that will only make things more expensive. So after exploring some of the places to visit in Jeddah, you might feel ready to see more of the country, and there is how you can make it from Jeddah to Al Ula for some of the most spectacular nature we have ever seen.
TIP: Our post on how to visit Saudi Arabia will give you everything you need to know before you go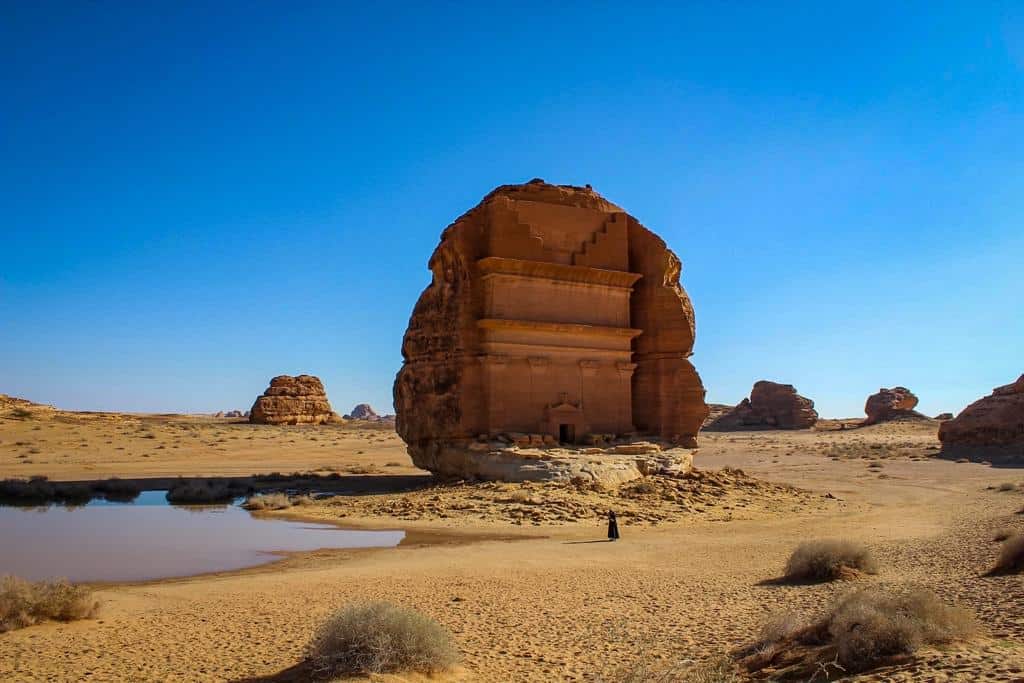 Travel from Jeddah to Al Ula by bus or by bus and train
Travelling to Al Ula from Jeddah by train and bus is our preferred way of travelling, and also the way we recommended the most for this trip. The reason we say that you can travel by train and bus to Al Ula is simply that there is no direct connection between the two places with public transport. Because of this, you will have to make a transfer of buses en route, or a combination of train and bus. But don't let that stop you. It is super easy. Continue reading to figure out how to do it.
Bus from Jeddah to Al Ula
As already said above, there is no direct bus between Jeddah and Al Ula, but it is still fully possible to travel the whole distance by bus. First, you need to take a bus from Jeddah to Madinah (Medina), and from there another bus to Al Ula. The minimum travel time for this journey is 10 hours.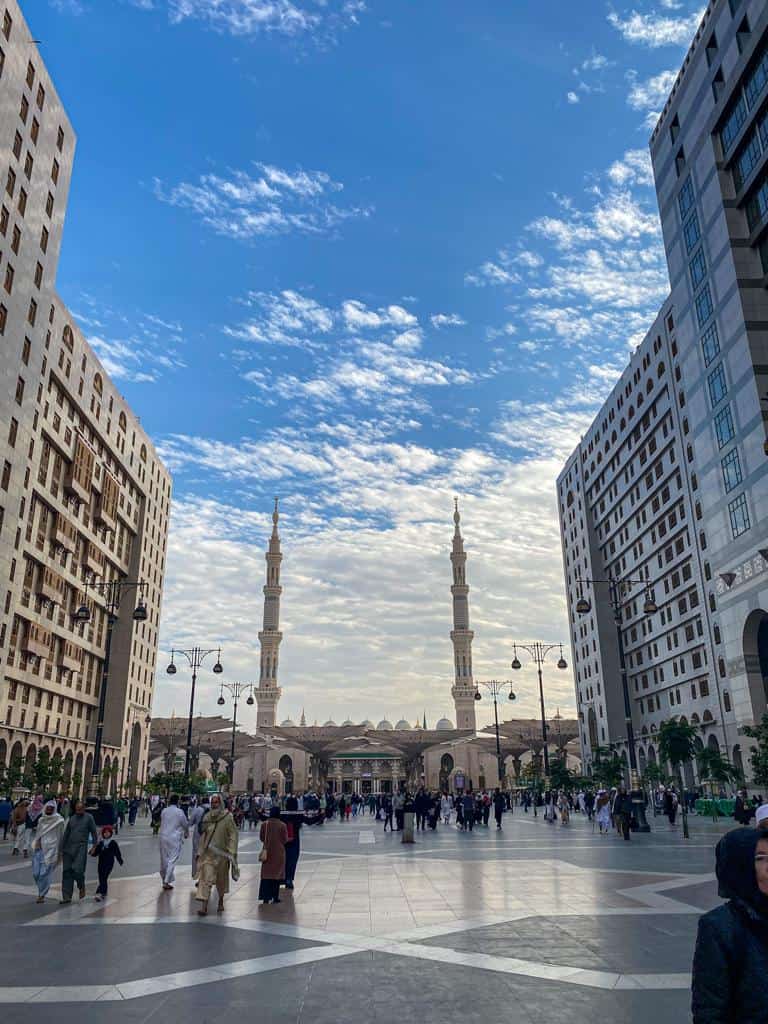 While there are several daily buses between Jeddah and Madinah, there's only one bus daily from Madina to Al Ula. This bus leaves every day at 17.30 from the bus station in Madinah and arrives in Al Ula at 22.51. Since this bus is the only daily bus to Al Ula you need to make sure to catch it, meaning you need to make sure to have enough connection time between the buses.
On the shortest journey with 10h in total travel time you will have only 45 minutes of connection time in Madinah. In case of a delay, you might miss your bus to Al Ula – which is the only bus to take. Because of that we strongly recommend you take an earlier bus from Jeddah, to give you some more time on hand in case of disruptions in the time schedule. The bus with the shortest connection will leave from Jeddah at 12.00 and arrive at 16.45 in Madinah. To make sure to catch the bus 17.30 to Al Ula, we recommend that you take the bus at 09.00 from Jeddah. This bus will arrive in Madinah at 13.45, giving you plenty of time to catch the next bus.
Please note: If you have enough time between the buses you can explore some of central Madinah. If you visit outside the Prophet's Mosque, please note that a visit to the mosque and its courtyard is strictly for Muslims only. Non-muslims have no access here!
You can check the times and book your bus ticket online from the website of the Saptco bus company. When you enter your starting point (there is only one in Jeddah) and your destination (Al Ula) you will be given all the options for travel that day, and you will also see the total travel time as well.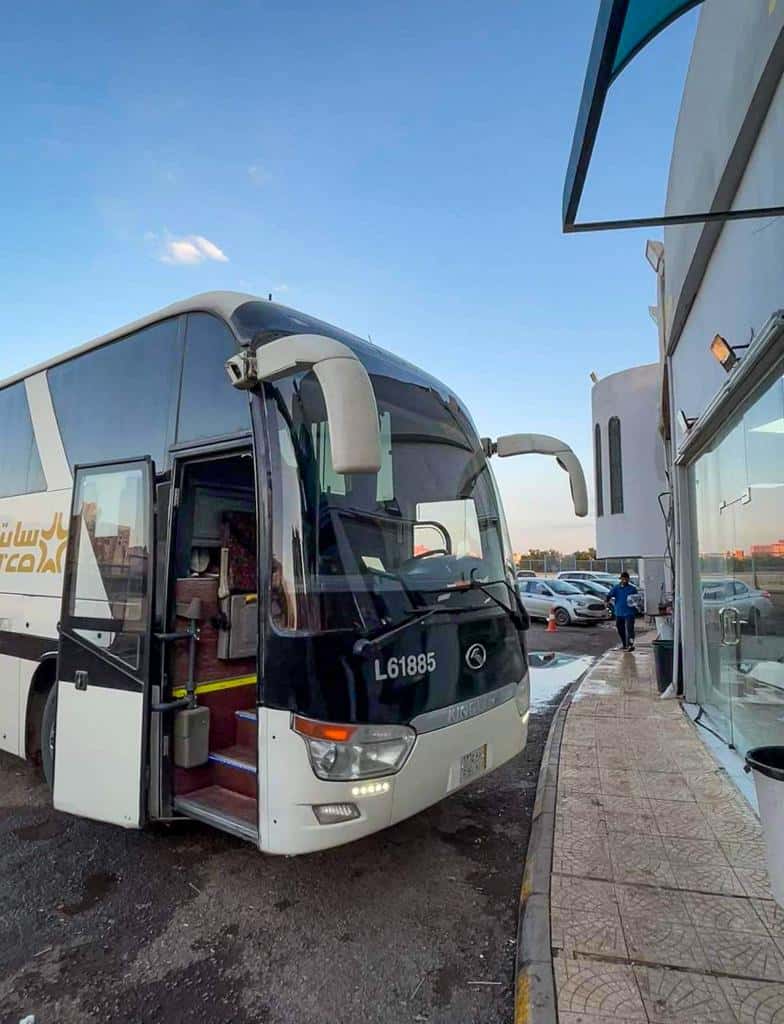 Train and bus from Jeddah to Al Ula
If you have followed us for some time or perhaps read some of the other posts on our blog, you might already know that we really love travelling by train. Because of that, this option where you combine train and bus is our favourite way of getting from Jeddah to Al Ula.
Saudia Arabia is currently building out its railway network, and there are two companies operating trains in the country. This said, the network is still limited, and therefore you often have to combine your journeys by train and bus. The trains normally run on time in Saudi Arabia, but make sure to have enough time between the train and the bus as you need to calculate in time for the short taxi ride between the stations.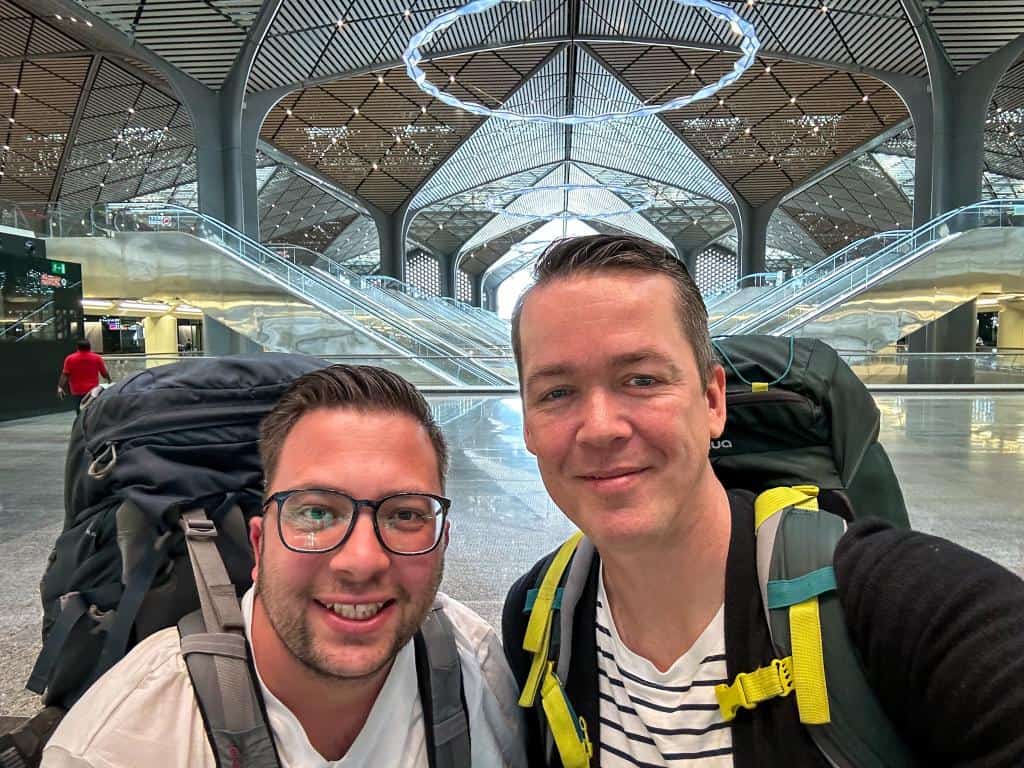 Trains in Saudi Arabia are super comfortable, and the train from Jeddah to Madinah is a very quick en efficient high-speed train.
Here is how to travel from Jeddah to Al Ula by train and bus:
Book your train ticket from Jeddah to Madinah at the website of Haramain High Speed Railway
Book your bus ticket from Madinah to Al Ula at the website of the Saptco bus company
Take a (green) taxi or a car by Careem to the train station in Jeddah
Board your train in the given train car and find your assigned seat
Take a (green) taxi or car by Careem from Madinah train station to the bus station (approx 20 minutes)
Board the bus at Madinah bus station at the gate shown on the monitors in the waiting hall
TIP: The taxi drivers in Madinah (also on the preferred green taxis) often refuse to go by meter and often offer a much higher price than it should cost. If you want to avoid all the bargaining, we do recommend you book a car via the Careem app. It always worked out very well for us.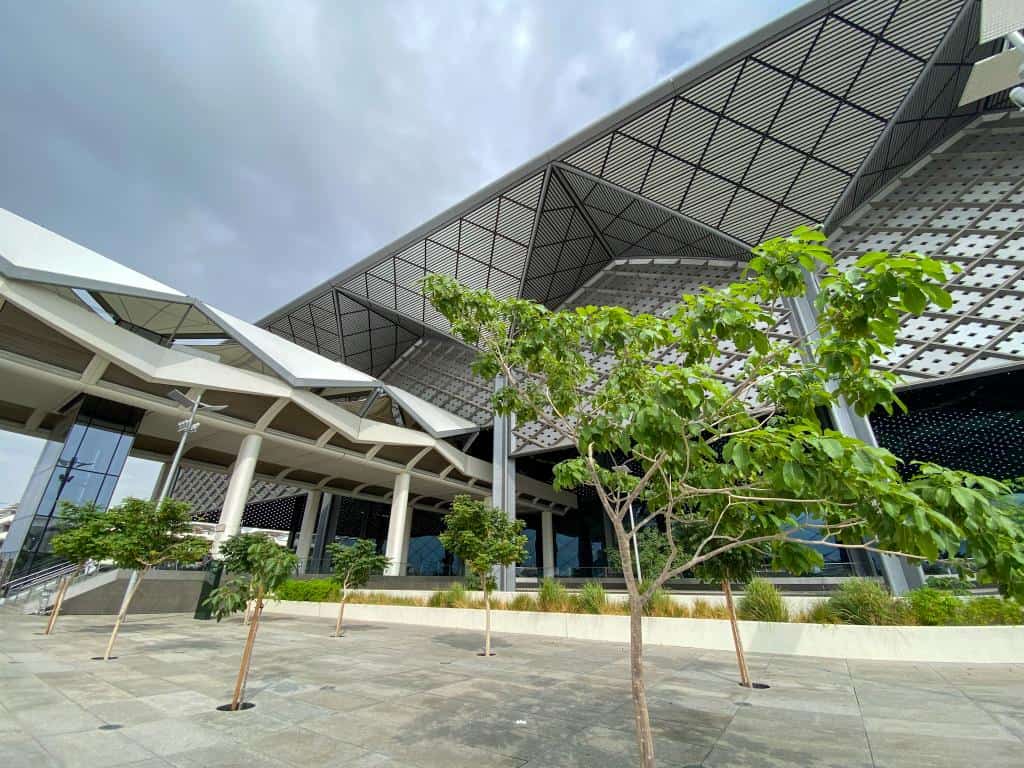 Travel from Jeddah to Al Ula by plane
If you are short on time or don't want to spend hours on the bus and train, flying might be an option for you. It is not something we really recommend as this is the least environmentally friendly way of travelling and also often the most expensive way.
Anyway, Saudia, the national carrier of Saudi Arabia operates a few daily direct flights from Jeddah to Al Ula. You will have even more options if you are willing to choose a flight with one connection – but then you might not save that much on time.
Check out Flynas if you are travelling on a budget. This low-cost airline doesn't offer a direct flight from Jeddah to Al Ula, but with one connection you can easily get there. As with all low-cost carriers, the cheapest tickets are sold with only hand baggage so make sure to book the right ticket for you and your needs.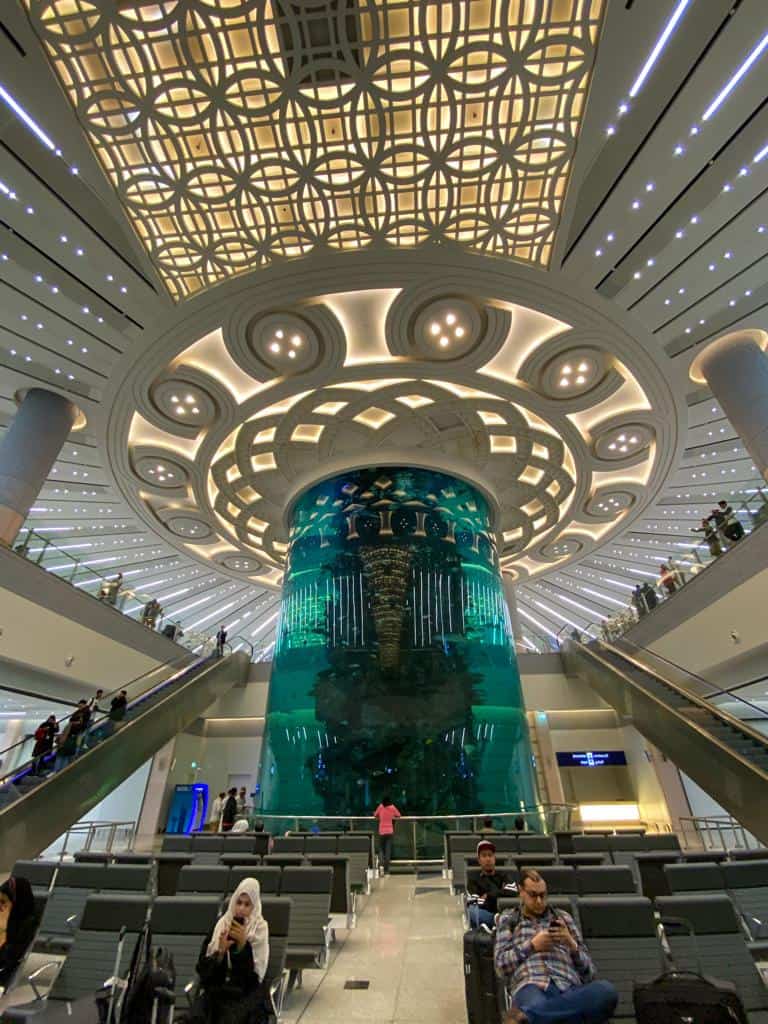 Travel from Jeddah to Al Ula by car
Driving from Jeddah to Al Ula will take you a minimum of 7,5-8 hours. If you prefer to drive yourself, then a rental car might be the best for you.
The roads in Saudia Arabia have a very high standard, also in the desert area of Al Ula, where most of the roads or quite new. Everyone is follow the traffic rules, and the traffic in Saudi Arabia is on a whole other level than you might have experienced in countries such as India and Egypt. By all means, there are lots of cars, and the traffic is heavy, but as the road standard is excellent and people follow the traffic rules, driving in Saudi Arabia isn't at all as challenging as it might seem at first thought. The drive from Jeddah to Al Ula will take you through stunning landscapes, and with a car, you have the flexibility to stop whenever you want.
Count from € 30/ $ 32-33 for a rental car per day. You will need to provide your driving licence, an intentional driving permit, passport, visa documentation, credit card for security deposit and your phone number. Check eg Rentalcars to compare prices.