This post may contain affiliate links, where we may receive a small commission if you purchase something through following the links at no extra cost to you.
Have you never heard about Steigerwald? Then you are not alone. It is actually a region in Bavaria which doesn't get much attention as other places in Germany and Bavaria. The area of Steigerwald is totally underrated. There is world-class Franken wine, historical sites and a beautiful nature park. Besides great places to visit in north Bavaria, you can enjoy local Bavarian cuisine and of course, you need to learn and drink Franken wine. Read more about the great region of Steigerwald in north Bavaria, Germany.
When you think about Bavaria, you probably think immediately about beer, Oktoberfest and Munich. Yes, there are great things to do in Bavaria, e.g. to visit Schleissheim Palace outside Munich but there is much more. The region of Steigerwald in north Bavaria is not only known for great outdoor activities but also for excellent Franken wine. Franken (English: Franconia) is one of the 13 German wine regions. And Steigerwald belongs to the wine region of Franken.
Travelling to Germany? Join Our Facebook Group Germany Travel Forum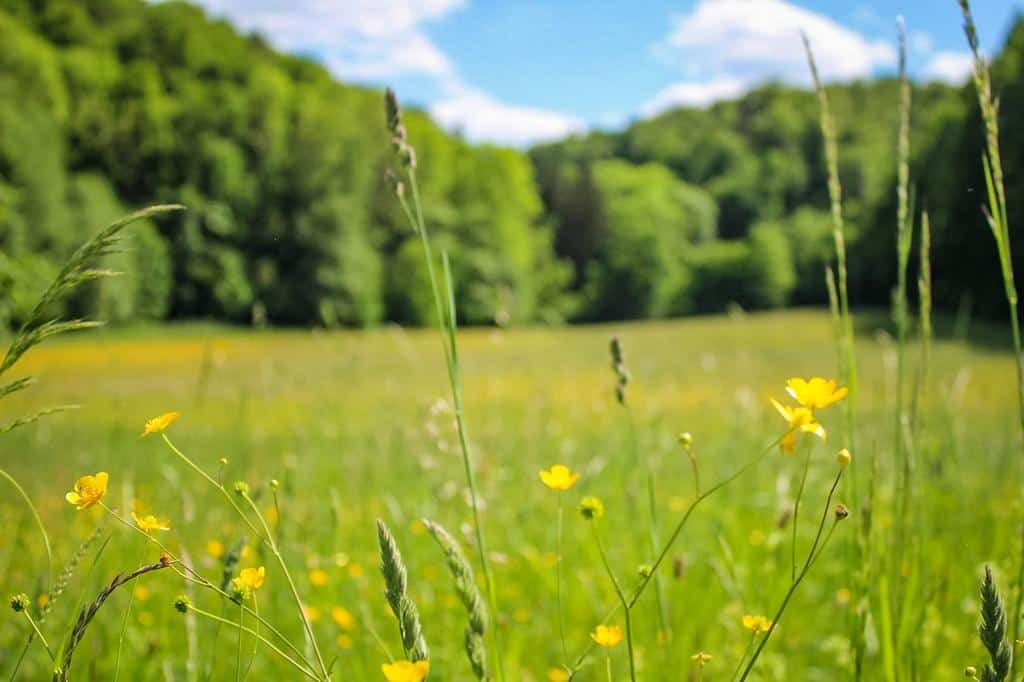 Steigerwald
Steigerwald is a low mountain range in the Bavarian-Franconian part of South Germany. It is located roughly between the cities of Bamberg, Schweinfurt, Rothenburg ob der Tauber, Würzburg and Nuremberg. Large parts of the Steigerwald have been designated since 1988 as the Steigerwald Nature Park. With its unique scenic, cultural and culinary diversity, the Steigerwald region is the ideal destination for short weekend trips, cycling and hiking tours or a relaxing break with the family in the midst of beautiful nature.
The region of Steigerwald offers great things to do between sunny vineyards, ancient forests and over thousand ponds. With an average of 1,700 hours of sunshine a year, the Steigerwald is one of the sunniest regions in Germany. The Steigerwald is famous for its intact forest reserves with ancient giant trees and rare animal species. Experience this uniqueness up close on a relaxing hike in the forest.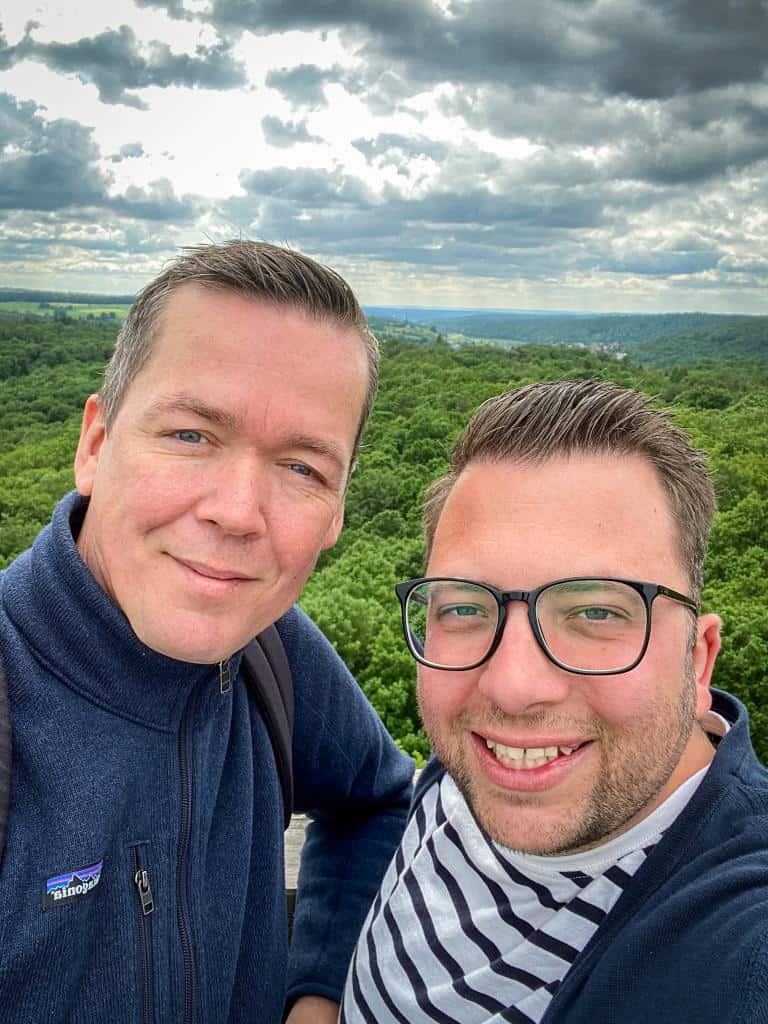 Is North Bavaria worth visiting?
Absolutely. While most travellers visit the bigger cities like Bamberg, Würzburg or Nuremberg in North Bavaria, you should not miss the region of Steigerwald. There a no big attractions that you usually get in larger towns, but here is it very calm and all about nature. You can enjoy the sights in larger cities and get to the region of Steigerwald to calm down, relax and enjoy nature.
It was our first trip to this region as well since we did not really know about it, but afterwards, we totally loved the multitude of possibilities that you get while visiting Steigerwald.
There are historical towns and villages, attractive hike and cycle tracks and beautiful wine valleys to explore and of course, drink Franken wine.
Explore the treetop path in the Steigerwald region
This is one of the newest attractions in the region of Steigerwald. The Steigerwald treetop path opened in 2016 and is perfect for everyone. With the treetop path, the cultural landscape of the Steigerwald has been enriched with a major attraction.
During our walk to the top, you will get lots of information about the wildlife in the forest. The 1,150-meter-long wooden walkway meanders slowly through all floors of the forest and when you have reached the top, you get an amazing view!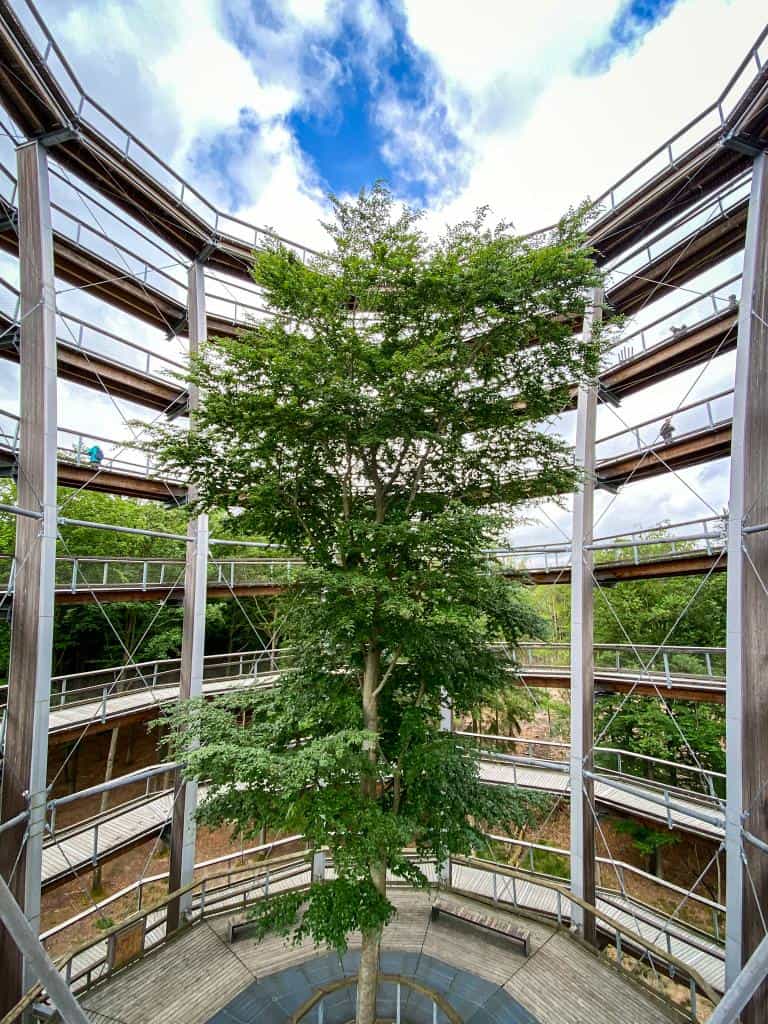 The construction itself is 42m high and accessible for everyone, including persons with wheelchairs and children in strollers.
The Steigerwald Center is connected to the treetop path via a direct connecting path. It shows an exhibition of the forest and the region's sustainability.
It was our first time walking up a treetop path and we totally enjoyed it.
Baumwipfelpfad Steigerwald
Radstein 296157 Ebrach
Winter Opening Times (October – March): Thursday – Sunday 10 am – 4 pm
Summer Opening Times (March – October): daily open from 9 am – 6 pm
Admission: 10€, children 6,50€
It is possible to buy tickets online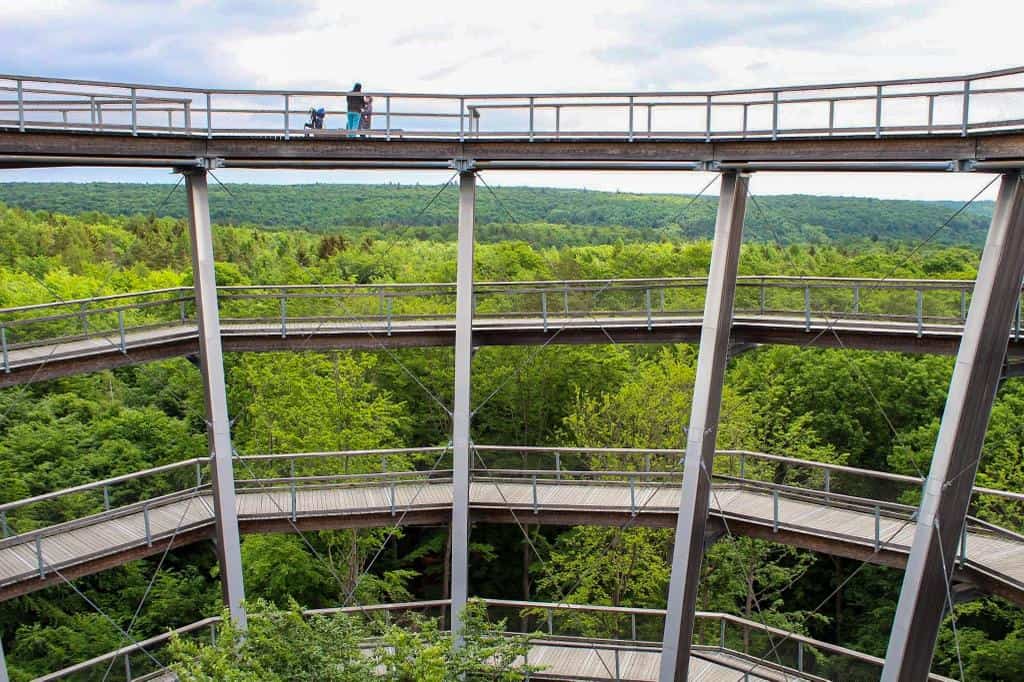 Drink Franken wine
Franken wine is particularly widespread in Lower Franconia. Franken wine is typically bottled in bulbous bottles called Bocksbeutel. The Franconian wine-growing region is best known for its white wines Silvaner, Bacchus and Riesling and the dry red wine Domina. Well-known locations are, for example, Escherndorfer Lump, Nordheimer Vögelein, Würzburger Stein and Sommeracher Katzenkopf.
The area along the Steigerwald with its special formation soil in connection with the continental climate is considered an outstanding white wine region worldwide. Some wine critics even say that the Steigerwald region is the only region in Germany in which the Silvaner produces better results than the Riesling.
The vineyards there are structured very differently. The Franken wine country forms a cultural landscape that is unusual in Germany in connection with the way of life of the local population, countless wine festivals beyond mass tourism, such as on the Rhine or Moselle, and many regionally influenced gastronomy.
There are lots of local wineries all over. Just contact your accommodation or restaurant to help you with a wine tasting, a tour of the wine valleys or drinking local Franken wine with your food.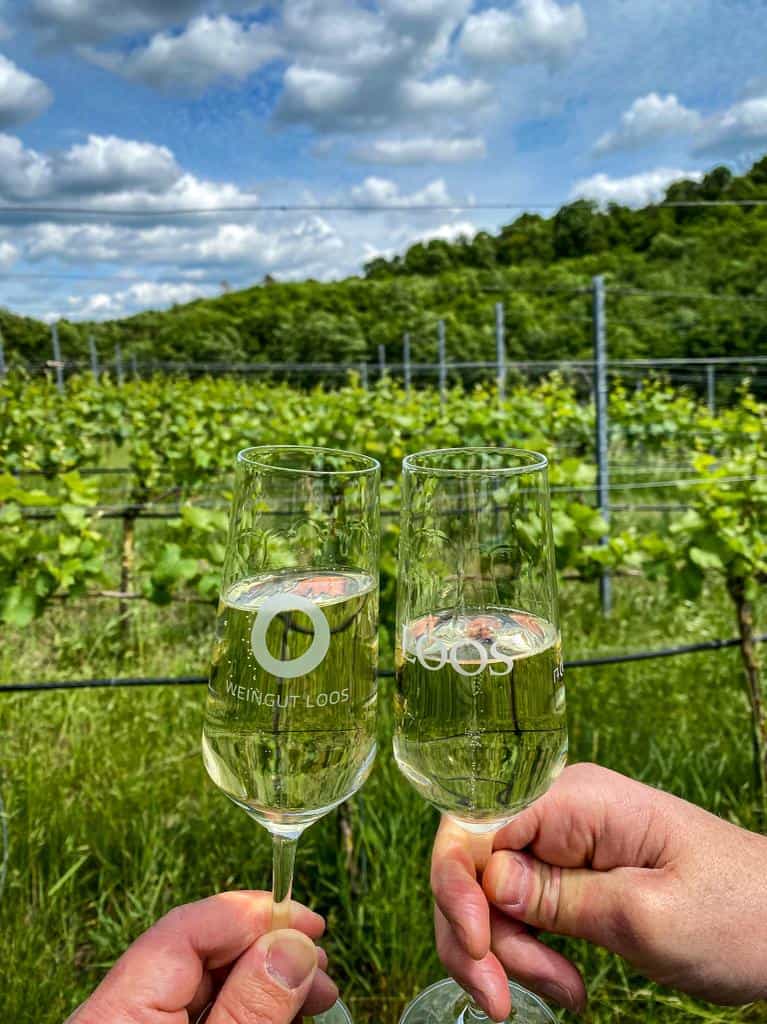 Ebrach Abbey
Ebrach Abbey is a former Cistercian monastery in Ebrach in Oberfranken (Upper Franconia), Bavaria. Now is it used as a young offenders' institution and is only open for guided tours. Unfortunately, there were no guided tours due to Covid-19 restrictions while we visited the Steigerwald region.
But you can visit the amazing church which is part of the former monastery. It is one of the most beautiful churches we ever visited. Simply stunning.
Ebrach Abbey is a classical example of early Gothic Cistercian architecture but the interior of the church was changed in the later 18th century, in French Neoclassical style.
Klosteranlage Ebrach
Rathausplatz 2, 96157 Ebrach
Opening times: April to October; Tuesday to Sunday: 10 am – 12 pm and 2 pm to 6 pm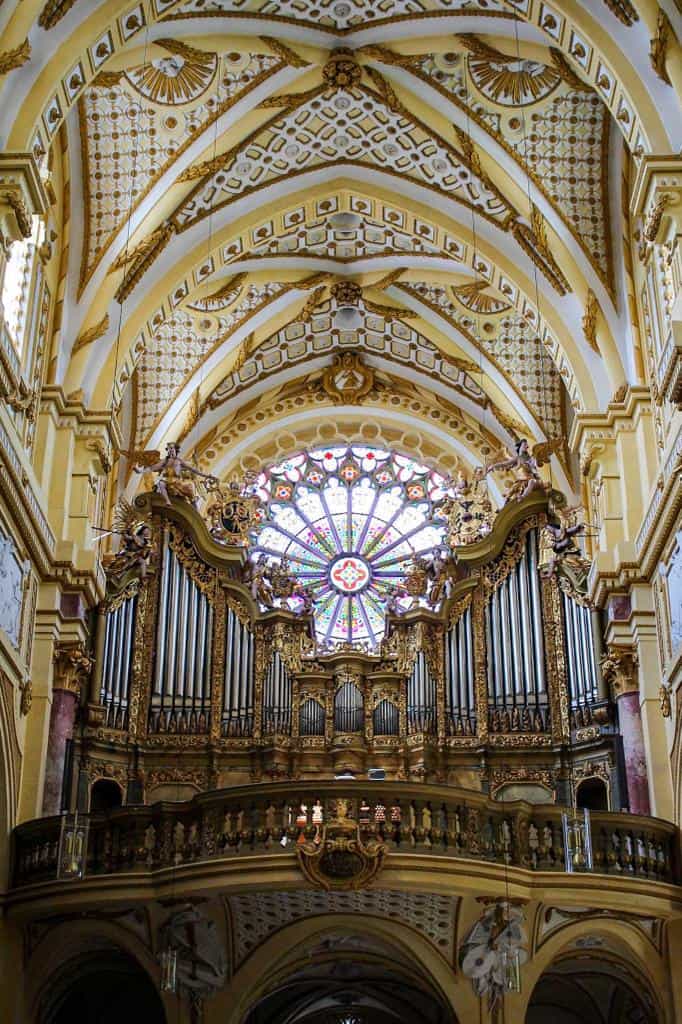 Wine Tour
During our stay in the Steigerwald region, we did a wine walk in the wine fields of Weingut Loos together with Katharina and Sebastian, our hosts of SCHLAFSTAELLE.
Throughout the walk we learned a lot about wine production, growing and harvesting the grapes and much more. We could even try different Franken wines during the wine walk.
Our guide and co-owner of the family business Florian is passionate about what he is doing and we simply loved this wine tour. An experience we won't forget for sure.
TIP: Samerberg is a secret hiking paradise in Bavaria. Our post on Samerberg will give you more information
All of their vineyards are certified as organic vineyards and the focus is on healthy grape production in harmony with nature.
You can visit their winery and vinothek to taste and buy their amazing Franken wines. Check out their webpage for special events, such as the wine walk.
Weingut Loos
Hauptstraße 33, 97497 Dingolshausen
Opening times: Tuesday to Saturday from 9.00 am to 6.00 pm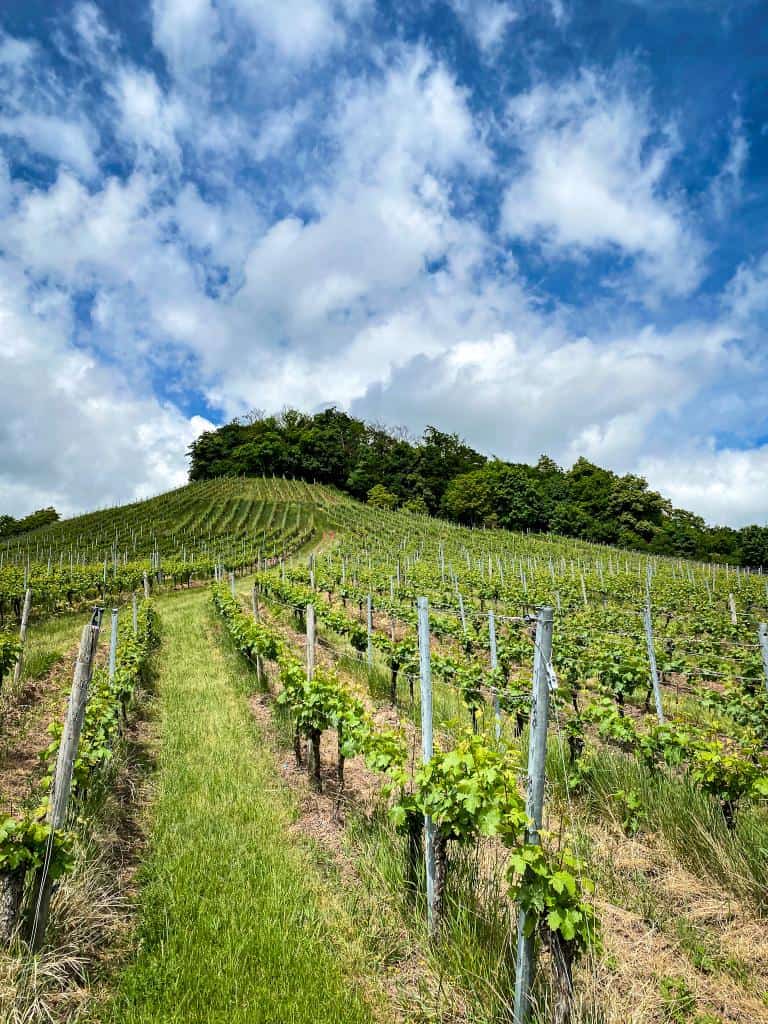 Be active in the Steigerwald region
The region of Steigerwald is perfect for being active and offers an excellent network of hiking and cycling trails. There are endless possibilities for walking, hiking or cycling with lots of different routes which pass bigger towns with historic places. You can bike along beautiful wine valleys and fields and of course through the Steigerwald. But most of all, to enjoy the beautiful nature and landscape of Steigerwald.
TIP: Read our posts about biking in Germany or great bike routes in Berlin if you plan to bike more in Germany.
For cyclists, there is even a panoramic bike track. The Steigerwald-Panoramaweg begins in Bad Windsheim and ends on the Michaelsberg above Bamberg. From there you can get a good bus and train connections to the city and to other cities. The route has a length of 161 km and is divided into 9 daily stages.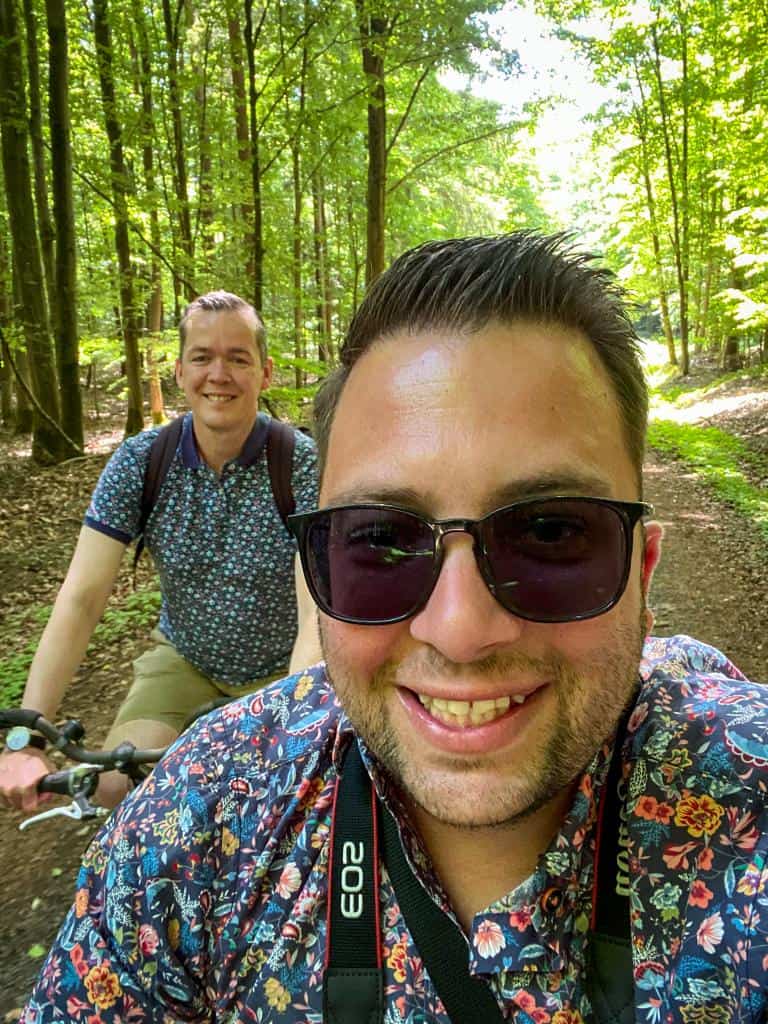 Eat local food
When in Bavaria, you definitely have to try the local specialities. And the region of Steigerwald in North Bavaria doesn't only serve delicious Franken wine, they have also local dishes which fit perfectly to their wine and beer.
The food is mostly meat, a lot of meat to be honest. But more and more modern restaurants change their menus and offer several vegetarian/vegan dishes now. In some places, it is still very hard though to find something without meat.
If you like meat, then Franconia is a great place to enjoy the local cuisine. One of the most famous dishes is Fränkische Bratwurst (sausage Franconian style), which is served with sauerkraut or just in a bread roll, or Schäuferle (baked pork shoulder) with potatoes dumplings and sauerkraut/red cabbage. But also trout and carp are very popular dishes in the region where the Franken wine is from.
We enjoyed delicious food at Stollburg in Handthal which is close to the treetop path and the Steigerwald Zentrum. In the middle of the highest vineyard in Franconia, you can enjoy the beautiful view over the Steigerwald region.
There are still lots of local and traditional bakeries and butchers which produce homemade products. Check them out if you see one. You will definitely taste the difference in comparison to supermarket products.
| | |
| --- | --- |
| Schäuferle | baked pork shoulder |
| Fränkische Bratwurst | thick sausage |
| Nürnberger Bratwurst | thin sausages from Nuremberg |
| Gebackene Karpfen | Baked carp |
| Forelle blau | poached trout |
| Kloß | potatoes dumpling |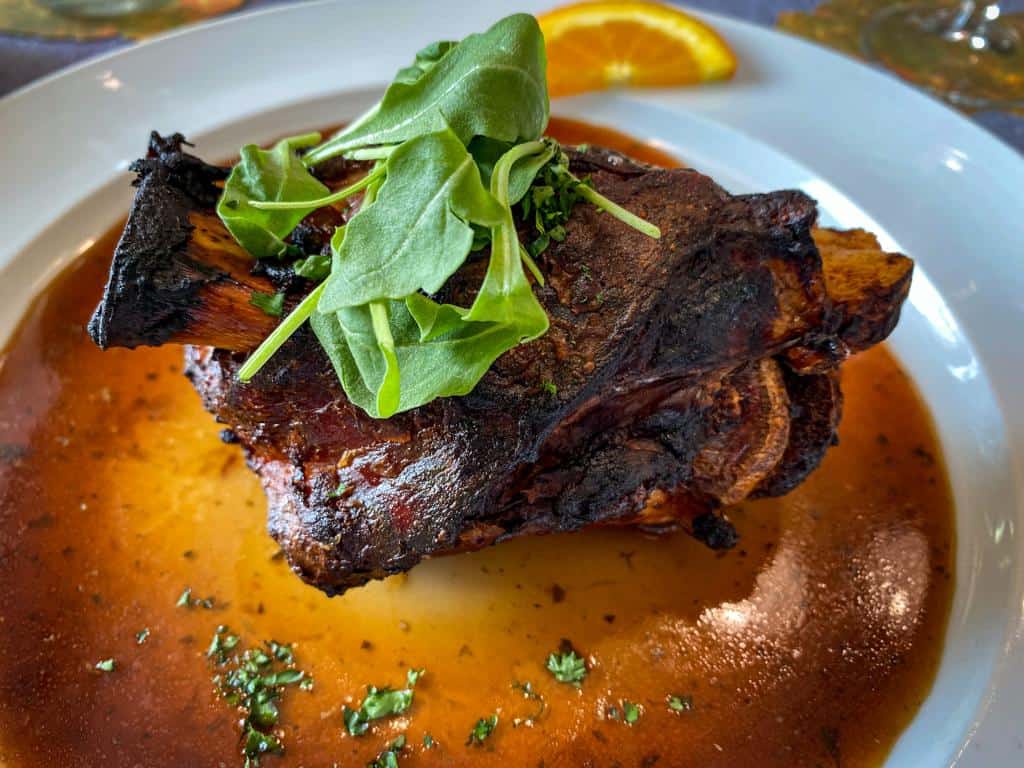 Where to stay in the Steigerwald region?
Are you looking for a unique place to stay in Bavaria? SCHLAFSTAELLE in the Steigerwald region is a great place to stay for a few days.
In restored, old barns, they made a holiday home and two tiny houses. You get everything you need in a holiday apartment. The interior is charmingly decorated and spacious. You sleep in a loft bed under the roof with a large window. Maybe you can even see the stars at night. They even have two tree houses as well where you can sleep.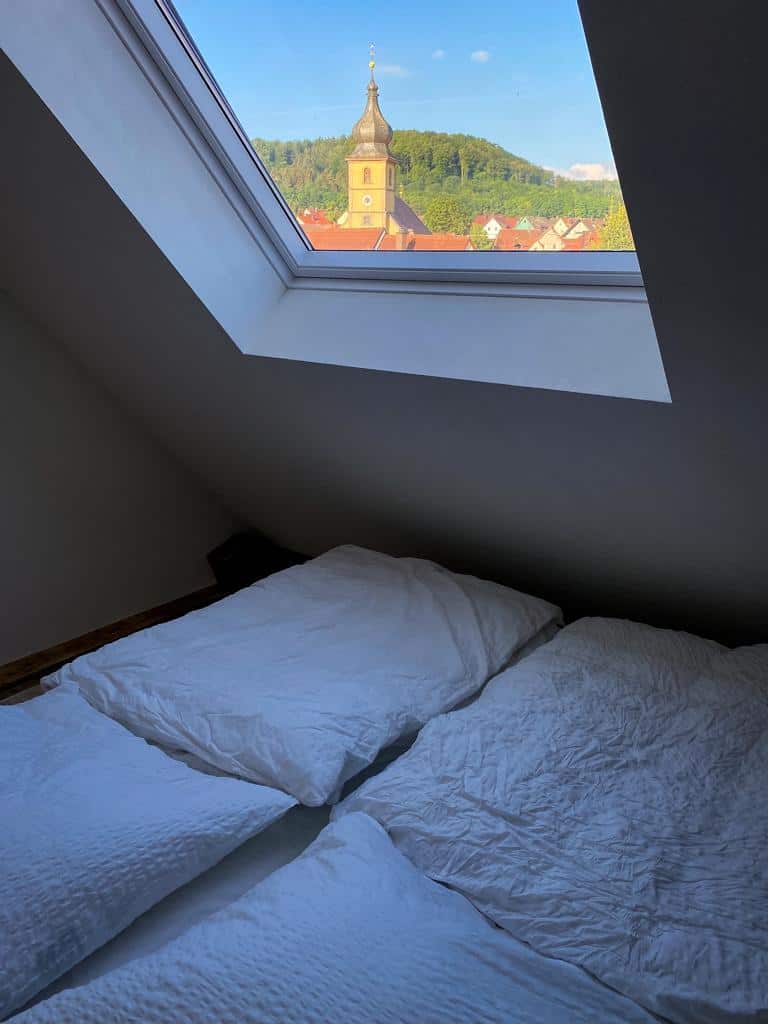 It is a great location to relax, calm down and enjoy the beautiful region of Steigerwald in Franconia in North Bavaria. The owners of SCHLAFSTAELLE are very helpful in organizing tours in the region, or where to find great Franken wine.
SCHLAFSTAELLE
Am Spreubach 10 96181 Geusfeld / Rauhenebrach
Tel.: +49 176 24345257
E-Mail: [email protected]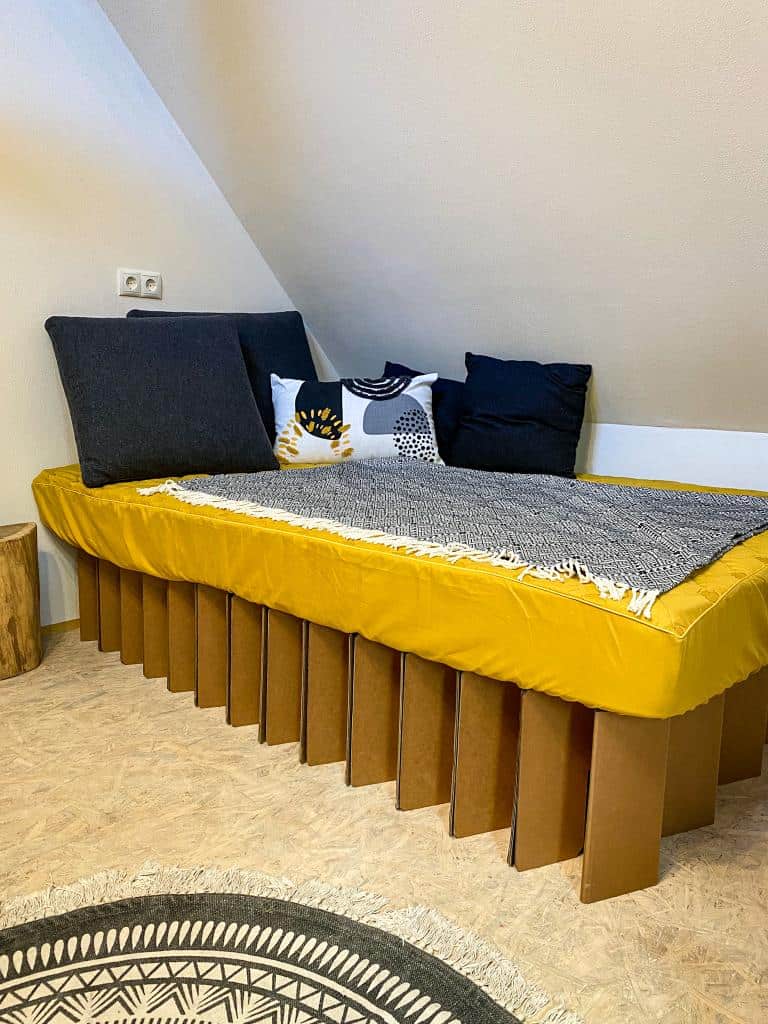 Please note: This trip was a collaboration after an invitation from SCHLAFSTAELLE. We have been sponsored via the collaboration for accommodation only. As always, there are no guidelines or requirements for what we should write. All opinions in this post are our own and are not affected by the sponsorship.