This post may contain affiliate links, where we may receive a small commission if you purchase something through following the links at no extra cost to you.
The interest in cycling holidays in Germany is growing, and no wonder why. Biking in Germany is easy, and almost anywhere you go, you are never far from spectacular nature, beautiful historical towns and restaurants serving tasty German food. We have visited the German federal state of Saxony-Anhalt, and this post reveals 7 hidden secrets for your future cycling holidays in Germany.
Germany has numerous great bike routes. This post focuses on a short part of the Elbe Radweg (Elbe Cycle Route) and also on the area of Elb-Havel-Winkel, located in the historic region of Altmark (Eng: Old March), north in the state of Sachsen-Anhalt (Saxony-Anhalt). This region takes you back to the middle ages with its history from the Hanseatic tradition. We will show you hidden secrets along the route, and also where to sleep, eat and drink. Read on and get inspired for biking in Germany.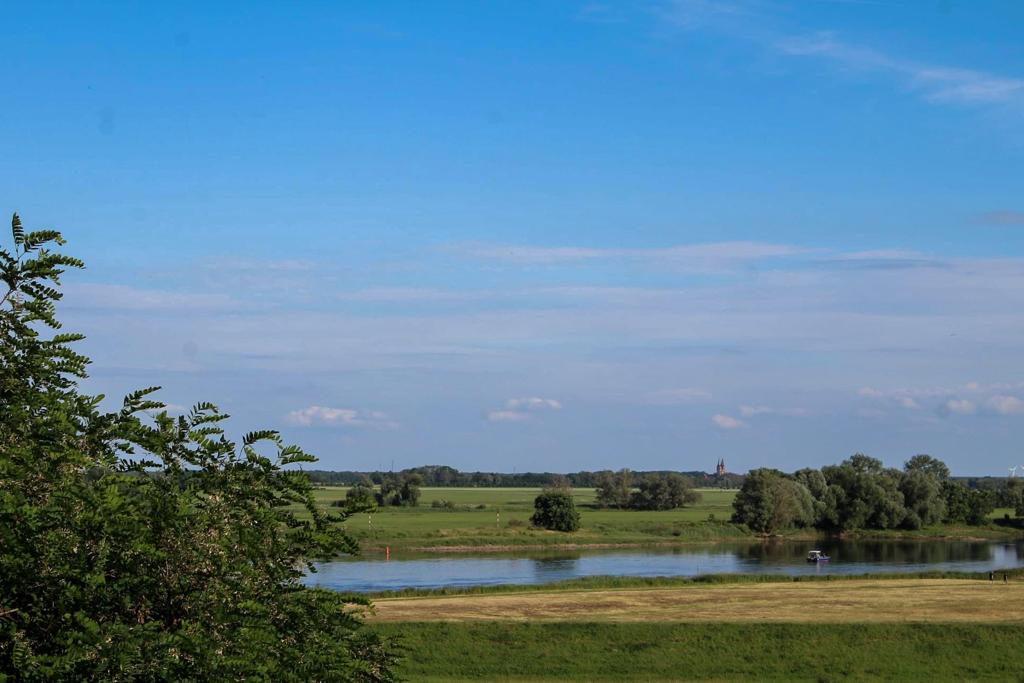 Elbe Cycle Route – a short introduction
The Elbe Cycle Route follows the Elbe River, one of the major rivers in Europe. The route starts in Špindlerův Mlýn in the Czech Republic and runs around 1300 km before ending in Cuxhaven at the German North Sea coast. This is by far the most popular cycle route in Germany. The Elbe Radweg is divided into 21 different sections, named from A to V. The sections from A to O are in Germany (A most to the north – O most to the south), and the sections from P to V are located in the Czech Republic.
Travelling to Germany? Join Our Facebook Group Germany Travel Forum
On this bike trip in Saxony-Anhalt, we biked a part of section H. The whole section of approximately 55 km is running from Tangermünde to Havelberg. We followed the Elbe Cycle Route between Tangermünde and Arneburg, where we crossed to Elbe River to the Elb-Havel-Winkel area.
TIP: Read our post about bike routes from Berlin if you also want to explore the capital area by bike
Elb-Havel-Winkel
The Elb-Havel-Winkel (or Elbe-Havel-Land) is the area between Elbe River and Havel River. In Germany, this area is known for biking, hiking, water sports and other nature adventures. Although most people come here for nature activities, the area also has an important historic significance with historic towns, castles, beautiful churches and a monastery.
On this side of the river, we biked through beautiful landscapes from the shore of Elbe River, via several villages before heading back to Tangermünde.
Below is the route we followed for a 2-day itinerary along the Elbe Cycling Route and in the Elb-Havel-Winkel. With only two days on hand, it is possible to visit all the places we did, but if you add an extra day, you will have more time to explore each place. We had guides at some of the stops along the route, and if you also choose that, it can be smart to add an extra day to this itinerary.
This route can also be combined with other routes in the area, or as part of longer bike tours in Germany. You can bring your own bike, but for this short trip, it might be more convenient to rent a bike. Should you prefer using an e-bike, there are new charging stations along this route.
We wanted to try e-bikes for the first time and rented them at Gerike in Tangermünde. Reserve your bike in advance.
Tip: Read our post on weekend trips from Berlin to Saxony for more great places to visit in Germany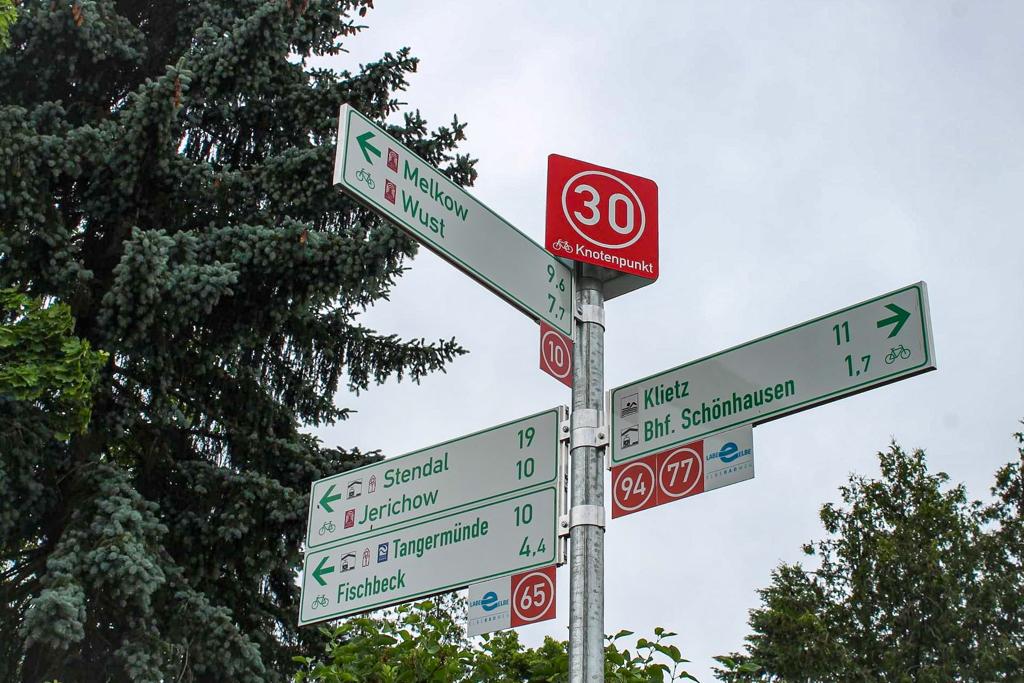 How to navigate along this route
From 2021 the region of Elb-Havel-Winkel has a new bike route system: Radeln nach Zahlen (Biking by number). You can follow routes by their numbers. If more than three cycle paths are crossing in the same spot, it makes a new junction. You find a map of all bike routes and signs which give the direction to the next sights and places. These signs are marked in red with a number on top of it. This new system is super easy and perfect for biking in Germany and especially in the region of Elb-Havel-Winkel.
TIP: While we did this route, the German travel bloggers Travelinspired followed another northern route in the same area. German speakers can read their post about biking in the Biospärenreservat Mittelelbe
1. Tangermünde
Start in the historic town of Tangermünde. With cobblestone streets and lanes, half-timbered houses, impressive towers and gates, this is such a stunning town to visit. The town is not very big, and you can see a lot in just a few hours. Tangermünde is in fact so beautiful that it has been voted the most beautiful small town in Germany by Travelbook readers.
The town proudly calls itself Kaiser- und Hansestadt Tangermünde (Emperor- and Hanseatic town of Tangermünde). The town was a part of the Hanseatic League along with many other towns and cities. It was also for some seats of emperor Charles IV (Ger: Karl IV), although only for a period of five years.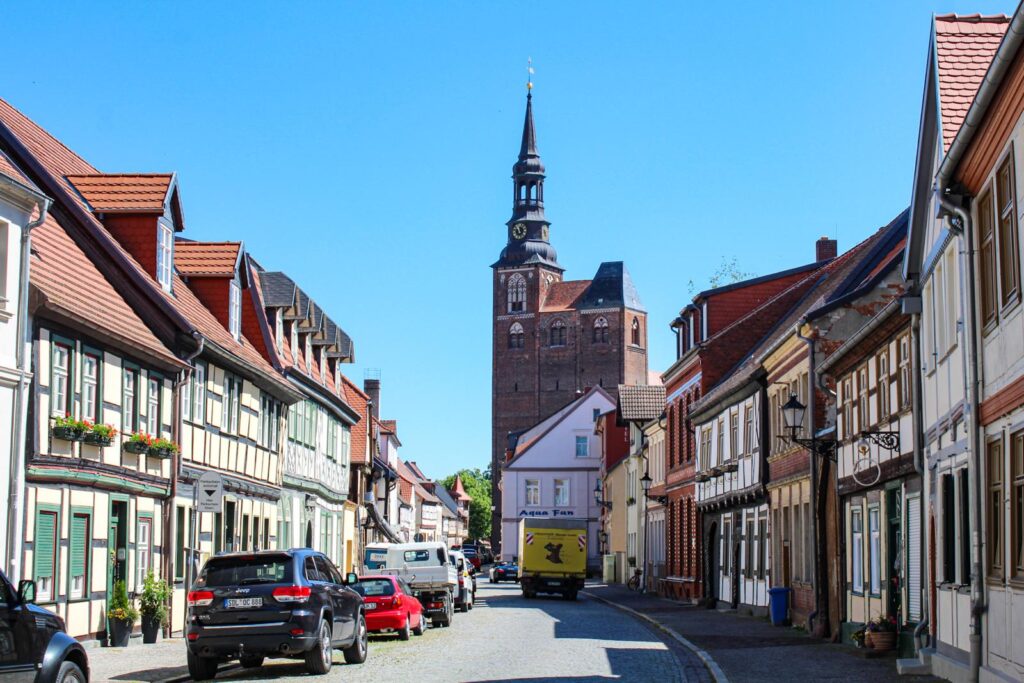 The Hanseatic League left a great cultural and architectural heritage. Everywhere you go in Tangermünde, you can see the Hanseatic architecture, typically red brick-stone buildings.
The Tourist Information in Tangermünde can arrange guided city walks. Book in advance for English tours. €85,00 for up to 10 people.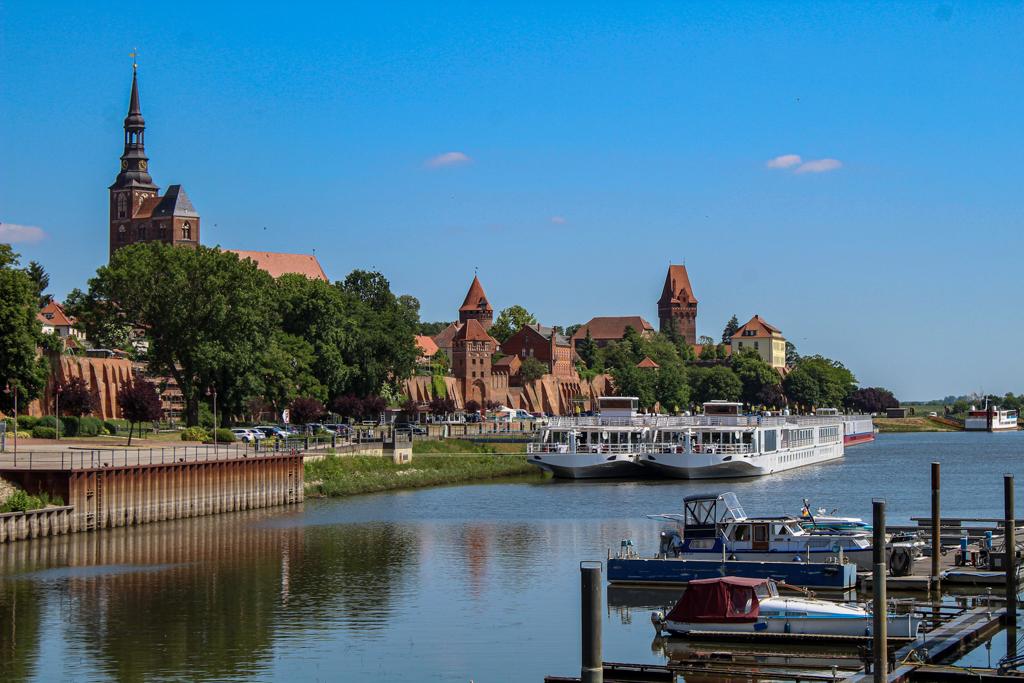 Where to stay in Tangermünde
For biking the same route we did, we recommend spending a night or two in Tangermünde. A good idea can be to arrive the night before your bike trip starts and also to spend the night here when you have biked the whole route.
TIP: Read our post about visiting Potsdam, one of the most interesting towns in Germany
Tangermünde has several options in different price ranges. We stayed at the Schulzens Hotel, a very comfortable hotel in the middle of the town. With beautifully decorated, stylish rooms and a very good breakfast, this is a great option for accommodation in Tangermünde.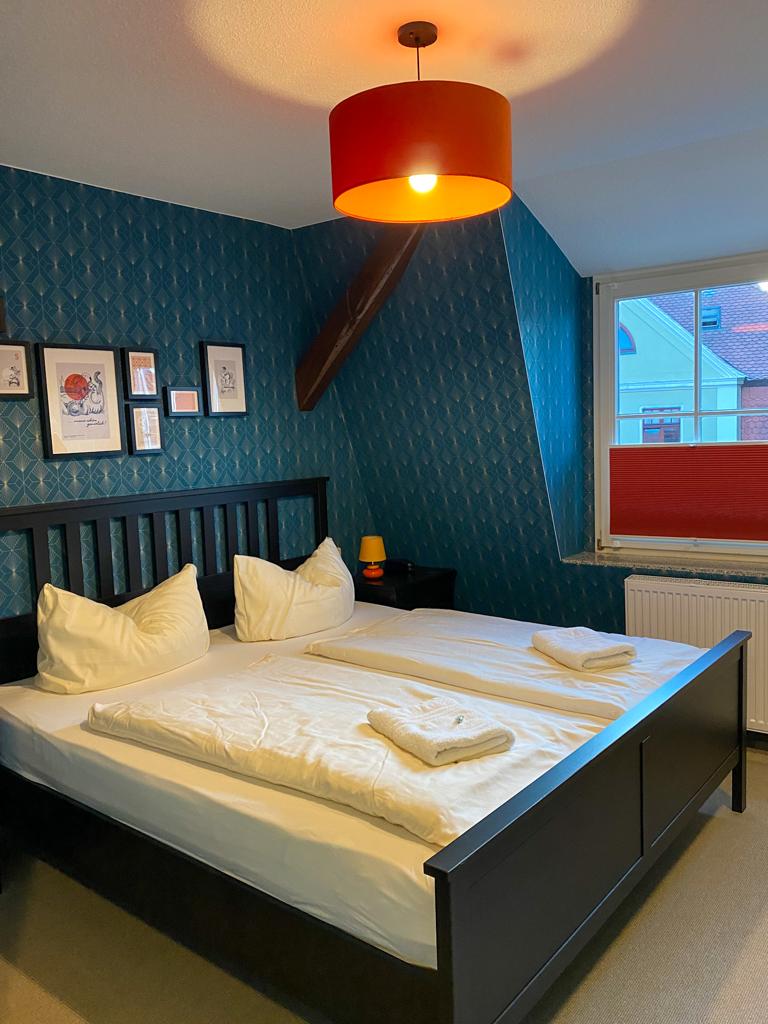 Where to eat and drink in Tangermünde
For a town this size, Tangermünde has surprisingly many options to choose from when hunger sets in. Mostly the restaurants serve traditional German food and local specialities, but there are also a few international restaurants.
We had a great lunch at Exempel Gaststuben. This restaurant is located in an old school building, with lots of the original interior end equipment intact. There's also nice outdoor seating for sunny days. If you visit Exempel, have a look inside the different rooms. For a restaurant, the interior is really unique.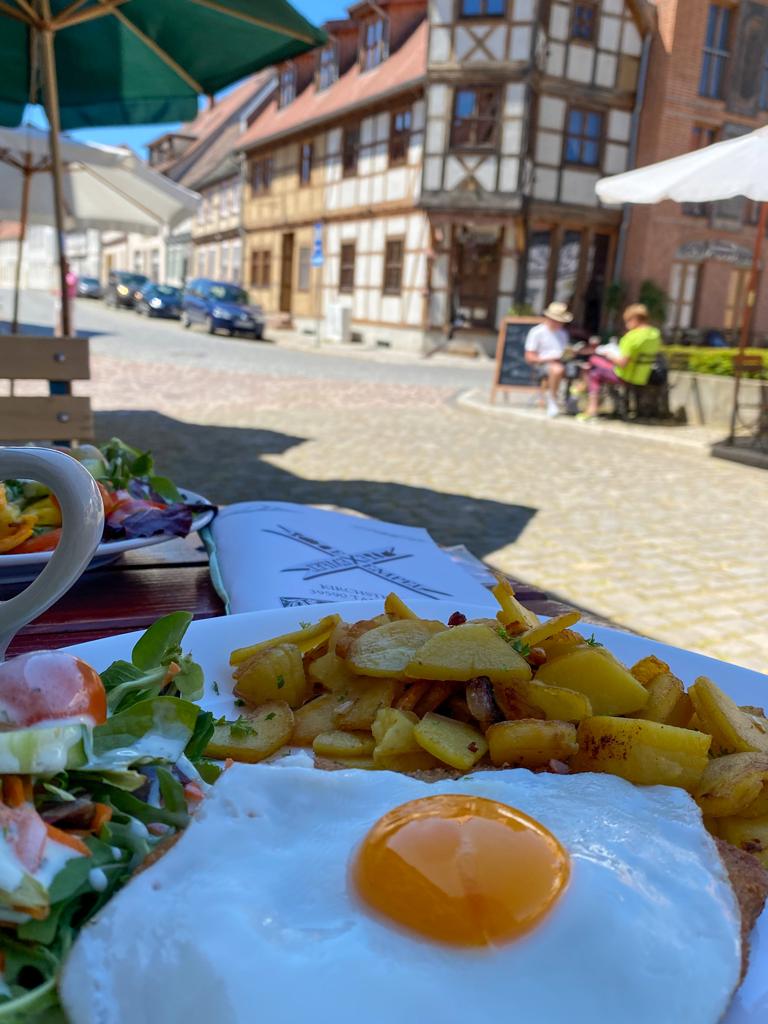 Schulzens Restaurant (at Schulzens Hotel) is another great option for food. With seating both indoors and outside in the garden or at the terrace, this restaurant serves large portions of modern, traditional food.
For drinks, try Schulzens Brauerei (brewery), located in the backyard of the hotel. This small-scale brewery has many different beers on tap. If you prefer non-alcoholic drinks, try their brause (carbonated soft drink). The staff gladly explains the beers and about the brewing process. You can enjoy your drinks right there at the brewery, or in a lovely beer garden with a view, of the backyard.
TIP: Read our post about things to do in Weimar for another beautiful German town
2. Arneburg
After leaving Tangermünde behind, you will bike along the Elbe Cycle Route towards your first stop, Arneburg. The bike route is easy, as the landscape is mostly flat.
The small town of Arneburg is a beautiful historic town, with over 1000 years of history. It played an important role in the Middle Ages due to its strategic location.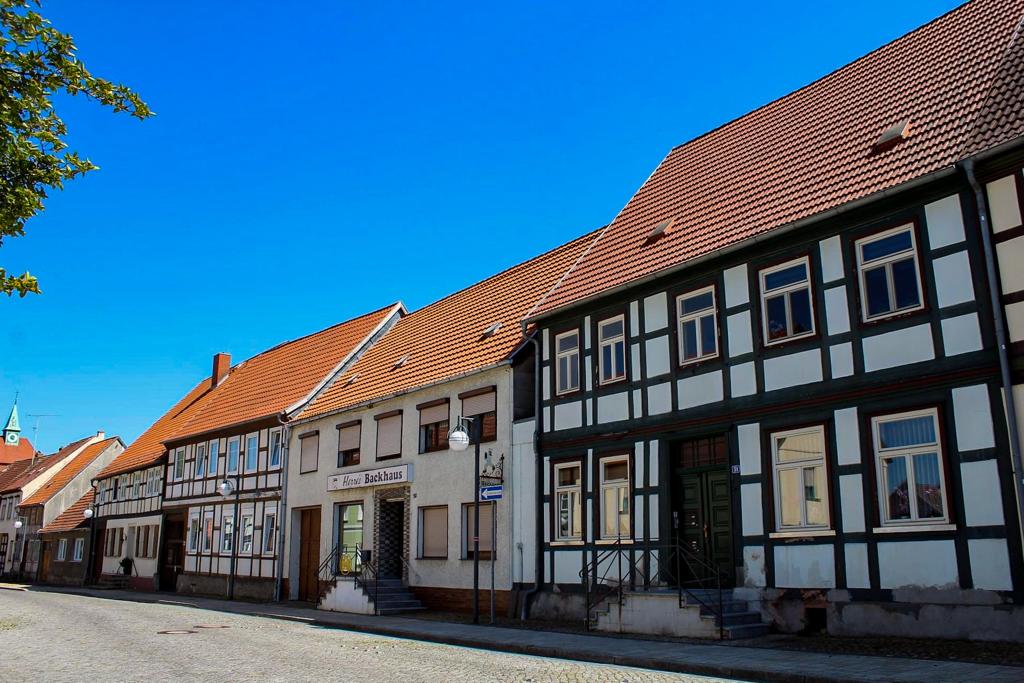 Have a walk around the city centre with its half-timbered houses. The oldest building in Arneburg is the Romanesque St.Georg Church from the 12-century. On the main square you can find the tourist information with a charging station for e-bikes, and also a bike self-serviced repair station should you need some fixing on your bike.
For us, the highlight in Arneburg was the Aussichtsplattform Arneburg (Arneburg Viewing Platform). Located just outside the centre of the town, this viewing platform 30m above the Elbe River, will reward you with breathtaking views over the river and the surroundings. The platform is free of charge.
TIP: Read our post Weekend trip from Berlin to Cottbus if you want to visit another German small town
In the inner courtyard of the town hall and tourist office, you find an old barn which is now made into a cute cafe (Bürgercafé). They serve hot and cold drinks, snacks and even homebaked cakes. It is a nice place to have a short break from biking in Saxony-Anhalt.
Biking in Germany doesn't always have to be biking. It can also include short river crossings. From Arneburg, you will bike down towards the river. There's a small ferry Gierseilfähre Arneburg crossing Elbe River. The ferry runs 07:00-19:00 Monday-Friday and 09:00-17:00 on weekends.
TIP: Midway between Tangermünde and Arneburg you will pass a beautiful castle, Hotel Schloss Storkau. It's just off the bike route. Have a quick stop here if you are a castle lover.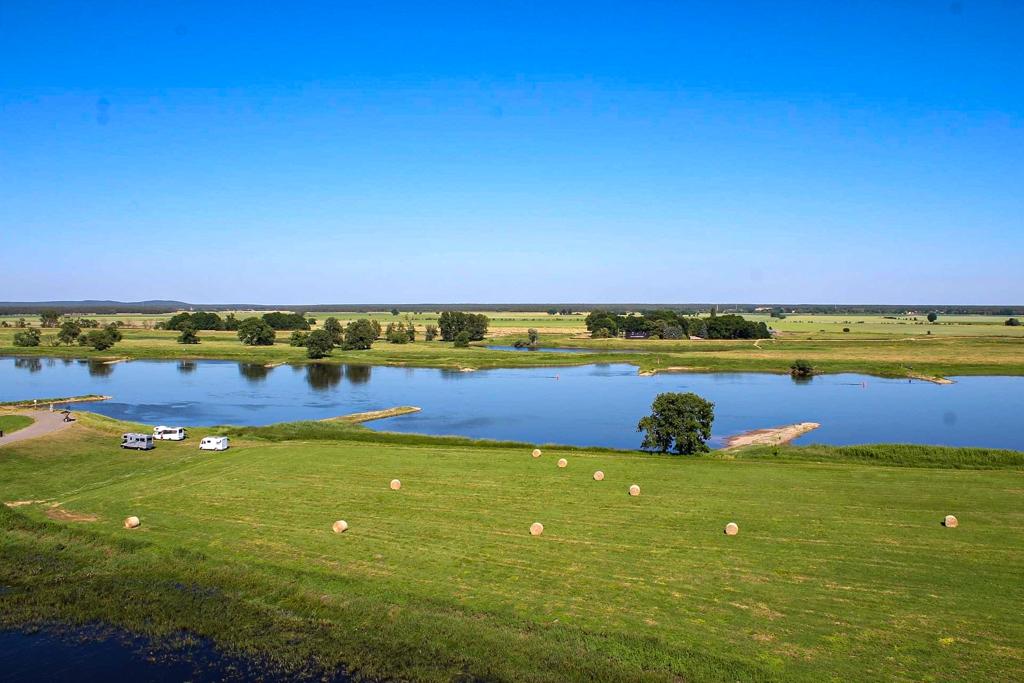 3. Klietz
After the river crossing, a short bike ride will take you to the village of Klietz. If you follow our itinerary, this is where you will spend the night.
Surround by nature, Klietz is a nice stop along the route. Should you be up for a walk after your bike trip, there is a 7km long nature trail. With lots of different trees and plants, the nature trail is made up to give visitors more insight into nature.
TIP: Read the blog post about Görlitz – one of the most beautiful towns in Germany.
Where to stay, eat and drink in Klietz
We spent the night at Land-gut-Hotel Seeblick, a comfortable tourist-class hotel located next to a small lake. The restaurant serves delicious traditional German food, with a focus on locally produced and seasonal ingredients. Try the beef cheeks if you are into meats.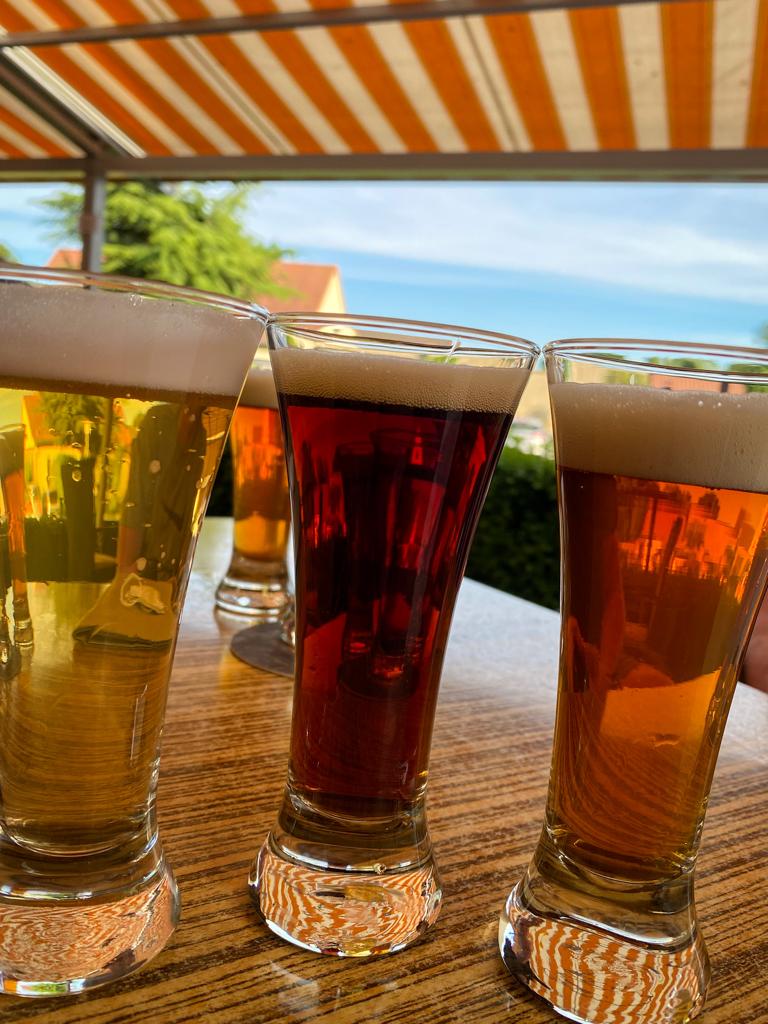 If you are a fan of craft beer from small microbreweries, you are at the right place here. The hotel also runs a small brewery, the Elbe Havel Brauerei. The production is small-scale, and you can only get this beer at the hotel or directly at the brewery, where they also have a restaurant. On request, the hotel is happy to organise a brewery tour or events such as beer tasting.
Biking in Germany is also great if you travel with children, and in the garden of the hotel, your children will love to meet their animals. We saw goats, pigs and even a raccoon. They have a great playground as well.
4. Schönhausen
After a good hotel breakfast in Klietz, you are now ready to explore more of the Elb-Havel-Winkel. The first stop on day 2 of this itinerary, is the village of Schönhausen (Elbe).
Schönhausen is mostly known for being the birthplace of Otto von Bismarck. Bismarck was a German nobleman and is famous for being the man behind the unification of Germany in 1871. He served as the first German chancellor until 1890.
As a nobleman, Bismarck was born in a castle, the former Schloss Schönhausen I (demolished by the GDR government in 1958). The servant's quarter survived the demolition of the castle, and today it houses the small Bismarck-Museum Schönhausen. A visit here will give you a short insight into the life of Bismarck, and some of his possessions are exhibited.
TIP: Read our post on Castle Hotel Germany if you would like to stay in a German fairytale castle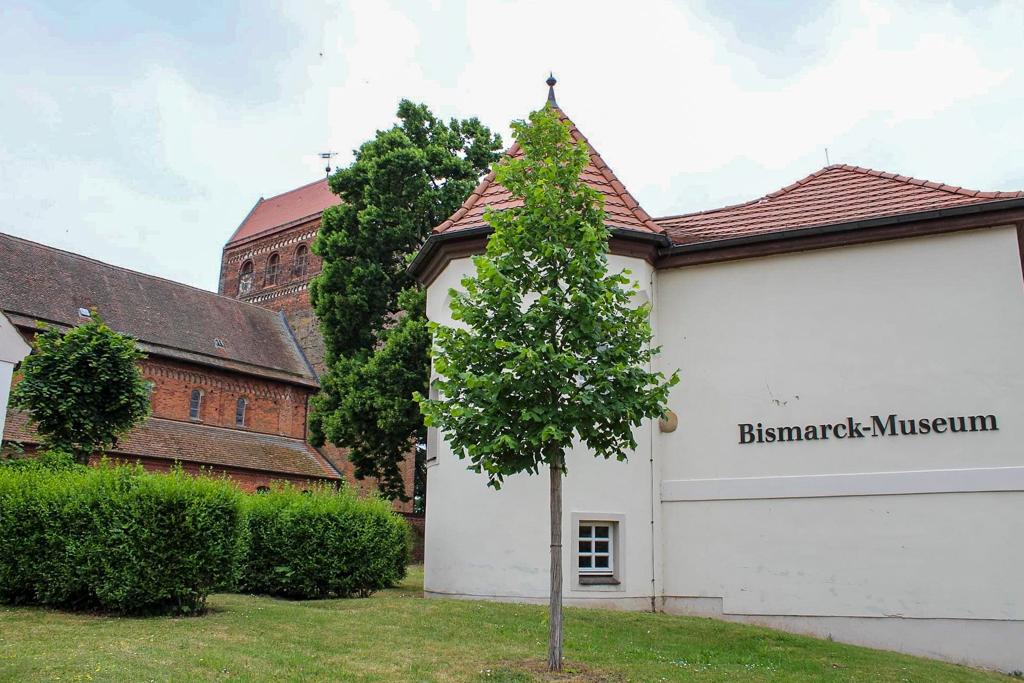 The adjacent baroque park is not completely finished from the renovation yet, but probably from autumn 2021, it will be open to the public again. It is part of Gartenträume, a network of historic parks in Saxony-Anhalt.
The Bismarck family also build another castle in the village, the Schloss Schönhausen II. You can see this from the outside and the gardens. It's located near the museum, on the opposite side of the main road.
Tips and infos:
Opening times: Thursday – Sunday 10:00 – 16:00
Guided tours by arrangement
General admission: 3,00€/ reduced 1,00€
Address: Otto-von-Bismarck-Stiftung Schönhausen, Kirchberg 4, 39524 Schönhausen/Elbe
TIP: Read our posts about Castles in Berlin, Schwerin Castle and Schleissheim Palace if you are interested in exploring more German castles
5. Romanesque Road and Church of Wust
The Romanesque Road (don't get confused with the Romantic Road in the South of Germany) is one of the most important tourist routes in Germany. It covers 73 places in Saxony-Anhalt and shows over 88 sights of German and European history of the Middle Ages. On this bike route, we visited Kloster Jerichow, Schönhausen and the village church of Wust.
The village church in Wust is a late Romanesque brick-stone church and was built between 1196 and 1206. The furnishings are baroque with a coffered ceiling in Flemish style and an altar. A major change took place in the 17th and 18th centuries – the tower became a half-timbered tower with a baroque dome. In the crypt extension next to the church is the grave of Lieutenant Hans Hermann von Katte, a friend of Crown Prince Frederick (also known as Frederick the Great), who was executed in front of his friend because he supported his escape plans. In total there are 10 coffins of the Katte family.
TIP: Not a fan of biking? Read our posts on the Harz Mountain Railway or the Zittauer Schmalspurbahn if you would like a nostalgic steam train ride instead of a bike tour
Today, this church is part of the Open Churches concept in this region. They all have a long history and show the path of Prussia. You can call a number which is written on a board in front of the church and a guide from the village will come over as soon as possible to help and guide you if you want.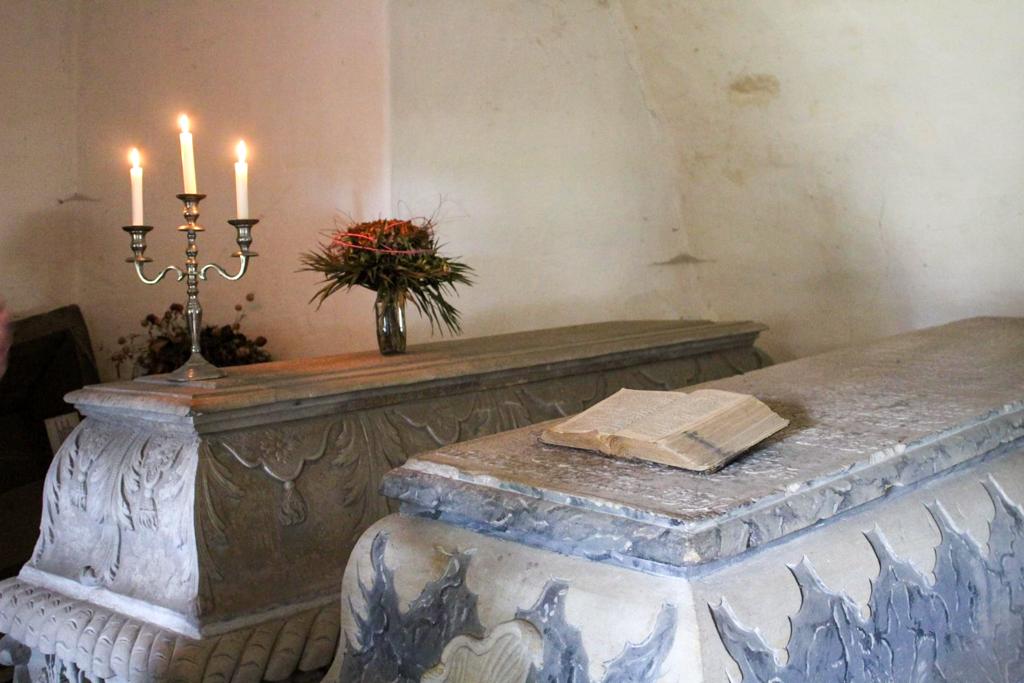 6.Muuuhseum der Altmark Wust
This Muuuhseum is probably one of the craziest and most extraordinary museums you have ever been to. It is all about the cow. It all started as a little joke from the curator Gerhard Faller-Walzer. His collection just got bigger and bigger, so they now have a whole museum about the cow. You can find anything you ever heard or thought of which has something in common with the cow.
TIP: Read our post on the Best Museums in Berlin if you are heading there as well
There are cups, chairs, and t-shirts but also paintings and even condoms with cows on them. They really have it all. But it is not just funny, they show interesting facts about the cow in the region and the evolution of how the cow became a farm animal. It is worth a visit for the whole family and everyone.
The museum is located in a former warehouse, where they hold a summer school with English teachers during school holidays in summer, but also concerts and art exhibitions.
Tips and Infos
Opening times: May – September, Friday – Sunday 11:00 – 17:00
Guided tours by arrangement
General admission: 2,00€/ price per person in a guided tour 3,00€
Adresse: Muuuhseum der Altmark, Am Park 2a, 39524 Wust-Fischbeck
TIP: On the way from Wust to Jerichow, you will pass another village church: Melkow.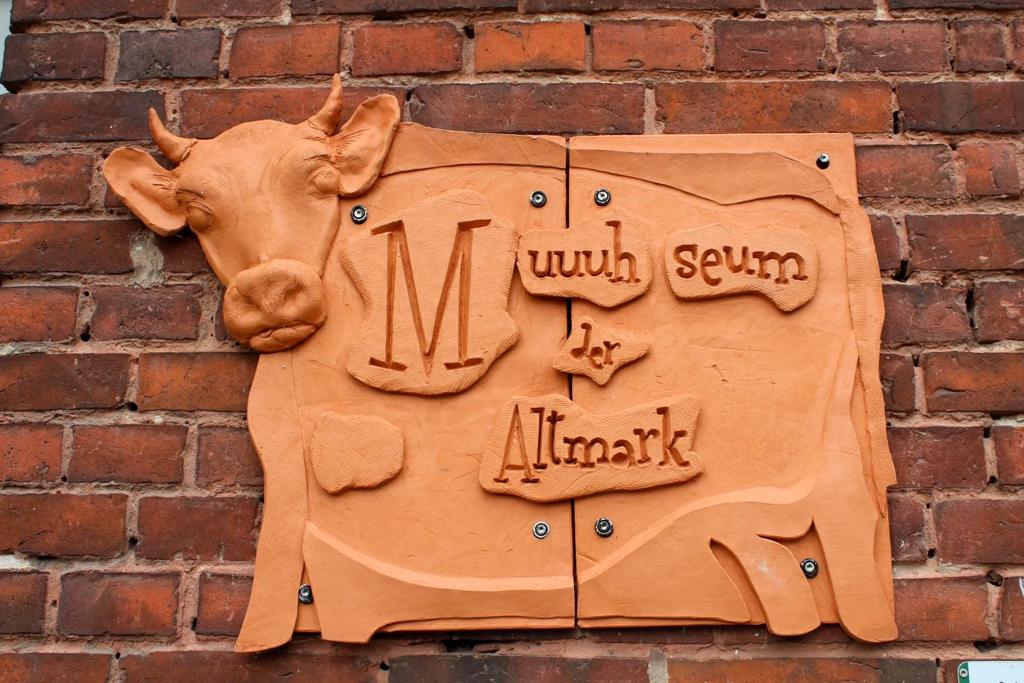 7. Kloster Jerichow
You can see this masterpiece in red brick stones from far away. The two church towers of Kloster Jerichow are unmistakable. The monastery of Jerichow was founded in 1144 by the monastic order of Premonstratensians. Since they did not have a lot of stones in this region, they took the clay from the Elbe valley and burned it into brick stones. Nowadays, this monastery is one of the oldest brick-stone buildings in North Germany and a highlight on the Elbe Cycle Route.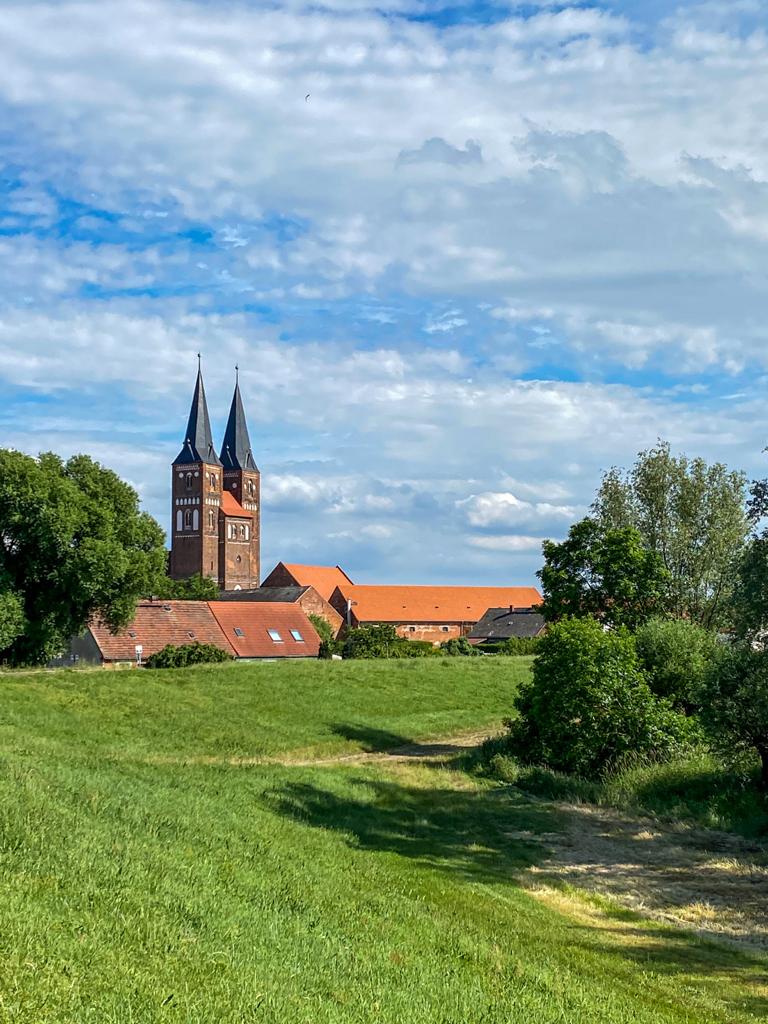 You will not see any paintings or frescoes inside the church, but there is still so much to discover on a guided tour of this Romanesque-styled building. You can have a look into the church, old rooms, which were in use for the kitchen and common rooms and walk through the cloister.
TIP: Read our post Day trips from Berlin where we visit another monastery, the amazing Neuzelle monastery, east in Brandenburg
Do not miss the beautiful garden and the distillery. They still produce some spirits with herbs and fruits from their garden. Of course, you can buy these products in their shop. Check out their webpage for special events and concerts. They have a few basic rooms to rent out.
Tips and info:
Guided Tour in the Church and Monastery
Visit the Garden of the monastery
Basic rooms available for accommodation
Museum shop
Charging station for e-bikes
On-site restaurant Klostermahl
Opening hours: daily in summertime 10:00 – 18:00

check their website for public holidays and wintertime opening hours

General admission: €7,00/ reduced €4,00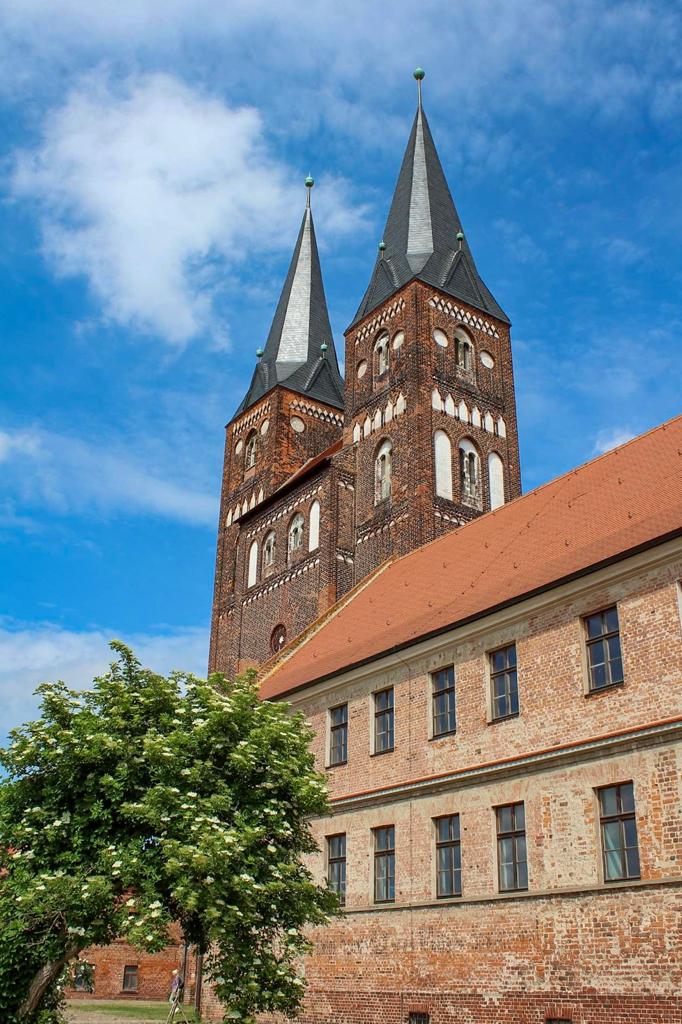 Please note: this trip was a collaboration after an invitation from Lokale Aktionsgruppe Elbe-Havel-Winkel. We participated in a project called Pedalenspione (pedal spies) where the goal is to promote tourism in the regions of Altmark, Elb-Havel-Winkel and Elbe Radweg. We have been sponsored via the collaboration to visit the hotels and restaurants mentioned in this post. As always there are no guidelines or requirements for what we should write. All opinions in this post are our own and are not affected by the sponsorship.