This post may contain affiliate links, where we may receive a small commission if you purchase something through following the links at no extra cost to you.
The temples in Sukhothai are one of the real highlights to visit in Thailand. These beautiful ancient masterpieces are so stunning, and should definitely be on everyone's list when travelling in Thailand. Follow us as we visit the Sukhothai temples in Sukhothai Historical Park.
Visiting Thailand is getting more and more popular, and even more, people find their way to this beautiful country. While many heads directly to the beaches and islands in the south of Thailand, numerous visitors start their journey by visiting some of the things to do in Bangkok, like the Grand Palace, before travelling in the opposite direction, towards the north. Just north of Bangkok, you can visit the temples in Ayutthaya, before you head to Sukhothai Historical Park.
TIP: Our post on how to get to Ayutthaya from Bangkok will tell you how to do it if you are going there as well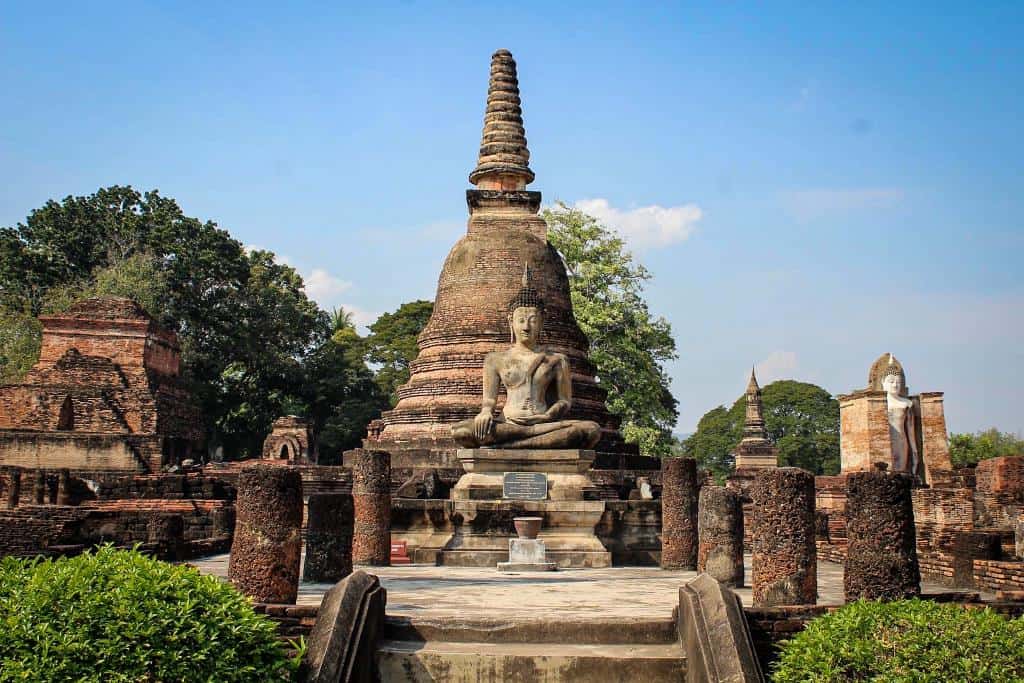 After a visit here, many travels onwards to see some of the temples in Chiang Mai or maybe visit Chiang Rai. A popular route is then to continue with a slow boat on the Mekong River, to places like Luang Prabang, Vang Vieng or the Plain of Jars in Laos. Whatever you choose, this part of Southeast Asia has so much to offer, and a visit to the Sukhothai temples might be one of the highlights of your trip. So let's get on to the point with this post, to give you our best tips about visiting Sukhothai Historical Park.
TIP: Visiting Chiang Mai or Chiang Rai. Our posts on the best coffee in Chiang Mai and our Chiang Rai coffee guide will tell you where to find the best brew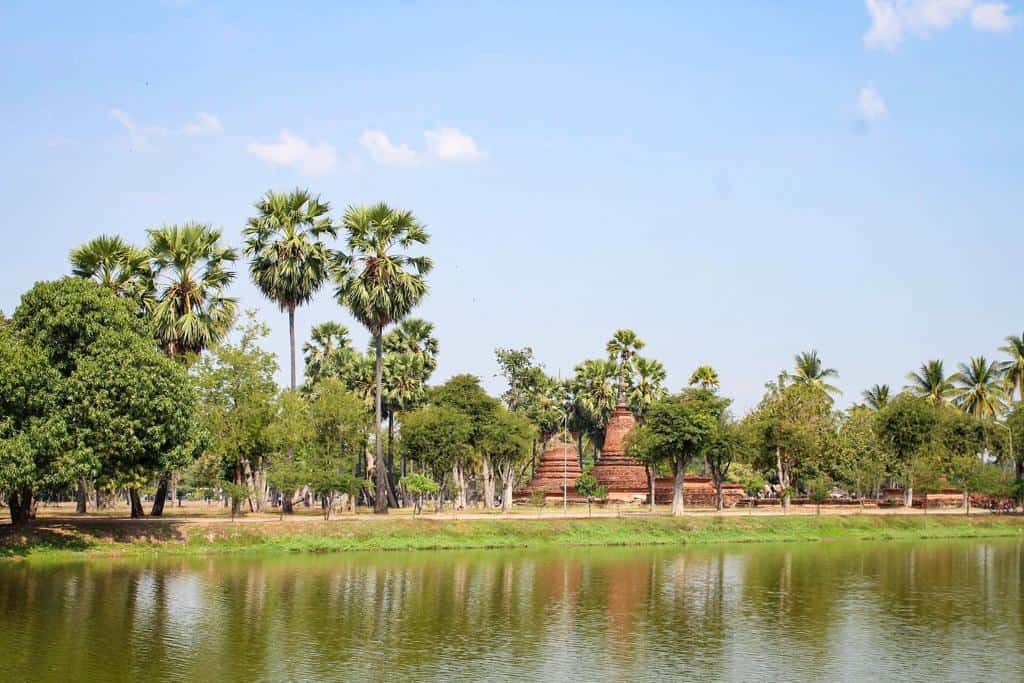 1. What is Sukhothai Historical Park
The historical park in Sukhothai is located 12km east of the not particularly interesting market town of Sukhothai, also known as the new Sukhothai. Old Sukhothai, now Sukhothai Historical Park was originally an outpost in the powerful Khmer Empire founded in the middle of the 13th century. Later it became the capital of the growing Sukhothai Kingdom.
The ruins of Sukhothai Historical Park are one of the most impressive UNESCO World Heritage Sites in the whole of Thailand. Within the old city walls, 21 historical sites and four large pounds are found. Furthermore, within a 5km radius, 70 additional sites can be found.
Sukhothai Historical Park was formerly divided into five different zones, but today there are three zones; the central, northern and western zones. If you have limited time, focus on the central zone, but we do recommend spending enough time to see at least one of the other zones as well.
Throughout the park, you will find ruins of temples, stupas and Buddha statues, all very impressive, and offering a glimpse into the rich history of Thailand. You won't regret a visit to Sukhothai Historical Park.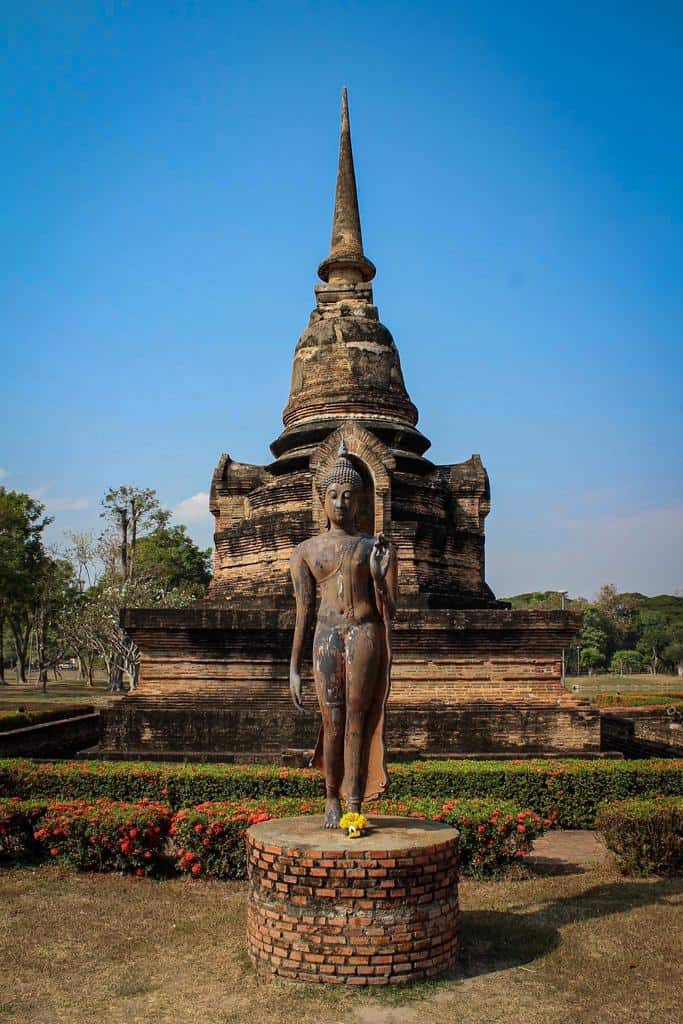 Sukhothai Historical Park Opening Hours:
The historical park in Sukhothai is open daily from 6.30 am to 7.30 pm. It's best to visit as early as possible, to avoid both the largest crowds and also the strong sun in the middle of the day.
2. How to get to Sukhothai
The best way to get to Sukhothai is by bus or a combination of train and bus. Since we love train travel, that's always been our preferred way of travelling. There's no train station in Sukhothai, and the nearest train station is located in the city of Phitsanoluk.
TIP: Are you also a fan of travelling by train? Our posts on train travel will give you some of our favourite train journeys we have done so far
You can easily travel from Bangkok to Sukhothai by train and bus. There are several daily train departures from Bangkok to Phitsanoluk, from where you can take a minivan to Sukhothai. Trains in Thailand are cheap, and the combination of train and bus (minivan) turns out to be cheaper than taking the direct bus from Bangkok to Sukhothai. The minivan from Phitsanoluk to Sokhithai costs THB 50 (€ 1,40/ $ 1,45) and comes in addition to the train ticket.
The cheapest train ticket is in 3rd class, but for such a long journey (5-6h) a 2nd class seat can be worth it. There is a significant difference on the seats in the 2nd and 3rd classes. The price difference isn't that big anyway.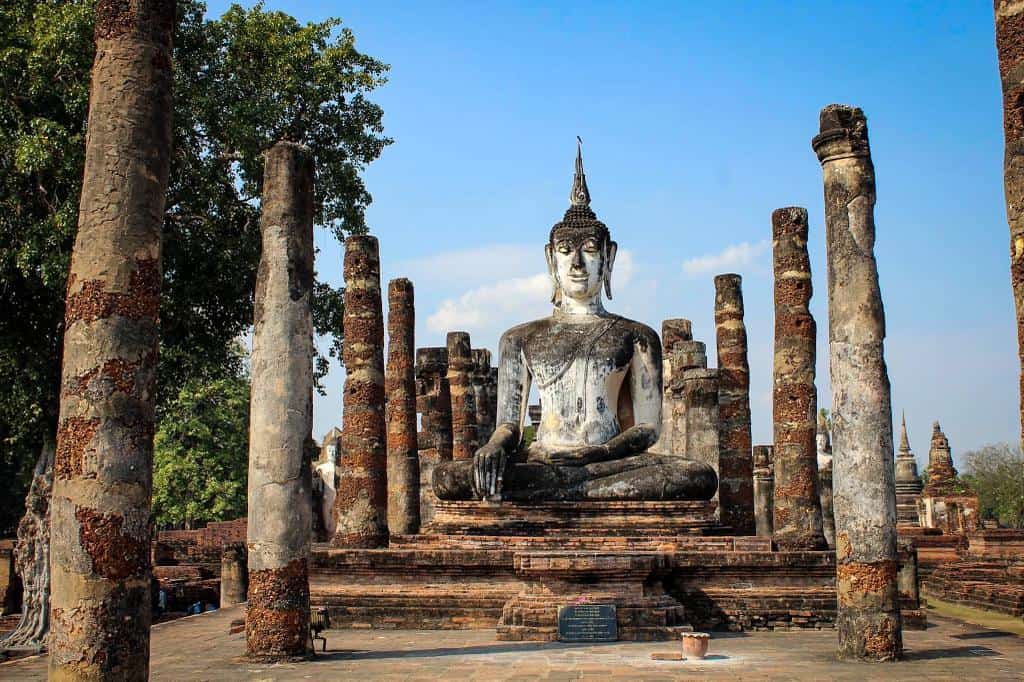 The easiest way to book your train ticket in Thailand is either directly at the train station in Bangkok or via the online ticket provider 12go. Their website is very user-friendly and the whole booking process is very easy. You book and pay online, and get the tickets sent by email within a short time. You will be charged a small service fee of course, but it is still cheaper than the bus.
If you prefer to travel by bus, there are up to 12 daily buses from Bangkok to Sukhothai. The bus journey is long, around 6-7,5 hours. You can book your bus ticket at 12go as well.
We travelled from Ayutthaya to Sukhothai, so that is also an option. If you want to explore Ayutthaya first, before heading north, you don't have to go back to Bangkok before going to Sukhothai. You can catch a train from Ayutthaya to Phitsanoluk, and from there take the minibus to Sukhothai.
TIP: Visiting Hanoi as well? Our posts on things to do in Hanoi and on the best coffee in Hanoi got you covered!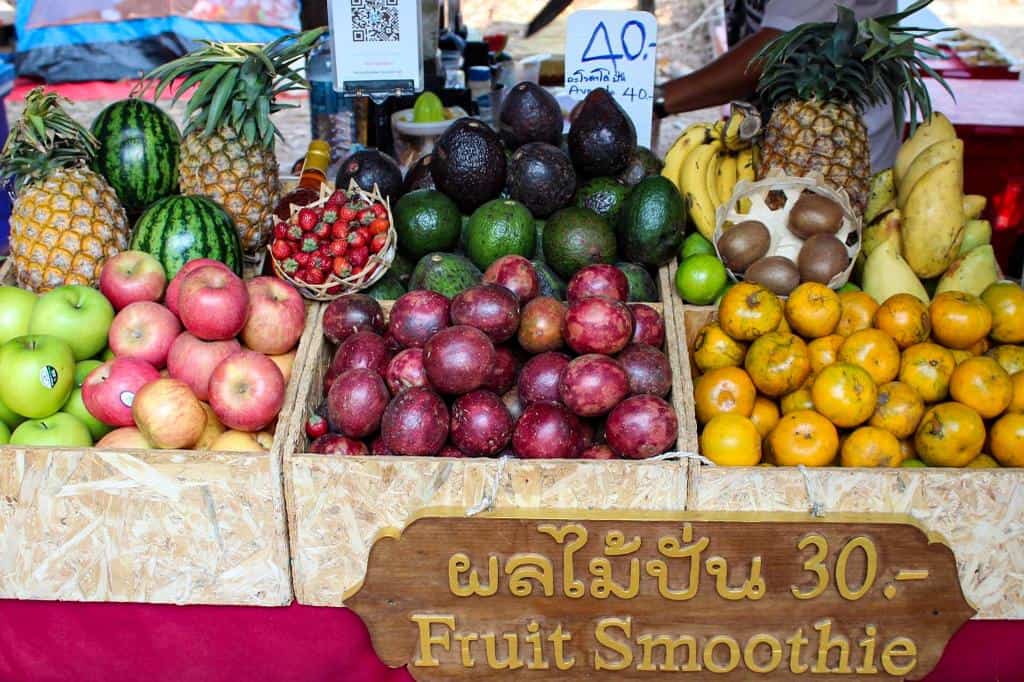 3. What is the best way to get around in Sukhothai Historical Park?
The best way to see the temples in Sukhothai is by bicycle. The whole Sukhothai Historical Park is spread over a large area, too large to walk between all the sights. Cars and motorbikes are no longer permitted in the park.
With a bicycle and a map, you can easily get around, also to the other areas in the western and northern zones. There are many roads within the park, so it's no problem to reach all temples in Sukhothai by bike. It is easy to find parking for your bike at each stop you want to make.
You can rent a bicycle at the large bike rental shop just outside Sukhothai Historical Park. Otherwise, you can also rent one at your guesthouse or hotel. This might be a good option if your accommodation is located near the park. If you stay in the new Sukhothai, please be aware that you have to bike around 12km before you even get to the park.
Expect to pay 30-50 THB (€ 0,80-1,40/ $ 0,85-1,45) per bicycle per day. Please note that if you rent your bicycle at the bike rental just outside the park, you'll have to return it there when the park is closing.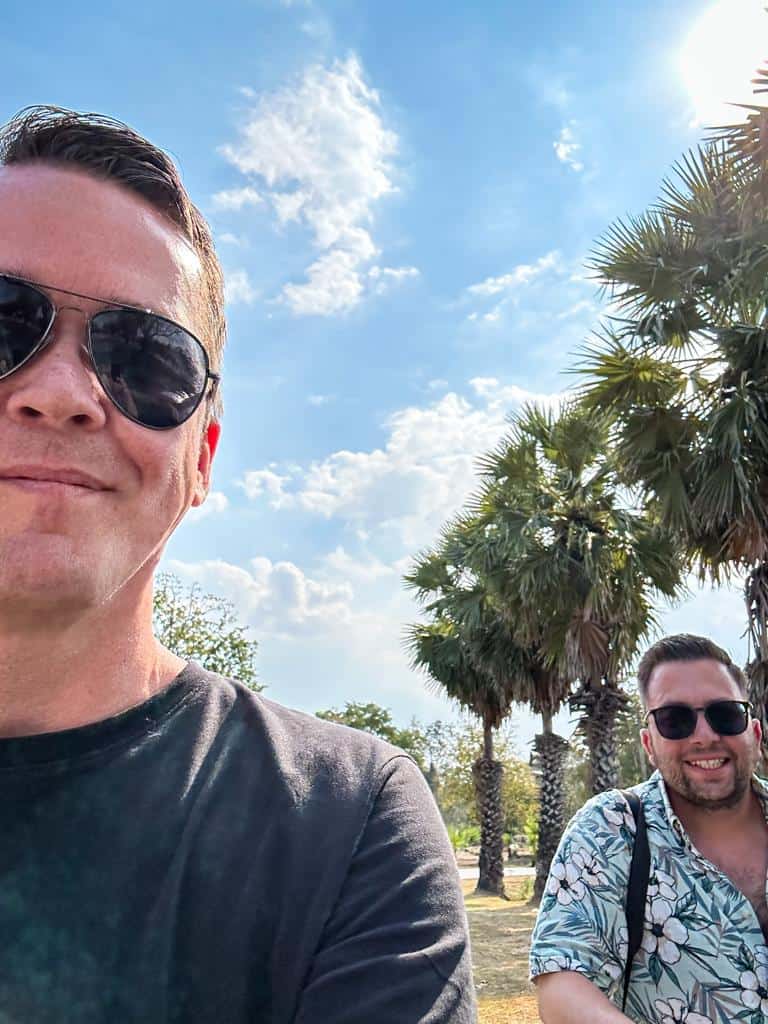 4. How much does it cost to visit the Sukhothai temples?
It is very affordable to visit Sukhothai Historical Park. You need to buy one ticket for each of the zones you want to visit. There are no combined tickets for sale. If you are not sure if you have the time to visit all zones, that's no problem. You buy your ticket to the different zones as you enter them, so you don't have to buy all tickets at once.
The ticket price for Sukhothai Historical Park is 100 TBH (€ 2,70/ $ 2,85) for each of the three zones. In addition, there's a fee of 10 THB per zone for bringing a bicycle.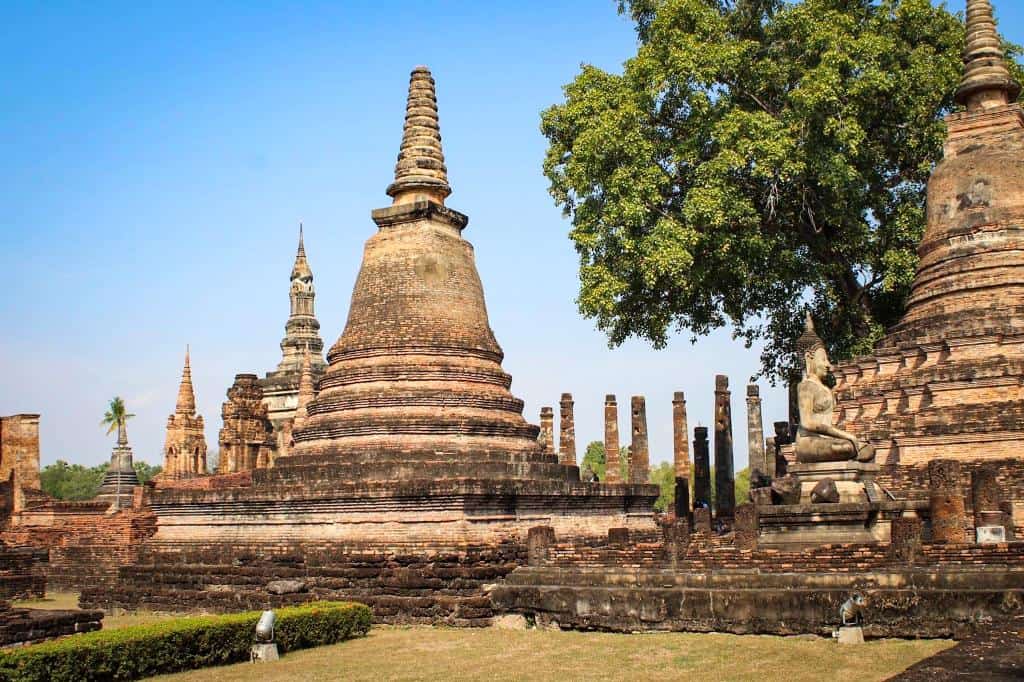 5. What are the best temples to visit in Sukhothai?
Of course, what is considered the best temple to visit in Sukhothai Historical Park is a very personal opinion, and depends on what one likes. However, some temples are truly much more impressive than others, and also historically more significant. We visited most of the temples in Sukhothai, and below you can read about our favourite temples, divided into the three different zones of the park.
Sukhothai Central Park area:
The most interesting temples in Sukhothai Historical Park are located in the central zone. This is the main zone and home to some of the most impressive ruins in the park. However, this is also the most touristy part of the park, so keep this in mind and plan your visit accordingly.
Wat Mahathat
Wat Mahathat is located in the heart of the town and is one of the most popular and stunning temples in Sukhothai. It is believed that this significant temple is where Lord Buddha's Relics were enshrined. The main chedi (stupa) is in the characteristic Sukhothai art style.
This is also the best sunset spot in the park, so it can be smart to visit here at the end of your day.
Wat Si Sawai
This important ancient temple includes three Khmer-style stupas. Formerly a Hindu sanctuary, this temple was later transformed into a Buddhist temple.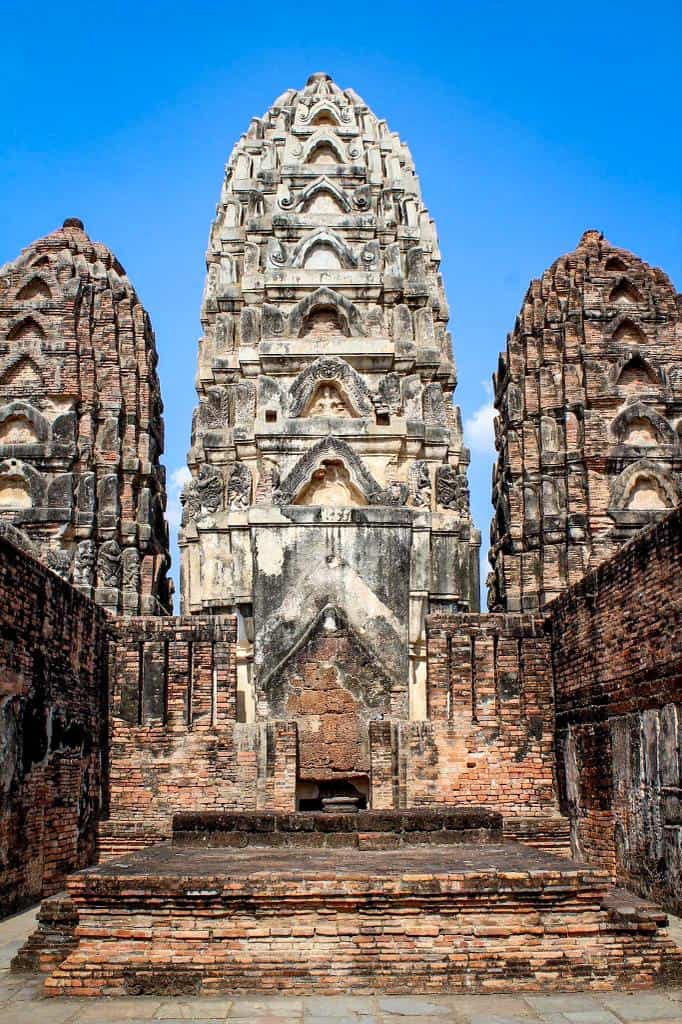 Wat Sa Si
This beautiful ancient monument is located in the middle of one of the ponds inside Sukhothai Historical Park. The construction includes a bell-shaped chedi, also known as the Sri Lankan Bell. Furthermore, you can also see the remnants of an assembly hall and an ordination hall at this site.
Sukhothai Northern Park Area
The northern zone of Sukhothai Historical Park is located 500m north of the old city walls. You can easily reach this area by bicycle.
Wat Phra Phai Luang
Even though it's not the most impressive temple in the park, Wat Phra Phai Luang is regarded as the second most important temple in Sukhothai Historical Park. It is believed that this temple might have been the centre of the original city, and it is also one of the oldest temples in Sukhothai.
Wat Si Chum
If you only have time for one site in the northern zone, make sure it is Wat Si Chum. This is by far one of the coolest and most impressive structures in the whole of Sukhothai Historical Park. The main attraction here is the large 15m tall sitting Buddha image. As you enter, you will first see the Buddha image through the narrow gate, and it is nothing but spectacular. This is definitely one of our favourite sites in the whole park.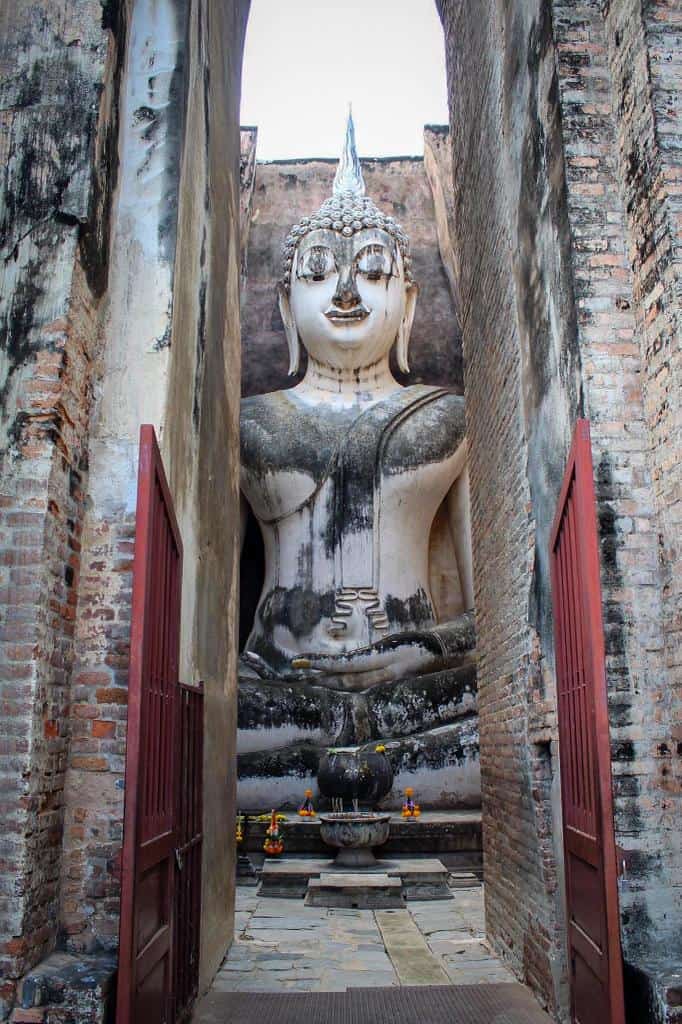 Sukhothai Western Park Area
The western zone in Sukhothai Historical Park is the most faraway area, 2km west of the old city walls. This area is too large to explore on foot, so a bicycle is required.
Wat Saphan Hin
The western zone features many ruins, but the only one worth visiting is Wat Saphan Hin, well known for its standing Buddha image on top of a small hill, from where you will get a good view of the surroundings.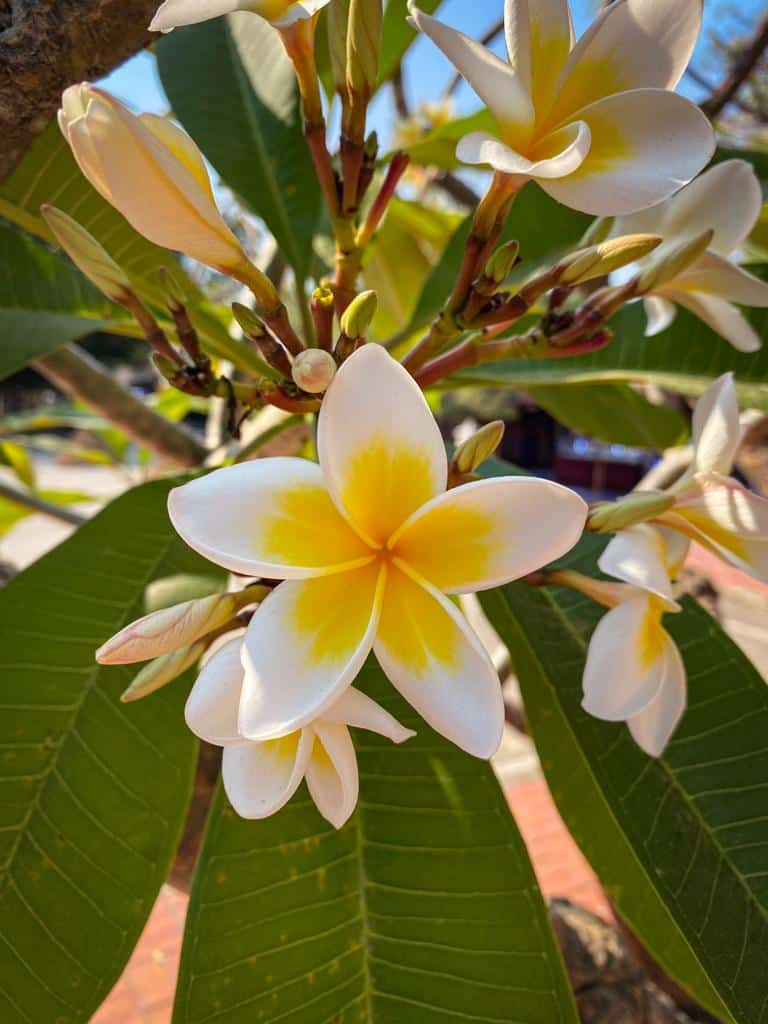 6. Where to stay in Sukhothai
Basically, there are two areas you can stay in Sukhothai, New Sukhothai, or in near Sukhothai Historical Park.
If you are travelling on a budget, New Sukhothai might be the best option for you. Here you will find a larger selection of budget options for hotels and guesthouses. Also, this area has a good variety of budget-friendly places to eat. Many of the eateries have a more local vibe here as well. Don't worry about staying 12km away from the historical park. You can easily get to the park with a tuk-tuk or order a car via the Grab app – it works the same way as an über.
The area around the historical park in Sukhothai is good if you want to be closer to the temples in Sukhothai. This area is more up-market, so if your budget allows it, you can better standard of accommodation here. Restaurants in this area are more tourist-oriented, with a mix of local and international food.