This post may contain affiliate links, where we may receive a small commission if you purchase something through following the links at no extra cost to you.
Most people have heard of the bigger Polish cities such as Warsaw and Krakow. What we have learned, is that Poland has much more to offer. From smaller historic cities to mountains, deep forests and long beaches. Poland has it all. This time it is a historic city. Join us as we explore Poland's fourth-largest city. We will show you the best Wroclaw things to do for a great city break in Poland.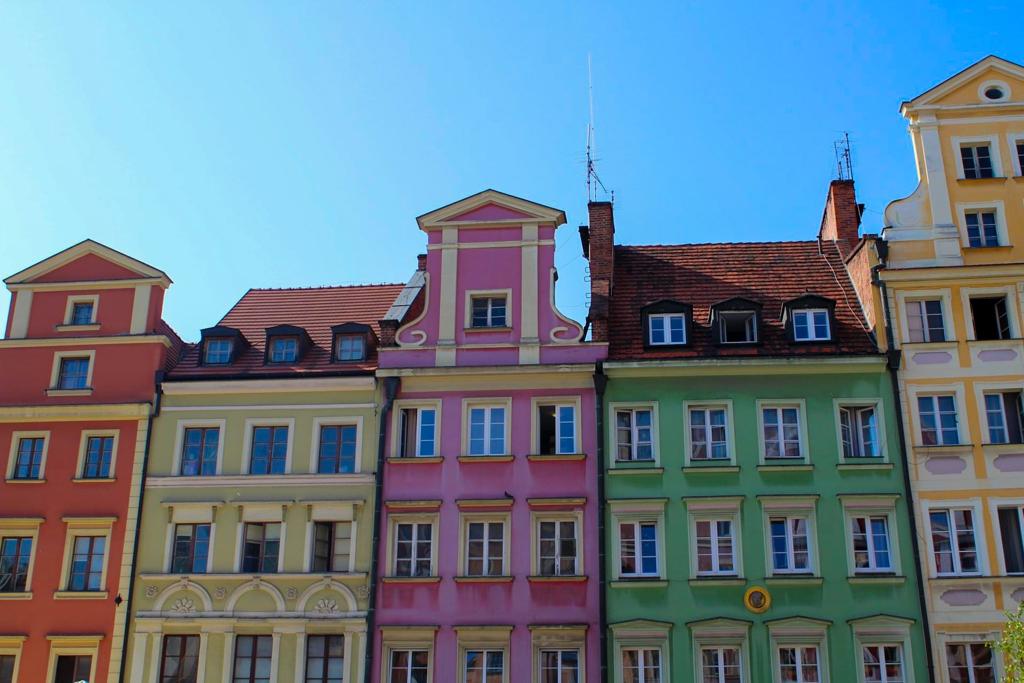 We are so happy that we have started to explore Poland outside the most known cities. We have often said that if we don't know where to go next, just go to Poland. It never disappoints. Even smaller Polish towns can offer enough to fill a weekend, and most certainly the largest cities can keep you busy for days on end.
With a population of around 640.000 inhabitants, Poland's fourth-largest city is lively and vibrant. Yes, parts of it can feel a bit touristy, but most of all it has a local vibe wherever you go.
Wroclaw is located on both sides of the Odra River. Above all, because of its 12 islands and 130 bridges, the city is very idyllic, with many green spaces spread all over. To help plan your stay in Wroclaw, this 2-day Wroclaw Itinerary might help you.
There is so much to see and do in Wroclaw. You can see it all if you are visiting Wroclaw on a short weekend only. For us, when visiting a new city, it is important to have a combination of sights and to enjoy good food and drinks. In this blog post, we have chosen only a few of the most important attractions in Wroclaw. Rather than stressing around, and trying to see it all, it's better to choose a few places and to see them better. Read on to get started with the best Wroclaw things to do.
TIP: Read our post on Things to do in Poznan if you'd like to explore more of Poland
Poland is a cheap and affordable country to visit compared to many countries in Western Europe. A city trip to Poland can be done on a low budget. Especially food and drinks comes much cheaper here than in many other countries, and the same goes for Wroclaw. It can be worth noticing that Polish cities often make it to lists of the cheapest cities to visit in Europe.
1. Explore Wroclaw Old Town – number one of Wroclaw things to do
Wroclaw's city centre is small and compact. Likewise is the Old Town. Most noteworthy is the Market Square, or Rynek. Surrounded by beautiful and colourful buildings, it is one of the largest market squares in Europe. Rynek was heavily damaged during World War II, but almost all of the square's buildings were intact and got carefully restored in the years after.
TIP: Going to Krakow as well? With only 2 days in Krakow, you can really see a lot in Poland's second-largest city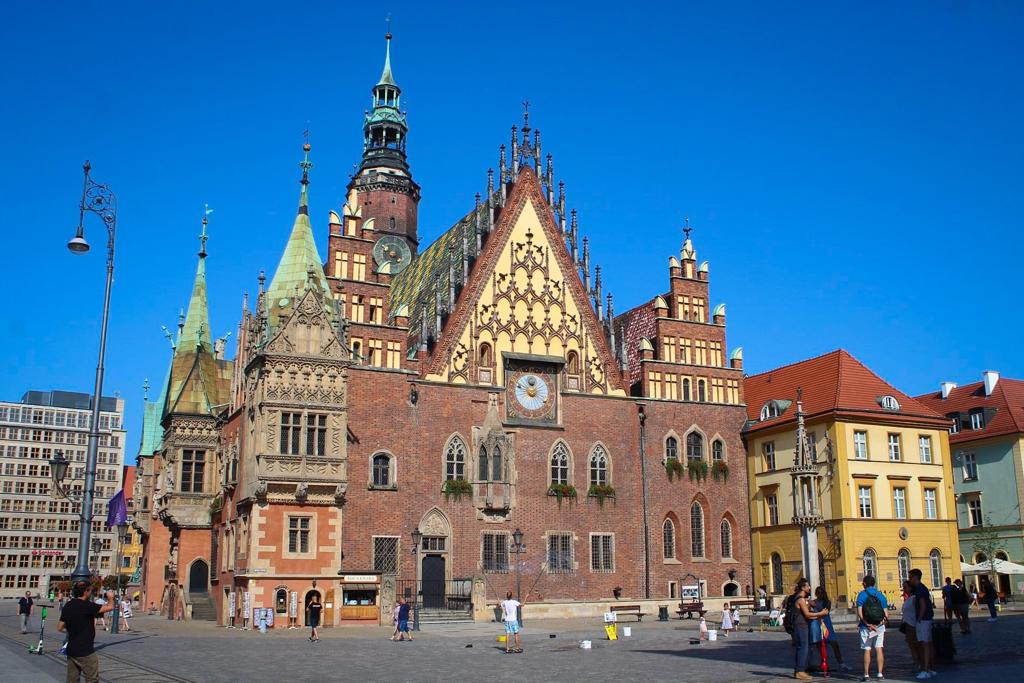 First of all, do visit the Old Town Hall. The facade of this masterpiece is a mix of Early Gothic and Renaissance styles and is one of the famous landmarks in Poland. Topped with a 66m high tower it's an impressive sight. You can visit inside for a small fee. There are some exhibitions in the Gothic rooms and halls.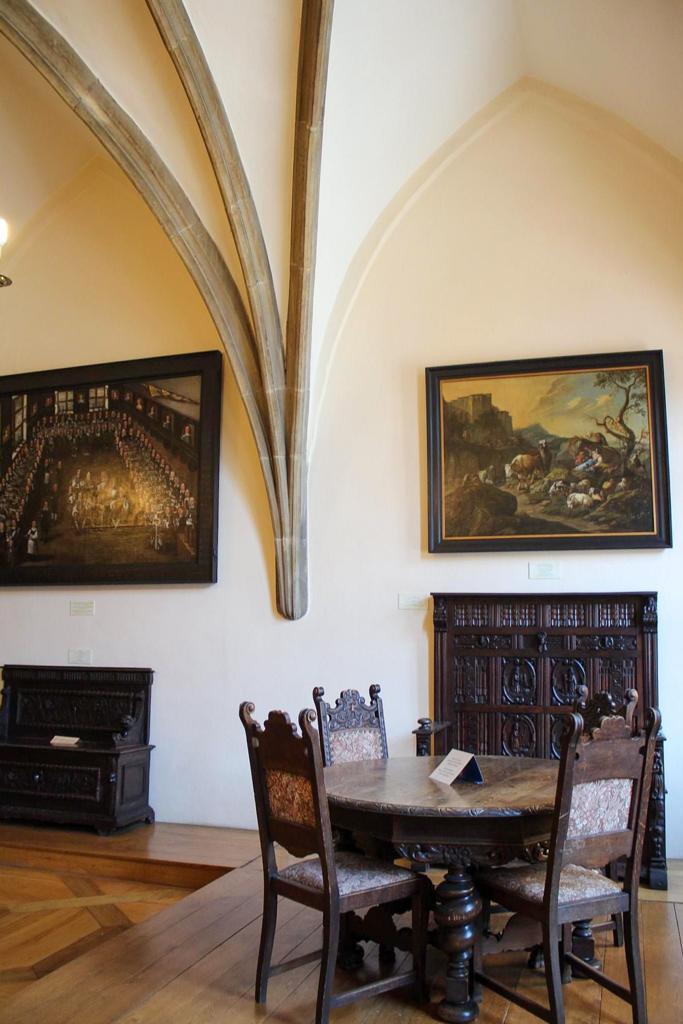 In the northwest corner of the square, you'll find two cute, small houses named Jas I Małgosia – Hansel and Gretel. In the backyard, next to the church, there is a nice, although crowded bar.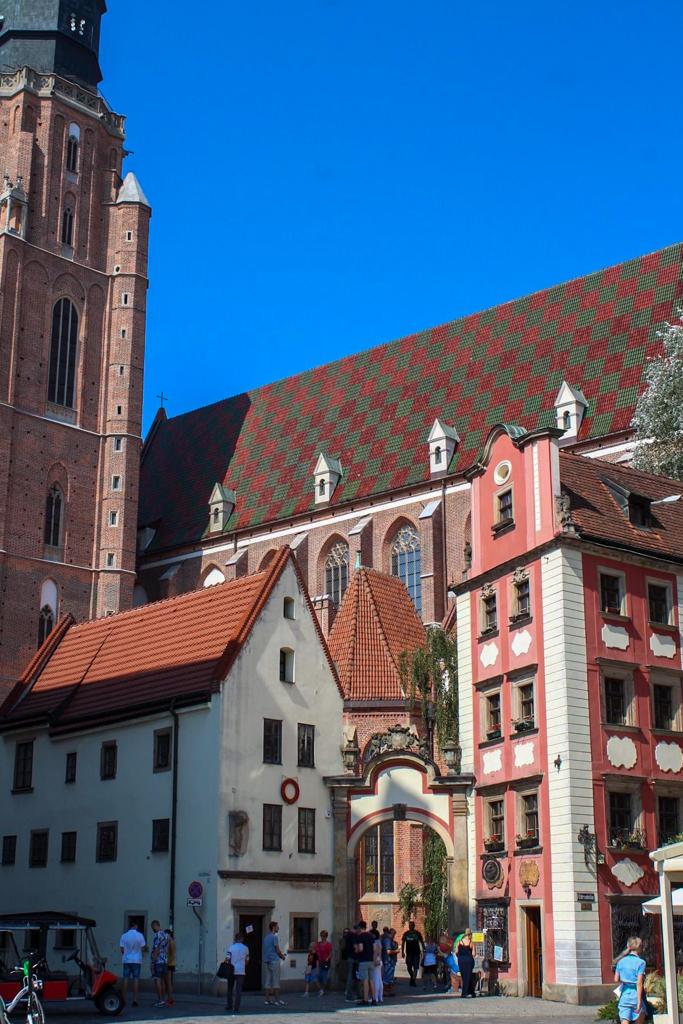 Above all, for us the best with Rynek was just walking around looking up at all the beautiful houses in different styles. Certainly, in the evenings and nighttime, the square gets quite lively as there are loads of restaurants and bars here. We found most of them to be a bit too touristy for our taste. Have a look at the side streets just off the square. For sure, here you will find much nicer and quieter places. Also, the prices are lower the more away from the square you get. We found a very nice Jewish restaurant, next to the White Stork Synagogue.
Furthermore, there are some nice churches worth visiting as well. Church of St. Elizabeth is next to Hansel & Gretel. Also, the Church of St. Mary Magdalene is just one block east of the square.
TIP: Read the blog post about Görlitz – one of the most beautiful towns in Germany.
2. See the many Wroclaw dwarfs
To commemorate the Orange Alternative (an anti-communist movement) a monument of a dwarf was placed on a street in 2001. The Mayor of Wroclaw wanted to continue this new tradition. Therefore, in 2005 the first dwarfs appeared in the streets of Wroclaw. For that reason, nowadays, over 300 dwarfs can be found all over the city. Hence its popularity, today they are considered a tourist attraction. It's possible to buy a dwarf map. With this, you can go dwarf-hopping around the city.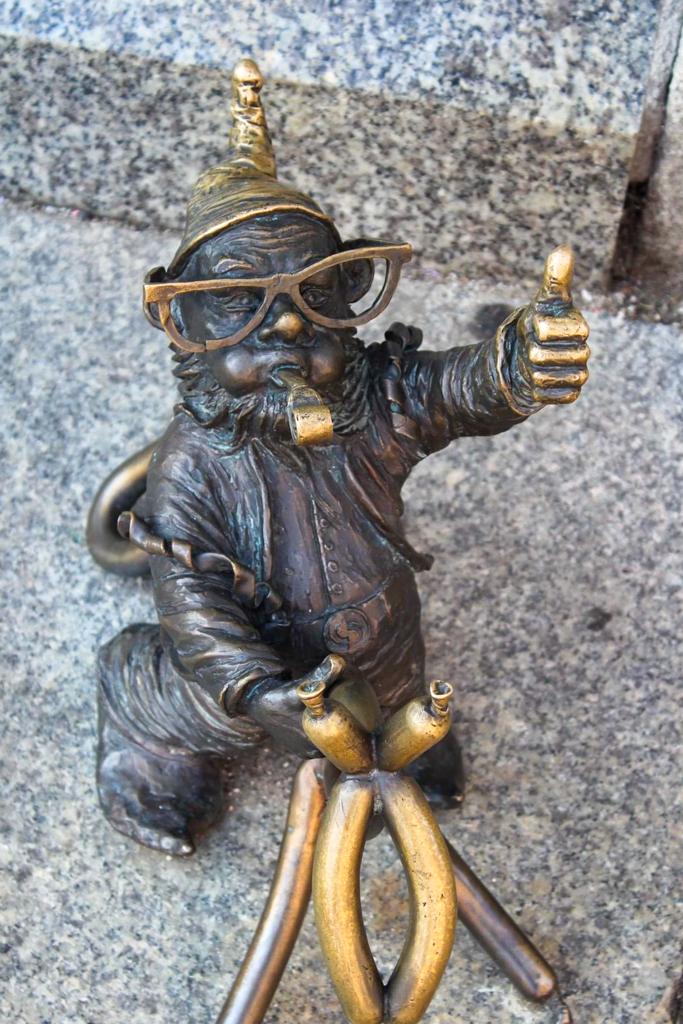 3. The University Quarter
One of the best Wroclaw things to do is to visit the University Quarter. The magnificent baroque main building of the university is not to be missed. Built between 1728 and 1742 this is a grand building located on the banks of the Oder River. The main building is a museum displaying historical objects from the university.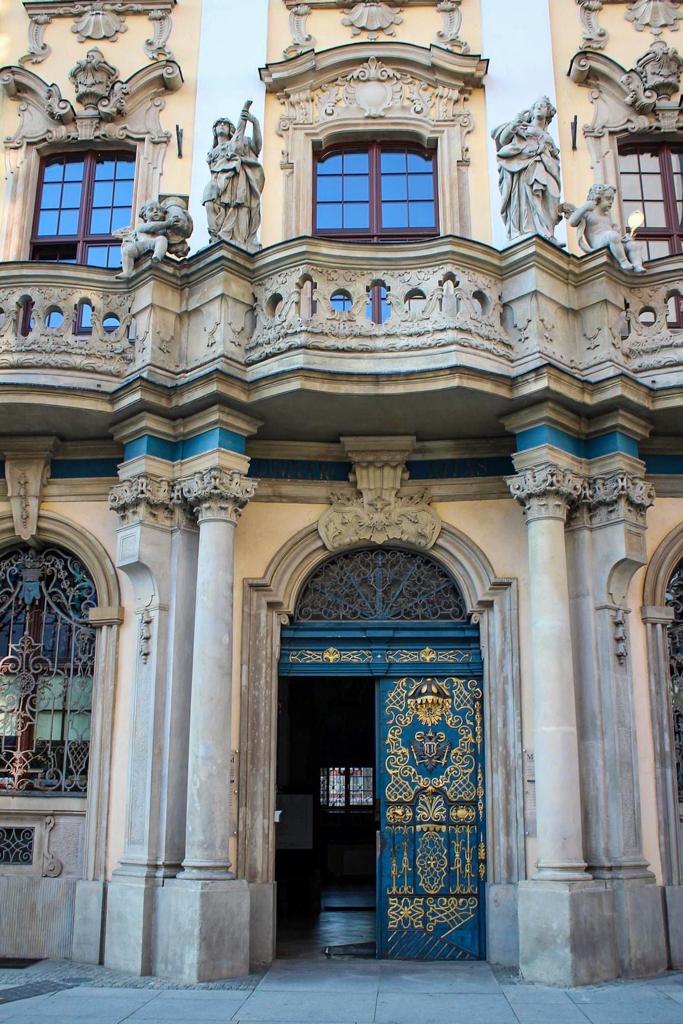 Once you entered through its impressive blue and gold Rococo gate, you can purchase your ticket. Of the historical halls, the Aula Leopoldinum is a masterpiece. This grand baroque ceremonial hall is a sight for the eyes. Due to restoration, it was closed during our visit. For that reason, you can see the hall only from a gallery above the hall at the moment (autumn 2019). But still. What we could see was very impressive.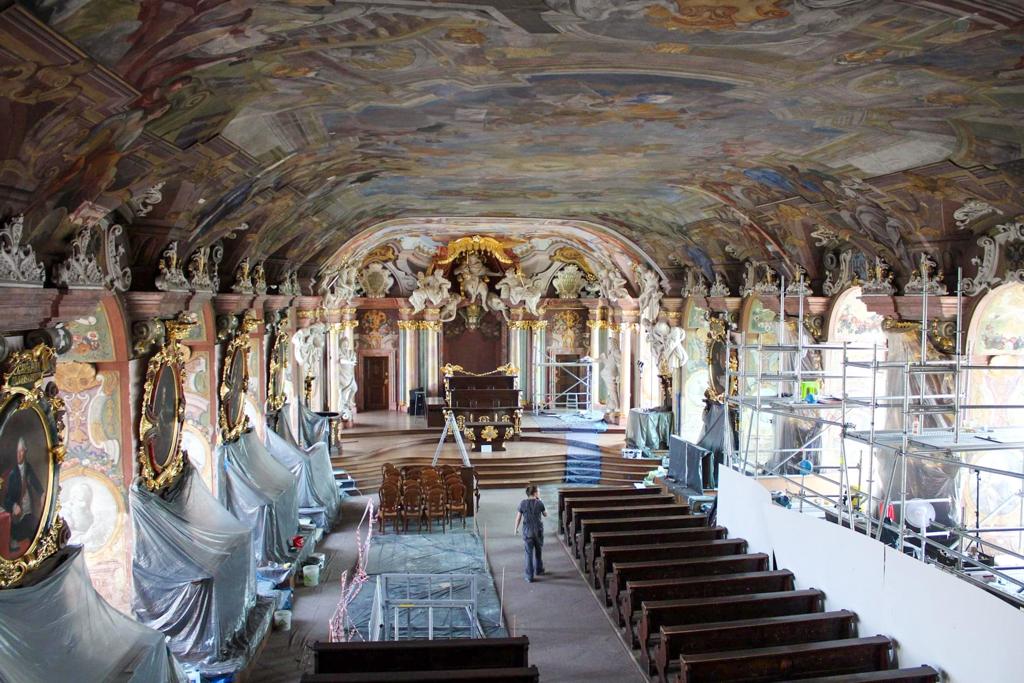 A pleasant surprise on our visit was a small classic orchestra doing their rehearsals for an upcoming event. Visitors in the building could sit down to listen and enjoy while the rehearsals went on.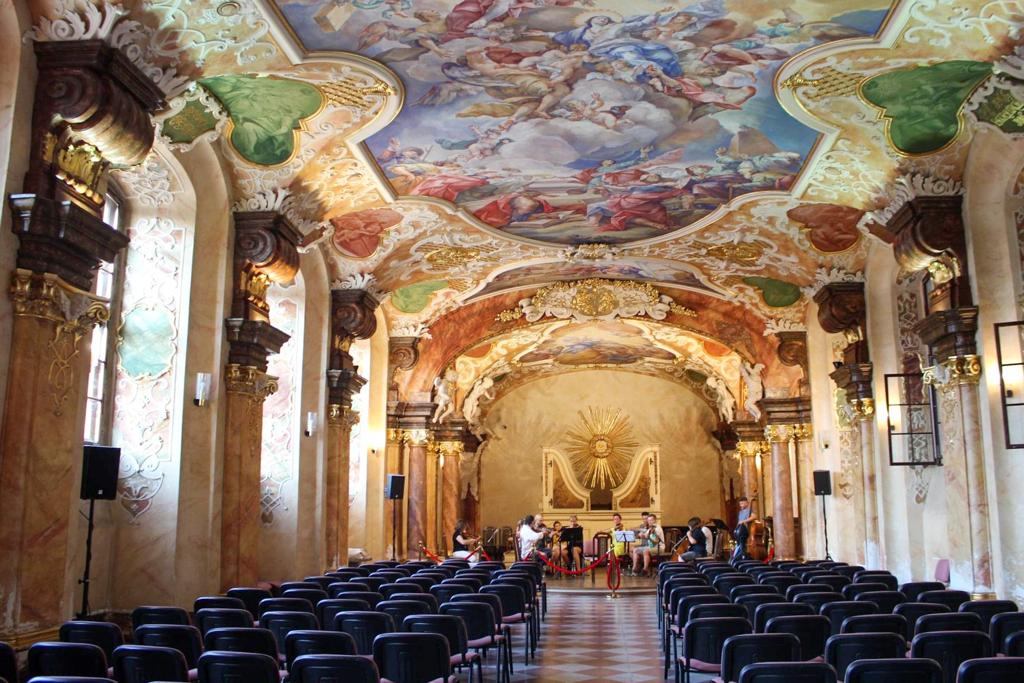 Walk up all the stairs. They will lead you to the Mathematical Tower. A viewing terrace at 42 metres will give you stunning views over the grounds and the city in all directions.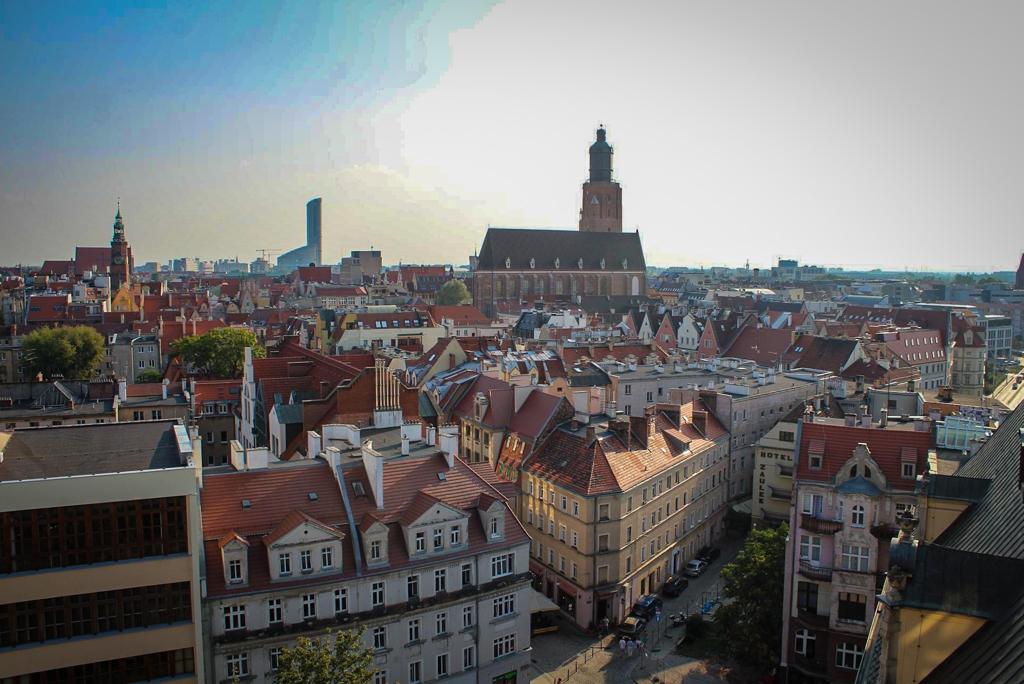 4. Wroclaw things to do – visit some of the many churches
After a visit to the university, we highly recommend a quick visit to the adjacent university church. The Church of the Holy Name of Jesus is a must-see in Wroclaw. It's one of the architectural masterpieces, not only in the city but in the whole region. The spectacular interior of this Baroque-Rococco church is nothing but stunning. Look up to see all the frescos in the vaults.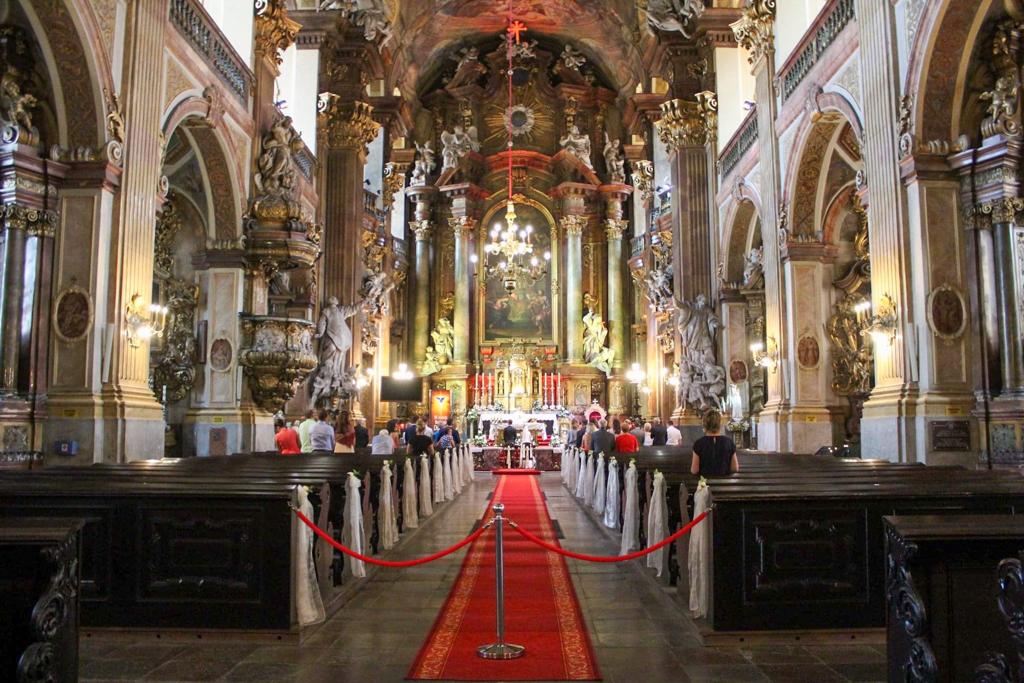 After a visit to the university and the church, there are a couple of restaurants on the square in front, offering refreshments and also food, whilst you still can enjoy the views of these grand buildings.
5. Ostrów Tumski – the Cathedral Island
Hence the name, it's not really an island anymore. In the 19th century, the island was connected to the mainland. This is the oldest part of Wroclaw. The western parts of Ostrów Tumski were the first to be inhabited. Wroclaw's first church was built here.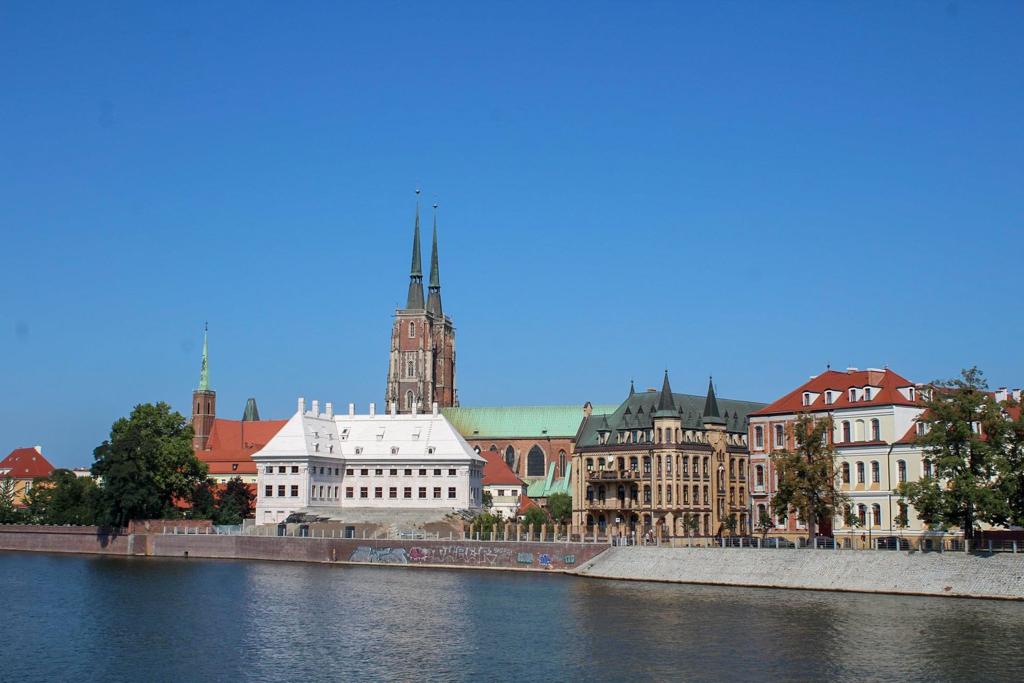 The main sight on Ostrów Tumski is the Cathedral of St. John the Baptist, a Gothic basilica built between 1244 and 1590. Furthermore, the Church of Our Lady and the Church of St. Giles is also places of interest. Also, there is a museum, and Cathedral Island is home to the Botanical Gardens as well.
TIP: Maybe you are combining Poland with a visit to Germany? Here you can find all our posts on travels in Germany
Probably, the best view of Cathedral Island you will get from the opposite side of River Oder. From here the views are spectacular. Similarly, if you enter via Piasek Island, you will get great views from here as well.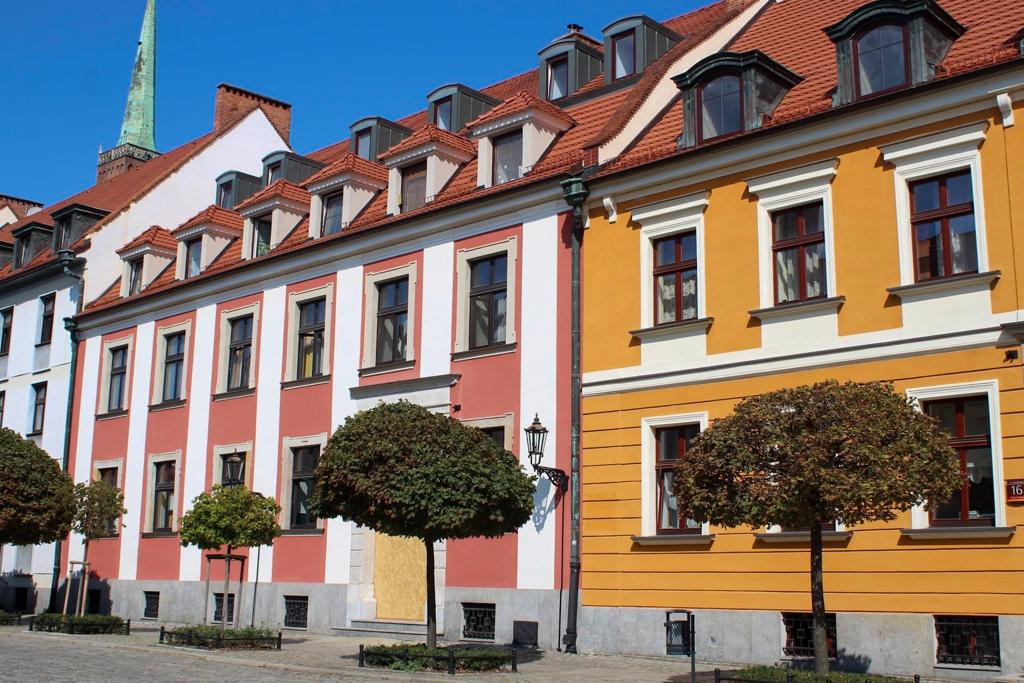 6. Hala Torgowa – Wroclaw Market Hall
If you love to visit local market halls when you travel, then don't miss a visit to the Hala Torgowa. It is great to combine a visit here with Cathedral Island as the market hall is en route.
This lively market hall sells local food, flowers, good coffee and much more. Just outside you can have a refreshing craft beer at Torgowa Craft Beer and Food.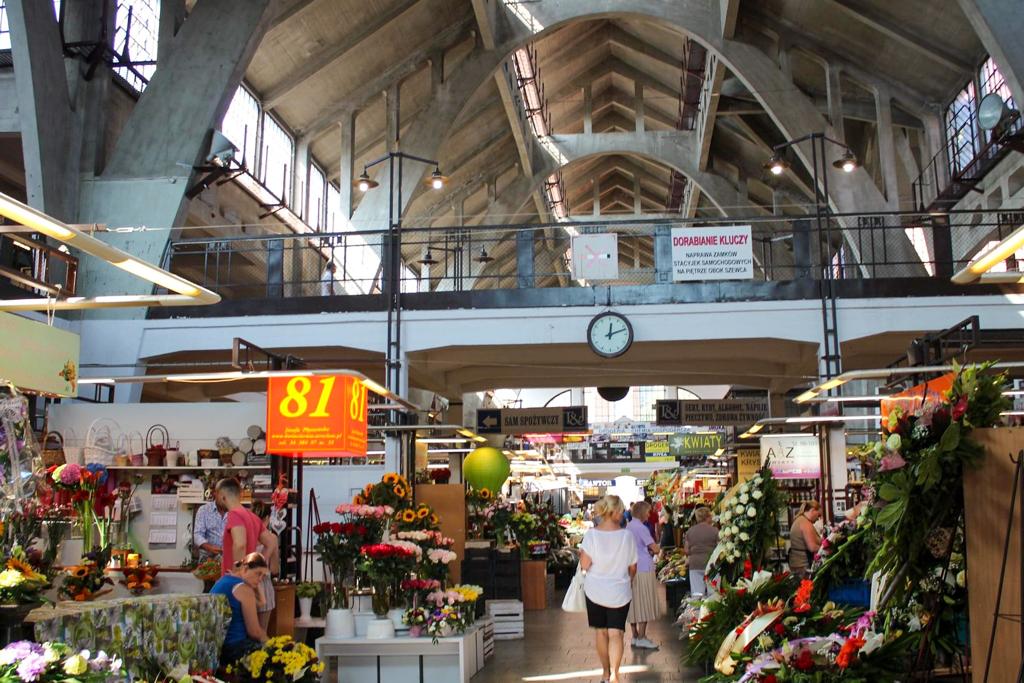 7. Explore the Street Art in Wroclaw
In contrast to the central parts of Wroclaw, the Nadordze neighbourhood is like another world. Across the Oder River, you will find a mix of grand architecture, crumbling buildings, modern constructions and a more alternative lifestyle. We saw very few tourists here, so it's a great place to escape the crowds.
TIP: Another great city for street art is Granada. Read our post from Granada to find out more
The vibe is urban and creative, with small workshops and nice cafes. Besides that, there is excellent street art spread over the neighbourhood. We had read about several great murals and set out to find them. As there is no proper map of where to go, it can be a bit of walking to find them, as the murals are spread over the area.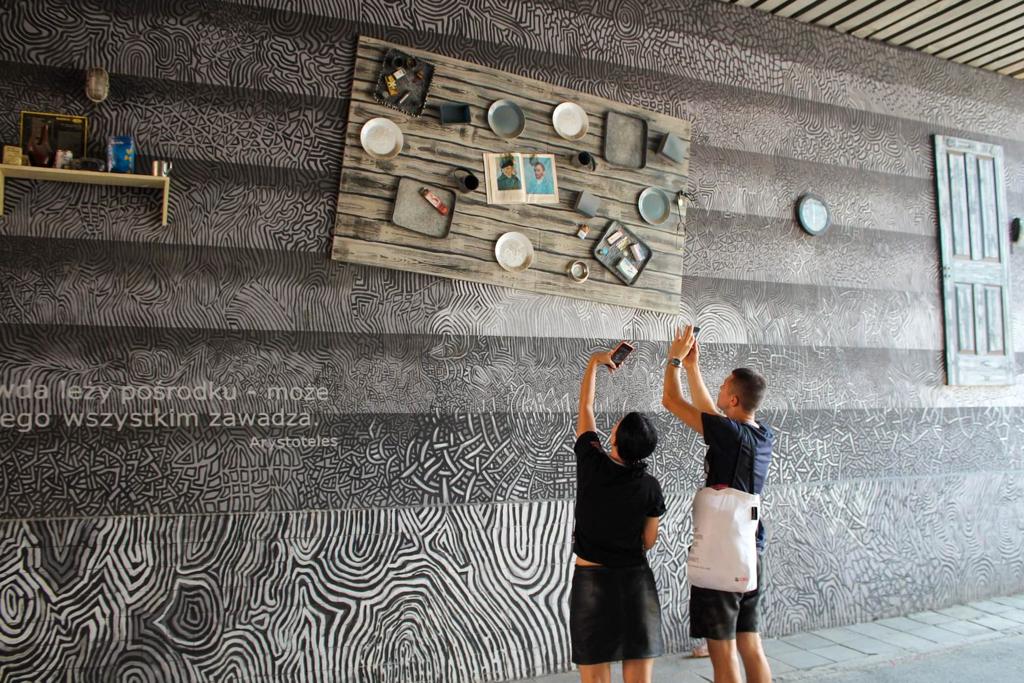 You will find a few murals near the Café Rozrusznik, which by the way is worth a stop for a great coffee. Furthermore, head to the street Ul. Roosevelta (Franklina Delano Roosevelta). Here, in the backyards next to a school, you will find several great murals. Ask some locals if you can't find it.
8. Try Polish Pierogi
Polish pierogis are so delicious and a must-try. Over the centuries, pierogies went from being traditionally considered peasant food to gaining popularity throughout all social classes, including the nobility.
In the city centre, many of the restaurants are aimed towards tourists. Try Bar Pierożek if you would like to try a really authentic and local pierogi bar. Here we got really delicious Pierogis, and it's also very cheap. For two times 250gr Pierogis and two soft drinks we paid only zł 34, around 7-8 Euro.
The pierogi bar is located on the other side of the river from the city centre, so it's good to combine with looking for street art in the Nadordze neighbourhood.
On the way back to the city we can also recommend a stop at Bema Café if you need a great coffee after the food.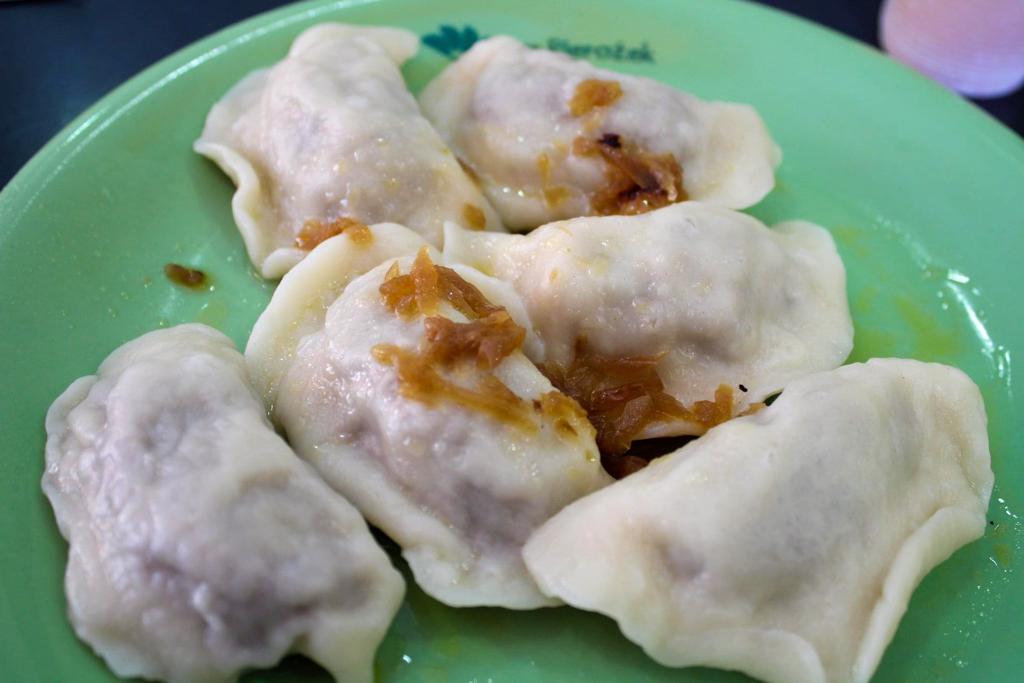 How to get to Wroclaw and around
Wroclaw airport, 13km west of the city is not the biggest airport. Still, it has some direct connection to European cities. Served by some of the bigger airlines, with connections via Warsaw, Paris, Amsterdam or Frankfurt it should be possible to reach Wroclaw via air from most parts of Europe.
Arriving in Wroclaw by train is very convenient. From most bigger places in Poland, it is possible to reach Wroclaw. There are several daily connections with Warsaw and Krakow. There is also a connection to Berlin, taking approximately four hours. On weekends the fares are normally very good. Check bahn.de for tickets and fares.
TIP: Love train travel? Read all our posts on train travel here
It is possible to travel by bus as well, although the train is often more convenient. There are buses to many places in Poland, and from Berlin, Flixbus operates the route. If travelling on a budget this might be the better option.
Getting around
Wroclaw is very walkable. Due to the compact city centre, most sights are within a few minutes' walking. A good network of trams and buses serves the city if you need to travel a bit out of the centre.