This post may contain affiliate links, where we may receive a small commission if you purchase something through following the links at no extra cost to you.
Situated at the foot of the Sierra Nevada mountains, with an interesting history, a beautiful old town, and a thriving local food scene, Granada has something for everyone. Add on diverse neighbourhoods, cutting-edge street art, third-wave coffee, Islamic architecture, Arab tea houses and a local life full of energy. Then you have the perfect place for an ultimate city break in Spain. Welcome to the best of Granada in 2 days!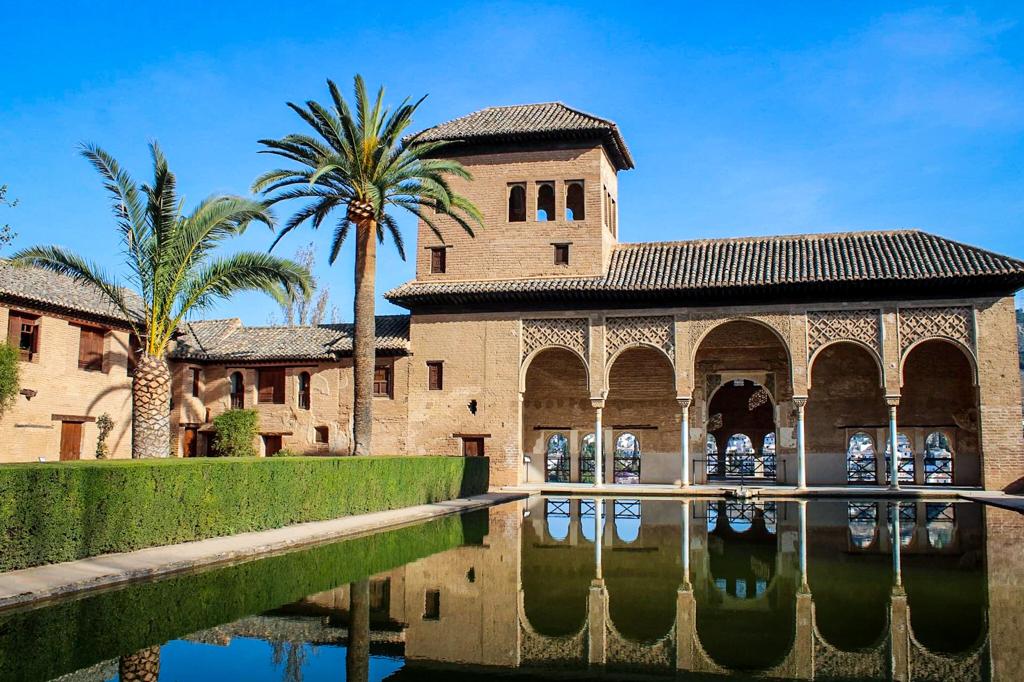 Granada is truly one of the best places to visit in Andalusia. With a population of around 230.000 inhabitants, Granada has just about the right size for having a great city break in Spain. It is small enough to get around quickly and large enough to keep you busy for days on end. With its location, Granada is easy to combine with other cities in Andalusia, such as Cordoba.
TIP: Read our post from Huelva Spain if you also want to visit the rural and secret Spain
The top sight in Granada is rightfully the mighty Alhambra, and it is the main reason most people visit. But there is much more to Granada, so don't let Alhambra put the other sights in Granada in the shadow. There are several other places of interest. The local life is very active and surprisingly cosmopolitan for a city this size.
Bars, cafes and restaurants are found everywhere and in general, the atmosphere in the city is great, and the centre is bustling with life. 2 days in Granada isn't a lot, but we managed to see everything we wanted at this time.
Alhambra in Granada – a true masterpiece
Perched on a hilltop above the city, the Alhambra is one of the most impressive and magnificent buildings in Spain. In fact, the Alhambra isn't only one building, but the whole palace complex consists of several buildings and palaces, one more spectacular than the other.
Visiting Alhambra is such a great experience, and can truly be the highlight of your city break in Spain. If you only have 2 days in Granada, start with a visit here, so that you know you have the time to see it all. The area is huge, and a visit here takes quite some time.
TIP: Read our post on Seville City Break if you are looking for more inspiration for a city break in Spain
We would recommend at least three to four hours for your visit. Then you will have time to see all the main sights and to discover some hidden gems without rushing through. There are also guides available for hire. Count more time if you walk through with a guide.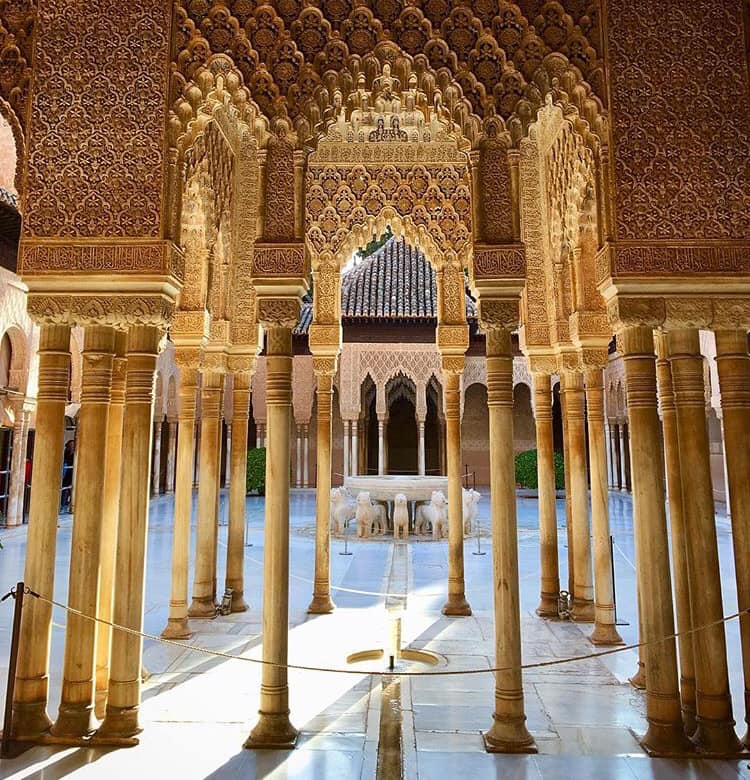 History of Alhambra in short
In AD 899 a small fortress was constructed. This was the beginning of the palace and fort complex of Alhambra. Mohammed ben Al-Ahmar, the Nasrid Emir of the Emirate of Granada, renovated and rebuilt the ruins after they'd been ignored for years. He also built the current palace and walls. Yusuf I, Sultan of Granada converted it into a royal palace in 1333. After the Christian Reconquista (reconquest) in 1492, it became the Royal Court of King Ferdinand and Queen Isabella.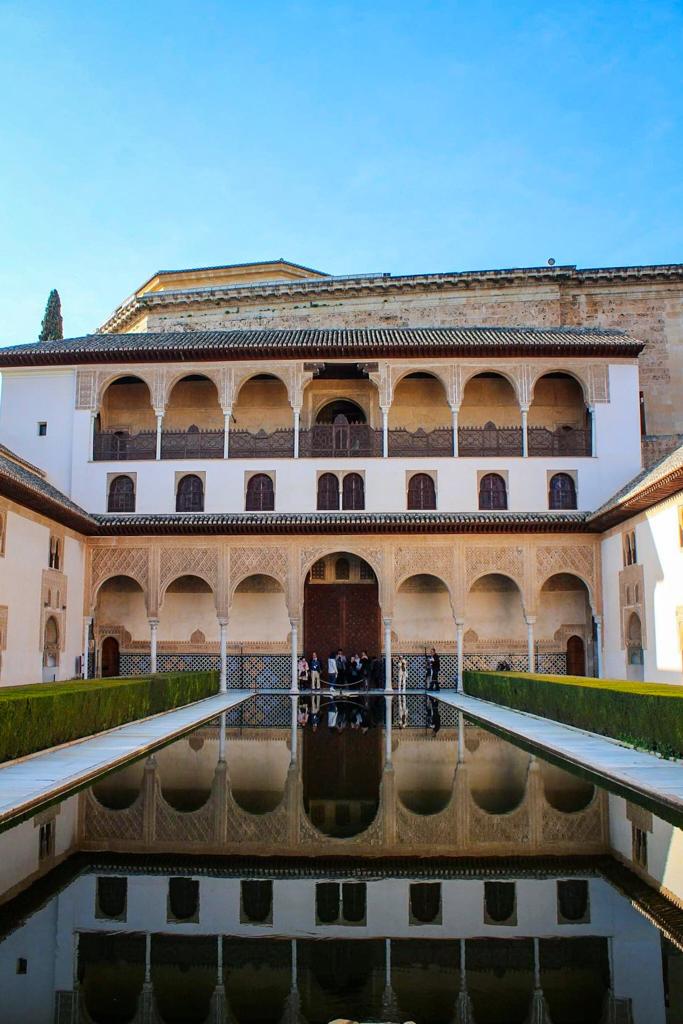 The Nasrid Palace – Alhambra's main sight
When purchasing your ticket you will have to choose the time you want to enter the main sights in Alhambra, the Palacios Nazaries (Nasrid Palaces). This is where the emirs had their official residence and was also the place for administrative and public business.
From the entrance through the Mexuar Hall, you follow a route through different rooms, chambers, halls and courtyards. You will see amazing architecture and interiors with tiles, stucco and wood carvings. The Moorish presence is everywhere, and it is easy to forget that you are in Spain and not in North Africa or the Middle East.
Other sights at the Alhambra
Apart from the Nasrid Palaces, there are several other halls, buildings, palaces and a church to discover. In particular, we liked the Palacio de Carlos V, an impressive Renaissance palace with a circular courtyard. Furthermore, we also liked the Alcazaba on the western end of the Alhambra. The walls and towers offer great views over Granada.
The other main highlight in Alhambra is Generalife. This was the summer palace and country estate of the Nasrid rulers. It contains a palace, the Palacio de Generalife, and a stunning garden with pathways, fountains, patios, pools, trees and plants.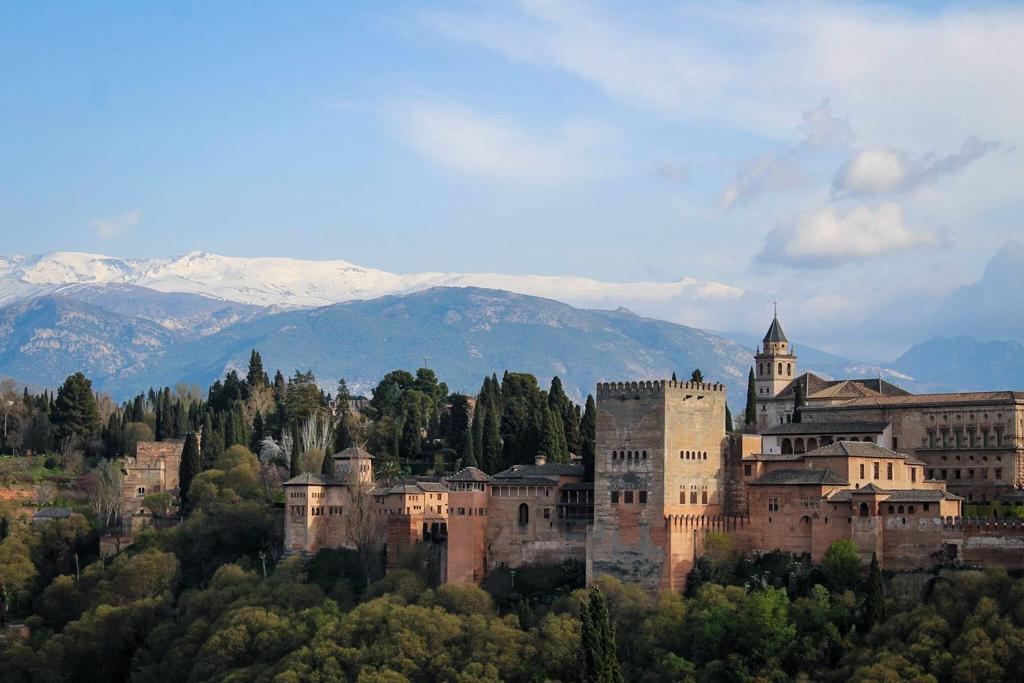 How to buy tickets for Alhambra?
Alhambra is popular. Very popular! In addition to overnight guests in Granada, there are normally hoards of busloads with daytrippers stopping at Alhambra en route elsewhere, so it gets really busy.
There are limited numbers of daily visitors to the Alhambra Palace, and tickets sell out. Purchase your ticket way in advance, preferably more than 1 month before arrival. Unsuccessfully we tried to purchase tickets from their homepage three weeks before arrival. If you don't succeed in purchasing your ticket from the official website, don't fret. There are a few other options for how to visit Alhambra.
1: If it sells out you can buy a package from tour companies online that offer Alhambra tickets as a part of their program for different excursions. Tours like this can be expensive (read: overpriced). Normally you will get a better price if you go in a group, while a private tour will cost you more.
2: Another option is to buy the Granada Card (€40) which has an entrance to the Alhambra included. This is a pricey option as well, but there are more sights in Granada included though, so you might save some bucks on other entrance fees.
Before you go – How to visit the Alhambra
Purchase your ticket online in advance! You need to choose the time to enter the Nasrid Palaces
General admission to the Alhambra: €14
Opening hours Alhambra in the winter (15 October – 31 March)
Opening hours Alhambra in the summer (1 April – 14 October)
The ticket office opens at 08.00
Evening visits are possible. Check online
Audioguide can be rented, a personal guide can be booked
You can reach Alhambra on foot from the city centre (uphill walk – bonus: great views en route)
With public transport: Bus C3 from Plaza Isabel II
Albayzín – the Arab Quarter of Granada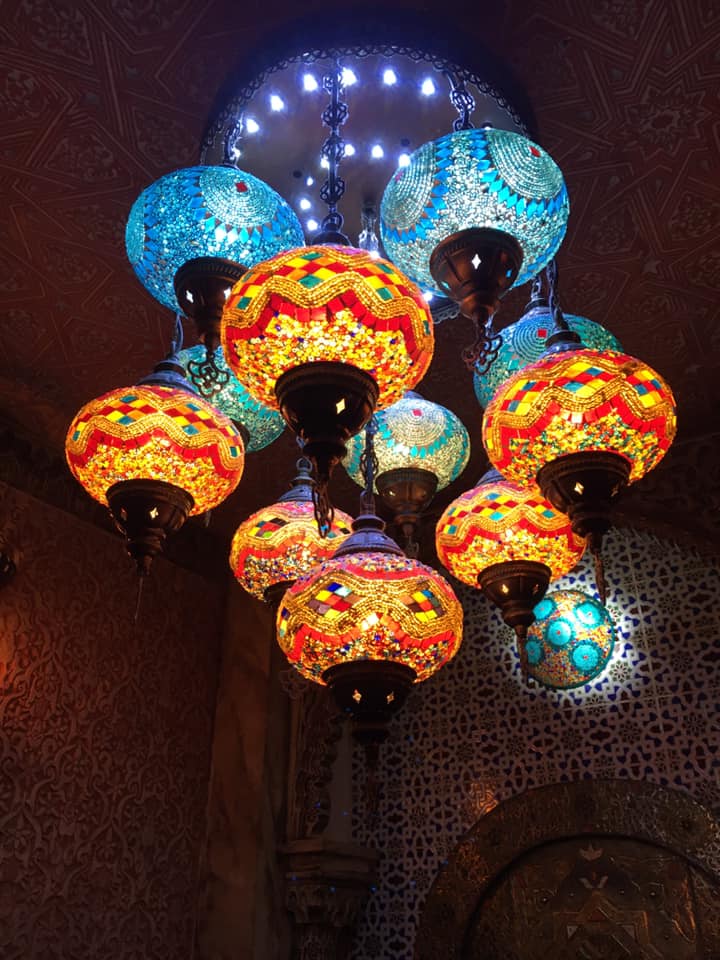 Spread over a hill facing Alhambra, is Granada's old Muslim quarter, Albayzín. With narrow, cobblestone streets, hidden lanes, teahouses and great viewpoints, this is certainly a place to explore in Granada. Even though this area also gets its share of tourists, the vibe here is more local.
Mixed between the whitewashed traditional houses, the so-called Cármenes de Granada, you can also find small shops, a museum, a palace, churches, city gates and remnants of the old city wall. Walking the streets here is like being in a different world than downtown Granada. Stop at one of the many teahouses to enjoy a fresh cup of tea and traditional Arabic sweets such as Baklava.
Albayzín is the place to head in Granada if you are a lover of beautiful sunsets. The reward is a spectacular view of Alhambra with the Sierra Nevada mountains as the backdrop.
The Plaza Mirador San Nicolás is the best-known place for those classic pictures of the Alhambra. The backdrop is that you will certainly not be alone here. Expect crowds, who all want the best spot for their pictures, so come early if you want the best spot.
TIP: For fewer people, but the same spectacular view, grab a seat at one of the restaurants with outdoor terraces just in front of the plaza. Yes, it's overpriced, but the view from their front-row seats can justify the price.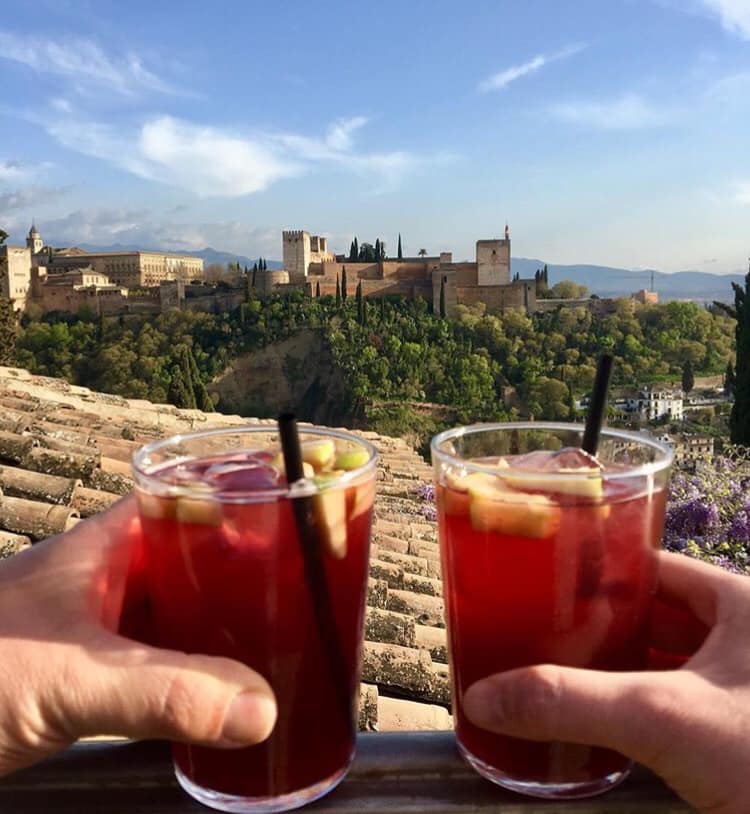 Before you go – How to get to Albayzin
Walking distance to Albayzin from Granada city centre is around 20 minutes
Walking distance to Albayzín from Alhambra is around 25 minutes
With public transport:

Bus C31: Albayzín – City Centre
Bus C32: Alhambra – Albayzín
Street art in Granada
Not everything is old, historical and classic in Granada. If you are a lover of street art, Granada is definitely the right city, and the neighbourhood of Realejo is the place.
The most famous street artist in Granada is El Nino de las Pinturas (real name: Raúl Ruíz). El Nino is a famous underground personality in Granada, who sometimes even risks fines and criticism for his works. There are several murals from the artist in this neighbourhood, and also many works from other street artists as well.
Apart from street art, the neighbourhood also has very nice and trendy cafes, good restaurants, independent shops and bars. We highly recommend that you also explore Realejo while in Granada. This more alternative part of the city will some other perspectives on your city break in Spain.
Realajo neighbourhood is close to the city centre, and walking is just a short distance.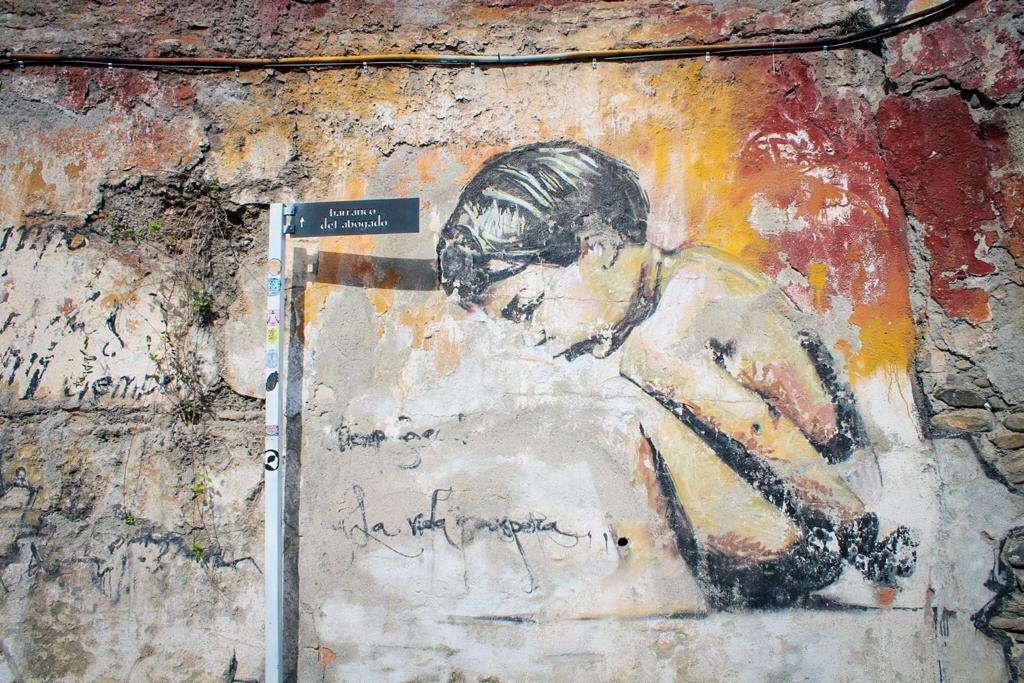 Granada city centre – perfect for a city break in Spain
Numerous visitors come to Granada to see the Alhambra only, on a day trip en route to somewhere else in Andalucía, and without visiting the city centre. That's too bad for them because the city centre in Granada has quite much to offer.
The two main sights in the centre are the impressive cathedral, Catedral de Granada, and the Capilla Real (Royal Chapel).
Catedral de Granada is huge and much larger than it might seem at first sight. Sadly, it is tucked between other buildings, making it hard to get the full impression of the cathedral as a whole. It was built on top of a former mosque as a Gothic construction. After several modifications and changes over the centuries, it now has a magnificent baroque facade.
Next to the cathedral, in Capilla Real, you'll find the last resting place for the Catholic Monarchs of Spain, Isabel I de Castilla and Fernando II de Aragón. The chapel has a Gothic-style mausoleum with imposing marble tombs for the royals.
FUN FACT: The marble tombs in the Royal Chapel are just a show-off. The actual resting place is in some simple coffins in the crypt beneath.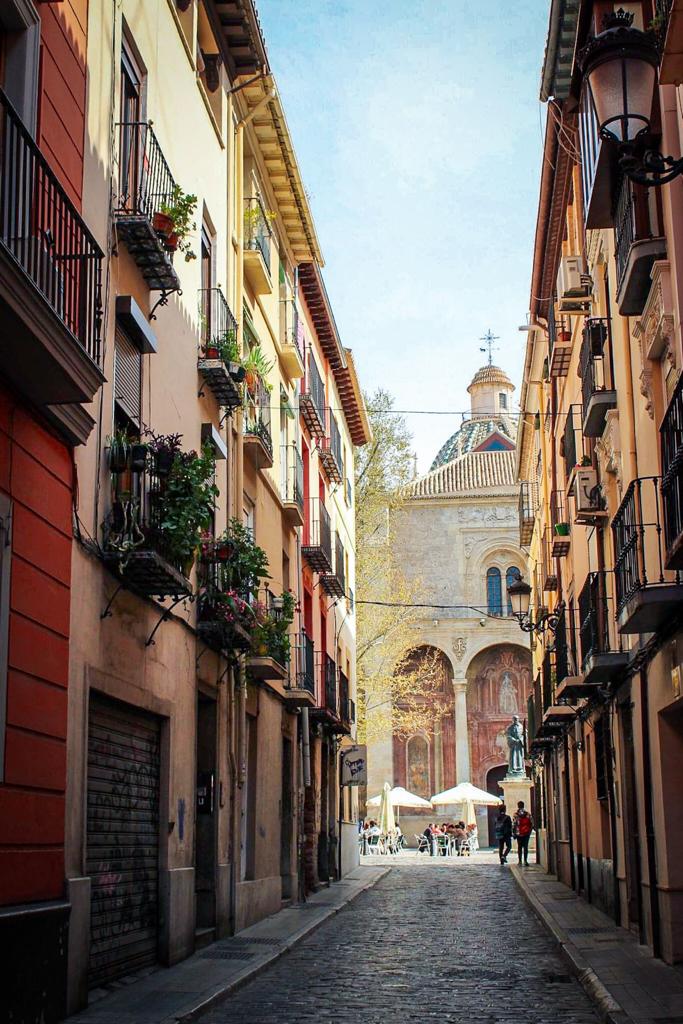 Granada city centre is a mix of small narrow streets, with Arabic-inspired buildings, bazaars, avenues, modern shopping streets, plazas, restaurants, bars and cafes. The centre is not big, so you will explore most of it in a few hours. 
The most central parts of Granada can feel very crowded due to all the visitors, but you don't have to walk many streets away from the busiest parts to find the real Andalusian vibe. In the smaller streets, you will see how the locals enjoy their city while having a drink or a bit at one of the many bars or restaurants.
Tapas in Granada
What is it with Spain and food? And how do the locals find pleasure in almost every meal? Well, food is culture, history, identity and pride. Food is a way to connect with old friends, and also a way to make new friends. For foodies, we definitely recommend visiting Granada to take part in the thriving tapas culture. Who knows? Maybe you'll even make some new friends during your night out?
Tapas was traditionally an appetizer enjoyed with a drink before lunch or dinner, to work up your appetite. In many countries today, tapas is a full meal, but in Granada, you can still find the original way of doing it. Locals often go from one place to another, having a glass and a tapas at each place before heading out for dinner. Often you will see that the locals have their drinks and tapas standing at the bar without sitting down.
TIP: Are you vegan? This Guide to Vegan Granada might be exactly what you are looking for then
As one of the few places left in Spain, Granada still holds on to the old tapas culture. Go to a bar or restaurant, order a drink, and voila: the drink comes with some delicious tapas. For every drink you buy, you will get a small bite. Of course, there's a risk of getting quite tipsy if you plan on having tapas as your only meal during the night. If you drink beers they mostly come in small glasses, so you should be able to get quite some tapas without ruining the whole next day. Avoid places that are called "Tapas Bars". They are only made for tourists!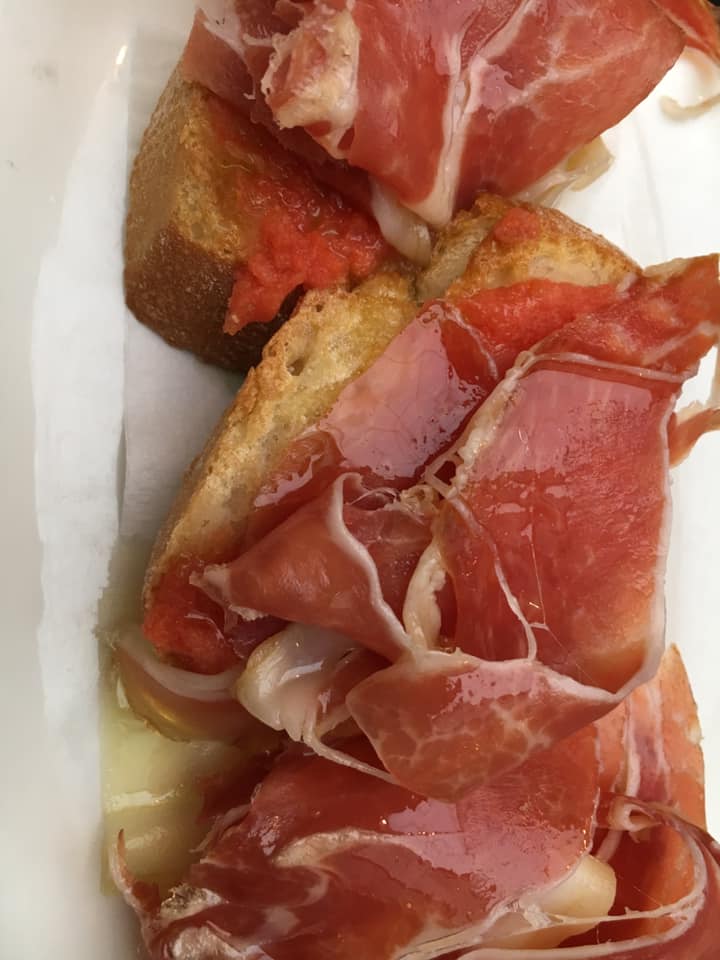 Plan your trip: How to get to Granada and around
Being such a popular destination, Granada is surprisingly badly connected regarding transportation. There is an airport serving a few European destinations, and from the airport, you can get to the centre with the Granada-Airport bus in approximately 45 minutes.
We arrived in Granada from Córdoba by bus, as that was the easiest option. The train would take more time and involve a change. We also left Granada by bus to Málaga. Buses are easy and with connections to several places in Spain. A train is an option for many places, but check timetables as it might take some time and involve some changes.
TIP: Granada is not far from coastal Malaga. Read our post with great Malaga tips if you want to head there as well
It's easy to get around Granada on foot, but there are local buses. Also, one metro line going, so it is possible to get around by public transport if you prefer that.
Click on the pin to save it to Pinterest