This post may contain affiliate links, where we may receive a small commission if you purchase something through following the links at no extra cost to you.
Colourful buildings and a magnificent square. Monumental architecture and historic churches. Mix this with thriving city life, trendy cafes and good restaurants. Big enough for several days, and small enough for a short weekend. Poland's fifth-largest city has it all. A modern city with proud traditions that embraces the future. Read on for some great things to do in Poznan that will give you the best Poland city break.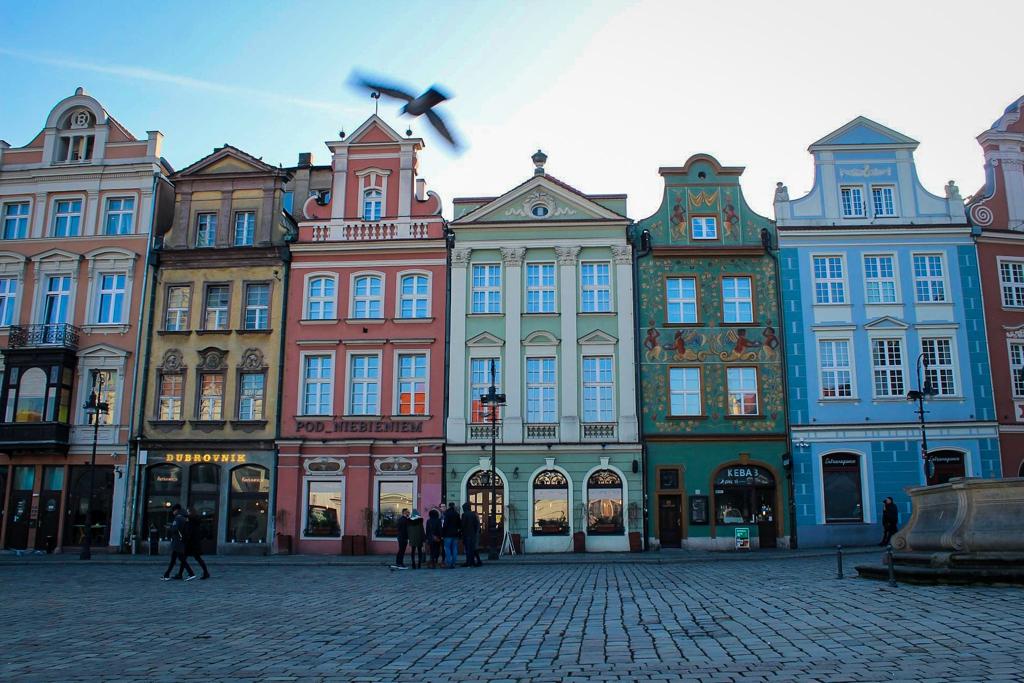 While most travellers seem to visit more known Polish cities like Krakow, Warsaw or Gdansk, Poland also has several other great cities to visit. With more direct flights opening from different cities around Europe, Poznan has put itself on the travel map. And rightfully so! If you are looking for a Poland city break, why don't try something new?
A city trip can be filled with so much and, one has to prioritise what to see and do. When we go for a city break, we always like a combination of historical sights, good food, street art, castles and churches, trendy cafes and the good life. In Poznan, we found it all. After three visits to the city, we are starting to know the city pretty well. Read on for our favourite things to do in Poznan.
Poznan before and now
Poznan with a population of around 540.000 people, is located in the western region of Wielkopolska, meaning Greater Poland. As one of the oldest cities in Poland, it has a history going back centuries. Here is where the Polish state first was founded in the Middle Ages. In contrast, modern-day Poznan is a lively city with great nightlife, good shopping and numerous good restaurants, bars and cafes. Due to a large student population, Poznan is thriving, and the cultural offers are many.
TIP: Read our post on the best Wroclaw things to do if you want to explore more of Poland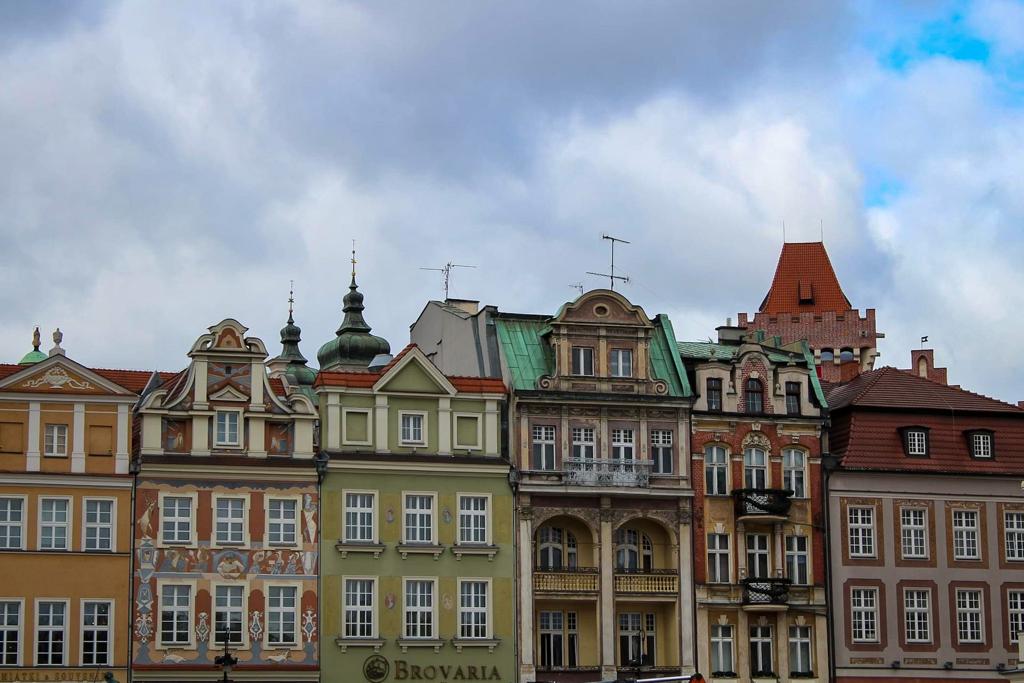 1. Explore Poznan Old Town – number one of the things to do in Poznan
Poznan Stare Miasto, the Old Town, is the historic heart and the centermost neighbourhood of Poznan. This lively part of the city, with narrow streets and lanes leading to the centrepiece of the Old Town; is the magnificent Stary Rynek (Old Market Square). Exploring the old town is one of the most rewarding things to do in Poznan, and one can easily spend days on end here.
Since its foundation, in 1253, the market square has been the showcase of Poznan's glory. On each side of the market square, there are rows of colourful and impressive buildings, with many beautifully decorated facades. Today many of these buildings houses restaurant, cafes and bars.
The Renaissance town hall was the seat of the local government until 1939. Today it houses a museum worth checking out. What instantly attracts the attention towards the town hall is its 61m-high tower. Two metal goats appear every day at noon through some small doors before they cling their horns together 12 times. This is all based on a local urban legend.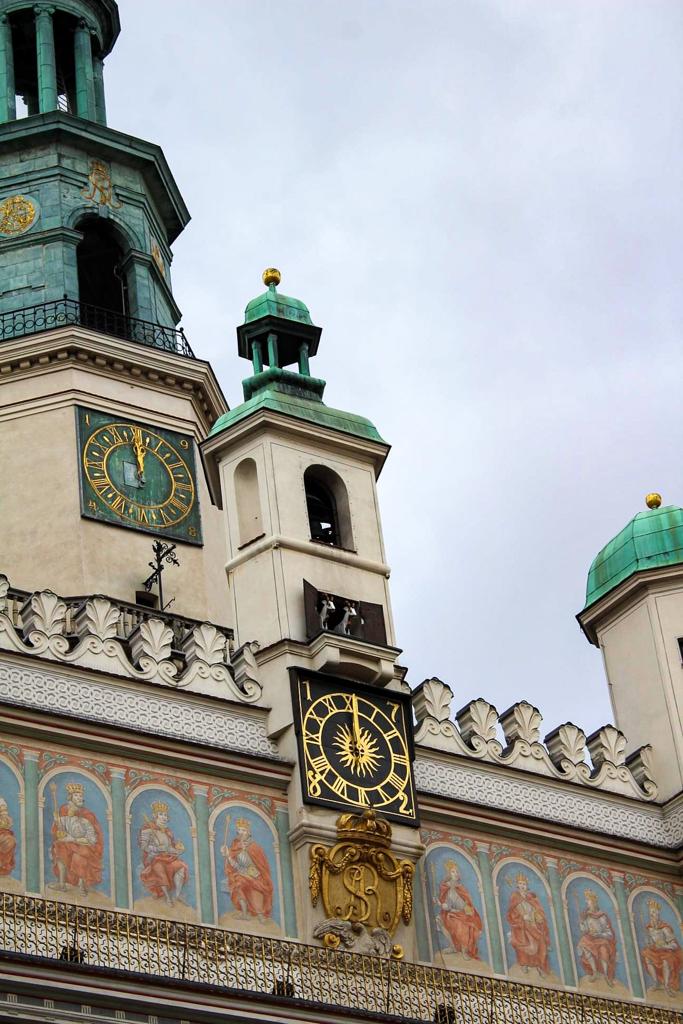 Don't miss the Fish Sellers' Houses, in the colourful row next to the town hall. Originally these houses were built in the 16th century and later rebuilt after damages during WWII.
TIP: Read our post about the best things to do in Weimar, Germany, which also has a beautiful old town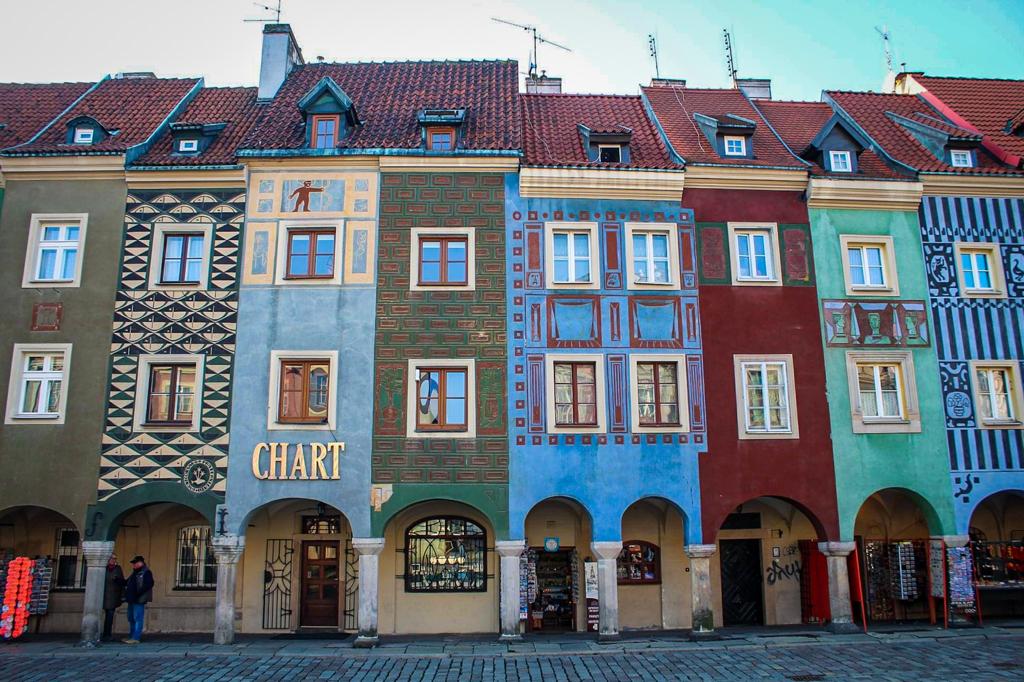 2. Visit Ostrów Tumski – the Cathederal Island
On an island of the River Warta is where Poznan was founded, and with this, also the Polish state was founded. Ostrów Tumski, the Catherdral Island, is one of Poland's official national Historic Monuments. It is the oldest part of the city (even though it belongs to the district of Nowe Miasto – New Town).
The main sight is the double-towered Poznan Cathedral or Archcathedral Basilica of St. Peter and St. Paul. One of the oldest cathedrals in Poland dating from the 10th century it is an impressive sight. It was damaged in 1945 and, later rebuilt again over 11 years. It is an actively working church with services taking place regularly.
In addition to the cathedral, there are also some other buildings on the island. The Archdiocesan Museum is in an old school, The Lubrański Academy building.
It is easy to get to Cathedral Island. From the old town, it's only a short walk to get there.
TIP: Read the blog post about Görlitz – one of the most beautiful towns in Germany. It's located directly on the border between Germany and Poland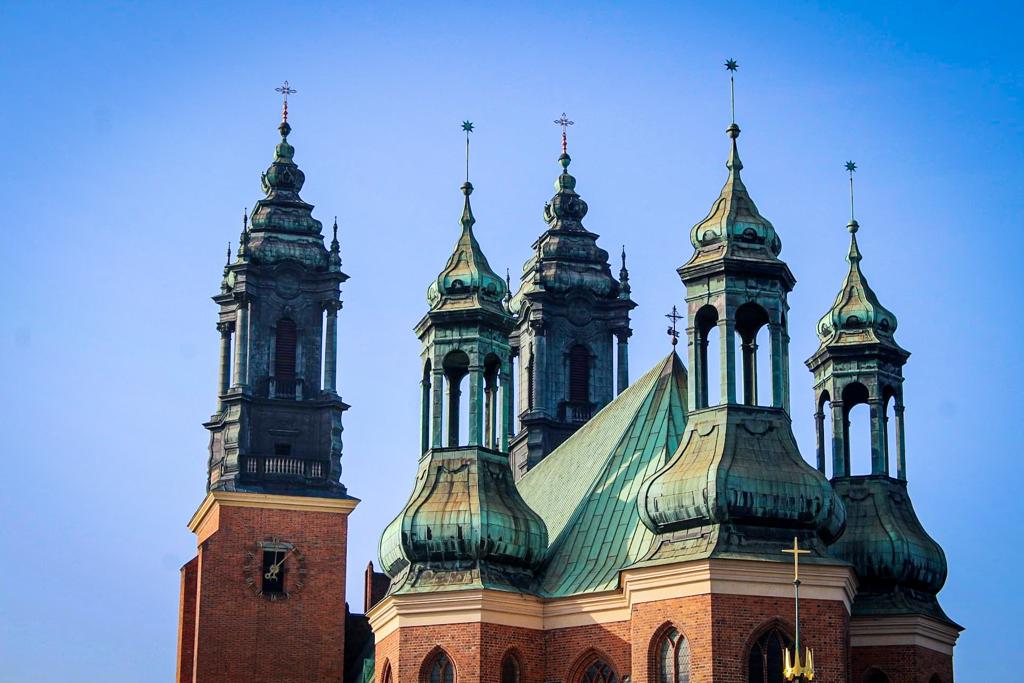 Suggestions for a detour:
From the cathedral, continue over the bridge to the neighbourhood of Śródka. It's only a few steps away. In this historic neighbourhood, you will find churches, squares, nice cafes, restaurants and cool street art. The area is not very large, so it's easy to explore. The atmosphere here is much more relaxed than in the busy city centre, and it's a great place to hang out for a couple of hours.
TIP: The Polish city of Katowice also has some cool neighbourhoods. Don't miss the Nikiszowiec neighbourhood if you plan to visit Katowice as well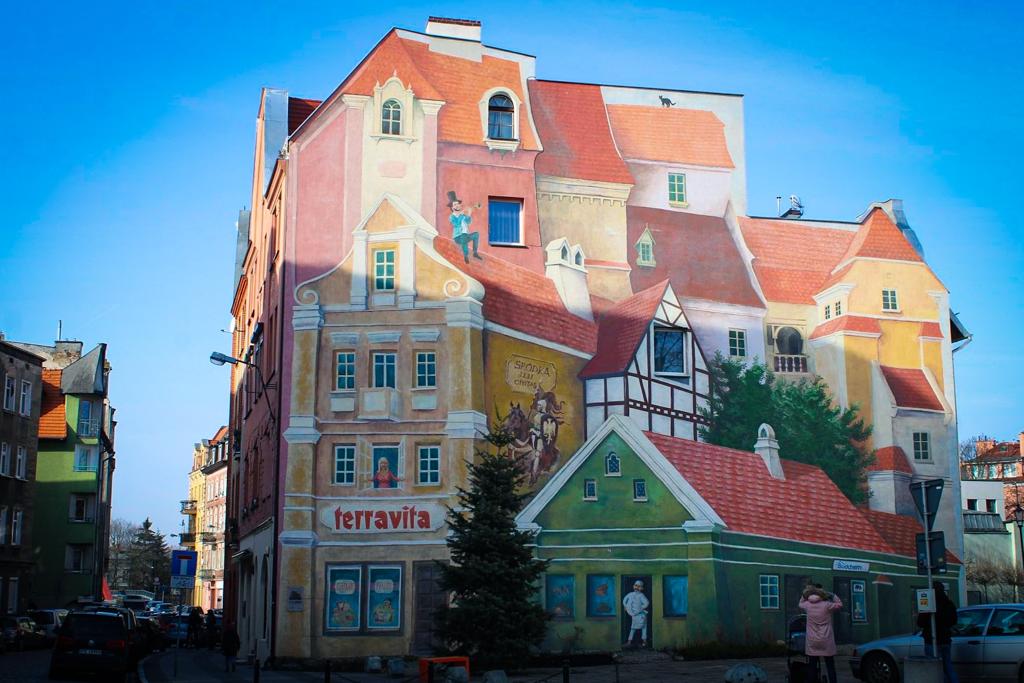 3. See the Parish Church & Jesuits' College
Just a few blocks south of the Rynek is Poznan Fara or the Parish Church. For us, visiting here is one of the best things to do in Poznan. This Roman Catholic basilica is one of the landmarks in the city. Built between 1651 and 1701, it's truly an impressive church. The facade is beautiful, and the interiors are stunning. The Parish Church is maybe the most beautiful church in Poznan.
The church is part of a large complex built by the Jesuits. In addition to the church, there is an old monastery and a Jesuits College. There is a beautiful garden on the backside of the church and the other buildings. Today the complex houses the local government and the City Hall of Poznan.
After seeing the church and the Jesuits' College, you might need a rest and some refreshments. In the same building, Cafe Misja is serving good coffee and delicious cakes in a historical but modern environment.
TIP: Read our post about visiting Potsdam if you are planning to visit the capital area of Germany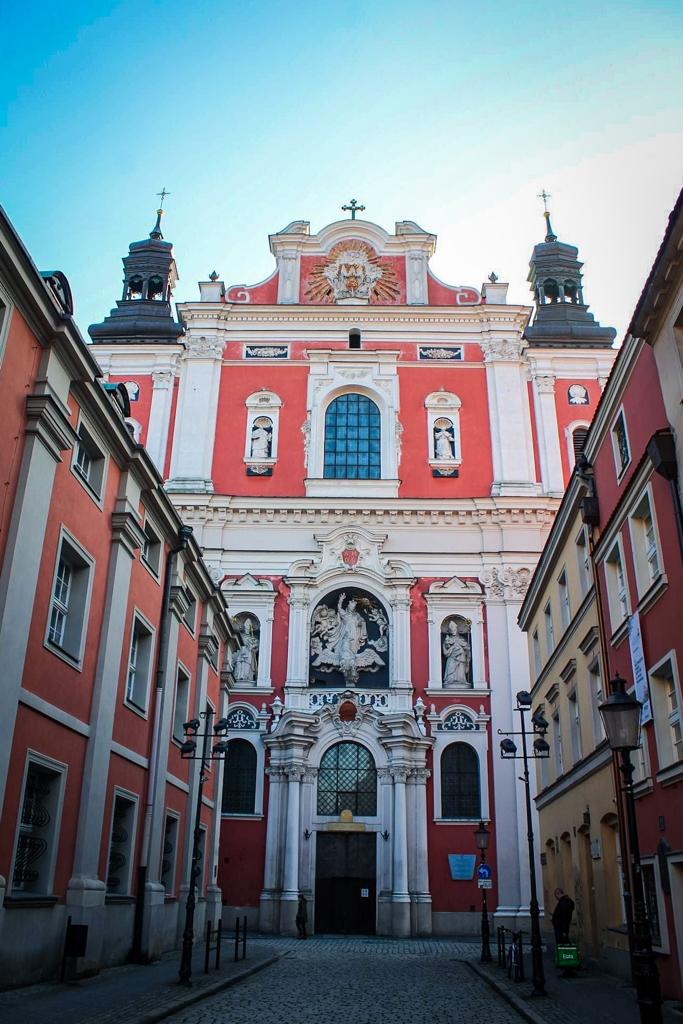 4. Enjoy the view from Poznan Castle
The Royal Castle of Poznan isn't the most impressive of castles, but it's still worth visiting. Most of all, for the stunning views from its tower. Poznan castle, located on Góra Zamkowa (Castle Mountain) was heavily destroyed during WWII, and later it has been partly rebuilt. If you are interested in visiting other castles in Poland, we would eg recommend visiting Wilanów Palace in Warsaw if you are going there as well.
Today the building houses a branch of the National Museum in Poznan, the Museum of Applied Arts, showing furniture, gold and silverware, ceramics and weapons. Your ticket includes entry to the tower and its viewing platform. From up there you will be rewarded with the most amazing views over Poznan, and especially over the Old Town.
Before you go – How to visit Poznan Castle:
Address Poznan Castle: Góra Przemysła 1
Opening Hours Poznan Castle:

Fri: 11.00-20.00
Sat-Sun: 11.00-17.00
Closed on Mondays
The park is open daily from 9.00 am to 5.00 pm (free admission for the park only)

Admission Poznan Castle: 20zł/ reduced 13zł (approx € 4/ 2,60)
TIP: Read our post about Schwerin Castle – one of Germany's most beautiful castles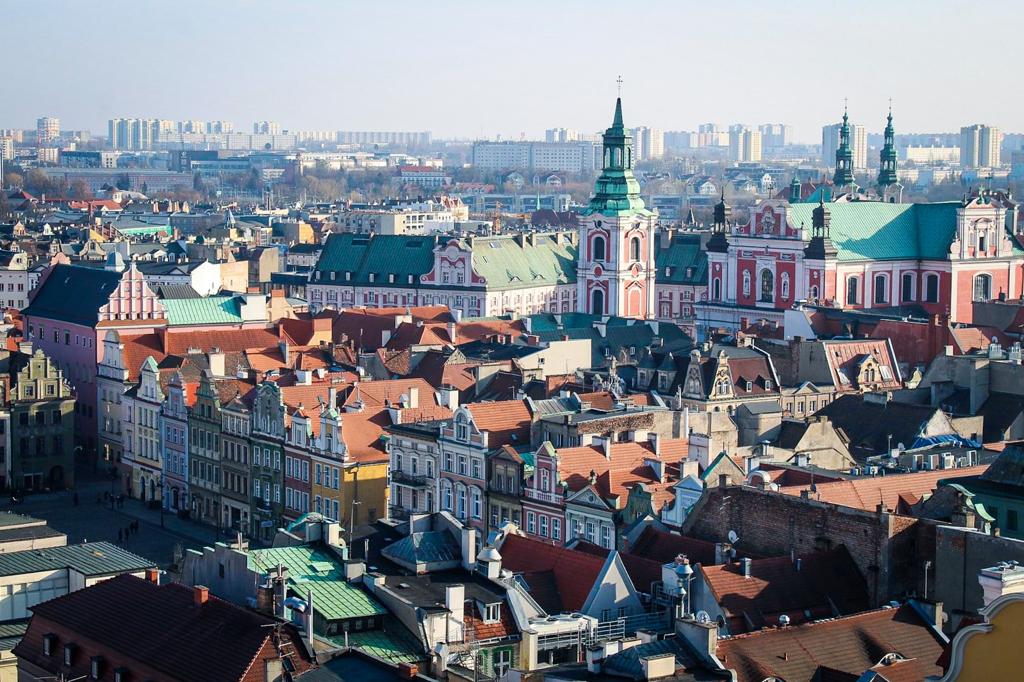 5. Try Pierogi – Polish tradtional food
While travelling, one should always try the local cuisine. Food is such a big part of local culture and tradition. Those who don't try local food miss out on something essential.
One of the national dishes in Poland is Polish dumplings, Pierogi. Made of dough wrapped around different fillings such as potato, sauerkraut, meat, cheese, nuts or fruits, this is as traditional food as it can get. The Pierogi are boiled (or steamed), or fried. Sometimes they are served with a sauce or topping such as melted butter, sour cream or fried onion. You can have them as a starter, main dish or sweet ones for dessert. Should you love trying local food, add eating Pierogis to your list of things to do in Poznan.
Many of the restaurants in Poznan serve Pierogis. Some places even specialize in making them, so it's easy to find a place to try them.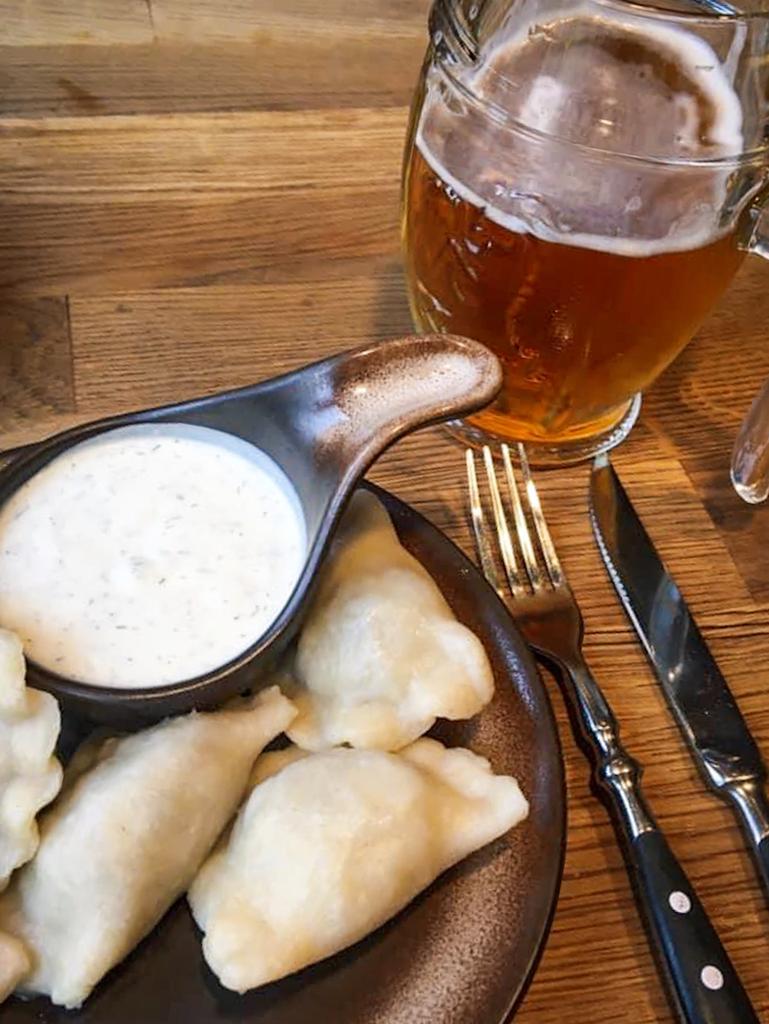 6. Sip a beer at the main square
The square can be busy and touristy. But it is also a perfect spot to sip a cold beer or to enjoy another drink you prefer. Not only because of its beautiful architecture and colourful houses but also because it is the best place to watch people and everything that's happening around.
Many street performers show off their skills here during the weekends. Several of the restaurants and bars at the square also have outdoor seating. Even in February during our last visit, it was possible to sit outside. Some places also have heating lamps and provide blankets. The square is more pricey than other parts of the city, but Poland is still very affordable.
TIP: Read our post about the best beer gardens in Berlin if you also plan to visit Berlin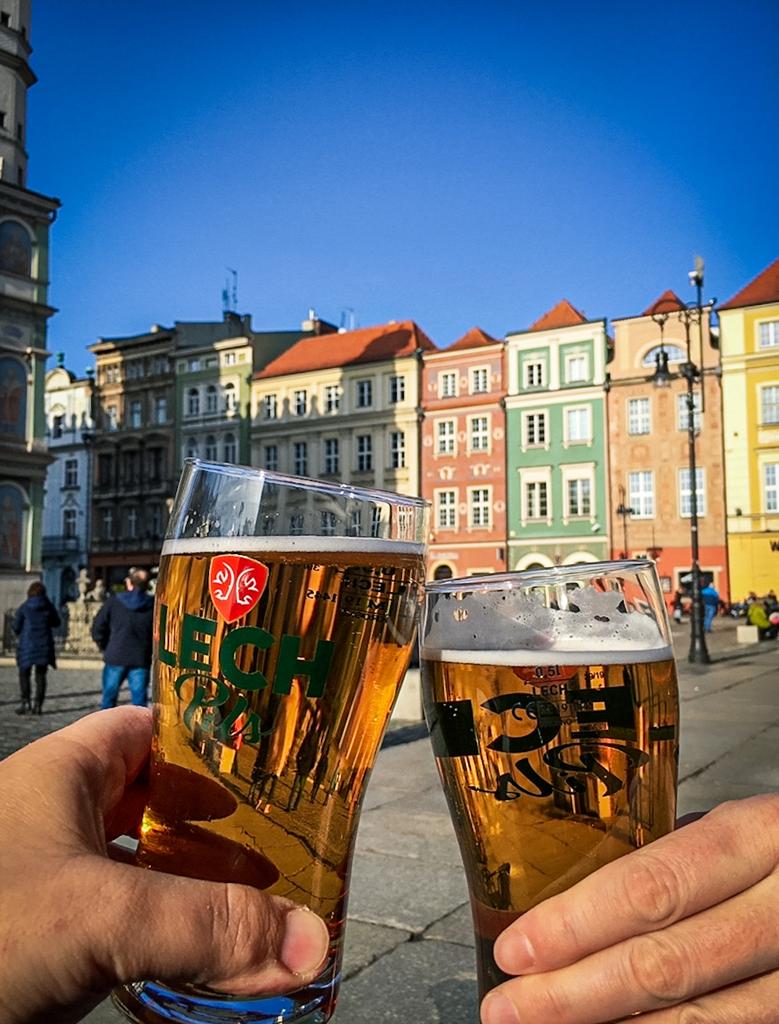 7. See art in Poznan
If you like to see some art when you travel, Poznan got you covered. The National Museum of Poznan is one of the largest museums in Poland and has an extensive collection of paintings by Polish artists. Located in the main building of the museum, you will find galleries of e.g.European and contemporary art. The biggest name in the collection is Claude Monet.
The museum is located in the city centre and you can easily walk there within a few minutes from all over the city.
Before you go – How to visit Poznan National Museum
Address Poznan National Museum: Aleje Marcinkowskiego 9
Opening hours National Museum of Poznan:

Tue-Thu: 10.00-17.00
Fri: 11.00-20.00
Sat-Sun: 11.00-17.00
Closed on Mondays

Admission: 20zł/ reduced 13zł (approx € 4/ 2,60)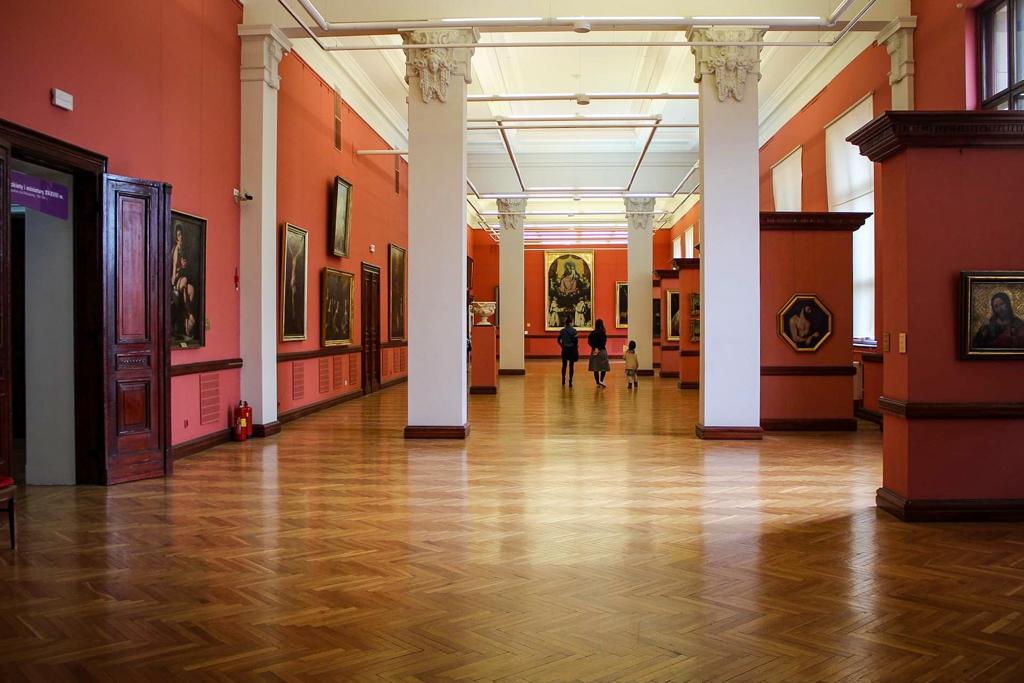 8. Poznan Palm House
Located in Wilson Park, the Poznan Palm House is definitely worth a stop, especially on a cold winter day, or if you are travelling with children.
Poznan Palm House is a huge greenhouse divided into nine rooms with different types of plants. It is the largest palm house in Poland and one of the largest in Europe. In addition to plants, you can also find aquariums, birds and some exotic animals.
The palm house in Poznan is located near the central station. It's a bit of a walk from the city centre. Go by public transport if you prefer.
Before you go – How to visit Poznan Palm House
Address Poznan Palm House:
Opening Hours Poznan Palm House:

Tue-Fri: 09.00-16.00
Sat-Sun: 9.00-17.00
Closed Mondays
Wilson Park is open daily 05.00-22.00

Admission: 12zł/ reduced 8zł (approx € 2,50/ 1,60)
How to get to Poznan Palm House:

Tram 13 from the market square. Get off at Matejki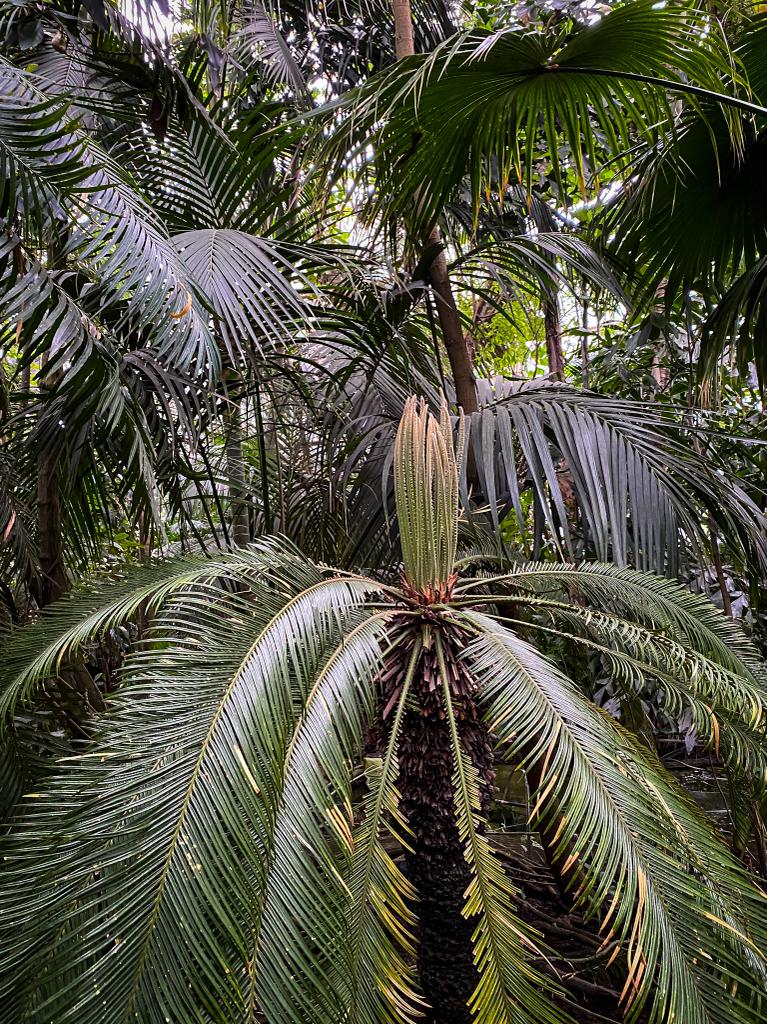 9. Enjoy the best of the Poznan coffee scene
There are few things we enjoy more when we travel than finding a new cafe serving great coffee. As self-declared coffee addicts, we are always on the hunt for the best brew.
The coffee scene in Poznan is not very huge, but it is easy to find excellent coffee. Below you can see our favourite places for speciality coffee in Poznan. They are all located in the city centre and can be reached on foot.
Miel Poznan (Święty Marcin 14): Excellent cafe with great coffee from different roasters
Lastryko Cafe (Święty Marcin 41/2) Great coffee and delicious pastry. Roast their own coffee.
PLOT TWIST espresso bar (Ratajczaka 20) Excellent self-roasted coffee in a cool cafe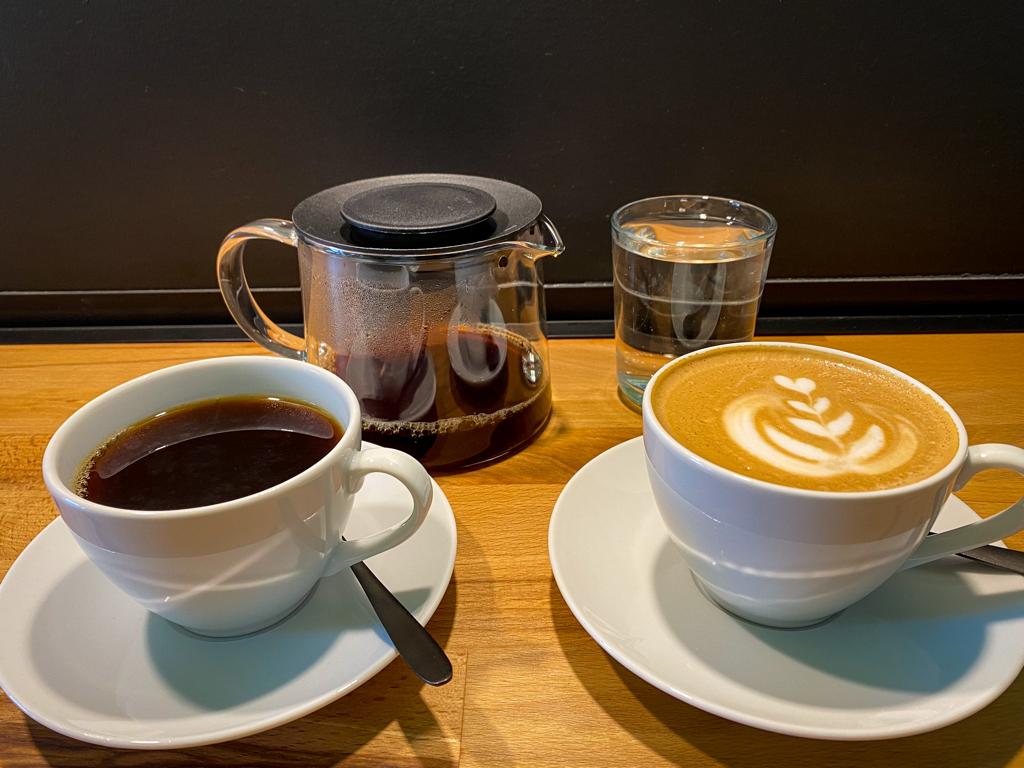 10. Shop till you drop – in an old brewery
The old brewery in Poznan, Stary Browar, is now a shopping, art and business centre. Go here if you are looking to do some serious shopping. Many local and international brands are found here. Should you not be into shopping, there are lots of nice restaurants, bars and cafes as well as a food court.
Depending on what you buy, the price level is, in general, a bit lower than in western Europe, but don't expect huge savings on big International brands.
Stary Browar Półwiejska 42. Walking distance from the city centre.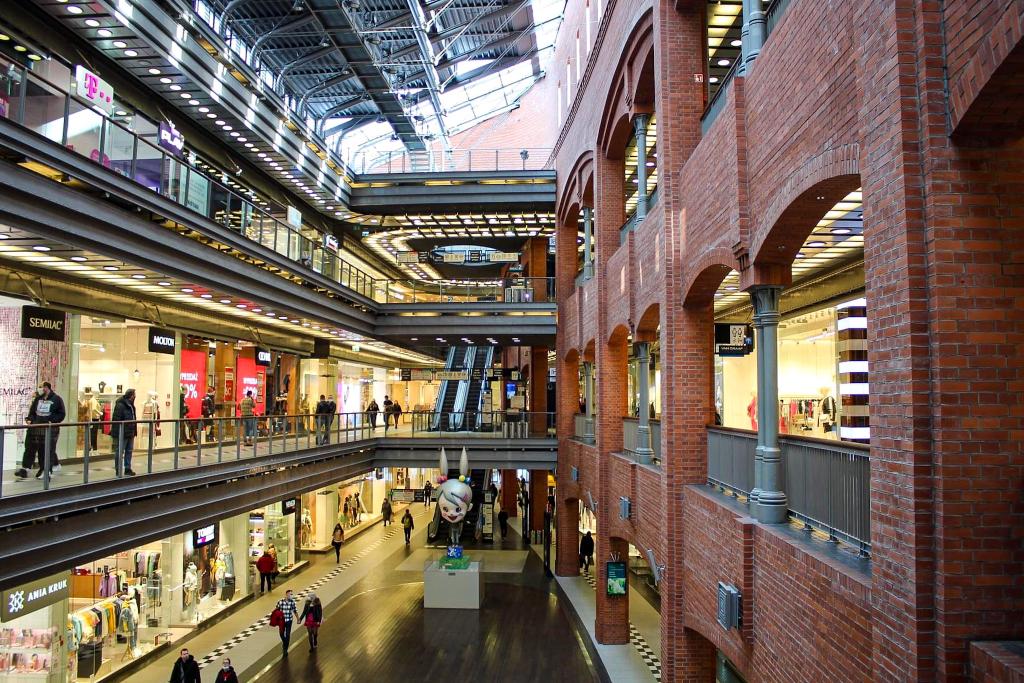 Where to stay in Poznan – Hotel in Poznan
There are lots of hotels in Poznan, and choosing the right one for you can always be a challenge.
We have visited Poznan three times, and two of these times we have stayed with Park Inn by Radisson Poznan. This trendy hotel is located next to the Old Town and it only takes a few minutes on foot to get there.
The rooms a bright, modern and spacious, and an excellent breakfast give you a great start to the day. You can also find a restaurant and a lobby bar at the hotel.
For us the best with this hotel is the location, modern rooms, great breakfast and that it gives value for money.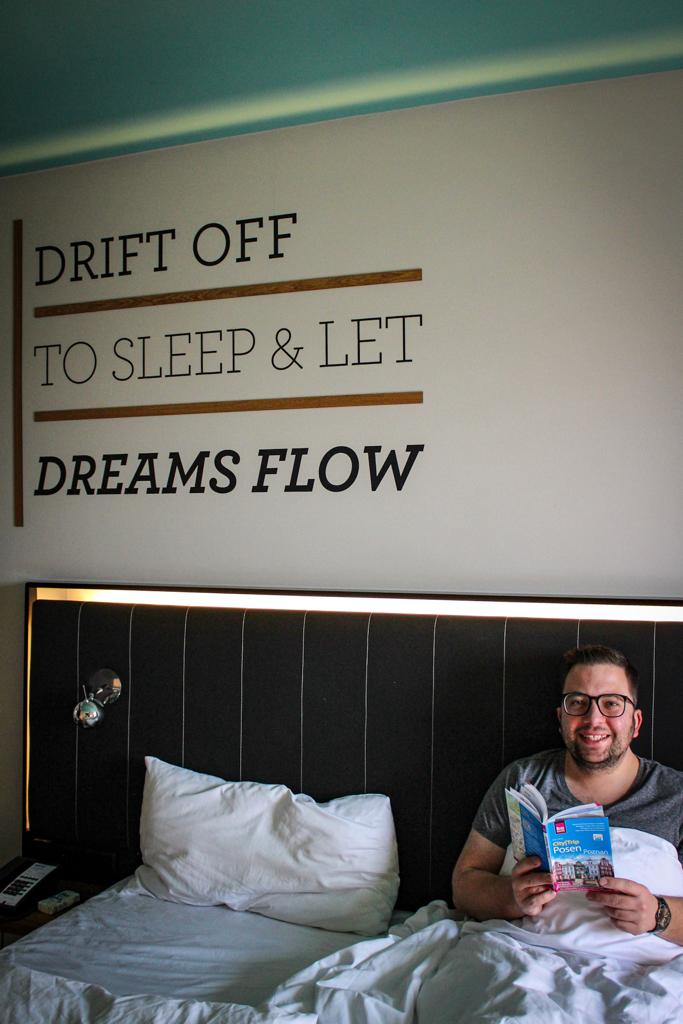 Plan your trip: How to get to Poznan and around
Located only 7km west of the city centre, Poznan Airport is easily accessible. Bus lines 159 and 148 take you to the city in about 20-30 minutes. Purchase your ticket in the newspaper stand, from the ticket booth or at the vending machines. A taxi from the airport takes around 20-30 minutes as well.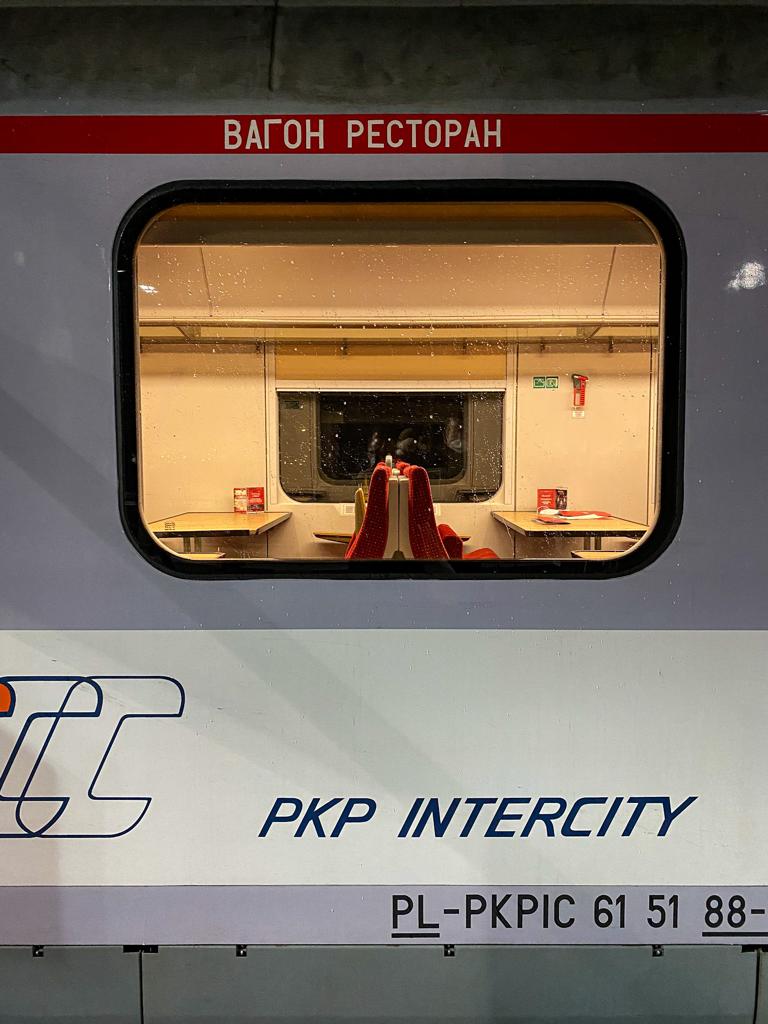 TIP: Read this Eastern Europe Itinerary for 3 weeks if you are planning to explore more of this part of Europe
Poznan is a busy train hub, and you can arrive from most parts of Poland or Germany. Taking the bus is possible from many Polish cities, and also from e.g. Berlin or Prague. The train and bus station is located just outside the city centre, but within walking distance to the main square. Check e.g. bahn.de or flixbus for information about trains and buses.
Poznan is very walkable, as the city centre is not too big. All places described here are within walking distance. Furthermore, the city is well connected by public transport with buses and trams.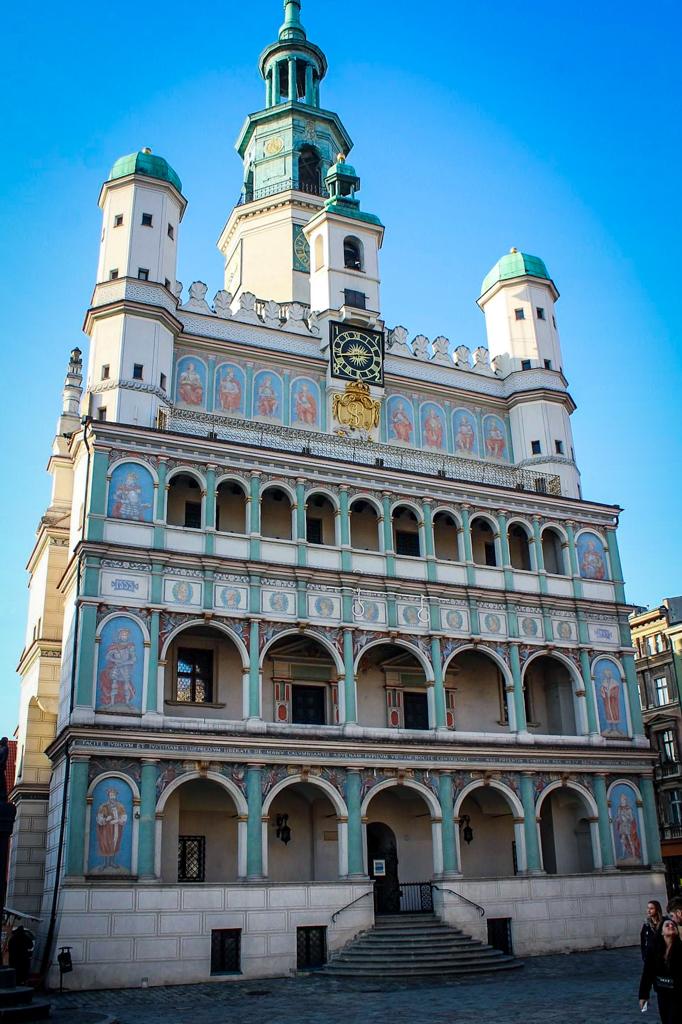 Please note: We have been invited to stay at Park Inn by Radisson Poznan for one of our visits there. Via the collaboration, we have been sponsored for a stay including breakfast. As always there are no guidelines or requirements for what we should write. All opinions in this post are our own and are not affected by the sponsorship.
Click on the pin to save it to Pinterest