This post may contain affiliate links, where we may receive a small commission if you purchase something through following the links at no extra cost to you.
Cordoba is one of the unique Spain tourist attractions that you have to see in your life. A city so full of history, architecture and monuments built to last should be on your itinerary when you visit Andalucia. The atmosphere is relaxed and around every corner, you can find good, authentic Spanish food. Read on to discover 7 great things to do in Cordoba.
Cordoba, Spain, started as a Roman settlement in the 3rd century BC. After the Romans, followed the Christians, then the Muslim rulers conquered it before the Christians took it back again. At one point it was the largest city in western Europe. Cordoba was famed as the"city of the three cultures" with Muslims, Jews and Christians living peacefully in coexistence.
Today, as a modern city, there are lots of things to see and do in Cordoba. It's home to several magnificent pieces of Moorish architecture, Roman ruins, beautiful patios and narrow lanes in the medieval part of the city. In addition, the modern part north of the historic centre has a more local vibe.
This blog post gives you 7 great things to do in Cordoba. Whether you have only a few days to visit Cordoba or stop by on a longer holiday in Spain, these unique Spain tourist attractions will set you back in time and place, and perhaps make you want to spend a longer time than you thought.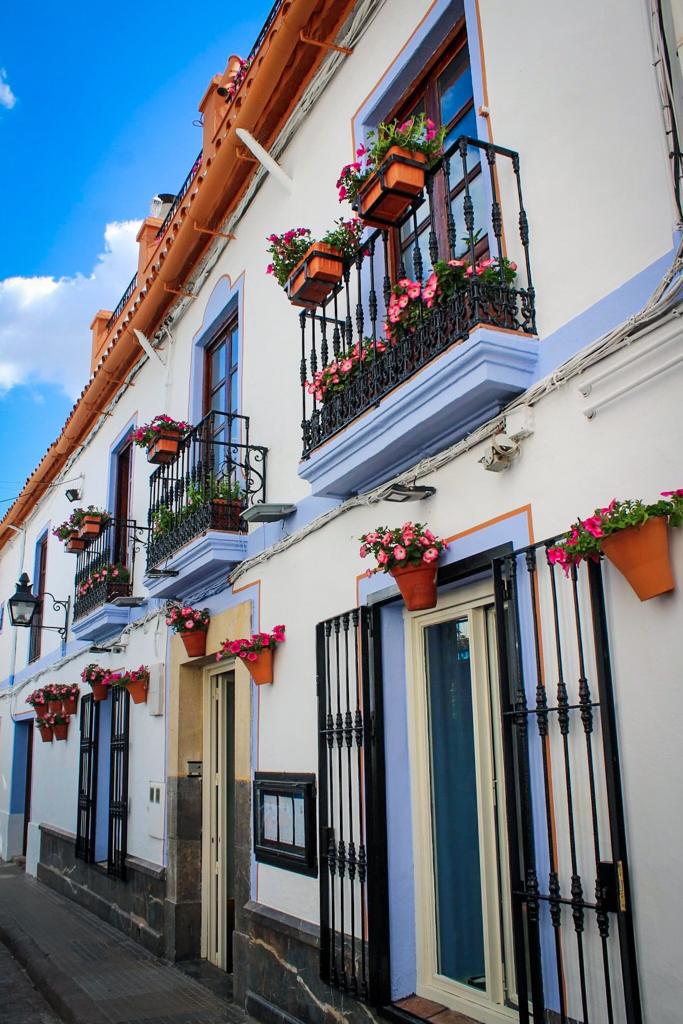 1. Cordoba Mezquita – best of things to do in Cordoba
The Cordoba Mezquita is worth the trip to Cordoba alone. Certainly, it is one of the most stunning buildings we have ever visited. Therefore it should be on every traveller's bucket list. No pictures can justify the experience of being there. You have to be there, feel it, and take it all in. We honestly think this is one of the most unique Spanish tourist attractions there is, and it is definitely one of the landmarks in Spain.
Cordoba Mezquita or Mezquita-Catedral de Córdoba (Mosque-Cathederal of Córdoba) is regarded to be one of the world's greatest works of Islamic architecture. It is believed that it started with a Christian church on the site. After the Islamic conquest, it was shared by Muslims and Christians. Emir Abd al-Rahman purchased the Christian half of the church in the year 784. He demolished it to give space to the grand mosque on the same ground.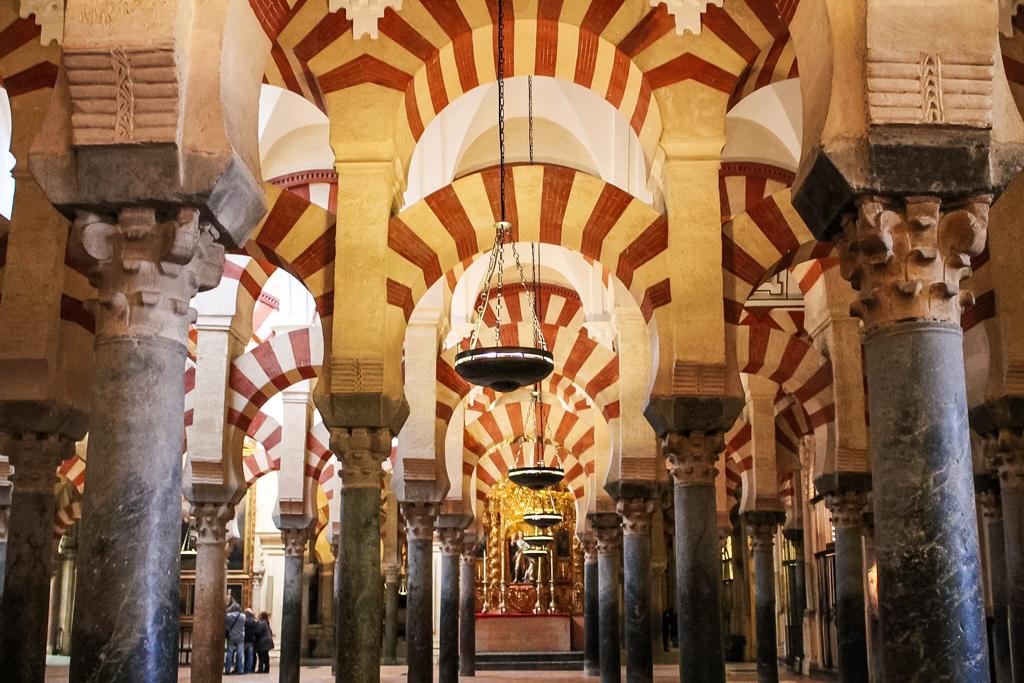 The building was converted to a Roman Catholic church in 1236 when Cordoba was returned to Christian rule. Afterwards, the building was undergoing several changes to the existing structure. The biggest change was the construction of a Renaissance cathedral nave in the middle of the structure.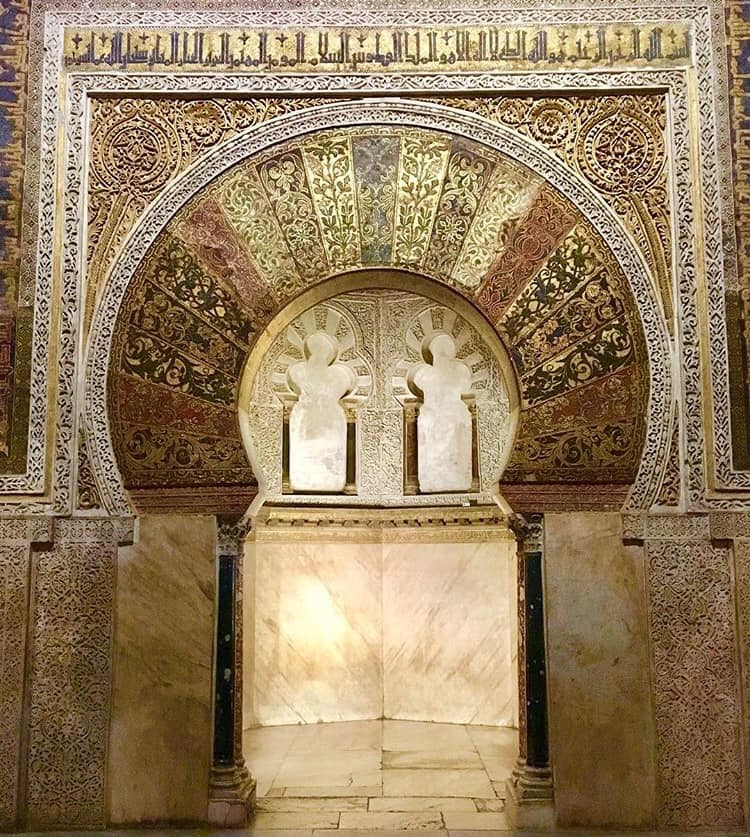 Walking around inside the building will show you why it's called the Mezquita-Catedral. In some parts, you walk under Islamic arches and columns. In other parts, you pass small chapels or enter the magnificent central cathedral nave in the middle.
Before you go – How to visit Cordoba Mezquita
Opening hours Cordoba Mezquita in the winter (Nov-Feb):

Monday to Saturday: 08.30-09.30 and 10.00-18.00
Sunday: 08.30-11.30 and 15.00-18.00

Opening hours Cordoba Mezquita in the summer (March-Oct)

Monday to Saturday: 08.30-09.30 and 10.00-19.00
Sunday: 08.30-11.30 and 15.00-19.00

Mass in Cordoba Mezquita:

09.30 Mon-Sat
12.00 & 13.30 Sun

General admission: €11
The best time to visit is early morning or late afternoon to escape the crowds
Limited visitors to the Bell Tower. Purchase ticket in the morning
We highly recommend purchasing your tickets online due to the long lines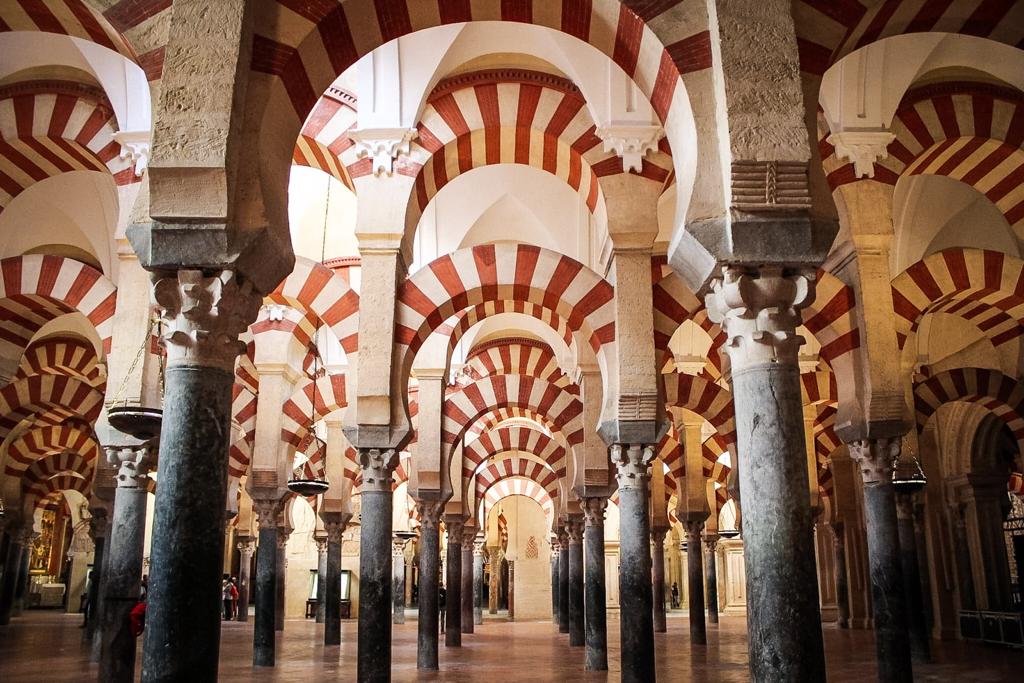 2. Alcázar of Cordoba – Royal history in Cordoba
Not far from Cordoba Mezquita is the great Alcázar de los Reyes Cristianos (Castle of the Christian Monarchs). A visit to the Alcázar is another of the things to do in Cordoba that should not be missed. This fort-palace built under the Castilian rule in the 13th and 14th centuries served as one of the residences of Isabella I of Castille and Ferdinand II of Aragon. Furthermore, this also happens to be the place, where the monarchs first met with Christopher Columbus as he prepared for his voyages.
TIP: Read our post from Huelva Spain – The unique rural and secret Spain. Huelva is closely connected to Christopher Columbus, and it was from there he started his first voyage and discovered America.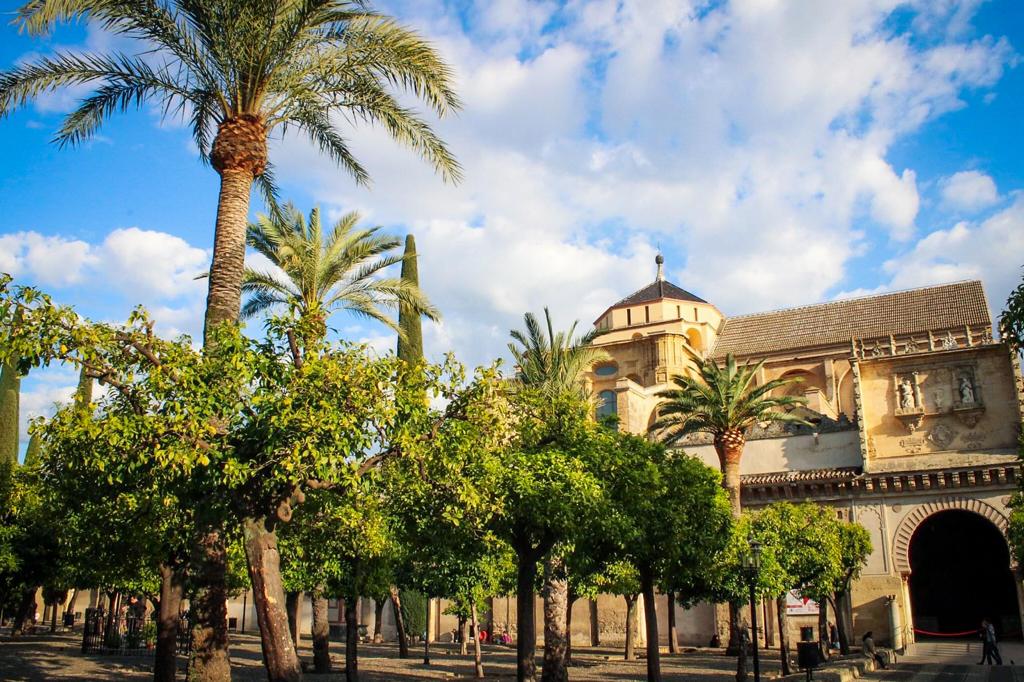 The Alcázar in Cordoba can't be compared with the grandness and beauty of the Alcázar in Seville, which is much larger and also better preserved. Still, a visit to the Alcázar in Cordoba will impress you. This beautiful construction should not be missed when you are in the city.
Visit inside first, where there are some well-preserved beautiful mosaics. From here you can access the towers of the walls. From up here, you will be granted spectacular views over the buildings and the great garden.
TIP: Read our post on Seville City Break – things to do in Seville where we also visit the Alcázar of Seville
Continue to the garden after the visit inside. It's a most impressive garden with all its fountains, fish ponds, flowers and orange trees. At the far end of the garden, you can see a statue of Isabella I, Ferdinand II and Christopher Columbus.
Before you go – How to visit Alcázar of Cordoba
Opening hours for Alcázar of Cordoba in winter (Sept 16th-June 15th):

Tuesday-Friday: 08.30-20.45
Saturday: 08.30-16.30
Sunday: 08.30-14.30

Opening hours for Alcázar of Cordoba in summer (June 16th-Sept 15th)

Tuesday-Saturday: 08.30-15.00
Saturday: 08.30-14.30
Closed Mondays

General admission: €5 (purchase your ticket at the ticket office)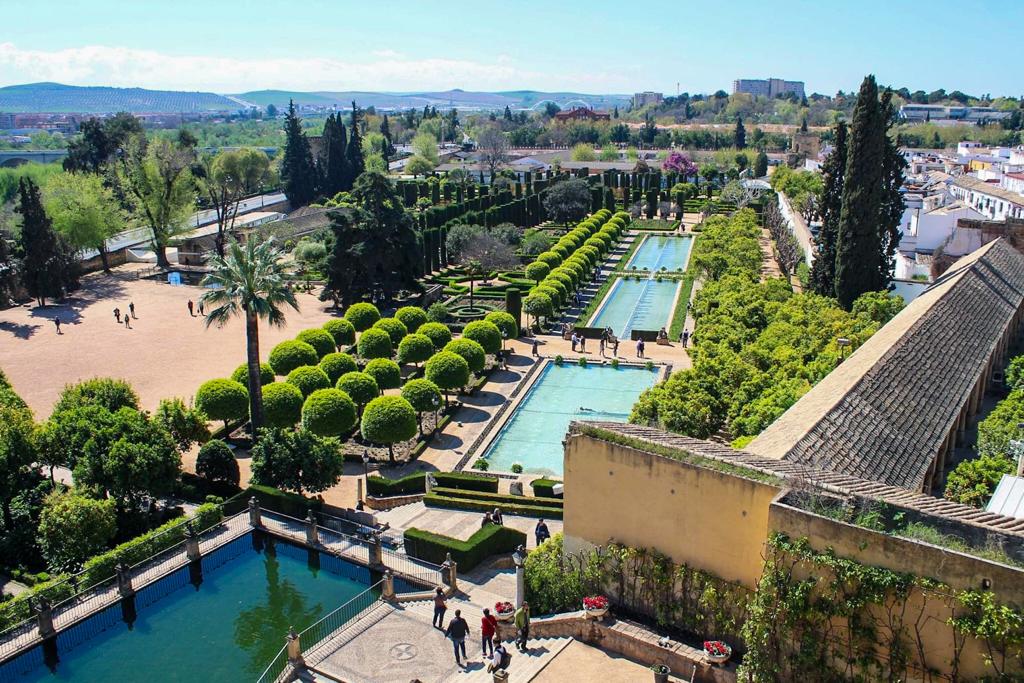 3. Puente Romano – the Roman bridge of Cordoba
Crossing the Guadalquivir River in the historic centre is the Roman Bridge of Cordóba, Puente Romano. It was constructed in the 1st century BC and has been reconstructed several times since. It is believed that Via Augusta, connecting Rome with Cádiz, passed over the bridge. Most of the structure seen today dates from the 8th century after a Moorish reconstruction.
Visiting and crossing the bridge is free of charge. The best view you will get is from the other side of the river, opposite the old town. It is truly an impressive construction where you easily can spend quite some time. If you visit in the morning or during the day; come back in the evening as well. When evening falls, the bridge will be charmingly illuminated.
After being featured in some scenes in Game of Thrones, the bridge has become more famous in recent years.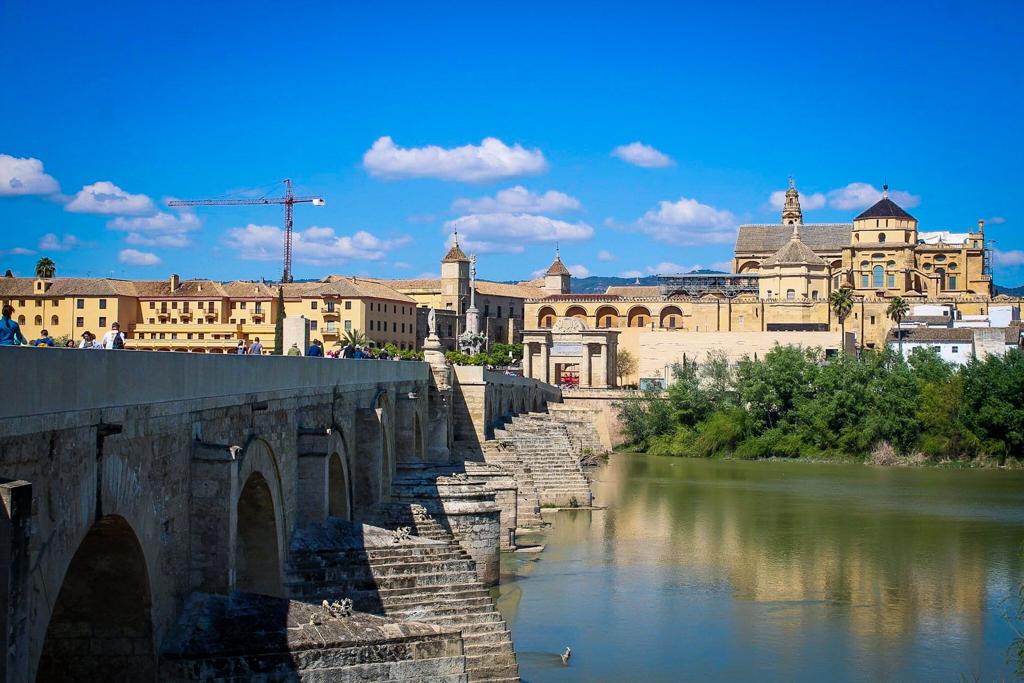 4. Wander the streets of Cordoba's historic centre
The old town of Cordoba is such a lovely part of the city. With its narrow streets, small squares, street-side cafes, restaurants and shops, it is easy to spend hours on end here. The architecture is typical Andalucian, and in many places, you will see signs of the Moorish heritage as well.
Avoid the crowded, most touristy, partly uncharming, sometimes unfriendly streets closest to the Mezquita and the Alcázar. Instead, head a few streets away. Then you will find it. The real charm of Cordóba. In the narrow lanes, filled with flower pots, beautiful doors and balconies, orange trees and nice squares, you will feel the real and authentic vibe in Cordoba.
While walking around the city you will probably also pass some of the many churches in Cordoba. We recommend not only passing them. Enter some of them. Spanish churches are often very richly decorated. Furthermore, mostly they are free to enter (but donations are welcome).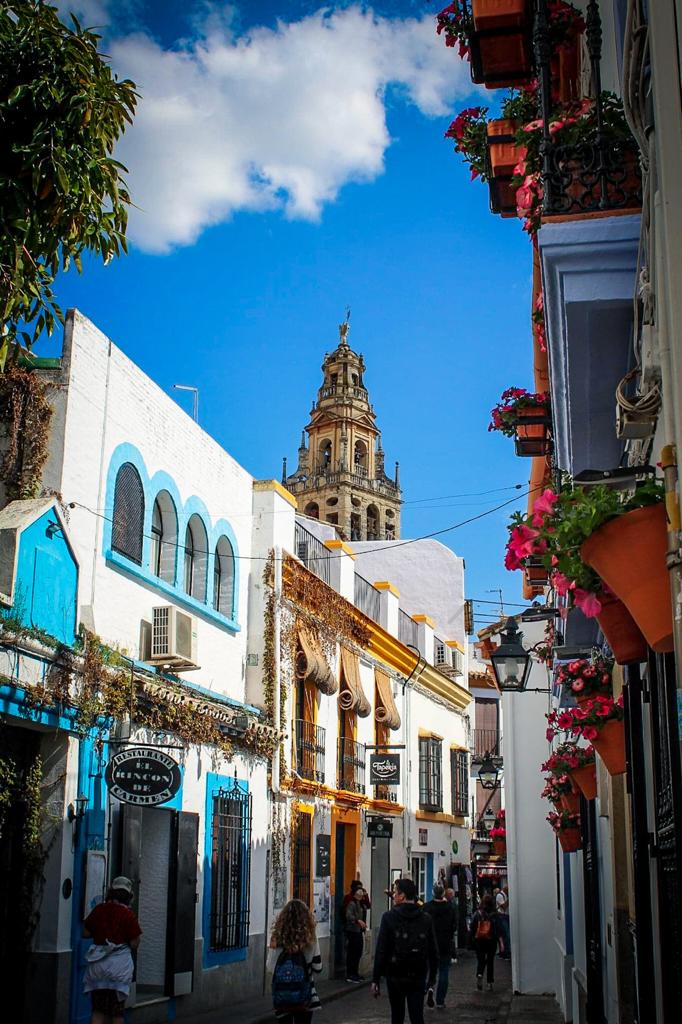 5. The Jewish Quarter
Spain once had one of the largest Jewish communities in Europe. The Judería is the old Jewish quarter in Cordoba. In contrast to the modern centre more north in the city, with taller and more grand buildings, the streets in Judería have lower buildings, most of them whitewashed.
Walking the Juderia reminds us a bit of walking a labyrinth. Probably, you might end up getting lost, but enjoy it if so happens, because in these narrow lanes there is so much to see. Behind beautiful gates are hidden patios, tile works and handicraft shops selling beautiful handcrafted goods.
Also, in Juderia you can visit the Sinagoga (the synagogue). It's a small, not very impressive Synagogue, and not in use for prayers anymore. Still, it's worth the visit as it has an important historical role in the history of the Jewish presence in Andalucia.
6. Explore the Cordoba patios
One of the most charming things to do in Cordoba is explore the Cordoba patios. Especially the historic centre is full of beautiful backyards, the so-called patios. Some of the Cordoba patios are often a bit hidden, but they are still easily found.
Filled with flowers, often Geraniums, and other flowers and plants, many of them are definitely worth a visit. Some of the patios in Cordoba can be visited for free, like Asociación de Amigos de los Patios Cordobeses. It's run by an association of "friends of the patios in Cordóba".
Of the Cordoba patios we visited, our favourite was at the Palacio de Viana (Viana Palace). Surrounding this impressive palace is no less than 12 patios, one more beautiful than another. There's such a great variety of plants and flowers, and the whole layout is stunning.
Don't miss a tour through this former aristocratic palace while you are there. Not all of the over 100 rooms are open to the public, but on a tour around the rooms, you can see exhibitions of paintings, furniture, mosaics, dinner sets and so on. A tour here will give you a glimpse into the life of a Spanish aristocratic family from times gone by.
TIP: Cambrils is a really charming summer spot in Spain, and this post on the Best of Cambrils will give you everything you need to know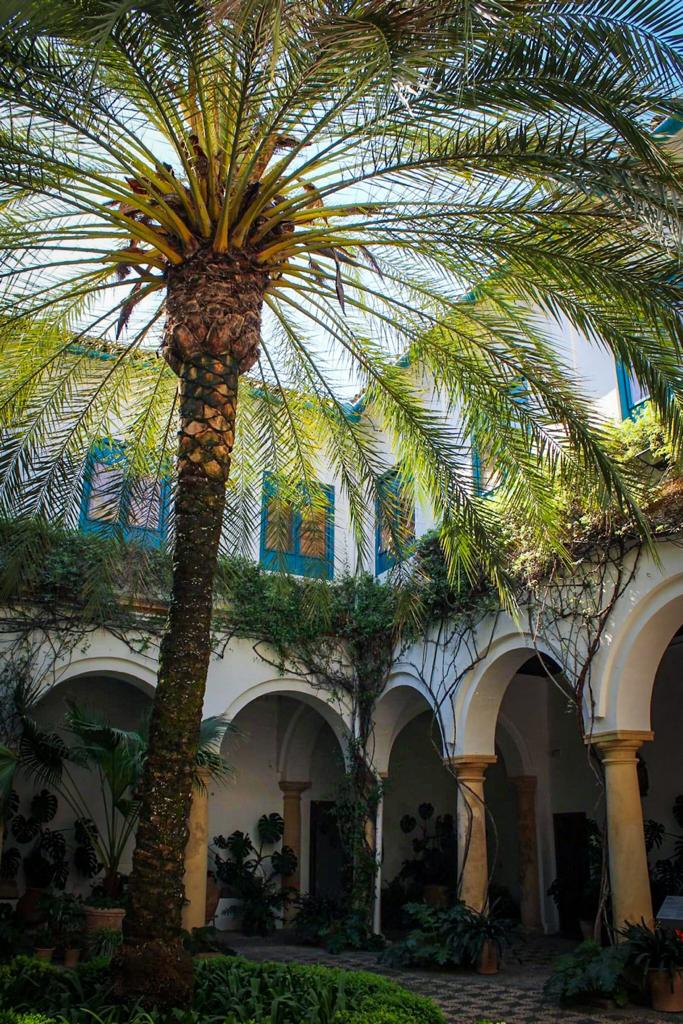 7. Indulge yourself in Cordobas food scene
Above all, Spain is food! Lots of it. And everywhere. Imagine Iberico ham for breakfast, tapas for lunch, and oxtail stew for dinner. Surely, if you, like us, are a foodie, you will have the best time in Cordoba.
As in most cities in Andalucia, you can choose between rural and traditional dishes, or a modern kitchen using traditional ingredients with a new twist. We like to explore both sides, but often we tend to go for the traditional food with its simplicity and clean flavours.
In the historic centre, it can be a bit of a challenge to find a restaurant run not only for tourists. The more away from the main sights, you get, the better the food gets. After some searching around you will find excellent places to eat. Can't decide what you want? Head to the Los Patios de la Marquesa food court. This small, local food hall focuses on Spanish street food and we had the most amazing bites here. Tra food from more than one stall if you like variety and tastes.
BUDGET TIP: Try one of the so delicious Iberico ham sandwiches for lunch instead of a sit-down lunch. They taste amazing and they don't cost a lot.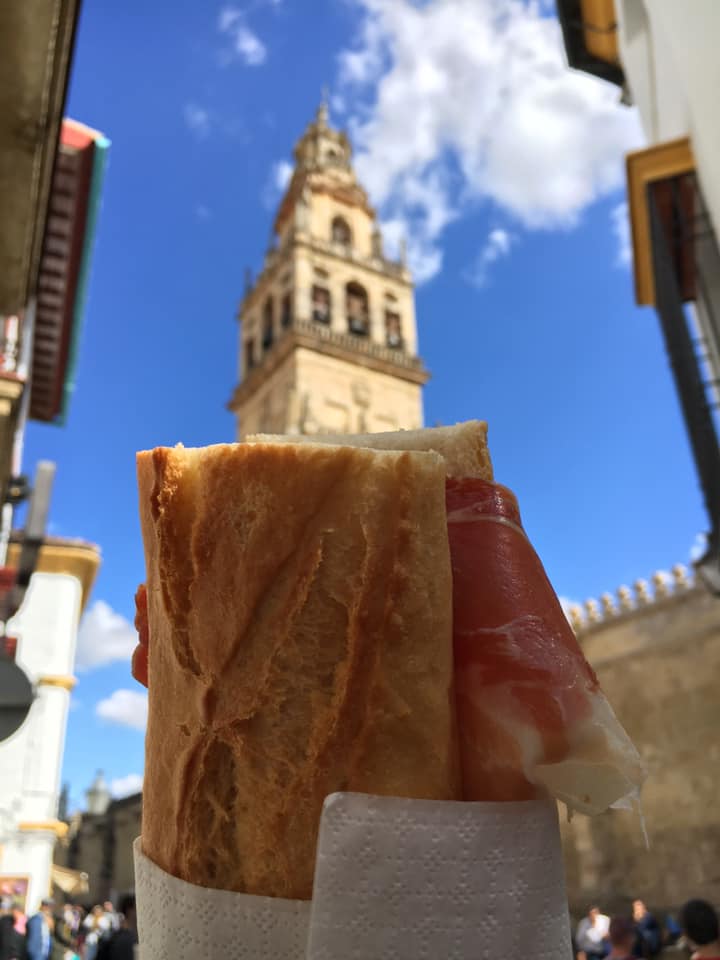 Best time to visit Cordoba – Weather in Cordoba
Cordoba can be visited year-round, but we recommend avoiding the warmest months in summer. The temperatures can be boiling hot. In Cordoba, you are inland. There is no sea breeze of tempting water to cool you down.
Spring and autumn in normally the best time to visit Andalucia with comfortable temperatures. The warm season is long in this part of Spain. Therefore, you can enjoy the sun earlier or later in the year than in many other places in Spain.
TIP: Read our post with great Malaga tips if you also want to head to the Mediterranean coast
Cordoba is also a great place to visit if you plan on travelling to Spain in the winter. Daytime temperatures can still be comfortable but expect chilly evenings. The bonus of visiting Spain in the winter is that you can avoid the huge crowds that flock there during the warmer months.
In the winter (Dec-Feb) the mean temperature is 10-14 °C (50-57F)
In high summer (Jun-Aug) the mean temperature is 25-28 °C (77-82F) but can reach 37 °C (98F) and above
In spring and autumn, the mean temperature is comfortable at 15-20 °C (59-68F)
Plan your trip: How to get to Cordoba and around
The best way to arrive in Cordoba is by train or bus. The train and bus stations are located just opposite each other. It is possible to walk the 1,2 kilometres to the centre. Otherwise, bus 3 from the street between the two stations will also take you there. A taxi is of course possible.
Córdoba is well-connected. Train and bus services connect Cordoba with most major places in Andalucia and with other parts of Spain. If you are travelling from Cordoba to Seville, or maybe from Cordoba to Granada, there are numerous connections throughout the day to choose from.
TIP: Train travel in Spain can be quite expensive. Book online in advance for the best deals
The city centre of Cordoba is small and compact. Normally there is no need for public transport when exploring the city. Even though some parts of the city are a bit hilly, walking is possible to all sights and places of interest.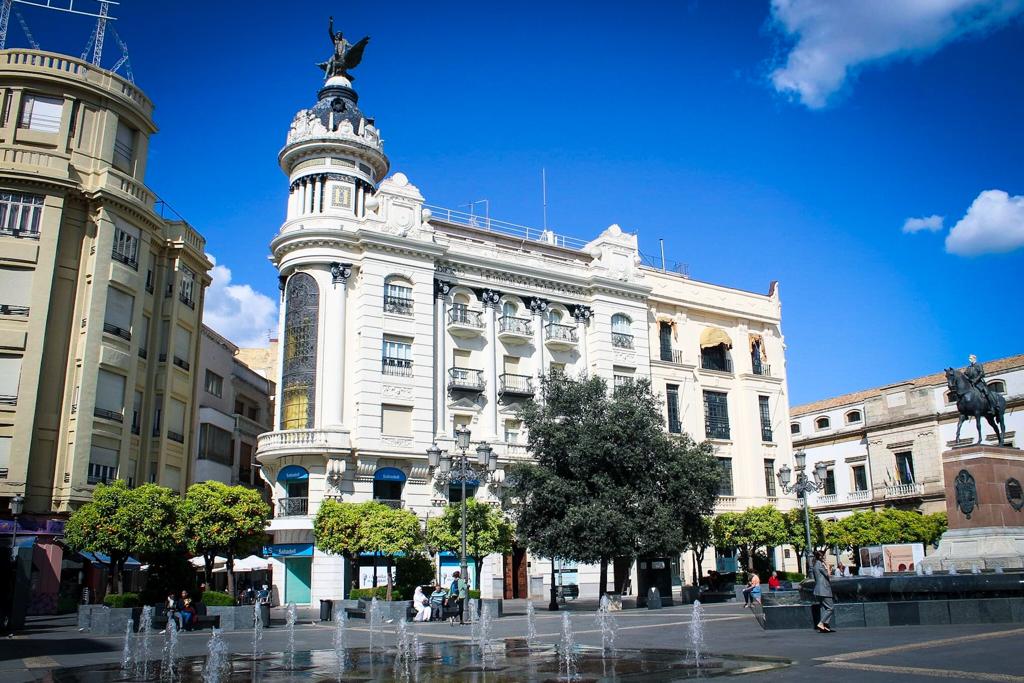 Click on the pin to save it to Pinterest