This post may contain affiliate links, where we may receive a small commission if you purchase something through following the links at no extra cost to you.
A legend has it that Hercules himself founded Seville. The city is old. Very old. Ruled by the Romans, the Moors and by the Castilian kings for centuries. It's been one of the richest and largest cities in the world thanks to Spain's Golden Age, and its important role following Cristopher Columbus's expedition to the new world. Today it is a modern city with world-class sights and beauty around every corner. With a thriving restaurant scene and rich food culture, Spain's fourth-largest city is a must-see in Spain. We fell totally in love with it. Welcome to a Seville city break!
For describing Seville rightfully, we would have to use all the positive adjectives we know. That's how much we like this city. Not only do we think Seville is one of the best places to visit in Spain. We honestly think it is one of the best cities to visit in Europe.
As part of a journey through Andalucia, Seville (or Sevilla) is an obvious stop en route. But a Seville city break is also perfect for those looking for the best weekend trip to Spain. With a population of just under 700 000 people, it's small enough for a weekend trip and big enough for spending days on end.
Two main things attract us about Seville. First of all, the amazing world-class sights are not to be missed. And then, for us, the best sight in Sevilla is the city itself. To wander its beautiful streets, take in the local life and of course enjoy the ever-present food.
This post gives you our personal favourites in one of our favourite cities in Europe. Read on for our best tips for a Sevilla city break.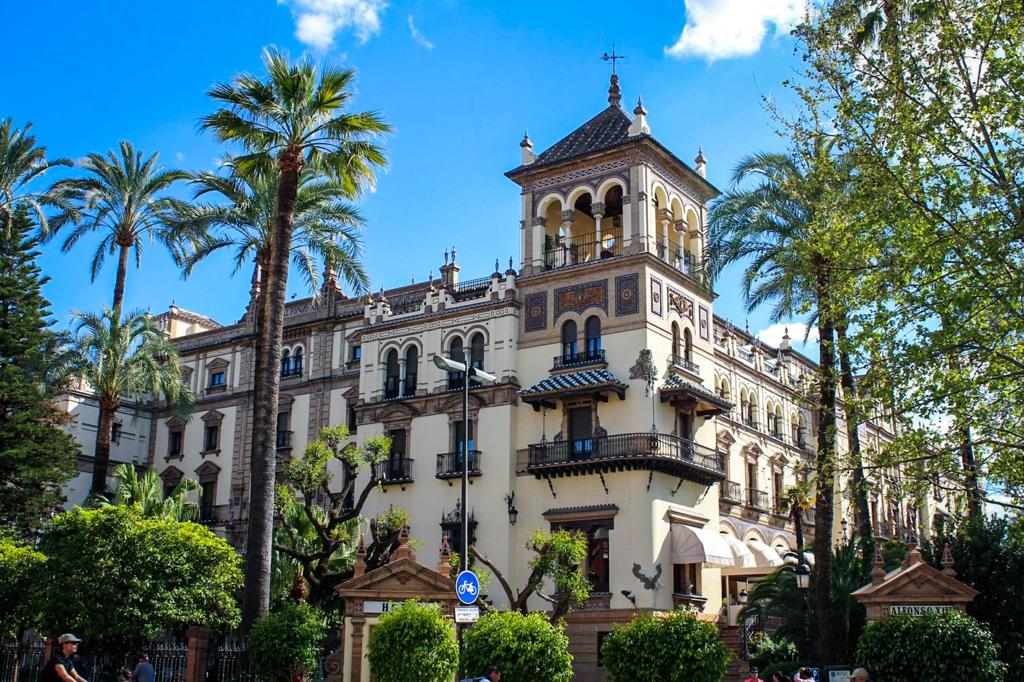 1. Seville Cathedral – world-class architecture
Seville is home to the world's largest Gothic cathedral and the third-largest church building in the world. The cathedral, officially known as Catedral de Santa Maria de la Sede (Cathedral of Saint Mary of the Sea), can't be described with one word only, but if we should try, the word would be huge, enormous, magnificent or masterpiece. It was built between 1434 and 1517 over the remains of what had been the main mosque in the city.
The exterior of the Seville cathedral is nothing but stunning. The building has so many details, sculptures, reliefs and other decorations. Also, the sheer size of the building makes it even more impressive. Then there is the interior. If you found the outside beautiful, wait until you enter inside.
The main altar, was painted by several artists, including Goya and, the tomb of Christopher Columbus himself. Walking around inside the cathedral really makes one feel small. Everything is so grand – so huge, and so pretty! Here one can clearly see the importance Seville once had in the Spanish empire.
TIP: Read our post from Huelva Spain – The unique rural and secret Spain if you want to visit Spain off the beaten path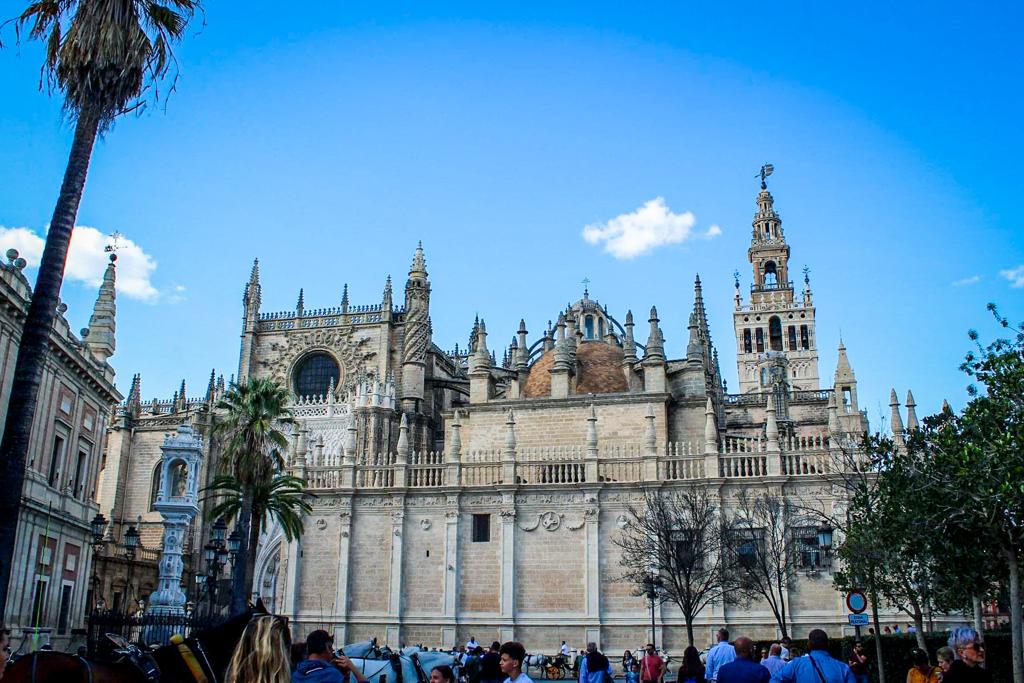 A visit to the cathedral can be a test of your patience. The line to get in is long, and waiting in that line just takes too much time. That's why we recommend purchasing your ticket online. Then you will enter through another entrance, and you will avoid the huge masses lining up for what seems like forever.
Before you go – How to visit Seville Cathedral
Opening hours Seville Cathedral in the winter (September-June)

Monday: 11.00-15.30
Tuesday-Saturday: 11.00-17.00
Sunday: 14.30-18.30 (there's a mass in the morning)

Opening hours Seville Cathedral in the summer (July-August)

Monday: 09.30-14.30
Tuesday-Saturday 09.30-16.30
Sunday: 14.30-18.30 (there's a mass in the morning)

Entrance is €10 (including the Giralda tower)
Guided tours in the cathedral or on the roof are possible
Purchase your ticket online (highly recommended)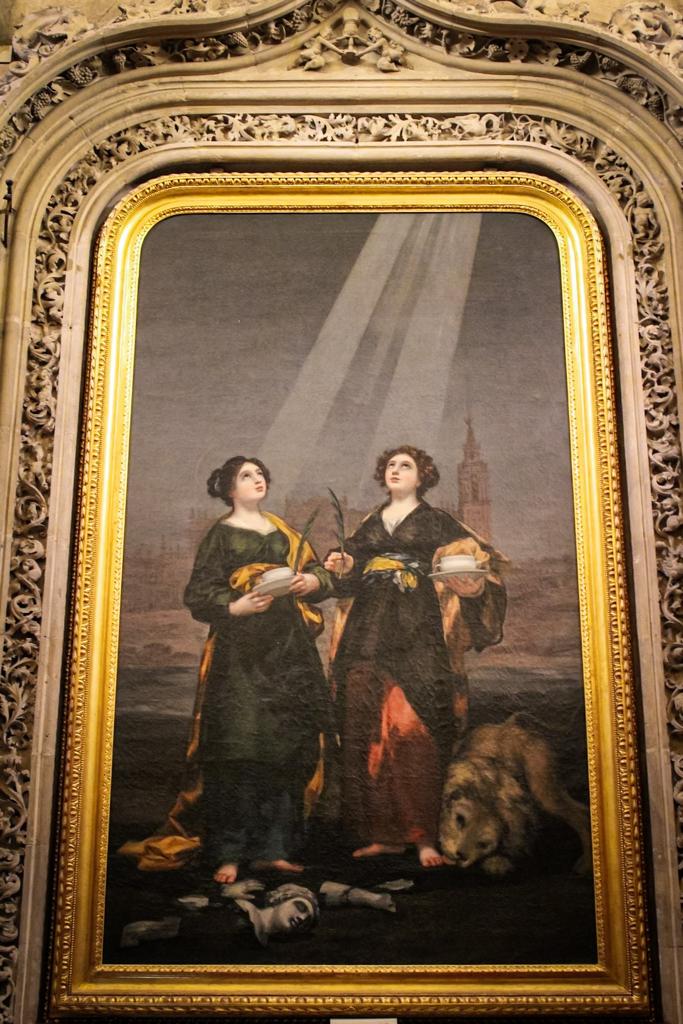 2. Giralda – a masterpiece in the heart of the city
Another main sight in Seville is the Giralda. Once the minaret of the mosque was constructed between 1184 and 1198, this 104m high tower is an impressive sight. This beautifully decorated construction is regarded to be one of Spain's most stunning Islamic buildings.
The topmost parts of the Giralda were added by the Christians in the 16th century, in a period when the Christians made their so-called improvements to former and surviving Islamic buildings. After the Spanish Reconquista, the Giralda tower changed from being a minaret into the bell tower of the cathedral.
The entrance to the Giralda is located in the northeast corner of the cathedral. After the climb to the top, you will be rewarded with amazing views over the cathedral roof and grounds, and also a stunning view over the city.
Before you go – How to visit Giralda in Seville
Opening hours Giralda in the winter (September-June):

Monday: 11.00-15.30
Tuesday-Saturday: 11.00-17.00
Sunday: 14.30-18.00

Opening hours Giralda in the summer (July-August):

Monday: 09.30-15.30
Tuesday-Saturday: 09.30-16.00
Sunday: 14.30-18.00

General admission is €10 (including entrance to Seville Cathedral)
Purchase your ticket online (highly recommended)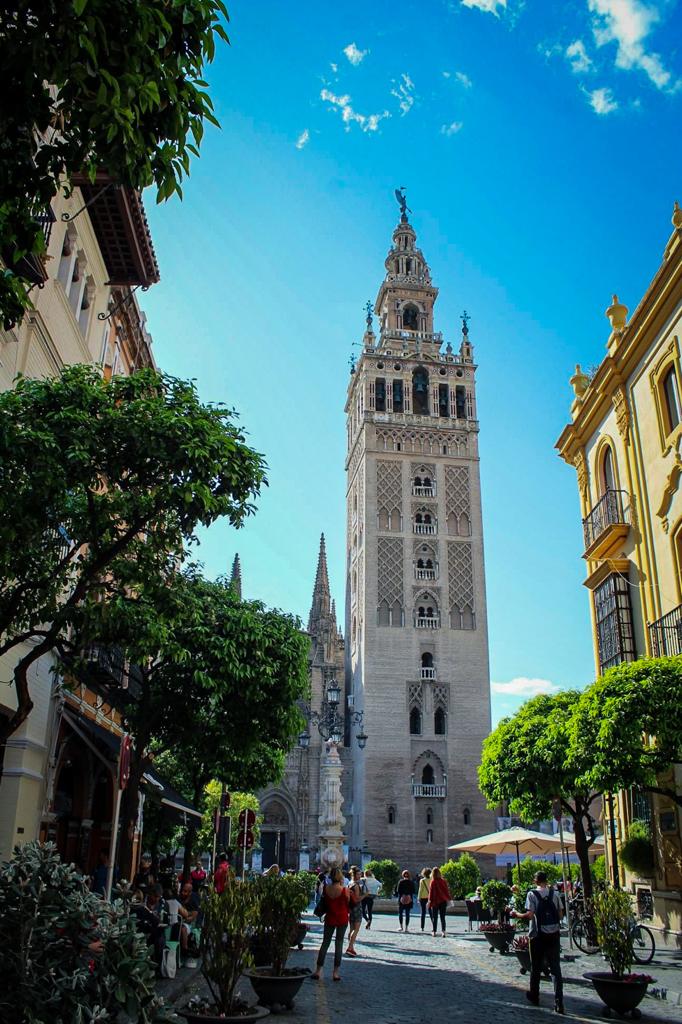 3. Alcázar of Seville – a palace for the kings
The Real Alcázar of Seville, the magnificent Unesco-listed royal palace in the city centre is a must-see on every Seville city break. Constructed in a mix of Christian and Mudéjar architecture styles, this palace is a breathtaking masterpiece. The site has over 11 centuries served as a fort for the Cordoban governors, a palace for the Muslim rulers and later a royal palace for the Christian kings of Spain. More recently the Real Alcázar also was a filming location for the Game of Thrones TV series.
TIP: Don't try to visit both the Alcázar and the cathedral on the same day. Both places are simply too big, and it takes time to fully explore them. It is better to visit on separate days.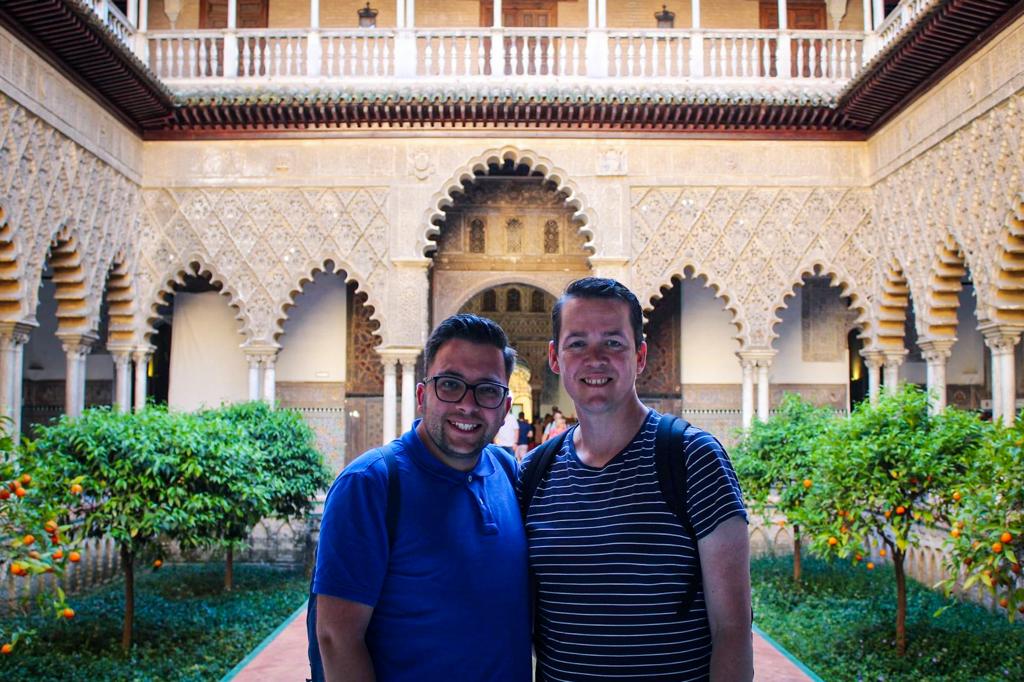 A visit to the palace should be on top of your list of things in Seville. The different rooms, halls and courtyards are so richly and detailed decorated. Parts of the palace are still in use as the official residence in Sevilla for the Spanish royal family. Not only is the palace beautiful, but also the gardens are amazing. While we were there wandering the gardens – we couldn't remember seeing any gardens like this before.
Before you go – How to visit Alcázar of Seville
Opening hours Alcázar of Seville:

Sept 15 – March 31: 09.30-17.00 Monday-Sunday
April 1- Sept 14: 09.30-19.00 Monday-Sunday

General admission: €12,50

Free admission Monday afternoon (from 16.00/ 18.00 winter/ summer)

Purchase ticket online (highly recommended due to very long lines)
The best time to visit is early morning or late afternoon
TIP: Read our post about things to do in Cordoba – unique Spain tourist attractions, where we also visit the Alcázar of Cordoba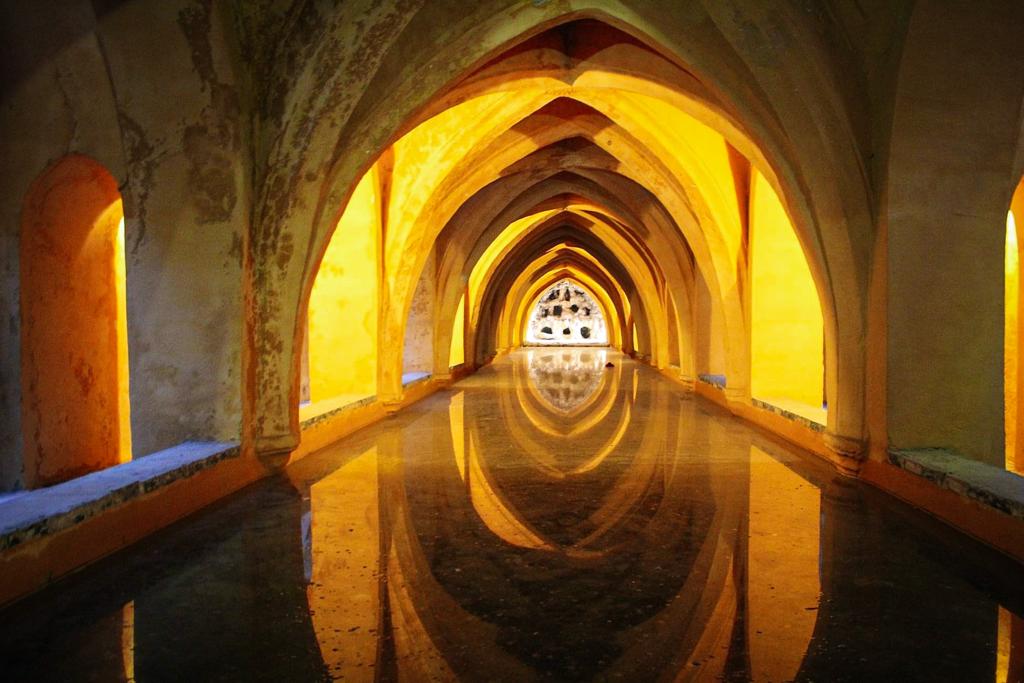 4. General Archive of the Indies – history of the New World
Next to the cathedral, at Plaza del Triunfo, in an old merchants' consulate, you will find the Archivo General de Indias (General Archive of the Indies). This is the home of extremely valuable archival documents telling the history of the Spanish Empire. The collection is vast; the archives have over nine kilometres of shelves! 43.000 documents and over 80 million pages from 1492 until the end of the empire in the 19th century.
Not only is the exhibition very interesting, and tells an important history of the golden age of Spain. The building itself is also very impressive. It is worth the visit, even if you are not too much into history.
Before you go – How to visit General Archive of the Indies
Opening hours: 09.30-17.00 (Mon-Sat)/ 10.00-14.00 (Sunday)
Admission is free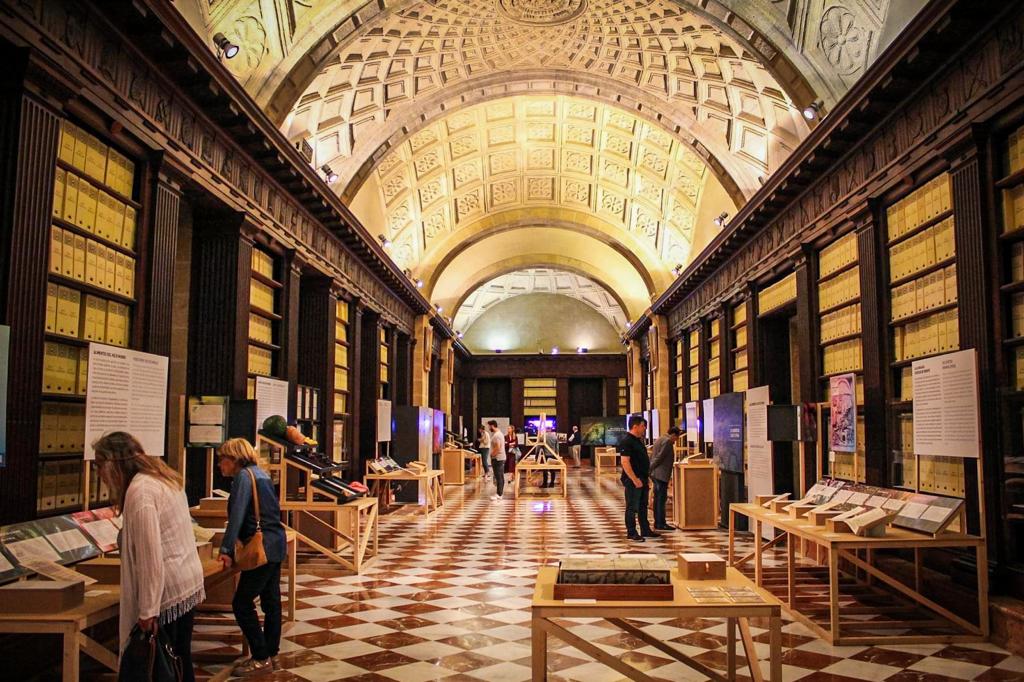 5. Plaza de Espana and Parque de Maria Luise
Situated in Parque de Maria Luisa and constructed in 1928 for the Ibero-American Exposition of 1929, you'll find another Seville landmark, the Plaza de Espana. It's a huge half-circle of buildings running around a vast square with numerous bridges, mini-canals and fountains.
The grand building itself is a mix of architectural styles such as Renaissance Revival, Moorish Revival, Art Deco and Spanish architecture. Around the square, you can also see tile pictures showing historical scenes from each of the Spanish regions. Even it doesn't have a long history like many other sights in Seville, this is also a must-see in Seville. It's so impressive with its size, arches, columns and towers.
This is a very popular place to visit, so expect crowds. We visited mid-day. From what we later have seen, it is even more beautiful in the evening when the buildings are illuminated. You can reach Plaza de Espana easily on foot as it is located close to the city centre. We also recommend a stroll in Parque de Maria Luise. It's a beautiful oasis in the city – perfect to escape the noise and the sun.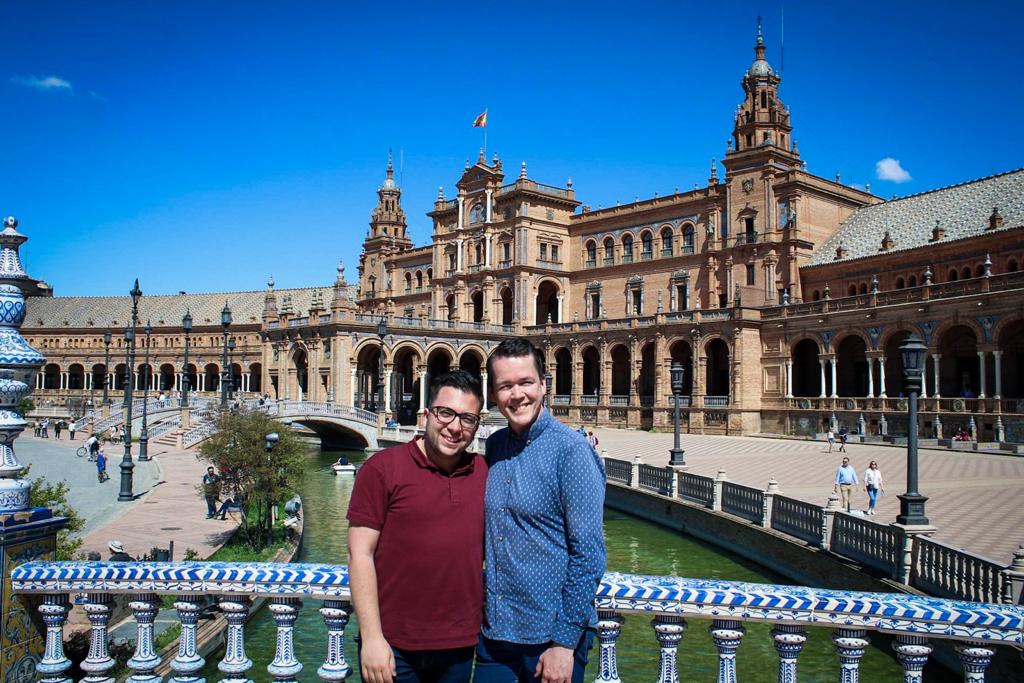 6. Torre del Oro – Sevilles golden tower
Another landmark in Sevilla is the Torre del Oro (Tower of Gold). This 13-century watchtower was the last great building made by the Muslims in the city. The tower has an interesting history. It had a military function in defending the city, and it also served as a prison in the Middle Ages. Personally, what we liked the most was the great view we got from the top of the tower.
Before you go – How to visit Torre del Oro
Opening hours Torre del Oro:

09.30-18.45 (Monday-Friday)
10.30-06.45 (Saturday-Sunday)

Admission is €3 (Free on Mondays)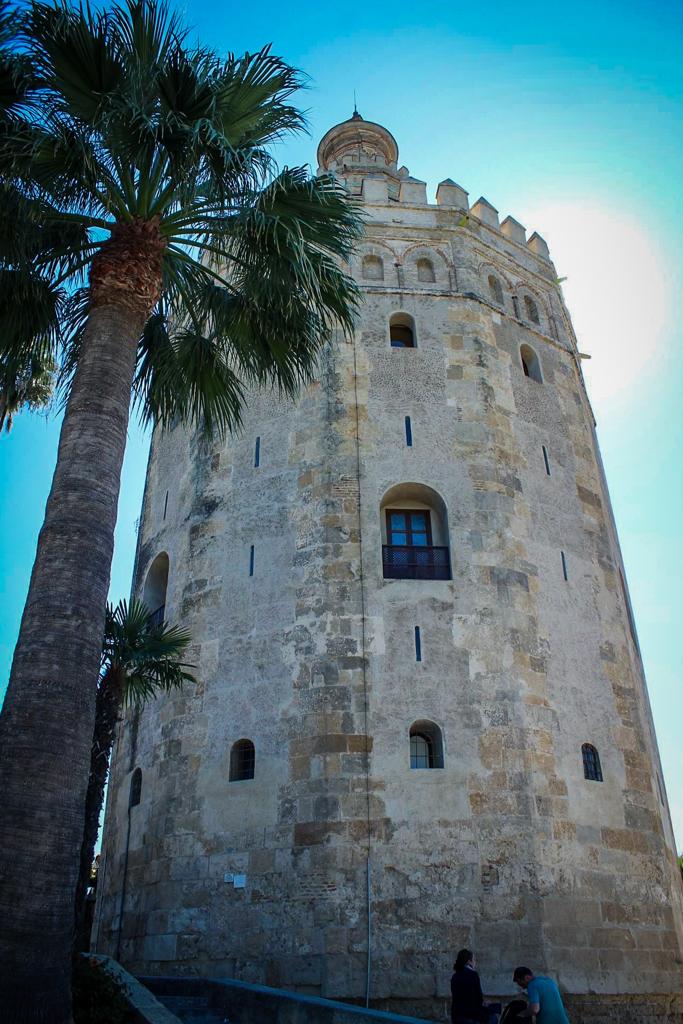 7. Metropol Parasol -a giant mushroom in the city
Not everything in Seville is old and full of history. The city also has some new and modern architecture. One of the newest landmarks in Seville is the Metropol Parasol. This wooden structure, opened in 2011, is located at La Encarnación Square.
Locally this construction is known as las setas – the mushroom. The design is by the German architect Jürgen Mayer-Hermann and, it is said to be the largest wooden structure in the world. It is a popular hangout spot for both locals and visitors. Via a lift, you can get to the top for amazing views of the city.
In the areas around Metropol Parasol, you can also find several bars, cafes and restaurants if you are in need of refreshment or a bite. This area is less crowded and touristy than around the cathedral, so the vibe is more local.
Before you go – How to visit Metropol Parasol
You can enter the grounds for free
Admission the top is €3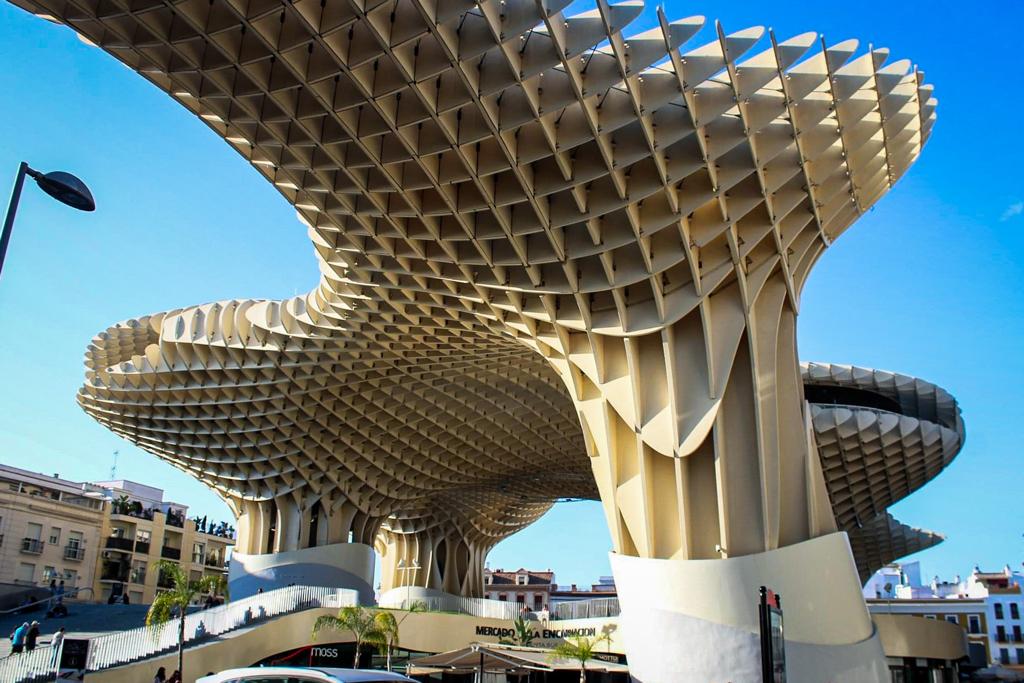 8. Seville city break – perfect for foodies
Of course, in Seville, there is also food. The food alone can be a good reason for a Seville city break. There are traditional restaurants serving rustic and traditional tapas, and there are modern restaurants serving traditional Spanish dishes with a new twist. We love to try local specialities – and for that Seville is perfect. In the city, you will find numerous plazas and squares where there is a taverna, a restaurant or a waterhole – and naturally, we spent quite some time also there.
The streets around the bigger attractions are of course busier and more touristy. Prices are often higher and, of experience, we know that the quality in such places can vary a lot. It is always better to get a bit away from the busiest areas, to the smaller narrow streets where you find more locals in the restaurants and bars.
If you are a fan of Spanish cuisine, you don't always have to seek out the fanciest places to get real quality food. Many simple and sparsely decorated places can serve the most amazing and authentic food there is.
TIP: The Spanish dine late, often around 22.00 in the evening: Plan your dinner late if you want a more local vibe around you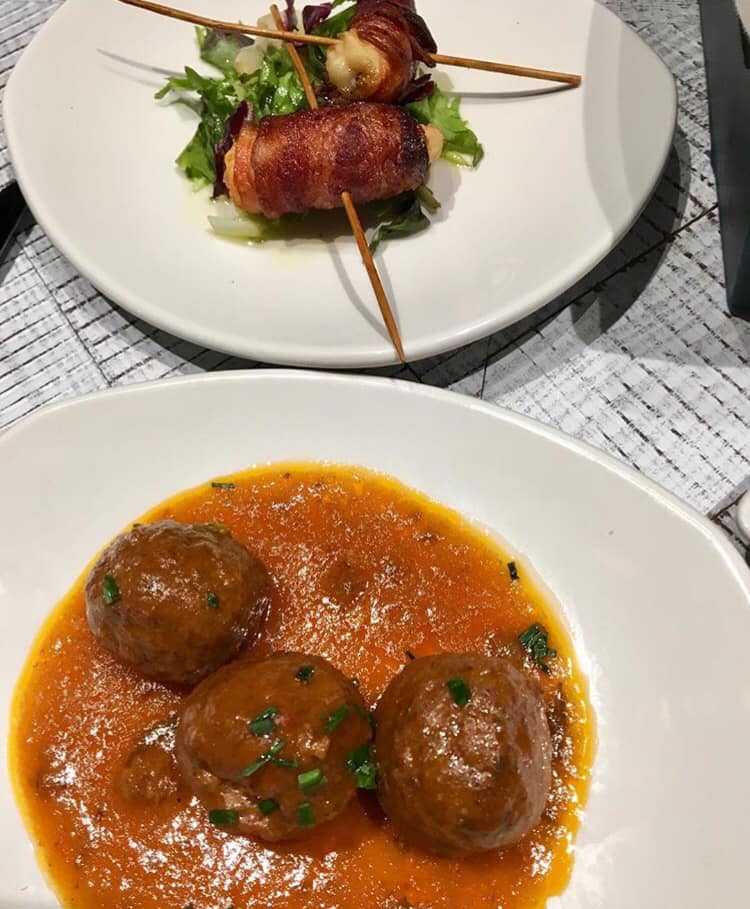 9. Seville is the biggest attraction itself
Even though Seville is full of historical world-class buildings and monumental architecture, the biggest attraction for us was the city itself. Everywhere you go – around every corner it is beautiful. The streets are full of life with shops, cafes, restaurants and bars. Don't spend all your time sightseeing. One of the best things to do in Seville is simply just wandering around in the streets.
TIP: Spain is a great country to explore by train. With an Interrail ticket, you can easily get around the country. This guide to travelling Spain by train will give you all the information you need before hitting the rails.
When visiting a city like Seville we love to walk around without a plan. We always enjoy getting lost and seeing where we end up in the end. The city is full of small and bigger churches, and some of them are worth visiting. Small and relatively anonymous church buildings can be so richly decorated once inside.
The combination of architecture, plazas, high streets, narrow lanes, parks, restaurants, bars and cafes, makes Seville a very lively city. The locals are experts in enjoying life, and if you avoid the busiest tourist months, the crowds are also bearable. Our best tip is to choose one or two sights a day and spent the rest of your time just living the good life. And for that Seville is perfect!
TIP: Read our post from Granada if you want to visit another great Andalusian city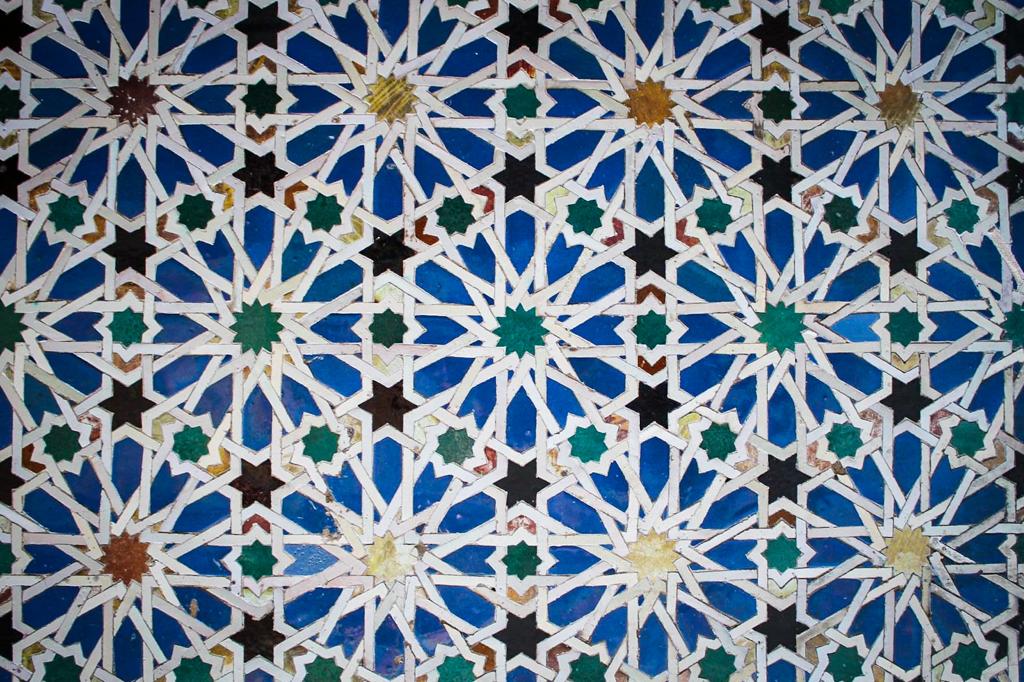 Best time to visit Seville – Weather in Seville
Seville can be visited year-round, but it's recommended to avoid the warmest summer months. Andalucia in general, and Seville especially, can get very, very warm in high summer. As you are inland, there is no sea breeze of tempting water to cool you down.
Autumn and spring have comfortable temperatures, and the warm season is long in this part of Spain. Therefore, you can enjoy the sun earlier or later in the year than in many other places in Spain.
In the winter (Dec-Feb) the mean temperature is 12-13 °C (53-55F)
In high summer (Jun-Aug) the mean temperature is 25-28 °C (77-82F) but can reach 37 °C (98F) and above
In spring and autumn, the mean temperature is comfortable 16-21 °C (60-69F)
Plan your trip: How to get to Seville and around
Seville international airport is 10 kilometres east of the city, serving several cities in Europe. Buses and taxis serve Sevilla airport, making the journey to the city convenient.
You can also get to Seville by bus or even better, by train. There are daily train services from e.g. Madrid, Granada and Malaga. Train travel in Spain can be expensive. We recommend booking online or to purchase your train ticket a few days in advance at the train station.
Most parts of Seville are walkable, and it is mostly a beautiful walk. If you prefer public transport to get around there are buses, one metro line and one tram line.
Click on the pin to save it to Pinterest