This post may contain affiliate links, where we may receive a small commission if you purchase something through following the links at no extra cost to you.
A giant city and the capital of the Russian Federation. A mix of East and West. Of traditions and futurism. For us, there has always been something mystical about Russia. Join us, as we give you 11 great tips & attractions in Moscow. We show you palace-like underground stations, Stalinist skyscrapers and much, much more. Welcome to a Moscow city break.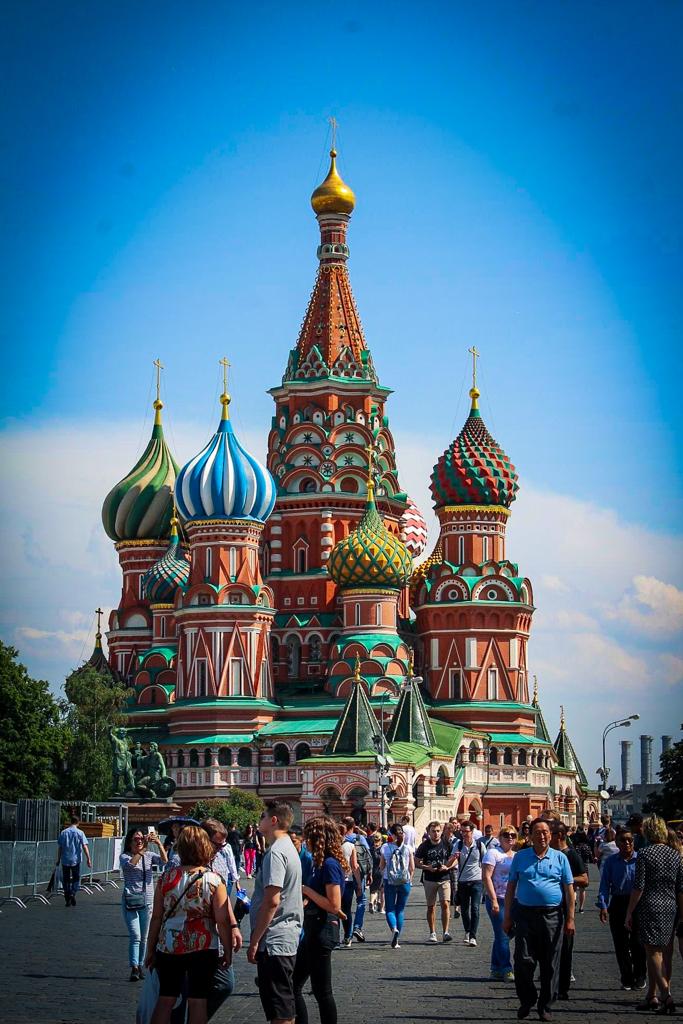 Moscow is a melting pot, where you will find a mix of cultures, languages and ethnic backgrounds. It has such a cool mix of architecture. From classical palaces, orthodox churches with onion-shaped domes via modern futuristic skyscrapers and monumental Stalinist buildings.
It is a mega-city. Often ranked the second largest in Europe after Istanbul, with a population of over 12 million people. Sometimes it ranks number one, depending which list you check. This means it takes time to explore the city. If you want to see it all, you would need several days, maybe weeks.
In this blog post, we show you attractions and activities for your Moscow city break. Moscow is huge. We recommend at least three nights in Moscow. That's not nearly the time one needs to see it all. After two visits to Moscow, we still haven't seen it all. Rather than trying to see it all, it's always better to see less but see it well. Don't spend all your time sightseeing. As always we recommend spending quite some time just walking around a city to take in local life in different neighbourhoods.
1.The Red Square in Moscow
Start with the most obvious; the Red Square. This massive square in the heart of Moscow is truly impressive. The main entrance is the Ressurection Gate, in the northwestern corner of the Red Square. The original gate from 1680, was demolished by Stalin as they did not harmonize with the parades and demonstrations held at the square. A replica of the gate was built in 1995, and next to it you can visit the State History Museum, covering history from the Stone Age and onwards.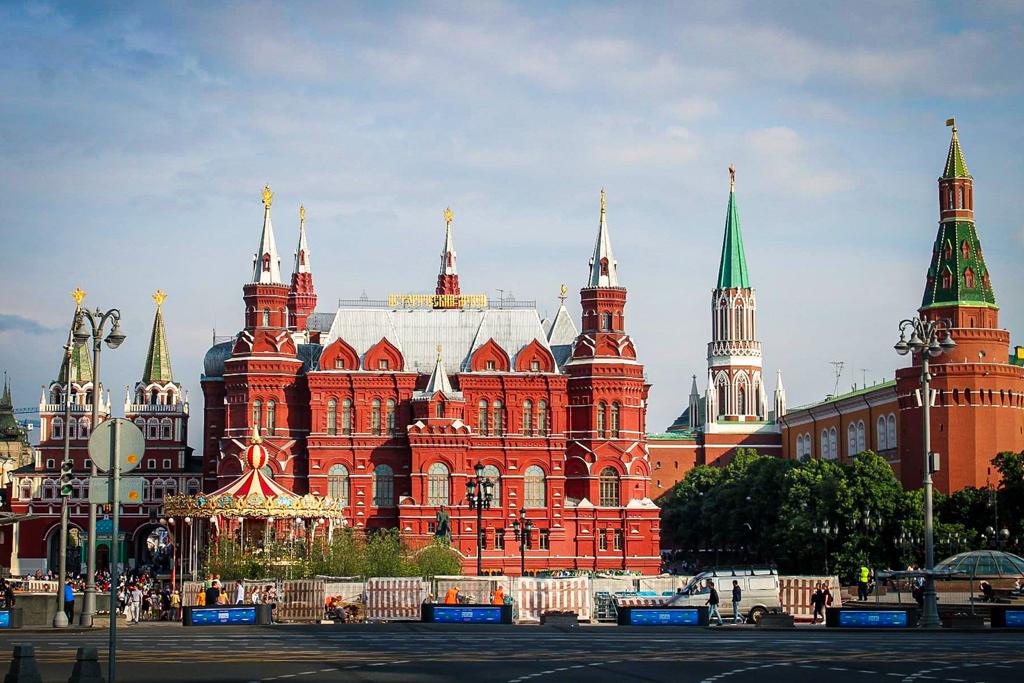 On one side of the square are the red walls of Kremlin with its towers. Here is also where those who are interested can visit Lenin's Mausoleum. Behind the mausoleum, in the Kremlin wall, other high regarded communists, such as Josef Stalin, were put to rest.
The Red Square is used and visited by the locals year-round. Also, it hosts different events during the year, such as military parades and Christmas market.
TIP: Check if the square is open when you arrive in Moscow. It can get closed on short notice due to preparations for state visits and military parades. The best is to visit Red Square as soon as possible after arrival.
Opposite on the square is the exclusive and richly decorated GUM shopping mall. The interior is spectacular, and the building is beautifully lit up after dark. In addition to all the shops, GUM also has several restaurants and cafes.
The Red Square was declared a UNESCO World Heritage Site in 1990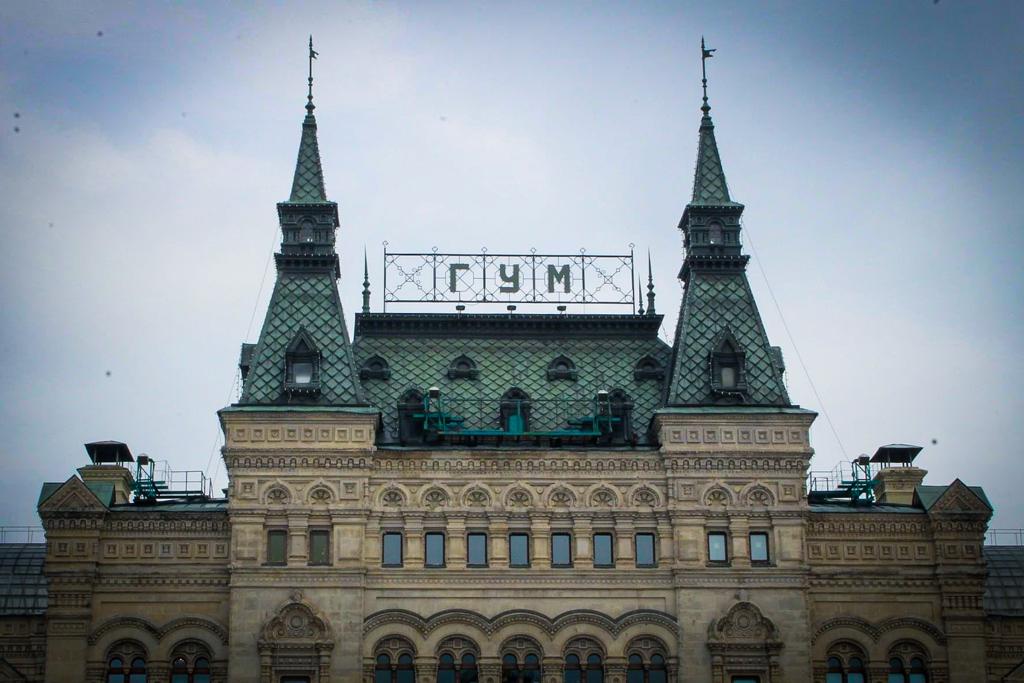 2.Saint Basil Cathedral
Continuing over the square (or if you enter from the southern end) the magnificent Saint Basils Cathedral is an obvious stop. This Russian icon is jawdropping. The mix of colours, patterns and shapes are both perfect and a bit crazy at the same time. The church was commissioned by Ivan the Terrible and built from 1555-1561.
Today the cathedral is a museum. Inside nine different rooms or chapels show exhibitions and several beautiful frescos. Although it's nice to visit the cathedral inside, we found this masterpiece best viewed from the outside.
Before you go:
Opening hours Saint Basil's Cathedral:

June-August: 10 am-6 pm
November-April 11 am-5 pm
May, Sept, Oct: 11 am-6 pm
Closed for cleaning first Wednesday every month

Entrance is 700 RUB (approx € 7,80/ $ 9,50). An audio guide is RUB 500
The Red Square was declared a UNESCO World Heritage Site in 1990
3.How to visit the Kremlin in Moscow
Another highlight for a Moscow city break is a visit to the Kremlin. This is the Russian powerhouse and the official residence of the President of the Russian Federation.
The word Kremlin means citadel or fortress within a city, and that is exactly what Kremlin in Moscow also is. Tsars, communists and modern-day presidents have all played a part in the 800 years of history within these massive walls.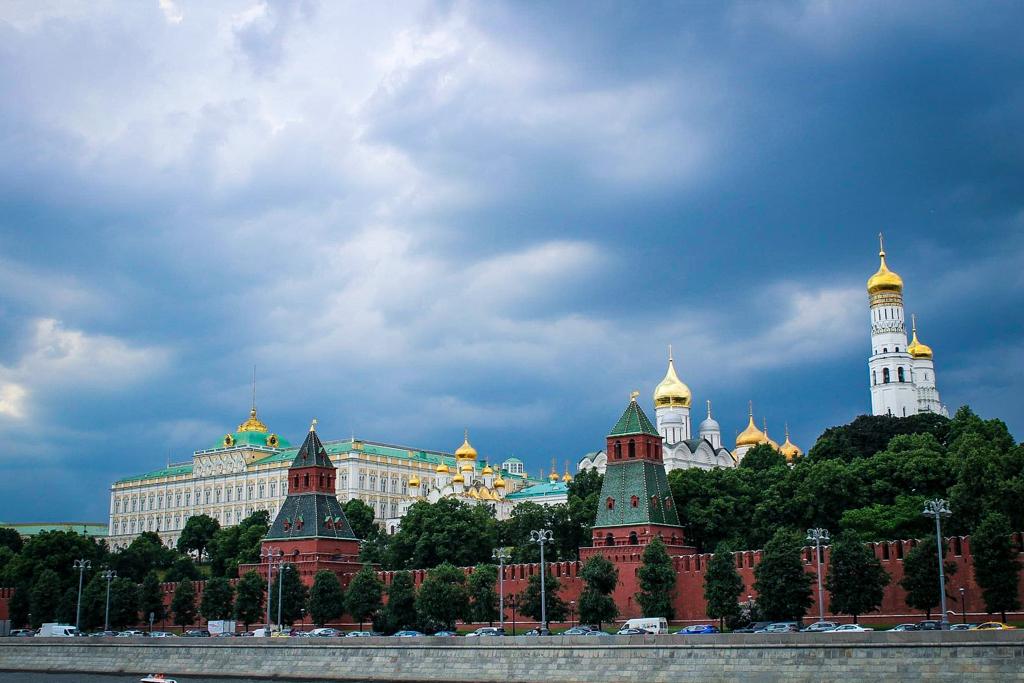 A must-see in the Kremlin is the beautiful Assumption Cathedral with its beautiful and colourful frescoes. Some of the most impressive being over the doorways to the cathedral.
Other main sights include the Archangel Cathedral and the Annunciation Cathedral, for their excellent interiors end frescos. The Patriarch's Palace is also worth a visit. Next to this is also where you enter Ivan the Great Bell Tower if you bought the extra ticket.
At the Kremlin, you will also see some impressive palaces. Sadly, none of them is open to the public. The Kremlin Arsenal is home to the Kremlin Guard. The modern State Kremlin Palace is the former congress hall for the communist party. Now it houses the Kremlin ballet.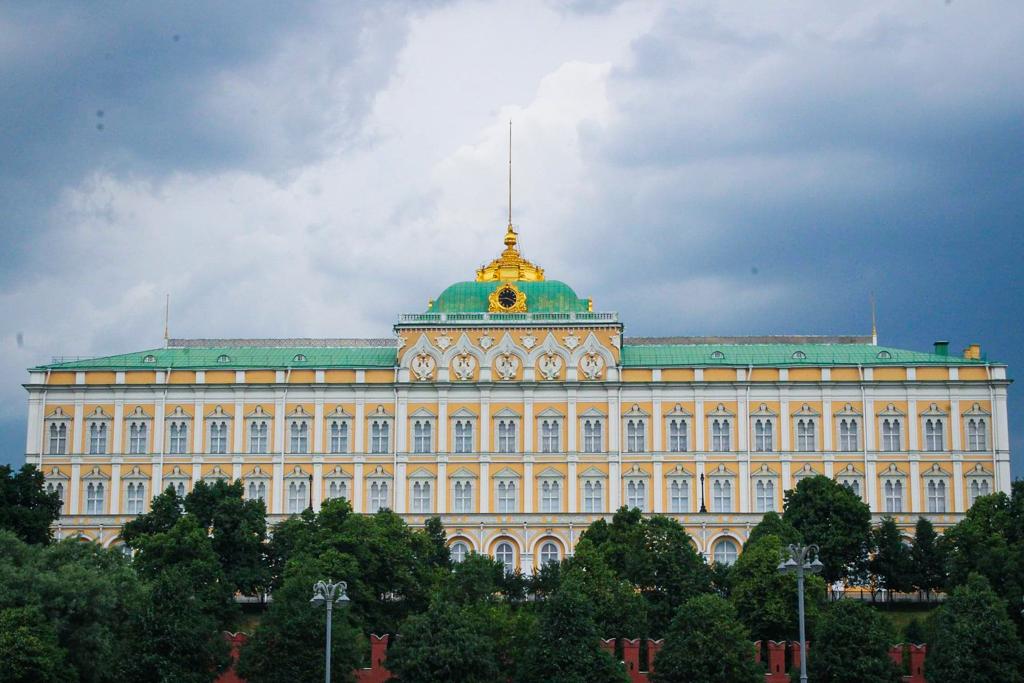 In the former Senate building, the President of Russia has his offices, while the 700-room Great Kremlin Palace is his official residence. Here you will find the Armoury, the only open part of these palaces. The highlight of the exhibition is some of the famous Easter eggs made by Fabergé. For a visit here you need to buy a separate time-specific ticket.
Before you go:
The entrance to the Kremlin is at the opposite side from the Red Square, through the Trinity Gate Tower
Go early, it can get crowded
Opening hours the Kremlin Museums:

15 May-30 Sept: 9.30 am – 6 pm
1 Oct-14 May: 10 am – 5 pm
The Armoury is open 10 am – 6 pm

Ticket prices:

General admission ticket: RUB 700 (approx € 7,80/ $ 9,50)
Ticket Armoury Chamber: RUB 1000 (approx € 11,20/ $ 13,50)
Admission to the Bell Tower: RUB 350 (approx € 3,95/ $ 4,75)

The ticket office is located in Alexander Garden outside the Kremlin walls
Tickets can be purchased online, but you need to pick them up at the ticket office
After the visit, you will exit the Kremlin at the Red Square
The Kremlin was declared a UNESCO World Heritage Site in 1990
4.Art museums in Moscow
Moscow is home to some great art museums showing world-class art. Pushkin Museum of Fine Art and State Tretyakov Gallery are the highest rated ones and the place to visit if you are a lover of classic fine art.
The Pushkin Museum is the place for impressive foreign art with collections from Italian Renaissance and the Dutch Golden Age. Rembrandt is a big name here and, the museum has en extended collection of his works. The museum has several buildings. The Gallery of 19th and 20th Century European and American Art in the Main Building is the most interesting. We recommend you to visit here.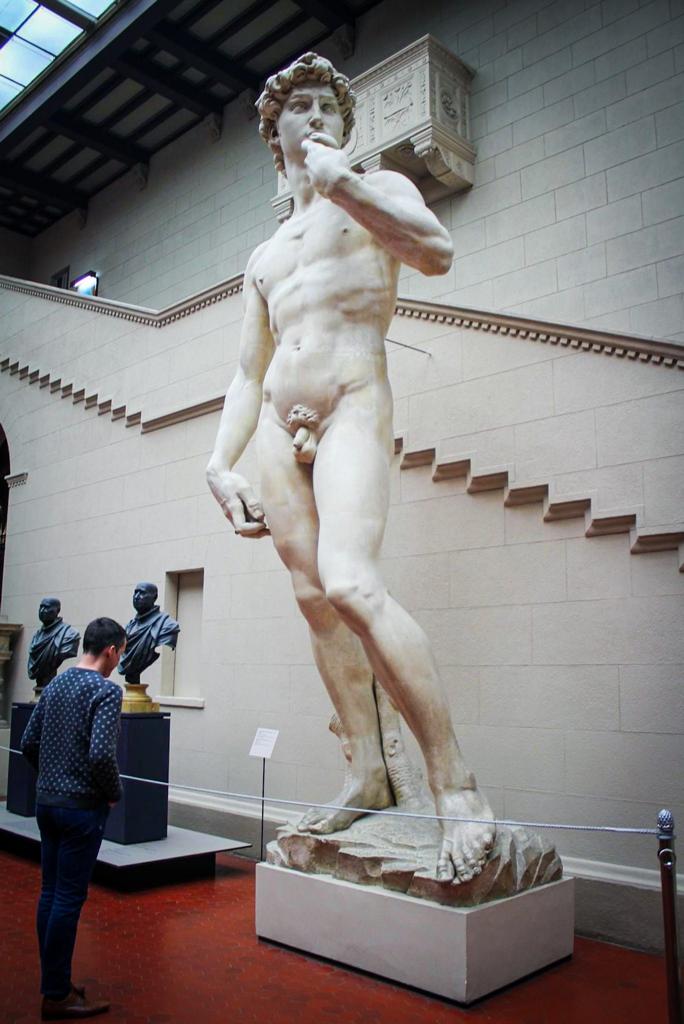 The State Tretyakov Gallery has an impressive collection with masterpieces of Russian art, especially Russian Icons and Russian revolutionary art. We recommend to check out the side branches of this museum. At the time of our visit, they showed an exhibition by the Norwegian artist Edward Munch in one of the side branches.
Before you go:
Pushkin State Museum
Opening hours:
Tue, Wed, Sat, Sun: 11 am – 8 pm
Thu, Fri: 11 am – 9 pm
Closed Mondays
Entrance fee Pushkin Museum: RUB 500 (approx € 5,50/ $ 6,80)
Combination tickets for more buildings exist
State Tretyakov Gallery
Opening hours:
Tue, Wed, Sun: 10 am – 6 pm
Thu, Fri, Sat: 10 am – 9 pm
Closed Mondays
Entrance fee Tratyakova: RUB 500 (approx € 5,50/ $ 6,80)
Combination tickets for more buildings exist
5.See the different architecture in Moscow
Characteristic of Moscow is its different architecture style. There's a mix of everything, from classic palaces, via Stalinist architecture and onion-shaped domes on churches to futuristic skyscrapers.
Visit Moscow's Central Bussiness District (MIBC) if you like modern high-rise buildings stretching up in the skies. It's monumental, ambitious, futuristic and cool. The area has good shopping, and there's many restaurants, cafes and bars in the neighbourhood. Some of the buildings have viewing platforms open for visitors. On a clear day, you will get rewarded with amazing views. Get here by walking or the underground.
We had a wish to see some of the typical, monumental Stalinist buildings, and chose to see some of the so-called Seven Sisters. That is seven skyscrapers ordered built by Stalin, as part of his vision for the city. Depending on where you are in Moscow, many can be reached on foot, while some are just a short metro ride away.
Should you wish to see some of these buildings close by, you can also stay and sleep in some of them. Two of the Seven Sisters are currently hosting the upmarket Hilton and Radisson hotels. If you usually choose budget options as your accommodation, we still recommend a night or two in one of these hotels, as it is a truly unique experience.
Some highlights of the Mosow architecture to look out for
Stalinist and Soviet-style buildings like the Seven Sisters
Onion-shaped orthodox churches – found all over the city
Classic architecture, e.g around the Bolshoi Theatre
Futuristic skyscrapers in the business district
Enormous housing estates in the outskirts of Moscow
The palaces and walls of the Kremlin
6.The Moscow Metro – a highlight on a Moscow city break
Whatever you do, don't visit Moscow without exploring the city's underground system. Down there you will find the most beautiful metro stations one can imagine. Some with huge chandeliers reminding more of a palace than a metro station, others full of frescoes, statues or paintings. Truly, this is one of the top sights in Moscow.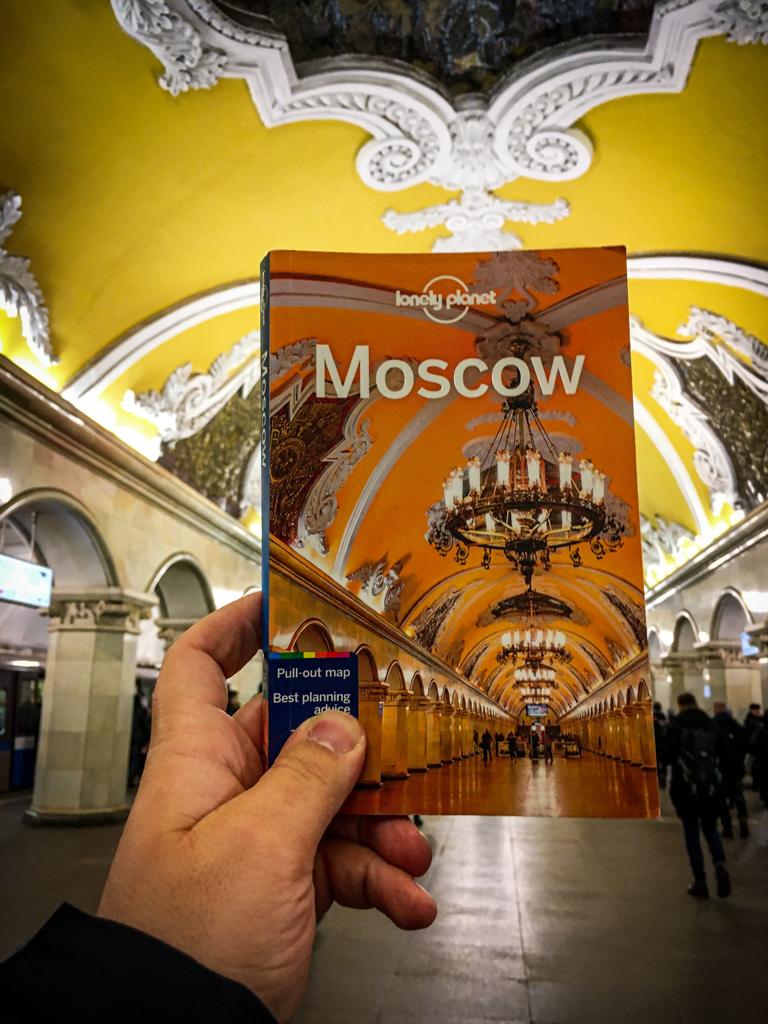 Suggested route for a Moscow underground tour:
Komsomolskaya -> Prospekt Mira -> Novoslobodskaya -> Belorusskaya -> Mayakovskaya -> Teatralnaya -> Ploshchad Revolyutsii -> Arabatskaya -> Kievskaya -> Park Pobedy
By following this suggested route of the Moscow metro, you will see some of the most beautiful stations with paintings, statues, frescos, mosaics and chandeliers. Duration for this whole tour is 1,5-2 hours. Get off at each station, and catch the train again when you are ready to continue. Please note that this route involves some changes between the lines, but the metro system is easy to navigate.
BUDGET TIP: By purchasing a single ticket you can use it a whole day, as long as you don't leave any station. This makes it possible to spend quite some time exploring the stations. We spent among 2 hours which was plenty of time.
7.Visit Bolshoi Theatre in Moscow
Built in 1824, the Bolshoi Theatre is a real Moscow institution. It hosted the premieres of Tchaikovsky's Swan Lake and the Nutcracker. Throughout the years it has been in the centre of scandals, intrigues, gossip and politics.
Tickets to operas or ballets at Bolshoi can be very expensive. With some luck, you can find affordable tickets. You can visit the entrance hall of the theatre if you don't want to attend a show.
An evening on the square outside the Bolshoi can actually also be quite a show. Expect the square in front of the theatre to be catwalk-like before the shows start. Not only are people dressed to impress, but it is also about seeing and being seen for many of the jet-setters going to the theatre. After the live fashion show on the square, you can visit the nearby statue of Karl Marx, if that's more to your likings.
Before you go:
Bolshoi Theatre is closed from late July to mid-September
Check their webpage for program
Book tickets way in advance online
Dress to impress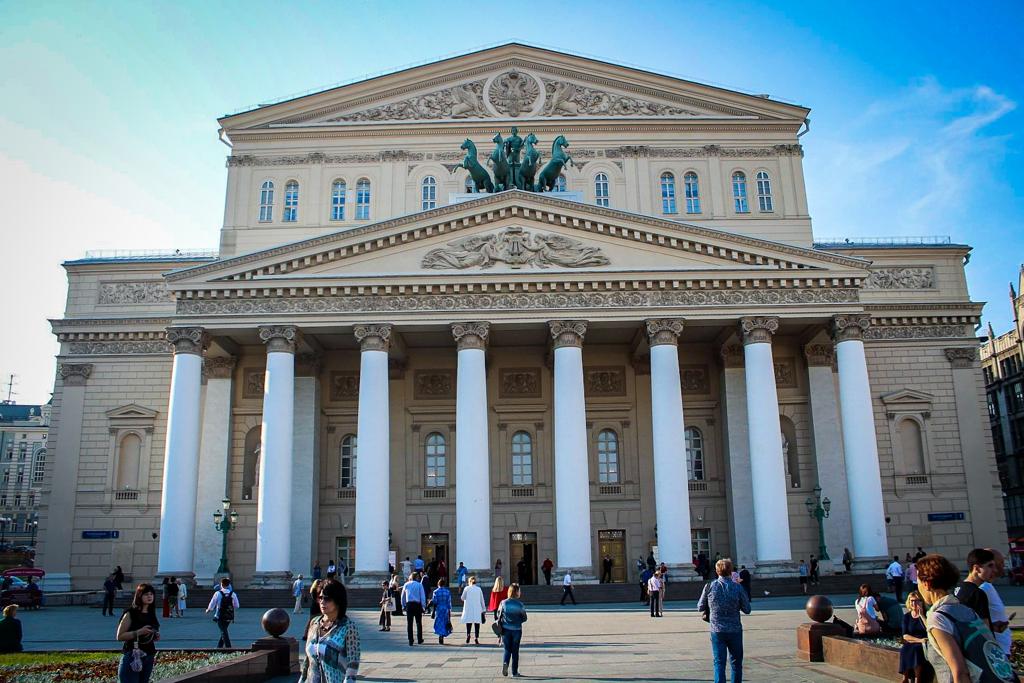 8.Explore the neighbourhoods of Arbat & Khamovniki
In contrast to the very central, more upmarket areas, there are also other neighbourhoods in Moscow to explore. In Arbat & Khamovniki, you can enjoy world-class art, walks, street art, a monastery and a traditional Russian lunch where beetroots, dumplings and vodka is common ingredients. Even this neighbourhood is quite central, it feels different than the more central parts of the city. The vibe is more local, and the glitzy central Moscow feels worlds away. To explore the best of these two districts, you will probably need a full day.
TIP: Don't miss the Pushkin Museum of Fine Art and the great Cathedral of Christ the Saviour, both located in Arbat neigbourhood.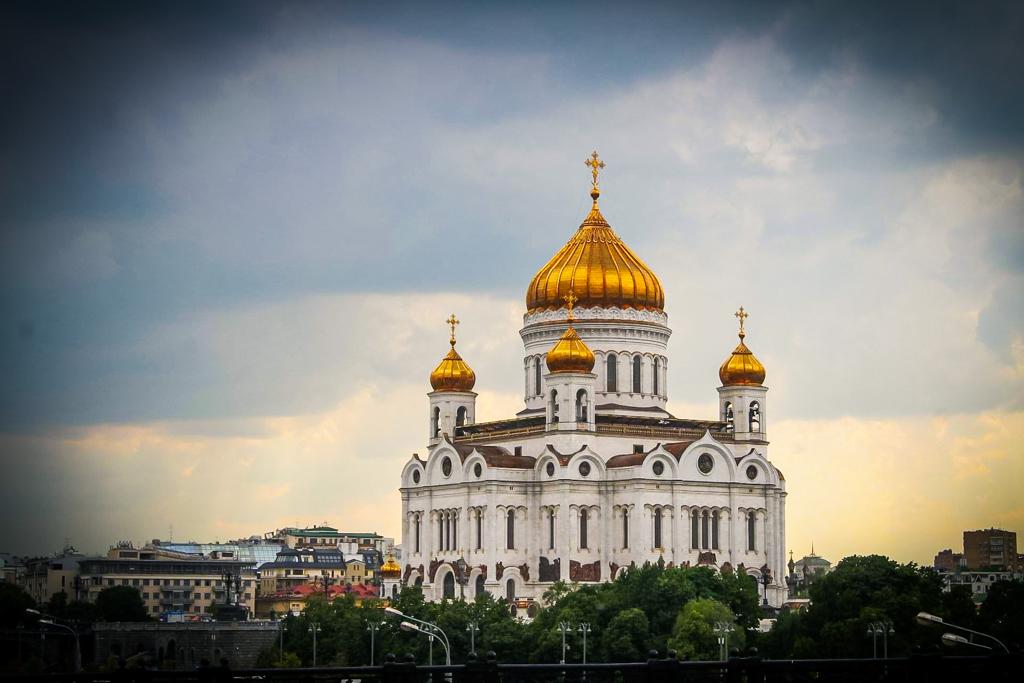 9.Celebrate New Year in Moscow
If you like to celebrate New Years abroad or have a dream of doing so, we recommend considering Moscow. We celebrated New Years in Moscow on our second visit to the city. If possible, plan your Moscow city break around New Year's Eve.
Yes, if you visit Moscow in the winter, it can get cold. Freezing cold. But the vibe in the city this time of the year is magical. Russia celebrates Orthodox Christmas at 6th & 7th of January, so in this period the whole city is oozing of holiday spirit. Expect festive vibe and over-the-top Christmas decorations. You can visit several Christmas markets in Moscow, and when you are getting cold, it's easy to find a cosy cafe to snug up and get the warmth back before you continue.
TIP: Read our post about Christmas around the world to find out more about Russian Christmas celebration
Fireworks in Moscow is spectacular. The best place to see the public firework is somewhere along the Moscow River, not too far from the Red Square and the Kremlin. Both sides of the river give excellent views. You won't be alone along the river. Dress warm and go early to secure a good spot.
Please note that many restaurants and bars in Moscow are closed on New Year's Eve. Make a reservation in advance to be sure to get a table.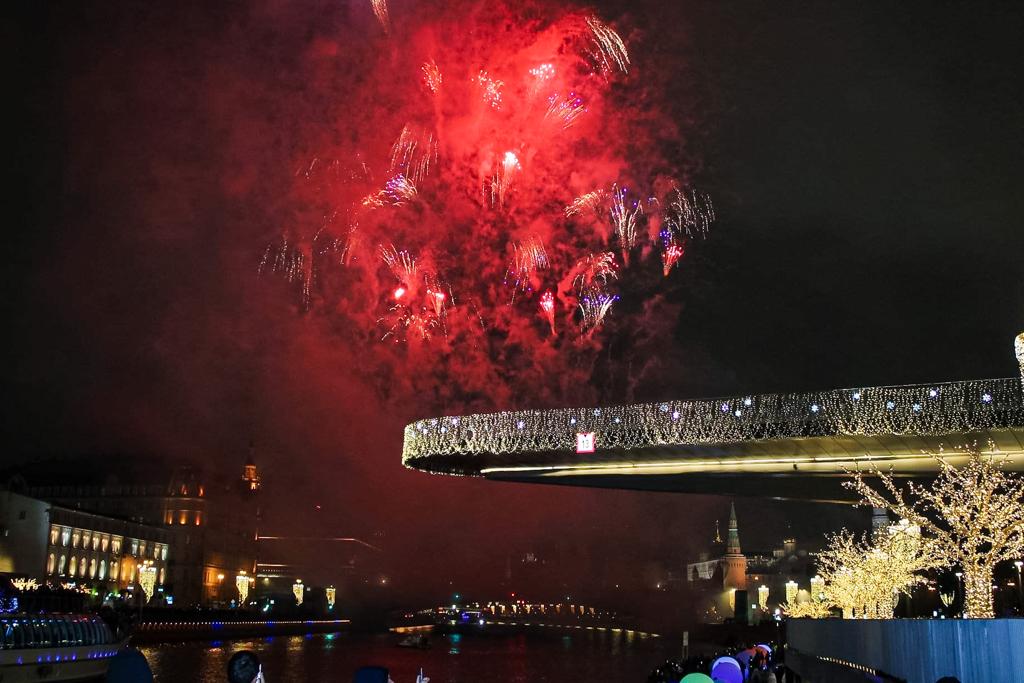 10.Accomodation in Moscow
Hotel in Moscow
There are numerous hotels in Moscow, in all price ranges. For those who like luxury, Moscow is the place to be. Most big international chains have hotels there in addition to local high-end hotels as well.
We recommend to check out one of the hotels in the Stalinist skyscrapers for a cool experience, reminding you of the old Soviet times. Radisson Collection Hotel is south of Moscow River, and Hilton Moscow Leningradskaya is north-east of the centre. Both are easy to reach by public transport, and walking distance from both hotels to the red Square is around 45min-1h. Even if you usually stay at more affordable accommodations, this is a great opportunity to have a different experience while travelling.
We stayed at the Hilton Leningradskaya. The location is good, and perfect if you are arriving or leaving by train. Many of the big train stations are within walking distance from this hotel, including where the Trans-Siberian Railway starts. The hotel interior is both retro and cool, and the nice lobby bar is a great start for an evening out.
TIP: Read our Total Guide to plan & book a Trans-Siberian Railway Trip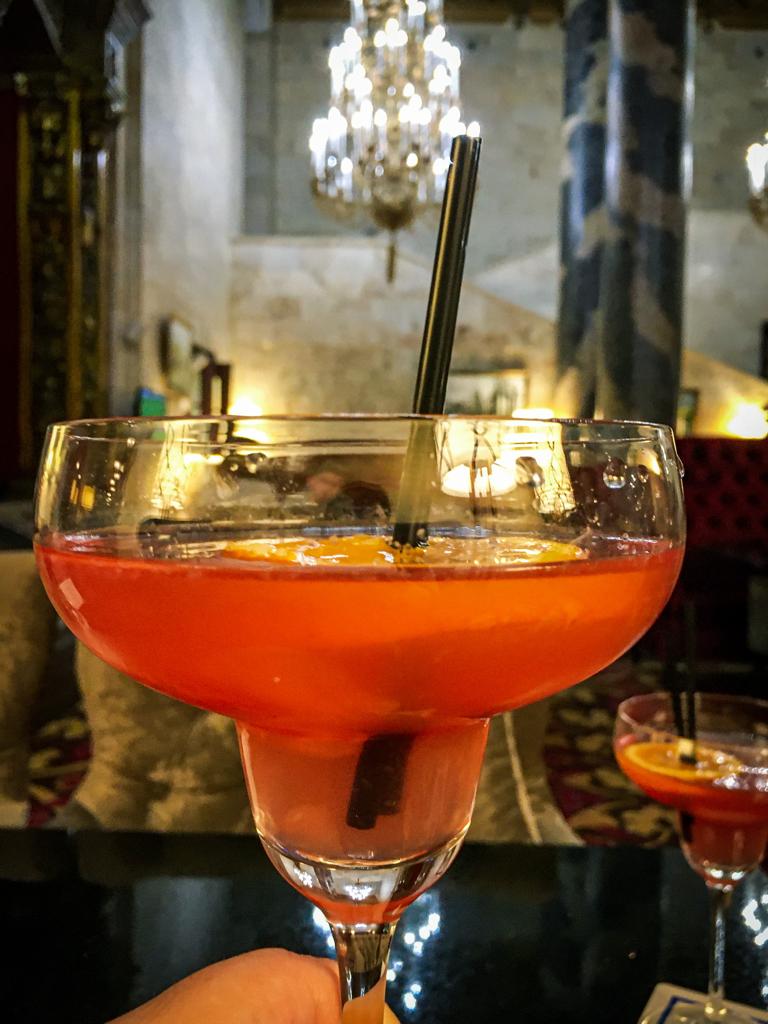 Hostel in Moscow
In a city like Moscow, accommodation can be expensive. If you are travelling on a budget and are looking for a comfy and clean hostel, we recommend the Strawberry Duck Hostel for your Moscow city break.
This place is one of the coolest and best hostels we have stayed. The standard is superb for a hostel and, the rooms are great. Combined with friendly and helpful staff, this is a great place to stay. The location is good, with walking distance to Red Square.
TIP: The hostel can help you with an invitation to Russia if you need for your visa application.
11.Plan your trip: How to get to Moscow and around
Moscow has four airports with connections to most parts of the world. The three main airports Sheremetyevo (SVO), Domodedovo (DME) and Vnukovo (VKO) are all easily accessible with the Aeroexpress Train to the city centre. We flew low-cost airline Pobeda direct from Berlin to Moscow Vnukovo (VKO).
The train is another excellent way of arriving in Moscow. Either from other parts of Russia or with one of the many international trains connecting Moscow with several European and Asian cities. There are several main train stations in Moscow. All with good connections to the metro.
The bus is another alternative to arrive in Moscow. This might be an option from destinations not served by train. You can also arrive in Moscow by boat. The city is en route for many river cruise ships.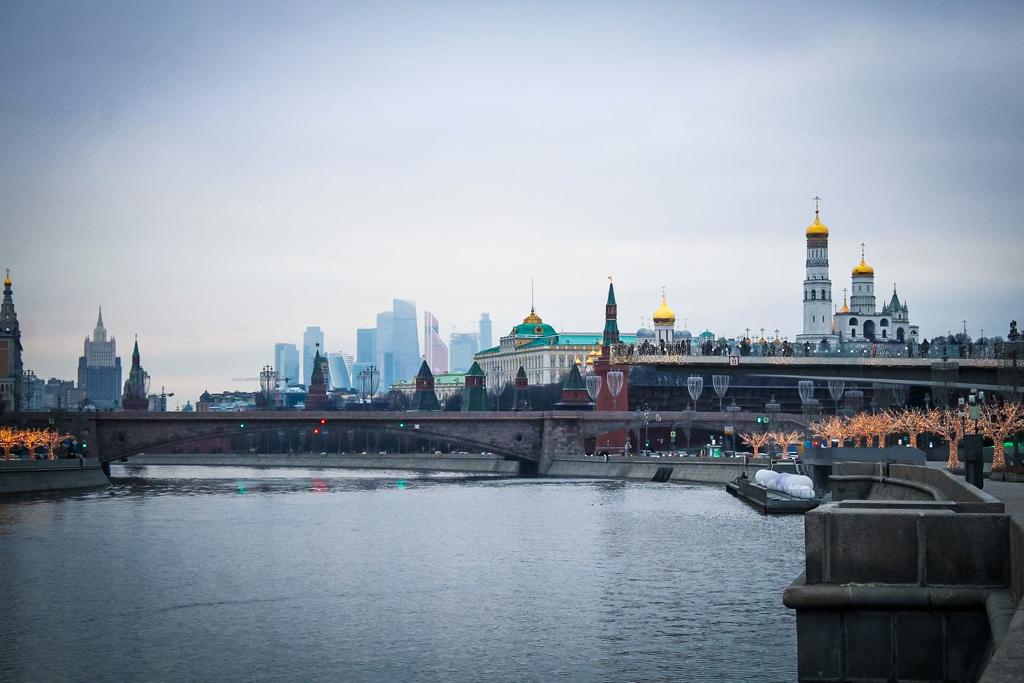 How to get around in Moscow
Most parts of central Moscow is reachable by foot. Many of the main sights are centrally located and walking between them is usually both possible and also very nice as there are lots to see on the way.
The excellent Moscow Metro will probably be all you need. With over 150 stations it most likely will cover the place you want to visit or at least someplace nearby.
Moscow is also served by trams, buses and trolleybuses. They can be useful to reach sights that are not served by the metro.
There are bike rentals in Moscow as well. That said, Moscow doesn't seem like an especially bike-friendly city due to its heavy (and speedy) traffic. If you still prefer to bike, a guided bike tour might be a good option.
Taxis are affordable. Be aware that the traffic in Moscow is heavy. Moving relatively short distances in the city can take quite some time. Also, the traffic from cities and towns around Moscow to the city can be packed. Expect traffic jams, and always calculate more time than you think you need.
Click on the pin to save it to Pinterest