This post may contain affiliate links, where we may receive a small commission if you purchase something through following the links at no extra cost to you.
Over the last few years, Berlin has developed into a paradise for coffee lovers. Berlin coffee shops are popping up in high tempo, and they have all embraced the third-wave coffee culture. Wherever you are in the city, you are never far away from a coffee shop serving you some of the best coffee in Berlin. Read on to find the best places for a cup of high-quality Berlin coffee.
Living in Berlin has many perks. One of them is always having access to high-quality coffee. As self-declared coffee lovers, we are all the time on the search for a freshly brewed cup. All over the city, you will find great cafés and coffee shops. Speciality coffee in Berlin is easy to find.
Many of the best cafes in Berlin focus on making good coffee, and over the years we have also seen a rise in the number of Berlin coffee roasters, roasting their own beans. If you prefer a flat white, filter or espresso, you will find it all in Berlin.
Travelling to Germany? Join Our Facebook Group Germany Travel Forum
This post will show you our favourite Berlin coffee shops. By visiting these coffee bars, you will soon try some of the best coffee in Berlin. The list could have been much longer, but these are our top picks. Some of these coffee shops have several locations, making it easy for you to grab your favourite Berlin coffee.
TIP: Read our post about the best beer gardens in Berlin if you want to change the coffee for a cold beer
Best Coffee in Berlin Map
1.Bonanza Coffee Roasters
Bonanza Coffee Roasters is one of our top favourite coffee roasters in Berlin. At the moment, they have three locations. The Bonanza roastery café in Kreuzberg is at the same place as they have their roastery. Besides, they have two other coffee shops in Berlin. One cafe is in Oderberger Strasse in the Prenzlauer Berg district and another in Jaegerstrasse just off the Gendarmenmarkt square in the Mitte district of Berlin. One of our favourite Christmas Markets is held in this beautiful square.
The interior of all their locations is very stylish and minimalistic. But what matters here is their excellent coffee. For over ten years, Bonanza has served high-quality coffee. They have had a key factor in the Berlin coffee scene. Bonanza coffee was one of the first roasteries that started offering third-wave coffee in Berlin.
They are very popular. Often on weekends, you can see a line outside their cafés, because everyone wants to have a cup of coffee from Bonanza.
TIP: Bonanza Coffee Roasters offer workshops if you want to learn how to make your own good coffee
Bonanza Coffee Heroes Café at Oderberger Oderberger Str. 35 10435 Berlin
With public transport: U Eberswalder Straße or tram to Friedrich-Ludwig-Jahn-Sportpark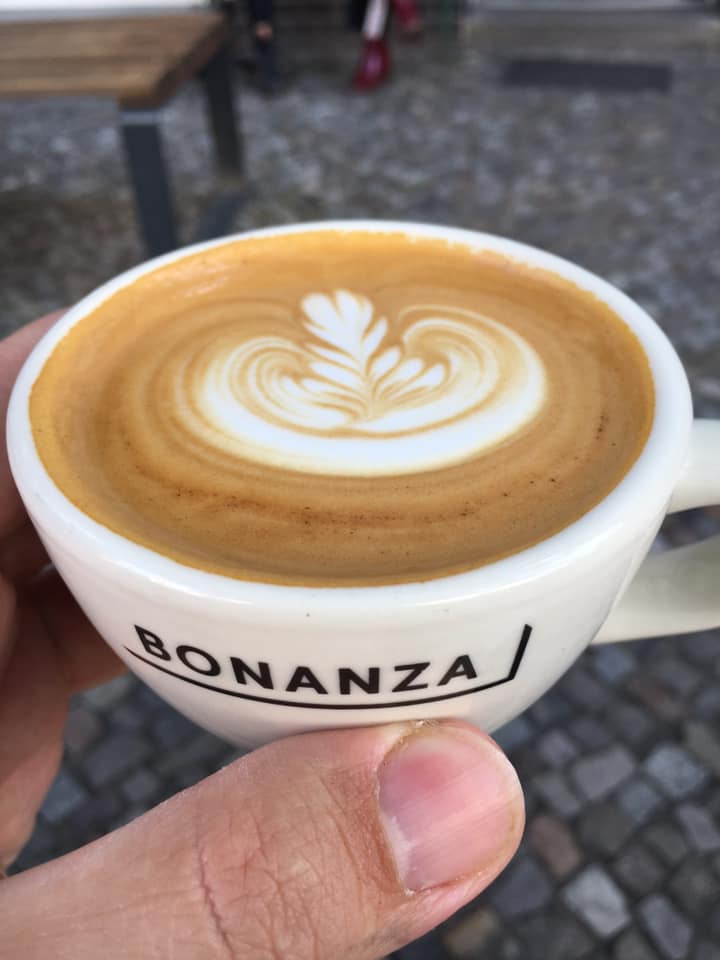 2.Ben Rahim
Ben Rahim coffee shop, is located in a beautiful and central area in Berlin's Mitte district, the Hackescher Markt. You will find the cafe in Hackesche Höfe, a beautiful building complex with eight marvellous courtyards, where you can also find several unique and independent shops, a theatre and a cinema as well. Ben Rahim is in our opinion one of the best cafés in Berlin.
When you are in the courtyards in Hackesche Höfe, you don´t feel so central anymore and, can relax from the busy city life while you visit the Arabic-inspired coffee shop. Ben Rahim offers many coffee and tea specialities and changes the menu each season. It is the first Berlin speciality coffee shop with an Arabian twist. Their signature brew is the Ibric.
Ben Rahim takes the coffee makings very serious. Since 2019 not serving sugar for the coffee anymore, and also only serving hand-brewed coffee without milk. Should you prefer coffee sorts with milk, you will, of course, get espresso-based coffees such as Flat White and Cappucino.
Be aware that Ben Rahim coffee shop is cash-free. The staff wants to focus on preparing the drinks, and not waste time calculating the change.
TIP: Read more about Hackesche Höfe and many other places in our post Off The Beaten Track In Berlin
Ben Rahim Hackesche Höfe, Sophienstraße 7, 10178 Berlin
With public transport: S, bus or tram to Hackescher Markt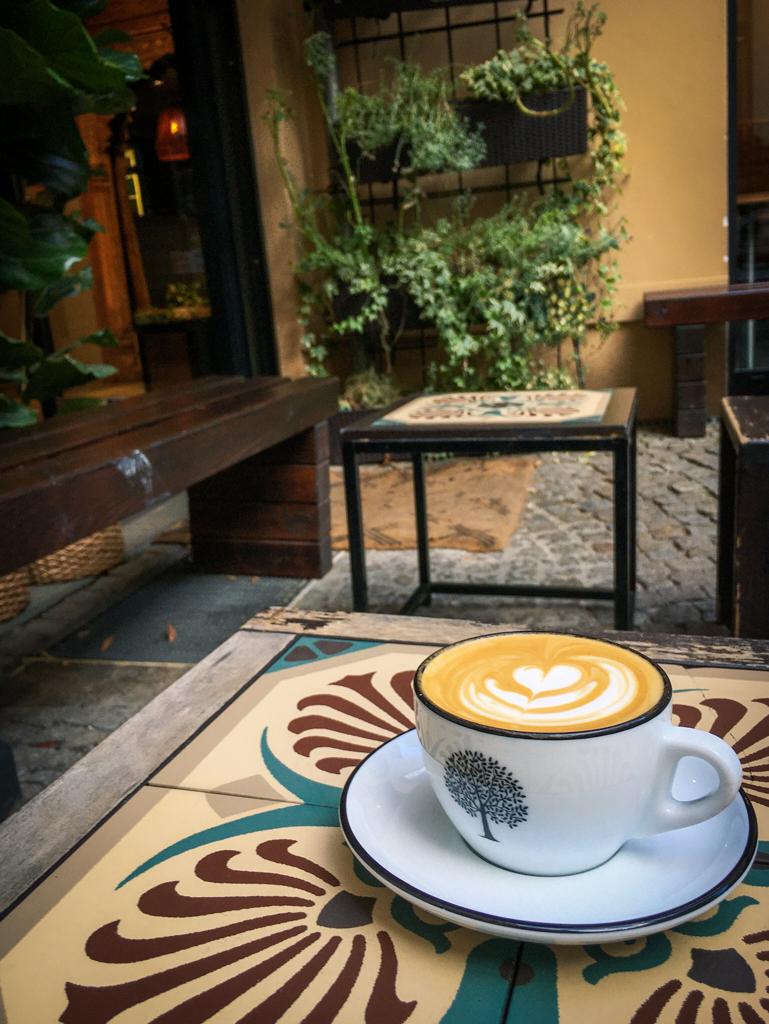 3.The Barn
The Barn opened its first café in Auguststraße in 2010. Years later, The Barn has expanded big time. Now they have many coffee shops in Berlin. Most likely, you are never far from one of their cafes. Each coffee shop is individual and customized to the area where the café is situated. They have their roastery now in Voltastraße in Wedding.
The Barn recently opened their first café outside of Germany, in Dubai.
The Barn serves high-quality speciality coffee and, they continuously develop new recipes for coffees. Check out their signature collection. You can buy coffee making equipment and beans there, as well as make a subscription for beans delivered monthly to your house.
TIP: Read our post on Best Museums in Berlin to choose your favourite
You can also join several workshops and learn more about coffee, the preparations or the taste. If you're a Berlin resident or if you visit Berlin as a tourist, this is a fun activity to do. The workshops have limited participants. Book ahead.
Whenever you are in Berlin, you'll probably always be close to one of the cafés. Check it out, enjoy a great cup and the atmosphere. There are cafés in Neukölln, Potsdamer Platz, Nordbahnhof and many more.
The Barn Café Mitte Auguststraße 58, 10119 Berlin
With public transport: U Rosenthaler Platz or S-Bahn, tram to Hackescher Markt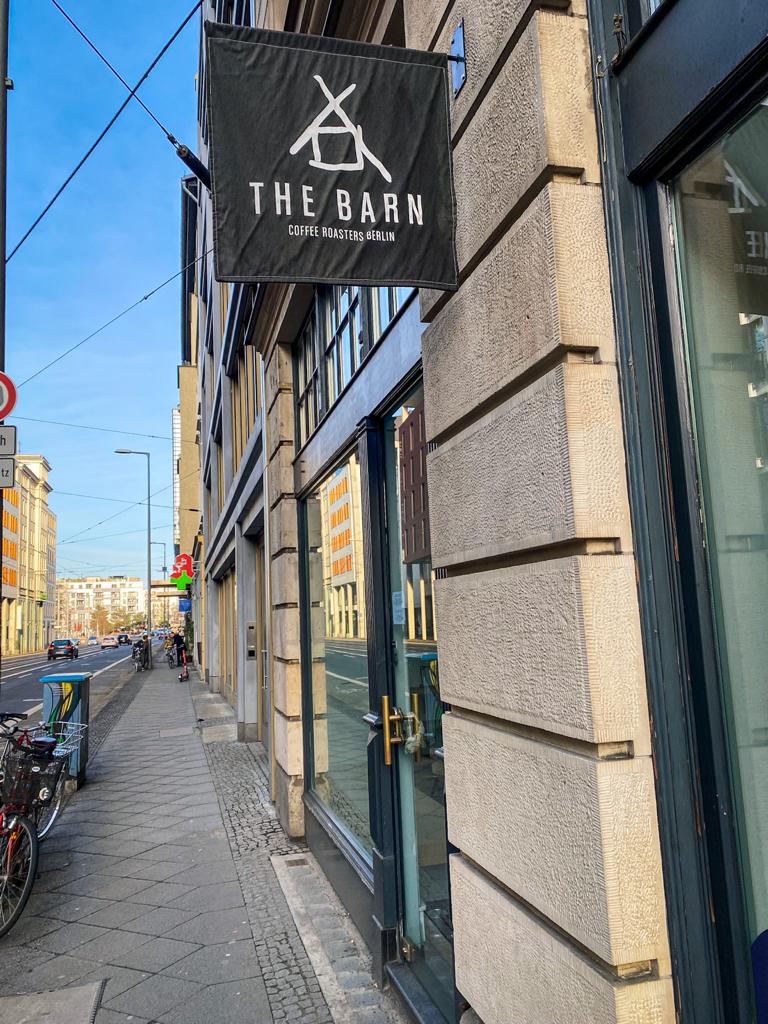 4.Five Elephants
Five Elephant has three shops in Berlin at the moment. One is in the Mitte district, which is perfect for a quick coffee break between shopping. Another in the Kreuzberg district is more specious and perfect to meet friends and hang out. The newest of their cafes is a small, modern place close to Kollwitzplatz in the Prenzlauer Berg neighbourhood. You can find Five Elephant at the food court of KaDeWe, the largest department store in continental Europe.
Five Elephant is popular for great coffee but is also famous for the cheesecake. Give it a try and judge for yourself. We dare say you won't be disappointed.
TIP: Read our post about bike routes from Berlin if you want to burn off some of that cheesecake
Five Elephant Kreuzberg, Reichenberger Str. 101, 10999 Berlin
With public transport: U Schlesisches Tor or U Görlitzer Bahnhof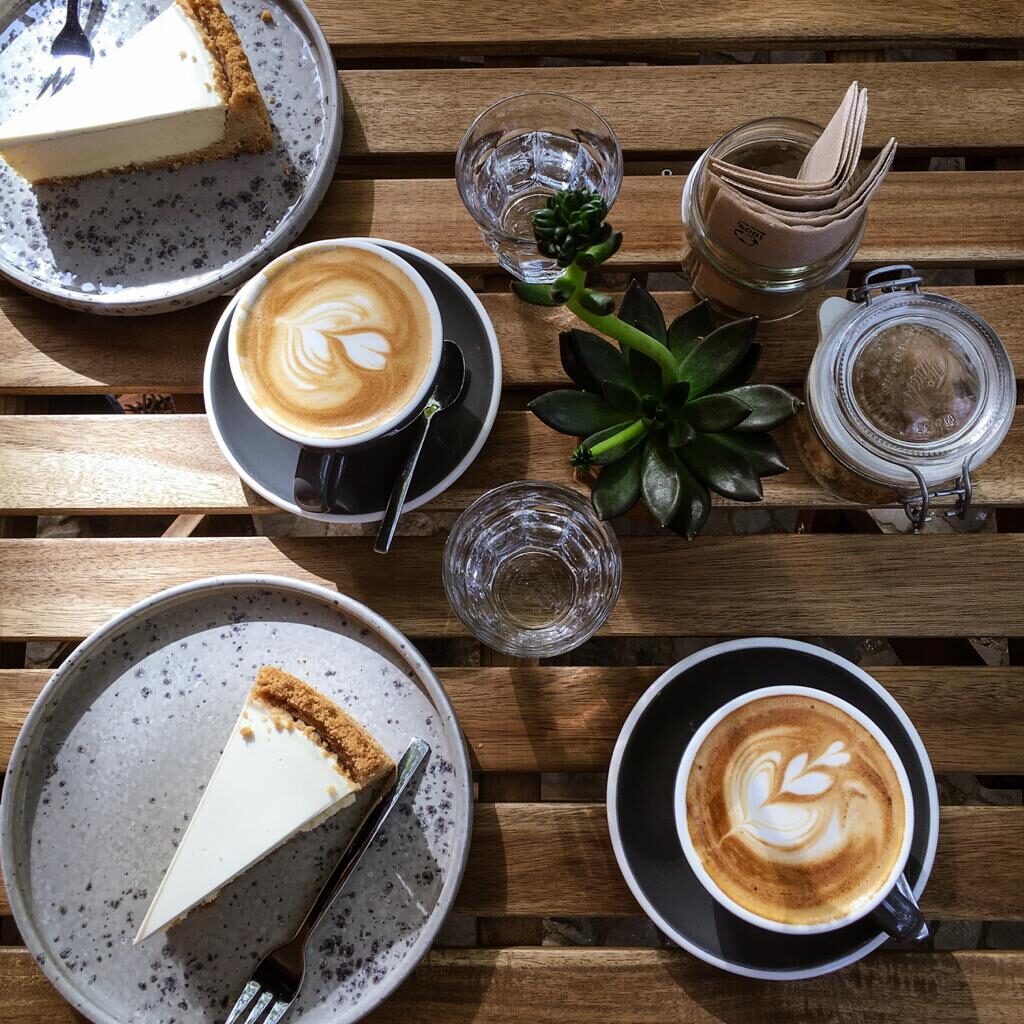 5.Silo Coffee
Silo Coffee Berlin, with its minimalistic and stylish interior, is one of the best cafeé in Berlin. They get their coffee from their own Berlin coffee roastery, the Fjord Coffee Roasters. The coffee is perfectly roasted and prepared, and you can buy beans there as well.
What is better is, Silo Coffee is not only a place to get great coffee. It is also one of the best places for breakfast or brunch in Berlin. The food is from local suppliers and, they use organic milk for the drinks. Try their delicious avocado sandwiches.
Silo Coffee is very popular, especially at the weekends. Go early, and be prepared to wait for a table. Reservations are not possible. The location is central in the Friedrichshain district of Berlin.
Silo Coffee Gabriel-Max-Straße 4, 10245 Berlin
With public transport: tram M13 to Simplonstraße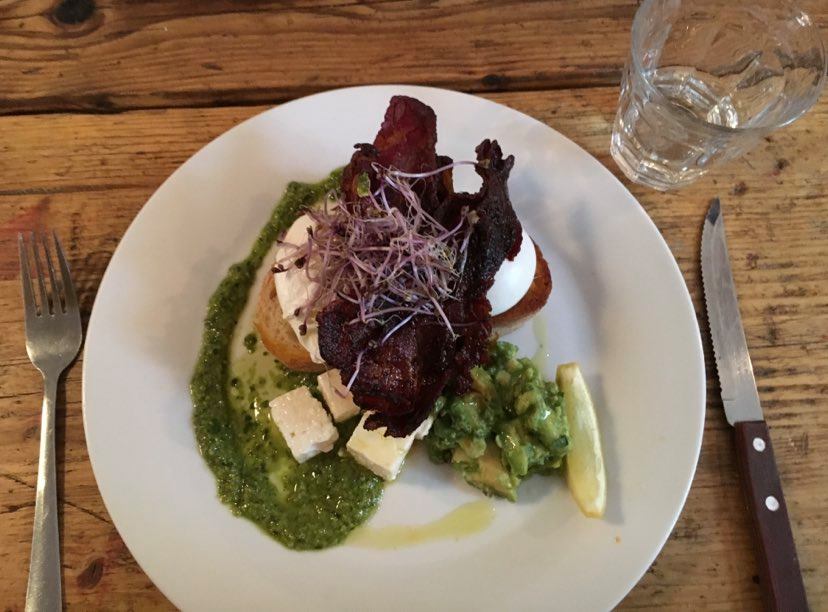 6.Kaffeekirsche
Kaffeekirsche has three coffee shops in Berlin, in the hip and trendy Kreuzberg neighbourhood and the roastery at Tempelhofer Damm. The café in Adalbertstraße doesn't look too obvious for a café from the outside, but the interior is very modern and minimalistic. Go in, order a coffee and some sweets to get a rest from the busy life around Kottbusser Tor.
The other location is the cafe in Böckhstraße. This café also has a very modern and minimalistic interior. The service and knowledge of the staff are great, and so is the coffee.
TIP: Buy beans and pick up one of the brewing guides from Kaffekirsche, and learn to make great coffee also at home
Kaffeekirsche Roastery Adalbertstraße 23, 10997 Berlin
With public transport: U Kottbusser Tor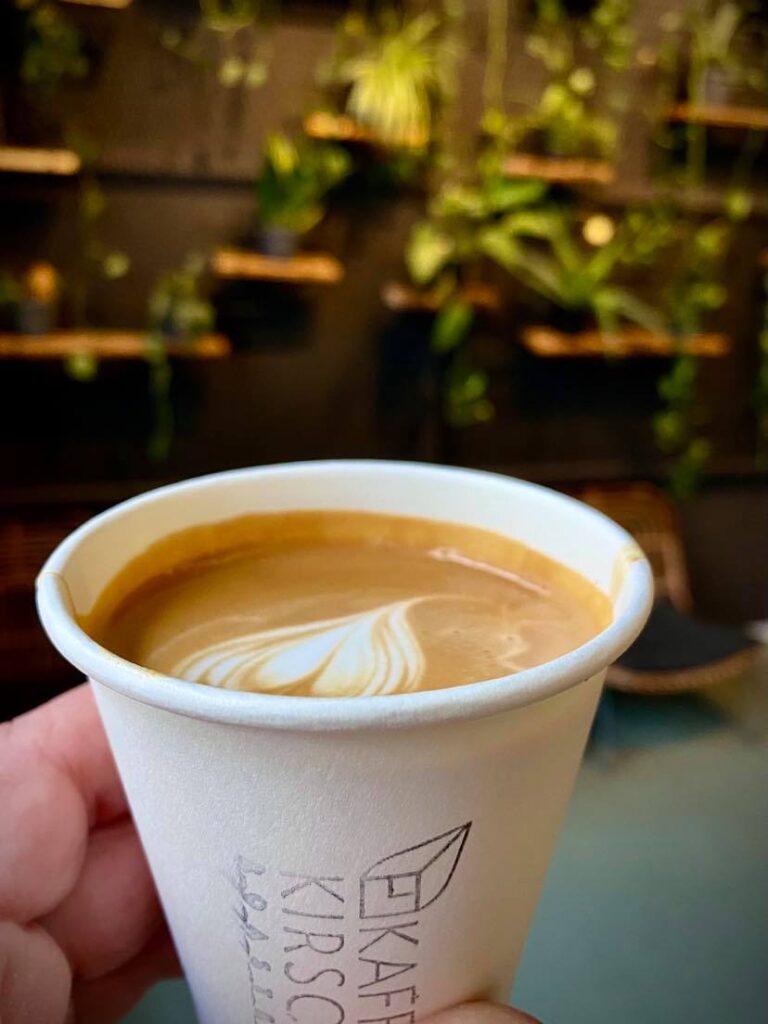 7.Oslo Kaffebar
Oslo Kaffebar is located close to Nordbahnhof in a small sidestreet. This Scandinavian-inspired café is also one of the best coffee bars in Berlin. They roast their own coffee, and you can buy beans and coffee making equipment as well.
Oslo Kaffebar isn't only about great coffee. Also, try their juicy carrot cake or some of the best cinnamon buns in Berlin. You can also find artworks from different artists exhibited in the café.
In this Berlin coffee shop, you don't get your coffee served in the regular porcelain cups. As part of their focus on the environment, they use cups from Kaffeeform, made of coffee ground, wood grains and biopolymers.
Oslo Kaffebar also has a small shop at the Nordic Embassies in Berlin.
Oslo Kaffebar Eichendorffstraße 13, 10115 Berlin
With public transport: S-Bahn, tram or bus to Berlin Nordbahnhof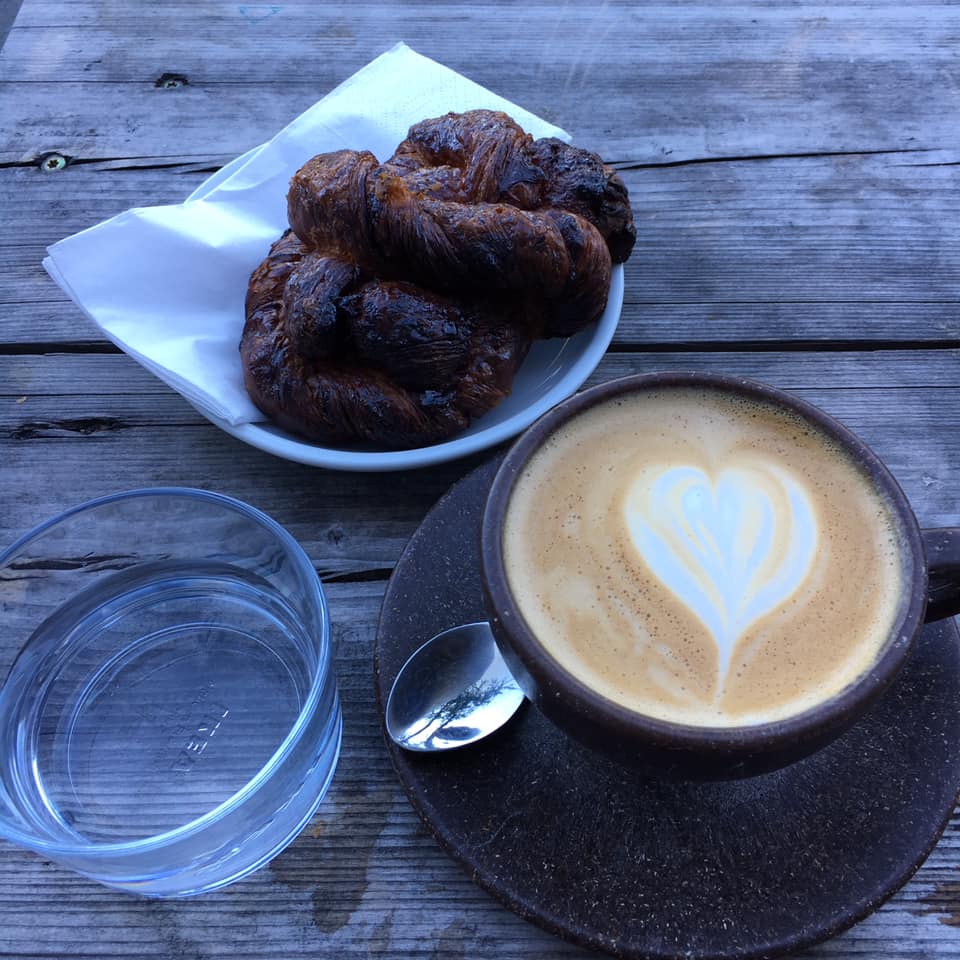 8. Friedl
Friedl Rösterei & Kekse is a small and café and roastery in the Prenzlauer Berg neighbourhood. The café focus on ecological and fairtrade coffee.
What's more is, Friedl also has their own biscuit bakery. Their biscuits and cookies are so yummy. You can eat them there for your coffee, or also buy biscuits to bring home.
The neighbourhood has many shops, so this is a great coffee shop when you need a break. They roast their own delicious coffee, and the service is good.
Please note: Unlike many of the other cafés in this post, Friedl is closed Sundays and Mondays.
Friedl Rösterei & Kekse Pappelallee 35, 10437 Berlin
With public transport: tram to Stargarder Straße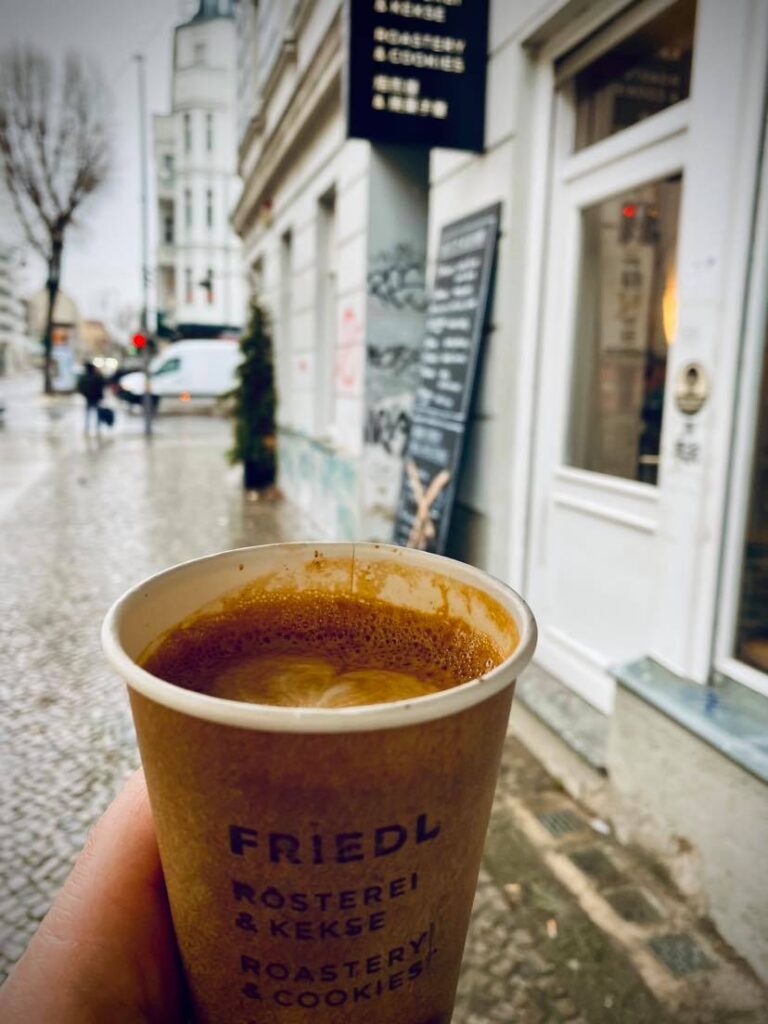 9. 19grams Coffee
19grams Coffee Roastery serves some of the best coffee in Berlin. They have three cafes called 19grams in addition to a fourth cafe, the Tres Cabezas Cafe.
You'll find one 19grams Cafe in Schlesische Straße, in the hip and trendy Kreuzberg neighbourhood. Here, they serve delicious speciality coffee, fresh cakes. They also have a decent brunch menu.
The other two 19grams Cafés are in the Mitte district of Berlin. One is in Chaussestraße and, the newest is located in busy Alexanderplatz. In this hot-spot tourist area with many cafés and restaurants made for tourists only, the 19grams Alex Café is one of the very few quality places around. A café like this was really needed in Alexanderplatz. Head here for great coffee, cakes or lunch from a changing menu. Table reservation is possible.
19grams also offer workshops in coffee making, latte art and roasting. Check their webpage for more info.
19gram Alex Karl-Liebknecht-Str. 13, 10178 Berlin
With public transport: U, tram, S-Bahn to Alexanderplatz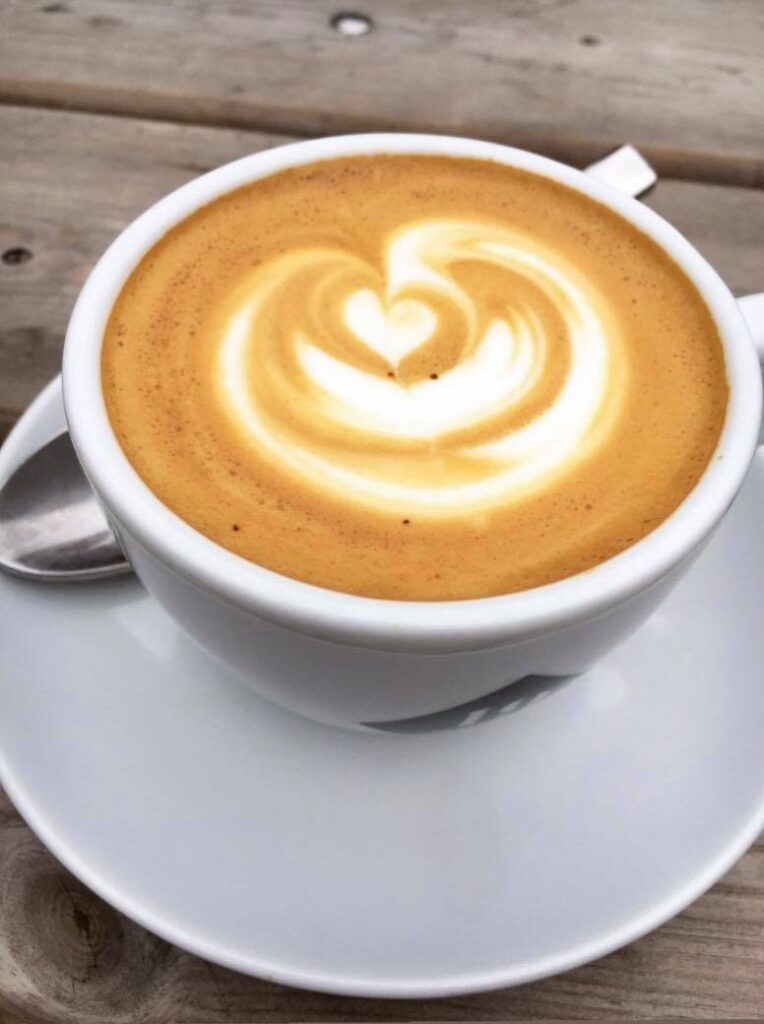 10. Röststätte
Röststätte Berlin is another local Berlin-based speciality coffee shop. They roast their own coffee and also offers courses and training at their coffee academy.
Both of their cafés are centrally located in the Mitte district. One is found in Ackerstrasse. The other place, both a café & bar, is in Hackesche Höfe (Hof 1). There are a theatre and cinema directly outside, making this the perfect place for a coffee or drink before you attend a show or movie. Try their excellent Espresso Martini.
Röststätte Ackerstraße 173, 10115 Berlin
With public transport: U Rosenthaler Platz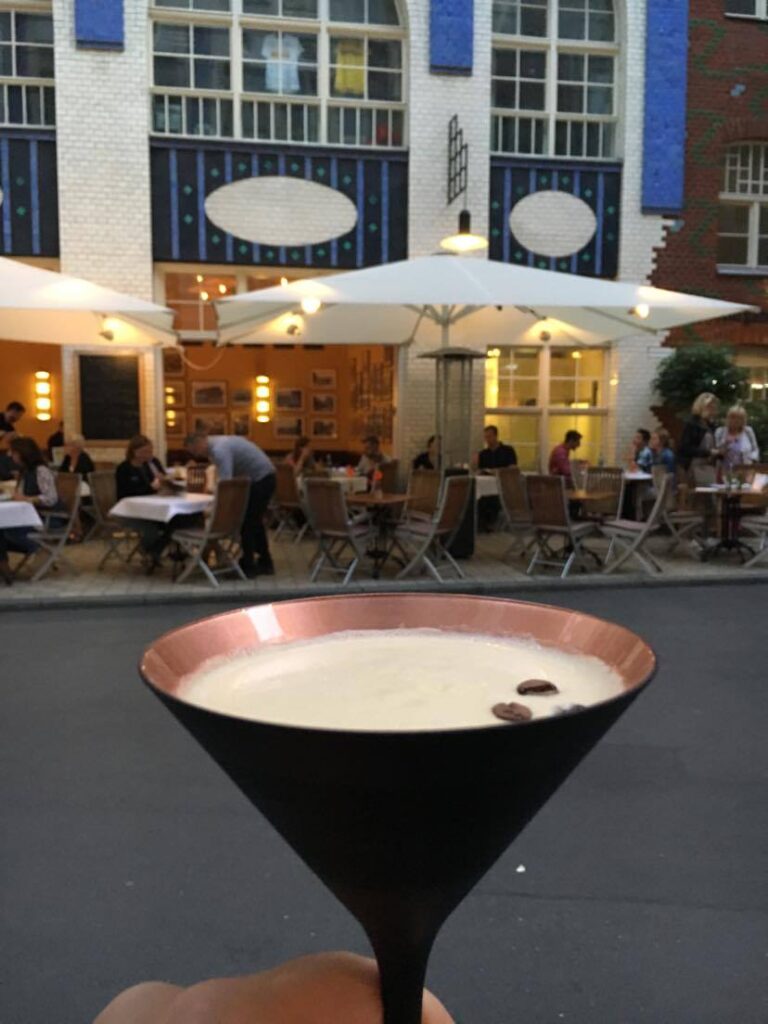 11. KAFFEE.BAR
Another great place to have a good coffee is KAFFEE.BAR in the popular district of Prenzlauer Berg. The shop is located in the lively and busy street Stargarder Straße and offers delicious coffee, cakes and sandwiches. In the summertime, you have the opportunity to sit outside and enjoy your drinks. KAFFEE.BAR is roasting their beans every week and of course, you can buy them to bring it home too.
KAFFEE.BAR Stargarder Str. 55a, 10437 Berlin
With public transport: S-Bahn to Prenzlauer Allee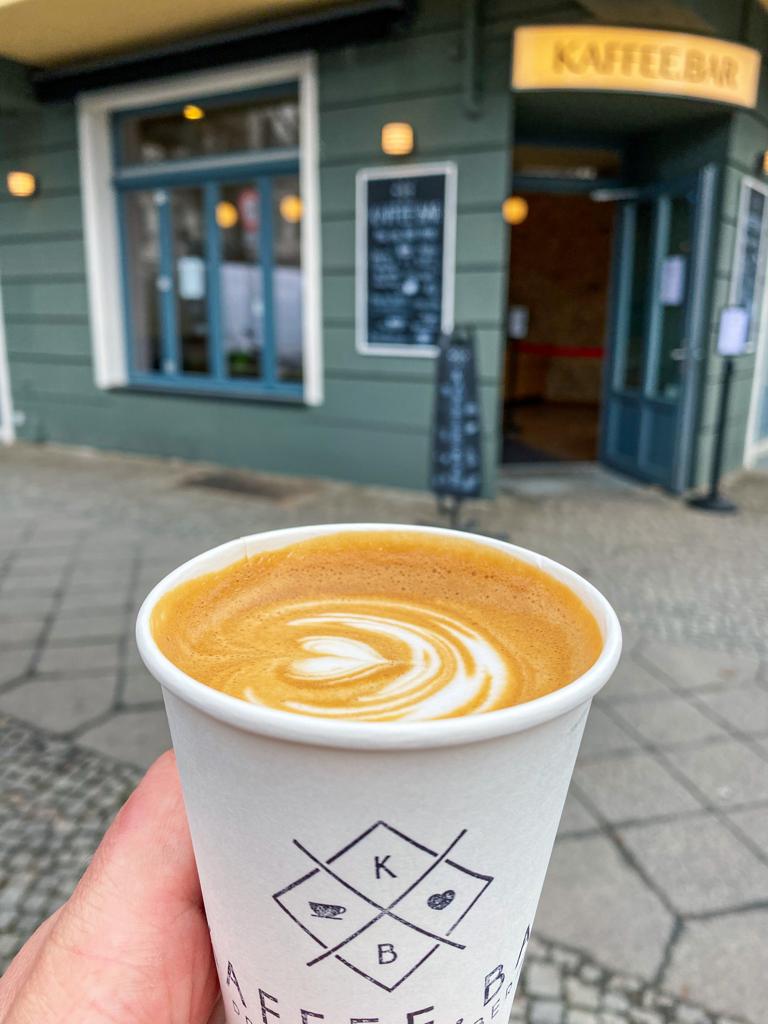 Where to find the best coffee in Berlin?
It's very easy to find great coffee in Berlin. But where to find the best? We leave that for you to decide. This post shows a selection of the best ones that we found (in random order) and, for sure there are more places that deserve your and our attention. We love the third-wave-coffee concept, and also find it great to know where the coffee is from and that the coffee farmers earn enough to make a living. All these Berlin coffee shops serving the best coffee in Berlin are so passionate about coffee and serving it with high quality and knowledge that they could all deserve to be on this list.
TIP: Did you know that also in many places in Thailand, you can find excellent coffee? Our posts on coffee in Chiang Mai and our Chiang Rai Coffee guide will give you more insight!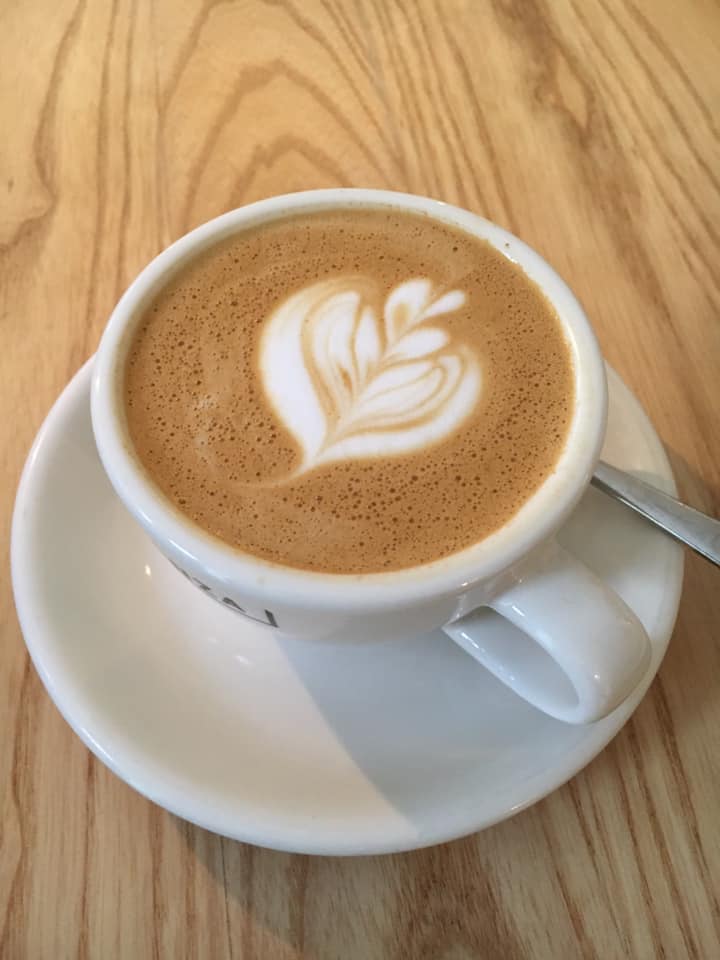 Click on the pin to save it to Pinterest