This post may contain affiliate links, where we may receive a small commission if you purchase something through following the links at no extra cost to you.
It's slow travel at its best, taking you from one continent to another, through big cities, over the Siberian steppes and along the largest lake in the world. Without a doubt, a Trans-Siberian Railway trip will take you on the greatest railway journey in the world. This legendary adventure stretching over eight time zones is one of the best travel experiences you can have, and no other rail journey can compare to the Trans-Siberian Railway.
Travelling the Trans-Siberian Railway is a dream for many people, and for one of us, this ultimate adventure was a lifelong dream. Doing this trip independent can seem like a bit of a challenge, and it also did for us in the start. The questions can be many but read on. This blog post has all the answers on how to travel the Trans-Siberian Railway independently. We will also shortly present the stops we had en route and give you some suggestions on what to see there, as an idea, while you start planning your journey.
1. Planning your Trans-Siberian Railway trip
We chose the classic, original route, starting in Moscow, before ending in Vladivostok, and we had our Trans-Siberian Railway trip in winter. That is just one way of doing it, but the options are many.
There are many things to consider when you start planning your journey, but first things first. A trip with the Trans-Siberian is perfectly safe, both for families, solo and female travellers. It is the way Russians have travelled for years, and very few reported incidents. Take precautions, choose your berth wisely, and take care of your belongings.
A journey like this requires some planning. But if you are like us, then you also find planning your trip half the fun.
Checklist for planning your Trans-Siberian Railway trip:
When do you prefer to travel? Which season?
Do you want to travel eastbound or westbound?
Which visas will you need to organise? Check visa requirements
Make sure that your passport is valid six months after you return
What should be your final destination?
Which route should you choose?
How much will it cost?
Do you want to stop along the route? Where?
Organise travel insurance
The above list gives you a brief overview of things to take into consideration when planning your trip. What you choose will mostly depend on your wishes, budget and the time you have on hand.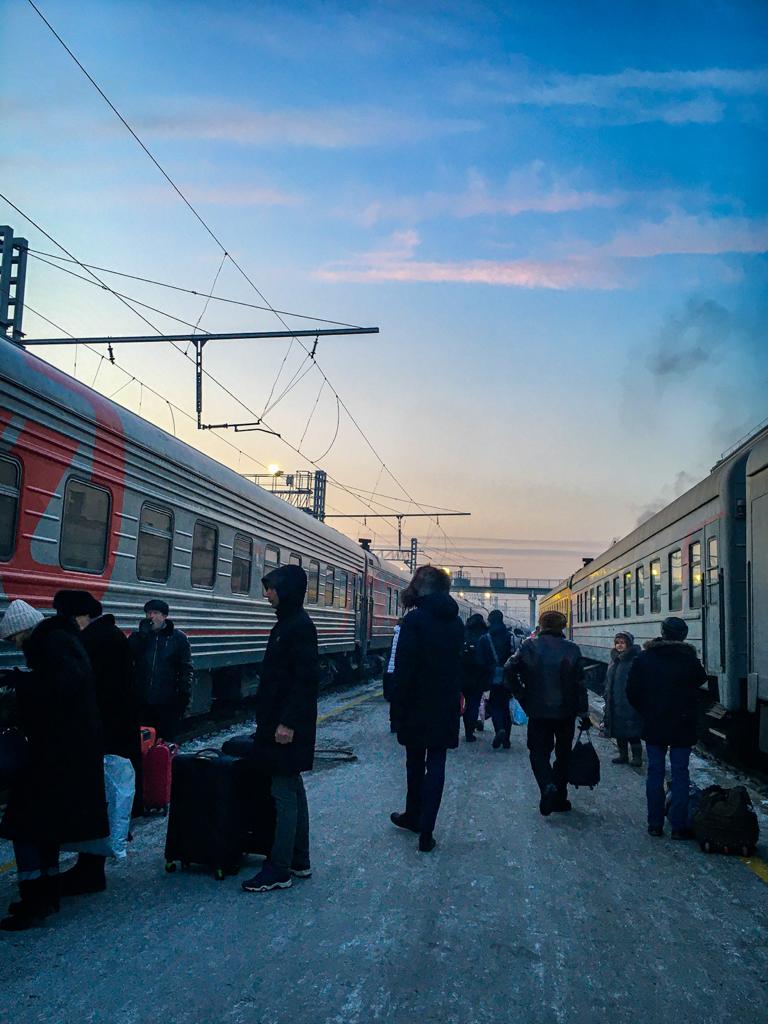 2. Best time to travel the Trans-Siberian Railway
If there is one best time to travel on the Trans-Siberian Railway or not, is really up to you and what you prefer. The train runs all year round, and each season has something to offer. Some periods are busy or warm while others are freezing cold.
Trans-Siberian in summer
Summer is the most popular time of the year for a Trans-Siberian Railway trip. With the summer holiday in the western world, lots of travellers find themselves onboard the train. It can get busy and harder to find tickets for some routes. The summer months are great if you travel solo and want to meet other fellow travellers.
The climate in Russia is mild, but July and August can get very hot. The same goes for Mongolia. Even the summer is shorter in Mongolia it really can get warm also there. China is hot and humid in the summer months.
Trans-Siberian in autumn
Autumn is by many considered the best time to travel the Trans-Siberian. It is less crowded, the worst heat is gone, and the foliage let you catch the autumn colours along the route. The weather can still be nice the whole route. In China, the humidity from the summer is gone.
Trans-Siberian in winter
A Trans-Siberian trip in the winter is spectacular. Yes, it can get freezing cold, like in really Siberian cold, and you will see that Siberia looks like yes, Siberia. The trains are heated and, you can expect to sweat even in winter. But to snug up inside while watching the Siberian winter pass by outside the windows is a magical feeling.
It is much fewer passengers in the winter, so it never gets crowded, and finding tickets is rarely a problem. Bring lots of warm clothes (think layers of clothes) for exploring the places you choose to stop.
Winter is considered the best time to visit Lake Baikal with its clear thick ice perfect for winter activities. The lake usually freezes from mid or end of February and last at least throughout March.
Trans-Siberian in spring
The spring is maybe the least recommended time for a Trans-Siberian Railway trip. It is no longer winter and also not summer. In late spring when the snow has melted, and nature starts to wake up is also very pretty. China has pleasant weather in the spring.
Spring is also not the busiest time on the train. It's great for avoiding crowds and, tickets are available.
TIP: Read our post on the Harz Mountain Railway or the Zittauer Schmalspurbahn in Germany if you would like a nostalgic journey with a steam train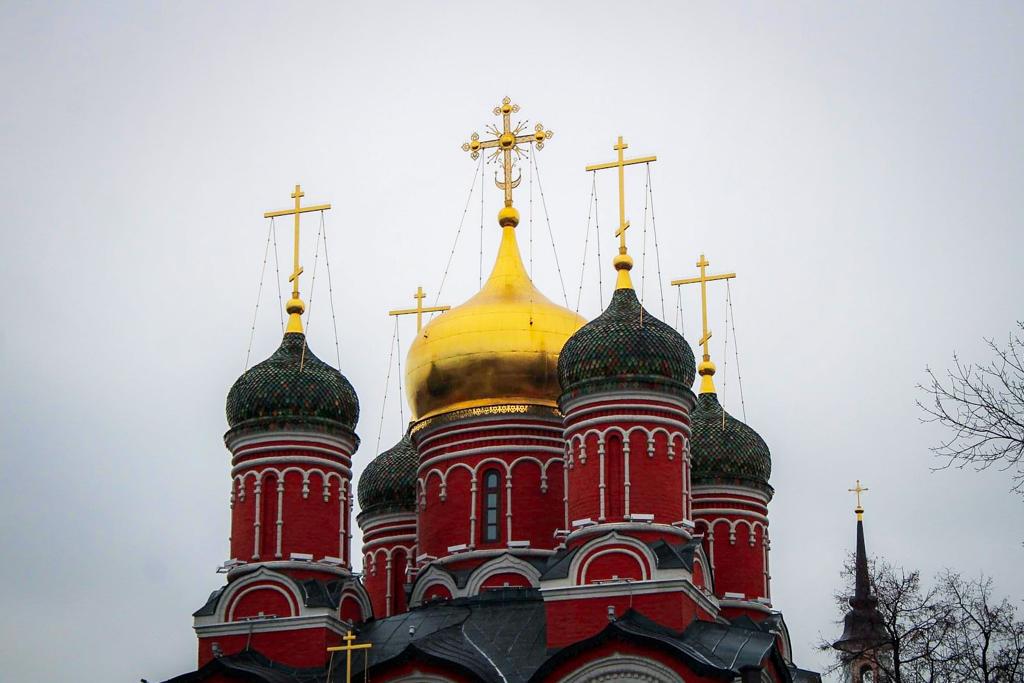 3. Choose your Trans-Siberian Railway route
The Trans-Siberian Railway is not one train route, but it's a network of railways connecting Moscow with the Russian Far East. The building of the railway started in 1891 and finished in 1916. Train services ran along the route much before its completion. Today, the expansion of the railway system continues, with connecting routes to China, Mongolia, Japan and North Korea.
You can choose from three main routes, but the Trans-Siberian Railway also has several other options for connections along with its extended network. You don't have to follow the same route the whole time, and you can combine more routes in one journey.
Eastbound or Westbound?
You can make your Trans-Siberian Railway trip in both directions. The choice is up to you and what you prefer. The eastbound route tends to be more popular among western travellers, so westbound is recommended if you are looking to avoid too many other travellers.
Usually, you will have to book one long-haul flight. Either to start the journey or when you have finished. Check airfares before you decide, it can be a big difference in costs depending on where and when you fly.
BUDGET TIP: In case you end your journey in Vladivostok, you save big bucks on flying domestic back to Moscow, and then have your international flight out from there, instead of flying out from Vladivostok
We chose eastbound from Moscow for two reasons. Firstly we found it kind of more romantic to start our adventure with the long train journey first, instead of with a long haul flight. Secondly, starting our winter trip with the Trans-Siberian in Moscow, also gave us the chance to celebrate New Year's Eve there before we boarded the train the next day.
TIP: Read our post with tips and attractions in Moscow for a Moscow city break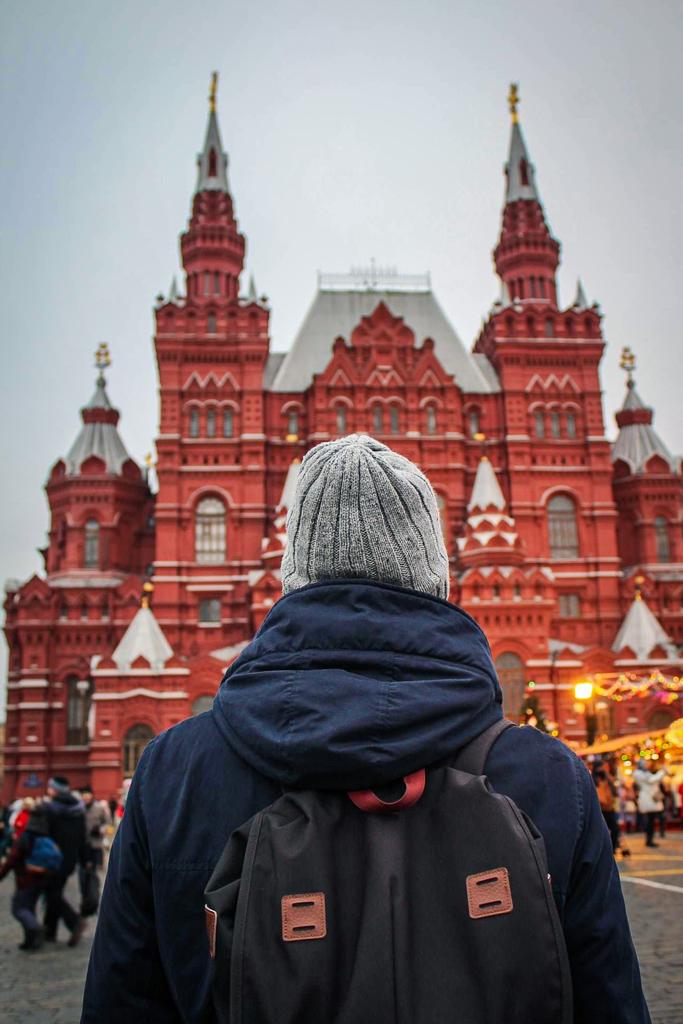 Trans-Siberian line: Moscow to Vladivostok
The legendary and original mainline from Moscow to Vladivostok is mostly following the historic path over the continent. Trains leave Moscow daily for this 9,259 km long journey. Depending on the train number, this route takes at least 143 hours, or around six full days. It can take longer. Some of the trains have slightly different routes or more stops en route.
The prime choice for this route is train number 1/2, the Rossiya. Train 1 is westbound and, train 2 is eastbound. Rossiya is regarded as the best train along this route, with the best comfort, service and food. It is also the most expensive one, so if you're on a budget, consider doing only shorter legs with this train, and combine it with other trains, e.g. train number 62.
Train number 1/2 has daily departures, in both directions
Train number 61/62 departs Mon, Thurs, Sat, both directions
If you plan to stop on your way, it is also possible to travel by trains that follow the same route but doesn't go all the way to Vladivostok. It is still the Trans-Siberian Railway.
Train number 70 will take you from Moscow to cities like Yekaterinburg, Novosibirsk or Irkutsk. In any of these cities, you can catch up with train number 2 or 62.
For stops before Irkutsk, you can travel with the trains going to China and Mongolia and later change to trains for Vladivostok.
Trans-Manchurian line: Moscow to Beijing via Manchuria
This route takes just over six days for travelling 8,986 km. Train number 19/20 has weekly departures to or from Beijing via Manchuria (train 19 is westbound and train 20 is eastbound). This train follows the mainline on the Trans-Siberian Railway between Moscow and Chita. Also here you can combine it with stops and other trains. This route is operated by Russian trains.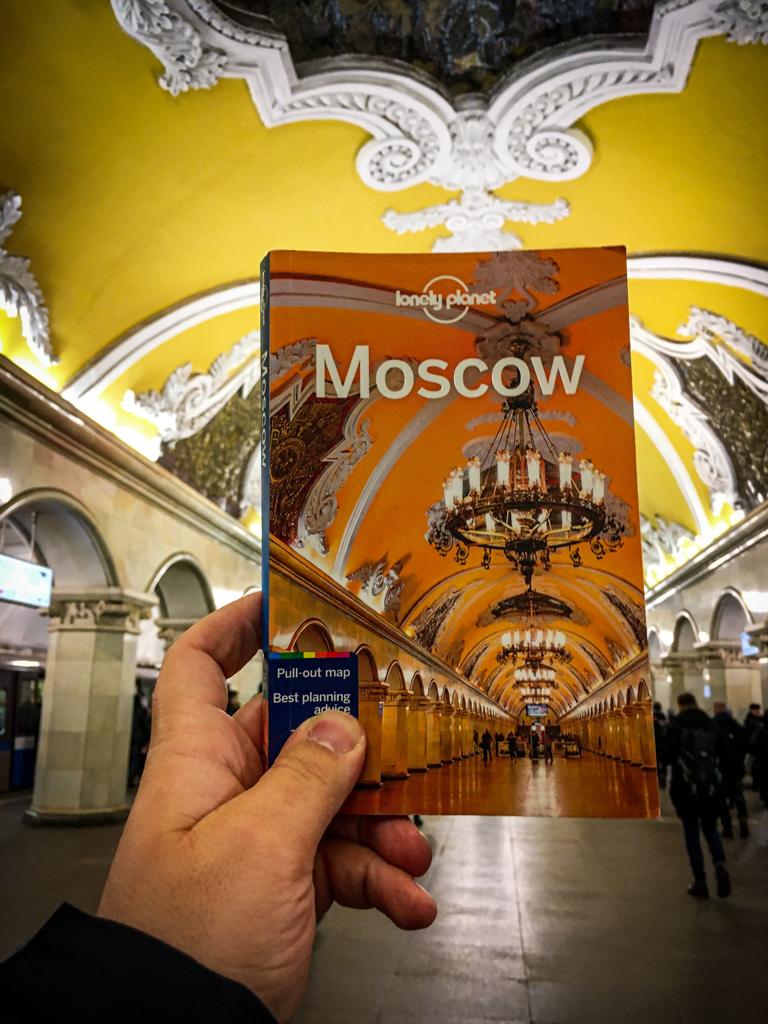 Trans-Mongolian line: Moscow to Beijing via Ulaanbaatar
This is the most popular route for western travellers on a Trans-Siberian Railway trip. This route is 7,621 km and takes 6 nights. With this train, you will have the chance to experience three different countries with their unique cultures. After travelling over Siberia, this train cuts across Mongolia and the Gobi desert before entering China.
TIP: Read our post on the Oslo to Bergen train an incredible beautiful train journey
The major train on this route is the weekly train number 3/4 (train 3 is westbound and train 4 is eastbound). This route is operated with Chinese trains, but when in Russia, a Russian restaurant car is attached, then later a Mongolian before a Chinese restaurant car for the last part of the trip is attached.
Train 3 departs Beijing every Wednesday
Train 4 departs Moscow every Tuesday
Between Moscow and Ulan Ude you can combine this route with all other trains
Most travellers on this train need a visa to Russia and China, and some also to Mongolia
Other routes
There are other alternative routes to take on your Trans-Siberian Railway trip as well, where you later can connect with the mainline to Vladivostok, or with the trains to China.
One route runs via Kazan, the capital and largest city of the Republic of Tatarstan in southwest Russia. Another option is the train via Yaroslavl, northeast of Moscow. Yaroslavl is part of the Golden Ring of ancient towns in Russia.
TIP: Read our post on the best places to visit in Russia's Golden Ring
4. Choose your Trans-Siberian Railway stops
When you have chosen your preferred route for your Trans-Siberian Railway trip, it is time to choose your stops. It is possible to travel the whole journey in one go. But we do recommend stopping en route to your destination. Russia has so much to see, so it would be sad to miss out on a stop there.
Depending on the time you have, you can almost have unlimited stops. If you follow the mainline, there are several interesting places in Russia to visit. Perm, Yekaterinburg, Omsk, Novosibirsk, Irkutsk (Lake Baikal) and Ulan Ude are all recommended places to stop, among many others.
We chose two stops along the route, in Yekaterinburg and Irkutsk. If you have limited time, and can't do too many stops, these two cities will give you many options to explore Russian culture, cities and nature.
Best things to do in Yekaterinburg
Yekaterinburg just west of the Ural mountains is the gateway between Europe and Asia. With a population of over 1,3 million, it is a major Russian city. The history goes long back but is maybe most famous for being the city where former president Boris Yeltsin came to rise, and also for being the city where Russia's last monarchs, the Romanov family were executed.
The city centre is lively, with a mix of grand old and communist-era style buildings. The city has good cafes and restaurants. After some time on the train, a break here can be very welcome. If you visit Yekaterinburg in the winter, the city has a small ice sculpture festival in the city centre.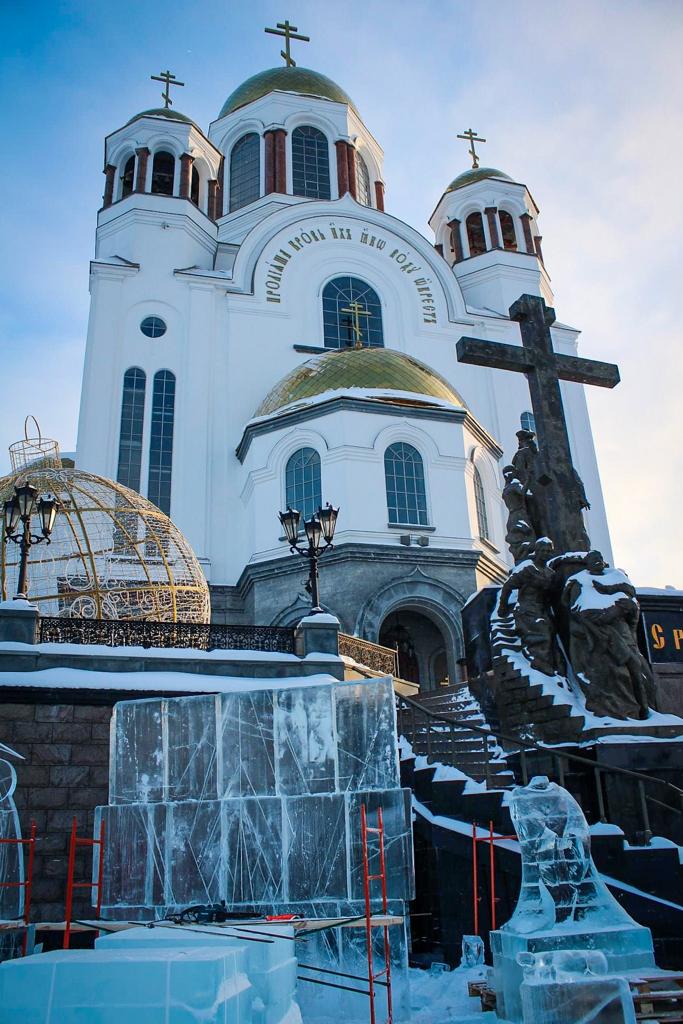 If you like opera or ballet (and think Bolshoi in Moscow is too expensive), Yekaterinburg has an excellent opera and ballet house showing first-class productions throughout the year. We were lucky and got good tickets for The Nutcracker for only €50.
If you'd like a detour out of the city, you can visit the Europe-Asia border, located 40km west of the city. Yekaterinburg For You can arrange the trip for you.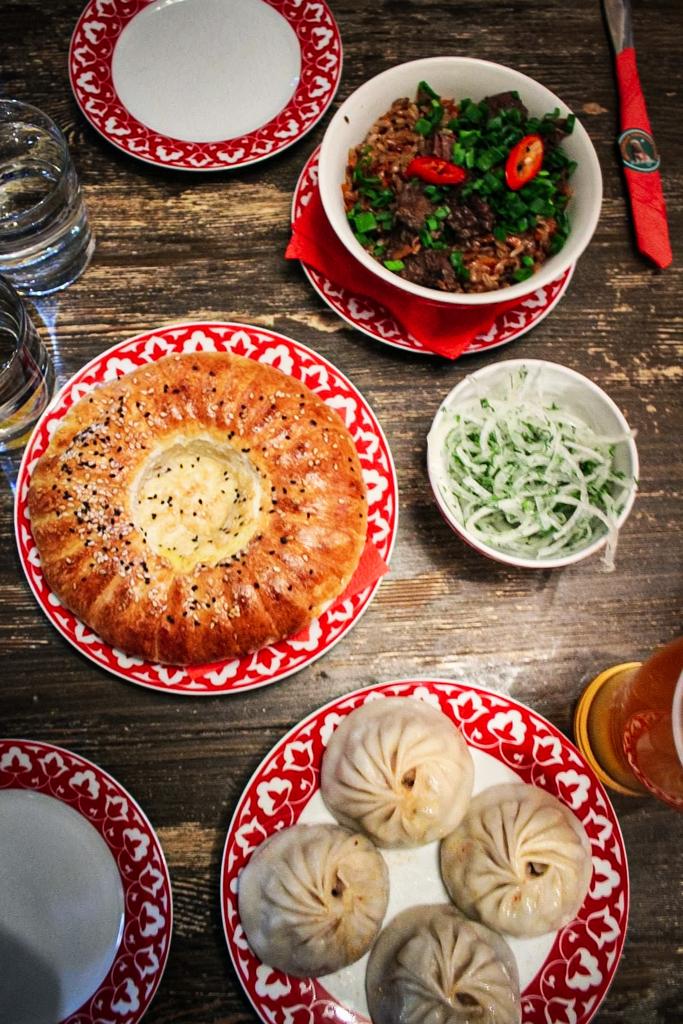 Our highlights in Yekaterinburg:
Visit the Church upon the Blood. This is the death site of Tsar Nicholas II and his family
See the mansion house of Sevastyanov
Watch an opera or ballet at Ural Opera & Ballet. Book tickets in advance
Eat excellent Uzbek food at the restaurant Nigora
Visit the Ascension Church
Enjoy the mix of architectural styles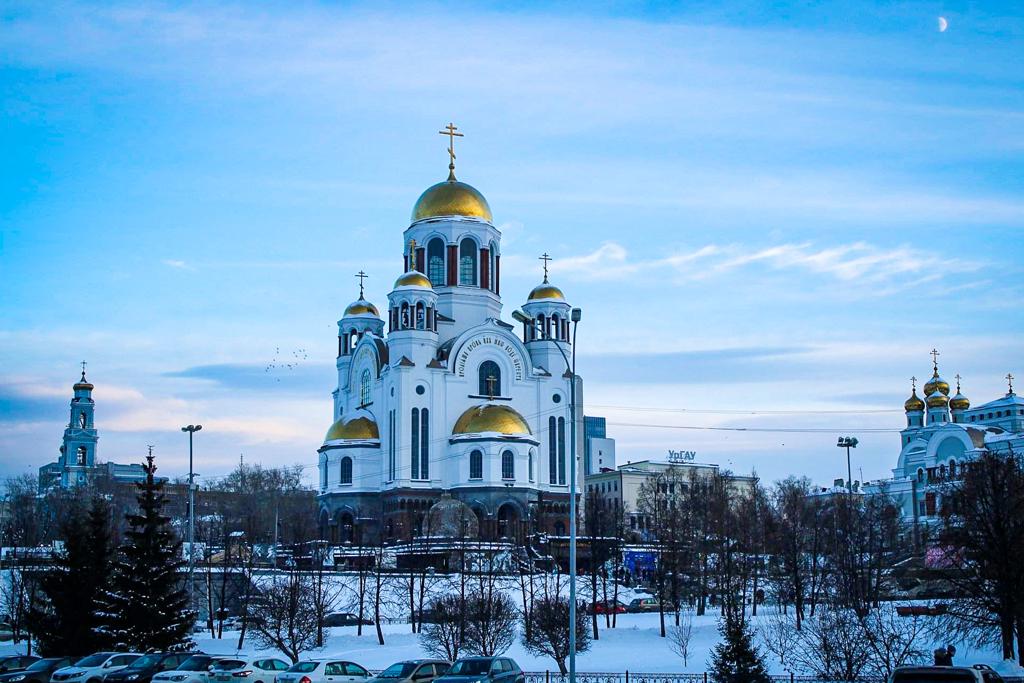 Best things to do in Irkutsk
This Siberian city is such a hidden treasure. Irkutsk is beautiful. One of the best things to do there is simply to wander around its streets and take in the beauty of the city.
From streets full of beautifully crafted wooden houses to spectacular churches and monasteries, Irkutsk really was a pleasant surprise. The food scene in the city is also great. Cute cafes serve delicious breakfasts, trendy cafes have excellent coffee and restaurants serve mouth-watering Asian food.
TIP: Read our post on Flamsbana Railway in Norway. It is said to be one of the most beautiful train journeys in the world
Irkutsk is the gateway to the famous Lake Baikal. You can visit the lake on a day trip from Irkutsk, or better spend a night or two. Most hotels and hostels in Irkutsk can help arrange trips to Baikal. The nearby, lakeside village of Listvyanka is a good starting point for exploring Lake Baikal. You can reach the village by hourly bus from outside the tourist office in Irkutsk.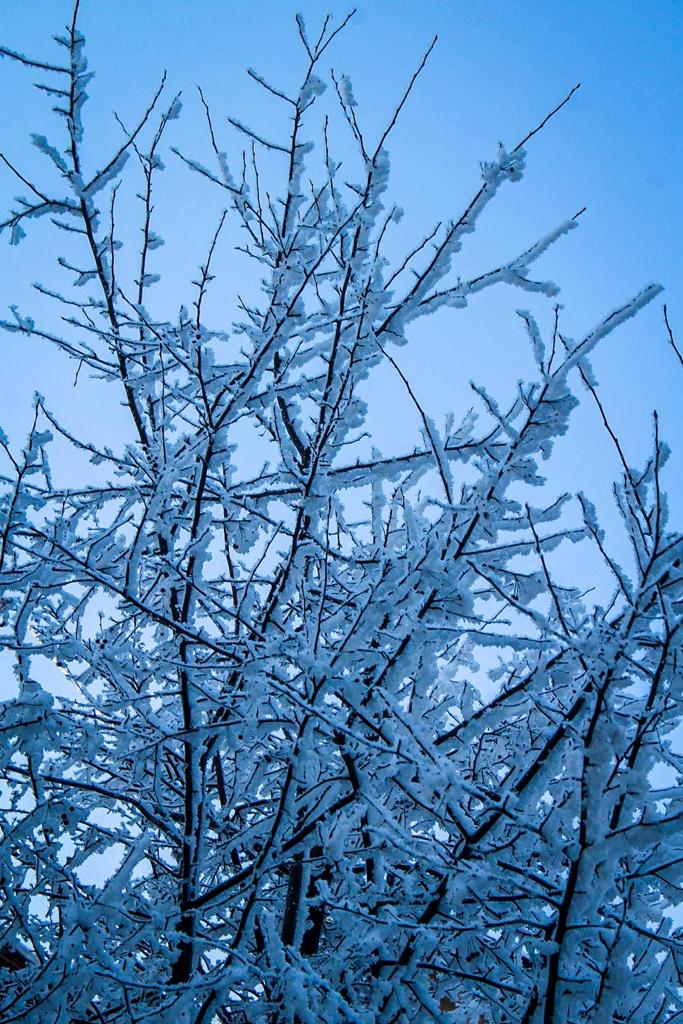 Our highlights in Irkutsk:
Wandering along the river and the streets to look at all the cute wooden houses and churches
Visit the amazing Kazan Church of Irkutsk
Visit Znamensky Monastery
Eat excellent Asian food and Russian dumplings
See the Epiphany Monastery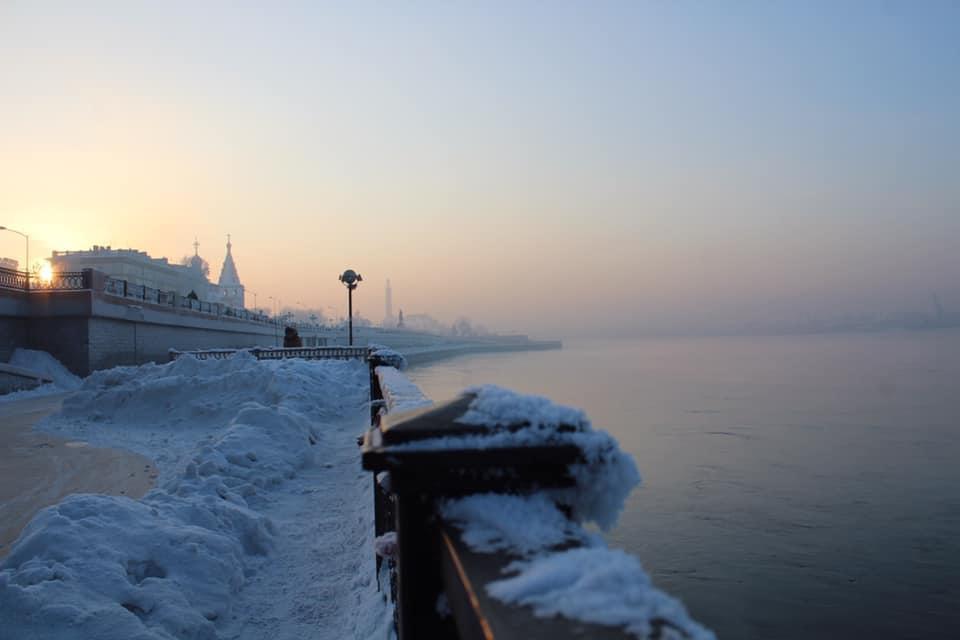 5. Classes on the Trans-Siberian Railway
Of the regular trains, train number 1/2, the Rossiya, has the best standard. It is very comfortable, but don't expect luxury even when travelling on this train.
There are usually two or three classes to choose from when booking your ticket, but this may vary from train to train, season and demand. The berths (rooms) don't vary that much. It is more about the space, and how many you will share the berth with.
Which class you should choose depends on your wishes and your budget. If you value privacy, choose the first class. If you travel on a budget, choose the third class. On the other hand, if you want to meet the locals as they travel, choose this class as well. Choose the second class for anything in between.
To get the best experience of a Trans-Siberian railway trip, we would recommend a mix of the classes (if you have stops along the route). It will give you unforgettable memories with locals, and ensure some privacy and calmness on the trip.
First class
1st class berths, known as Spainy Vagon or SV, on Russian trains are usually the same as 2nd class, but only the lower beds as used, meaning you only share the berth with one other person. On Chinese trains, known as deluxe sleeper, you normally sleep in the upper bed and can relax on a sofa during the day.
On trains without first class, it is possible to buy out the whole berth for single-use or to buy out the left-over beds in your berth if you are more people travelling.
The luggage is stored under the lower beds, and the berth is equipped with a reading light and electric socket. There are toilets and washrooms at each end of the wagon. Some trains have a shower available. Ask your train host if your train has showers for rent.
Second class
Usually, 2. class is known as Kupe, which are 4-bed berths with two upper and two lower beds. The lower beds function as a sitting area during the daytime. Expect to share your lower bed with passengers from the upper bed during the day, e.g. for meals. The second class on Chinese trains is called soft sleeper.
The luggage is stored under the lower beds, and the compartment is equipped with a reading light and electric socket. There are toilets and washrooms at each end of the wagon.
Third class
The third class, known as platskartny, has an open plan with 54 bunks per wagon, arranged in groups of 4 or 2. Here you will have a lack of privacy, but on the other hand, you are guaranteed nice encounters with your fellow passengers.
If you are travelling on a tight budget, the third class will be the best option. It is significantly cheaper than the higher classes.
Private luxury trains
If you have the money and are looking for a once-in-a-lifetime experience, one of the private luxury trains could be the option for you. Here you travel in a secluded world, with meals, excursions and the best comfort included. It is expensive, so only expect to meet other wealthy travellers on this train. The downside is that you won't have many encounters with the locals if you choose one of these trains.
Check Golden Eagle or Imperial Russia for more information on private luxury trains.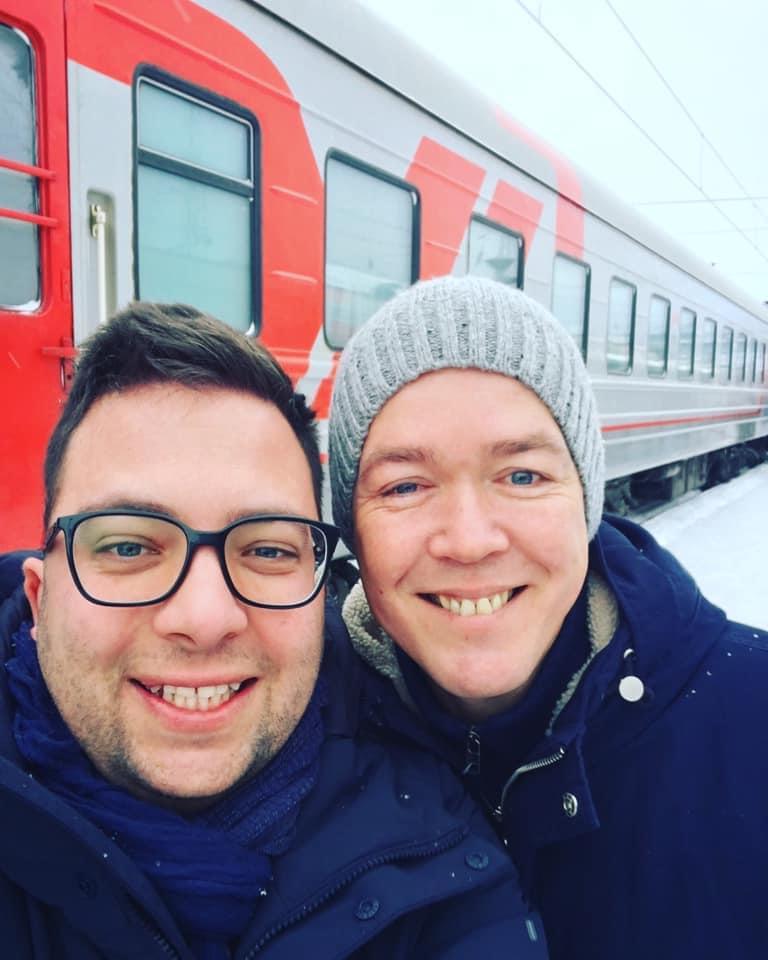 6. How much does the Trans-Siberian cost?
It's a myth that a Trans-Siberian Railway trip is very expensive. On the contrary, when thinking of the distance travelled, it comes out as very affordable indeed.
In addition to the Trans-Siberian-Railway ticket itself, there are some additional costs you need to add:
Costs for the visa(s)
Health insurance
Flights (or other transport) to start and endpoint
Accommodation before and after the train ride, plus at the stops you make
Food and drinks
Personal expenses
The price of the train tickets depends on the time of year you travel, and your preferred class. The high season is June to August when the ticket prices are at the highest. Also around Russian New Year and Christmas, the prices rise. The same goes for the Chinese train around Chinese New Year.
In general, it is cheaper to travel the whole Trans-Siberian without stops, as you then travel on the same ticket the whole way. Making stops will raise the ticket cost, but not that much. The more stops you make, the higher the total cost you will get (when you stop you have to buy several independent tickets).
Your travel class will affect the ticket price the most, and in general, a first-class ticket is around double of a second-class 4-berth ticket. The lower bed is more expensive than the upper bed. Some tickets on certain trains also include one or a few meals, but far from all the meals, you'll need.
Price example (per person) from our Trans-Siberian Railway trip (January 2020):
Train number 70 Moscow-Yekaterinburg, 2nd class, 4-bed berth, lower bed: €68/ $83
Train number 2, the Rossiya, Yekaterinburg-Irkutsk, 2nd class 4-bed berth, upper bed:€129 / $158
Train number 100 Irkutsk-Vladivostok, 2nd class, 4-bed berth, upper bed: €121/ $149/ lower bed: €157 / $193
Total price Moscow-Vladivostok with two stops: €672/ $825, or only €336/ $412 per person. With more stops, the price will go up, and without stops, it will go down, but the difference is really not that much.
Tickets from Moscow to Beijing can cost as little as €550/ $680, but the real bargain is on the classic route from Moscow to Vladivostok.
As seen above, it is possible to make a Trans-Siberian Railway trip quite cheap. If you travel only third class, you can save more, and first-class would cost around double. The total price for the whole trip will then more depend on your choice of accommodation before, during and after the trip, and how much the flights or other transport costs before and after the train itself. With budget accommodation and low-cost airlines, it is possible to do this whole trip for less than €1000/ $1230, food and activities not included, if you live in Europe.
Expect to pay much more if you use a travel agent. Should you prefer to book via a travel agency, you will get the best deal from local offices in China or Mongolia, while the western ones usually will be the most pricey option.
For private luxury trains, you should expect to pay more than €10,000 (up to €20,000). And that's per person!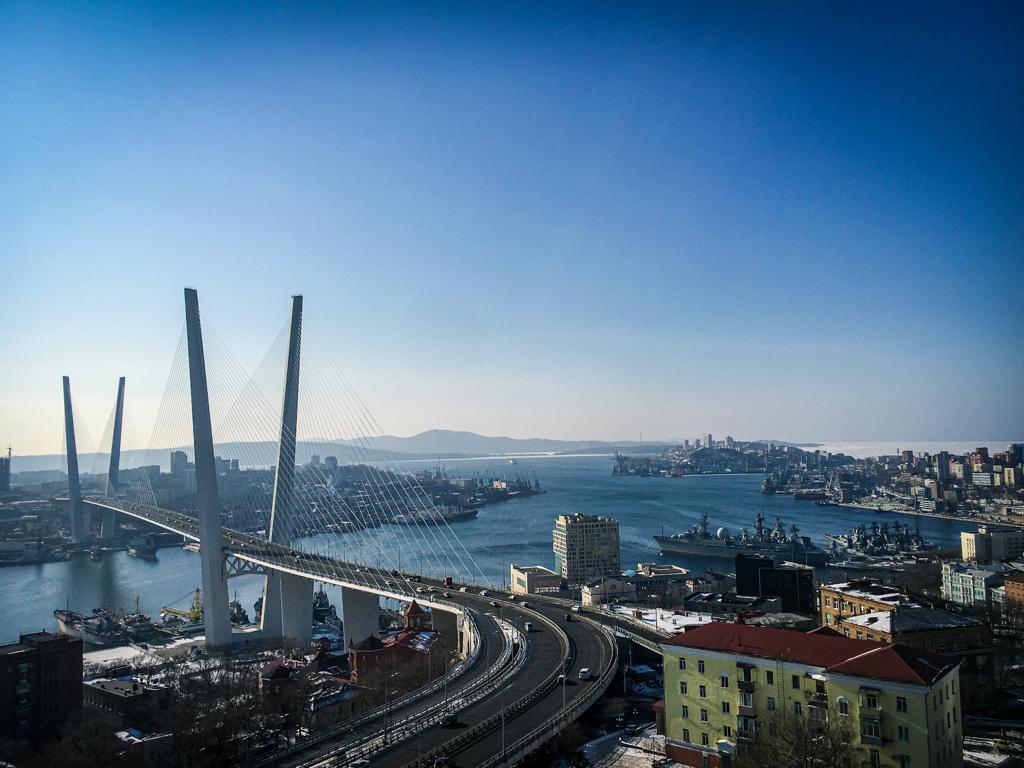 7. How to book Trans-Siberian Railway tickets?
When you have decided your route and planned which stops your Trans-Siberian railway trip should have, it is time to book your tickets.
Booking tickets to the Trans-Siberian Railway is surprisingly easy and straightforward. There is no need to ask a travel agent at home or in Russia to do this for you. Expect to pay much more if you use a travel agent.
Tickets are available for booking 60 days before departure. Especially in the high season, it is recommended to book in advance, but often it is possible to find tickets 2-3 days in advance online or at the train stations in Russia. The Trans-Mongolian line is popular and can sell out due to only one departure per week. Book way ahead unless you are very flexible on time.
During the booking process, you can choose between available berths and between upper or lower beds. You can also choose between mixed-gender or female berth only. Smoking is prohibited anywhere on the train, so you don't have to fear smoking in your compartment.
TIP: There are toilets at each end of the wagons. If the toilet is full, it can stink really bad, also in the corridor and berths close by. Choose your berth in the middle of the wagon.
How to book tickets at the Trans-Siberian railway (for trains starting in Russia)
Go to the official website of the Russian Railways (site in English)
Click on log-in or registration to create a profile (mandatory before booking)
Type in from/to and date and search
Click on the from-price in the class you prefer, and see which berths are available
Choose your berth, and if you want an upper or lower bed
Fill in personal information, confirm, and pay (NB: you need to add your passport number)
Voila! You have your ticket
Tickets work electronic but, we recommend a print-out in case of battery issues
PLEASE NOTE: This way of booking is at the moment only available for trains starting in Russia. You can not book tickets online on this site for trains starting in China or Mongolia. Some US-issued credit cards may get rejected.
How to buy tickets on trains starting in China and Mongolia:
You can not buy tickets for the Trans-Siberian Railway at Beijing stations
The CITS international train booking office is recommended for purchasing tickets in China and Mongolia
In Ulaanbaatar, you can buy tickets at the international ticket office next to the train station
8. Life onboard the Trans-Siberian Railway
A journey on the Trans-Siberian Railway is slow travel at its best. Prepare yourself for days on the tracks with many fellow passengers coming and going. The encounters with fellow passengers, tourists and locals, will be some of the most memorable moments of this trip. Keep in mind that the Trans-Siberian is not run for tourists. It is as it's meant to be; a passenger train made for transporting many people over long distances. Don't expect nightclubs and entertainment onboard.
Even though you will spend hours and days onboard the train, you hardly will have time to get bored. Somehow, the days pass by as the Siberian landscape slowly glides by outside your window. Relax, watch the scenery outside, read, play a game, listen to music or podcasts or watch a downloaded movie or series. Talk with your fellow passengers, stretch your legs at the stops, have a drink and enjoy your journey. That's all that it's about!
Please note that onboard the train, they always use Moscow time. Time tables show both Moscow and local time. Keep track of the time zone, and you will manage.
Before boarding the train
Essential items to pack
Comfy clothes
Slip-on footwear
Torchlight
Electric adapter
Toilet paper
Bottled water
Instant food
Moneybelt
Arrival and boarding
Trains in Russia are punctual
Check the name of the station closely
Arrive latest 30 min before departure
Platform and track will be displayed in the departure hall
Keep tickets and passports safe but available for inspection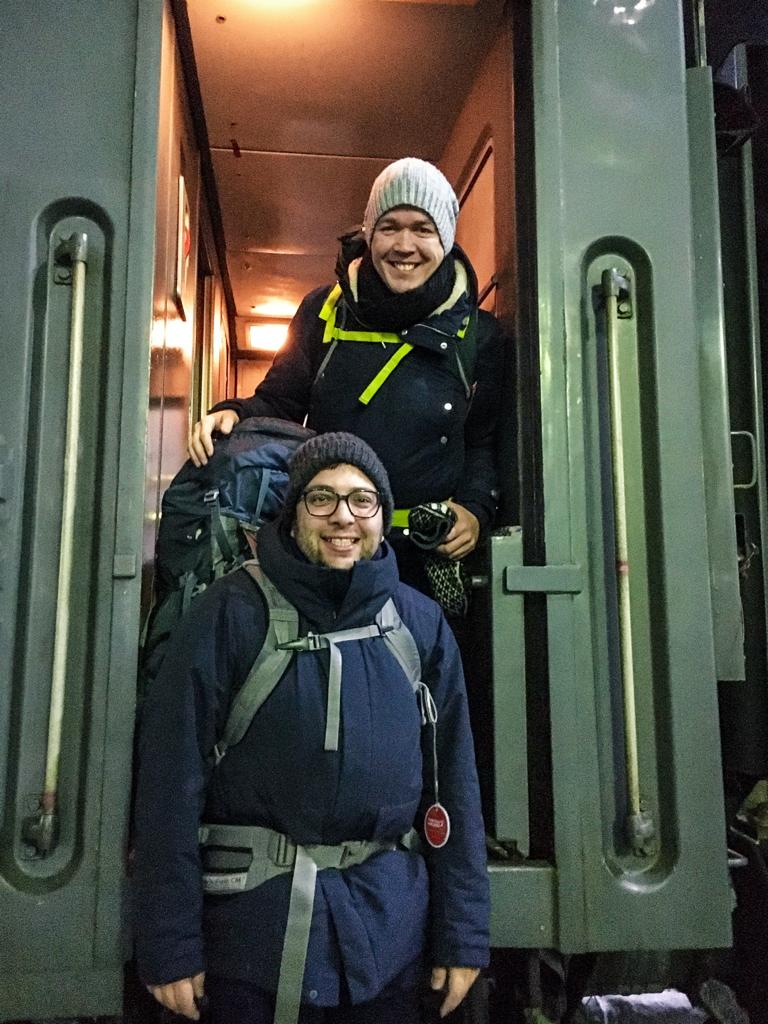 Arrival on the train
Upon arrival, you will meet your train host, the provodnitsa. She is the boss, your best friend, and must be obeyed. Each wagon has its provodnitsa, and on long trains, they work in pairs (one works while the other rests). They only speak Russian and can seem very strict and fearsome, but mostly they are friendly and helpful.
On arrival, she will check your ticket and provide you with the bed linen. Her most important task is to keep her wagon clean, tidy and warm. She also makes sure that the samovar (water boiler) at the end of the corridor always contains hot water for your use.
At the beginning of the journey, they usually also offer some souvenirs or snacks they have for sale. Buy something, and you have a friend and helper for the rest of the journey. If you need something, like plates, cups or cutlery, you can often borrow it from her (for a small tip).
Your compartment
Depending on if you travel solo, as a couple or in a small group, usually, you share your compartment with other passengers, unless you have bought all beds. Be polite, greet fellow travellers and try to interact with them.
You can be lucky or not so lucky with your roommates, but that's also a part of the experience. Put baggage under the seats, and keep personal belongings in your bed. Respect that people want to sleep in the night, and expect fellow passengers to come and go at all times as the train stops frequently.
If you have the lower bed, you are expected to make room for passengers in the upper bed to sit in your bed and share the table at meals. Not everyone is so happy with doing this, but all passengers have the right to use the table.
TIP: If you are two travelling together, book one lower and one upper bed on the same side. Then you can rest whenever you want, and sharing the lower bed as a daytime sofa and the table is never a problem.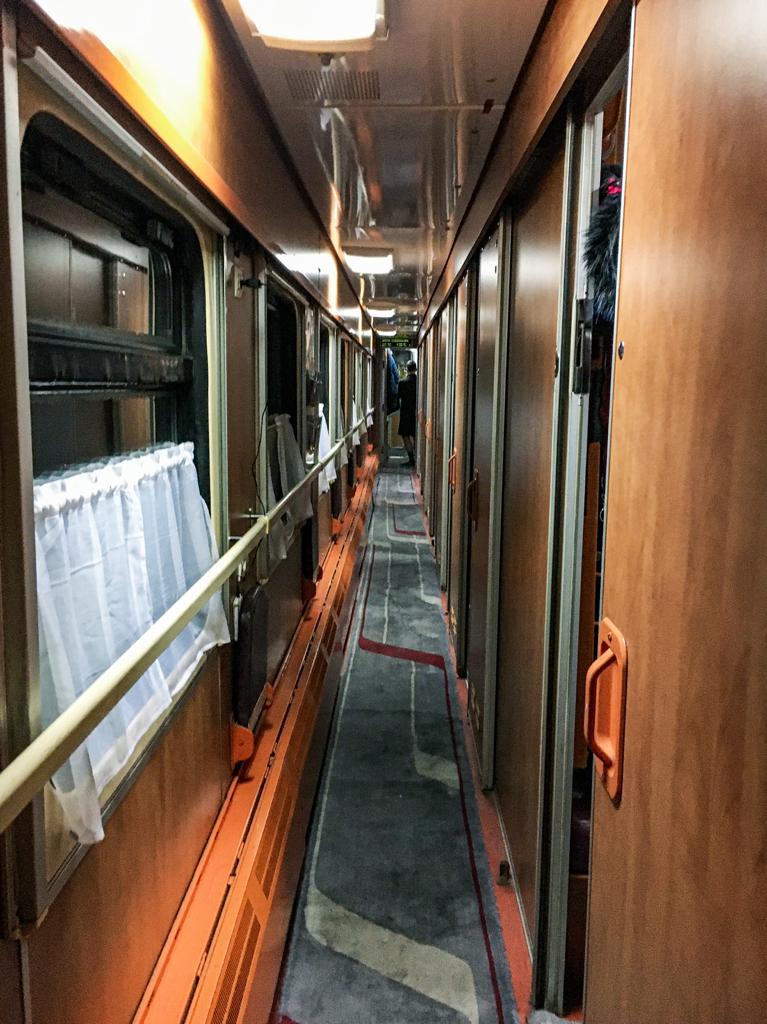 Meals on board
Let's be honest: don't expect your Trans-Siberian Railway trip to be a culinary journey. In that case, you will get deeply disappointed. If your ticket includes some meals, you will get them brought to your compartment. Every train has a restaurant car, with various decorations. The food in the restaurant car is disappointing and nothing special. It is quite pricey for such low quality.
Try the food in the restaurant car as part of your experience. But don't have all your meals here. Eat most meals in your compartment, and rather use the restaurant car for a drink or two during the day. It is a good place to meet other travellers.
Buy instant food, like noodles, soups and stews before you board the train. The samovar in your wagon always has hot water you can use. Stock up on fruits, crackers and other dry food items. When the train stops for more than just a few minutes you can buy more food at the stations along the route.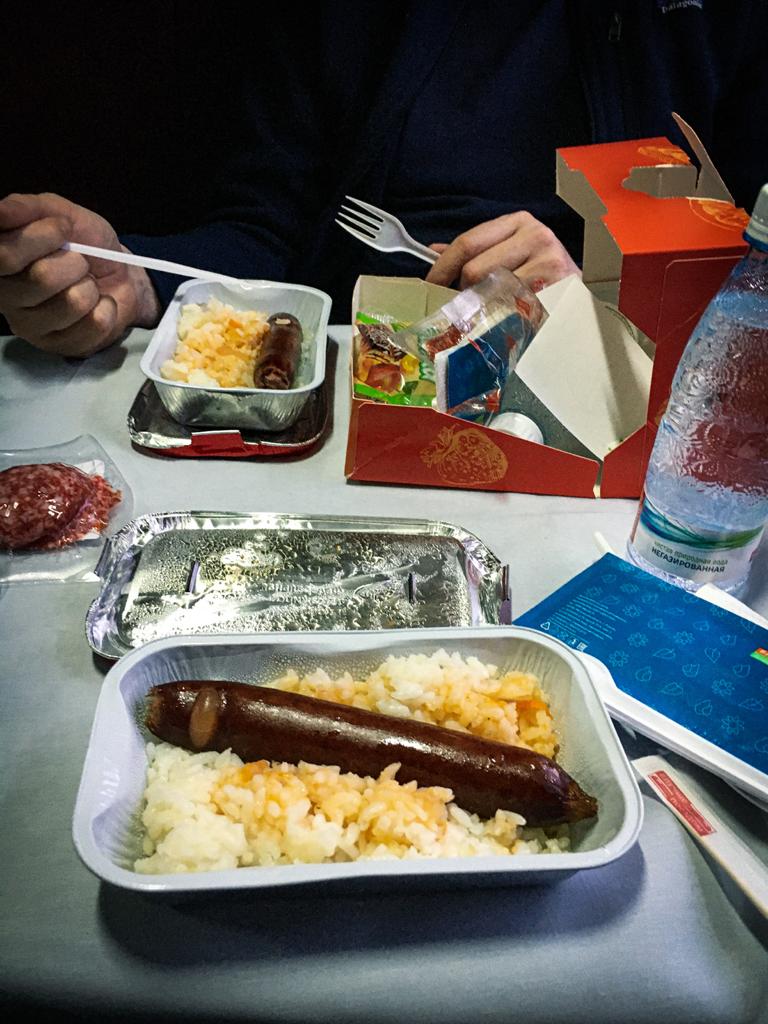 Short stops along the route
The many shortstops along the route are one of the highlights during the day onboard. Sometimes the train stops for just a few minutes and other times for anything between 30 minutes to an hour. Each wagon is equipped with a timetable showing the stops along the route. The timetable states arrival and departure times at each stop.
When the train only stops for a few minutes, it can be worth getting off to get some fresh air and stretch your legs. Don't be late back. The train will not wait for you.
Life on the stations is some of the most fun and memorable moments of this journey. Passengers come and go, and everywhere it's busy activities. Small stalls sell fresh or preserved food, drinks, fruits and sweets. Locals often also offer local products for sale. It can be handcrafted items, souvenirs, food and drinks. Often you can find fresh bread on the stations, and in some places, you can also find warm food. Try the smoked fish offered at the stations in Siberia. It's delicious and a good supplement to all the instant food.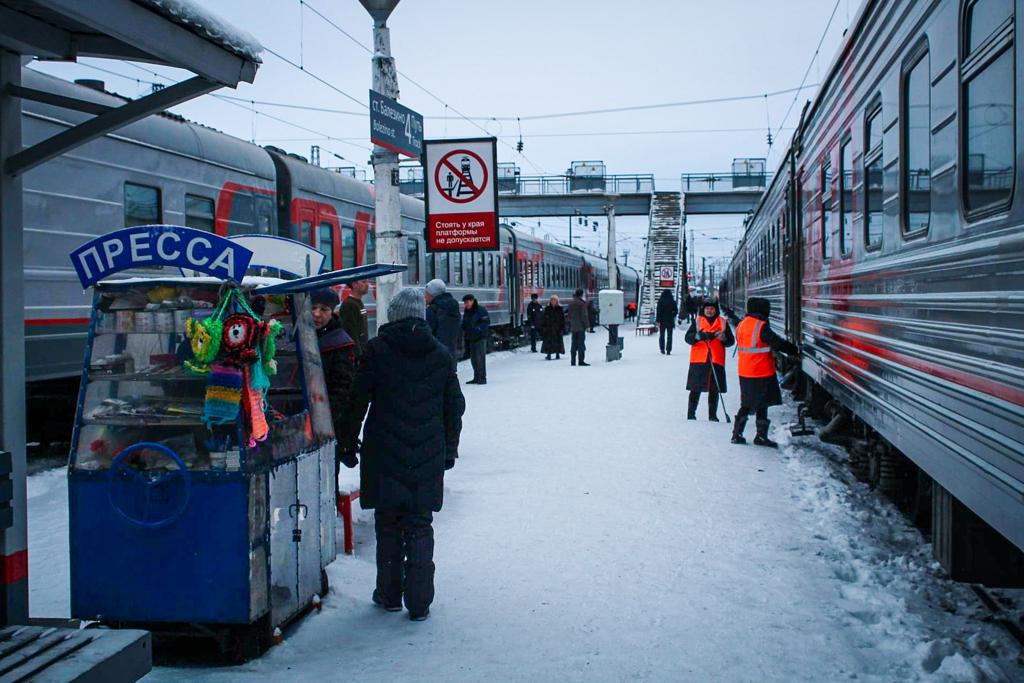 Click on the pin to save it to Pinterest