This post may contain affiliate links, where we may receive a small commission if you purchase something through following the links at no extra cost to you.
Germany and beer gardens go hand in hand, and everyone who visits should visit should try a beer garden at least once. What is better after a long day of work or after exploring Berlin in the summer, than grabbing a cold brew with your friends? If it is your first time in Berlin or you have been here before doesn't matter. The beer gardens in Berlin are welcoming you all over the city, and you will never be too far from one. Here we share some of our favourite Berlin beer gardens and how to get there.
History of beer gardens
Beer gardens in Germany have a long history. This lovely tradition started in Munich, in the German federal state of Bavaria. In the 19th century, breweries built cellars close to the river Isar, so they could store the beer in the summertime. This way the could keep the beer cool and safe. To develop it more, they covered the cellars with gravel and planted chestnut trees. The roots of the trees do not damage the cellars and the leaves give shade. After a while, they sat up tables and benches under the trees. With this, the first beer gardens were born.
In the very beginning, they only served beer and you could bring your own food. Later the breweries followed up by offering better service and food too. But it is still common in some Bavarian beer gardens that you can bring your own food as long as you buy the drinks there.
Nowadays almost every Bavarian restaurant claim to have a beer garden, meaning they offer outdoor seating for food and drinks. For the most traditional beer gardens, look for the one made like that, and where you can sit in the shade of the Chestnut trees. We love going to a beer garden on a warm summer day, to grab a beer, share a table with other people and enjoy the German Gemütlichkeit (cosiness).
Travelling to Germany? Join Our Facebook Group Germany Travel Forum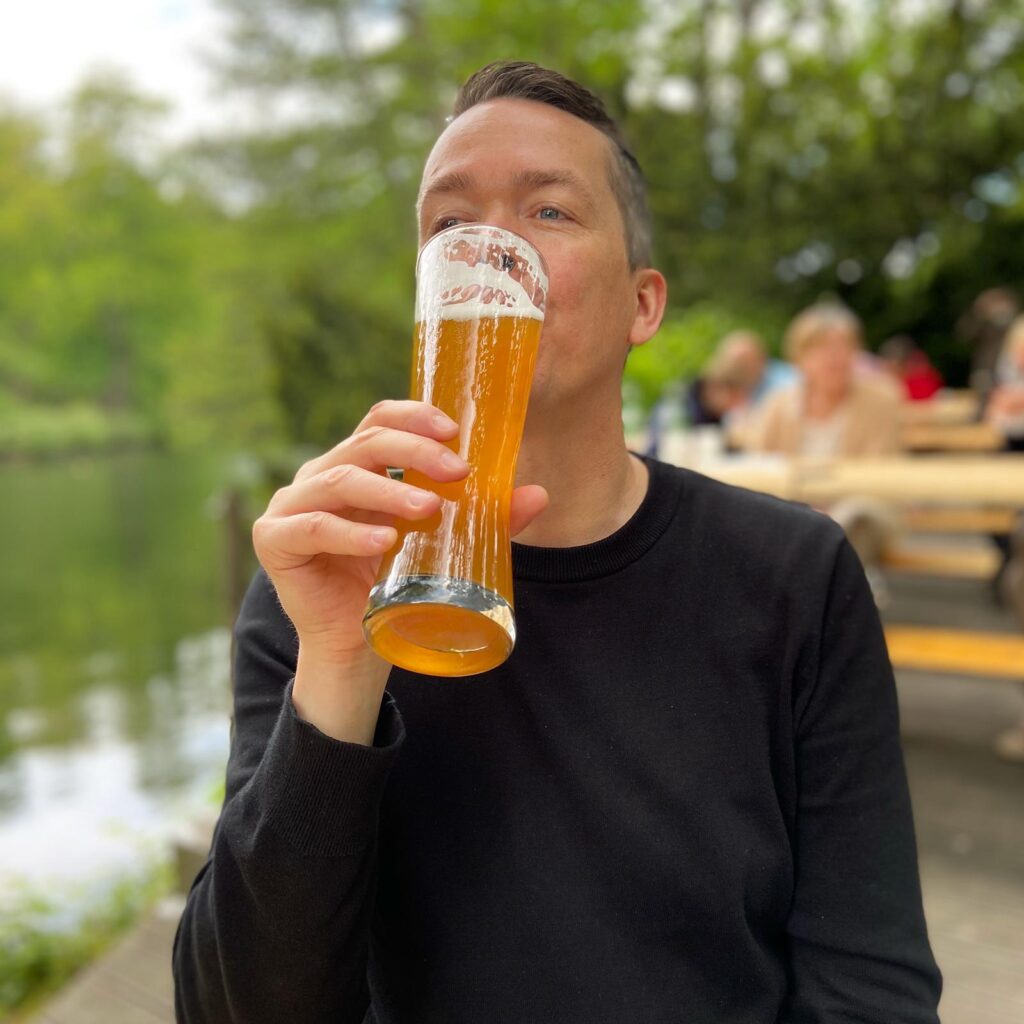 Beer gardens in Berlin
The tradition of beer gardens grew over the years to many parts of Germany. You can still find authentic and traditional beer gardens in Berlin. You can find big and busy Berlin beer gardens, and you can find smaller and more local ones as well. Often there are small and hidden beer gardens in the suburbs, and if you are lucky to stumble upon one, do sit down. If you are lucky, you won't meet other tourists, although only locals.
Some few of the beer gardens in Berlin have table-service where waiters take your order, but most of them have self-service. There you have to go order your drinks and/or food at the counter yourself. Some Berlin beer gardens have only one counter, while others have separate for food and drinks, and maybe even a third for payment.
All beer gardens in this post serve some kind of food, so it is also possible to have your lunch or dinner there. Usually, beer gardens have long tables and benches on each side. It is completely normal to share a table with strangers (who might become friends during the evening), so don't get surprised if someone asks to sit with you. 8-10 people can often fit around one table.
TIP: Read our post on the best museums in Berlin if you would like to visit some of them
Usually, the food in the beer gardens in Berlin is traditional. Popular food is Pretzels, radish, plates of cheese, ham and sausages or grilled fish or chicken. Some Berlin beer gardens serve other dishes such as pizza or burgers. The beer they serve is traditional as well, and some even brew their own beer.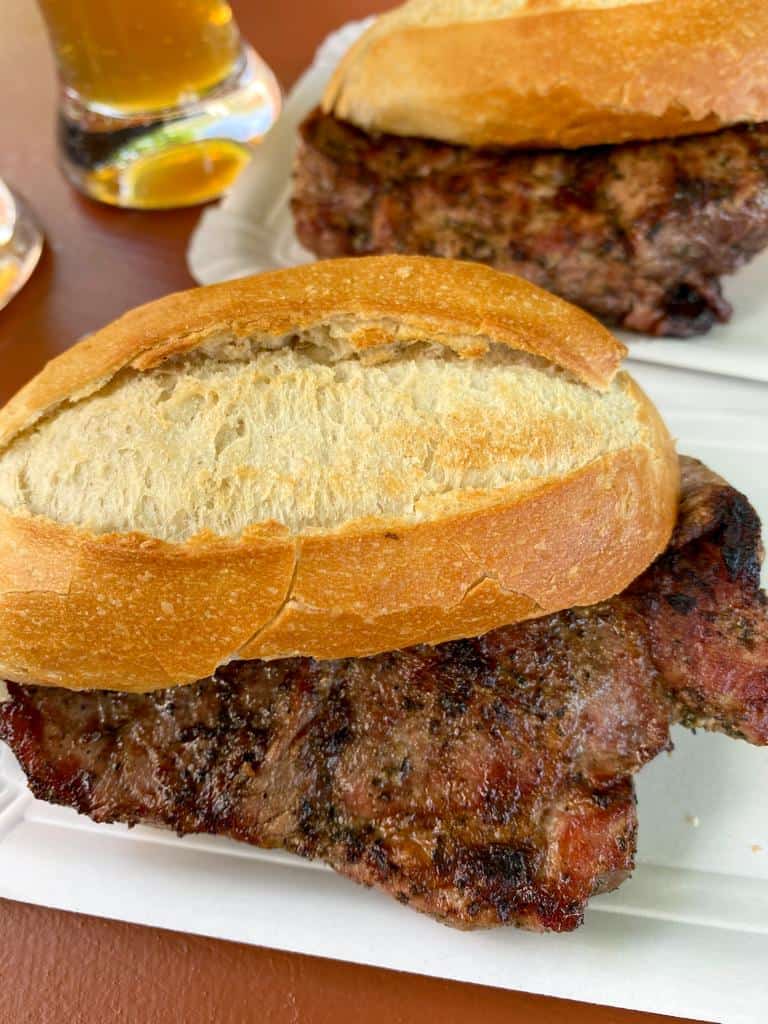 Should you not be a fan of beer, you can still visit and enjoy any beer garden. They also serve wine, and alcohol-free drink options are always available. Even most people seem to have a beer while in the beer gardens, it is absolutely not a must. It is just being there, in the great atmosphere that really matters.
Most beer gardens are open in the summer-half only and are closed in the winter. Usually the beer gardens in Berlin open for the day around noon or early afternoon, but this is weather dependent.
TIP: Cash is still King in many places in Berlin, and that also goes for some of the beer gardens. Bring cash – not everyone accepts card payments!
Beer Garden Dictionary – some useful words from the beer gardens in Berlin
| | |
| --- | --- |
| Weißbier | Wheat beer (delicious) |
| Helles | Lager |
| Dunkel | Dark beer |
| Radler | A mix of beer & lemonade |
| Diesel | A mix of beer & coke |
| Berliner Weisse | Beer mixed with fruit syrup |
| Weinschorle | A mix of white wine & sparkling water |
| Pretzel | Baked pastry with salt |
| Bratwurst | Fried yummy pork sausage |
| Kartoffelsalat | Potato salad |
| Brotzeit | Plate with cold cuts & cheese |
| Wurstsalat | Cold sausage salad |
| Schweinshaxe | Roasted pork knuckle |
| Leberkäse | Meatloaf |
| Flammkuchen | Tarte Flambée |
| Grillhähnchen | Grilled Chicken |
1.Prater Biergarten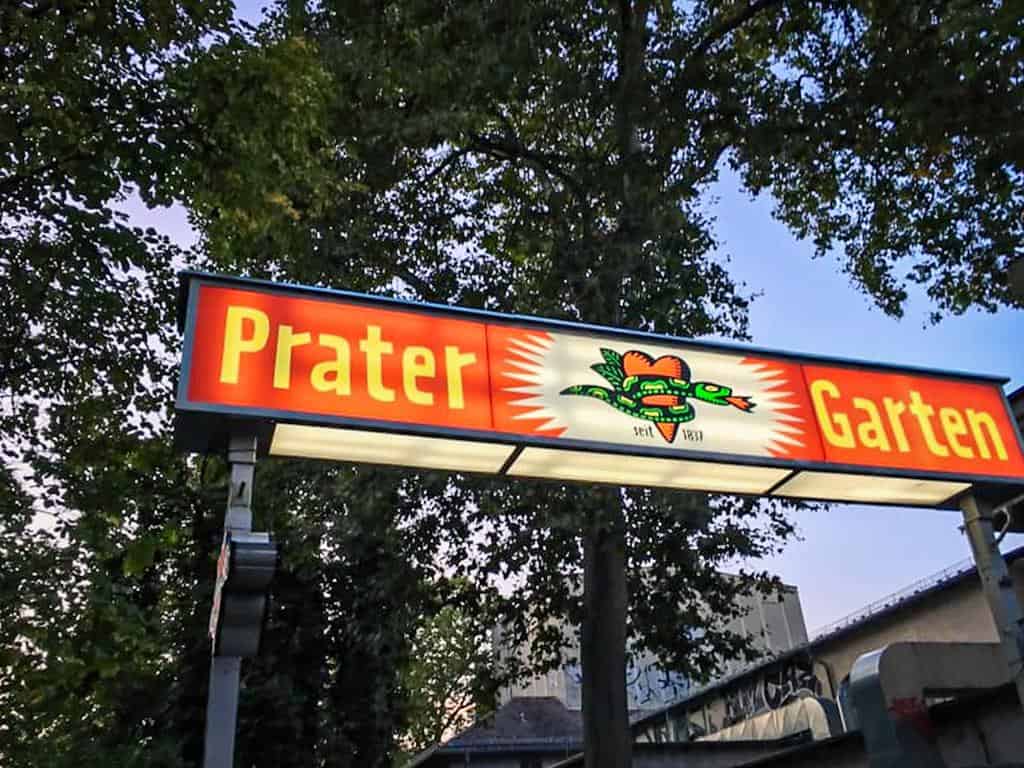 Prater is the oldest beer garden in Berlin and is located in the heart of the Prenzlauer Berg district. It began as a small pub made out of wood in 1837 and started to get bigger and more popular since also the city of Berlin was growing. After a while, they also showed theatre plays and held dance events. During and after the World Wars it was closed and later opened again.
Today, Prater beer garden can host up to 800 people. You also can sit inside in their restaurant if you prefer, but we recommend the outdoor seating area for the right feeling. The garden is huge and you share the benches with friends to enjoy a beer under the huge chestnut trees. On sunny days all seats can fill up, and the vibe is always good. In our opinion, Prater is one of the best beer gardens in Berlin.
Prater Biergarten offers small German snacks like Bratwurst, Kartoffelsalat or Pretzels.
Prater Biergarten – Kastanienalle 7-9
With public transport: U Eberswalder Strasse (Tram & U-Bahn)
2.Zollpackhof
Zollpackhof is a traditional German restaurant and beer garden located in a very inconspicuous area next to the Spree River. This Berlin beer garden is just a few minutes away from the main train station on the opposite side of the Bundeskanzleramt (Federal Chancellery). The location next to the river is perfect and, the over 150-year-old chestnut tree in the beer garden gives shade on a sunny day.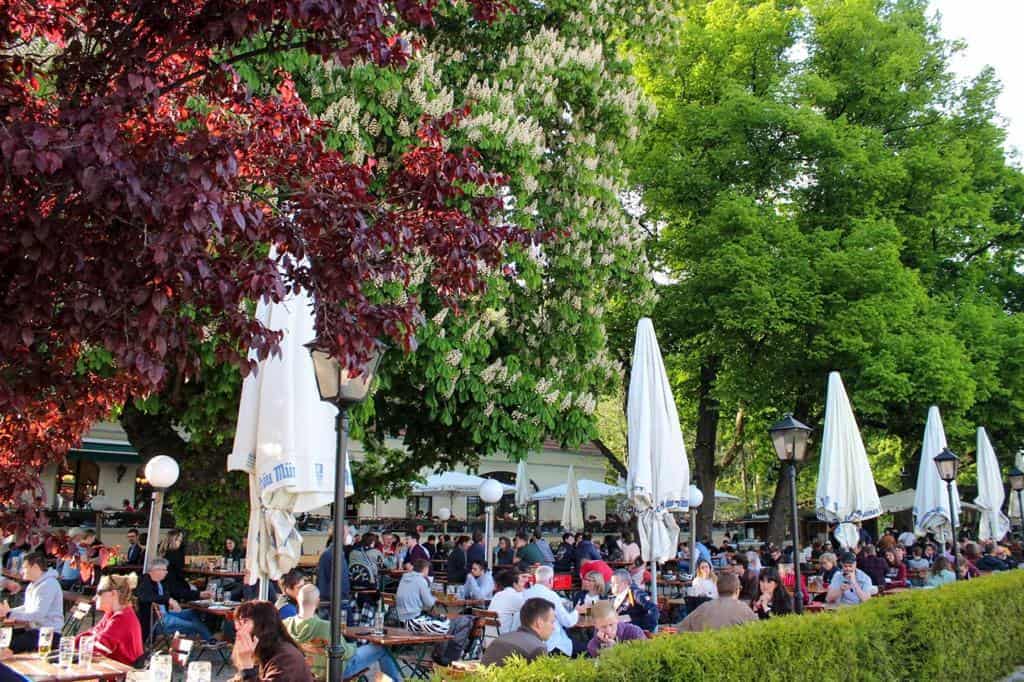 Zollpackhof Biergarten has an extensive Bavarian-Austrian menu where you can choose from large drinks and food selection. They have several drinks on tap, and they serve traditional German dishes like Schweinshaxe, Wurstsalat or Currywürst.
It is a popular place. Typically it is most popular after business hours when people often head there for an after-work drink. Reservation is possible for groups.
Zollpackhof Biergarten – Elisabeth-Abegg-Strasse 1
With public transport: Berlin Hauptbahnhof (Tram & S-Bahn)
TIP: Read the blog post about Görlitz – one of the most beautiful towns in Germany.
3.Café am Neuen See
Café am Neuen See restaurant and beer garden is located in the Tiergarten, Berlin's largest park. Next to a dreamy pond, and with large trees for shade, this beer garden offers great views and cold beers from the tap. The menu has Bavarian and regional specialities such as Leberkäse and homemade Pretzels. In addition, they also have pizza on the menu. There is also an indoor restaurant with a bigger selection of food.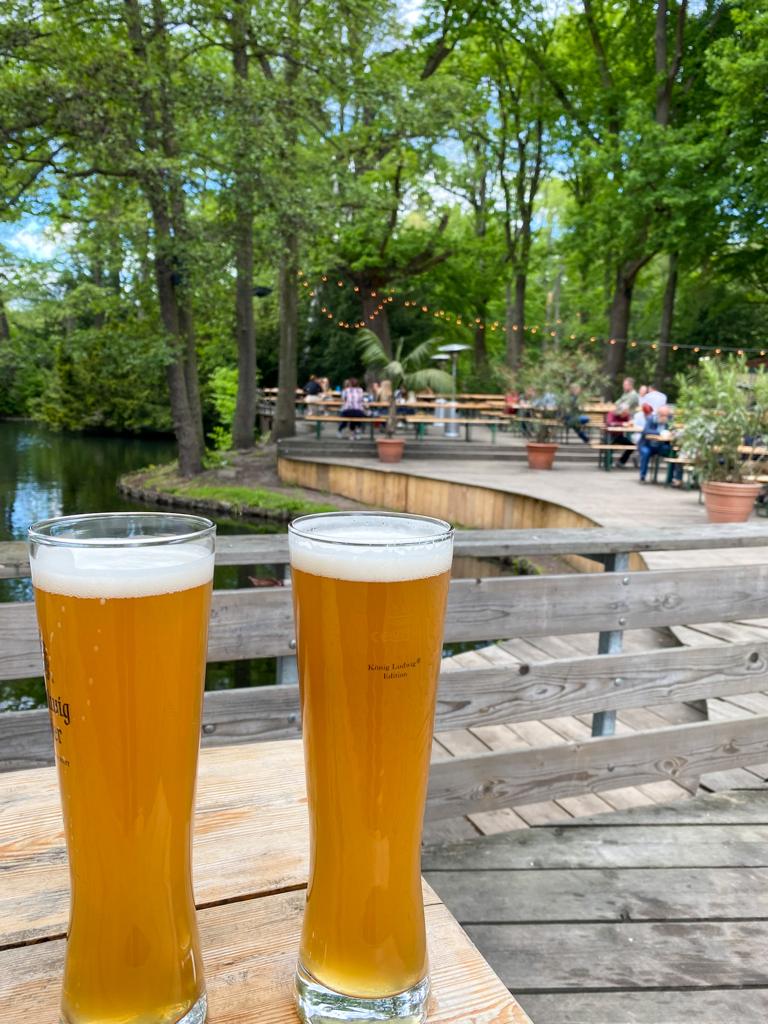 Grab a seat next to the water in the late afternoon, if possible. When the sun goes down, the fairy lights are switched on to get this romantic summer atmosphere.
It is possible to rent rowing boats (12€/h) at the beer garden for a boat trip on the small lake in front of the beer garden.
Café am Neuen See – Lichtensteinallee 2
With public transport: Corneliusbrücke (Bus) or Tiergarten (S-Bahn)
4.Loretta am Wannsee
Loretta am Wannsee is a great Berlin beer garden to visit if you think about leaving the big city behind for a while. This large and beautiful beer garden is a real Berlin institution with tradition and a great view over lake Wannsee, one of the largest lakes in Berlin.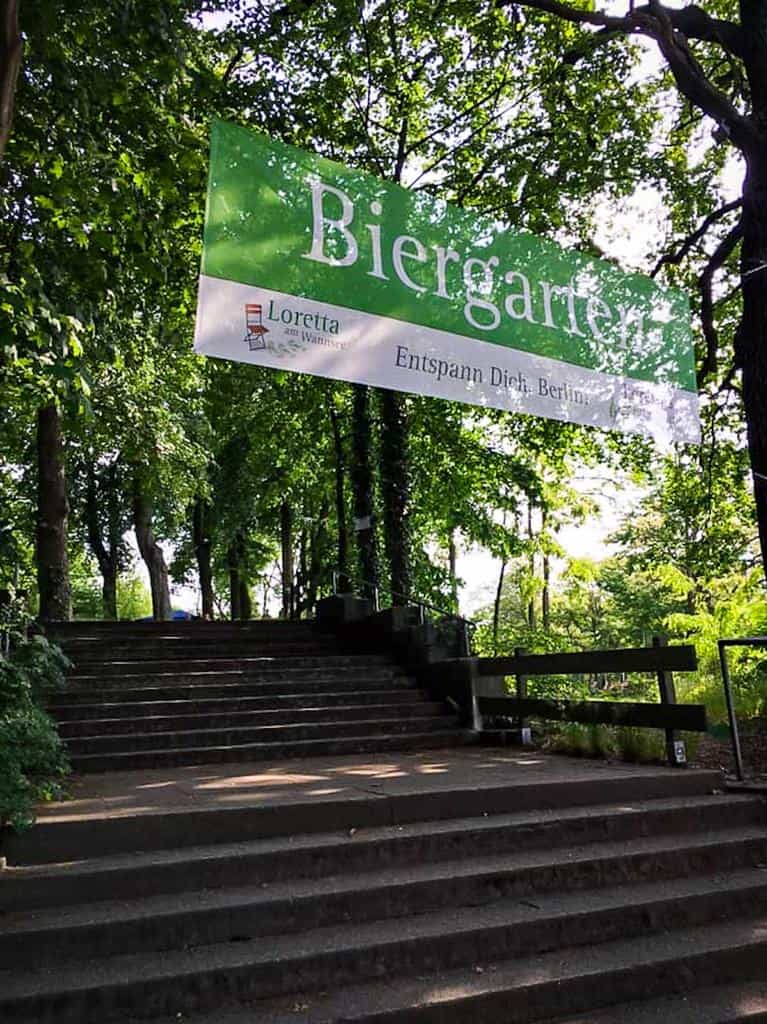 TIP: Make a full day trip of this. Nearby lake Wannsee is great for swimming, sunbathing or a boat trip.
The menu is large and you can choose between numerous cold and warm dishes, typical for a beer garden. At Lorattes you can find food like Wurstsalat, Currywurst, pork roast and herring. They offer beers from tap and alcohol-free drinks like Berliner Faßbrause (herbal lemonade). On hot summer days, take a seat under huge trees where you can enjoy your cold drinks and a view of the beautiful Wannsee.
Loretta am Wannsee – Kronprinzessinnenweg 260
With public transport: S Wannsee (S-Bahn)
TIP: Read our post about bike routes from Berlin, where route number two starts just here!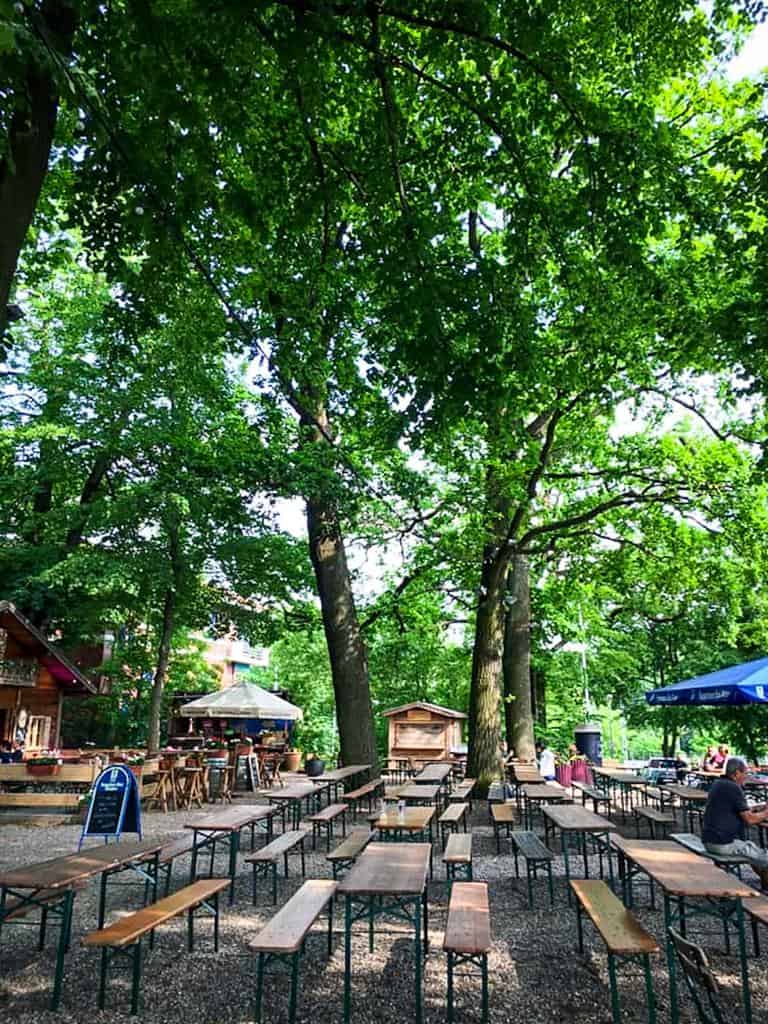 5.Sommergarten – James June
Sommergarten – James June is an urban beer garden, with one of the coolest locations a beer garden in Berlin can have. Even this beer garden is located on busy Karl-Marx-Alle, almost in the middle of Berlin, it's easy to forget that.
The beer garden is surrounded by huge Soviet Stalinist-style apartment blocks, on what was the parade street and pride of the former GDR regime. One could easily think of being in Moscow rather than in Berlin.
TIP: Parts of the Netflix show Queens Gambit was filmed in Berlin, and some scenes were shot here in Karl-Marx-Alle
This Berlin beer garden serves beers from tap and has a large selection of bottled beers as well. The food menu includes food such as salads, sausages, burgers and pizza.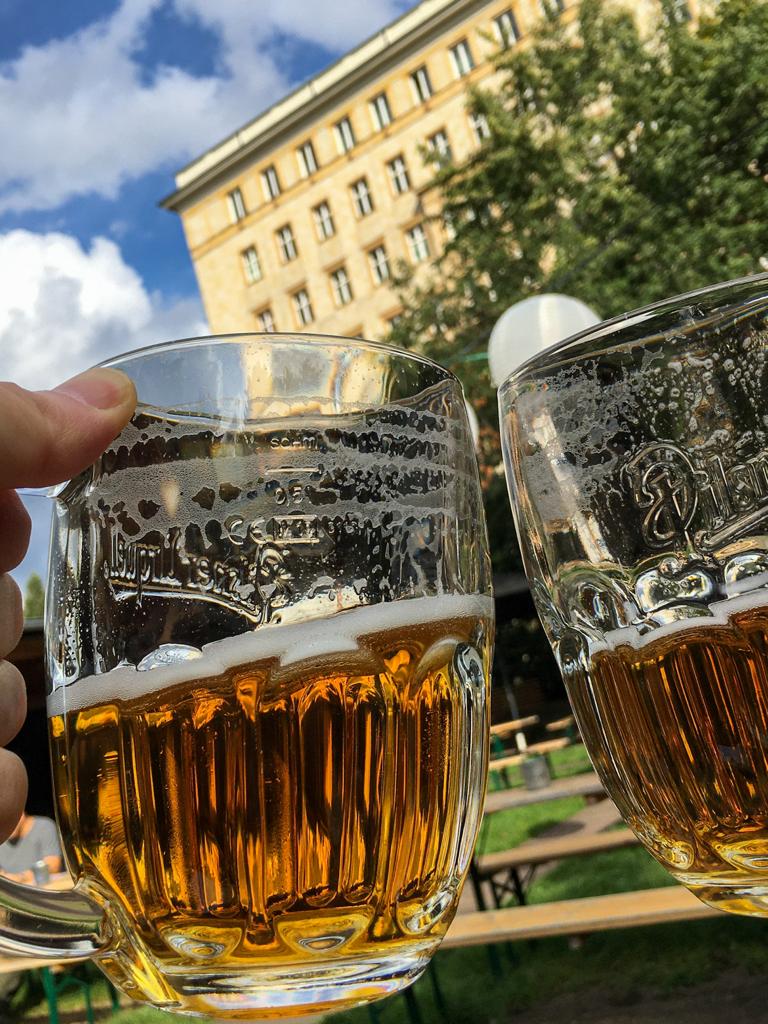 It's always a lovely summer atmosphere here. It's a very popular place to hang out and all seats can be taken after business hours or during the weekends. Reservation is possible.
TIP: If you visit Berlin in the winter, the beer garden changes name to winter garden. Here you can buy Glühwein (hot mulled wine) and bratwurst, or rent a bonfire pan and bake your own bread
Sommergarten James June – Karl-Marx-Allee 93
With public transport: U Weberwiese (U-Bahn) or Frankfurter Tor (Tram)
TIP: Read our post about visiting Potsdam.
6.Rosengarten Pankow
Rosengarten Pankow is a beautiful beer garden in Berlin, located next to the rose garden in the large park Bürgerpark Pankow. After a walk in the park, it's nice to rest here with a cold drink and some traditional beer garden food. They have their own bbq-stand where you can get freshly grilled sausages.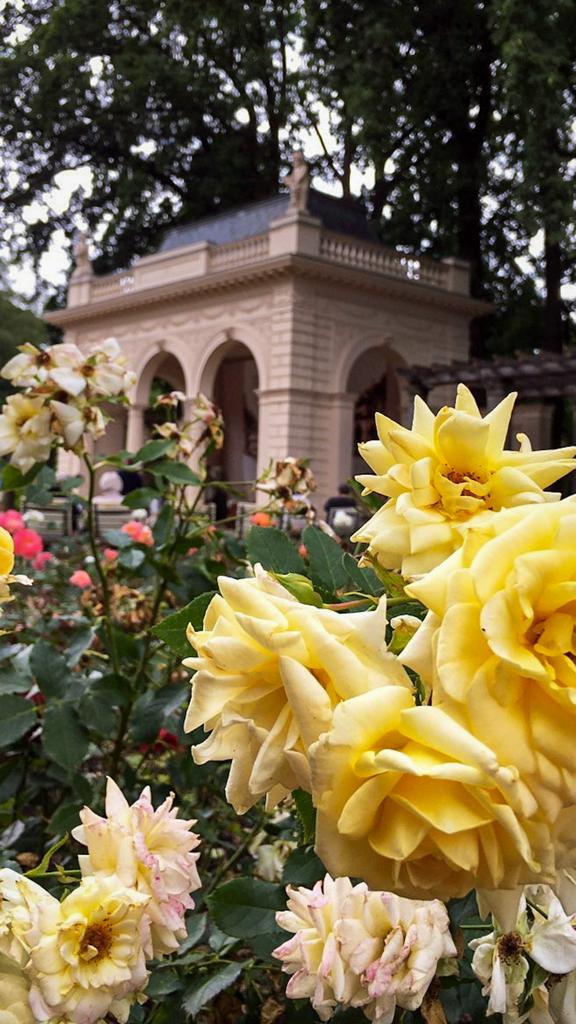 The beer garden is next to the Pavilion im Rosengarten, a music pavilion where concerts take place in the summer. Almost every Sunday there are free lunch concerts with a local band.
TIP: If you like castles and palaces you can visit the nearby Baroque Schönhausen Palace. It's only a 25 minutes walk away.
Rosengarten Pankow – Wilhelm-Kuhr-Strasse 9
With public transport: Bürgerpark Pankow (Tram)
7.Sommergarten am FaF Biergarten
Sommergarten am FaF (summer garden at Filmtheather am Friedrichshain) is a small, cute and cosy beer garden in Berlin. It's located next to a cinema, the Filmtheater am Friedrichshain, so this place can be combined with a visit to the movies as well. The vibe in this beer garden is calm, and best of all; very local. Very few tourists find their way here, so if you are looking for a local place to hang out, this can be a good option for you.
Here you can find shade under big trees while enjoying a cold drink and traditional beer garden food. This beer garden also shows football (soccer) matches during the summer. What can be more perfect for a football lover, than on a summer evening, to watch a match, enjoy the atmosphere while having drinks and food in a traditional German beer garden?
Sommergarten am FaF – Bötzowstrasse 1-5
With public transport: Bötzowstr (Bus) or Am Friedrichshain (Tram)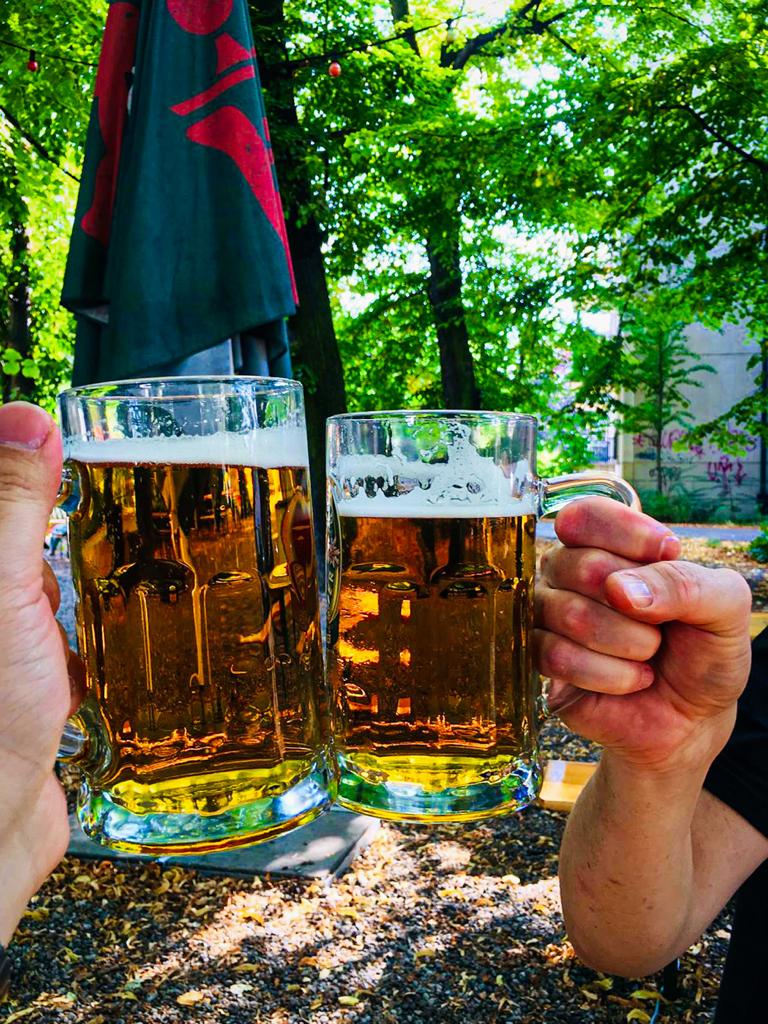 8.Rübezahl am Müggelsee
Biergarten Rübezal am Muggelsee has one of the best locations a Berlin beer garden can have. Far away from the city, this beer garden is surrounded by forest on one side, and the largest lake in Berlin, the Muggelsee, on the other side.
The area around Muggelsee is a very popular recreation area, where Berliner's hike, bike, run or go for a swim in the summer. For many, it has become a tradition to stop at this beer garden and no wonder why. With its perfect location just off the lake, they serve traditional small dishes, such as Bratwurst, rolls with steak and pretzels. After some outdoor activity, this is a great place to relax afterwards.
Usually, this beer garden is also has open in the winter due to the popularity of the area. Then you can get hot drinks such as Glühwein to keep warm.
TIP: Muggelberge, Berlin's highest point (115 m above sea level) is around half an hour hike from Rübezahl beer garden
Rübezahl am Muggelsee – Müggelheimer Damm 143
With public transport: Rübetzahl (Bus) or Friedrichshagen (S-Bahn + 50 min walk)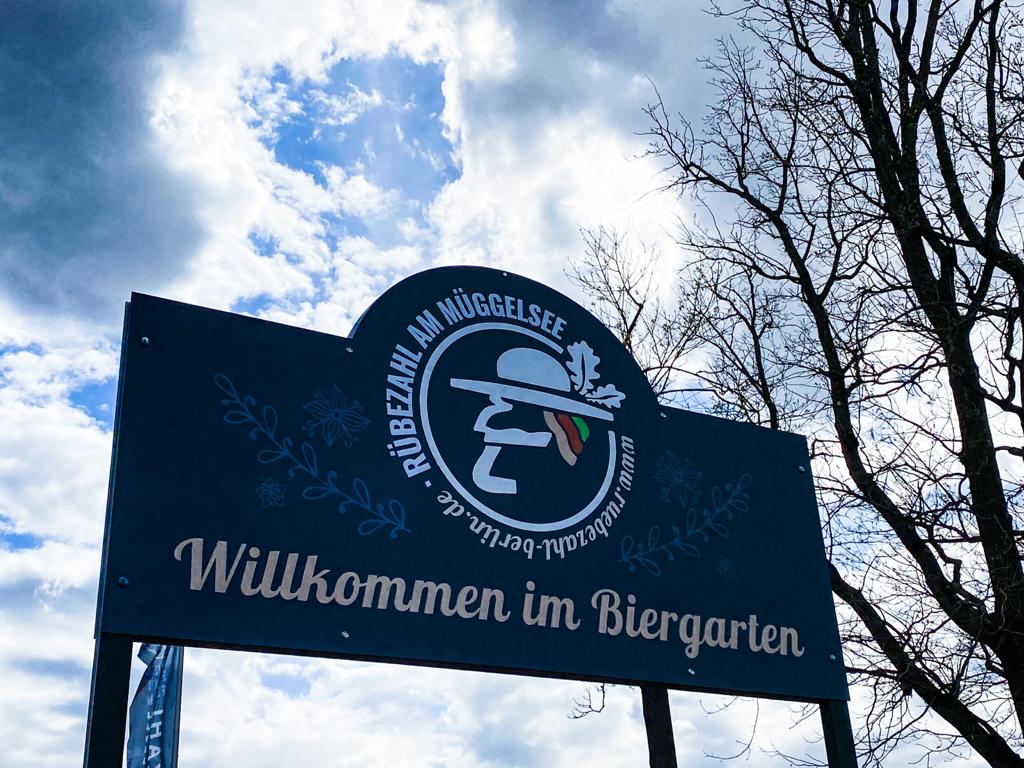 9.Frannz Biergarten
Frannz Biergarten is a small and urban beer garden belonging to a restaurant and club with the same name. This Berlin beer garden is located in an old brewery, the Kulturbrauerei in the Prenzlauer Berg district of Berlin. The Kulturbrauerei (literally translated to Culture Brewery) is a huge building complex, originally built as a brewery. Nowadays it hosts different cultural establishments such as clubs, cinemas, art schools, theatres, restaurants and bars.
This beer garden has a small stage where unknown musicians e.g. street musicians perform during the summer, so while you enjoy food and drinks from an extensive menu, you can also listen to live music. Should you want to continue the evening you might attend a concert at their club scene later in the evening.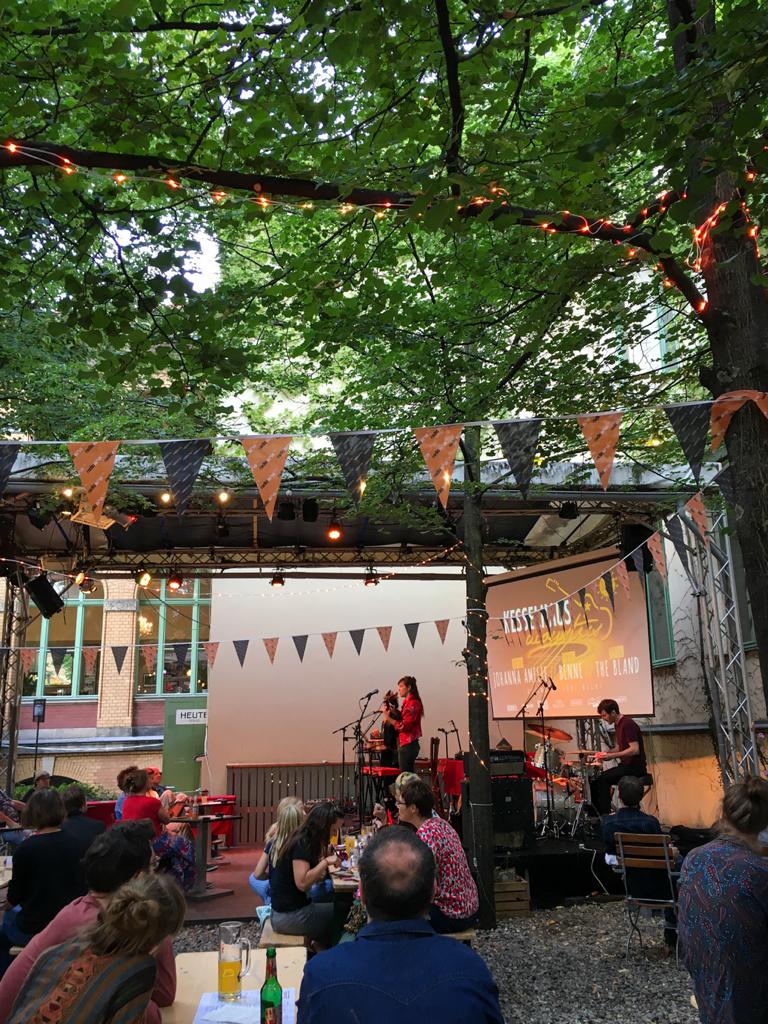 The vibe at Frannz is always good, and for a cultural experience, we recommend a visit here.
Frannz Biergarten – Schönhauser Allee 36
With public transport: Schönhauser Alle (S-Bahn) or U Eberswalder Str (U-Bahn & Tram)
10.Orankensee Terrassen
Orankensee Terrassen is another Berlin beer garden with a stunning location. Next to the small lake Orankensee, you will find this beer garden where you can enjoy food and drinks with a view over the lake. The beer garden is a bit outside the city centre, and the area is popular for walks, running and a swim.
The menu is extensive with Greek and Mediterranean dishes in addition to more traditional beer garden food as well.
If you are looking for a local vibe with no tourists in the east of Berlin, this is definitely a great place to hang out on a warm summer evening.
Orankensee Terrassen – Orankestraße 41
With public transport: Freienwalder Straße or Sulzfelder Str. (both with Tram)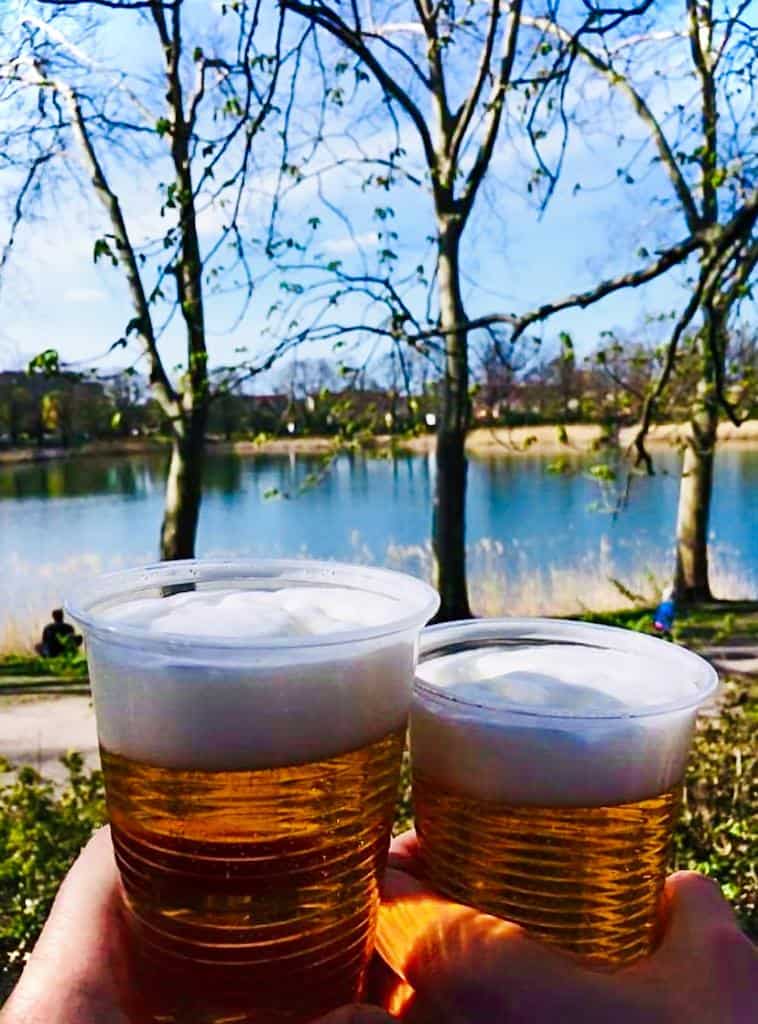 11.Schleusenkrug
This popular beer garden in Berlin is located directly next to the Landwehr canal and the Berlin zoo. The meaning of the name Schleusenkrug comes also from the location. Schleuse means watergate and Krug is a pitcher or jar. This restaurant and beer garden opened first next to the main watergate in Tiergarten (Berlin's largest park) in 1954 by the Fistler family.
They served drinks or ice cream to passengers which came by in their boats or went for a stroll in Tiergarten. Since the waterways in Berlin were under GDR rule after WWII, they had long negotiations with the authorities. But in the end, they got it and could run the restaurant and beer garden. Can you imagine in the basement the GDR controlled the traffic in the canal, while at the same time West-Berliners went out for cold drinks and hearty food?
Today you find a large menu with traditional and modern cuisine and drinks. You even can go there for breakfast.
Be aware, this beer garden in Berlin is next to the S-Bahn which can get a bit noisy but it shouldn't stop you to visit it.
Schleusenkrug Müller-Breslau-Straße 14b, an der Tier­gartenschleuse, Charlottenburg.
With public transport: Tiergarten (S-Bahn)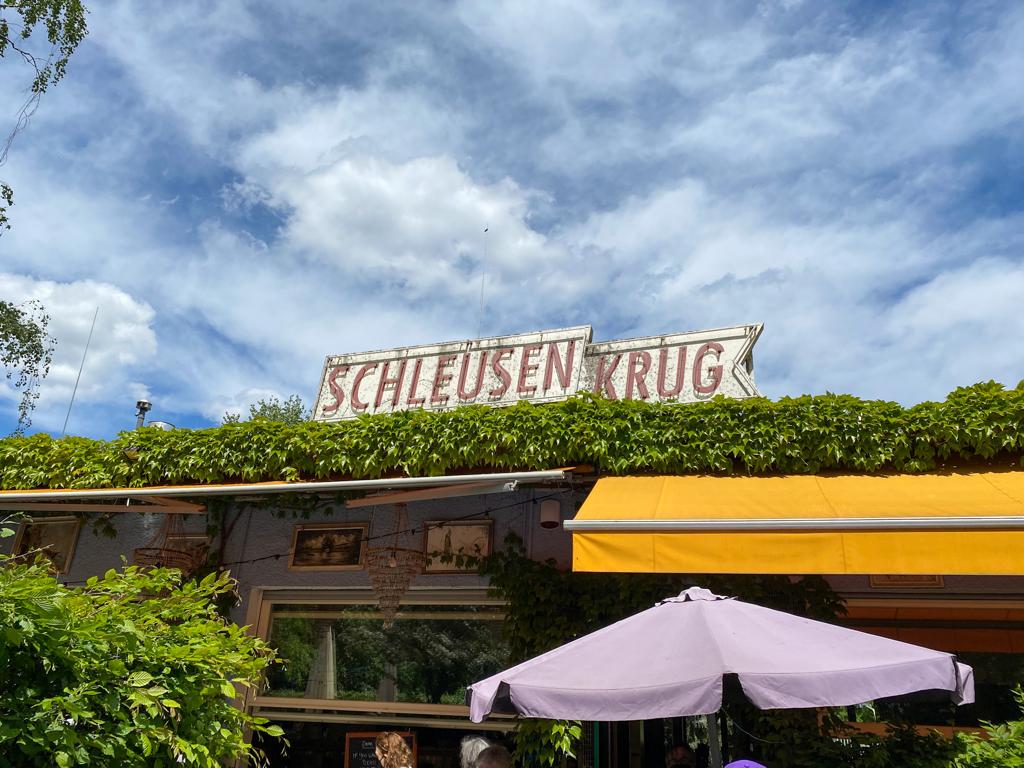 12.Jäger & Lustig
Jäger & Lustig is a traditional restaurant serving German dishes and specialities from the cuisine from Berlin. It is located in some back streets in the district of Friedrichshain. It is a bit hidden, but a quiet place to enjoy your cold, fresh beer in Berlin. Our experience is that this beer garden is mostly visited by locals and not so many tourists.
In the summertime, they have a lovely beer garden which is separated into two sections: One part for the beer garden with self-service and one for the restaurant where you get table service You can sit under trees and sunshades. The tap beer is from a Bavarian brewery. You can choose if you want a small or a large beer. Be aware, the small ones are 0,5 litres and the large ones 1 litre. For events, like Football Championships they set up a screen and show matches.
If you are looking for a traditional beer garden in the hip Friedrichshain, Jäger & Lustig is a great place to go to.
Jäger & Lustig Grünberger Str. 1, 10243 Berlin-Friedrichshain
With public transport: Frankfurter Tor (U-Bahn and tram) or Warschauer Straße/Grünberger Straße (tram)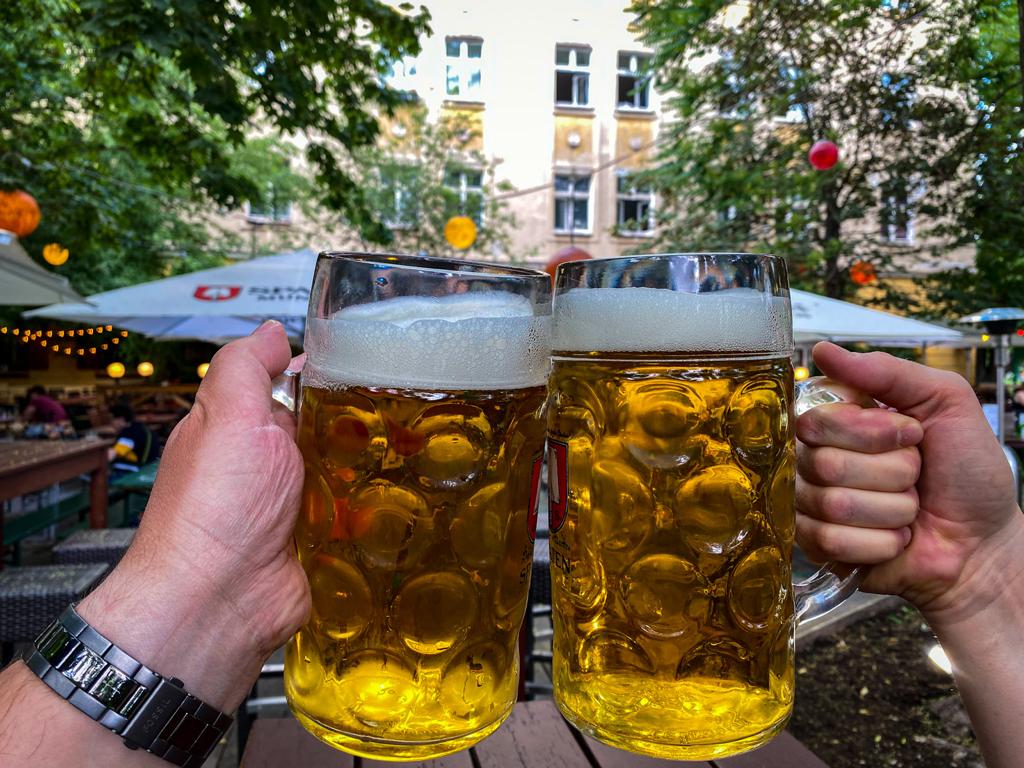 More Beer Gardens in Berlin
There are numerous beer gardens in Berlin. Many more could have been added to this list, and some will be. This list of Berlin beer gardens is our personal favourites and is not ranked in any way. When we visit other beer gardens in Berlin that we like and find nice, this list will be regularly updated.