This post may contain affiliate links, where we may receive a small commission if you purchase something through following the links at no extra cost to you.
With the stunning location between the mountains and the fjord, Bergen is truly a sight for the eye. Norway's old capital city offers great architecture, world-class art, cute wooden houses, amazing fresh seafood and friendly people. And that's just a part of it. Bergen has so much more to offer its visitors. Read on for the best things to do in Bergen and get our best tips for visiting one of the most beautiful cities in Norway.
Norway's second-largest city is lively and strutting with self-confidence. Bergen has a population of around 285.000 inhabitants. In Norway, that's a huge city, and while visiting Bergen you will clearly feel the vibe and the big-city qualities that Bergen actually has. For a city this size, we have to admit that Bergen has surprisingly much going on, and has attractions enough for days on end.
Bergen's history goes long back. The city was founded over 900 years ago. Between 1070 and 1299 Bergen hosted the seat of the king and was considered the capital city in Norway. As a part of the Hanseatic League, Bergen was one of the most important trading cities in Northern Europe from the end of the 13th century.
TIP: Hamburg was also an important Hanseatic city. Read our post on what to do in Hamburg if you would like to plan a visit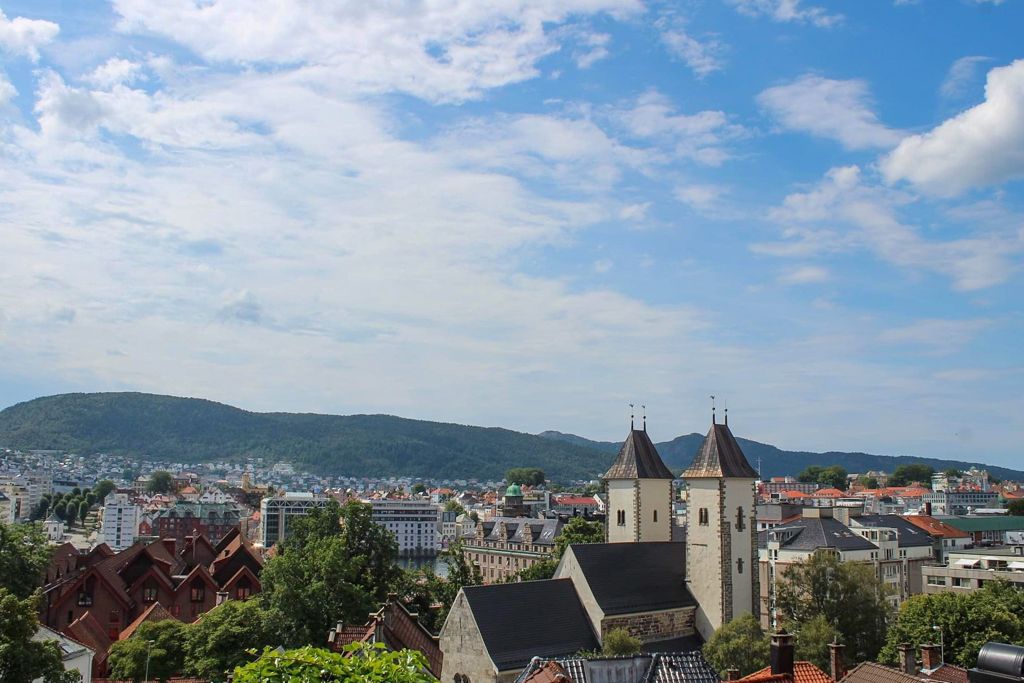 Today Bergen is a modern city. It's an international centre for aquaculture and shipping, and a national centre for higher education, media and tourism. Even with its relatively modest size, Bergen has everything to cover every traveller's needs. There are great historic sights, great shopping, superb restaurants and always with the proximity to nature. There are so many things to do in Bergen, that to do them all you would need weeks.
Things to do in Bergen
This blog post gives you our favourite things to do in Bergen. We show you the main attractions in the city, but also where you can find great street art or have the best coffee in Bergen. Not only do we focus on the city centre alone. We have also visited a few places a bit outside the city centre.
BUDGET TIP: Like the rest of Norway, Bergen can be very expensive for tourists. The Bergen Card gives free or discounted entry to many of the city's museums and attractions.
Things to do in Bergen – Map of Bergen attractions
1. Bryggen in Bergen
Bryggen translates as the dock or wharf and is the oldest quarter in Bergen. Bryggen is a series of Hanseatic heritage commercial buildings running along the eastern side of Vågen harbour in the city centre. in 1350, the Hanseatic League established a trading post here, and Bryggen became the centre for the Hanseatic commercial trade in Norway.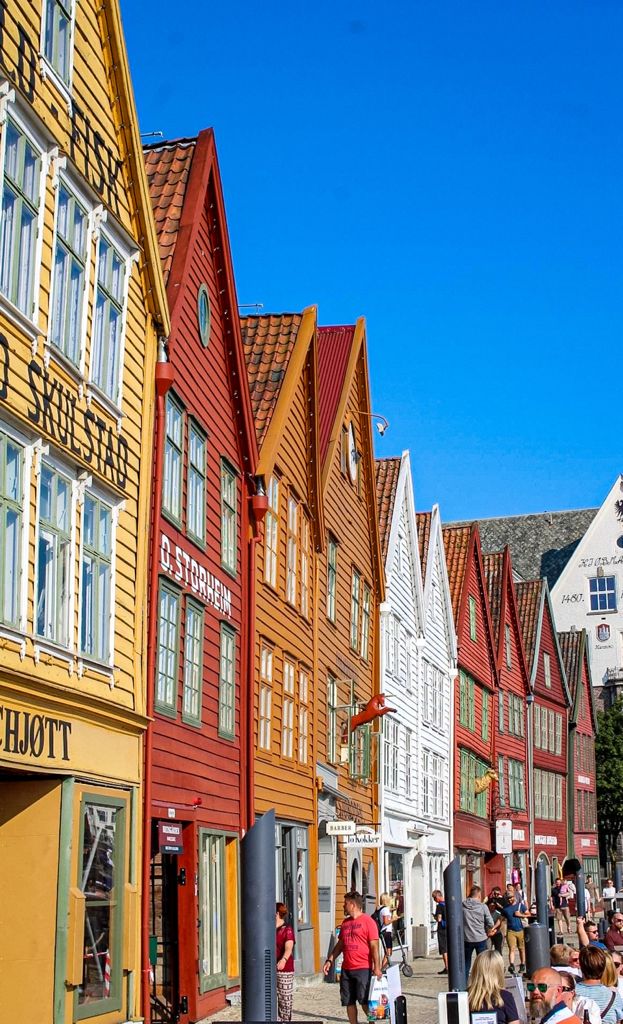 Today, a visit to Bryggen is one of the most popular things to do in Bergen as a tourist. It houses restaurants, pubs, shops, museums and galleries. Bryggen in Bergen has been on the Unesco World Heritage list since 1979.
Bryggen is best experienced early mornings or late evening before the big crowd sets in. In the small alleys between and behind the old warehouses, you will find independent shops selling handicraft goods, and also a few places to have a drink or a bite.
TIP: On warm summer days, Bryggen is very popular among tourists, and it can get way too busy and crowded. From the guest harbour directly in from of Bryggen, private parties on private boats can be very loud and disturbing. Also, this is not where you will find the best restaurants or service, nor the best prices. Have your dinner and drinks somewhere else.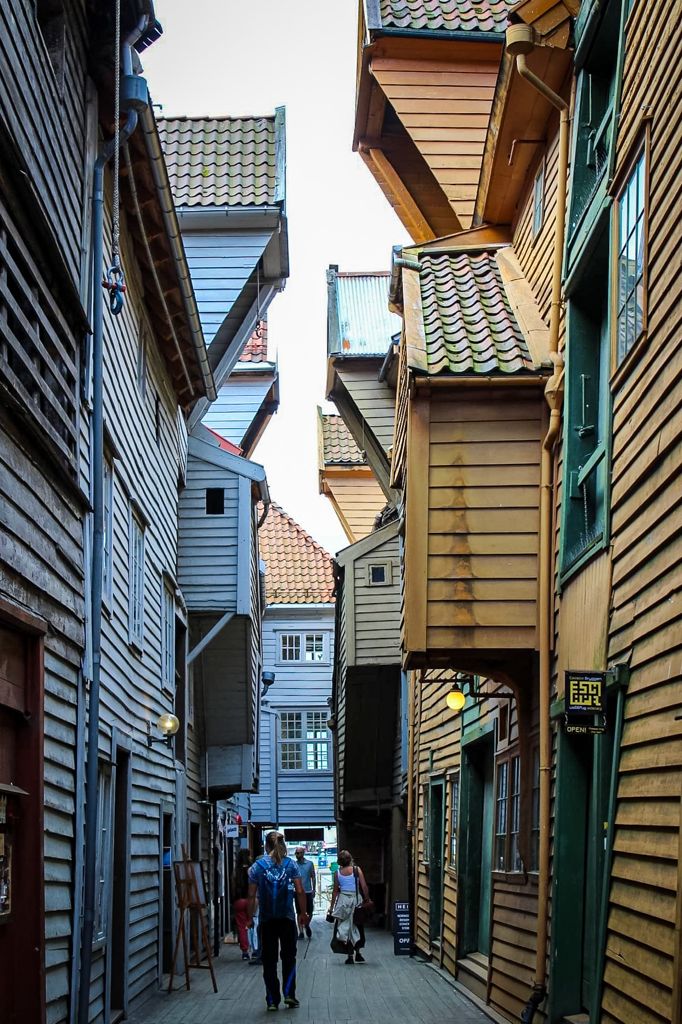 2. Bergenhus Fortress and Haakonshallen
If you continue from Bryggen, you will soon arrive at Bergenhus Fortress. Located at the entrance to the harbour, the fortress is one of the oldest and best-preserved fortifications in Norway.
The oldest buildings at the fortress date back to the 1240s, and in medieval times Bergenhus Fortress contained the royal residence, a cathedral, several churches and the bishop's residence as well. When Bergen was the capital of Norway, this was the main seat of the rulers.
The fortress is nice for a stroll around the grounds, but the main attractions here are the Rosenkrantz Tower and the impressive Haakon's Hall, a medieval stone hall located inside the fortress.
Before you go – How to visit Bergenhus Fortress
Opening hours Bergenhus Fortress: 06.00-23.00 (daily)
Entrance to the fortress grounds is free of charge
Opening hours Rosenkrantz Tower: 11.00-14.00 (daily)

General admission: NOK 120 (approx €12)

Opening hours Haakon's Hall: 11.00-14.00 (daily)

General admission: NOK 120 (approx €12)

You reach Bergenhus Fortress best by foot from the city centre
TIP: Continue a 10-minute walk from Bergenhus Fortress and you will reach beautiful Skuteviken. Here you will find beautiful wooden houses and piers with colourful waterfront warehouses. It's definitely worth a small detour to get here.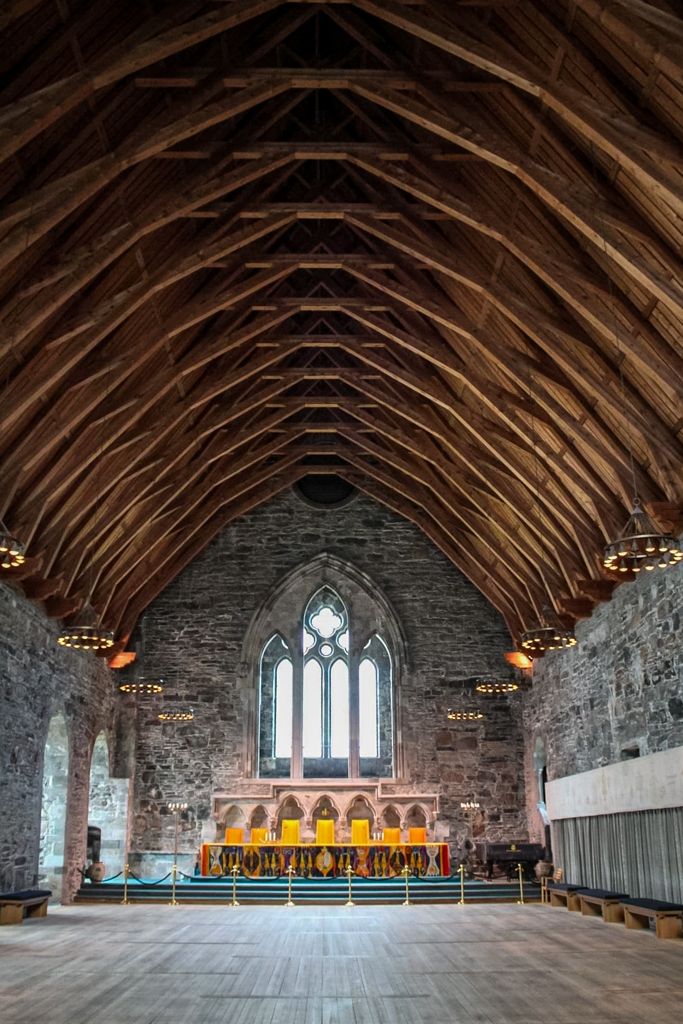 3. St. Mary's Church
St. Mary's Church (Mariakirken), is a parish church also located in the Bryggen area. This is the oldest preserved building in the whole of Bergen, and construction is believed to have started in the 1130s or 1140s and completed around 1180.
While the city outside changed, the church remained a place where people throughout the centuries came to worship. From 1408 to 1766 it was used by the German traders from the Hanseatic League, and German language services were held until 1906.
The church has beautiful interiors worth checking out. The entrance is free.
TIP: Looking for a magical experience? Read our post from Runde Island – one of the best places to see puffins in Norway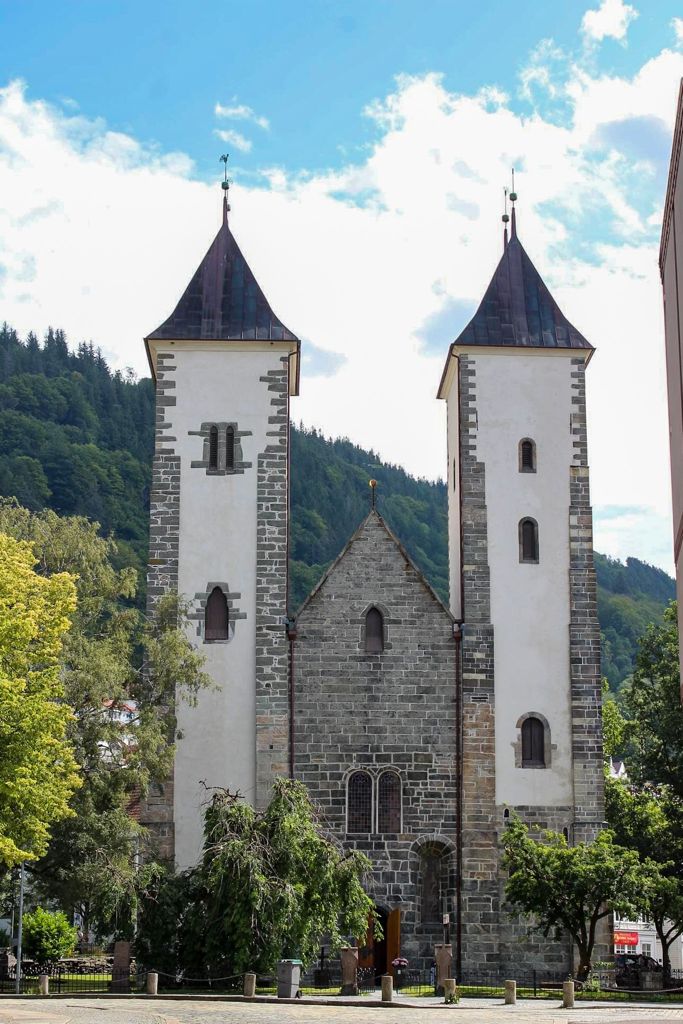 4. Mount Fløyen
A visit to Mount Fløyen is another of the popular things to do in Bergen. Fløyen or Fløyfjellet (Mount Fløyen) is one of the seven mountains considered to be surrounding Bergen. The highest point is 400 m, although most guests only visit the viewing platform where the Fløibanen funicular arrives at 320 m above sea level.
From up here, you will be rewarded with the most spectacular views over Bergen and the surroundings. Due to the light, the best time to visit is early morning or in the evening. The sunset from Fløyen is stunning.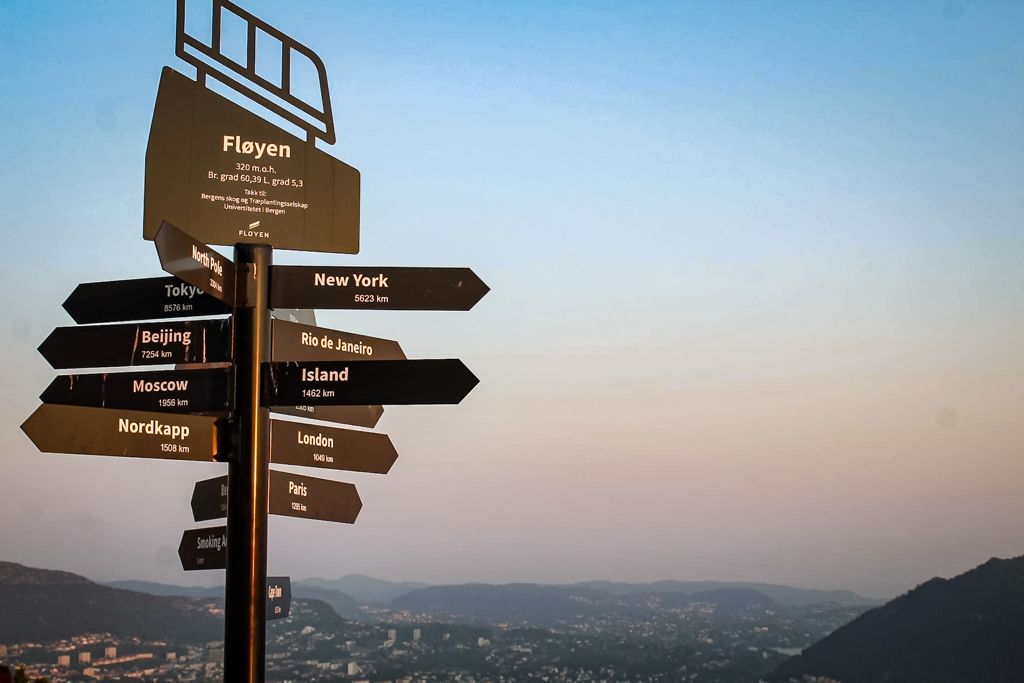 There are two ways to get up to the mountain; by walking or with the funicular. Many make a combination of both, with the funicular uphill, and then walk back down to the city.
Before you go – How to visit Mount Fløyen
Mount Fløyen i one of Norway's most visited attractions. Plan your visit in advance!
Opening hours Fløibanen funicular:

Monday-Thursday: 08.00-22.00
Friday-Saturday: 09.00-23.00
Sunday: 09.00-22.00

The funicular runs every 15 minutes with more departures in peak hours
The journey takes around 5-8 minutes
Easy access for wheelchairs and strollers
Ticket price Fløibanen funicular:

Low season 01.10-31.4: NOK100 return / NOK 50 one way (approx €10/5)
High season 01.05-30.09: NOK125 return/ NOK 65 one way (approx €12,50/6,50)
Children pay around half price

Due to high demand and long lines, we highly recommend booking your ticket online in advance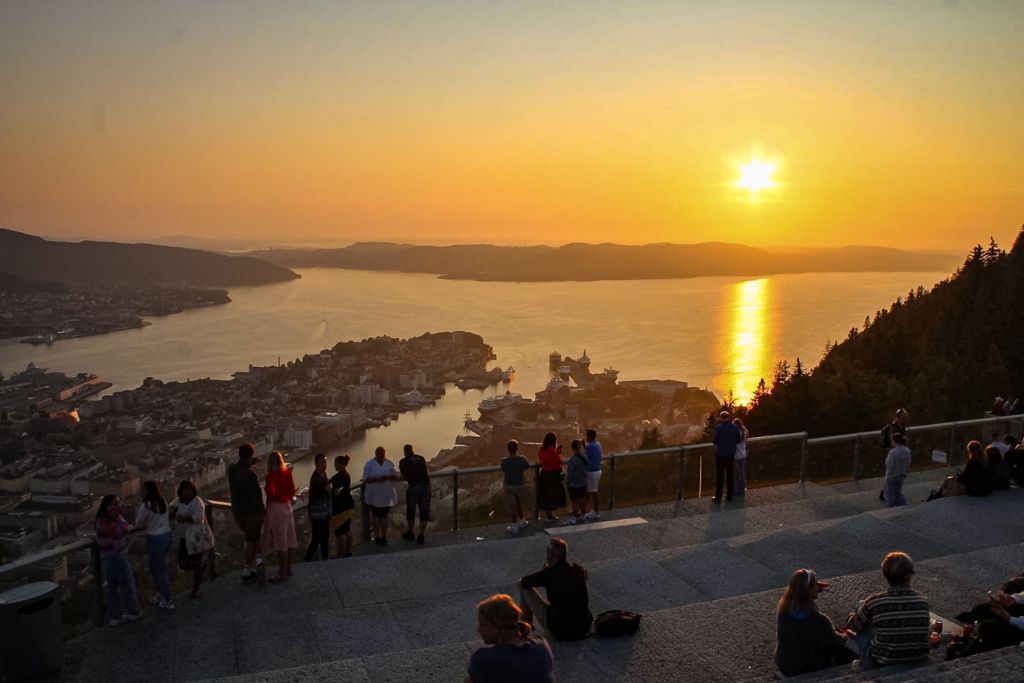 5. Art museums in Bergen
For a city this size, Bergen has an impressive collection of world-class art, and the biggest treasure is no less than the third-largest Munch collection in the world. The most prominent art museums in Bergen are KODE and Bergen Kunsthall.
KODE – Art Museums and Composer Homes
KODE is an art museum as well as the former homes of Norwegian composers such as Edvard Grieg and Ole Bull. The art museum is located in four different buildings, all centrally located in Bergen city centre. The four museum buildings are beautifully located almost next to each other next to a small lake and are named KODE 1-4.
The collection in the different buildings is huge. Allow several hours if you want to see it all. With so much art in one museum, it can be challenging to remember it all. If you want to refresh your art history knowledge, maybe some of these art history books can be something for you.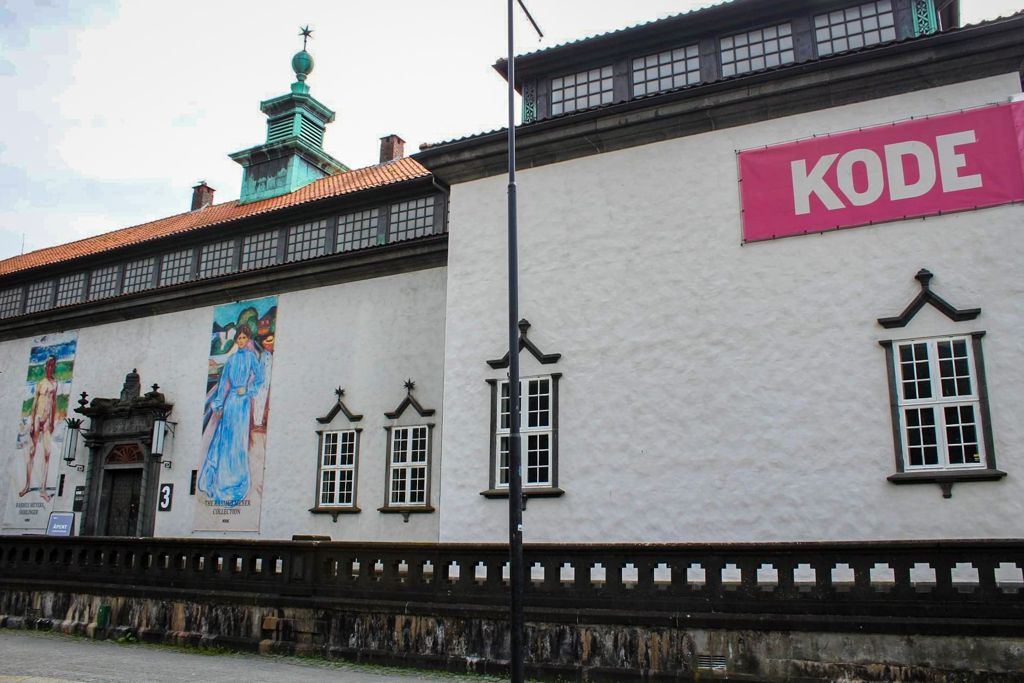 KODE 1 (Address: Nordahl Bruns gate 9)
KODE 1 is located in a grand building from 1896 and is showcasing fine crafts and design. Here you will find precious silver and gold works in the collection Sølvskatten (The Silver Treasure). The museum also hosts a collection of European and Asian antiques, paintings and works by Old Masters.
This building also hosts temporary exhibitions. At the time of our visit, there was an excellent exhibition showing masterpieces by Cézanne.
In the building, you will also find a museum shop as well as a restaurant and a bar.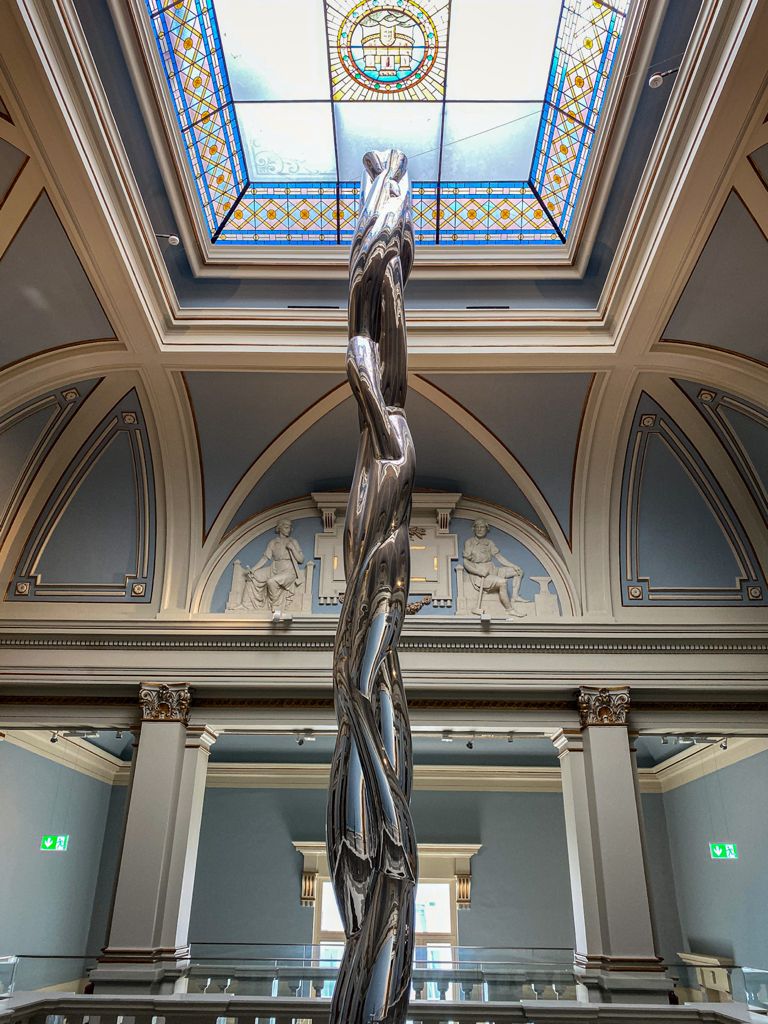 KODE 2 (Address: Rasmus Meyers allé 3)
KODE 2 is the main venue for temporary exhibitions, so even if you visit Bergen several times over the years, you will almost always find a new exhibition here.
There's a museum shop and a café in the building.
KODE 3 (Address: Rasmus Meyers allé 7)
If you only have time for one of the museums, KODE 3 is the one you should prioritise. In this building, you can the Rasmus Meyer's collection, including the unique collection of artworks by Edvard Munch.
In 1917 Meyers's huge collection was donated to the city of Bergen. The collection consisted of furniture and historical interiors from Bergen and artworks from artists such as J. C. Dahl, Harriet Backer, Erik Werenskiold and Gerhard Munthe.
Finally, the donation also held the third-largest Munch collection in the world, including many of his major works.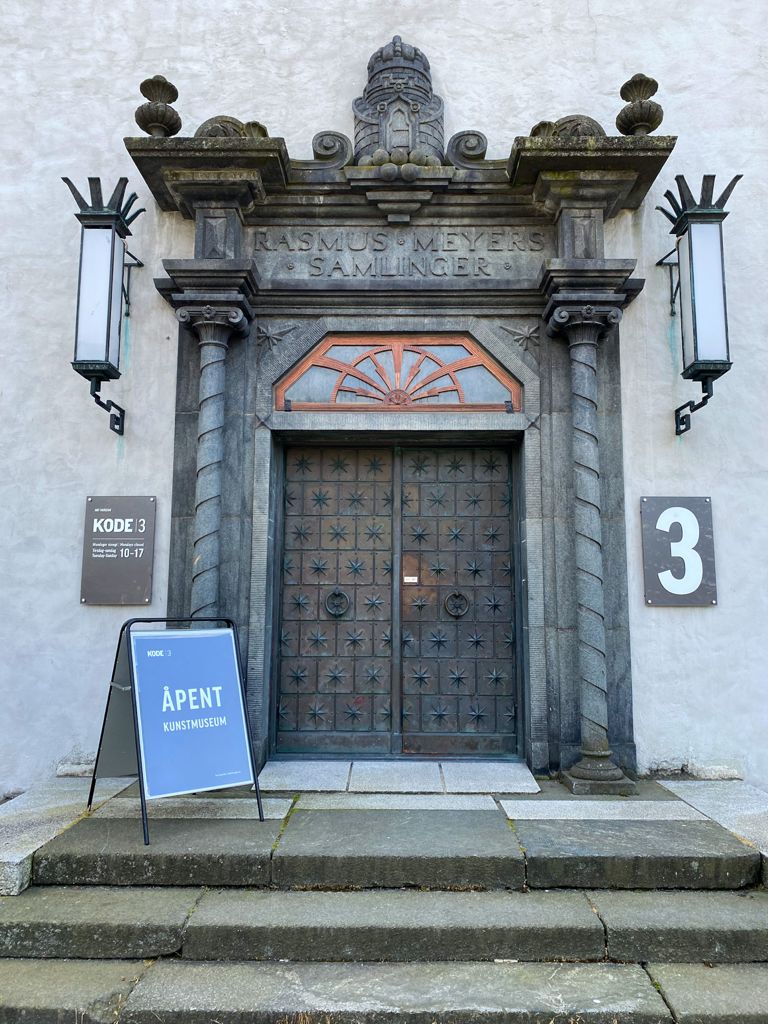 KODE 4 (Address: Rasmus Meyers allé 9)
KODE 4 has an excellent collection of international modern art, and should to be missed. In this building, you will find works by artists such as Picasso, Miró and Klee. You can also see paintings from several Norwegian masters including Christian Krohg and Nikolai Astrup.
An on-site restaurant specialising in seafood can also be found in this building.
Before you go – How to visit KODE Art Museums
Opening hours KODE Art Museums:

Tuesday-Sunday 10.00-17.00
KODE 1 & KODE 2: 10.00-20.00 Thursdays
Closed Mondays

Admission: NOK 150 (approx €15)
The ticket gives admission to all exhibitions at KODE 1-4 for two consecutive days
Bergen Kunsthall
Bergen Kunsthall is one of Norway's best contemporary art centres. It presents exhibitions and events by both national and international artists. The art centre is also a concert venue, bookshop, bar and cafe. It hosts over 200 events and 12 exhibitions a year. From time to time, a single artist's works take up the whole space.
The building itself is also worth checking out, with its 1930's architecture.
Before you go – How to visit Bergen Kunsthall
Opening hours Bergen Kunsthall:

Tuesday-Sunday: 11.00-17.00
Thursday: 11.00-20.00
Closed Monday

The café is open daily 11.00-17.00
Admission: NOK 50 (approx €5)
6. Explore the most beautiful streets of Bergen
Ok, let's be honest. Bergen is beautiful, and no matter where you go, most streets in Bergen are very pretty. But then you have the extra beautiful ones, that is definitely worth the extra steps to get there. Common to all is that they all have cute wooden houses and cobblestone lanes. Many of the houses are white, but you will also find more colourful houses as well.
When visiting Bergen, one of the activities to do is simply walking through the city and explore some of the picturesque and unique streets and lanes found all over the city.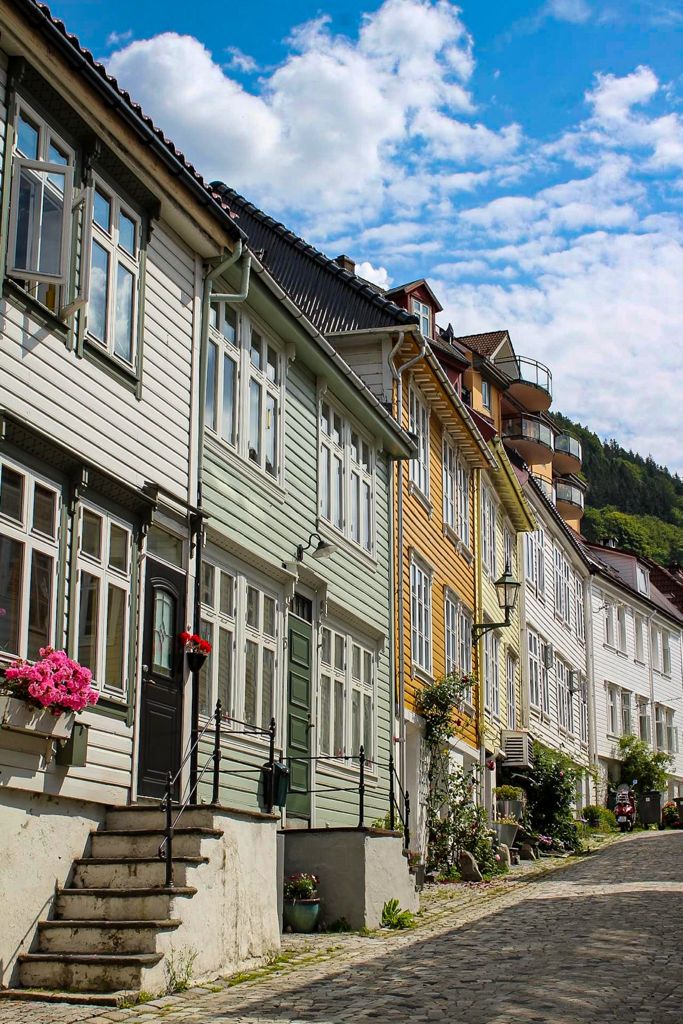 With good help from some local friends from Bergen, we got a list of the most beautiful streets to visit in Bergen, and by using the list and map below you can also explore these great Bergen insider tips.
Skivebakken: Super cute street close to the city centre
Steinkjellergaten & Steinkjellerbakken: A must-see when in Bergen. Located in the hills behind Bryggen.
Skostredet: Very pretty street in the centre. Check out some of the bars and restaurants here.
Gågaten: Cute pedestrian street with shops, cafes and some restaurants
Knøsesmauet: Cuteness overload in Bergen. This street is almost too pretty to be real! Our favourite street to visit.
TIP: Head to USF Verftet after visiting Gågaten or Knøsesmauet. This cool neighbourhood hosts concerts, movies, restaurants and bars. A perfect place for a drink at sunset.
Map of the most beautiful streets in Bergen
7. Edvard Grieg Museum at Troldhaugen
Troldhaugen is the former home of the Norwegian composer Edvard Grieg. The site consists of the Edvard Grieg Museum, Grieg's former villa, a little hut where Grieg composed music, and the gravesite of Grieg and his wife Nina. The location of Troldhaugen a bit out of the city centre is stunning, with great views over the fjord below.
The museum shows an exhibition about Grieg's life and music, and in the villa, you can see their interior, and Grieg's own Steinway piano.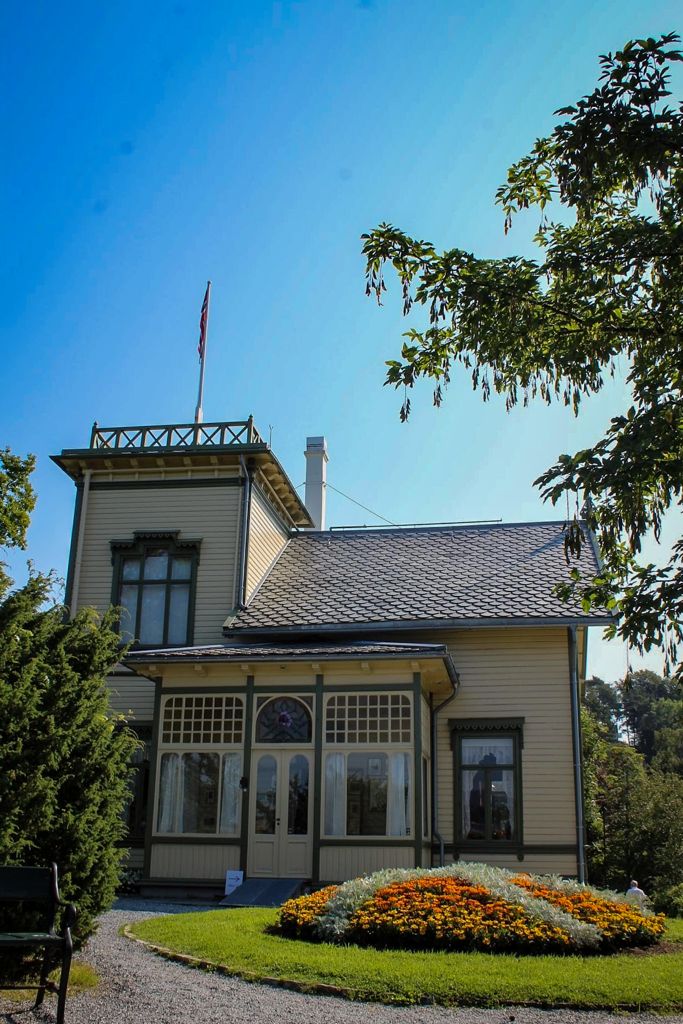 Troldsalen concert hall (connected to the museum) offers concert series during the summer and autumn months. At our visit, we attended a piano lunch concert where some of Grieg's music written for piano was played.
Before you go – How to visit Troldhaugen Edvard Grieg Museum
Take Bybanen tram line 1 from Bystasjonen to Hop. from there it's a 20-minute walk. Purchase ticket at the station
Opening hours Edvard Grieg Museum:

Tuesday-Sunday 10.00-17.00
Thursday 10.00-18.00
Closed Mondays
Reduced opening hours in the winter (November-April). More info here

Check the concert program if you'd like to attend a concert
Admission: NOK 130 (approx €13) Children under 18: free
Onsite café and shop (same opening hours as the museum)
8. Fantoft Stave Church
Norway is known for having many traditional wooden stave churches with origins from the medieval ages. Most of the remaining stave churches are today found in Norway.
Bergen also has a stave church, although a reconstructed one, the Fantoft Stavkirke (Fantoft Stave Church). The church was originally built around 1150 at Fortun in the district of Sogn. After the church was threatened by demolition, it was moved in pieces to Bergen in 1883.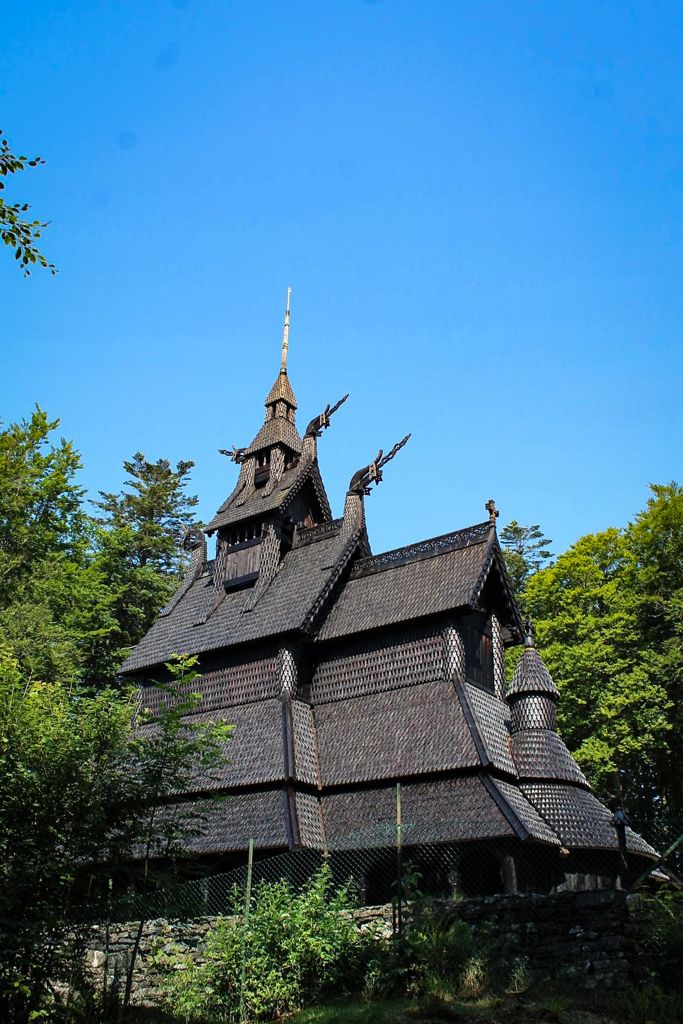 On June 6th 1993, Fantoft Stave Church burned to its grounds after it was put to fire by members of the early Norwegian black metal scene. This was the first in a series of church burnings by the same group of people.
After the fire, reconstructions soon started, and in 1997 Fantoft Stave Church could once again open.
Before you go – How to visit Fantoft Stave Church
You can visit Fantoft Stave Church by public transport

Tram 1 from Bystasjonen to Fantoft. From there it's a 12-minute walk to the church

Opening hours Fantoft Stave Church: 10.30-18.00 daily
Admission: NOK 65 (approx €6,50)
9. Gamlehaugen – the Royal Residence in Bergen
It's many years since Bergen was the main seat of the Norwegian royals, but still, the royal family has an official residence for their use whenever they visit Norway's second-largest city.
Built in 1901, this is the former home of the shipowner and prime minister Christian Michelsen. After his death in 1925, the property was purchased by the Norwegian state.
TIP: Germany is full of castles. Read our post Castles in Berlin to plan your visit there
This beautiful villa that actually looks like a small castle, is surrounded by a large English park, open to the public. It is a popular place to hang out in the summer for sunbathing and swimming in the fjord.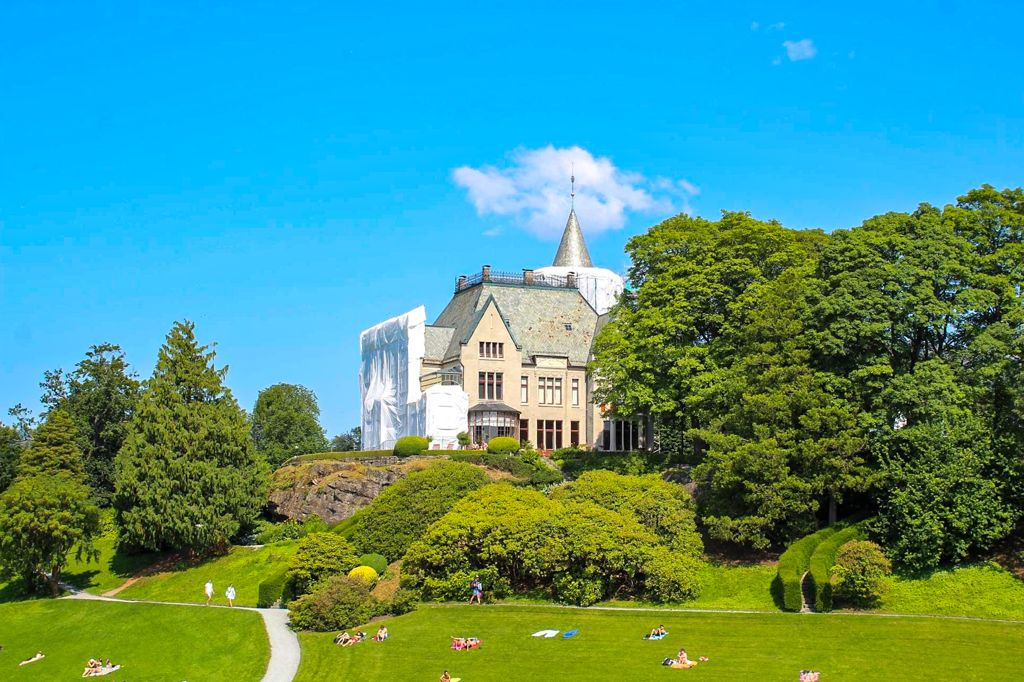 Gamlehaugen is open for guided tours during the summer and makes a nice outing from the city. Bring a picking basket and a blanket and you can spend hours in these beautiful surroundings.
Before you go – How to visit Gamlehaugen
You can visit Gamlehaugen by public transport

Bus 51 or 53 from Bergen Bus Station to Fjøsangerkrysset and then walk 8-10 minutes
Tram line 1 to Fantoft and walk 20-25 minutes

Opening hours Gamlehaugen: Wed, Thur, Fri, Sun: from 12.00 (June-August)
Check visit Bergen for updated opening hours
TIP: Make a day trip from Bergen. Gamlehaugen, Troldhaugen Edvard Grieg Museum and Fantoft Stave Church are all located a bit outside the city centre but all in the same direction and area. You can easily visit all three places on the same day. Start with Troldhaugen. After that, take the tram back to Fantoft (it's the same tram line) and visit the stave church. From here you can walk approx 30 minutes to Gamlehaugen from where you can take the bus back to the centre.
10. Revel in Norwegian seafood
Seafood from Norway are among the best in the world, and in a city like Bergen, you are never far away from a place serving the freshest and most delicious seafood you can dream of. For us, eating fresh seafood is one of the best things to do in Bergen.
Whether you prefer fish, Norwegian King crab, prawns, oysters or other mussels, Bergen got you all covered. It doesn't come cheap, we'll admit that, but if you are gonna splurge yourself once in Norway, seafood can be the perfect excuse for doing so.
You will find restaurants serving traditional dishes, some with a modern twist, and there are places serving large seafood platters with a bit of everything. In addition, you can also find more budget-friendly options where you can have a quick bite for less money.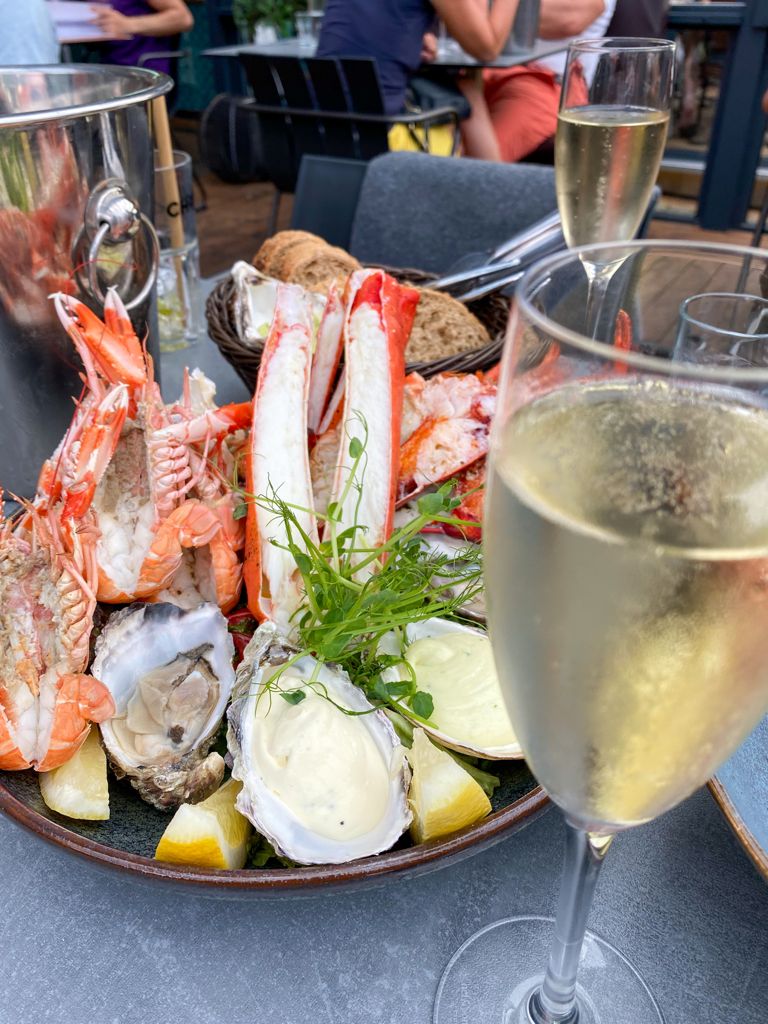 Visit Fisketorget fish market. Here locals come to buy fresh fish and seafood for home cooking. But the fish market also has some restaurants serving mouthwatering food, including the above-mentioned seafood platters. Fisketorget is located in the middle of the city centre, just opposite Bryggen. We had an amazing evening at Fish Me, and also neighbouring Fjellskål is supposedly very good.
Of dishes of Norwegian seafood to try, we would point out traditional fish soup (creamy soup with fish and seafood), dishes of klippfisk (dried and salted cod) and blue mussels. Bergen has its own fish soup. Look for Bergensk Fiskesuppe on the menu.
11. Drink high-quality Norwegian coffee
Scandinavian coffee is among the best in the world, and Bergen is no exception. For a city this size, there are surprisingly many good coffee shops in Bergen. As self-declared coffee lovers, we always set out to explore the local coffee scene when visiting a new city, and below you can see where to find the best coffee in Bergen.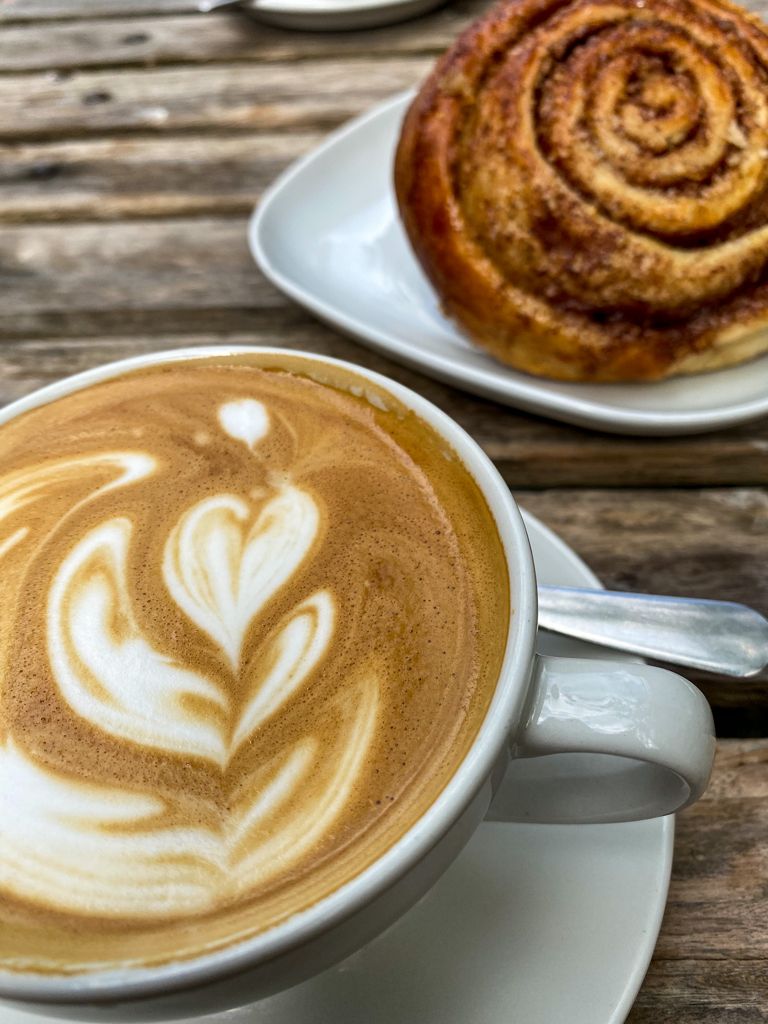 TIP: Read our post Best Coffee in Berlin to know where to go for your next visit
Bergen Coffee Map
12. Two neighbourhoods in Bergen to explore
Of all the neighbourhoods in Bergen, there are some that are worth some extra attention. These two neighbourhoods are next to each other and can easily be combined within a few hours.
Nygårdshøyden can be reached by walking up the hill from Bergen's main square Torgalmenningen. This lively area is home to the University of Bergen. Walk the streets and you will find old, beautiful houses and apartment buildings one more pretty than the other. Since this is the neighbourhood of many of Bergen's students, you will also find cafes, bars and some restaurants.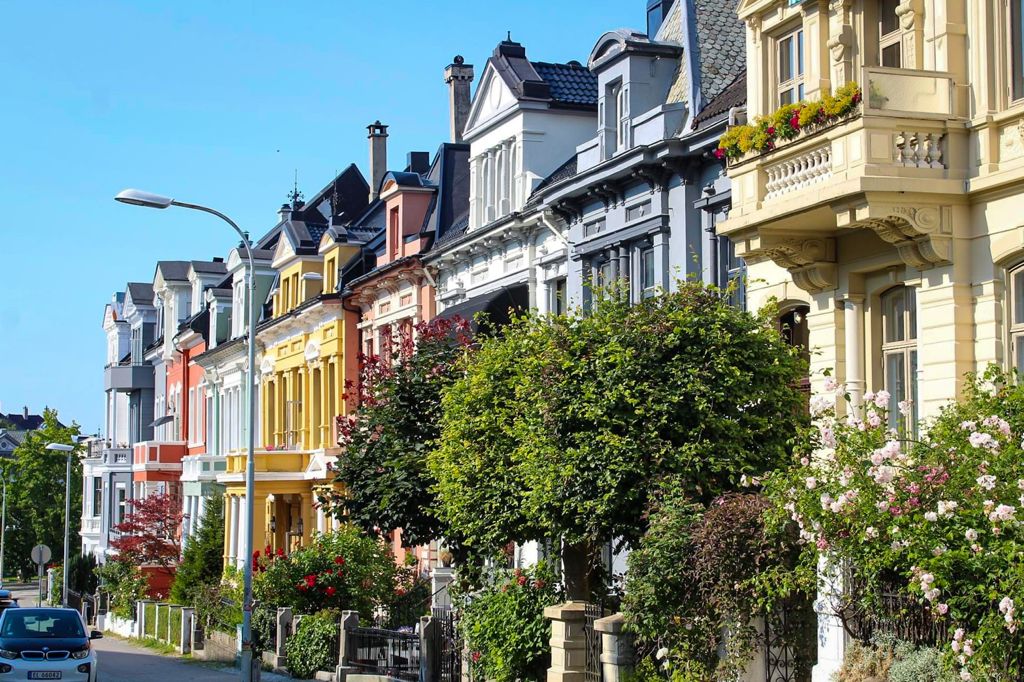 On top of the hill, you can visit the Natural History Museum and Muséhagen, a super cute botanical gem. The area is also great if you are a fan of street art. Some of Bergen's most famous (and controversial) street art can be found here.
Neighbouring Møhlenpris is just a short walk south of Nygårdshøyden and is one of our favourite hoods to be in Bergen. This cool and upcoming neighbourhood is such a great place to hang out. The area consists of offices, apartments and public spaces. You can find loads of bars, restaurants and a theatre as well. The above mentioned Bergen Kaffebrenneri is located right here.
On sunny days, Møhlenpris is very popular for sunbathing, swimming and water sports like paddling or SUP.
13. Explore the Norwegian Fjords from Bergen
Bergen is the gateway to the fjords of Norway. Whether you want to visit the fjords on a day trip or for several days, Bergen is a great starting point. South of Bergen is the mighty Hardangerfjord while Norway's longest fjord, Sognefjord is north of Bergen.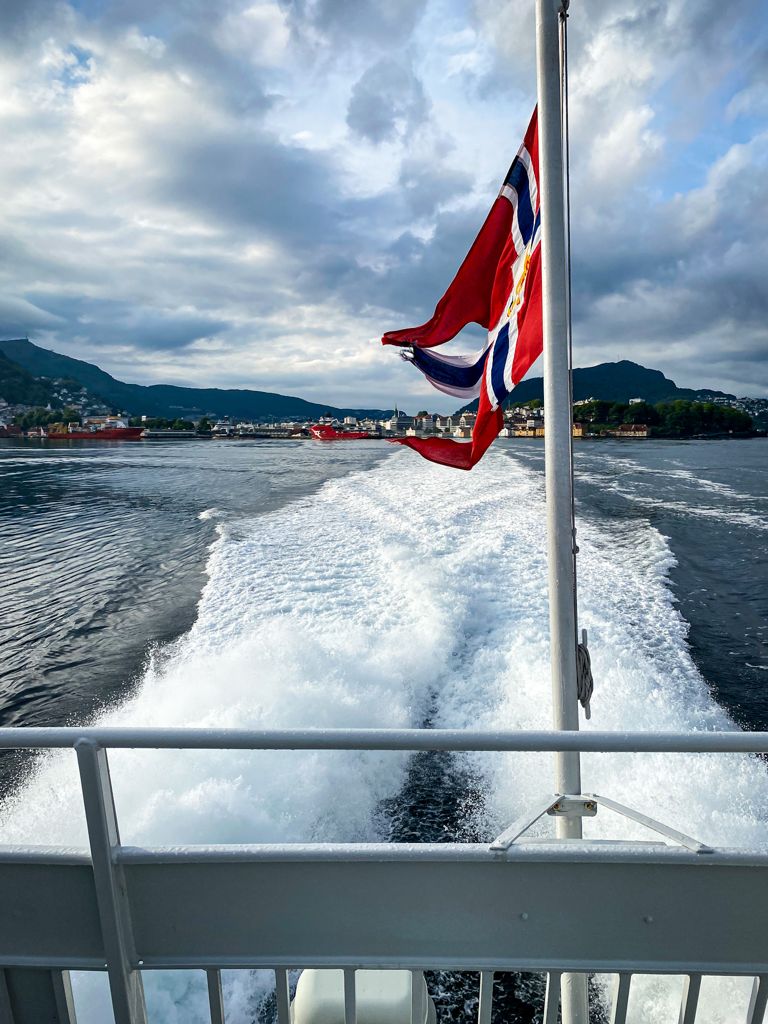 How to get from Bergen to the fjords:
Depending on where you want to go, you can reach the fjords via boat, bus or train. There are several fjord cruises from Bergen to choose from, in many directions. Some trips might be better in combination with boat and bus, or with boat and train.
TIP: Norwegian nature is much more than the fjords. Consider a winter trip to the north where you can see the magical Northern Light. Check out Northern Light Tromsø Tours for a wide range of tours to see the Northern light
Norled offers fjord tours from Bergen, and with these boats, you can reach Nordfjord, Hardangerfjord and Sognefjord in just a few hours. You can make a day trip from Bergen out of it and buy a return ticket for the boat, or you can take the boat one way and continue your journey from your final destination. Visit Bergen has a list of fjord tours and cruises from Bergen. Remember to compare prices and what's included before booking anything!
Bergen is also the starting harbour for the northbound Hurtigruten, the public coastal route that goes all the way up to the north of Norway. Hurtigruten is said to be the world's most beautiful voyage. Yes, it is expensive, but it is possible to sail shorter, from one harbour to another as well, so you don't need to do the whole journey.
TIP: Want to see more of the world from the water? Then this ultimate guide to boat tours might be just what you need!
14. Take a journey with the Oslo-Bergen Railway
If you plan to travel from Oslo to Bergen, or the opposite direction, the train line Bergensbanen (Bergen Railway) is the very best option. The Bergen to Oslo train is one of the most spectacular train journeys in the world, where it passes over the high mountain plateau Hardangervidda in the middle of Norway.
TIP: Read our post What do to in Oslo if you plan to spend some days there as well
The Bergen railway takes around 6,5 -7,5 hours, and big parts of the journey go through the most beautiful landscapes. With several daily departures in each direction, the Bergen railway should be your preferred option. Plan and book your trip at vy.no It's popular in the high season. Book well in advance.
TIP: At Myrdal station, you can connect with another spectacular train line, the Flåmsbana (Flamsbana Railway). This 1h journey takes you to the village of Flåm through the most stunning landscapes.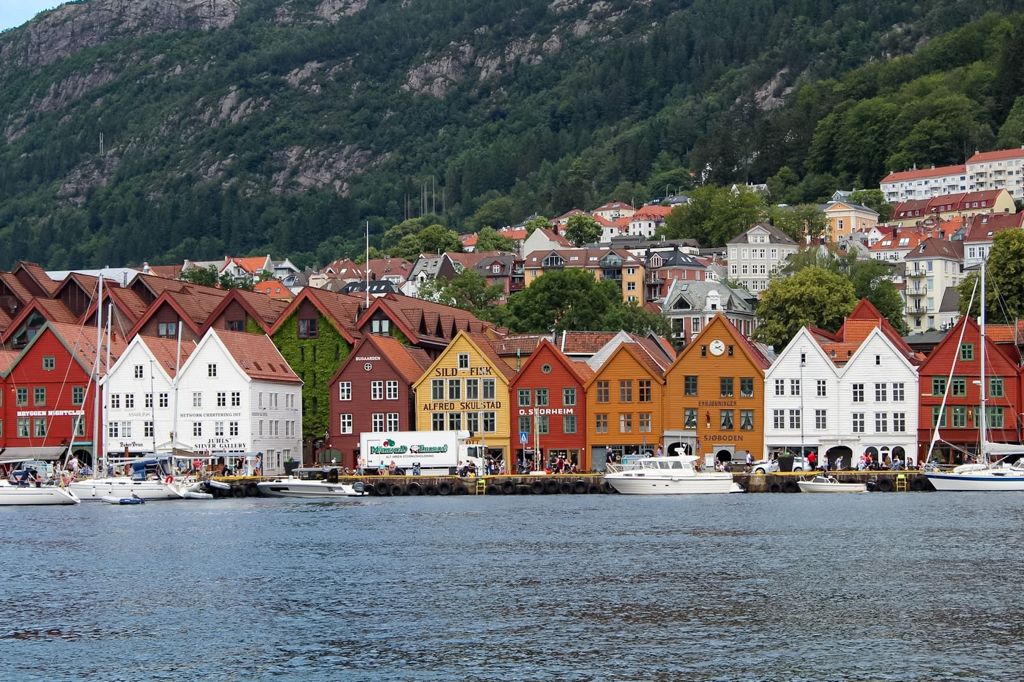 Plan your trip: How to get to Bergen and around
You can reach Bergen in many different ways, depending on where you travel from. Bergen Airport has connections to some of the major cities in Europe. You can also reach Bergen by train (or bus) from Oslo, and by boat and bus from many places along the coast.
You can get from Bergen Airport to the city centre with tram line 1. Local transport in Bergen is easy, but often not necessary. The city is very walkable and is best seen on foot.