This post may contain affiliate links, where we may receive a small commission if you purchase something through following the links at no extra cost to you.
With great a mix of classic and modern, monumental architecture, world-class art, numerous canals, fresh seafood and a nordic vibe, cosmopolitan Hamburg is definitely worth a visit. Germany's second-largest city is different from most other German cities, and by visiting Hamburg you can explore one of the greatest cities in Northern Europe. Read on to learn what to do in Hamburg and get our best tips for your next visit.
Hamburg is different from many other German cities. Its mix of maritime and nordic flair combined with its proximity to water gives Hamburg a special feeling. With a population of around 1.84 million inhabitants, Hamburg is a big city where you easily can spend days on end, but the city is also small enough to explore on a weekend as well. A mix of great restaurants, cool cafes, art galleries, brilliant shopping and superb attractions is just a small part of what to do in Hamburg. Combine it with a hectic nightlife, hidden gems and bright summer evenings, and then you have the recipe for a great city break in Germany.
Hamburg, officially the Free and Hanseatic City of Hamburg, has a long and rich history. The official name reflects the history of Hamburg as a member of the medieval Hanseatic League and free, the imperial city of the Holy Roman Empire. It was a fully sovereign state until the unification of Germany in 1871. Today, Hamburg has the third-largest port in Europe, and it is home to many major companies and media houses.
TIP: There were numerous Hanseatic cities in Europe. Bergen in Norway was one of them. Read our post about Things to do in Bergen if a visit to the west coast of Norway is on your list.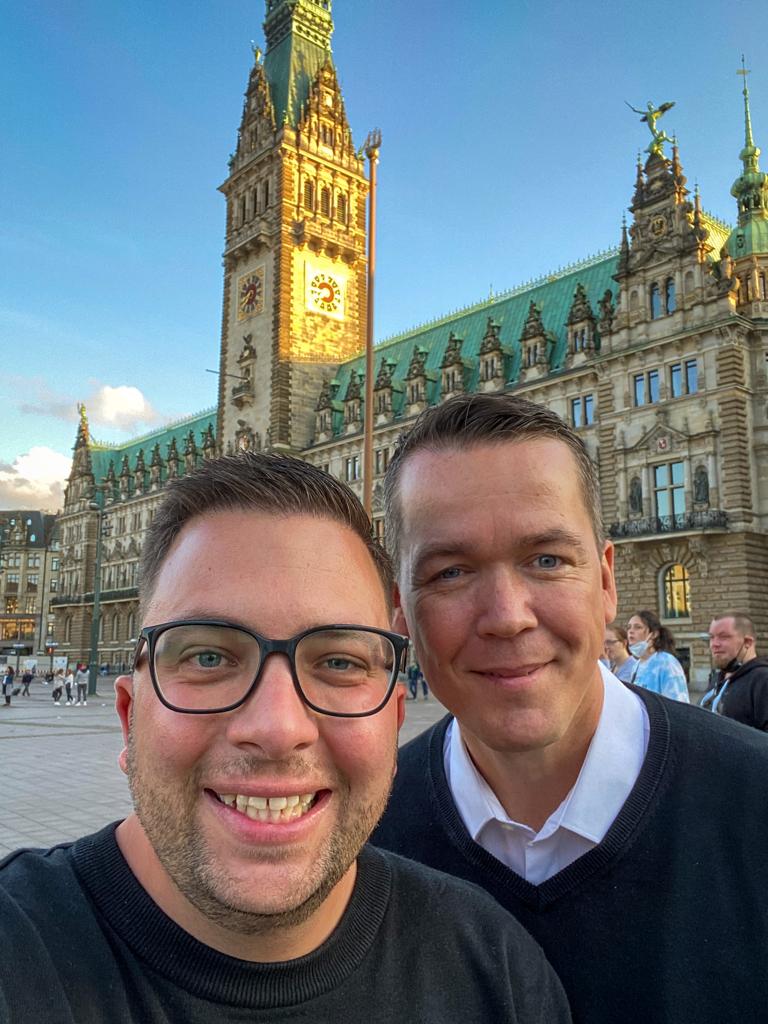 What to do in Hamburg – our best tips for visiting Hamburg
When visiting Hamburg, one thing one notices is the relaxed attitude in the city and among its inhabitants. People enjoy life outdoor to the fullest when the weather allows it, especially during the bright summer nights. A rich cultural life makes sure that there is always something going on, whether you like musicals, clubs, art or concerts.
Travelling to Germany? Join Our Facebook Group Germany Travel Forum
This article will show you a good mix of what to do in Hamburg, and all places mentioned here are within walking distance from each other. Read on for some of the best things to do in Hamburg.
Map of attractions in Hamburg
1. Speicherstadt – UNESCO World Heritage in Hamburg
The old warehouse district in Hamburg, the Speicherstadt is one of the most popular things to see in Hamburg. Speicherstadt Hamburg is the largest warehouse district in the world where the houses stand on timber-pile foundations.
Walking around between the different canals and streets is one of the nicest activities in Hamburg. The area is huge but not bigger than that you explore the whole of it in a couple of hours. There is a Maritime Museum here, said to be very good.
One thing you might notice while strolling around here is the lack of restaurants and cafes. There are some of course, but for an area this size, there are surprisingly few places to sit down for a rest. Should you be in need of a bite or a refreshment, try e.g. Fleetschlösschen or Wasserschloss. These are both nice places next to the canals, and Wasserschloss (meaning water castle) is one of the most photographed buildings in Hamburg.
Since 2015, the Speicherstadt has been a UNESCO World Heritage Site.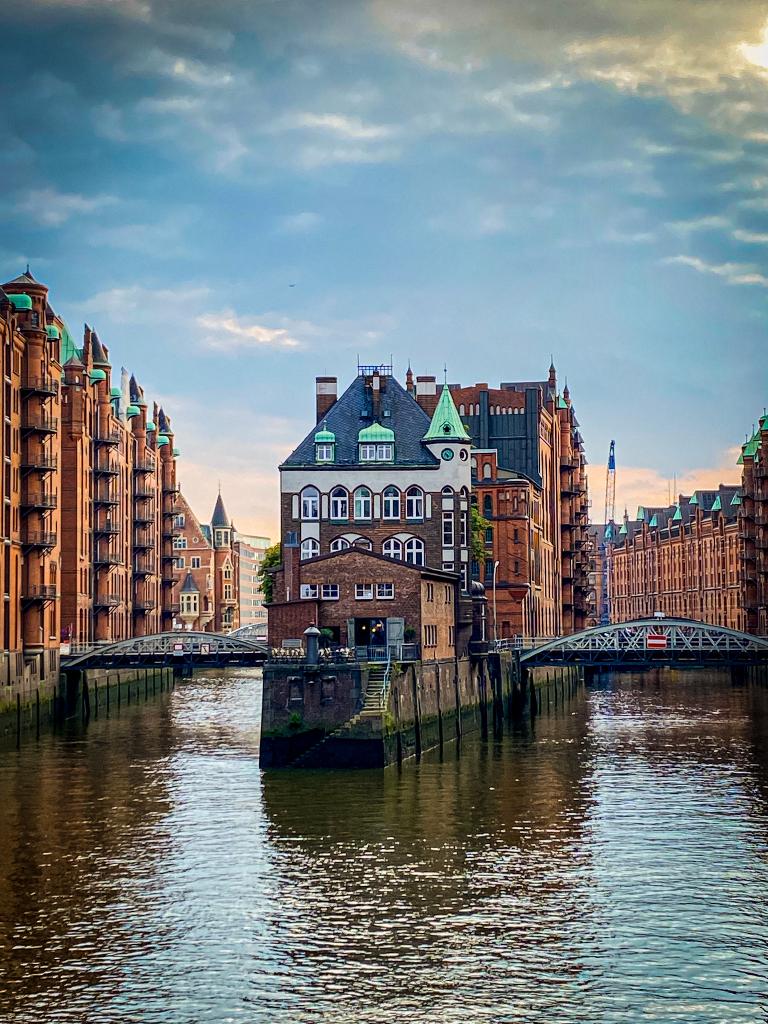 2. Elbphilharmonie – Hamburg Philharmonic Hall
After years and years of delays, the majestic Elbphilhamonie (Elbe Philharmonic Hall) could finally open its doors in 2017. This Hamburg landmark is truly a spectacular building and one of the main sights in Hamburg. It opened after over 10 years of delays, and after several re-calculations of the total costs for the construction. When it finally could open, it had cost insanely €866 million (USD998,5 million). Money aside, Hamburg finally got its world-class signal building, directly at the waterfront in the harbour. The philharmonic hall has three concert venues whereas the Great Concert Hall can accommodate up to 2.100 visitors.
You can visit parts of the building for free. There is an observation deck on the 8th floor, the Plaza. This can be reached by an escalator from the main entrance. From the Plaza, you will have great views over Elbe and Hamburg.
Check their webpage for the program if you are interested in attending a concert or show. It often sells out quickly. Book well in advance.
You can reach Elbphilharmonie on foot. With public transport, the closest station is Baumwall (U-Bahn).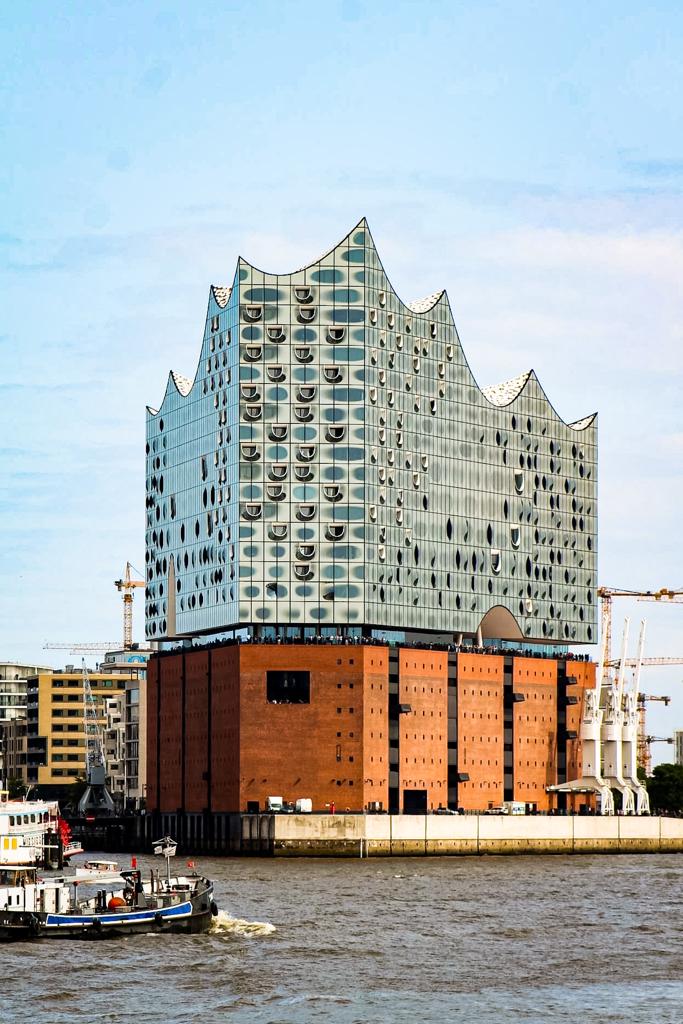 3. Hamburger Kunsthalle – world-class art museum in Hamburg
If you only have time to visit one of the museums in Hamburg, this is where you are heading. Hamburger Kunsthalle is the best art museum in Hamburg and also a leading museum in Germany. It is located in the old town district between the Central station and the two Alster lakes.
The museum is spread over three buildings, where the main building dates from 1869. Hamburger Kunsthalle was originally founded in 1850, and today it houses one of the few art collections in Germany that spans over seven centuries of European art, from the middle age and all up to the present day.
TIP: Going to Berlin as well? Read our post on the Best museums in Berlin
The extensive collection is large, and is divided into four different sections; the Gallery of Old Masters, the Gallery of 19th-century Art, the Gallery of Classical Modernism, and the Gallery of Contemporary Art.
Many big names are found in the collection, as the museum houses names such as Rembrandt, Rubens, Monet, Picasso and Munch. For us, a highlight was Madonna by Edvard Munch. It is also a great museum to learn more about German art, and big German artists such as Max Liebermann, Emil Nolde and Caspar David Friedrich are all represented here.
TIP: In Oslo, a new Munch museum opened in 2021, hosting the largest Munch collection in the world. Read our post on what to do in Oslo to plan your trip.
Before you go – How to visit Hamburger Kunsthalle
Opening hours Hamburger Kunsthalle:
Tuesday to Sunday: 10.00-18.00
Thursday: 10.00-21.00
Closed Mondays
Admission: €14/ reduced €8/ children under 17: free
Short evening visit from 17.00: €8/ reduced €5
Hamburger Kunsthalle can be reached on foot from all over the city
By public transport: Hauptbahnhof (U- & S-Bahn) or bus to Kunsthalle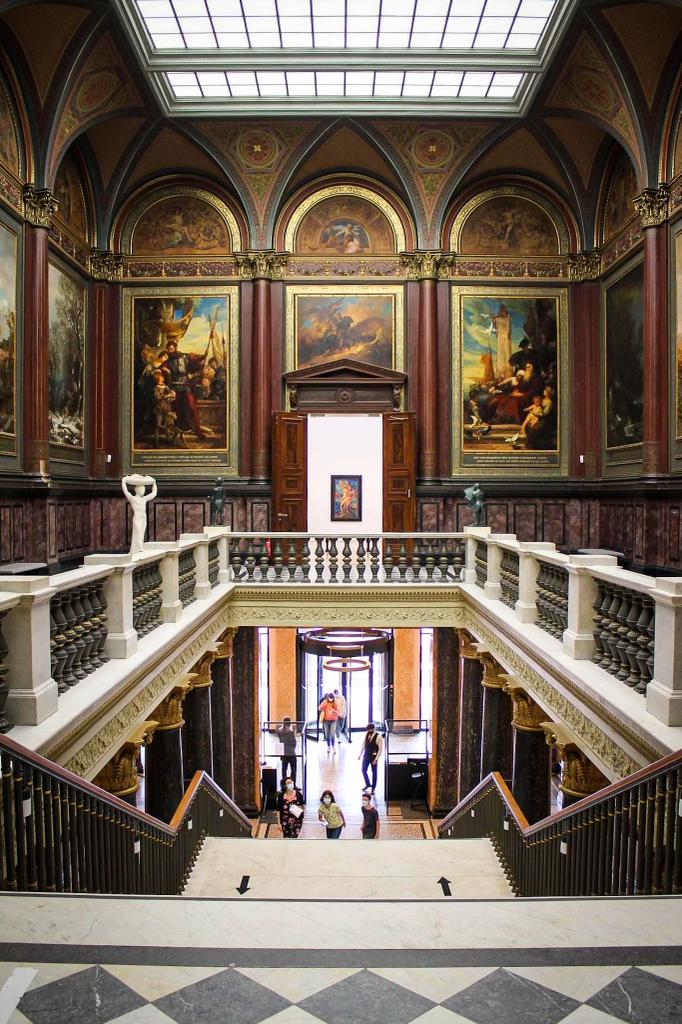 4. Hamburg City Hall
The Hamburger Rathaus (Hamburg City Hall) is the seat of the local government in Hamburg. Located at the Rathausmarkt square, this is truly a spectacular Baroque building. It is one of the most impressive city halls in the whole of Germany. It contains 647 rooms whereof the Emperor's Hall and the Great Hall are the most famous ones. Don't forget to visit the courtyard for a different view of the building.
You can visit the rooms on a 40-minute tour held every half hour between 11.00 and 16.00. English tours depend on demand, so better go there early in the day and check.
If you are visiting Hamburg in December, the Christmas market is held on the square in front of the city hall.
TIP: The nearby Café Paris is one of our favourite restaurants in Hamburg, both for lunch and dinner. Go here for authentic and mouth-watering French food. It's a popular place – reserve a table in advance.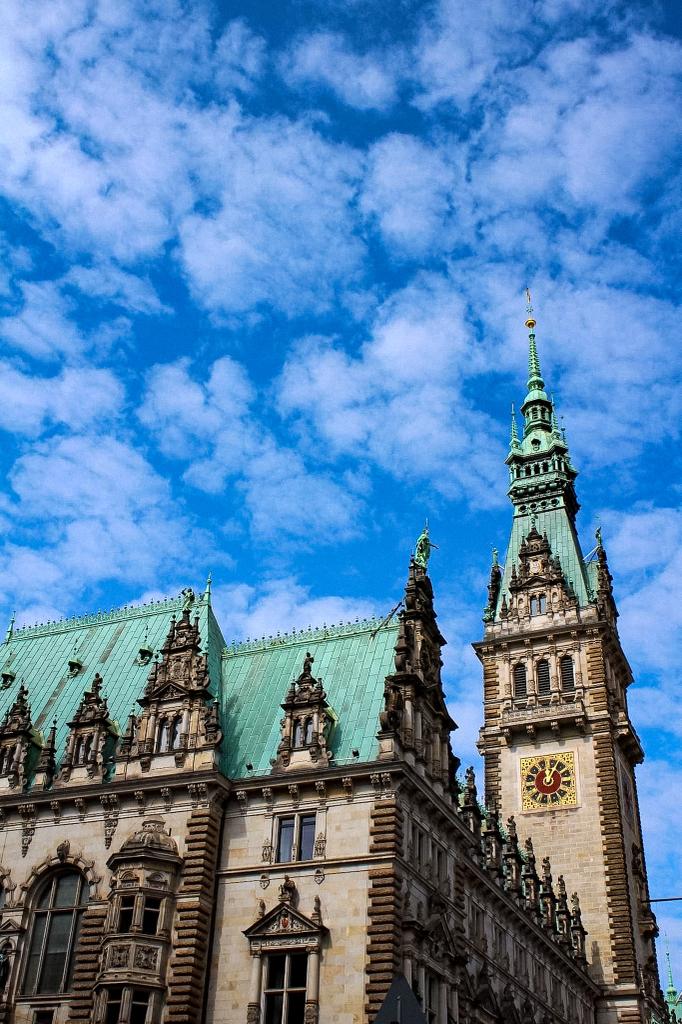 5. Explore Hamburg Neustadt
This area is part of the centre of Hamburg and used for the mixed needs of all kinds of people. You can find lots of bars, cafés and restaurants in small streets, but also lots of office places. Hamburg´s main attraction, the Michel (St Michaels Church) is located there, too.
You can walk through beautiful parks and along some of Hamburg's many canals. For the one who is interested in classical music, check out Hamburg State Opera and Laeiszhalle. You might attend a nice concert. For shopping, you will find big brands and small, independent shops all over this area. There are cute shopping malls and passages and of course always a place to sit down and relax.
While parts of Neustadt is more classy and up-market, other parts feel very low-key and sometimes also a bit bohemian.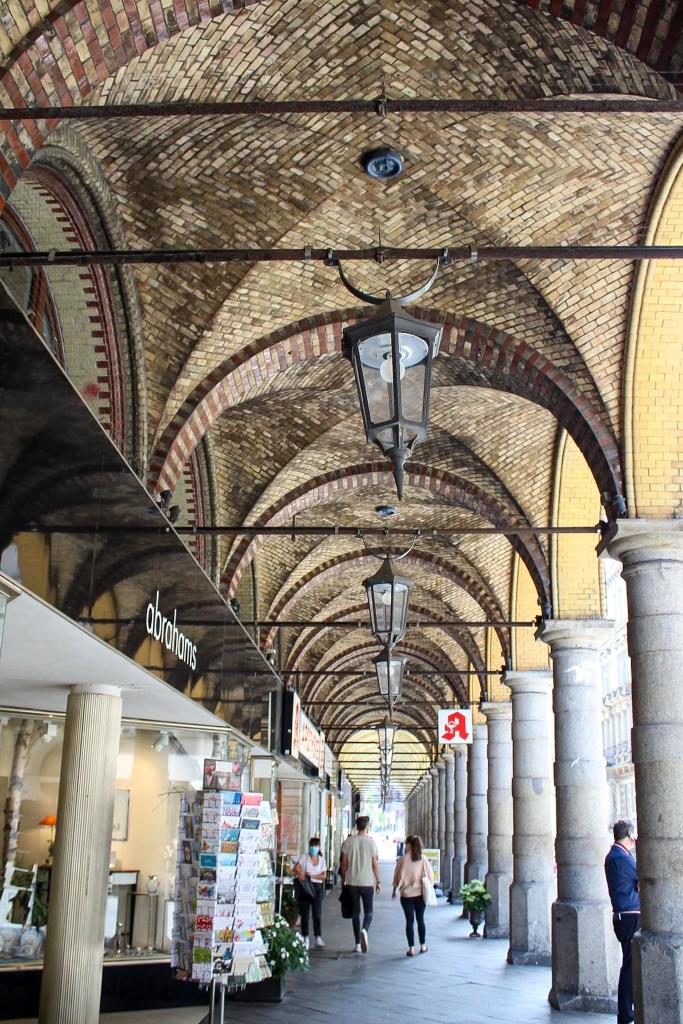 6. St. Michaels Church – a Hamburg Landmark
Hauptkirche St. Michaelis (St. Michaels Church) is a much-beloved Hamburg landmark. It is considered to be one of the best examples of Hanseatic Protestant baroque churches. With 2500 seats this is the largest church in Hamburg. It's worth a visit due to its stunning, yet simple, Baroque interior. The crypt shows an exhibition of the city's history.
By steps or lift you can get up to the tower and be rewarded with stunning views across the city and the canals.
Before you go – How to visit St. Michaels Church in Hamburg
Opening hours St. Michaels Church:

May-September: 09.00-19.30
October and April: 09.00-18-30
November-March: 10.00-17.30

Admission:

Tower: €6/ reduced €3/ children €4
Crypt with the exhibition: €5/ reduced €4 / children €3
Combination tickets possible

It's easy to get here on foot from all over the city
By public transport: Stadthausbrücke (S-Bahn)/ Rödingsmarkt or Baumwall (U-Bahn)
TIP: Visit the nearby Krameramtswohnungen (in an alley off Krayenkamp 10). Here you find a row of half-timbered houses from the 17th century. For 200 years these houses were almshouses for widows of shopkeepers. Today there's a restaurant and some small shops in the alley.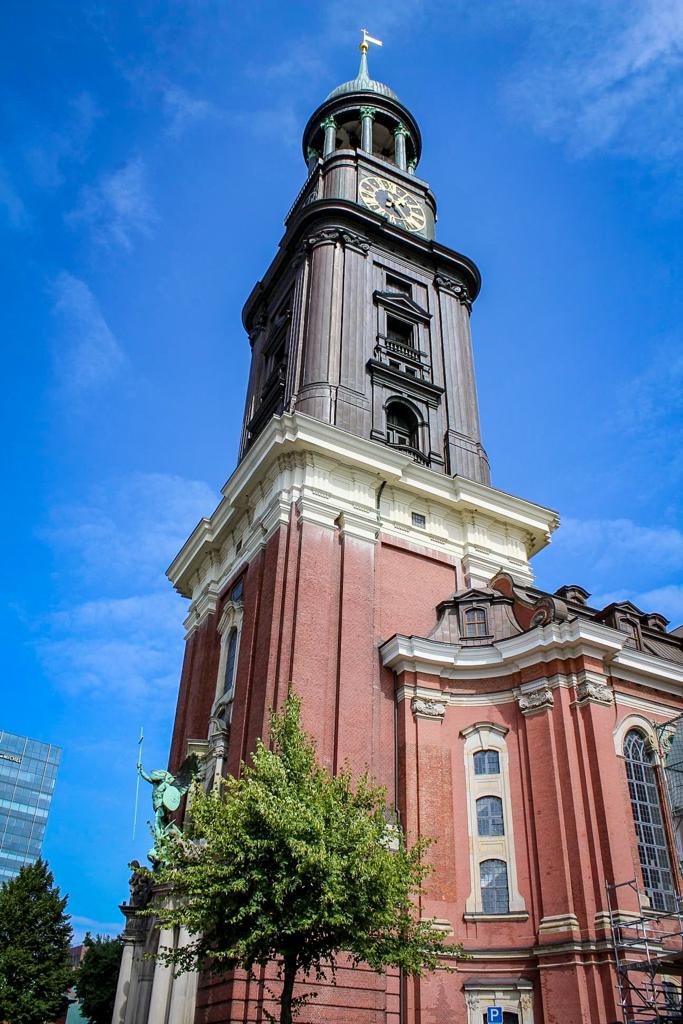 7. Eat amazing food in Portuguese Quarter Hamburg
Did you know that Hamburg has a Portuguese quarter? In the streets around the Ditmar-Koel-Straße, Hamburg's Portuguese quarter grew up after Portuguese and Spanish immigrants settled here in the 1960s and '70s. The area is not very large, but the streets are full of cafes, bars and restaurants serving food from Portugal, Spain and Italy.
It's here, in this area, some say you can find some of the best Portuguese food outside Portugal, and then especially the seafood served here. Some call the area of today a tourist trap, but our experience is that the food and wine are authentic and fresh. it was actually a Portuguese friend that recommended this area to us, as she found the food to be as good as back in Portugal.
Not only is the food authentic here, but also the vibe in the streets are different. Walking here feels a bit like walking Mediterranean streets rather than being in northern Europe.
How to get to the Portuguese Quarter in Hamburg
It is within walking distance from all over Hamburg, but depending on where you are it might take some time. A good idea can be to combine a visit here with nearby Neustadt or Elbphilharmonie.
The closets S and U-Bahn station is Landungsbrücken, located in the busy area next to the river Elbe.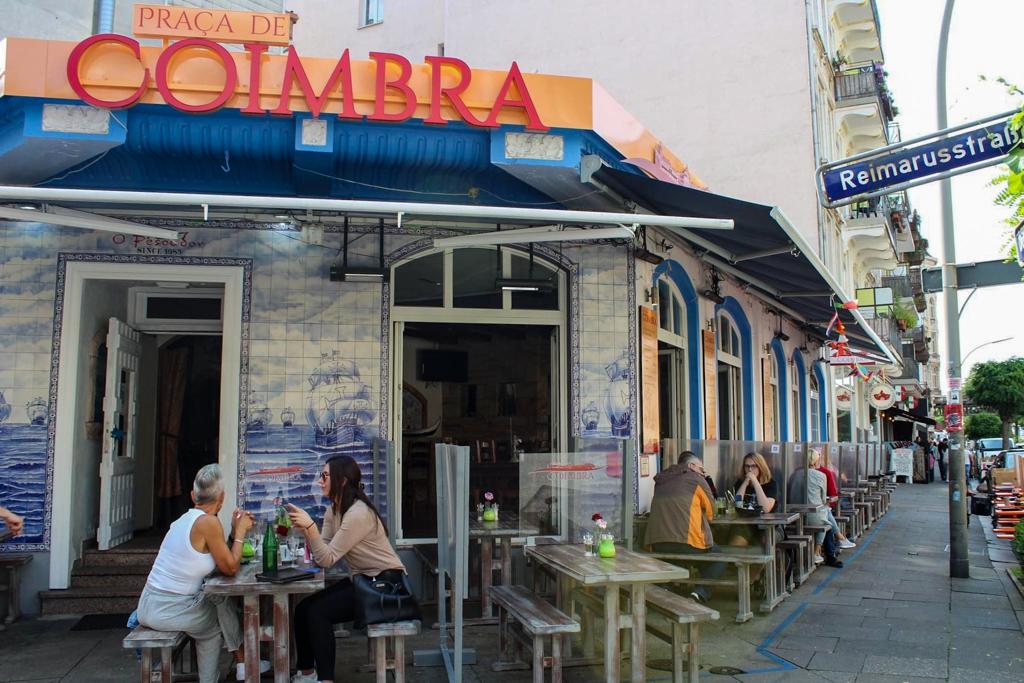 8. Walk along the Alster lake(s)
What to do in Hamburg to relax? Hamburg has two lakes close to the city centre, both located next to each other close to the old town. If you feel the need to escape the noise of the city for a while, a walk around one or both of the lakes is a nice and relaxing activity.
The smallest lake is the Binnenalster. This is also the closest of the two lakes. It's not very large, and all the way around you will have great views of the city.
The outer lake is the Außenalster. This lake is larger and will take you more away from the noise of the city. You will walk along green banks, and also from here, you will have great views of the Hamburg skyline. You can start this route wherever you like and a whole round will take anything between 90 minutes to two hours.
TIP: If you want to make a day trip from Hamburg we would recommend the town of Schwerin to visit the beautiful Schwerin Castle.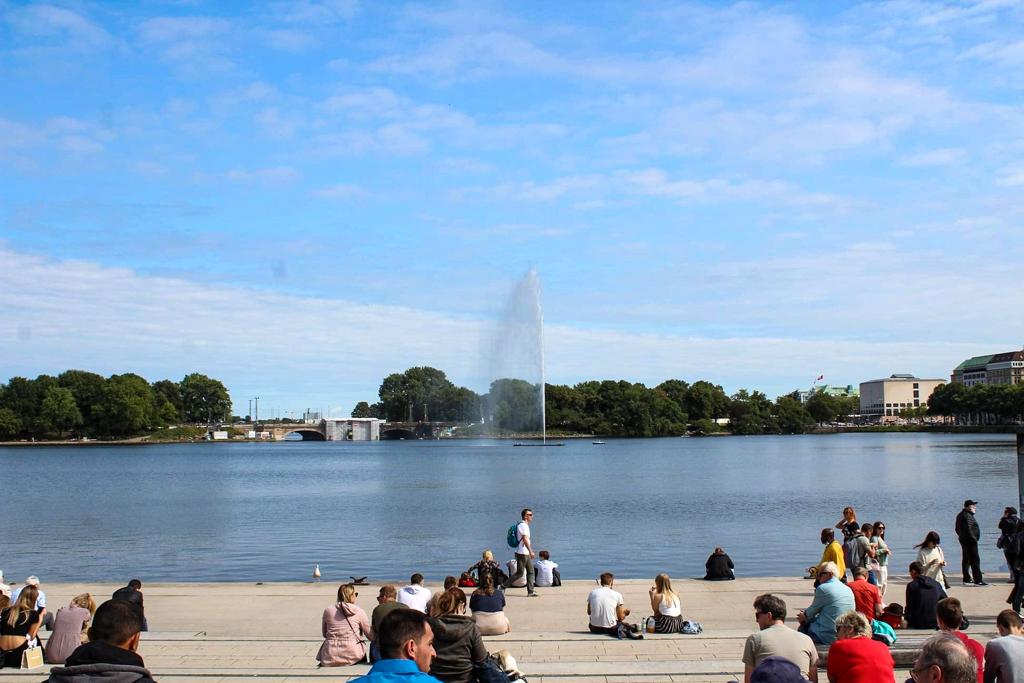 9. Chilehaus
Chilehaus is one of the most beautiful and iconic buildings in Hamburg. This 10-storey office building is located in the Kontorhaus district and was designed by architect Frotz Höger and built between 1922 and 1924. The brown-brick building is shaped like a ship or an ocean liner. It got its name after the merchant who built the house, as he came to wealth from trading with Chile.
With cursed walls and sharp angles, this is truly an architectural masterpiece not to be missed. You will get the best view of Chilehaus in Hamburg from the corner of the Pumpen– and Niedernstrasse. Sadly you cannot enter the building as a tourist, but you can enjoy the exterior. Don't miss the inner courtyard. It's one of the highlights here.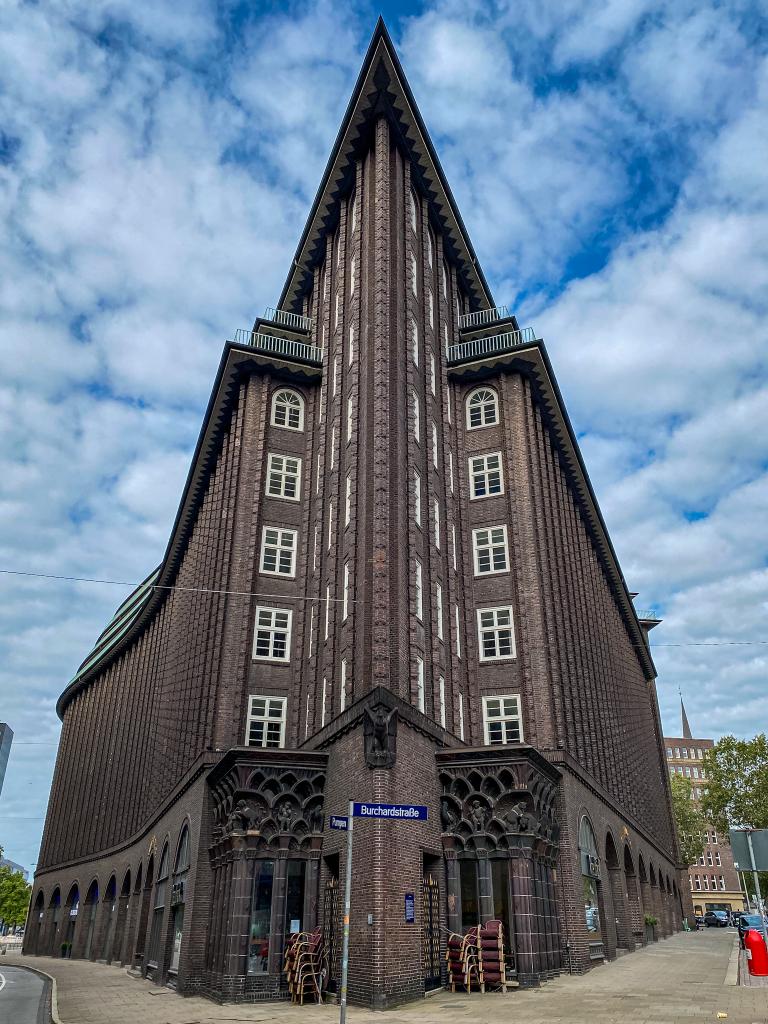 10. Elbe Tunnel
The Elbtunnel (Old Elbe Tunnel) is a tunnel under the Elbe River. When it opened in 1911 it was a technical sensation. The tunnel is 426 m long and is located 25 m beneath the surface of the river. Back in the days, the tunnel was a huge improvement for the tens of thousands of workers in one of the busiest harbours in the world. To enter the tunnel, you can either walk the stairs or go (for free) with one of the historical lifts.
Walk (or bike) through the tunnel to the south side of the river, for a different view of Hamburg. There is a viewpoint right next to the exit on the other side where you among others will get an excellent view of the Elbphilharmonie. Some small stands at the viewpoint sell drinks, snacks and fast food. We found this the perfect spot to relax a bit away from the city, and at the same time enjoy the view of one of the best cities in Germany.
The entrance to the tunnel from the city side is located towards the far end of Landungsbrücken, close to Hard Rock Cafe. The tunnel is always busy with bikes, so always walk on the pavements.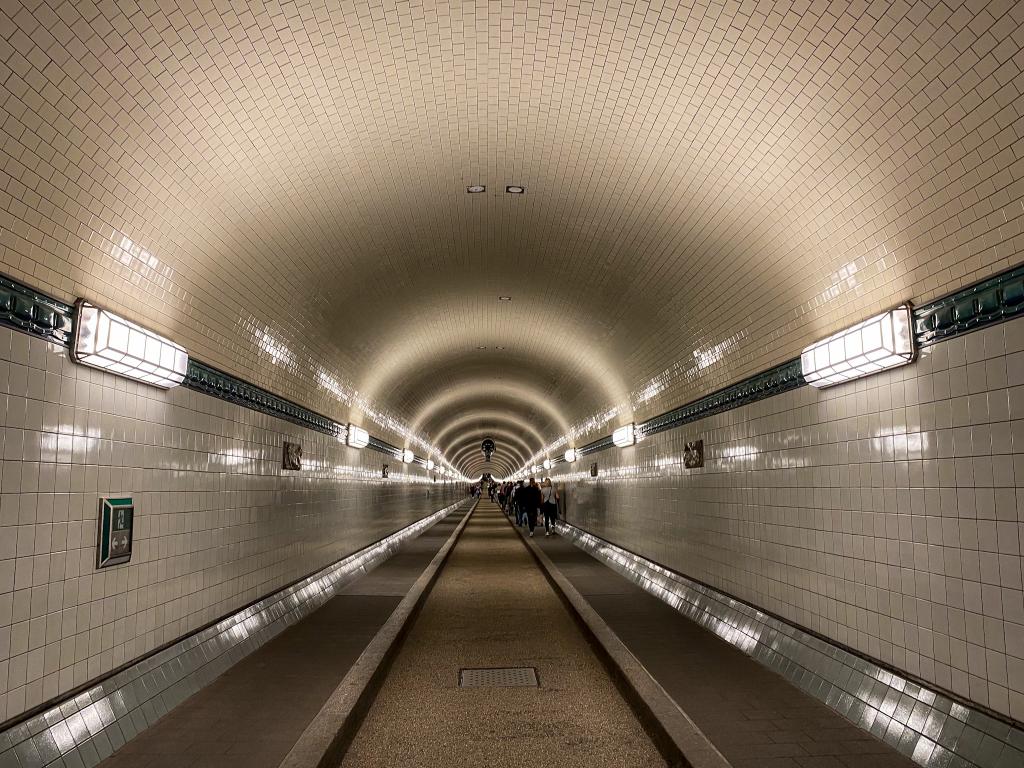 11. Harbour Cruise in Hamburg
What to do in Hamburg when your feet are tired, but you still want to see more? Then a Hamburg Harbour cruise can be a great activity. Most cruises typically sail a part of River Elbe called Norderelbe for a view of the city and the huge harbour, and of course also through some of the many canals, taking you to eg Speicherstadt.
This is a good opportunity to get another perspective of the city, and most companies offer tours from early morning until late evening. You can buy your harbour cruise directly from the providers at Landungsbrücken where many of the cruises depart from. Prices and routes may vary, so better check around before deciding.
TIP: Read our post on the Harz Mountain Railway in Saxony-Anhalt if you would like a nostalgic journey with a steam train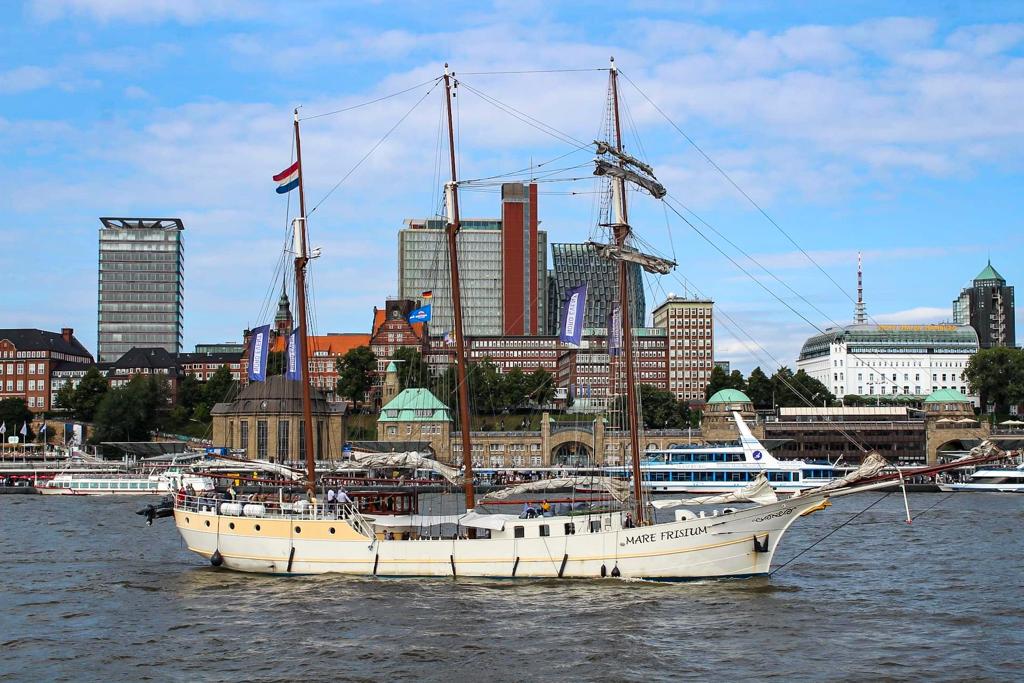 12. Mahnmal St. Nikolai – St. Nikolai Memorial
The church of St. Nicholas was a Gothic Revival cathedral and was once one of the five main Protestant churches in the city of Hamburg. The cathedral was actually the tallest building in the world between 1874 and 1876 and is today the second-tallest construction in Hamburg (after the tv-tower).
Most of the church was demolished during WWII bombings, with only the tower and the crypt surviving. Today it is a memorial site, and the crypt shows an exhibition about the horrors of war. You can take a glass elevator up to the 75.3 m high viewing platform.
Before you go – How to visit Mahnmal St. Nikolai
Open daily from 10.00-15-00
Closed Tuesdays
Admission: €5 /reduced €4 /children €3
You can reach it easily on foot
By public transport: Rathaus or Rödingsmarkt (U-Bahn)/ Jungfernstieg (S-Bahn)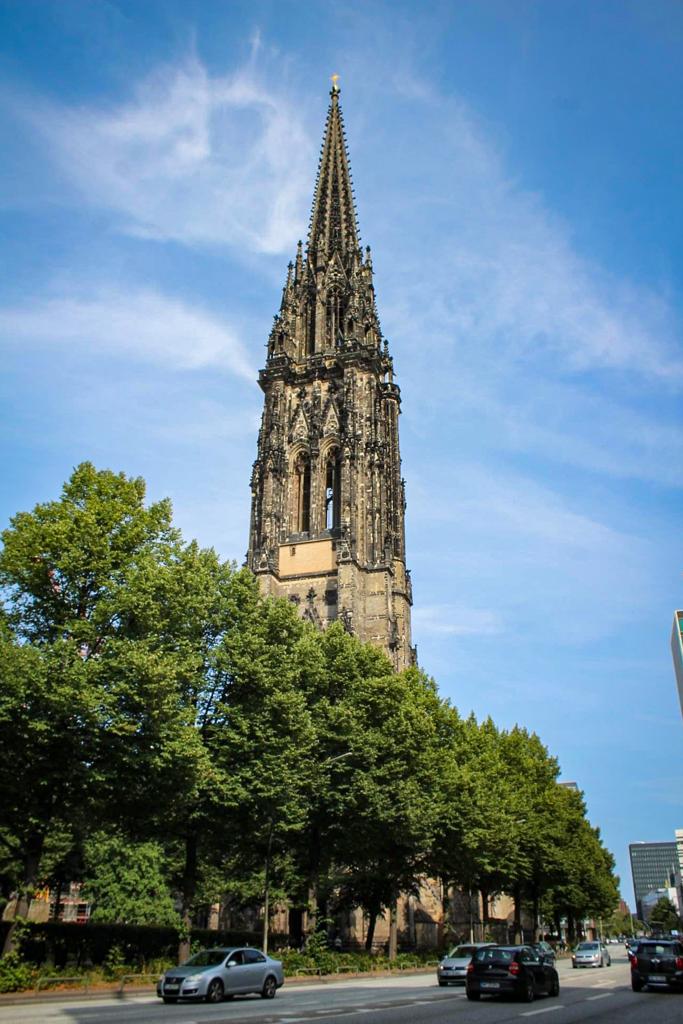 13. Eat Fishbrötchen
A Fishbrötchen (fish bun) is a sandwich made of fish and other ingredients such as pickles, salad, onions, mayonnaise or other sauces. This is traditional food at its best, and it's commonly eaten in Northern Germany. It comes with a variety of fish, from herring to salmon and mackerel.
Fishbrötchen is a typical snack or light lunch served as fast-food stands or take-out restaurants. Also, in an otherwise quite pricey city, this is a very affordable option for a quick bite. We find it very delicious. Try it!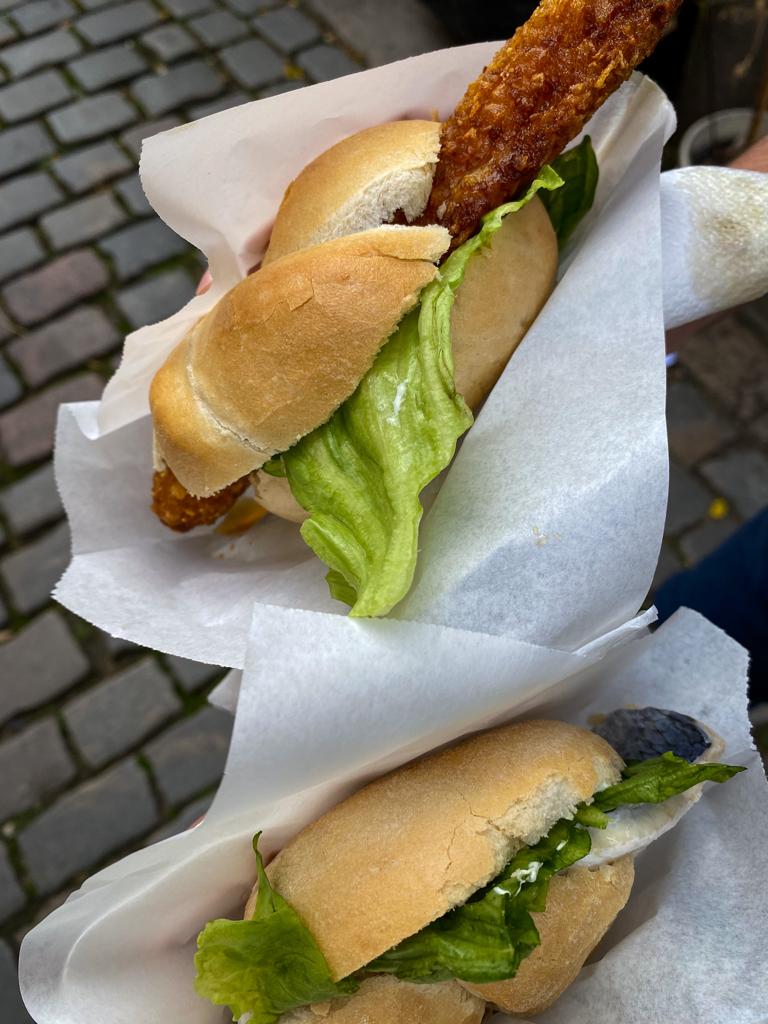 14. Deichstrasse – cuteness overload in Hamburg
If you are a fan of cute houses and traditional architecture, then definitely the Deichstrasse is worth a visit. It is the oldest remaining street in the Altstadt (Old Town) of Hamburg, and the only remaining part of the old harbour district in Hamburg. The restored 17th- 19th-century houses are so picturesque, and can in fact remind of the houses one expect to find in Amsterdam. Today the houses contain restaurants, bars, cafes and shops.
The houses can be seen from two sides, and is most impressive seen from the bridges over the adjacent Nikolaifleet canal.
TIP: Go to Holzbrücke for one of the most impressive views in Hamburg, seeing both the houses in Deichstrasse and the Elbphilharmonie in the background.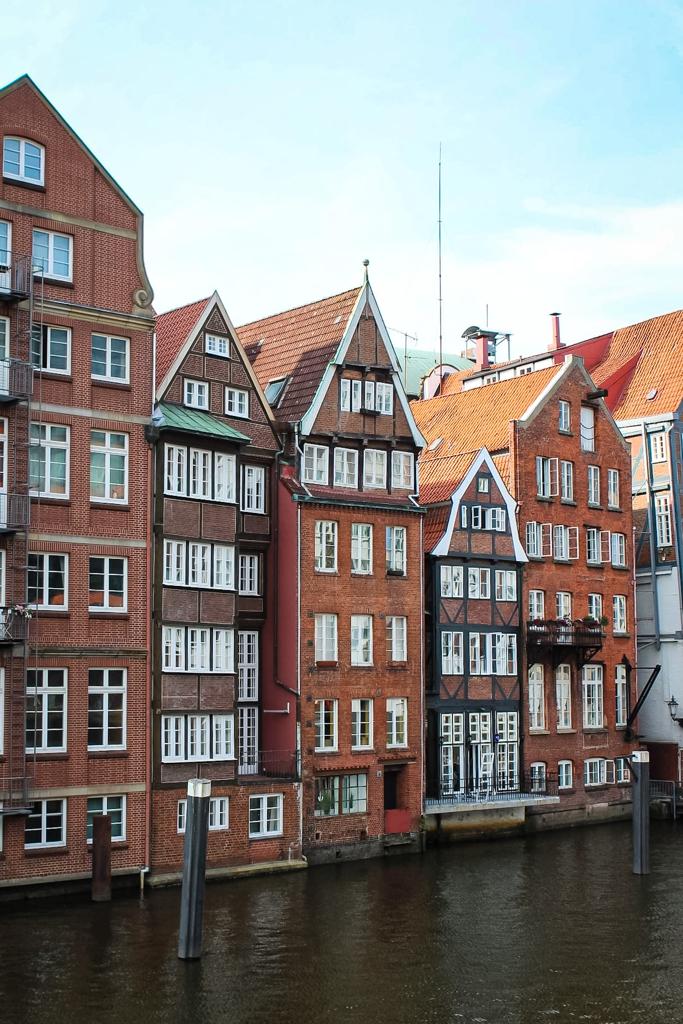 15. Try the best coffee in Hamburg
If you, like us, love a cup of freshly brewed high-quality coffee, then Hamburg will suit you well. Spread over the city, several coffee shops serve excellent third-wave coffee. Some of the places also have their own roastery, while other cafes in Hamburg get beans delivered from local roasters.
While travelling, we always try to find the best local coffee. Some of our favourites in Hamburg was Public Coffee Roasters and Hunt Coffee Roasters (both located in Neustadt), and Nord Coast Coffee Roastery located in the Old Town – not far from the Elbphilharmnonie.
TIP: Read our post Best Coffee in Berlin to find the best coffee shops for you next visit there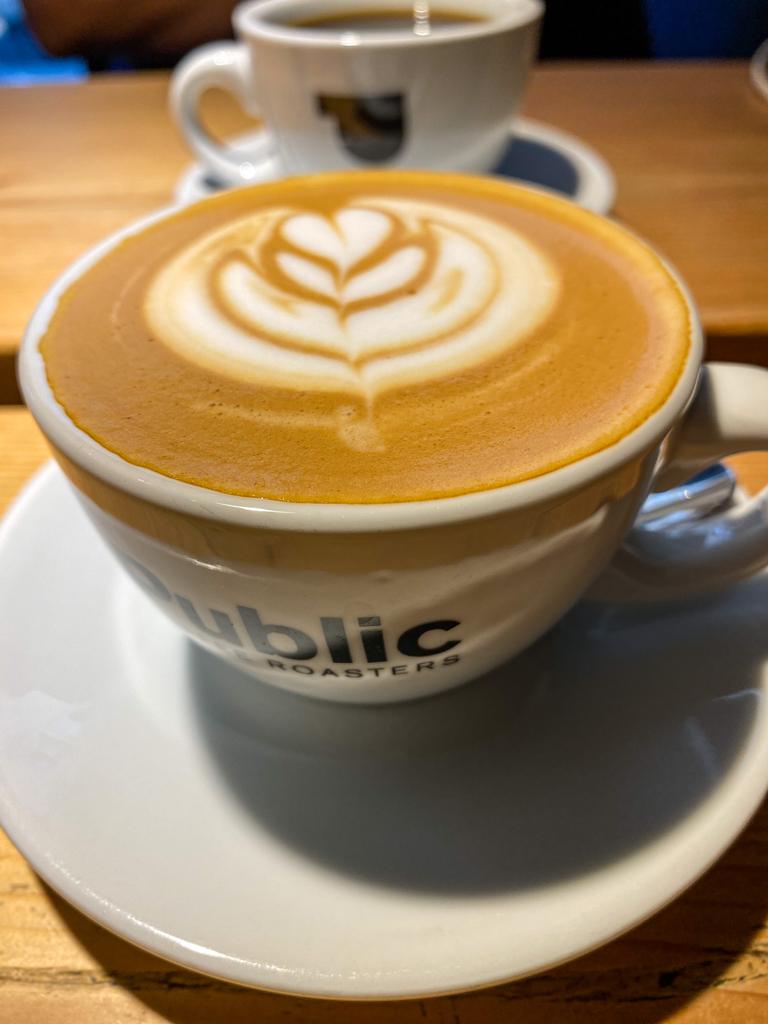 16. Best time to visit Hamburg – Weather in Hamburg
Hamburg is a year-round destination and can be visited at all times of the year. There is always something going on for each season, so no matter when you plan on visiting Hamburg, you will always be able to find activities to do.
The weather in Hamburg is northern European, somewhat rainy and at times, very unpredictable. Summer in Hamburg is tempered and comfortable with July being the warmest month of the year. In the summer temperatures can reach well above 20°C (68F). Summer evenings in Hamburg are bright. You will find that most people spend as much time outside as possible, due to the short summer in the north.
You can have great weather in spring and autumn as well, but the air is colder and more crispy. The winter in Hamburg is cold, but minus degrees are not very common. This is also the wettest period, and in December the average rainfall is 24.9 mm. Dress according to the weather, and always bring an umbrella.
Visit Hamburg in the spring or autumn: Spring and autumn have mean temperatures between 5 and 14 °C (41-57F)
Visit Hamburg in the summer: In the summer the mean temperature in Hamburg is 15-18 °C (59-64F)
Visit Hamburg in the winter: In winter the mean temperature in Hamburg is 2 °C (35.6F)
TIP: Read our post from Rugen Island if you want to explore some not the best beaches in Germany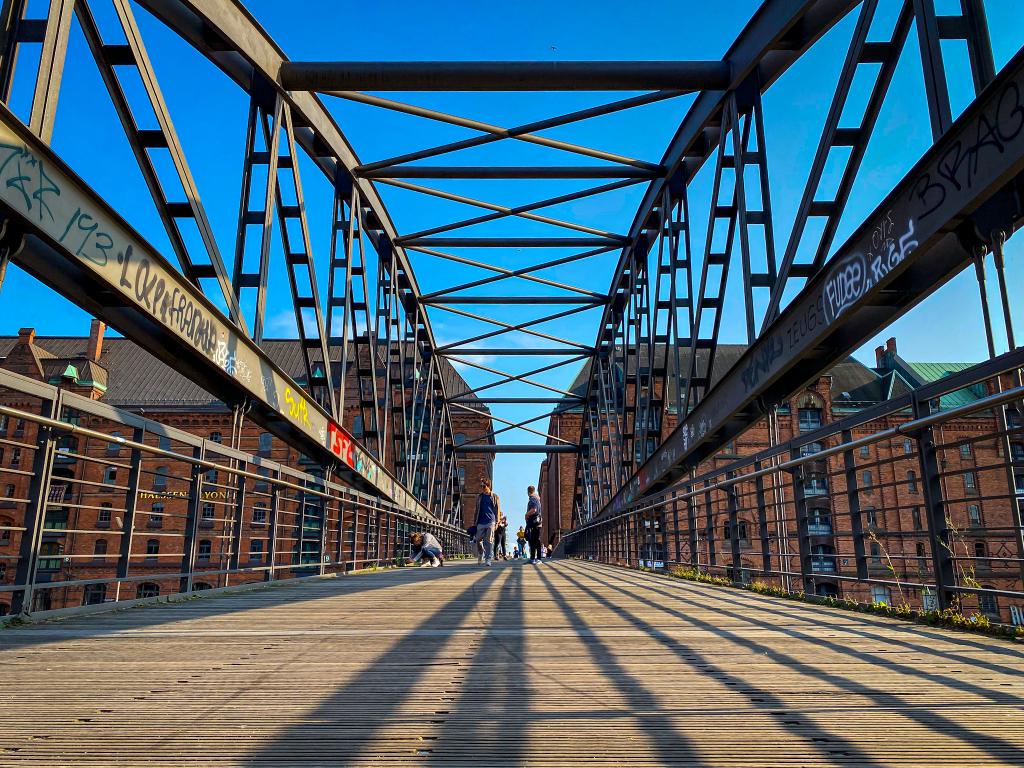 17. Plan your trip – How to get to Hamburg and around
Depending on where you travel from, there are many ways to arrive, but the best way to travel to Hamburg is by train, although plane or bus are other well functional options.
Travel to Hamburg by train
Hamburg Hauptbahnhof (Hamburg Central Station) is the busiest train station in Germany, and Europe's second-busiest (after Paris' Gare du Nord). Long-distance trains connect Hamburg with cities such as Berlin, Munich, Frankfurt, Zurich, Prague, Budapest, Copenhagen and Vienna. In many other German cities, you can connect with other international train lines. The most popular departures can sell out. Book your ticket well in advance if possible. Read more and book your ticket at bahn.de
It is walking distance from Hamburg Hauptbahnhof to most places in the city, but if you prefer public transport you can find more information here.
TIP: Read our guide for a Trans-Siberian Railway trip if you are a fan of train travel
Travel to Hamburg by plane
Hamburg airport is the fifth-busiest airport in Germany, with connections to many major European cities. There are very few intercontinental flights to Hamburg, but with good connections in cities like Frankfurt, Munich, Paris or Amsterdam, Hamburg can easily be reached by plane.
How to get from Hamburg airport to the city centre? You can get to and from the airport by bus, underground (U-Bahn) or suburban train (S-Bahn). S-Bahn line 1 takes you to Hamburg Central Station in 25 minutes (departure every 10 minutes). More options on how to get from the airport on their webpage.
Travel to Hamburg by bus
Hamburg is well connected by long-distance buses from several German and European cities, such as Amsterdam, Paris, London, Brussels and Copenhagen. Check e.g. Flixbus or BlaBlaBus for routes, and departure times and to book your ticket.
The main bus station in Hamburg (Hamburg ZOB) is located next to the central station and also within walking distance of the city centre.
How to get around in Hamburg
The absolutely best way to explore Hamburg is by foot. With only a few small hills, the city is mostly flat and very walkable. If you like biking, designated bike lanes all over the city make this also a great activity when visiting Hamburg.
If you prefer public transport to get around you can find more information here.