This post may contain affiliate links, where we may receive a small commission if you purchase something through following the links at no extra cost to you.
What to do in Oslo? If you think about visiting Scandinavia, you definitely should not miss the capital city of Norway! Unfortunately, Oslo is one of the lesser-visited cities in Europe, but in this blog post, we show you 19 unique things to do in Oslo. It is the largest city in Norway and it has lots of world-class attractions. From famous paintings to traditional Norwegian houses to amazing architecture, Oslo has it all. You can spend more days than just a weekend. In this post, we show you the highlights of Oslo, insider tips and where to find them.
What to do in Oslo – map of attractions in Oslo
1. Oslo Opera House
When you think about visiting Oslo and what to do in Oslo, the iconic Opera of Oslo should be on your list. It is one of the famous landmarks of the city and offers world-class operas, ballets and plays.
The opera house opened in 2008. It was designed by the renowned Snøhetta architects, and ever since its opening, it is part of the newest and still growing neighbourhood of Bjørvika in the fjord of Oslo. The building reminds of floating ice and is covered in white marble from Carrara, Italy and large reflective glass windows. You can actually walk all over the building and get an amazing panoramic view of the city and the fjord from the roof. Take your time to enjoy one of the coolest opera houses in the world. In our opinion, a walk on the roof of the opera house is one of the best things to do in Oslo.
Tips and Information:
Address: Den Norske Opera & Ballett, Kirsten Flagstads pl. 1, 0150 Oslo, Norway
You can visit the shop, box office and a café inside the opera building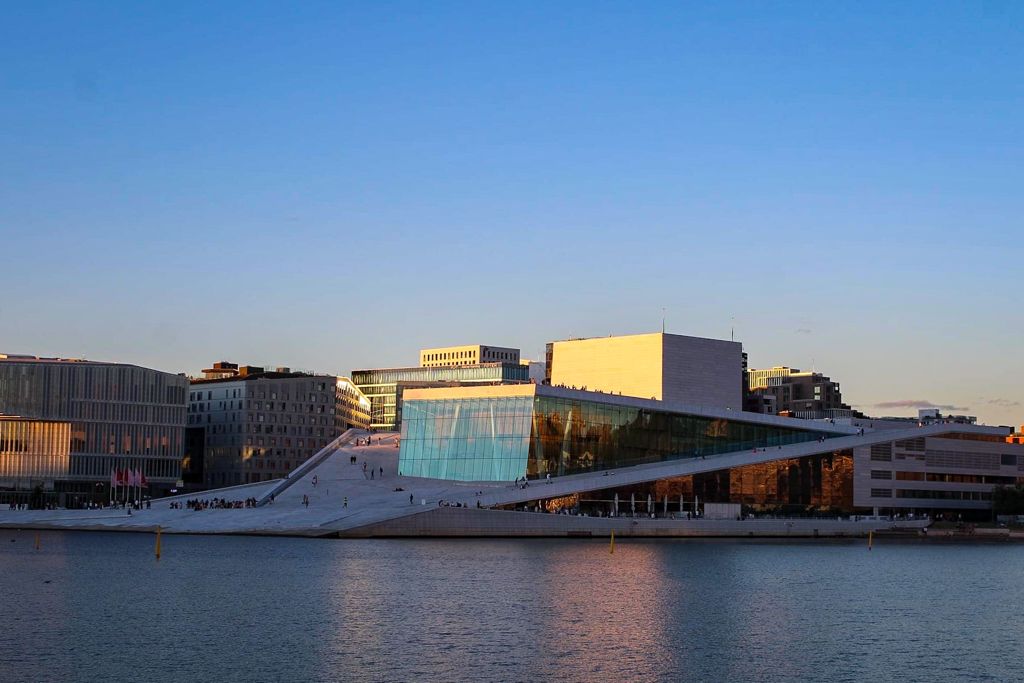 2. Munch Museum – world-class art in Oslo
Edvard Munch was one of the greatest Norwegian painters and Oslo has a new museum for this iconic artist. For art lovers, it is definitely a must of what to do in Oslo. The new Munch Museum is also located in modern Bjørvika and is open since 22nd October 2021. The old museum in Tøyen was too small for almost 28000 artworks. We have only been to the old museum in Tøyen, but we are very excited to visit this new museum for the architecture and to admire more artworks and objects by Munch.
Tips and Information:
Address: MUNCH Museet Bjørvika, Edvard Munchs plass 1, 0194 Oslo, Norway
Opening times: Saturday – Tuesday: 10 am -6 pm, Wednesday – Friday: 10 am-9 pm
Ticket prices for the new Munch Museum: adults 160NOK, students 100NOK, children (0-15 years) free
To be sure of admission, you must get your timed tickets in advance.
In the new museum, you can find a café, bar, restaurant and a library.
There is a beach in front of the Munch Museum, free of charge.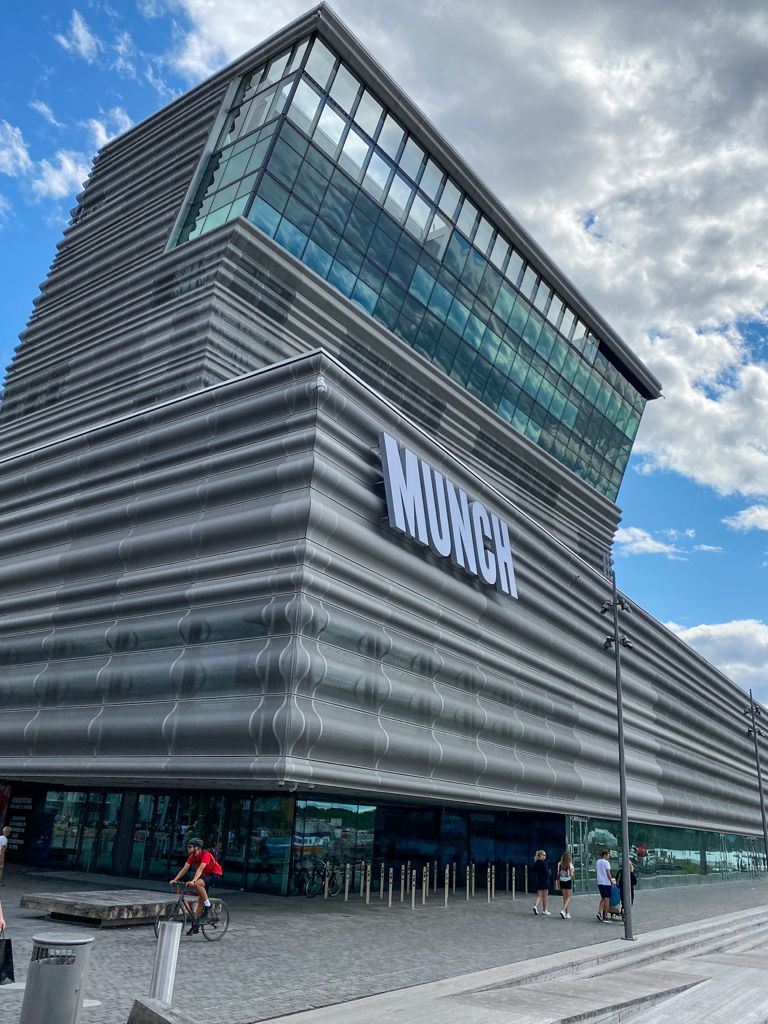 3. Explore Grünerløkka – Oslo's coolest neighbourhood
Grünerløkka is one of the hippest, liveliest and most trendy areas in Oslo. when seeing this area, it's no wonder Oslo is on many travel bucket lists. You'll find cool cafés and coffee roasters, boutiques and second-hand shops, international restaurants and bars for all price ranges. Walk along Markveien and Thorvald Meyers Gate for shopping. To have a break or simply enjoy the atmosphere and architecture, stop at Olaf Ryes Plass.
Every Sunday you find a small, nice flea market at Birkelunden Square. Just walk around and enjoy the Nordic vibe along the streets or while having a drink. From Grünerløkka, you can easily reach the centre of Oslo, the Botanical Garden or Mathallen, the food hall in Oslo, by walking.
Tips and Information:
Tram lines 11, 12 and 13 stop in Grünerløkka (stop at Olaf Ryes Plass or Birkelunden)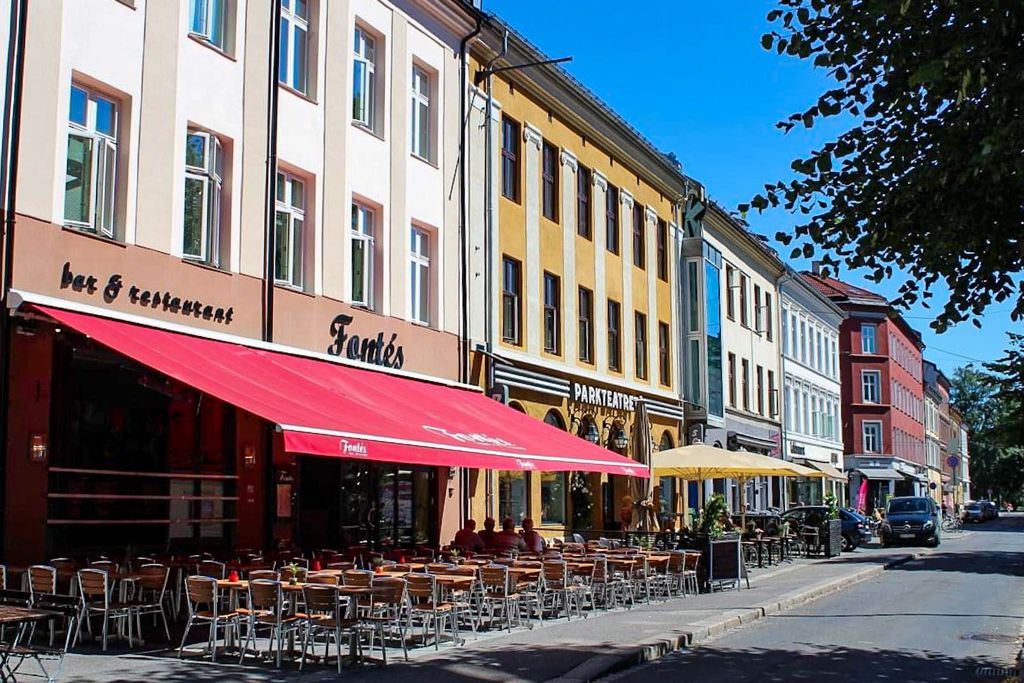 4. Walk along Karl Johans Gate
When you leave the central station, you are almost there. Karl Johans Gate is the main shopping street and leads directly to the Royal Palace. In one way or another, you will pass this long boulevard during your time in Oslo. You find all the big names and labels on the street or adjacent side streets.
It is a good starting and meeting point to plan what to do in Oslo. On your way from the train station to the Royal Palace, you pass the Oslo Cathedral (Oslo Domkirke), the Norwegian Parliament Building (Stortinget), the Grand Hotel, the National Theatre and the University. For shopping, Paleet, Eger or Steen & Strøm are the biggest shopping malls. Be aware, on some parts, it is very crowded and has great spots for pickpocketing.
TIP: Read our post on the Oslo – Bergen train line if you plan to visit Bergen as well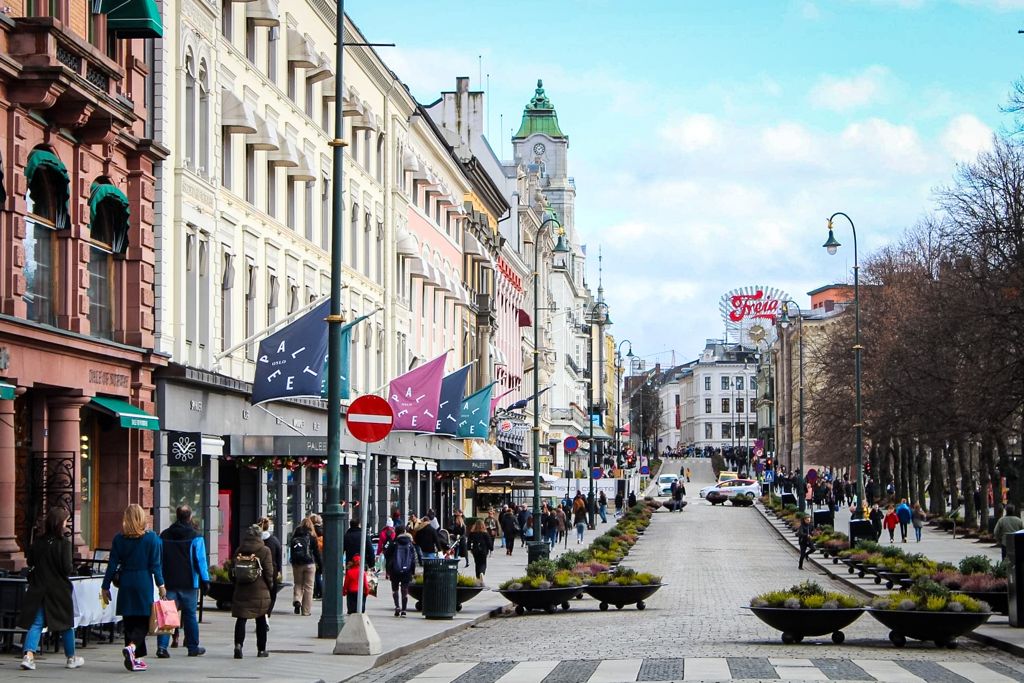 5. The Royal Palace Oslo
After walking along Karl Johans Gate, you will arrive at the Royal Palace of Oslo. The palace was completed in 1849 and built in a neoclassical style. The royal family still lives and works there but you can actually get very close to the palace to take photos.
In the summertime, you might be able to get inside on a guided tour and see a dozen rooms. Buy tickets in advance as it is limited spaces for these tours. Every day at 1:30 pm you can watch the change of the guards. The Slottsparken (palace park) is open 24/7 and perfect for a stroll. Visit Queen Sonja's Art Stable or Princess Ingrid Alexandra's Sculpture Park.
Tips and Information:
Address: Det Kongelige Slott, Slottsplassen 1, 0010 Oslo, Norway
Tickets for guided tours inside the palace (summer season) are available through Ticketmaster.no or telephone no + 47 815 33 133.
Change of guards 1:30 pm every day
TIP: Berlin also has several castles. Read our post Castles in Berlin if you also are a castle lover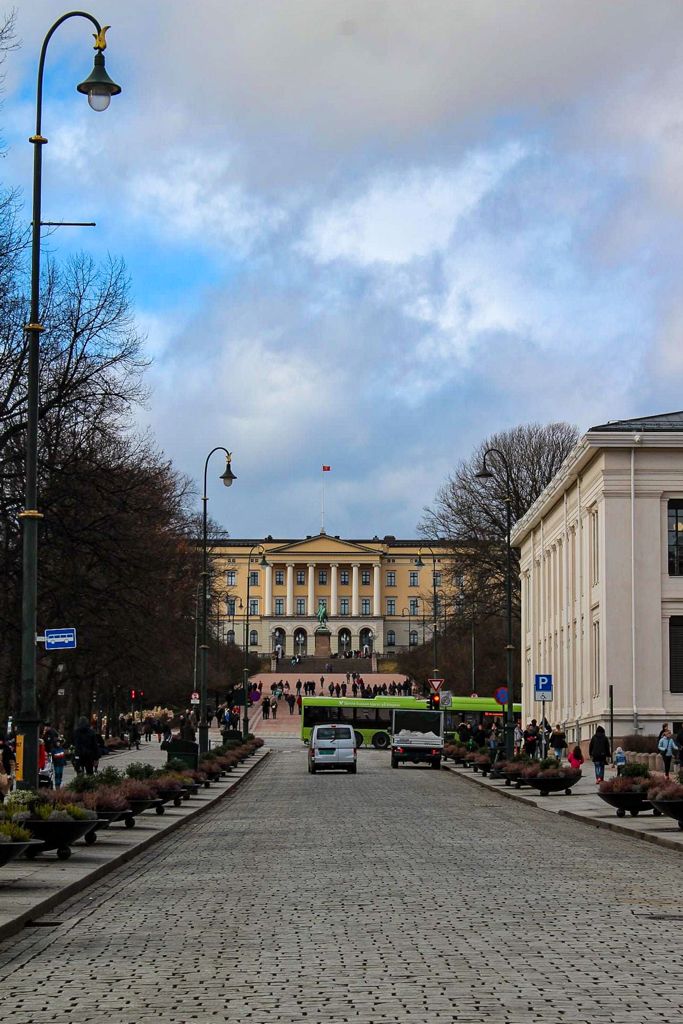 TIP: Read our post about Things to do in Bergen to get 14 great tips to visit Bergen
6. Akershus Castle and Fortress
A visit to the Akershus Castle and Fortress should be on your list of what to do in Oslo. The fortress is strategically located on the eastern side of the Oslo harbour. You can enter the complex free of charge and get great views of Oslo's harbour and facts about the history of the medieval building.
Inside the fortress, there is a castle (the castle is not free) worth visiting and learning about the history of the Norwegian Royal Family and this historic building. It is still in use for royal or army events. There is an information centre in the fortress. The castle is located on the top of a hill. Check the webpage for events and concerts.
TIP: Fan of castles, and dreaming of sleeping in one? Read our post on Castle Hotel Germany to see how it is to sleep in a real German castle
Tips and Information:
Address: Akershus Castle, Kongens Gate, 0150 Oslo, Norway
Opening times for Akershus Festning: every day from 6 am – 9 pm
Opening times for Akershus Castle: every day from 10 am – 4 pm
Ticket prices for Akershus castle: adults 100NOK, children 40NOK, seniors/students 60NOK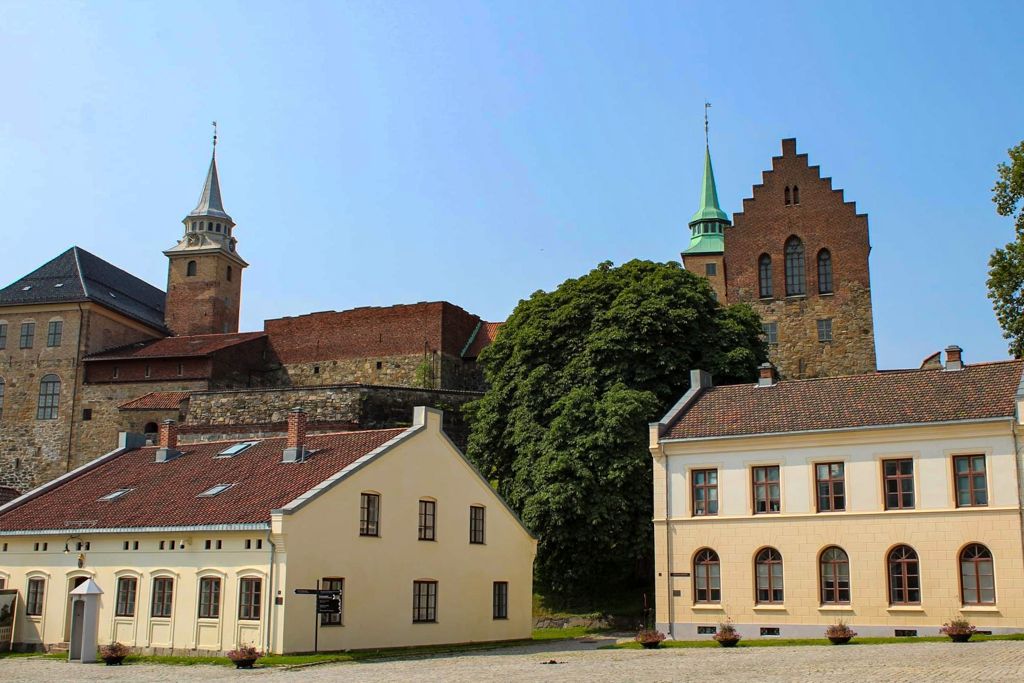 7. Best museums in Oslo at Bygdøy peninsula
At the Bygdøy peninsula, there are in total five museums to choose from what to do in Oslo. These museums are all connected to life in Norway and the history of the country.
TIP: Read our post on the Flåm Railway if you plan to visit the western fjords in Norway
The Vikingskipshuset (Viking Ship Museum) shows three real Viking ships and gives lots of insights into the world of the Vikings (please note: this museum will be closed from October 2021 till 2025 due to renovations). Frammuseet (Polarship Fram Museum) is about polar exploration while the Kon-Tiki Museum is about the Norwegian explorer Heyerdahl who sailed from Peru to Polynesia. If you want to learn about the fishing and whaling industry of shipbuilding, then the Norwegian Maritime Museum is the one to visit. The Norsk Folkemuseum is Oslo's largest open-air museum and is very popular. It shows different buildings from different regions and centuries. For children, they have farm animals and cart rides.
Tips and Information:
For prices and opening times check their web pages
Take bus 30 to the stops Folkemuseet, Vikingskipene or Bygdøynes or take a boat from Rådhuset (city hall) to Bygdøy (only from April to October)
Check out the beach at Huk or go for a walk in the forest on Bygdøy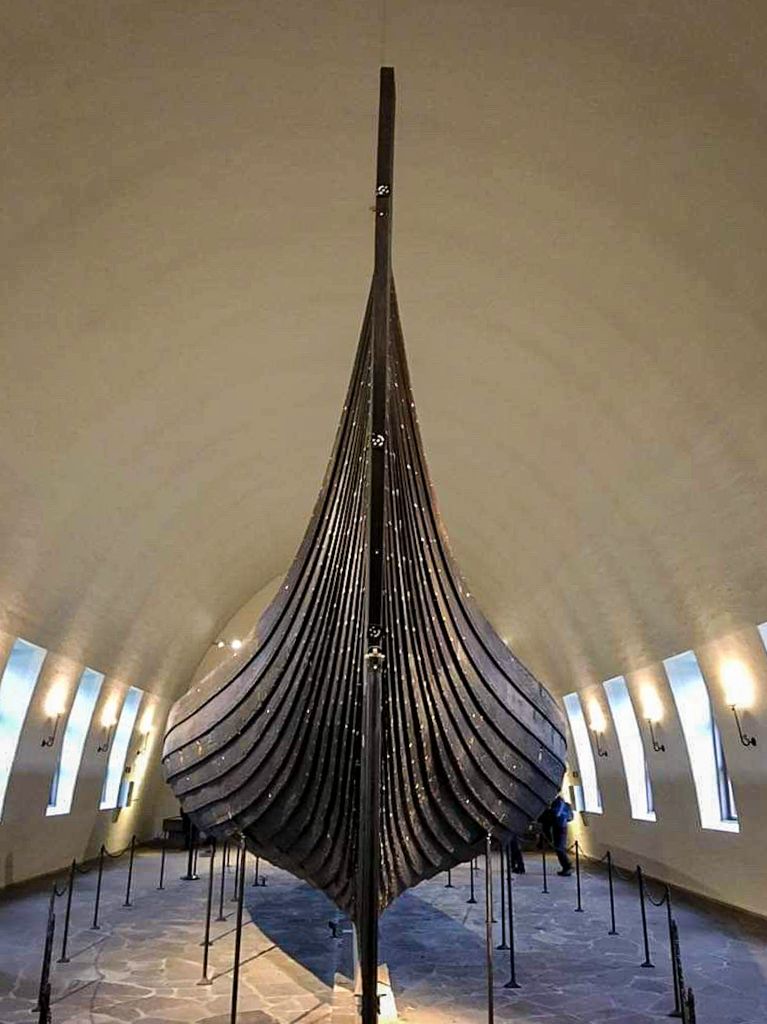 8. Frognerpark and Vigelandspark
Frognerpark is Oslo's largest park and Vigelandsparken is a part of it. It is actually called the "Vigeland Installation" and this sculpture installation is the largest sculpture park in the world made by one single artist. The sculpture park contains not only sculptures but also fountains and bridges. Most of the sculptures are made from bronze and granite and were designed by the Norwegian artist Gustav Vigeland between 1924 and 1943.
The most famous statue is the Sinnataggen (angry boy). When you get to the granite sculptures, try touching them. The sculptures are so detailed and you can feel their veins, nails and muscles.
Every year, this park has between 1 to 2 million visitors which makes this attraction one of the most popular things of what to do in Oslo.
The park is open all year and free of charge. It is best to visit in the evening when the crowds are gone and all other tourist attractions are closed.
Tips and Information:
Address: Frognerpark, Kirkeveien, 0268 Oslo, Norway
Take the metro to stop Majorstuen (all lines stop there) or tram 12 to Vigelandsparken
Entry is free of charge
Frognerpark has a café, a restaurant, a playground for kids and Norway's biggest collection of roses
Visit the museum of the artist Gustav Vigeland, just next to the park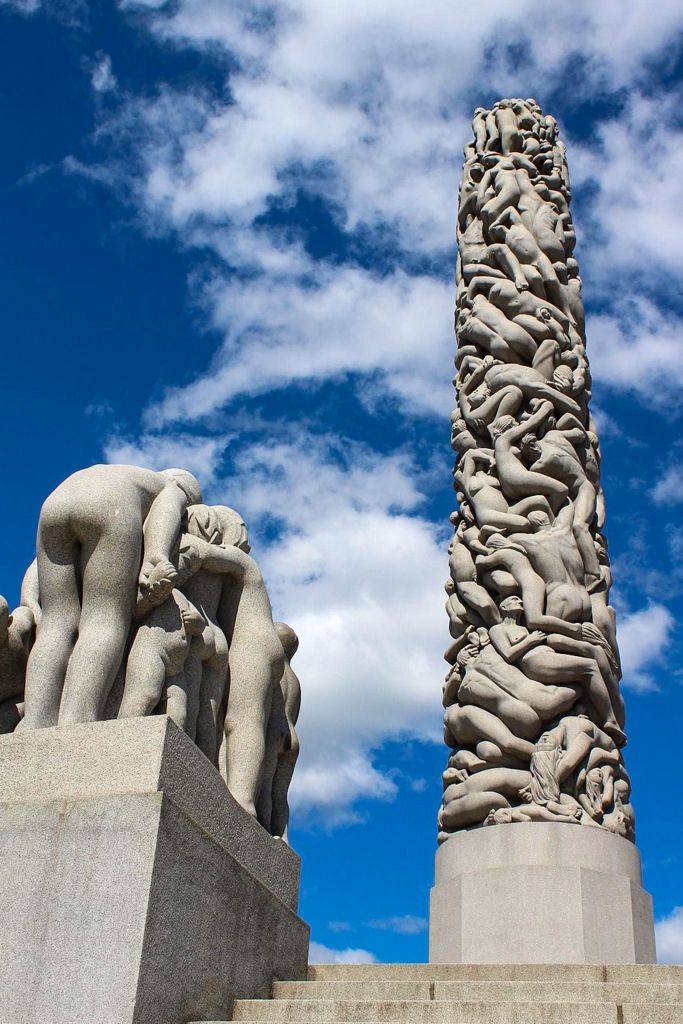 9. See traditional Norwegian houses
Not far from the city centre, you can find a different style of architecture. On the small streets of Damstredet and Telthusbakken, there are lots of cute, traditional wooden houses from the 18th century. These houses are actually residential houses and not to visit.
But just to walk there and leave the crowded streets of the centre, gives you a feeling of how it must have been some hundred years ago. The area is not very big, but worth a visit. While you are in this area, you should also visit the cemetery Vår Frelsers Gravlund. Munch, Ibsen and many more famous Norwegian persons are buried there.
FUN FACT: Even in the town of Potsdam outside Berlin, there are some houses in the traditional Norwegian style. Read more in our post on visiting Potsdam
Tips and Information:
Address: Telthusbakken and Damstredet, 0177 Oslo, Norway
Take bus 34 or 54 to Telthusbakken or Møllerveien
Free entry to these streets and the graveyard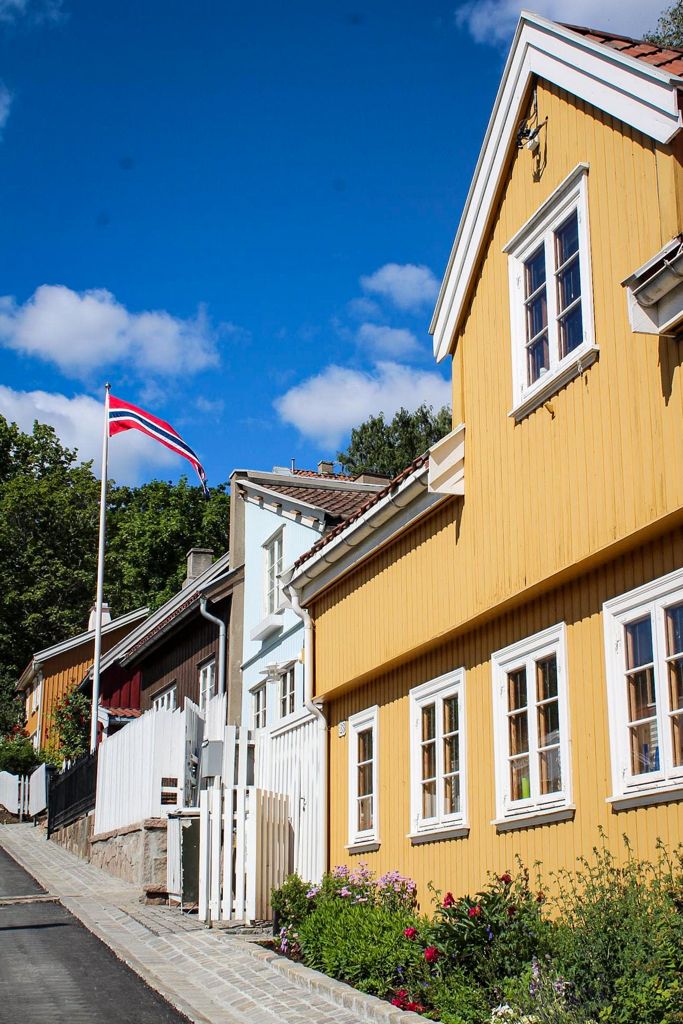 10. Aker Brygge and Tjuvholmen neighbourhood
Another highlight of what to do in Oslo is to walk along the promenade of Aker Brygge and Tjuvholmen. The area Aker Brygge used to be an industrial area but since the 1980s it has been a popular area for shopping, dining and entertainment. Tjuvholmen is kind of the extension of Aker Brygge and lots of new apartment buildings were built there in the last 20 years.
This whole area is very modern and urban. Tjuvholmen is also the home of several art galleries and here you explore one of northern Europe's most significant collections of modern and contemporary art at the Astrup Fearnley Museet. There is a beach and a small sculpture park, too.
TIP: This area can remind a bit about the Harbour City area in Hamburg. Read our post on what to do in Hamburg if you would like to plan a visit
The promenade with all its cafés, restaurants, hotels and shops is always popular and lively. If you want to go out for dinner in a certain restaurant, make sure to make a reservation in advance. In the summertime, it's great to grab a traditional soft ice cream and sit down on one of the stairs or benches and enjoy the view of the harbour and Akershus Castle and Fortress.
Tips and Information:
Address: Aker Brygge, 0250 Oslo, Norway
Take tram 12 to stop at Aker Brygge and start walking there along the promenade, or walk from the city centre
You can take the ferry to several places around Oslo from Aker Brygge
TIP: Scandinavian summer evenings are bright but not always warm. If you want to have dinner here in the evening it is better to sit at the backside of Tjuvholmen. That's where the evening sun is found. The seaside at Aker Brygge has shade in the evening.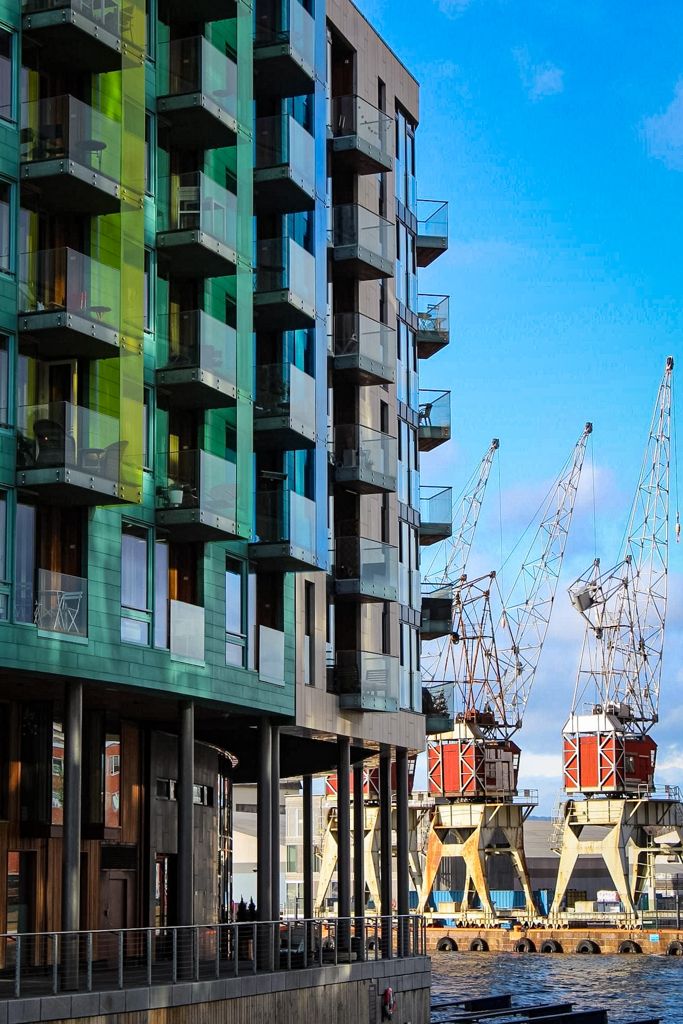 11. Coffee in Oslo – Where to find the best coffee in Oslo
Did you know Norway is one of the leading countries in coffee consumption? 80% of the Norwegian population drink up to 4-5 cups of coffee a day. Since coffee is so popular in Norway, it is easy to find great quality coffee in Oslo.
One of the best places is for sure Tim Wendelboe. He has been world champion in 2004 and is often credited with starting the coffee revolution in Norway. Today, you can enjoy a world-class coffee in the café and roastery of Tim Wendelboe in the Grünerløkka neighbourhood.
You don't have to walk far to find great coffee in Oslo. Most of these cafés and roasteries are located in the areas of Grünerløkka, Tjuvholmen and the Oslo city centre. Other great places to have delicious coffee or to buy beans for home are Fuglen, Supreme Roastworks, Java Espressobar, Stockfelths or Talormade. Also in Kaffebrenneriet, a big coffee chain in Oslo, you get served great coffee.
TIP: Berlin is also great for coffee. Read our post Best Coffee in Berlin if you are planning a visit in the future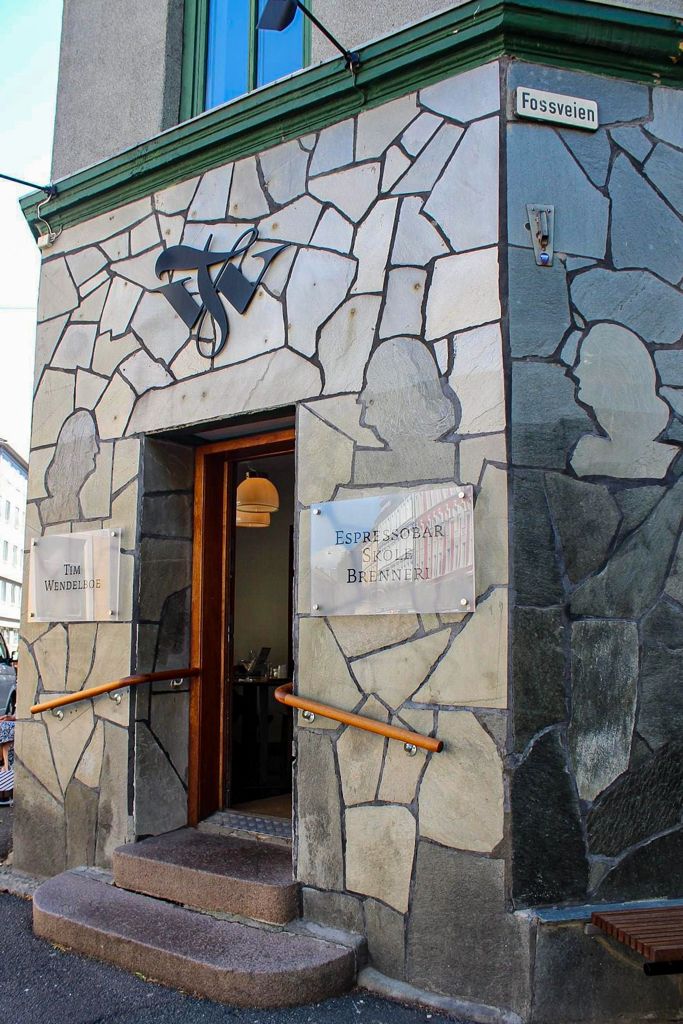 12. Vigelandsmuseum
Just next to Frognerpark, Oslo's largest park, you find the museum of the artist who made Vigelandspark: The Vigelandsmuseum. It is all about the history of Gustav Vigeland and how he made and created sculptures. We have never been to a museum like this before but we really liked this one. The museum was the former home and studio for Vigeland and has a permanent exhibition about his life, art and sculptures.
Tips and Information:
Address: Vigelandmuseet, Nobels gate 32, 0268 Oslo, Norway
Take tram 12 or bus 20 to Frogner plass
Opening times: Tuesday – Sunday 12 pm – 4 pm, closed on Mondays and public holidays
Ticket prices: adults 100NOK, student 50NOK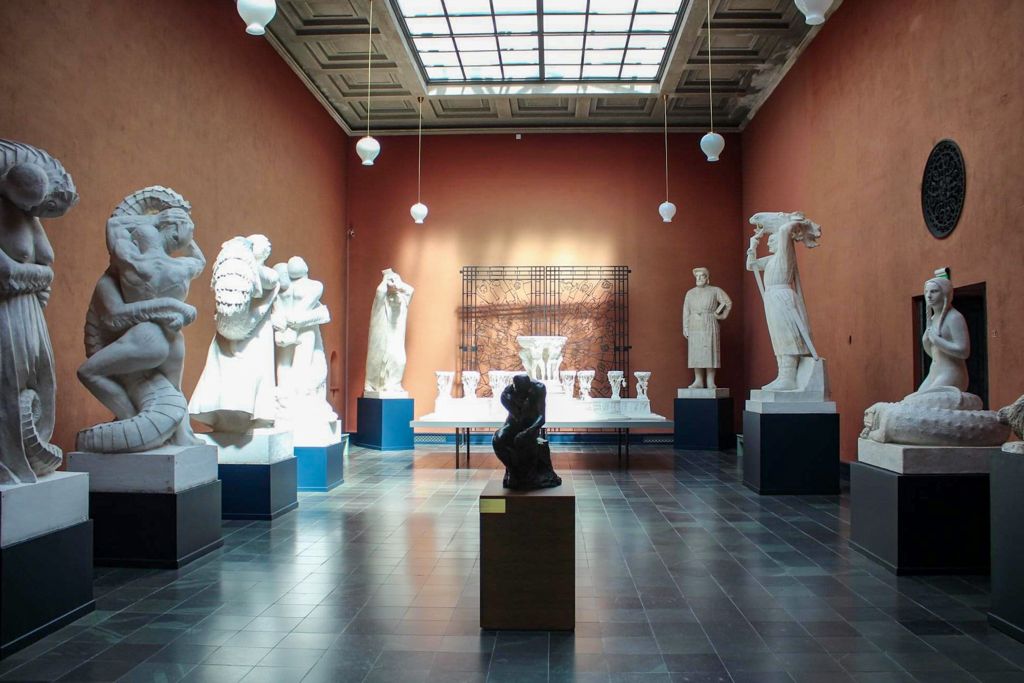 13. Holmenkollen
Holmenkollen is a hill in Oslo but is mostly famous for ski jumping. The ski jump is used for world cups and ski competitions and is part of Holmenkollen National Arena, which consists of a combined cross-country skiing and biathlon stadium. At Holmenkollenbakken you can visit the Ski Museum and even try a simulator that visualizes a ski jump. Or you try the zipline all the way down from the Holmenkollen ski jump.
Tips and Information:
Address: Holmenkollenbakken, Kongeveien 5, 0787 Oslo, Norway
Take metro line 1 to stop at Holmenkollen, and follow the signs to the Ski Museum and Ski Jump. It is a ca. 10-minute walk from the station.
Opening times: Monday – Friday 11 am -4 pm, Saturday and Sunday 11 am – 5 pm
Ticket prices for the Ski Museum and jump tower: adults 160 NOK, students/seniors 140 NOK, children 80 NOK
The entrance to walk around the area of Holmenkollen is free of charge
Visit the Holmenkollen Chapel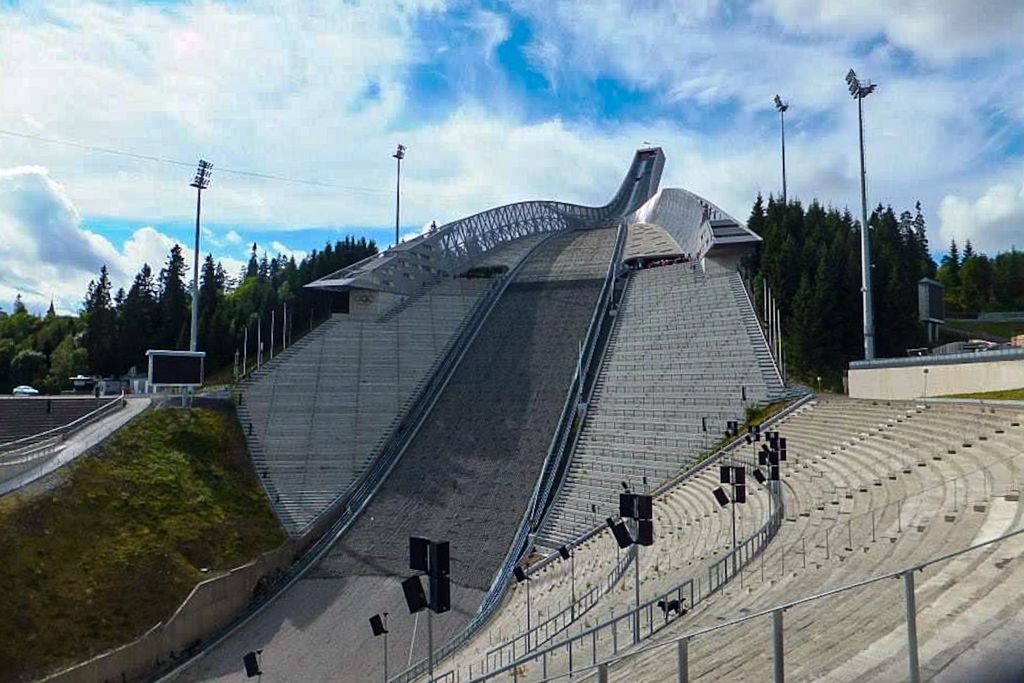 14. Oslobukta
Oslobukta is Oslo's newest neighbourhood and meeting place. Oslobukta means the "bay of Oslo". You will also find modern Nordic architecture, including the new Munch Museum, which will open in October 2021.
Just behind the opera of Oslo, you will find several cool and modern buildings, like the Deichman Library, the Munch Museum the super-cool living quarter Vannkunsten and even a public beach. It is the perfect mix of restaurants, bars, cafés, and shops, to experience cultural highlights or just to relax close to the water.
You find all kinds of food there. From a delicious doughnut shop to burgers and upmarket restaurants. Everyone will find a great place to go out and enjoy this hip area in Oslo.
Tips and Information:
Take the metro, bus, train or tram to Oslo S (central station Oslo), Oslobukta it is just a few minutes around the corner
Highlights in the area:

Oslo Opera
Deichman Library
Barcode
Vannkunsten
Munch Museum
The beach next to the Opera and in Sørenga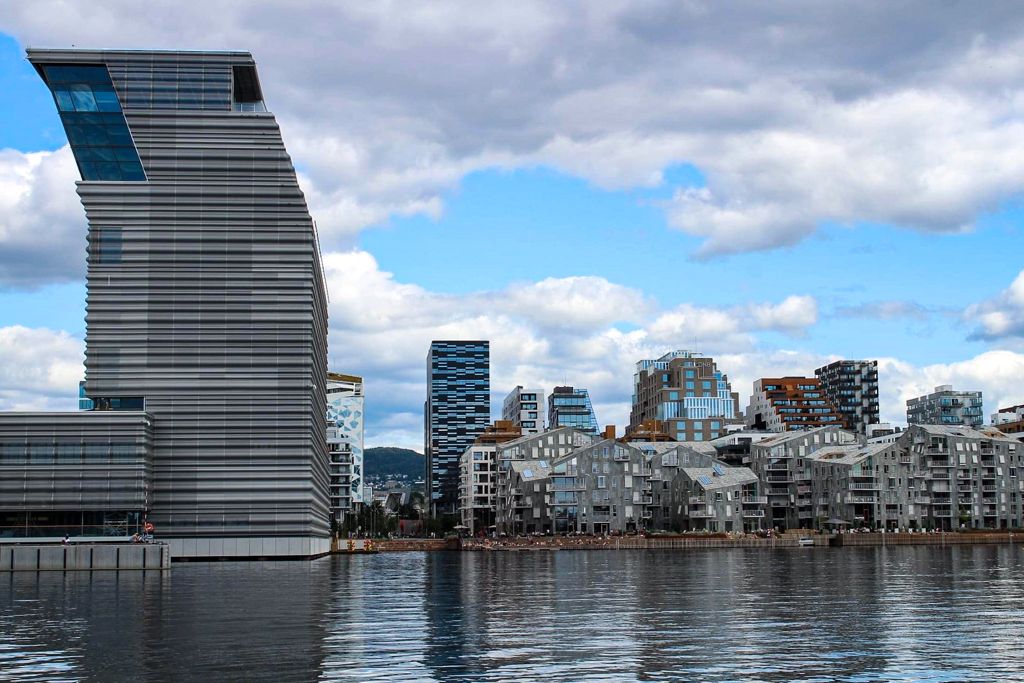 15. Islands of Oslo
What to do in Oslo when you want a short getaway from the city centre? When it finally is summer in Norway and warm enough, people from Oslo get crazy to go on one of the islands in the Oslofjord. Hovedøya, Bleikøya, Lindøya, Nakholmen, Gressholmen and Langøyene are the most popular ones. You can quickly get there by boat from Aker Brygge.
TIP: Read our post from Runde Island – one of the best places to see puffins in Norway
You can go there to enjoy some quiet time in nature, go swimming and sunbathing with your friends and in Langøyene you can even go camping. Norwegians are very responsive to nature. If you plan to visit one of these islands, make sure you don't leave any litter there.
Tips and Information:
Boats leave from Aker brygge. Check the times on ruter.no
Boats to Langøyene, Gressholmen and Hovedøya are relatively frequent in the summertime, other islands are less served
Langøyene has a nude beach area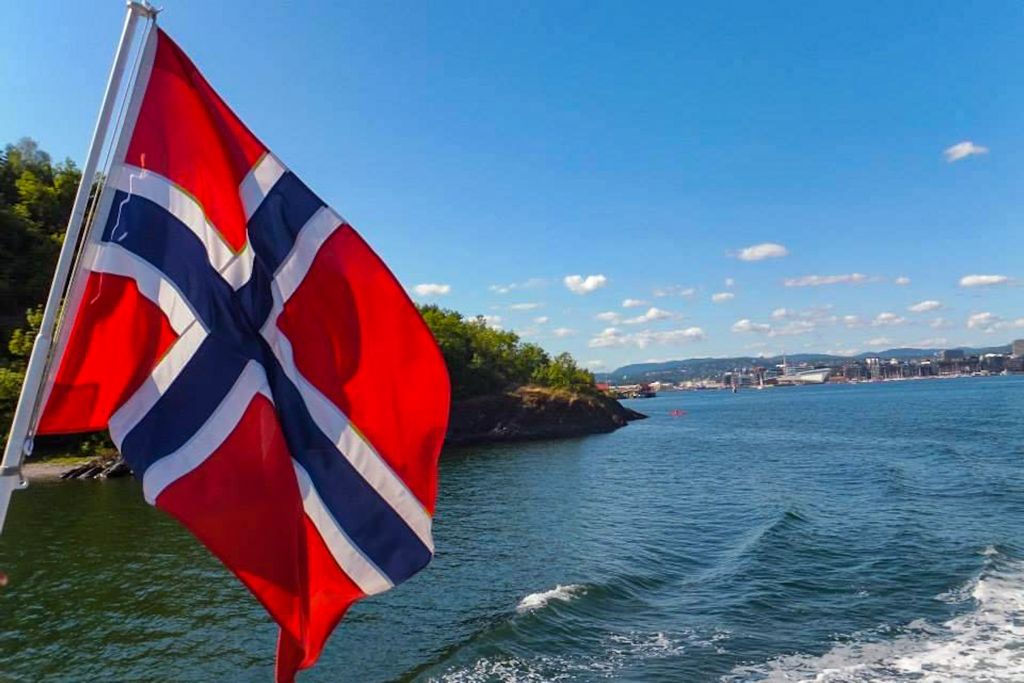 16. Explore the Nordic Cuisine
Oslo's food scene has developed significantly over the last years and decades. You can find all kinds of food in the capital of Norway and Oslo doesn't have to hide from the other Scandinavian cities, like Stockholm or Copenhagen. While you visit Oslo, you can choose between Michelin-star restaurants, traditional Norwegian cuisine or delicious Asian and European places.
Lots of traditional restaurants serve fish, seafood or meat with regional ingredients. The dishes also differ in each season. Try a fish soup in summer, Fårikål (cabbage and lamb stew) is perfect in autumn, while in winter you should try skrei (winter codfish). In some restaurants, you can find the catch of the day. Café Skansen, Engebret, Olympen and Asylet are just a few of where you find Nordic cuisine.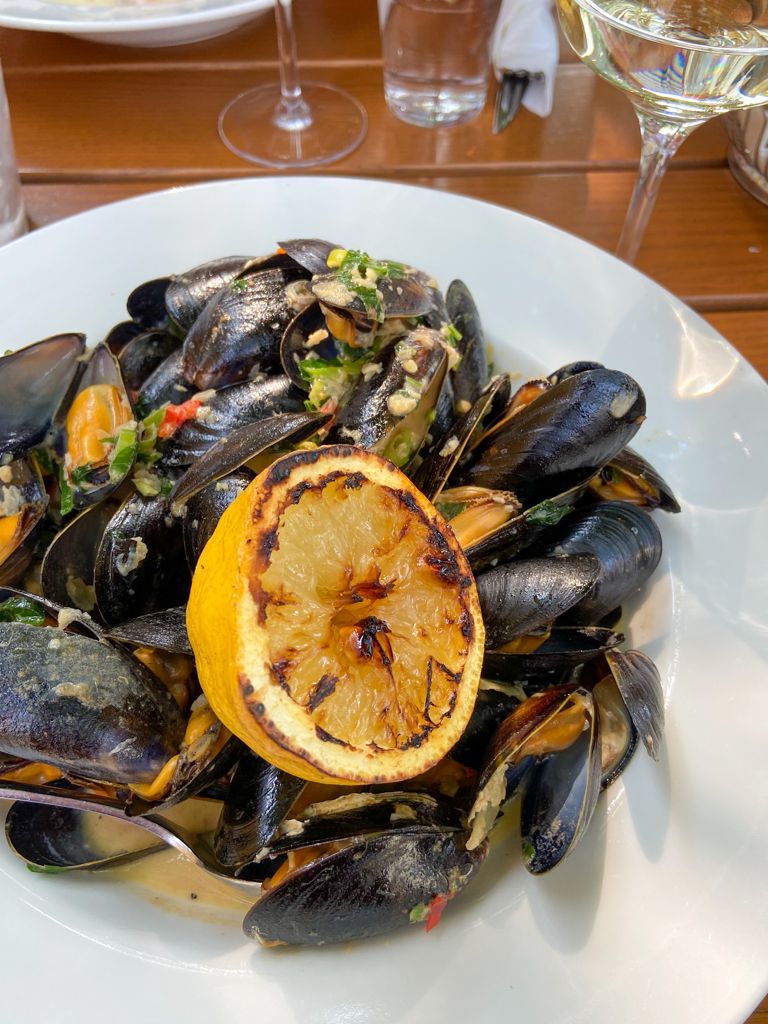 17. City Hall of Oslo
Oslo's city hall or Rådhuset is located in the centre and is built in red brick stones. The construction started in 1932 and was completed in 1950. The building with the two towers is facing the fjord of Oslo. It still houses the city council, administration and various other municipal organisations.
Every year, the Nobel Peace Prize ceremony is hosted in the Oslo City Hall. You can enter the city hall free of charge and have a look around. If you're lucky, you might find the Munch room, a room with an original painting by Munch.
Tips and Information:
Address: Fridtjof Nansens plass 1, 0160 Oslo, Norway
Take tram 12 to Aker Brygge or tram 13/19 to Nationalteatret or the metro to Nationaltheatret
Opening times: Monday – Sunday 9 am – 4 pm
Ticket price: free entry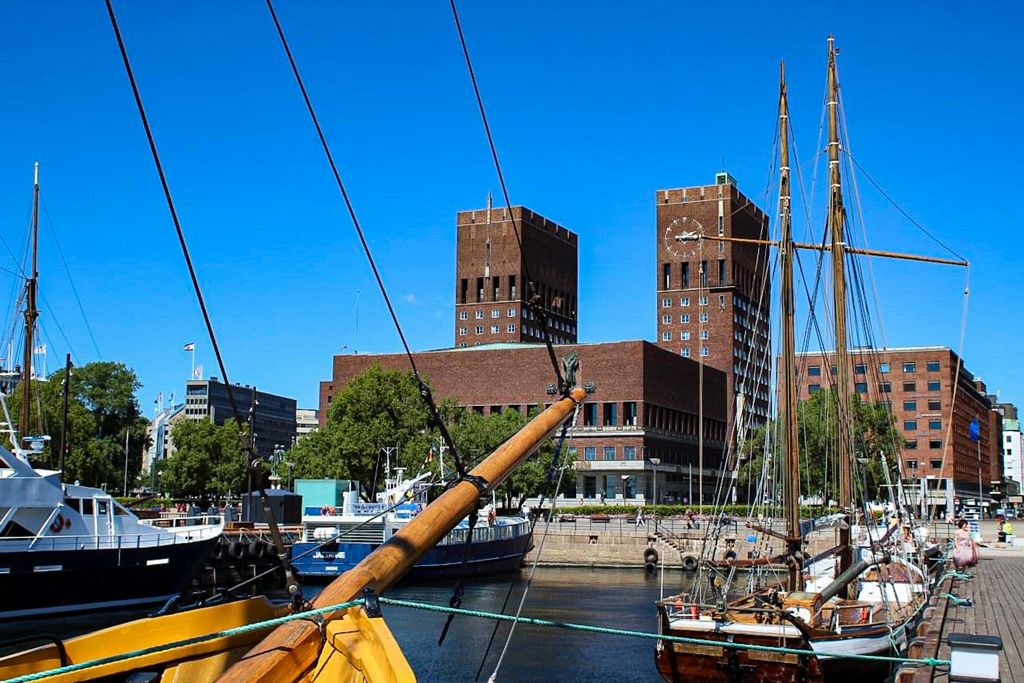 18. Emanuel Vigeland Mausoleum
Emanuel Vigeland was the brother of Gustav Vigeland and his mausoleum is one of Oslo's best kept secret places to visit. He began with the construction in 1926 to build it as a museum for his sculptures. Later he decided to have it as his mausoleum.
The main attraction is the large, vaulted and dimly-lit room with its 800sq.m. fresco Vita. It shows dramatic and erotic scenes of life and death. But also the overwhelming acoustic is part of the experience for the visit to the mausoleum. Take your time inside, so your eyes adjust to the darkness (there are no windows) and you will find so many different details all over the fresco.
Tips and Information:
Address: Emanuel Vigeland Museum, Grimelundsveien 8, 0775 Oslo, Norway
Take metro 1 to Slemdal station and then it is 7 mins. walk
Opening times: open Sundays only, 11:30 am – 4 pm
Ticket prices: adults 90 NOK, students 60 NOK, children under 18 free of charge
You need to buy a ticket online in advance!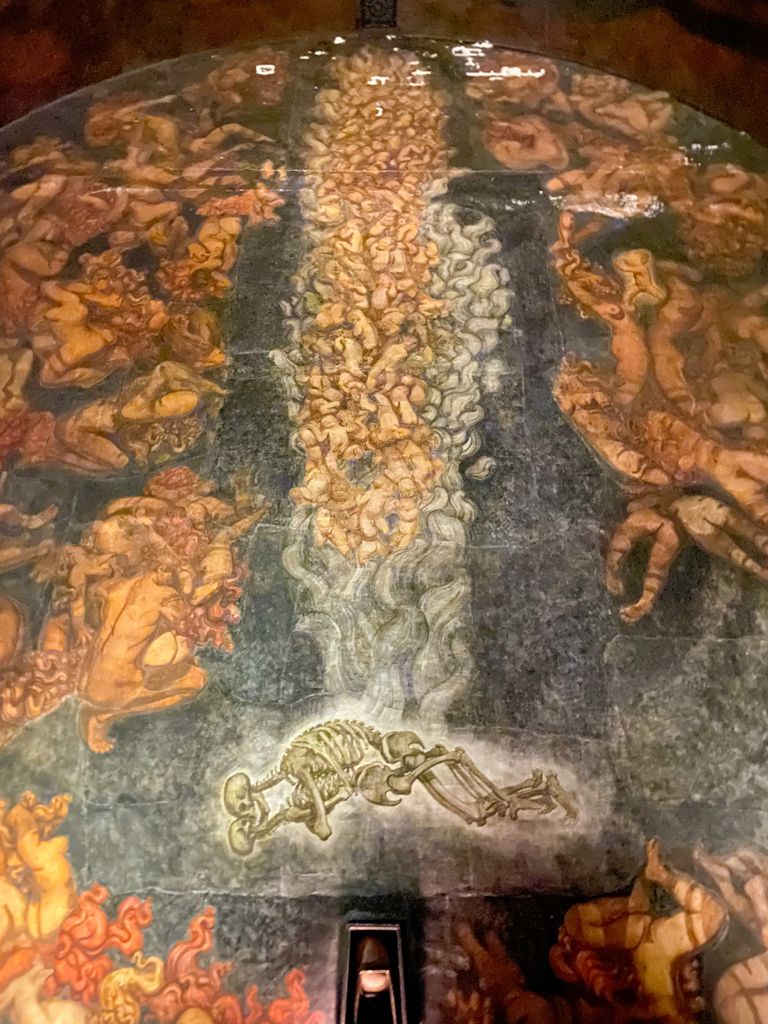 19. National Museum – Nasjonalmuseet
It is the newest museum in Oslo and the largest in the Nordic countries – the National Museum. It exhibits a large collection of arts, crafts, design and architecture and it opened in 2022.
It is located close to the town hall of Oslo and next to the Nobel Peace Center. The building was designed by the German architecture company Kleihues + Schuwerk. Some are happy with the grey, brutal style of the new museum, but some say it looks like a prison. It is a great place to explore art and spend a couple of hours.
The highlight is for sure the Munch room. There, you find the world-famous Scream and Madonna and many other amazing paintings by Edvard Munch, maybe Norway's most famous artist.
Besides Munch, you find many other Norwegian paintings from Dahl, Tidemand or Krohg and paintings from Picasso, Monet, Van Gogh or Rembrandt.
The museum has more than 90 rooms on three floors, including a café, a shop and a rooftop terrace. Besides the large permanent collection, the National Museum shows also temporary exhibitions. Check out on their webpage what is on during your visit in Oslo.
Make sure to have enough time to explore this large museum. We recommend to spend at least 2 hours, but you could easily explore it for a whole day (including some breaks in the café). It is definitely one of the highlights of what to do in Oslo.
Tips and information:
Address: Nasjonal Muset, Brynjulf Bulls plass 3, Oslo, Norway
Take tram line 12 to Aker Brygge, lines 11 and 13, or the metro (all metro lines stop there) to Nationaltheatret.
Opening times: closed on Mondays, Tuesday and Wednesday 10 am – 8 pm, Thursday – Sunday 10 am -5 pm
Ticket prices: adults 200 NOK, under 25 years 110 NOK, children and youth (o-17years) free of charge
You can buy online tickets in advance and download a museum visitor guide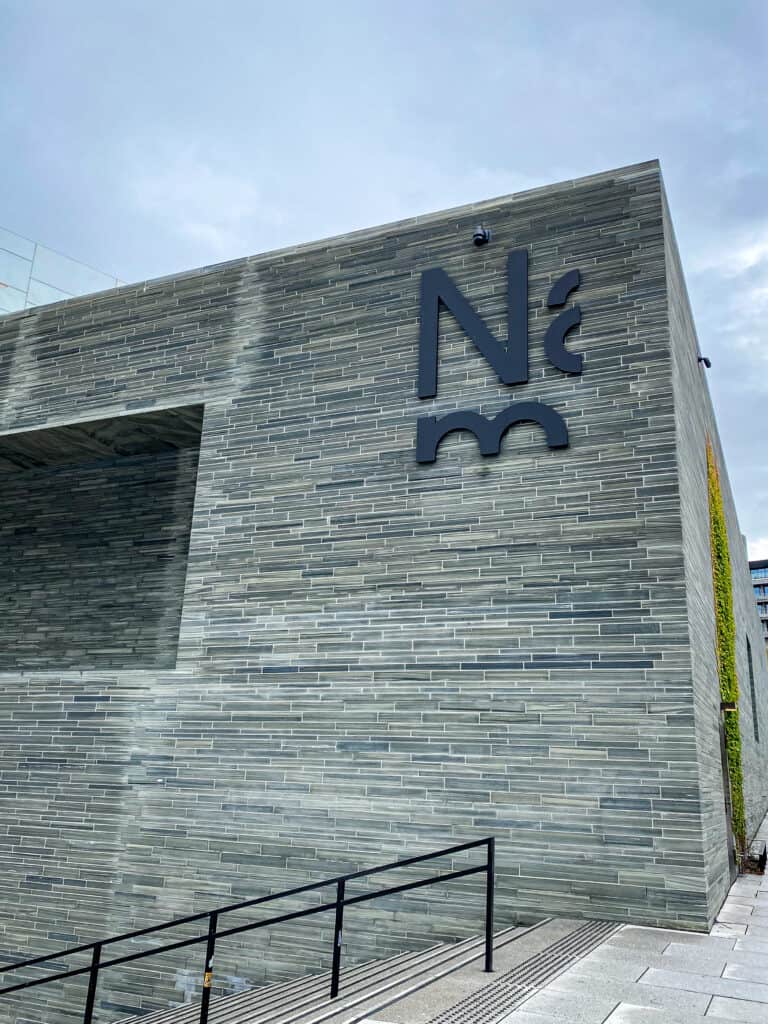 Plan your trip: How to get to Oslo and around
You can reach Oslo in many different ways, depending on where you travel from. Oslo Airport has connections to most of the major cities in Europe. You can also reach Oslo by train, bus and boat and from other countries, e.g. Denmark, Sweden or Germany.
You can get from Oslo Airport to the city centre by the local train vy or the fast train flytoget. Local transport in Oslo is easy, but often not necessary. The city is very walkable and is best seen on foot. In Oslo, you can use busses, trams or the underground to get around. It is operated by Ruter. Download the app to buy tickets online because you cannot buy tickets anymore on buses or trams.