This post may contain affiliate links, where we may receive a small commission if you purchase something through following the links at no extra cost to you.
Ever had a dream of feeling like a prince or princess for a weekend? Then, look no longer. Wasserburg Anholt Castle Hotel Germany it is! Surrounded by history, great architecture, a beautiful park and culinarily highlights, Wasserburg Anholt west in Germany know how to impress even the most well-travelled guests. A castle stay in Germany is perfect for a romantic weekend away from the hectic everyday life. It gives you energy and time to relax and just enjoy life. It is a stay to remember.
Many are dreaming of staying in a castle for a night or two, to escape life a bit, to relax or to have a new experience. German castle hotels are the perfect place for all this, and it gives you the opportunity to explore something new. German hotel castles come in many variations, where you sometimes stay in the castle itself, and other times the rooms are in adjacent buildings on the property. No matter what you choose, a stay in a castle in Germany is a memory for life.
Travelling to Germany? Join Our Facebook Group Germany Travel Forum
We have visited Wasserburg Anholt located in the Isselburg area, in the west of the Münsterland region in Germany. Read on to see how it is to stay at a real castle in Germany and find out what to see and to do in the Isselburg area while you are there.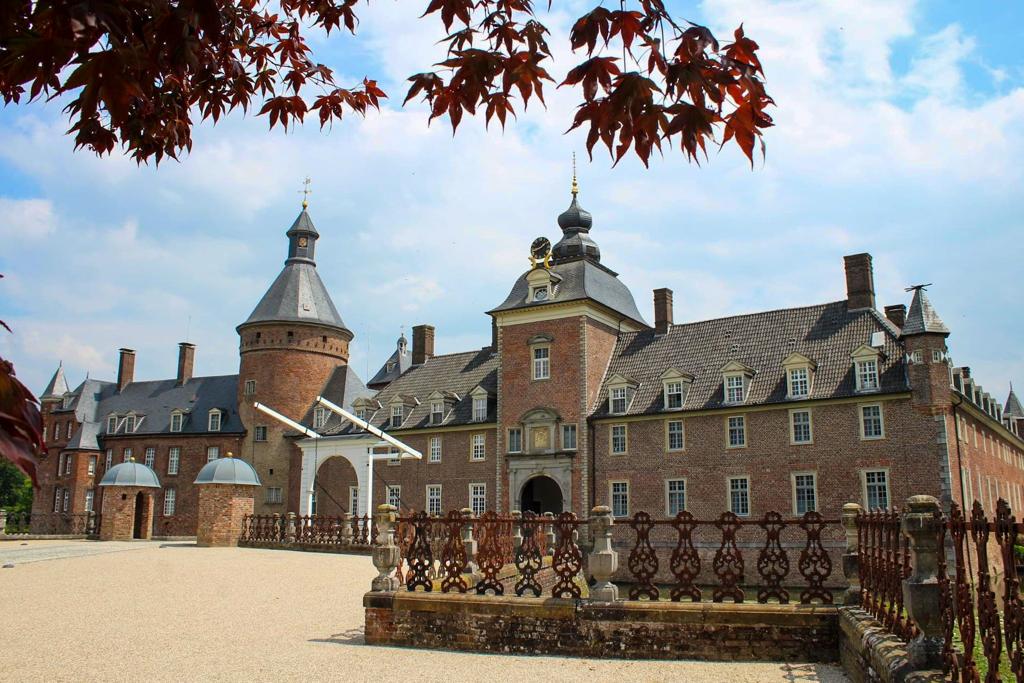 Wasserburg Anholt
Wasserburg Anholt (Water castle Anholt) is located in the Isselburg area, in the west of the Münsterland region in Germany. It could be taken straight out of the fairytales. When arriving, the impressive tower and the gate is what catches your eye first. Completely surrounded by water and with majestic towers, the castle is truly an impressive sight. It is one of the largest water castles in the Münsterland region.
The castle partly serves as a hotel and partly as a museum as well as a private residence for members of the princely family of Salm-Salm.
TIP: Read our post on Castles in Berlin if you plan to visit the German capital city as well
Already in the 12th century, there was a fortified castle here, while the main part of the castle dates back to the 13th and 14th centuries. Since 1647 the castle has been the residence of the Princes of Salm-Salm. Towards the end of WWII, the castle was 70% destroyed in the Allied air raids, after the German army had occupied it. Prince Nicolaus Leopold zu Salm-Salm spent 30 years restoring the castle after the war. Today, Wasserburg Anholt is one of the few privately owned castles left in the German federal state of North Rhine-Westphalia.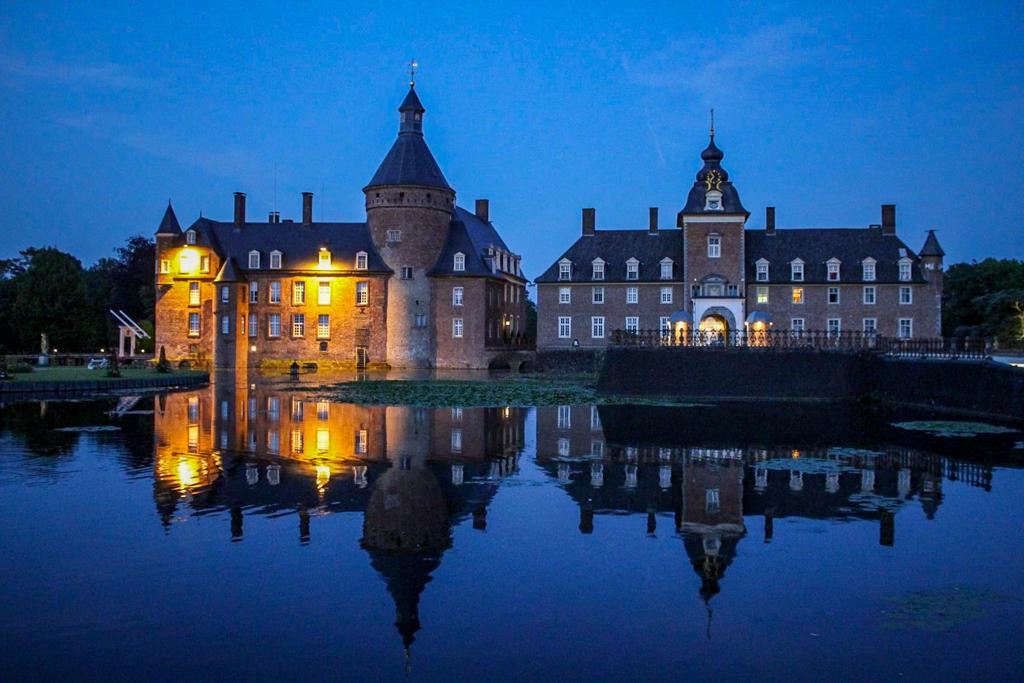 Castle Hotel Germany – Parkhotel Wasserburg Anholt
A part of Wasserburg Anholt is run as one of the many castle hotels in Germany. Since 1968, the Romantik Parkhotel Wasserburg Anholt has been giving their guest unforgettable memories with first-class experiences and culinary events in the restaurant.
TIP: Read our post on the Royal Thai Palace in Bangkok if you want to know how it is to visit a royal palace in Asia
The 4-star hotel has comfortable and spacious, nicely decorated rooms in different categories, from single- and double rooms to suites and theme rooms, each decorated with a special theme. There's even a tower room with a four-poster bed. Many of the rooms have views over the water or the park.
CNN Travel has listed Parkhotel Wasserburg Anholt as one of the 15 best castle stays in the world. That says something about what you can expect here.
TIP: Read our post from Schleissheim Palace – one of Bavaria's most impressive castles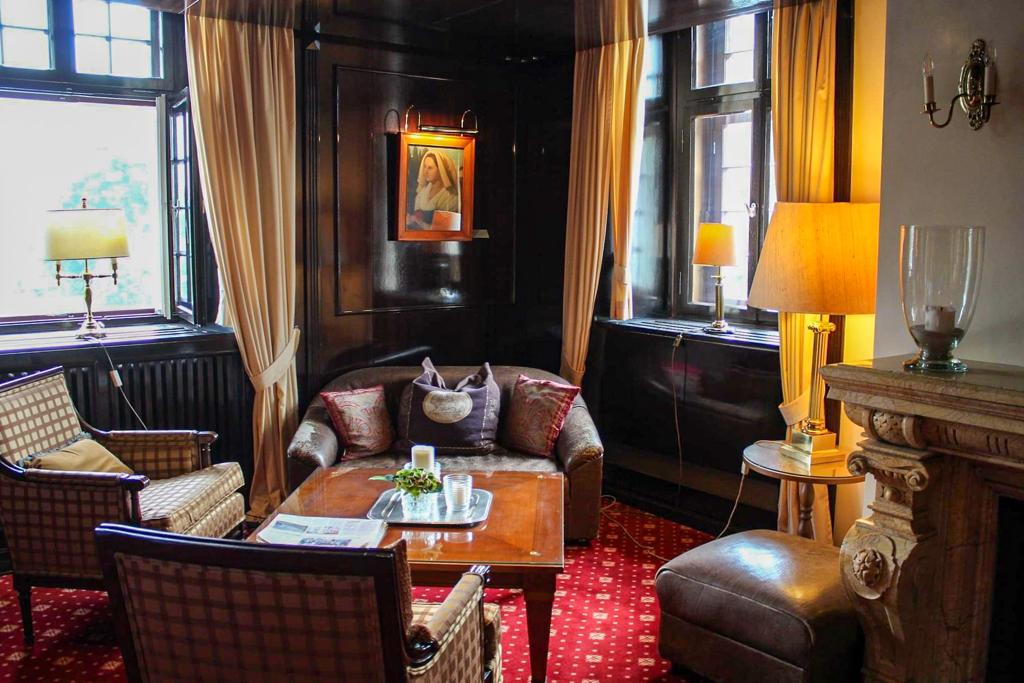 The hotel offers different themed stays, including romantic, relaxing or culinary packages. The theme for our stay was Pride-Special, a stay including colourful culinary highlights such as macaroons and homemade ice cream.
Wasserburg Anholt is surrounded by a beautiful park that should not be missed to visit. There are three marked routes in the large park. No matter which one you choose, the views of the castle are always impressive. Don't forget to visit the formal garden next to the castle.
If you want to play golf in Germany you are in the right place. Golfclub Anholt with its 18-hole golf course is only 10 minutes away from the castle.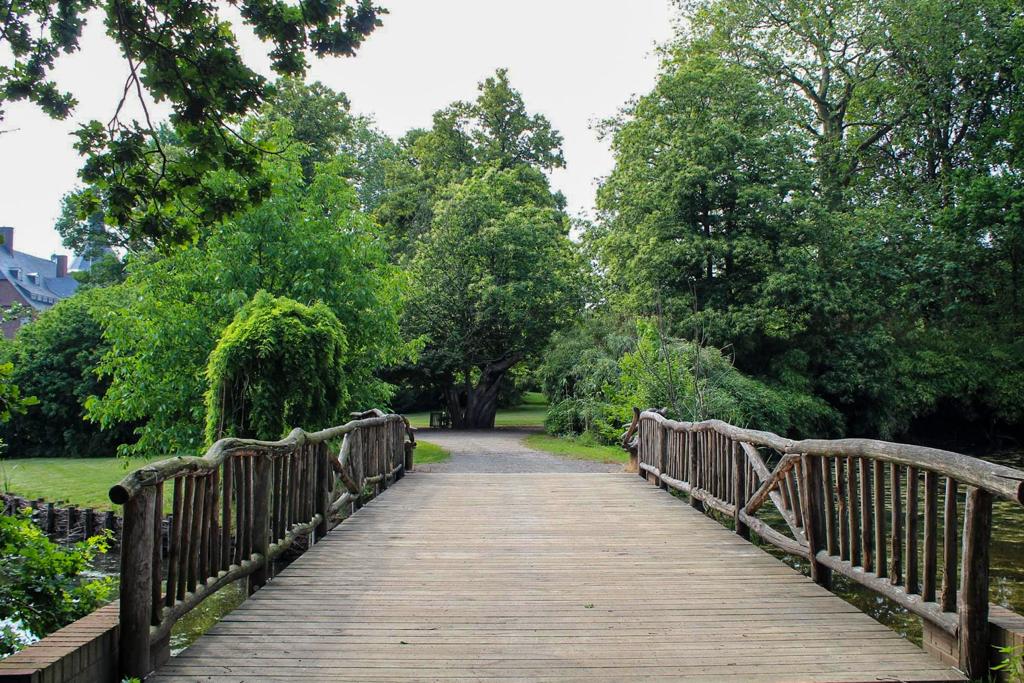 Dining at Parkhotel Wasserburg Anholt
You have several options for dining at the hotel. The main restaurant is the Wasserpavilion, a pavilion attached to the castle, and completely surrounded by water. Here you can expect fine regional cuisine influenced by the Mediterranean and carefully selected wines to pair with the food.
Next to the Wasserpavilion is the Castle Terrace, overlooking the water. This place is perfect for breakfast by the water, or to have afternoon coffee and some of their homemade cakes. On warm summer evenings, you can also dine here.
The Castle Cellar (closed during our stay) has a large wooden bar counter and a walk-in wine cabinet offering many varieties of beverages. The atmosphere in the cellar is rustic, and a good place to enjoy your meal, an aperitif or a digestif after dinner.
In the lobby area, you can also find a stately decorated Kaminzimmer (fireplace room), perfect for a late drink before heading to bed.
TIP: Read our post from Schwerin Castle – another beautiful German castle
Parkhotel Wasserburg Anholt can also host conferences and meetings if your company want something special for your next work event.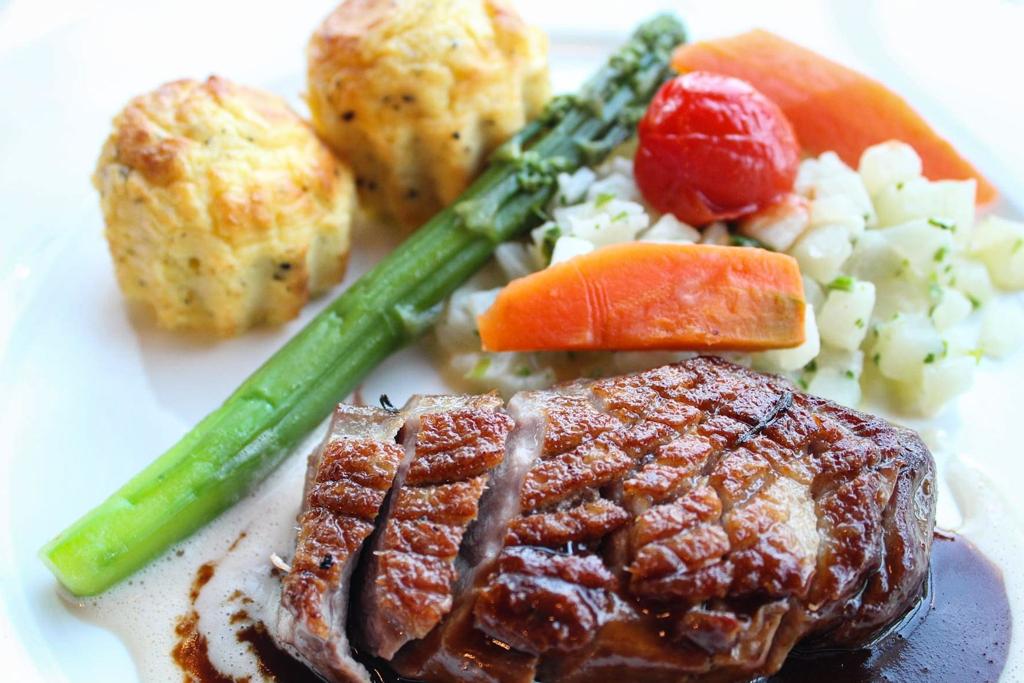 Museum Wasserburg Anholt
Apart from the hotel, the castle is also home to a museum, the Museum Wasserburg Anholt. Here you can have a look into some of the rooms such as the library, the dining room and the tower. Most notable in the museum is the picture gallery showcasing Spanish, Italian and Dutch masters. The collection includes some original works of Rembrandt.
TIP: Heading to Berlin as well? Read our post on the Best Museums Berlin
How to get to Wasserburg Anholt and Isselburg
Wasserburg Anholt is hidden very well in a corner in western Germany. It is located only 3km from the Dutch border, making it a good option to explore two countries in one go.
The best way to get to this German castle hotel is by car, but if you prefer public transport, that is possible as well. Germany is very well connected by trains, so you can reach Isseburg from almost anywhere in Germany. We won't lie; it's not a quick journey to get to Wasserburg Anholt by train, but it's fully possible. Well almost. Read on to find out how.
TIP: Read our post on the Harz Mountain Railway in Saxony-Anhalt if you would like a nostalgic journey with a steam train
The closest train stations to Isselburg are Empel-Rees and Bocholt. To these stations, it is possible with connections from almost all over Germany. Depending on where you travel from, normally you have to change trains. The last distance from these stations requires a taxi 10-20 minutes taxi ride.
If you already are visiting the Münsterland region it is easier to get here, as the distances are shorter. Check bahn.de for route planning and fares.
The last option is to arrive by bike. The Münsterland region is also perfect for biking, and if you bike e.g.the 100-Schlösser-Route (100-Castle-Route), Wasserburg Anholt is one of the stops along the route.
TIP: Read our post about visiting Potsdam.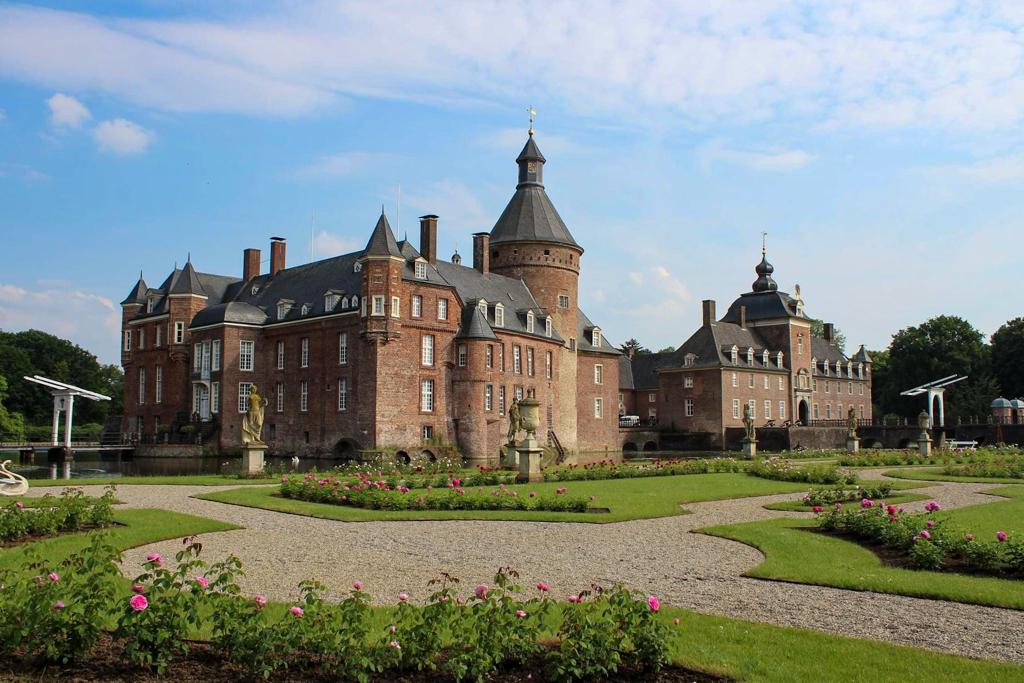 Things to do in the Isselburg region
Apart from visiting the castle or playing golf, Isselburg also has a few interesting sights to visit when you need a day out. Even a castle stay in Germany is an amazing adventure, it is always good to explore the local area as well. Hotel Wasserburg Anholt can provide bikes for you, and for us, this is the best way of getting around in the area.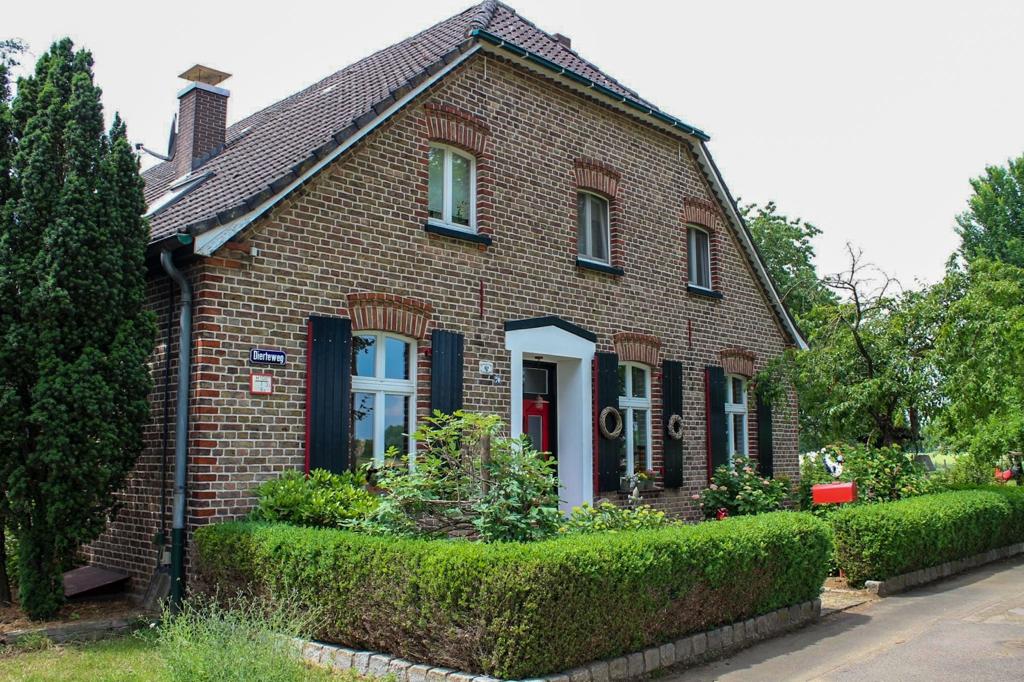 Biking in the Region of Isselburg – and what to see en route
Flat, idyllic landscapes, historic town centres, attractive sights and cosy country inns and cafes connect these villages in beautiful Münsterland.
The bike lanes are well signed and the region of Münsterland has a great bike route system: Radeln nach Zahlen (Biking by numbers). You can follow routes by their numbers. If more than three cycle paths are crossing in the same spot, it makes a junction. There, you find a map of all bike routes and signed which give the direction to the next sights and places. These signs are marked in red with a number on top of it.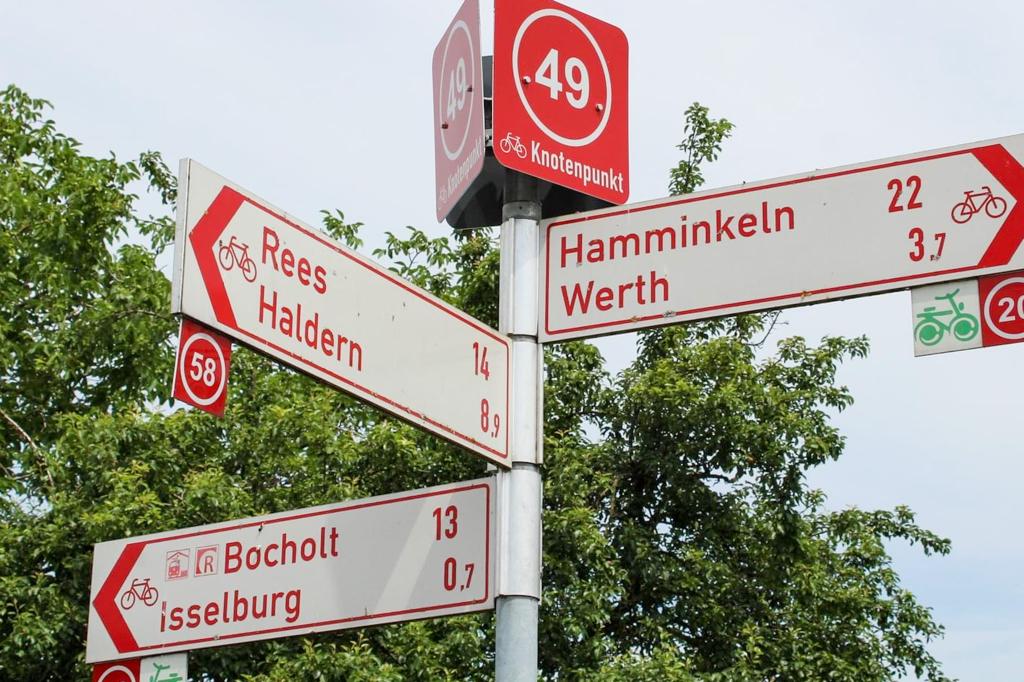 The system is super easy and perfect for biking in Germany. One of the most famous routes is the above-mentioned 100-Schlösser-Route, which connects beautiful palaces and castles in the region of Münsterland.
TIP: Read our post Biking in Germany where we biked along Elbe Cycle Route and Elb-Havel-Winkel in Saxony-Anhalt
All the places listed below we visited by bike, and all within a few hours on the same day. On this bike trip, we started and ended at Wasserburg Anholt.
City tower of Isselburg
The city tower was built at the beginning of the 15th century, but exact dates are missing. It is now one of the few remaining medieval buildings that have been lovingly converted into a museum by the Isselburg Heimatkreis.
Once it was one of four towers that were integrated into the city wall. It is 15 m high, and its walls are up to 1.75 m thick. After WWII, the tower deteriorated more and more, and historical renovation started in 1968. In 2003, the people of Isselburg started an initiative to use the tower for a longer period.
TIP: Read our post Weekend trip from Berlin to Cottbus where you will find another great tower
After extensive work, they opened in 2005 for the public. The tower now exhibits historical authentic staging with medieval furniture, crockery, and weapon replicas, but also instruments and photos from the local orchestra.
Tips and Information: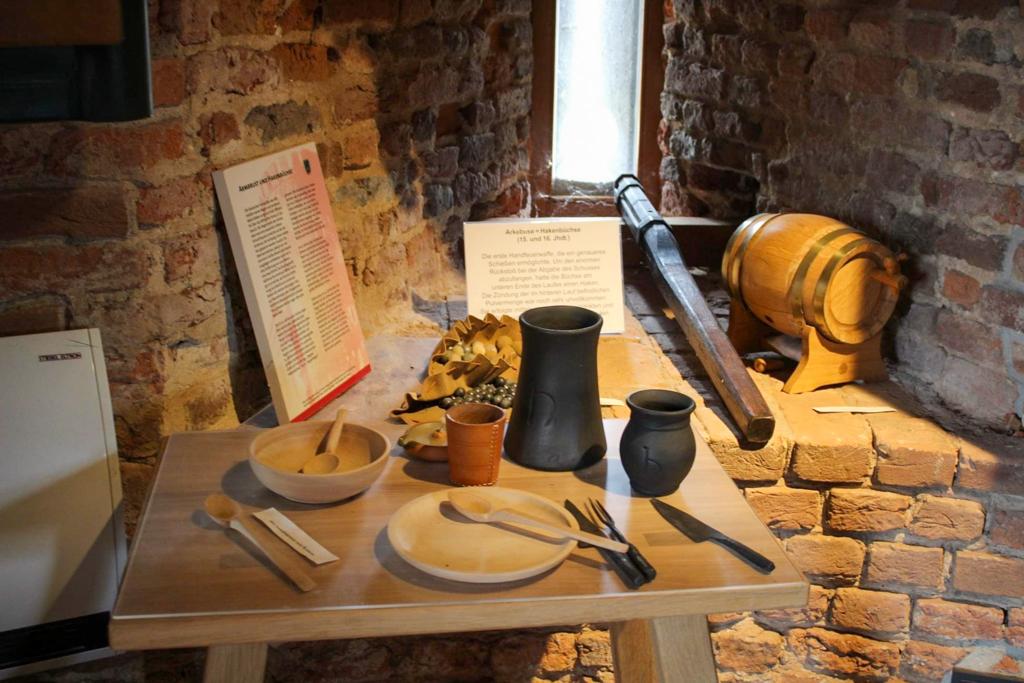 Windmill in Werth
The old tower windmill in Werth near the River Issel dates from 1498. Originally, as a defence tower, it was part of the fortress of the formerly independent town of Werth.
In the 16th century, it was converted into a grain mill and has an almost completely preserved drive and grinder from 1554. The boat-shaped top is turned into the wind by an internal rake, the oldest tracking system for windmills.
TIP: Read the blog post about Görlitz – one of the most beautiful towns in Germany.
Today, this windmill is an important piece of the history of Werth. You can arrange a visit and get to know the history of this mill and how it works. Usually, they organize an annual Mühlenfest (mill party) and a Christmas market around the mill. Check out the webpage for events.
Tips and Information: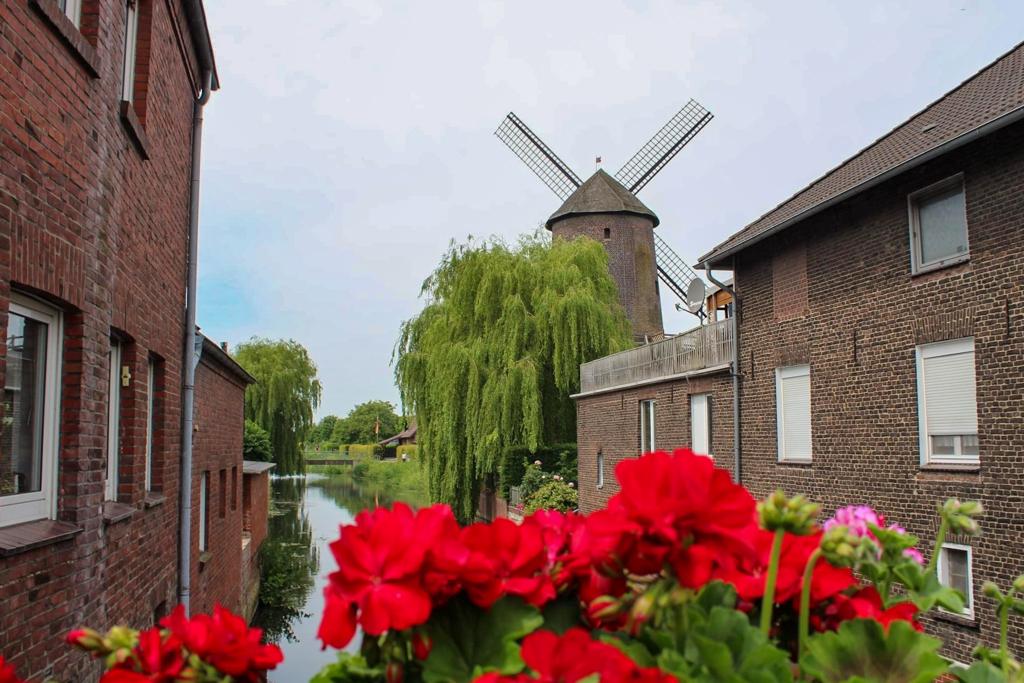 Historical Town Halls in Anholt and Werth
The historical town halls of Anholt and Werth is also worth a stop on your route. You can't visit the town halls inside, but it makes a good photo stop when you pass them on the way. Take a moment to stop and enjoy different architecture which you will not find anywhere else in Germany.
TIP: Read our post Best things to do in Weimar for another historic German town
It feels more like you are in the Netherlands (it is remarkably close though but still Germany). The red and white window shutters are typical on Dutch houses and mostly for decorative ways. These town halls are still in use for registration or to get married.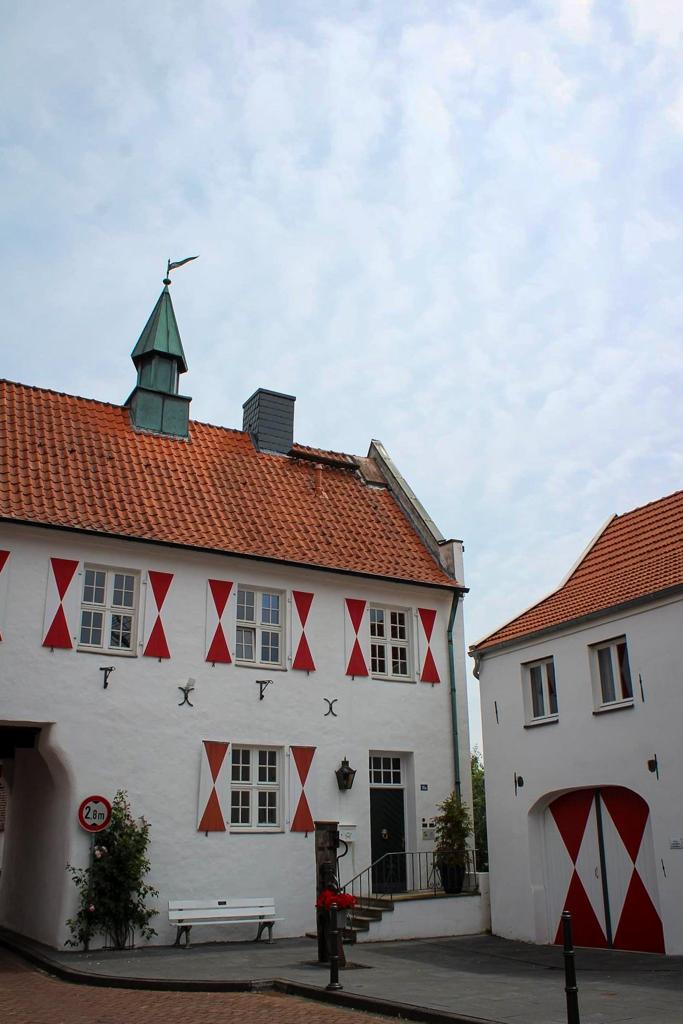 Wildlife Park Anholter Schweiz
Anholter Schweiz, also known as Leopoldspark, is a landscape and wildlife park near Anholt in Isselburg-Vehlingen, near the German-Dutch border in the far west of the Münsterland.
The park and its alpine staffages are an expression of the popular alpine romance that had spread in the 19th century because of alpine tourism through arts and crafts, literature and painting to garden art and architecture.
The facility was designed in the style of an English landscape park by Prince Leopold zu Salm-Salm (1838–1908) around an artificial lake. The park was officially opened on April 24, 1892.
After the Second World War, Prince Nikolaus Leopold zu Salm-Salm (1906-1988) decided to rebuild the area, which had been affected by the effects of the war. In 1968 the forest park, in which only native animal species were intended, was opened to the public as the Anholter Schweiz wildlife park.
The park has 6 km of easily accessible paths and around 50 species-appropriate animal species. The Schweizer Häuschen restaurant, which was built in 1893, is idyllically situated on an island and offers drinks, simple dishes, and snacks.
You can find and watch animals, such as racoons, storks, wolves, deer and otters. It is perfect for families to get to know the local animals in Europe.
TIP: Read our blog post about the best places to visit in Saxony if you want more great nature in Germany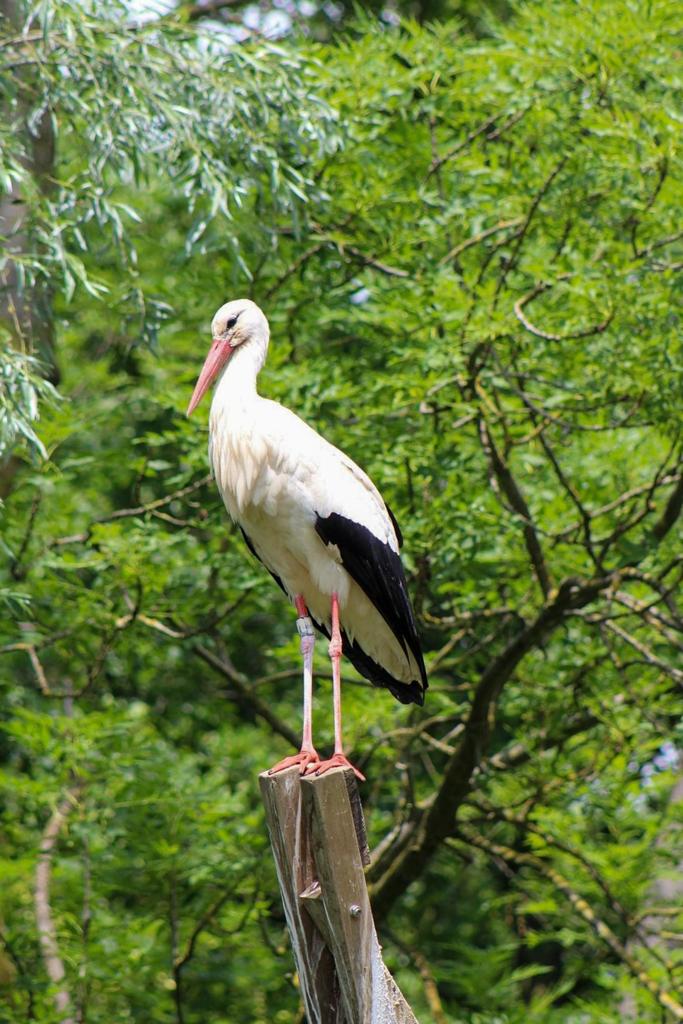 Besides a visit, the park also offers a camping site or to join a zookeeper for half a day.
Tips and Information:
Opening times:

16 march- 01 November: Daily from 9:00 – 18:00
02 November – 16 march: Only at weekends and holidays (with exception of 25 Dec.) from 10:00 – 16:00

Visitors are allowed to stay in the park until sundown.
Ticket prices: Adults 8,00€, children (3-12 years) 4,50€
Address: Biotopwildpark Anholter Schweiz, Pferdehorsterstr. 1, 46419 Isselburg
Tel.: +49 02874 – 45355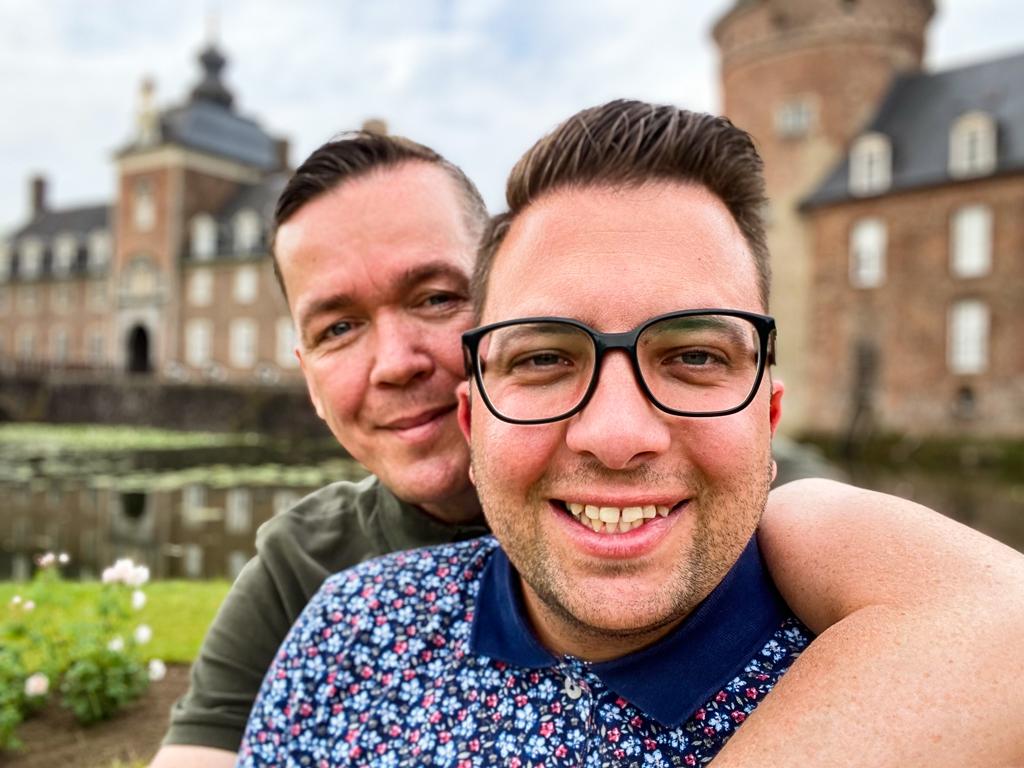 Please note: this trip was a collaboration after an invitation from the Tourist Information in Isselburg. We have been sponsored via the collaboration to visit the hotel, restaurants and sights mentioned in this post. As always there are no guidelines or requirements of what we should write. All opinions in this post are our own and are not affected by the sponsorship.