This post may contain affiliate links, where we may receive a small commission if you purchase something through following the links at no extra cost to you.
Rising like a mirage over the Thar desert, with a most impressive sand castle that doesn't even look real. Surrounded by high walls and towers, on a distance it reminds of something children dream of building on the beach. The golden city of Rajasthan is like taken out of a fairytale, with local both inside the fort, and in the town beneath. Welcome to Jaisalmer!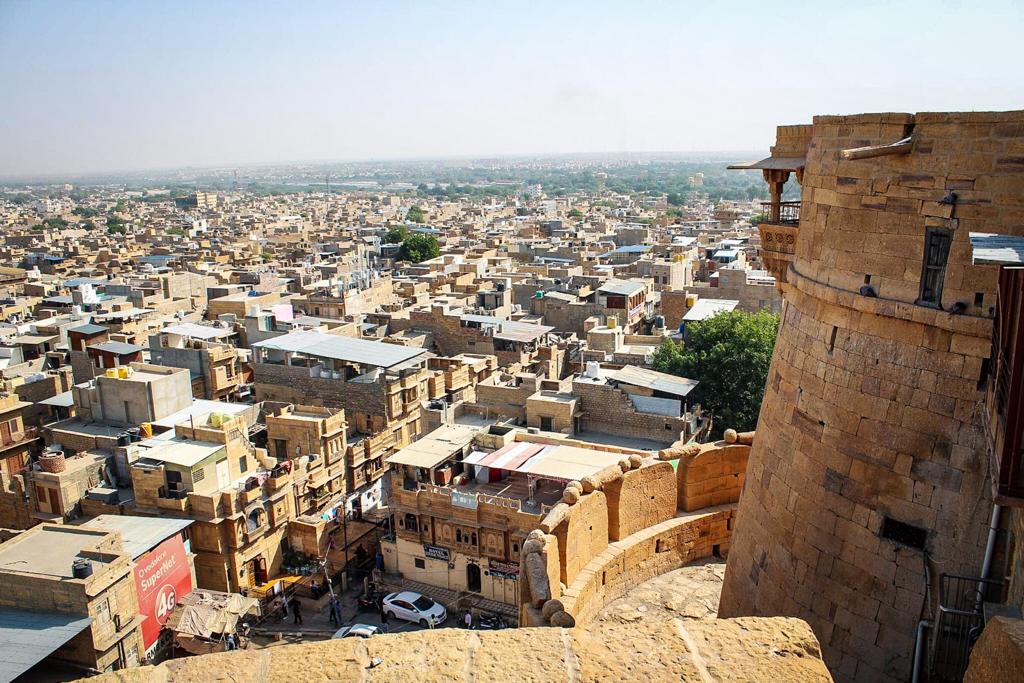 Jaisalmer was founded in 1156 AD by Rawal Jaisal, a Bhati clan ruler. The name means the Hill Fort of Jaisal. Hence to its nickname, both the fort and much of the town below is built in golden sandstone. Due to its position on the camel-trade routes between India and Central Asia the city was historically an important town.
Today tourism is the major industry in Jaisalmer. As one of the biggest tourism destinations in Rajasthan, the city is heavily commercialized, especially inside the fort. Despite this, it is hard not to be taken by the beauty and the history of the city. It is truly a magical place.
Arriving in Jaisalmer
Arriving in Jaisalmer is not for the faint-hearted. Expect touts. Lots of them! And they all want your money. The lies they can serve to get you to do business with them have no limits. They can e.g. claim that your pre-booked accomodation has burned down, and that they will take you to another place, securing themselves a commission. Your accomodation didn't burn down. Or closed for good. It is also not fully booked (if you already made a reservation). You can be offered unbelievable cheap rooms at another accomodation. These are closely connected with the camel safari industry. If you refuse to book a camel safari at the time of check-in the room rate might increase many times.
The same people will also most likely try to sell you a camel safari the minute you touch ground in Jaisalmer. It seems like it's a race for them, to get new arrivals to sign up for a camel safari as soon as possible (and probably it is also, due to the hard competition). Kindly (but firmly) refuse their offers, even it most likely will release their rage over you. These people are all touts, and sometimes representatives for dark (and shady) businesses, only thinking of making quick money for their boss and a commision for themselves. Stear away from them, and your time in Jaisalmer will be better.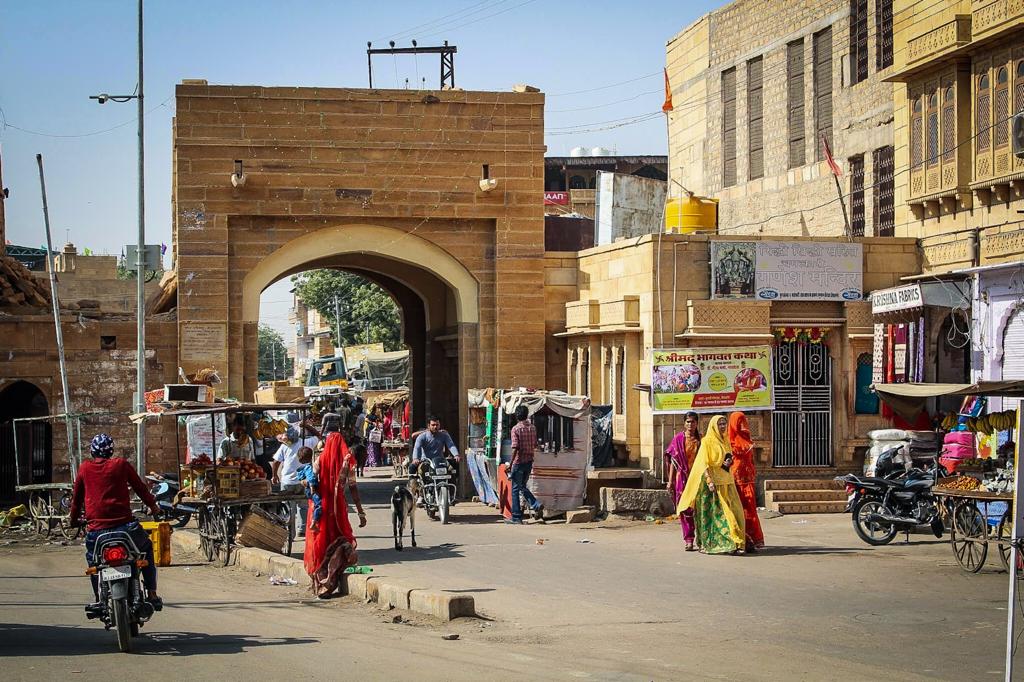 Inside Jaisalmer Fort – a real sand castle
Jaisalmer Fort is one of the few "living forts" in the world, with round 3000 people living inside its walls. You arrive the fort from the East, and after passing through four massive gates you reach the upper parts and the centre of the fort, Dashera Chowk.
From here the labyrinth of narrow streets and lanes inside the fort is perfect for exploring and also getting lost (don't worry – it's not that big). In addition to numerous guest houses, handicraft shops, cafes and restaurants inside the fort, there are also some intersting sights as well. Jaisalmer Fort is declared as a UNESCO World Heritage Site, along with five other forts of Rajasthan.
Main sights inside the fort
The Fort Palace overlooking the main square is the elegant former rulers palace, where you can do a tour inside. Also, the fort has some very nice Jain Temples (Janinism = ancient Indian religion). There are seven Jain temples inside the walls, dating from the 15th and 16th centuries. There is also a Hindu temple set within the walls.
The best part of Jaisalmer Fort
Spend time, lots of time, just wandering around inside the labyrinth streets of the fort. This was our favorite thing to do there. You will find impressive havelis (old merchants houses) open squares and, most importantly you will see lots of local life. The more away from the main square you get, the more local and authentic life you will find. Take a walk along the walls surrounding the fort. The views over the areas below are great.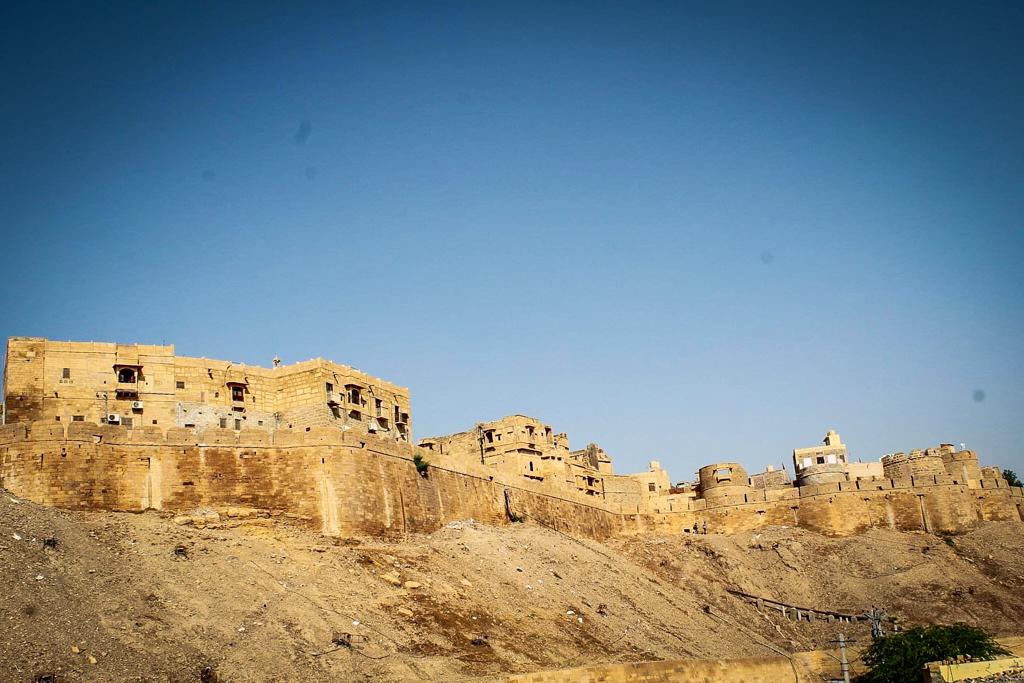 The town beneath the fort
Don't spend all your time in Jaisalmer inside the walls of the fort. A visit to the town beneath the fort is also very nice. In fact, if you have the time, spend some few hours and walk around the whole fort. You will see colors, smiles and daily street life. There are many loocal shops all over the town, and markets where the locals do their daily shopping. Also there are some havelis open for visits, and a Haveli museum as well.
The town outside the fort has a good selection of places to eat, in all price ranges. You can have street food or you can eat at luxurious hotel restaurants. The choice is yours. In the area around Ghandi Chowk there are some good options for both delicious food and a refreshing drink.
Just outside the main gate to the fort, the 1st Gate Home Fusion Hotel has an an amazing italian-Indian rooftop restaurant. Its excellent open-air terrace offers delicious (vegetarian) food and good cocktails with maybe the best view to the fort in town. (unpaid advertisement)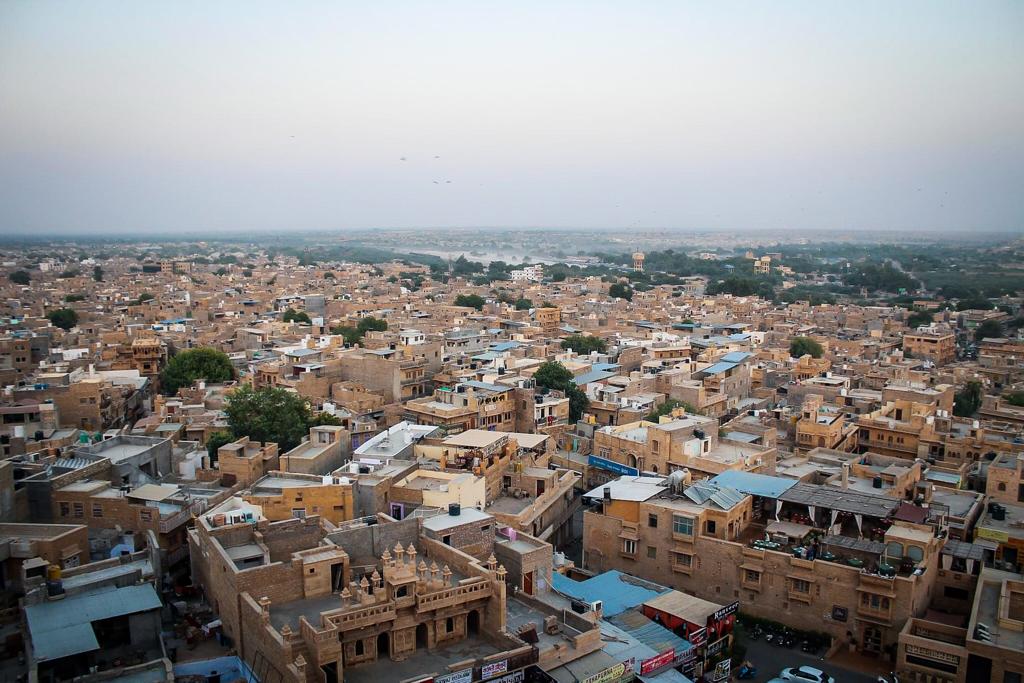 Accomodation in Jaisalmer
Jaisalmer has loads of options when it comes to accomodation. You can choose from the simplest of hostels, to the most exclusive boutique hotels. In addition there are also several mid-range places to choose from. Check out some of the old havelis which turned into luxurious boutique hotels if you are travelling on a somehow high budget. Compared to Europe one can get a lot of comfiness for the money in India.
Our accomodation was a budget hotel inside the fort. Later we have learned that the high number of visitors who want to stay inside the fort causes huge damage on the fort and its construction. Also, unrestricted use of water causes problems with the conservation of the fort. Because of this issue we do recommend to find accomodation outside the walls of the fort.
Camel safari from Jaisalmer
Camel safaris is a fun and exciting way to see the Thar Desert. Don't expect huge sand dunes as in many other deserts. The Thar Desert has rocks, low vegetation, villages and sometimes sheperds herding flocks of sheeps or goats. In between there are smaller areas with some few sand dunes. It is possible to do a camel safari for one night only, several days, or even week-long journeys. Most travellers choose for the one-night safari, but go longer if you have the time. This will give you a better insight about the desert, its environment, the people and the nature.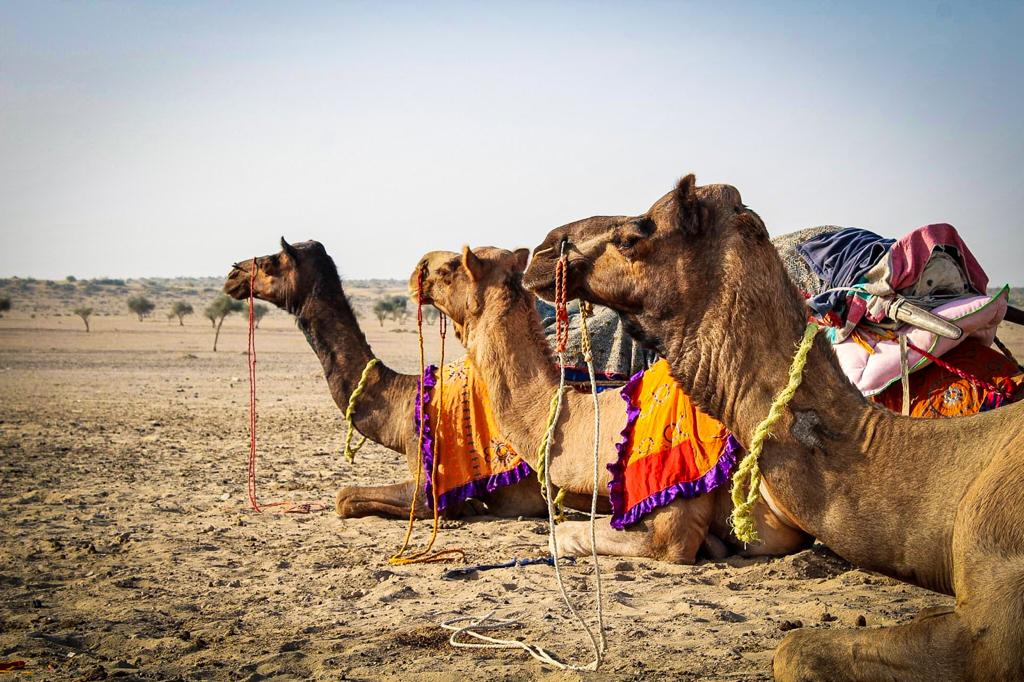 The one-night camel safari
A car will first take you to more remote areas, from where you start the camel riding. You don't ride too long. Normally 1,5-2h before you reach the camp. The next day you ride the same distance back before a car take you the last stretch to Jaisalmer.
When you arrive your camp site, the camel driver/ guide turns into a chef, and makes a delicious meal over the camp bonfire. While setting up the camp, the camel driver sets the camels free for the night so they can find food, and collects them in the morning again.
The next morning he will also prepare your breakfast and chai before you wrap up from the camp. You sleep under the stars on beds (the camps have some beds) or on matresses directly on the sand, which is recommended. It is actually warmer to sleep directly in the sand rather than on the beds. The camps have no bathroom or toilet facilities.
Stories around the camp fire
Around our camp fire we got to know our 18 year old camel driver and guide a bit better. Although he never went to school (and was illiterate), he could communicate in several languages. Skills he taught himself during years working with camels and tourists from all over the world. According to himself, he had gained his life -and language skills through a life in the desert, or as he put it himself: at the camel academy. He had a secret girlfriend, but he was from a lower caste than her, so her family would never approve. He was waiting for his own family to choose his bride. On a question if that was ok for him, he confirmed it was. Most important for him was to support and make his family proud of him, and he trusted his parents to choose a good wife for him.
Camel safari – or not?
If one should do a camel safari or not is an ethical matter. Look for an operator with good reputation regarding animal wealthfare if you choose to go on one. After a bit of research we ended up booking our camel safari from our accomodation after recommandations from some fellow travellers we met. The camels we used were family owned and were trated well. Our safari was a bit more expensive then many of the other offers we got (e.g. at the bus station on arrival), but many of the operators with the lowest prices didn't seem too tempting to go with.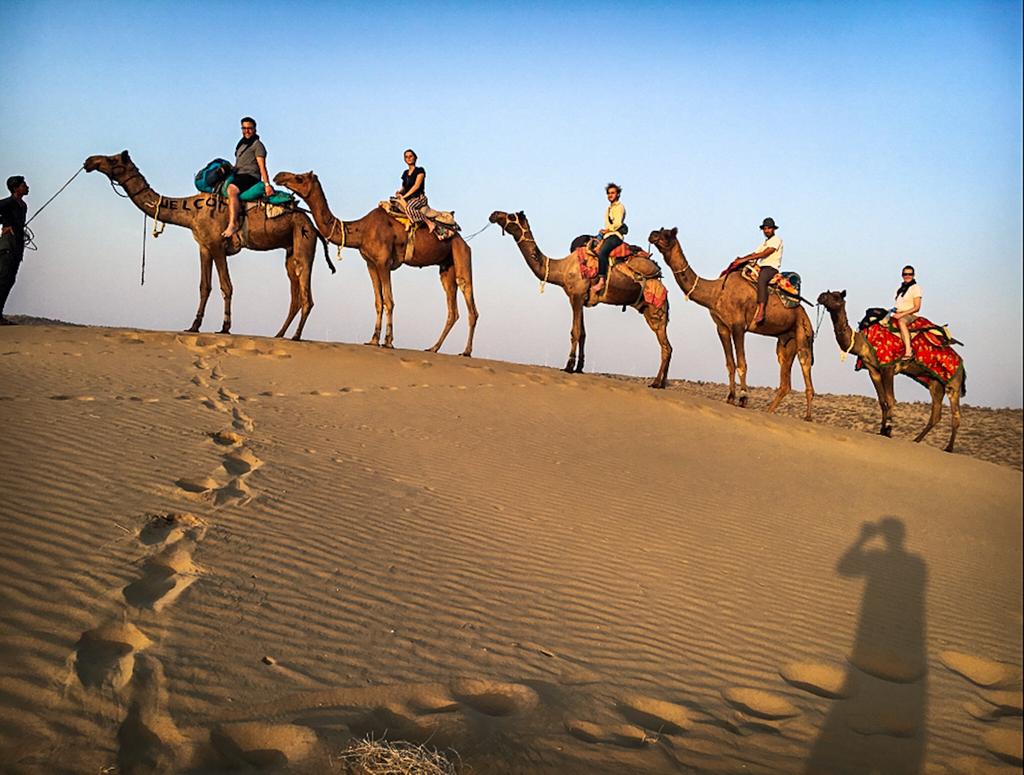 Getting there and around
You can arrive Jaisalmer via bus or train. There are buses to e.g. Ajmer, Jodphur and Bikaner. If you arrive Jaisalmer with bus, be aware that touts can be on board your bus for parts of the ride (or even the whole journey). These touts can try selling you a camel safari or also give you the same story about your accomodation as mentioned earlier. Don't belive a word they say.
Train services cover places such as Delhi, Bikaner, Jaipur and Jodphur. Train travel in India is an experience, and you should at least do one train journey while in India. Touts are less frequent on trains, but it can also happen there.
Buy tickets at the train stations, or at the ticket offices if travelling by bus. We recommend to purchase your ticket some days in advance. For a small comission most accomodations can also assist you with buying tickets for you. This way you save some time (and also some hassle).
At arrival and departure you can take an autorickshaw to or from your accomodation. Remember to negotiate and confirm the price before you enter. Don't pay before you are at you final stop.
Jaisalmer is very walkable. The best way to get around, both inside and outside the fort, is by walking.
More inpiration:
Read our suggestion of a 4-week itinerary for India if you are on a longer journey. Also, here you can read about Jodphur, Bikaner and Udaipur, three other great cities in Rajasthan. Read here about Pushkar if you are considering there to the camel fair and here for the pink city Jaipur. If you rather want to go south to palm trees and amazing beaches, you can read what to see and to in tropical Kerala.