This post may contain affiliate links, where we may receive a small commission if you purchase something through following the links at no extra cost to you.
India has it all. Some of the highest mountains in the world, desert, jungle, beautiful beaches, religious places, wildlife, historic cities and world-class sights. We spent four weeks in magical India. Four weeks of traveling independent is quite some time, but not nearly enough. At first it's easy to think one can see mostly everything, only soon to realize that India has so much to offer. Read on to see how we spent four weeks in Incredible India.
This trip was Matthias' first visit to India, while it was the third time for Kent. Because of that we needed to make an intinerary that gave Matthias some of his bucket list-places, and also gave Kent some new places to see. After hard priorities we ended up with an intinerary taking us from Delhi to Rajasthan, onwards to Agra and Varanasi before ending in "Gods own country"; Kerala.
About our itinerary in India
This post will give you a brief overview over how you can spend four weeks in India. Naturally, you could use this itinerary on your own and follow the same route. To take out parts of it and only visit a few places is of course also fully possible, and also in combination with other places you might have interest in. Places we visited will be shortly presented only. This post focus more at the itinerary in its whole. Therefore, some places we visited, will have their own post, linked from this one, if you are interested in further reading.
Delhi – the gateway to the north of India
A natural starting point in India, and the gateway to colorful Rajasthan is Delhi. And It's busy. Very busy. Also, it's hectic, chaotic, smelly, dirty, crowded and polluted. But it is also the heart of India. It's colorful, tasty, beautiful and full of life and sights. For many, the first meeting with Delhi can be a bit overwhelming. Especially the masses of people can be hard to get used to. Take it easy in the beginning, but don't be afraid to start exploring the city. You can do it with a guide, or as we did, on our own, using with public transport, and walking between nearby sights.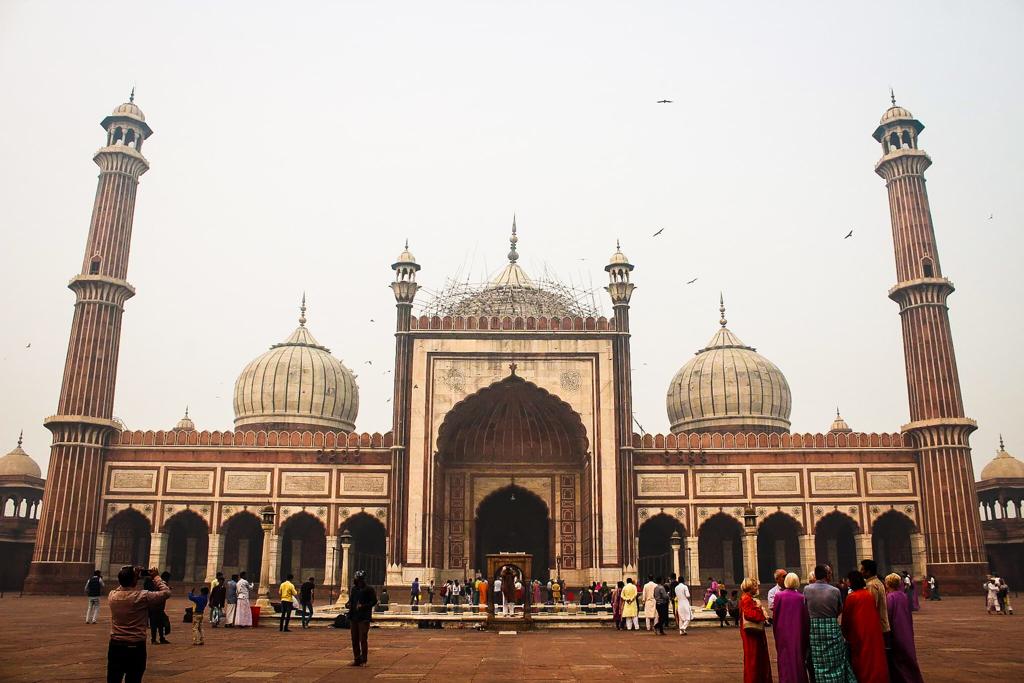 Old Delhi
Three nights in Delhi will give you enough time to see the most important sights. In Old Delhi the amazing Jama Masjid Mosque is the highlight, and a must-see. The same goes for the massive Red Fort. It's possible to visit both places in one day, and in addition visit the crowded, but very exciting Chandni Chowk area. There, you will get very close to the daily life of thousands of locals working and living in this area. For the brave ones this area also gives you good opportunities to try some of the local street food sold around every corner.
New Delhi
Spend one day exploring New Delhi as well. Highlights there include a visit to the magnificent Humayun's Tomb, the India Gate and a walk in the peaceful Lodi Gardens. In New Delhi the distances are longer, but the excellent metro system will bring you near to most of the sights.
For a more urban flair we recommend to visit Hauz Khas area in South Delhi. Expect fancy restaurants, third-wave coffee and a creative atmosphere.
Delhi Belly
We ended up spending longer time in Delhi than planned. Already on day three in India we got a visit from the so famous "Delhi Belly" (read: travelers diarrhea) forcing us to bed for some few days. We have no expert advise how to avoid getting sick. We followed all normal "rules" and travel advices. In general you should not have ice cubes in drinks, eat only well cooked food, peel vegetables and fruits and avoid ice cream. Be aware that money (notes) in India can carry many bacterias from one hand to another. Wash your hands often, and use hand sanitizer.
If you would like to try some street food, but still be on the safer side, you can try one of the many organized food trips offered to travelers. Normally, tours are considered to be more safe. They know where to get food that won't leave you sick afterwards. Ask at your accomodation if they can organize it for you, or check a guidebook or Google to find a reliable tour.
Rajasthan – the fairytale state of India
Rajasthan! The land of maharajas, amazing forts and palaces, camels, and a mighty desert. Here you'll find breathtaking architecture, spicy food, colorful people, smiling faces, wild tigers and an interesting history.
Bikaner
From Delhi we flew to Bikaner, for us an unknown city. (We booked a cheap last-minute flight, since we had to stay longer in Delhi due sickness).One night in Bikaner will give you enough time for the most important sights. Most impressive, and not to be missed is the Junagarh Fort, a beautiful red-pink palace and fort. Bikaner is also know for all its beautiful merchant houses and mansions, so-called havelis. The most beautiful and impressive ones is located in the old city, with its narrow streets and lanes. It a great area to explore by foot. Here you can read more about our time in Bikaner.
Jaisalmer – the Golden City
From Bikaner there's a direct bus to the golden city of Rajasthan, Jaisalmer. Rising like a mirage over the Thar desert, Jaisalmer`s fort is truly impressive. This is also the main sight of the city. Spend time, lots of time, just wandering around inside the labyrinth streets of the fort. You will find impressive havelis, open squares and some few temples. As a bonus you will also be rewarded with amazing views over the surrounding areas.
The fort is also very impressive from outside its walls. Walk out the huge main gate, and from there you can take a walk around the whole fort. In the streets below and behind the fort you will come close to the daily local life, at the same time as you enjoy the views to the walls and towers rising above you.
Arriving in Jaisalmer
Arriving in Jaisalmer is not for the faint-hearted. Expexct touts. Lots of them! And they all want your money. The lies they can serve to get you to do business with them have no limits. They can e.g. claim that your pre-booked accomodation has burned down, and that they will take you to another place, securing themselves a commission. The same people will also most likely try to sell you a camel safari the minute you touch ground in Jaisalmer. Camel safaris is an ethical matter. Look for an operator with good reputation regarding animal wealthfare if you choose to go on one. We organized our safari from our accomodation, the Mirage Hotel.
Our accomodation was located inside the fort. Later we have learned that the high number of visitors who want to stay inside the fort causes huge damage on the fort and its construction. Because of that we do recommend to find accomodation outside the walls of the fort. .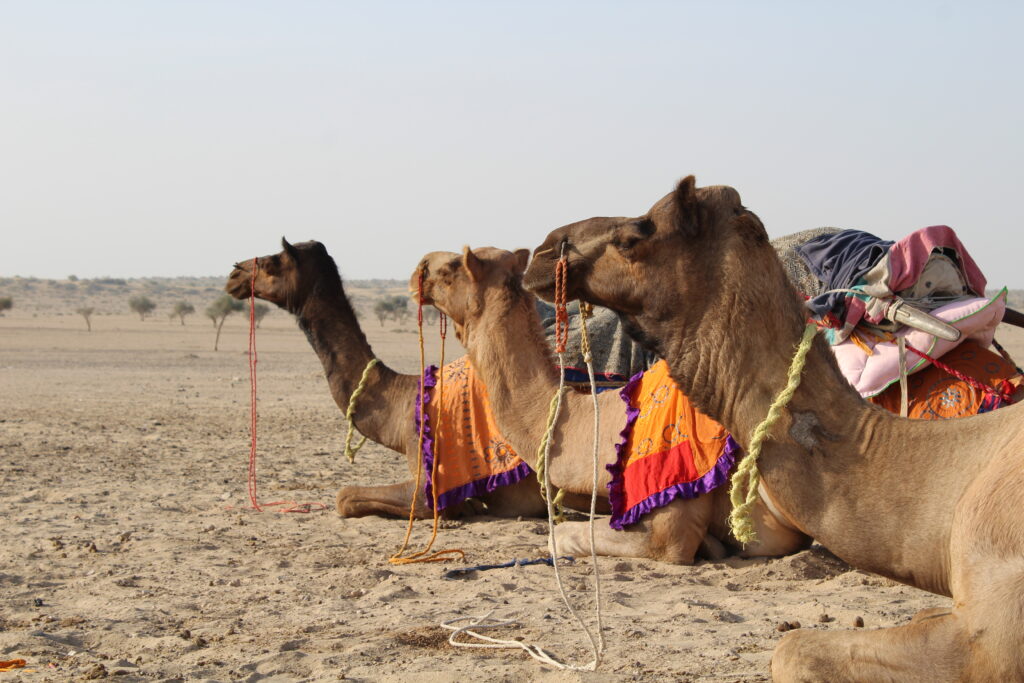 Jodphur – the Blue City
Take a bus from Jaisalmer to Jodphur. This is one of our favorite cities in India, and we really enjoyed our time there. The main sight is the very impressive Mehrangarh Fort rising above the city. It it so massive and so great, and not to be missed. Spend some few hours here to see it all. Below the fort is the old city, with the most beautiful part being the Blue City. And it really is blue. Houses along the narrow steets and lanes are painted in all different variations of blue. The local life is always present. Getting lost in this area is exciting as something new awaits around every corner. It is possible to walk uphill and arrive at the fort from the Blue City.
After a visit to the fort you can also visit the Tunwarji ka Jhaira, a beautiful step well and the Sadar Market selling everything you can imagine. In Jodphur you can find street food served from simple stalls, and you can find excellent food served from first class restaurants. We had a delicious dinner at Indique, the rooftop restaurant at the Pal Haveli Hotel. From the restaurant you will have superb views up to the fort.
Two nights are probably enough in Jodphur, but three is even better as it is a very likeable city.
Udaipur – the White City
After the blue city, we arrived in the white city of Rajasthan, Udaipur. This is also one of our favorites in India. First of all the city is very beautiful. It is also much more relaxed there than some of the other places we visited. A huge plus is that is was also much cleaner there.
The main sight is the City Palace with its magnificent architecture, dramatically located overlooking Lake Pichola. Visit the palace and spend some time there, but spend most of your time just walking around in the city. It is such a nice place, so many beautiful buildings to see, and local life to explore. Don't forget to spend some time at the shores of the lake. The sunset over the lake is magical.
Two nights in Udaipur was enough, but we could easily have spent more nights there. It's a great place to relax after some time on the road. The atmosphere is very enjoyable. We left Udaipur with train to Ajmer, the closest connection to Pushkar.
Pushkar
Pushkar is legendary for its camel fair arranged every year (oct-nov). The camel fair attracts lots of people, the prices rise many times and it's great times for business. For us this was like a huge circus. A place where animals are mistreated, and where huge crowds of tourists pay money to see it all.
At the same time as the camel fair there is a religous festival going on, attracting thousands of Hindu pilgrims. In fact we liked the Hindu festival better than the camel fair. If you are in Pushkar around this time we do recommend to spend more time at this festival than the camel fair. There are so many ceremonies and religious rituals going on in many temples and around the holy lake. The colors and the people we saw made quite an impression to us.
We spent two nights in Pushkar, which was more then enough for us. Getting to Pushkar is easiest to go with train to nearby Ajmer, and from there take the local bus, a tuk-tuk, or better a (overpriced) taxi. Here you can read more about our time in Pushkar.
Jaipur – the Pink City
Our last Rajasthani city was the pink city of Jaipur, nick-name after the walled (pink) city itself. Inside the high walls is a labyrinth of streets full of life. Spend time to wander around taking in the local life and food scene. After some time in the pink city, head to the impressive City Palace. This complex of gardens, courtyards and buildings is rated as one of the top-sights in Jaipur. Look out for the many amazing doors in some of the courtyards. From the City Palace it is walking distance to another Jaipur highlight: the Hawa Mahal. With is extraordinary facade this is one of the landmarks of Jaipur. It was constructed so that the ladies of the royal household could watch the street below without being seen.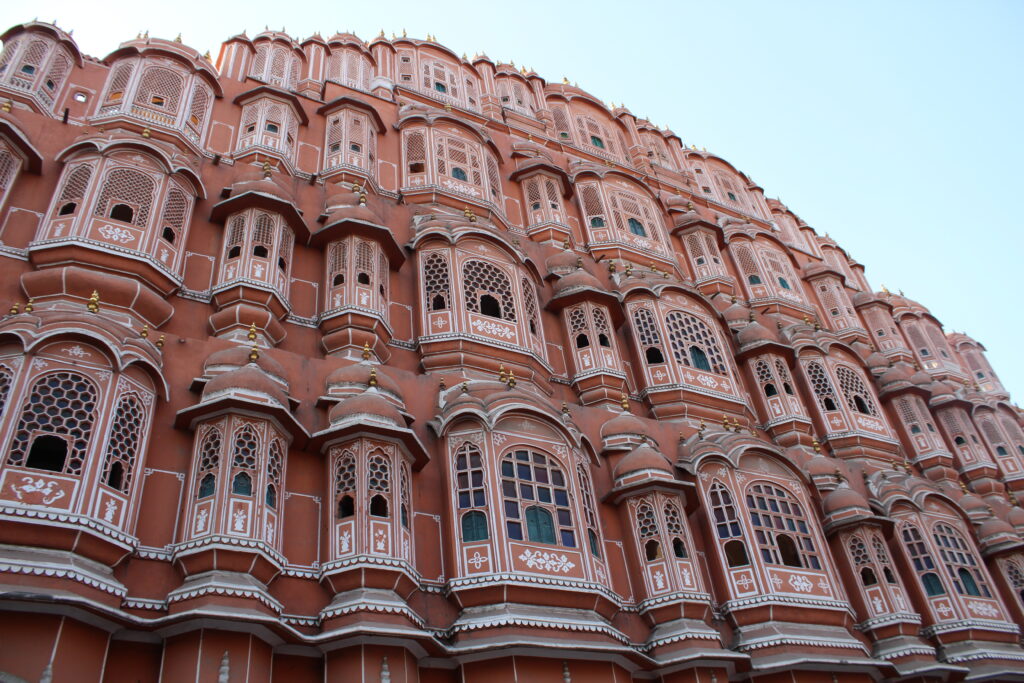 Amer
Just ouside of Jaipur is one of Rajasthans top sights, the Amer fort (sometimes spelled Amber fort). This magnificent sandstone fort is towering on a hilltop above the town with the same name. The fort is totally great, so majestic, and is in reality a palace complex. There are many rooms and courtyards to explore, and you will also be given great views over the surronding areas. We recommend to walk up to the fort by foot, instead of going on one of the elephants transporting tourists, due to the animal welfare.
In the area around the fort you can see long walls going up and over the hills in the surroundings. If you have the time, these walls are great for some hiking. Especially if you hike the walls opposite the main road from the fort. The higher up you get, the better the view to the fort gets too.
End your day with a visit in the small town of Amer. In this ancient town you will find a beautiful, restored step-well. And best of all? Very few tourists visit here, so you might end up having it almost to yourself.
We spent two nights in Jaipur which was enough, but could easily have spent another night or two.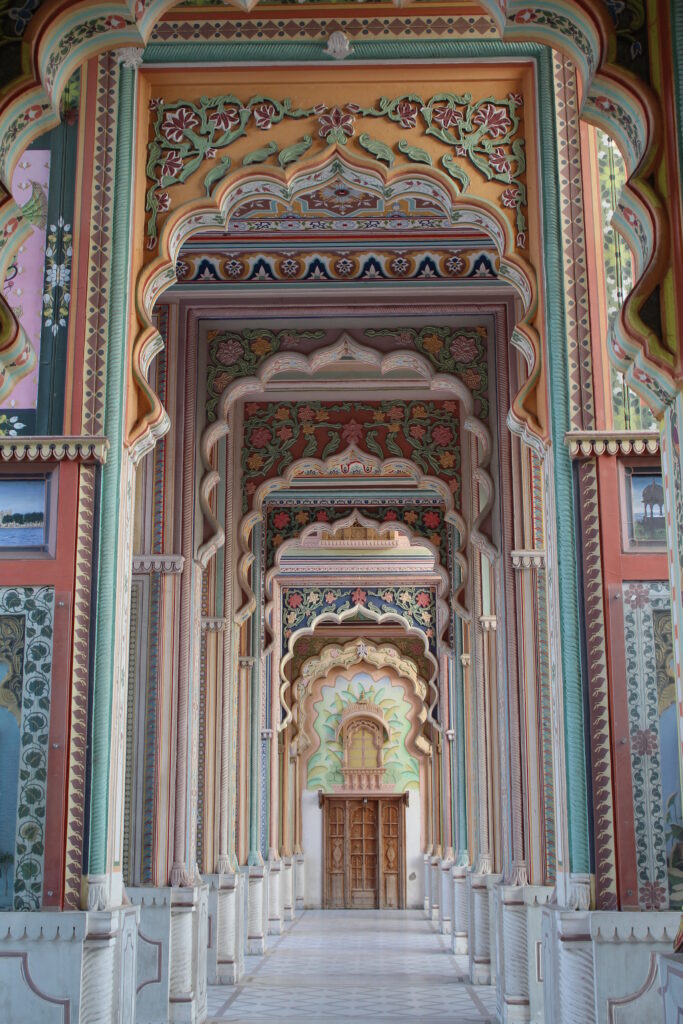 About our route in Rajasthan
There are several routes for traveling Rajasthan. Our route is just an idea of a possible itinerary. If we had more time we would have had more stops, and also spent more time in some of the places. You can follow this same route, or pick the places you want to see and make your own route. Traveling in Rajasthan is quite easy, although exhausting sometimes. Buses and trains takes you almost everywhere. It's also easy to hire a car with a driver for some days and he'll take you to your preferred stops.
Agra – the biggest treasure in India
From Jaipur you can take the train to Agra. The goal for everyone is the visit of the magnificent Taj Mahal. Many visit it on a day trip, but it`s better to spend a night or two in Agra. Built by Shah Jahan as a memorial for his late wife, this huge, extraorinary marble contruction is nothing but perfection. After all, it was built in the name of love!
The best time to visit the Taj is early morning or late afternoon. The light is better on these times, and the biggest crowds are not there that early or late. Taj Mahal opens before sunrise, and that is the time you should be here. Get up early, skip breakfast, and head to the ticket office to line up. This way you can be one of the first entering when they open the gates. By the time the big hordes start arriving you will be done, and can head for breakfast. Be prepared to have security checks for entering the complex!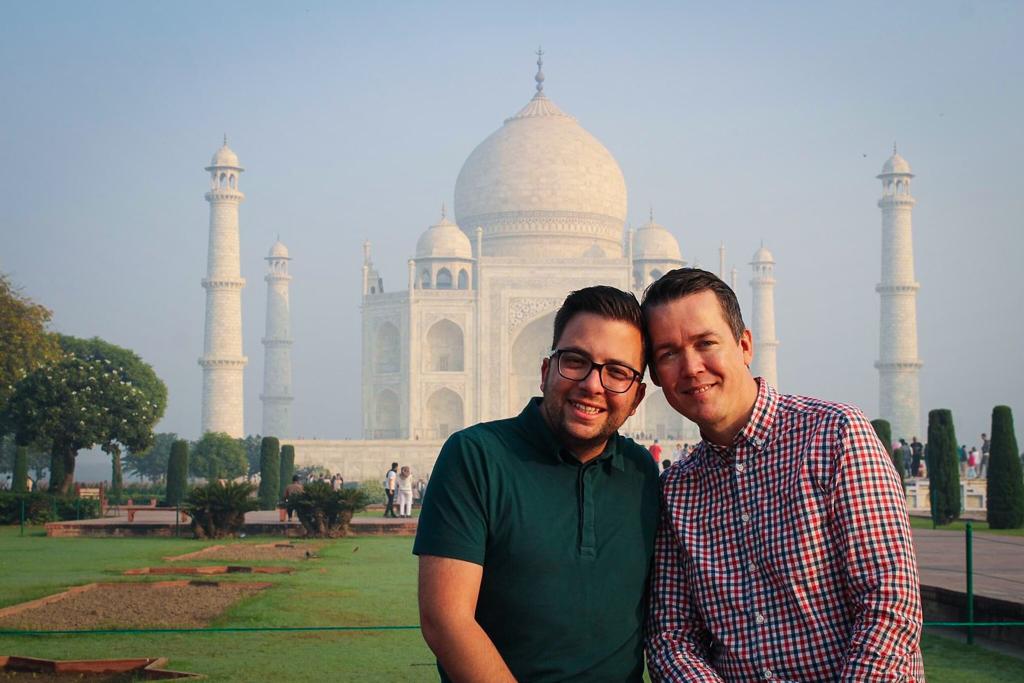 Best way to see the sunset at Taj Mahal
Taj Mahal during sunset is magical, too. To get the best views, walk the path outside the western wall of the Taj. At the river bank you can find rowing boats that take you to the middle of the river for a small fee. You can also share the boat with other travelers. Negotiate and confirm the price before you get on. It is not recommended to walk this path alone after sunset. If traveling solo, see if you find someone to link up with. .
Agra also has an impressive fort that also attracts many visitors. We didn't make priorities to visit Agre Fort this time (Kent has been before), but if you have the time it is a recommended stop in the city.
Varanasi – a spiritual highlight in India
Varanasi is one of the oldest cities, not only in India, but in the world. This holy city along the banks of river Ganges is the most magical place to visit. The local life along the river, along the ghats (stairs going down to the water) and in the backstreets are very interesting. There are pilgrims, wholy men, cremations, daily life and visitors in a lovely mix.
When in Varanasi, get up early, before the sun will rise. Ask you accomodation to arrange a boat trip on river Ganges for you, or simply walk down to the river and arrange one yourself. Remember to negotiate and confirm the price before getting on board. Normally, a boat trip in the morning lasts 1 – 1,5 hours. From the boat you will have the best views to the city when it wakes up. The local life includes morning baths or lanudry in the river, religious rituals and cremations. It`s such a spectacle to watch, and it is a total highlight in Varanasi.
In the afternoon a walk along the river is also highly recommended. You will see the same things as from the boat, but you will see them much closer. The city has an incredible atmosphere, an almost magical feeling. Probably two nights in Varanasi are perfect to enjoy this holy city.
Touts in Varanasi
Be aware that there are many touts in Varanasi, too. They all want your money. Remember, nothing is for free, even if presented so! Also, your guest house or hotel didn't close or burn down. The river Ganges is also not closed where you planned to go!
Kerala – God's own country
From Varanasi you can reach beautiful Kerala via air or after some long, but exciting train rides. This tropical paradise is nick-named God's Own Country. It is easy to understand why. You will be surrounded by palm trees, colonial towns, beaches and backwaters.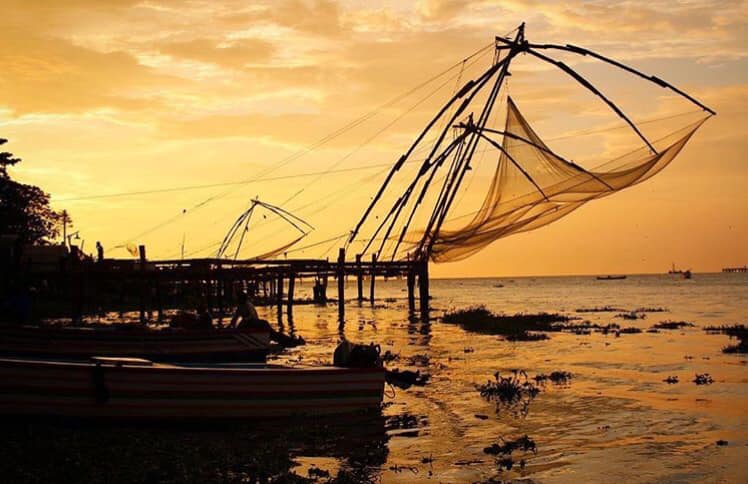 Start with a couple of nights in Fort Cochin, the old historic, colonial part of Kochi (Cochin). Here you find influence from all over the world with Chinese fishing nets, Portugese houses, a Jewish synagogue, old mosques and remains from the British era as well. The town is not large, but still have lots to explore. One thing not to be missed is the seafood. Try it! It's amazing, fresh, and so delicious.
Leaving Fort Cochin behind we headed for Marari Beach. Choosing the right beach for yourself can be a challenge sometimes. For us, we chose peace and quietness over party crowds, facilities and fancy restaurants. At Marari we stayed two nights at a beautiful homestay next to the beach. We had a great time relaxing in the sun, walking along the beach, reading and eating local cuisine with fish and coconut as basis for the cooking.
Kerala backwaters
After the beach, head to the famous Kerala Backwaters, a 900km network of waterways in the inland just off the coast. There are different options for exploring the backwaters. One of the most common is a stay at a houseboat for one or more nights. This is also the most touristy and expensive alternative.
We chose to experience the backwaters from a paradise called Munroe Island. Yes, you read correct; this is pardise. We had three nights here doing nothing and everything. The beautiful host family made food, organised canoe trips and had bikes to lend. At Munroe Island you will come close to the local life in the villages and along the many canals. This is just the perfect place to relax, and to be close to Mother Nature at the same time.
Here you can read more about our visit in beautiful Kerala.
Mumbai
Fly (or take another long train ride) from Kerala to enormous Mumbai. It takes time to explore this mega, multi-million, giant of a city. If you visit Mumbai and have limited time; stay in the Colaba area.
This is the most touristy part of Mumbai, but this it is also where some of the most interesting sights are located as well. In Mumbai you can enjoy the cosmopolitan feeling again after weeks on the road. There you can find proper coffee, Eggs Benedict and craft beer in airconditioned bars. For us this was much needed treats – especially the coffee.
In Mumbai, visit the Taj Mahal Palace Hotel, the Gateway of India monument, and one of the most impressive train stations in the world, the Chhatrapati Shivaji Terminus (Victoria Terminus).
Want to treat yourself at the end of an incredible journey? Head to what is voted one of the coolest roof top bars in the word; Aer bar at Four Seasons Hotel.
Plan your own trip to India
Traveling independent in India, or especially Northern India, where we spent the three first weeks, can be hardcore. In addition to being magical, amazing, colourful and beautiful, it is also very exhausting, noisy, dusty and tiring. There are always people around, lots of people. There are lots of touts who want your money, and in general there are not many quiet moments during the day. Dispite this, we strongly belive that traveling idependent is the best way to see India. Therefore, we do recommend to add some days in the end of your intinerary in a more relaxing place, like the beach, the backwaters or maybe a hill station in the mountains.
The easiest way to travel India is probably with an organised group, which is something we try to avoid. A second option can be to arrange car hire with a driver for the route you want to make. Then you will get between the different places without much of the hassle. The third (and best) option is to travel independent and fix everything yourself. We pre-booked accomodations for some places before we arrived India, and the rest we booked during the journey. We managed to find some cheap domestic flights, but as always; it's cheaper the earlier you book.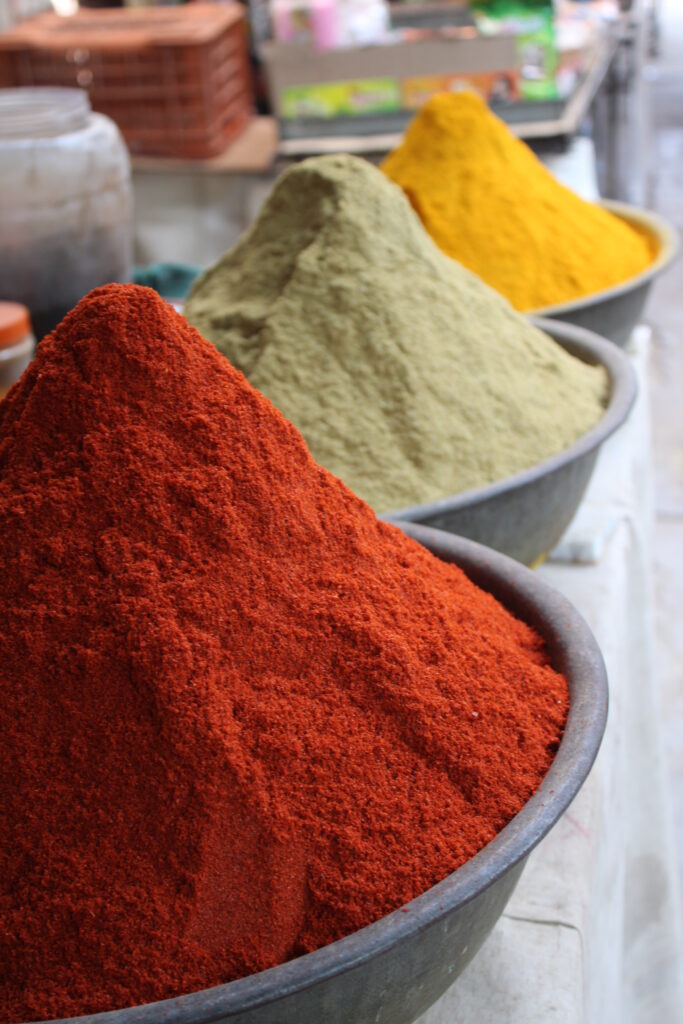 Traveling with train in India
Then there is the train booking. And here the hassle starts. To book train tickets in India, as a foreigner, can be a real challenge and a huge source for frustration. Don't think of booking online if you don't have an Indian sim card for your phone. If you have an Indian sim card online booking is recommended, via e.g. IRCTC (www.irctc.co.in) or Cleartrip (www.cleartrip.com).
Trains can get fully booked. If you still wish to travel on that same train you can go to the station and ask for a so-called Tatkal ticket. Tatkal is a ticket provided for passengers who have to take a train on short notice, and can be bought one day in advance only. There are only a few tickets available for each train, meaning if you really have to travel on a certain date it is risky business to gamble if you will get a Tatkal ticket.
We booked some tickets directly at the train station, preferably some few days in advance. If differs from station to station where you are supposed to line up. Some stations have one line only, while others have their own line only for tourists. To save some energy we also sometimes asked at our accomodation if they could arrange train tickets for us, which they always did, for a small commission. To avoid the hassle, the small extra costs are sometimes worth it. Even trains can get very full, at times quite uncomfortable, and purchasing tickets is a hassle, even so; don't let it frighten you off. Train traveling in India is superb. It's amazing. And it is something romantic about it. You can reach almost the whole country by train, and you can travel with everything from commuter trains, express -and night trains to luxurious palaces on wheels.
Accomodation
In these internet times it's easy to book accomodation in advance. We prefer to book latest the day before arrival, but preferably some days in advance to have a better selection. Accomodation option spans from the cheapest, most dirty hostels, to beautiful homestays and guesthouses in former havelis (merchant houses), to tents and camps, to business hotels and to the most luxurious hotels one can imagine. The choice is yours.
Local transport
Lokal transport in the cities is often with a so-called tuk-tuk, a motorized rickshaw. Remember to agree on the price before you start the journey – otherwise it can be an expensive experience for you.
The bigger cities have metros and buses covering most places of interest. Be aware of traffic jams in Mumbai. If you go by taxi always count more time than you think you need.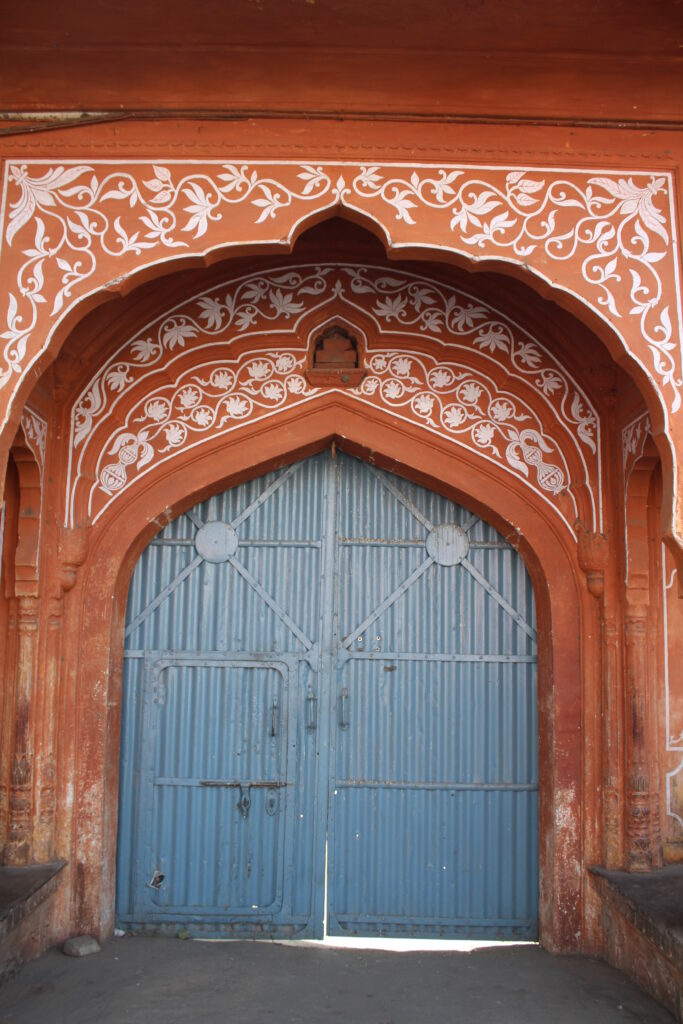 Health while traveling in India
Before you go to India we do recommend you to check with your doctor or a travel clinic if you need any vaccines, or maybe a refill on some you alread have. Depending on the areas you plan to visit, you might need to get some vaccination done, so plan ahead. We have no tips in particular on how to avoid getting sick. Even we take caution, used anti bacterial hand wash, are careful with food (well…mostly) we ended up getting sick. A general rule is that everything should be cooked properly before eating. Be aware that fruits and salads can be washed in tap water, and ice cubes can also be made from that same tap water.
You won't regret a trip to India
We read that a trip to India can change you, and we think it is true. It's such a huge, multicultural country, and all the impressions will probably change you somehow, one way or another. It will for sure make you a more experienced traveler and, it can make you look at life differently than before you left.