Looking for paradise? Look no longer! We found it for you. Among with peace and quiet, thousands of palm trees, long beautiful beaches and historic towns with colonial inheritance. We found fresh seafood, a relaxed atmosphere and stunning sunsets. We also found mile after mile with waterways, canals and rivers in the most amazing Backwaters. No wonder that the southern Indian state of Kerala is reffered to as "God's own country".
Kerala is one of the smallest states in India, but still has so much to offer. You can find former hill stations and tea plantages. Or wildlife sanctuaries with tigers an wild elephants among others.
The relaxed atmosphere of Kerala is perfect for slow travel. When planning a visit to Kerala, don't try to see everything. Instead, choose some few places of interest, and see them well. For us, after traveling the North (Delhi, Rajasthan, Agra and Varanasi) for nearly three weeks we only had one thought on our mind: peace, quietness and relaxation. All this is found in Kerala.
Fort Cochin
Along the tropical Malabar coast you find Kochi (Cohin), with a population of over 600.000. It's a modern (and noisy) big city. Therefore, if you're looking for a calmer place, head directly to the old historic, colonial town of Fort Cochin. Here, and in the neighbouring town of Mattancherry, you will find influence from all over the world. Think Chinese fishing nets, Portugese houses, a Jewish synagogue, old mosques and remains from the British era.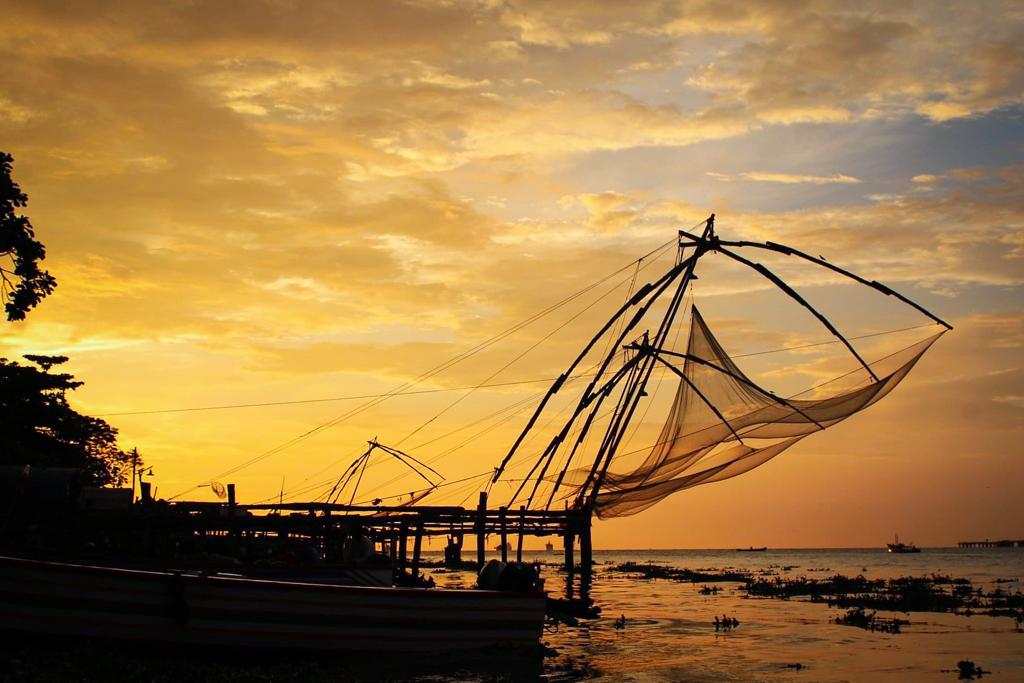 Dotted all over the town you will find options for accomodation in all price ranges, from the simplest hostels, to homestays, nice guest houses and colonial-style boutique hotels.
Our guest house was located in the very centre of the town, with quick access to everything we wanted. After traveling for some weeks, and eating mostly Indian food we were eager to find something else. As a joke we were dreaming about a big, juicy beef burger and a cold beer. And guess what? A few steps from our guest house we found exactly that. Well, almost. We got our beef burger (a very dry one), and we got our cold beer. We were as happy and satisfied as one can be on a first evening in Kerala.
The Chinese Fishing Nets
Maybe the most famous sight in Fort Kochin are the Chinese fishing nets. Looking like some kind of giant spider, these huge nets is the traditional way of fishing in the area. It is hard work. 4-6 people operate each of the nets, which not always give the biggest outcome. It is very facinating to watch the whole process. Do come back here in time for sunset. It is stunning to watch the sun go down in the ocean behind the nets.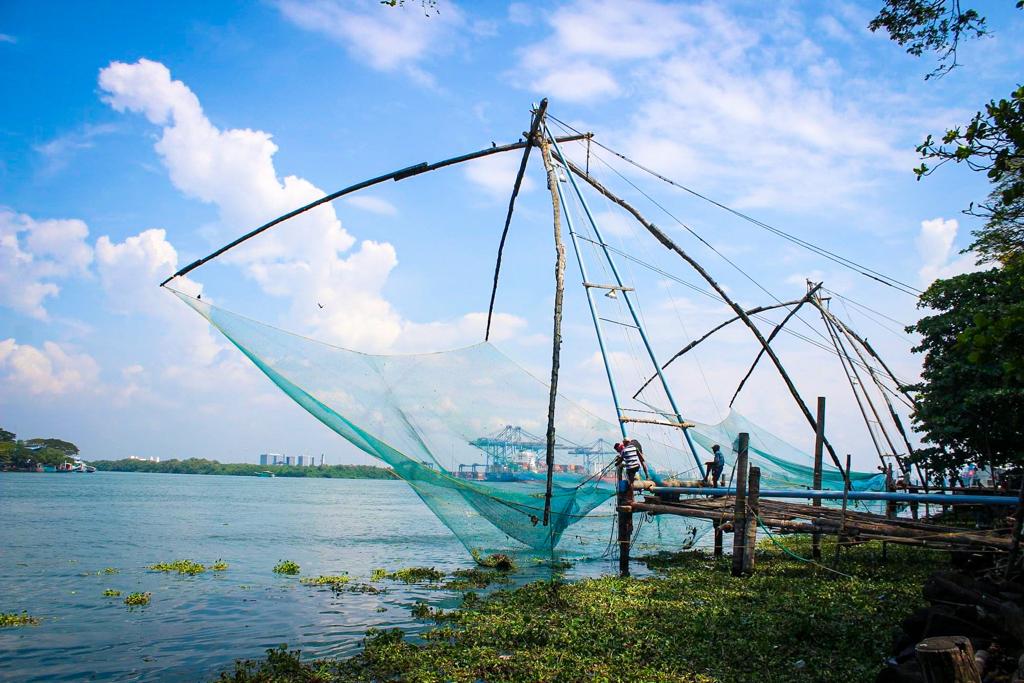 There are some few museums and churches to visit in the town. For us the best was just wandering streets up and streetes down. The architecture is a mix of the past, and there are beautiful buildings from the different eras gone by. There are small independent shops, galleries, cafes and restaurants all over. Also we found a very cosy french cafe serving quality coffee and freshly made pastry.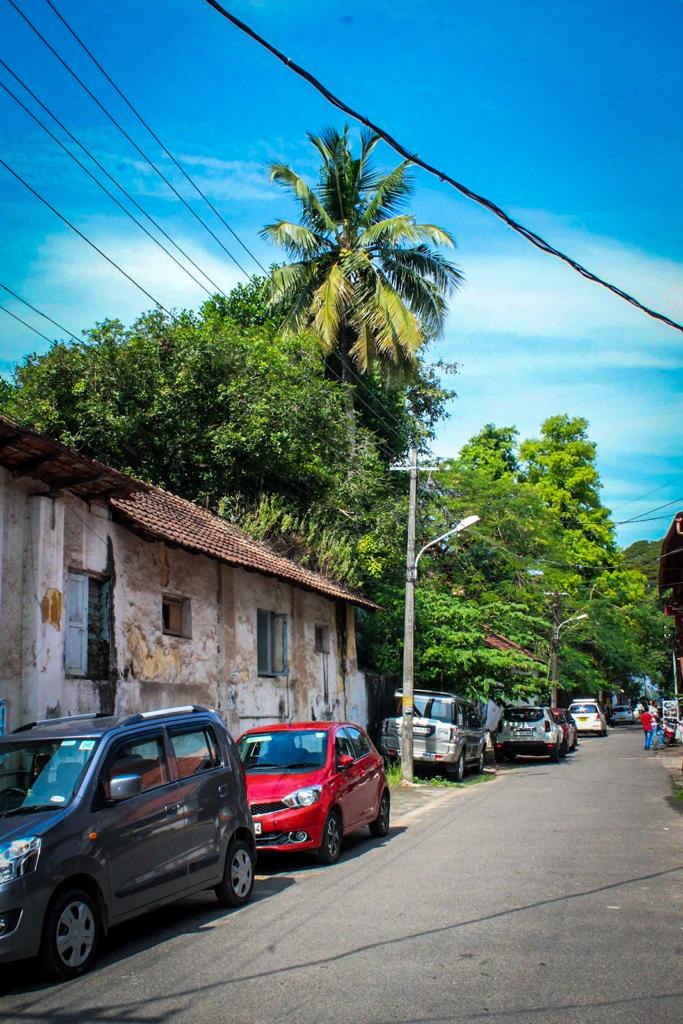 Mattancherry
A tuk-tuk will take you to the neighbouring town Mattancherry in just some minutes. Here you can visit the Mattencherry Palace, a Portugese palace, later renovated into a Dutch palace. In the port area you will find Jew Town with its very old synagoge. You won't need too much time in Mattancherry. Normally the tuk-ruk driver offers to wait for you to bring you back. The price for this is very low, so low that we didn't even bother to negotiate in the first place.
The seafood
Another true highlight in Fort Kochin, and not to be missed, is the seafood. It is so amazing, so fresh, and so delicious. There are several ways to enjoy the freshly cooked seafood. First of all, you can go to a cafe or resturant with a set menu, or a chef who prepares todays catch depending on what the restaurant got in that day.
Also, there is another, better option. Along the shore, just behind the Chinese fishing nets you can see several stalls selling fresh fish and seafood. You can buy what you want here, and bring it to your accomodation to get it prepared there. Finally, you can do as we did; buy the seafood at any stall. Then get one of the shacks nearby to prepare it while you wait. Most of the stalls selling fish also runs one of these shacks where you can enjoy your meal. They tend to overprice the seafood, so ask around and negotiate. One should also ask how much the cooking will cost extra. Furthermore, officially none of these places serves alcohol. However, if you ask for some 'special drinks' you most likely will end up with a cold brew anyway.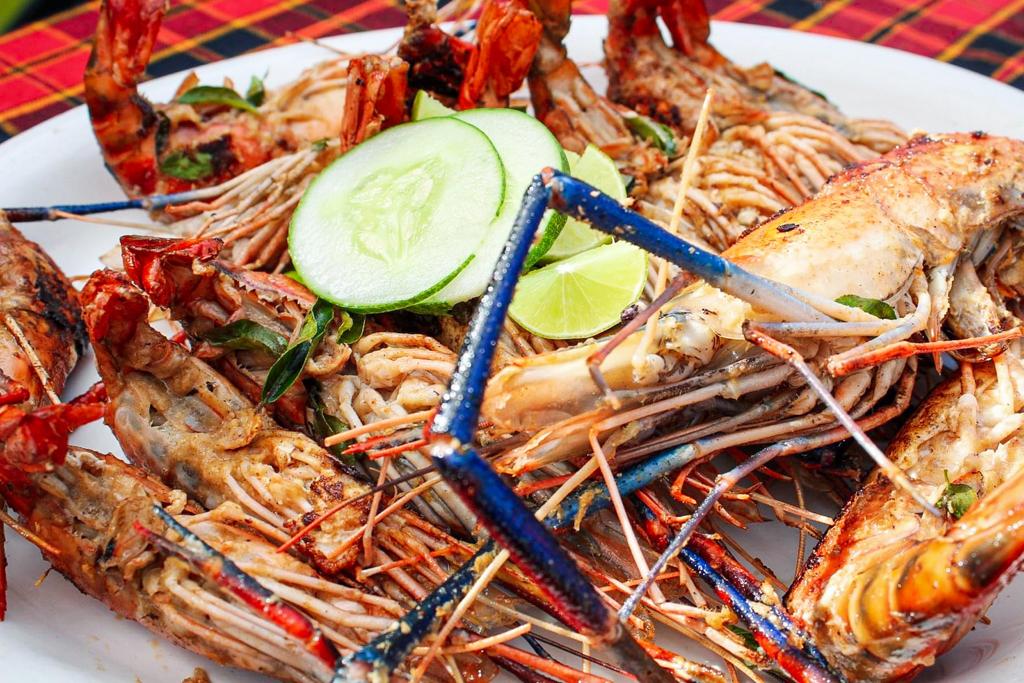 Time for some vitamin sea
Kerala has serveral beaches, some more beautiful than others. To choose the right one for yourself can be the hardest part when they all look so pretty. Some of the beaches have huge crowds, a backpacker-scene, parties and lots of restaurants, shops and other facilities. Others are more serene, quiet and almost empty. Be aware that some of the beaches in Kerala have strong currents that can be dangerous. Check the flags, or ask the locals or a lifeguard patrol if you see one, if and where it is safe for a swim.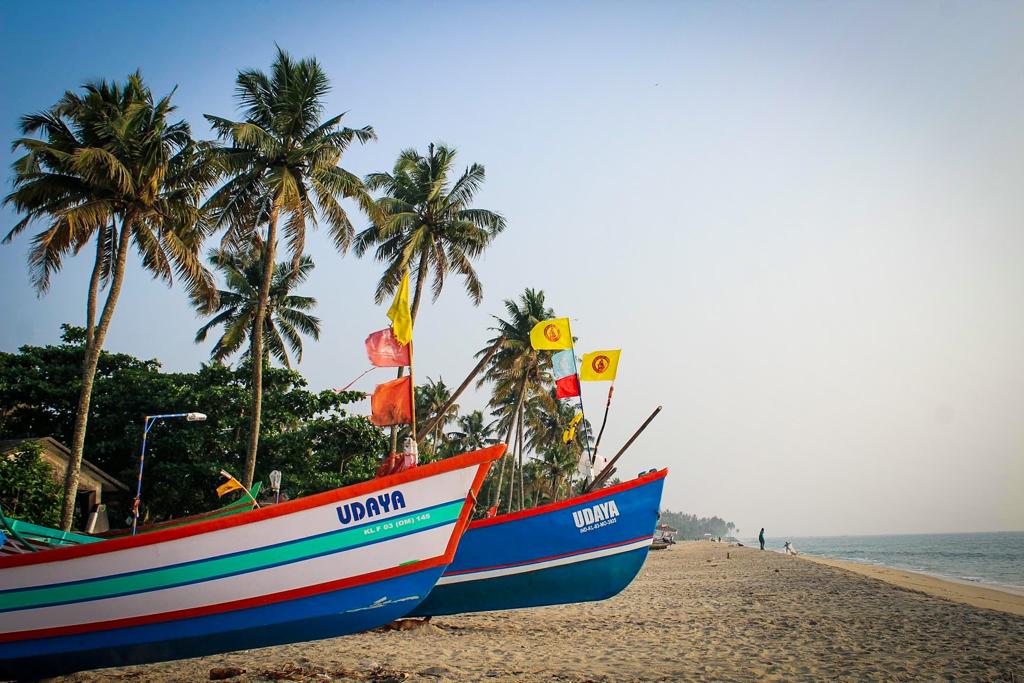 Marari Beach
Want peace and quiet far away from the party and backpacker-scene? So did we! Then choose Marari beach, located 14km north of the transport hub Alappuzha (Alleppey). Here you can find several great homestays next to the beach.
Marari beach will offer a great time for relaxing in the sun, swimming, walking along the beach, reading and eating local cuisine with fish and coconut as base for the cooking. Most homestays have sunbeds and umbrellas making your stay quite comfortable.
In the evening it is beautiful walking along the beach watching the sunset. At the same time one can take in local life as fishermen start preparing their boats for another round of fishing. Some are even catching fish just off the beach with smaller hand-held nets.
We loved our stay at Marari, but to be honest – we are glad we stayed only two nights. Our homestay had two rooms, but we were the only guests. After a while it gets really quiet, in the meaning that there is not much around. No place to go for a coffee, a juice or a beer. Nowhere to go for lunch or dinner, or to meet some other people. We tried to enter the bar at a nearby hotel but the bar was for house guests only. If you are after peace and quietness in serene surroundings, Marari beach is definitely the perfect place to visit. On the other hand, if you prefer some more facilities around, there are other options that might be better suited for your needs.
The backwaters
The famous Kerala Backwaters are a 900km network of waterways in the inland just off the coast. The backwaters consists of bigger and smaller rivers, lakes and canals. It is home to thousands of people living there, many of them farmers or fishermen, or a combination of both. Many families also offers accomodation at a so-called homestay.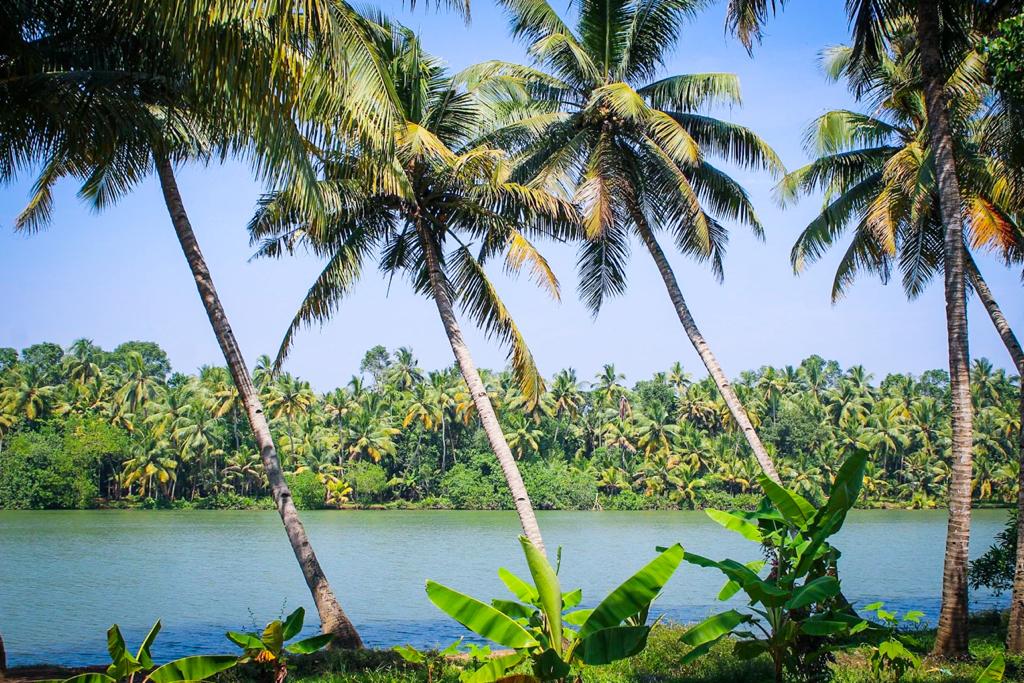 There are different options for exploring the backwaters. One of the most common is a stay at a houseboat for one or more nights. This is also the most touristy and expensive alternative. The boats leave around lunch time and are back next morning if you choose a one night stay.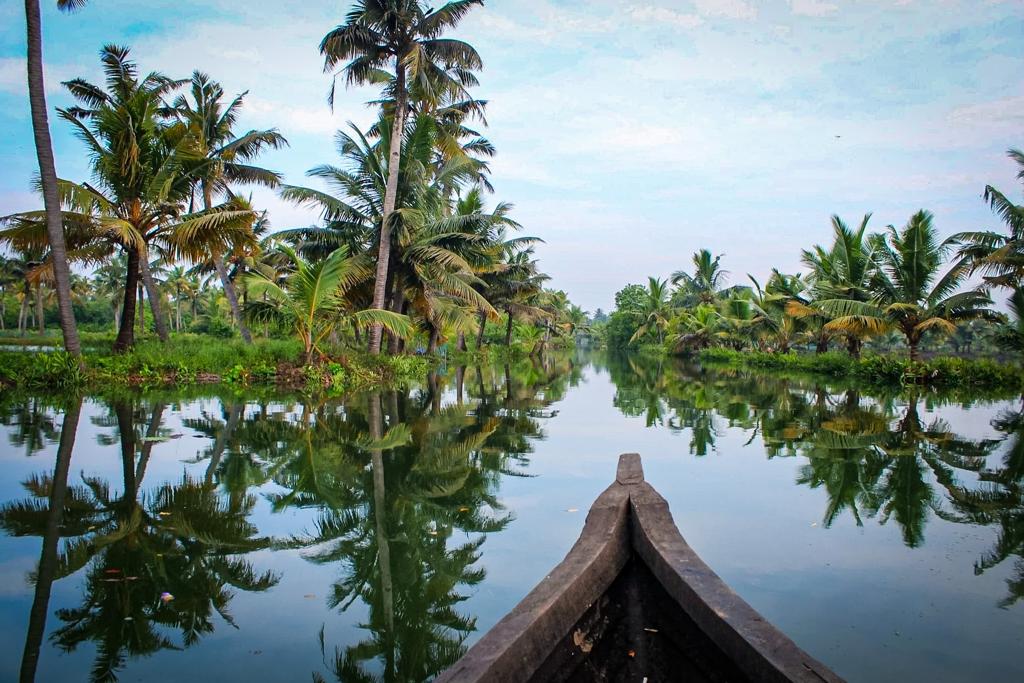 Munroe Island
We chose to experience the backwaters from a beautiful homestay at a little paradise called Munroe Island. Yes, you read correct; this truly is pardise. Munroe Island, in the Kollam district, is a group of eight small islets, accessible by road, rail or by water. Even over 10.000 people live at Munroe Island, it never felt crowded. It's so quiet, serene and peaceful.
We spent three nights doing nothing and everything. We stayed at a homestay with a local family. They had built a small bungalow with two bedrooms and private bathrooms. Outside the bungalow was a small terrace, and just in front of that ran one of the many small canals. This, combined with numerous palm trees, really made us feel like being in another world aka paradise.
Normally, the host families serve food, organises canoe trips and some have bikes to lend. You can explore parts of the island by bike or by foot. A highlight is a boat or canoe trip through the narrow canals. The best thing about doing a homestay and activities organized by the host familiy, is that it is more authentic and unique than from e.g. the large houseboats. You will be much closer to the local daily life this way. While the houseboats only can traffic the bigger rivers and lakes, the smaller, narrow rivers and canals can only be seen from a canoe or a smaller boat. Also, by choosing a homestay you will support the local economy for a family better than on a houseboat that might is owned by a big company.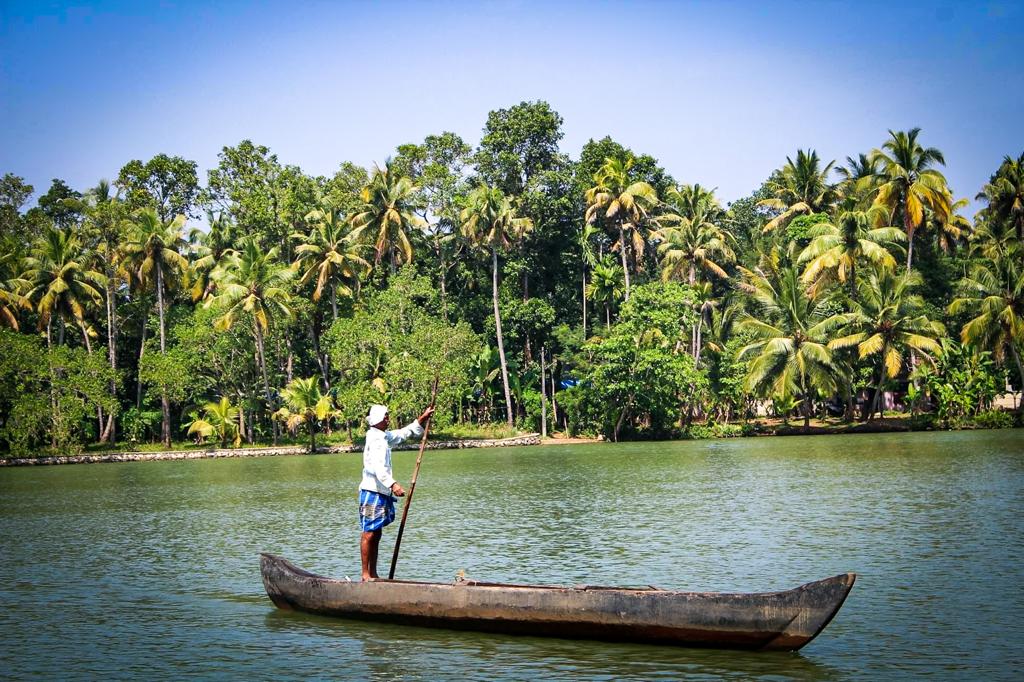 Getting there and around
Kerala has several international airports, with Trivandrum and Cochin being the better connected ones. You can also reach Kerala by bus or train from all over India. You can even take the train from Delhi to Kerala in 48 hours.
Getting around is easy. For shorter distances a tuk-tuk is easy and there are also local buses. Trains are connecting the different towns along the coast and some trains also stop at Munroe Island. To make it easier for yourselves, you can arrange private transport through your accomodation, e.g. airport pick-up. It costs a bit more than taking public transport, but sometimes it's worth the price.
In the backwaters there is a tourist cruise going in both directions between Kollam and Alappuzha (Alleppey). It takes 8 hours for the full stretch, but one can also do only half the way. The boat leaves at 10.30am and arrives 6.30pm at either end. This is a good way to get a glipse of the backwaters, and you can use it as a ferry taking it from one town to the other. For some reason it did not run while we were there. Please check beforehand if there are any interuptions in the traffic.
More inspiration
Kerala was our second last stop on our journey 4-week journey through India. Heading to the north? Here you can read about Jaisalmer, Jodphur, Udaipur and Bikaner, four great cities in Rajasthan. Read here about Pushkar if you are considering going there to the camel fair and here about the pink city of Jaipur.