This post may contain affiliate links, where we may receive a small commission if you purchase something through following the links at no extra cost to you.
Famous for its food and a magnificent fort towering over the blue city. With an old town, labryinth streets, a huge market, colorful women, local traditions and a long history, Rajasthan's second largest city has it all. Welcome to Jodphur!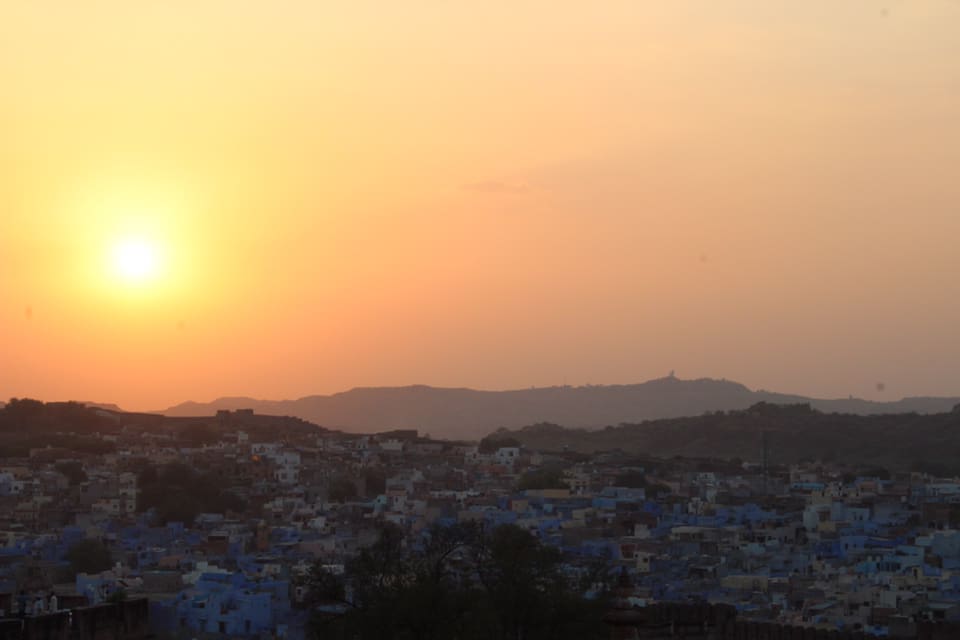 With a location at the edge of the Thar Desert, Jodphur has an interesting history going centuries back. The city was founded in 1459 by Rao Jodha, a Rajput chief. Jodphur lays on the stratetic and vital trade route between Delhi and Gujarat. Because of this the city was able to profit from the growing trade along the route.
Modern-day Jodphur is a fascinating city, with tourism as an important industry. Although the streets are crowded and hectic, the atmosphere is good. Furthermore, the local life is always present as the daily life moves on. Apart from the Blue City and the Mehrangarh Fort, most travellers flocks to the Makrana Mohalla area in the old city. In this busy area you find proximity to other sights, most restaurants, cafes and shops.
6 things to do in Jodphur
Explore The Blue City
Maybe not very surprising, but the Blue City in Jodphur is actually blue. It seems like all shades of blue are found there, from baby-blue via bright to dark blue. Over a large area, a labyrinth of streets and narrow lanes makes up the part of Jodphur called the Blue City. Some buildings are blue all over, while others have a blue door, or maybe blue window frames.
This area is more quiet than the busy old city, making it perfect for exploring. Also here you will have a good chance to see the local daily life going on. Even most travellers find their way here, the area is not too hectic. The whole area is a good mix of temples, residential quarters, shops and bazaars. No street is straight, and it's easy to get lost. Don't worry, just walk uphill, and you will arrive at the spectacular fort towering above.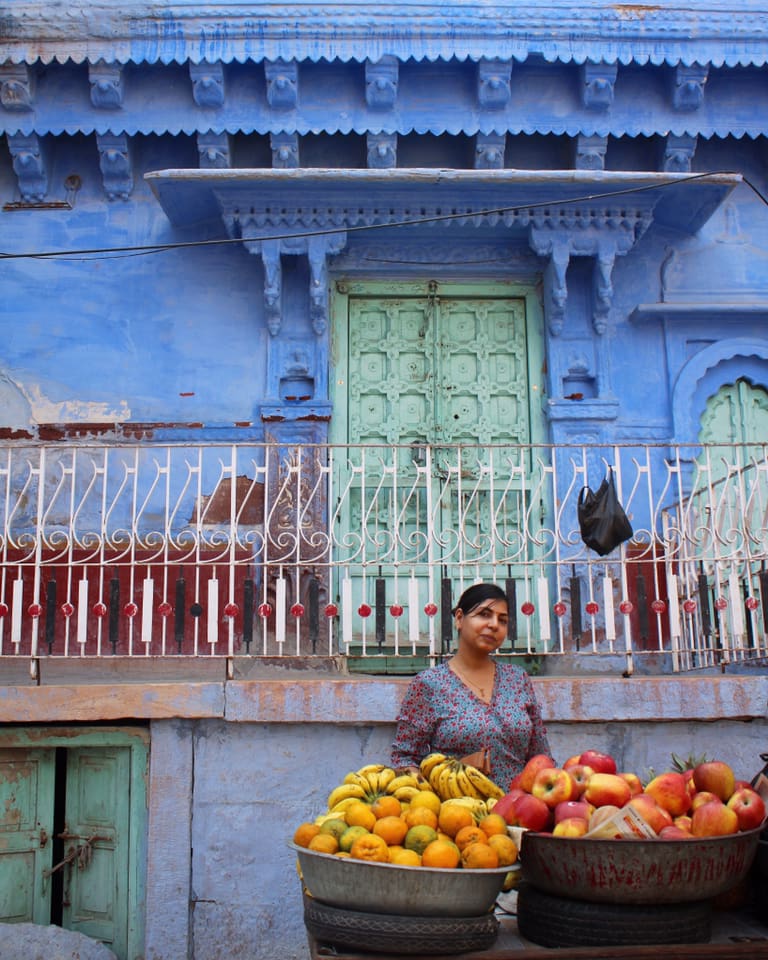 Visit Mehrangarh Fort – the pride of Jodphur
The mighthy Mehrangarh Fort rises over the city from a 125m rocky hill. It is one of the largest forts in the whole of India, and one of the most impressive we have seen. Even you don't like forts and palaces, we truly recommend a visit here. It is the highlight and such an imposing sight. The founder of Jodphur, Rao Jodha, built the fort in the same period as he founded the city. It's a massive construction, enclosed by thick walls rising 6m to 36m high.
Insdide the fort grounds are several palaces, gardens, courtyards and a temple. The palaces are beautifully crafted and decorated, and have names such as Pearl Palace, Flower Palace and Mirror Palace. The palaces are part of the Mehrangarh Museum, and different galleries show various collections. Fun fact: There's even a turban gallery for those who are interested in turbans.
The main entrance to Mehrangarh is the majestic Jai Pol gate, located a 300m uphill walk from the old town. If you enter the fort from the Blue City, you will enter via Fathe Pol (Victory Gate). Entrance to the fort itself is free of charge, but for entering the inner courtyards and museums you need to pay the entrance fee. An audioguide is included in the museum ticket.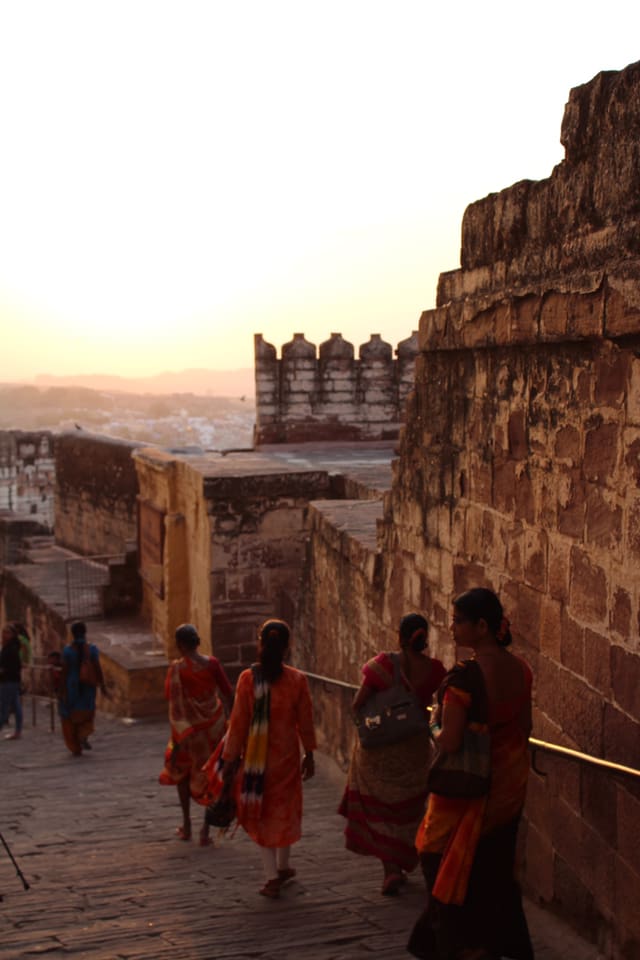 See the stepwell in Jodphur
Certainly, stepwells are such an interesting architetural construction. They are wells or ponds in which the water is reached by walking down steps to the water level. They are common in Western India, but also found in other countries, e.g. Pakistan.
Jodphur has its own stepwell, the Toorji-Ka-Jhalara. It it such a unique place to visit. It's geomertical with clean lines and looks really beautiful. You can also walk the steps down towards the water. At the time of our visit some people were doing cliff jumping from the adjecent building into the water, so if you are lucky you can also get free entertainment while you are there.
The Stepwell Cafe just above the well has the best view over the grounds while you have a break or some refreshments.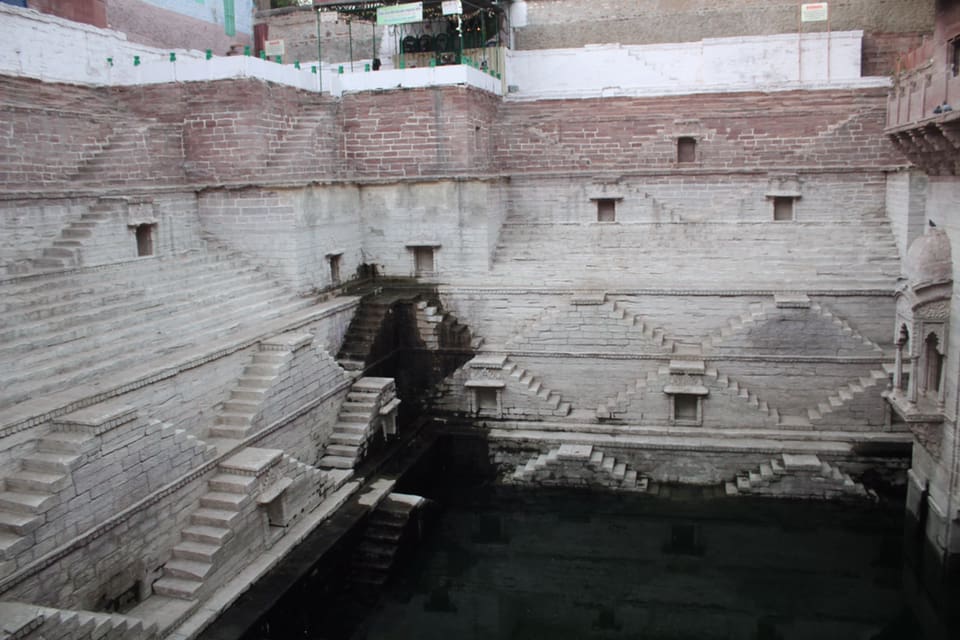 Shopping at Sardar Market
Sardar Market, in the middle of the city centre (next to the Clock Tower) is the place to go for shopping. Here you will find everything you need (and don't need). First of all, this is where many locals do much of their shopping. You will see loads of different food, vegetables, fruits and grains. There's also a wide range of clothes, tools, fabrics, kitchen ware and so on. Then there are the spices. Lots of them. The colorful towers of all different spices is a sight for everyones eyes. Buy some for your home. It is a great and little memory of your trip and you will always get remined when you use it for cooking. Remember to bargain on everything you want to purchase.
There are some cafes in and around the market if you need a break or some refreshments.
Dine with dramatic views to the fort
Looking for the perfect place for a romantic dinner? Look no longer! We found it for you. The rooftop restaurant at the Pal Haveli Heritage Hotel is the perfect place. From here you have superb views up to the fort. The restaurant serves traditional Indian food, e.g. North Indian curries. The restaurant also serves good coctails. The service level is fantastic, and within this atmosphere you are sure to have a great evening (unpaid advertisement).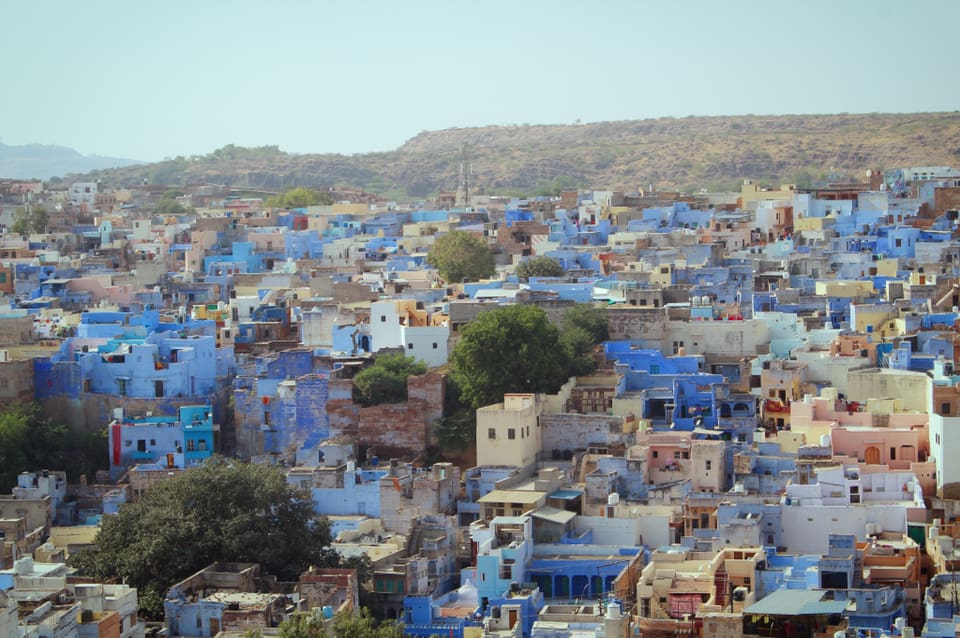 Enjoy the local life in Jodphur
Seeing major sights is important for many travellers. But travelling is more than that. Take a break from sightseeing and stop to observe (or take part in) the local life. In Jodphur, so much is going on out on the streets. You will see colors, sense smells, see smiles and happy faces, observe gestures and a spectacle only found in India. Buy some snacks, a drink (e.g lassi) and find a place to relax. You will see people out for a stoll, while others are in a hurry. There are cows, cars, bikes and autorickshaws. And lots of people. Some do their daily activities outdoors, while other are small-scale bussiness owners looking to secure the day's income. Even the streets in Jodphur can be overwhelming, spend some time in the streets, just strolling around. It will give you memories for life.
Getting there and around
You can arrive Jodphur via bus or train. Buses connect Jodphur with e.g. Ajmer, Jaisalmer, Jaipur, Udaipur and Bikaner.
Train services cover places such as Delhi, Mumbai, Bikaner, Jaisalmer, Jaipur and Ajmer. Train travel in India is an experience, and you should at least do one train journey while in India.
Jodphur also has a small airport. It's not vey well connected, but there are fligts to e.g. Delhi and Mumbai.
Buy tickets at the train stations, or at the ticket offices if travelling by bus. We recommend to purchase your ticket some days in advance. Especially trains can sell out fast. For a small comission most accomodations can also assist you with buying tickets for you. This way you save some time (and also some hassle).
At arrival and departure you can take an autorickshaw to or from your accomodation. Remember to negotiate and confirm the price before you enter. Don't pay before you are at you final stop.
Jodphur is very walkable. The best way to get around, by walking, but an autorickshaw is also possible as local trasport in the city.
More inspiration
Read our suggestion of a 4-week itinerary for India if you are on a longer journey. Also, here you can read about Jaisalmer, Bikaner and Udaipur, three other great cities in Rajasthan. Read here about Pushkar if you are considering going there to the camel fair and here about the pink city Jaipur. If you rather want to go south to palm trees and amazing beaches, you can read what to see and to in tropical Kerala.