This post may contain affiliate links, where we may receive a small commission if you purchase something through following the links at no extra cost to you.
Bangkok is one of the largest cities in the world. Millions of tourists come every year to visit the capital of Thailand. Due to its long history and culture, there is so much to see and explore in Bangkok. The Royal Thai Palace is one of the must-sees in Bangkok and also one of the top attractions.
Thailand is one of the most popular destinations in the world. Most tourists which travel to Thailand fly into Bangkok. It is a great city to start your holiday or your backpacker trip through South East Asia. There are lots of things to do in Bangkok but you definitely should not miss a visit to the Royal Thai Palace and Wat Phra Kaew.
If you have visited European castles or palaces before, this one is for sure different. You can see some similarities, but it is worth visiting the Grand Palace in Bangkok.
Read more in this post to get all information before your visit to the Royal Thai Palace in Bangkok, e.g. the dress code, opening times and the ticket price.
TIP: Read our post on things to do in Bangkok – especially if you visit Bangkok for the first time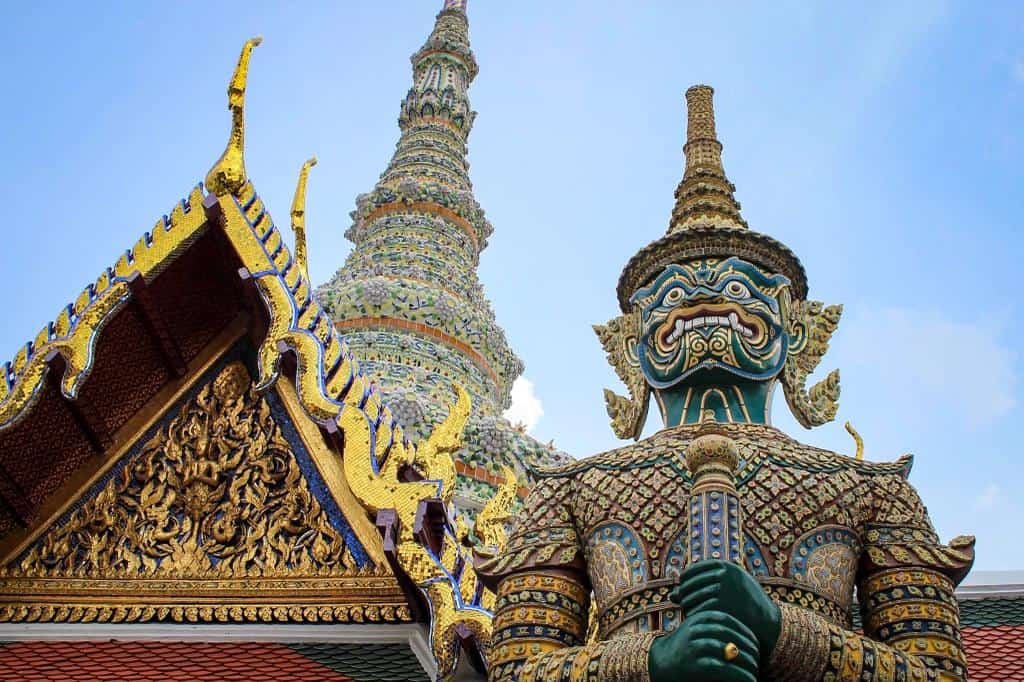 History of the Royal Thai Palace
The Royal Thai Palace is a complex of temples and buildings in the centre of Bangkok and was established in 1782. The area of 218.000 square metres consists of the royal residence, throne halls, government offices, the temple of the Emerald Buddha (and the museum) and the Queen Sirikit Museum of textiles.
The palace was built in 1782, after King Rama, I ascended to the throne. Before the royal palace was located on the west bank of the Chao Phraya river. By the King's command, a palace was built to serve not only as his residence but also as the site of administrative offices.
The current palace consists of four parts, the outer courtyard, the central courtyard, the inner courtyard and the temple Wat Phra Kaew.
The entire area was initially surrounded by a heavily fortified wooden palisade. It was later replaced by a 1.9 km long, high brick wall intended to shield the palace from the outside. The urgently needed building materials, such as bricks, were brought by ship from the destroyed palace in Ayutthaya. The first construction phase was completed in 1785 so that the palace could be officially opened in a great ceremony.
TIP: Going from Bangkok to Ayutthaya? Our post on how to get to Ayutthaya from Bangkok will help you get there
After you purchased your ticket, you will enter first the grounds of the Wat Phra Kaew temple. Proceed through the western gate to the grounds known as the Grand Palace.
The Royal Thai Palace is currently partially open to the public as a museum, but it remains a working palace, with several royal offices still situated inside.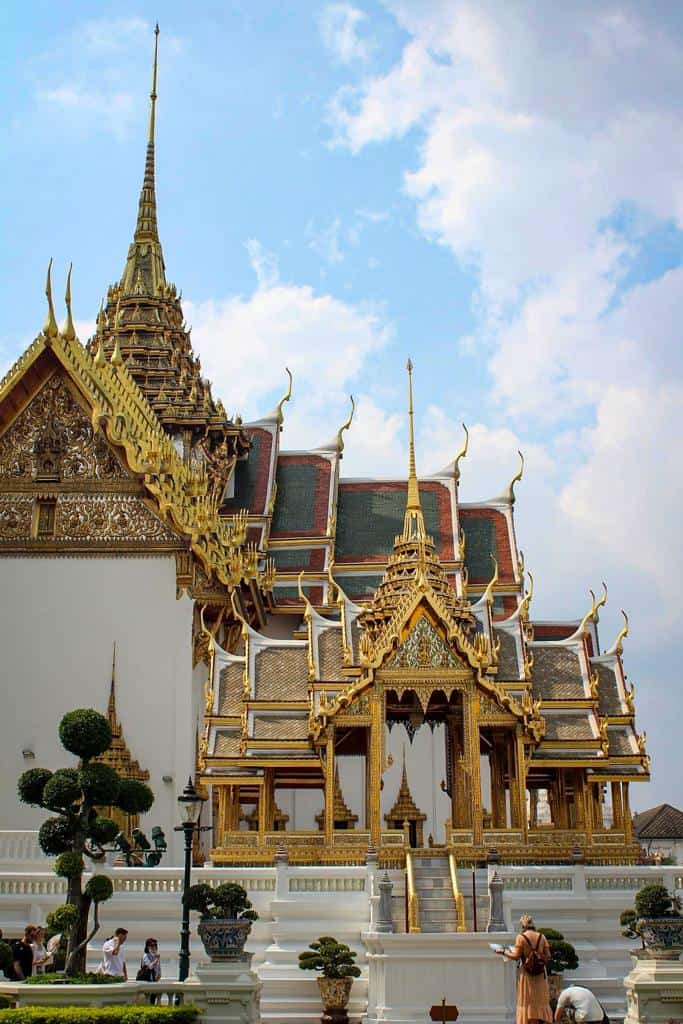 Highlights of the Royal Thai Palace:
Murals of the Ramakian
The Emerald Buddha Temple
Chakri Mahaprasat
Yaksha (guardian demons)
The three Spires
How to buy tickets and the price for a visit to the Royal Thai Palace
You can buy a ticket for the Royal Thai Palace online (but at least 24 hours prior to the visit) or directly at the entrance of the complex. We did not wait long to buy a ticket at the entrance. You can pay either cash or with a credit card.
A ticket for the Grand Palace costs 500 baht for foreigners, but for Thai people, it is free of charge.
You can get an audio guide for 200 baht.
TIP: Heading to Chiang Mai as well? Read our posts on the best coffee in Chiang Mai and on temples in Chiang Mai before you go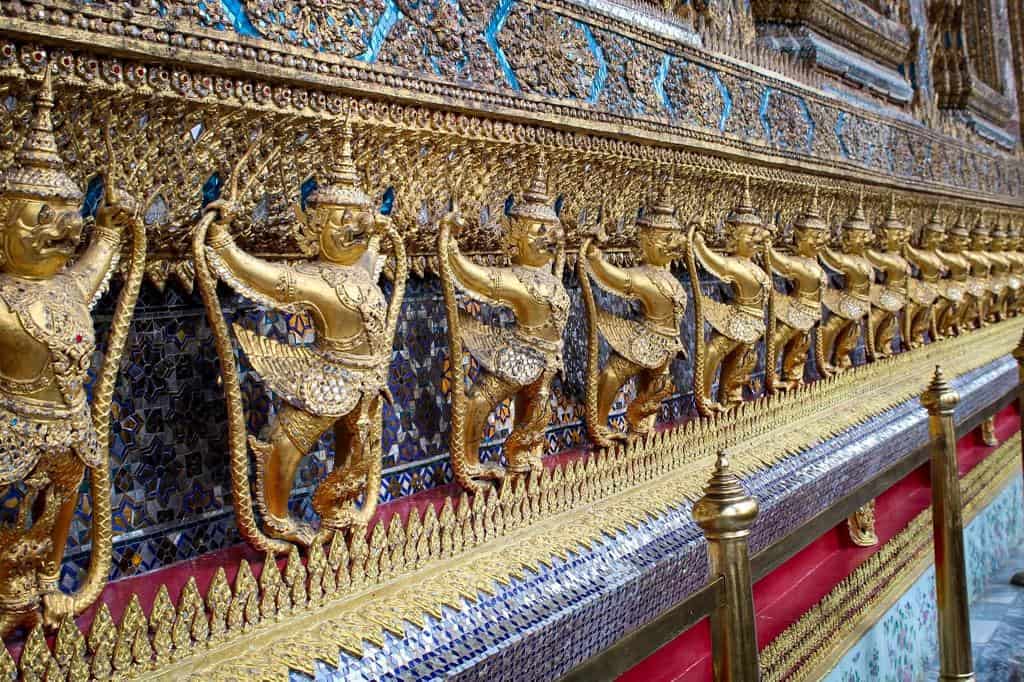 Dress Code
Be prepared to visit the Grand Palace of Bangkok with the right clothes. Before you enter the Royal Thai Palace, make sure to wear (or at least bring with you) long pants/trousers and t-shirts which cover your shoulders. You will be denied entering the Royal Thai Palace if you don't cover your legs and shoulders. We actually recommend wearing a t-shirt, since we have seen a woman which could not enter the temple grounds because she wore a singlet and put a scarf around the shoulders and back. You better dress correctly before you buy a ticket and enter the temples and palace grounds.
TIP: Read our post on things to do in Vang Vieng if you are heading to Laos as well
Dress code for the Royal Thai Palace
No sleeveless shirts or vests
No short or see-through tops
No short hot pants/short pants
No torn or tight pants
No bike pants
No mini skirts
In case you didn't dress correctly and forgot long pants or a t-shirt at the hotel, there are shops just at the entrance of the Grand Palace of Bangkok where you can buy clothes. You will notice people who wear pants with elephant prints, Yes, they either travelled already for a while in Thailand/South-East-Asia or had to buy proper clothes to enter the Royal Thai Palace.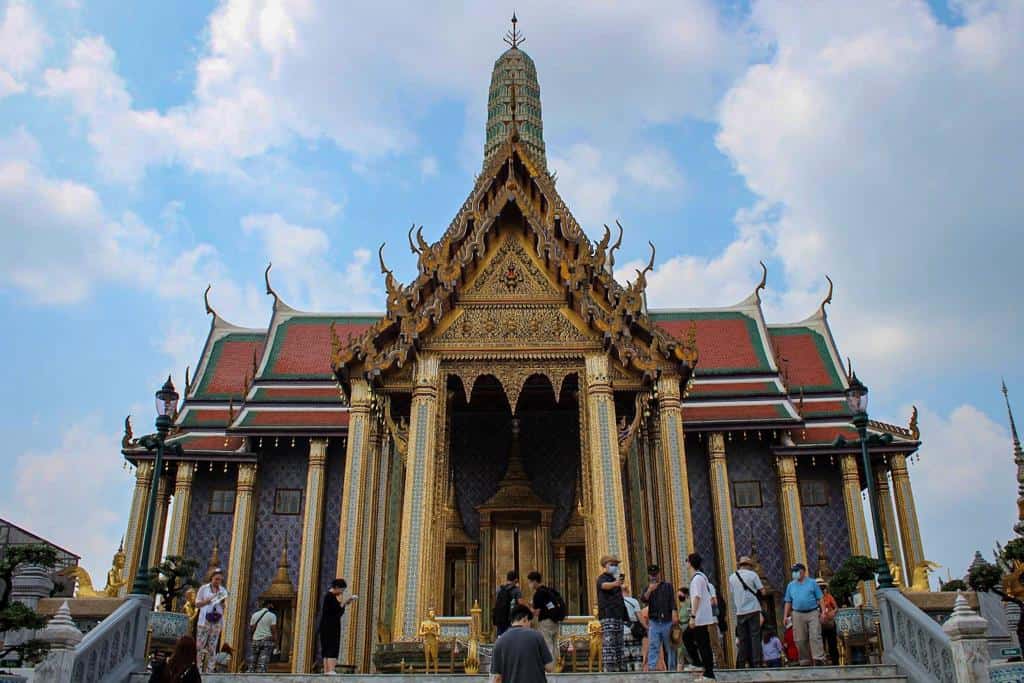 Opening Times
The Royal Thai Palace opens daily from 8:30 am – 3:30 pm.
For your visit to the Grand Palace of Bangkok, you should definitely spend 1-2 hours there or even more. So make sure you come there on time to see all highlights of this huge complex.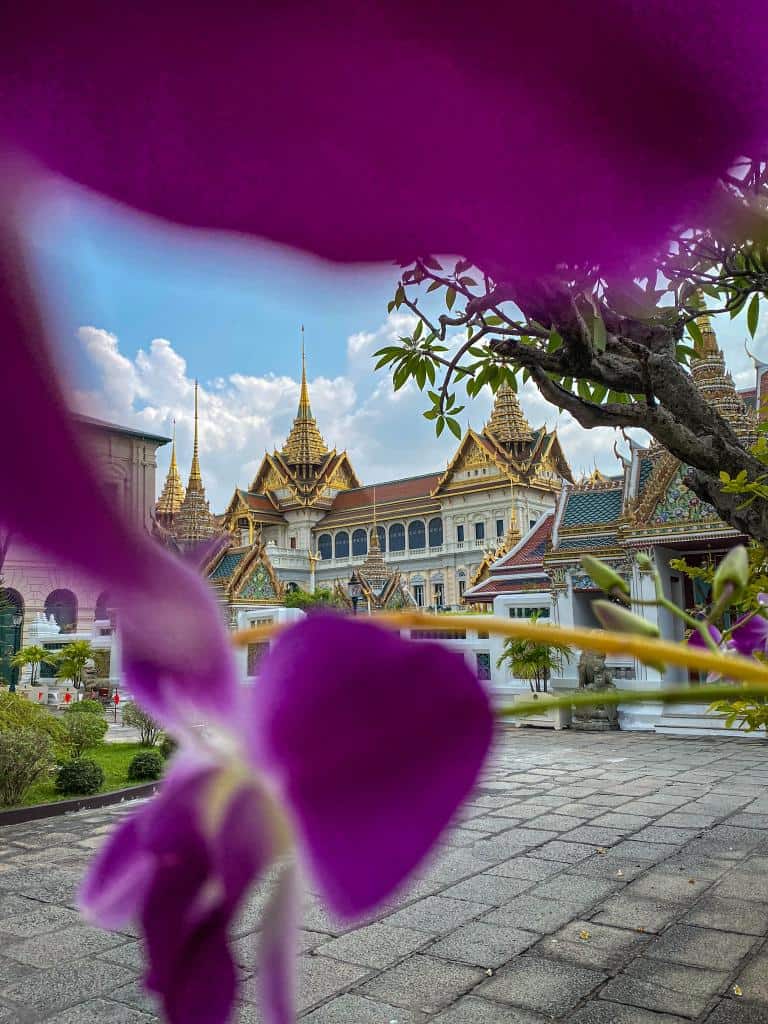 How to get to the Royal Thai Palace
To get around Bangkok, you need time and patience. It can often take an hour or even more to get to a certain place. Here we show you different ways how to get to the Royal Thai Palace in Bangkok.
Busses are a cheap way to get around in Bangkok but were not always on time. It was a fun experience to use them though. If you need to be on time, it is probably better to get a taxi or a ride. Bus 3 covers a big part of Bangkok and just stops close to the palace.
BTS Skytrain: Get off at Saphan Taksin Station, Exit 2 and take the Chao Phraya Express Boat at Sathorn Pier, which will take you to Chang Pier. The Royal Thai Palace is just a 3-minute walk from the Chang Pier.
MRT: The nearest train Station to The Grand Palace is Sanam Chai Station (Blue Line). From there it is a 15-min walk to the Palace, or you just take a tuk-tuk.
Tuk-Tuk: It is an easy and fun way to get around in Bangkok. Make sure you don't pay too much. Ask your hotel or accommodation how much it should be. Often the tuk-tuk drivers want way more than they actually should.
Grab: You can use this ride app all over Thailand and it works like uber. You order your ride and pay when you arrived in cash. We had good experiences with this app wherever we went in Thailand. A grab is mostly cheaper than a taxi or a tuk-tuk and you don't have to discuss the price with the driver.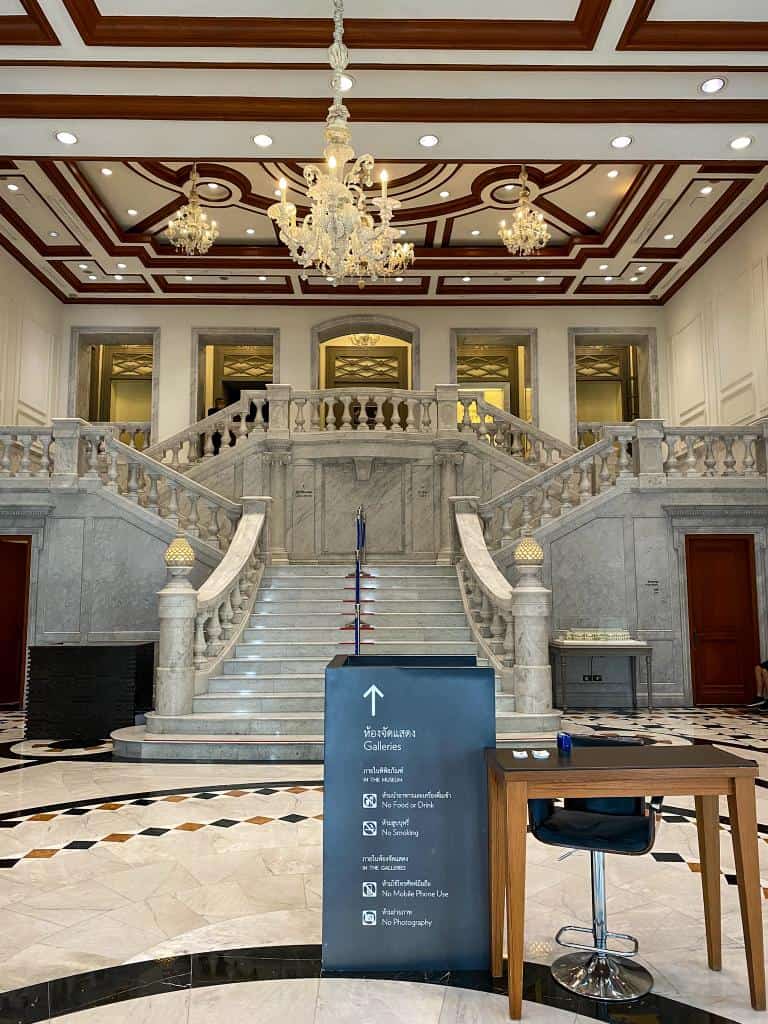 What's included in the ticket?
If you think you can only visit the Royal Thai Palace with this ticket, you are wrong. The ticket price (500 baht) is pretty high compared to other costs in Thailand, but you get a lot with it, too.
A ticket includes:
Wat Phra Kaew (Buddhist temple complex next to the Grand Palace)
Grand Palace
The temple of the Emerald Buddha museum
Queen Sirikit Museum of textiles
Khon Performance at Sala Chalermkrung Royal Theatre (there are free shuttle buses from the Grand Palace to the theatre; there are three times (25-minute) performances daily, from Monday to Friday at 13.00 p.m. / 14.30 p.m. and 16.00 p.m.)
Arts of The Kingdom (located outside of Bangkok, check the webpage for opening times and directions)
TIP: If you also plan on visiting Hanoi in Vietnam, our posts on the best coffee in Hanoi and the best things to do in Hanoi got you covered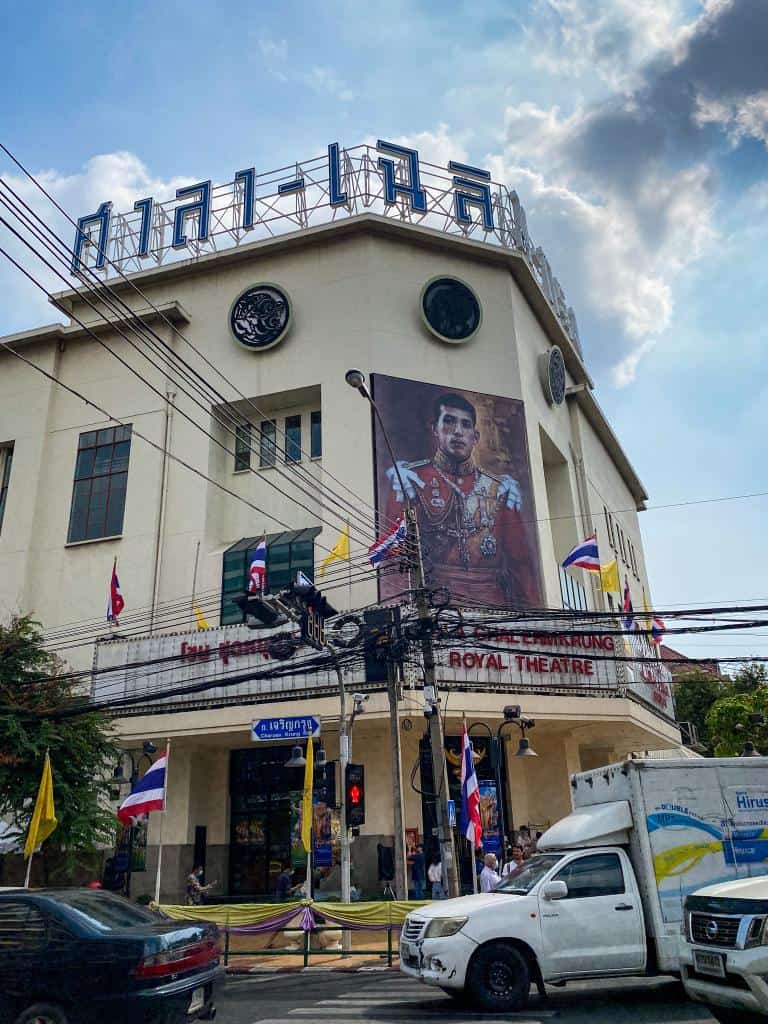 Be aware of scams!
Bangkok is a huge city with millions of tourists every year. Unfortunately, there are lots of scammers who try to rip tourists off. Don't get scared of them because most likely they are telling you the wrong information, eg. the Royal Thai Palace is closed today but they could give you a private tour. Don't believe them. Before you head to the Grand Palace, check the official webpage or ask your hotel/guesthouse if you are unsure. Otherwise, just pass them and walk to the entrance and buy a ticket there. Do not buy a ticket on the streets or let yourself get confused about what they say. Most likely they scam you and only want to make money.