This post may contain affiliate links, where we may receive a small commission if you purchase something through following the links at no extra cost to you.
There is something old-school romantic about travelling by train. If you fancy a great train journey, then a trip with a steam train in Germany should be on your list. The feeling of being on board these old hard-working locomotives is genuinely a unique experience that can set you back in time, and with the Zittauer Schmalspurbahn, you can have this adventure yourself.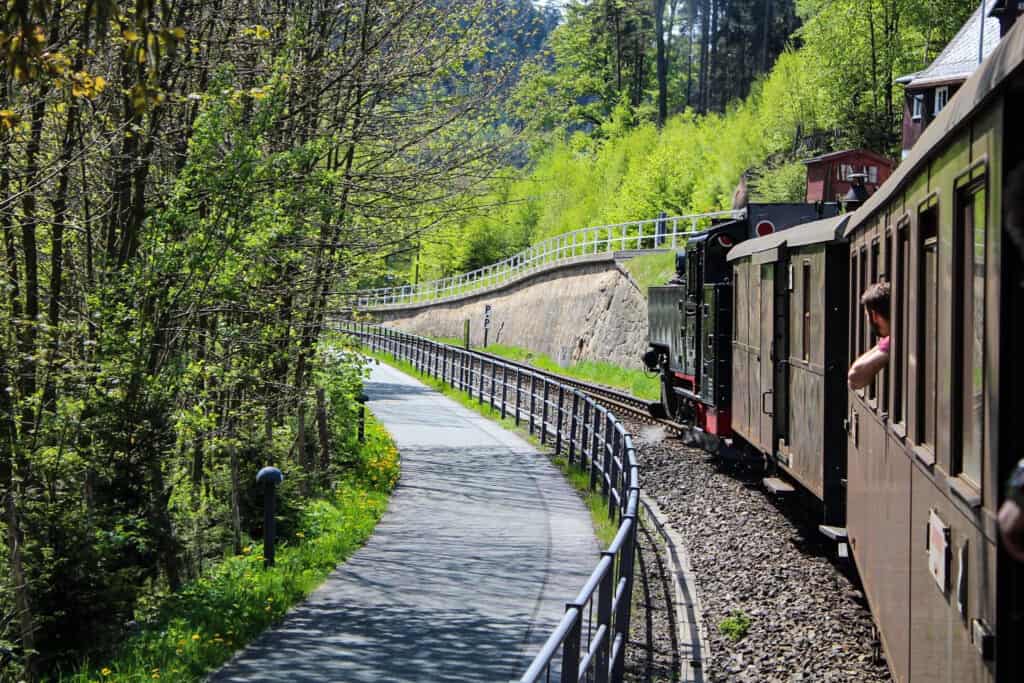 When we visited Zittau, a journey with the Zittau narrow gauge railway (Zittauer Schmalspurbahn) was on top of our list of things to do in Zittau. We really love travelling by train, and we love a good train journey. After the Harz Mountain Railway in the middle of Germany, this was our second journey with a historic steam train, but for sure not the last.
Travelling to Germany? Join Our Facebook Group Germany Travel Forum
Over time we have done some great train journeys, like the Bergensbanen and Flamsbana in Norway, the Bohinj Railway in Slovenia and the great Trans-Siberian Railway all the way through Russia. They were all amazing for sure, but the feeling of being on board a historic steam train in Germany is different. The best way to describe it would be to say that it's like a travel in time.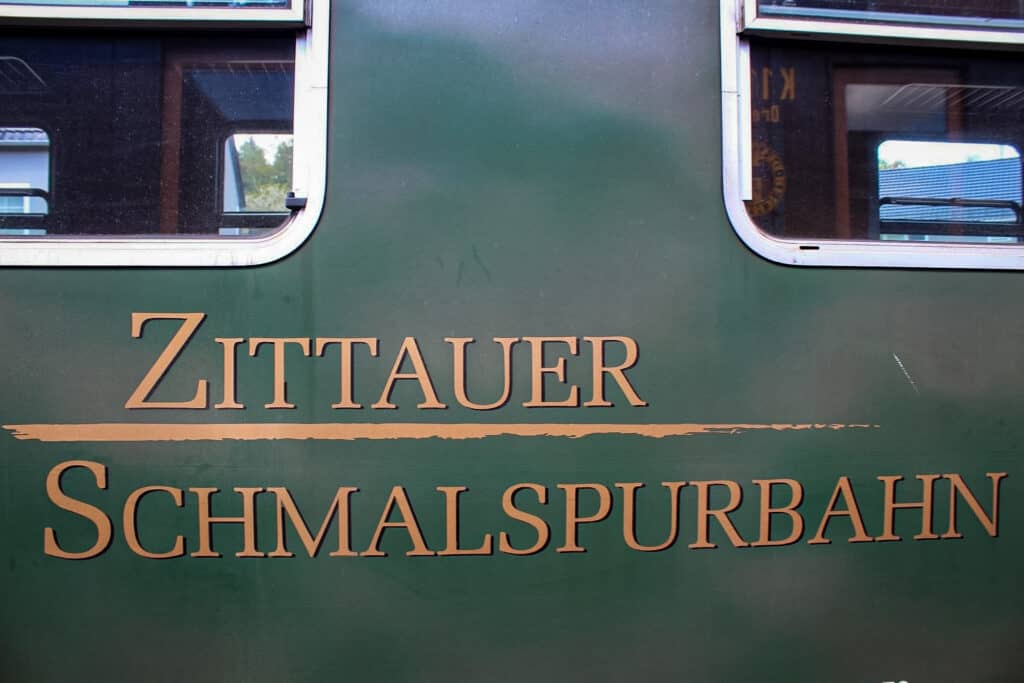 What is the Zittauer Schmalspurbahn?
The Zittau-Oybin/ Jonsdorf railway, or the Zittau-Kurort Oybin/ Kurort Jonsdorf narrow-gauge railway is a narrow-gauge railway (German: Schmalspurbahn) in the southeast corner of the German state of Saxony. The Zittau narrow-gauge railway connects the beautiful town of Zittau with the spa towns (kurort) Oybin and Jonsdorf. The German word kurort translates to health-spa resorts, and in this case, when you take the train to the Zittau Mountains, you will arrive at one of the German mountain health-spa resort villages.
The Zittauer narrow-gauge railway isn't the longest train journey in the world with a length of only 16,1 km (10 mi). The journey from Zittau to Oybin takes around 50 minutes, and the same goes for Zittau to Jonsdorf.
Zittauer narrow gauge railway started in 1890 and has since then transported holidaymakers and spa guests to the beautiful Zittau Gebirge, or the Zittau Mountains, the smallest low-mountain range in Europe. The end destination of the train line is the cute villages of either Oybin or Jonsdorf.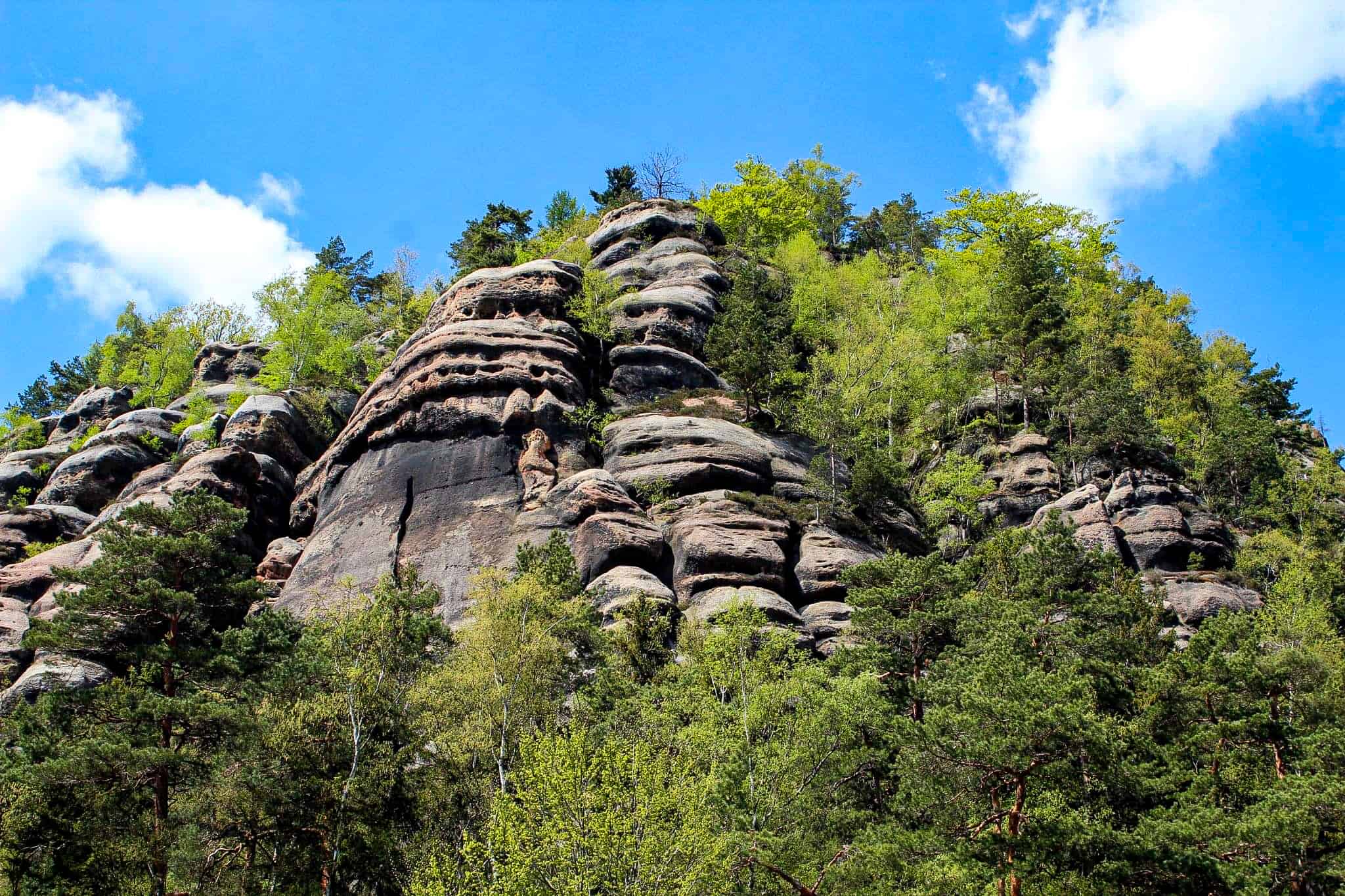 TIP: To combine Zittau with a visit to one of Germany's most beautiful towns – Görlitz, is very easy. A direct train connects Görlitz and Zittau and the journey takes 35 minutes
On our trip, we visited the picturesque Oybin village. This is such a cute village, located directly under some spectacular rock formations. On top of these rocks is the highlight of the village, the ruined Oybin Castle and Monastery. It's only a short hike up there, and on the way, you will pass Bergkircke Oybin (Oybin Mountian Church). Have a look inside this special church. The floor is not straight, but it goes downwards towards the church altar.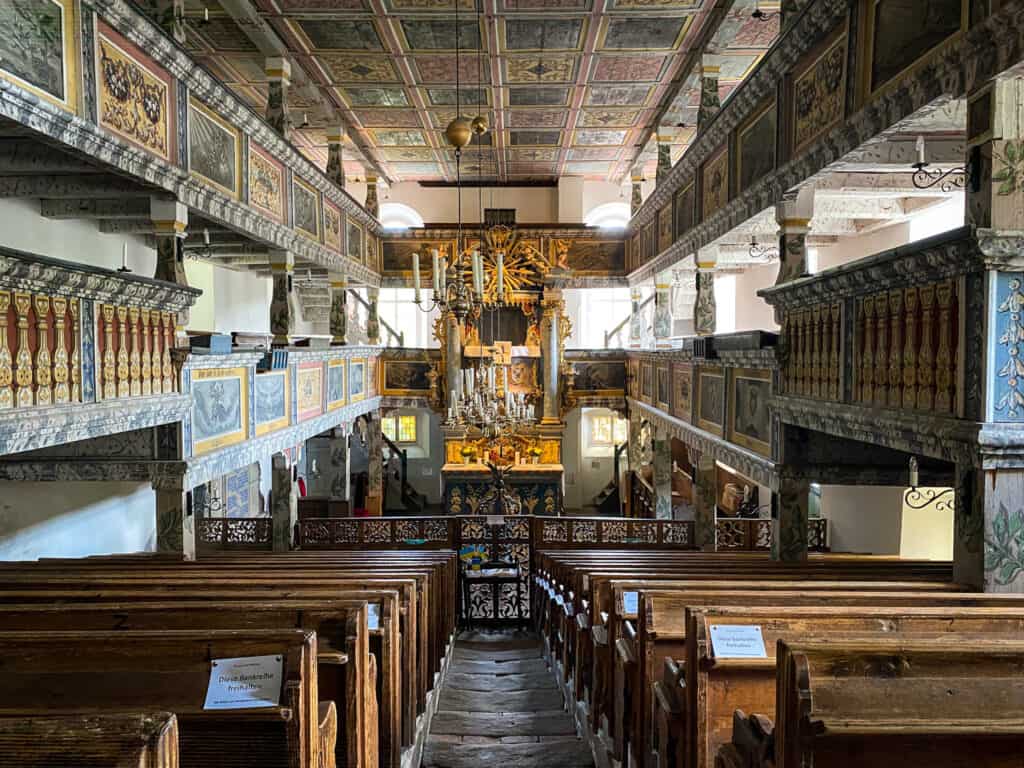 How to travel with the Zittauer Schmalspuhrbahn
Normally, you will start your journey with the Zittauer Schmalspurbahn in Zittau. The train departs from a small timber station next to the main train station. If you have travelled to the Zittau Mountains by e.g bus, you can of course also start this journey either from Oybin or Jonsdorf. The timetable will you updated departure times from each station on the route.
You need to purchase your ticket before boarding the train. On the Zittau narrow gauge railway, there is no seat assignment and there's only one class of travel. This means that it is free seating, based on the first come first serve principle.
The interior of train wagons is nostalgic and of course, the best seats are the window seats, but due to the small size of the wagons, almost every seat will give you a view. Some of the trains have a restaurant wagon where you can purchase warm or cold food and drinks. The restaurant car on the train is super cute and is in fact one of the smallest restaurant wagons on any European rail network. Trains with a restaurant car are marked with a knife and fork symbol in the timetable.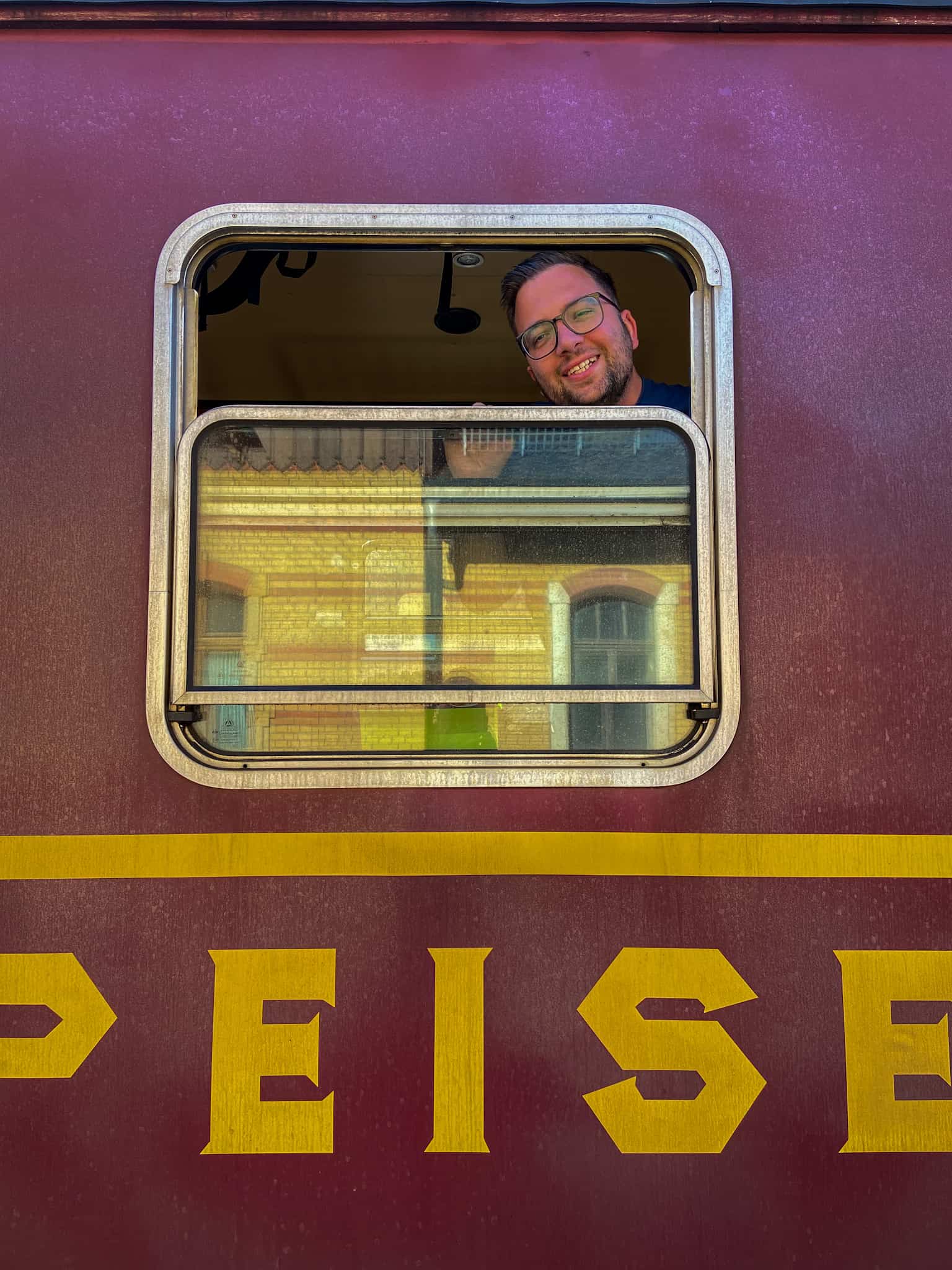 If you travel between May and October, you can also choose to sit in an open-air wagon. Here you literally sit outside without a roof or windows, so check the weather forecast before you choose this. Although it's a cool experience to sit in the open air during a train ride, we found it much nicer inside the old historic train wagons.
You don't have to take the train to one of the end destinations. There are some stops along the route, where it also is possible to spend some days close to nature.
Depending on which departure you have chosen, and where you are going, you might have to change trains at Bertsdorf Bahnhof. From this train station, one train will continue to Oybin and one will take you to Jonsdorf. Some trains from Zittau are direct (without changes) to Oybin while others are direct to Jonsdorf. Pay attention to this so you are sure to arrive where you want.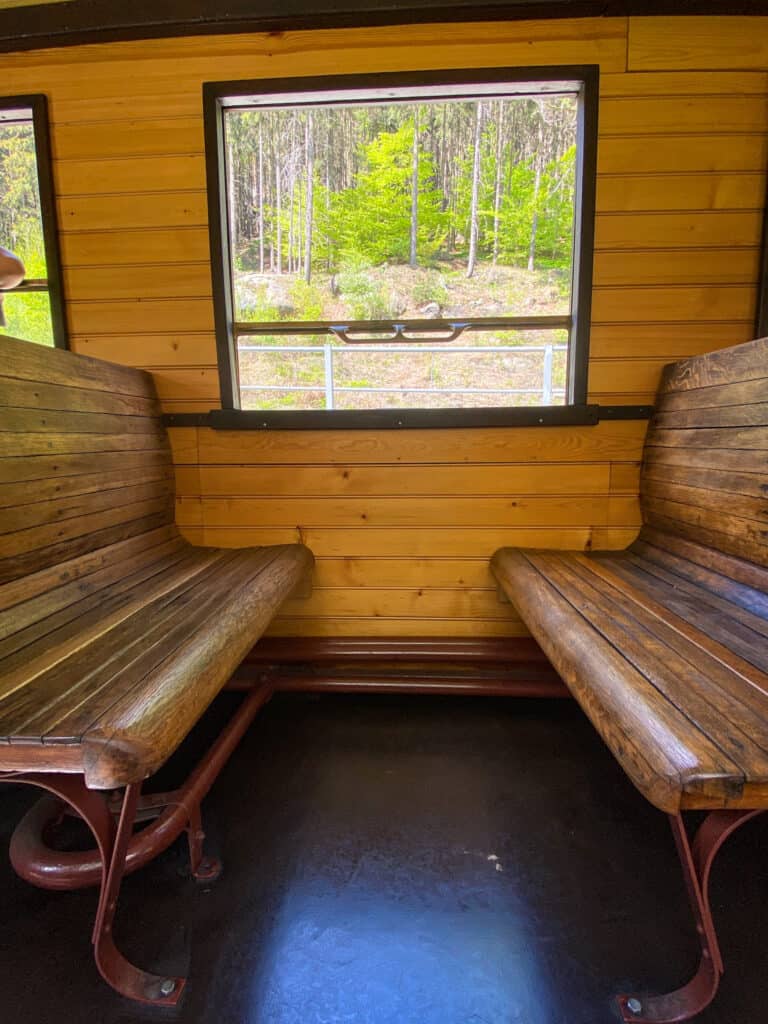 Best time to take the Zittauer Schmalspuhrbahn
This train goes to the Zittauer mountain range. The area is very idyllic with gorges, forests and rock formations. Is there a best time to visit the mountains? Well, that's more a question of your preferences. The Zittau Mountains will be beautiful anyway, and all seasons will have their charm.
Summers can be very warm and mid-winter can be freezing cold, but then you might explore this fairytale landscape covered in snow. Or if you visit in the fall, you might be lucky to visit in time for the beautiful colours of the foliage. Spring is also a nice time to visit when nature starts to wake up after its long winter sleep.
The most buys time on this train will be during the school holiday in summer, fall, winter -or Pentecost. In this period the prices of accommodation will also be higher, so keep this in mind if you are planning to stay overnight in the mountains.
How to buy tickets for the Zittauer Schmalspurbahn
You purchase your ticket for the Zittauer Schmalspurbahn directly at the station before you travel. The station is open from 08.30 am to 1.30 pm. The train station is located at Bahnhofstraße 41 in Zittau.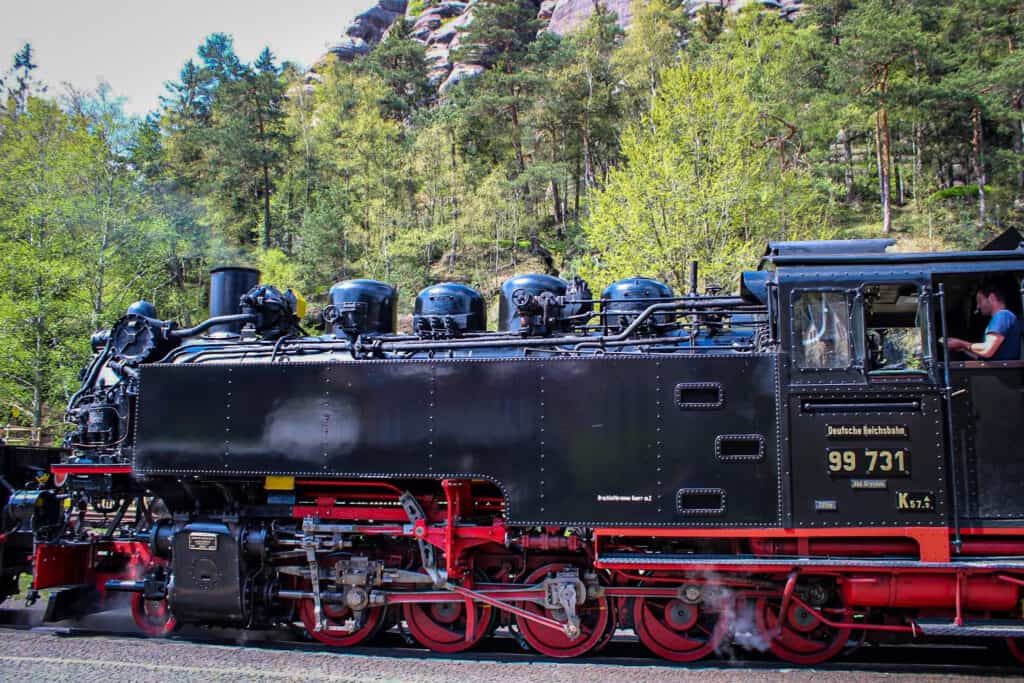 How much does the Zittauer Schmalspurbahn cost?
The ticket price for the Zittau-Oybin/Jonsdorf train depends on how many stations you want to travel to, or in other words; it depends on how long you will travel. The ticket is valid for the day you buy it and can be used for any departure that day. It is cheaper to buy a return ticket if you plan to go back the same day. A return ticket can be used for any departure on the day you buy it, meaning you can go to e.g Oybin, spend some hours there, and take your preferred train back to Zittau.
Ticket prices for Zittauer Schmalspurbahn from Zittau to Oybin or Jonsdorf (as of 2022)
Adult one-way ticket: € 10
Adult return ticket: € 16
Children (15-17 years) one-way ticket: € 5
Children (15-17 years) return ticket: € 8

Children under 14 years: free if accompanied by an adult with a valid ticket
Plan your trip – How to get to Zittau
Zittau is located in the very east of Germany, almost where the borders of Germany, Poland and Czechia meet. Depending on where you travel from you can reach Zittau by car, bus or train.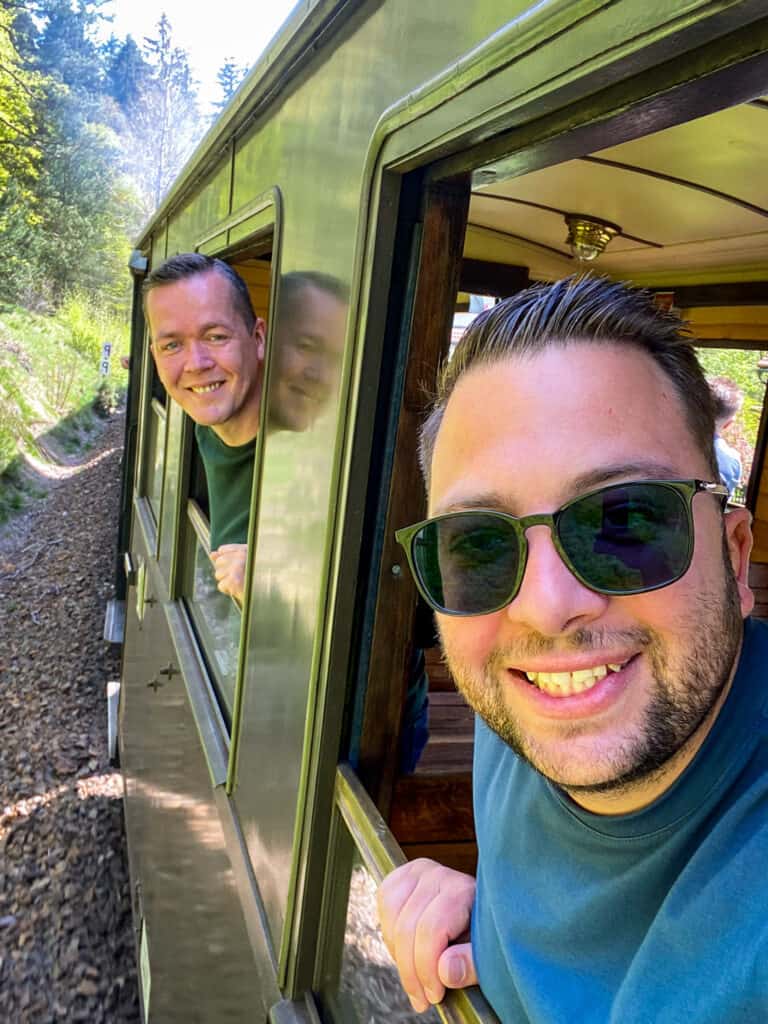 TIP: Read our post on things to do in Weimar if you want to visit another interesting German small town. Weimar has an important history, and majestic castles, and is also where the Bahaus movement started.
Zittau has good train connections to Dresden and Berlin via Görlitz and Cottbus, but you can also travel to Zittau from all over Germany from cities like Hamburg or Munich. Check bahn.de for train times and tickets.
The closest airports to Zittau is Dresden, Leipzig/ Halle or Berlin-Brandenburg Airport.