This post may contain affiliate links, where we may receive a small commission if you purchase something through following the links at no extra cost to you.
Bohinj Railway is one of the best scenic train rides in Europe. The spectacular journey will take you through mountain villages and towns, along rivers and valleys and through alpine scenery. A journey with the Bohinj Railway will show you the best of Slovenia by train.
If you are a fan of train travel then you might also be looking for some of the most scenic train rides in Europe. If you are spending your summer in Europe and plan to visit Slovenia, then you have the chance to take one of the most beautiful train journeys we have seen.
Over the years we have done some great train journeys, like the Trans-Siberian Railway, or the Bergensbanen and Flamsbana Railways in Norway. Furthermore, we have also done some great journeys with historic and nostalgic steam trains, like the Harz Mountains Railway and the Zittauer Schmalspurbahn in Germany, and the Zillertalbahn in Austria. They were all amazing and scenic train rides and, Bohinj Railway plays in the same league as all of them when it comes to nature and scenery.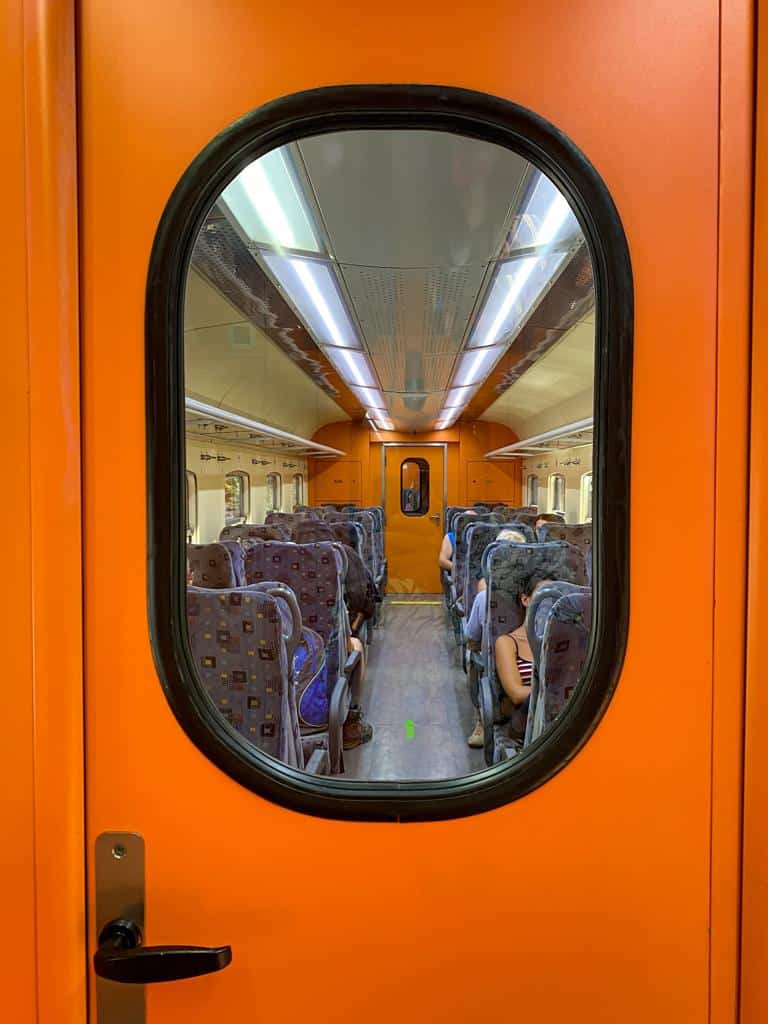 Slovenia is an easy country for independent travel. Due to its modest size, you can see big parts of the country in a short time. If you spend eg 2 weeks in Slovenia, you will have time to see places such as Lake Bled, Lake Bohinj, the beautiful wine region of Goriska Brda, spend some days by the Adriatic in Piran and soak up the big-city vibe in pulsating Ljubljana. Slovenia is fairly easy to travel to by public transport, and a journey with the Slovenian Railway is the perfect way to move around when possible.
TIP: Planning the visit other countries in the same region as well? From Slovenia, you can easily travel by train to neighbouring countries such as Croatia and Serbia. This Serbia travel guide will give you over 20 places to visit in Serbia
What is the Bohinj Railway?
The Bohinj Railway is a scenic part of the railway network in Slovenia (and Italy). It is part of the regular Slovenian railway network, and not its own, separate railway. This beautiful, scenic railway connects the towns of Jesenice in Slovenia with Trieste in Italy. The total length is 129 km. The route has in total 31 stops, and on its journey, the Bohinj Railway crosses more than 65 bridges and passes through 28 tunnels. The longest tunnel on the route, and in Slovenia, is the Bohinj Tunnel. It was created in 1904 and is 6327 meters long.
TIP: Bovec is the adventure capital of Slovenia, and this post will give you the 15 best things to do in Bovec if you plan to visit there as well
The train line was built by Austria-Hungary between 1900 and 1906 as part of a strategic railway that would connect Austria and Southern Germany with the port of Trieste, then an essential Austro-Hungarian port city.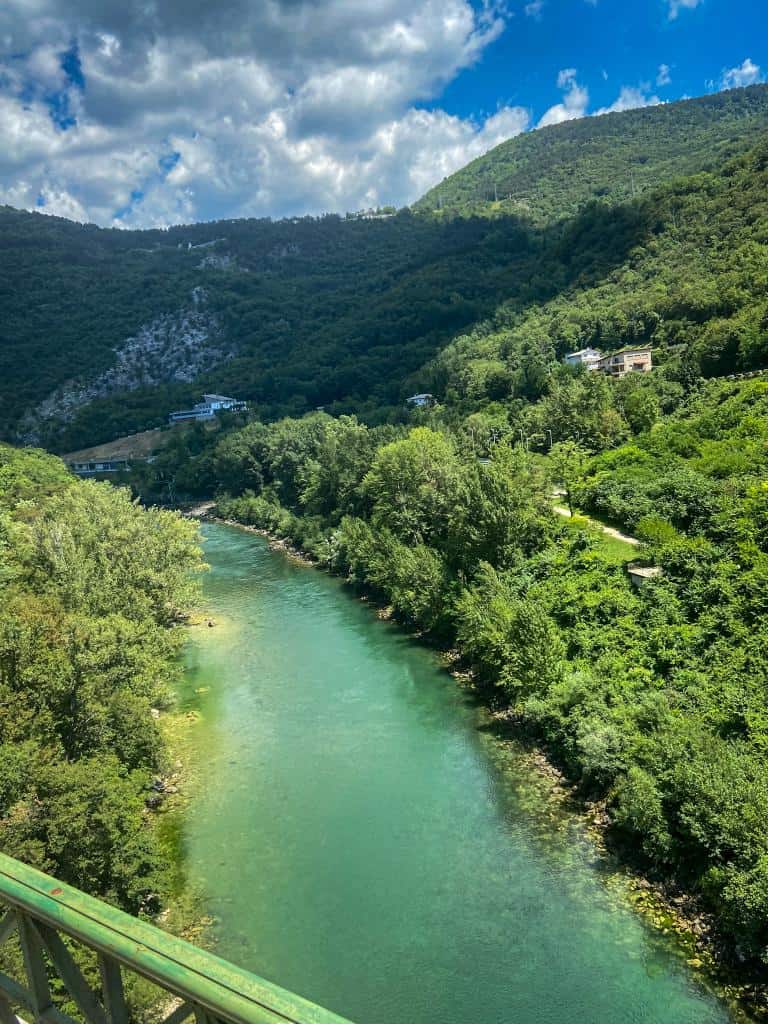 In Slovenia, the train runs between Jesenice and Nova Gorica which is the last stop on the Slovenian side of the border. In Slovenia, the train line is called Bohinjska proga (Bohinj Railway), while in Italian it's called Ferrovia Transalpina (the Cross-Alps Railway), a name still used for the service between Trieste and Gorizia.
TIP: Train travel in Italy is easy. You can catch trains from Trieste or Gorizia (the Italian side of Nova Gorica) to other Italian cities such as Milan and Venice. With a connection or two, you can travel all the way to Rome or even to Naples.
Normally, between Nova Gorica and Jesenice, you can also have the opportunity to take the journey on a museum train. From March through November, an old, nostalgic steam train makes the trip in around three hours, but for the year of our visit and time of writing (2022), no steam train services were in operation. But don't let that stop you. We travelled by regular train, and the experience was totally breathtaking anyway. Also, the regular train service runs year-round.
Map of the Bohinj Railway
How to travel with the Bohinj Railway
The starting points for this scenic train journey are Jesenice or Nova Gorica in Slovenia, or from Trieste if you prefer to start in Italy. But this is a regular train service, not only for tourists, so you can enter or leave the train at any of the 31 stations along the route. The train stops at popular places like Lake Bled and close to Lake Bohinj, so it's really possible to combine some outdoor activities in the lake and mountain areas with this scenic train journey in Slovenia.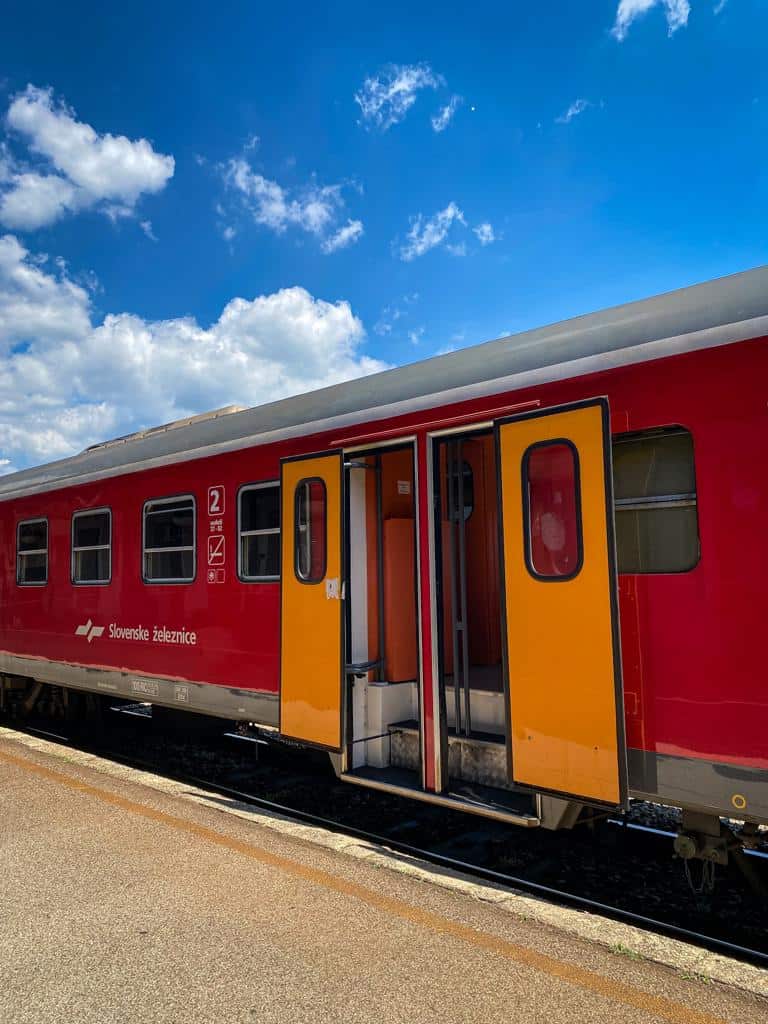 There are no assigned seats on board the Bohinj Railway, and only one class of travel. It's free seating, meaning you can take any available seat you prefer. Of course, if possible you should grab an a. window seat, but any seat will give you great views. The scenery is changing constantly, and because of this, there's really no best side to sit on the train for the whole journey. Sometimes the right side will provide the best views, while for other parts, the left side will be the best. If the train isn't full, you can easily change sides when you feel like it.
It is possible to open some of the windows on the train. This is meant to give some fresh air, and not to lead outside. Please note that leaning too far out of the windows can be extremely dangerous, so pay special attention to the surroundings if this is something you plan to do to get better photos. In case you lean out, you need to be very cautious and to trees and tunnels very close to the train itself.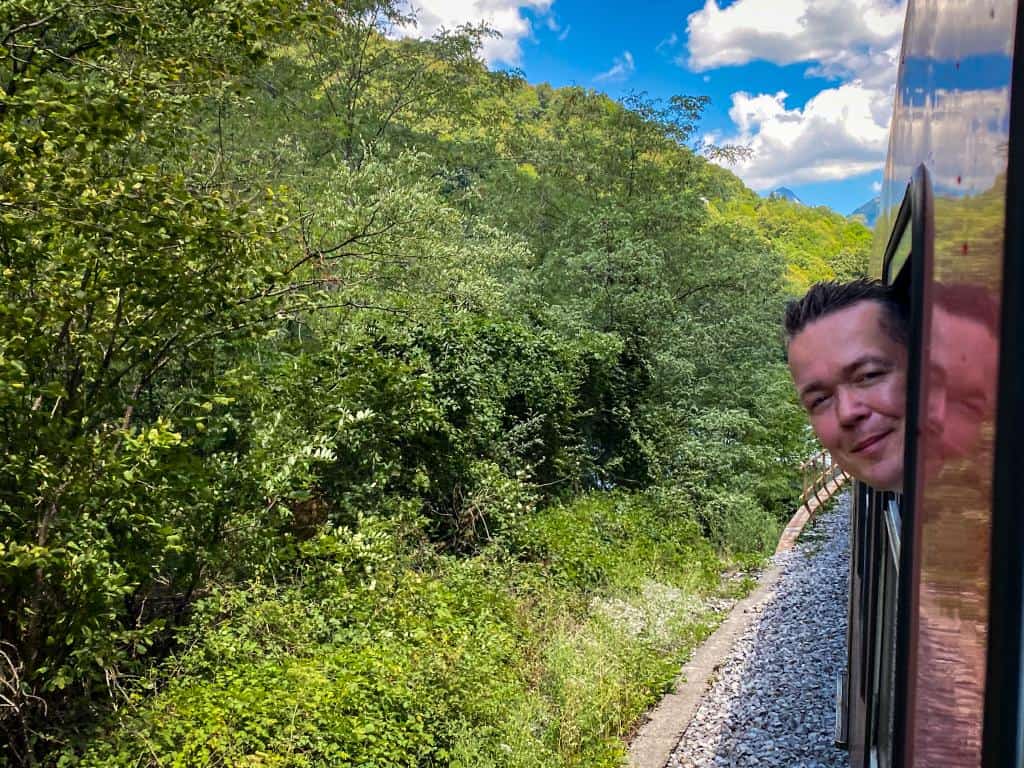 Best time to travel with Bohinj Railway
Slovenia is a year-round destination, and this train journey can be done all year. The best time to travel with the Bohinj Railway will therefore depend on your preferences if you prefer to travel in the warmer summer months or if you seek the snow of the winter months or something in between. Sommers can be very warm, while winters can be really cold. May/ June and September are good months to avoid the worst heat and at the same time have comfortable temperatures.
Spring and summer will take you through green, lush landscapes while travelling in the fall will give you the chance to see the foliage. For a totally different experience, you can travel in the winter months. Slovenia normally gets some snow, so the chance to have some wintery landscape is also good.
Summer is the high season for tourism in Slovenia, where July and August are the busiest months. Avoid this time if you want to avoid too many tourists. That said, we visited in July, and we never experienced the train as full, or even nearly full.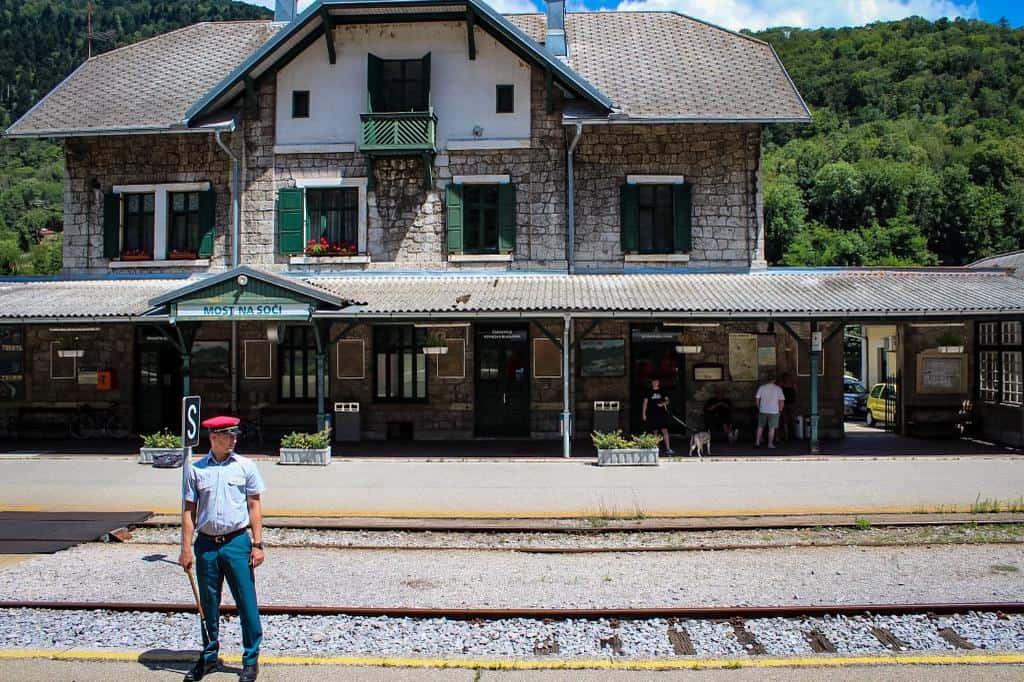 How to buy tickets for the Bohinj Railway
The easiest way to purchase your ticket for the Bohinj Railway is to buy it online in advance. This will secure you a place on your preferred departure. You can check the timetable and purchase your ticket at the website of the Slovenian Railway Company. It works perfectly in English.
You can also buy your ticket on the same day of travel. At serviced stations, you should purchase your tickets before entering the train. In the case where the station has no service, you can buy the ticket onboard without any additional charge. The train conductor sells and controls tickets after each station. Please note that there's no card payment onboard. Bring cash if you plan to buy your ticket on the train.
How much does the Bohinj Railway cost?
The regular train service along the Bohinj Railway is quite cheap. The price is the same if you book online or purchase your ticket onboard (if you enter the train from a station without service). The ticket also costs the same if you buy it at a serviced station.
You can choose to buy a one-way ticket or return. You don't save anything to buy a return ticket – the price is the same as purchasing two one-way tickets, but of course, it can secure you a seat for a specific departure.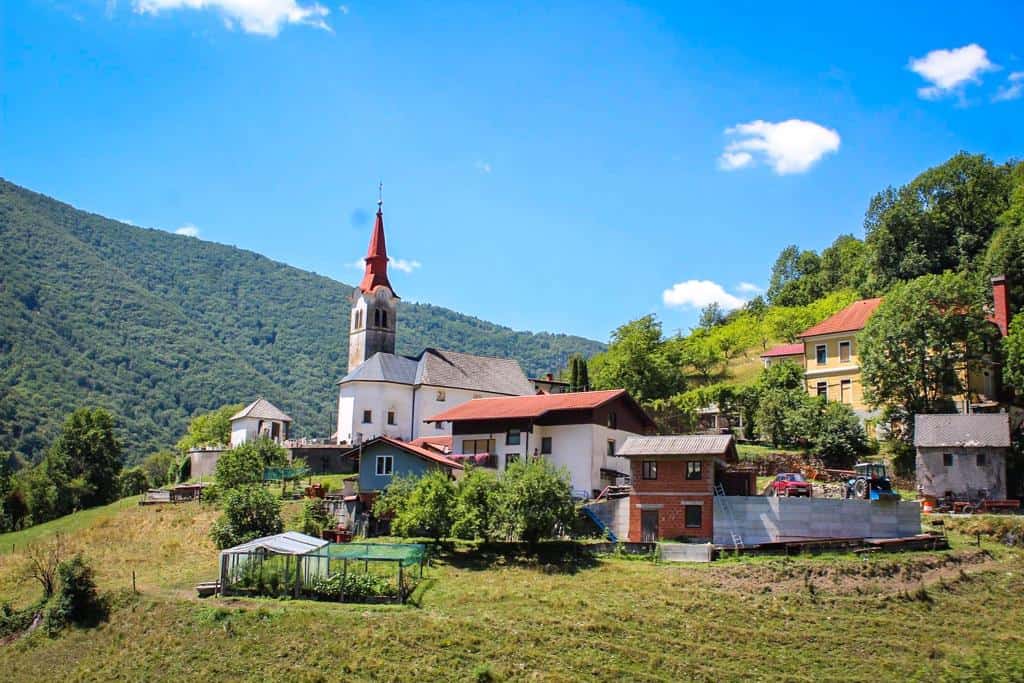 As you can see from the price examples below, the price for the steam train service is much higher than the regular train, so it's really up to you how much you want to spend on this journey. As mentioned, we travelled by regular train and still had such a great experience. The landscape and the views are still the same, right? On the other hand, if you never travelled on a steam train before, this might be your chance. We have done some steam train journeys, and we loved it. So if you can afford the higher ticket price, it is definitely something to consider – as long the train is operating that is.
Examples of one-way ticket prices for Bohinj Railway – regular train service (as of 2022)
Jesenice – Nova Gorica: Regular €7
Bled Jezero – Nova Gorica €6,60

Children 6-12 years of age: half price
Children under 6 years of age: free
Prices for the nostalgic museum train – one way:
Jesenice – Nova Gorica: Regular approx €40

Children 6-12 years: approx €20
Children under 6 years of age: free
Plan your trip – How to get to Jesenice or Nova Gorica
It might not come as a shock, but – surprise surprise – you can arrive at Jesenice or Nova Gorica by train. These two towns have connections to other places in Slovenia, often via Ljubljana. Also from Italy, you will find connections. You can also arrive by bus. Slovenia has an extensive bus network covering large parts of the county.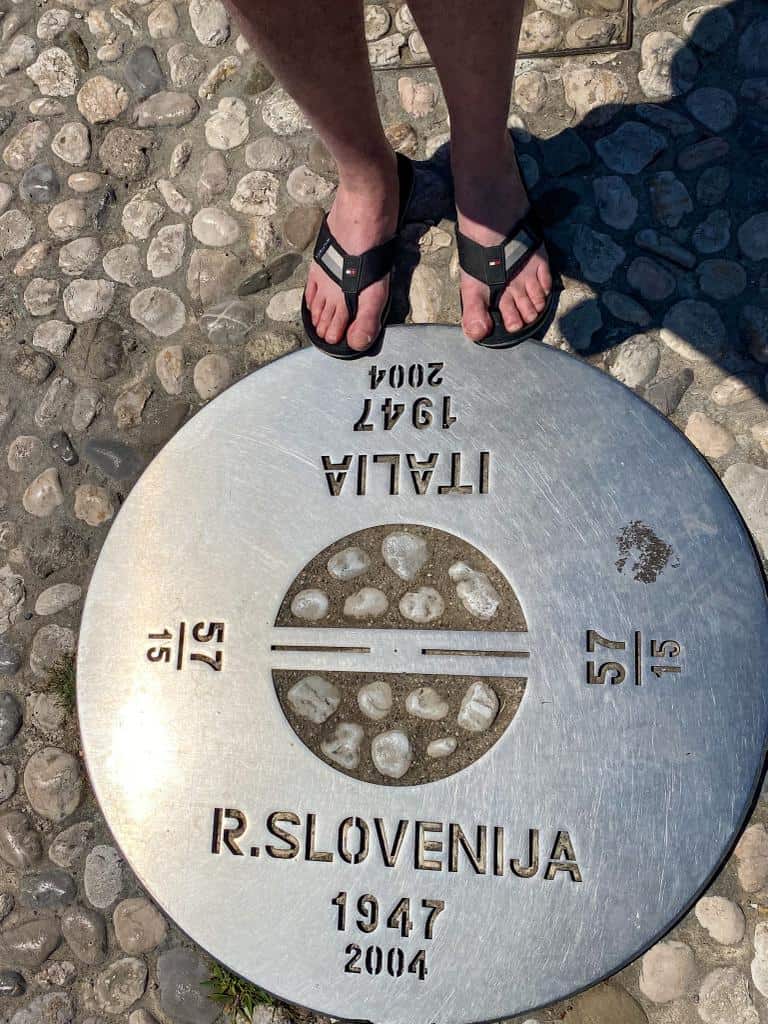 If you are travelling to Slovenia by train from more north in Europe, Jesenice might be a stop on your route. We arrived in Slovenia by train from Germany, via Austria, and our train stopped in Jesenice.
You can still take the Bohinj Railway even if you don't visit Jesenice or Nova Gorica. Remember, you can enter the train from any station along the route.