This post may contain affiliate links, where we may receive a small commission if you purchase something through following the links at no extra cost to you.
Chiang Mai is usually known for its relaxed vibe and laid-back atmosphere. Compared to Bangkok this city is a place to stay longer to calm down and recharge your batteries. And what is a better way to do this with a good cup of coffee? During our time we found lots of nice places which serve great coffee in Chiang Mai. Read on to find the best coffee in Chiang Mai.
Thailand is usually not so known for growing and roasting coffee beans but there are coffee farmers. Especially in the north of Thailand and around Chiang Mai you find coffee farmers. It might not be grown as much coffee as Vietnam but Thailand is still an important country for coffee.
Besides Chiang Rai and Hanoi in Vietnam, Chaing Mai was one of our favourite cities in Southeast Asia to find great coffee places.
TIP: Read our post from the Royal Thai Palace (Grand Palace) in Bangkok if you also plan to spend some time there. It's one of the highlights to see in Bangkok.
When you plan to visit Chiang Mai, make sure to stop in one of these great places for coffee in Chiang Mai. Some of these cafes even roast their own beans or you get a delicious pastry with your cup of coffee. In addition to coffee, we also strongly recommend you to check out some of the delicious food in Chiang Mai.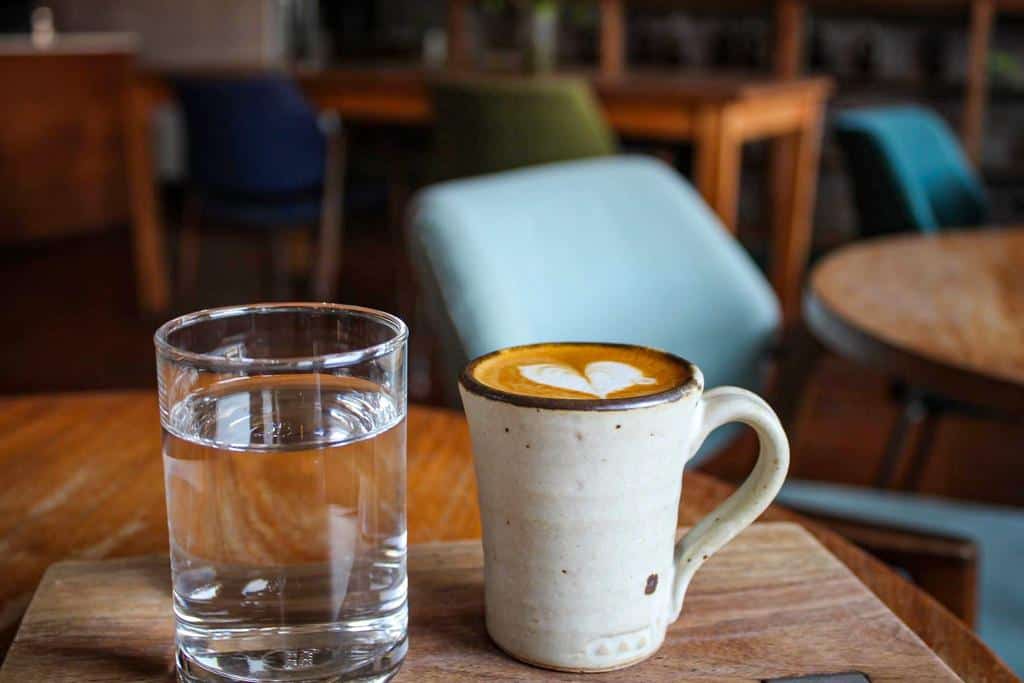 Compared to European coffee shops, the selection is much bigger in Thailand. They have of course classic coffee like americano, cappuccino or espresso but lots of them have iced coffees and coffee cocktails (with and without alcohol). We were surprised about the large menus for coffee in Chiang Mai.
Asian cities follow the trend to grow and roast your own beans and brew nice coffees, too. Having a good coffee is just one of the unique things to do in Chiang Mai. Here are 9 of our favourite places to find coffee in Chiang Mai.
TIP: Read our post on things to do in Bangkok – especially if you visit Bangkok for the first time
Map of the best coffee in Chiang Mai
Khagee
Khagee is a small, minimalistic cafe close to the Nawarat Bridge in Chiang Mai. It is almost hard to see it at first sight since it looks very inconspicuous. You can only find the name on the window. Inside the cafe, the interior is very Japanese minimalistic. There are only a few tables to enjoy their homemade food and drinks.
They serve not only amazing coffee but also homemade bread and sweets, eg. bagels, scones, banana bread and their signature pastry, canele.
Khagee proudly serves coffee from Samadool coffee, a Thai coffee roastery. It was one of the best coffee we got served in Chiang Mai.
Khagee natural yeast bread cafe
29-30 Chiang Mai-Lumphun Rd. Wat Gate, Chiang Mai 50000 Thailand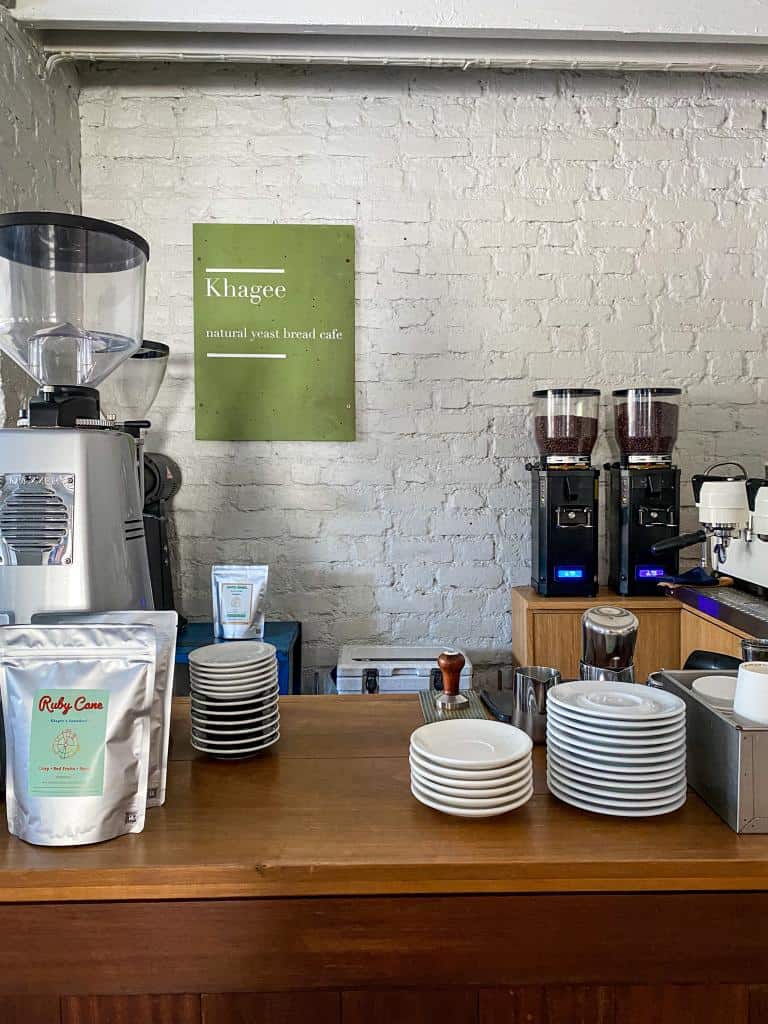 Zeit Roaster
Zeit Roaster is located in a cute backyard with a view of the river. It is a bit hidden since you can't see the cafe directly from the street. It is a great hangout to enjoy a coffee in Chaing Mai a bit outside the city centre.
You can choose the beans you want for your coffee. They recommended of course the beans from Thailand.
The coffee menu is large and they serve all drink hot or cold.
Zeit roaster also roasts their own beans which you can purchase and bring back home. They even offer coffee tours, so you can visit a coffee farm and learn more about coffee. If you are interested in this, get in touch via Facebook or visit the coffee shop in Chaing Mai.
Zeit Roaster – Brewing Lab Cafe&Coffee shop
95 Charoen Prathet Rd, Tambon Chang Khlan, Mueang Chiang Mai District, Chiang Mai 50100, Thailand
TIP: If you are heading to Vietnam as well, you will also find great coffee there. Our posts on the best coffee in Hanoi and coffee in Saigon will give you all our favourites in these amazing cities.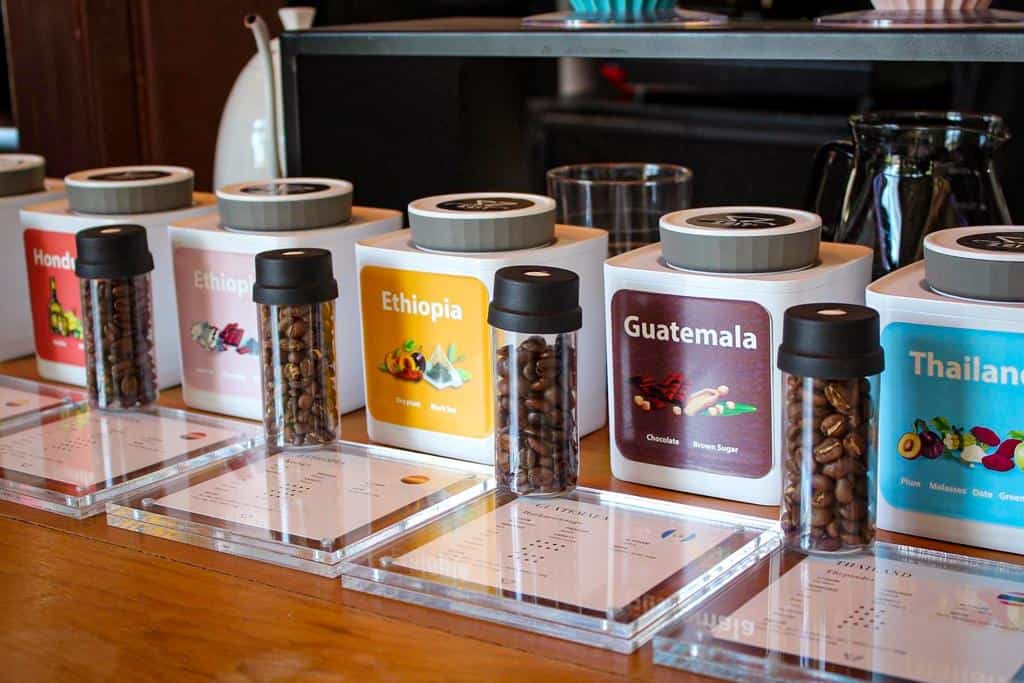 Gateway Coffee Roaster
Gateway Coffee Roaster is housed in an old factory building. You can read the name on the wall though. We first thought it was closed since there was no entrance where you usually look for a door to enter a cafe. To enter Gateway Coffee Roaster, you need to go around the corner and there you find the entrance on the side. The cafe itself is upstairs and gives a bit of Berlin-vibe in Thailand with the interior and grey concrete walls and floor. There is a balcony to get a nice view of the busy street and watch people while enjoying coffee in Chaing Mai.
Gateway serves lots of different coffee. As usual in Thailand, you can choose between hot or cold. They have a few selected cookies which you can enjoy with your coffee.
Gateway Coffee Roaster
50300 Chang Moi Rd Soi 2, Tambon Chang Moi, Mueang Chiang Mai District, Chiang Mai 50300, Thailand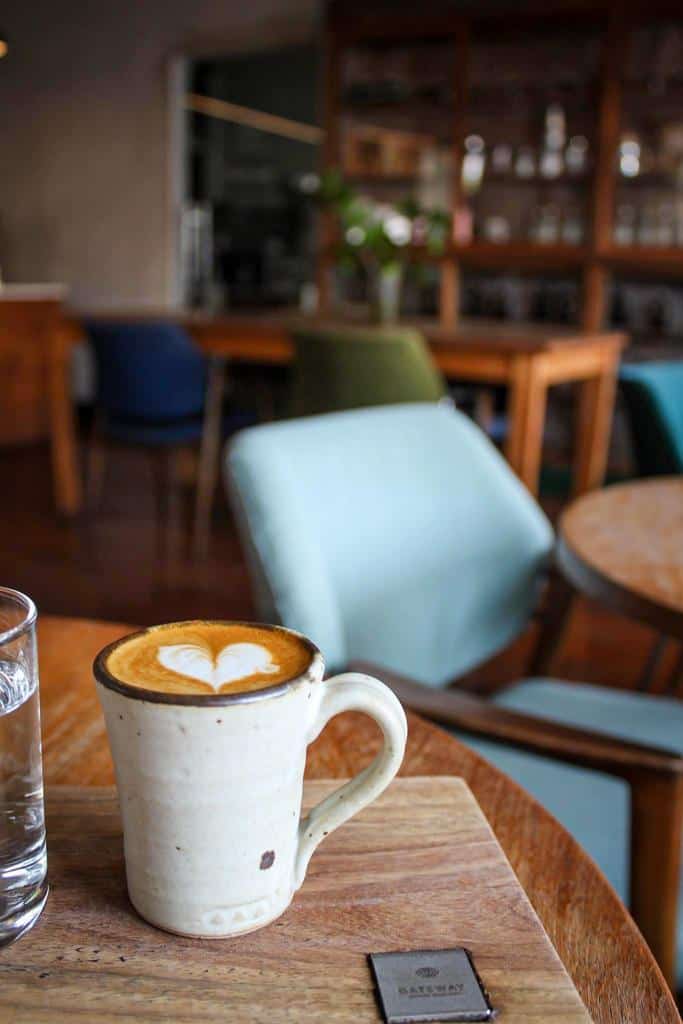 Eternity
Eternity is located on the busy Tha Phae Road which leads to the old towns district of Chiang Mai. Besides a nice selection of pastries, Eternity offers a large menu of coffee drinks. You can choose between hot or cold and they also make coffee cocktails which simply looked amazing.
If you want to try something new or different, then Eternity is the place to go to get coffee in Chiang Mai.
Eternity – Specialty Coffee & Cult Cafe Thapae
Tha Phae Road, Chang Moi Sub-district, Mueang Chiang Mai District, Chiang Mai 50300, Thailand
TIP: Visiting Laos as well? Our post on things to do in Vang Vieng will give you lots of inspiration and our post on the slow boat to Laos will give you everything you need if you are planning to travel the Mekong River by boat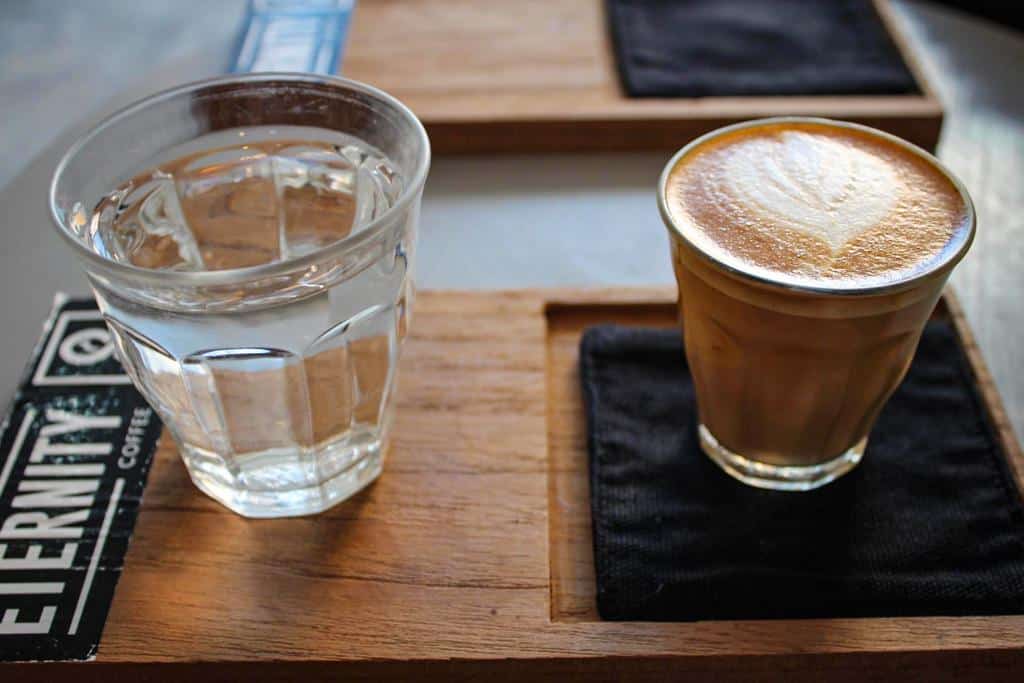 The Story 106
The Story 106 is a large cafe close to the centre of Chiang Mai. They not only offer great coffee but also a co-working space. If you work remotely and you need a nice, cosy place to work from in Chiang Mai, then The Story 106 might be a good option for you.
The spacious cafe offers great coffee and a selection of food and pastry. We had the cinnamon rolls and they were to die for. Very Delicious!
The Story 106 is one of the few places in Chiang Mai which are open till the evening (9 PM).
The Story 106 Co-Working Space &Cafe
200 Tha Phae Road, Tambon Chang Moi, Mueang Chiang Mai District, Chiang Mai 50300, Thailand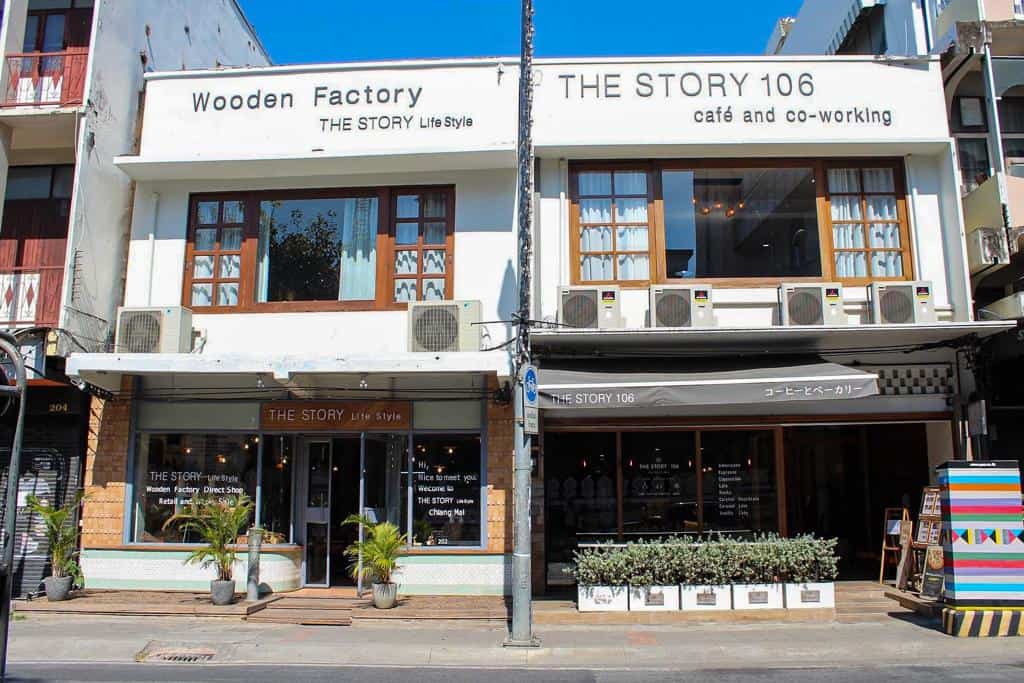 Cool Muang Coffee
Cool Muang is actually the only cafe on this list which is located in the old town of Chiang Mai. There are lots of cafes and chain restaurants around the city gate Pratu Tha Phae, so just head a few more meters away to find this cool spot.
The staff is very friendly, the coffee is good and you find lots of outdoor seats and their terrace. With a nice cup of coffee, you can relax from the busy vibe in Chiang Mai.
Cool Muang is a great hangout for coffee in Chiang Mai and easy to find in the beautiful old town. Don't forget to check out the murals around the parking lot.
Cool Muang Coffee
81 Mun Mueang Rd, Tambon Si Phum, Mueang Chiang Mai District, Chiang Mai 50200, Thailand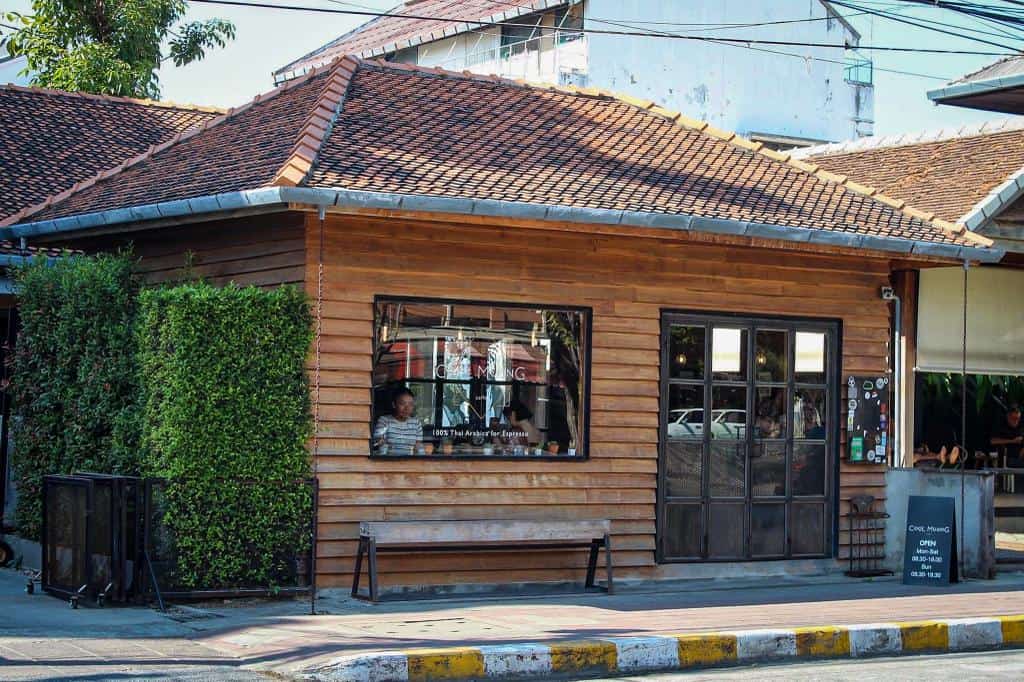 Sparkle Coffee & Bakery
If you love croissants, then you should go to Sparkle. This cafe sells one of the best croissants and pains au chocolat you can find in Chiang Mai. The pastries are homemade and super fresh.
Sparkle is located on the ground floor of a hotel (but they just rented this space, the hotel does not belong to the cafe). It is a small family business. The coffee beans are roasted by them.
The interior is simple, modern and stylish. The menu for coffee and pastries is not as large as in other cafes in Chiang Mai but it is definitely worth stopping by (also if it's only for the croissants).
Sparkle Coffee & Bakery
250 1 Tha Phae Road, Tambon Chang Moi, Mueang Chiang Mai District, Chiang Mai 50000, Thailand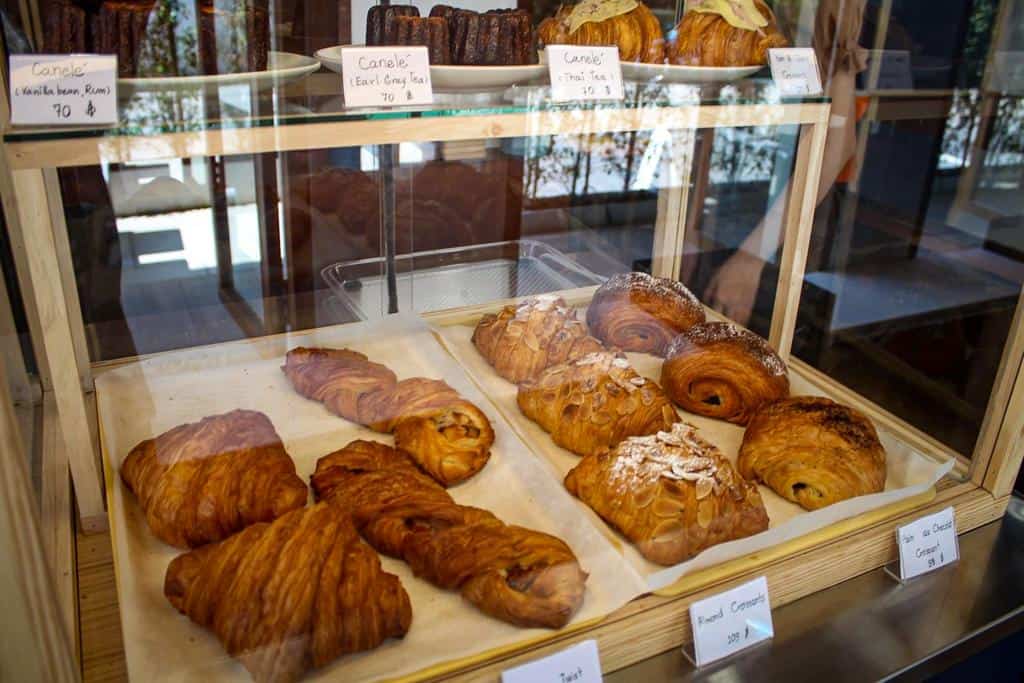 es•pe•cial Coffee Bar
This cafe bar served probably one of the largest coffee cups you get in Chiang Mai. The drink menu contains hot and cold coffee drinks, non-coffee drinks and a few signature drinks.
They offer a small, delicious (breakfast) menu (e.g. banana samosa with vanilla ice cream).
A highlight there is for sure their beautiful furniture and antique decorations which hang on the blue painted walls.
It is also right next to the Nawarat Bridge, which is a great place to visit along the way to the centre of Chain Mai.
es•pe•cial Coffee Bar
32 Charoen Muang Rd, Tambon Chang Moi, เมือง Chiang Mai 50000, Thailand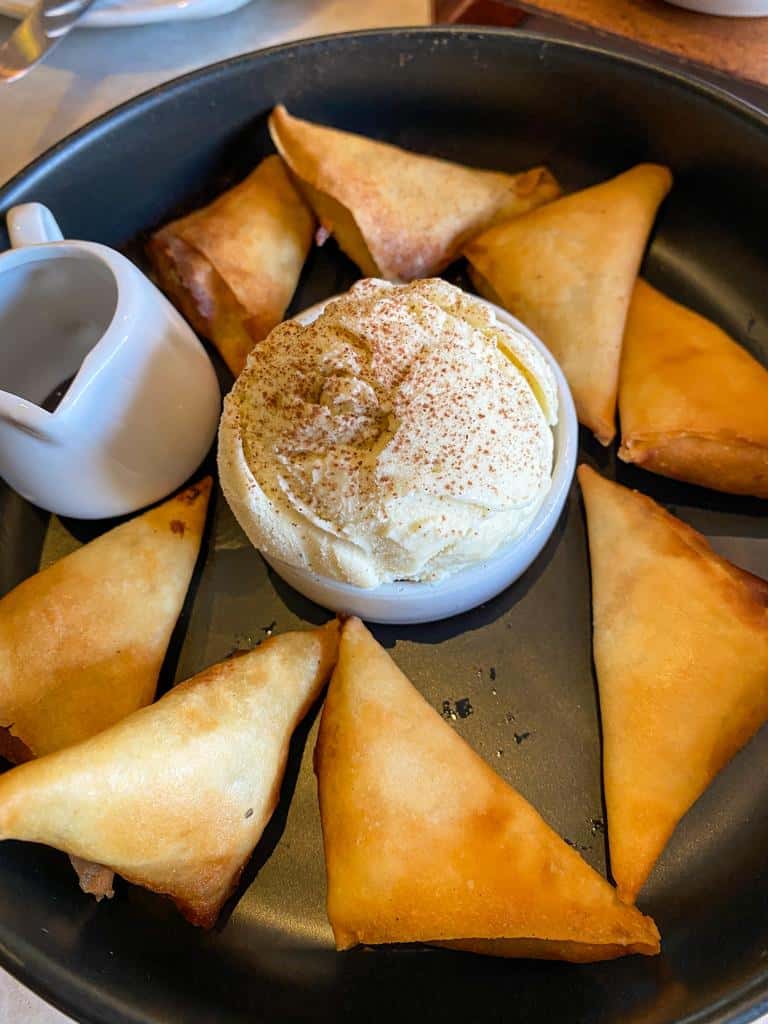 Zohng
Zohng Coffee is part of a hostel, therefore it is also a popular hangout for young travellers and backpackers. They offer various coffee drinks and the menu is small but enough for everyone.
While you enjoy a nice cup of coffee, you can play some games, read a book (there is a book exchange) or plan more of your next holiday destination.
The staff of Zohng Coffee is very friendly and can help you with your decisions.
Zohng Coffee
58 Intrawarorot Road Soi 2, Tambon Si Phum, Mueang Chiang Mai District, Chiang Mai 50200, Thailand