This post may contain affiliate links, where we may receive a small commission if you purchase something through following the links at no extra cost to you.
Are you looking for the best coffee in Hanoi? Perfect, we got you covered with 7 great Hanoi coffee shops. It was our first time in Hanoi, but we fell in love with the city immediately. Even though it is quite crowded with both locals and tourists, Hanoi just has it all; historical sights, beautiful temples, lakes and a charming old quarter with the best coffee in Hanoi. If you have followed us for a while, you will know by now that we are always looking for the best coffee shops and roasters wherever we go. Vietnam is famous for its coffee production, and because of this, you find lots of great places with the best coffee in Hanoi.
TIP: Our post on things to do in Hanoi will give you 18 unique things to do in this great city
During our trip through Southeast Asia, we already found great coffee in Chaing Mai and Chiang Rai in Thailand. Thailand might not be as famous as Vietnam for coffee production but there are lots of coffee farmers in North Thailand as well. Vietnam is actually the second-largest coffee-growing country in the world, and not only Hanoi serves good coffee. You will also be able to find lots of delicious coffee in Saigon if you plan to visit there as well.
In this blog post, we want to show you our favourite Hanoi coffee shops and roasters. Of course, there are many more cafes in Hanoi to find and drink delicious coffee, but here are our favourite places where to find the best coffee in Hanoi. Read more about all these Hanoi coffee shops, what they serve and where to find them.
TIP: Visiting Laos as well? Our post on things to do in Vang Vieng will give you lots of inspiration and our post on the slow boat to Laos give you all the information you need if you are planning on taking the slow boat on the Mekong River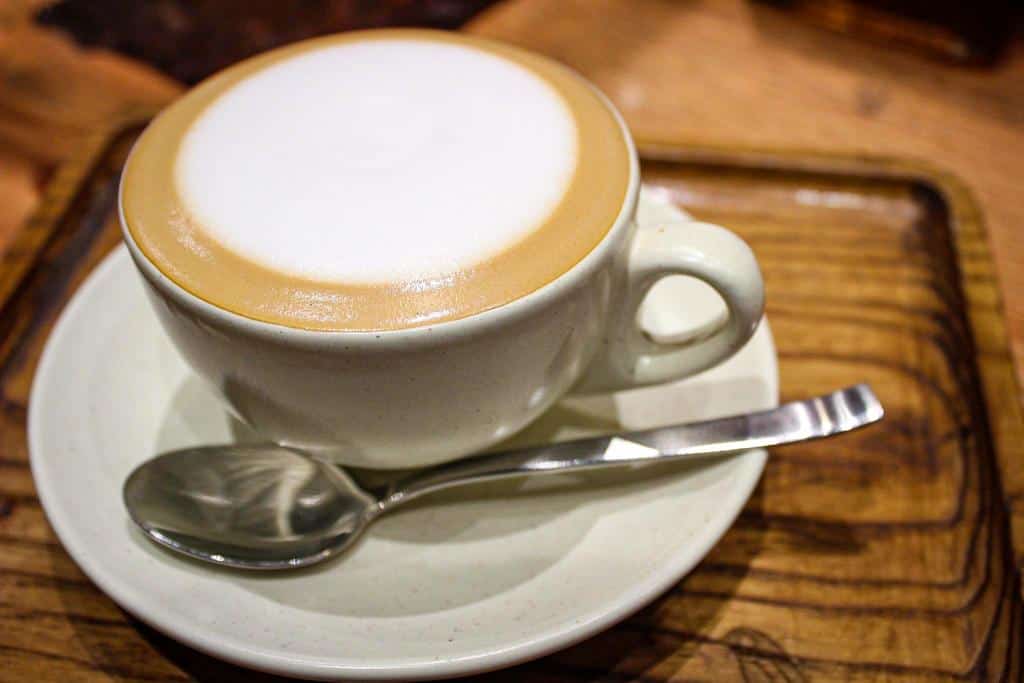 Map of the best Coffee in Hanoi
Blackbird Coffee
One of our favourite places for the best coffee in Hanoi is Blackbird Coffee. You can find Blackbird in three different locations in Hanoi. We went to two of them (the third one opened after we left Hanoi to continue travelling) and loved both. Great service, fresh pastry and cookies and of course amazing coffee.
They sell espresso drinks, such as americano, and cappuccino, but also pour-over, aeropress and traditional-style coffee. They primarily use Vietnamese beans.
Both locations of Blackbird impress with charming interior design, fantastic coffee and lovely pastry. The large window front allows you to watch the hustle and bustle of Hanoi while you relax inside.
It is also a great place to bring your laptop and work from there. The wifi is good and there are plugs to charge. It is a popular place for locals and tourists to get great coffee in Hanoi.
Blackbird Coffee
5 Chân Cầm, Hoàn Kiếm, Hanoi, Vietnam & 63B P. Lãn Ông, Hàng Bồ, Hoàn Kiếm, Hanoi, Vietnam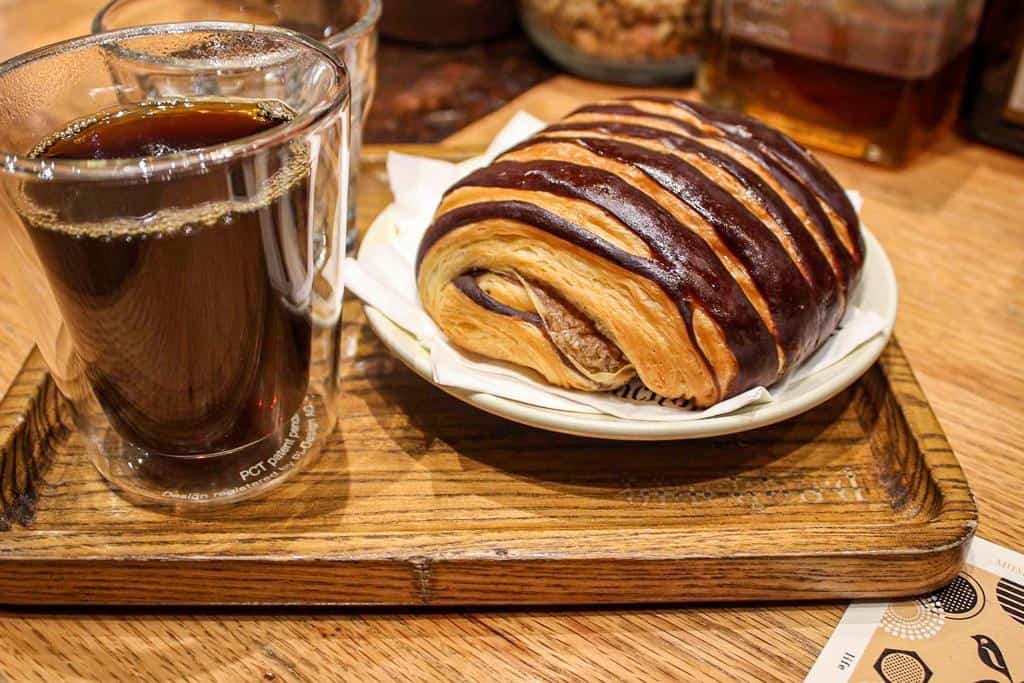 Balance Caffe
Balance Caffe is another great place for the best coffee in Hanoi. It is very close to important sights in Hanoi, e.g. the Temple of Literature, the Citadel or the Ho-Chi-Minh-Mausoleum (max. 15min walk). After your visit to one of these sights, you should check out this beautiful cafe. The entrance/staircase is a bit hidden between shops but there was a signpost outside to find the way up.
The cafe is beautifully decorated in colonial style with tiled floors, delightful paintings and large windows with a view of busy Hanoi. And there is even a terrace on top of the house. It almost felt like being in Paris.
The Balance Caffe offers a large selection of hot and cold coffees and drinks. Here, we tried our first egg coffee and did not get disappointed at all. It was simply delicious and one of the best egg coffees we had in Vietnam.
Balance Caffe
81 P. Nguyễn Thái Học, Văn Miếu, Ba Đình, Hanoi 100000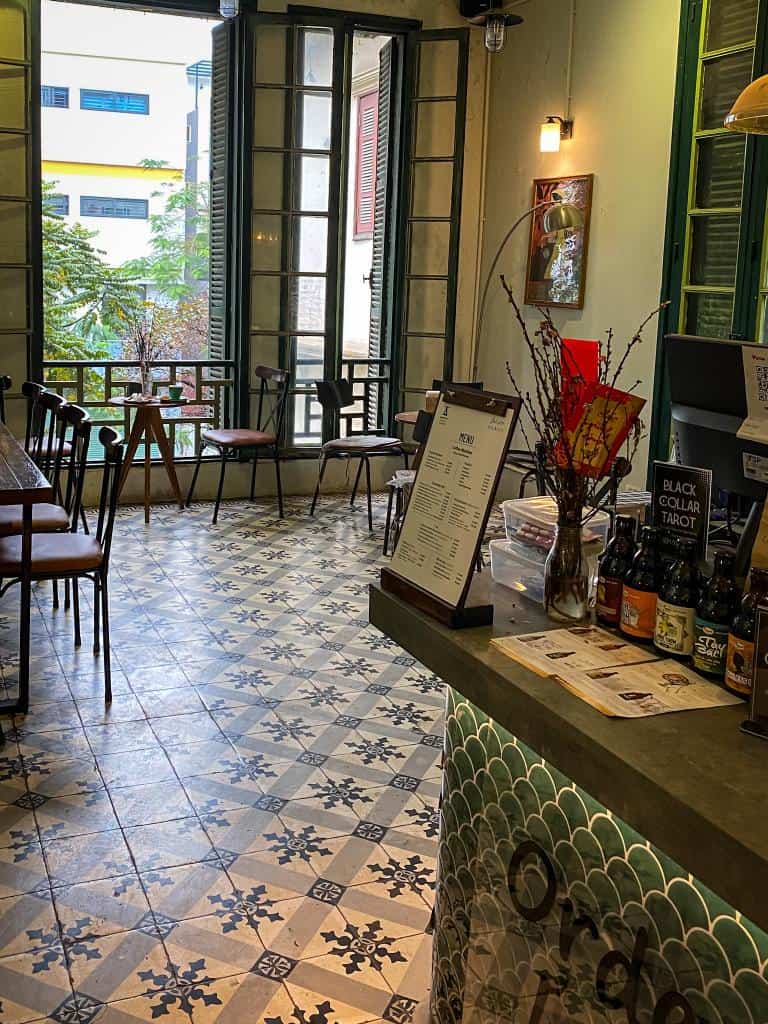 Sii Coffee Bar
Sii Coffee Bar has some of the best coffee in Hanoi. You can actually find them in several locations in Hanoi and also in the city of Da Nang. We checked out Sii Coffee, which is very close to the Hanoi Opera House and located on a small side street.
At Sii Coffee Bar you can choose between Vietnamese or Italian coffee specialities, cold brews and non-coffee drinks. They serve also waffles, croissants and cakes.
Sii Coffee Bar
No9 Lane 6 Le Thanh Tong Street, Hoan Kiem District, Hanoi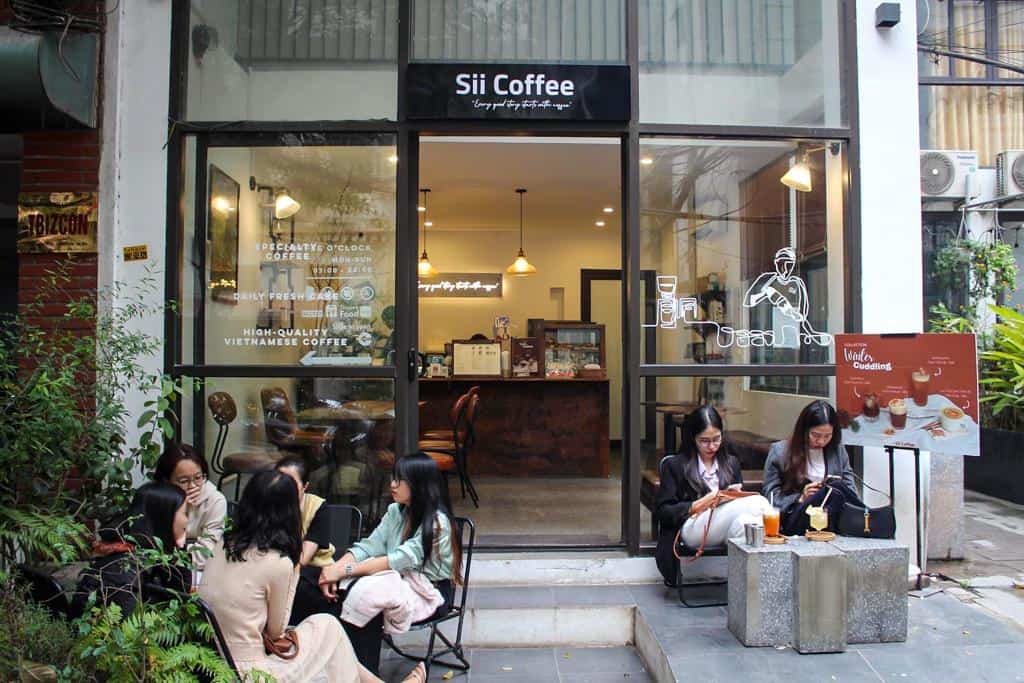 Soul Speciality Coffee
Soul Speciality Coffee is another place with some of the best coffee in Hanoi. It is centrally located in the Old Quarter of Hanoi and has also shops in Da Nang, Dak Lak and Ho-Chi-Minh City.
The coffee shop in Hanoi is not too big, but very cosy and bright. You drink your coffee at the cafe or get it for take-away. The knowledgeable staff is helpful and makes sure you will get your coffee as you wish.
The coffees are smooth and flavourful. It is nice to sit outside and watch the world go by. Soul Speciality Coffee offers a selection of pastries too. Try their cinnamon rolls. They are super!
Soul Speciality Coffee
12 Duong Thanh Street, Hoan Kiem, Hanoi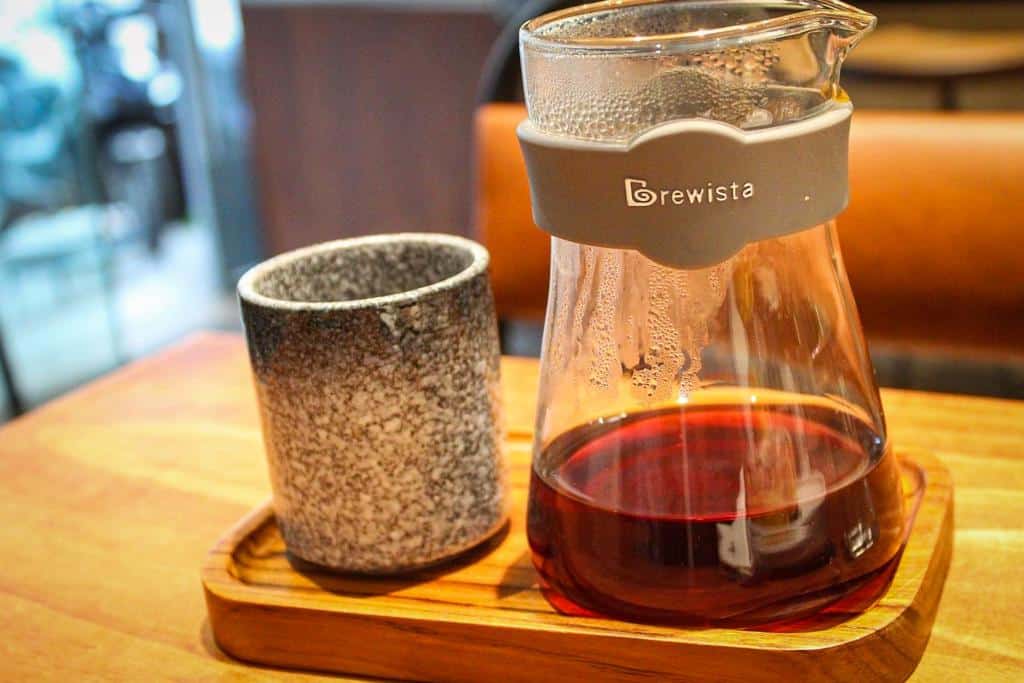 Dream Beans Coffee Roastery
The small and independent coffee shop in Hanoi is run by a local family who is passionate about producing some of the best coffee in Hanoi. The shop with the coffee roastery is small but has several floors where you can drink and enjoy your coffee. On the ground floor, you can sit at the bar and watch the barista preparing your coffee.
While you talk with the owner you can feel how passionate he is about coffee. Every corner of this cute cafe is decorated with attention to detail. The walls are painted with a world map and where to find the coffee-growing areas. There are coffee bags and grinders in the corners and on tables. This is just a very warm and charming place to enjoy one of the best coffee in Hanoi.
Besides coffee drinks, you can order small dishes there as well.
There is another shop which is closer to Hoan Kiem Lake ( Dream Beans – The little corner) and it is more like a small espresso station to get your caffeine kick.
Dream Beans Coffee Roastery
79 Ly Nam De, Hanoi, Vietnam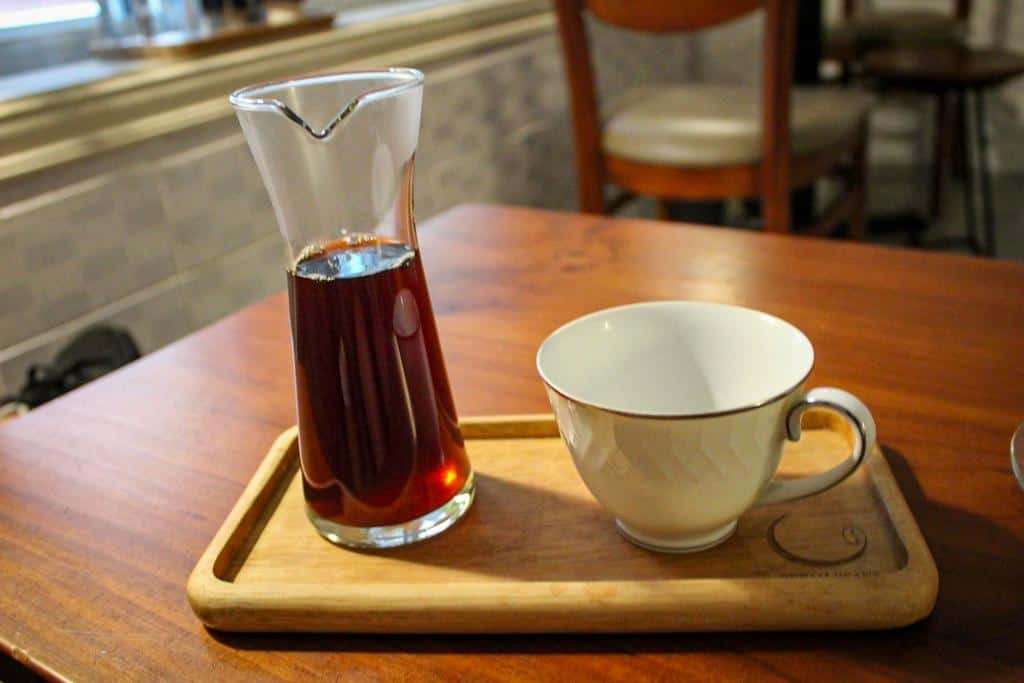 Kẻ cà phê
This great coffee shop is close to West Lake in Hanoi. The area is very residential and we hardly saw other tourists on the way to get there. The interior is very stylish and unique. All walls are covered in brown/beige colour and it looks simply amazing.
The cafe has several floors, a front yard, a balcony and a rooftop terrace to hang out and meet friends. They offer good coffee, cold drinks and pastry but it is definitely more for the space to come here. The design theme is absolutely impressive.
There is also a self-service bar to grab some tea for free.
Kẻ cà phê
7 Đồng Cổ, Bưởi, Tây Hồ, Hanoi, Vietnam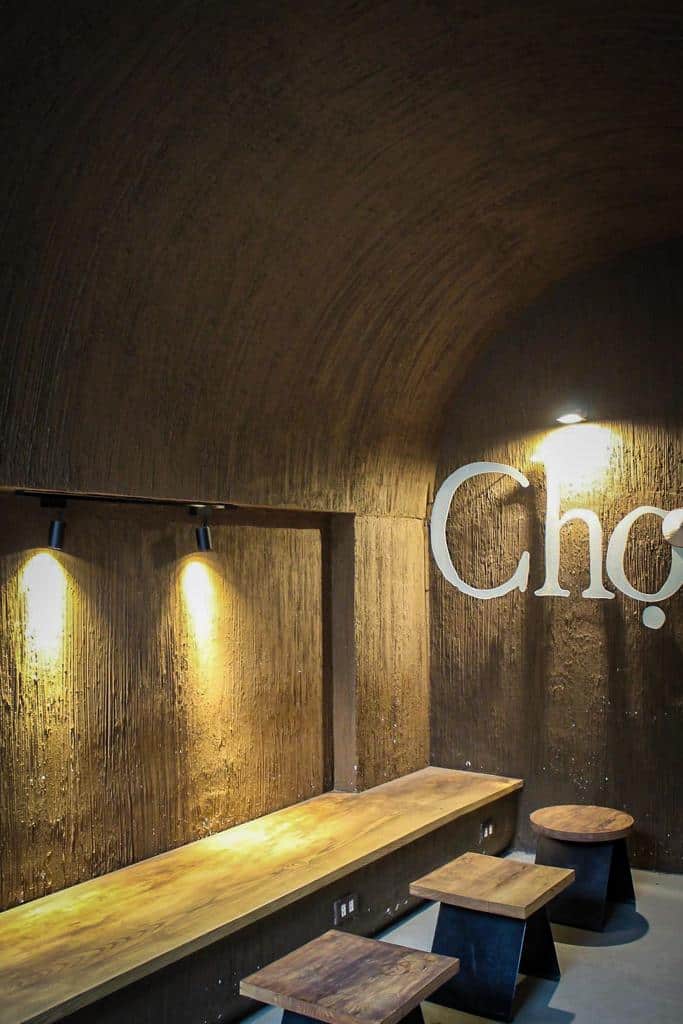 Drop In Cafe
Drop In Cafe is located in the centre of Hanoi and has a view of the train tracks. It is a very popular place for both tourists and locals because you can also work from there. Wifi is available and worked pretty well when we were there. While you work from there you can enjoy some of the best coffee in Hanoi.
TIP: Visiting Thailand as well? Our posts on things to do in Bangkok and the Grand Palace will give you inspiration for Bangkok, while our posts on Ayutthaya and Sukhothai will help you plan your visits there. Finally, our post on temples in Chiang Mai will give you the information you need before heading there.
They offer all kinds of coffees and drinks, either hot or cold with ice. One of their signature drinks is coconut coffee (which is another Vietnamese coffee speciality). We tried it at Drop In Cafe and really liked it. It was sweet and tasted, of course, a bit like coconut. On top of the drinks, they add coconut flakes which were super crunchy and delicious.
A good selection of pastries and cakes is available there as well. It is a great place to start your day with a good cup of coffee or have a break from all the sightseeing in Hanoi.
Drop In Cafe
163 P. Phùng Hưng, Cửa Đông, Hoàn Kiếm, Hanoi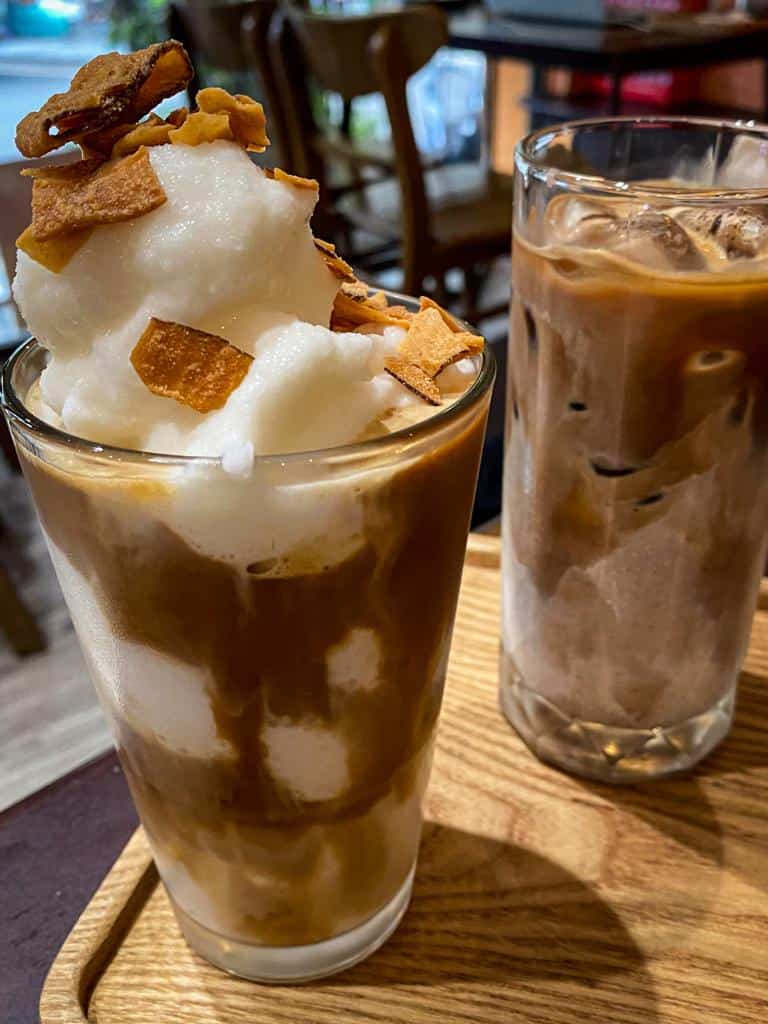 We hope you enjoyed our blog post about the places where to find the best coffee in Hanoi. Let us know in the comments which one is your favourite!