This post may contain affiliate links, where we may receive a small commission if you purchase something through following the links at no extra cost to you.
Imagine a remote desert landscape, breathtaking nature with mountain formations almost from another planet. Mix this with world-class archaeological treasures, old desert towns, palm tree oases and friendly people. Then you have Al Ula, one of the most magical places you can ever visit. This post gives you 6 great and unique things to do in Al Ula, Saudi Arabia.
Wanna know a secret? A hidden gem? A place that is one of the most magical places you can ever visit? This secret is called Al Ula, and you'll find it in the desert in Saudi Arabia. But you should hurry up. This incredible place won't stay a secret for much longer. As more people get their eyes opened for one of the biggest treasures in this part of the world, more and more visitors will want to come here. If you want to explore this truly unique destination before everyone else, our advice is to get there now. This post will give you some of the best things to do in Al Ula so keep on reading.
TIP: Read our post on places to visit in Jeddah. It will give you lots of inspiration if you plan to visit Jeddah as well as information about travelling in Saudi Arabia in general.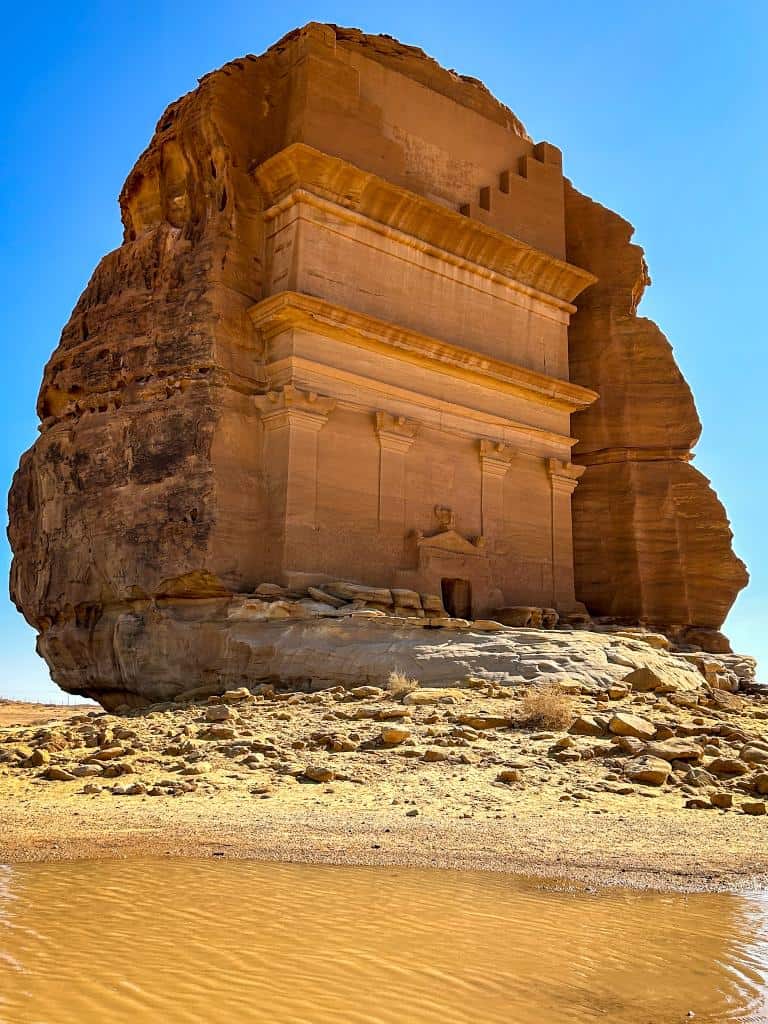 What is Al Ula
Al Ula (sometimes spelt AlUla) is an ancient oasis city located in Medina (Madinah) province of northwestern Saudi Arabia. The Hejaz region where Al Ula is situated features the history of Islam as well as several pre-Islamic Semitic civilisations. Al Ula was a market city on the historic incense route that linked India and the Gulf to the Levant and Europe.
Today, Al Ula is one of the leading tourist destinations in Saudi Arabia and is currently experiencing a renaissance. The popularity of Al Ula is increasing day by day as we speak. New roads are built, an International airport has been established, and lots of resources are put into tourism infrastructure and marketing. For sure, this is a destination for future travellers, and we wouldn't be surprised if Al Ula, Saudi Arabia eventually gets the same popularity as its more known relative of Petra, Jordan.
TIP: Our post on how to visit Saudi Arabia will give you everything you need to know before you go
Al Ula is both a city and a municipality that covers some 2.391 square kilometres, so it's a quite large area to discover. In addition to an ancient old town, the area is known for its breathtaking landscape of rocks, canyons, wadis (valleys) and oases.
How to get around in Al Ula
The Al Ula municipality is spread over a large area, and you can't walk between the different sights. Also, public transportation is almost equal to nonexistent. This leaves you with two options; a rental car or a taxi. Of course, you could visit Al Ula on a fully prepared group tour where every single little detail is planned for you – but that's not something we normally do, and therefore also don't recommend it.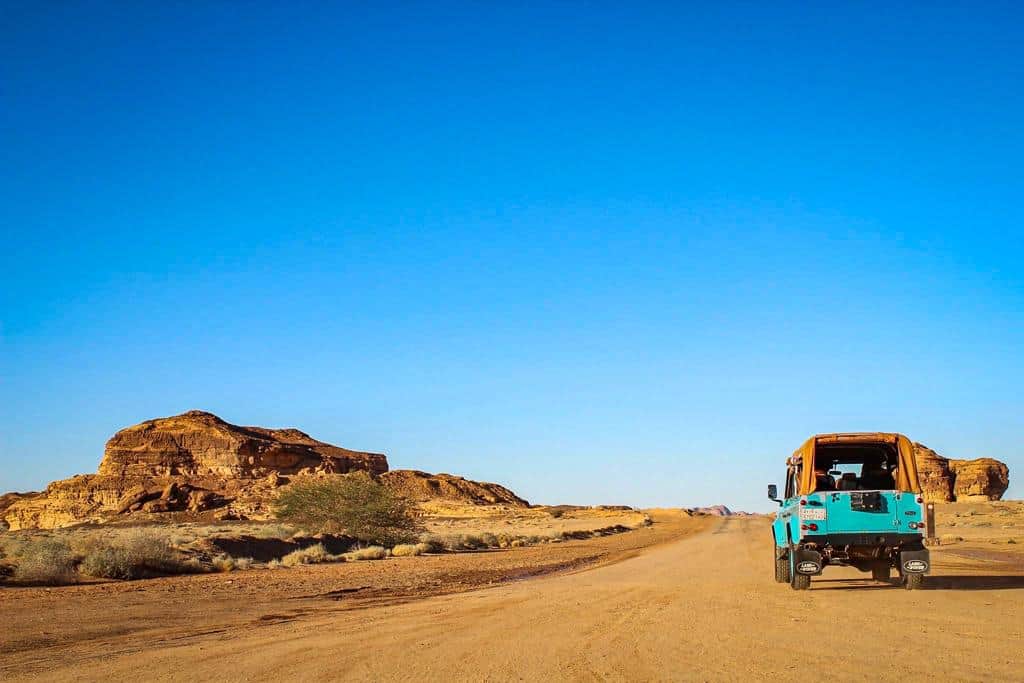 Driving in Al Ula
The roads in the region are excellent with normally a very high standard. The traffic is safe, and most drivers stick to the regulated traffic rules of Saudi Arabia. If you already drove to Al Ula from somewhere else in Saudi Arabia you'll already have your rental car.
If you want to rent a car for this region only, you can get a car at the airport, but also many of the hotels and guesthouses can assist you in renting a car. For this, you need to present your driving license, international driving permit, passport, visa and credit card. Please note that there's no public parking lot at many of the sight in Al Ula. For the archaeological site, for example, you are requested to follow one of the guided tours.
Taxi in Al Ula
Is it possible to see Al Ula without a rental car, you might ask? Well, yes that absolutely possible. You might not find many official-looking taxis around, but private drivers are (mostly) always available via transport apps. We tried Über, but our experience is that Uber doesn't work so well in Saudi Arabia. However, the Careem app works very well, and we could always get around this way during the three days we spent in Al Ula. Careem operates the same way as Über and is the most used transport app in Saudi Arabia and some neighbouring countries.
Of course, in a smaller place like Ul Ula, the waiting time for a car can be longer than in a big city, but we never had to wait longer than tops 15-20 minutes for our pick-up.
Organised tour in AlUla
For many of the sights in AlUla, you are requested to follow one of the many tours organised by experiencealula. Most tours start at AlUla Winter Park, where you are supposed to park your car if you have one. If you don't have a car, you need to organise a taxi or other transport from your accommodation to Winter Park before your tour starts. On the below list of things to do in AlUla, you can see which of the activities in Al Ula you need to organise, and which you can do by yourself. All the tours that need to be organised, can be a book on via the above link to Experience AlUla.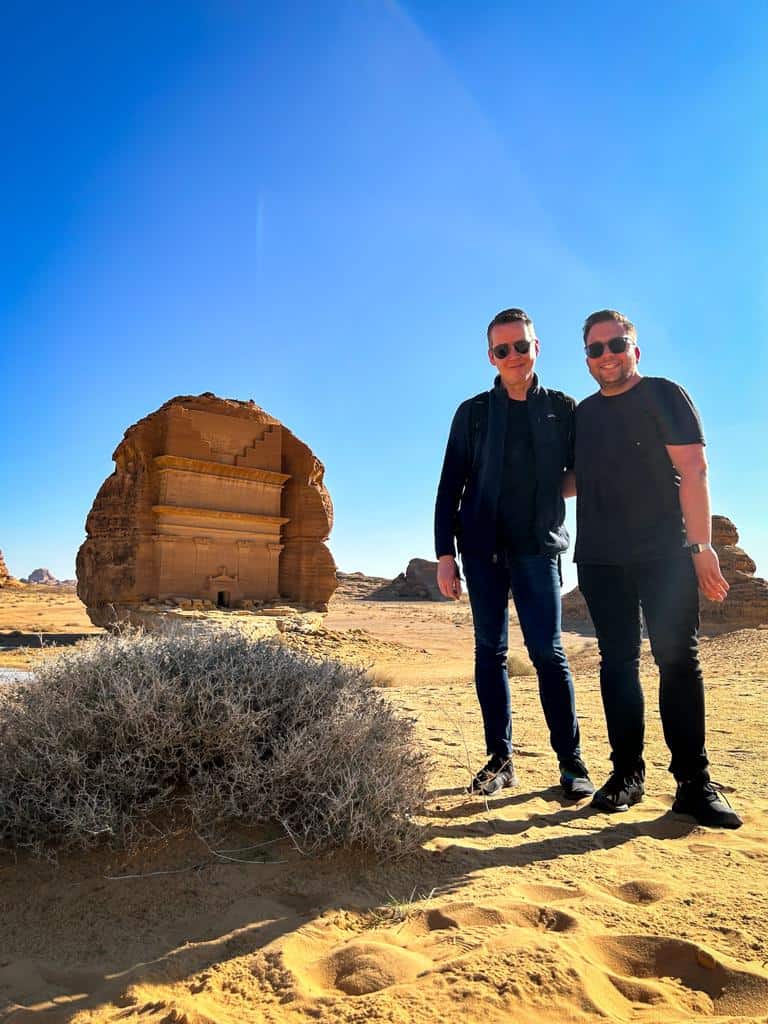 Things to do in Al Ula, Saudi Arabia
Al Ula has so much to offer its visitors, and one could easily spend a week here, and still don't manage to see all the things to do in Al Ula. The most important reason to visit AlUla Saudi Arabia is the magnificent historical sites, in addition to the spectacular nature.
Furthermore, there is something to do for everyone in Al Ula, from activities filled with action and adrenaline to more relaxed activities such as short hikes and spa treatments. You can explore ancient desert towns, try out fine dining, fly in hot-air balloons or attend one of the many concerts in the area.
Map of things to do in Al Ula
1. Al Ula Old Town
One of the best things to do in Al Ula is to visit AlUla Old Town. Once a place of over 900 homes, shops and town squares, the old town still contains some of the original mudbrick houses originally built here, and a citadel is overlooking the site. To visit this part of the old town you need to go on a guided tour. There's an office at the end of the street where you can book a guided tour, or do it on the website of experiencealula.
On your own, you can visit the picturesque Old Town Market Street in Al Ula old town. The market street is full of small boutiques and handicraft shops, speciality shops selling local products, cafes and restaurants. Many of the best-rated restaurants serving local and western food in Al Ula are located here but don't expect it to come cheap if you choose to eat here.
TIP: If you are a fan of great coffee, head to Wacafe. This small coffee bar serves excellent coffee from its own Saudi Arabia roastery. The cafe is located next to AlUla Old Town Visitor Center
The best time to visit market street is in the afternoon and the evening. It is closed during mid-day, but in the winter months, it can also be visited in the mornings.
You can easily get to the old town with a car by Careem, or if you drive yourself, there's a parking lot nearby.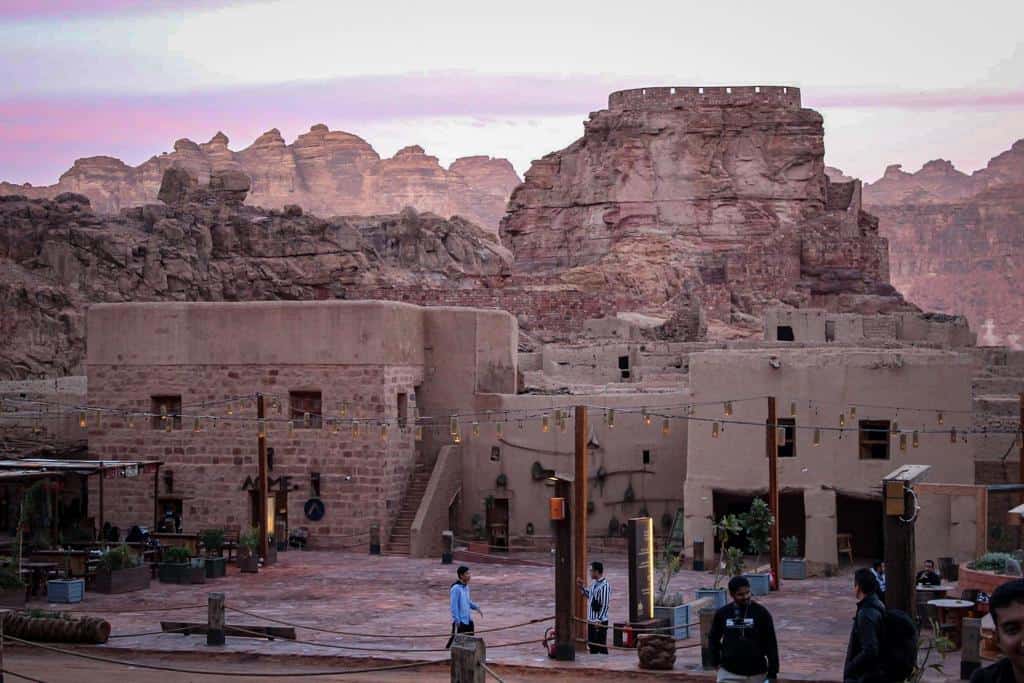 2. Elephant Rock Al Ula
Another of the very popular things to do in Al Ula is to visit the Elephant Rock at Al Ula (Jabal AlFil). This most unusual and spectacular rock formation has the shape of an elephant as you might already have guessed. The rock is surrounded by a fenced-in area, but you can enter free of charge.
Inside the area, you will find a few places serving drinks and food, and there are lots of places to sit down. Some of the most popular places to hang out are in the round-shaped lounges in front of the elephant rock. The sight when the sun starts to set, and the area is lit up by numerous little lamps is nothing but magical.
It's only open in the afternoons, from 16.00 and onwards. The best time to visit the Elephant rock at AlUla is in the time just before sunset. The colours and the light are at their most beautiful then.
You can get here by yourself with a car from Careem, or if you drive you can park in the nearby parking lot.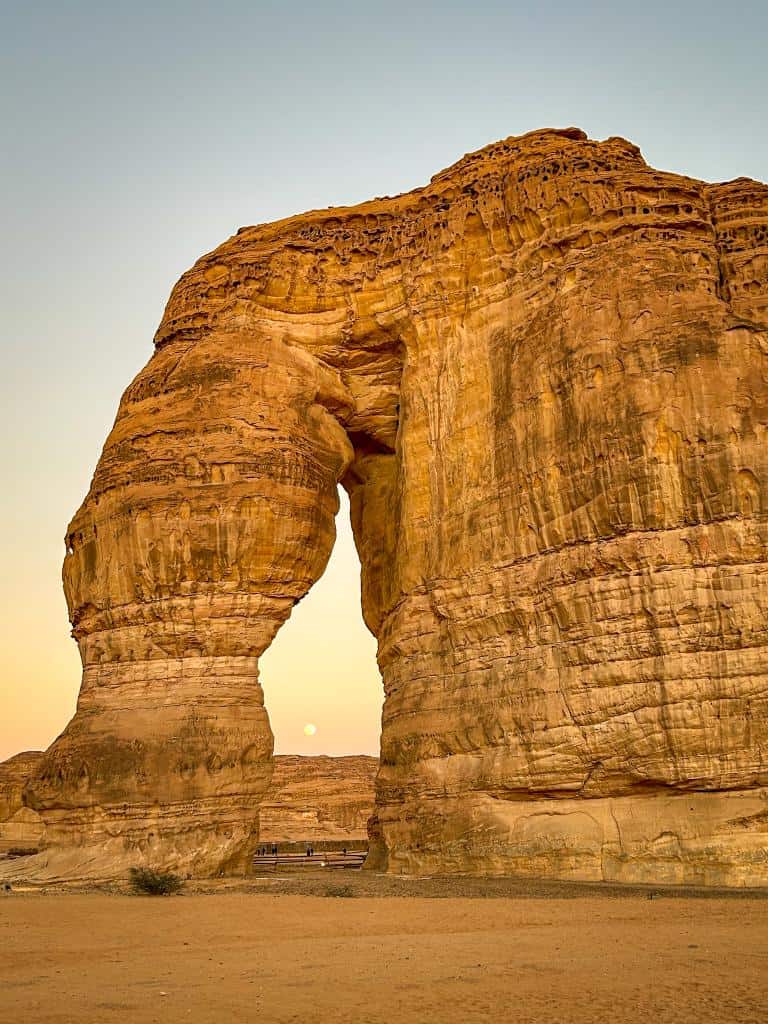 3. Maraya Al Ula – the concert hall
Maraya AlUla is such a strange and at the same time, cool building and one of the things to do in Al Ula is to visit this great construction. It is a concert hall located in the desert canyon of Ashar Valley in the Al Ula desert. This building holds the title of the world's largest mirrored building. The stunning construction is not only a concert hall but also an important venue for other arts and entertainment events.
In addition to national performers, the Maraya Al Ula also hosted concerts by names such as Alica Keys, Andrea Bocelli, Westlife and One Republic. This website will give you an overview of upcoming events at the Maraya concert hall.
You can visit outside of Maraya Al Ula for free with your own car or with a car from Careem. Normally you won't have access to the inside unless you hold a ticket to one of the events, but that's ok, as it's the outside that is the big attraction here. If it's within your budget, you can visit the restaurant Maraya Social, located on the rooftop of Maraya. Reservations for the restaurant should be made in advance via the My Table app.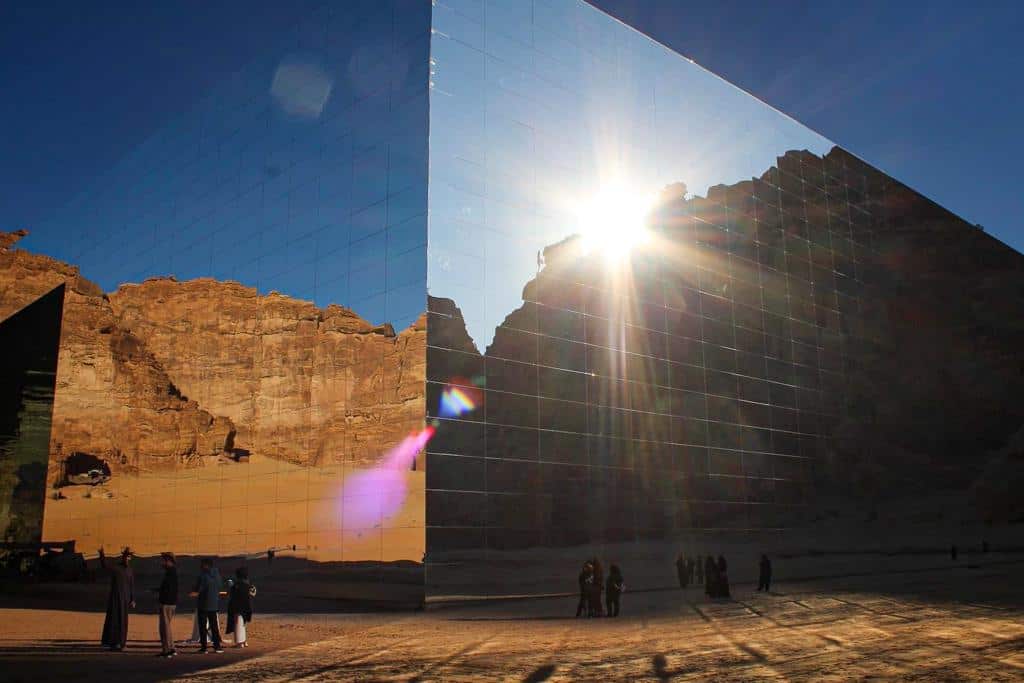 4. Hegra (Mada'in Saleh)
Without a doubt, no visit to Al Ula is complete without visiting Hegra, the first UNESCO World Heritage Site in Saudi Arabia. Hegra, known to Muslims as Al-Hirj (also called Madain Saleh), is truly one of the most magical and spectacular places to visit in Saudi Arabia. For us, a visit to Hegra is on top of all the things to do in Al Ula.
This archaeological site is located in the AlUla desert, and most of the remaining sites are from the Nabatean Kingdom (1st century AD). If you think that Hegra reminds you of the more known Petra in Jordan that's not so strange. It was built by the same rules of the same kingdom.
Hegra consists of over 130 tombs carved out in the rocks. Some are quite modestly made, while others are truly spectacular masterpieces, like the freestanding Qasr al-Farid, meaning the "lonely castle".
The only way to visit Hegra is on an organized tour booked via Experience AlUla. The tours start at Winter Park, and when you book you choose if you want to do a bus tour, or a much more expensive private tour in a vintage jeep if that's within your budget. At the time of writing, this bus tour makes six different stops along the route. You will be dropped off and met by a guide at each stop. After a short explanation, you have time to roam around on yourself to make your photos. You can stay as long as you want. Buses arrive every 15-20 minutes, and you can continue the tour with any bus you like.
The best time to visit Hegra is in the afternoon, 2-3 hours before sunset, meaning in the. winter it's better to take the tours from 2 pm and onwards for the best light. This tour is one of the most popular things to do in Al Ula and can sell out. Book in advance, before you arrive in AlUla.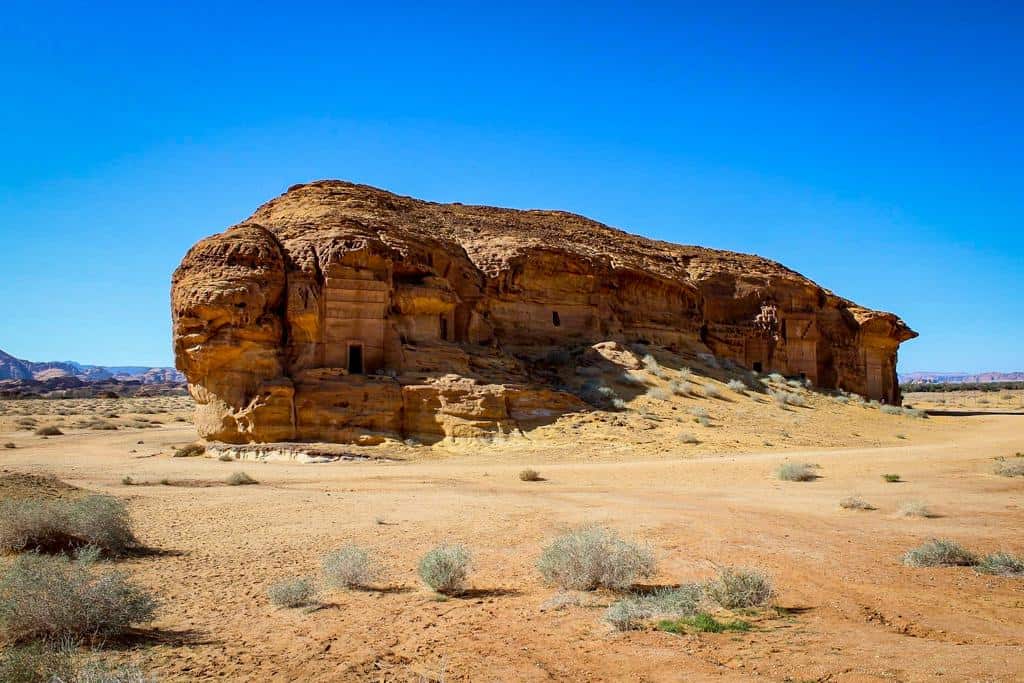 5. Dadan and Jabal Ikmah tour
Looking for more historic things to do in Al Ula? Then a visit to Dadan and Jabal Ikmah might be something for you. On this tour, you will first visit the city of Dadan, where you'll see some of the remnants from the Dadan and Lihyan kingdoms. You will see some tombs carved out in the mountain, although on this tour you can't get as close to the tombs as you might have wished for.
The real highlight of this tour is the Jabal Ikmah (Ikmah Mountain), located in a beautiful desert canyon. Jabal Ikmah is often referred to as the open library, and rightfully so. In this area, you will find stunning inscriptions, petroglyphs and rock art. Not only are the inscriptions and rock art impressive, but also the surrounding landscape is nothing but incredible.
Although the sites on this tour aren't nearly as impressive as on the Hegra tour it is still an interesting place to see in Al Ula. As with the Hegra tour, you have to book this tour from Experience AlUla. and also this tour starts at Winter Park. It's recommended to book this tour in advance as it can sell out.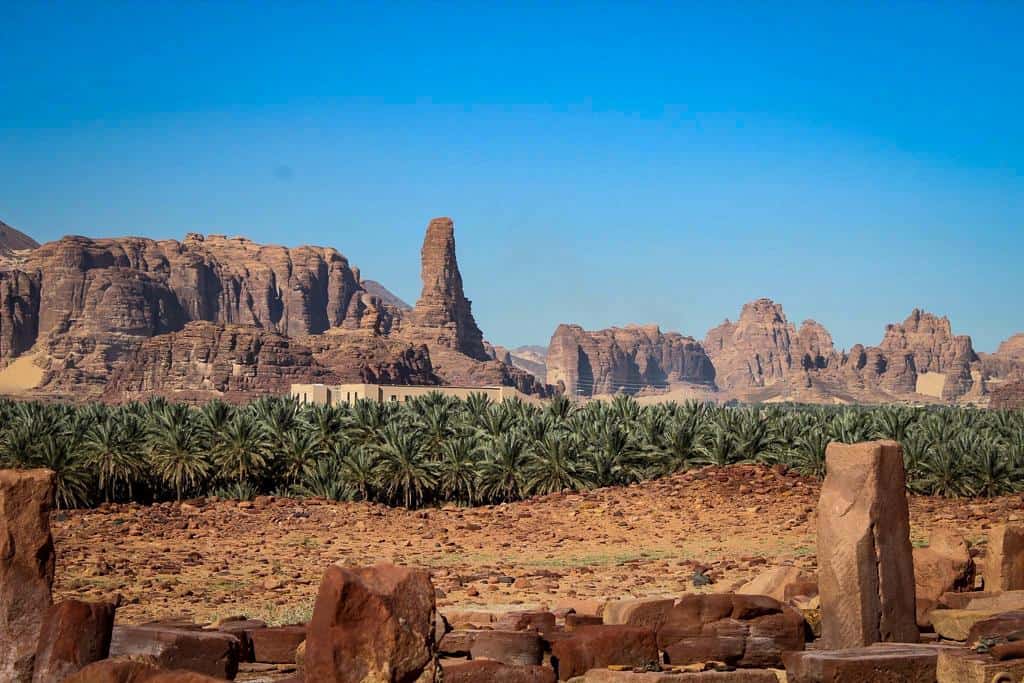 6. Eat local food
Another of the great things to do in AL Ula is to try some of the local food found elsewhere than in the rather upmarket restaurants in Al Ula's old town. One of the best tips for getting good, local food is to look for the locals, and where they eat. And for Al Ula, you will find that this is not in the old town, but rather in the newer part of town, simply called Al Ula.
In the streets of Al Ula town, between the local shops, bazaars and cafes, that's where you will find the local spots for food. Here you will find a real, low-key vibe, almost no tourists at all, and several places to grab a meal. You can easily get here on your own or with a car through the Careem app.
Menus are often different dishes of rice, chicken, soups or stews. We ended up at Derwas Corner Restaurant (Al Sukhayrat, AlUla 43512). Not only did we go there once. We were actually so happy that we visited this restaurant twice. You can sit on regular tables and chairs, or you can do as most of the locals do, sit on the rugs on the floors and share your meal with your friends. Don't miss their huge plates with rice and grilled chicken. It's delicious.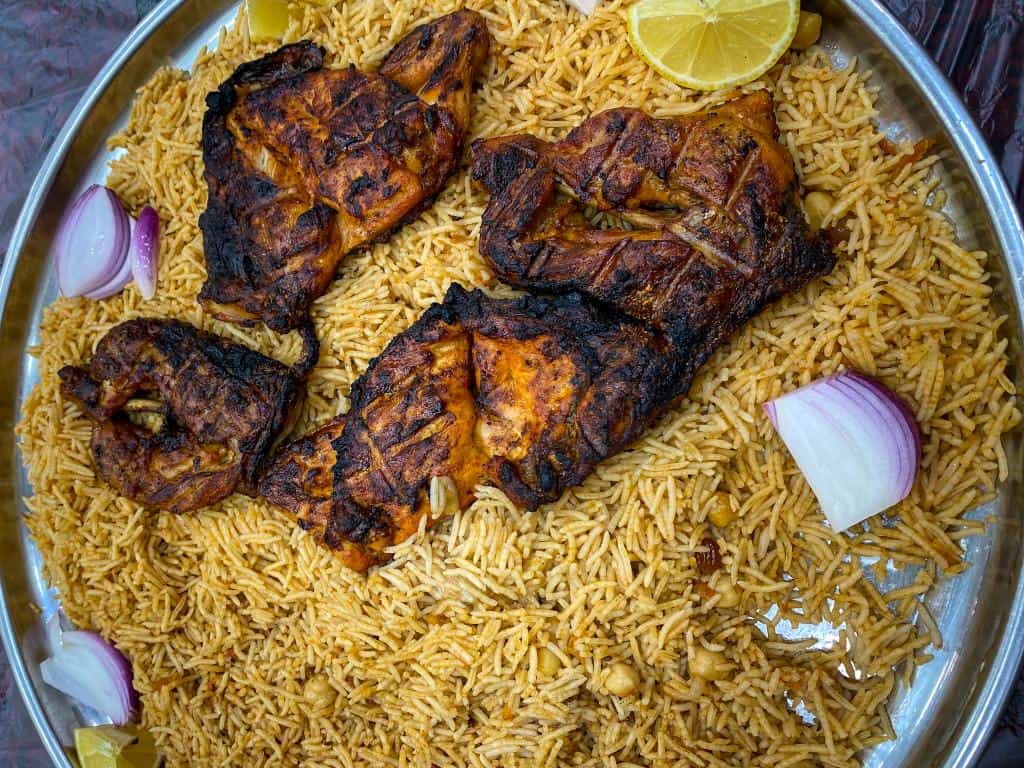 Where to stay in Al Ula
It doesn't matter where in AlUla you stay when it comes to location – you will need transport wherever you'd like to go. Accommodation in Al Ula doesn't come incredibly cheap. In fact, we found it to be very expensive. If budget isn't important for you, then the sky is the limit when it comes to hotels. Recently, several up-market luxury resorts have opened and some very luxurious campsites where you stay in camper wagons or luxury tents. You should expect to pay hundreds of euros a night for the new luxury hotels in Al Ula. The same goes for the up-market camping facilities.
If you are on a tight budget, the prices for accommodation in AlUla might scare you off a bit. There are currently no hostels with dorms, but you can find private accommodations such as rooms, apartments or guesthouses more reasonably priced, but for the quality of many of those places, it often seems overpriced and doesn't always give value for money.
We stayed at RVC Royal Valley Compound, a comfortable guesthouse in a beautiful location. There's no breakfast or coffee included, but you can do laundry there. For this, we paid €304 for three nights via booking.com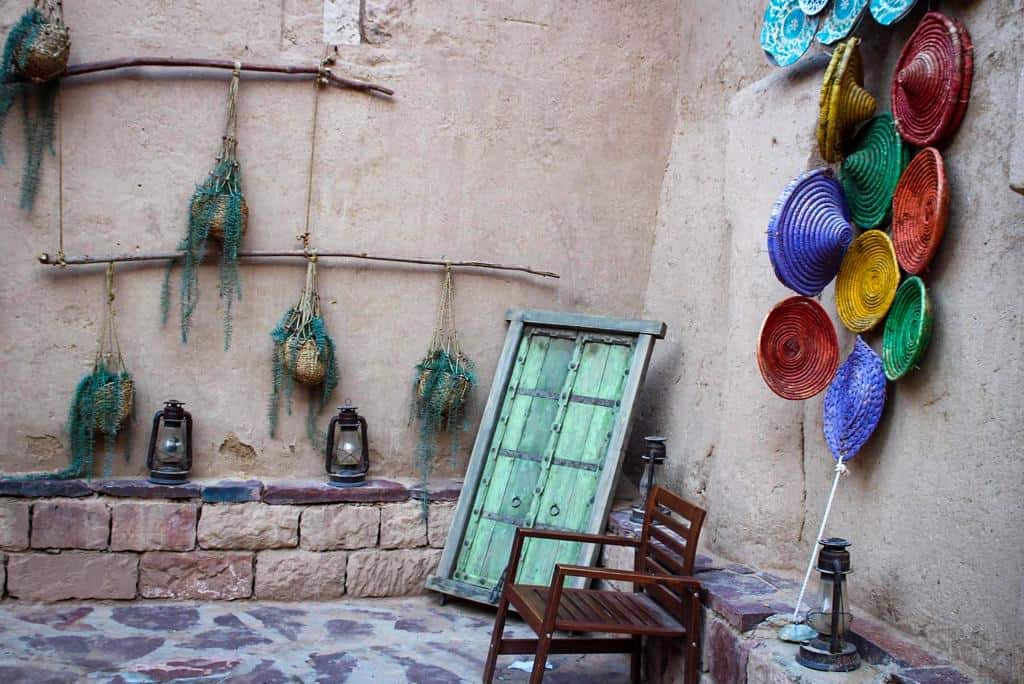 Best time to visit Al Ula
The winter, typically November from March to April is the best time to visit AlUla. Don't even think of visiting in the summer months. Saudi Arabia is not a summer destination, especially not in the desert. The temperatures get all too high to be able to do anything at all.
Please note that the temperatures can vary a lot throughout the day, with cold nights, chill mornings and very hot during the day, so pack accordingly.
Visiting AlUla in the winter: November-March mean temperature is 18-24 °C (65-76F)
Visiting AlUal in the summer: Mean temperature 33-37 °C (91-99F)
Visiting AlUla in spring or autumn: Mean temperature is 29-35 °C (83-87F)
Most rain: November, but it doesn't really rain that much even then.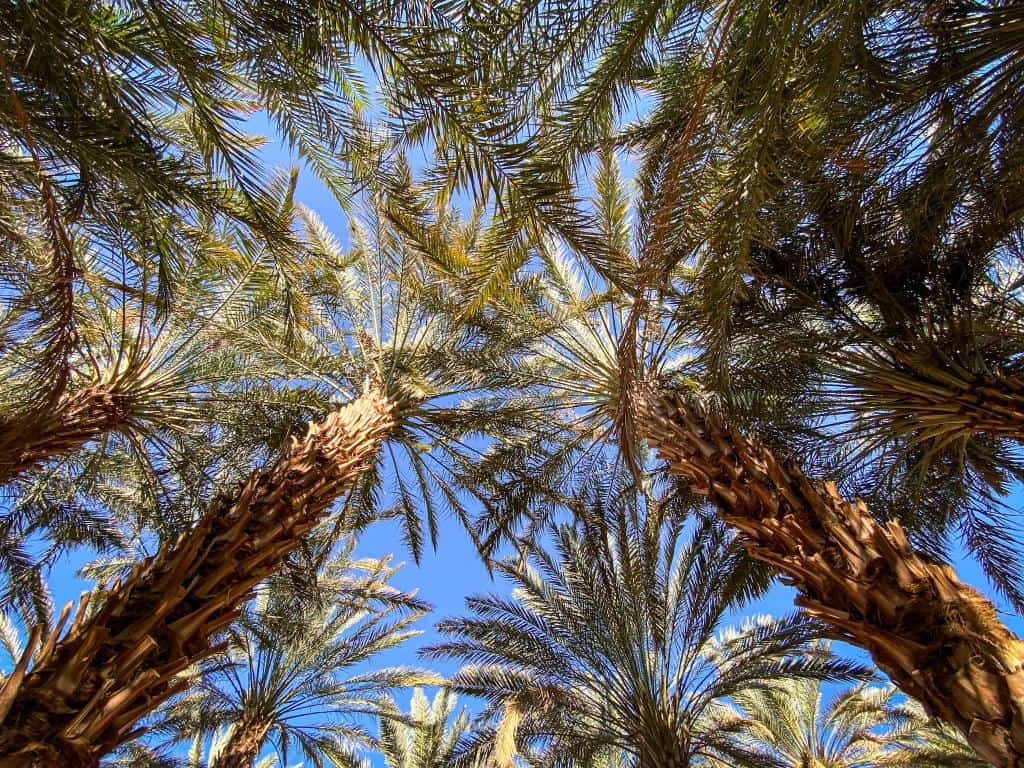 How to get to Al Ula
Depending on where you travel from, there are different ways to reach Al Ula. You can easily get from Jeddah to Al Ula, or from many other places in Saudi Arabia by bus, train, plane or rental car.
Getting to AlUla by plane
Al Ula International airport currently serves a few domestic and international destinations, and with one or eventually two connections you can reach Al Ula from almost everywhere by plane. From the airport, you can rent a car, or take a taxi via the Careem app. Some accommodations also offer airport pick-up services.
Getting to Al Ula by bus (and train)
Another option is taking the bus to Al Ula. Saptco has a large bus network in Saudi Arabia. You can eg take the bus from Medina (Madinah) to Al Ula as we did. There is currently one daily departure on this route.
At the time of writing (January 2023) there's no train service to Al Ula, but Saudi Arabia is working on extending its railway network, and a train line to Al Ula is supposed to open within the next few years. If you prefer travelling by train, you can take the train from Jeddah to Medina and change to a bus from there. While there are several daily trains from Jeddah to Medina, the only bus to Al Ula from Medina departs at 17.30 (5.5h). The train between Jeddah and Medina is operated by the Haramain High-Speed Railway.
From Riyadh, you can take a train to the city of Hail, and from there catch the bus from Saptco. Be aware that there's currently only one daily bus on this line, it leaves at 07.02 in the morning, so for this alternative, you might need to book a night's accommodation in Hail. The bus from Hail to Al Ula takes around 6 hours. The train from Riyadh to Hail is operated by Saudi Arabia Railways.
Getting to Al Ula by car
A rental car can give you some more flexibility for many of the things to do in Al Ula. The roads are excellent, the traffic is regulated and most drivers follow the traffic rules. To rent a car you need to provide your driving license, International driving permit, visa, passport, credit card and phone number. Check rental cars to compare prices.