This post may contain affiliate links, where we may receive a small commission if you purchase something through following the links at no extra cost to you.
Bangkok is the gateway to Thailand and many other places in Southeast Asia. It's big, always busy, and it seems like Bangkok never sleeps. For first-timers visiting Bangkok, this mega-city can indeed be overwhelming, and many prefer to just transfer through to their final destination. But don't. The city has so much to offer. Your first time in Bangkok can truly be a great experience.
Ok, so let's be honest with you. Bangkok is chaos. It's load, the traffic is horrible and it's people almost everywhere you turn. Everything is happening at a fast pace, and all your senses will get tested during a visit to Bangkok.
But give it a try. It's so worth it. Few Asian cities have so much to offer their visitors as Bangkok that you might want to spend weeks here in the end. If it is your first time visiting Bangkok, our suggestion is to not try to see it all. Choose a few Bangkok attractions to visit every day, and make sure to have some time to rest in between. This city will steal your energy, so don't burn it all on your first day.
Even though Bangkok is stressful, it's also such an exciting city to visit, and can really be a great start to your further travels in Thailand, no matter if you are heading for the beaches and islands, the temples in Ayutthaya or Sukhothai, or if you are heading north to Chiang Mai or maybe Chiang Rai.
TIP: Going from Bangkok to Ayutthaya? Our post on how to get to Ayutthaya from Bangkok will help you get there
Also if you are going on a slow boat to Laos to visit eg Luang Prabang, Vang Vieng, or the Plain of Jars, Bangkok might be your starting point. The same goes if you are planning to take the slow boat between Thailand and Laos, meaning Bangkok will often be part of the itinerary, so why not give it a try? Pack your bags – and get ready for your first time in Bangkok.
TIP: Need help with what to pack before you go? This Ultimate Packing List for Thailand might help you on your way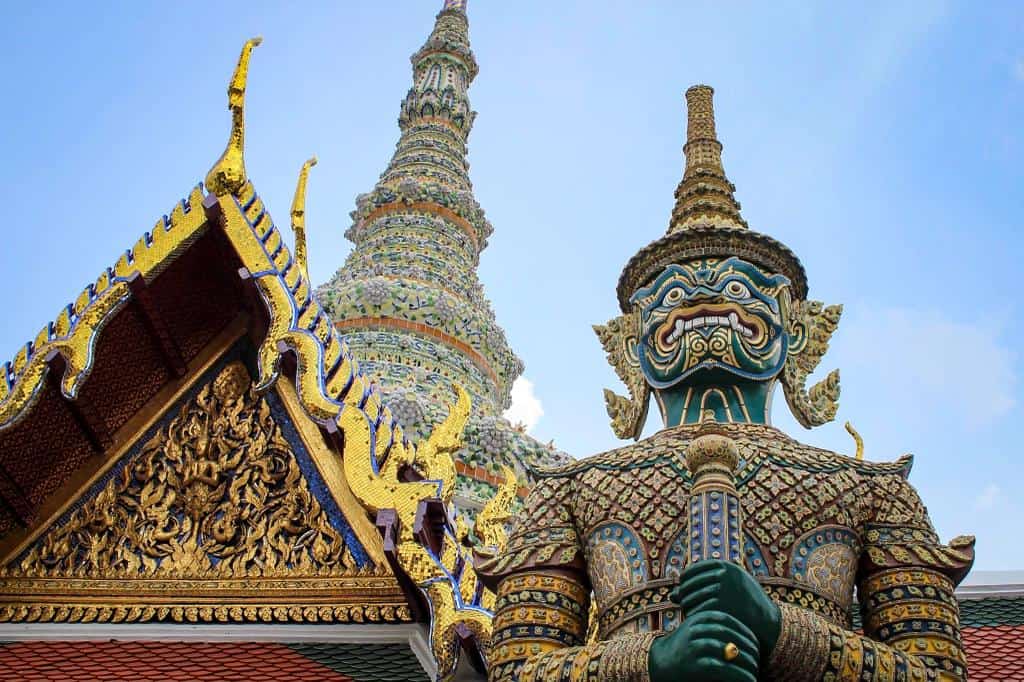 How long to stay for the first time in Bangkok
3 days in Bangkok can be enough for your first visit before you continue to your next destination. This post will give you a list in random order, of easy and unique things to do in Bangkok. Our list contains enough Bangkok things to do for 3-5 days, but if you are efficient, it's also possible to see it all in only 2-3 days in Bangkok. So keep on reading – your first time in Bangkok might turn out better than you thought.
TIP: Heading to Chiang Mai or Chiang Rai? Our posts on the best coffee in Chiang Mai and our Chiang Rai coffee guide will show you where to find the best brew in both cities.
Map of 10 easy and unique things to do in Bangkok
First time in Bangkok – Best things to do in Bangkok
As previously stated, the below list is in random order, and of course, you don't have to visit all the places in Bangkok as we did. You can choose to visit a few of them, in combination with other things to do in Bangkok. Most places on this list are easily accessible by public transport, and in some cases also by foot from some of the other nearby attractions.
TIP: Visiting Bali as well? These tips for travelling to Bali might be helpful then
1. Grand Palace Bangkok
When visiting Bangkok, make sure not to miss out on the Grand Palace, especially if this is your first time in Bangkok. The Royal Thai Palace is truly a Bangkok must-see.
It is part of a greater complex that also includes the Wat Phra Kaew temple. The Bangkok Grand Palace is a former royal residence that today is used only for ceremonial occasions. You can visit the palace grounds and some of the remaining palace buildings.
Our post on the Royal Thai Palace will give you more detailed information before you visit one of the top sights in Bangkok. It is located next to the Wat Pho temple, so these two sights can be combined in one day.
Bus number 3 stops right outside the Grand Palace, or take the ferry (Chiang Pier or Maharaj Pier)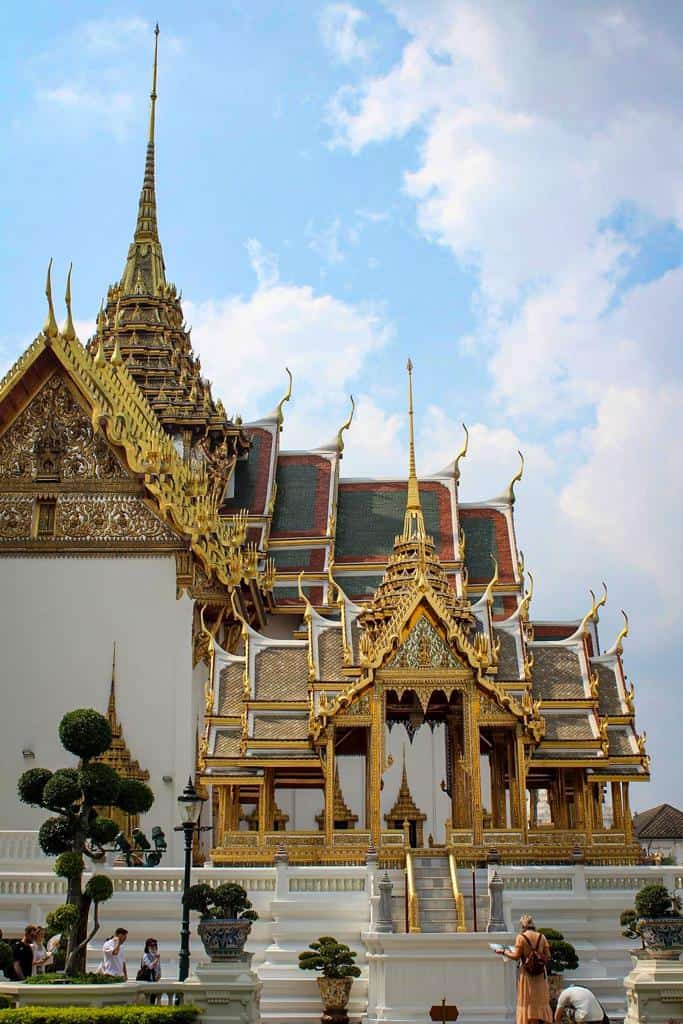 2. Golden Mount Bangkok
Wat Saket Bangkok, also known as Golden Mount Bangkok or the Golden Mount Temple, is another of the main things to do in Bangkok. Located on the only hill in Bangkok, this Buddhist temple is surely a sight for the eye. If this is your first time in Bangkok, we can only recommend paying it a visit.
Not only is the temple itself worth a visit. The view from the top of the hill is also great. You will have to climb some stairs to get to the top, but take your time and enjoy the view on your way.
You can get here by the BTS train (Saphan Taksin station)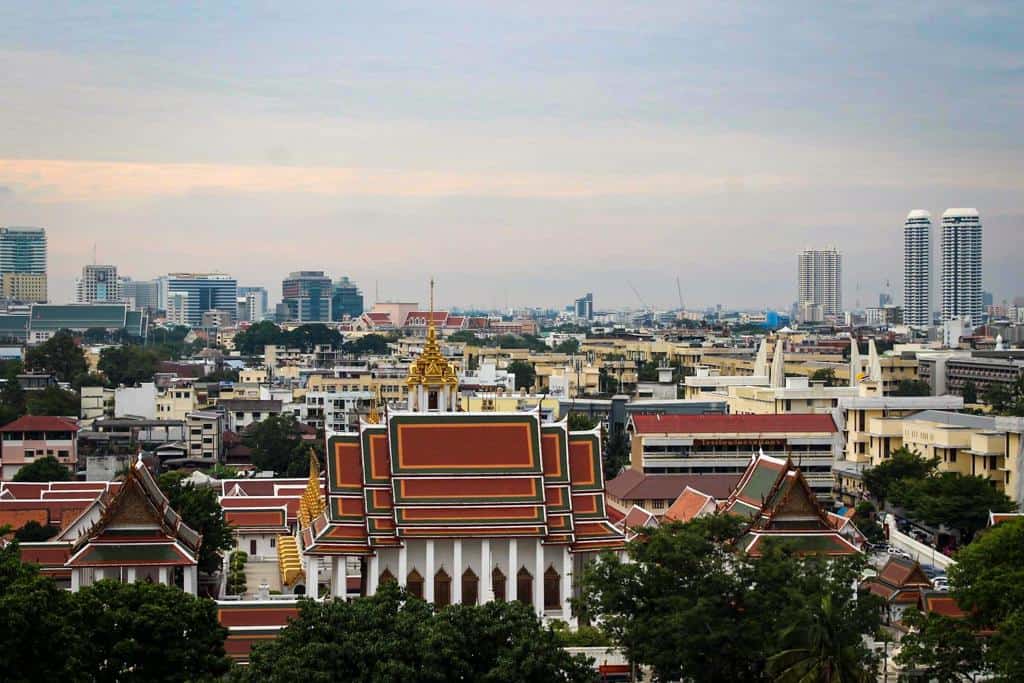 3. Watch the sunset along the Chao Phraya River
Want to find one of the best spots to see the sunset in Bangkok? Then head to the shores of the Chao Phraya River, opposite the Wat Arun temple. If you like, you can visit one of the numerous cafes and restaurants facing the river. Many of them have a terrace with amazing views. Expect to pay more for your drinks here than is smaller side streets in Bangkok.
Another cheaper way is to find one of the narrow lanes leading down to one of the piers, and from there enjoy the stunning Bangkok sunset completely free of charge. If you want a drink, you can buy one in one of the stalls along the street, before you head towards the water.
Seeing the majestic Wat Arun temple with the sun setting behind it is really something we recommend doing on your first time in Bangkok. We liked it so much that for us, from now we can't visit Bangkok without heading here.
TIP: There are lots of boats alone these piers offering sunset boat trips. They are expensive, and also loud – and the view is almost the same as from the pier.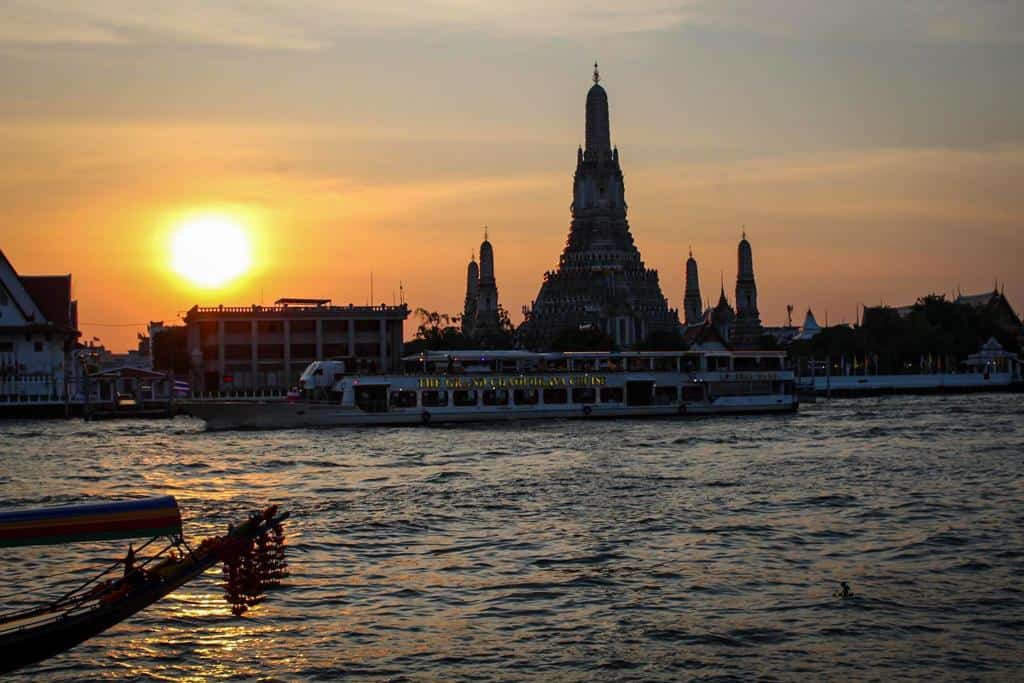 4. Wat Pho temple
As one of the main attractions in Bangkok, this amazing temple complex is not to be missed, especially if this is your first time in Bangkok. For many visitors to Bangkok, this turns out to be the favourite sight.
As you walk between all the stupas at the temple grounds, one cannot notice the share beauty of this place. Also, Wat Pho Bangkok has the city's largest reclining Buddha, in addition to Thailand's largest collection of Buddha images.
It can get really crowded at Wat Pho, but if you visit late afternoon the biggest crowds have normally gone. The Wat Pho temple is located next to the Grand Palace, so it makes a perfect combination to visit both of these Bangkok sights on the same day.
You can get here by bus number 3 or by ferry (Tien Pier)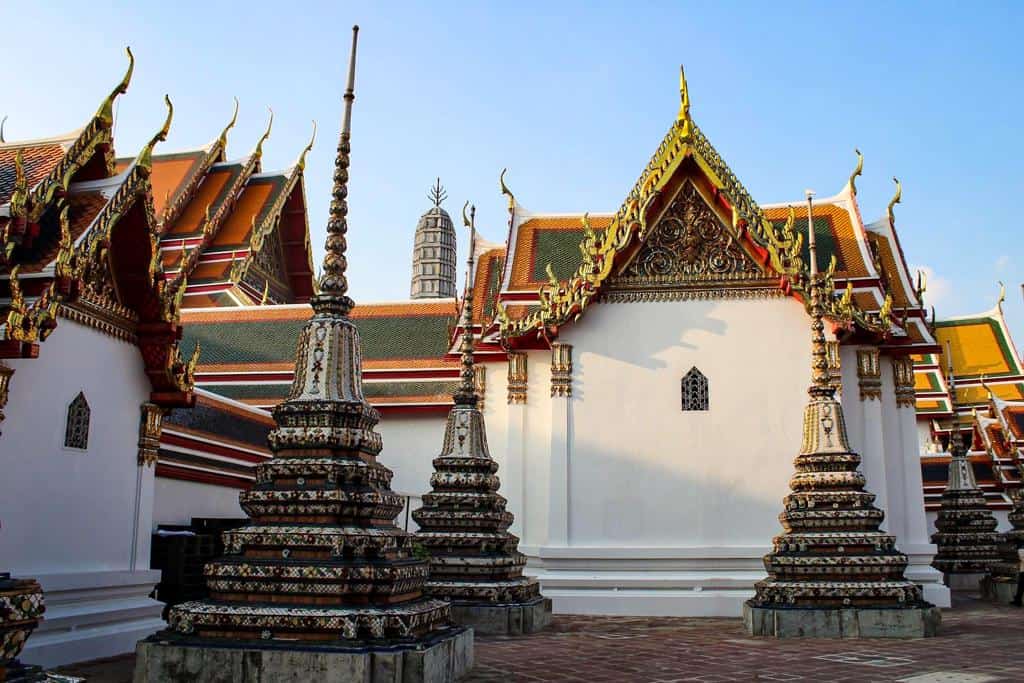 5. Eat Bangkok Steet Food
Bangkok street food is world-famous for a reason. Almost everywhere you go, there are stalls preparing and selling all kinds of food. You can get street food in Bangkok at all times of the day, depending on where in the city you are.
Is it safe to eat street food in Bangkok, you might wonder? Well, that depends. Mostly it is totally fine, but you can of course be unlucky and get served food that makes your belly react negatively. If you get sick, keep in mind that it doesn't necessarily have to be that you got served bad food. It can simply be that your body also needs some time to get used to a new bacteria culture – especially if this is your first time in Bangkok.
When looking for a place to eat street food, the best rule is to look where you can find the most locals eating. Locals know their city best, and wouldn't sit down for a bite if they know that the quality is low. We recommend you avoid places that mainly cater to serving tourists, both for the lack of quality and for often much higher prices than elsewhere.
We typically like the smaller food stalls with only one or a few dishes on the menu, rather than bigger places with a more extended menu. We have the feeling that the food is fresh in places where they don't need too many ingredients at all times.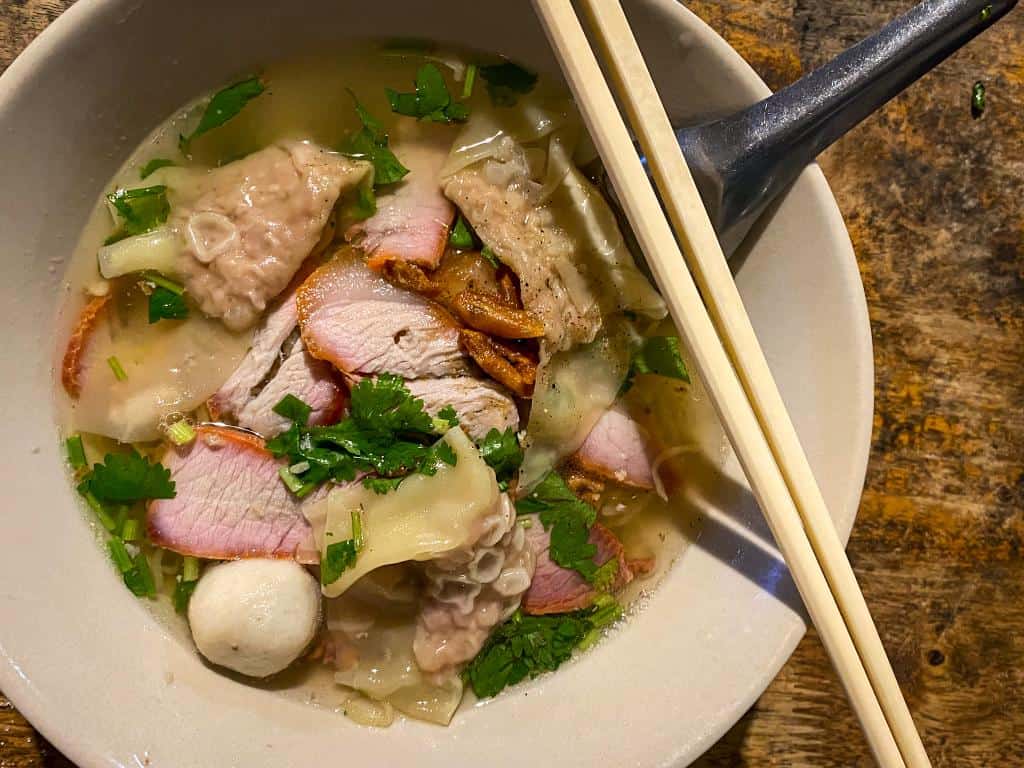 6. Jim Thompson House
Looking for a more quiet place to visit while you are visiting Bangkok? Then the Jim Thompson House Museum might be what you are looking for. If this is your first time in Bangkok, you might like it here, as it will give you a short break from the bustling city around.
This green space in the middle of Bangkok is the former home of the American silk entrepreneur and art collector Jim Thompson. After serving in Thailand during WWII, Thompson settled in Bangkok and his neighbours' handmade silk caught his eye, and he developed a silk trading business, earning him the nickname Thai Silk King. Today, the museum houses a unique collection of Asian art, as well as an exhibition about Thompson's life and work.
You can only visit the museum on a guided tour. There's a textile shop and a nice cafe on the grounds.
The Jim Thompson House can easily be reached via the BTS Skytrain (National Stadion Station).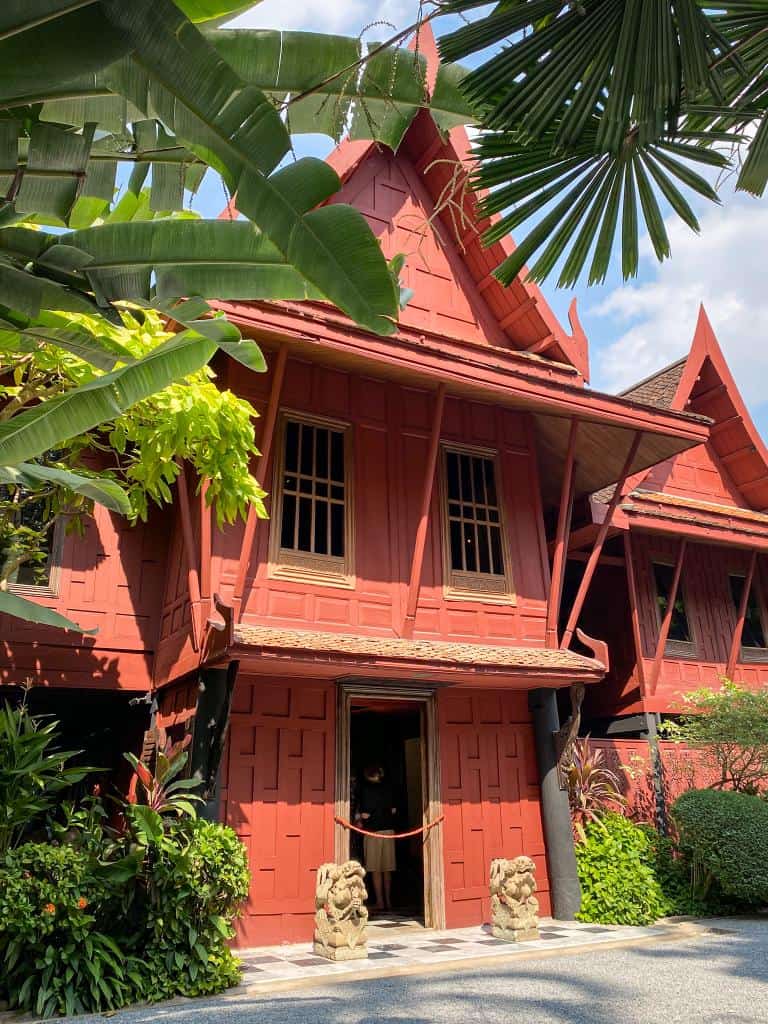 7. Visit Chinatown Bangkok
Chinatown in Bangkok is another place we recommend visiting on your first time in Bangkok. The area isn't large, so you won't need too much time here. One of the best things to do in Chinatown Bangkok is simply to stroll around the streets and take everything in. It's so lively, and so much is happening in the streets.
If you are into food in general, and street food in particular, Chinatown is one of the best places to visit in Bangkok at night. The many stalls serve delicious food, and our recommendation is to walk from stall to stall, trying a little bit of everything. That way you can be able to taste lots of amazing food, rather than eating a full meal in one place.
Another cool thing about Chinatown is all the light and all the different illuminated signs on the buildings. Walking the streets here can really make you wonder if you still are in Thailand, or if you transferred to China itself.
You can easily reach Chinatown Bangkok by the MRT metro (Hua Lamphong station, exit 1)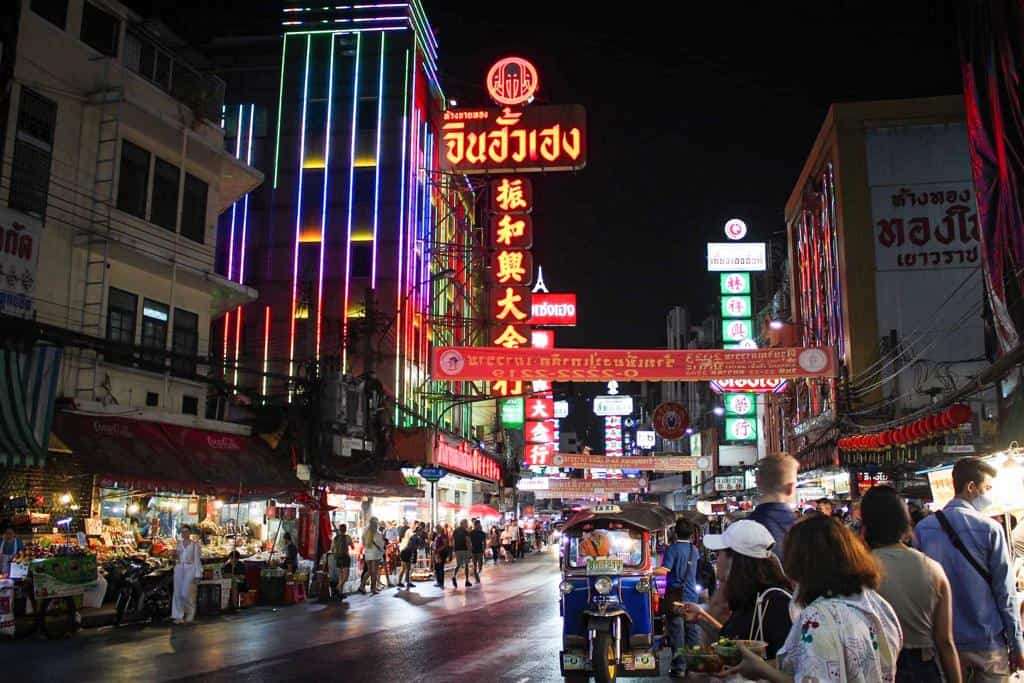 8. Hang out in some of the parks in Bangkok
There are several nice parks around Bangkok that can offer a welcome break from the hectic city life. We understand that Bangkok can be overwhelming, especially if this is your first time in Bangkok, so the parks can offer a nice refuge to relax for a while.
The Saranrom Royal Garden is located within walking distance of the Grand Palace and Wat Pho, so this small park can be the perfect place to reload between the sightseeing. Lumphini Park (MRT to Lumphini station, exit 3) named after Buddha's birthplace in Nepal, is another popular hangout in Bangkok. It's the largest and most popular park in Bangkok, where you will be able to get away from the noise of the city.
Don't be surprised if you see some of the "local residents" in the parks. Harmless but large monitor lizards live in some of the parks in Bangkok.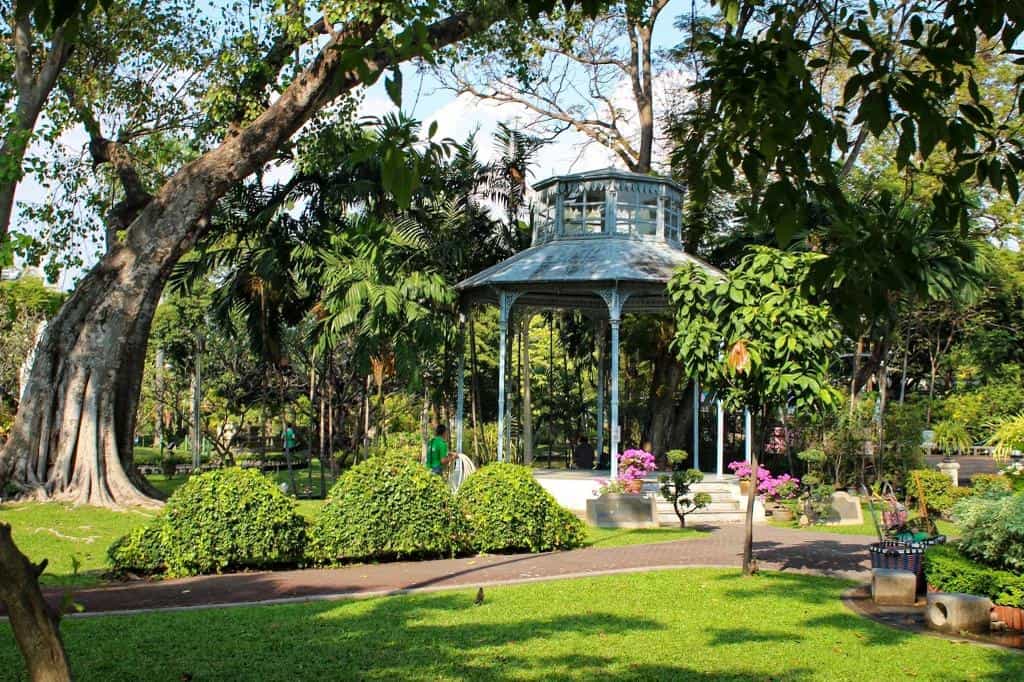 9. Flower Market Bangkok
This might not be one of the top sights that Bangkok has to offer, but it's still a very nice place to walk by. It's actually more of a wholesome market than a shopping area, but due to its size, it has become a tourist attraction as well. Today, this is the primary flower market in Bangkok, and in addition to exotic flowers, also fruits and vegetables are up for sale.
If you are looking for one of the unusual things to do in Bangkok, this is one of them, especially if this is your first time in Bangkok.
It is located on Chak Phet Road, close to the Memorial Bridge. The market is served by many bus lines, eg number 1, 2 and 3. It's also close to the Sanam Chai MRT Station.
TIP: Read our posts on the best coffee in Hanoi and things to do in Hanoi if you are combining Thailand and Vietnam on your travels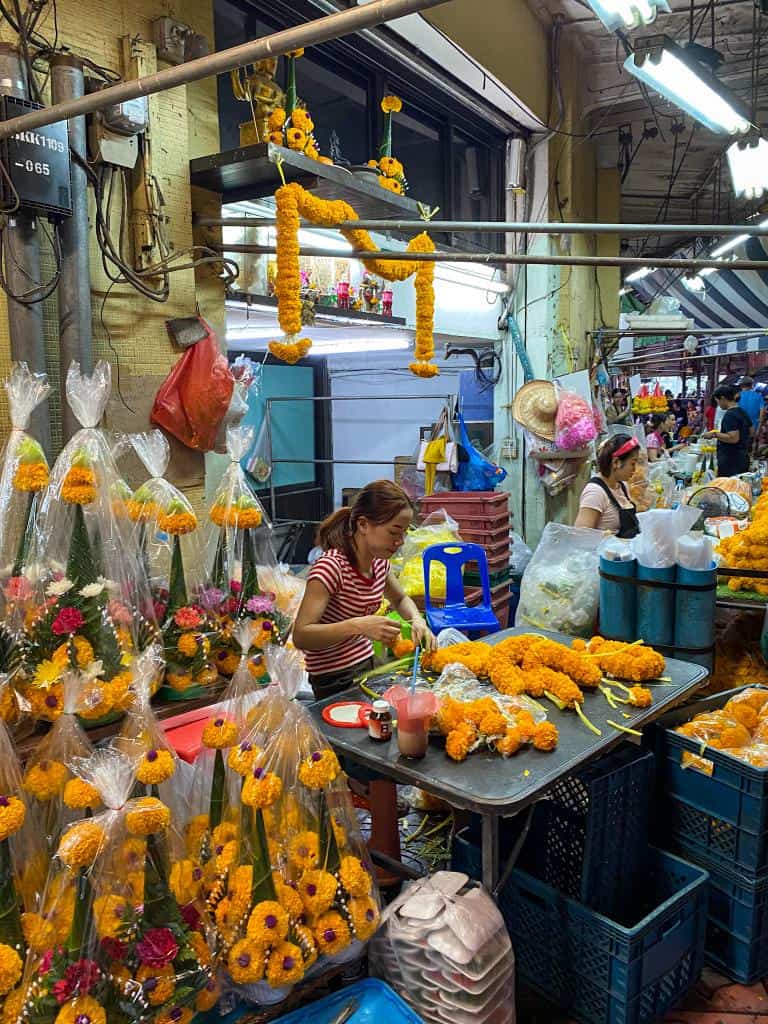 10. Visit a Rooftop Bar in Bangkok
Bangkok is full of cool rooftop bars, one more spectacular than the other. To enjoy a sundowner high above the bustling city is truly a great experience. The Bangkok skyline is magnificent when the sun is setting, and what better way to enjoy it than over a well-prepared cocktail?
Several five-star hotels have a sky bar in Bangkok. We visited two amazing rooftop bars in Bangkok, the Sky Bar at Lebua and the Vertigo Bar at Banyan Tree Hotel, whereof the latter was our favourite. Both of these bars regularly appear on lists of the best rooftop bars in Bangkok so you will for sure have a great experience here.
Please note that many of the rooftop bars in Bangkok have a dress code you are expected to follow, and you can be denied access otherwise. Check the website of your preferred bar if they have a dress code or not, and if they require a reservation in advance.