This post may contain affiliate links, where we may receive a small commission if you purchase something through following the links at no extra cost to you.
Chiang Rai is a popular place to visit for tourists who travel to the North of Thailand. Most people come here to visit one of the special temples just outside of Chiang Rai, to explore the hill tribes or the Golden Triangle of Thailand, Laos and Myanmar. When you plan to visit Chiang Rai, make sure to have a break in one of these great places for Chiang Rai coffee. Some of these cafes even grow and roast their own beans.
Chiang Rai is often overlooked but it is actually very worth visiting. Most tourists to Thailand, visit the royal palace in Bangkok, beaches and islands, and the temples in Sukhothai or Ayuthaya or Chiang Mai. Visitors to Chiang Rai often come for the temples, nature, serenity and some peace and quiet.
Besides the beforementioned tourist attractions, Chiang Rai also offers a good amount of great places for Chiang Rai coffee. While the centre of Chiang Rai is very compact, you find nice cafes all over the city and close to many sights.
In Thailand, it is very common to get your coffee in different variations. You can get each coffee hot or cold (with ice), sometimes blended as a shake or frappe. Especially when it is very hot and humid, it is great for an ice-cold coffee to refresh.
TIP: Visiting Laos as well? Our post on things to do in Vang Vieng will give you lots of inspiration, while our post on the slow boat to Laos will tell you everything you need to know about the slow boat if you do that after Chiang Rai
Besides the typical coffees, e.g. americano, espresso, cappuccino, latte or flat white, you can often find new kinds of coffee in Southeast Asia. Here are a few examples which we saw and discovered in several cafes in Asia.
TIP: Berlin, Germany, is another cool city for great coffee. Our post on the best coffee in Berlin gives you everything you need to know and where to go
| | |
| --- | --- |
| Orange coffee | Orange Juice with coffee (mostly espresso |
| Dirty | Hot, strong espresso shot over extremely cold milk |
| Mocha | Latte with hot chocolate/cocoa or chocolate syrup, sometimes it comes with cream on top |
| Magic | Ristretto with warmed milk (milk with little to no foam) |
| Piccolo Latte | One part of espresso and two parts of steamed milk with a layer of silky foam on top |
| Caramel Macchiato | Espresso and steamed milk with caramel sauce |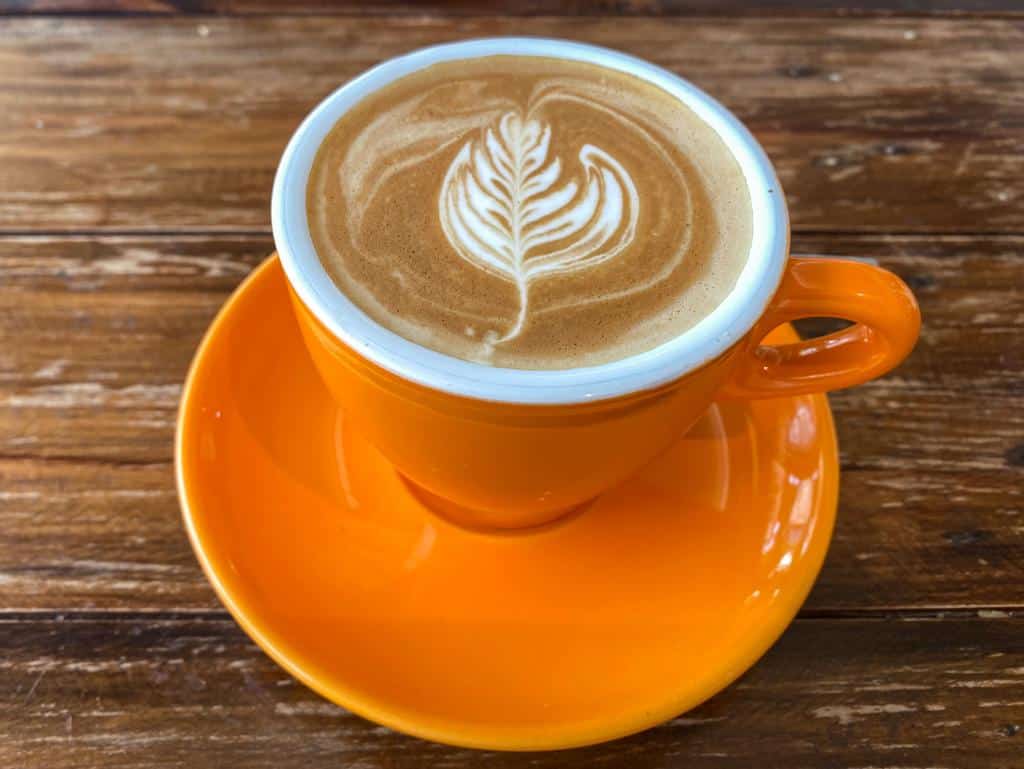 Of course, there are many more cafes in Chiang Rai, but these ones are our favourites in random order. Naturally, you can get many more drinks (e.g. tea, shakes, juices) in these cafes but the focus of this blog post is about good quality coffee in Chiang Rai.
TIP: Read our post on things to do in Bangkok – especially if you visit Bangkok for the first time
Map of Chiang Rai Coffee
Alio Slow Bar and Farm
Alio Slow Bar is probably our favourite place for Chiang Rai coffee. It is a bit further out from the centre of Chiang Rai and is located in a more residential area. The interior is grey, industrial-styled and very minimalistic. The coffee makers of Alio Slow Bar focus on quality coffee for their customers and the determination to generate long-lasting sustainable coffee development.
They have a short menu with speciality drinks, coffee drinks, milk drinks and non-coffee drinks. As usual in Southeast Asia, you can order all drinks either hot or cold.
Alio Slow Bar and FARM
777/1 Kong Yao Alley, Tambon Wiang, Mueang Chiang Rai District, Chiang Rai 57000, Thailand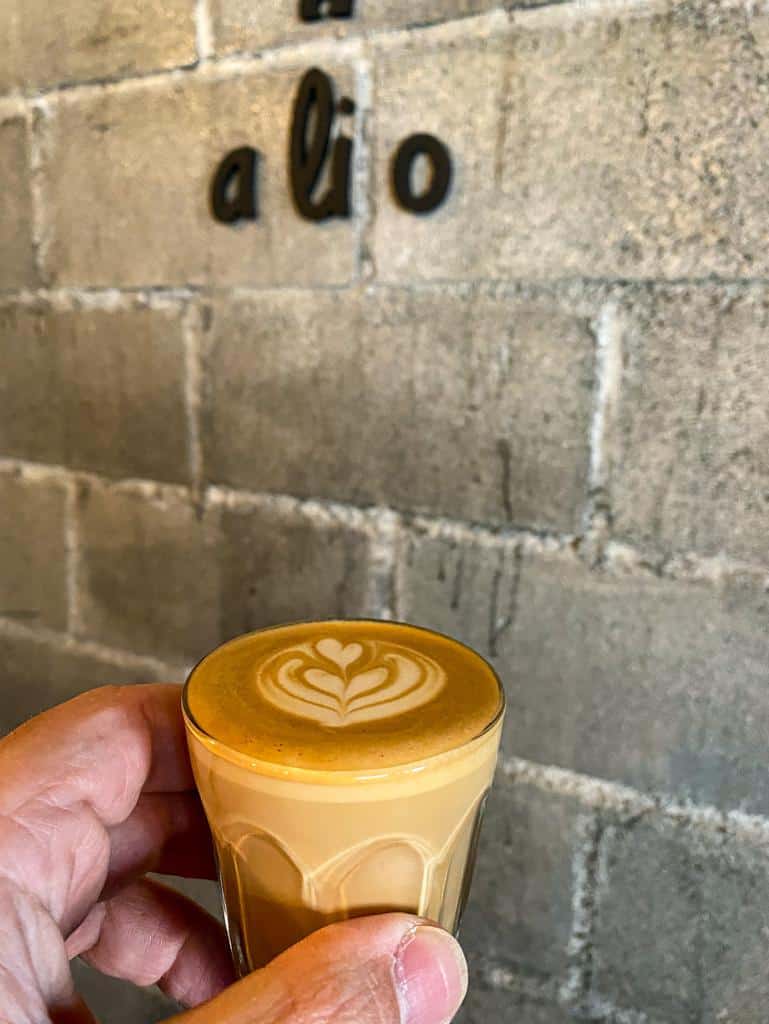 LEAH Coffee Art
Close to the King Mangrai Monument, you find Leah Coffee Art, a relaxing cafe with interesting murals and decor. Their coffee is not too pricey and is very smooth. The cappuccino came with cinnamon, which made the cup of coffee very nice and the sweetness just right. Besides drinks, you can also get small dishes and snacks.
To drink this Chiang Rai coffee you can choose to sit inside or outside on the terrace and just watch the daily life in Chiang Rai go by.
LEAH Coffee Art
777/1 Kong Yao Alley, Tambon Wiang, Mueang Chiang Rai District, Chiang Rai 57000, Thailand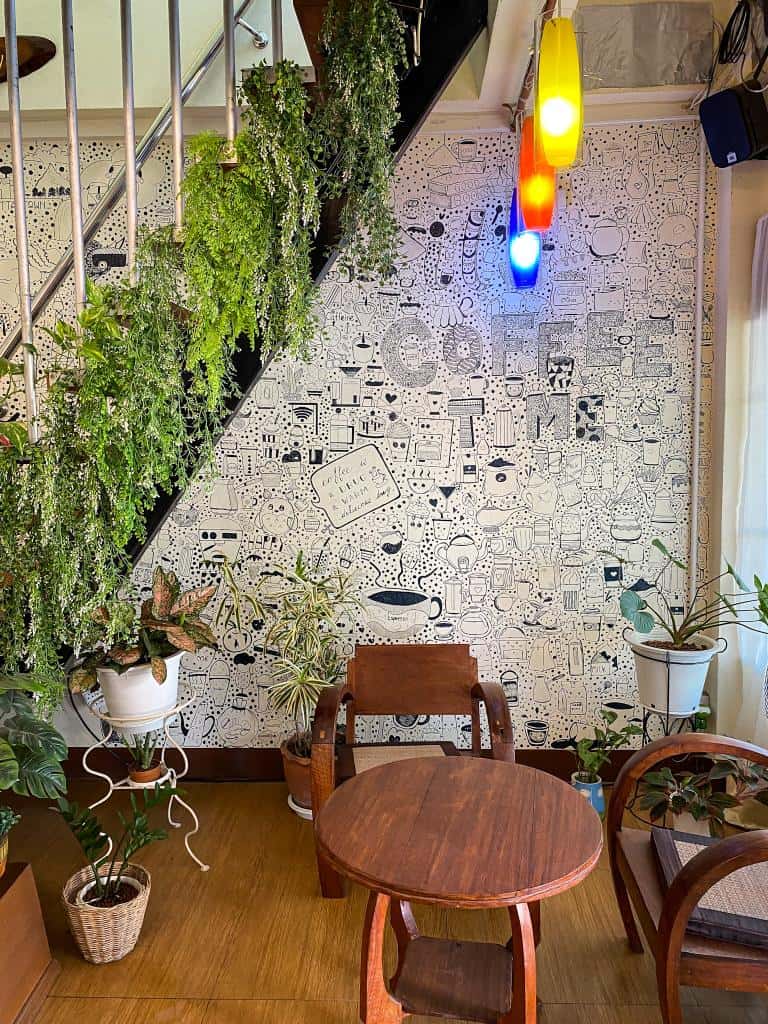 The Roast Chiang Rai Coffee
This local quality coffee roaster is located close to Chiang Rai hospital. They offer a various selection of coffee beans at reasonable prices.
To enjoy the delicious brew you can sit either inside or outside. Coffee beans are also available to purchase in the shop.
The Roast Chiang Rai Coffee
124/3 Sankhongluang Rd, Rop Wiang Sub-district, Mueang Chiang Rai District, Chiang Rai 57000, Thailand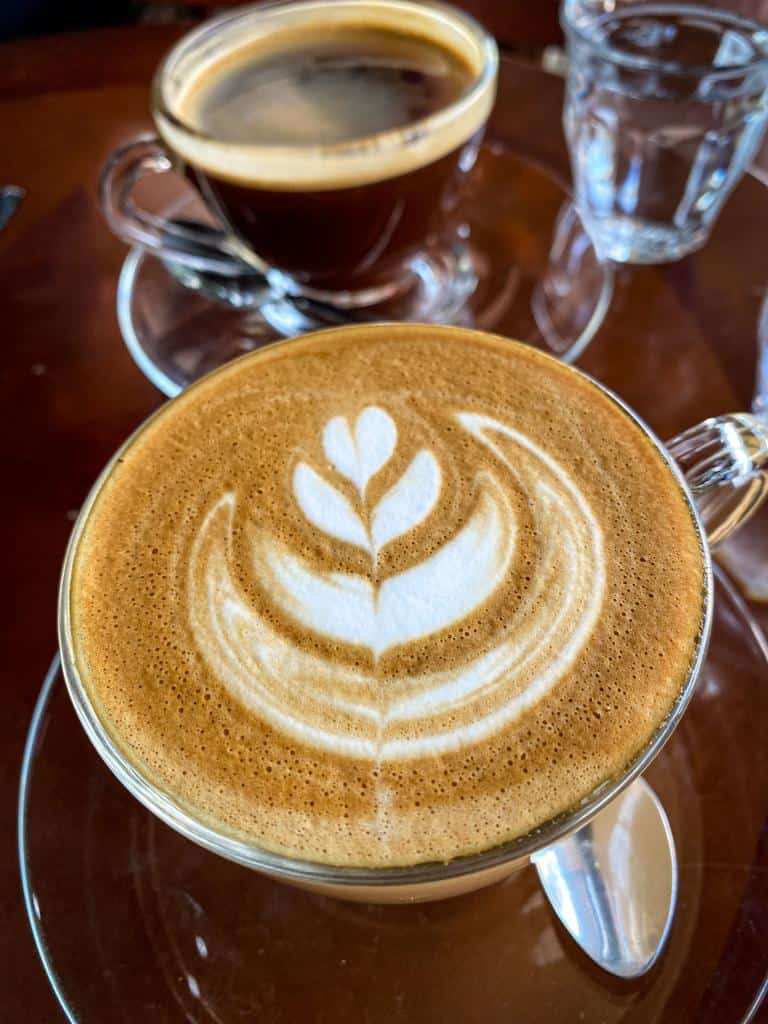 1:2 Chiang Rai Brew – Warehouse
This fantastic Chiang Rai coffee shop is located very close to the bus station in Chiang Rai. If you arrive or leave the city by bus we recommend getting your coffee there. As mentioned in the name already, the cafe is in a former warehouse. The style is very industrial and modern with white walls, concrete floors and a large glass front.
Besides great coffee, you can get freshly baked croissants and pastries. It is a good value for money.
It is also the roastery and maybe you're lucky and can watch the process of roasting the beans behind the large glass wall.
1:2 Chiang Rai Brew – Warehouse
25/1 Moo18 Sanpanard Alley ,Robwiang Subdistrict, Wiang District, Chiang Rai 57000, Thailand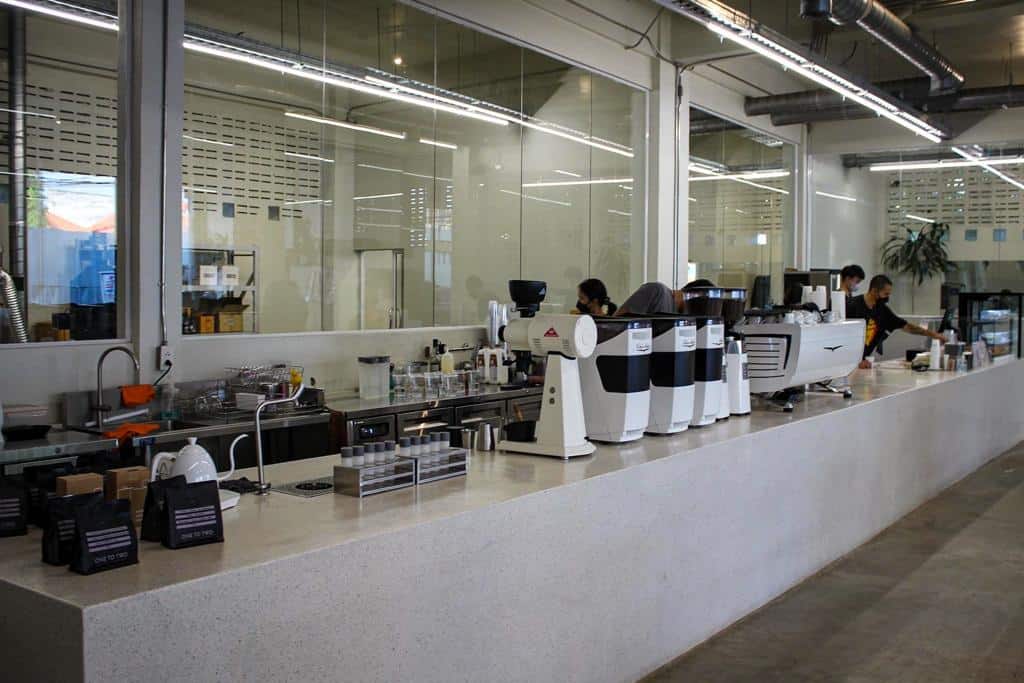 AED Slow coffee
This simple outdoor cafe has definitely a relaxed atmosphere. It is located in a residential area, not far away from Alio Slow Bar. You will get served your Chaing Rai coffee with beans from Alexta Coffee Roasters. They grow quality coffee beans in the Chiang Rai province and promote sustainable agriculture to save forests in the region of northern Thailand.
You can safely drink your coffee when it is raining. There is a roof over the outdoor seating. It is a nice private cafe to enjoy a good cup of coffee in Chiang Rai.
AED Slow coffee
WR8Q+5W3, Sraiboon-Ruang, Tambon Wiang, Mueang Chiang Rai District, Chiang Rai 57000, Thailand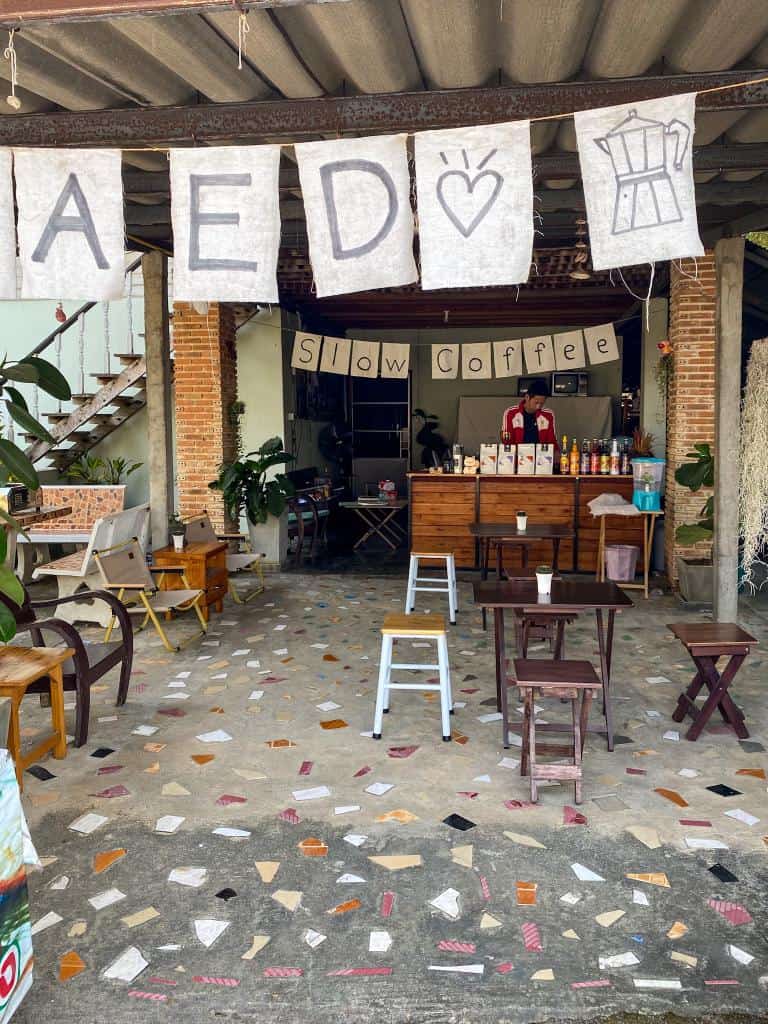 Bike Coffee
One of the main attractions in Chiang Rai is the Blue Temple. It is located further out of the centre, but you can easily reach this temple by foot in 30-45 min (depending of course where you stay in Chiang Rai). After visiting the Blue Temple, Bike Coffee is a great option for Chiang Rai coffee and relaxing a bit.
The cafe offers a selection of hot and cold drinks and food as well. Here, we tried orange coffee for the first time, which you can get almost everywhere in Thailand. It is (surprise!) orange juice with coffee (mostly espresso). It is a strange mix, a bit bitter but still very refreshing and gives you your caffeine kick.
The staff was friendly, the atmosphere relaxed and the coffee a new experience in Chiang Rai.
Bike Coffee
WRFV+C3R, Tambon Rim Kok, Mueang Chiang Rai District, Chiang Rai 57100, Thailand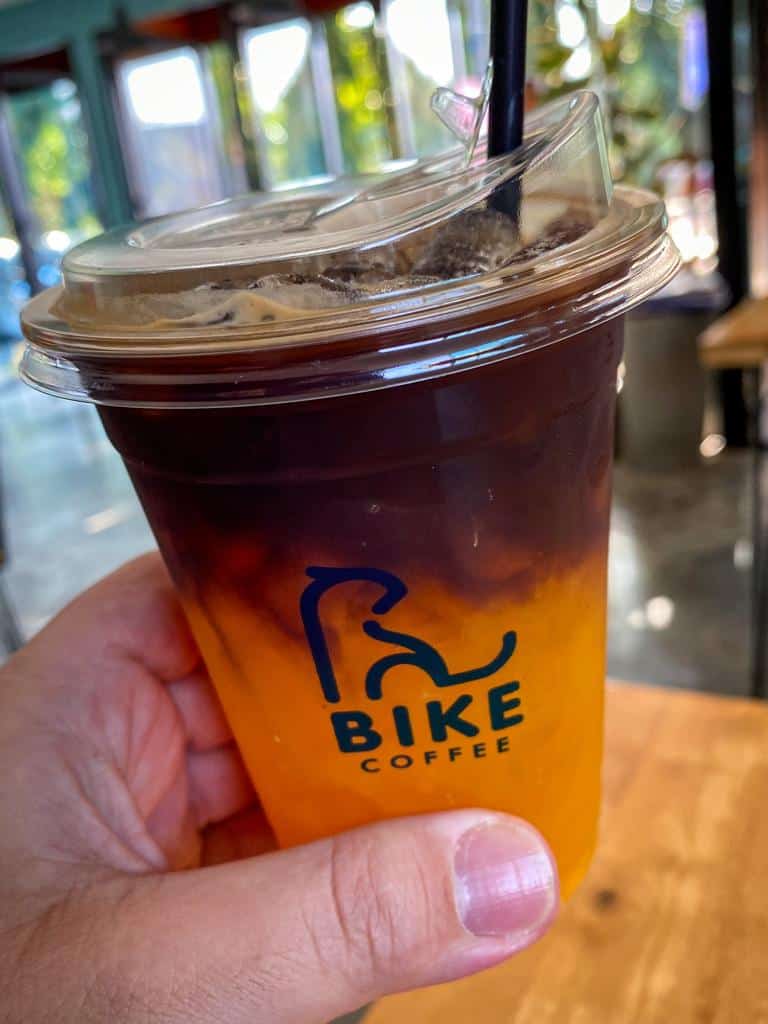 Coffeenergy Chiang Rai
Start your day right in Chiang Rai with a great breakfast and of course delicious coffee at Coffeenergy Chiang Rai. Here they offer international breakfast, e.g. omelette, muesli, sausages, baked beans and more. We had fried eggs on sourdough bread with pesto and parmesan and it was amazing. Even though Asian food is one of our favourites, after a while it is good to have something different and enjoy some Western-style breakfast in Thailand.
It is a clean, modern cafe with an open kitchen, the owners are super friendly and welcoming. The prices for drinks and food are affordable. The portions are not too big, so if you are very hungry you might need to order two dishes.
Coffeenergy Chiang Rai
845/2 Pao Khun Rd, Tambon Wiang, Mueang Chiang Rai District, Chiang Rai 57000, Thailand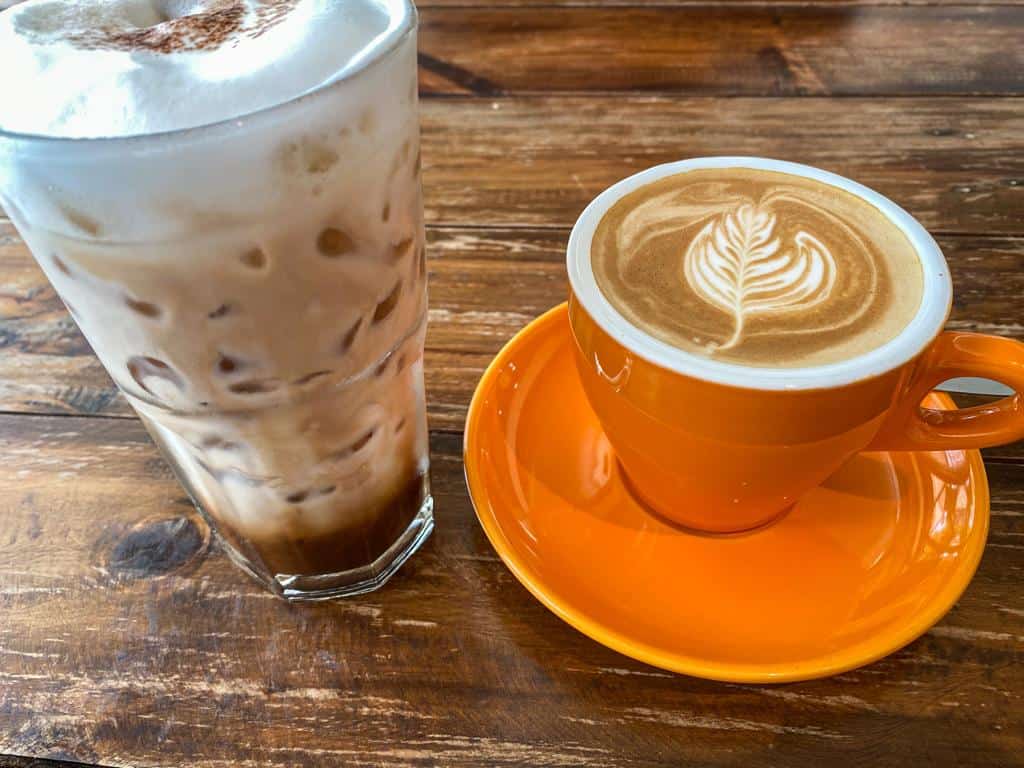 12 21 Twelve Twenty One Specialty Coffee Chiang Rai
Another highlight just outside Chiang Rai is the White Temple. This temple might look like one from a distance but is actually an art construction by Thai artist Chalermchai Kositpipat. It is one of the most visited sights in the region and it gets very full during the day. Start your day early before the crowds are arriving at the white temple, so you might have a chance to take photos with all the tourists.
After your visit to this large temple complex (it is not only one temple), check out 12 21 Twelve Twenty One Specialty Coffee for good coffee and to relax a bit.
This small but cute cafe offers a good variation of coffee drinks, pastries and also roasted coffee beans. A great place to hang out after the visit to the temple and before heading back to the city centre of Chiang Rai.
12 21 Twelve Twenty One Specialty Coffee Chiang Rai
หมู่ที่ 1 202/15 Pa O Don Chai, เมือง Chiang Rai 57000, Thailand
TIP: If you are heading to Vietnam as well, you will also find great coffee there. Our posts on the best coffee in Hanoi and coffee in Saigon will give you all our favourites in these amazing cities.