This post may contain affiliate links, where we may receive a small commission if you purchase something through following the links at no extra cost to you.
Christmas is one of the most popular and festive festivals in Germany. You probably find a German Christmas market in each town during the Christmas season. Germany's capital is always well prepared and worth a visit during Christmas time. There are Christmas markets in Berlin in beautiful locations, some large and some smaller. We show you our favourite Christmas markets in Berlin and around and how to get there.
Before Christmas, people come together at the Christmas markets after work or during the weekends. It can get crowded very often because it is a very popular activity for families too. Here you meet your family or friends to have a good time, enjoy typical German Christmas market food or buy Christmas presents from a German Christmas market.
Not only big cities like Hamburg and Munich have Christmas markets. They are found all over the country, in smaller towns and also in many villages. No matter where you go, Christmas in Europe is something special and normally very cosy. Read on to discover our favourite Christmas Markets in Berlin.
Map of Christmas Markets in Berlin
Christmas Market Dictionary – some useful words for Christmas Markets in Berlin
Glühwein
Mulled wine
"mit Schuss"
With a shot (mostly rum or amaretto)
Eier
Punsch
eggnog
Glögg
Scandinavian mulled wine (mostly served with raisins and almonds)
Lumumba
Hot chocolate with rum
Feuer
Zangen
Bowle
a rum-soaked sugarloaf is set on fire and drips into mulled wine
Lebkuchen
German gingerbread
Grünkohl mit Knacker
Green cabbage with a sausage
Bratwurst im Brötchen
Fried sausage in a roll
Champignon
Pfanne
Mushroom stew
Quark
Bällchen
deep-fried curd pastry/ doughnuts
Steak im Brötchen
Pork or beef steak in a bread roll
Gebrannte Mandeln
Roasted almonds
Travelling to Germany? Join Our Facebook Group Germany Travel Forum
1. Winterzauber am Gendarmenmarkt
This is definitely one of the most popular and beautiful Christmas markets in Berlin. Weihnachtszauber (Christmas Magic) at Gendarmenmarkt is one of the most popular Christmas markets for several reasons. It is located in the centre of Berlin, in one of the most beautiful squares surrounded by two churches and a concert hall. You must pay 1€ as an entry fee, but it is totally worth it. Part of the entrance fee is donated to cultural and social institutions in Berlin every year.
TIP: Read our post on Christmas Around the World if you are curious how Christmas is celebrated in other countries
The atmosphere is very impressive, you can enjoy delicious Glühwein and traditional German Christmas food. The extraordinary stalls sell beautiful homemade Christmas ornaments and decorations. There is a stage in the centre of the market where musicians and dancers perform in the evening to get in the Christmas mood and make it cosy.
Winterzauber am Gendarmenmarkt Gendarmenmarkt 10117 Berlin
With public transport: U-Bahn to Hausvogteiplatz or Stadtmitte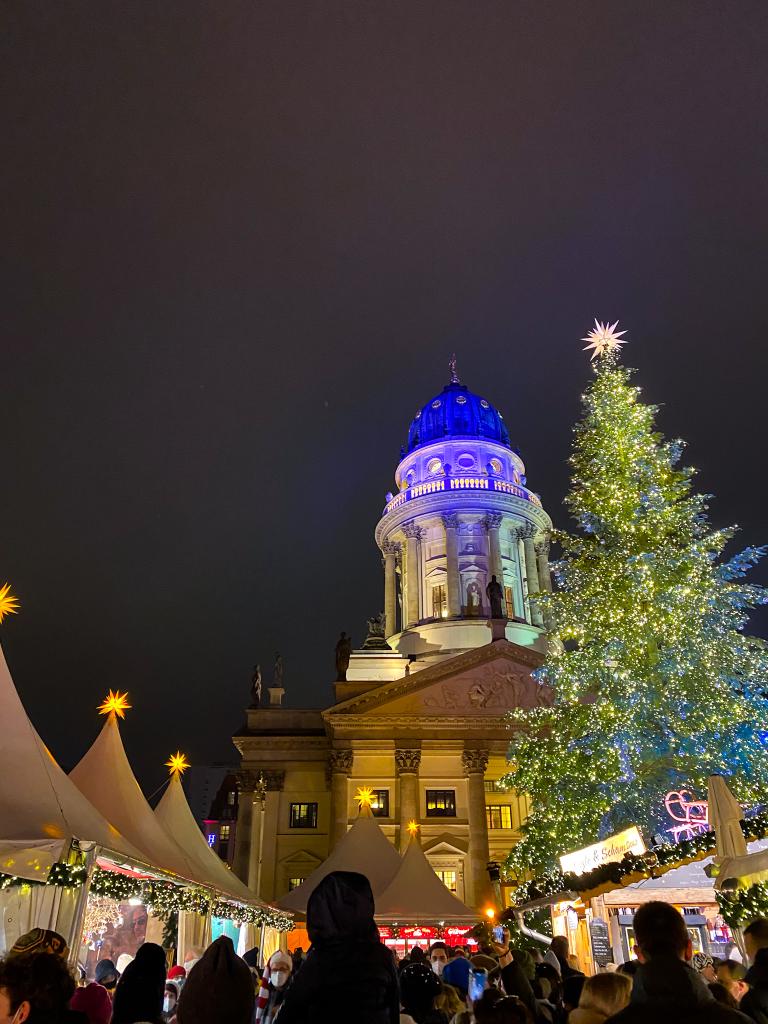 2. Lucia-Weihnachtsmarkt in der Kulturbrauerei
This Christmas market in Berlin is named after Saint Lucia. In Scandinavia, this is one of the most important Christmas traditions. That is why you can find lots of different stalls from Scandinavia at Kulturbrauerei. You can drink Swedish or Finnish Glögg, eat a wild boar burger or sit around a bonfire. You can buy handicrafts from Scandinavia, homemade spirits, and toys.
For kids, there are usually carousels and a huge trampoline. You should go in the evening when the old brick stone buildings of the former brewery are illuminated.
Lucia-Weihnachtsmarkt in der Kulturbrauerei Schönhauser Allee 36 10435 Berlin
With public transport: U-Bahn or tram to Eberswalder Straße
TIP: Read our post on the best museums in Berlin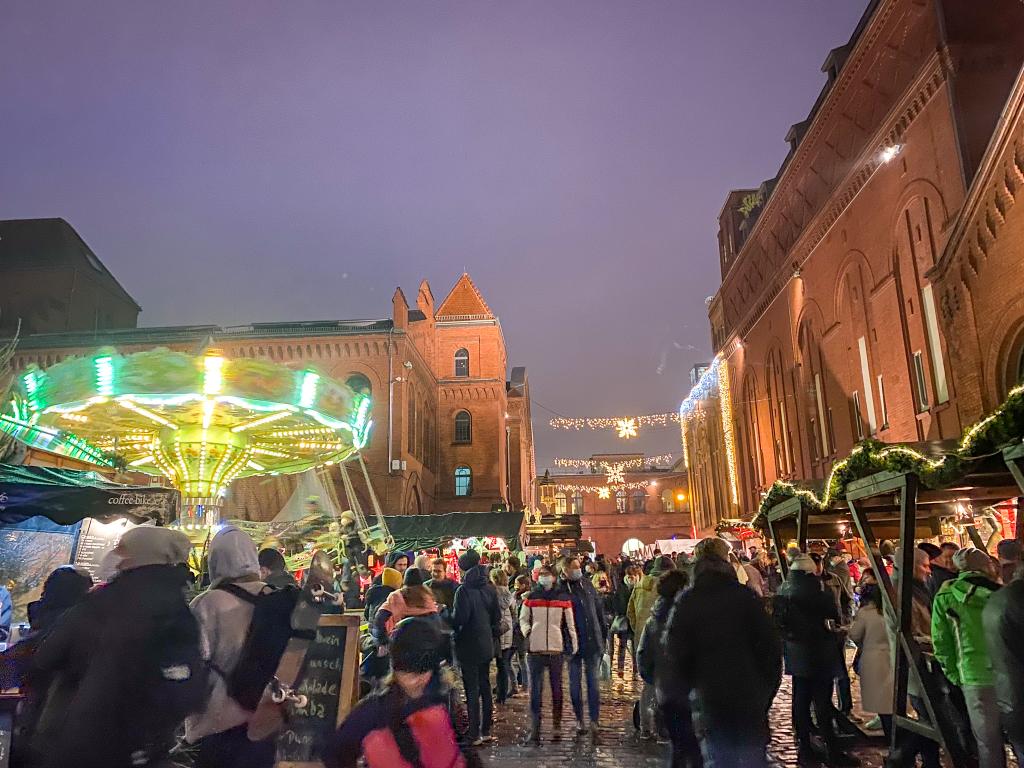 TIP: If you need a coffee break from all the Glühwein and Christmas shopping, here are our favourite cafes in Berlin.
3. Weihnachtsmarkt am Schloss Charlottenburg
Every winter, the impressive Charlottenburg Palace is romantically and colourfully illuminated at Christmas time. This market is of the most beautiful and romantic Christmas markets in Berlin. The Christmas market is right in front of the palace and offers traditional German Christmas market food and of course, lots of mulled wine.
In addition to handicrafts, the stands in wooden huts or tents offer unique gift ideas and invite you to go Christmas shopping. When you're lucky, there will be musicians who play Christmas Carols.
TIP: Read our post from Schwerin Castle if you are a fan of German castles
Weihnachtsmarkt am Schloss Charlottenburg Spandauer Damm 20 14059 Berlin
With public transport: bus 109, 309 or M45 to stop Schloss Charlottenburg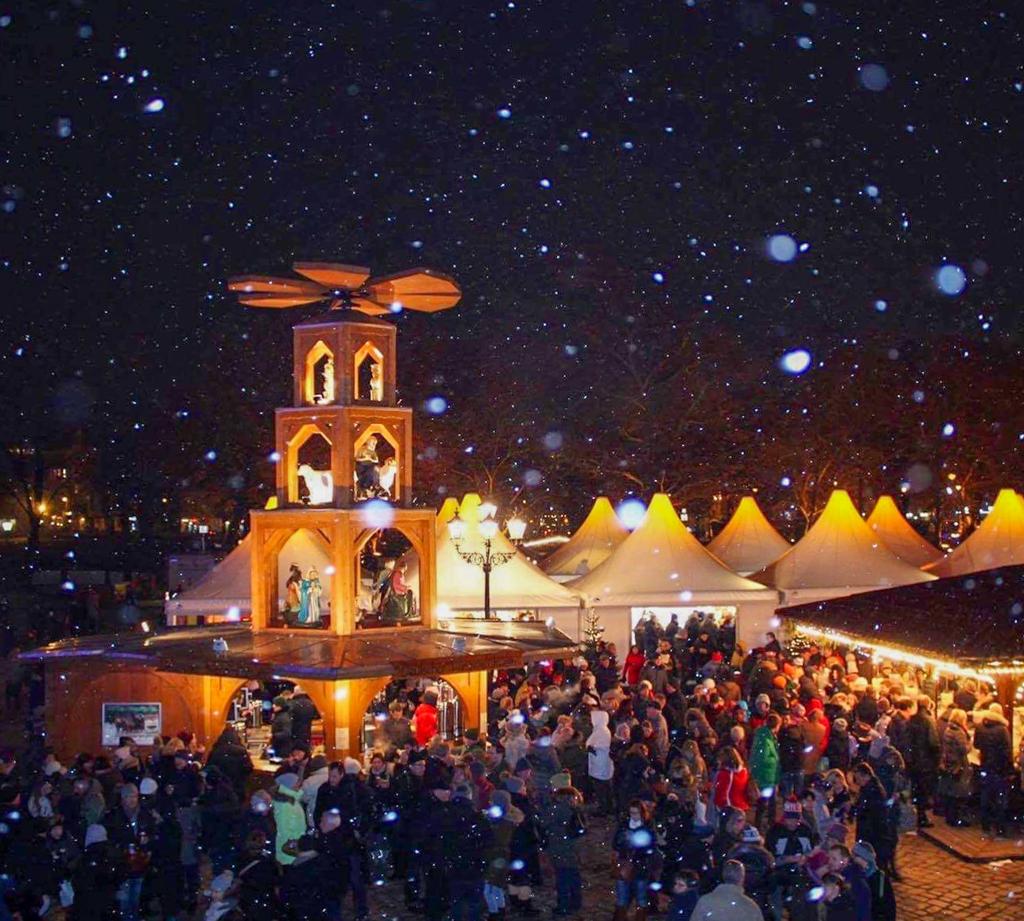 5. Weihnachtsmarkt am Alexanderplatz
Alexanderplatz is maybe not the most charming place to have a Glühwein, but a great meeting point to meet friends and have a drink before going out or to other Christmas markets in Berlin. The ones at Rotes Rathaus and Nikolaiviertel are just around the corner. The highlight is the large Christmas pyramid, where they sell hot Christmas drinks and fried, grilled sausages.
Weihnachtsmarkt am Alexanderplatz Alexanderplatz 10178 Berlin
With public transport: U-Bahn, S-Bahn, tram or the bus to Alexanderplatz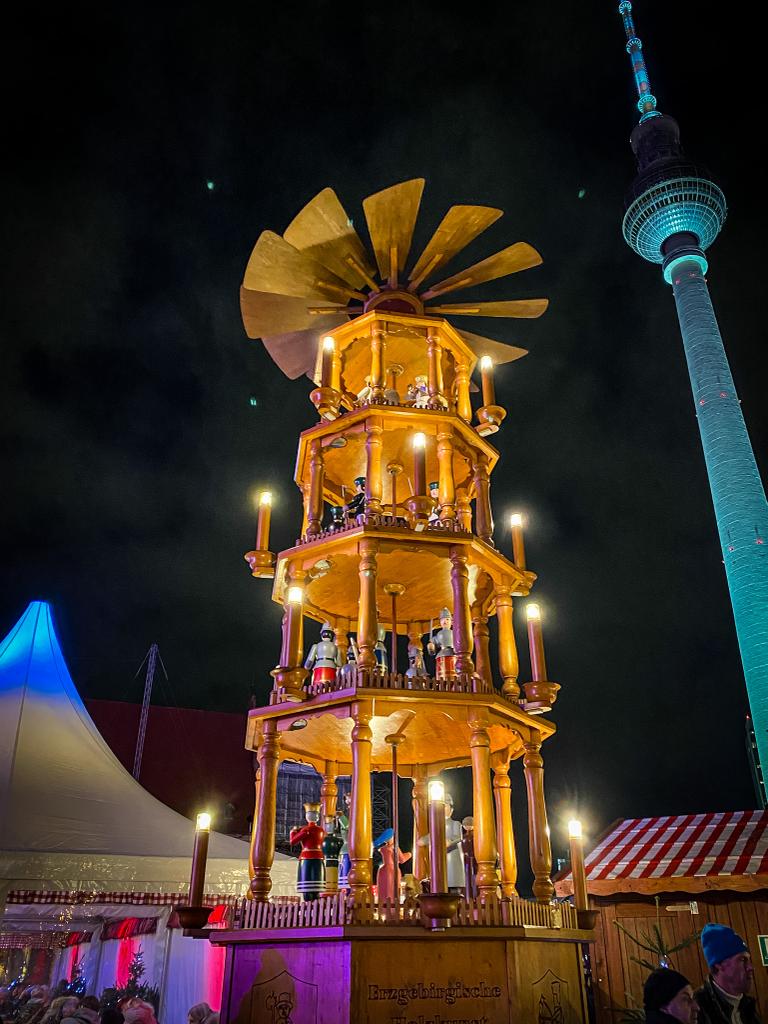 6. Rotes Rathaus
From far away you can see already the large Ferris wheel of the Christmas market at Rotes Rathaus (red town hall). During your ride, you have an amazing view over the market and Berlin. This market is one of the largest Christmas markets in Berlin.
In addition to hot mulled wines and traditional German Christmas food, there is an ice rink to go ice skating around the Neptun fountain in the middle of this large Christmas market. Traditional artisans make jewellery, leather products, glass and woodwork which you can buy as Christmas presents from Berlin.
Weihnachtsmarkt am Roten Rathaus Rathausstraße 15 10178 Berlin
With public transport: U-Bahn, S-Bahn or bus to Rotes Rathaus and tram to Alexanderplatz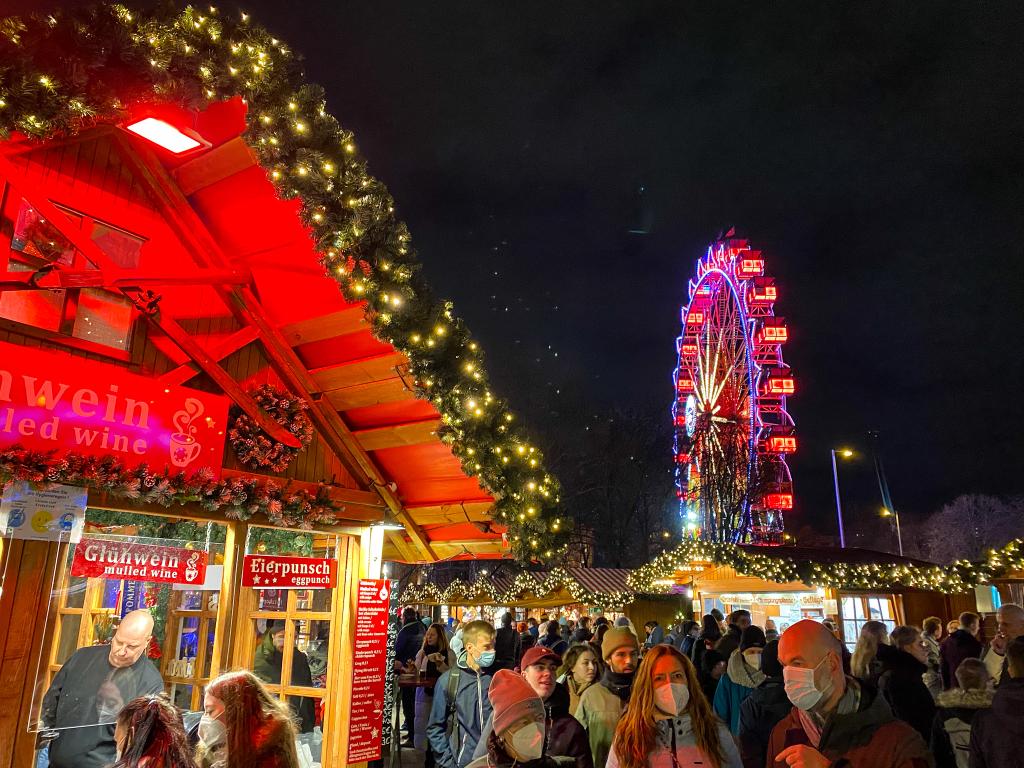 7. Nikolaiviertel
It might not be a Christmas market, but nostalgic market stalls, where the legendary drink can be purchased, and Christmas lights all around the historic Nikolaikirchplatz create a special atmosphere. Feuerzangenbowle is a famous hot drink in Germany, a special kind of mulled wine. A rum-soaked sugarloaf is set on fire and drips into mulled wine. This procedure is worth a visit.
There is even a comedy movie called Die Feuerzangenbowle from 1944 which you can watch there three times a day.
Nikolaiviertel Nikolaikirchplatz 1 10178 Berlin
With public transport: U-Bahn or bus to Rotes Rathaus
TIP: If you think you have seen it all, here are our unusual highlights of Berlin!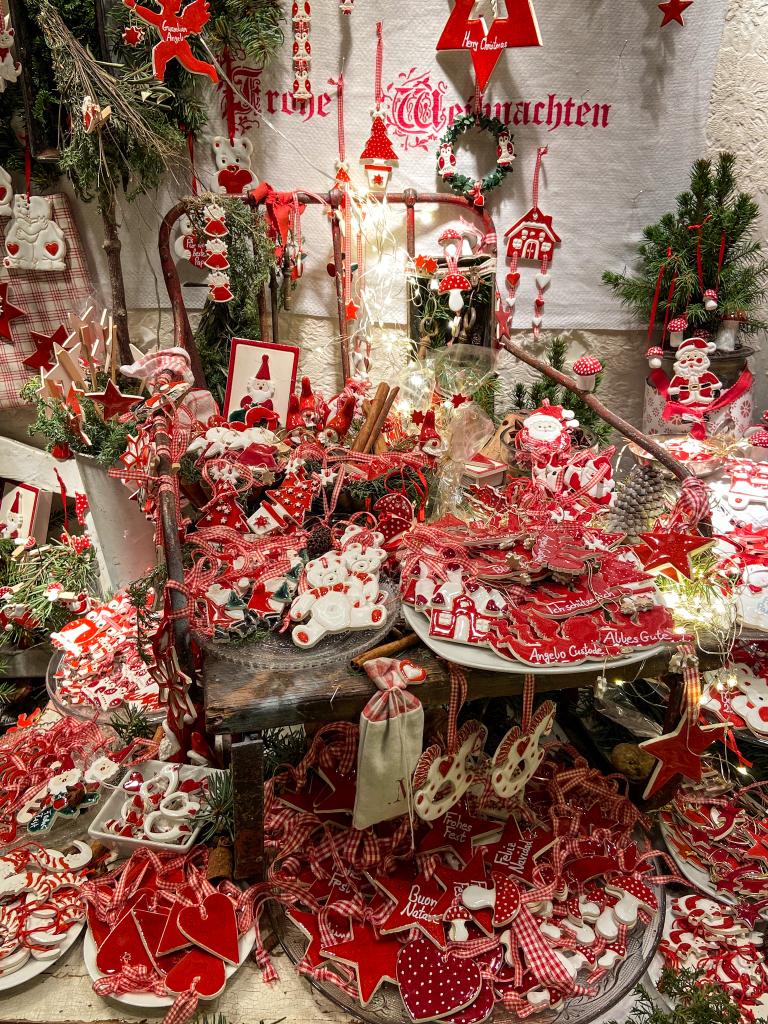 8. Zitadelle Spandau
The Christmas market in the historic citadel of Spandau attracts lots of people from Berlin and around. Before the Christmas market used to be in the old town of Spandau, but in 2021 it moved into the Zitadelle Spandau.
Buy your ticket online (3,50€), so you don't have to line up. When it gets darker, it can get very crowded and popular.
In the court of the citadel, there are stalls that sell handicrafts, Christmas decorations and of course hot drinks and German food, eg grilled sausages and roasted almonds.
Weihnachtsmarkt Zitadelle Spandau Am Juliusturm 87 13597 Berlin
With public transport: U-Bahn U7 to Zitadelle Spandau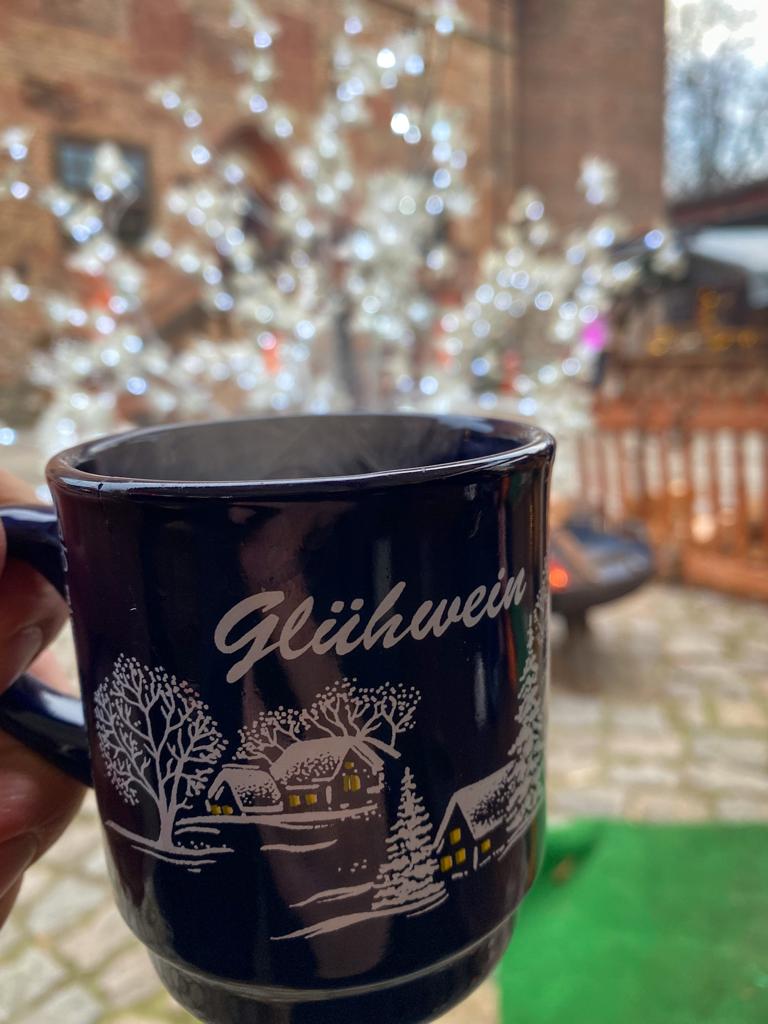 9. Weihnachtsmarkt an der Gedächtniskirche/Breitscheidplatz
Take a break from shopping at Kurfürstendamm and visit the Christmas market at Breitscheidplatz. You will smell Glühwein all over. In front of the Kaiser-Wilhelm-Memorial-Church is a large Christmas tree and along Ku'damm you will see lots of fairy lights as well. It might be crowded, especially at weekends, but it is such a cosy atmosphere with all the lights and music.
Weihnachtsmarkt an der Gedächtniskirche Kurfürstendamm 237 10789 Berlin
With public transport: S-Bahn/U-Bahn to Zoologischer Garten, bus 100/200 to Breitscheidplatz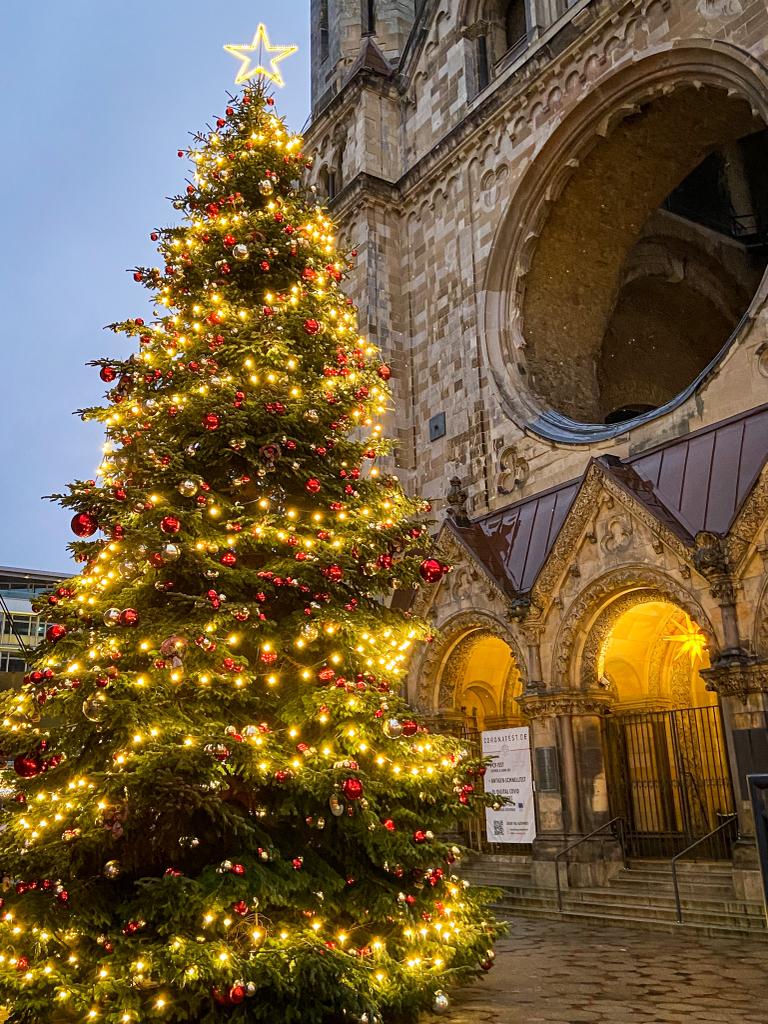 10. Christmas Avenue/ LGBTIQ*+ Christmas market
This Christmas market is directly located under the U-Bahn station Nollendorfplatz in the gay district of Berlin. It started in 2019 for the first time in Berlin and now it is a popular Christmas market in Berlin, especially for the LGBTIQ*+ community.
You can watch drag shows or play drag-bingo. The decoration is kitschy, pink and with lots of glitters. You can even purchase a pink Glühwein. But what should one expect of a gay Christmas market ?
Christmas Avenue Nollendorfplatz 10787 Berlin
With public transport: U-Bahn or bus to Nollendorfplatz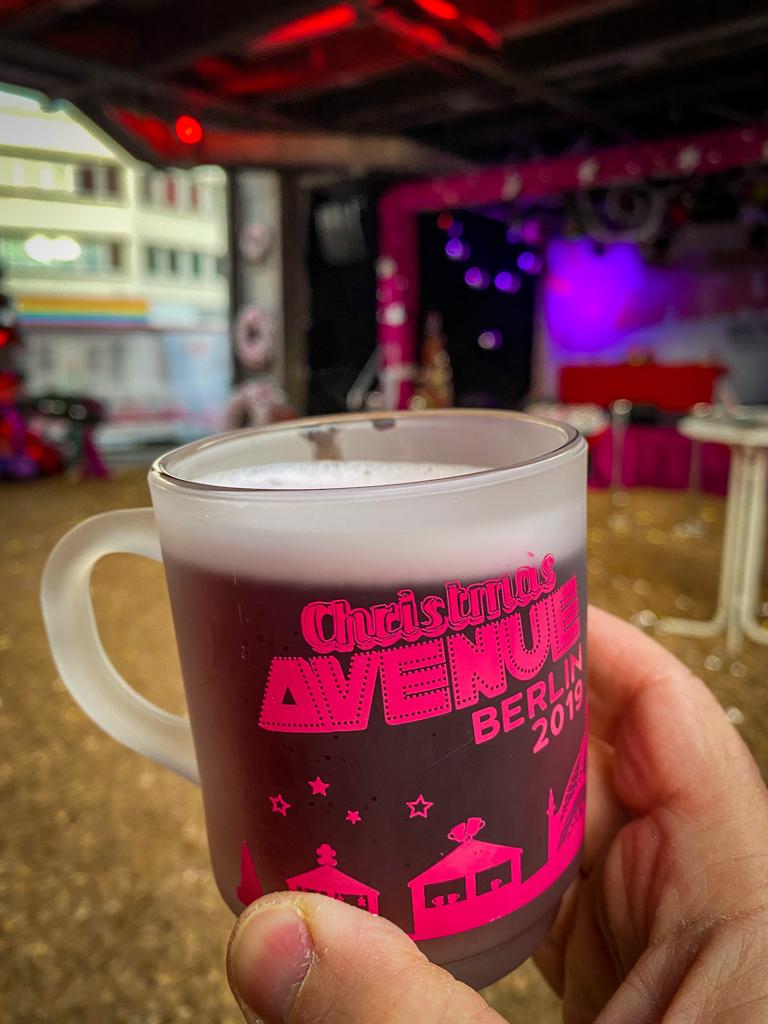 11. Schloss Köpenick
The baroque castle and the castle park in Köpenick are illuminated during the Christmas season and give the Christmas market a unique atmosphere. This Christmas market is only held on one weekend in December.
On this island, you can purchase products and handicrafts which are made by people with handicaps. There is a nice programme for singers, musicians, and artists during the weekend.
Weihnachtsmarkt Schloss Köpenick Grünstraße 1112555 Berlin
With public transport: bus or tram to Schlossplatz Köpenick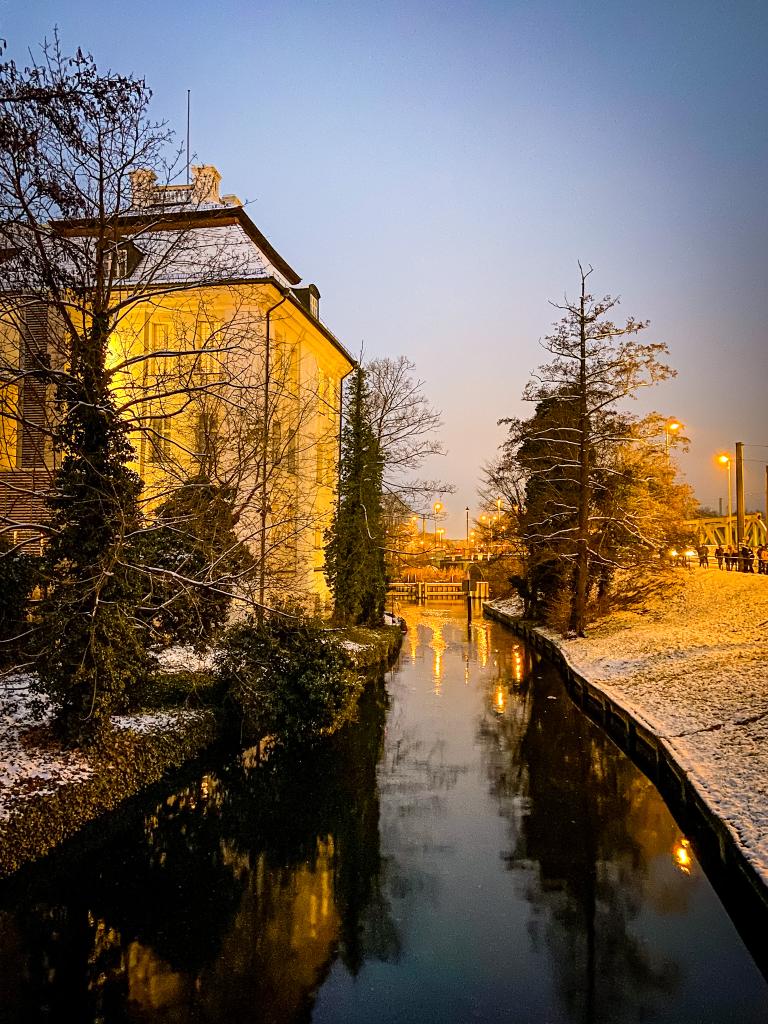 12. James June
This is actually not a Christmas market in Berlin, but a really cool location next to Karl-Marx-Allee in Friedrichshain. In the summertime, it is a beer garden and in winter they change it into a winter wonderland. It is perfect for work events but also to have some drinks with friends during the wintertime.
TIP: Not a fan of the wintertime, and prefer summer instead? Read our post Summer in Europe for some new ideas
You can sit inside (it looks like an alpine cabin), but outside is the real "magic": You can grill marshmallows, sit around a bonfire, or play curling. They serve burgers, fresh beer and of course Glühwein. It is a great winter experience for families and friends during Christmas time in Berlin.
James June Karl-Marx-Allee 93 10243 Berlin
With public transport: U-Bahn U5 to Weberwiese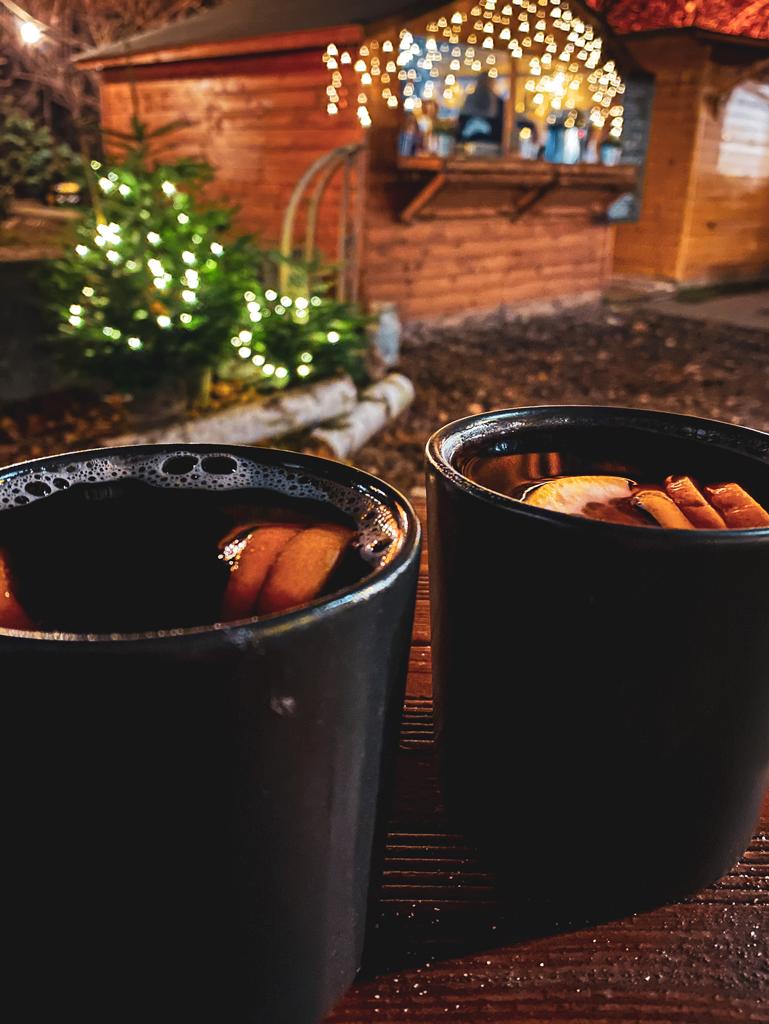 Even though Berlin has over 80 Christmas markets, it is sometimes good to leave the city and explore the surroundings. Of course, the German state of Brandenburg has lots of Christmas markets as well. We have two favourites which are easy to reach from Berlin by public transport.
13. Weihnachtsgans-Auguste-Markt auf dem Schlossplatz in Oranienburg
On the 3rd weekend in Advent, the Christmas-Goose-Auguste-Market takes place in Oranienburg, just outside Berlin. This very special Christmas market on the Schlossplatz (palace square) has a literary namesake: the Christmas goose Auguste, based on Friedrich Wolf's story of the same name.
At the Christmas market in Oranienburg, festively decorated stalls nestle together on the square in front of the beautiful palace. The Christmas tree sparkles in the middle. Fragrant delicacies, lovingly designed handicrafts, original gift ideas are available for purchase.
For children, there are some animals (including a goose), a tent with a storyteller, a stage to watch performances and maybe Santa Claus is there too.
It is a short walk from the train station in Oranienburg to get to the palace. It is very local without tourists and the Glühwein is cheaper than in Berlin.
Weihnachtsgans-Auguste-Markt in Oranienburg Schloßplatz 16515 Oranienburg
With public transport: S-Bahn to Oranienburg, then follow the signs to the palace (Schloss Oranienburg) in the centre. You need a ticket for zone ABC to Ornaienburg.
TIP: Read more about great day trips from Berlin where we visit Oranienburg among other places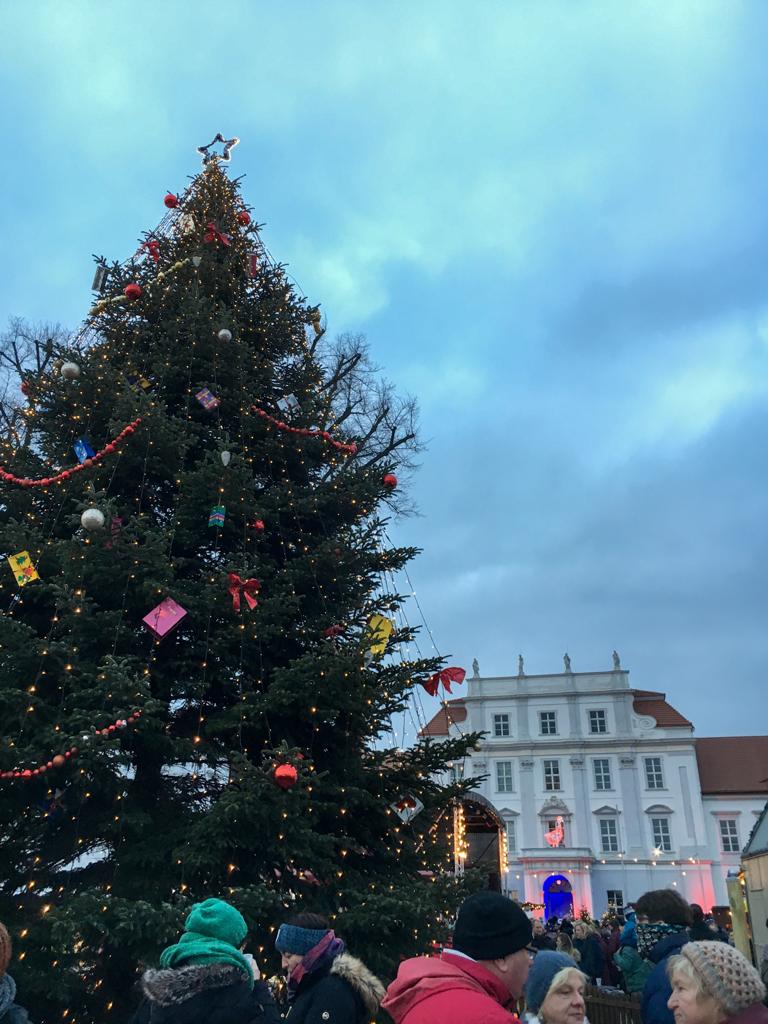 14. Babelsberg
In Babelsberg (part of Potsdam, just outside Berlin) you can find a bohemian Christmas market. Along with the enchanting ensemble of weavers' houses from the 18th century, craftsmen, and artists present Bohemian tradition. This also includes Bohemian music groups, who spread a Christmassy and Bohemian atmosphere on old instruments over the six days.
TIP: Read our post on Bike Routes from Berlin where we visit the stunning Babelsberg Castle.
The lovingly restored weavers' quarter has retained its historical flair to this day. You can enjoy hot mulled wine in a very authentic atmosphere. This Christmas market is mostly on the first two weekends of Advent.
Böhmischer Weihnachtsmarkt Babelsberg Weberplatz 14482 Babelsberg
With public transport: S-Bahn to Babelsberg and walk direction Weberplatz. You need a ticket for zone ABC to Bebelsberg.