This post may contain affiliate links, where we may receive a small commission if you purchase something through following the links at no extra cost to you.
Ever considered taking a journey through Europe but haven't found the time yet? Well, it can be easily done while visiting Potsdam in Germany. This little town has so much to offer, from grand palaces, world-class art, a great food scene, and influences from all over Europe. Read on to explore Europe and get the best insider Potsdam tips.
Even after visiting Potsdam many times over the years, we still haven't seen it all. Every time we visit Potsdam we see something new, and the treasures never seem to end.
The most famous sight in Potsdam is the Sanssouci Park with its amazing palaces and gardens although Potsdam is so much more than that. We strongly recommend seeing other parts of the town as well while visiting Potsdam. But, you cannot look past the history of the Prussian rulers, and many of the other sights in Potsdam are somehow connected to the former ruling dynasty in one way or another.
Travelling to Germany? Join our Facebook Group Germany Travel Forum
In this blog post, we will take you on a journey through Europe. We will focus on showing you some of the sights, places and activities in Potsdam influenced by Europe for the next time you are visiting Potsdam.
TIP: Read our post Things to do in Weimar if you would like to explore more small towns in Germany
Visit Italy while visiting Potsdam
In Potsdam, the Italian flair is never far away. In several places all over the town you can see Italian influence, often most visible in the architecture. Many of the rulers looked to Italy for inspiration and it seems like they wanted to create their own part of Italy.
Alter Markt
If you are visiting Potsdam for the first time, start at Alter Markt (the Old Market Square). This is the historical centre of Potsdam. In fact, this is one of the most beautiful squares in Germany. Standing here looking around you still need to remember that you are in Potsdam in Germany, and not in Italy.
Everywhere you turn, you will see the Italian influence, from the magnificent St. Nicholas Church or the grand facade of the Baroque Barberini Palace, now hosting Museum Barberini, a museum showing world-class art. You will find a replica of the palace in Verona, and proudly in the middle of the square, a marble obelisk stands.
TIP: Read our post on the best museums in Berlin if you are going there as well
You can enter the church for free, and for €5 you can visit the viewing platform going around its dome. The view over Potsdam and the surroundings are superb. With some luck, there might also be organ music in the church.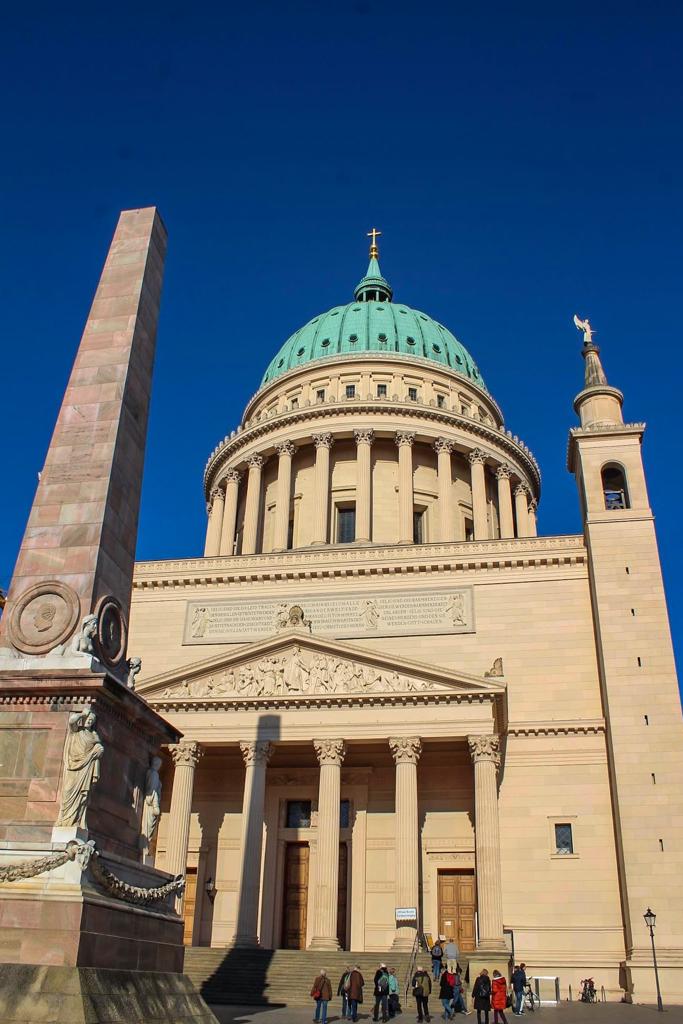 Orangerieschloss
Few places in Potsdam have such a strong Italian vibe as at the Orangieschloss (Orangery Palace) in Park Sanssouci. This large construction consists of a central guest palace with side wings on each side for the plant halls. The Orangery Palace has the longest facade of the palaces in Potsdam with its 300m.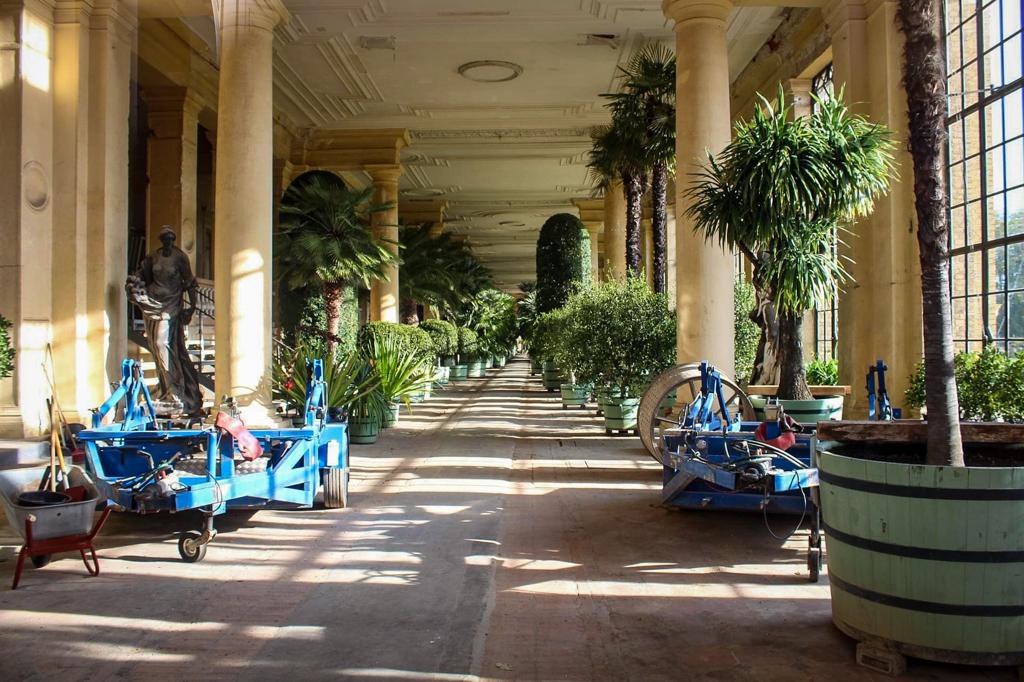 King Friedrich Wilhelm IV (Frederick William IV of Prussia), also called 'the Romantic on the Throne", commissioned the palace, and it was built in the style of Italian Renaissance, after images of Villa Medici and the Uffizi in Italy.
Don't forget the visit the garden in front -and below the palace. From below you will have great views of the palaces and their characteristics towers.
Check their website for opening hours and tickets.
TIP: Read our posts about Castles in Berlin, Schwerin Castle or Schleissheim Palace if you'd like to visit more German castles and palaces. Read our post about Castle Hotel Germany if you have a dream of staying over in a German castle.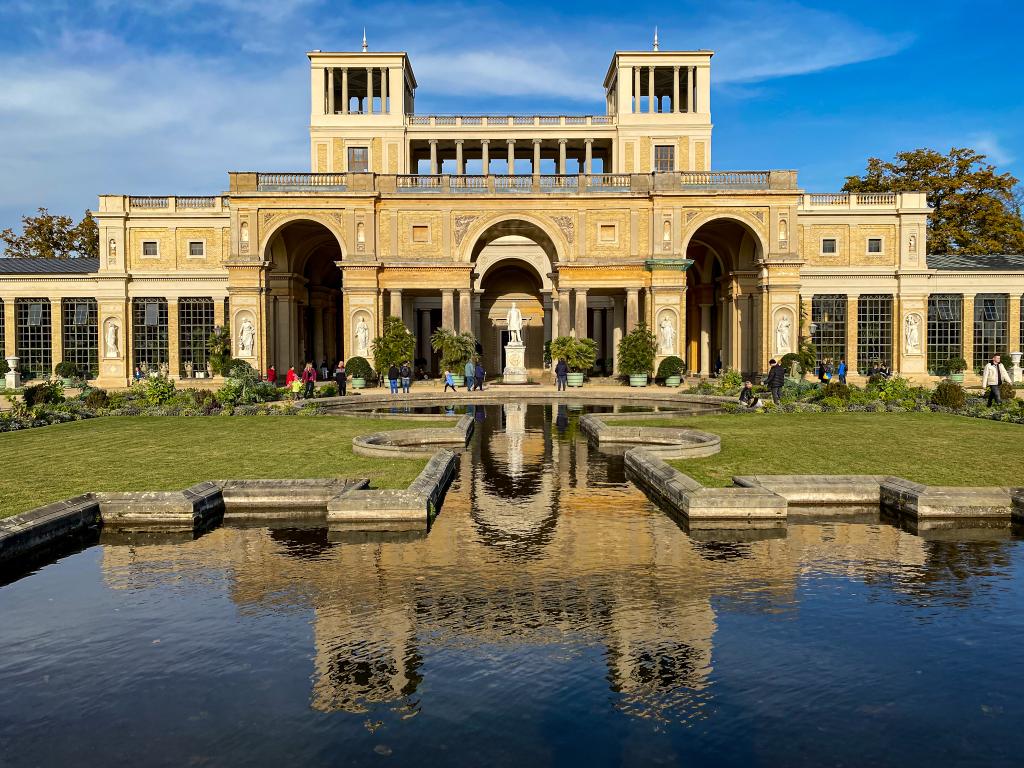 Dutch influence in Potsdam
While visiting Potsdam you will also see the Dutch influence. Back in the day, the Netherlands were one of the most powerful countries in Europe, and several places in Germany were inspired by them.
Alter Markt
Already at the above mentioned Old Market Square, you can see it. The Old City Hall was designed by the Dutch architect Jan Bouman. Today the building houses the Potsdam Museum. On top of the building, you can see the golden statue of Atlas, almost identical to the one on top of the royal palace in Amsterdam.
Historic Mill of Sanssouci
Also in Sanssouci Park, you can see the Dutch influence. Between the famous Sanssouci Palace and the Orangery Palace, you can visit the Historic Mill of Sanssouci. Between 1787 and 1791 the Dutch master builder Cornelius Wilhelm van der Bosch constructed the mill, financed by King Friedrich Wilhelm II (Fredrick William II of Prussia). There's a beer garden next to the windmill, perfect for warm summer days.
TIP: Read our post Beer Gardens in Berlin if you like visiting a German beer garden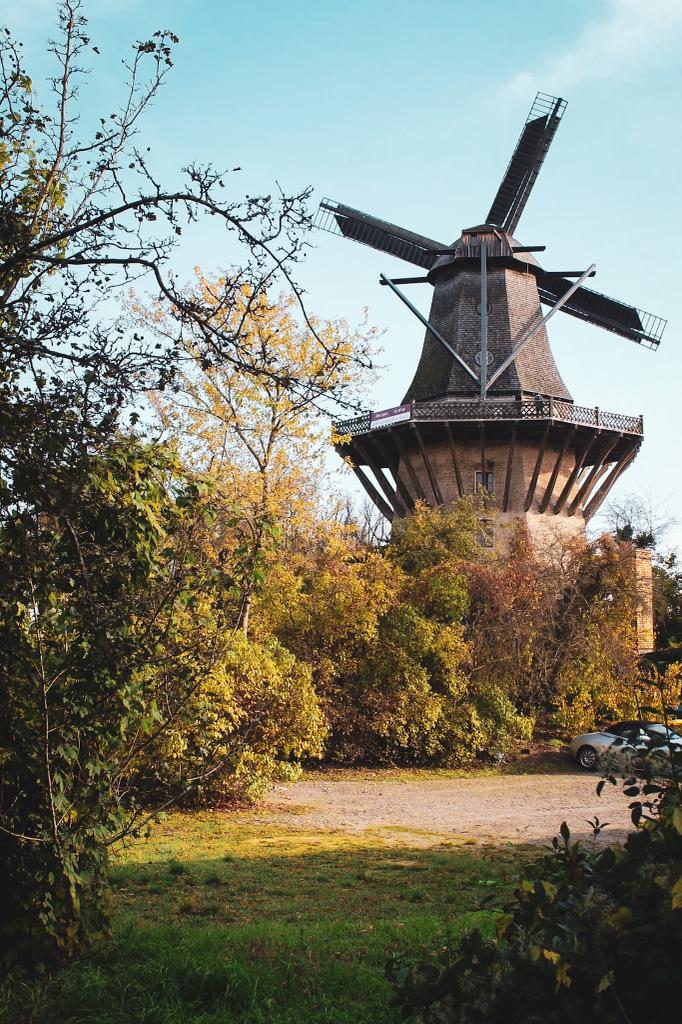 Dutch Quarter Potsdam
One of our best Potsdam tips is to visit the Holländisches Viertel (Dutch Quarter in Potsdam). Following the orders of King Friedrich Wilhelm I (Frederick William I of Prussia), the dutch architect Jan Bouman designed the 134 red Dutch brick buildings. The houses were built to attract Dutch workers from the Netherlands as well-trained craftsmen were needed for the expansion of Potsdam. Today, the Dutch Quarter in Potsdam is the largest Dutch housing development outside the Netherlands.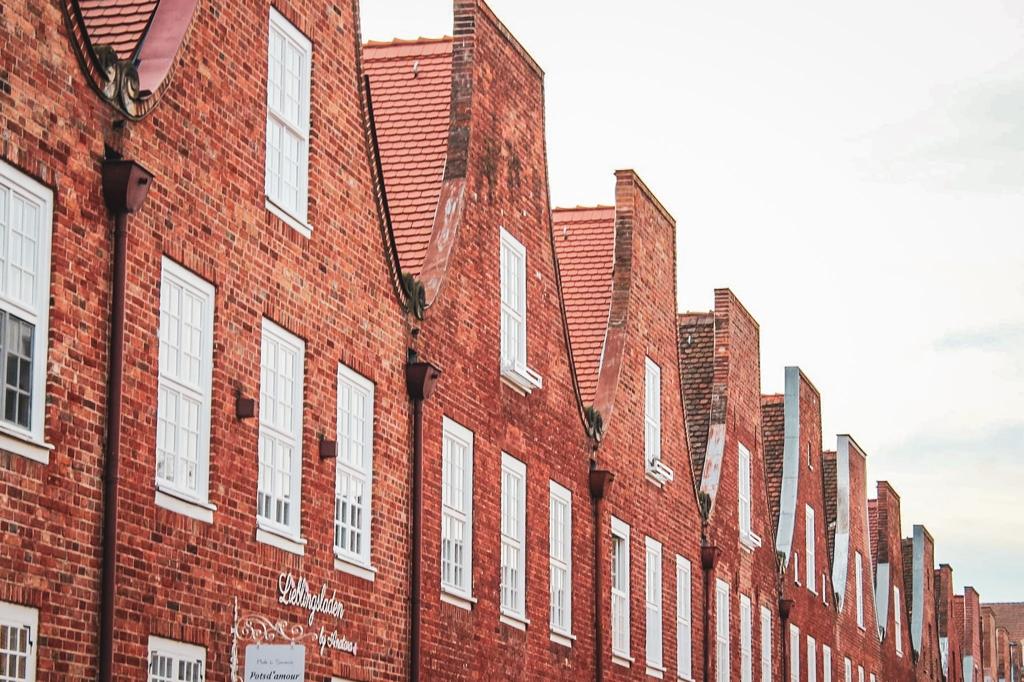 Walking through the streets here really feels like being in another city than Potsdam. The buildings today consist of e.g. restaurants, cafés, craft shops, galleries and antique dealers. One weekend in December there's also a Christmas market here.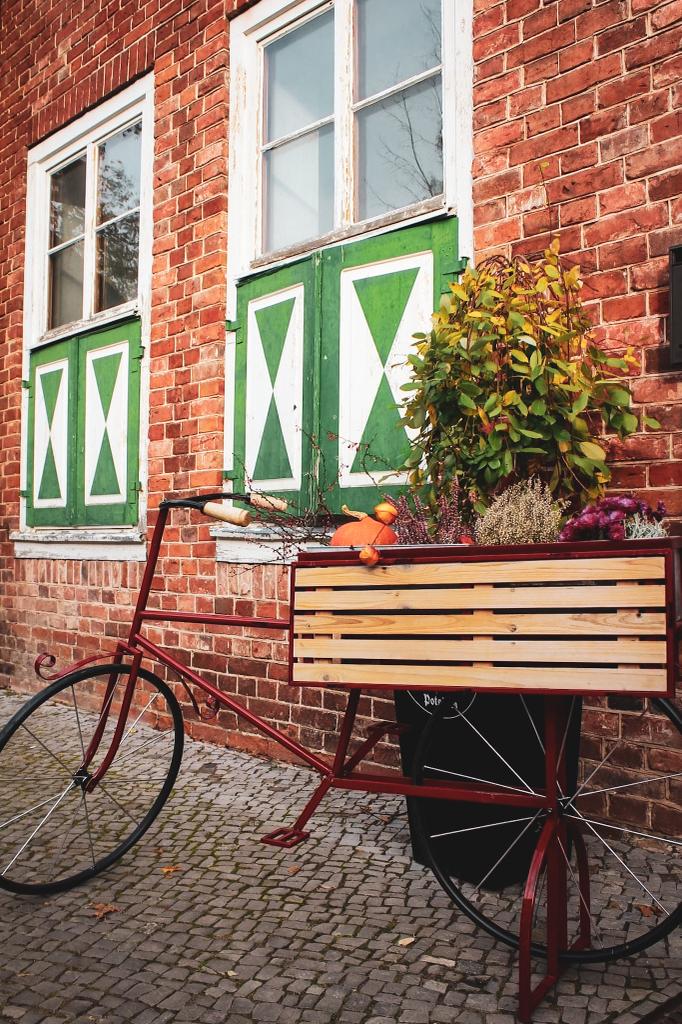 A piece of Russia
Russia also has its fair share of the history in Potsdam. Over the years Prussia was active in different wars, and because of that, you can still find Russian influence and history in Potsdam today.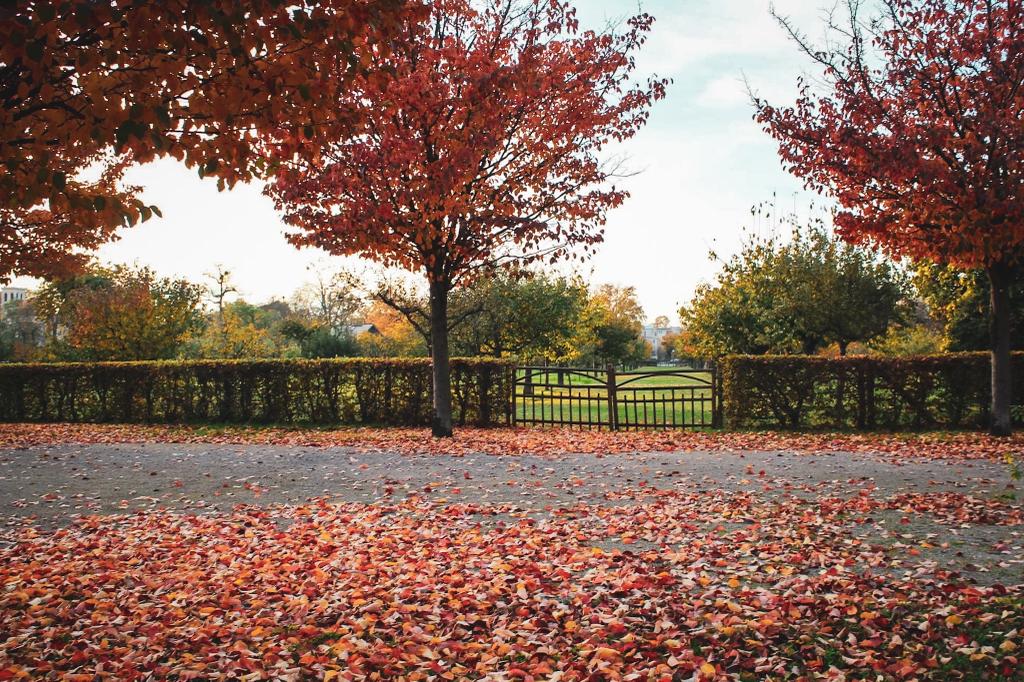 The Russian Colony Alexandrowka
Just north of the city centre is the UNESCO World Heritage-listed Alexandrowka Russian Colony. While Prussia participated in a French-led invasion of Russia in 1812, around 1000 Russian soldiers were held in Prussia, of which 62 were in Potsdam. After the war, the Prussian king requested that a Russian colony be laid out, to commemorate Czar Alexander I who had fallen. The Russian soldiers left in Potsdam had formed a choir, and the remaining members of the choir were to inhabit the Russian Colony.
The Russian Colony in Potsdam was built between 1826 and 1827. At the time, there were only twelve remaining members of the choir, and twelve small farmsteads were built, in addition to a thirteenth building, the overseers' house.
Today you can find a cafe, a museum and a few small shops and a Russian restaurant in Alexandrowka. There is also a Russian Christmas Market in December. There are lots of fruit trees in their gardens. You might find homemade jam in glasses in front of some houses which are sold there.
Check their website for opening hours and tickets.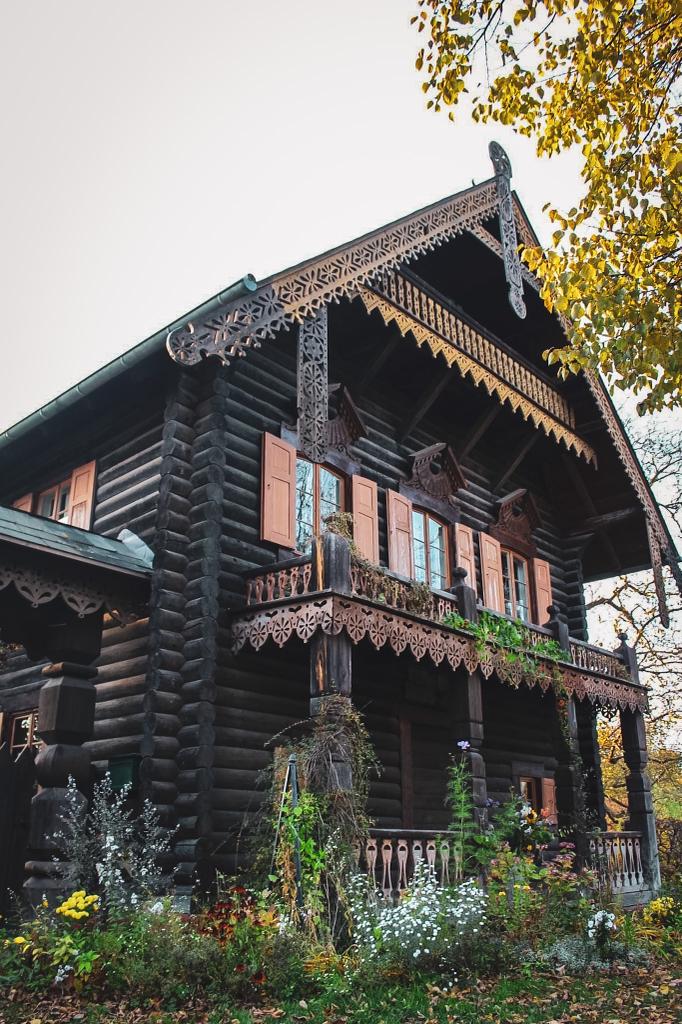 Russian Orthodox Chapel in Potsdam
On a hill above Alexandrowka, you can visit the small Alexander-Nevski Chapel. Finished in 1829, the chapel was constructed especially for the Russian colonists. It is possible to visit inside as long as no mass takes place.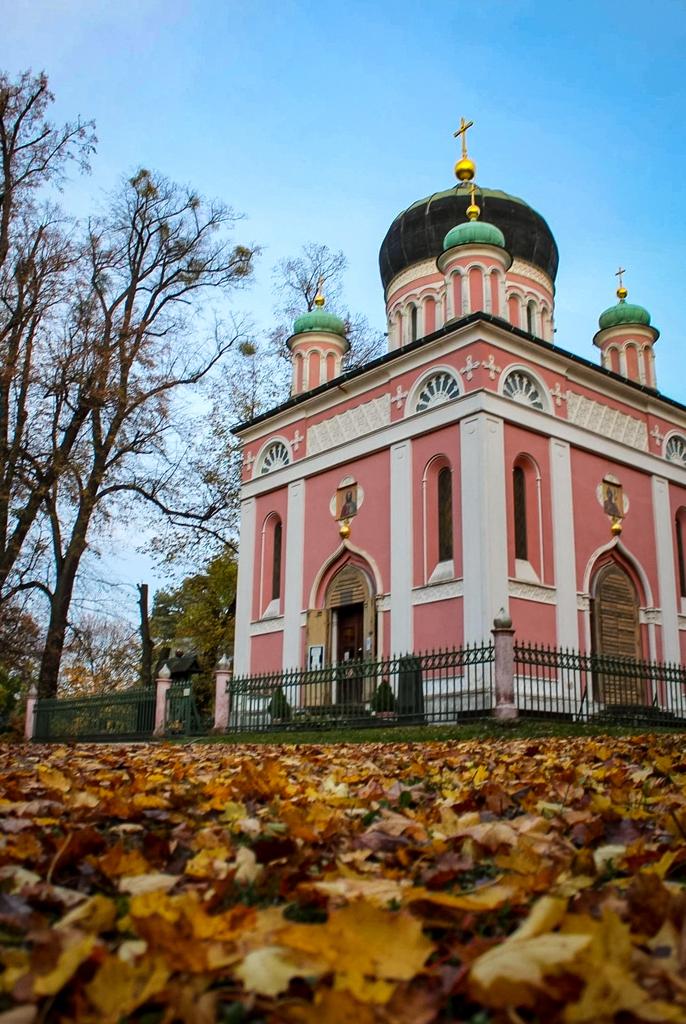 Russian food in Potsdam
As mentioned above, you will find a café and a restaurant in the Russian Colony. However, if you prefer to have your dinner in the centre, you can make a reservation at Café a la Russe for delicious traditional Russian food. Here you can try classic Borscht (beetroot soup), Blini (filled Russian pancake) and the Russian dumplings Pelmeni.
Switzerland in Potsdam
Did you know that while visiting Potsdam you can also get a feeling of Switzerland? Head to the area of Klein Glienicke and there you'll find it. Well, if you go here you are actually leaving Potsdam for a short while, as Klein Glienicke is located within the borders of Berlin.
Anyway, here you can find a few houses looking like they belong more in the alps of Switzerland than in Germany. The Swiss-style chalets look to be made of wood, but they are all made of concrete. Close to the Swiss houses you can visit an English landscape garden, and if you head to the small hill of Böttcherberg.
This part of the park has been made to remind of the Swiss alpine landscape. When you visit, you can judge yourself if they succeed in that. On top of the hill, you will find the small lodge Loggia Alexandra from where you will have great views, all the way over to the amazing Babelsberg Palace, designed in English Gothic revival style.
TIP: Read our post Bike Routes From Berlin where we on one of the bike tours explore more of Glienicke and Babelsberg Palace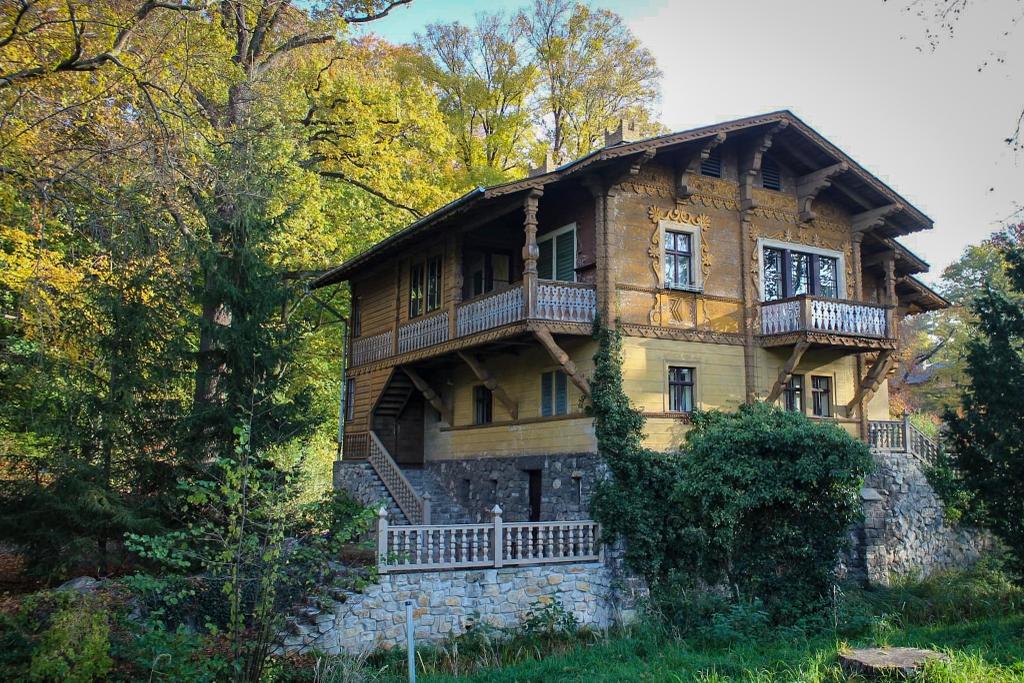 Norwegian flair while visiting Potsdam
With one of us being Norwegian, we were quite surprised to learn that there also are some Norwegian influences in Potsdam. How could we not know this after visiting Potsdam numerous times over the last years?
Not far from the Glienicker Brücke (Glienicke Bridge) you can find the former sailor station Kongsnæs. This used to be a docking station for ships of the royal household. Today the building houses a restaurant with great views over the water.
Just opposite the street, you will also find a small collection of houses, and together with the sailor station, these buildings represent the Norwegian influence in Potsdam. All the buildings are built in traditional Norwegian national romantic style, some combined with "dragon-style", with clear reference to the Viking era.
TIP: Read our posts Things to do in Bergen and What to do in Oslo if you got inspired to explore the real Norway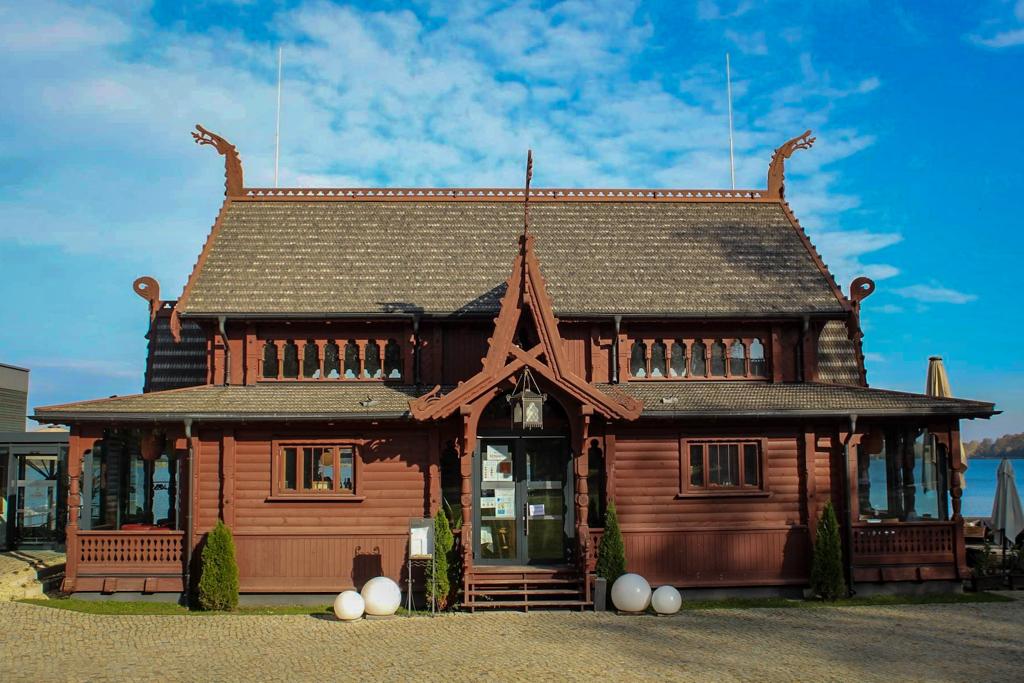 Some activities while visiting Potsdam
If you during your visit to Potsdam also would like some activities that can take you around Europe, there are several great things to do.
Gondola trip in Potsdam
Yes, you read correctly. Now you don't have to go all the way to Venice to have a trip in a real Gondola. Alexander from Gondelfox is offering tours in an original Venetian gondola, and this can also be arranged at the River Havel in Potsdam. They offer private tours, and can also arrange a picnic if you'd like.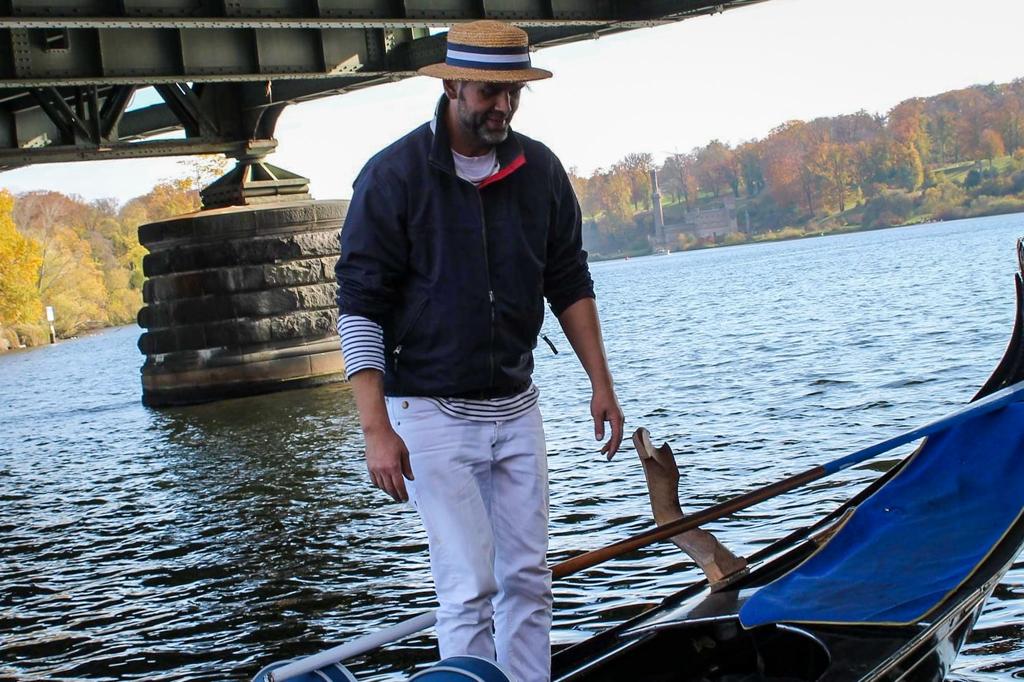 Food Tour in Potsdam
If you like to explore local cuisine on your travels, a food tour can be a great idea while visiting Potsdam. Taste The Town offers different food tours around Potsdam, and from 2022 they also plan to offer tours in English. On this tour, you can get the taste of e.g. Poffertjes (small Dutch pancakes), French macaroons or regional specialities from Brandenburg in the Dutch Quarter. Naturally, you will also be able to try out some local specialities from Potsdam and around.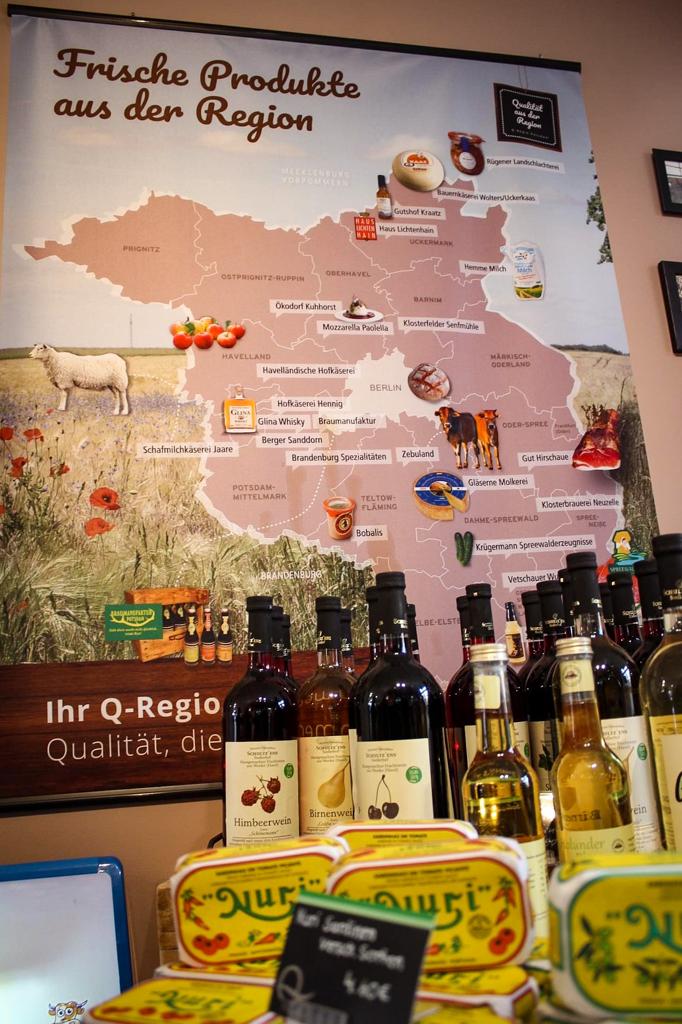 Visit Villa Schöningen
Next to the Glienicke Bridge, you can visit the beautiful Villa Schöningen. The building in Italian villa-style showcases changing exhibitions of contemporary art. They also have a nice cafe, Pedales Café, where you can enjoy homemade cakes or have a light lunch. The cafe is located next to the water, along a popular cycling route, so it's a great place to stop if you are visiting Potsdam by bike.
TIP: Read our post Biking in Germany if you'd like to explore more of Germany by bike
Guided tour in Potsdam
A guided tour can be a great way to explore Potsdam. The Potsdam Tourism office offers a wide range of guided tours, including walking tours taking you on a journey through Europe. Contact them ahead of your visit if you'd like to arrange a guided tour in Potsdam.
Hotel in Potsdam
There are several hotels in Potsdam to choose from. We stayed at Maxx by Steigenberger Sanssouci Potsdam, a nice and comfortable hotel renovated in 2019. It's located close to Park Sanssouci within walking distance of all sights in the centre of Potsdam.
With a nice bar and a delicious breakfast buffet, this is an ideal hotel in Potsdam.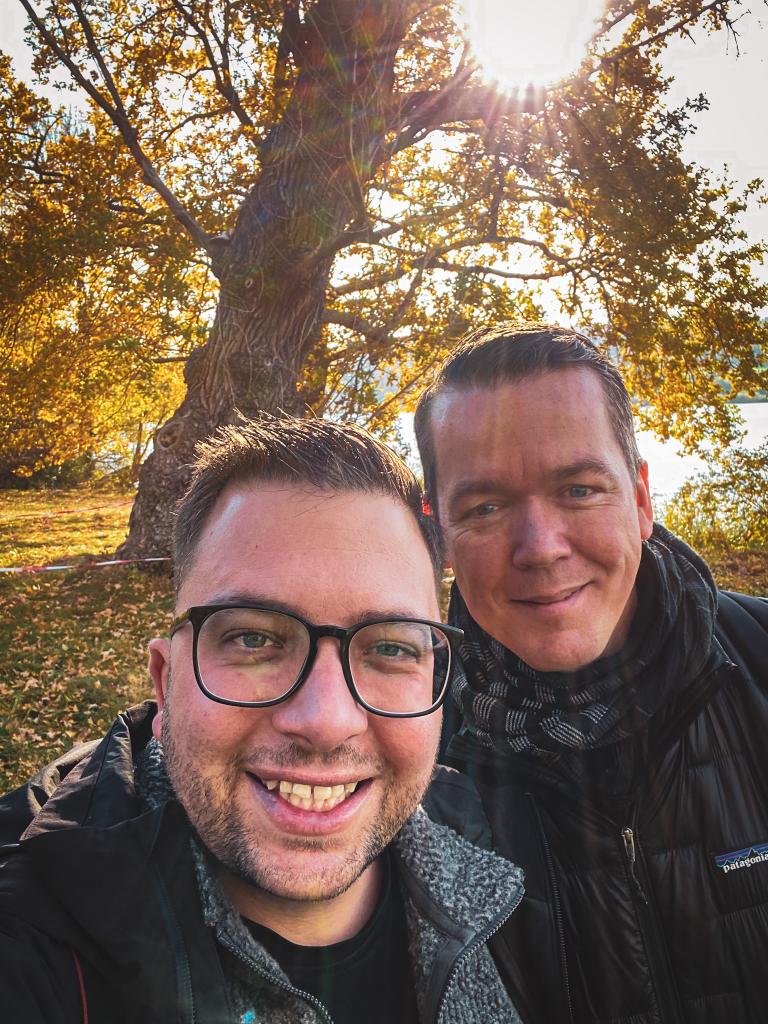 Plan your trip – How to get to Potsdam
Potsdam is easily reached by car from all directions, and if you arrive by plane at Berlin Brandenburg Airport (BER) you can catch an hourly regional train (RB22) direction Berlin Friedrichstrasse. Don't get confused about the train going to Berlin, it's passing Potsdam on its way. From the airport, you can also reach Potsdam with bus BER2.
How to get to Potsdam from Berlin
Most visitors arrive in Potsdam from Berlin. You can travel from Berlin to Potsdam by the regional train (RE1) from e.g Alexanderplatz or Hauptbahnhof (central station). The journey takes around 25 minutes from the central station.
You can also travel to Potsdam from Berlin with suburban train (S-Bahn, line S7). Depending on where in Berlin you start, the journey takes around 35-45 minutes.
Please note: You need to purchase a ticket for the zones ABC for travelling with public transport to Potsdam
When arriving at Potsdam Central Station you can walk to the Old Market Square in about 10-15 minutes.
Please note: This trip was a collaboration by an invitation from Potsdam Tourism. We have been sponsored via the collaboration to visit the hotels, restaurants, cafés and sights mentioned in this post. As always there are no guidelines or requirements of what we should write. All opinions in this post are our own and are not affected by the sponsorship.