This post may contain affiliate links, where we may receive a small commission if you purchase something through following the links at no extra cost to you.
What comes to your mind when thinking about Berlin? The wall, WWII, techno clubs or maybe Currywurst? These are all sights which you should see and explore in Berlin. Most tourists visit the main sights such as the Reichstag, the Brandenburg Gate or the East Side Gallery. Of course, you should also go out dancing and eat the famous Currywurst (which even has its own museum here in Berlin). But there is much more to see and explore. We show you places that are not in every Berlin city guide and off the beaten track in Berlin.
Hackesche Höfe and Haus Schwarzenberg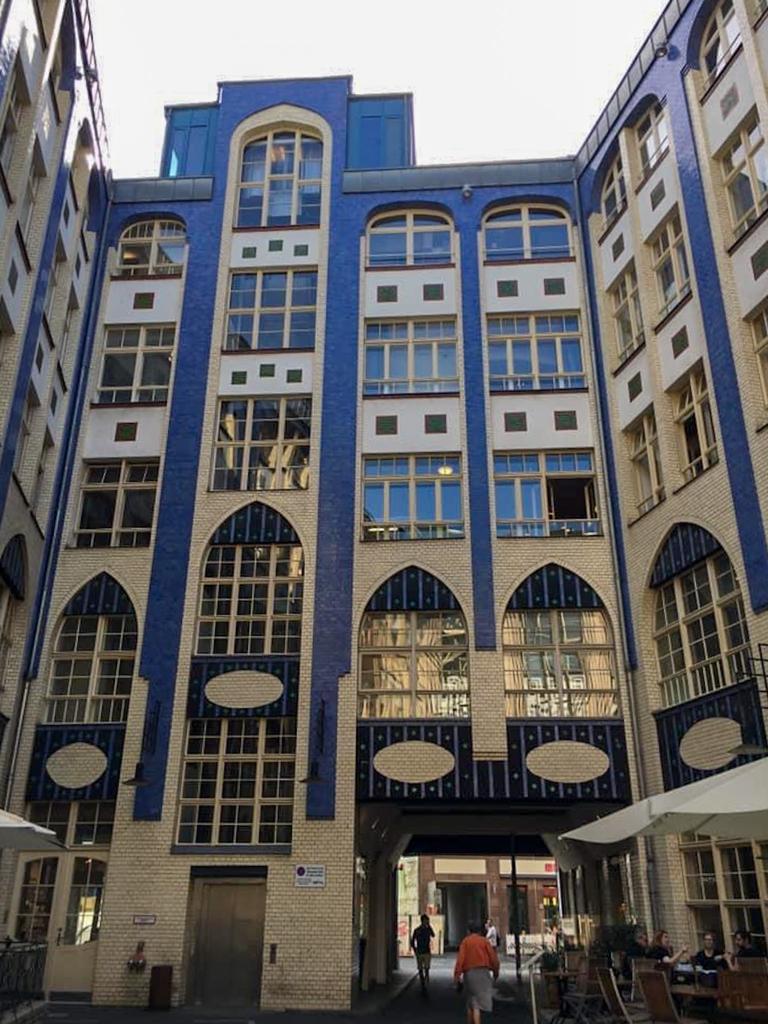 Located very central in Berlin, Hackesche Höfe are probably the most famous and largest courtyards in Scheunenviertel. It was built in 1907 and got a total makeover in the 1990s. Now you can visit all interlinked courtyards for free. You will find a beautiful ceramic tiled courtyard which has a varieté theatre and an art-house cinema. In the other courtyards, you find beautiful, small boutique shops, cafés and galleries.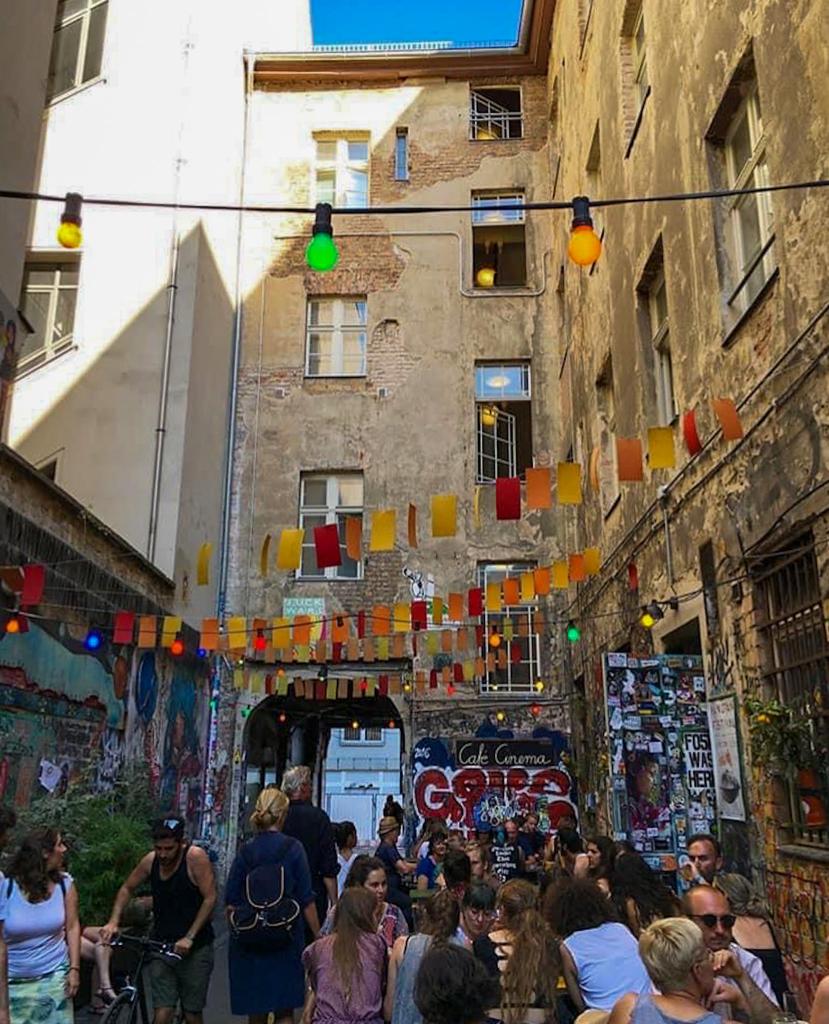 Something totally different and off the beaten track in Berlin is in the alley of Haus Schwarzenberg. The entrance to this very hip and artistic alley is just after Central Café. It is the oldest café in the area of Hackescher Markt. While you enter you will see lots of different street art and graffiti. In these buildings they also have an Anne Frank Centre, a workshop for blind people, a cinema and a bar.
At the end you will see a staircase which is full of stickers and colorful painting. These stairs lead up to a creative and art space with changing exhibitions. A non-profit organisation is running the gallery and it is definitely worth to have a look. Last year there was a tape exhibition which was a total surprise for us, because we never thought about what you could create by using only tape.
Travelling to Germany? Join Our Facebook Group Germany Travel Forum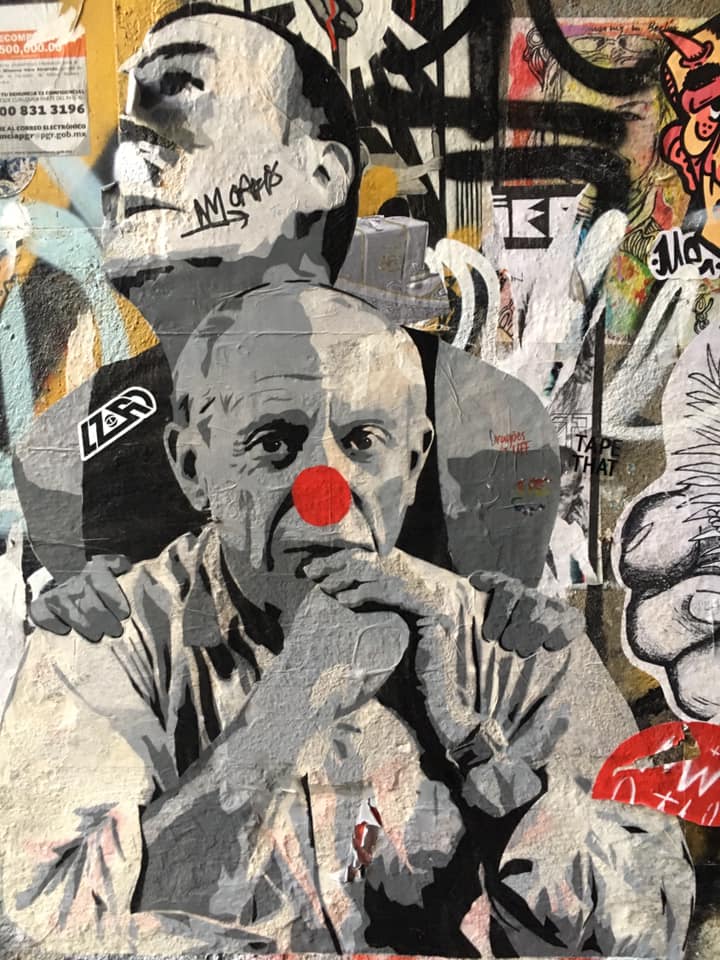 Schloss Britz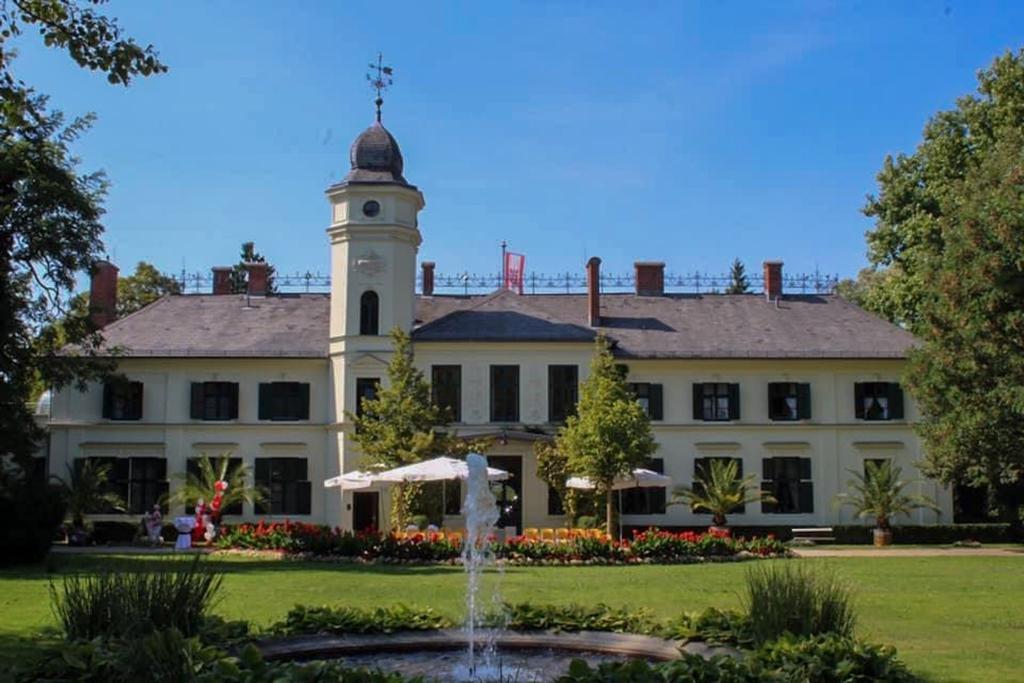 Once this neo-Renaissance building was the residence for Prussian ministers and high-ranking officials, but today it is open for visitors and a sight off the beaten track in Berlin. When you visit this 18th-century country estate you will get an idea how it looked during this time. The well-reconstructed rooms show the interior of the Gründerzeit era.
It won´t take too long to go through the rooms, but you get a nice demonstration of how glamorous it was at this time. After the castle, you can enjoy some time in the extraordinary garden which is almost 300 years old. They have a huge amount of different plants and trees. Do not forget to find the "Milkmaid", which is a copy of a sculpture in Tsarkoye Selo Place in Saint Petersburg, Russia, made by Pavel Sokolov. If you visit Schloss Britz in summer bring your own food for a picnic in this beautiful park. Check out their program for concerts.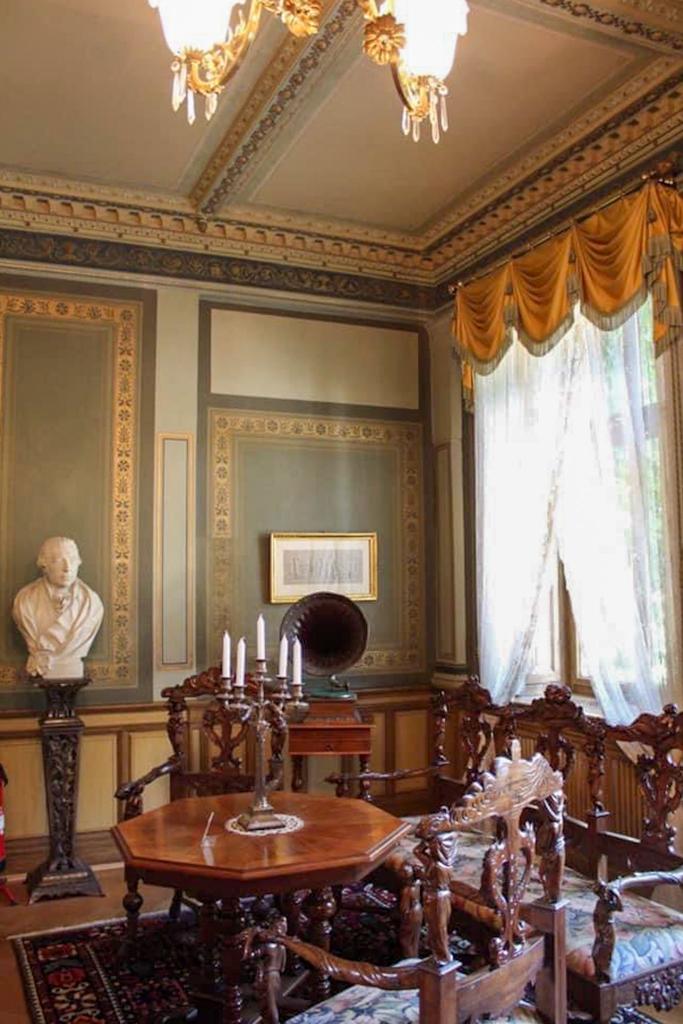 TIP: Read the blog post about Görlitz – one of the most beautiful towns in Germany.
Fischerinsel – a historic harbour in Berlin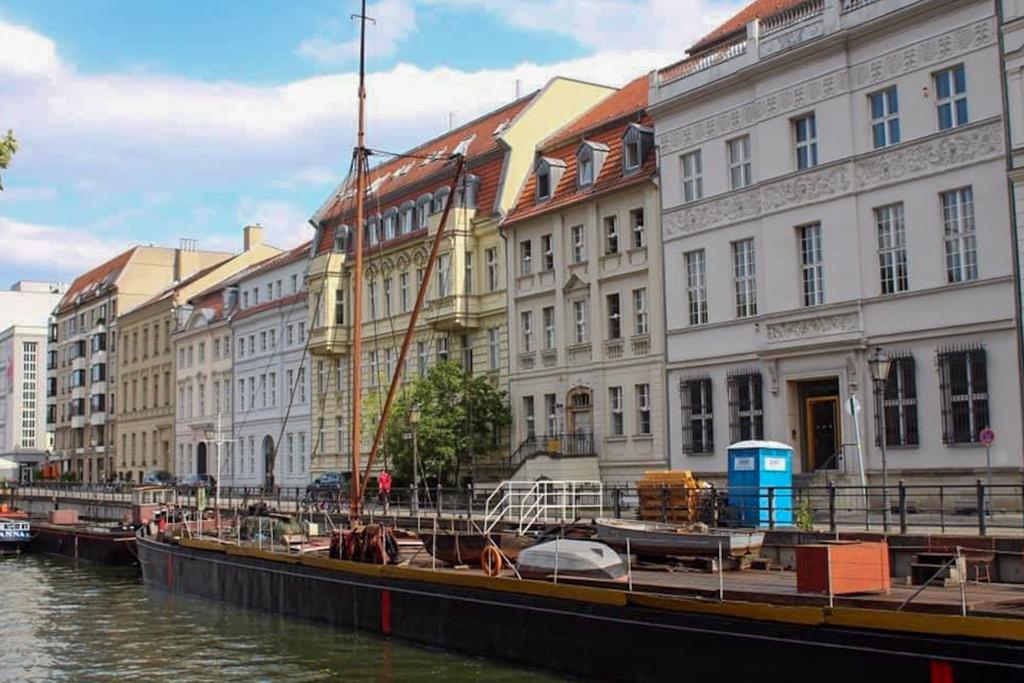 The historic harbour in Berlin is not as spectacular as Nyhavn in Copenhagen or the canals in Amsterdam. Fischerinsel is still very charming though and off the beaten track in Berlin. We do recommend a visit here as this is in the area where Berlin was founded. You can visit some of the boats there, learn about the history of ships and the harbour in Berlin. You also go on trips with some of these boats. For sure you can also get nice photos there which won´t show the typical sights of Berlin (except the TV tower:) ).
Former baby and children hospital Weißensee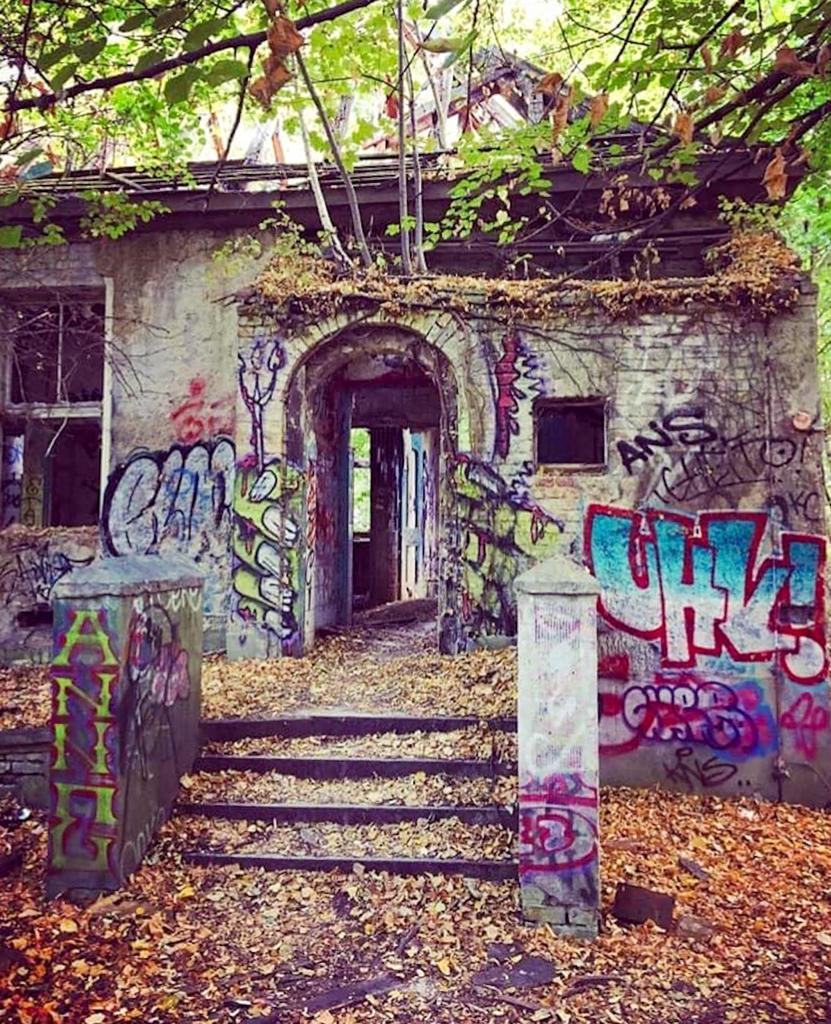 In the beginning of the 20th century lots of babies and children died. The city of Berlin decided to build a hospital that specialized in diseases for babies and children. In 1911 this hospital opened. Later they even had a barn for cows to get their own milk for the babies. Once it was one of the best hospitals for babies and children. The hospital closed in 1997 after 86 years. Some Russian investors bought the buildings but nothing happened, it was still kind of a ruin. Some years ago the city of Berlin bought it back but still it keeps being a "lost place" in Berlin.
Broken windows, walls which falls apart and trees which start to grow in the buildings, is some of what you can expect here. You can see graffiti on the walls and that people damaged some parts. Entering the grounds is probably (officially) not allowed. The entrance is through the fence. It is really interesting and exciting to be there and explore this former hospital. You might not be alone there either. While we were there we saw several teenagers who also took photos and played there.
The best way to get there is with M4 from the city centre and get off in Hansastraße in Weißensee. Enjoy the spooky time in this former baby and children hospital but be careful. The stairs and walls have seen better days. It is definitely an attraction off the beaten track in Berlin.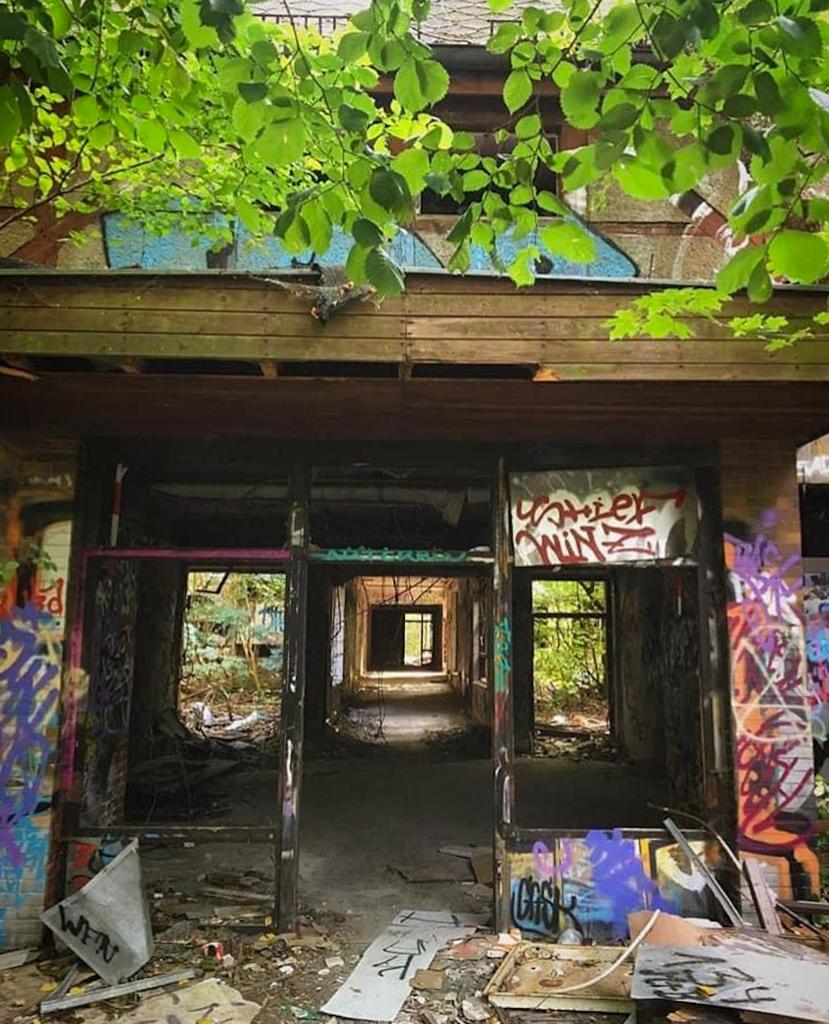 Rixdorf – a Bohemian village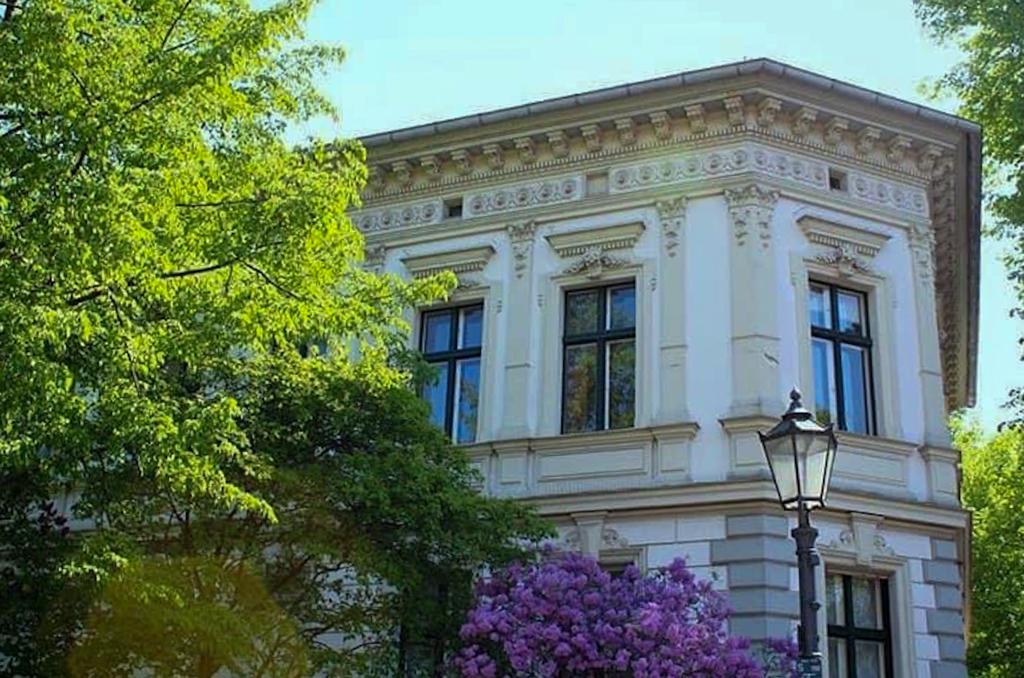 Bohemian-Rixdorf was a small community of Protestant refugees from Bohemia, the Czech Republic founded in 1737 in Berlin. Most of these people were craftsmen and farmers. Even today you can visit a blacksmith and a farmhouse, which are in the middle of Richardplatz, Neukölln. It doesn't feel like you are in Berlin because some of these original houses still exist and you will feel like being in a tiny village. The Bethlehemskirche is also worth a short visit.
Not far from Richardplatz is the Comenius-Garden. This garden was built after Comenius´ philosophical and educational imaginations. The historical village of Rixdorf is listed as a cultural heritage. If you are in Berlin for Christmas time, there is also a nice, romantic Christmas market on Richardplatz. Go to Rixdorf and enjoy the total contrast to the other parts in Neukölln and enjoy being off the beaten track in Berlin.
TIP: Read our post about visiting Potsdam.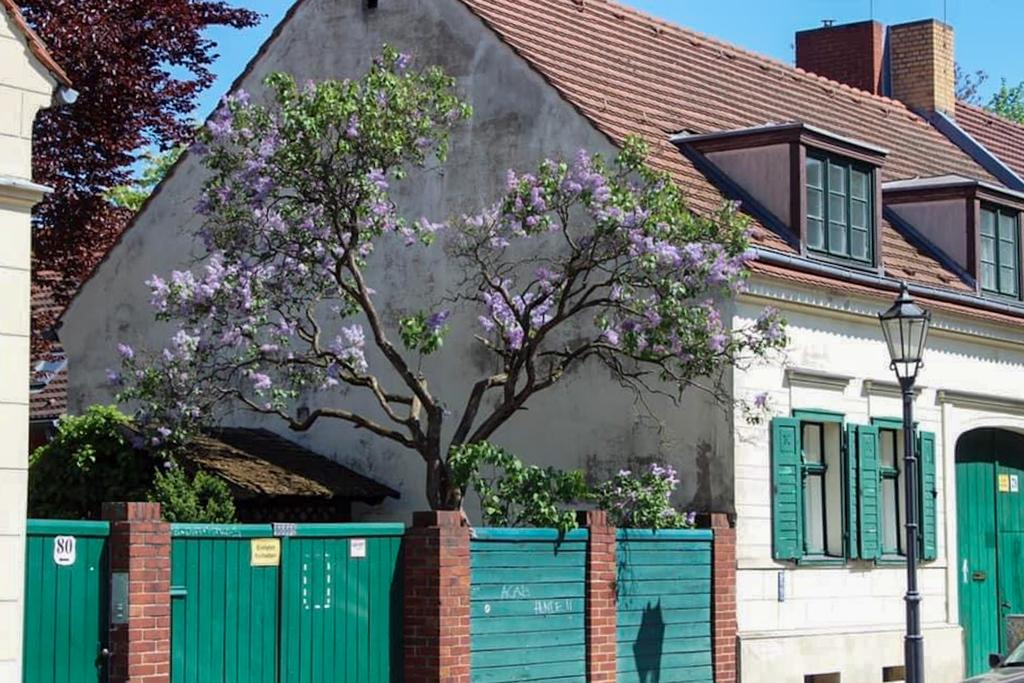 Zionskirche
Zionskirche is located in the northern part of Berlin-Mitte and it has a 67m high tower. The church itself might not be the most beautiful or important one. It is for sure off the beaten track in Berlin. The best part is going up in the tower and having great views over Berlin for very little money. The entrance to the tower is only 1€ per person. Compared to the TV tower at Alexanderplatz, it is very cheap. You can do this only on Sundays in the afternoon. We would recommend this to everyone who likes to see a city from above and doesn't wanna spend lots of money on touristy towers and attractions. After the climb, you can enjoy a drink in one of the bars or restaurants around the church or in nearby Kastanienallee.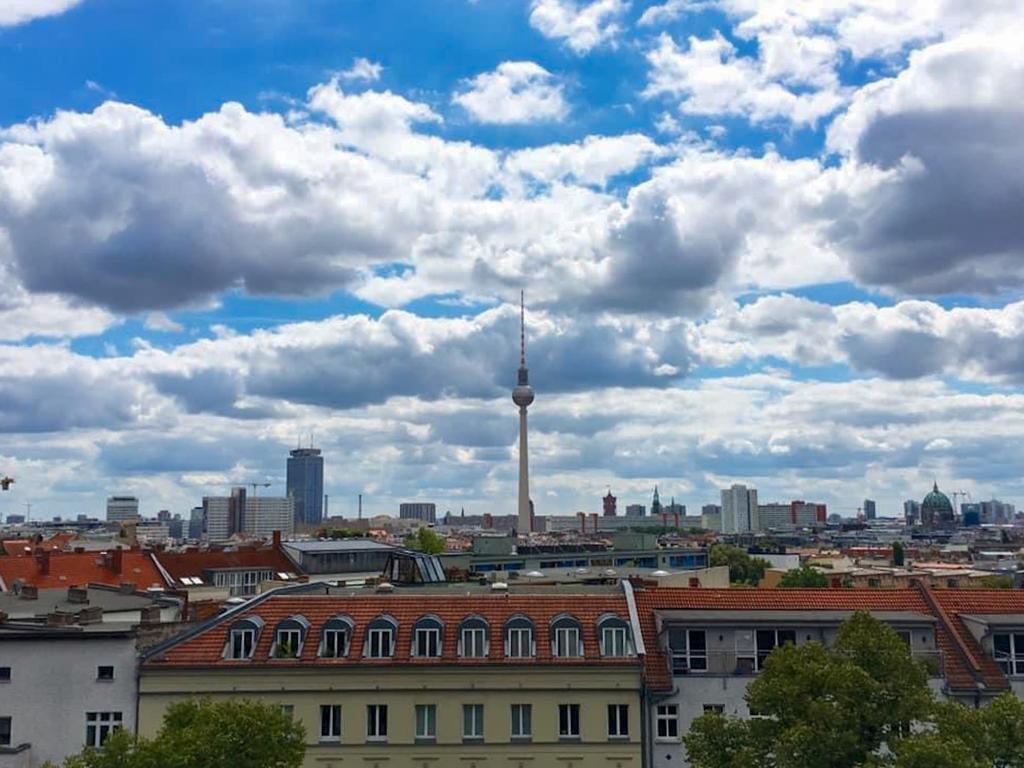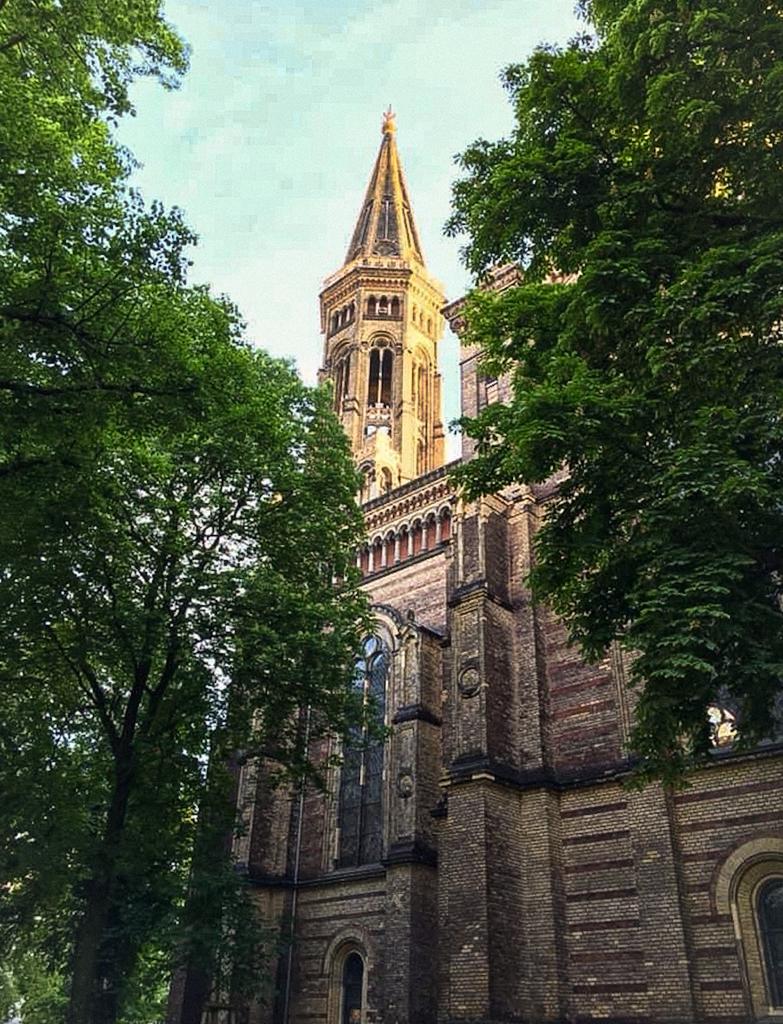 Fun Fact: There are bees up in the tower. They make honey from the nectar which they get from the trees and flowers around the church. When you visit the tower you could also purchase Zions-honey 🙂
Karl-Marx-Allee
Karl-Marx-Allee (former named Stalin-Allee) is a great boulevard between Berlin Mitte and Friedrichshain district. The monumental buildings are socialist-style and it was a project of the former East German reconstruction program. The buildings should contain luxurious apartments, cafés, restaurants and shops. Unfortunately, it is not so pretty anymore, but still impressive. You can find several places to sit down for a drink or some food.
During the GDR time, they used this boulevard as a show-off with military parades on May Day. Today you can go for a walk and see how communism showed its power with monumental buildings. Every summer there is also the world's "longest beer garden" at Karl-Marx-Allee, an international beer festival which is along this boulevard and where you can try beer from all over the world.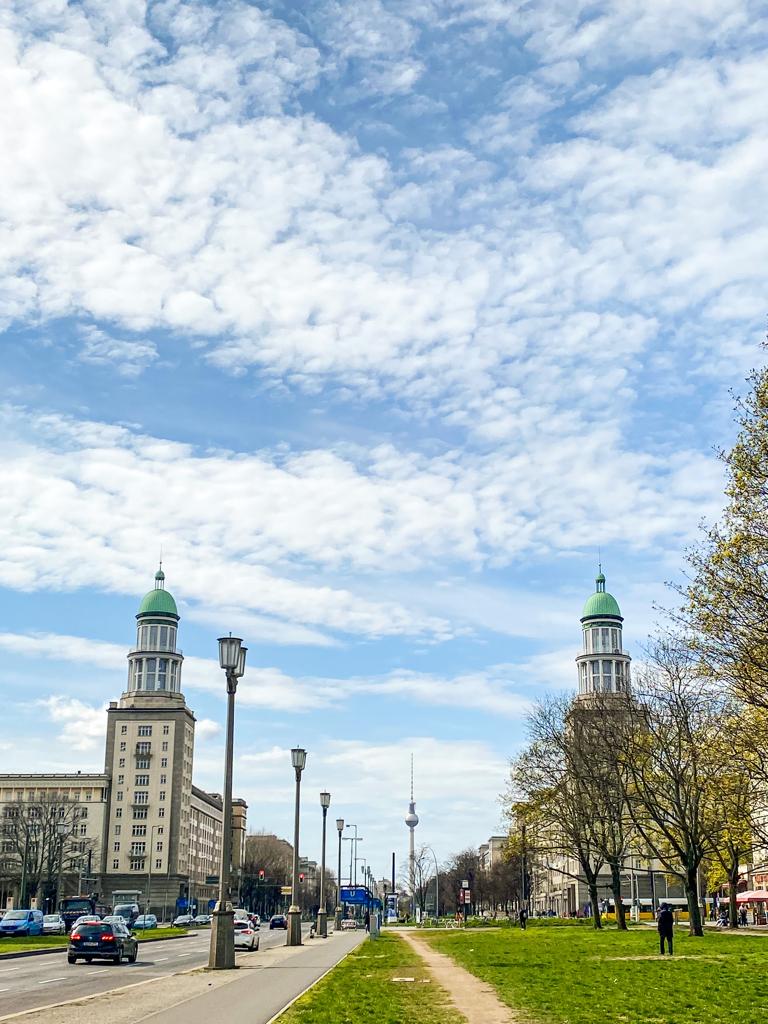 Platz des 9. November 1989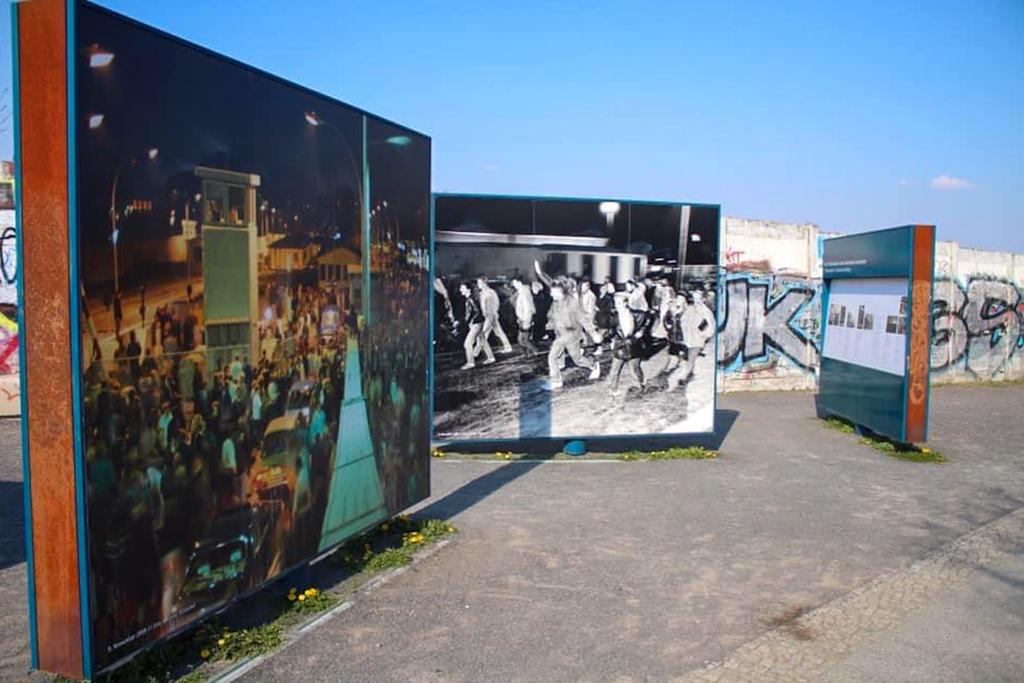 Berlin will always confront you with the past of the city and the wall between East and West. The East Side Gallery is cool for the art and Gedenkstätte Berliner Mauer gives you lots of information about the separation and the wall. Another highlight off the beaten track in Berlin.
But this square at Bornholmer Straße is very special because here was the first border opening when the wall fell on 9 November 1989. This memorial is only around 200m long and has a photo gallery with information about that day next to some leftover parts of the wall. On the ground, you can find rusty metal strips giving information in chronological order about the events of 9 November 1989.
We were very surprised to have found this memorial square because it is not so well known as the other ones. But it shows you how important it was for the people in East Berlin to leave their homes and go over to West Berlin.
The cherry blossoms – a bonus at the same place
In the spring you can also enjoy the amazing cherry blossom season here. As a gift from Japan, lots of cherry trees were planted here after the wall fell. These cherry trees should bring calm and peace to Berlin. Every year the cherry season attracts numerous people in Berlin to look forward to summer after a long winter.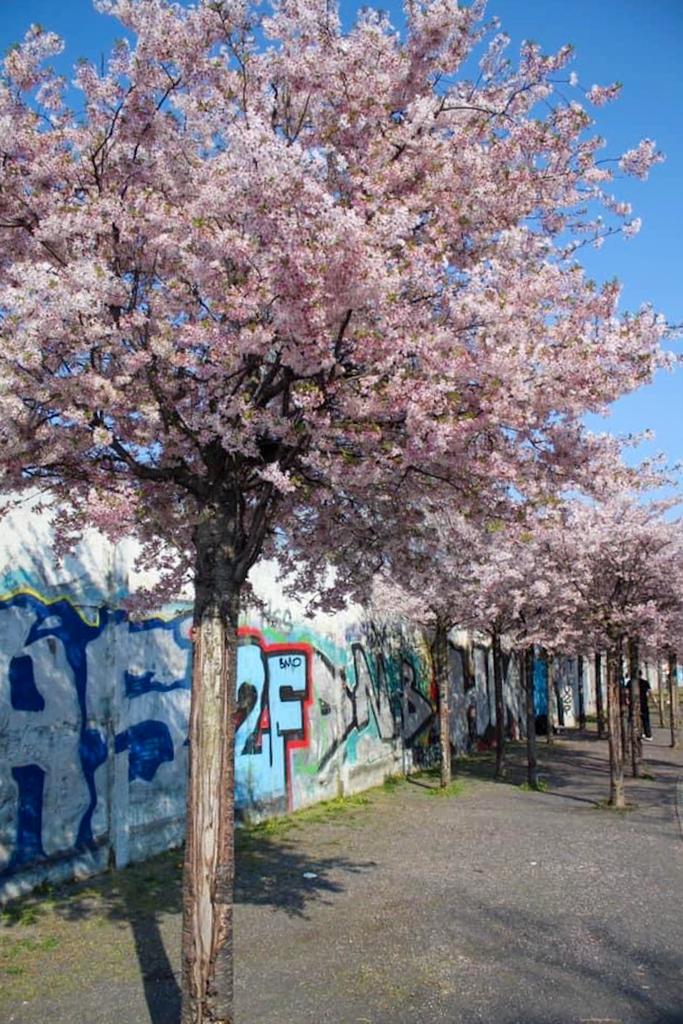 Berlin-Hohenschönhausen Memorial
In Berlin, there are lots of sights about WWII but this memorial sight is (unfortunately) not so well known and also off the beaten track in Berlin. It tells a very interesting history about Germany during the GDR time.
The Berlin-Hohenschönhausen Memorial is located in the area of Alt-Hohenschönhausen (Berlin-Lichtenberg) and is very easy to reach by tram. It opened for the public in 1994.
The main building was used as a manufactury for soup kitchen supplies before WWII. In June 1945 the Soviets took the building over as a transit point and prison and called it "Special Camp No. 3". During this time probably over 3000 people died in the camp due to bad conditions, such as cold or diseases. After the camp closed in 1946, it served as a Sovjet prison in winter 1946/47.
In 1951 it was reopened by the Stasi (East German Ministry of State Security) who also built another building next to it using prisoner labour. It included 200 rooms for interrogation and prison cells. It was mostly in use for people who wished/planned/attempted to leave/escape GDR. The prison got closed when the wall fell.
You can now visit all buildings on a guided tour. It might happen that your guide is a former prisoner because this is where most of the information and knowledge got to this memorial documentation centre. You will learn a lot about life in GDR, the treatments in this prison and how the Stasi operated with their security system.
It is open every day and has several guided tours then. Check out the webpage for the times. You can take tram M5 to get there by public transport.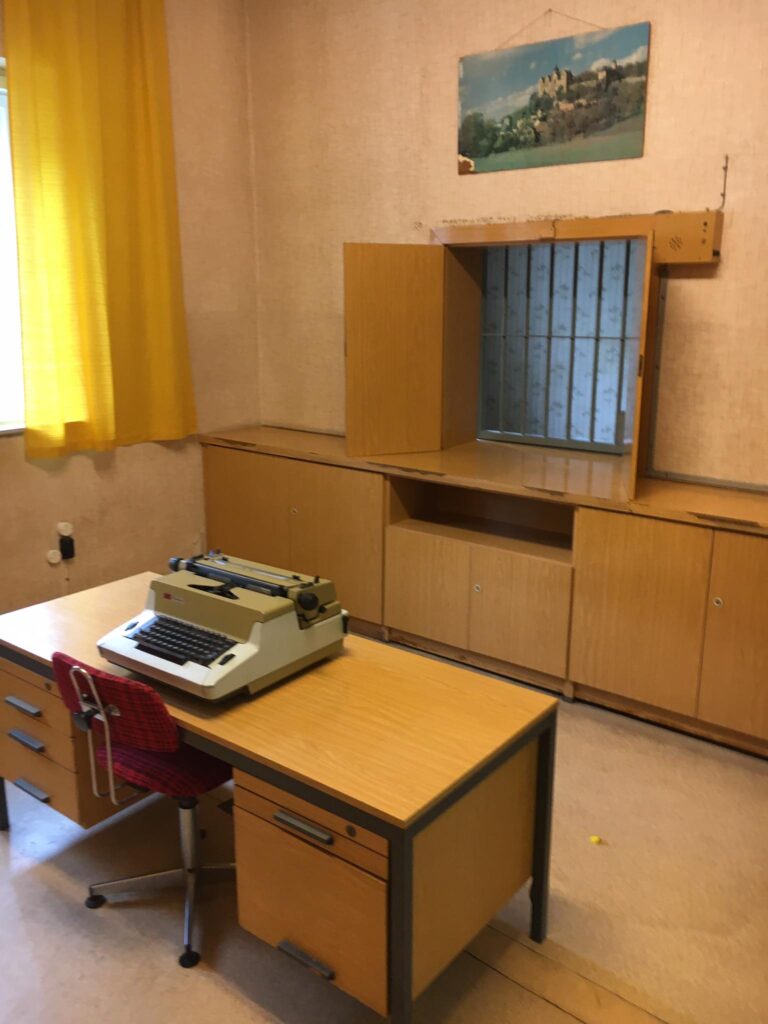 Käthe Kollwitz Museum
Käthe Kollwitz (1867 – 1945) was a German artist associated with Realism and Expressionism. She worked with painting, printmaking, etching, lithography, woodcuts and sculptures. Her art shows life in poverty, hunger or war but also the happy and positive sides. The museum is located in a charming villa in City West and it exhibits the art on four floors.
You can learn a lot about this extraordinary woman and see some of her most famous pieces e.g. "Brot!", "Krieg" and "Peasant War". You can visit the museum daily and also get an audio guide in German or English. In 2022 the museum will move to the theatre building next to Schloss Charlottenburg. Until then you can still visit Käthe-Kollwitz-Museum in Fasanenstraße in City West of Berlin.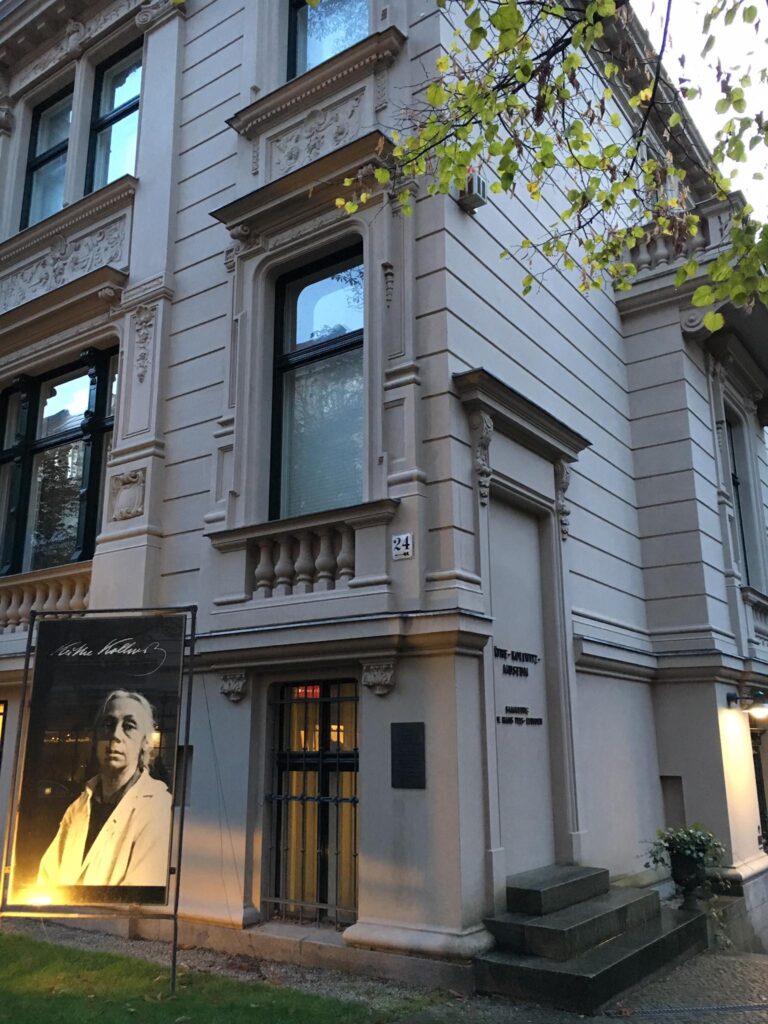 Art Park Tegel
Berlin is a well-known city for street art and murals but these murals in Tegel are super huge and special. Tegel is maybe not a tourist hotspot, off the beaten track in Berlin and probably only known by some for Berlin's "city-airport". A lot of tourists land at Airport Tegel. But there are actually the largest murals in Berlin. These high-rise buildings, which got painted, are usually very grey and very common in East Germany. But in 2016 there was a big change and chance for a more attractive living in these hood of "skyscrapers".
The housing cooperative from Berlin "Gewobag" and the art network "Urban Nation" cooperated together and painted six walls, but now you can find already eight artworks. Some people like it, some not but that's the art and at least it attracts more visitors to the district of Tegel. Now, these eight gigantic murals are one of Berlin's largest outdoor galleries and make Tegel a bit more colourful too.
It is free to go there and you'll also get an introduction to each wall. If you're done with the murals, you could enjoy the rest of your time at Lake Tegel. Go for a walk, a swim or book a boat tour on the lake.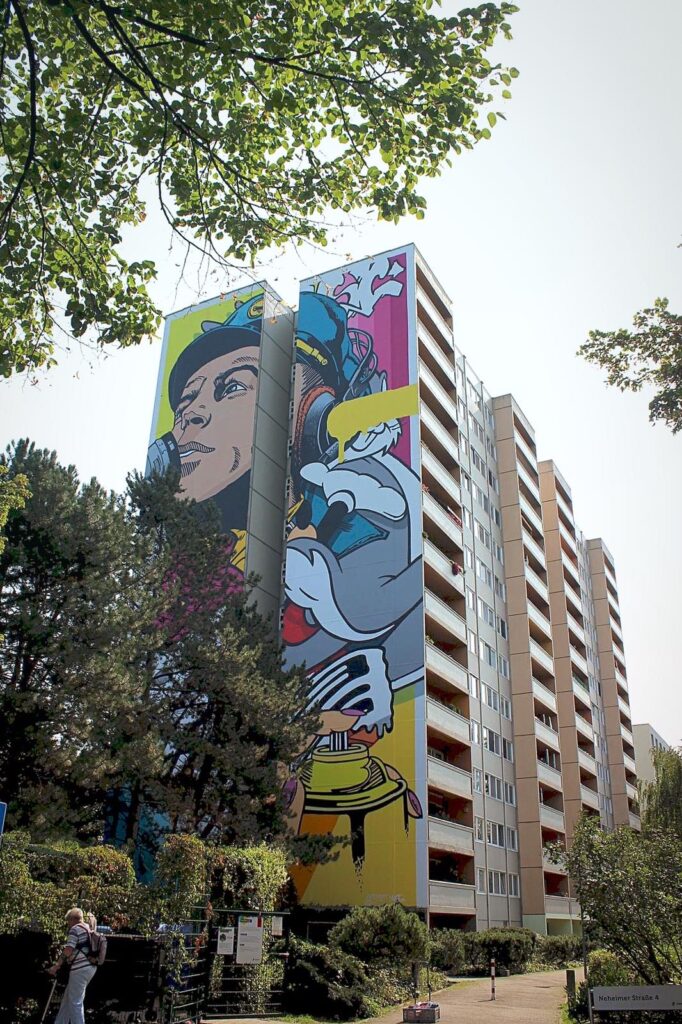 More inspiration
After a long day of exploring Berlin, you might look for a nice place for excellent coffee or maybe you prefer a beer garden? We have found the places you are looking for! Read here some tips to leave the big city and discover new places in Brandenburg or the city of Cottbus.