This post may contain affiliate links, where we may receive a small commission if you purchase something through following the links at no extra cost to you.
Ayutthaya is one of the most popular sights around Bangkok, and that's for a reason. The temple ruins are stunningly beautiful and not to be missed. You can of course join a group tour, but if you prefer to travel independently, you can easily get to Ayutthaya from Bangkok on your own. We show you how.
The temples of Ayutthaya are on the bucket list of many visitors to Thailand, and rightfully so. An Ayutthaya day tour from Bangkok is one of the most day trips you can make from Bangkok. Even better is, if you have the time, spend a night or two in Ayutthaya. It will give you the chance to see even more at a relaxed pace.
After visiting Bangkok with all its noisy and hectic life and world-class attractions like the Grand Palace, Ayutthaya will feel like a quiet oasis in comparison.
You can visit Ayutthaya from Bangkok before you might travel south to the islands and beaches, or maybe you plan a stop here before you travel north to places such as Sukhothai, Chiang Mai or Chiang Rai.
TIP: Missing good coffee while travelling? Our post on the best coffee in Chiang Mai, our Chiang Rai coffee guide and our post on the best coffee in Hanoi will show you where to go if you plan a visit to one of these cities.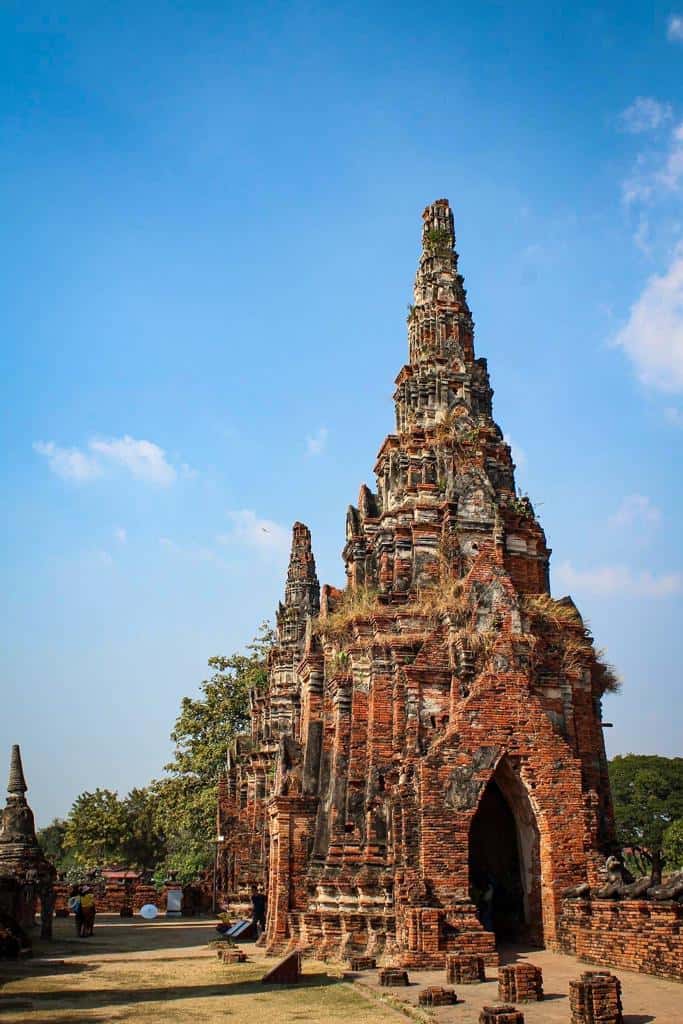 Ayutthaya can also be your first stop on a long journey through Southeast Asia, where you e.g. take the slow boat on the Mekong River to Luang Prabang, visit Vang Vieng and the Plain of Jars in Laos, or maybe you are planning on travelling as far as Hanoi in Vietnam. No matter what your plans are, a visit to the temples in Ayutthaya is definitely worth it.
This post will show you how to reach Ayutthaya from Bangkok, independently, without having to join a group tour. The biggest benefit of independent travel is that you can avoid the sometimes huge tour groups, and also, going on your own will save you quite a lot of money, so keep on reading to find out how to get to Ayutthaya from Bangkok.
Getting to Ayutthaya from Bangkok
Ayutthaya is located around 85km (53 miles) north of Bangkok. Getting from Bangkok to Ayutthaya on your own is easier than you might think. There's no need to pay loads of money to join a group tour, or even more expensive – going on a private tour.
The best way of getting to Ayutthaya from Bangkok independently is either to go by train or by minibus (minivan). Here's how to do it.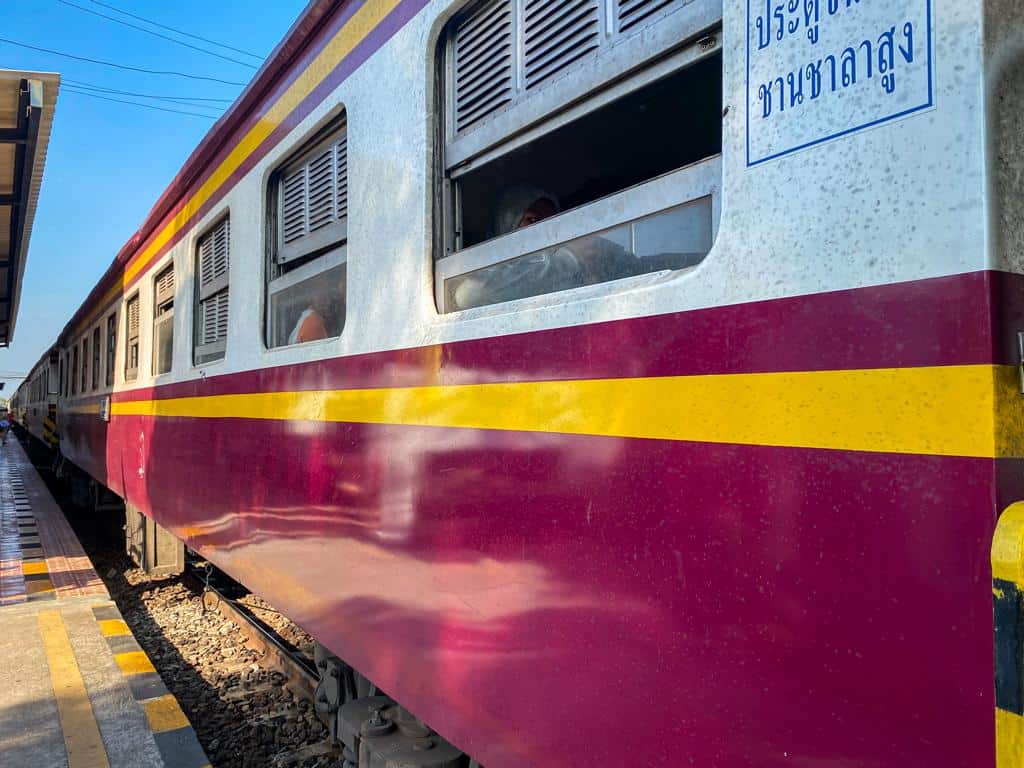 Train to Ayutthaya from Bangkok
In our opinion, taking the train from Bangkok to Ayutthaya is by far the best way to do it. We'll admit it, that's maybe not a completely objective opinion, but those who have followed us a while and read more on our blog will know by now that we simply love a good train ride.
TIP: Our posts about train travel will give you some of our favourite train journeys we have done so far
Travelling by train from Bangkok to Ayutthaya is easy, cheap and time efficient. It's easy to do on your own, both to buy the ticket and make the journey itself. With over ten possible daily departures from Bangkok to Ayutthaya, you will always find a train fitting your schedule. The travel time by train to Ayutthaya is between 1,5 to 2 hours from Bangkok.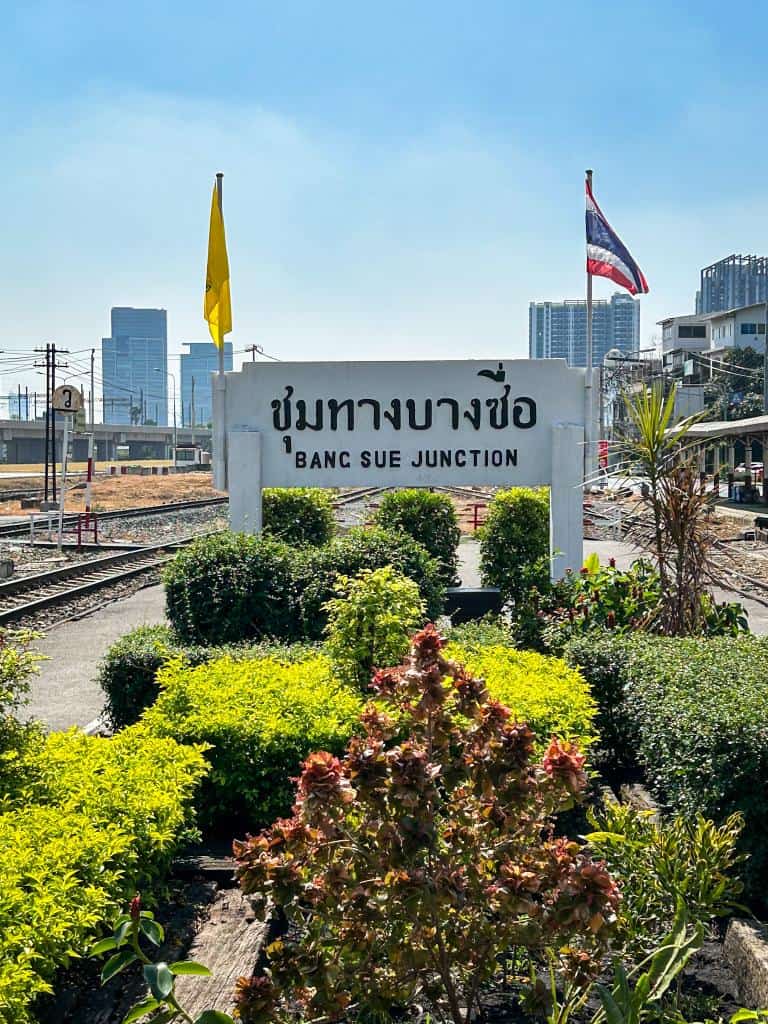 A train is also a good option if you only plan to make a day trip from Bangkok to Ayutthaya. Due to the short travel time, you can easily take the train both ways on the same day.
You can buy your train ticket directly at the train station if you prefer that or you can do it online. For direct purchase, simply go to the station and buy your ticket at the ticket counter. Normally the trains never really sell out, so you can actually be spontaneous and buy your ticket as you go. If you'd prefer a bit more security around your departure, you can pop by the station any time (within 30 days) and buy your ticket for your preferred day of travel.
It is possible to buy tickets online on the official website of the State Railway of Thailand, although that's not our preferred way of doing it, as the website often is very slow, and not very user-friendly and you will need to create a profile.
In our experience, the best way of buying train tickets in Thailand is via an online ticket agent. We prefer to use 12go.asia Their website is user-friendly, and quick and gives you all the options you need. You can book and pay for your ticket online. Immediately after booking you will get a confirmation of payment, and within a short time, you will be sent your ticket via email. Please note that you will be charged a small fee for their service, but the total price will be shown clearly before finishing the purchase. Even with the small service fee, train travel in Thailand is still very, very affordable.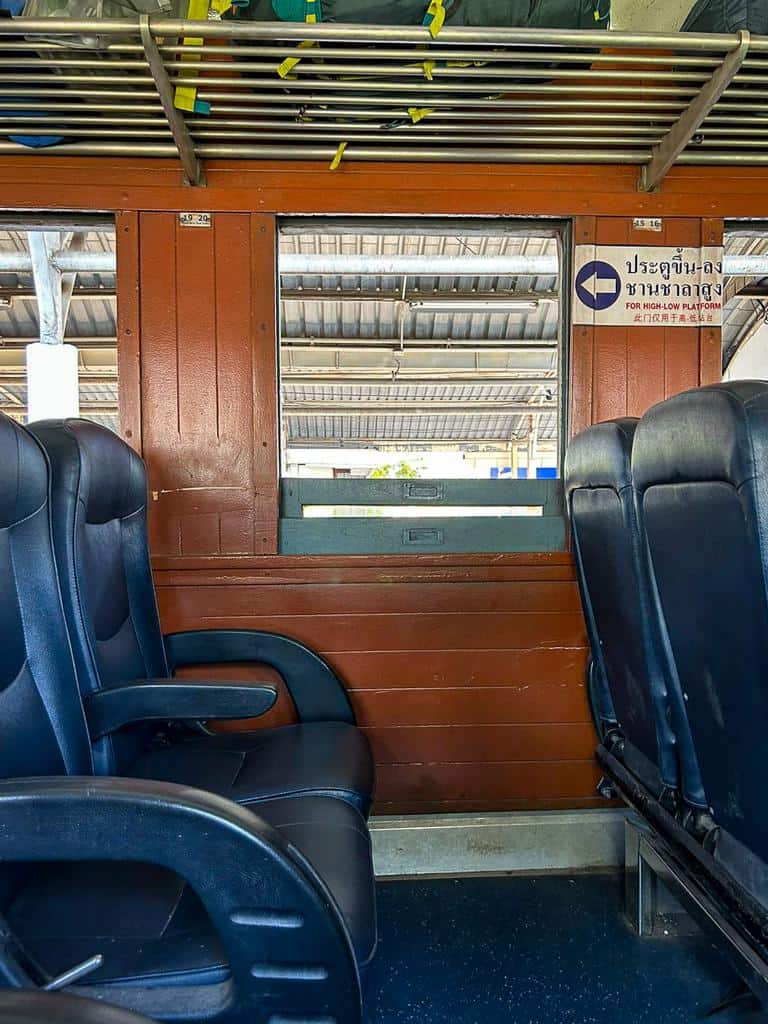 You can catch the trains from Bangkok to Ayutthaya from eg Sam Sen or Bang Sue Junction train stations.
The train station in Ayutthaya is not directly in the city centre. When arriving at Ayutthaya train station you will be met by numerous locals offering you transport services, sometimes quite ongoing.
You can get to the city or to Ayutthaya Historical Park by a tuk-tuk or by taxi. In our experience, the best way is to order a car via the Grab app. It works the same way as Uber and is mostly much cheaper than either a tuk-tuk or a regular taxi. Simply enter where you want to go, and the price will be shown before you confirm the ride. You can pay a Grab in cash, or connect it to your credit card or Apple Pay.
If you plan on making a return, get transport to the train station, where you can take the train from Ayutthaya to Bangkok.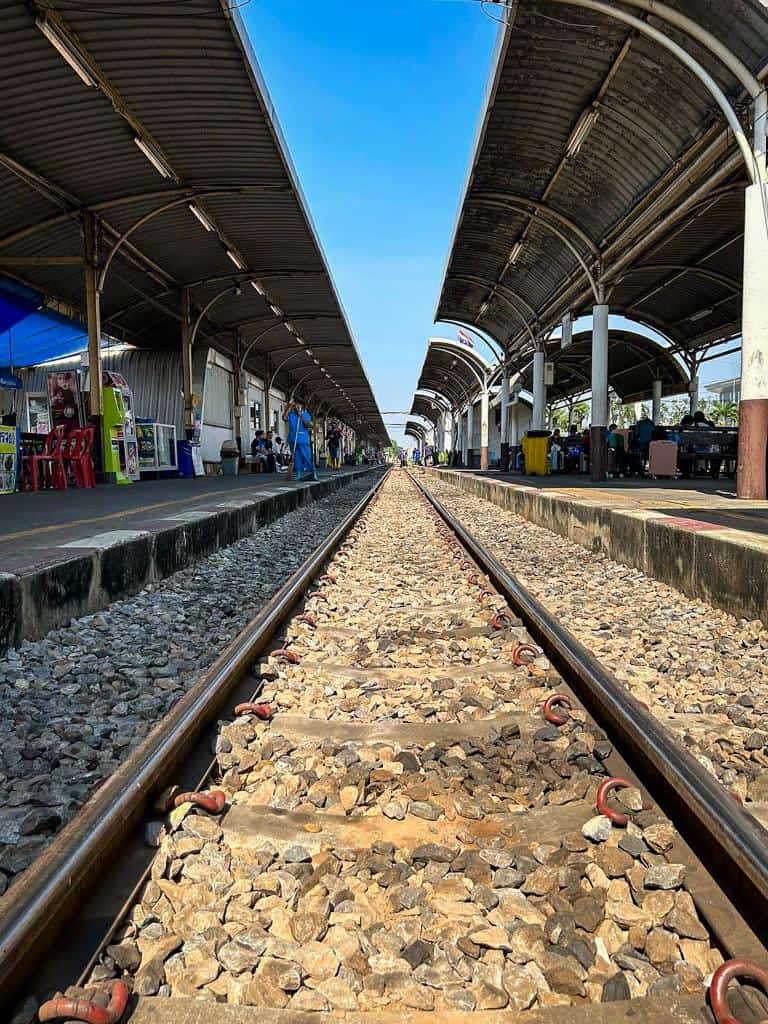 Mini Bus to Ayutthaya from Bangkok
If you prefer to take the bus over the train to Ayutthaya, there are several options to catch a minibus or a minivan to Ayutthaya from Bangkok. The minivans normally carry around 10-14 passengers and leave from Mo Chit Bus Station. There's no set time for departures, but normally there are several departures per hour. The minibus leaves when it's full.
The journey by minivan to Ayutthaya from Bangkok is said to take one hour, but due to the horrendous Bangkok traffic, you should calculate more time to get there.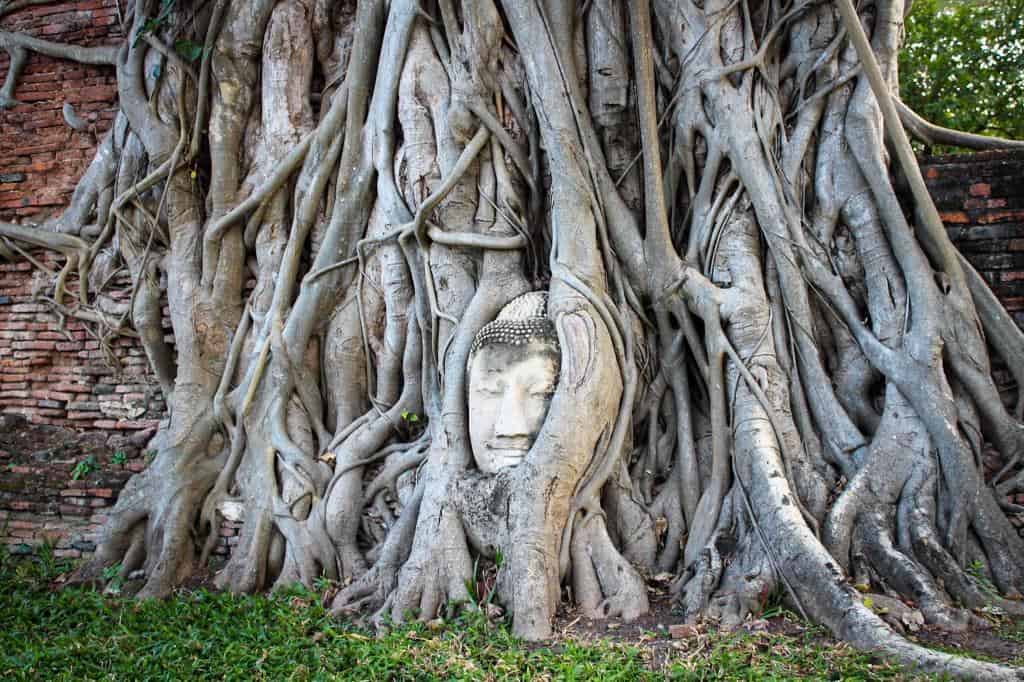 For these minivans, you can purchase your ticket directly at the bus station. Another option is to pre-book your ticket via an online booking agent, such as 12go.asia
Normally, the ticket price with a minivan to Ayutthaya from Bangkok is around double what you would have to pay for the train.
The minibus will make several stops along the route, but you should get off at the last stop, Naresuan Road. Don't get off at the bus station outside Ayutthaya's old town. If you plan on taking the bus back from Ayutthaya to Bangkok, you will get on the bus at the same stop where you got off.