This post may contain affiliate links, where we may receive a small commission if you purchase something through following the links at no extra cost to you.
The amazing temples in Ayutthaya are nothing but incredible. No wonder it is one of the most popular places to visit in Thailand. Here you will find it all, from beautiful sunsets over crumbling ruins to architectural masterpieces and interesting history. Is Ayutthaya worth visiting, you might ask? Well, definitely yes.
No matter if you plan to visit the temples of Ayutthaya as part of a long journey in Thailand or Southeast Asia, or just plan to make a day trip from Bangkok before heading south to the islands and beaches, Ayutthaya is definitely worth a visit.
After spending some days with some of the things to do in Bangkok, like visiting the beautiful Grand Palace, you might feel ready to leave the big city behind.
The temples in Ayutthaya are often a typical stop en route towards the north of Thailand. This route often includes a stop at the historical park in Sukhothai, before continuing towards Chiang Mai with its beautiful temples, and peaceful Chiang Rai. Even if you are heading towards Luang Prabang in Laos, with a slow boat on the Mekong, a stop in Ayutthaya is a must.
TIP: Read our post on the best coffee in Chiang Mai and or Chiang Rai coffee guide if you are a coffee lover as well
You can visit the temples of Ayutthaya on a day trip, but due to its size and the number of sights, we do recommend spending at least one night in Ayutthaya, preferably two. If you are okay with rushing through and don't need to see it all, then a day is fine, but if you like to spend more time at each site, and have time for some breaks without having to stress afterwards, then we absolutely recommend you to stay over in Ayutthaya. If you prefer a guided tour, several Ayutthaya tours from Bangkok can be booked.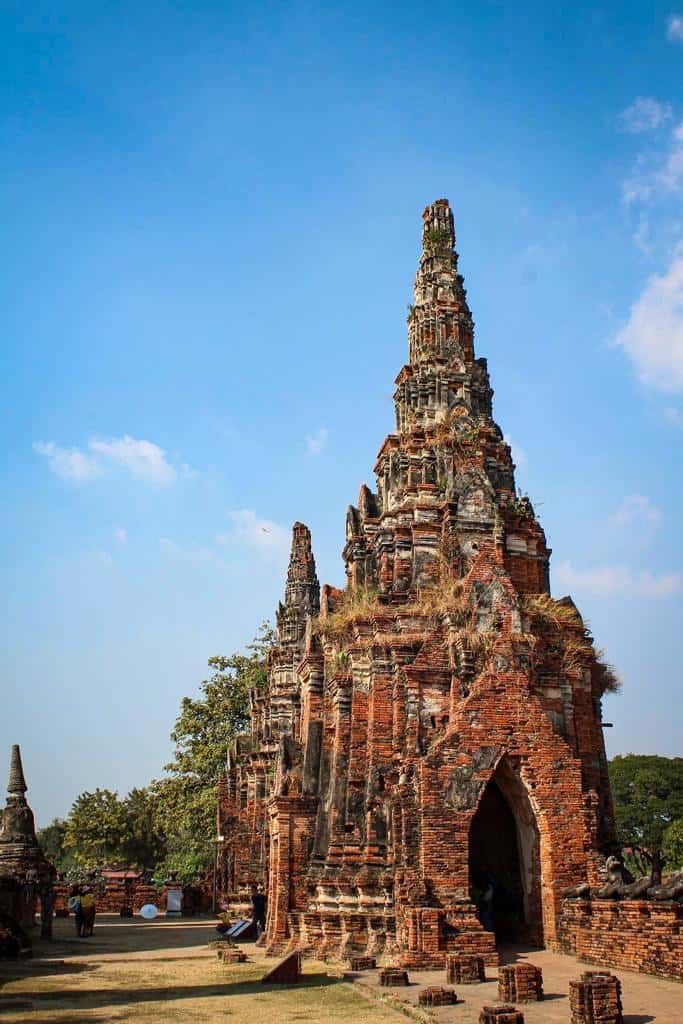 1. What are the temples in Ayutthaya?
The city historic city of Ayutthaya is located around 85 km (53 miles) north of Bangkok. This historic city was founded in 1350 and became the second capital of the Siamese Kingdom, after Sukhothai. The power of Ayutthaya was growing since the 14th century and was often referred to as one of the three great powers of Asia by European travellers. In 1767, Ayutthaya was attacked and demolished by the Burmese Konbaung Dynasty. With this, the 417-year-old Ayutthaya Kingdom became history.
The ruins of the former city are now forming Ayutthaya Historical Park. The site doesn't only contain temple ruins but also ruins of palaces, monasteries and statues. The architecture is a mix of Khmer and early Sukhothai styles. Many of the ruins have been restored, and hold the status of a UNESCO World Heritage Site. With its rich history, ruins of the ancient city and the nearby modern city, Ayutthaya is definitely a fascinating place to visit.
Ayutthaya Historical Park is located on the so-called city island. It is not really an island, but it is that part of the city that is surrounded by the largest river and canals in Ayutthaya. The city centre is also located here. Most temples in Ayutthaya are found in the historical park on the city island, but be aware that quite a few temples also are located outside the city island.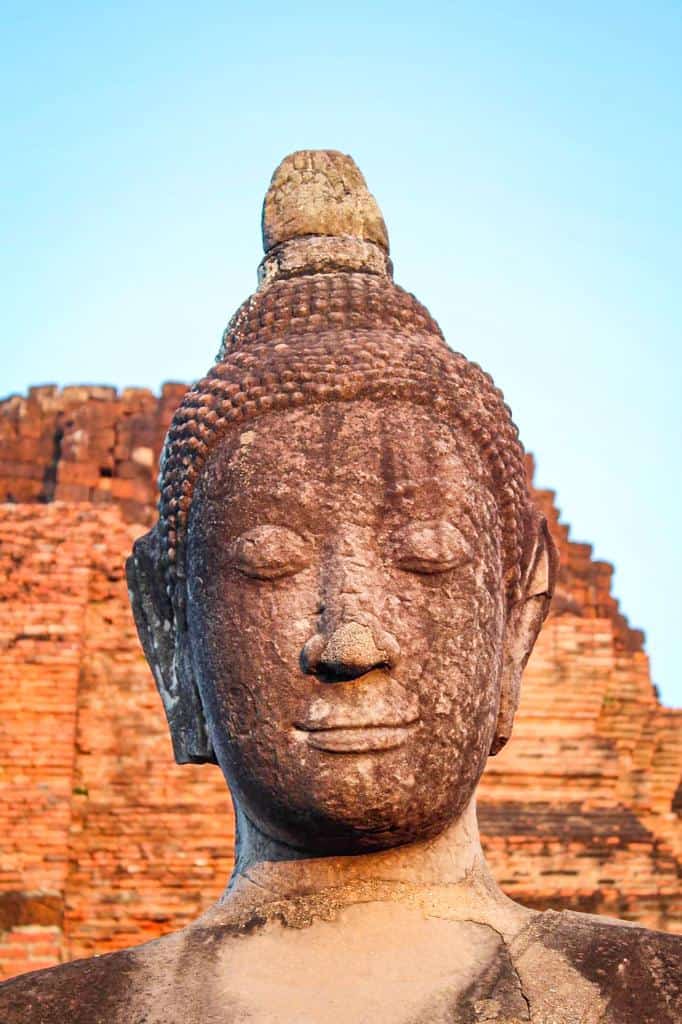 Opening hours for the temples in Ayutthaya
The temples of Ayutthaya where you have to pay an entrance fee are open from 08:00 am to 5:00 pm (although you can often stay a bit longer). These temples are all fenced in, so visiting can only happen during the opening hours. The smaller ruins, the ones that you can visit free of charge, are not fenced in, and can therefore be visited at all times.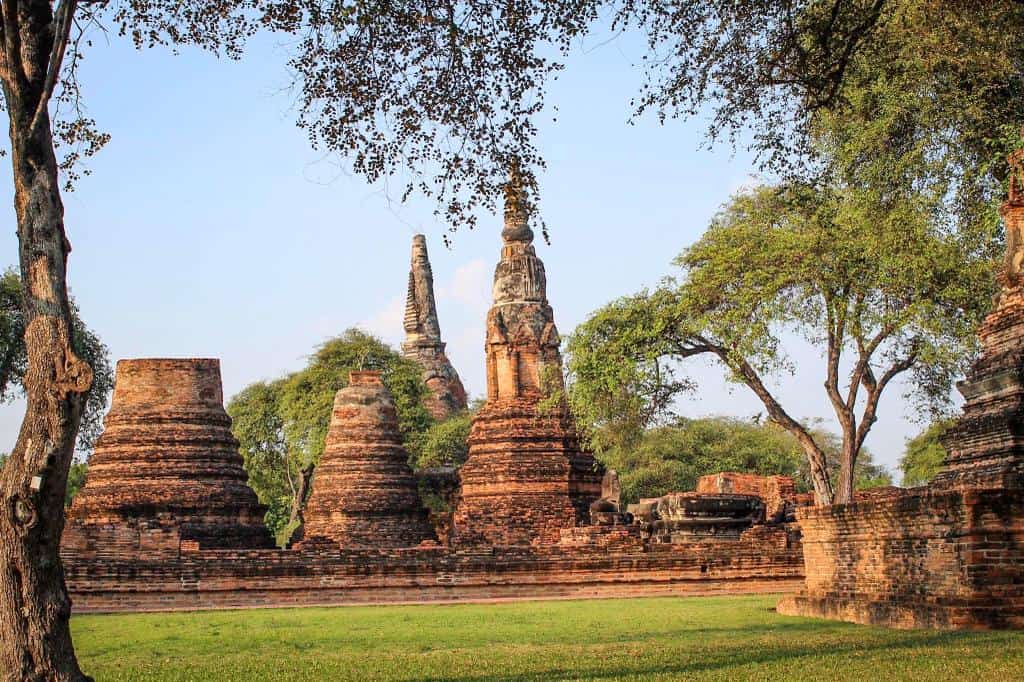 2. How to get to Ayutthaya?
It is rather easy to get to Ayutthaya. It is a stop on the main train line between Bangkok and Chiang Mai, so no matter which direction you travel, you can get off in Ayutthaya. From the train station in Ayutthaya, it is only a short ride with a tuk-tuk or taxi to Ayutthaya Historical Park or the city centre. In Thailand, we prefer to book our transport via the Grab app. It works the same way as Über does.
If you are travelling from Bangkok, our post on how to get to Ayutthaya from Bangkok will give you the best options on how to do so. If you come from Sukhothai, you can reach Ayutthaya with a minibus, or you can first take a Grab or another minibus from Ayutthaya to the train station in Phitsanulok, and from there catch the train to Ayutthaya. In general, it is cheaper to travel by train in Thailand rather than going by the more expensive minibuses.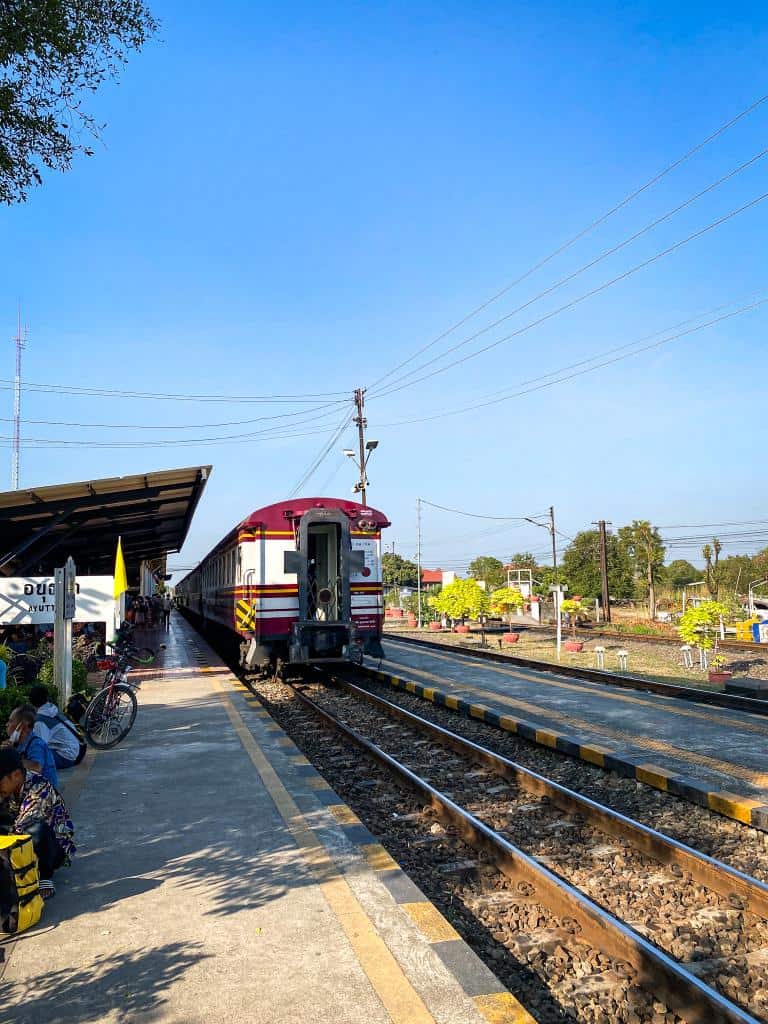 3. How to get around in Ayutthaya?
The best way to get around in Ayutthaya is by bicycle. Even though the most central temples in Ayutthaya are relatively close to each other, there are large distances to cover, especially if you want to see some of the faraway ruins as well.
If you don't like to use a bicycle, it is possible to see many of the temple ruins of Ayutthaya Historical Park on foot, but be aware that there will be lots of walking.
To rent a bicycle in Ayuttaya typically costs 50 THB (€ 1,30/ $1,45) per bicycle per day. You rent your bicycle at one of the bicycle rental shops on the city island, or at the big bicycle shop close to the train station. If you spend more days in Ayutthaya, you can rent your bicycle at your guesthouse.
It is also possible to hire a tuk-tuk to drive you around between the temples. Be aware that the driver will try to overcharge you, so remember to negotiate the price. Normally it should cost between THB 100-200 (€ 2,60-5.30/ $ 2.80-5.70) per hour, or around THB 1000 (€ 26.60 / $28) for the full day.
TIP: You might be offered to do an elephant ride around the city. Please don't! Riding elephants might cause severe damage to the elephant's back, and the elephant driver often uses a hook to discipline the poor animal. Please support animal welfare and refrain from riding elephants anywhere in the world you go!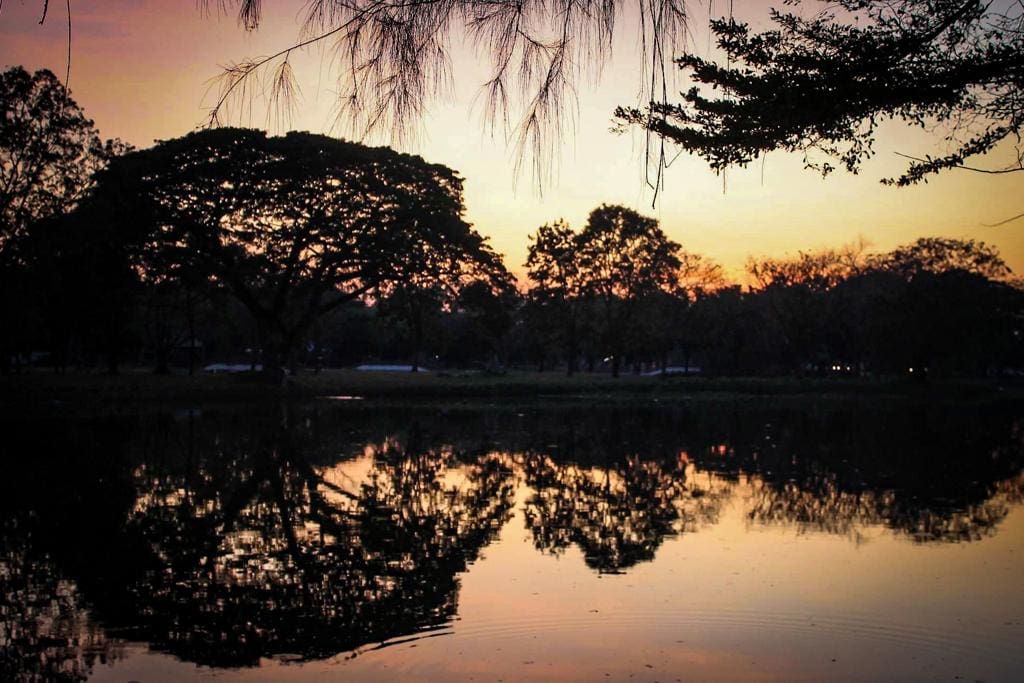 4. How much does it cost to visit the temples of Ayutthaya?
The temples in Ayutthaya have different price categories. Some cost more, some less, while a few are free of charge. The temples regarded as the most important cost THB 50, some costs THB 20 and the smallest ruins in Ayutthaya are for free.
If you plan to visit several of the bigger temples, we recommended buying a combined ticket for THB 220 (€ 5.90 /$ 6.30). This ticket gives you access to six of the most important temples in Ayutthaya. You can purchase this ticket at the ticket counter at any of the bigger temples.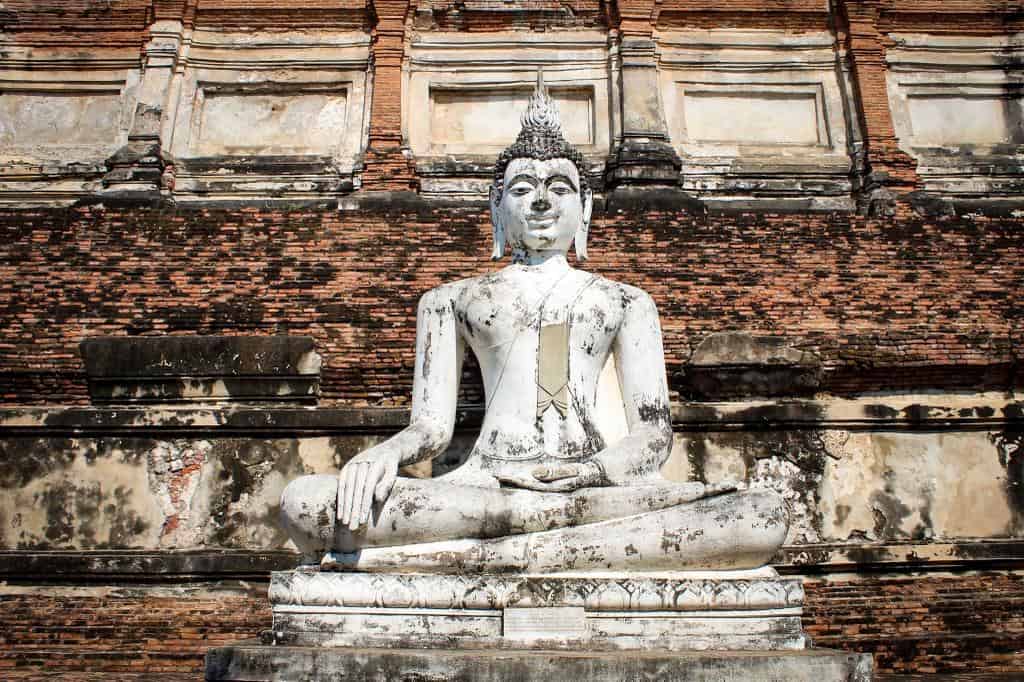 5. Which are the best temples in Ayutthaya?
What are the best temples of Ayutthaya, you might ask? Well, that's of course a personal choice, but some of the temples are really impressive and should not be missed. The list below will give you our favourite temples in Ayutthaya, of which all can be visited with the combined ticket mentioned above.
Wat Yai Chai Mongkhon
This spectacular temple in Ayutthaya happens to be one of our favourites to visit. This temple has a reclining Buddha close to the entrance, but what caught our attention here is the many smaller Buddha figures surrounding the large and impressive, central chedi (a Buddhist stupa). Many of the smaller Buddha figures are draped in yellow or orange fabrics covering parts of the bodies.
Unfortunately, this is one of the most faraway temples of Ayutthaya, but by bicycle, you should be able to reach this temple within 20-30 minutes from the city centre. If you don't plan to rent a bicycle, you will need a car or a tuk-tuk to reach this Ayutthaya temple.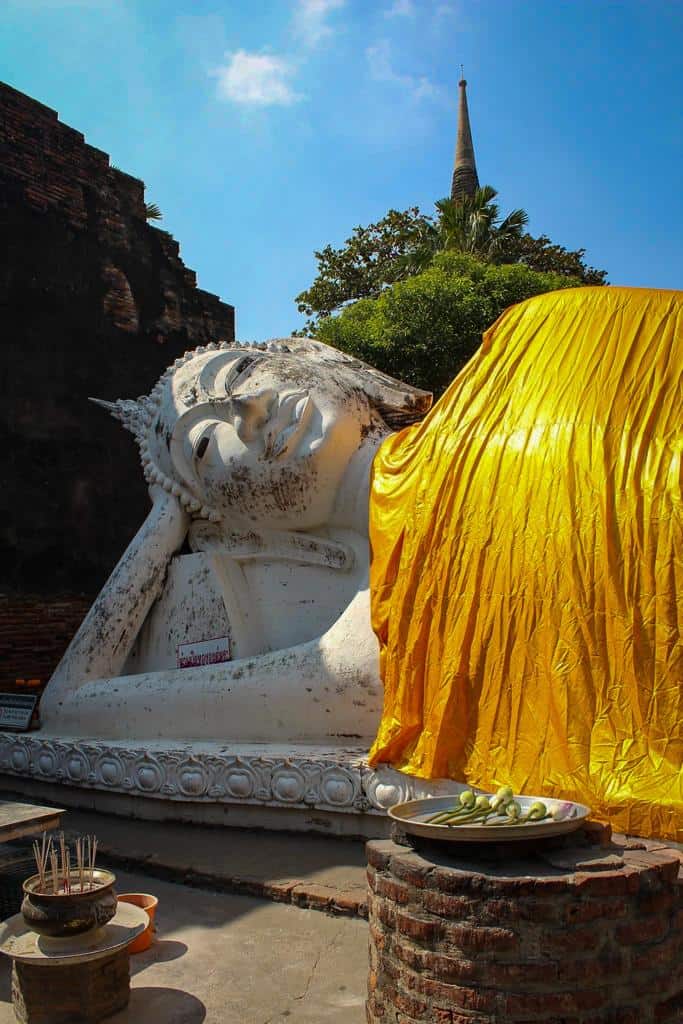 Wat Chaiwatthanaram
The impressive Wat Chaiwatthanaram is another of our favourite temples in Ayutthaya. This large complex has a huge, central chedi, surrounded by smaller (also impressive) chedis. This temple is one of the main sights in Ayutthaya and a major tourist attraction. It can get crowded, so it might be smart to visit here first time in the morning, or late afternoon.
Be aware that the temple grounds of this temple is very open, meaning the sun is strong here so don't forget sun lotion before you go. Also, this Ayutthaya temple is one of the faraway ones. You need a bicycle, car or tuk-tuk to get here. Count around 15-30 minutes by bike to get here, depending on your starting point.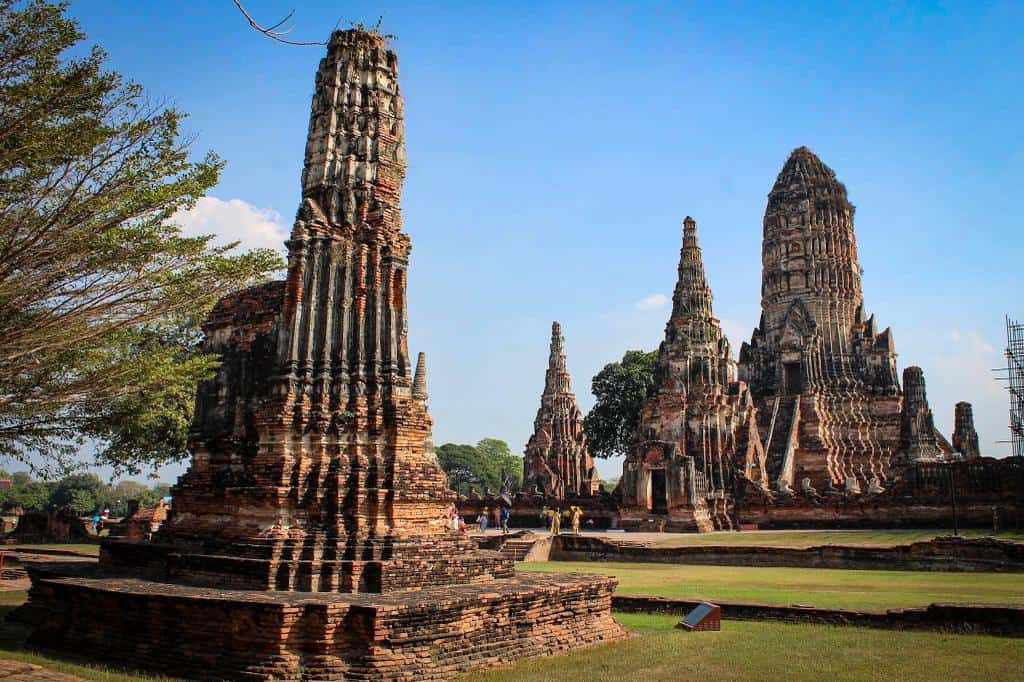 Wat Phra Si Sanphet
Another of our favourite Ayutthaya temples is Wat Phra Si Sanphet. This huge complex was once the holiest temple on the site of the old royal palace in Ayutthaya. It was regarded as the grandest and most beautiful of all the temples in Ayutthaya, so this is not to be missed. Wat Phra Si Sanphet serves as a model for the newer Wat Phra Kaew in Bangkok.
It is located within Ayutthaya Historical Park on the city island, so you will get here easily by bicycle or even by foot.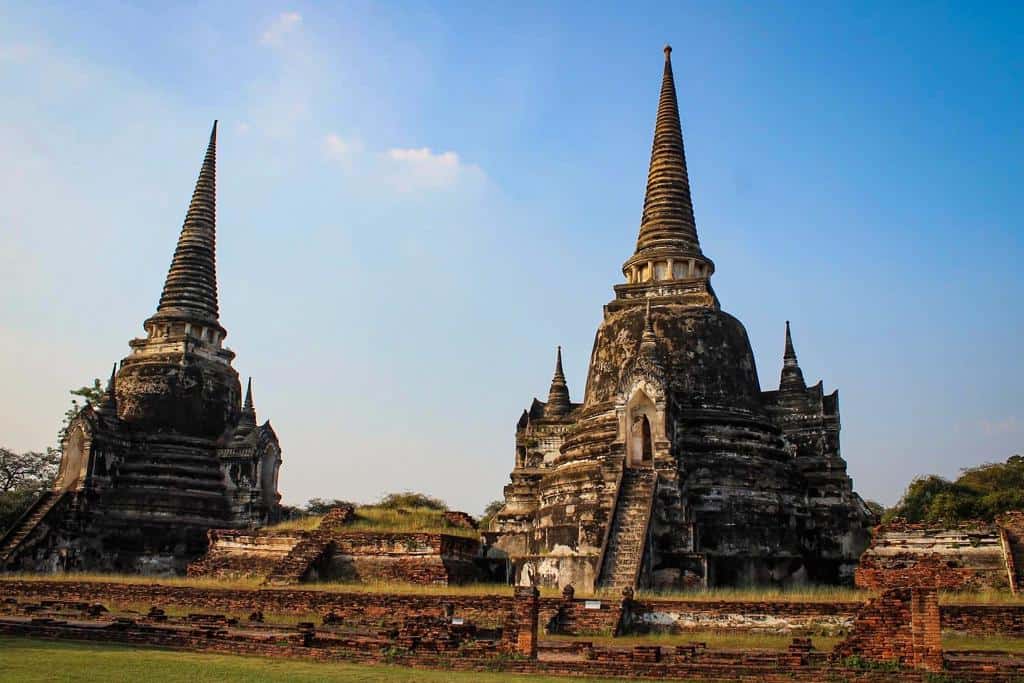 Wat Phra Ram
This crumbling temple in Ayutthaya is also worth a quick stop. It is one of the main temples to visit. It was built as a cremation ground by one king for his father, another former king of Ayutthaya. The large, central stupa is surrounded by several smaller stupas as well.
Wat Phra Ram is centrally located on the city island, and you can easily get here from all over the city.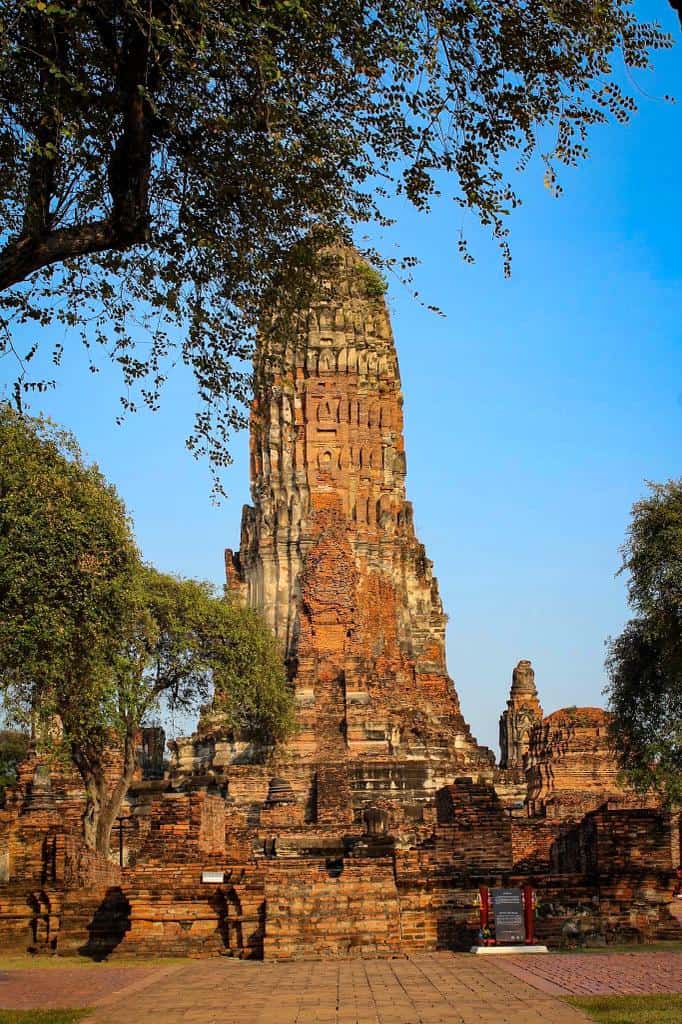 Wat Mahathat
By far, Wat Mahathat is the most popular of the temples in Ayutthaya. The temple itself is very impressive and has several large Buddha statues around the grounds. But what most people come here to see is the famous Buddha head entwined in the roots of a tree.
The Buddha head is one of the most iconic photographic motives from Thailand. It is actually smaller than expected. Also, don't think you will be alone here. Expect long lines of people making selfies in front of the tree. So long, that one might consider if it's worth the wait.
Wat Mahathat is also located centrally in Ayutthaya Historical Park and is easy to reach from all over the city.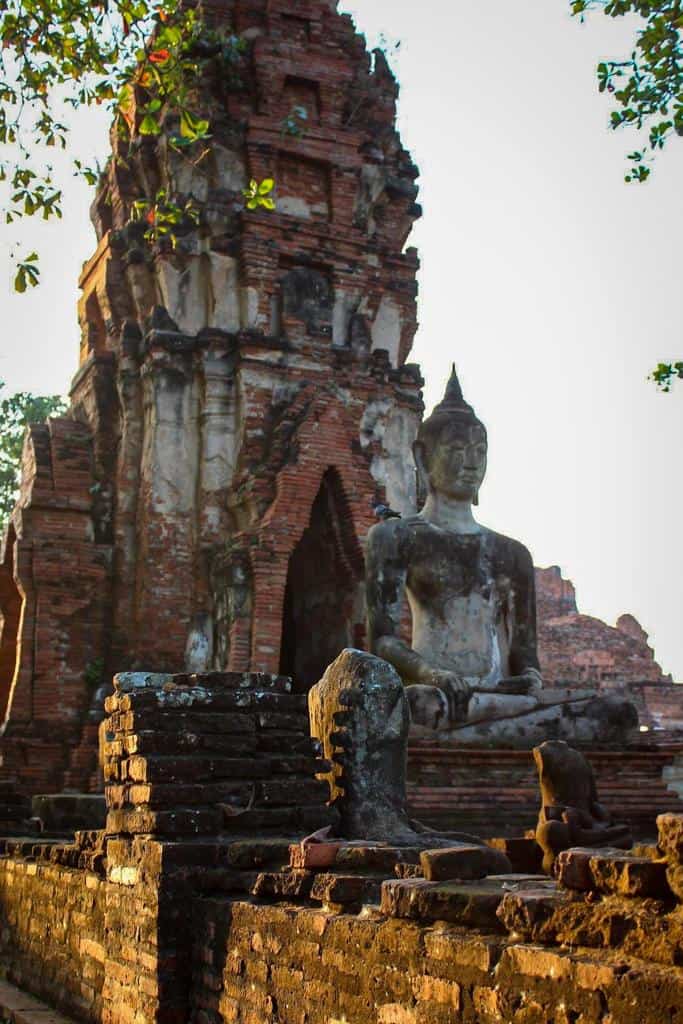 6. Is there anything else to see and do in Ayutthaya?
The temples in Ayutthaya are the main reason to come here, and there's not much else to do in the city. The city centre is not very big, and you can visit here for restaurants and cafes. Coffee Old City serves delicious Thai -and international food. If you are craving western-style breakfast, this is the place for you.
If you spend some time in Ayutthaya, we recommend you visit the night market. Located on a side street in the city centre, the night market is a great place to come for all kinds of street food. The good thing with so many food stalls in one place is that you can easily walk from stall to stall, and try lots of different food from various stalls. We often find this much better than eating one big meal in one place only.
After sightseeing through Ayutthaya Historical Park, you can end your day at the lake in Phra Ram Park. The sunset over the lake is beautiful. Sanoh at Ayutthaya Cafe and Bakery offer pastry, coffee and cold drinks. The cafe is located directly on the lake and has a beautiful terrace with a lake view.