This post may contain affiliate links, where we may receive a small commission if you purchase something through following the links at no extra cost to you.
Vang Vieng in Laos is probably one of the most beautiful places in Southeast Asia. But it is actually not about the town itself, as it is more about the surroundings and the breathtaking landscape. Rice fields, palm trees, limestone cliffs, and rocks as far as the eyes can see. Enjoying this stunningly serene and peaceful landscape is just one of the things to do in Vang Vieng. There are definitely more things to do in Vang Vieng.
Vang Vieng got very well-known and popular in the 2000s when lots of backpackers came to this paradise to go tubing. Almost everyone went to Vang Vieng for that reason. You got a large tube and stopped at several bars for drinks and other stuff. Unfortunately, many people lost their lives while tubing. When you are drunk /intoxicated it is easy to lose control of a river which can sometimes get a bit rough. In 2012, the Lao Government closed down this toxic party scene, since many people died during tubing in Vang Vieng.
Today you still can go tubing but without many of the bars though. Now, they actually offer many different adrenalin-fuelled adventures and activities, e.g. ziplining, rafting, or climbing. It is great to see that the government found good other alternatives to enjoy time in Vang Vieng.
TIP: Read our posts on things to do in Bangkok and the Royal Thai Palace if you are heading there as well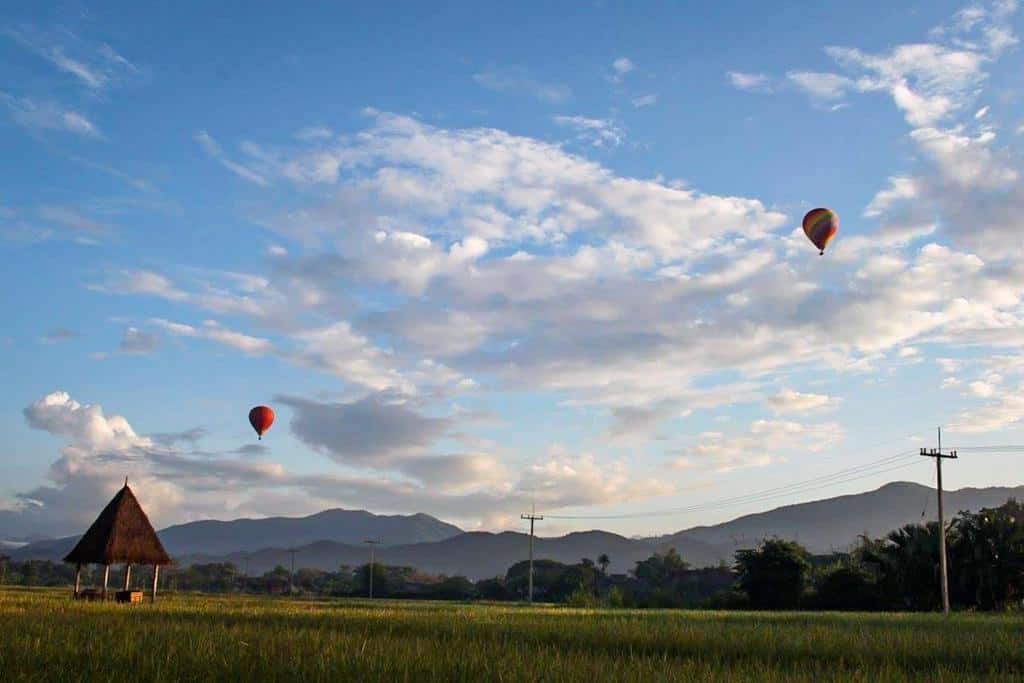 We first visited Vang Vieng in 2014 and again in 2023. We could experience a big change though. There are bigger hotels (especially along the river) and the riverbanks expanded and more developed. Before we could watch the cows along the river and now you can rent boats and kayaks for river tours.
Laos is mostly known for being rural, more authentic, and less visited than the neighbouring countries like Thailand or Vietnam, but of course, Laos also needs tourists and tries to develop interesting tourist hubs. And Vang Vieng is one of them. Also, Laos is still one of the cheapest places to visit in Asia, so your hard-earned money will last longer than many other places.
Even though Vang Vieng's reputation is not the best and it is just known as a party paradise, there are so many cool things to do in Vang Vieng. Many backpackers though go there for tubing and partying but it has so much more to offer. The landscape is simply unique and absolutely stunning.
TIP: Our posts on Ayutthaya and Sukhothai will help you plan your trip to these Southeast Asian destinations as well
The town itself is not the reason to visit Vang Vieng, it is all about the magical landscape. Read more in this blog post about the things to do in Vang Vieng, and how to get to Vang Vang.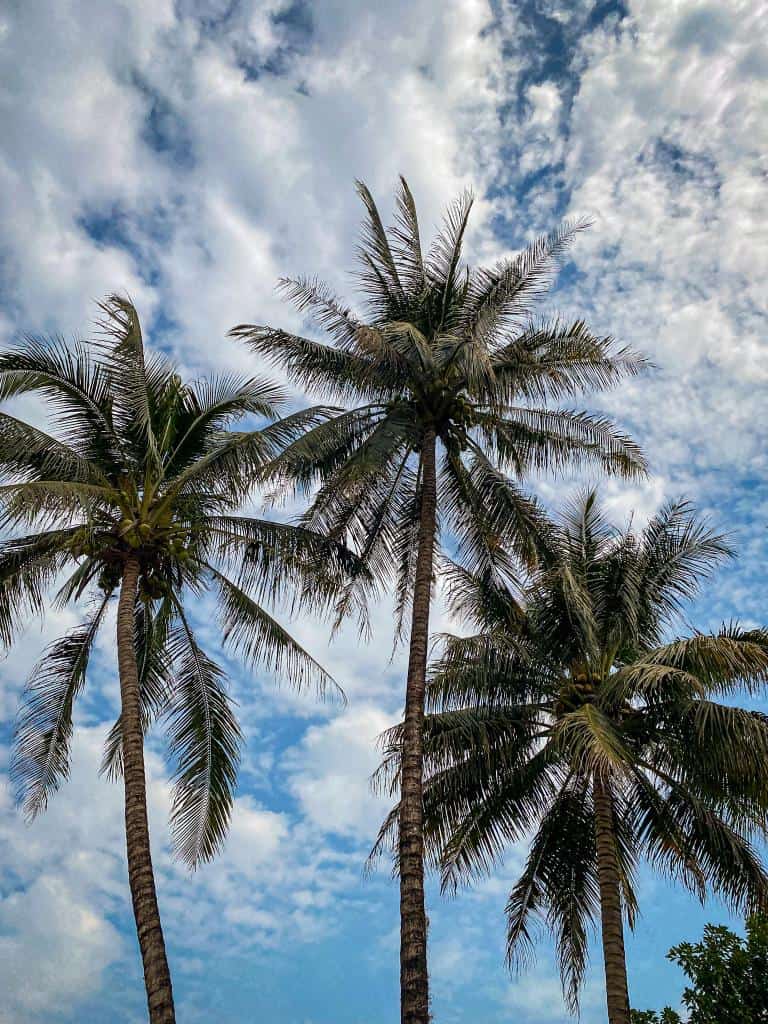 How to get to Vang Vieng, Laos
Vang Vieng is located between Luang Prabang and the capital city of Vientiane. It is easily accessible from these two cities and other destinations from Thailand, Cambodia, and Vietnam as well. Vang Vieng has no airport. The closest one is either in Luang Prabang or Vientiane. We strongly recommend the slow boat to Laos if you are travelling from Thailand.
There are lots of booking offices in the centre of Vang Vieng where you can purchase your tickets to get around in Laos. You usually can get a bus or train tickets from your hotel or guesthouse where you stay. Check prices in different booking offices to find the cheapest tickets or to get a clue of how much it should cost.
Bus to Vang Vieng
Buses are usually a good way to get around in Southeast Asia. They take a bit longer compared to minibuses but are mostly a bit cheaper to get to other places in Laos, e.g. Luang Prabang or Vientiane. To get to other big cities in neighbouring countries like Chiang Mai or Hanoi, you mostly have to change buses in Luang Prabang or Vientiane, too.
Minibus to Vang Vieng
Minibuses leave several times daily to Luang Prabang (6 hours) and Vientiane (3-4 hours). These are the most common destinations from Vang Vieng. Plan a few hours longer for your minibus trip. We experienced that it can take longer due to lunch or toilet breaks or the bad road conditions.
Train to Vang Vieng
The best way to get to Vang Vieng from Vientiane or Luang Prabang is by train. It is a high-speed route and takes a bit more than one hour to get to Vang Vieng. The train route is part of the Lao-China Railway and connects Vientiane and the northern town of Boten on the border with Yunnan, China.
TIP: Fan of train travel? So are we. Our posts on train travel will give you some of our favourite train journeys so far
The train stations and trains are super new since the route just opened in December 2021. You will get a ticket with a designated seat. The trains are air-conditioned and have a small kiosk where you can buy cold drinks or cookies. Be at the train station a bit before leaving. There is a security and baggage check. You are not allowed to bring dangerous items like knives or spray (hairspray, deodorant spray), but you still can bring bottles with water.
TIP: Heading to Chiang Mai or Chiang Rai? Our posts on the best coffee in Chiang Mai and our Chiang Rai coffee guide will show you where to find the best brew in both cities.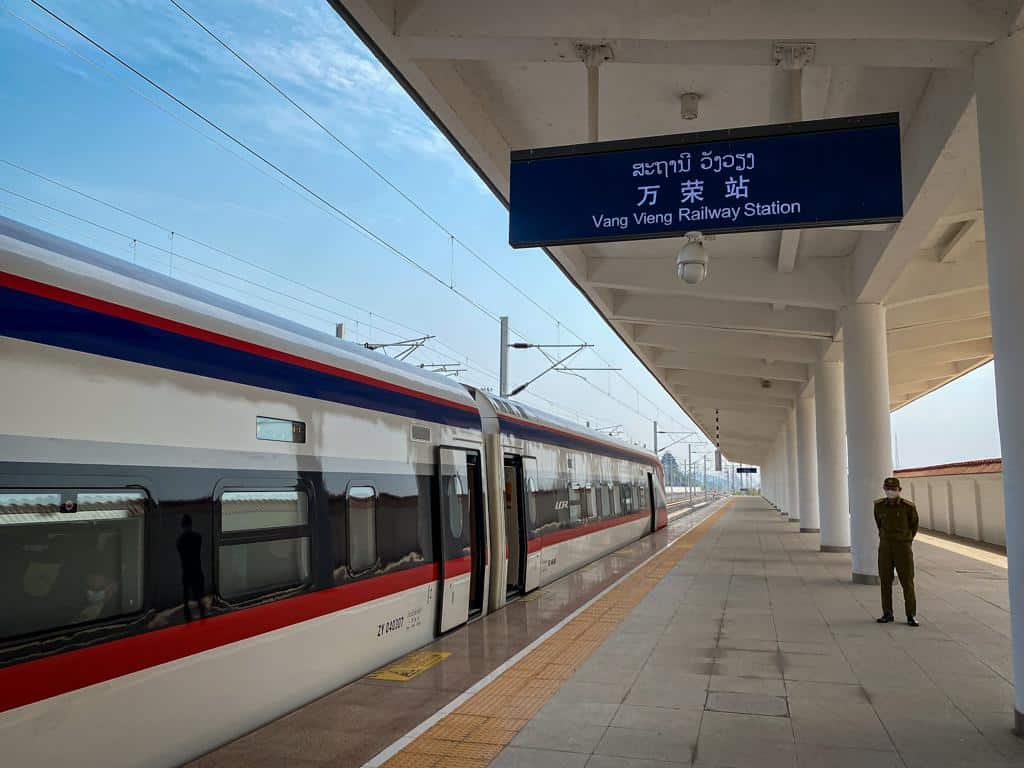 Things to do in Vang Vieng
This list of things to do in Vang Vieng is random and not rated in any way. To do all of these things you should probably count 3-4 days in Vang Vieng. If you are efficient maybe a day less, and if you want more out of your time, you can add more days. In reality, one could spend days on end in Vang Vieng, but not everyone can do that. Even with limited time on hand, you will be able of doing many of these things to do in Vang Vieng.
1. Hot Air Balloon
If you have never done a hot air balloon ride before, then do it there. It is one of the best things to do in Vang Vieng. the views are amazing and it is such a great experience to do a hot air balloon ride in Vang Vieng. You can choose between sunrise or sunset flights. We decided to do a sunrise flight. You usually get picked up from your hotel/guesthouse and drive to the starting point. It is a different experience compared to flying in a plane or paragliding.
When you leave the ground and get higher and higher you can watch the small town waking up from the night. Some people start a fire, monks walk to the temples and the sun turns the sky in all bright colours. It was magical how the morning light changed in such a short time. And the landscape was even more beautiful from above. The flight costs around 100-120 € per person and takes up to an hour in total. Well, we know it is not a cheap thing to do in Vang Vieng but it is definitely a once-in-a-lifetime- experience that we will never forget. You can book your hot air balloon flight at Above Laos Ballooning Adventure.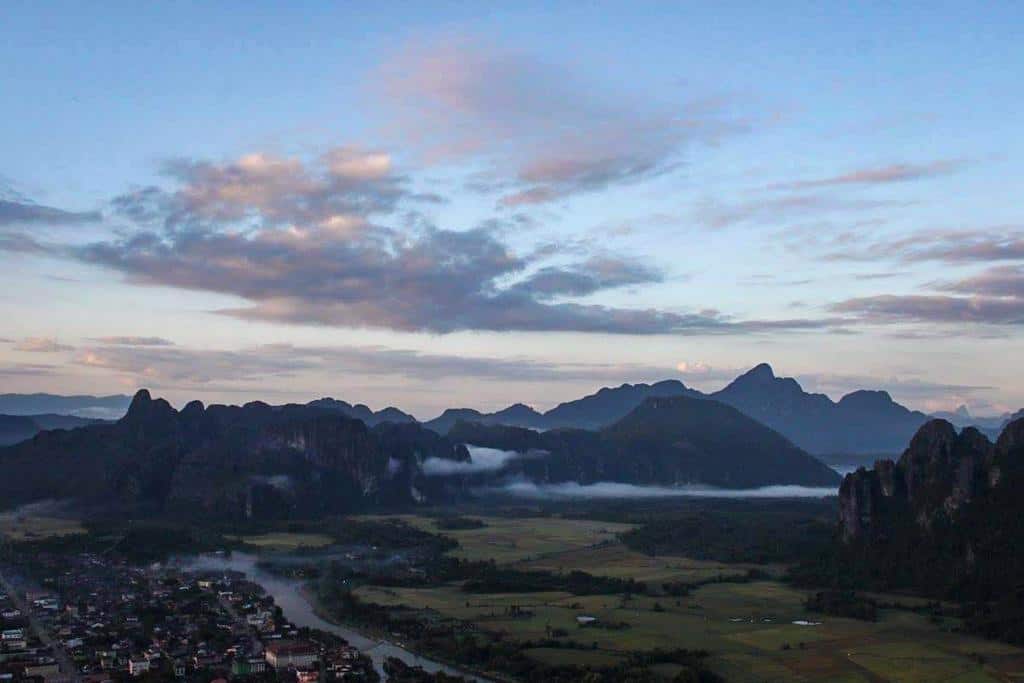 2. Visit one of the Blue Lagoons and the Caves
One of the things to do in Vang Vieng is to visit one of the blue lagoons and the caves. In total, there are three blue lagoons (1, 2, and 3) very close to Vang Vieng. You can easily visit them by renting a bike, or a scooter, or hiring a driver. There are also many beautiful caves which you can visit.
We decided to visit Blue Lagoon 1 and Phu Kham Cave Vang Vieng. Although it is the closest one to Vang Vieng, it might be the busiest one too. But at least you can visit a lagoon and a cave at the same location. It is very crowded but still worth a visit. A bike ride takes you there in around 30-45min from Vang Vieng. You will pass green rice fields and have a great view of the breathtaking rocks until you reach the lagoon.
There is a large parking spot and lots of shops for food and souvenirs around and inside the lagoon area. You need to pay a small fee to enter ( 10.000 KIP). When you are there, it is possible to go swimming or swing off into the blue lagoon (yes, the water is really crystal clear and turquoise blue!) or even ziplining.
And you have the chance to visit a cave there as well. Make sure to rent a head torch before you climb up the steep 200-meter limestone cliffs to the cave. The cave is pretty dark and it is easier to get around there with some light. The cave is called Phu Kham Cave. Inside the cave you find a Thai bronze reclining Buddha from where you can explore deeper galleries that branch more into the mountain.
The Opening hours of Blue Lagoon 1 and Phu Kham Cave are daily from 8 am until 6 pm.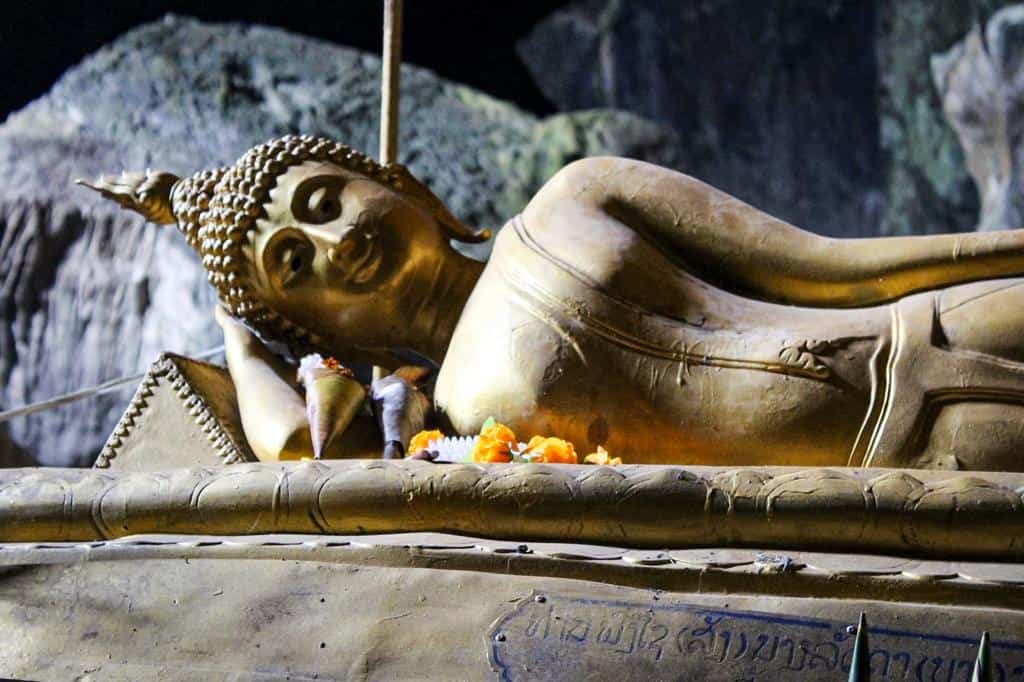 3. Action and adrenaline activities
If you like adventure and action activities, then you should definitely not miss Vang Vieng. It is the place in Laos to kick your adrenaline. There are so many cool things to do in Vang Vieng.
You can choose from tubing, kayaking, rafting, biking, ziplining, or rock climbing. It is a stunning area to fully enjoy any of these action activities. There is something for everyone.
And if you are not so into action sports, you could go on a riverboat tour or rent a buggy to explore the beautiful landscape and /or visit one of the caves and lagoons.
There are many booking offices all over where you can book the best things to do in Vang Vieng. Most accommodations offer tours or rent out bikes, and scooters as well.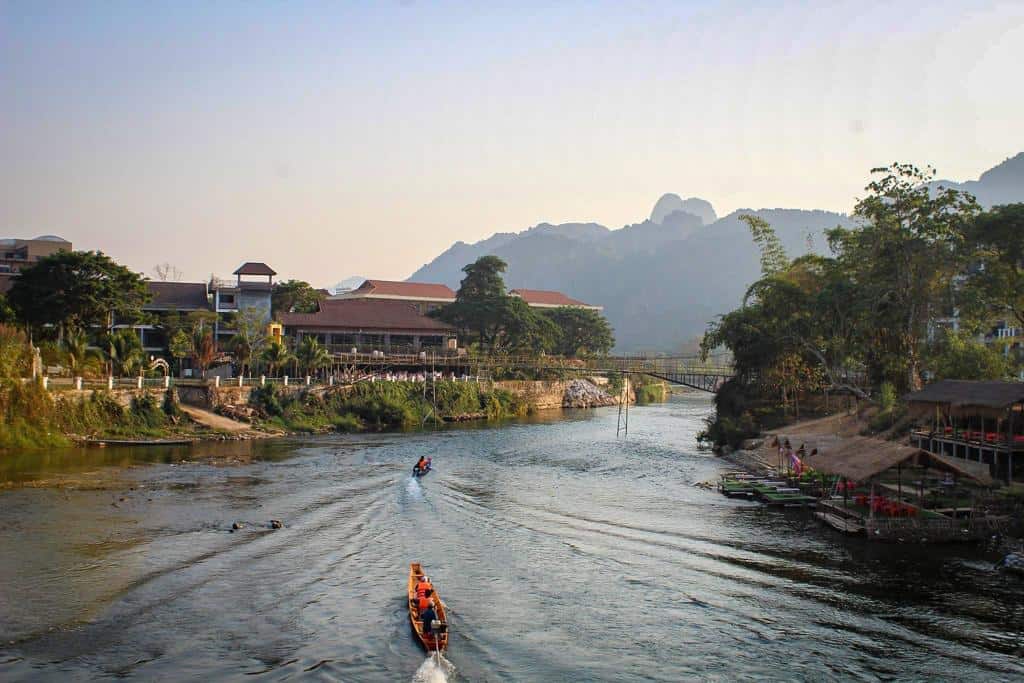 4. Watch the Sunset over the Mountains
Another highlight and one of the things to do in Vang Vieng is to watch the sunset over the mountains. There are several restaurants, bars, restaurants, and cafes in Vang Vieng which have a view over the river and the mountains. From there, you get to watch an amazing sunset.
Our favourite cafe is PullMind Cafe. They offer great coffee specialities and have an outdoor terrace with a spectacular view over bungalows, palm trees, fields, and mountains.
Another great place to watch the sunset in vang Vieng is the Egg Sunset Bar. To get there, you need to cross the Namsong Bridge to get to the other side of town. It is in the middle of fields from where you can spot cows and buffaloes. They offer lots of different seats. With a cold Beer Lao, it is an amazing place to watch the sunset in Vang Vieng.
It is popular with backpackers and tourists. They have a large selection of cold drinks and food and you can even have a bonfire there. It is a great place to relax, meet friends and enjoy the atmosphere during sunset.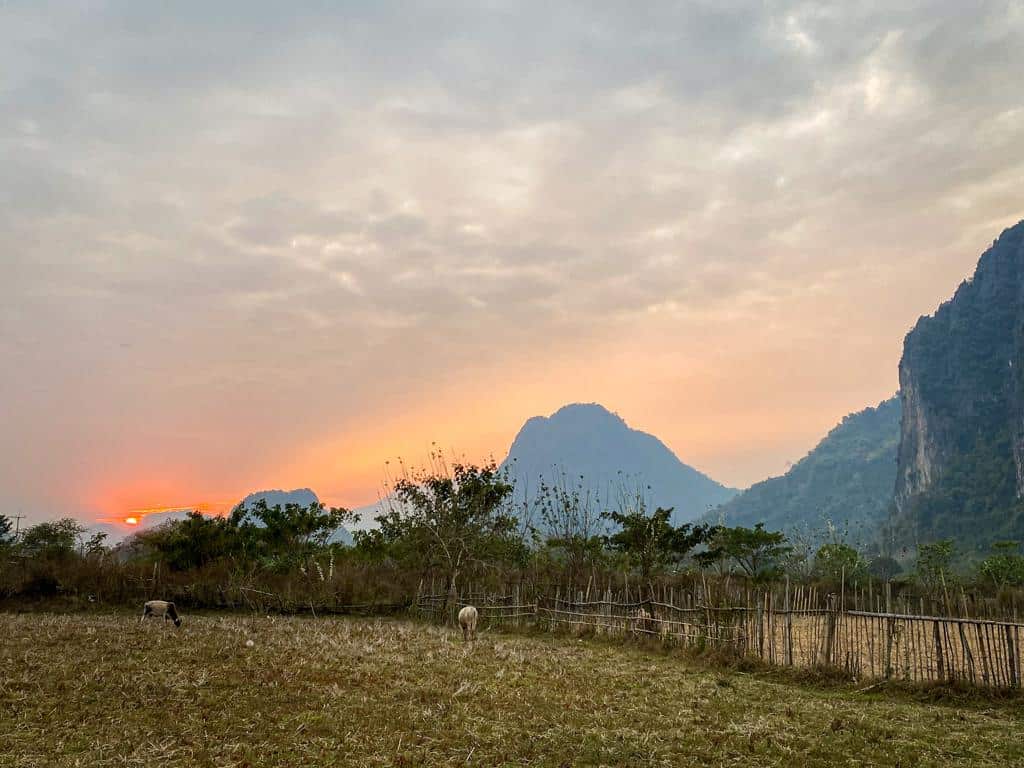 5. Eat street food
Southeast Asia is famous for its street food. And Laos food might not be as famous as Thai or Vietnamese food but it is definitely as delicious as in its neighbouring countries. There are shops and restaurants all over which offer yummy and fresh food. One of the most common dishes is noodle soup. Usually, you can choose if you want to have it with pork, chicken, beef, or only vegetables.
You can even find delicious French baguettes which you can fill with Lao-style paté, egg, pork and vegetables.
TIP: Heading to Hanoi as well? Don't miss our posts on the best coffee in Hanoi and the best things to do in Hanoi before you go
Our favourite food in Vang Vieng is a banana-Nutella pancake. Yes, you will get all the calories for the next few days but it is simply delicious and so worth it. You will find them all over the town and choose different fillings and flavours. Our favourite is the crispy crepe filled with fresh and fruity bananas, Nutella, and a bit of condensed milk on top of it.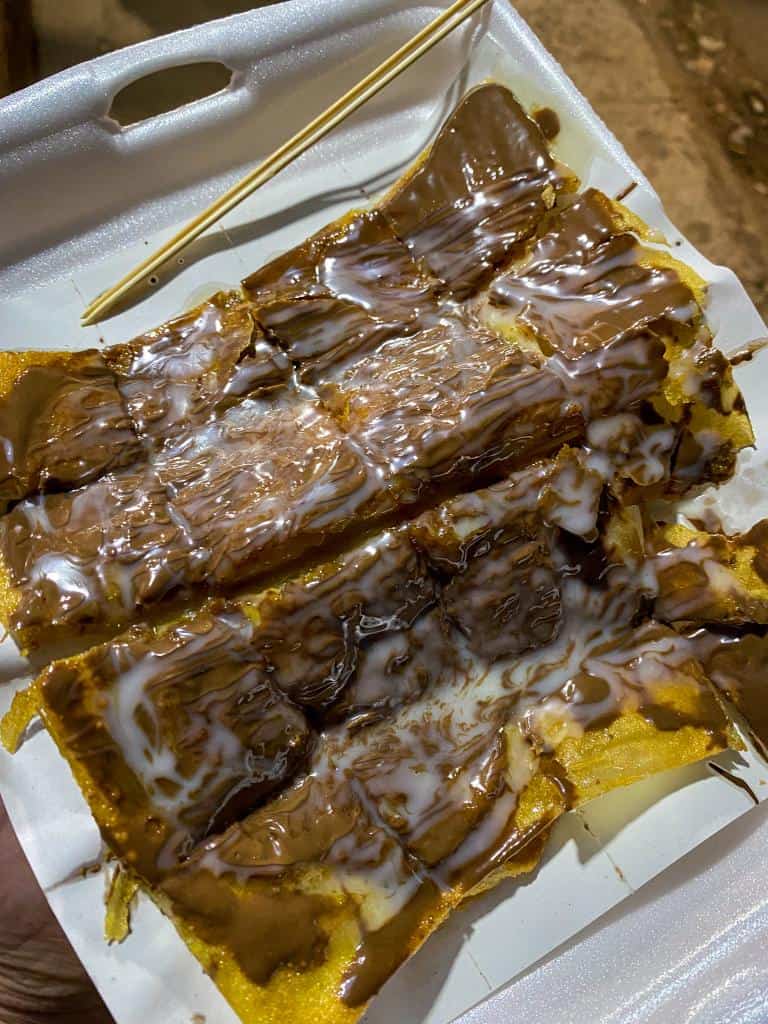 6. Go Hiking
There are many trails to hike around Vang Vieng. One of the most popular summits and hikes is the Nam Xay Viewpoint. You get great 360° views of Vang Vieng and the beautiful landscape, especially for sunrise and sunset. It is for sure one of the things to do in Vang Vieng.
To go for a hike make sure you wear proper shoes (no flip-flops) because it can get slippery or muddy in certain spots, especially during the rainy season.
Another tip is to bring enough water. It can get very hot and humid and if you don't drink enough and might get dehydrated. It is safer to bring enough water to keep away from this situation.
Start your hike earlier in the morning to avoid the heat and the groups. Some hiking trails are very popular and get crowded during the day.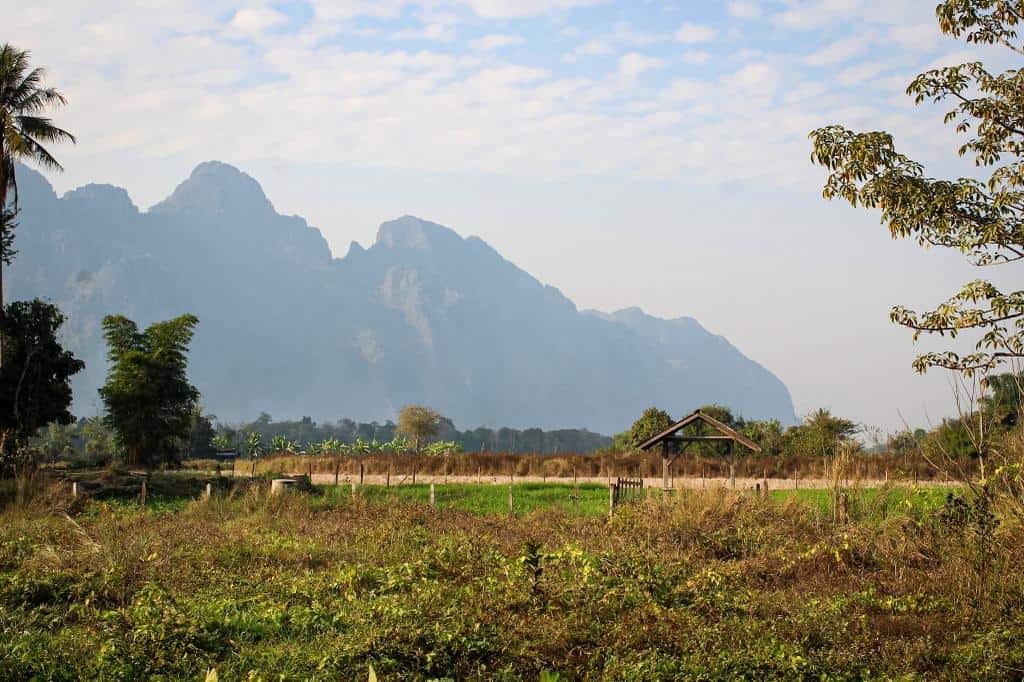 7. Visit one of the Temples
Another great tip for things to do in Vang Vieng is to visit one of the temples. Temples in Laos are mostly free to visit. You can admire the beautiful golden Buddhas and decorations during your visit to a temple.
Temples are always quiet and relaxed places to calm down or to pray. Maybe you can watch some monks praying or you might be lucky and get involved in a talk with them. But you should follow the common rules for a temple visit in Vang Vieng:
Take off your shoes before entering the temple
Cover shoulders and legs (shorts are normally ok)
Keep quiet
Don't smoke
Don't touch anything
Don't eat or drink anything in the temple or on the ground
Turn your feet away from the Buddha
Don't touch the monk
The most central temples in Vang Vieng are What That, Wat Kang, and Wat Si Sou Mang.
TIP: Chiang Mai in Thailand has many great temples to visit. Our post on temples in Chiang Mai will give you more information before you go.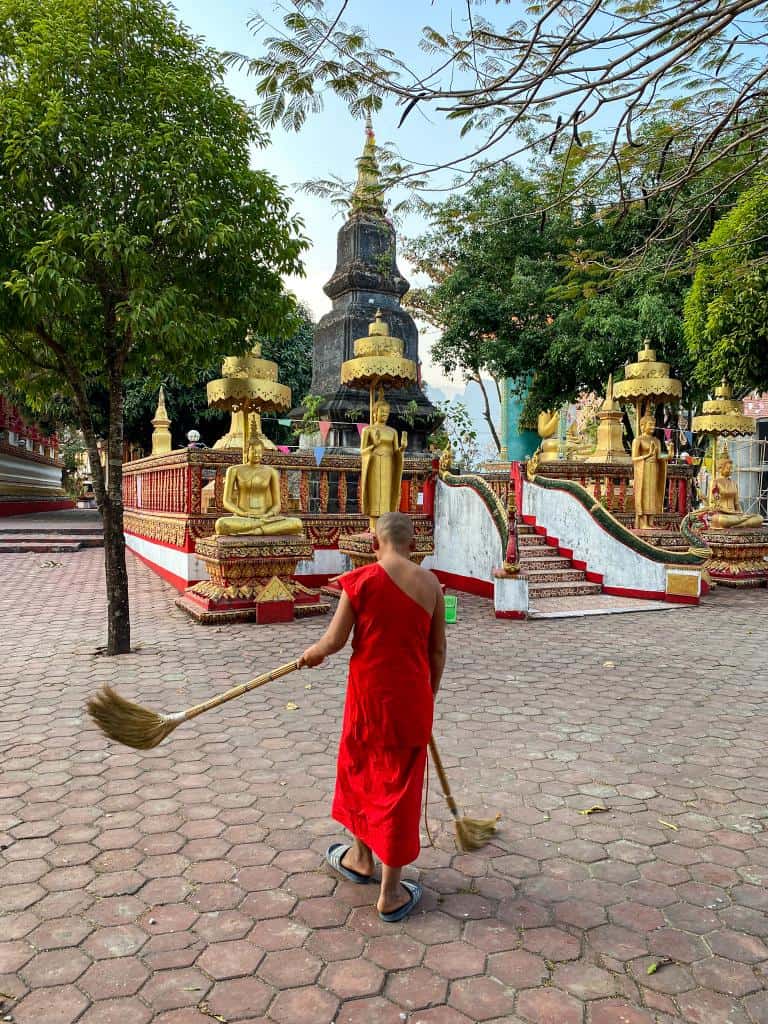 8. Enjoy the river
Enjoying the river Nam Song is a great tip for things to do in Vang Vieng. Life along the river is usually very busy. You can watch kids swimming in there, tourists take boat tours and there are lots of hotels, cafes, and restaurants with a view of the river.
To cross the toll bridge (Namsong Bridge) is made of wood and the most common way to get over to the other side (where you get to the Blue Lagoon 1 or the Egg Sunset Bar). It looks not very safe but many people use this bridge to get over the river to the other side. It is definitely an experience to walk over there and watch the river. During sunset, you can see lots of hot air balloons flying over Vang Vieng.