This post may contain affiliate links, where we may receive a small commission if you purchase something through following the links at no extra cost to you.
Are you planning to travel around North Thailand? Then you should definitely stop in Chiang Mai. Chiang Mai is Thailand's second-largest city with a population of 1,2 Million people. It is one of the most popular places to visit in Thailand, not only because of all the temples in Chiang Mai. But this blog post is all about the best temples in Chiang Mai and we want to show you our favourite temples and where to find them.
Many people usually start in Bangkok to travel north, where they might check out the Royal Thai Palace. On the way to Chaing Mai, they stop in Ayutthaya and Sukhothai to explore these amazing temples and historic parks. We definitely recommend stopping in both towns for at least a day or two. These historic parks are really beautiful and worth visiting.
TIP: Our post on how to get to Ayutthaya from Bangkok will tell you how to do it
When you arrive in Chiang Mai, you will already feel the difference compared to Bangkok. The vibe is more relaxed, the traffic is not as stressful as in Thailand's capital and the city centre is more compact. You find all the big sights in the old town of Chaing Mai which is enclosed by the city wall. Most of our favourite temples in Chiang Mai are located in the old town but some of them are just a bit further out. You still are able to walk to all of them. Thailand is a very child-friendly country, and visiting a few temples is just one of the many things to do in Chiang Mai with kids.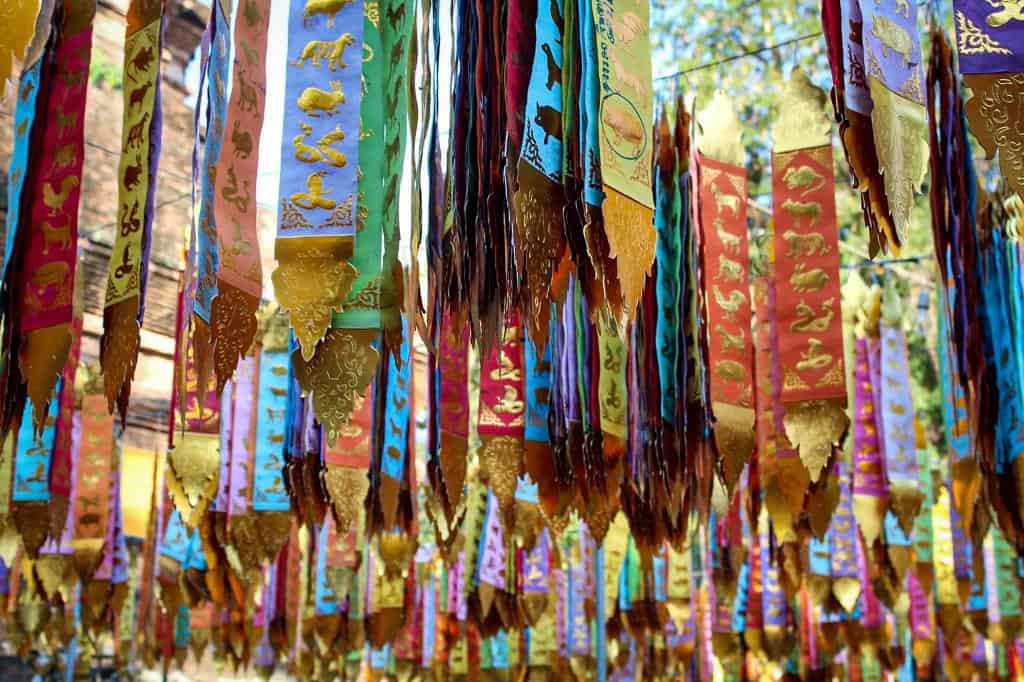 Chiang Mai is a very charming and laid-back city. There are cool night markets, delicious street food in Chinatown and amazing places to find coffee in Chaing Mai.
Most temples in Chiang Mai are Buddhist temples. They are always quiet and relaxed places to calm down or to pray. But you should follow some rules to visit temples in Chaing Mai:
Take off your shoes before entering the temple
Dress modestly: Cover shoulders and knees
Keep quiet
Don't smoke
Don't touch anything
Don't eat or drink anything in the temple or on the ground
Turn your feet away from the Buddha
Don't touch the monk (especially women)
Pay the entry fee before entering the temples in Chaing Mai (if needed)
Some temples offer monk chats
TIP: Visiting Chiang Mai in November? Then don't miss out on Thailand's yearly Lantern Festival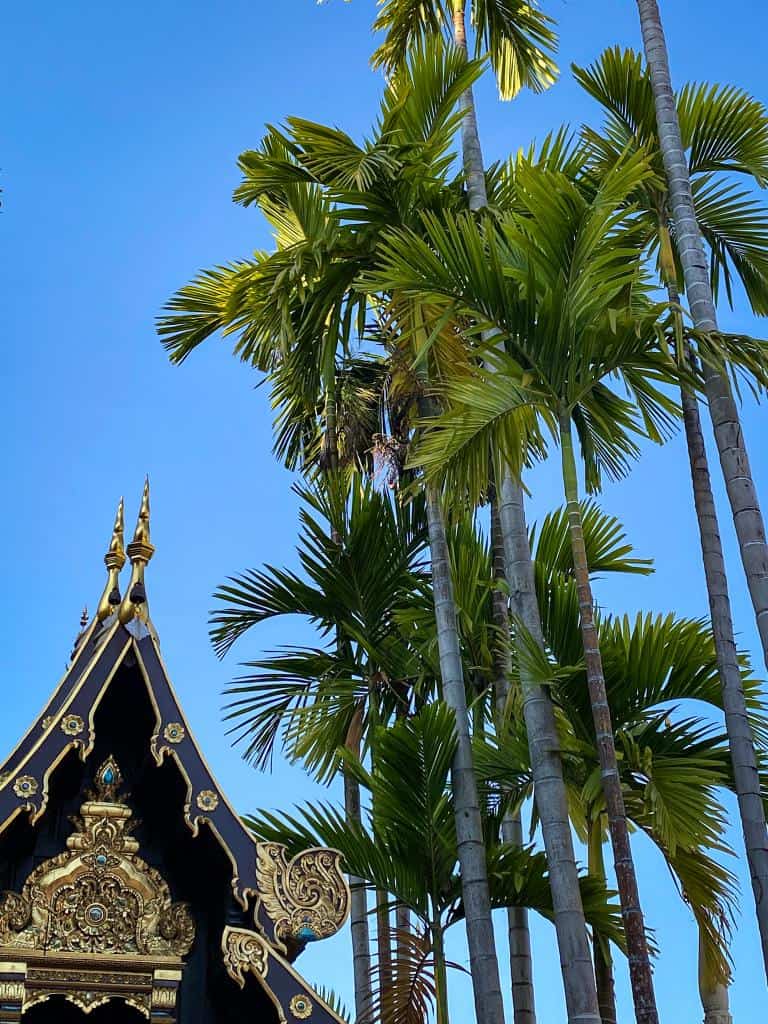 Map of Temples in Chiang Mai
1. Wat Tha Satoi
This Buddhist temple in Chiang Mai is actually further out of the centre and to get there you need to cross the river Ping. The temple is a bit hidden away. The Monastery of Wat Tha Satoi comprises a pagoda made in the early 15th Century and a very large, white statue of Buddha.
Wat Tha Satoi is one of the temples in Chaing Mai which is not very crowded and touristy. We just found it by accident and really liked this one. Next to the temple, there is a school. Maybe you will see some pupils playing football or you can hear them singing from their classroom.
Wat Tha Satoi
Tambon Wat Ket, Mueang Chiang Mai District, Chiang Mai 50000, Thailand
TIP: Heading to Chiang Rai or Hanoi as well? Our Chiang Rai coffee guide and our post on the best coffee in Hanoi will show you where to find the best brew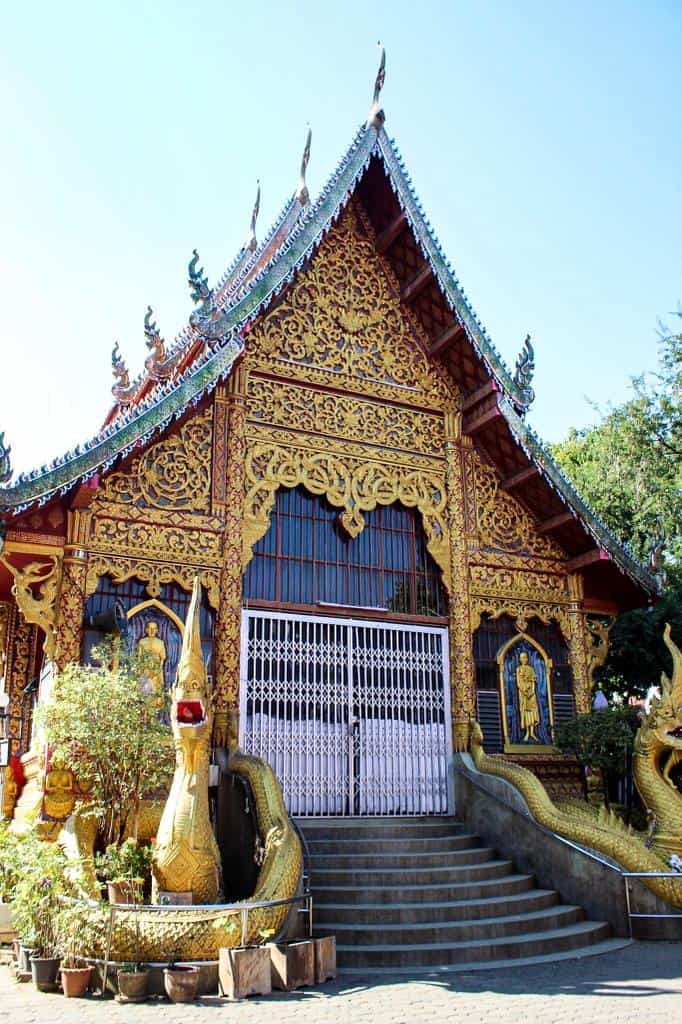 2. Wat Buppharam
Wat Buppharam is one of the temples in Chiang Mai we loved the most. The architecture and style are a bit different compared to other Thai Buddhist temples. You can go a level upstairs and there is a balcony which you can walk around.
The temple complex consists of a Burmese-style bell-shaped stupa (dated to 300-400 years), and a large and small assembly hall. The large assembly hall is a closed hall with walls on four sides and the small hall was probably built 100-200 years ago in wooden Lanna style.
This temple was founded in 1497. It is located on the southern side of Thapae Road, which runs eastbound outside of the old town of Chaing Mai, approximately 530 meters from the East Gate of the old city. The name means East Temple as it was built in the east of the ancient Mueang Chiang Mai.
In contrast to the traditional Thai prayer halls, but also of Lao architecture, which mostly faces east and whose roof is very close to the ground on the sides, this building was built on the plan of a cross.
Temples of the same name also exist in Bangkok, in the Trat Province (Thailand) and in Penang, Malaysia. The old name of Wat Suan Dok on the western outskirts of Chiang Mai is also Wat Buppharam.
The entry fee for Wat Buppharam is 20 THB.
Wat Buppharam
143 Tha Phae Road, Tambon Chang Moi, Mueang Chiang Mai District, Chiang Mai 50300, Thailand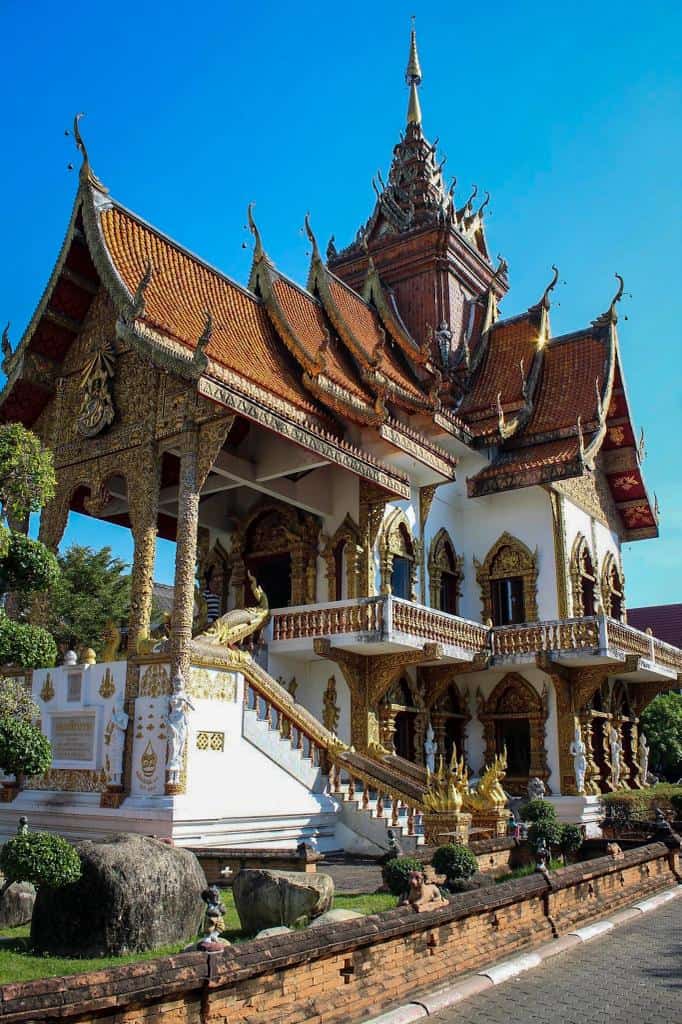 3. Wat Chedi Luang
Wat Chedi Luang is probably one of the most popular and most visited temples in Chiang Mai. Wat Chedi Luang is located in the centre of the old town of Chiang Mai. Originally there were three temples here: Wat Chedi Luang, Wat Ho Tham and Wat Sukmin.
Wat Chedi Luang has a large towering, ruined chedi and is dominating this beautiful compound.
Building the Wat Chedi Luang began in the 14th century when King Saen Mueang Ma wanted to keep his father's ashes there. However, after ten years of construction, the buildings remained unfinished. When the king died, his widow continued with the construction. Probably due to static problems, King Tilokaratcha did not complete the complex until the middle of the 15th century. The structure was 82 meters high and 54 meters in diameter at the base. After an earthquake in 1545, the top 30 meters of the structure collapsed.
TIP: Our posts on things to do in Vang Vieng, Laos and on Luang Prabang will give you lots of inspiration if you will visit Laos as well, and our post on Slow Boat to Laos gives you everything you need to know about the slow boat on the Mekong River
In the early 1990s, the chedi was reconstructed with the help of UNESCO and the Government of Japan. The result was controversial as the new elements are in the typical Central Thai style rather than the typical Lanna style. For the 600th anniversary of the Chedi in 1995, a black jade copy of the Emerald Buddha was placed in the eastern niche.
The entry fee is 40 THB for adults and 20 THB for children.
Wat Chedi Luang
103 Prapokkloa Rd, Tambon Si Phum, Mueang Chiang Mai District, Chiang Mai 50200, Thailand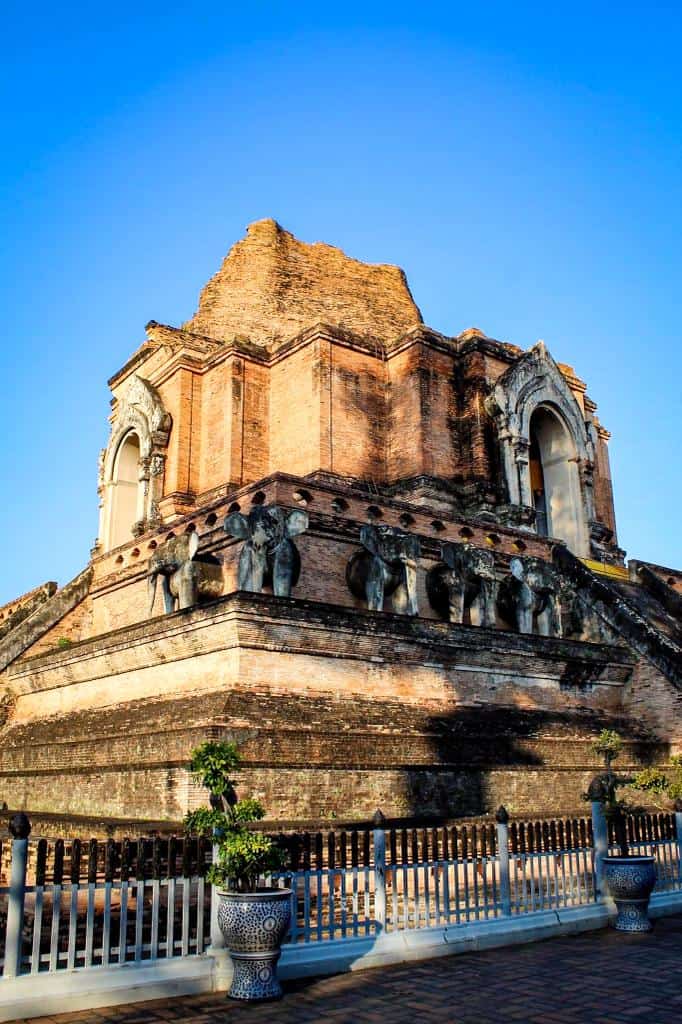 4. Wat Phan Tao
Wat Phan Tao is an ancient temple located next to the sacred Wat Chedi Luang in Chiang Mai town. It is known for its exquisite Lanna-style ordination hall which is made completely out of teakwood. The enormous prayer hall is supported by 28 teak pillars and is lined with dark teak panels where the sacred Phan Tao Buddha image is enshrined.
It is one of the temples in Chiang Mai which are not completely covered in gold. This great temple has easy access and is very walkable if you are staying within the old city.
Entry is free of charge but donations are welcome and appreciated.
Wat Phan Tao
105 Prapokkloa Rd, Tambon Si Phum, Mueang Chiang Mai District, Chiang Mai 50200, Thailand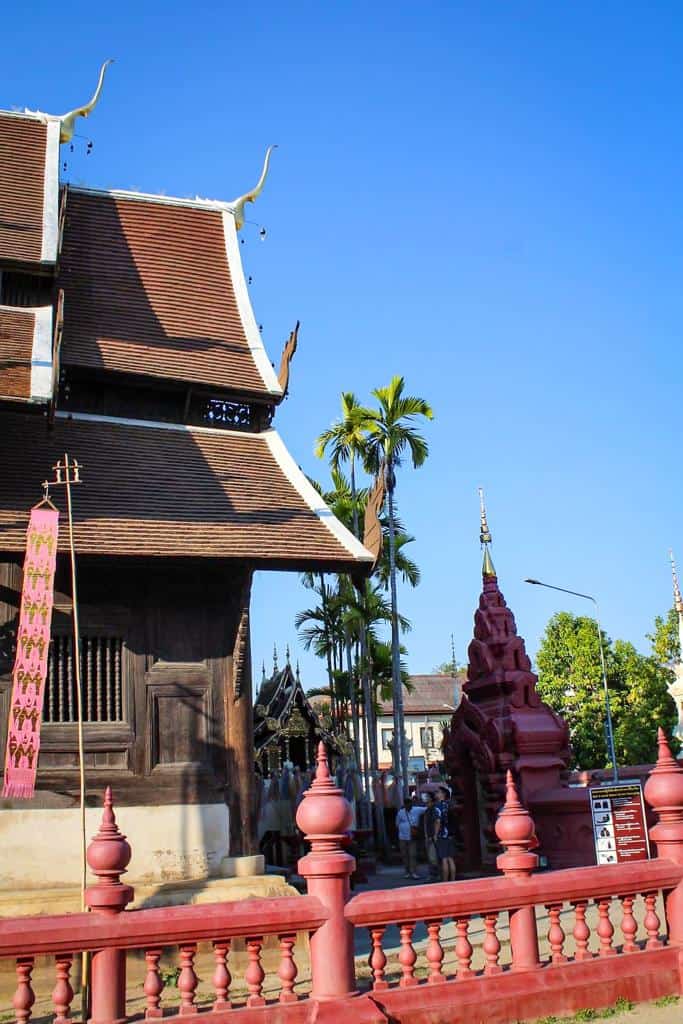 5. Wat Lok Moli
The Wat Lok Molee is one of the older temples in Chiang Mai and is located on the north side of the north moat surrounding the old part of the city, about 400 meters west of the Chang Phuak city gate. Its founding date is unknown, but it was first mentioned in a document in 1367.
The ashes of several members of the Mengrai dynasty were interred in this temple and the royal family took responsibility for maintaining the temple until the end of their dynasty.
The chedi, now in exposed brick stones, stands out among Chiang Mai's many buildings, many of which are freshly plastered, painted or gilded. Other distinctive features of the temple include the naga sculptures crafted from precious woods, and the fact that it is oriented along a north-south axis – most Buddhist temples face east, towards the light of the rising sun.
Admission is free.
Wat Lok Moli
298/1 Manee Nopparat Rd, ตำบล ศรีภูมิ อำเภอ เมืองเชียงใหม่ Chiang Mai 50200, Thailand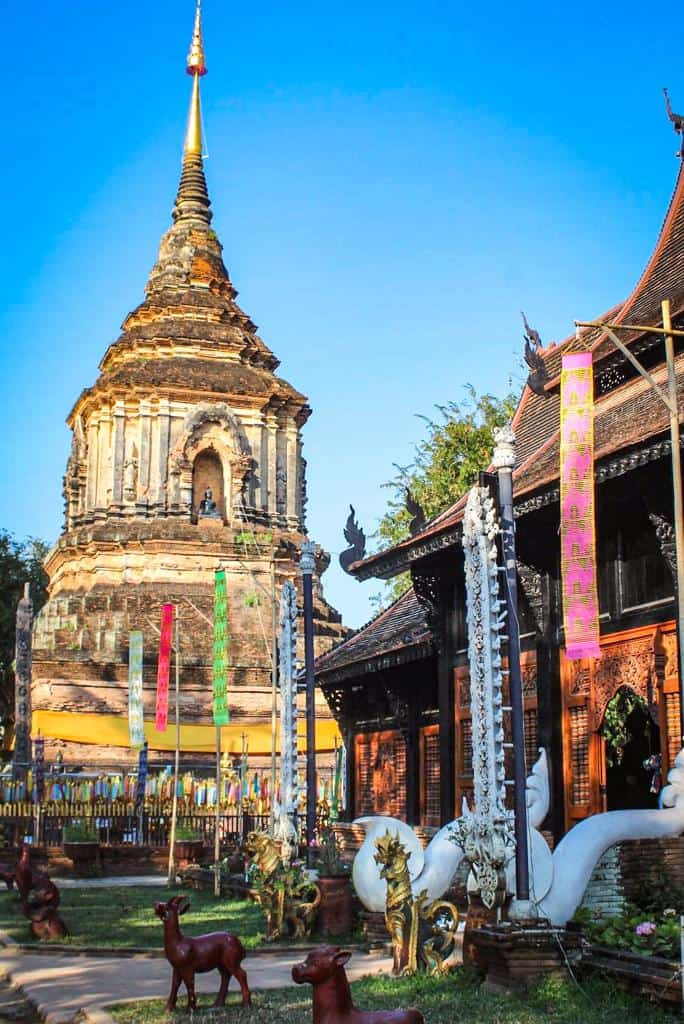 6. Wat Phra Singh
Wat Phra Singh is one of the most revered temples in Chiang Mai and is located in the western part of the old town centre of Chiang Mai. Its main portal, guarded by stone lions, is located at the end of Chiang Mai's main road, Ratcha Damnoen Road.
King Pha Yu founded Wat Phra Singh in 1345 by building a chedi to bury the ashes of his father, King Kham Fu. A wihan and other buildings were added a few years later. The monastery was then given the name Wat Lichiang. During restoration work in 1925, three urns, possibly containing the royal ashes, were discovered in a small chedi. Since that time, however, the urns have not been seen anymore.
Every year, during the traditional Thai New Year's Celebrations, the Songkran festival, the statue is carried through the streets of Chiang Mai in a religious procession during which the spectators and religious people honour the statue by sprinkling water over it. People who are born in the year of the dragon, therefore, like to make a pilgrimage here too.
There are several coffee stands and massage pavilions. Wat Phra Singh is one of the most beautiful and most photographed temples in Chiang Mai.
Admission is free.
Wat Phra Singh
2 Samlarn Rd, Phra Sing, Mueang Chiang Mai District, Chiang Mai 50280, Thailand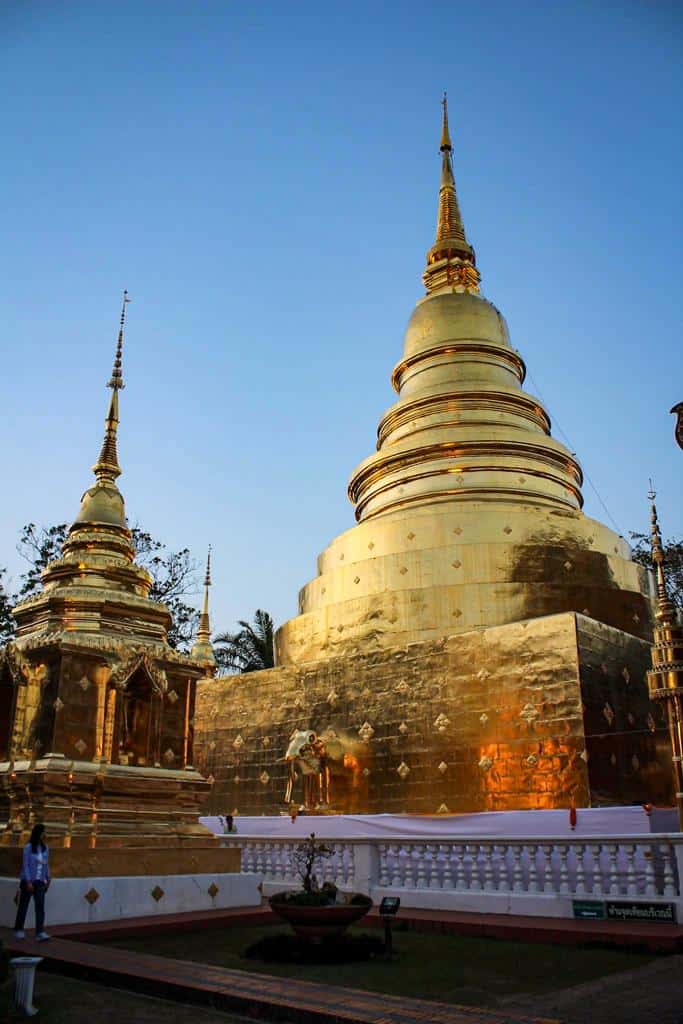 7. Wat Rajamontean
Wat Rajamontean is located just across from Wat Lok Moli. It's definitely hard to miss this temple as it houses a large Buddha statue outside of the temple and faces the street.
The architecture is unusual for Thai temples and incorporates many other stylistic elements, which is probably due to the fact that many of the temple's monks are originally from Laos.
It is one of the temples in Chiang Mai which is renovated and looks very new and fresh. The architecture of the temple is very layered. The main hall has two floors, and the platform outside is also divided into two floors. The temple is mainly covered in brown-red and gold.
Admission is free.
Wat Rajamontean
149 Mueang Chiang Mai District, Chiang Mai 50200, Thailand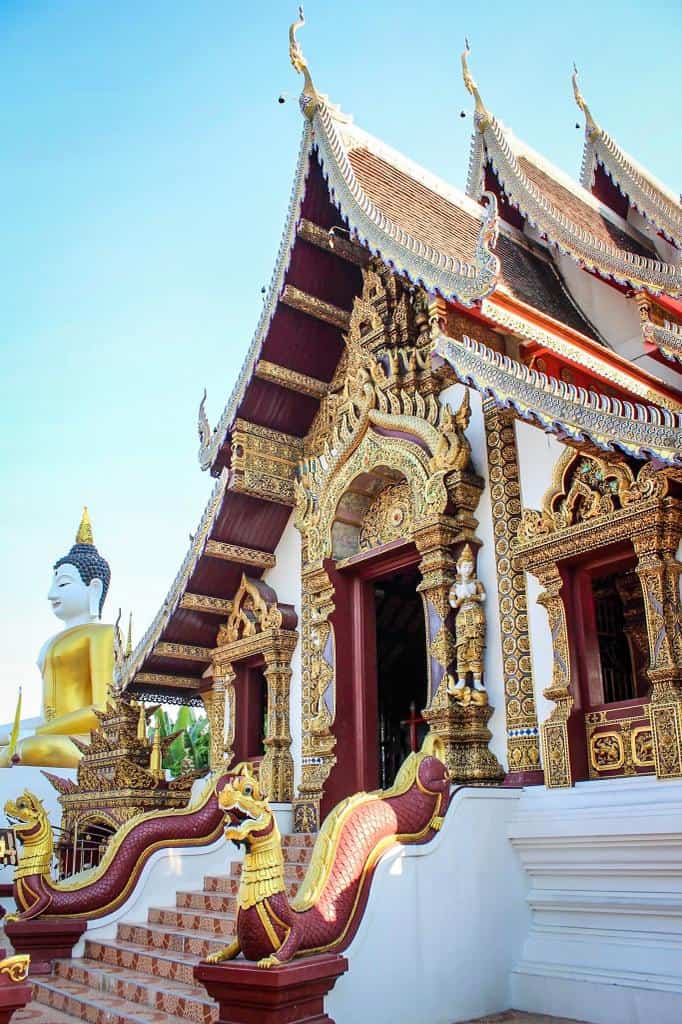 8. Wat Saen Muang Ma Luang
Another highlight of the temples in Chiang Mia is Wat Saen Muang Ma Luang. This one is located on the north side of the old town. Wat Saen Muang Ma is a magnificent temple with grand buildings covered in gilt decoration. The brick chedi looks very old and is crumbling though.
Wat Hua Khang is also known as Wat Saen Mueang Ma Luang after the name of King Sean Mueang Ma of Chiang Main, who established this temple. There were important renovations during the reign of Phra Mueang Kaew around 500-600 years ago.
The assembly hall of this temple was built in Lanna style after the former hall was burned down in a fire. There is also a Lanna-styled stupa and a script library.
The stately dignity of the temple is enhanced by the fact that there do not often seem to be any worshipers in the temple and all doors were locked when we visited this temple in Chiang Mai.
Admission is free.
Wat Saen Muang Ma Luang
175 Prapokkloa Rd, Tambon Si Phum, Mueang Chiang Mai District, Chiang Mai 50200, Thailand