This post may contain affiliate links, where we may receive a small commission if you purchase something through following the links at no extra cost to you.
Do you plan on visiting Hanoi soon? Then you are absolutely at the right place here. This blog post will give you all information that you need for your time in Hanoi, Vietnam. Hanoi is Vietnam's capital with a long history, but it looks bright into the future. While lots of travellers start their Southeast Asian Trip in Bangkok, we would actually recommend Hanoi. It is less busy than Thailand's capital, the centre is very compact and you are able to walk a lot in the city.
Hanoi is a fascinating city with historical influence from China and France. While visiting Hanoi you will experience this by yourself. You can buy baguettes, and see the French Colonial Houses or Temples with Chinese influence. It is a bustling city with a modern twist. Even if you walk around the Old Quarter, you will find modern cafes and restaurants.
TIP: If you are visiting Bangkok as well, our post on things to do in Bangkok will give you lots of ideas while our post on the Grand Palace will give you our best tips before you go there
A lot of tourists will visit or come to Hanoi because of the famous Halong Bay. Hanoi is the gateway for lots of travellers to get to see Halong Bay, but we definitely recommend adding a few more days for visiting Hanoi due to its many sights and great atmosphere in the city. Hanoi is rich in historical sights and has one of the best street food we had on our trip through Southeast Asia. The food scene is spectacular and you will find lots of different dishes which you won't find in other places.
Read on to find out when is the best time to go to Hanoi, how to get to Hanoi and the best places to see in Hanoi and what should definitely not be missed while visiting Hanoi.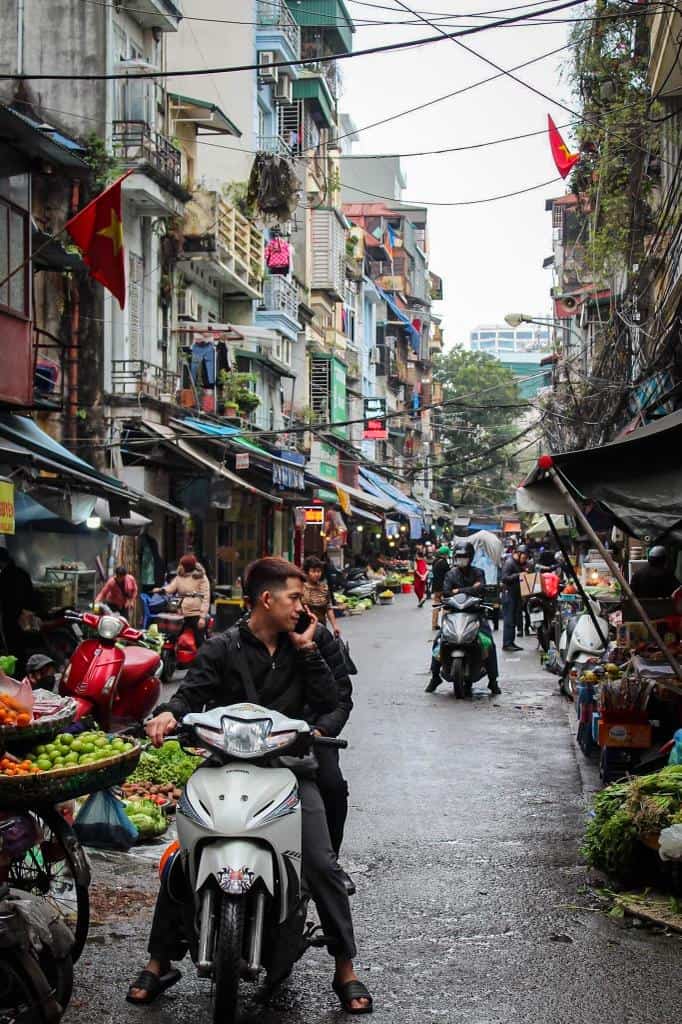 Is Hanoi worth visiting?
Yes, absolutely. We totally loved visiting Hanoi! We have been to other huge Asian cities, e.g. Singapore, Bangkok or Kuala Lumpur but Hanoi was different and surprisingly charming. We heard before visiting Hanoi, that it will be chaotic and crazy but after a while, Hanoi was not like any of these. It is a huge city and busy with friendly people, charming streets and lots of sights to visit. Hanoi is also a very affordable city to visit, so if you are travelling Vietnam on a budget, Hanoi is a good place to stay for some day.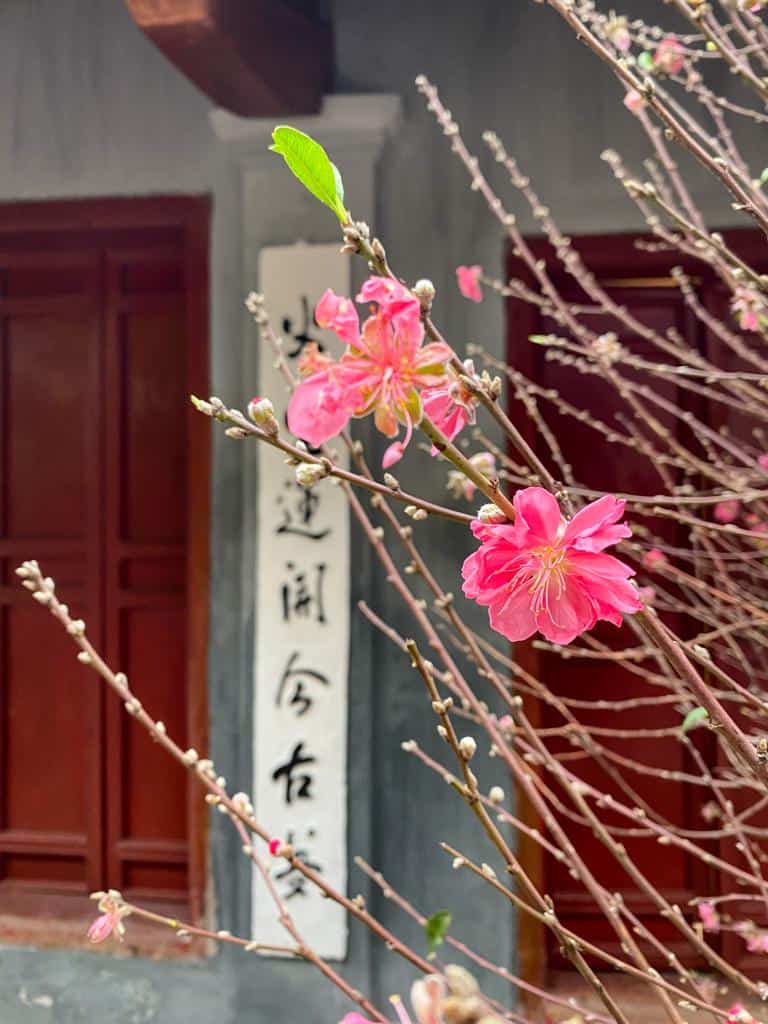 Best time to go to Hanoi
Hanoi is located in North Vietnam with warm and hot summers and mild winters. It is recommended to visit Hanoi between March to May and September to November. These are the two best seasons to visit Hanoi. The peak season in Hanoi is between October and February.
Winter in Hanoi can get quite cold when the temperatures might fall below 10ºC (50ºF) and get hotter in the summer averaging around 28-35ºC (82º-95ºF).
Compared to the tropical conditions in South Vietnam, Hanoi is still tropical but mild. During winter time (November to February) it can get pretty cold and dry. Between March and May, Hanoi is getting warmer and relatively free of rain. Monsoon season in Hanoi is usually between June and October.
Dry season: from November to February
Hot season: from March to May
Rain season: from June to October
April is the hottest, December is the coolest and also the driest and August the wettest month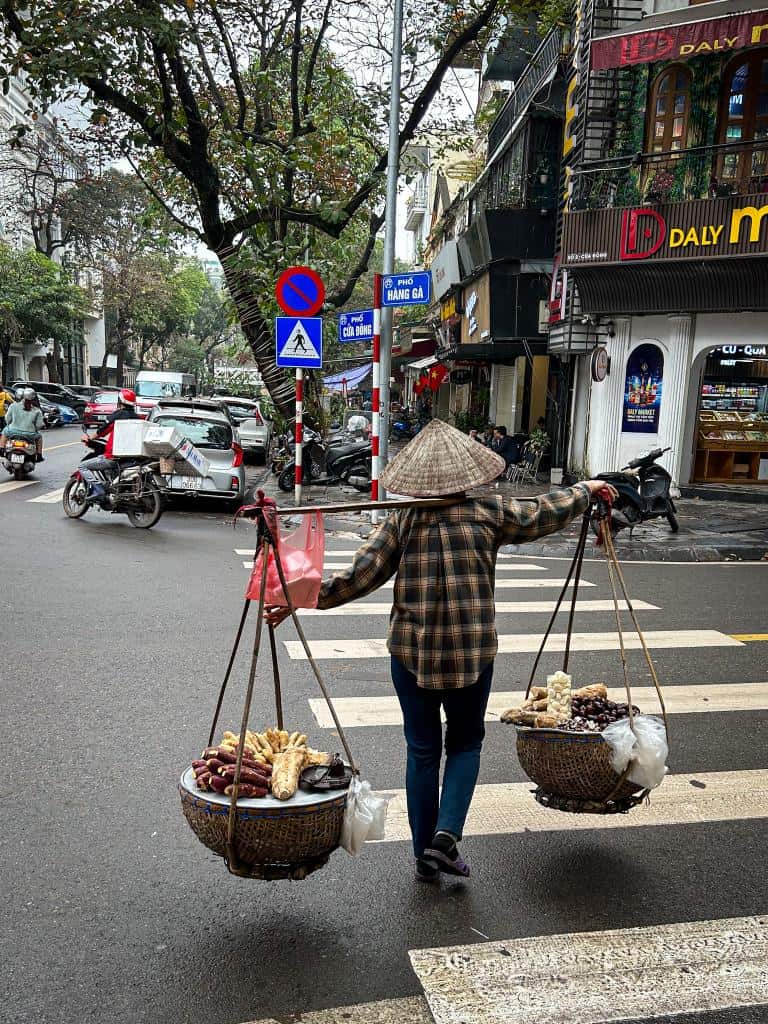 How to get to Hanoi, Vietnam
Hanoi is a major hub for Southeast Asia. Lots of travellers arrive or leave their holiday or backpacking trip in Vietnam. You can reach Hanoi by train, plane, bus, car and motorbike.
TIP: Our post on the best coffee in Saigon will tell you where to get the best brew if you are also visiting the south of Vietnam
Visiting Hanoi is also a popular stop on longer overload trips in this part of Asia, where many start in Bangkok, before visiting places such as Ayutthaya and Sukhothai before going to northern Thailand. From there, many prefer to travel by slow boat on the Mekong, before visiting places such as Luang Prabang, Vang Vieng and the Plain of Jars in Laos, before they finally are visiting Hanoi and Vietnam.
Travel to/from Hanoi by plane
Hanoi's Noi Bai International Airport is located approximately 35km outside Hanoi. It takes around 45 minutes to get to the centre of Hanoi along a modern highway. The airport is well-connected to most of Southeast Asia. There are lots of domestic and international flights to lots of other Asian cities and international destinations.
If you plan to take a local, public bus to the airport, make sure to plan plenty of time before boarding.
Many hotels and accommodations can arrange a pick-up or just order a ride with the Grab app. It works like uber.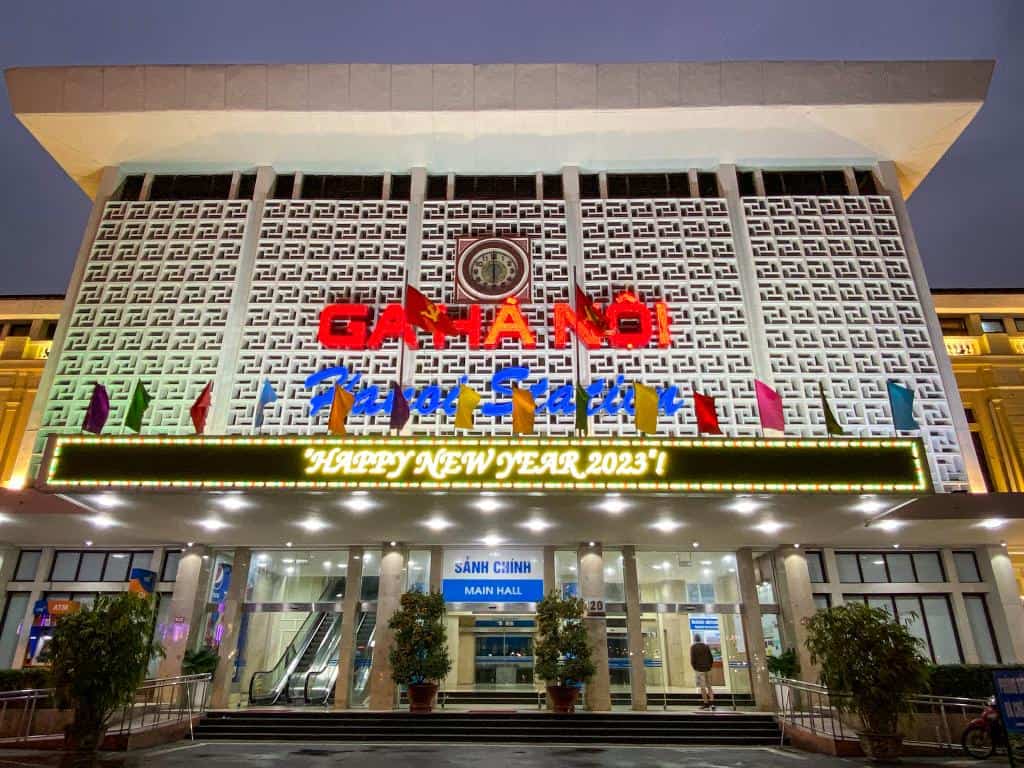 Travel to/from Hanoi by train
When we travel, we prefer to take the train. It is mostly cheaper than flying, environment friendly and very comfortable to get around. There are four main train stations in Hanoi. You can also purchase your train tickets there. Just make sure to bring your passport (or at least a copy of it) to the train station. Book at least a few days in advance, trains can get booked out though.
The train route between Hanoi and Ho Chi Minh City is also known as the reunification express, connecting North and South Vietnam.
TIP: If you also love travelling by train, our posts on train travel will give you some of our favourite train journeys we have done so far
You can reach the most popular destinations in Vietnam by train from Hanoi, e.g. Hue, Da Nang, Nha Trang or Ho Chi Minh City. Some trains even depart from Hanoi to get to China. Make sure to check your correct date, class (sleeper or soft seat) and the right train station. You can check and buy a ticket at 12go. They are a bit more expensive but at least you do not have to get to the train station to buy a ticket there.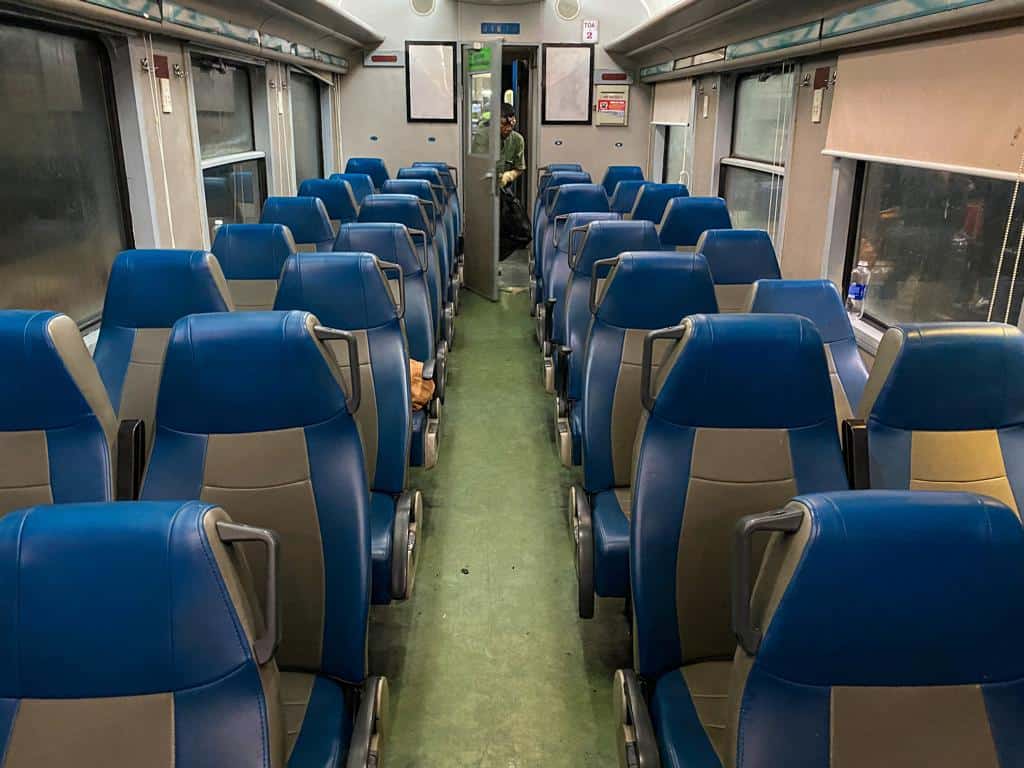 Travel to/from Hanoi by bus/minibus
Hanoi has a great bus network. It is easy to get around by bus and minibus. You not only can get from Hanoi to other destinations in Vietnam but also to cities in Laos and China. A popular bus route is an overnight bus from Luang Prabang to Hanoi.
There are three main bus stations in Hanoi. You can buy tickets at ticket offices at one of the bus stations but it is probably easier to buy them at a travel agent even though it is a bit more expensive. As usual in Asia, you can choose different kinds of buses. For longer journeys, you mostly can buy tickets for a sleeper bus, for shorter distances a minibus is totally okay.
Travel to/from Hanoi by car/motorbike
Some people prefer to be independent and discover Vietnam by themself and of course, you can rent a car or motorbike in Hanoi as well. Especially motorbikes are very popular in Vietnam. Make sure to bring your international driver's licence. You can find places to rent motorbikes all over Hanoi.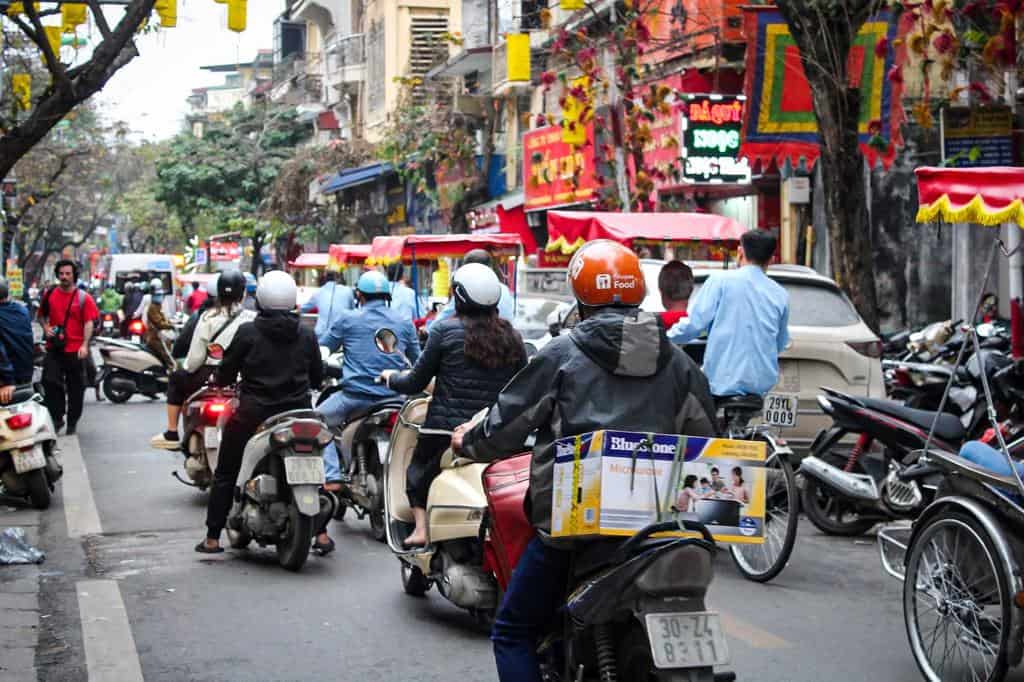 Visiting Hanoi – Map of the top places to visit
1. Imperial Citadel of Thang Long
This is one of the top sights and should not be missed while visiting Hanoi: The Imperial Citadel. It was the imperial hub of several Vietnamese imperial dynasties, under which Thang Long was the capital between 1010 and 1802 with different names. Since 2010, the Imperial Citadel is listed as a UNESCO World Heritage site.
On the large ground, you find beautiful pavilions and gates, several buildings with different exhibitions and even a bunker from the American War period. The highlight is the Doan Mon, the main gate to the former forbidden city in Hanoi.
There are still ongoing archaeological digs on the citadel grounds.
Imperial Citadel of Thang Long
Admission: 30.000 VND
19C Hoàng Diệu, Điện Biên, Ba Đình, Hà Nội 100000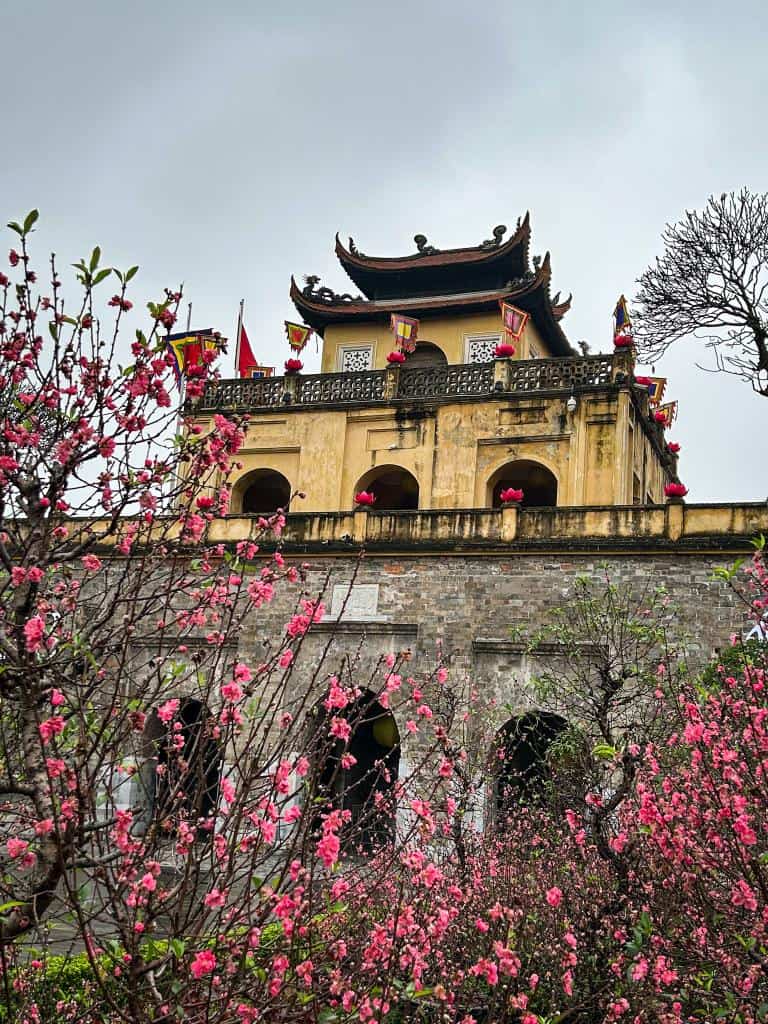 2. Temple of Literature
While visiting Hanoi, you should go to the Temple of Literature. It was founded in 1070 by Emperor Le Thanh Tong and it honours Vietnam's finest scholars. The large temple ground is well-preserved and dedicated to the philosopher Confucius. The many pavilions, halls, and statues are places where offering ceremonies, study sessions and the strict exams of the Đại Việt took place. You can even find the temple on the back of the 100.000 VND banknote.
Temple of Literature
Admission: 30.000 VND
58 P. Quốc Tử Giám, Văn Miếu, Đống Đa, Hà Nội 100000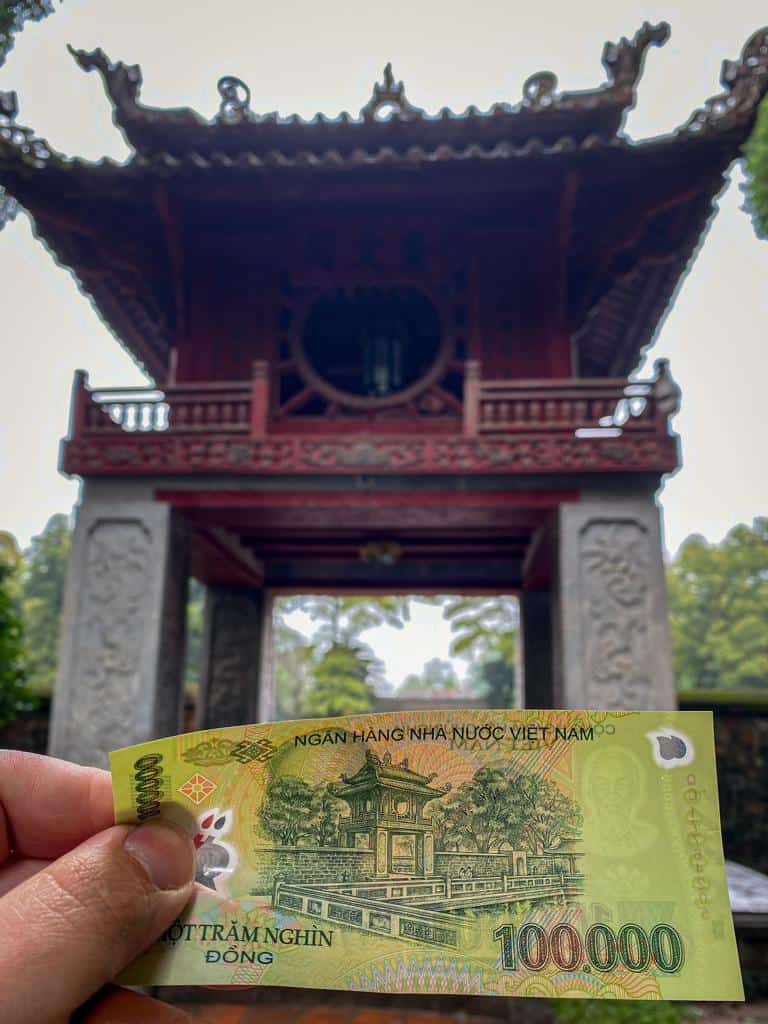 3. Old Quarter
The Old Quarter is located in the heart of Hanoi. You can wander around all these beautiful streets to find cute cafes, shops, and restaurants or just watch life go by. The area is over 1000 years old and the home to trade and business. You can still find wooden storefronts and temples beside all the shops, restaurants, bars and stores (mostly for tourists). Some streets are dedicated to specialized products, e.g. spices or metal.
We would recommend booking your accommodation in the Old Quarter while visiting Hanoi. That is where everything happens and you will find great food spots, and nice cafes and can just enjoy the atmosphere at any time of the day.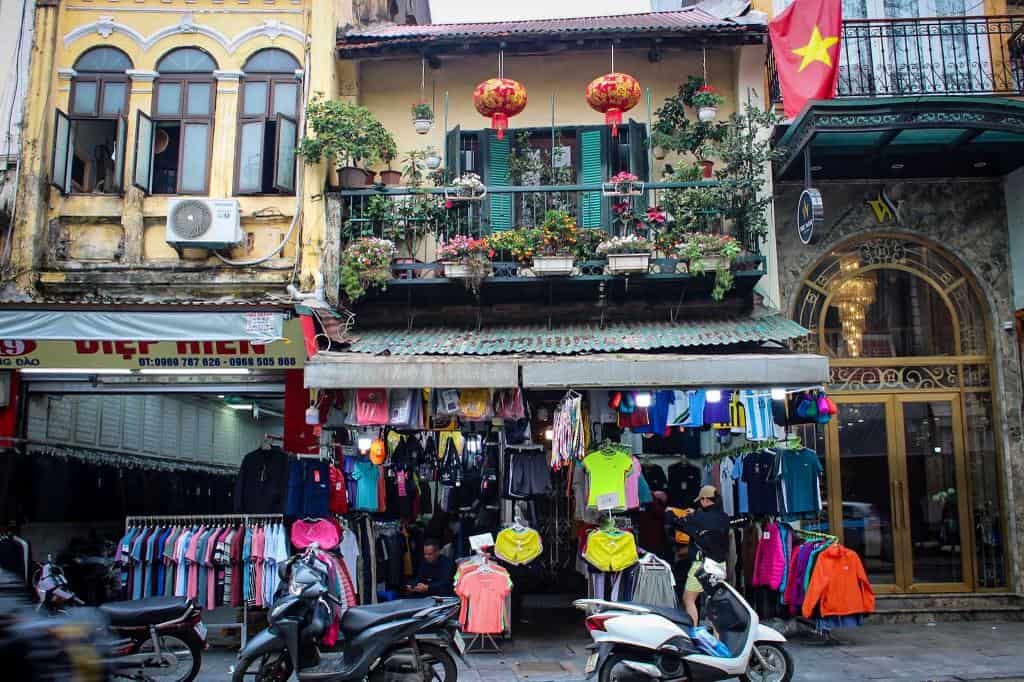 4. Ho Chi Minh Mausoleum Complex
One of the best things to do in Hanoi is the Ho Chi Minh Complex. It is a huge complex which houses the Mausoleum, the Stil House, a Museum, the One Pillar Pagoda and the Presidential Palace (not open to the public). It is free to walk on the grounds and visit the Mausoleum. Before entering the complex your bags will get checked. To enter the Mausoleum, make sure to dress modestly (no shorts, sleeveless t-shirts or hats).
This whole complex is dedicated to the former leader of Vietnam: Ho Chi Minh. You will get lots of insights and information about his life and his creation of Socialism in Vietnam. It is one of the top things to do in Hanoi and is always very popular.
Check the opening times online before arriving at the complex.
Ho Chi Minh Mausoleum Complex
Admission: only the Mausoleum and the complex ground are free
8 Hùng Vương, Điện Biên, Ba Đình, Hà Nội 100000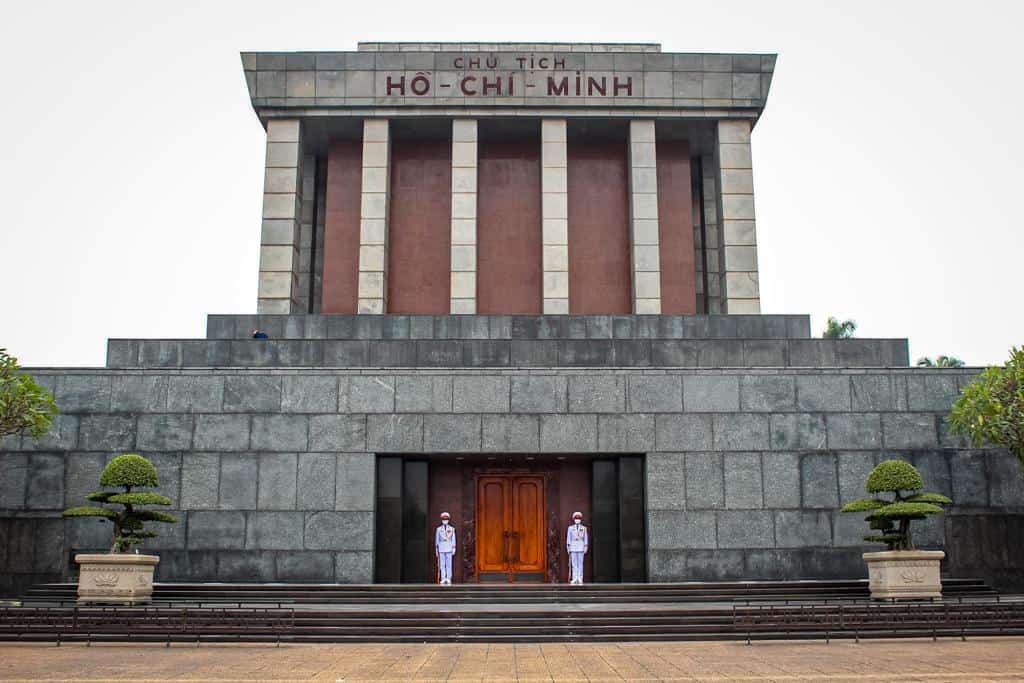 5. Lenin Statue
As in many other Communist countries, there is of course a statue of Lenin in Hanoi. It is located in a park between the citadel and the Ho Chi Minh Complex. And of course, this park is also called Lenin Park now. Russia gave a statue of Lenin to Hanoi in 1892 as a special gift to the capital city of Vietnam. It is actually the only statue of the Soviet dictator in Southeast Asia. The park is a popular hangout for locals to meet or do some sports together.
Lenin Statue
28A Điện Biên Phủ, Điện Biên, Ba Đình, Hà Nội
6. Hanoi Opera House
One of the things to do while visiting Hanoi is to go to the Hanoi Opera House in the French Quarter. It was built in 1911 and it has 900 seats. The Opera House is designed in neoclassical French-colonial style with Gothic pillars and domes.
For performances check their webpage to watch a great ballet or dramatic opera show.
Hanoi Opera House
1 Tràng Tiền, Phan Chu Trinh, Hoàn Kiếm, Hà Nội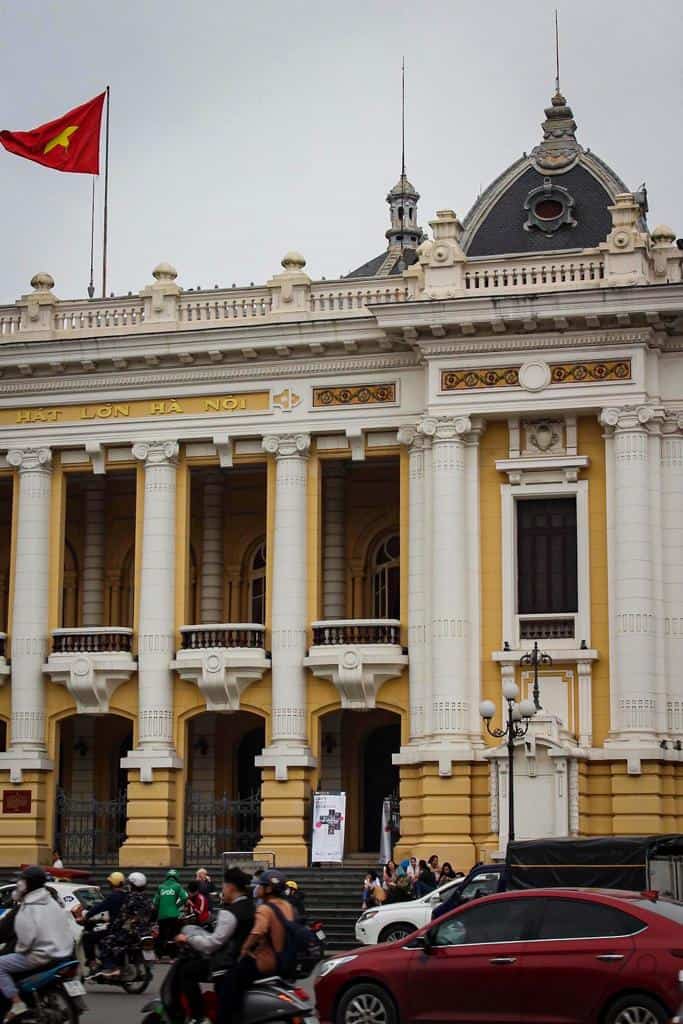 7. French Quarter
While visiting Hanoi you should go for a walk through the French Quarter. It was once a glamorous area with villas and buildings. Today most of these former beautiful houses are now embassies or diplomatic outposts.
You find great shopping in this area, especially for luxury lovers. There are some very classy and luxurious hotels in the French Quarter too. It might not be the cheapest in Hanoi but it is worth going for a stroll and feeling the Parisian vibe there.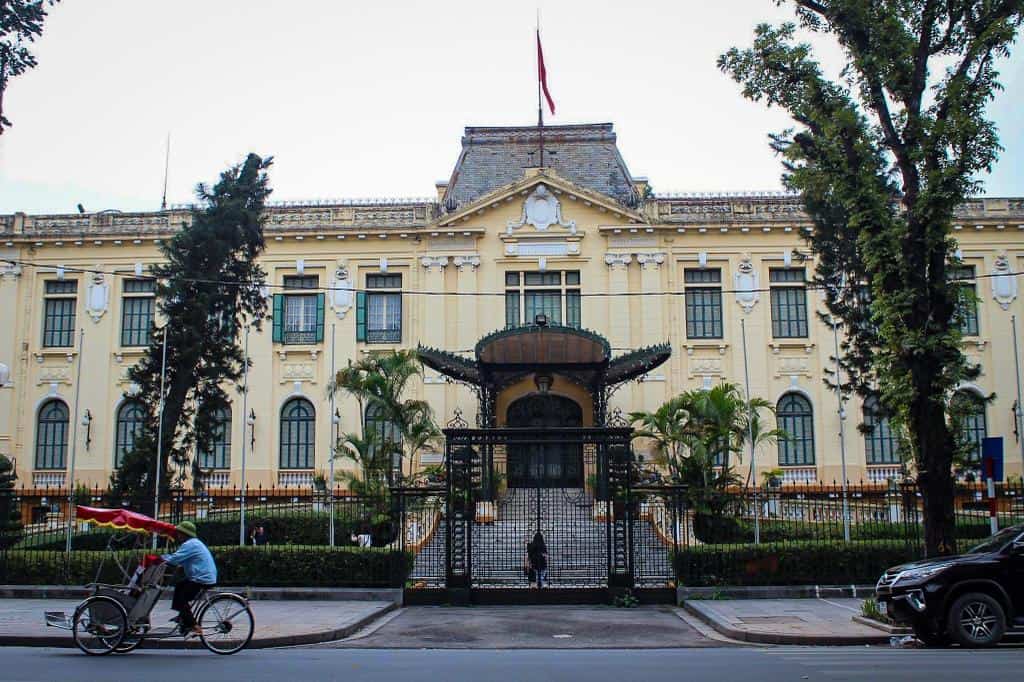 8. St Joseph Cathedral
If you think about Southeast Asia, you usually do not think about churches. But due to Vietnam's history, there are lots of Christians living here. This neo-Gothic Cathedral was opened in 1886 and looks very massive with its two bell towers. It is a popular spot for photographs (especially for couples). Around the square, you find lots of cafes and restaurants, some even with a balcony facing the cathedral.
St Joseph Cathedral
Nha To Lon, Hoàn Kiếm, Hà Nội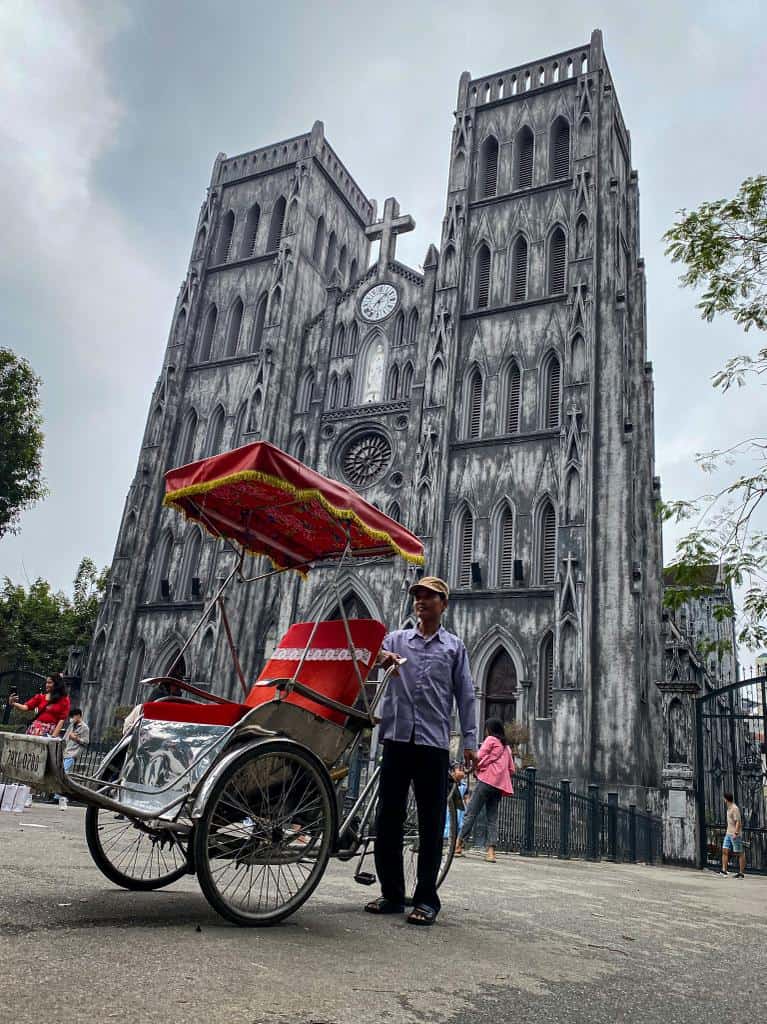 9. Street Murals
As with many other big cities, Hanoi has a modern and a bit more urban part too. Here you can see murals which are sprayed/painted on walls of arches under the train tracks along Phung Hung Street. The murals highlight the fine traditional and cultural values of thousand-year-old Hanoi and almost look so real that you need to look twice. It is definitely a place to visit in Hanoi.
Street Murals
Phung Hung Street, Hoàn Kiếm, Hà Nội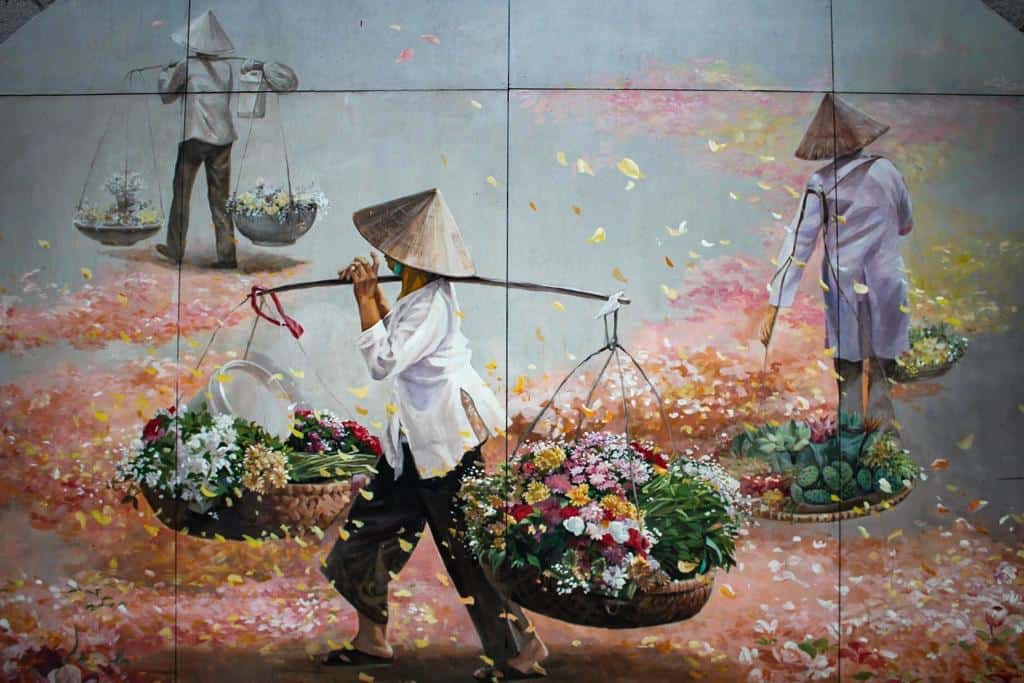 10. Drink the best coffee in Hanoi
Vietnam is one of the largest coffee-growing countries in the world. And for this reason, you get lots of coffee everywhere. When you follow us for a while you know that we are always on the hunt for delicious coffee and cute cafes. We found lots of cool places in Hanoi. There are many beautiful coffee shops where that offer amazing coffee. Make sure to check out where to find the best coffee in Hanoi. Some of them even roast their own beans which are grown in Vietnam. You should not miss out on drinking great coffee in one of these cafes while visiting Hanoi.
Don't miss trying the famous egg coffee! It is delicious!
TIP: There are many places to get great coffee in Southeast Asia. Our posts on the best coffee in Chiang Mai and our Chiang Rai coffee guide will give you lots of great coffee bars if you are heading there as well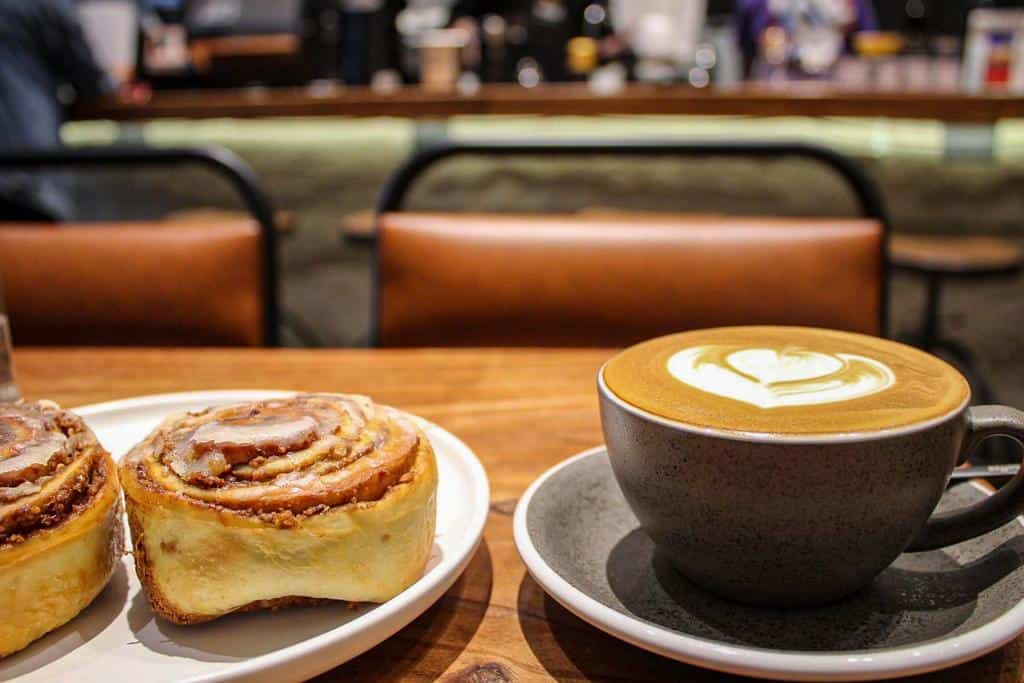 11. Hoan Kiem Lake
The Hoan Kiem Lake is one of the most popular places to meet and hang out and is a nice place to stop by when visiting Hanoi. You will find lots of places to go out for drinks and food. During the weekend traffic is even banned in this area, so it is a great public space for kids and families.
When you cross over the red scarlet bridge to a little island, you can visit the Ngoc Son Temple. It means the Temple of the Jade Mountain and it is one of the most visited temples in Hanoi.
Admission is 30.000 VND to cross the bridge and visit the temple on this little island.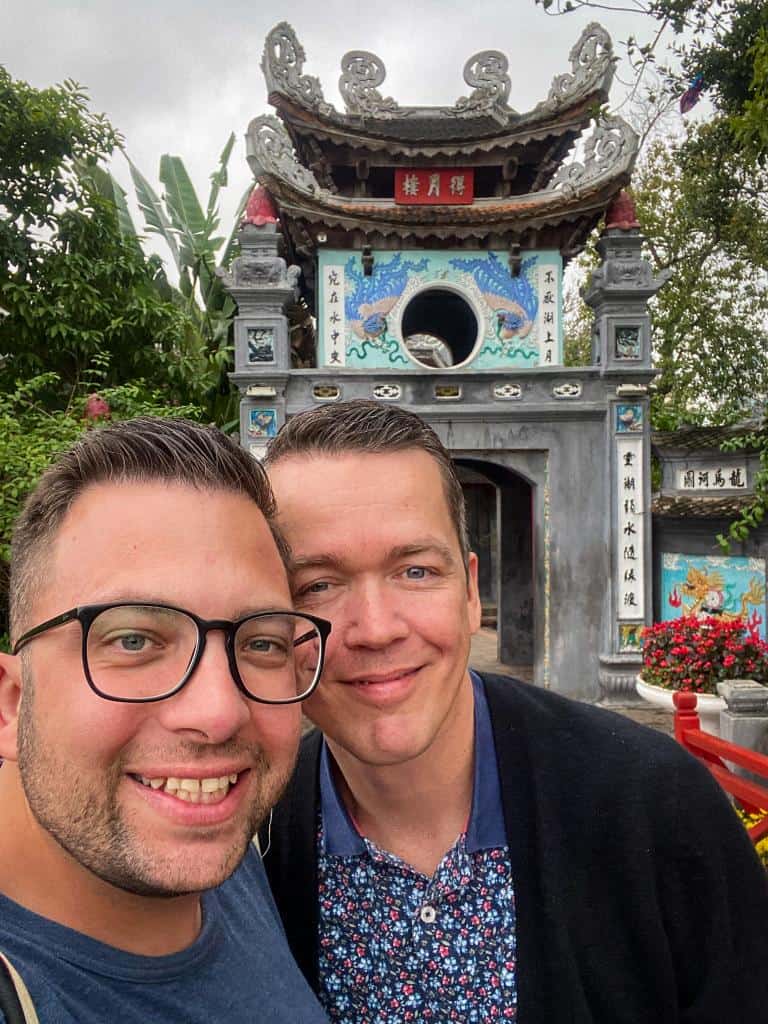 12. Heritage House
The Heritage Hous is one of the best-restored traditional merchant houses of the Old Quarter in Hanoi. The house has two courtyards which allow good ventilation and light in the house. You can visit all the beautifully decorated rooms. With help from the french city Toulouse, they were able to restore this traditional house, which is now recognized as a Vietnam National Heritage since 2004.
Heritage House
Admission: 10.000 VND
87 P. Mã Mây, Hàng Buồm, Hoàn Kiếm, Hà Nội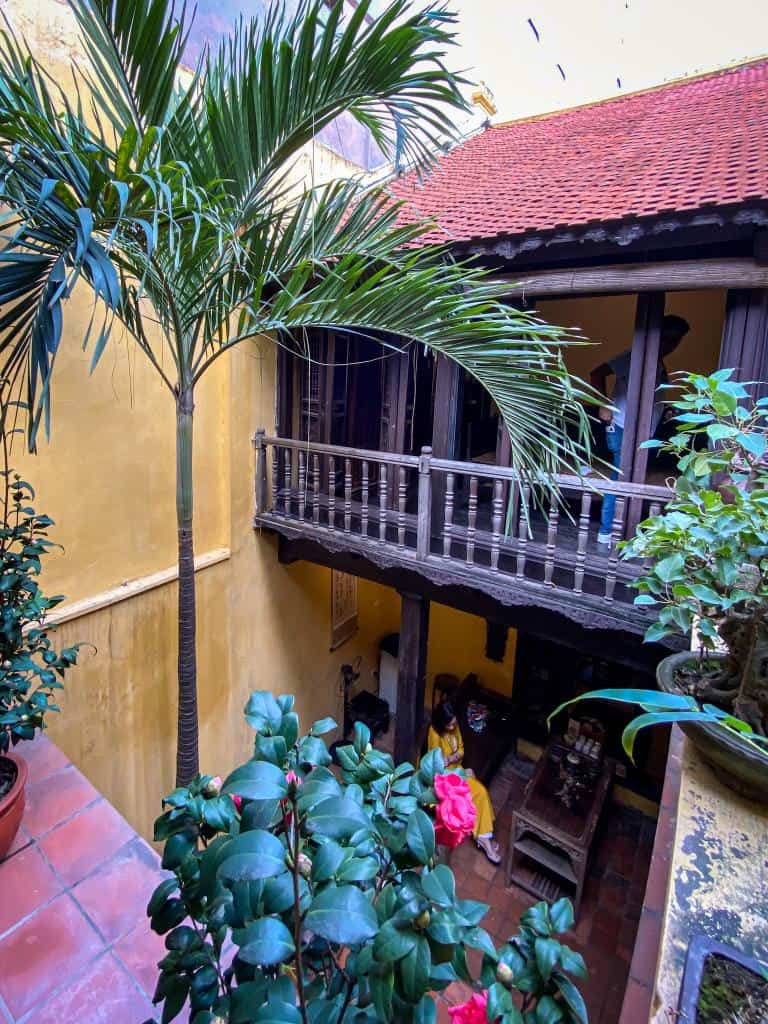 13. Ceramic Mosaic Mural Road
Another highlight while visiting Hanoi is the Ceramic Mosaic Mural Road. It is almost 4km long and it is the largest ceramic mosaic on planet Earth. International and local artists have worked together on this project since 2007. It was finished in 2020 but the murals still continue to grow. The colourful murals show different periods in Vietnam, with animals, flowers, people and buildings.
Ceramic Mosaic Mural Road
11 P. Hàng Vôi, Lý Thái Tổ, Hoàn Kiếm, Hà Nội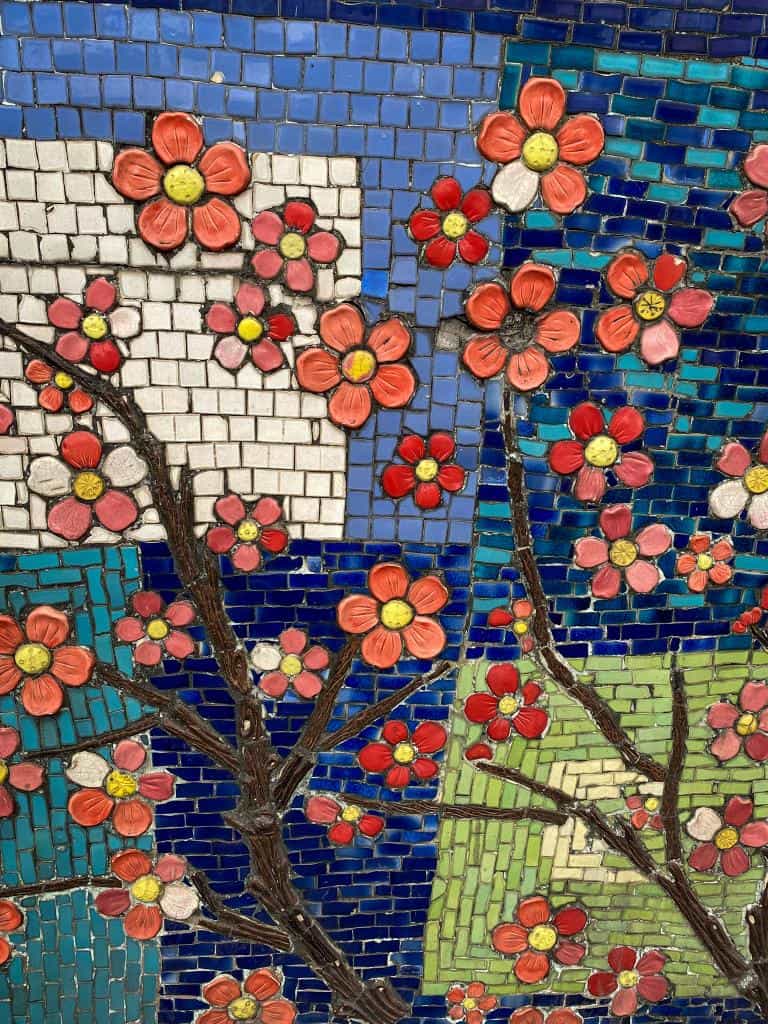 14. Train Street
As in other Asian cities, the train is passing the centre in Hanoi too. It is not like shops taking in their products, so the train can pass. It is only a train which is passing by and passengers wave out from the windows. There are certain cafes offering views so you can watch the train passing by. We actually found a street food shop by accident and while we had dinner several trains passed by around 9 pm. And the best thing was, there were no tourists, only locals enjoying beer and delicious food.
The staff is friendly and the meals are delicious and have good value. A great place to enjoy traditional Vietnamese dinner in Hanoi and watch the train passing by later in the evening. Another highlight during visiting Hanoi which should not be missed.
Bia thành còi
48 Đ. Lê Duẩn, Văn Miếu, Đống Đa, Hà Nội, Vietnam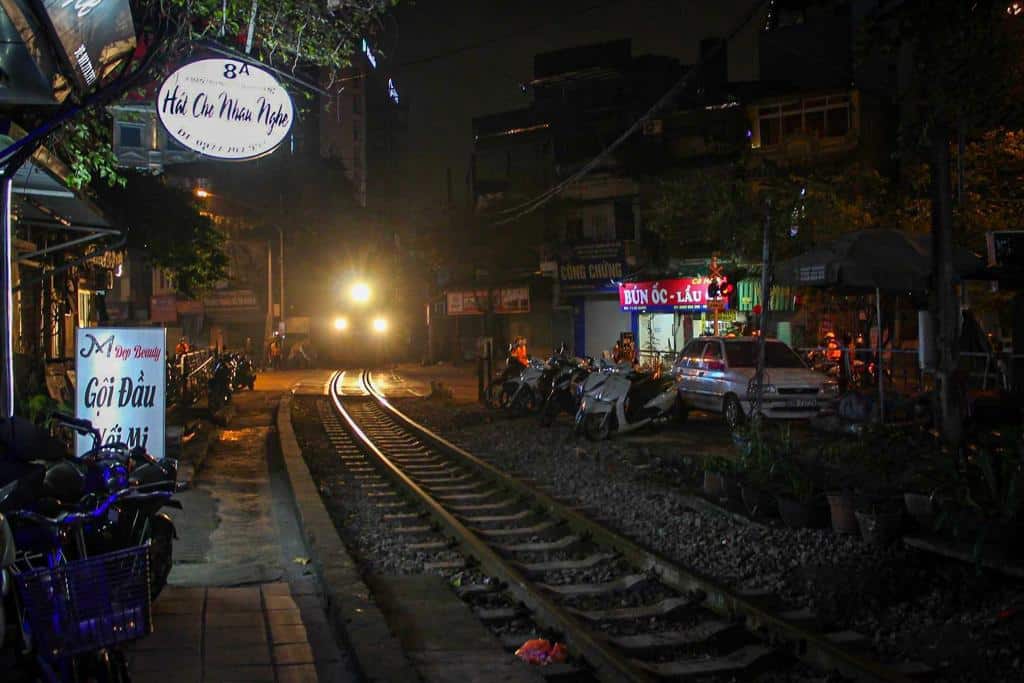 15. Eat Street Food
Vietnam is famous for its amazing street food. And it is so true! After travelling through Thailand and Laos, we were surprised at how diverse and different Vietnamese food actually is. In other Southeast Asian countries, noodle soups are very common to get everywhere. But when we arrived in Hanoi, we ate different food every day, and not mostly noodle soups, even though their Pho is world famous. Of course, we tried Pho there too. We couldn't miss this.
When you plan on visiting Hanoi and want to eat street food, go to places where the locals go too. Mostly these restaurants use fresh products and prepare good dishes.
Street food you should not miss in Hanoi:
Bun Cha (barbecued pork with rice vermicelli)
Pho
Banh Mi (filled baguette with pork, egg, vegetables, herbs,….)
Banh Cuon (steamed rice crepes filled with minced pork, shrimp,…)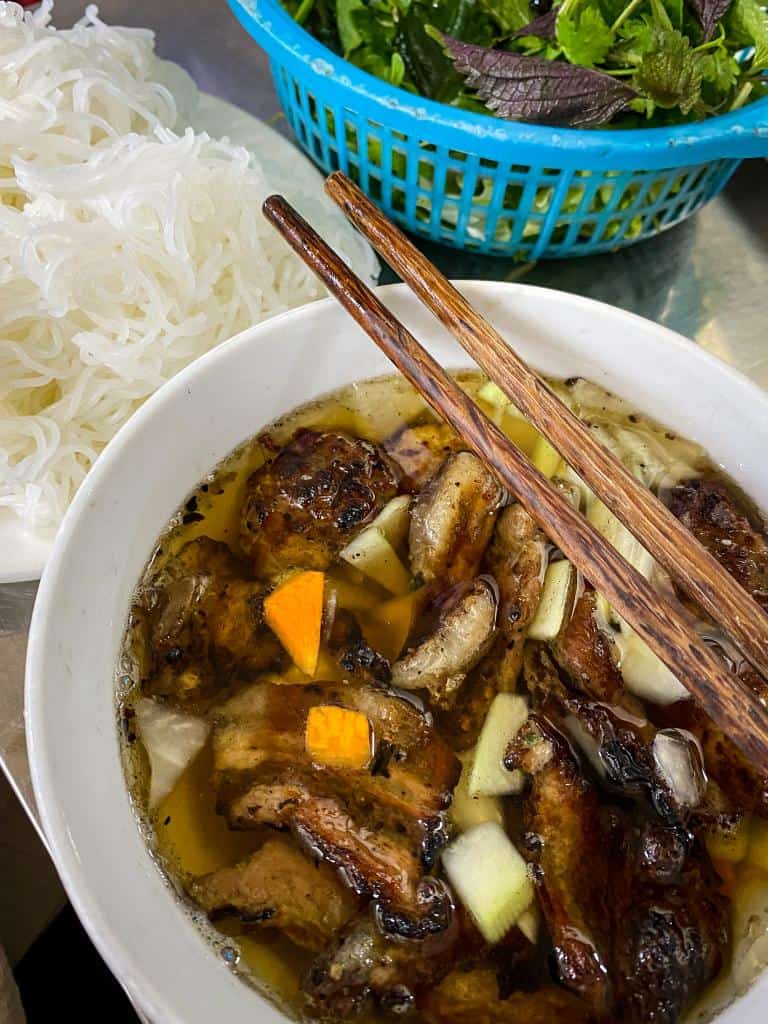 16. Quan Thanh Temple
Not far from the Ho Chi Min Mausoleum Complex and very close to the shores of West Lake (Ho Thay) you find Quan Thanh Temple which was established during the Ly dynasty (1010 – 1228). It is a Taoist temple dedicated to Tran Vo, the God of the North. With its history and architecture, Quan Thanh Temple is one of the main tourist attractions and is one of the best things to do while visiting Hanoi.
TIP: Chiang Mai in Thailand is a great city if you like visiting temples. Our post on temples in Chiang Mai will give you more information before you go
Quan Thanh Temple
Admission: 10.000 VND
Đ. Thanh Niên, Quán Thánh, Ba Đình, Hà Nội 118810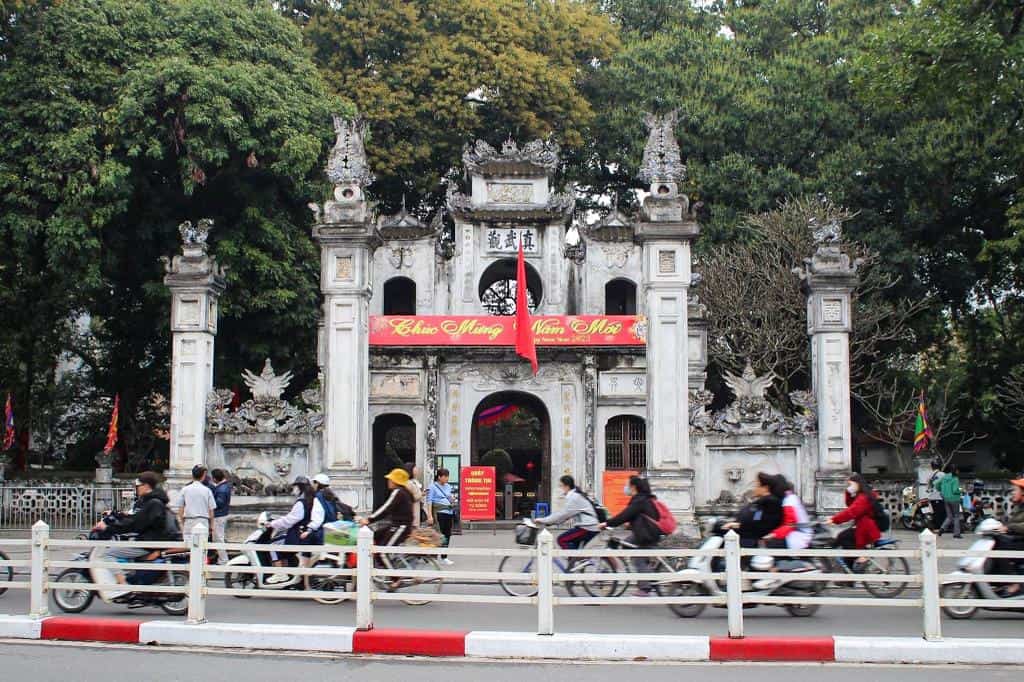 17. Tran Quoc Pagoda
When you continue walking along the shore of West Lake after visiting the Quan Thanh Temple, you will get to one of the oldest pagodas and Buddhist temples in Hanoi: Tran Quoc Pagoda. It is a very photogenic sight when it is sunny and clear skies. It was originally constructed in the 6th century but rebuilt several times afterwards.
Tran Quoc Pagoda
46 Đ. Thanh Niên, Trúc Bạch, Tây Hồ, Hà Nội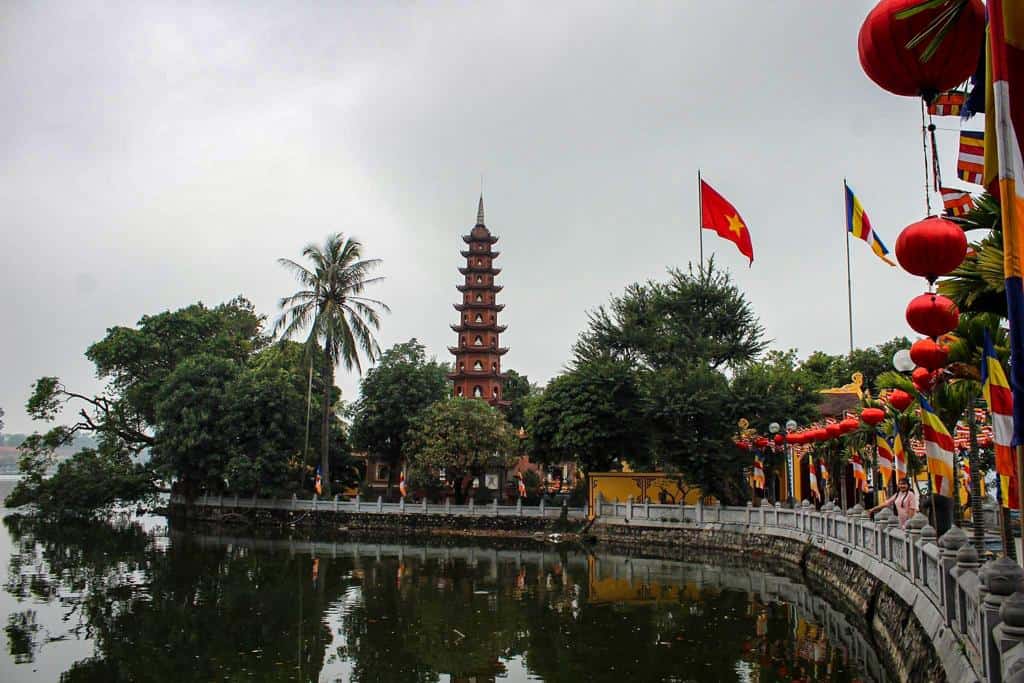 18. Drink local beer in Hanoi
In Hanoi, you can actually get a special fresh tap beer. It is not as strong as bottled beer (around 3%) but is refreshing, cheap and delicious. Lots of restaurants served this fresh beer which is brewed locally in Hanoi. It is called Bia Hoi and it is served straight from the keg. Bia hoi production is informal and not monitored by any health agency.
It is a great experience while visiting Hanoi to drink Bia Hoi in one of the many places which serve this light, fresh beer. You might even get in touch with the locals and have another one and a nice evening. Cheers!