This post may contain affiliate links, where we may receive a small commission if you purchase something through following the links at no extra cost to you.
Zittau, Germany is probably a town you never heard of but is definitely worth a visit. Zittau is located in the German State of Saxony and actually the southeasternmost town there. The borders to Poland and Czechia are very close and just around the corner. While many people visit Dresden, Leipzig or Görlitz in Saxony, there are great things to do in Zittau as well.
Travelling to Germany? Join Our Facebook Group Germany Travel Forum
Besides the beautiful baroque old town, you can also visit the Zittau mountain region, the smallest low-mountain range in Europe. Zittau is great for a weekend trip or an active holiday. Before going we had little knowledge about Zittau, but after visiting, Zittau along with Weimar is one of our favourite small towns in Germany. Read this blog post about the things to do in Zittau. We show you all highlights and how to get to Zittau, Germany.
TIP: Should you like to visit another cosy German small town, why not check out Cottbus? It's located in the state of Brandenburg, between Berlin and Zittau.
Things to do in Zittau
There are, of course, much more things to do in Zittau, but these are our favourites in random order. It is definitely enough to fill a weekend with sightseeing and outdoor activities. Even though Zittau is a relatively small German town, we recommend that you spend at least one night here. We spent two nights in Zittau, and with this time on hand, we could see all the things we wanted in Zittau without stressing around.
1. Town hall and Market Square
Zittau, Germany can count itself among the most beautiful towns in Saxony. It is a very idyllic small town. The townscape is rich in signs of earlier prosperity, which was mainly brought about by trade, cloth making and the art of brewing. The baroque old town is still almost intact, even after WWII.
The highlight of the old town is the town hall. It was built between 1840 and 1845 in a neo-renaissance style by the plans of Karl Friedrich Schinkel. It looks like an Italian Palazzo and you almost get a Mediterranean atmosphere.
Stained glass windows from 1893 in the spacious staircase and the large citizens' hall are particularly worth seeing inside. Check out the tourist information, if it is possible to visit. The tourist information is also in the town hall.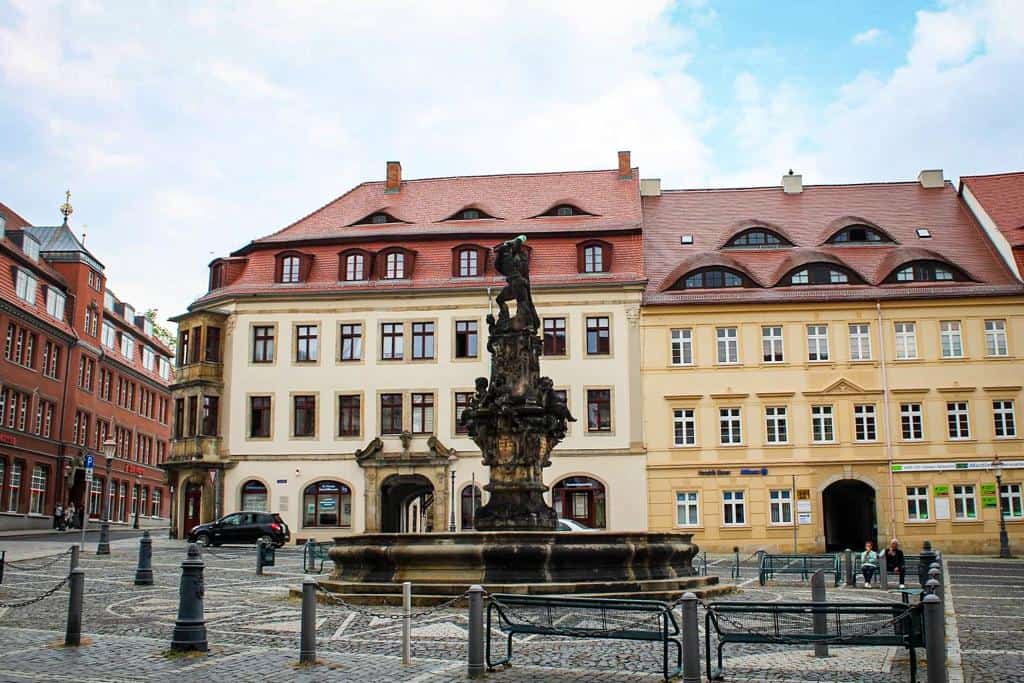 The large market square is surrounded by beautiful townhouses. There are a few cafes and bars to enjoy the view of the imposing town hall with a cup of coffee or a cold drink.
Tips and Information:
Address: Rathaus Zittau, Markt 1, 02763 Zittau
Opening Times

Monday – Friday: 9am – 6pm
Saturday: 9am – 1pm
Sunday: 10am – 12am Uhr (Mai – October)
2. Pop Art Quarter
You won't expect an area like this in Zittau. There are usually old, historical houses, churches, buildings and cobblestone streets, but then there is this funky and colourful Pop Art Quarter. This area used to be very unattractive and not popular. The houses were built in the GDR period and looked only grey and boring. Zittau made a huge decision to renovate these buildings and make them into an art project for the public.
In 2010, the transformation was finished and it is now a tourist attraction and a lively area to live. The houses are painted in different colours and you see statues like sheep, centaurs or angels hanging on the walls. The designer of this big project was Sergej Alexander Dott. It looks very special, but it is fun to see all these many details there.
Tips and Information:
Address: Rosenstraße/Grüne Straße, 02763 Zittau
Free of charge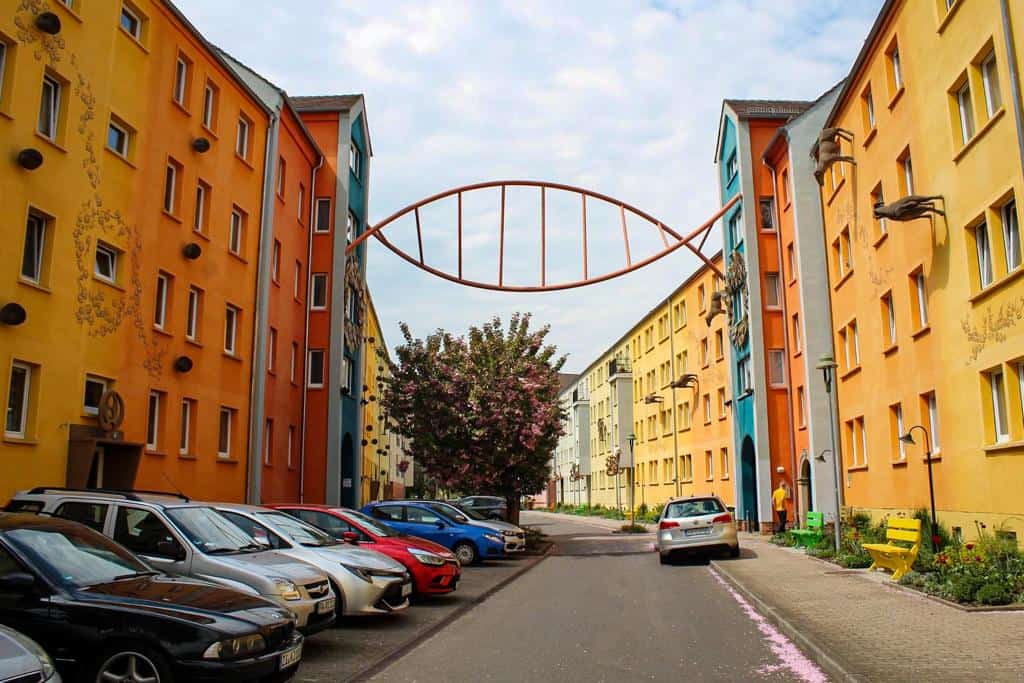 3. Zittau's Lenten Veils
Ever heard about a Lenten Veil? Then you are not alone. This was also the first time that we heard about and saw them. During Lent, the Lenten Veil covers the images of Jesus, usually the crucifix, in Catholic and Protestant churches.
Zittau owns two Lenten Veils, the Zittauer Fastentücher. The Large Lenten Veil (8.20 × 6.80 m) from 1472, which has 90 fields in 10 rows, is shown in the Kreuzkirche, which was specially designed as a museum, and the small Lenten Veil with the Arma Christi (4.31 × 3.49 m) from 1573 is shown in the Kulturhistorisches Museum Franziskanerkloster. Both are in tempera on linen and are two unique art treasures. The Lenten Veils of Zittau are the only surviving specimens of their kind in Germany and are among the most important of all.
We recommend seeing both Veils to see their dimensions and the scenes from the bible. The large Lenten Veil is kept in the largest museum display case in the world.
Tips and Information:
Address: Städtische Museen Zittau, Klosterstraße 3, 02763 Zittau
Opening Times

Tuesday – Sunday: 10am – 5pm
Monday: closed
Address: Museum Kirche zum Heiligen Kreuz, Frauenstraße 23, 02763 Zittau
Opening Times

Monday – Sunday: 10am – 5pm
Mondays are closed between November and March

Ticket prices: 5€ for a single ticket, 8€ for a combined ticket
Audio guides in English are available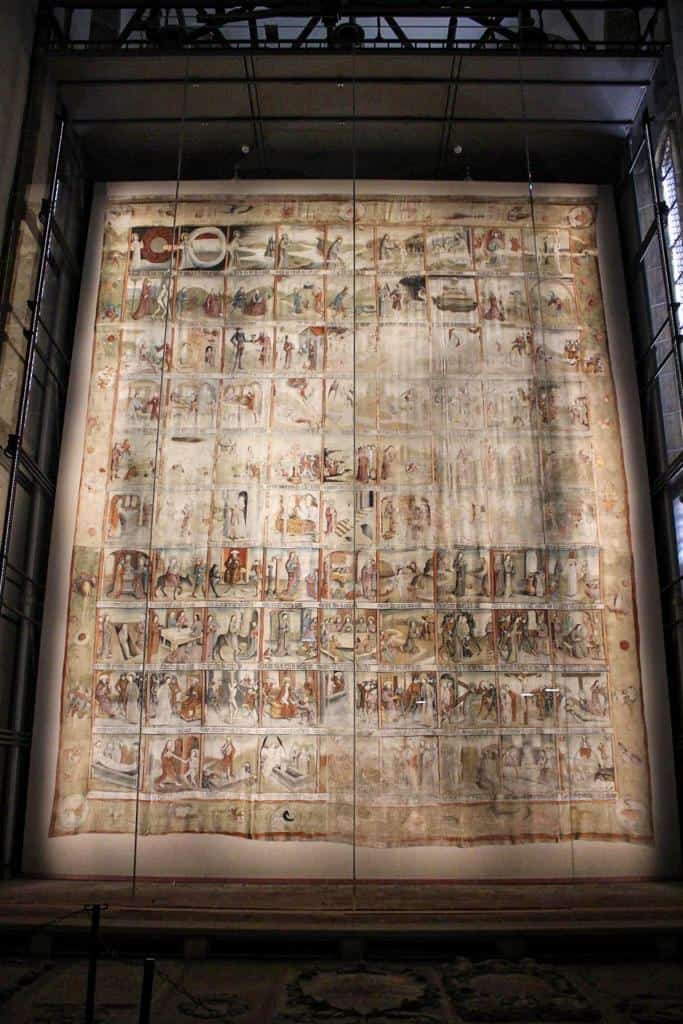 4. Cultural-Historical Museum Franziskanerkloster
Another great thing to do in Zittau is the Cultural-Historical Museum Franziskanerkloster. This is the home for the small Lenten Veil from 1573. The permanent exhibition is located in the former Franciscan monastery in Zittau. The non-secularized former monastery church is also used as an exhibition for regional history and event space. The Zittau treasure of epitaphs is presented in it. Special exhibitions take place in the Heffter building, which also houses the baroque hall that opened in 1709.
TIP: If you like visiting museums, Berlin got some really great ones. Our post on the best museums in Berlin gives you our favourites.
During our stay, there was a cool art exhibition with artworks from Keith Haring, Gerhard Richter and Andy Warhol. The entry is included if you buy a combined ticket for both Lenten Veils.
Tips and Information:
Address: Städtische Museen Zittau, Klosterstraße 3, 02763 Zittau
Opening Times

Tuesday – Sunday: 10am – 5pm
Monday: closed

Ticket prices: 5€ for entry only to the Kulturhistorisches Museum Franziskanerkloster, 8€ for a combined ticket to see the large Lenten Veil too
An audio guide in English is available
5. Flower clock and a walk around the old town
Zittau doesn't have a historical wall around the old town anymore but instead, you can walk along the green ring, a planted path with trees, grass and flower around the old town of Zittau. It is a great way to explore the town.
During your walk along the Grüner Ring, you pass the theatre, the train station or the Pop Art quarter. A highlight is definitely the Flower clock. It was built in 1907 from an old tower clock and has been a Zittau landmark ever since. It is planted three times a year with around 4,800 flowers. The carillon made of Meissen porcelain on the flower clock was donated by the Zittau crafts in 1966. In the summer months, a folk song sounds every hour on the hour.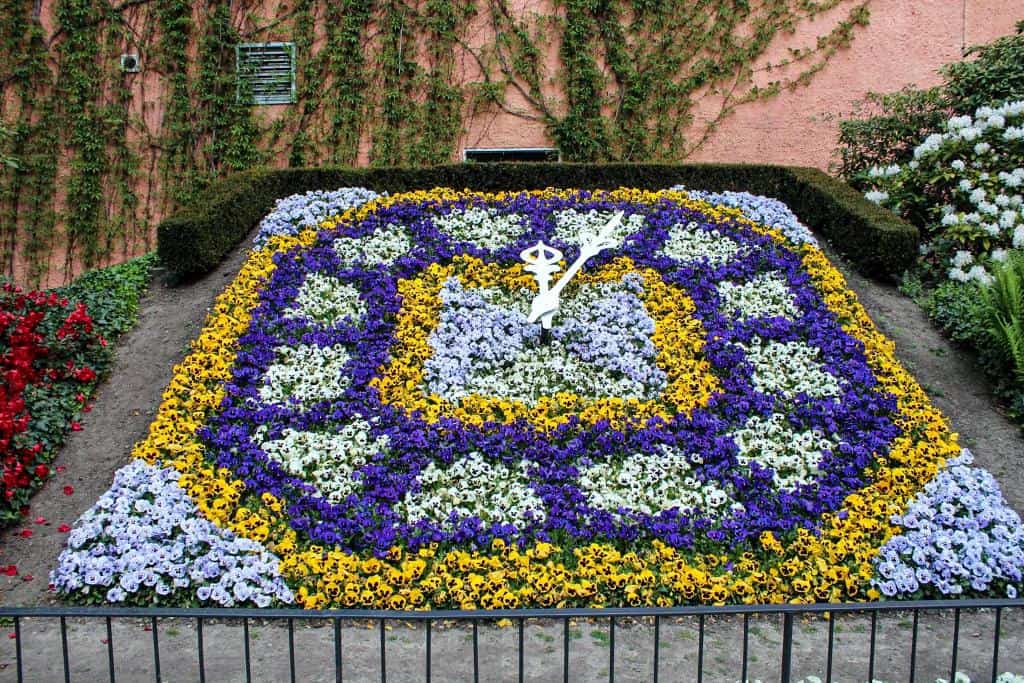 6. Narrow Gauge Railway to the Zittau Mountains
Don't miss this if you are a fan of train travel. One of the best things to do in Zittau is a ride with the Narrow Gauge Railway to the Zittau Mountains. There are lots of options in Germany to take a Narrow Gauge Railway, like the nostalgic Harz Mountain Railway, but the Zittauer Schmalspurbahn is definitely a highlight during your stay in Zittau.
We have done some great train journeys on our way, like Bergensbanen and Flamsbanen in Norway, the Trans-Siberian railway or the scenic Bohinj Railway in Slovenia, and we loved them all. But they are different. This train, on the other hand, gives you the opportunity to travel with a real steam train – and that is such s cool experience that we really recommend.
It starts at a small timber station next to the train station of Zittau. It runs from Zittau via Bertsdorf to either Oybin or to Jonsdorf in the Zittau Mountains. One of the best things to do in Zittau is to explore this amazing region by taking a ride on a narrow-gauge steam-powered railway.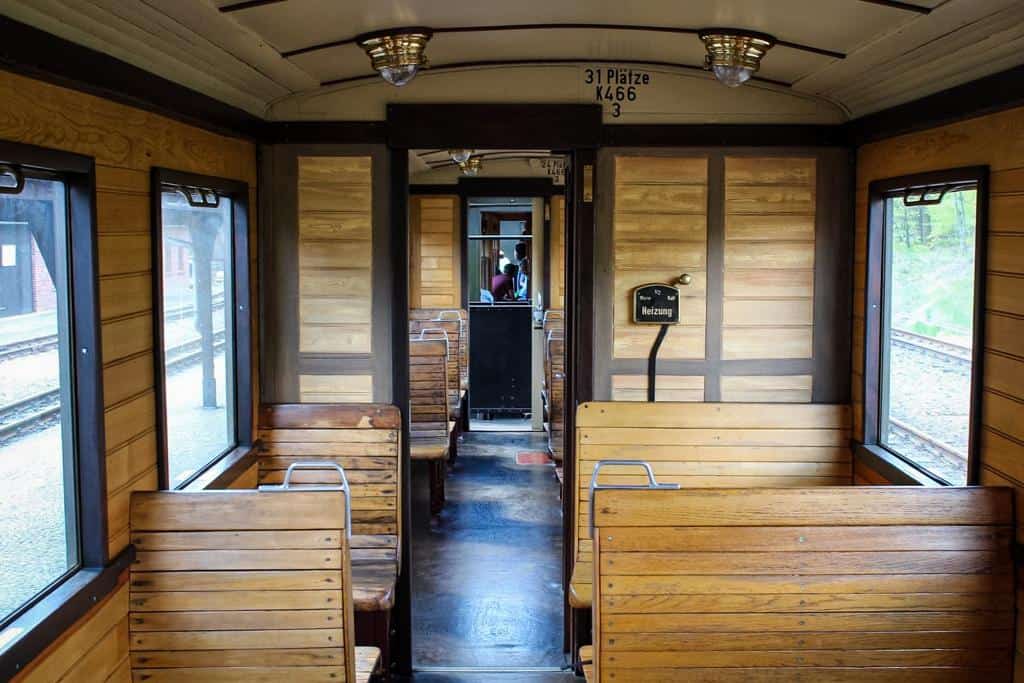 The narrow gauge steam railway began regular service in November 1890 and still runs daily in steam operation. During your ride, you pass beautiful villages and charming landscapes.
Sometimes, there is even a restaurant wagon where you can have a drink or a snack. What can be better than enjoying some refreshments onboard a historic train while the landscape passes outside the windows?
Tips and Information:
Address: Bahnhofstraße 41, 02763 Zittau
Opening Times

The ticket office is open daily from 8:30 am to 1:30 pm

Ticket prices: 16€ for a return trip
Check out the timetable online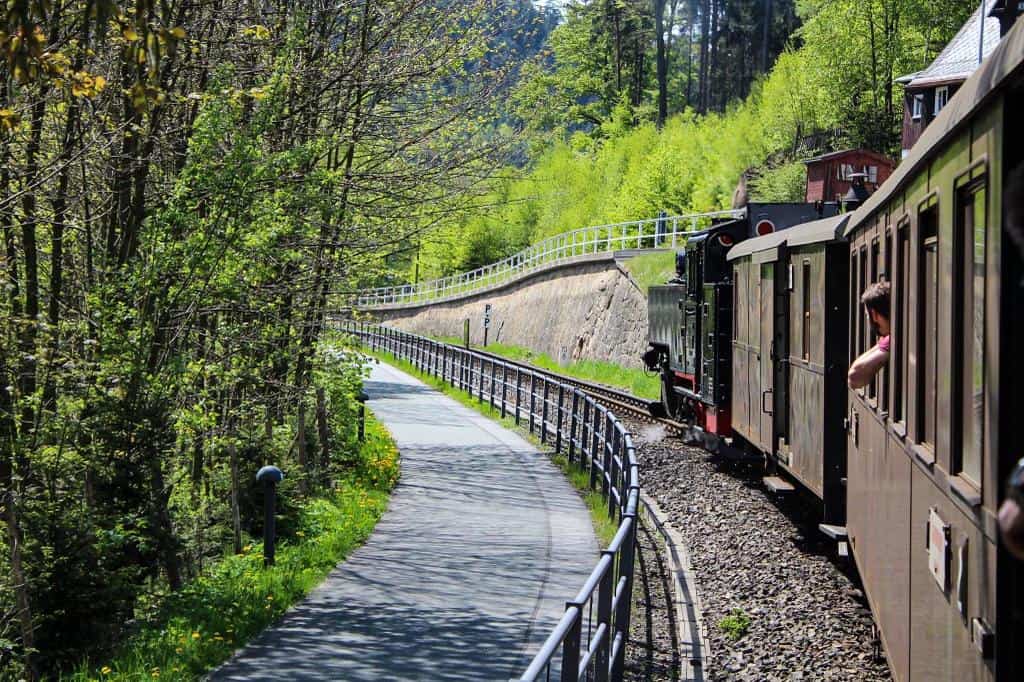 7. Castle and Monastery Oybin
The best way to get to Oybin is the narrow gauge railway from Zittau. When you arrive at the train station in Oybin, you can already see beehive-shaped rock formations. On top of them, there is a ruined castle and monastery.
Typical in the Zittau Mountains are the sandstone rock areas near Oybin and Jonsdorf, which are towered over by the highest mountains – which consist of clay stone.
TIP: Castle lover? Then check our post on Schwerin Castle in Mecklenburg-Vorpommern. It is one of the most beautiful castles in Germany.
On top of Oybin Mountain, there are the ruins of Oybin Castle, which Emperor Charles IV had expanded into his retirement home and a Celestine Monastery founded in 1369.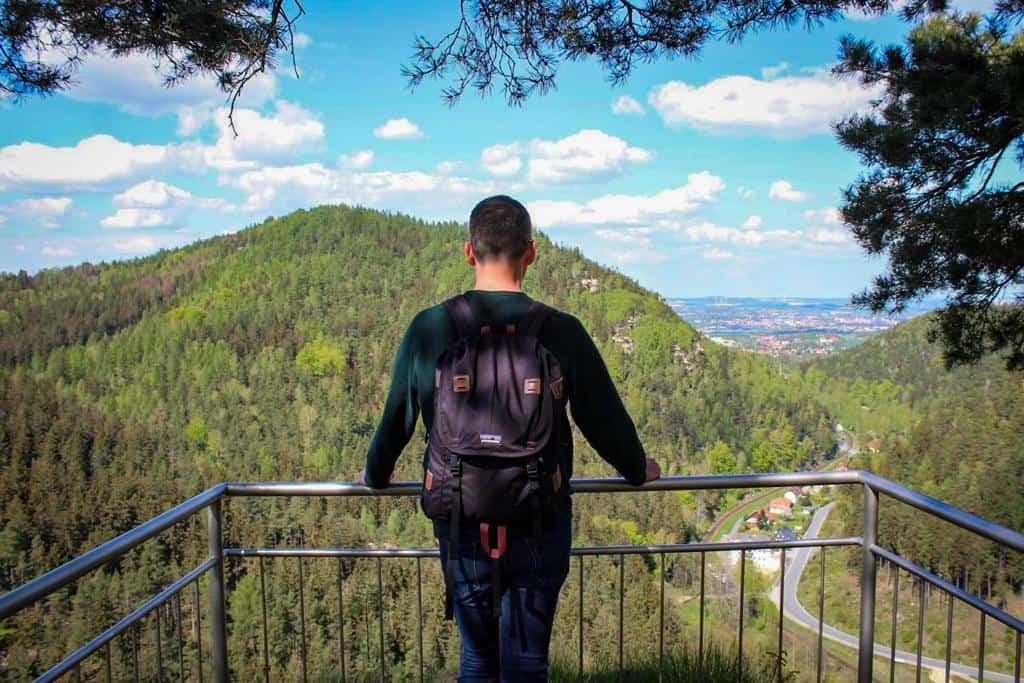 It is a short walk/hike from the train station in Oybin. Bring proper shoes since it is going uphill and inside the castle grounds, there are lots of stairs to get to some lookouts.
TIP: Samerberg is a secret hiking paradise in Bavaria. Our post on Samerberg will give you more information if you are visiting Bavaria as well
Today the castle ruins are mostly famous because of the painter Caspar David Friedrich who brought it to light during the Romantic period.
Tips and Information:
Address: Gemeinde Oybin, Hauptstraße 15, 02797 Kurort Oybin
Opening Times

April – October: 9am – 6pm
November – March: 10am – 4pm

There is a Mountain Inn for food and drinks inside the castle grounds, open daily (in winter open on weekends only)
Ticket prices: high season 8€, low season 5€
Check out the webpage for concerts or events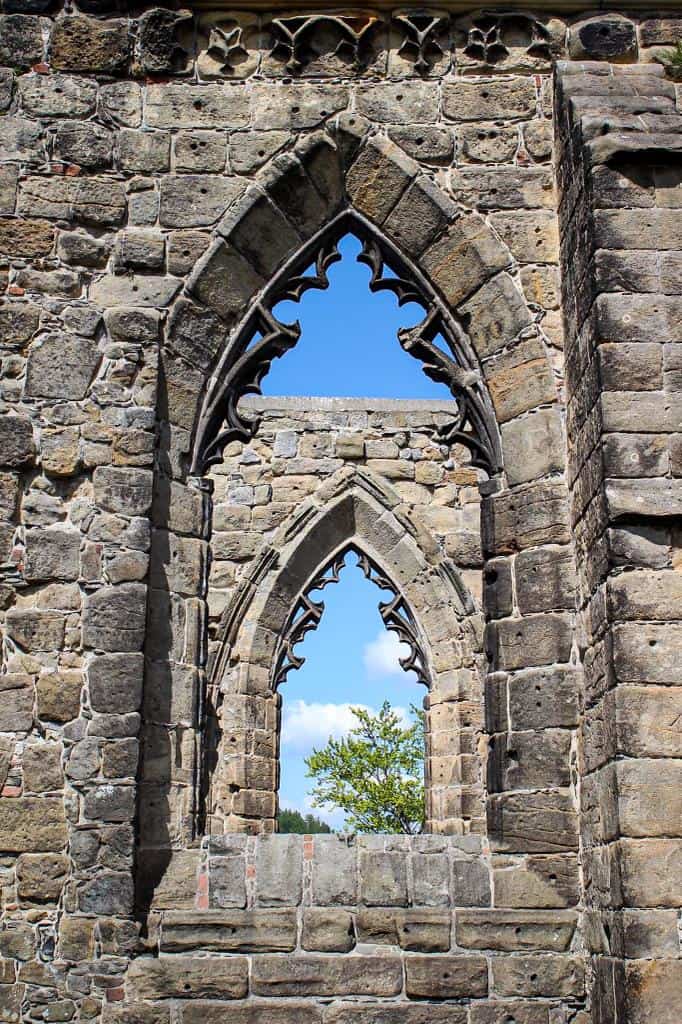 8. Day Trip to Görlitz
If you stay longer in the region around Zittau, don't forget to visit Görlitz. It is one of the most beautiful towns in Germany and definitely worth visiting. Görlitz is located directly on the border with Poland and has lots of buildings and houses from different eras. You can visit an amazing library, several towers and great museums in this beautiful old town.
Görlitz is a perfect film location and is popular with Hollywood film producers. Movies like Grand Budapest Hotel, The Reader and Inglourious Bastards were filmed there. You can visit filming locations or display windows of the Walk of Görliwood or even take a bus tour.
TIP: In this part of Saxony you are very close to Poland. Our posts on things to do in Poznan and Wroclaw things to do will give you loads of inspiration if you would like to visit Poland as well.
Maybe a day tour is not even enough, because the town is so rich in architectural heritage sites and buildings from different eras. Read more about Görlitz in our blog post to get all information and insider tips about this beautiful town in Germany.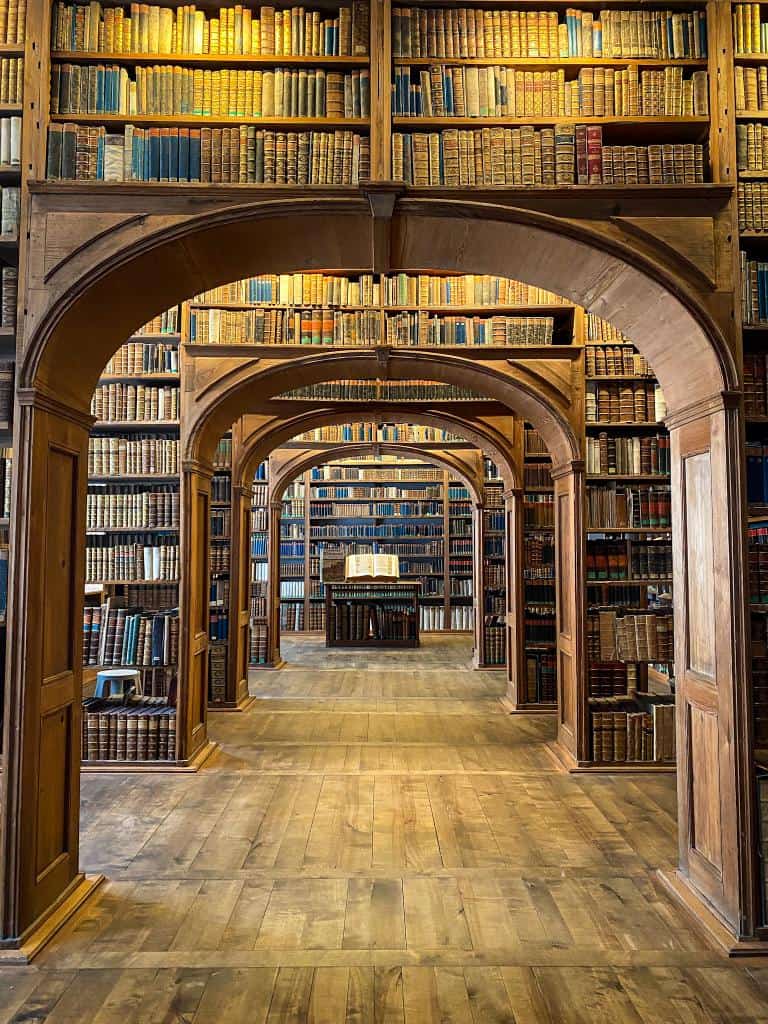 Where to stay in Zittau?
During our stay in Zittau in Saxony we stayed at Ferienwohnung Anno 1898. It is a holiday apartment for 3-4 people and is centrally located between the train station and the centre of the old town.
The apartment is on the top floor of an old villa and has two large bedrooms, a living room, a small veranda, a fully equipped kitchen and a spacious bathroom. It is an ideal place to stay for couples, friends or family.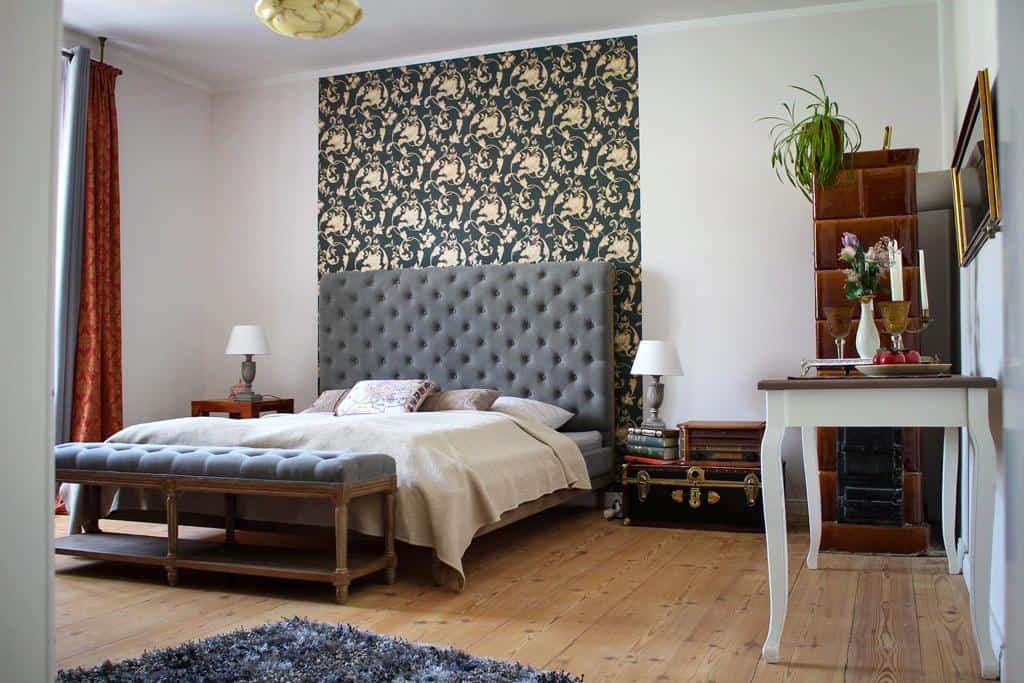 The apartment has everything you need to have a great time in Zittau. Wooden floorboards, decorative stoves and breathtaking views of the Zittau Mountains, combined with stylish furniture, comfortable facilities and loving details will make your stay in Zittau very pleasant and special.
Address: Max-Lange-Str. 1, 02763 Zittau
E-Mail: kontakt @anno1898-zittau.de
Plan your trip – How to get to Zittau and around
Depending on where you travel from, there are many ways to arrive, but the best way to travel to Zittau is by train, although car or bus are other well-functional options.
Zittau has good connections to Dresden and Berlin via Görlitz and Cottbus. With some connections, you can also reach Zittau from Hamburg or Munich. Read more and book your ticket at bahn.de
The closests airports are in Dresden, Leipzig/Halle or Berlin-Brandenburg Airport.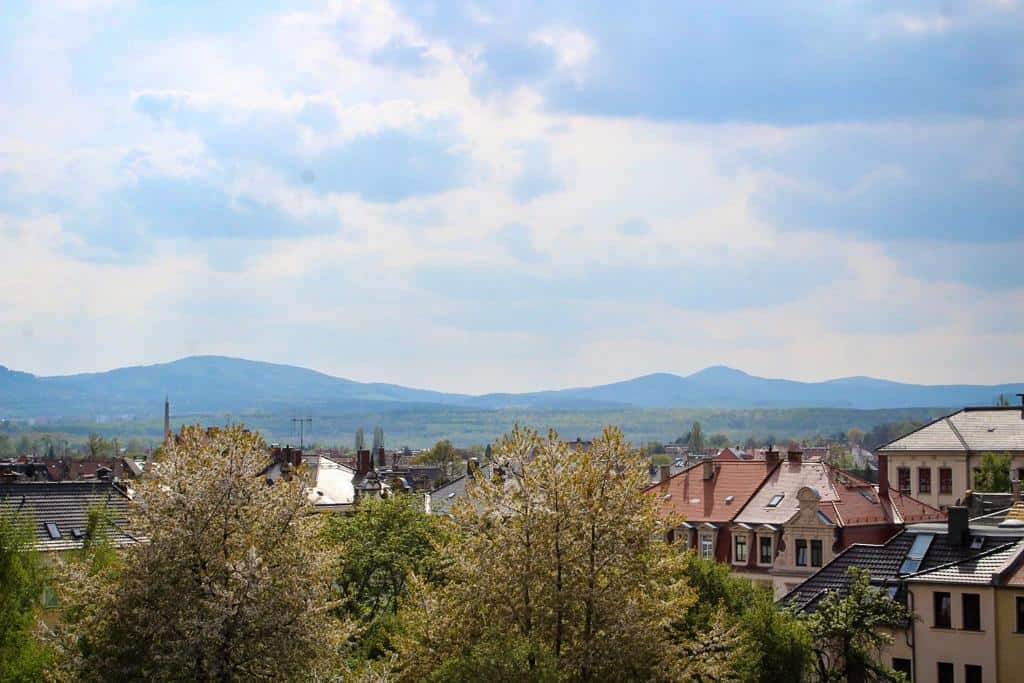 The absolutely best way to explore Zittau is by foot. The town is mostly flat and very walkable. If you like biking, it is a great activity when visiting Zittau and the nature park.
Please note: This trip was a collaboration after an invitation from the Ferienwohnung Anno 1898. We have been sponsored via the collaboration for accommodation only. As always, there are no guidelines or requirements for what we should write. All opinions in this post are our own and are not affected by the sponsorship.