This post may contain affiliate links, where we may receive a small commission if you purchase something through following the links at no extra cost to you.
With long sandy beaches, historic resort towns, dramatic cliffs in a national park and a cute castle, Rügen Island truly has everything you need for a great seaside holiday. Combine all this with fresh seafood, amazing sunsets and great options for hiking and biking. Then you have it all. Culture, nature and some of the best beaches in Germany. Welcome to Rügen Island on the German Baltic Coast.
Rügen Island is located just off the coast outside the town of Stralsund, in the German Federal State of Mecklenburg-Vorpommern (Mecklenburg West-Pomerania). The largest of the German islands, with a population of around 77.000 people, is one of the most popular summer holiday destinations in Germany.
Along the coast, you will find many cute resort towns with its characteristic Resort architecture. The first bathing facility on Rügen opened in 1794, and during the 18-hundreds the other resort towns came to life. While the coast has several resort towns, Rügen Island also has some towns and villages off the coast that can be worth a visit as well. However, the focus in this post is the coast from beautiful Sellin to Jasmund National Park with its dramatic cliffs.
Travelling to Germany? Join Our Facebook Group Germany Travel Forum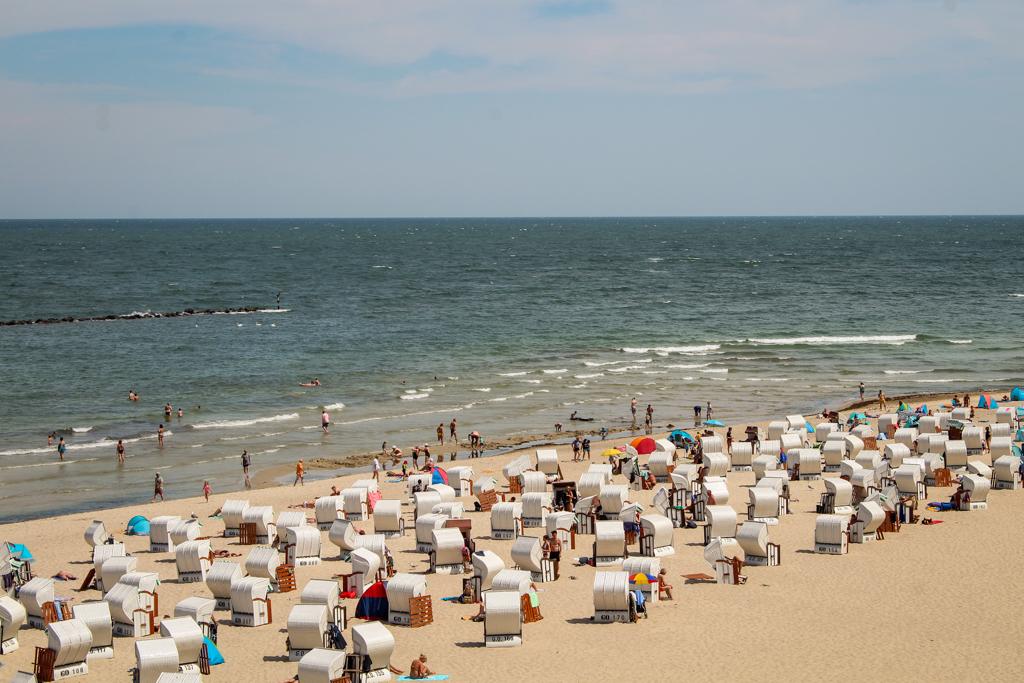 1. Ostseebad Binz
Binz is the largest of the seaside resort towns on Rügen Island, known for its long, wide beach. The town is beautiful with buildings in the classic Bäderarchitektur (Resort architecture), an architectural style characteristic for the German Baltic Coast. The streets, lanes and promenades are lined with coastal pines and chestnut trees giving the whole town a cosy atmosphere.
The long and wide beach is full of the classic strandkörbe (beach chairs) and, if you visit Binz in the summer, this is most likely where you will spend some time. It can get crowded on the beach, but you will still find a place to lay down and enjoy the sun. In each end of the beach (away from the town centre) it gets calmer if you prefer that.
The pier out from the beach is perfect for a stroll, both during the day and in the evening. To see the sunset from here is a great experience.
TIP: You can rent a strandkorb (beach chair) per hour, day or week. The longer you rent it, the better price you will get.
Above the beach is the 4km long beach promenade of Binz, perfect for a stroll in the morning, during the day or after dinner. Along this walkway, lined with elegant villas, you will find many restaurants and a few shops. Please note that you are not allowed to bike along the promenade.
Binz is a lively town in the summer months. If you want some time away from the beach, the town centre is surprisingly good for shopping. Especially along the Hauptstrasse (Main Street), you'll find a fine mix of tourist shops, clothes stores and upscale fashion boutiques. And in between all shops, there are several cafes, bars and restaurants.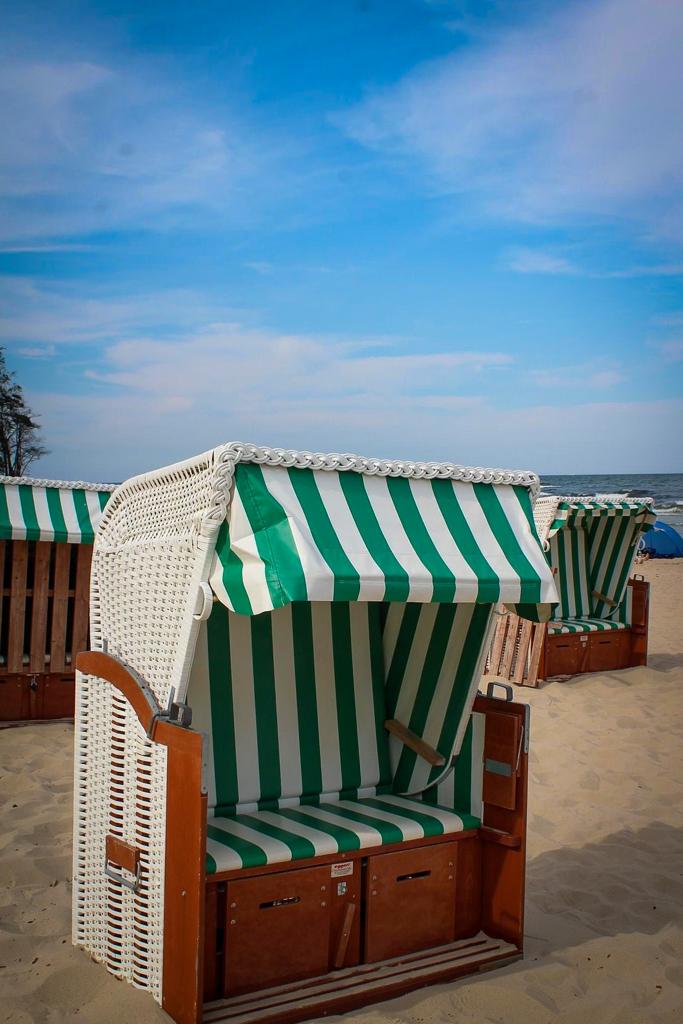 2.J agdschloss Granitz
Not far from Binz, is one of the highlights of Rügen Island. Jagdschloss Granitz (Granitz Hunting Lodge) is a small but stunning castle. With its monumental tower, it is a sight for the eye.
TIP: Read the blog post about Görlitz – one of the most beautiful towns in Germany.
The castle sits on the top of the 107m high Tempelberg and, was built between 1838 and 1846 b the orders of Prince Wilhelm Malte I of Putbus. The castle, in the style of the North Italian Renaissance Castellos, was once a popular holiday destination for European nobility. Jagsschloss Granitz was owned by the same family until 1944 when it was taken by the Nazis and later transferred to the state. Attempts to get the estate back to its former owning family has failed in court.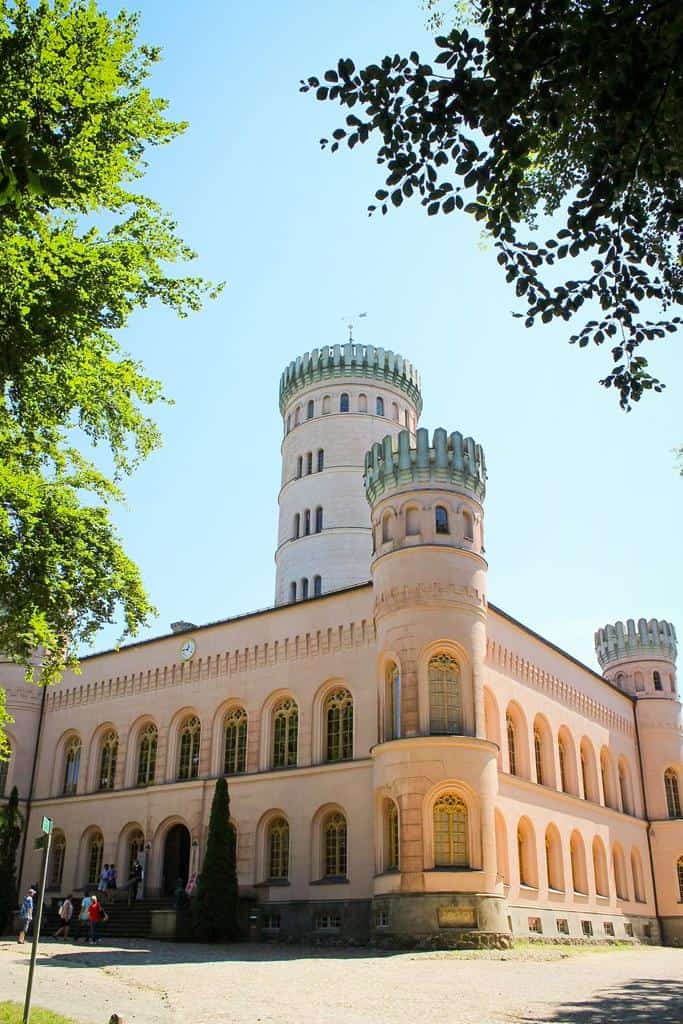 Today Granitz Hunting Lodge is run as a museum and is open for visitors year-round. If you are going to visit only one historical sight on Rügen Island, we highly recommend a visit to this cute castle.
Before you go:
Castle grounds are open 24h year-round
Opening hours castle museum: daily 10.00-18.00 May-September, until 16.00/17.00 rest of the year. Closed Mondays in winter
Entrance is €6
Onsite cafe and restaurant serve food and refreshments
Get to the castle on foot, by bike or take the toy train Jagdschloss-Express
TIP: Read our post from Schwerin Castle – one of Germany's most beautiful castles, also located in the state of Mecklenburg-Vorpommern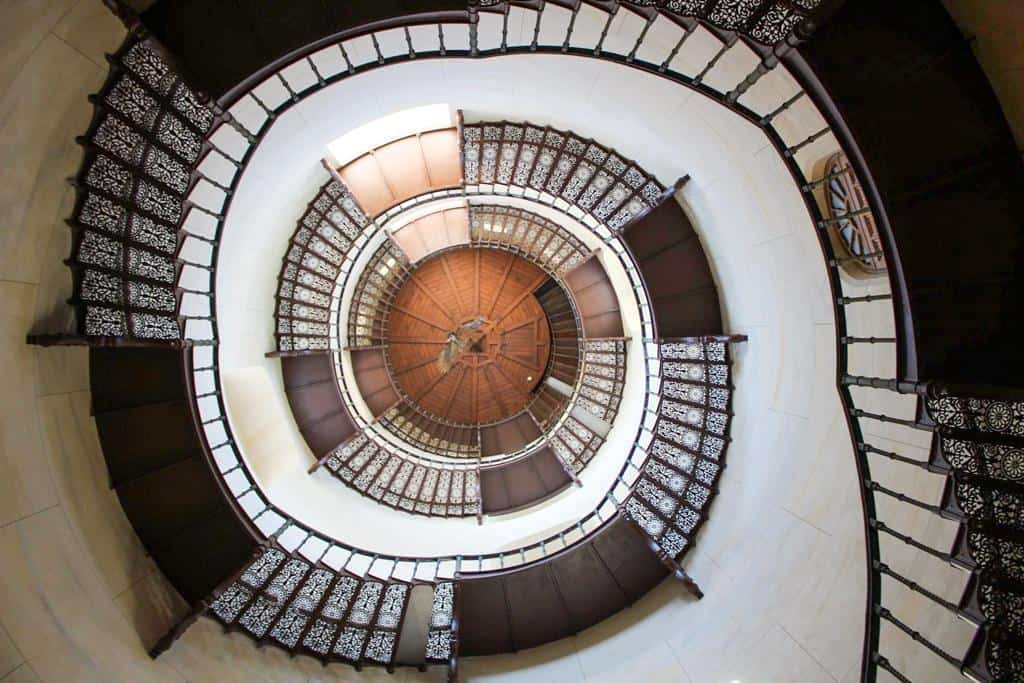 3. Sellin – Rügen Island at its best
Sellin is another of the resort towns on Rügen Island, and our favourite town. This posh and stylish little town is so stunning and picture-perfect. The main street, lined with amazing wooden houses is a big attraction itself. It sets you back in time and gives a reminder of Rügens golden era as a holiday destination for the elite.
TIP: Interested in visiting other northern European islands? Read our post from Runde Island – one of the best places to see puffins in Norway
The highlight for everyone visiting Sellin is the Seebrücke Sellin (Sellin Pier). At 394 metres this is the longest pier on Rügen Island. You first see it from high above the beach, and it is truly magnificent. In reality, it is only a pier with a cute restaurant building near the beach, but the location and the architecture make it so pretty. You enter it via steep stairs, or you can take the lift (to the left of the stairs). The outdoor terrace of the restaurant is busy, but you might get lucky and can get a table for some refreshments in perfect settings.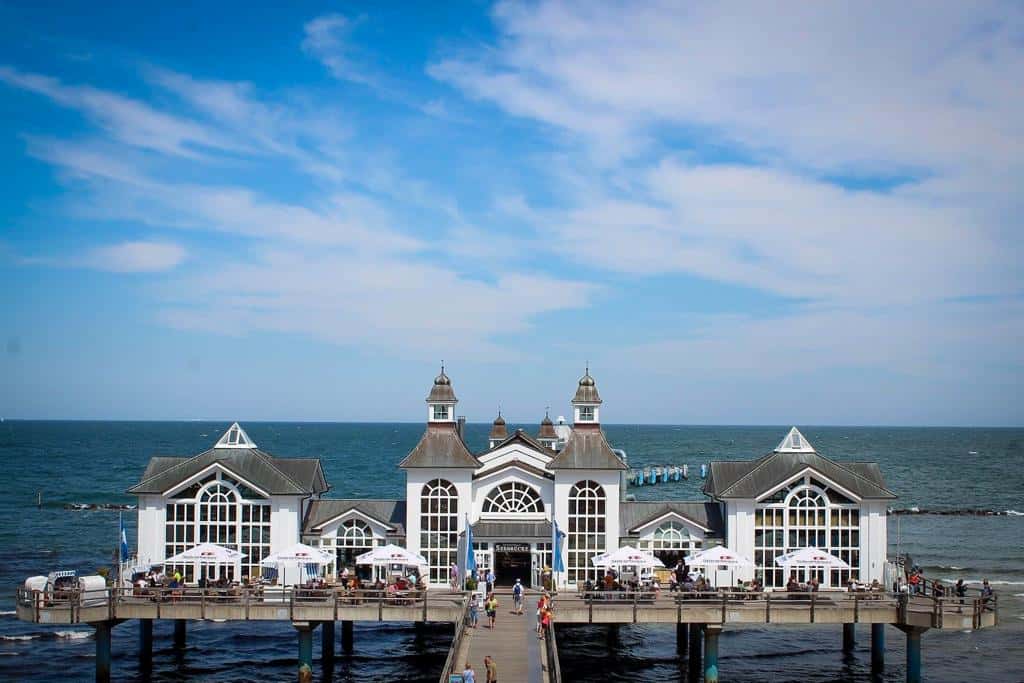 Sellin beach also has the classical strandkörbe (beach chairs), which makes it all even more pretty. After seeing the sunset from this beach, we realized that Sellin is a dream destination for a beach holiday in Germany. The water might not be the warmest, but you will still have a great time for sure.
German beaches in summer can get very crowded, and Sellin is no exception. If you prefer it calmer and less crowded, walk some minutes to the right of the pier. You don't have to walk very far before the crowds are less. If you continue a while along the beach, you will come to Südstrand Sellin (Sellin South Beach), where you find a few restaurants.
Sellin doesn't have a long beach promenade as you can find in Binz. Instead, you can do easy hikes on the cliffs above the beach, and get rewarded with stunning views over the sea and the surroundings. Between Sellin beach and the south beach, you can walk the Hochufer Wanderweg. It's a nice hike suited for most people and, on the way, you can visit the cute Maria Meeresstern church.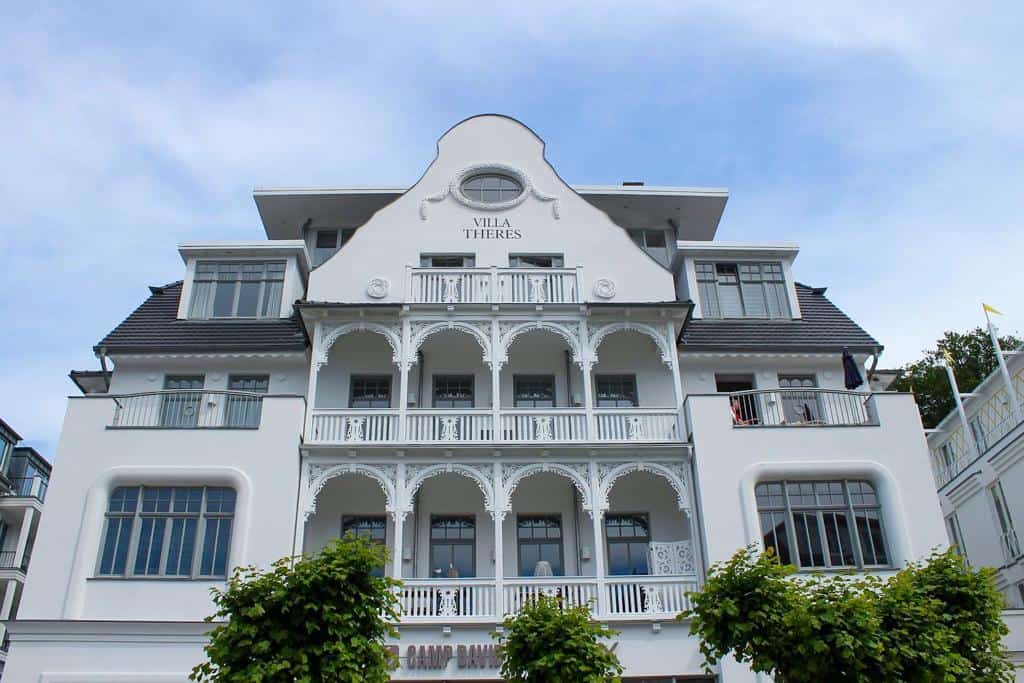 4. Prora
Looking for a quirky sight? Then this is the place for you! Prora beach is just north of Binz and still bears heritage from Nazi Germany. Also known as the Colossus of Prora, this building complex was planned to be the world's largest holiday resort, with room for 20.000 (!) workers on holiday.
The complex was built between 1936 and 1939 and was intended to be a Kraft durch Freude or KdF (Strength Through Joy) project. The idea was to make middle-class holidays and leisure activities available for the masses. The Prora complex consisted of eight identical, ugly buildings, stretching 4,5km along the beach. The complex was never completed and used as it was planned, due to the outbreak of WWII. After the war, it was used for various military use.
Today, parts of the surviving structures of around 3km are used as a youth hostel, holiday apartments and a hotel. Dokumentiationszentrum Prora (Prora Documentation centre) shows exhibitions about the Nazis and the construction history of the complex and the political background. We recommend visiting the documentation centre and spending an hour or two here to learn more about the place.
Before you go:
Opening hours documentation centre: 09.30-19.00 in the summer, until 16.00/18.00 the rest of the year
Entrance is €6
Guided tours in English can be booked in advance
Bus 22 runs between Sassnitz and Binz via Prora
TIP: Prora beach is long and not crowded. Combine a visit to the complex with some hours at the beach if you want some peace and quiet away from the busy resort towns.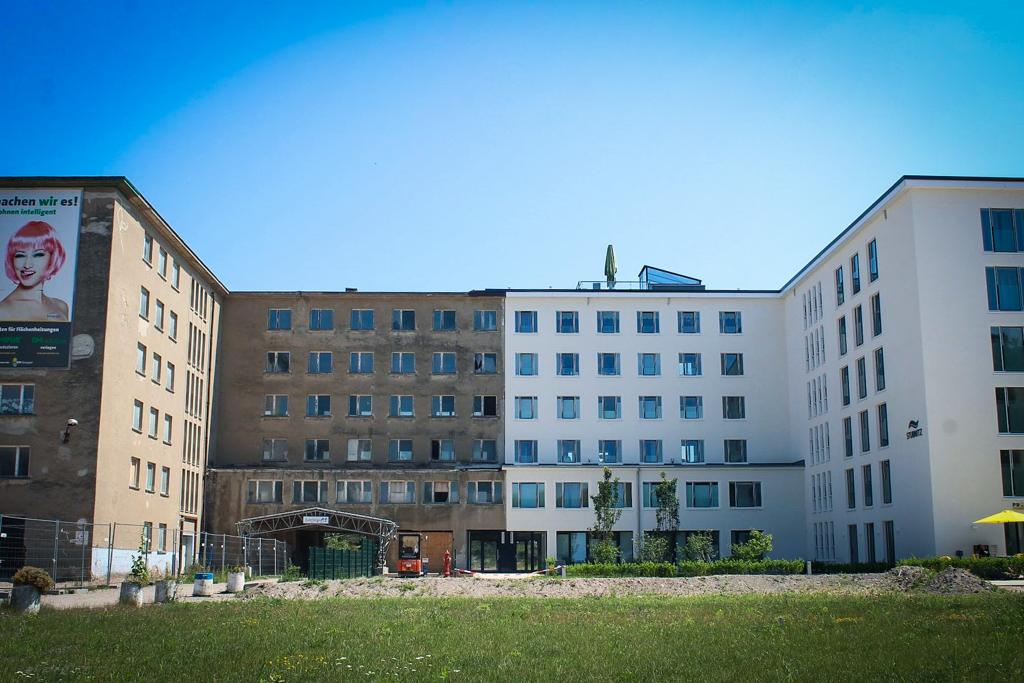 TIP: Read our post about visiting Potsdam if you plan to visit the capital area of Germany
5. Jasmund National Park
Germany's smallest national park is found on Rügen Island and is another highlight to visit. The rugged beauty of this UNESCO-listed nature reserve is stunning. Jasmund National Park is famous for the Kreideküste, the largest chalk cliffs in Germany. With heights up to 161m and the forest behind, a visit here will show you the true beauty of Rügen Island.
You can see the cliffs from above, or from down at the pebble stone beach. We recommend both, as you will get different impressions of the area depending on your location.
TIP: Skip the boat tours to see the cliffs offered from the resort towns. They are overpriced, and super crowded and you don't come close to the cliffs at all (due to the marine protection of the national park).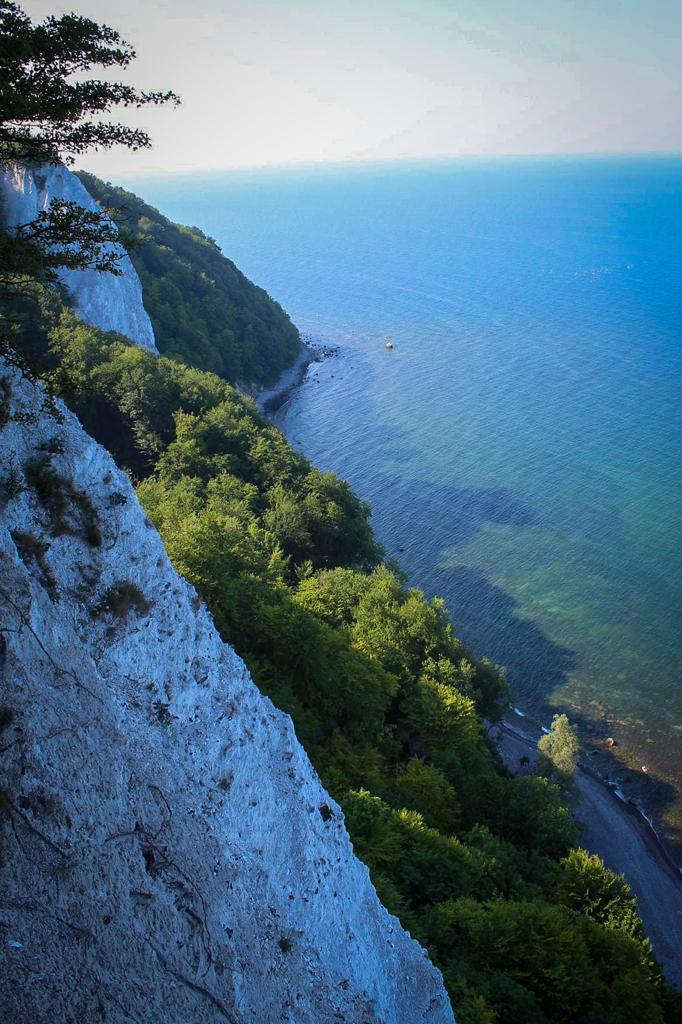 Hiking in Jasmund National Park
There are several routes for hiking in the park. Our suggestion is an 11,4 km, 3-4h easy hike along the beach and through the forest above. Be prepared for spectacular nature and stunning views. This route is one of the most beautiful hike routes through the national park.
The starting point is at the end of Weddingstrasse in Sassnitz. You can park your bike or car here. Follow the trail marked with a blue line on a white background. This trail runs in the forest and along the cliffs, above the beach. You will come to some stairs leading down to the beach. Later you take another stair back up again, where you continue along the trail. In total there are 3-4 stairs between the beach and the hills above. Sometimes you are hiking through the lush, green forest, and other times you are closer to the edge. Remember to stop to enjoy the view as nature really is putting up a show here.
The trail will finally lead you to the Königsstuhl National Park Visitors Centre. For an entrance fee (€10), you can enter an enclosed area and see the most famous sight in the park, the Königsstuhl (the King's Chair). This point is the best-known of the chalk cliffs in the park, where it raises 118m above sea level. After seeing all the spectacular nature along the way, we leave it to you to decide whether you want to spend money to see another cliff or if you are happy with what you have already seen.
After a long but nice hike, you can catch the shuttle bus back from the visitor centre, either to where you started (if you parked a car or bike there) or with connections in Sassnitz, you can get back to your resort town.
Before you go:
Bus 22 runs from Binz via Prora to Sassnitz
Bus 18 take you to the starting point in Weddingstrasse
Bus 23 runs from the visitor centre back to Sassnitz
Change to bus 18 to get back to the parking in Weddingstrasse
TIP: Read about hiking in Saxon Switzerland National Park in our blog post about weekend trips from Berlin to Saxony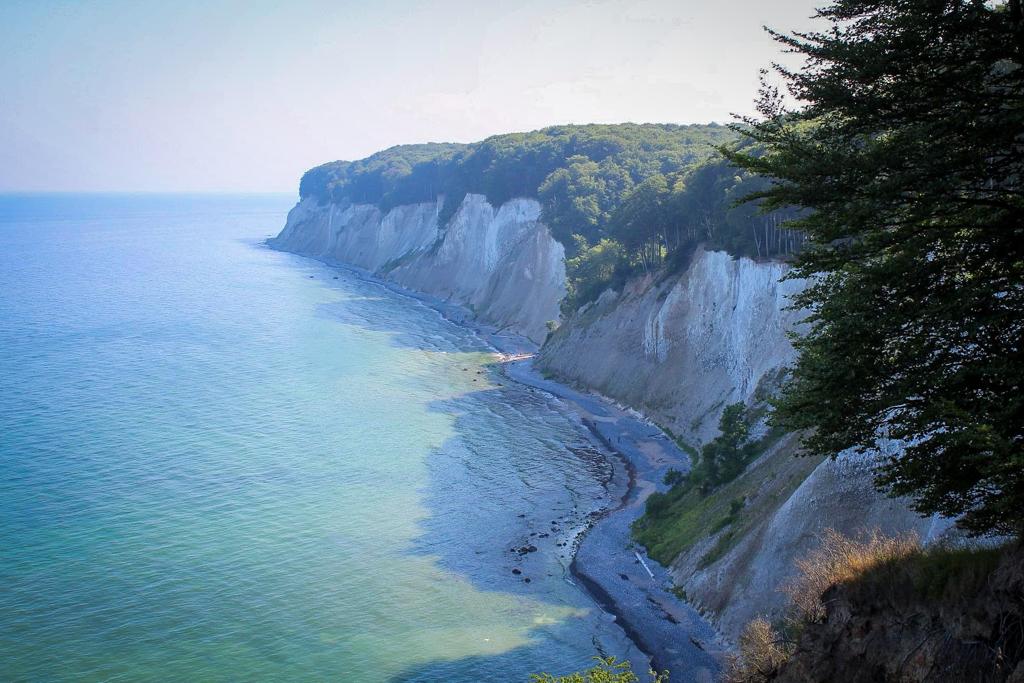 6. Accommodation on Rügen Island
From small private hotels in beautiful old-style villas to modern boutique hotels and large spa hotels. Rügen has something for everyone.
Rügen Island is a popular holiday destination as it has some of the best beaches in Germany. The peak season is from June to August when the prices are skyrocketing. Especially the sought-after resort towns of Binz and Sellin can get very expensive. The closer to the beach you want to stay, the higher price for the room you'll have to pay.
TIP: Read our post on the Best museums in Berlin if you are going there as well
The most popular accommodation option in Rügen, especially for families, is to rent a holiday apartment or studio. You can find them all over the island, both inland and close to the beach. Nothing comes cheap at Rügen Island, but this is a more affordable way if you don't want to spend too much on sleeping. Check the youth hostel in Prora for budget options.
Choose your location for accommodation wisely, depending on if you have a car or not. Without a car, you don't want to stay too far away from the beach or the small towns on the island. But even without a car, you find holiday apartments within walking distance of the beach or the town centre.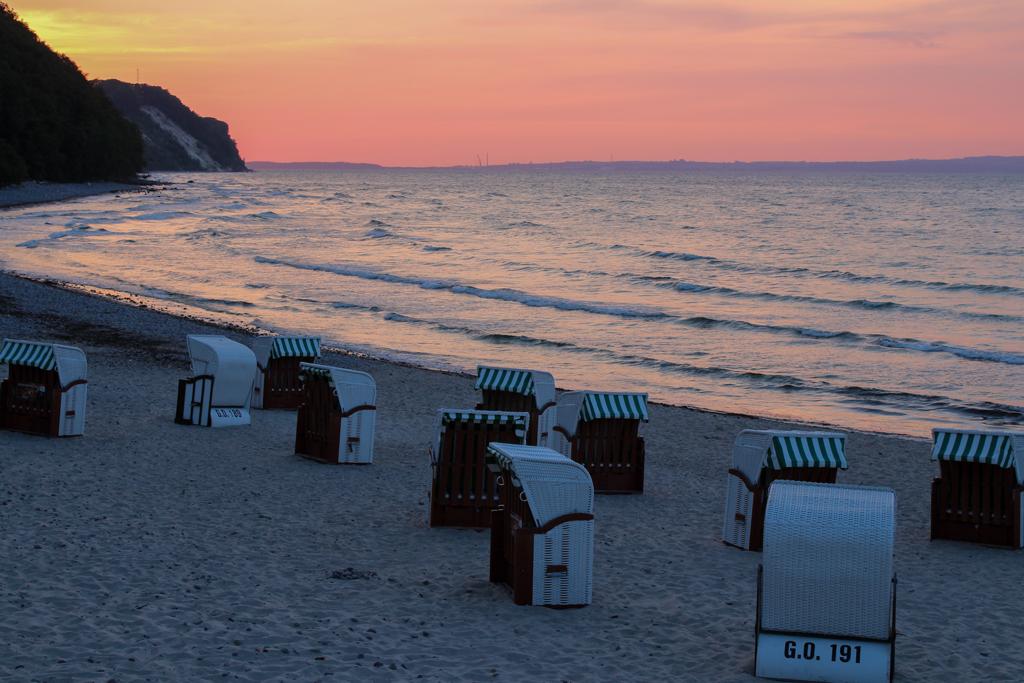 7. Restaurants in Rügen
If you love seafood, then Rügen Island is your paradise. Finding high-quality seafood is easy in one of the many quality restaurants. Especially Binz and Sellin have several good places, but also here you will see tourist traps and more tacky places, as everywhere with a big tourist industry. Mostly all restaurants also have meat or vegetarian options if you prefer that. Should you prefer more international food, you find both Asian and Indian restaurants in Binz.
TIP: Bergen, Norway, is also the perfect place to enjoy amazing seafood. Read our post on what to do in Bergen to plan your trip
In Binz, there are very nice and good restaurants along the beach promenade, and most of them also have fish on the menu. We much rather recommend the promenade over the main street for a good meal. On the other hand, in Sellin, the main street will be one of the best places to find a decent restaurant. Also there, you can find a few beachfront places above the beach serving a great view in addition to the food.
TIP: Try Scholle (Plaice). This flatfish is so delicious, and many restaurants in Rügen have it on the menu.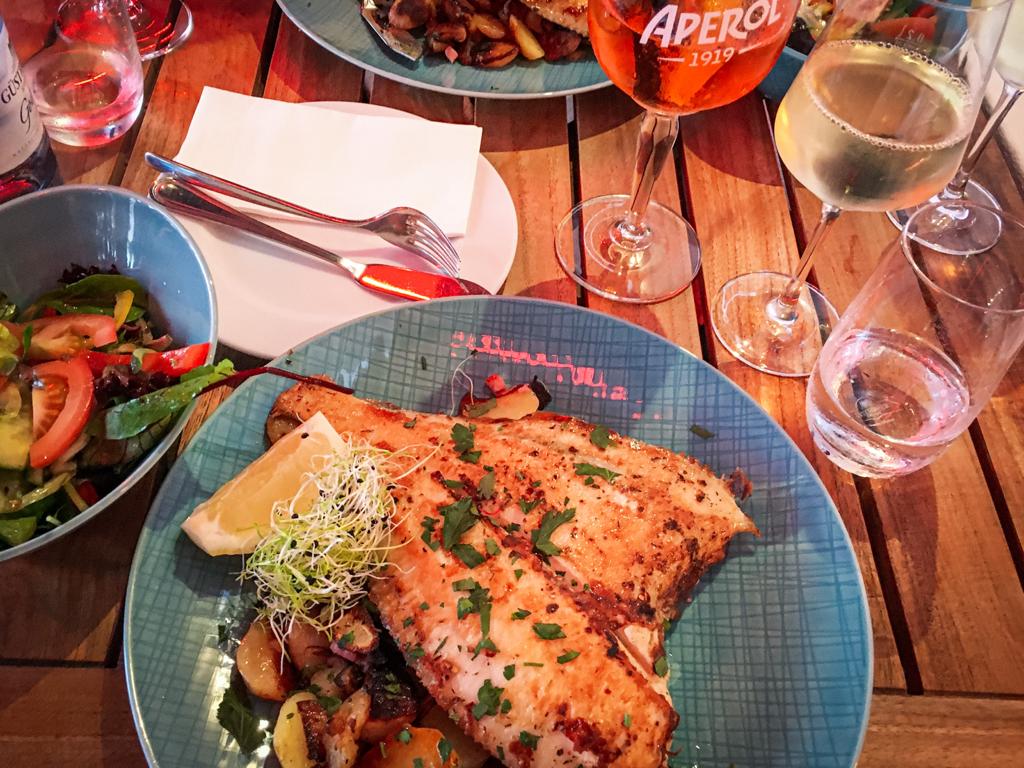 Restaurants on Rügen Island don't come cheap. You will find it more pricey than most places in mainland Germany and especially compared to Berlin. But almost anywhere you travel, high-quality seafood comes with a price, and our experience from Rügen is that it's worth paying a bit extra for what you get.
Tourists on Rügen Island tend to eat dinner very early, and restaurants can fill up before 18.00. After 21.00 it is often quiet, even in the bigger resort towns. Because of this, the restaurant kitchens often close earlier than other places, so be aware of this. At weekends and during high season, we recommend making reservations in advance as the restaurants fill quickly up.
BUDGET TIP: If you want to hold back on the bucks for lunch, try the Fishbrötchen (fish bun). This sandwich filled with different fish and sides of your liking is cheap and so yummy. They are sold in several places in the towns and along the beach. Try one with salmon – that was our favourite.
8. Best time to visit Rügen Island
You can visit Rügen Island year-round. Most visitors come between April and October, with the peak season from June to August, when the weather is at its warmest. Rügen has over 1800 hours of sun a year. The summers are mild and temperate.
Visit Rügen in the winter if you prefer a more quiet atmosphere. Even if you can't sunbathe this time of the year, you can still use the beaches for nice walks. The winters are not very cold, and temperatures in January and February are often around 0 °C (32 °F).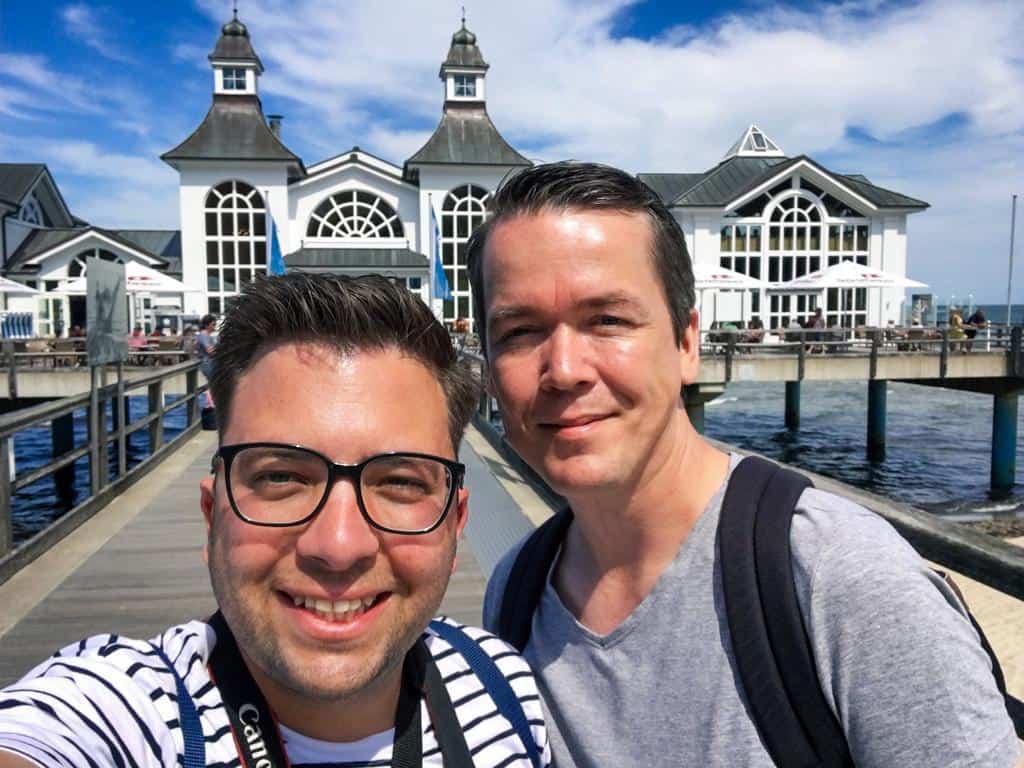 9. Plan your trip: How to get to Rügen and around
The best way of getting to Rügen Island is by car or train. From Berlin or Hamburg, you can reach Rügen by train in just over 4 hours, normally with one change. Germany has an extensive railway network, so it is possible to get to Rügen by public transport from anywhere in the country. From more far-away cities like Munich or Weimar, you can get to Rugen Island with one or two connections.
Resort towns such as Binz and Sassnitz (close to Jasmund National Park) have good train connections. You can also reach Sellin by public transport, although the easiest way is to travel by train to Binz, and from there take a taxi for the last 12 km. Check bahn.de for departure times and tickets.
Local buses run regularly between the resort towns along the coast, and to towns and villages inland. Check online for timetables and information (German only).
Even Rügen Island can be a bit hilly, the best way to get around is by bike. Pauli's Radshop in Binz have different types of bikes for rent, for 1, 3 or 5 days. The prices are very affordable, and the service is excellent. If you have some issues with your bike, e.g. a flat tire, call them and, they pick you up or bring you a new bike. In peak season we highly recommend making a reservation before you arrive. The webpage is in German, but they speak English so you can call for information and reservation.
Raseder Roland (the Rügen narrow-gauge railway), is a steam-powered railway that runs from Putbus via Binz and Sellin to Göhren. With historic locomotives and coaches, this is a fun way of travelling around, especially if you visit Rügen Island with children. Prices from €2,40 for single tickets. Like the Zittauer Schmalspurbahn and the Harz Mountains Railway, this is a great way to travel, especially id you are a fan of historic train rides.
TIP: Read our post on the Trans-Siberian Railway if you love travelling by train